If you're planning for a week in Turkey, you're in for a fantastic trip. In this 7 day Turkey itinerary, you'll get to see some of the most fascinating historical landmarks, and unique and unspoiled natural landscapes and get familiar with the warm-hearted Turkish culture.
If you want to see all the highlights of the country, this itinerary will show you the best of the country. We'll also show you how to travel from A to B and which order to see things in, to avoid spending too much time traveling and spend more time exploring.
---
Are 7 Days Enough for Turkey?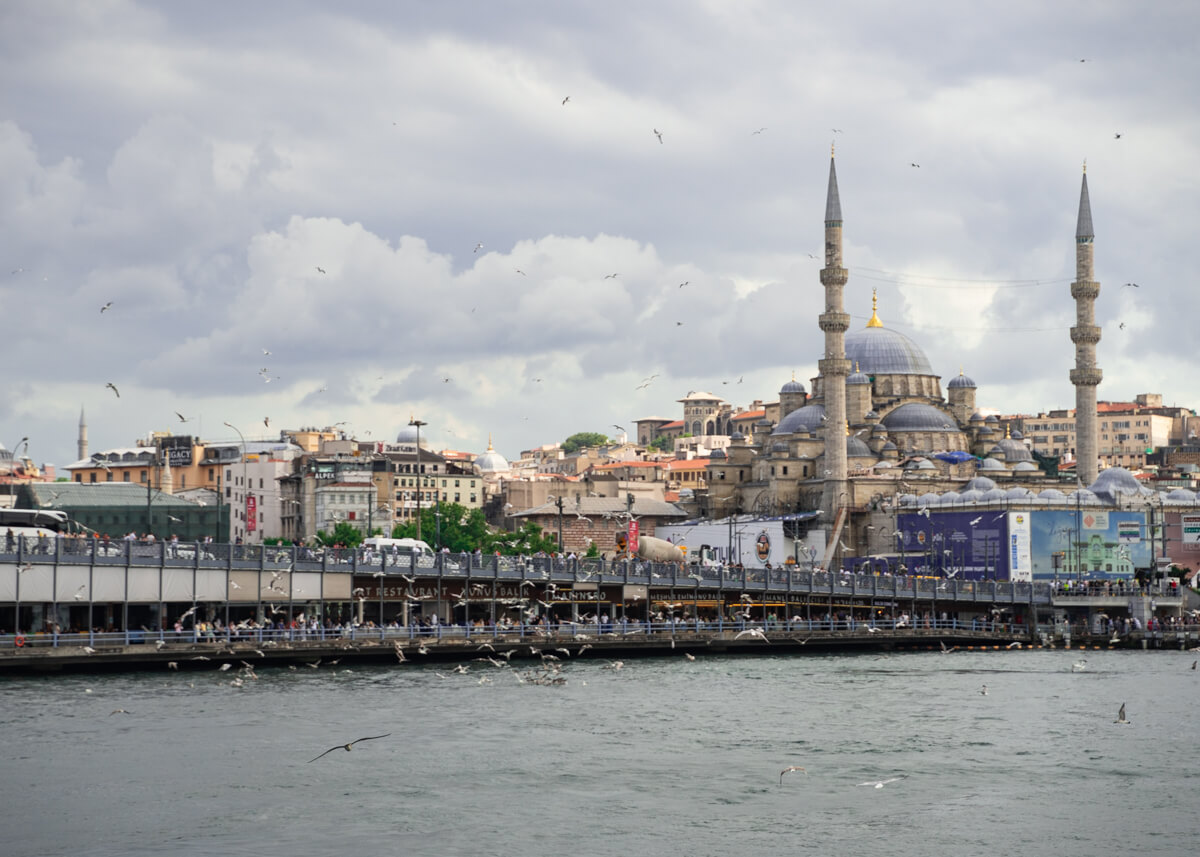 But first, the question we always get asked is; are 7 days in Turkey enough? The truth is, Turkey is a big country, 783,562 km² to be exact, and to really see all of it, you're going to need more than 7 days.
Even to see the highlights, we recommend at least 10-14 days so you don't have to rush around and exhaust yourself seeing everything.
However, if you only have 7 days in Turkey we totally understand that not everyone is blessed with time. You can see the highlights of Turkey in seven days, but you do need to sacrifice some landmarks unless you want to burn out with all the traveling.
This is why we have prepared two 7 day itinerary options. This is so you can decide which attractions to sacrifice and which side of Turkey you want to see most.
---
The Best Turkey Itinerary for 7 Days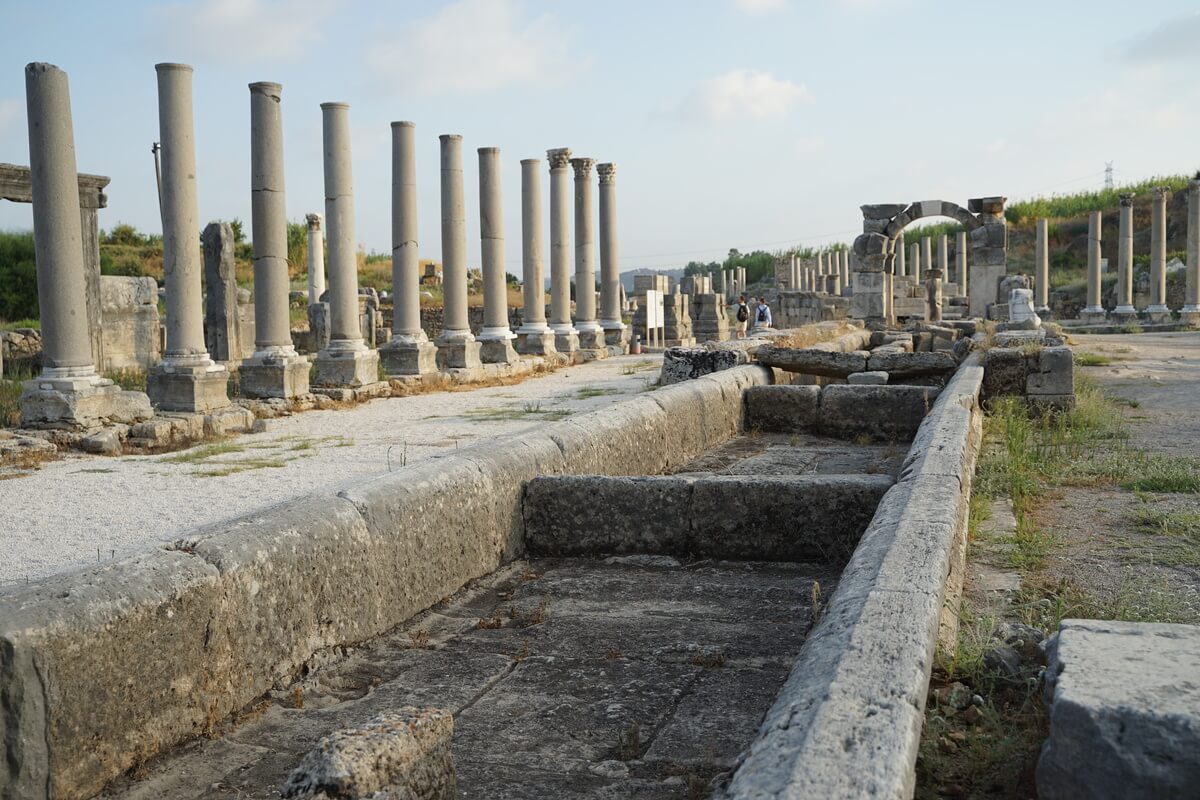 Fitting everything into 7 days is no easy task. So to help you pick the right itinerary for you, we've given you two options.
The first option is a history and culture tour of Turkey, taking you to some of the oldest and most beautiful historical landmarks in the country.
The second option covers some history, natural landscapes, and the iconic Turkish Riviera for some beach days.
Whatever brings you to Turkey, you'll find our 7 day Turkey itineraries will cover it all. Let's take a look…
---
Suggested Itinerary 1: Istanbul > Cappadocia > Izmir
Below you'll find our first option for this 7 day Turkey itinerary. This is what we consider to be the best itinerary for seven days and covers the most iconic Turkey landmarks.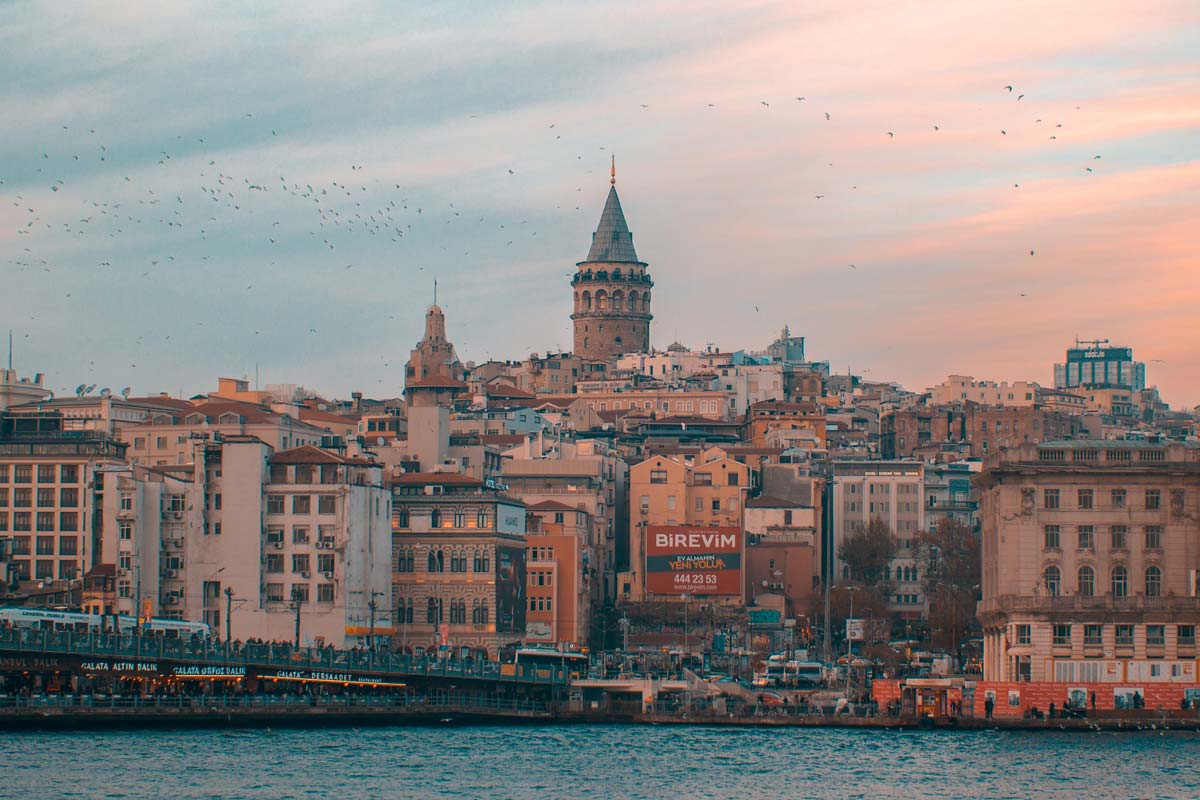 Day 1: Istanbul
Our itinerary begins in the enchanting city of Istanbul. This once capital of the Byzantine and Ottoman Empire, named then as Constantinople, is brimming with history and culture. It's also the biggest city in the world to span two continents; Europe and Asia.
On the first day of your visit to Istanbul, you're going to want to explore the neighborhood of Sultanahmet. This is where you'll find the most iconic landmarks in the city, including the Hagia Sophia, The Blue Mosque, the Topkapi Palace, and the Basilica Cistern.
This day will do a lot of walking but it's all within the same area, so you won't need to travel far today, but you're going to see exactly why Istanbul is a city worth visiting.
Stop 1: The Blue Mosque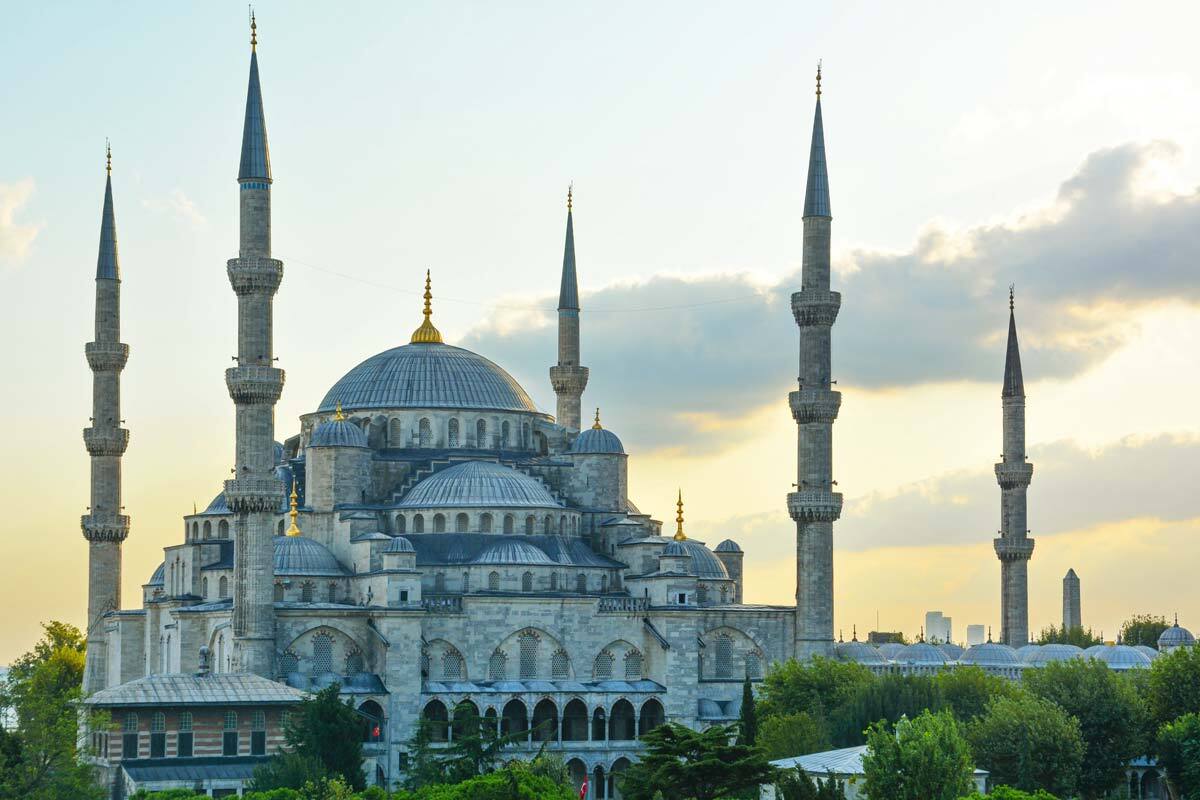 The Blue Mosque, or Sultan Ahmed Mosque, is the most beautiful work of architecture in Istanbul, so it makes sense to visit this attraction first. It was built between 1609 and 1616 by Sultan Ahmed I. It became famous for its hand-painted Iznik blue tiles that you can see inside.
The mosque features more than 200 stained glass windows, as well as a stunning carved marble mihrab that's worth checking out. It's also the resting place of Sultan Ahmed I.
The Blue Mosque has been a UNESCO World Heritage Site since 1985 and is one of Turkey's most famous sites.
Stop 2: Hagia Sophia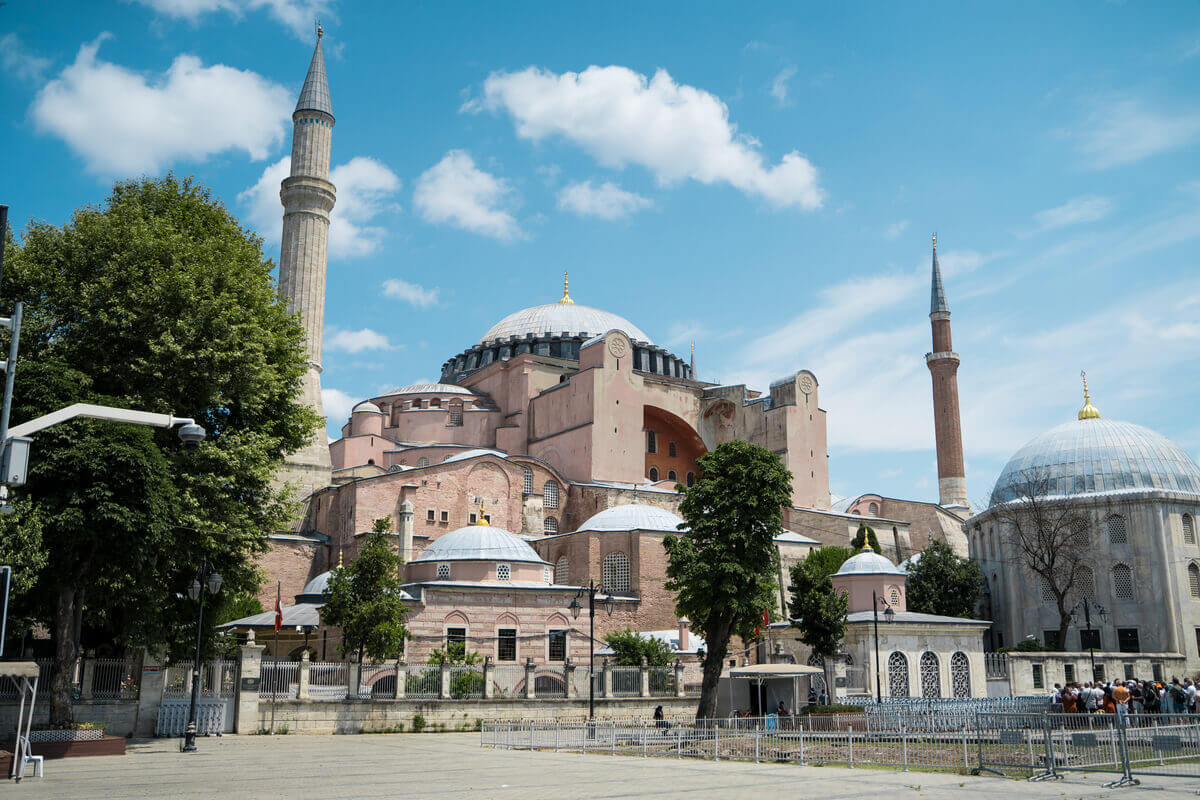 The Hagia Sophia is just across Sultanahmet Park from the Blue Mosque and is another one of the most important mosques in Turkey. It was built in 537 by the Roman Emperor Justinian. It was originally used as a cathedral for Constantinople, where it remained the largest Christian church in the Eastern Roman Empire for over 1,000 years.
After Constantinople was seized by the Ottoman Empire, it was converted into a mosque. It was a museum for a short time between 1935-2000 but was converted back into a mosque. It has some of the most stunning architecture, mosaics, and artistic coverings of all the mosques in the city.
Stop 3: Topkapi Palace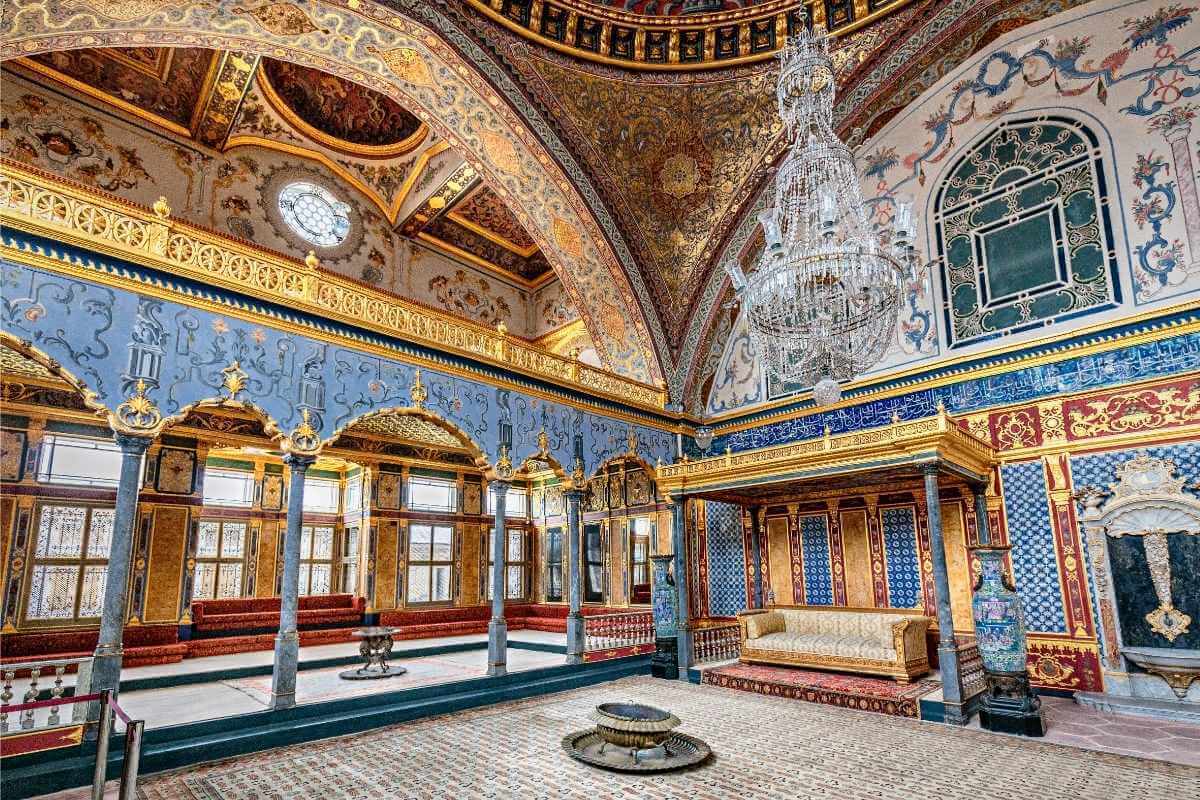 Around the corner from the Hagia Sophia is the Topkapi Palace. The palace was the former home of the Ottoman sultans in the 15th and 16th centuries.
Today, it is a large museum, showcasing artifacts from the Ottoman era. Not all rooms are open to the public, but the most beautiful ones are. The Ottoman Imperial Harem and the treasury are the main reasons to visit this palace in Istanbul.
The Topkapi Palace was also declared a UNESCO site in 1985 and is one of the most popular tourist attractions in the city.
Stop 4: Basilica Cistern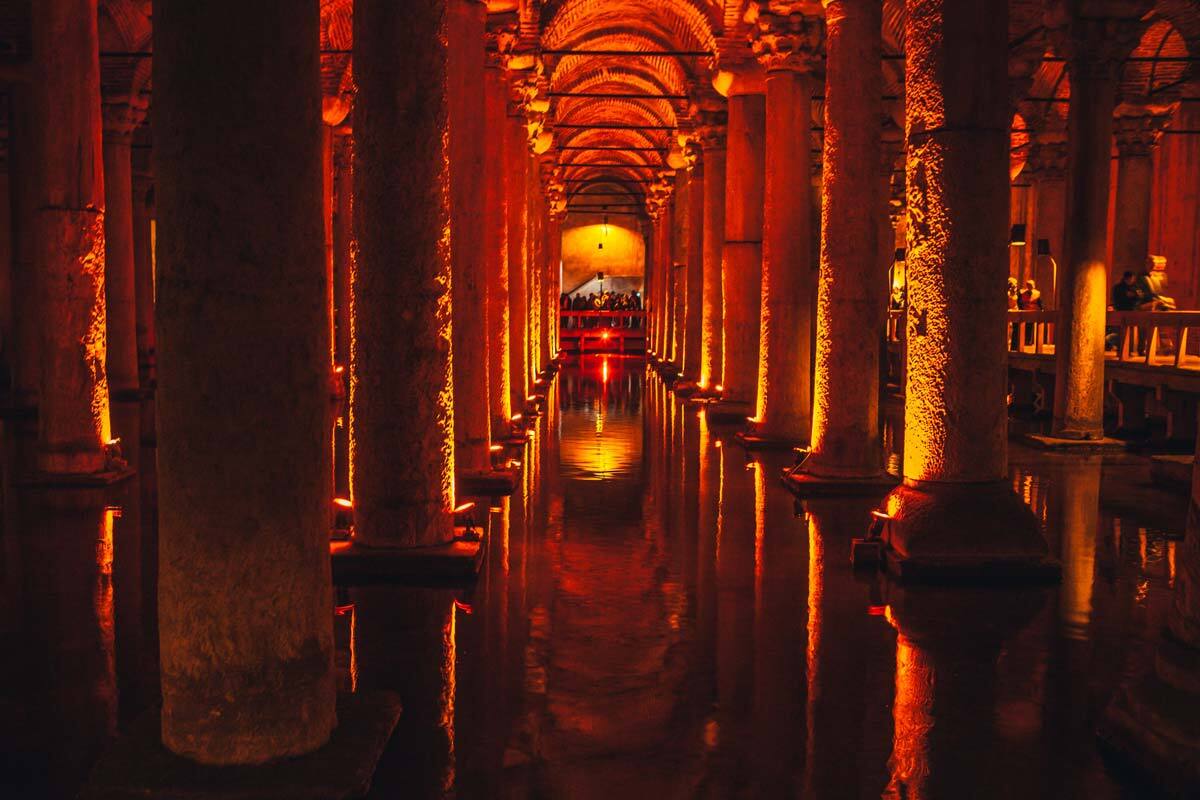 During the Byzantine Empire, the Byzantines built several cisterns under the city as a water storage system for the city's palaces. The largest and best-preserved cistern in the city is the Basilica Cistern.
The cistern is approximately 138 meters long by 64.6 meters wide, covering a total area of 9,800 square meters — roughly the size of two football fields. It has the capacity to store 100,000 tons of water. It is one of the greatest engineering achievements of the East Roman Empire.
It is just 150 meters away from the Hagia Sophia, so it makes sense to see this historical landmark on the same day.
Stop 5: Grand Bazaar and Spice Bazaar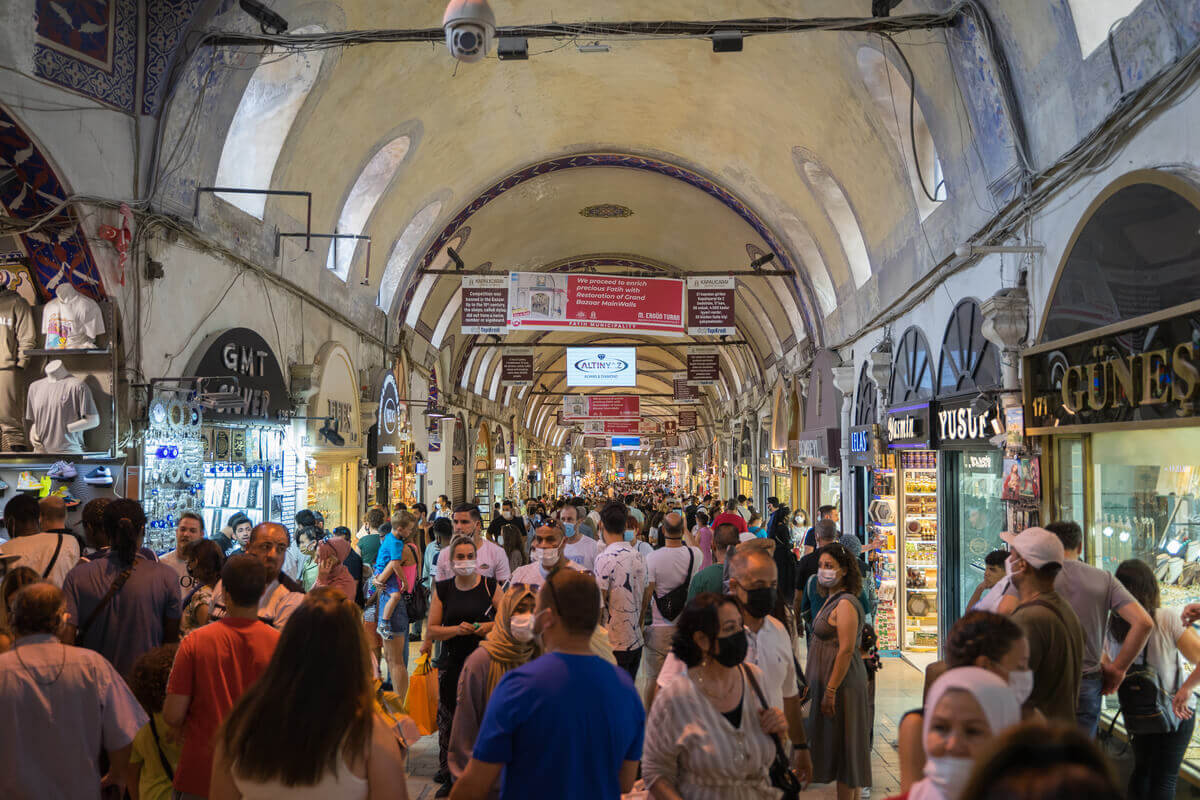 Another one of the major landmarks in Istanbul is the Grand Bazaar. It is the largest and oldest covered market in the world, with 61 streets and over 4,000 shops. It began operating in 1455 after the Ottomans captured Constantinople.
The vibrant Grand Bazaar is the best place to pick up Turkish souvenirs, from Turkish delights to Turkish lamps, rugs, towels, and clothes.
Around the corner from Grand Bazaar is the Spice Bazaar. This is another souk market where you can shop for various teas and spices. The spices are said to help with certain medical conditions, from diabetes control to weight loss, and mood enhancers.
Stop 6: Turkish Hamam
After all this walking around, you're going to want to relax a little. We recommend finishing off the day in a Turkish Hamam, which is similar to a Roman Bath. It's not just a public bathing space, but a spa where you can get massages and beauty treatments.
Located next to the Hagia Sophia is the Hurrem Sultan Hamam, which was built in the 16th century. It's a little pricey, but if you're going to enjoy a Turkish bath in Istanbul, you might as well go to an authentic one!
Day 2: Istanbul:
On the second day we're going to cross the Galata Bridge and explore the Kabataş neighborhood. This is still part of Europe and features many iconic attractions that should not be missed.
Stop 1: Galata Bridge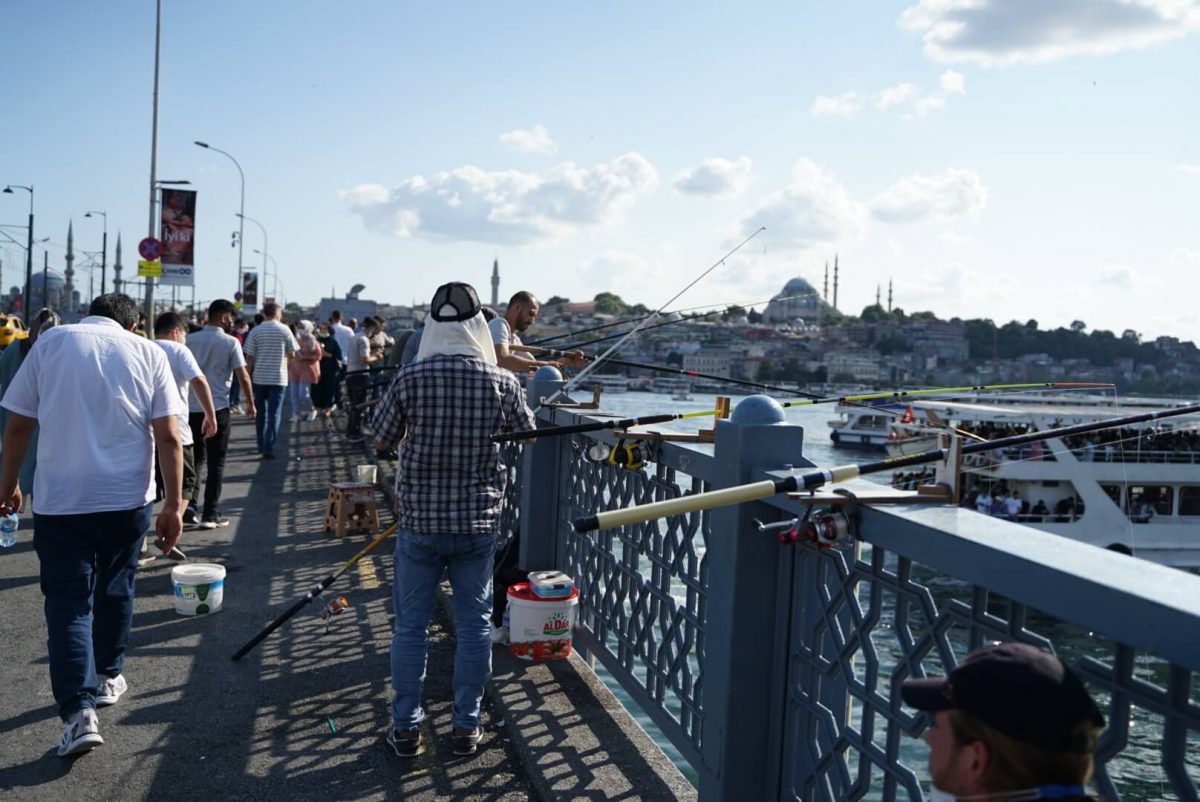 We'll begin at Galata Bridge, a 19th-century bridge that crosses Istanbul's Golden Horn channel. The bridge is famous because of the fishermen who cast their lines here, attracting hundreds of seagulls.
The bridge has two parts, the top part is where the cars cross the bridge and also where you'll find the fishermen, and along the bottom part you'll find many restaurants serving fresh seafood meals. Though as scenic as it sounds, we cannot recommend you to eat at one of the restaurants underneath the bridge – they are pricey and not the best in terms of quality.
Stop 2: Galata Tower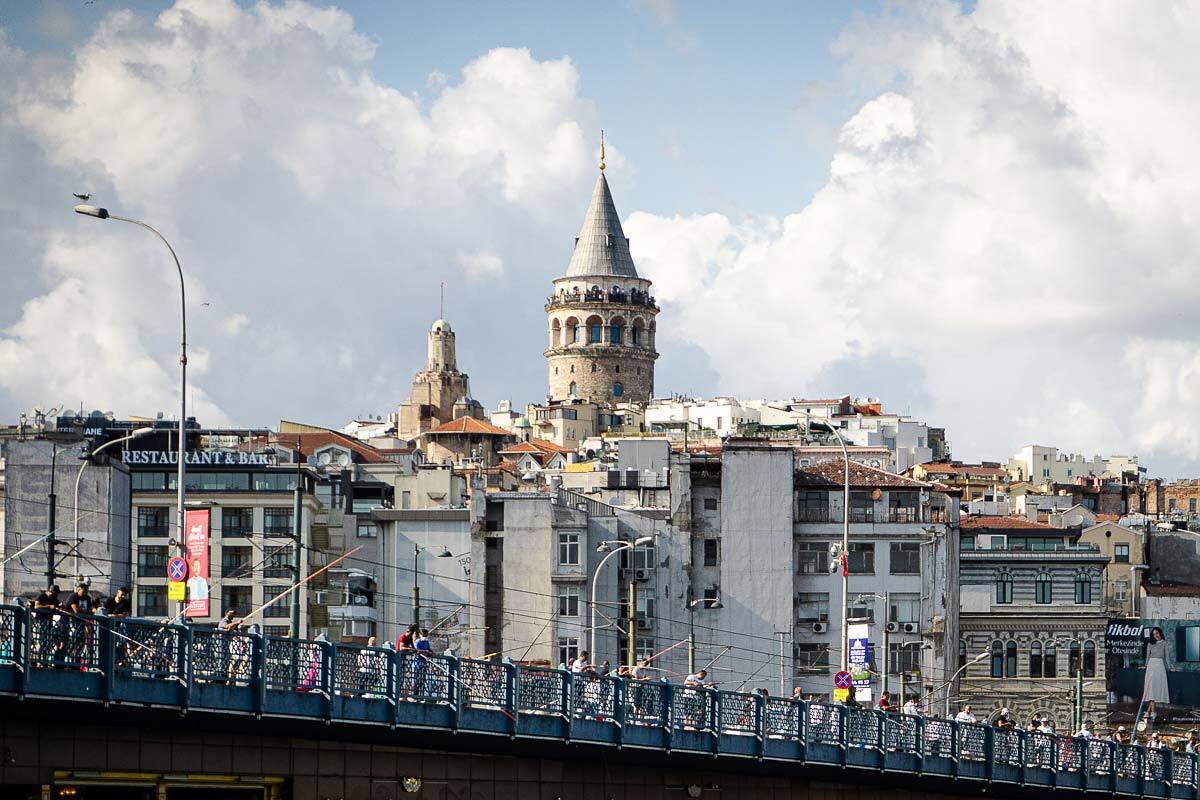 Next, we'll visit the iconic Galata Tower. By now you have probably noticed the tower in the skyline, given that it is the city's watch tower.
It was built as a part of the Walls of Galata in 1348 by Byzantine Empire. The Galata Tower has had a tumultuous past, having caught fire in 1794 and 1831. It was also badly damaged in a storm in 1875.
The tower was renovated in the 1960s to look like the original but using concrete instead of wood. You can climb to the top of the tower and witness 360-degree panoramic views of the city. The museum and exhibition hall inside the tower is also one of the best museums in Istanbul.
Stop 3: Istiklal Street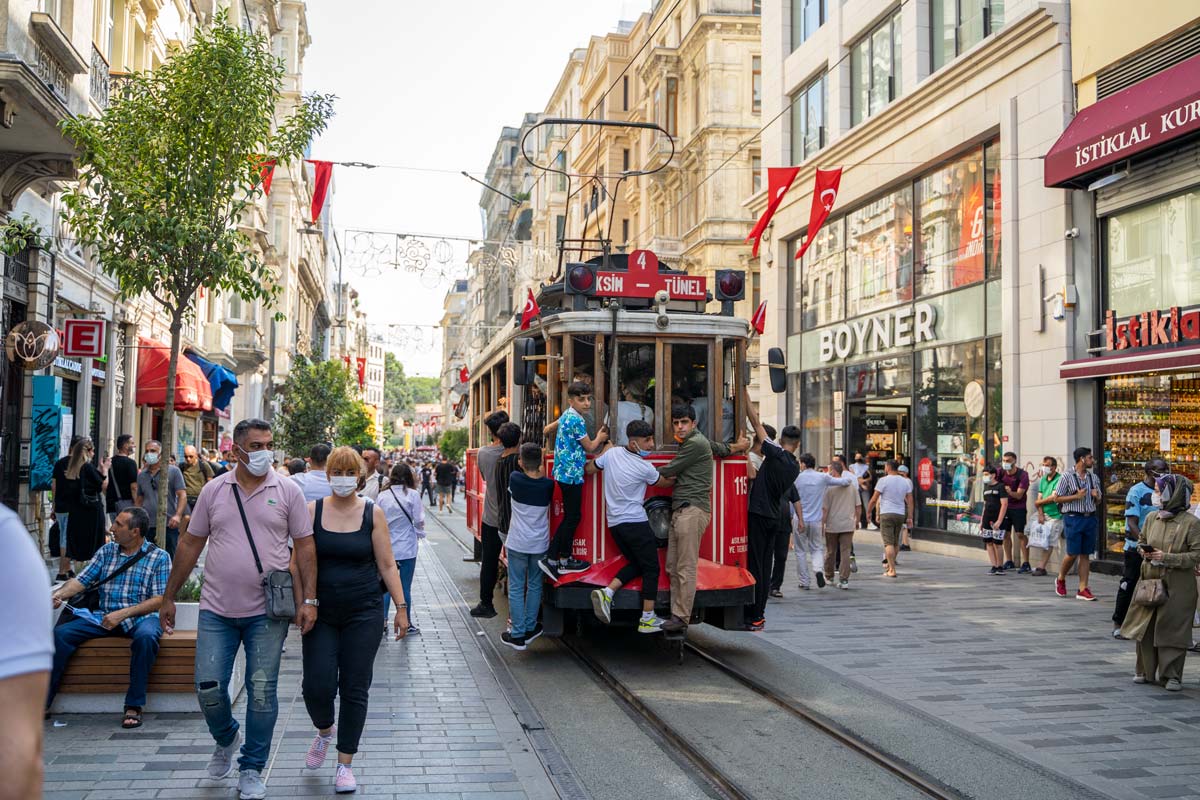 Istiklal Street is the most famous street in Istanbul and is where you'll find a blend of historic and modern. It was historically known as Grand Avenue of Pera, and is a pedestrian street made famous for its red tram that rides from one end to the other.
There are many high-street brands setting up shops here in the old buildings that were once apartments for the Romans. It's a great place to pick up some street food or find a traditional Turkish restaurant down one of the side streets. If you're into nightlife, you'll find vibrant bars and clubs in this area.
This area also has some of the best rooftop restaurants in Istanbul, offering patrons sweeping views of the area around it, including Sultanahmet and even the Asian side on a good day.
Stop 4: Bosphorus Cruise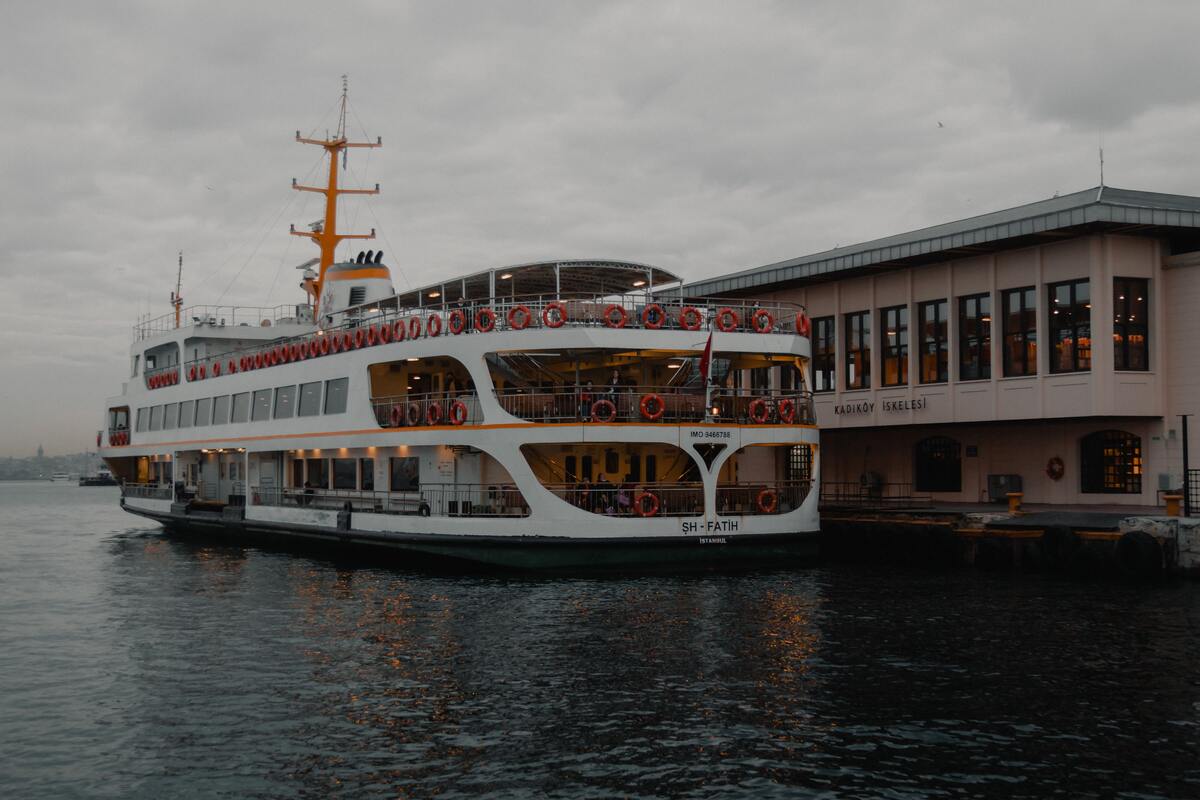 If your legs are a little tired from all this walking, then a Bosphorus cruise is a great way to enjoy the sunset.
The cruise takes you through Istanbul's Golden Horn and out into the Bosphorus Strait, the body of water separating the European and Asian sides of Istanbul. It goes as far as the Bosphorus Bridge before returning back to the harbor, which is usually in Eminönü.
It gives you a unique perspective of the city from the water, and it's also the best way to see the palaces in Istanbul. Many of the palaces were built next to the water, and their beautiful decoration and architecture are best seen from the water.
If you want the nicer cruises, we highly recommend that you book your tickets online in advance. You can get some of the lower quality ones at the harbor, but you'll want to reserve the better ones.
Stop 5: Whirling Dervishes Show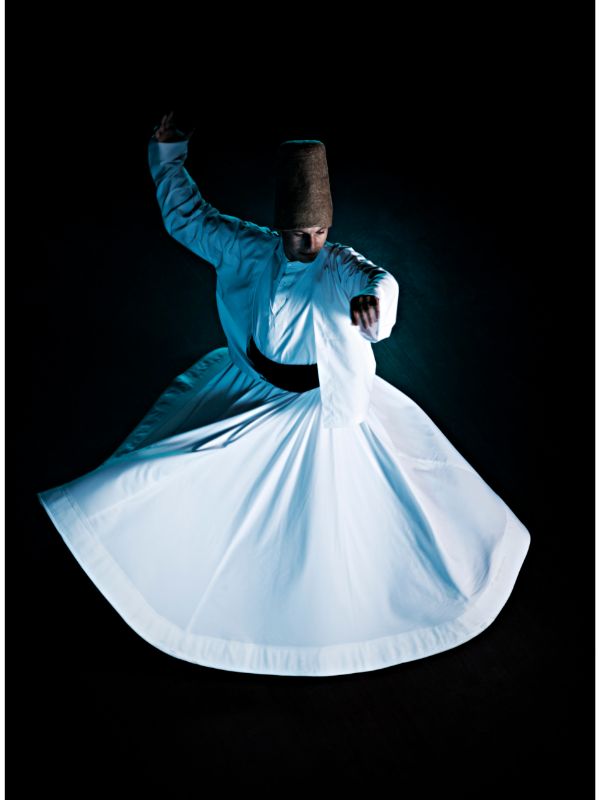 If you went for a sunset cruise, then you've got plenty of time to enjoy a whirling dervishes show in the evening. This is a traditional Turkish dance where dancers look as though they are floating across the floor.
As well as being a dance, it's an active meditation exercise, which originated from the Sufi tribes in the 13th century. This is one of our favorite things to do in Istanbul at night.
Day 3: Istanbul
No Istanbul visit is complete without exploring the Asian side, which is what you'll be doing on the third day in Istanbul. We'll be visiting the largest mosque in Istanbul, the hip and vibrant area of Moda, and tasting delicious Istanbul street food.
Stop 1: Çamlıca Mosque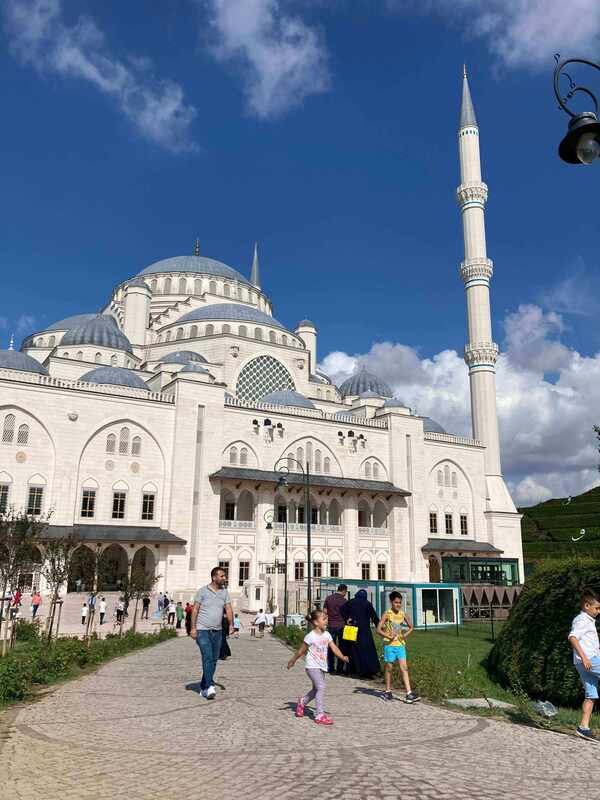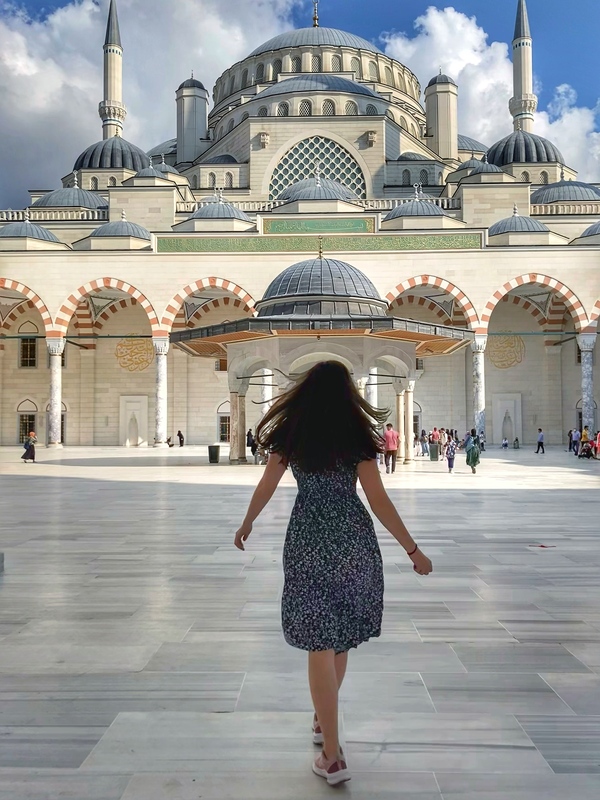 The first stop is Çamlıca Mosque, located at the top of Çamlıca Hill. To get here from the historic center, you must first take the metro to Üsküdar and then change to the metro to Kısıklı. From here, you simply walk up the hill.
The Camlica Mosque is the largest mosque in Istanbul and measures 72 m (236 ft) tall. The six minarets measure even higher to 107.1 m (351 ft). This stunning mosque is a sprawling complex large enough to house 63,000 worshipers at one time.
There's also an art gallery, library, and conference hall. It was designed by two female architects, Bahar Mızrak and Hayriye Gül Totu, and was said to have cost $110 million USD to make.
Stop 2: Kadikoy and Moda
After spending time admiring the mosque, head over to the area of Kadikoy. Here you'll find bustling markets and fishermen on the waterfront. This is the perfect place to sample some street food. We highly recommend the balık ekmek (fish sandwich). There are also plenty of cute cafes and restaurants.
After wandering the neighborhood of Kadikoy, head further south to Moda. This is a residential neighborhood with street art, boutique stores, cool coffee shops, and a relaxing park. If you haven't tried Turkish ice cream, dondurma, yet, this is the perfect place to do so!
Stop 3: Uskudar
Uskudar is one of the most picturesque neighborhoods in Istanbul's Asian side. It is situated adjacent to the Bosphorus, and facing west, naturally offers some of the best sunset views in Istanbul.
There are many things to do in Uskudar; if you have some time, we recommend you to walk around the neighborhood and check out some of the fresh fish markets. If it's closer to sunset time, make sure you grab a spot by the promenade with a great view of the Maiden's Tower!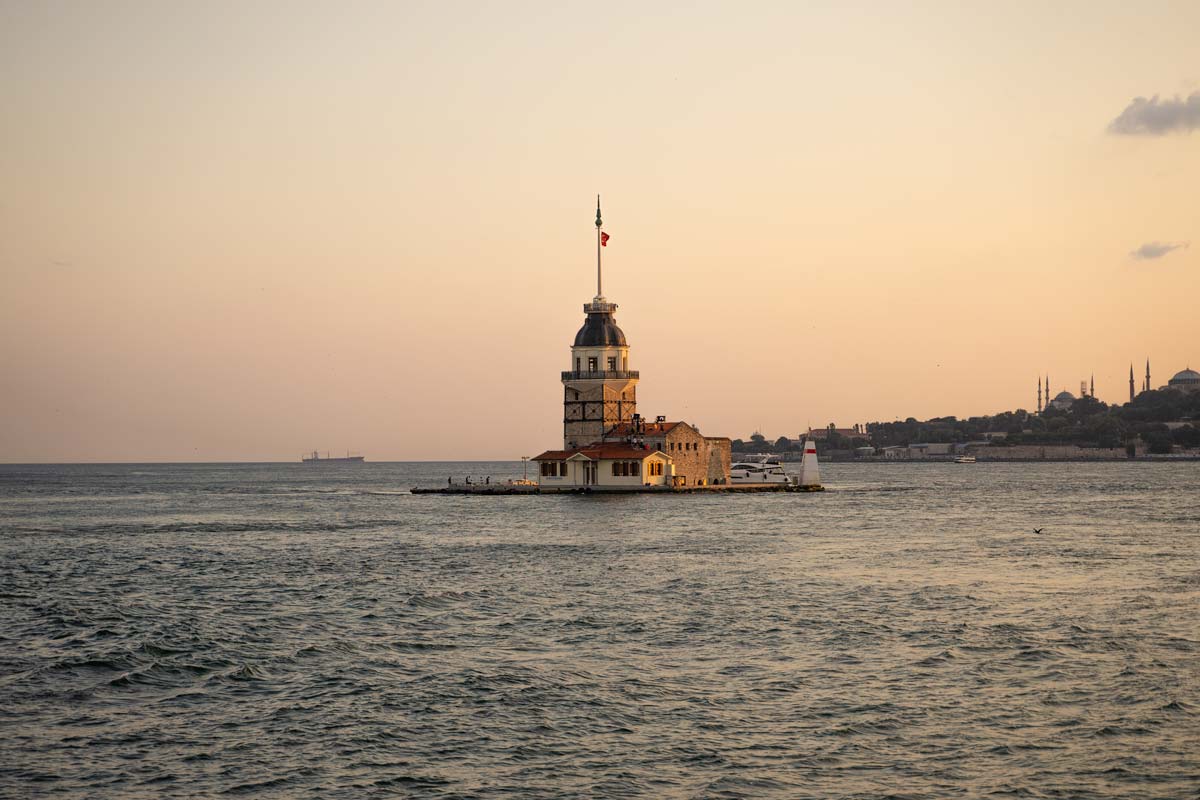 After exploring Istanbul for the third day, you're going to need to get to Cappadocia. To do this, you'll want to take an evening flight to Cappadocia as the bus is 12 hours overnight. Flights from Istanbul to Cappadocia take just over 1 hour and flights run regularly every day. There are two airlines that regularly operate this route:
Turkish Airlines
Pegasus Airlines
There are two airports in Cappadocia – Kayseri Airport (ASR) and Nevsehir Kapadokya Airport (NAV). Both are quite similar in terms of distance to Goreme, the historic center of Cappadocia, so we recommend just booking the cheapest one.
Similarly, there are two airports in Istanbul – Istanbul Airport (IST) and Sabiha Gokcen International Airport (SAW). Both offer flights to Cappadocia but IST is usually easier to get to, but it depends on where you are staying.
When planning your route to the airport, just keep in mind that the traffic in Istanbul can be terrible, so allocate your time accordingly.
When you arrive in Cappadocia, we HIGHLY recommend you to have an airport transfer to your hotel. This is because the taxi drivers at the airports in Cappadocia are known to overcharge tourists. You'll definitely save money with the airport transfer!
Day 4: Cappadocia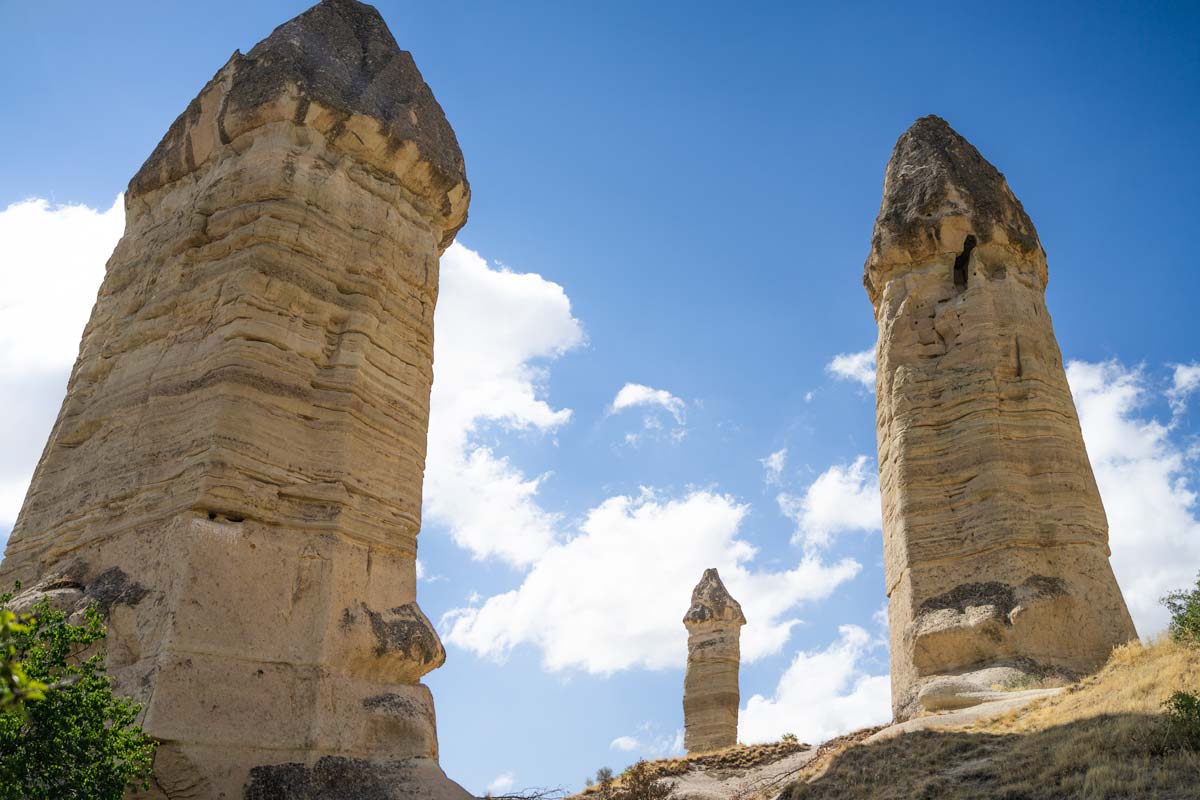 Cappadocia is a vast desert landscape in the Anatolia region of Turkey. It's set at 1,050m above sea level, so the temperature gets cold at night, even in the summer. You'll want to base yourself in Goreme, one of the best areas to stay in Cappadocia. From Goreme, a lot of the places to visit in Cappadocia will be within walking distance away.
The entire region is famous for its fairy chimneys, which are ancient cave dwellings that people used to live in, as well as its unique rock formations that are unlike anything else in the world. You can stay in a cave hotel in Cappadocia, which is a unique experience in itself.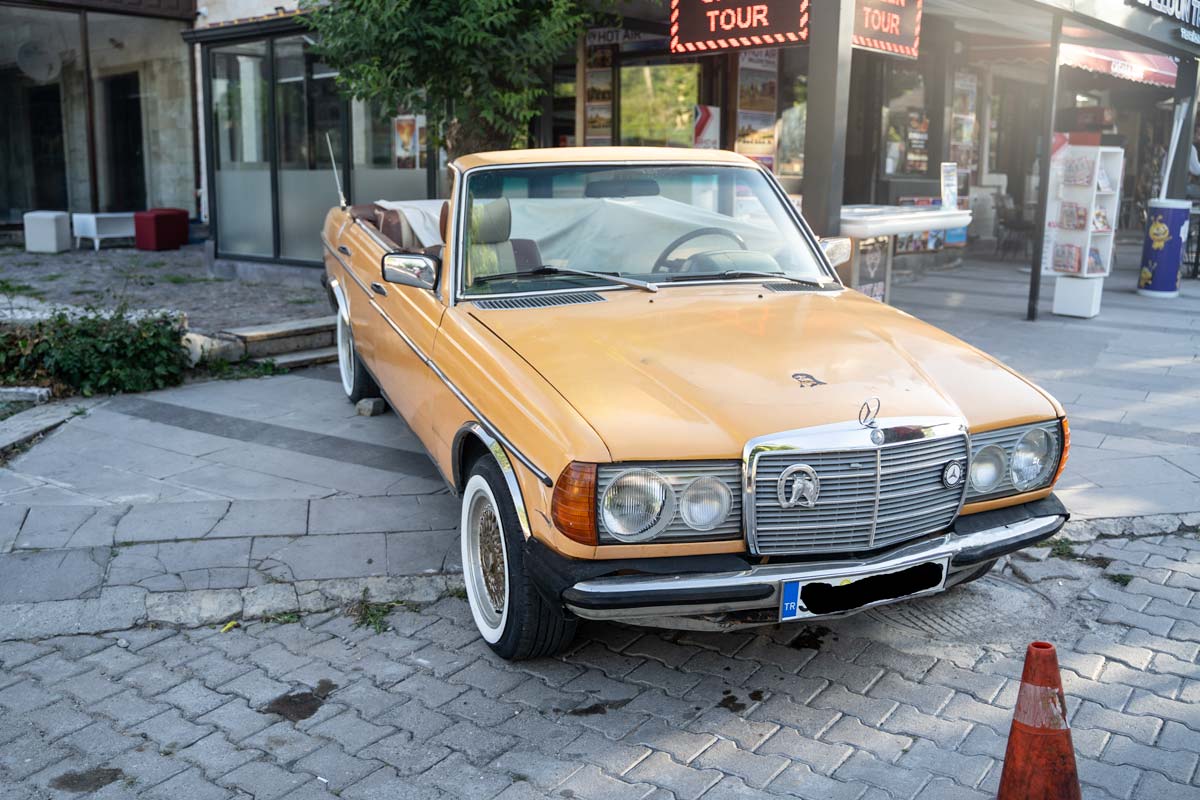 Cappadocia is notoriously hard to get around, so most travelers decide to take tours or rent a car in Cappadocia. This is the best way to see a lot of attractions in just a short time. Public transport in Cappadocia is unreliable, and it takes 2 hours on a bus to cover a distance that can take 30 minutes by car.
📖 Read More: Most Stunning Hotels In Cappadocia With Views Of Hot Air Balloons
Stop 1: Hot Air Balloon Flight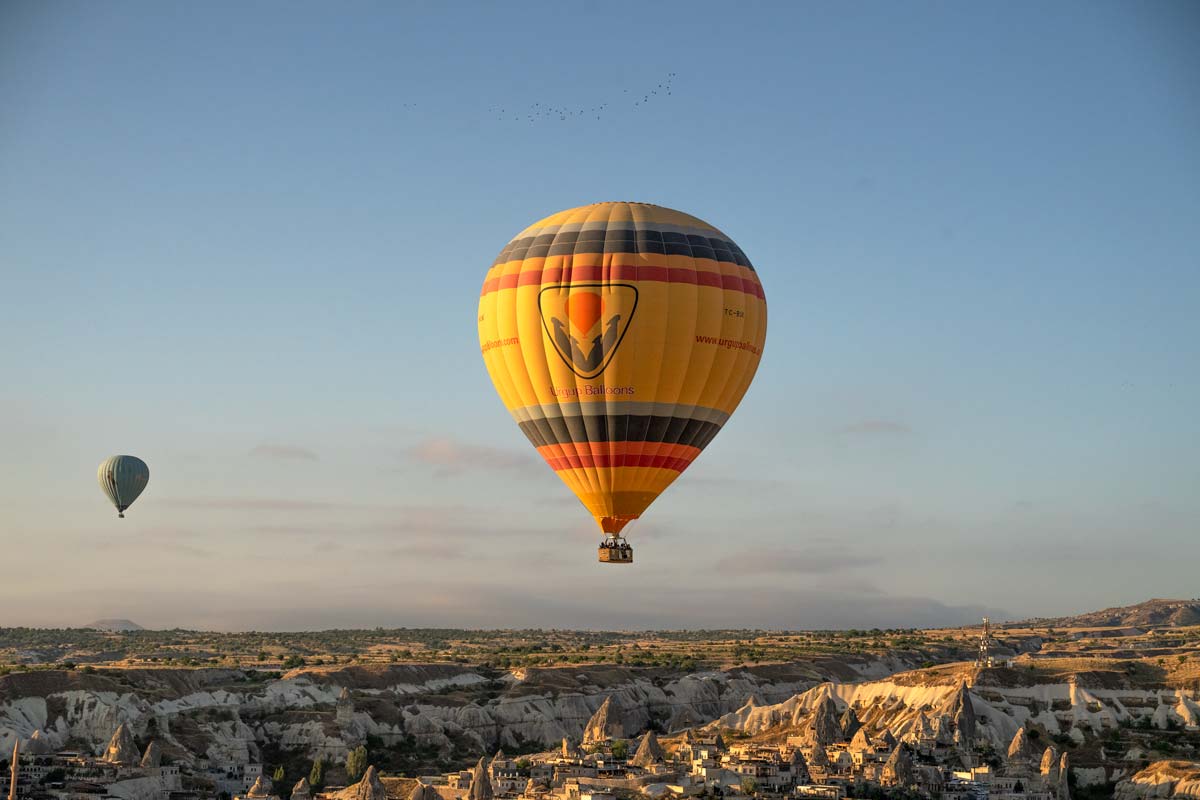 Without a doubt, Cappadocia is most well known for its hot air balloons that float through the skies during sunrise. Since the hot air balloons fly depart at sunrise, you'll want to book this in advance so you can try and do this on your first day.
The reason we recommend doing it on the first day is that the flights are weather-dependent, so if the weather isn't good for flying the trip can be moved to the following day.
You will only have two days in Cappadocia on this itinerary, so you do need to understand hot air balloon flights are really a stroke of luck.
Assuming you were able to have your hot air balloon flight in the morning, you'll be back at your hotel by 9 am and ready to have breakfast. After breakfast, you can start exploring some of the best Cappadocia's attractions.
Stop 2: Red and Rose Valley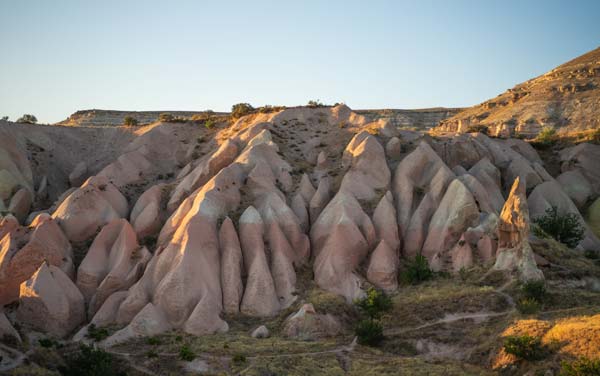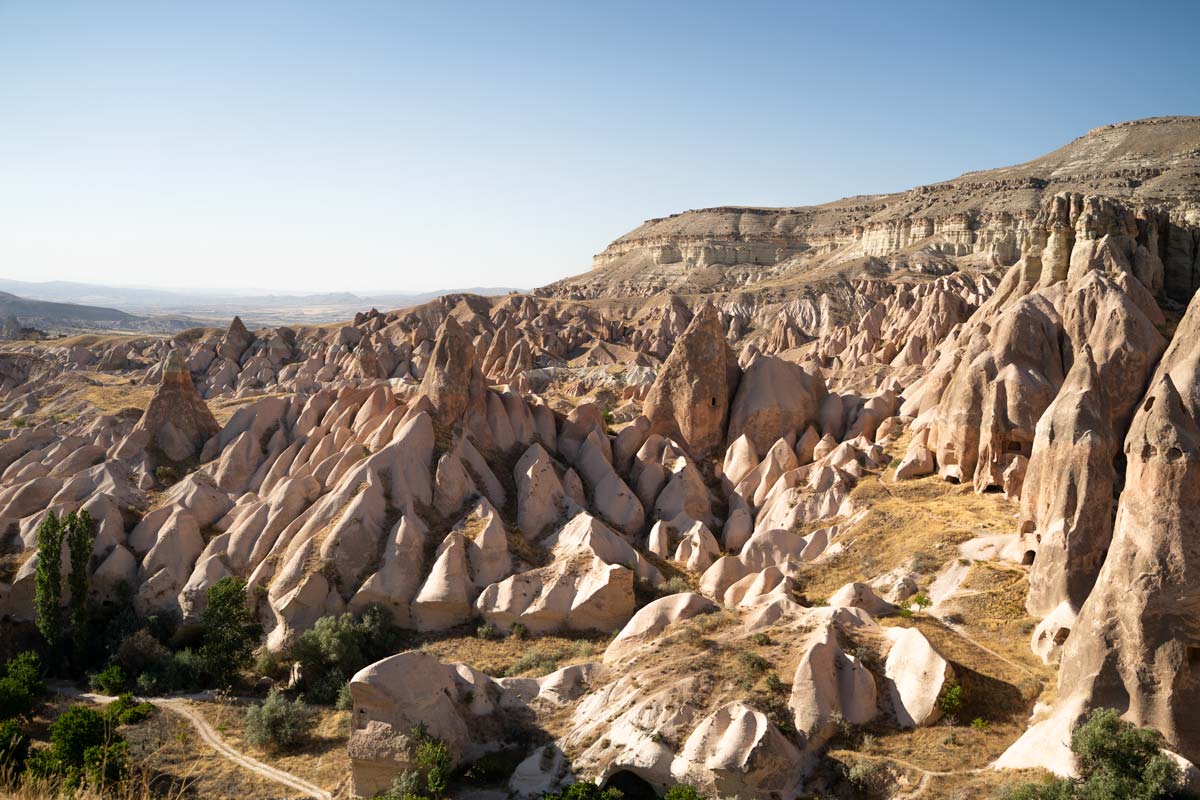 There are many valleys in Cappadocia worth visiting, but if we had to choose just one (or two) then we would definitely say to visit the Red Valley and Rose Valley. These two valleys are located right next to each other, so it's easy to visit both.
The valleys are some of the easiest hikes in Cappadocia and take you through stunning landscapes. You'll pass fairy chimneys, cave churches, ancient cave dwellings, and impressive rock formations.
If you have more time, you can also visit Love Valley or Pigeon Valley, which are located just outside Goreme's town center.
Stop 3: One of the Underground Cities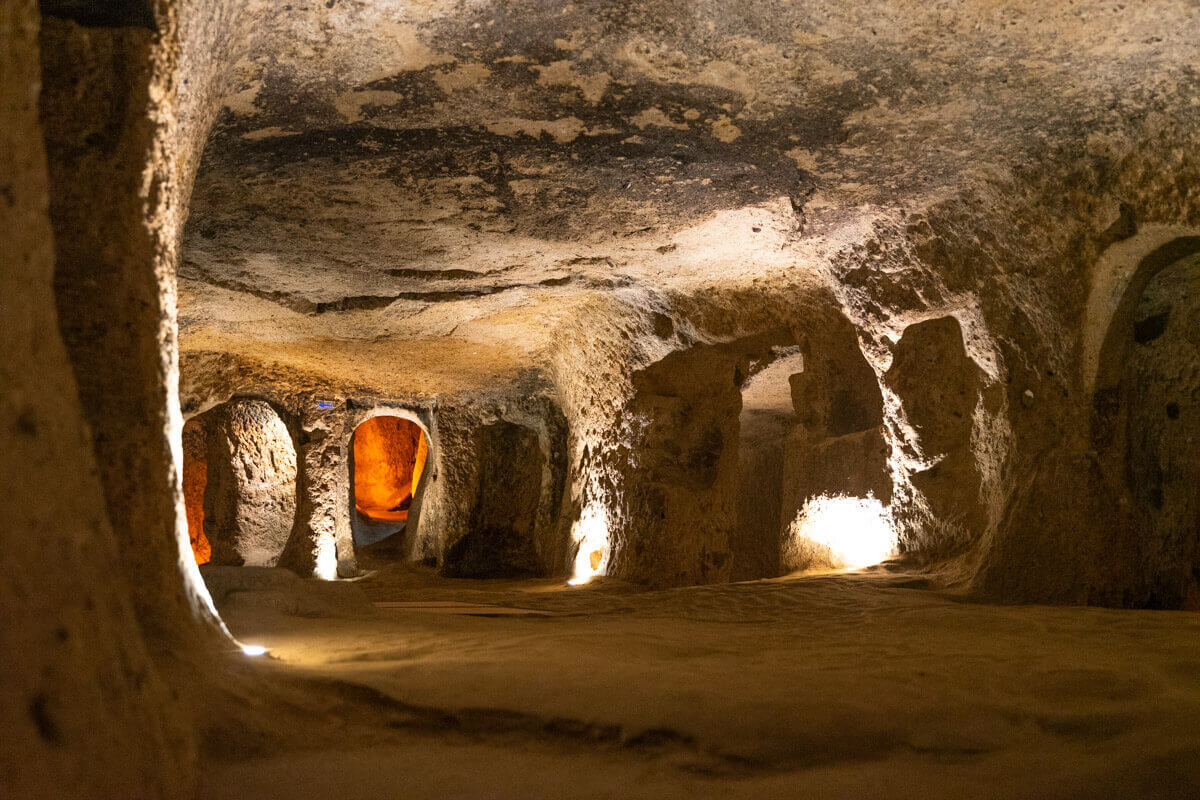 There are several underground cities in Cappadocia, but the main ones are the Kaymakli Underground City and the Derinkuyu Underground City. These underground cities were built in the 7th and 8th centuries as a way for the local Christians to hide from the Arab invaders.
The Derinkuyu Underground City is the most popular one as it's the largest underground city open to the public. It is eight levels deep and once housed 20,000 people. Only four levels are open to the public.
Kaymakli is the oldest underground city and also allows visitors to explore four levels, but it is much smaller than Derinkuyu.
The two cities are only a 15-minute drive from one another so it's possible to see both, but they offer much of the same experience so we recommend you pick one. If you're not sure which one to visit, we have a guide on which is better; Derinkuyu or Kaymalki.
Stop 4: Sunset Viewpoint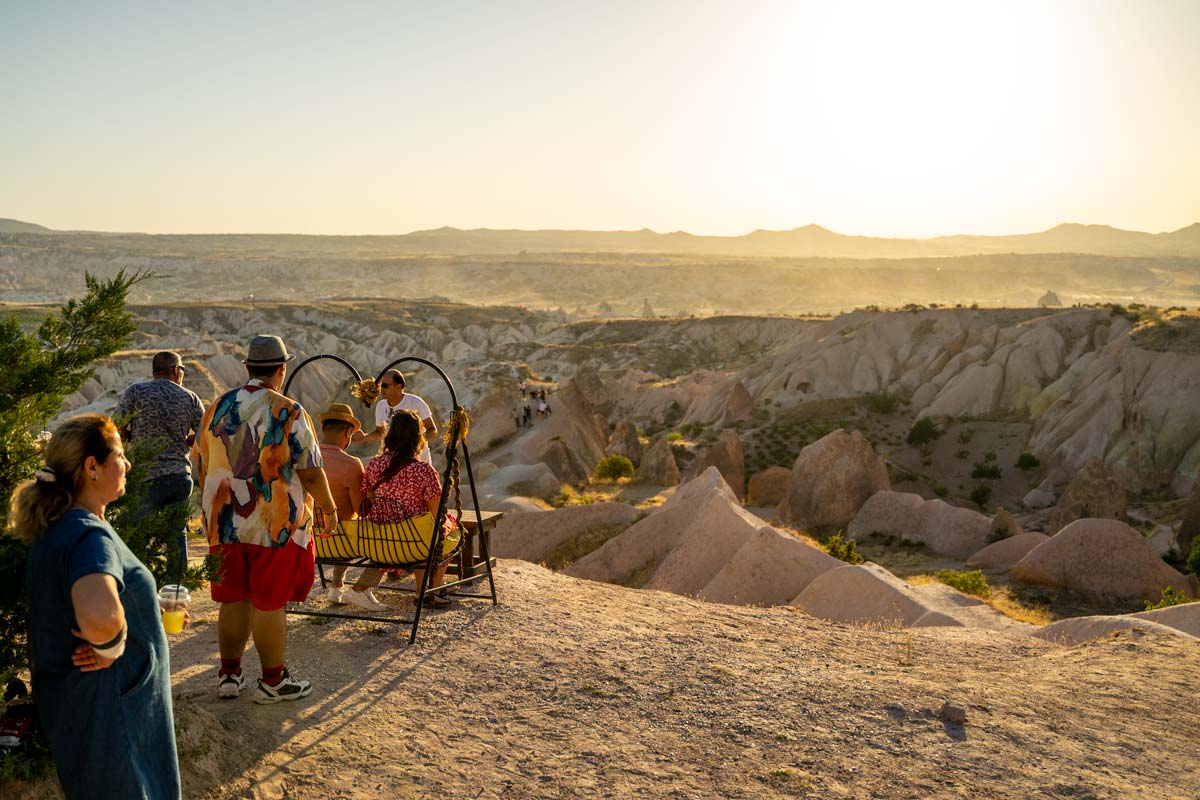 By now you're probably feeling a little tired from all the exploring, so we recommend you take a trip to one of Cappadocia's famous sunset viewpoints. There is one in the center of Goreme town called Lover's Hill, if you don't feel like driving far. These sunset viewpoints give you the best views of the valleys, fairy chimneys and rock formations of the region.
Alternative itinerary:
If you don't want to rent a car and drive, you could do one of the red tours or green tours of Cappadocia.
These are popular tours that allow you to see as much of the region as possible, from the underground cities to the vast valleys in Cappadocia. Both tours have different attractions, so it's best to look up which one is best for you.
Luckily, we have a helpful guide on this; red tour vs green tour.
There's also the blue tour, which is a small group tour that also visits some of the best sights in Cappadocia, but the itinerary for the blue tour differs depending on the company you book with.
Day 5: Cappadocia
On the second day in Cappadocia, you're going to need to go slow as you'll have a flight to catch later in the day.
We suggest you explore the Goreme Open Air Museum in the morning, followed by one of the valleys after lunch.
Pigeon Valley or Love Valley is a good choice because they are close to Goreme. But if you have the extra time, we recommend heading to Ihlara Valley, a stunning canyon that stretches for 15 kilometers and reaches depths of up to 150 meters.
We don't recommend hiking the entirety of it because it'll take too long, but check out some of the landscape, cave churches, and especially the iconic Selime Monastery.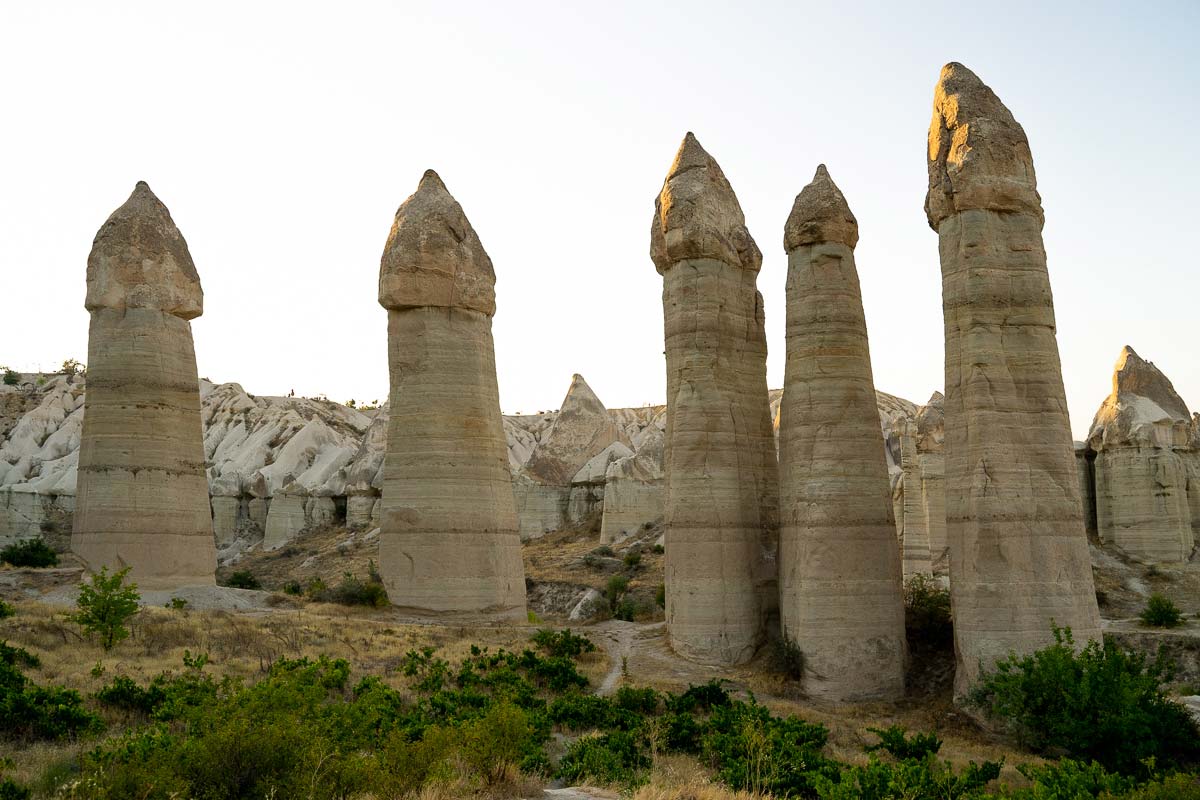 If you don't have a long time to spend, then you can see Devrent Valley or Monks Valley, which take about 30 minutes to see.
Take an evening flight to Izmir. There are no direct flights from Cappadocia to Izmir. You'll first need to catch a flight to Istanbul and change. Flights take around 4-5 hours with the change over in Istanbul but remember you need to get to and from the airport.
📖 Note: It is also possible to catch a flight tomorrow morning from Cappadocia to Izmir, because Izmir Airport has a direct train to Selcuk, which is where Ephesus (your next destination) is located.
Day 6: Izmir (Ancient City of Ephesus)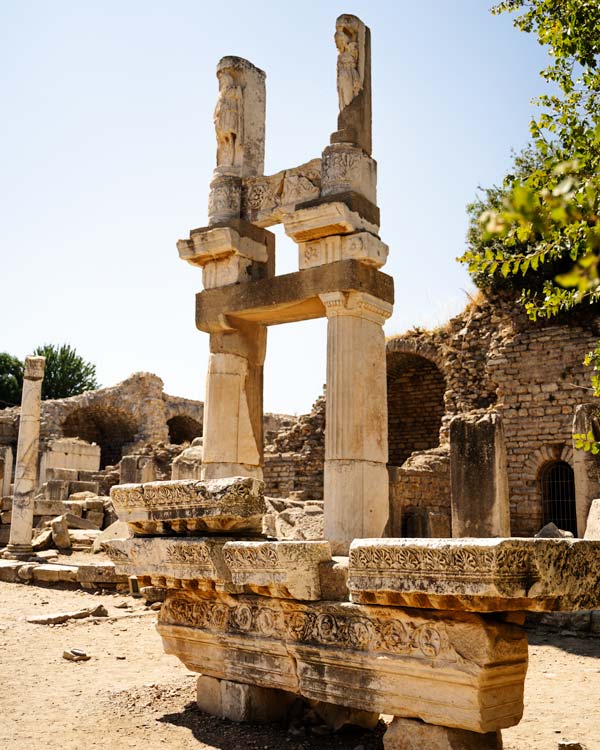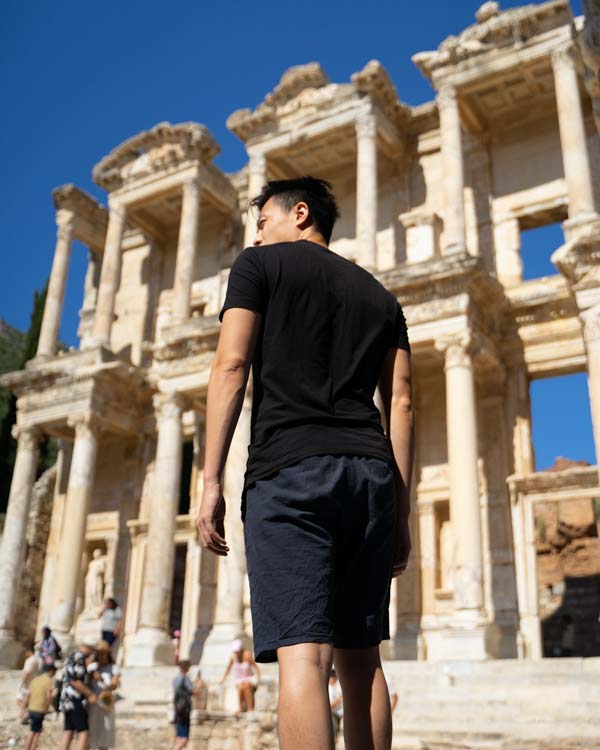 One of the biggest reasons to visit Izmir is to visit the ancient ruins of Ephesus. This well-preserved city dates back to the 10th century BC at the time of the Ancient Greeks. The city is huge, spanning an area of 6.6 square kilometers.
Visitors can still see the well-preserved Greco-Roman architecture from the remains of the city which gives you a glimpse of what life would have been like many years ago.
The most notable landmarks in Ephesus Turkey are the Temple of Artemis, one of the seven wonders of the Ancient World, as well as the Library of Celsus, the Temple of Hadrian, the House of the Virgin Mary and the Roman Amphitheater that was once large enough for 24,000 spectators.
You can get to Ephesus directly from Izmir Adnan Menderes Airport. We recommend getting an early flight to Izmir, storing your luggage in the airport, then going to Ephesus by train. It is the most time-efficient way to see Ephesus, especially since the train departures aren't too frequent.
📖 Read More: How to Get from Izmir to Ephesus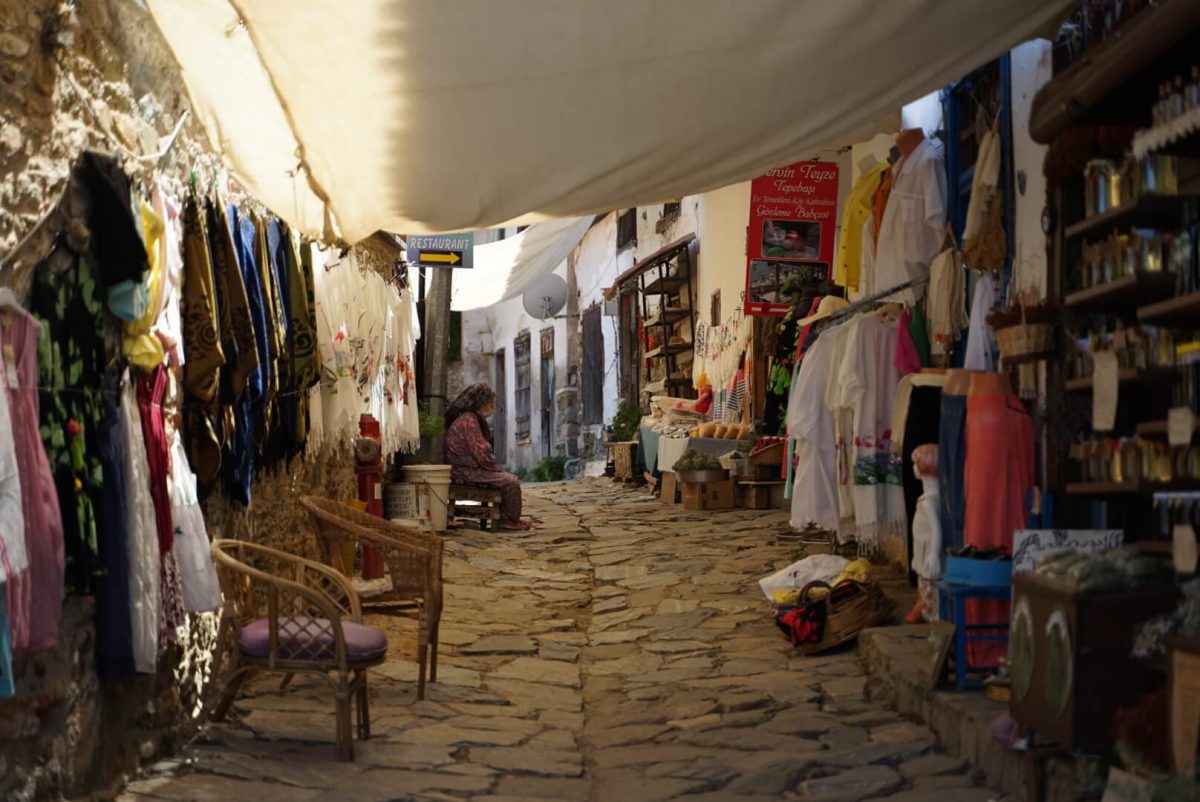 You could easily spend a day exploring Ephesus, but if you have time to spare we recommend visiting the nearby village of Sirence, which is a quaint market village that only has 600 residents.
It's located about 8 kilometers from Ephesus and features many small houses dating back to the Hellenistic period. It's also a great place to pick up handmade crafts to take home as souvenirs.
Day 7: Izmir
On your final day in Izmir, you'll want to explore Izmir before you head back home. We suggest visiting the ancient ruins of Smyrna Agora Ancient City in the morning, followed by one of the green parks in the city.
The Kültürpark İzmir Park is a nice and relaxing area to wander around before getting a flight. Make sure to check out the stunning Izmir Clock Tower before you go, too. The Kemeraltı Bazaar is the perfect place to grab some Turkish souvenirs, if you haven't done so already!
Don't miss out on the Alsancak district. It is one of the busiest districts in town and where you can truly feel the spirit of Izmir!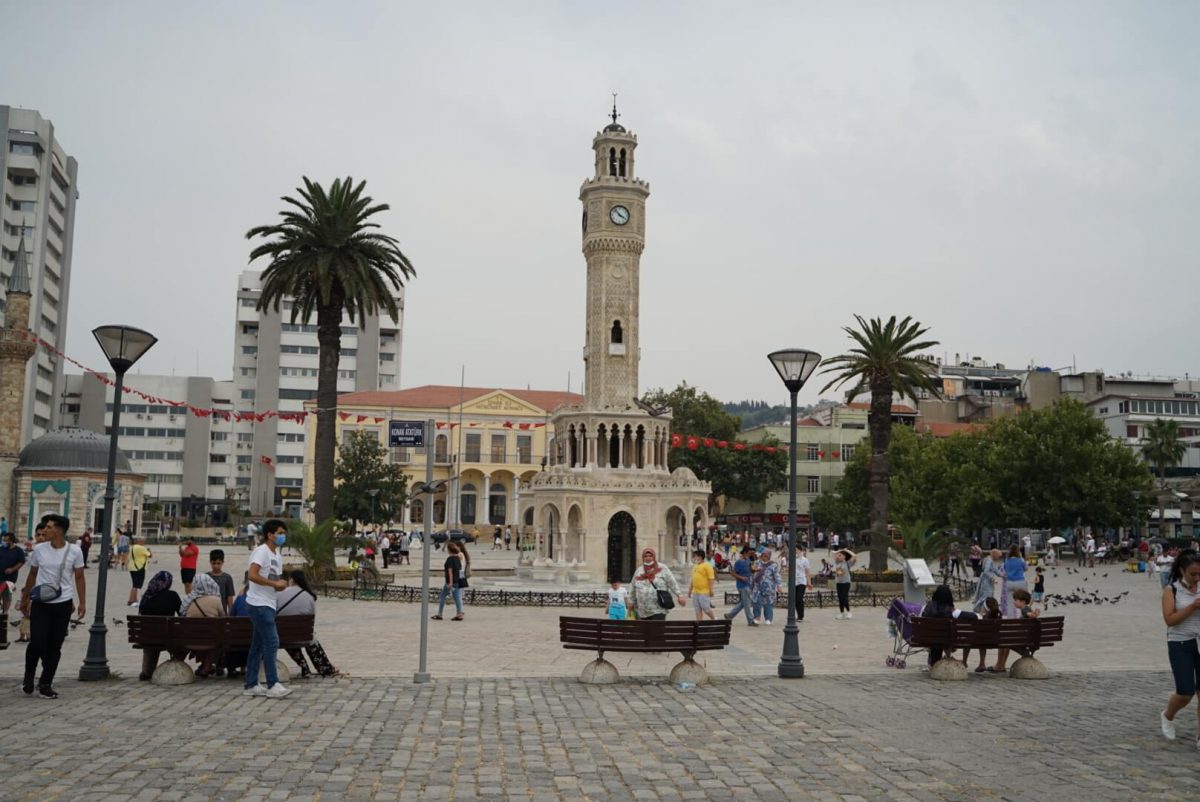 Are you reading this from Turkey? Maybe you need a VPN!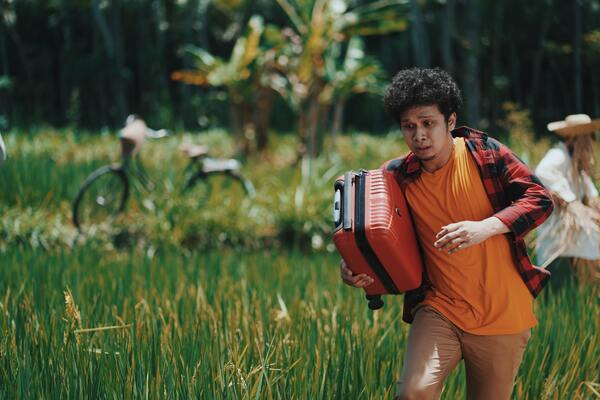 If you're already in Turkey, there is one thing you absolutely NEED: a reliable VPN.
You may find some of your favorite websites and apps are blocked in Turkey, such as popular hotel site booking.com
A VPN allows you to get passed this ruling and enables you to browse these sites without any hassle, and it's completely legal.
We use Express VPN when we're in Turkey and we'd recommend it to anyone. It's affordable, quick, and easy to use.
---
Suggested Itinerary Option 2: Istanbul > Cappadocia > Antalya
For the second option of our 1 week Turkey itinerary, we have swapped out Izmir for Antalya. Izmir is definitely worth a visit if you love history, but another reason to visit Turkey is for the iconic Turkish Riviera.
If you would like some time by the beach, then you should make a stop by Antalya instead, one of the best coastal cities in Turkey. Don't worry though, there's still plenty of history to explore here, you just will have to miss the famous Ephesus.
For this itinerary, we would recommend you spend two days in Istanbul, two days in Cappadocia, and three days in Antalya.
You can follow the same itinerary as option one up until Cappadocia, but instead, follow these three days at the end.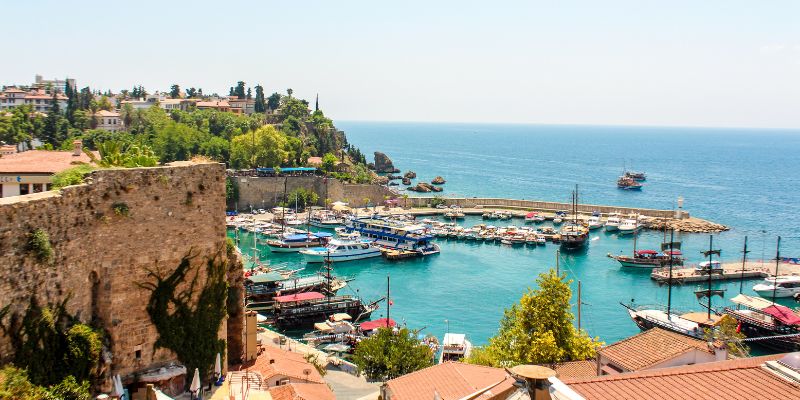 Day 5-7: Antalya
The great thing about Antalya is not only its beaches but its location. Nestled in the center of Turkey along the coast, it's possible to take day trips from Antalya to other areas that you might want to visit, such as Pamukkale, Alanya, Kemer and Side.
During these three days in Antalya, we'll be exploring its incredible history, stunning surrounding nature, and beaches. We'll also give you one day to pick a day trip of your choice.
Here's where you can find airport transfers to make this part of the trip smooth:
Day 5: Antalya Beaches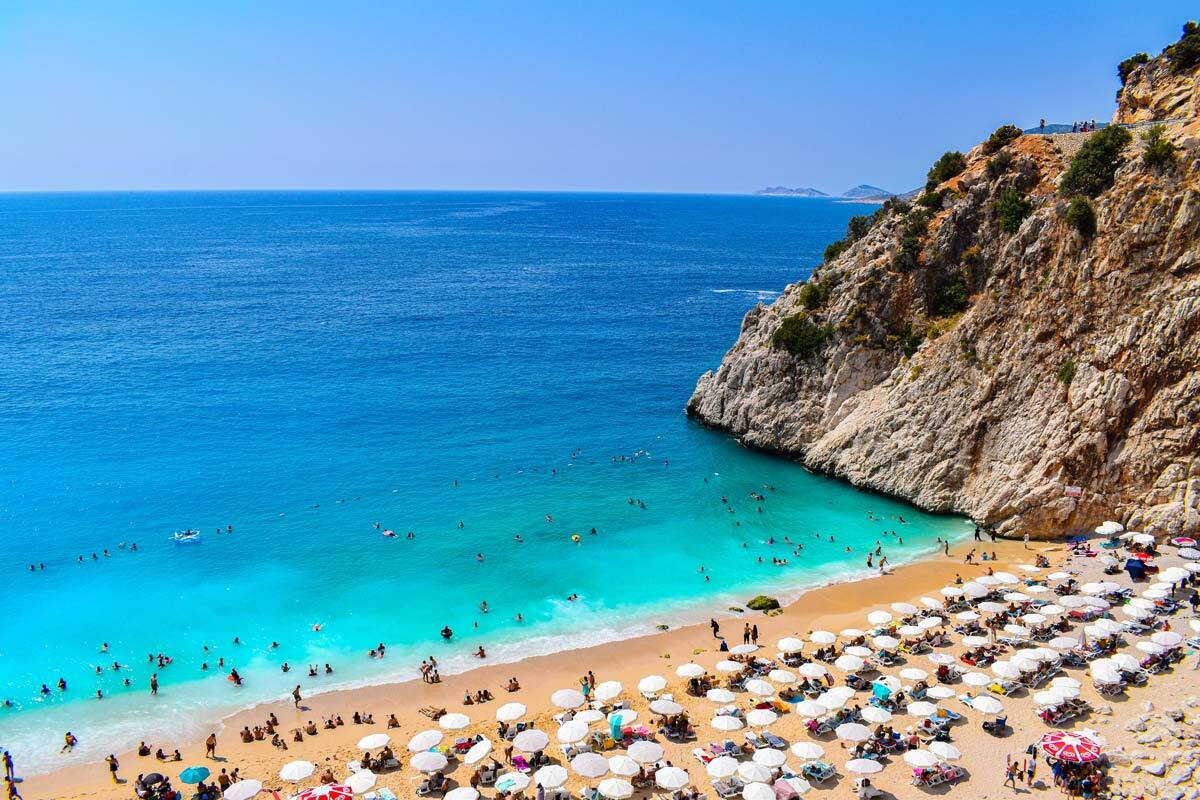 After all the exploring you've done so far, you deserve a rest. We recommend you take the first day in Antalya to explore one (or two) of Antalya's beaches.
If you are staying in Antalya's historic center (Kaleici), which you totally should, then the city's most popular beach – Konyaalti Beach, is only a short 30 minutes away by public transport. It is a beautiful beach with the famed Taurus Mountain Range in the background, however, it is quite a rocky beach.
Konyaalti Beach is one of the best beaches if you are traveling as a family in Turkey because it is super accessible and easy to get there.
If you want something more sandy, you can check out:
Lara Beach – an hour away from Antalya historic center
Kaputaş Beach – 3 hours away from Antalya in Kas, only recommend if you have the time.
Cleopatra Beach – 2 hours away from Antalya in Alanya, super beautiful.
Day 6: Day trip from Antalya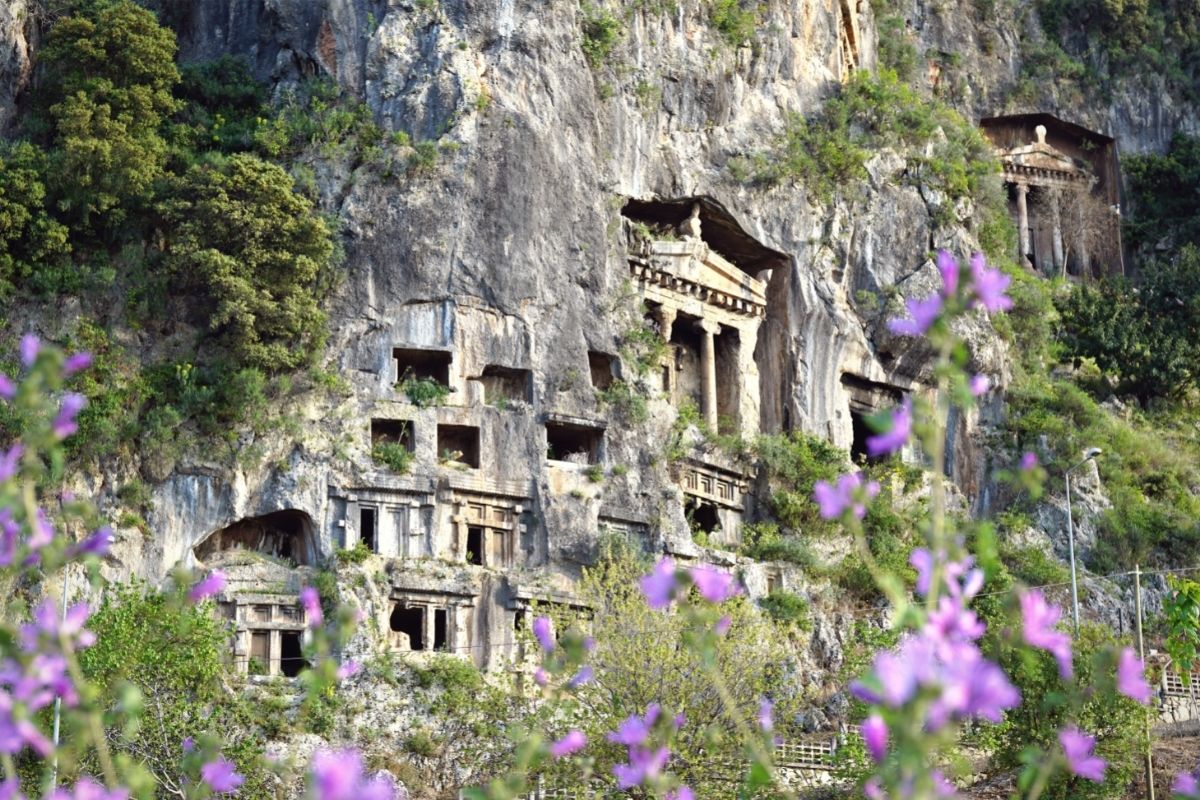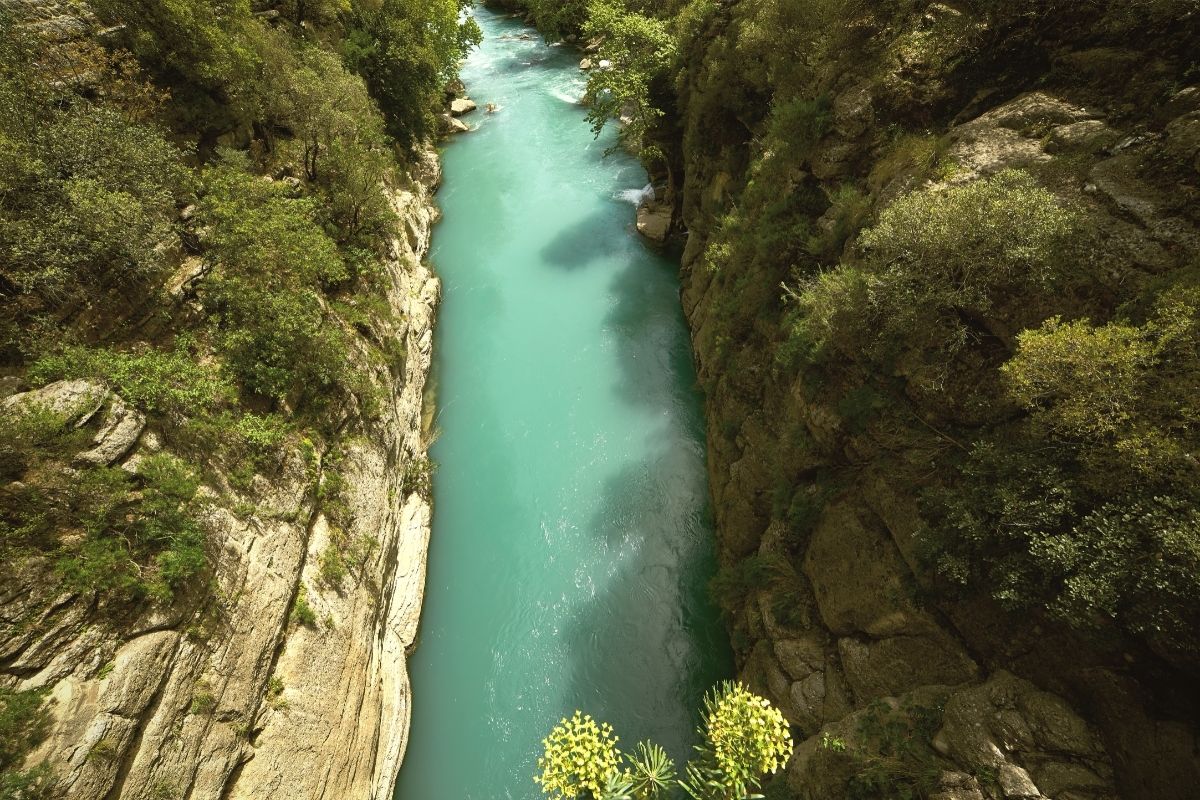 We mentioned earlier that Antalya is a great location for day trips. It's possible to take a day trip to Ephesus and Pamukkale from Antalya, but there's a lot of travel involved.
If you want to take a day trip to somewhere historic, then the Ancient City of Perge or the Lycian Rock Tombs of Myra are only a short drive away.
Alternatively, you can take a boat tour from the historic Roman harbor. This is a great way to explore the turquoise blue waters of the Turquoise Coast and admire the stunning Lower Duden Waterfalls, one of the greatest attractions in Antalya.
Another popular day trip is to Antalya's stunning nature spots. The Taurus Mountains and Koprulu Canyon are all a short distance from Antalya city center and provide excellent hiking, biking, and white water rafting facilities.
Day 7: Antalya Old Town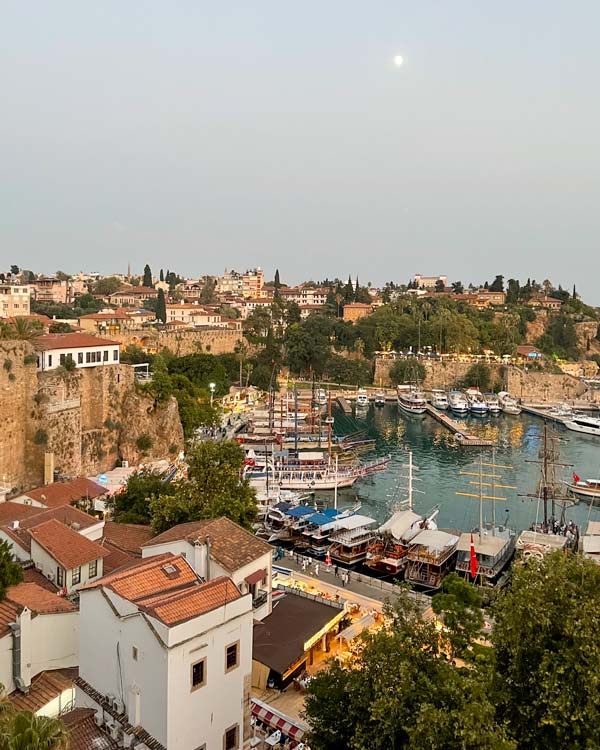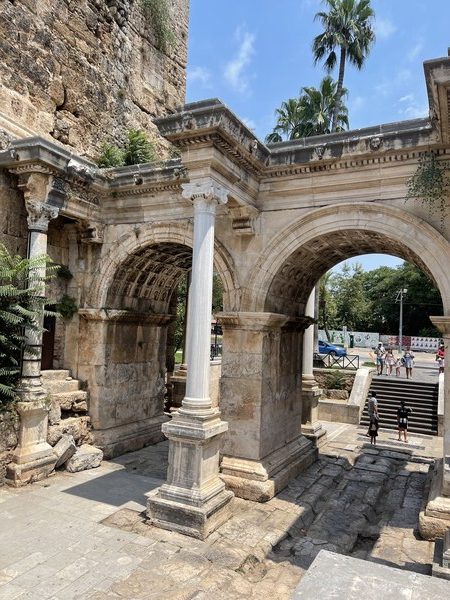 On the last day, you will need to fly back home, so you won't want to travel too far that day. This is why exploring the Old Town of Antalya is best kept to the end. Antalya has a long and fascinating history, having been conquered by many tribes – from the Greeks, Romans, Ottomans, and even Egyptians.
The Old Town is the best place to see all that history come to life. Make sure to include the old Roman Harbor, Hadrian's Gate, and the beautiful Antalya Clock Tower on your Antalya itinerary.
---
Extend to 10 Days Turkey Itinerary
You might be realizing by now that 7 days is not a lot of time to see the whole of this massive and diverse country. If you would like to extend your Turkey trip from 7-10 days, here's what we recommend you do.
For a 10 day Turkey itinerary, we recommend you combine our two options. We recommend you spend three days in Istanbul, two days in Cappadocia, two days in Antalya, and then fly to Izmir for the final three days, spending one of those days taking a day trip to Pamukkale.
Your 10 day Turkey itinerary would look something like this.
Day 1-3: Istanbul
Day 4-5: Cappadocia
Day 6-7: Antalya
Day 8: Izmir
Day 9: Pamukkale
Day 10: Izmir to home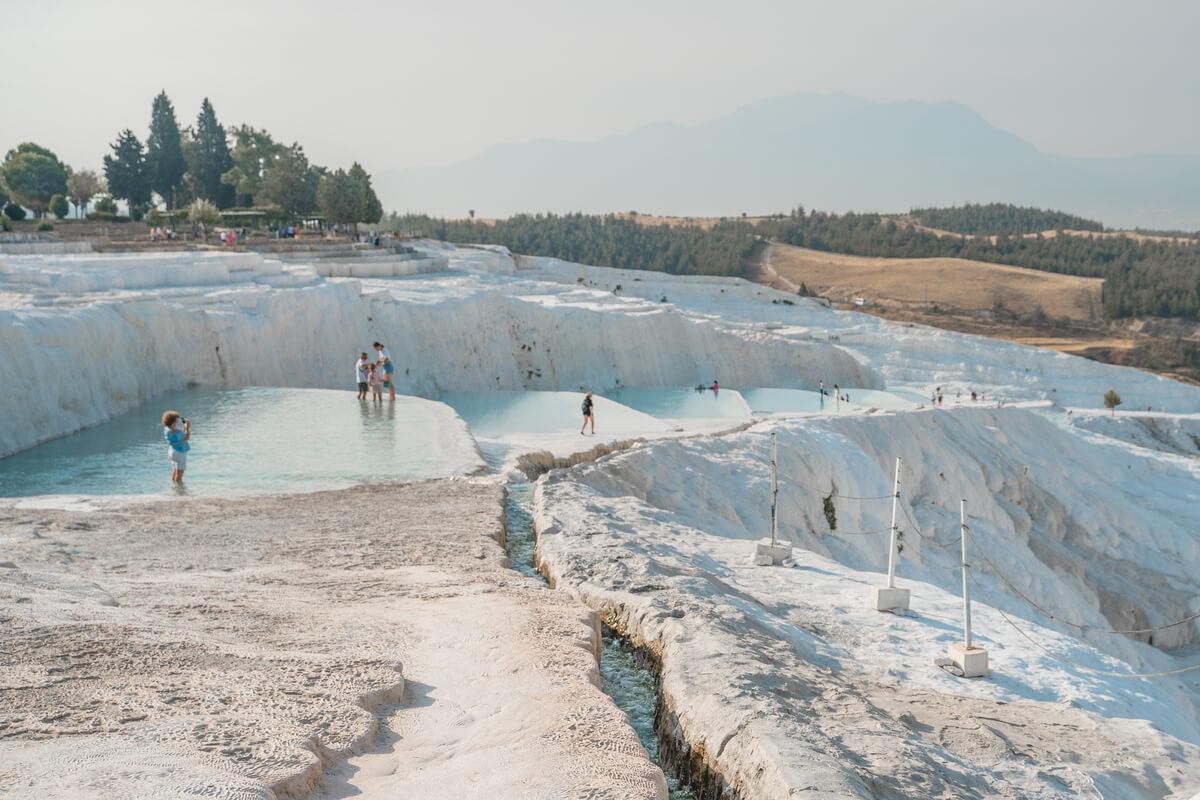 ---
Getting Around Turkey
Turkey has quite a decent transport system, especially for internal flights. You can fly directly from Istanbul to Cappadocia, Cappadocia to Antalya, Antalya to Izmir, and Izmir to Istanbul, which really reduces the amount of travel time you spend. Especially as you only have 7 days.
You can also take long-distance night buses. The advantage of this is that you don't lose a day of traveling by traveling overnight. The downside is it's exhausting. After trying to sleep on a 12-hour bus journey, you're going to feel very drained exploring all the attractions.
The same goes for if you are driving. It's quite inexpensive to hire a car and drive, however, we don't recommend this option for getting around Turkey for a 7 day itinerary. This is because you will be far too exhausted to see and do anything.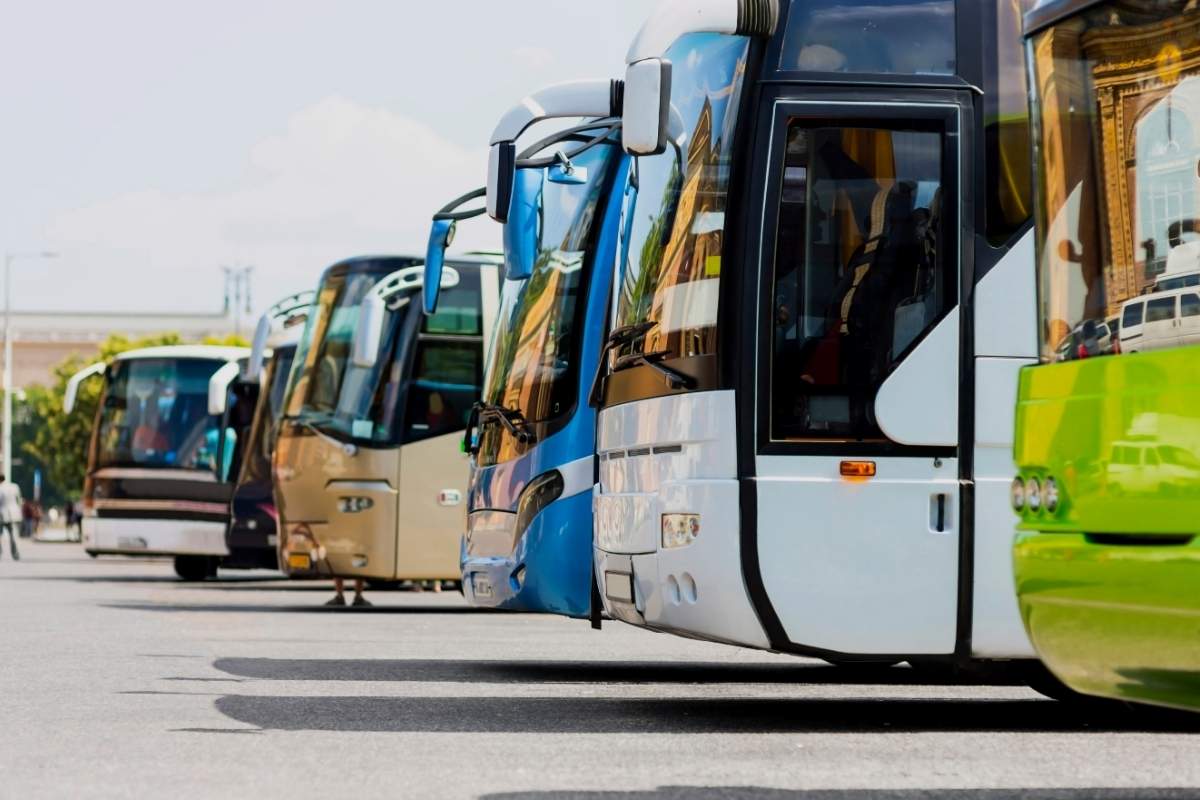 In Cappadocia, there is a minibus network that connects you to all the main attractions, and it's also possible to hire a car in Cappadocia or take taxis from A to B. Most attractions are within a 30-minute drive from one another so if you hire a car in Cappadocia you can see more, and also won't be too tired after driving.
To get around the cities – Istanbul, Izmir, and Antalya have a great internal transport service, including a tram service that connects you to many of the main attractions.
For each city, you don't need to buy a ticket, you can simply use your contactless payment card to pay for any public transport.
📖 Note: Contactless cards are now accepted in most of the major cities in Turkey, including Istanbul, Antalya, Izmir, Fethiye, Marmaris, Bodrum, Oludeniz, Alanya, and more.
---
Best Time to Visit Turkey
We know that we're not all lucky enough to pack our bags and zip off at a moment's notice, so if you're planning a trip to Turkey in advance, then you'll need to consider when is the best time to visit.
Fortunately, any time would be a good time to visit. Even in the winter! During the winter, temperatures in Istanbul, Izmir, and Antalya are mild at a comfortable 15°C on average. Winter in Cappadocia is a sight that you'll never forget.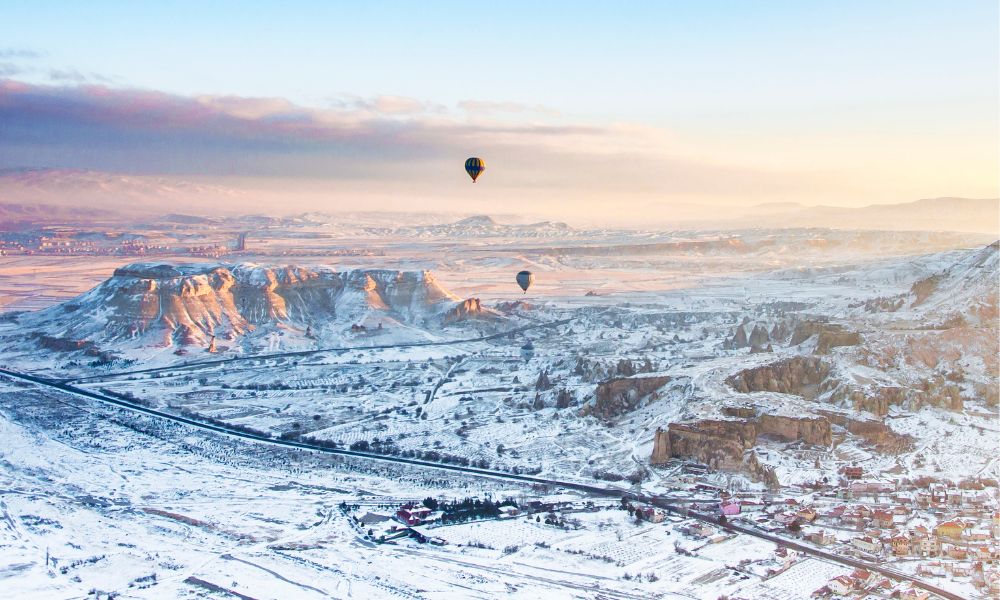 Cappadocia is at a much higher elevation than the other spots on our itineraries, so you can expect it to be much colder. In fact, it even snows here.
Imagine seeing a desert in the snow? Magical. If Cappadocia is one of the main reasons for your trip to Turkey, then check out our complete guide on the best time to visit Cappadocia.
The wettest months of the year are December – February. This is when Turkey receives most of its rainfall, with a 19% chance of rain most days.
The hottest months are July and August. The temperatures can reach as high as the low 40°C's in August, so if you're visiting this time of year then make sure to prepare for it to be hot and bring plenty of sun protection.
Perhaps the best time of year to visit is during the shoulder seasons (April, October, and November), as the weather is dry, a comfortable temperature, and nearly always sunny. Plus they are considered the quiet season so you can visit without the crowds. This is the best time to visit Bodrum and destinations on the coast.
---
Tips for Visiting Turkey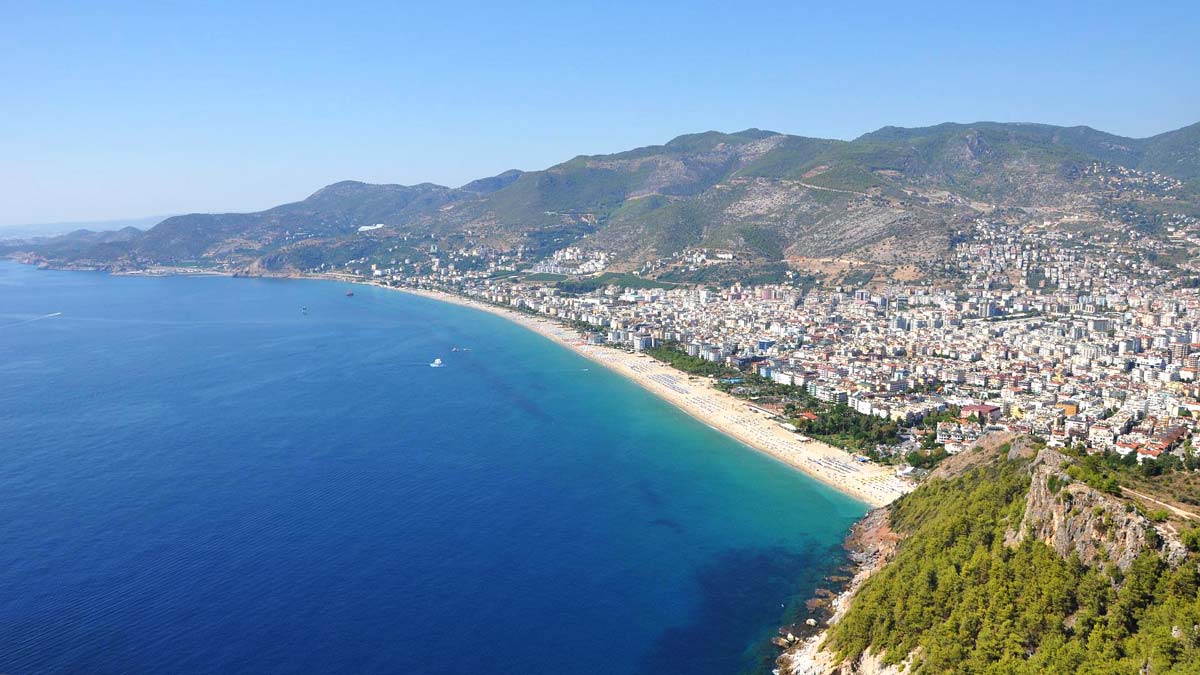 Before you start packing your suitcase and booking places to stay in Istanbul, Cappadocia, Izmir, or Antalya, we have just a few words of advice to help you make the most out of your trip to Turkey,…
Get your e-Visa before you fly – Americans now need a visa to enter Turkey. Though you can get one on arrival, it is much cheaper to get it ahead of time on the government's official site. If you're not from America, it's a good idea to check the entry requirements from your country, which you can also do at the official site.
Pick up a Turkish SIM card or an eSIM – Make sure you are always connected and have plenty of data, as you're going to need to use Google Maps to find your way to attractions.
Get a museum pass if you want to see more than one museum – If you're interested in seeing more than one museum, you can save money by using the city pass which allows you to enter multiple museums. There is a city pass for Istanbul and Antalya.
Get the museum pass for Cappadocia if you are doing independent sightseeing – The Cappadocia Museum Pass covers 13 attractions in Cappadocia, including the underground cities and Goreme Open Air Museum. You could potentially save some money by getting the Cappadocia Musuem Pass.
Book internal flights early – You can typically save a bit on your travel budget for Turkey if you are prepared and book your flights in advance.
Be prepared for disappointment with hot air balloons in Cappadocia – The hot air balloons can only fly when weather conditions are optimal, which is not every day. As you only have a short time in Turkey, you would need to be lucky for the weather to be good on your trip. For hot air balloons, it's best to visit Cappadocia in June – August.
Drink plenty of water – Turkey is hot pretty much all year round, so be prepared for this and carry plenty of water with you.
Wear appropriate clothing when traveling in Turkey – You should cover your shoulders and knees when entering a mosque, and women need to cover their hair.
---
How Many Days In Turkey To Spend?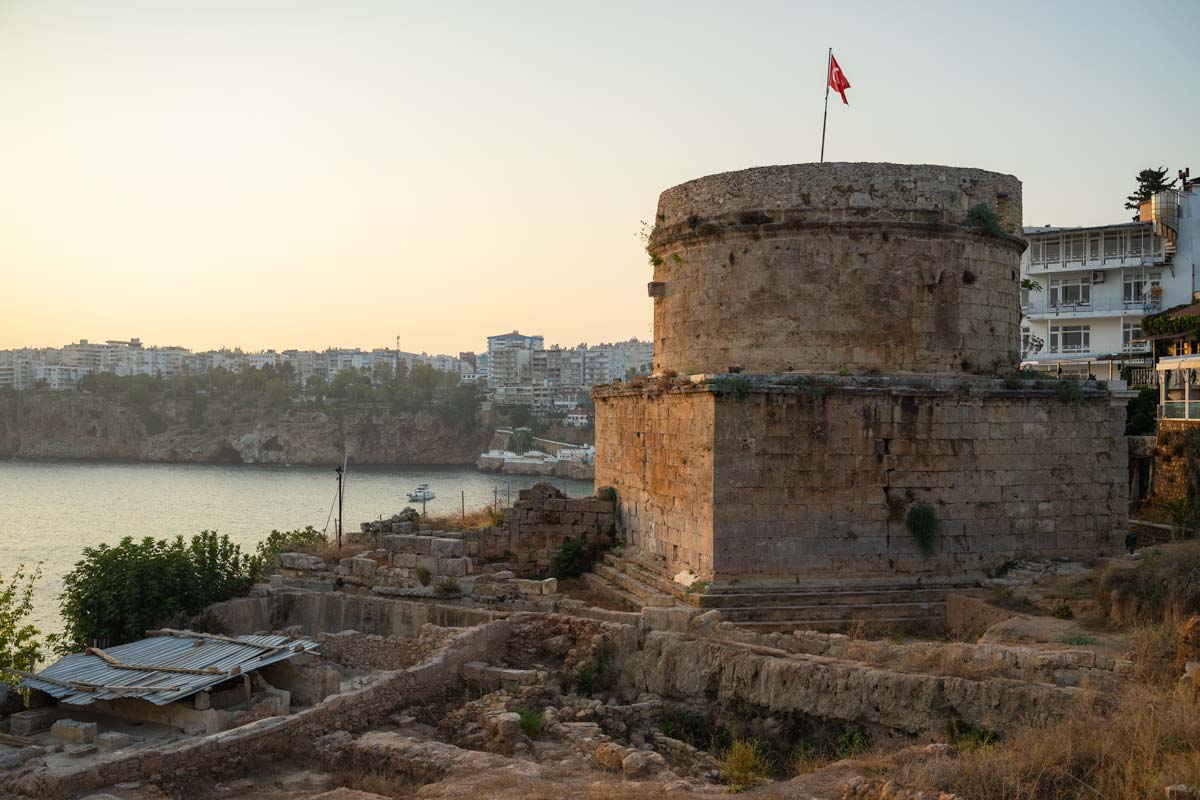 Generally speaking, you can spend as many as a few weeks to as little as a few days in Turkey. As we mentioned, Turkey is a massive country with plenty of things to do and see. Each region of Turkey provides a different experience for travelers – from rich historic cities like Istanbul to beautiful beaches in the Turkish Riviera.
If this is your first trip to Turkey, we recommend you to spend at least a week to two weeks. This will give you enough time to explore one region of Turkey thoroughly and understand its cultural significance as part of the Republic of Turkey.
For people with only a few days, it is best that you spend it in one city or part of Turkey, whether that would be Istanbul, Cappadocia, or Antalya.
---
FAQs About This 7 Day Turkey Itinerary
Here's what people usually ask us about this 7 day Turkey itinerary…
Is 7 Days Enough to Visit Turkey?
7 days is not enough time to see all of the highlights in Turkey. We recommend to spend at least 10-14 days to see it all comfortably. But if you only have limited time on your itinerary, you can However, you can see many of the top landmarks in 7 days.
Where Should I Go in Turkey for a Week?
If you have one week in Turkey, you should focus your time on Istanbul, Cappadocia, and either Antalya or Izmir. This way, you can experience some of the best our every region in Turkey.
Which is better Bodrum or Antalya?
Antalya and Bodrum are both amazing places to visit in Turkey. We recommend Antalya over Bodrum since it is a little bit more historical, cultural and affordable.
---
Final Thoughts on Turkey Itinerary 7 days
So there you have it, this is how you can spend a week in Turkey. As you can see, there's a lot to pack into a 7 day Turkey itinerary, which is why we have given you two options. We hope that this Turkey itinerary helps you plan your adventure.
If you have any questions, let us know in the comments.