Cappadocia is known for its incredible natural landscapes and fascinating history. This desert region was occupied by the Phrygians, then the Romans, the Byzantines, and the Ottomans. Much of that history is still retained, in particular, in the region's most elusive hiding place – The Derinkuyu Underground City.
This massive multi-level underground city is a maze of tunnels and passageways, where once 20,000 people lived.
But why did they live there? Who were they and what was the city used for? These are all questions we'll be answering in our comprehensive guide to Derinkuyu Underground City…
---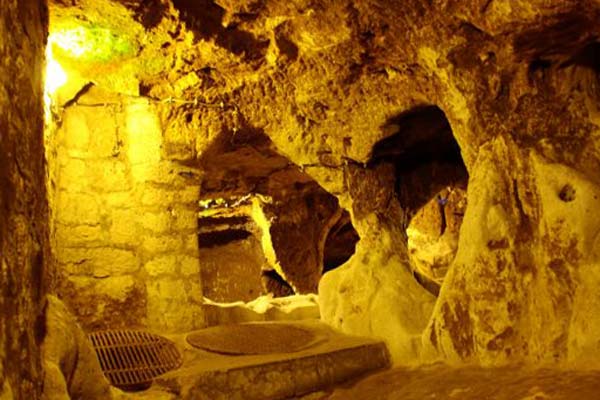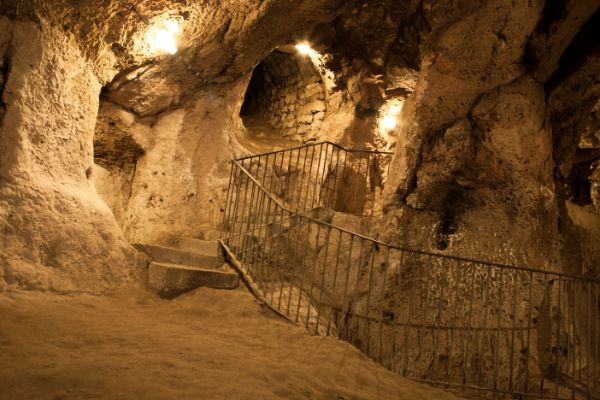 History of Derinkuyu Underground City
The Cappadocia region of Anatolia is well-known for its impressive rock formations and fairy chimneys. The volcanic rock that lies here is very porous and easily molded, a good example of this is at the Zelve Open Air Museum.
Centuries ago, as far back as the Hittites, inhabitants of the region have been carving out cave dwellings, known as fairy chimneys, in the region to use as homes, stables, and churches.
It is said there are 200 underground cities in Cappadocia, and most of them are connected to each other through a series of underground passageways and tunnels. It was said that the Derinkuyu Underground City was formed in the 7th and 8th centuries BCE by the Phragians (or Greeks, as they would be known today).
The Phrygians were conquered by the Romans, another Christian and Catholic empire. Fearful of the invaders, the Christians created underground cities to hide from the invaders.
In 780–1180 AD, during the Byzantine War, the cities were used again to hide from the Byzantines. It is said that this is the time when the tunnels really expanded, and many artifacts found in the tunnels were said to have been from this era.
They continued to be used for protection right up to the 14th century when Turkey was conquered by the Ottomans. After that, the cities were used as a refuge from the Ottamans.
The cities were used right up until 1923 when the inhabitants were expelled to Greece after a population trade agreement was made between Turkey and Greece. The city was abandoned until it was later rediscovered…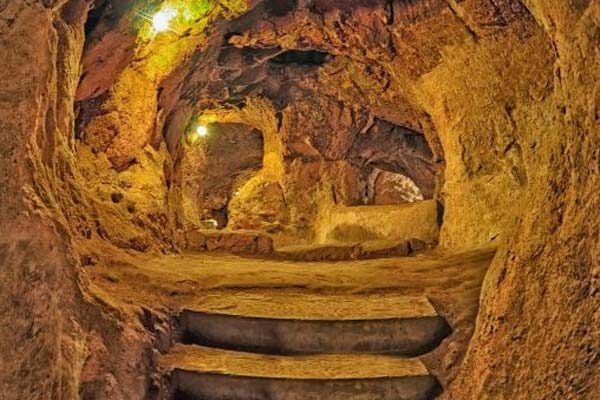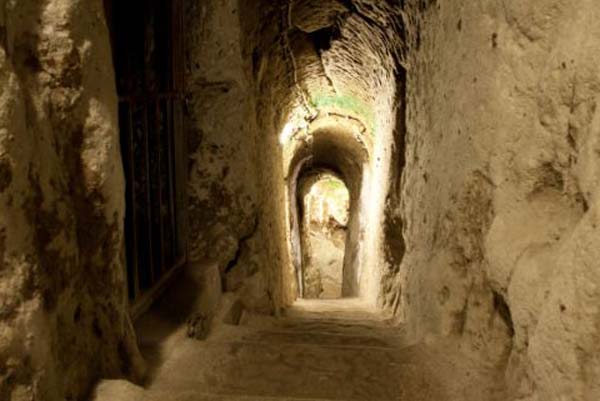 How was Derinkuyu discovered?
The Derinkuyu Underground City was abandoned in 1923, and the locals always knew it was there, only the entrances were sealed and it was seemingly lost forever.
That was, until it was rediscovered in 1963. It is said that a local man from the Nevşehir Province was doing renovations on his home. When he knocked down a wall it revealed to him a long underground passage.
He was surprised when he followed the passages to reveal rooms carved out of stone and ventilation shafts. As he explored, he realized these tunnels were connected and that he had found the lost Derinkuyu Underground City.
Features of Derinkuyu Underground City
Derinkuyu Underground City is made from pyroclastic rock which is common in the Cappadocia region. It's a soft, porous rock that's easy to break and mold.
The city is made up of eight levels, going as deep as around 85 meters, though only four levels are available to visitors. Visitors must also follow a one-way tunnel system, and cannot explore the tunnels to the side.
Inside, there are several tunnels and passageways, as well as ventilation shafts to allow oxygen to reach the lower levels.
The shafts also provided water to the villagers above if they weren't in hiding. It is said to have once been home to 20,000 people, including their livestock and food.
As well as dwellings, there were also churches, bakeries, cellars, oil presses and storage places – the people really did build a functional city underground. They also used large, heavy round doors to seal the entrances in case they were attacked by invaders.
It is also said that the Derinkuyu Underground City connects with other cities in the region, such as the Kaymakli Underground City.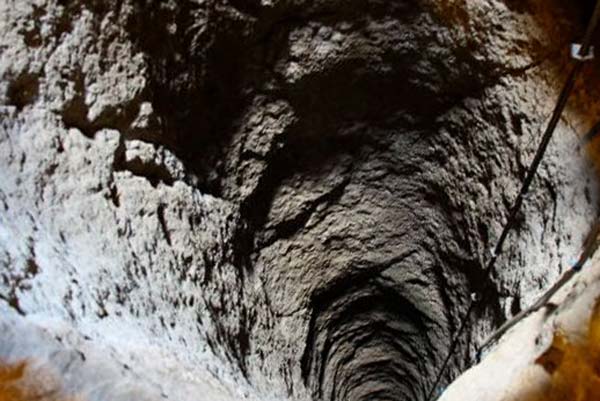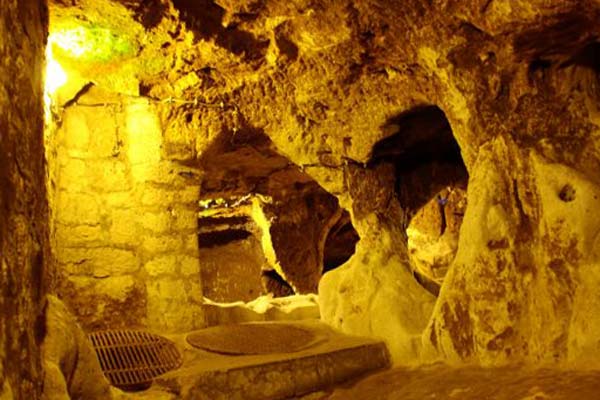 ---
How to Get to Derinkuyu Underground City
There are three main ways to get to Derinkuyu Underground City, they are:
Hiring a car
By bus
On the Green Tour
Here is how you can get to Derinkuyu using each method:
Bus
From Goreme town center, take the bus towards Nevisher. The bus operates every 20 minutes from the town center. You will need to get off the bus at Nevisher and take another bus to Derinkuyu.
The second bus leaves from the opposite side of the road, but your driver will be able to point to the bus stop if you're not sure. It's quite common for tourists to take this route, so don't be afraid to ask your driver how to get to Derinkuyu.
If you're not sure if you want to visit Derinkuyu or Kaymakli, or you want to visit Kaymakli too, this bus goes to both. But make sure you get bus times from the driver so you can plan your return journey.
Hiring a car
If you can, we do think it's worth it to hire a car in Cappadocia. Public transportation isn't always reliable and it is only a 37-minute drive to Derinkuyu from Goreme, but it takes 2-2.5 hours by bus. A car really does save you a lot of time and allows you more freedom to explore.
If you're driving to Derinkuyu, we will assume you're staying in Goreme which is the most popular town in Cappadocia to stay in.
From the town center, you'll want to drive down Göreme-Uçhisar Yolu and head towards Uchisar Castle. Then, turn left onto Yunus Emre Cd. 10 and turn right onto Turgut Özal Cd.
Follow this road all the way to the town of Cardak, and then turn right onto Çardak Köyü İç Yolu. At the end of the road turn left onto the highway, Nevşehir Niğde Yolu/D765.
You want to follow this road all the way to Derinkuyu. You will go through Kaymakli, but keep going another 10 minutes to Derinkuyu.
Once you are in the town center you'll see signs for the Underground City, but it's pretty much directly in the center. The town is laid out like a circle, so park up in the middle and you'll be able to find it.
The address for the Derinkuyu Underground City is Bayramlı, Niğde Cd., 50700 Derinkuyu/Nevşehir.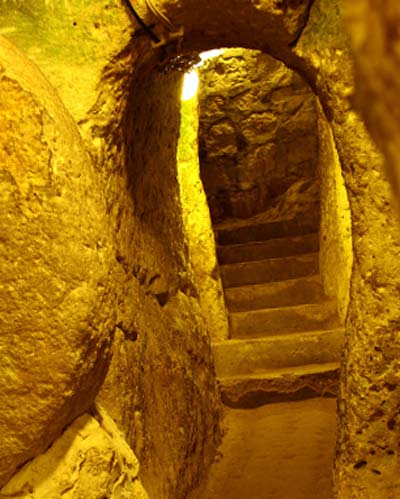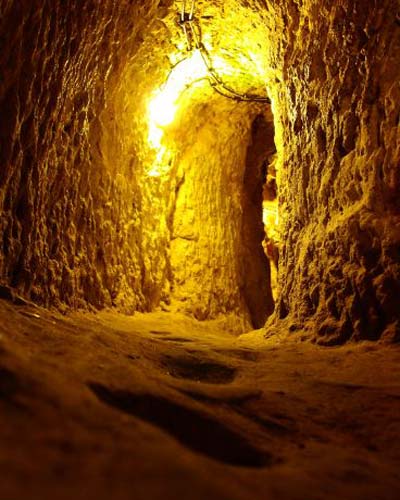 Green Tour
The best thing about taking the Green Tour is you can get picked up and dropped off from your hotel, which makes it incredibly easy for you. However, you might need to think carefully about whether the Green Tour is right for you.
The tour takes you to several interesting places in Cappadocia, mainly Esentepe Viewpoint (Pigeon Valley Viewpoint), Derinkuyu Underground City, Ihlara Valley, Belisirma Village (next to Melendiz River), Selime Monastery and Onyx Jewelry Factory.
This is quite a lot to fit into one day, so you might not have a lot of time to explore Derinkuyu. It also means you can't visit the Kaymakli Underground City which is nearby if you enjoy your visit.
However, a tour is a great option for those who only have a few days in Cappadocia as you can tick off a few sites in one go.
---
Hours and Entrance Fees
Derinkuyu is only open for tourism between April 1st and October 1st. It is open daily from 8.00am – 7.00pm, but hours may differ on religious holidays. As of August 2022, it costs 60 TL (approximately $3.35).
If you want to hire a guide, then you will need to negotiate costs with the guides separately.
---
Tips for Visiting Derinkuyu Underground City
Before you head off to visit Derinkuyu, there are just a few tips we would like to share with you so you go in fully prepared and know what to expect.
Is it worth it? Similar to Kaymakli Underground City, Derinkuyu is cramped and dark, so those suffering from claustrophobia or who have asthma should really consider whether they think it's worth visiting.
Wear sturdy shoes. The ground is well trodden and can be slippery in places. Flip flops, sandals and shoes without grip are a bad idea.
Get a guide. Though it's considered a museum, there is a lack of information as you're walking through. If you want to know more about the history and want to know what you're looking at, a guide is worth it.
Watch your kids and don't wander off. No matter how tempting it is, don't go down any shafts or passageways that are not part of the main passageways as these have not been excavated yet and are unopen to the public. If you have kids, keep an eye on them and make sure they don't wander off.
Visit early. The Derinkuyu Underground City is part of the Green Tour in Cappadocia, so you can expect tour buses to rock up around 10am or so, so try to get there before then or later in the day before closing.
---
FAQs About Derinkuyu Underground City
Here's what people usually ask us about Derinkuyu Underground City…
Who built Derinkuyu Underground City?
It is believed Derinkuyu Underground City was built by the Phrygians, in the 7th and 8th centuries BCE to hide from the Arab invaders.
What happened to the people of Derinkuyu?
In 1923, a population agreement was made between Turkey and Greece, and the inhabitants were expelled to Greece to help boost their population.
Do people live in Derinkuyu Underground City?
Not any more. The city was abandoned in 1923 and was only rediscovered 40 years later.
Why was Derinkuyu Underground City built?
It is believed that during the Byzantine era, the Christians used the underground city to hide from Muslim Arabs during the Arab-Byzantine wars in 780-1180 CE.
---
Before You Go
So there you have it, everything you need to know before visiting Derinkuyu Underground City in Cappadocia. It's truly a special place, even if it does have a somewhat sordid past.
While you're there, you might also like to consider visiting the Kaymakli Underground City which is only a 10 minute drive away. The two cities do connect but the passage has been closed to the public.
We hope that this guide has been useful to you and helped you decide whether to add Derinkuyu to your Cappadocia itinerary.
Disclaimer: Some of the links above are affiliate links. That means if you book or make a purchase through the links, we will earn a small commission at no extra cost to you! The money will help run this site! Thank you!