If you are visiting Cappadocia, chances are, you might've wondered whether you should rent a car in Cappadocia. We typically don't like renting cars when we travel, simply because we like walking around and exploring on foot. But when it comes to Cappadocia, we actually recommend that you rent a car.
Renting a car not only gives you the comfort and flexibility when it comes to sightseeing, but in Cappadocia, it is one of the best ways to get around. Public transportation in Cappadocia is not exactly the best nor the most convenient.
However, renting a car comes with its own disadvantages, which is why we have written this guide to help you decide whether renting a car in Cappadocia is worth it or not.
If you are here to just find out what the best rental car company is in Cappadocia, then make sure you check out DiscoverCars. It searches both international and domestic companies to give you the best deals.
---
Is A Car Needed In Cappadocia?
For the most part, a car is actually not needed in Cappadocia. Most of the main attractions in Cappadocia are accessible via public transportation, taxis, a tour, or simply just hiking.
But if you are taking public transportation, you'll waste plenty of time waiting around and planning your itinerary. Public transportation is unreliable in Cappadocia and the Turkish locals don't exactly speak a lot of English to help tourists out. For example, it took us 2 hours to get to Kaymakli Underground City from Goreme, and driving there would've only taken 30 minutes.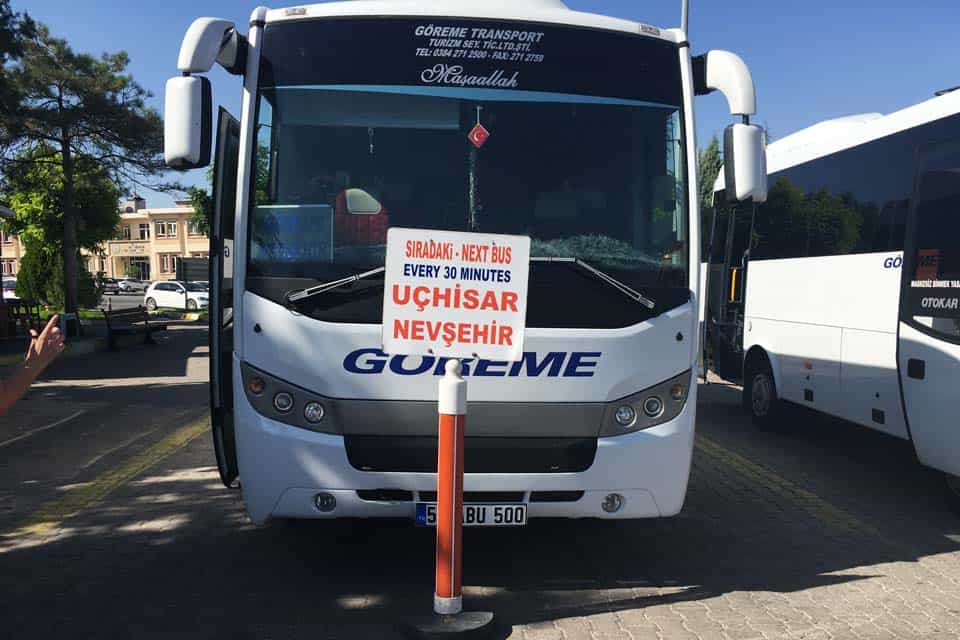 Taxis are great for getting to a destination but they can be risky. They are risky not because of safety reasons, but because you might not find one to get back home. You can always strike a deal with a taxi and hire them for a day, but that is usually more expensive than renting a car.
Then you have tours (blue, red and green), which can take you to the majority of the sights. But the only downside is the inflexibility that comes with them. You spend 30 minutes at one sight and then jump to another, leaving you with little time to appreciate the places that make up the UNESCO World Heritage Site of Goreme. And the massive crowds that usually accompany tours ruin the beauty of the sites.
Lastly, if you want to get to the attractions by hiking around Cappadocia, it is just not practical. Yes, some sites such as Goreme Open-Air Museum and Uchisar Castle are reachable through a hike, but most of them are not.
So although a car is not needed in Cappadocia, it'll definitely make your trip much easier. No one likes headaches when they are on vacation!
---
How To Decide If You Should Rent a Car in Cappadocia?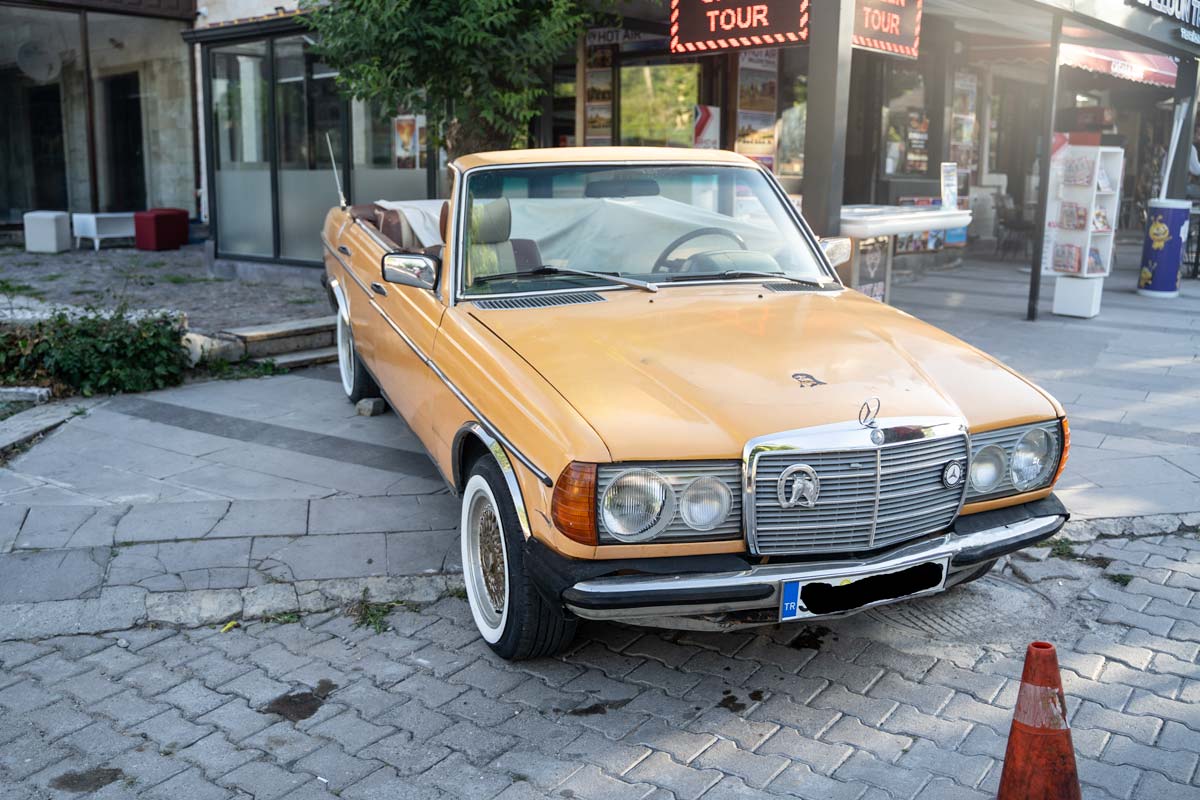 To decide whether renting a car is worth it for you, these are the criteria you need to consider:
How many days in Cappadocia are you spending?
What Is your budget?
How much do you want to see?
How Many Days In Cappadocia Are You Spending?
Perhaps the biggest factor in determining whether you should rent a car in Cappadocia or not is how many days you are spending there. If you have a short itinerary, a car will give you the freedom to see as many sights as you want at your own pace. We recommend you rent a car in Cappadocia if you have 3 or fewer days.
Need help deciding how many days to spend in Cappadocia? Check out our guide here!
What Is Your Budget?
Renting a car in Cappadocia can be expensive. For anyone traveling on a budget in Turkey, it could seriously eat into it. But if you are renting a car, you want to do some calculations and see how much you would spend on taxis and tours if you weren't hiring a car.
How Much Do You Want To See?
Without a car, it is close to impossible to explore all the attractions in Cappadocia. For example, Lake Tuz (Salt Lake) is situated about 170 km (105 mi) away from Goreme, and tours to it are irregular. That means the only reliable way to see it is by having your own vehicle.
If your visit to Cappadocia is about seeing as much as possible, then you'll need a car for that. If you're also planning on seeing other parts of Turkey, then you might consider a car to get from Cappadocia to Antalya, for example.
---
Where to Rent a Car in Cappadocia
There are many places to rent a car in Cappadocia, especially if you are staying in Goreme. Just walk around the streets and you'll stumble upon a few car rental places; Goreme is very tiny.
If you are arriving from one of the airports in Cappadocia (Kayseri or Nevsehir Airport), there are plenty of options around. As always, we recommend you to pre-book your car as early as possible, especially if you visiting during the peak season in Cappadocia.
You might also run the risk of getting scammed when renting a car in person. You can avoid rental car companies upcharging you by renting it online ahead of time.
---
Parking In Cappadocia
Perhaps one of the biggest concerns when driving in Cappadocia is where to park. Luckily for visitors, there are usually plenty of places to park in Cappadocia, and most of them are free.
In the towns, you can just park on the side of the street in an empty space that isn't blocking the traffic or someone. The region of Cappadocia is a big desert so you are never out of options.
There is often a parking lot at the places to visit in Cappadocia. Some of them are free and some of them are not. But don't worry, parking is usually very cheap.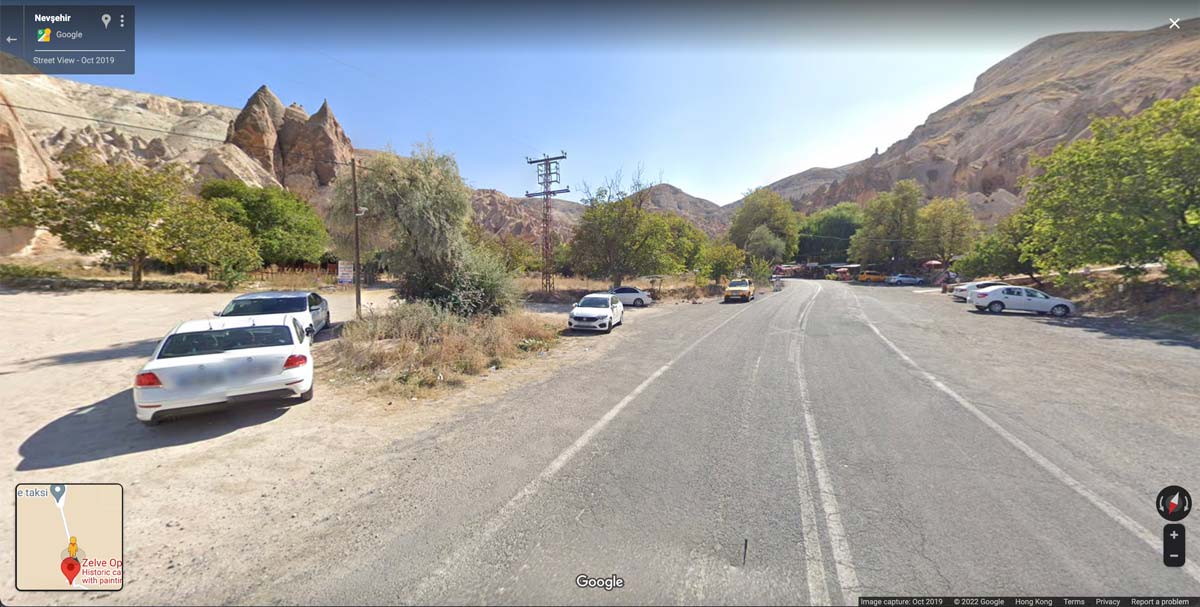 ---
Is Driving in Cappadocia easy?
For the most part, driving in Cappadocia is easy and seamless. The roads are wide and are in mostly good condition. Some towns such as Uchisar and Urgup have narrow streets on a high incline, which could be problematic for inexperienced drivers.
The highways that connect the towns in Cappadocia are well-paved, flat, and smooth, which makes driving very enjoyable. However, from our experience, Turkish drivers can be a bit aggressive. They can go quite fast on the highway, especially seeing that nothing is in front of them for miles.
Similar to USA, you drive on the right-hand side of the road in Turkey. If you are coming from the UK, you might need a little bit of adjustment to make yourself comfortable.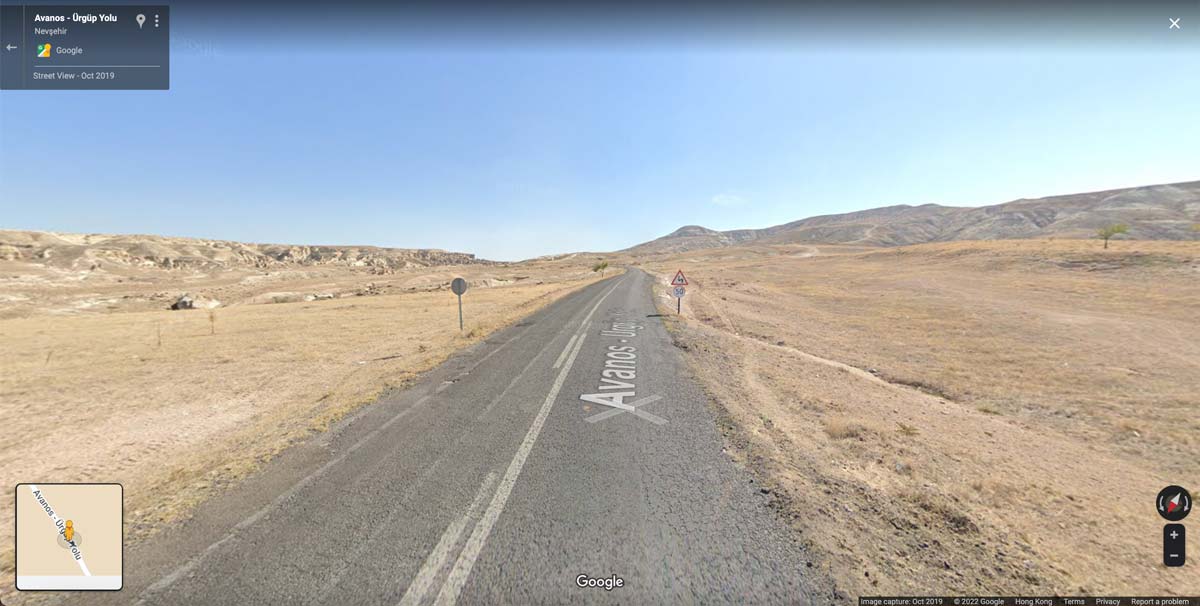 ---
Things To Do in Cappadocia With A Car
This section is dedicated to some of the things to do in Cappadocia with a car. These attractions are usually further away from town, or otherwise very difficult to get to via public transportation.
Zelve Open-Air Museum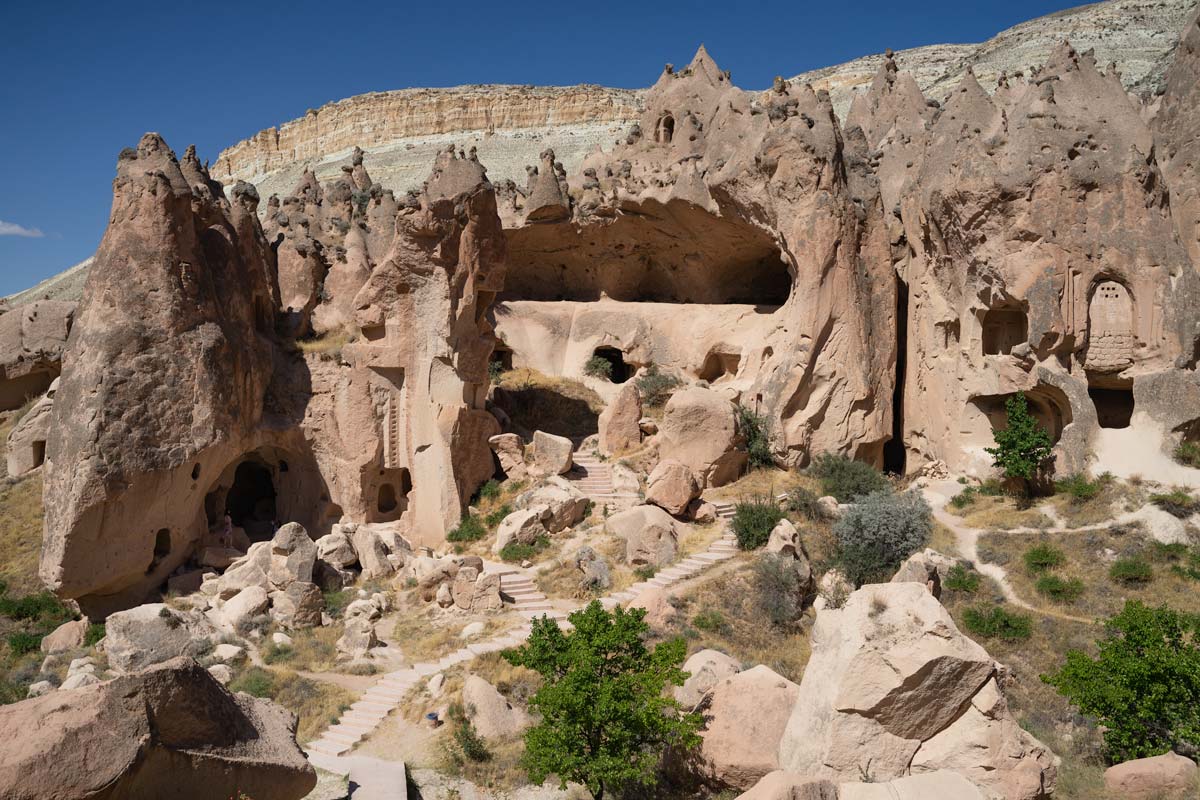 The Zelve Open-Air Museum is a settlement that has been around since the Byzantine Era. It was a settlement that housed Muslims and Christians harmoniously. However, due to the eroding rock formations and unstable structures, the village was moved to Aktepe, or Yeni Zelve, in 1952. Visitors can explore what is left of the settlement and the effect erosion has on the place.
Ihlara Valley
Ihlara Valley is a lush valley situated on the Southwest side of Cappadocia. It is quite a unique place because it is one of the few places with plentiful vegetation in Cappadocia. It is one of the best hiking trails in Cappadocia. Travelers can start from Ihlara Village, descend into the Valley, follow the Melendiz Steam, pass by quaint Belisirma village, and end in Selime Village.
This trail showcases some of the features that make Cappadocia so famous, including dovecotes, rock-cute churches, and more. Plus the vegetation is unlike anything else in Cappadocia.
Derinkuyu and Kaymakli Underground City
The underground cities in Cappadocia are a series of underground tunnels and passageways that housed thousands of people at one time. It is believed that they were built in the 8th and 7th century BCE by the Phrygians, who used them for housing and protection from invaders.
There are over 200 underground cities in Cappadocia, but Derinkuyu and Kaymakli are the most famous ones! Derinkuyu is the biggest, but Kaymakli is the oldest. The caverns and layout are simply stunning and shouldn't be missed.
Lake Tuz
Lake Tuz is a hidden gem in Cappadocia, simply because it is very hard to get to without your own vehicle. Lake Tuz is the second largest lake in Turkey with a surface area of 1,665 sq km (643 sq mi). It is a hypersaline lake meaning that visitors shouldn't bring anything they don't want to be destroyed to the lake.
At certain times of the year, the water is pink and you can see flamingos. It is a gorgeous lake that is a miniature version of the Salt Flats in Bolivia. It is one of the best places to visit in Cappadocia by car.
---
Renting a Car In Cappadocia FAQs
Is there Uber in Cappadocia?
No, there is no Uber in Cappadocia, but there are taxis that can take you to the places you want.
How much does it take to rent a car in Cappadocia?
The price to rent a car in Cappadocia can vary dramatically depending on demand and the season. Visitors can expect anywhere between 15 dollars to 80 dollars a day typically.
How is the public transportation in Cappadocia?
Public transportation is quite tricky to use for tourists since there isn't a lot of good information on their departures and routes. Combined with the fact that many locals (such as bus drivers) don't speak good English, getting around in Cappadocia with public transportation is difficult. That is why we recommend renting a car.
---
So, Should You Rent A Car In Cappadocia?
Though renting a car in Cappadocia has its pros and cons, the advantages heavily outweigh the disadvantages. This is especially true if you have a short itinerary in Cappadocia and want to maximize the sights you can see, possibly without the huge crowds of tourists. Along with easy-to-drive roads and plenty of parking spaces, we highly recommend renting a car in Cappadocia!
Disclaimer: Some of the links above are affiliate links. That means if you book or make a purchase through the links, we will earn a small commission at no extra cost to you! The money will help run this site! Thank you!