Home to unworldly fairy chimneys, breathtaking hot air balloon rides, and exotic rock formations, Cappadocia has become one of the most popular destinations in Turkey. With its recent rise to fame, our readers often ask whether Cappadocia is expensive or if it is still affordable for the average traveler.
So, is Cappadocia expensive or cheap?
A trip to Cappadocia doesn't have to be expensive, but it certainly can be. The region is dotted with a variety of activities, some cheap but some very expensive. There are also plenty of budget accommodations in town, so visitors don't necessarily have to splurge when they are in Cappadocia. Cappadocia is a destination that both budget and luxury travelers can enjoy.
To give you a better understanding of the prices in Cappadocia and how to budget your trip, we've broken down the cost of a trip into different categories below.
Note: The economic situation in Turkey is not exactly the most stable. The Turkish Lira has seen massive inflation over the years, which means that keeping track of the exact Cappadocia prices have become increasingly difficult. Please account for that when looking at the estimates below.
---
Key Takeaways:
Cappadocia can be a cheap destination, but tourists typically end up spending lots of money on tours, transportation, and sometimes accommodation.
Your budget will heavily depend on when you are visiting. Some of the prices in the peak season can be more than 50% higher when compared to the low season.
The hot air balloons in Cappadocia are simply legendary, but the tours are notoriously expensive. If you are traveling on a budget, you might have to reconsider skipping that.
---
How Much Does A Trip To Cappadocia Cost?
To give you a quick rough estimate of how much a trip to Cappadocia would cost, we've formulated a table below with the categories we'll discuss. Note that we have given a range to many of these categories, so you can get a good idea of how much it would cost if you traveled luxuriously versus frugally.
Note that all of the prices are in USD because of the instability with the Turkish Lira.
| Expense | Cost (USD) |
| --- | --- |
| Getting To Cappadocia | 28 to 75 |
| Getting Around Cappadocia | 0 to 40 per day |
| Food And Drinks | 9 to 90 per day |
| Hot Air Balloon Tour | 160 to 300 per person |
| Accommodation | 15 to 250 per night |
| Other Tours | 50+ per day |
| Attractions | 5 to 16 per day |
After some quick maths, you can expect to spend around a minimum of 425 USD and a maximum of 821 USD for a 3-day trip in Cappadocia. Of course, you can spend less by not doing the hot air balloon tours or any tours at all. In that case, you can get by with as little as 115 USD for 3 days in Cappadocia.
---
Cost of Getting To Cappadocia
| Expense | Approximate Cost (USD) |
| --- | --- |
| Domestic Flight From Istanbul To Cappadocia | 25 to 65 |
| Airport Shuttle Transfer | 10 |
| Bus From Istanbul To Cappadocia (Airport Shuttle Not Needed) | 28 |
Cappadocia is located in central Anatolia, which means that getting to it is not exactly the easiest. Generally speaking, visitors will have to make a stop in Istanbul before coming to Cappadocia. So for the sake of calculating the cost of getting to Cappadocia, we'll assume that you are coming from Istanbul.
From Istanbul there are two ways to get to Cappadocia:
Domestic Flight
Long-Distance Bus
Cost of Domestic Flight from Istanbul To Cappadocia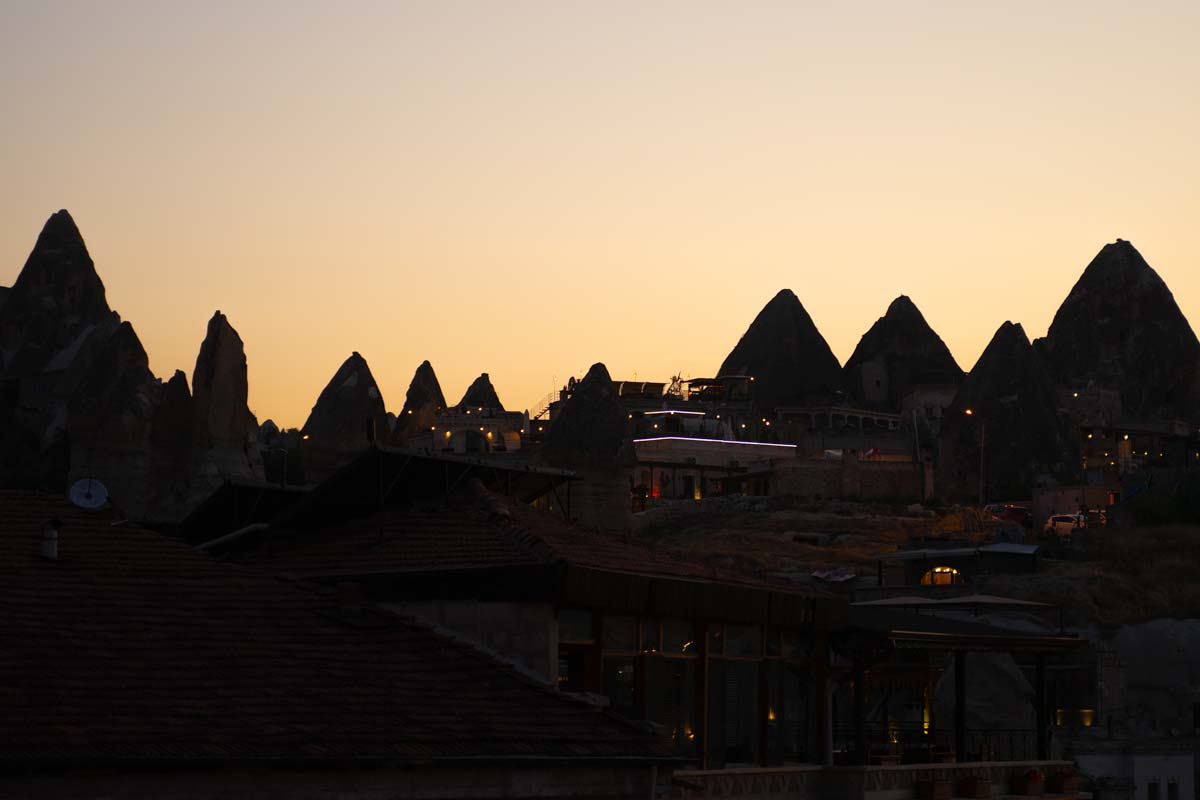 If you have a short Turkey itinerary, taking a flight from Istanbul to Cappadocia is the best way to get between these two popular destinations. A flight from Istanbul to Cappadocia typically costs anywhere from 25 to 65 USD, depending on the demand and season you are traveling in.
Generally speaking, it is cheaper to buy your ticket ahead of time and avoid the peak summer months.
There are two airports in Cappadocia:
Nevsehir Kapadokya Airport
Kayseri Erkilet Airport
Though Nevsehir's airport is closer to Goreme, the historic center of Cappadocia, the flights tend to be a little bit more expensive than Kayseri's airport. It is also worth noting that you'll need a way to get from the airport to your hotel, and an airport shuttle transfer costs around 10 USD.
So if you were to take a domestic flight from Istanbul to Cappadocia, it would cost you anywhere from 35 to 75 USD (including the airport transfer).
Long Distance Bus From Istanbul To Cappadocia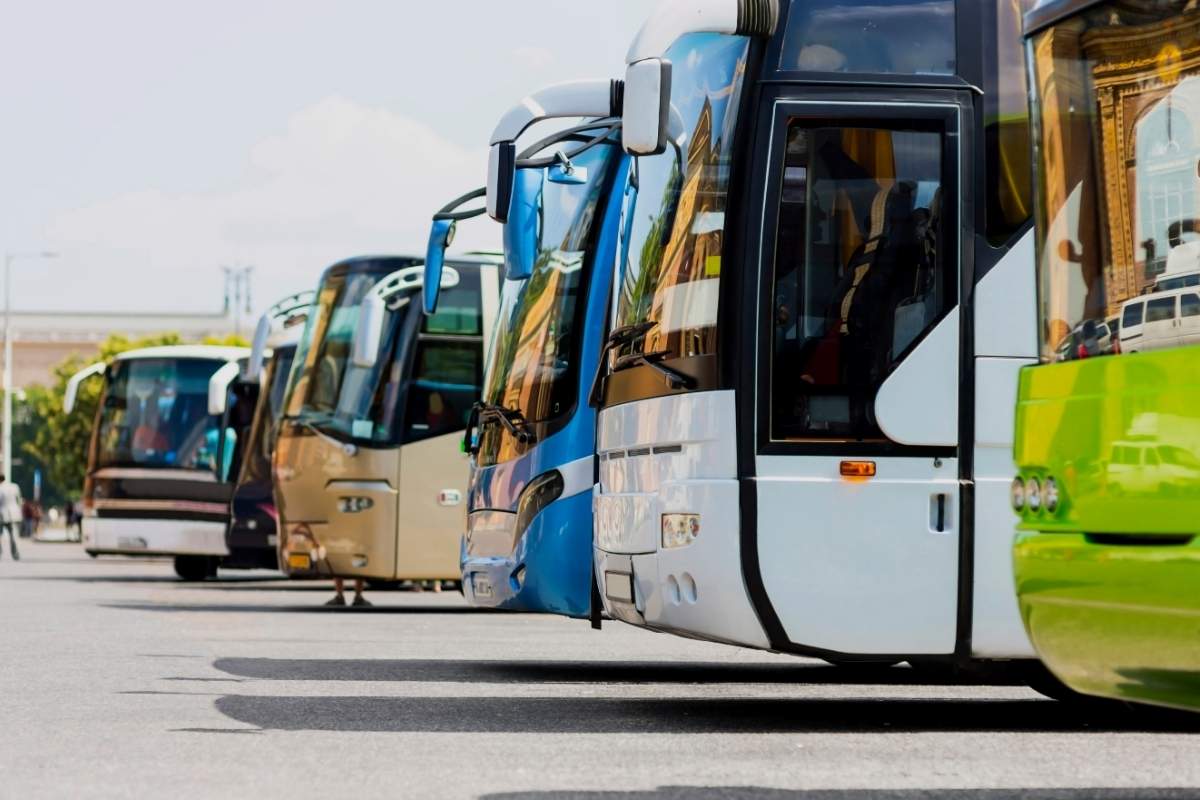 For those that don't mind spending 8+ hours on a bus, Turkey's long-distance buses are the more affordable way to travel. On average they are about 20 to 50 percent more affordable than flights. The long-distance bus from Istanbul to Cappadocia costs about 28 USD.
The bonus of taking the long-distance bus is that there is one that goes directly from Istanbul to Goreme, which means travelers don't have to get an airport shuttle. And if you elect to take the night bus, you can also save a night of accommodation!
---
Cost Of Transport In Cappadocia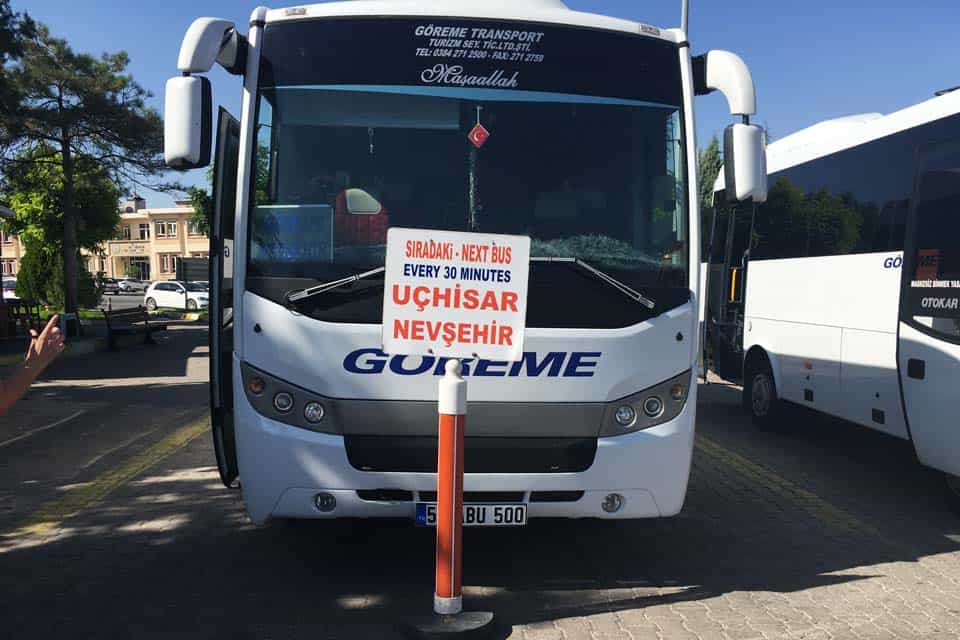 One of the most unexpected expenses when traveling in Cappadocia is transportation. Because of the desert-like landscape of Cappadocia, infrastructure is hardly developed. Though that does help keep its natural charm, it means that getting around in Cappadocia is quite difficult.
The only type of public transportation they have in Cappadocia are small minivans and buses. These primarily connect big cities and towns in the region, but travelers are free to get off whenever they want along the route.
The drivers hardly speak English and the schedule is sporadic, which is why it is public transportation is very uncommon among travelers.
Travelers typically resort to two ways of getting around in Cappadocia:
Renting a Car
Taking Taxis
Cost of Renting a Car In Cappadocia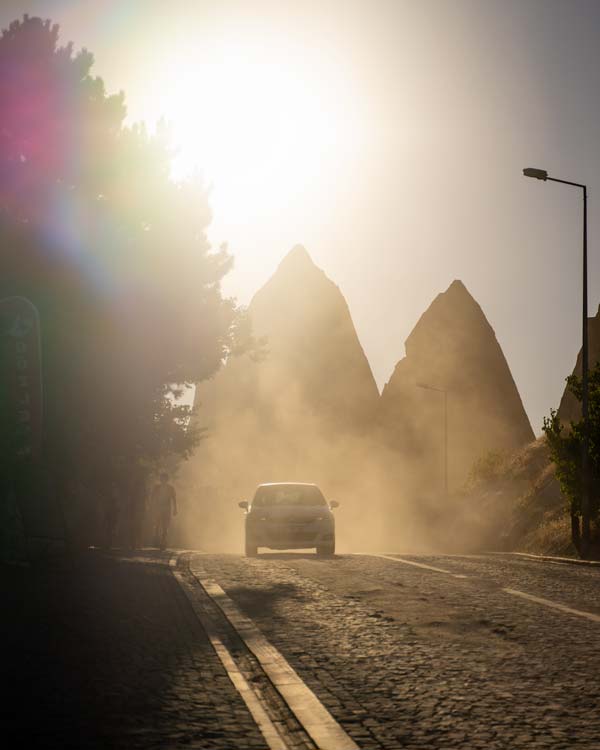 The cost of renting a car in Cappadocia heavily depends on two factors – how long you rent it for, and what time of the year you are renting it.
For a three-day rental period, you can expect to pay around 60 to 110 USD. You can expect to pay higher if you are visiting in the summer or early fall, the best time to visit Cappadocia. There are car rental companies in Cappadocia, but we really disliked how inconsistent their pricing was. Depending on your negotiation skills, you can end up paying a lot more than usual.
That is why we recommend booking a car through a reputable company online beforehand.
Cost of Taxis In Cappadocia
Perhaps the easiest way to get around in Cappadocia is by taking a taxi. However, taxis can be expensive.
All taxis in Cappadocia are supposed to be metered. The meter should start at ~0.5 USD with the price increasing by 0.5 USD for every kilometer. However, most taxi drivers don't use the meter in Cappadocia, so they can overcharge unaware tourists.
It is nearly impossible to find a taxi driver that is willing to use the meter, so you should always negotiate the price before getting in.
---
Cost Of Food And Drinks In Cappadocia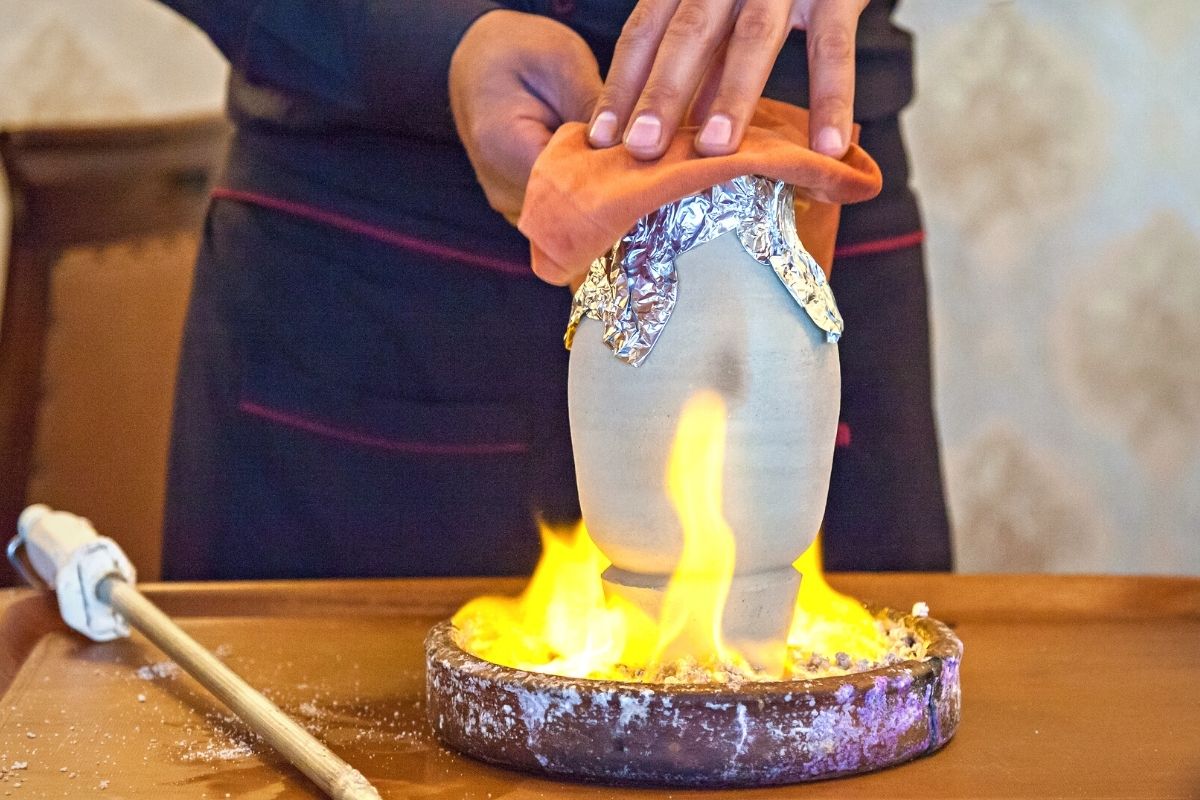 Because of how touristy Cappadocia is, food and drinks are not very cheap. On average, you can expect to pay somewhere between 4 to 20 USD for an entree in Cappadocia. On the lower end of the range, you would be expecting food like a kebab wrap or something snacky like a gozleme. At the higher end, you can have more unique dishes, such as the test kebab (pottery kebab), at fancier restaurants in Cappadocia.
Drinks are also fairly expensive in Cappadocia. Expect to pay around 1 dollar for a bottle of water when eating out, and up to 5 to 10 dollars for an alcoholic beverage. Because Turkey's main religion is Islam, alcohol is forbidden, and hence has a markup because it is mainly for tourists.
In the end, you can expect to pay somewhere between 4 to 30 dollars per meal.
However, travelers can save some money by cooking their own food and buying their drinks from supermarkets or liquor stores. The supermarkets are for locals, which means that the prices are drastically cheaper than what you'd find in restaurants.
If you are cooking your own meals and shopping at the supermarkets, you can get by paying about 3 USD per meal!
Read More: Can You Use Euros In Turkey?
---
Cost Of Hot Air Balloon Tours In Cappadocia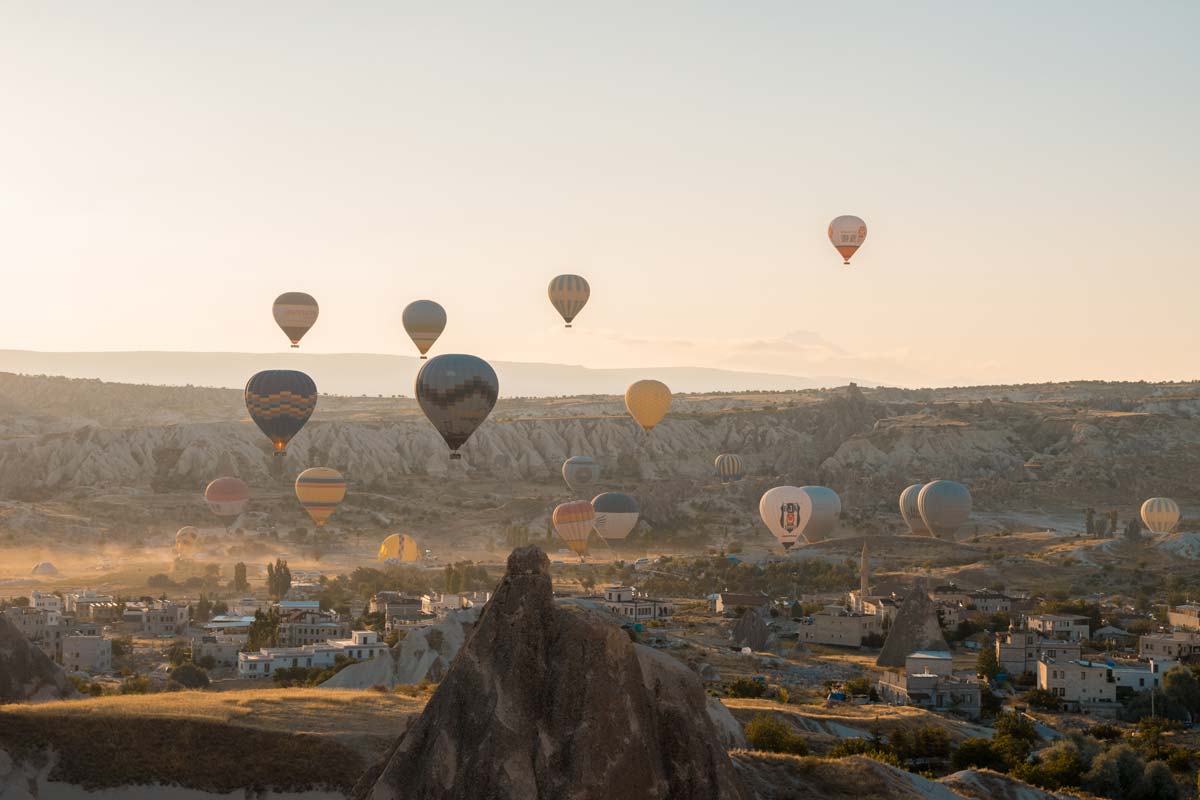 Perhaps the biggest cost to your Cappadocia trip is going to be the hot air balloon tours. Though they are expensive, they are something you should definitely not miss when visiting this region of Turkey.
Not only do you have the experience of floating through the sky, but you get amazing views of the unique landscapes that make up the UNESCO World Heritage Site of Goreme National Park. Plus, the hot air balloon ride is all done during the sunrise, so you have the beautiful colors of the morning glow as the sun rises in the horizon.
Unfortunately, a hot air balloon ride in Cappadocia is costly. Depending on the demand and time of the year, it can cost anywhere from 160 to 300 USD per person. Even this estimate can sometimes be quite off, as you might get a better or worse deal closer to the time of booking.
If fewer people have booked the hot air balloon tour for your date, then the price will drop. But if they are almost fully booked out, then the price can increase dramatically. That is why we recommend booking it in advance if you can.
---
Cost of Accommodation In Cappadocia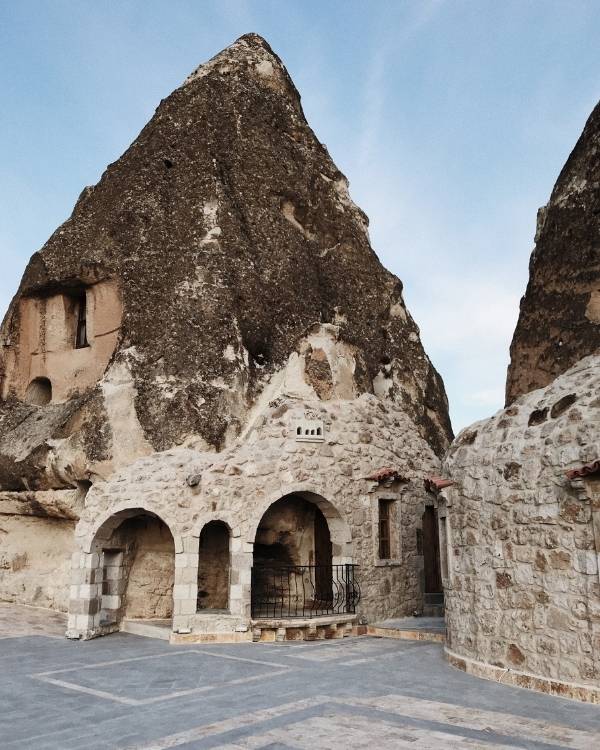 When people are planning their budget for Cappadocia, many are surprised by how affordable some of the accommodations in Cappadocia can be. For example, travelers can find a dormitory-style bed in a shared room for about 15 dollars per night. Budget hotels for two people can be as cheap as 25 to 30 USD.
However, if you want to splurge, there are plenty of exotic cave hotels in Cappadocia that will allow you to live in the history of Cappadocia. These can get as expensive as 250 USD per night.
Read More: Where To Stay In Cappadocia – Best Areas & Hotels!
---
Cost of Tours In Cappadocia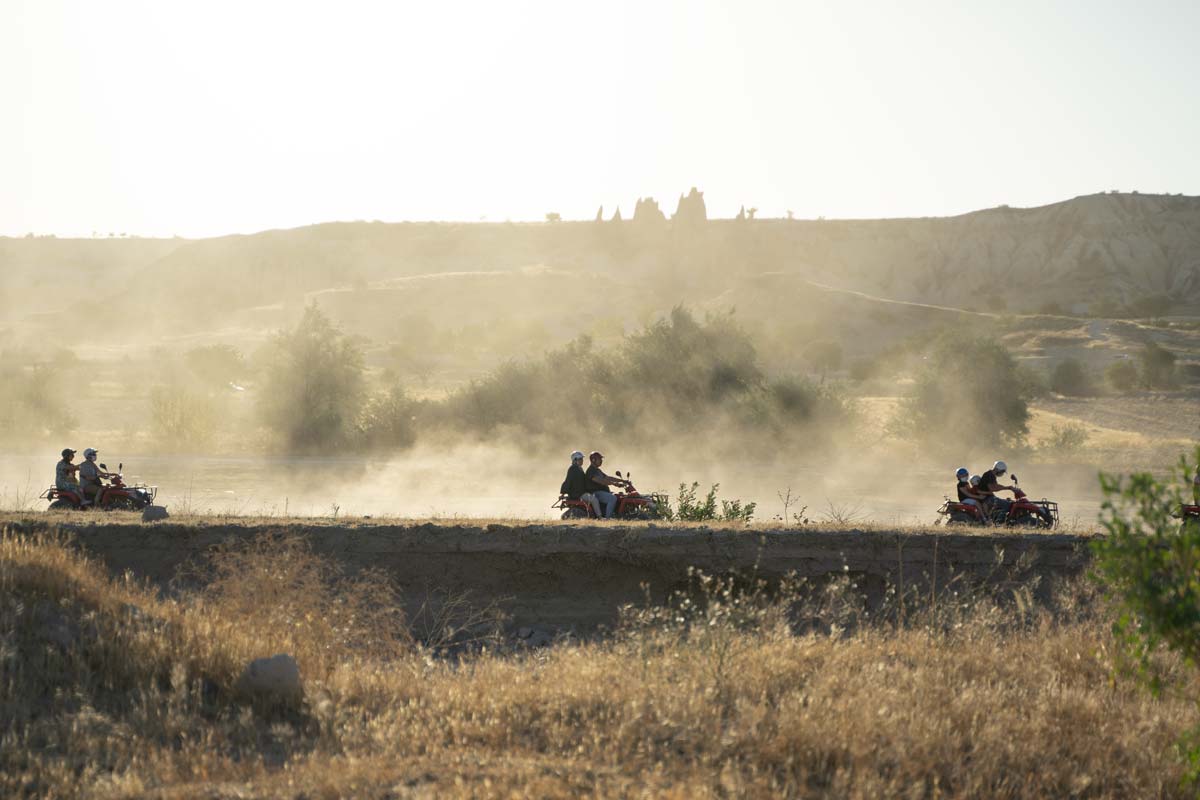 Because getting around Cappadocia is difficult, sightseeing can also be difficult. That is why taking a tour in Cappadocia is almost inevitable, especially if you are traveling with kids.
The two more popular tours in Cappadocia are the green tour and the red tour. The green tour is sometimes referred to as the South tour as it covers the attractions on the southern side of Cappadocia, whereas the red tour is referred to as the North tour for the same reason.
The two tours don't overlap, which means that visitors can take both and experience something completely unique.
There are also other notable tours in Cappadocia, such as horseback riding tours, ATV tours, and even wine-tasting tours! The tours typically cost anywhere from 20 to 50 USD, but the prices do fluctuate based on demand and season.
If you were to enjoy the best parts of Cappadocia, you would have at least to do both the red tour and green tour, which comes out to an average of about 100 USD per person.
Read more: Best Tours from Istanbul to Cappadocia
---
Cost Of Attractions In Cappadocia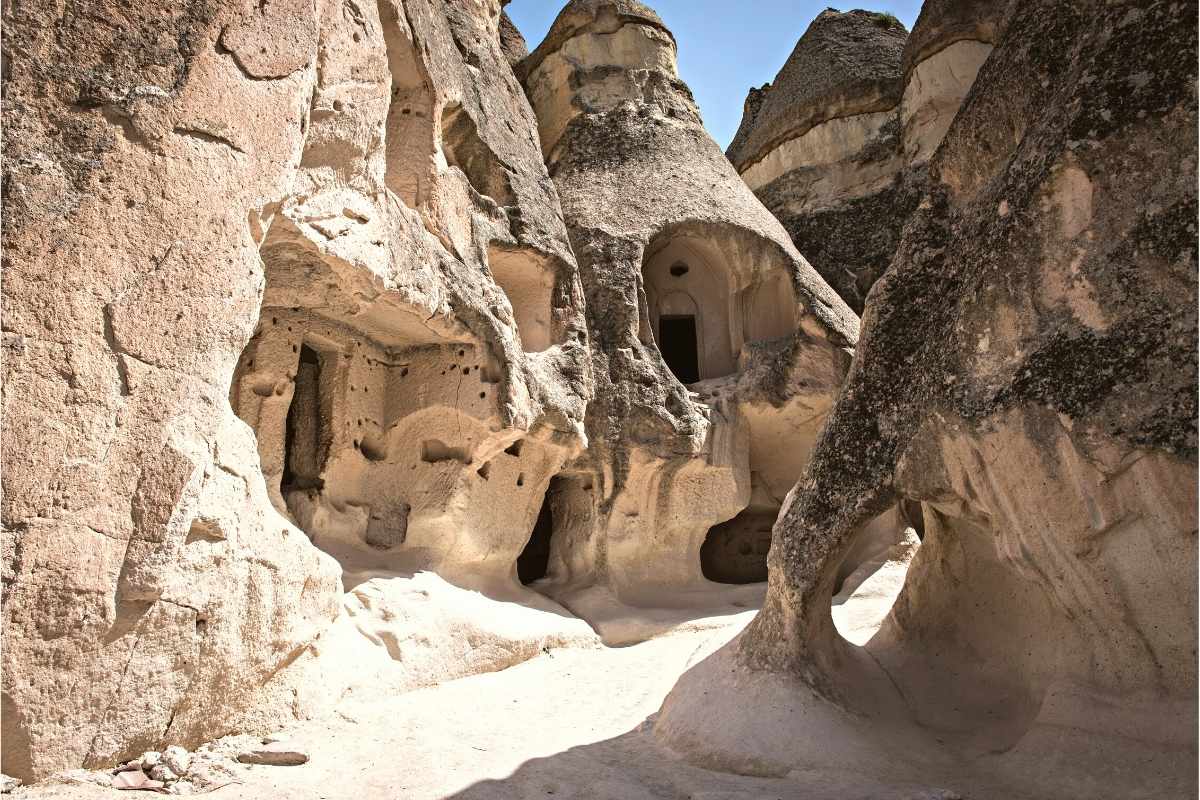 Most of the attractions in Cappadocia require an entrance fee. Whether you are looking at historical cave churches, going in the underground cities, or climbing on top of Uchisar Castle, you can expect to pay some kind of admission fee.
Generally speaking, you can pay somewhere between 2.5 to 8 USD per attraction. While it isn't a lot, it can seriously add up if you are visiting multiple a day, which many travelers do.
The only exception is hiking. The hiking trails in Cappadocia are free.
For the sake of our calculation, we will assume that you visit 2 attractions per day, so anywhere from 5 to 16 USD per day, roughly.
---
Additional Costs To Consider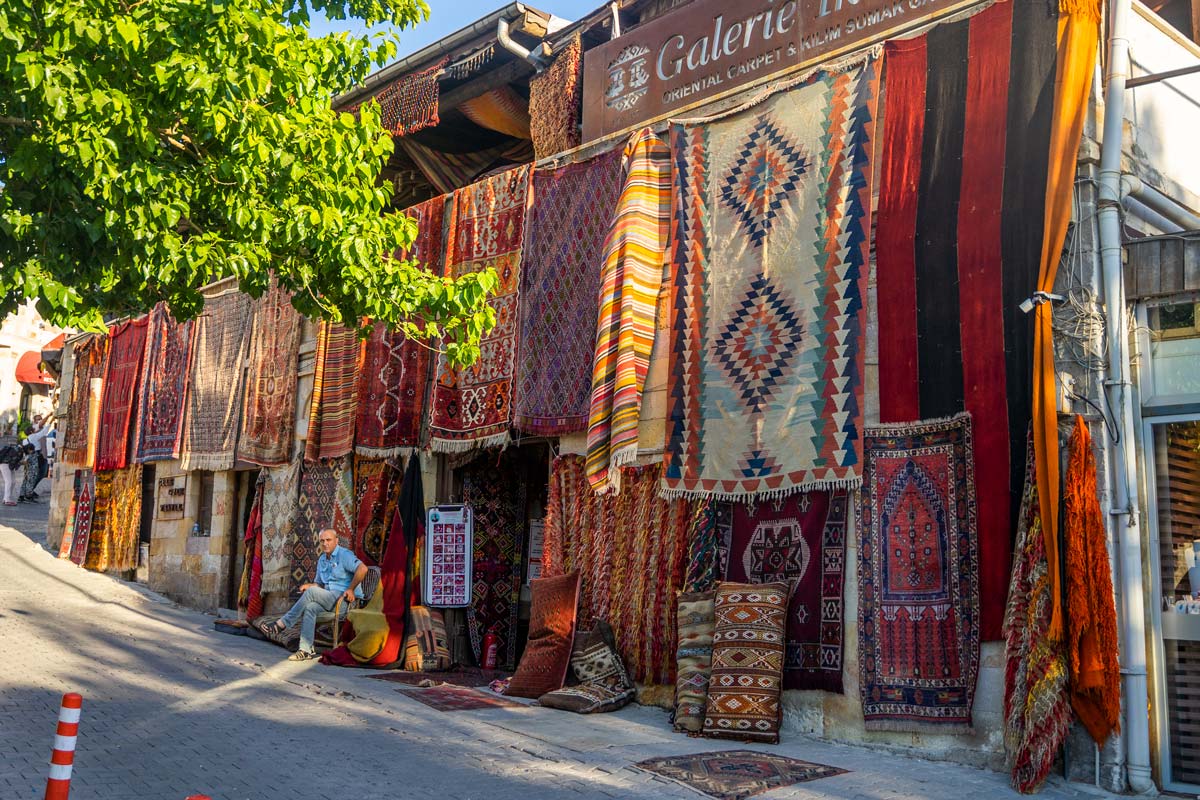 Every trip has unexpected costs – things that you don't think about but can add to your budget in the end. After visiting Cappadocia several times, we know these unexpected costs way too well. Here are some additional costs to consider:
Souvenirs – Cappadocia is an excellent place to purchase some authentic Turkish souvenirs. From Anatolian rugs to regional pottery, travelers might end up spending lots of money on shopping!
Sim Card – If you want to stay connected with your friends and families or just upload photos of your trip online, then you'll need to have a Turkish sim card. This is especially important if you plan on spending a lot of time away from your hotel.
Travel Insurance – If you are traveling abroad, you should consider getting travel insurance. , At the minimum, knowing that you're covered on your trip will give you the peace of mind to enjoy it. ✔️ Check out our recommended travel insurance here!
Visa – If you are from one of the countries that require a visa to enter Turkey, this might set you back some money.
Tipping – It is customary to tip about 10% in restaurants and cafes where you've dined in. Taxi drivers also expect you to round up the fare.
---
Tips To Travel Cappadocia On A Budget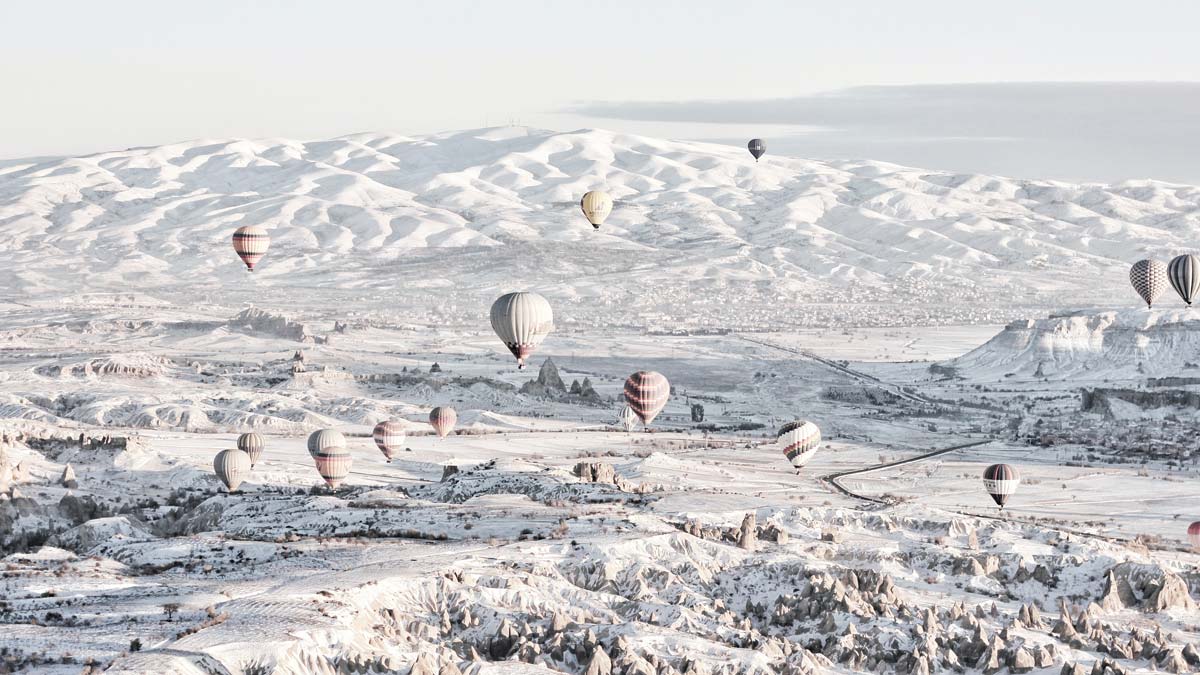 Here are some tips that will help you travel Cappadocia on a budget. These tips can help you save a little bit of money, and every penny helps!
Book Your Hot Air Balloon Tour In Advance – As we mentioned, it is wise to secure your hot air balloon tour early in advance, or you might run the risk of not getting one or paying extra!
Travel Off-Season – Traveling off-season in Cappadocia can save you a considerable amount of money. Just on the hot air balloon tours alone, you can save around 40 percent!
Do Lots of Hikes – One of the free things to do in Cappadocia is hiking, so take advance of that! The hiking trails also allow you to get close to the fairy chimneys so you can admire their formation better!
Stay In A Hostel – Accommodation is one of the biggest parts of your budget. Travelers can save a lot of money by staying in hostels and booking one of the dormitory-style rooms! Most of them are in caves so travelers can also experience that!
Book Your Airport Transfer And Avoid Taxis – Like most parts of the world, taxi drivers try to rip off tourists. It is highly recommended that you book an airport transfer to get from the airport to your hotel. And when you are using taxis to get around, make sure you haggle your best!
Negotiate When Purchasing Souvenirs, Especially If The Price Is Not Displayed – If you are looking to purchase souvenirs, make sure you try to haggle. Haggling is acceptable in Turkish culture (especially for tourists) and you are likely going to end up paying a lot more than you should if you didn't.
---
Cappadocia On A Budget FAQs
When Is The Best Time To Visit Cappadocia On A Budget?
The best time to visit Cappadocia on a budget is during the winter when it's the low season. With fewer tourists, many of the establishments are offering deals and discounts to travelers.
Is Cappadocia Cheaper Than Istanbul?
Though Cappadocia is not as developed as Istanbul, it is a little bit more expensive than Istanbul. That is because most people in Cappadocia are tourists, and hence you are less likely going to find activities, restaurants and shops without inflated prices. Though generally speaking, Turkey isn't very expensive.
---
So, Is Cappadocia Expensive Or Cheap?

Cappadocia is not necessarily cheap but it's also not too expensive. It is a destination that both budget backpackers and luxurious travelers can enjoy.
With careful planning and lots of research, travelers can save a considerable amount of money on their trip. Perhaps the most important part of of your trip is traveling during the low season. It is the perfect time to score some discounts!
Disclaimer: Some of the links above are affiliate links. That means if you book or make a purchase through the links, we will earn a small commission at no extra cost to you! The money will help run this site! Thank you!