Pamukkale is well known for its Travertine Terraces that sparkle like white cotton. In fact, many people don't realize that Pamukkale is actually a city and not the Travertines.
But chances are, you're also here to visit this amazing natural wonder and its accompanying ancient UNESCO World Heritage site of Hierapolis, right?
Well, you and thousands of others. It's said that Pamukkale receives 1.5 MILLION people a year (according to statistics). If you divide that number by 365 days in a year, then you have over 4,100 people a day.
But why is it so popular? and how do you visit Pamukkale to avoid the crowds? I'm about to reveal everything you need to know in this guide on how to visit Pamukkale…
---
Where Is Pamukkale?
Pamukkale is located in the Denizli Province of southwestern Turkey. The area is known for its natural hot springs and travertine terraces, which have been formed over thousands of years by the deposition of calcium carbonate from the hot springs.
The nearest city to Pamukkale is Denizli, which is just 16km away.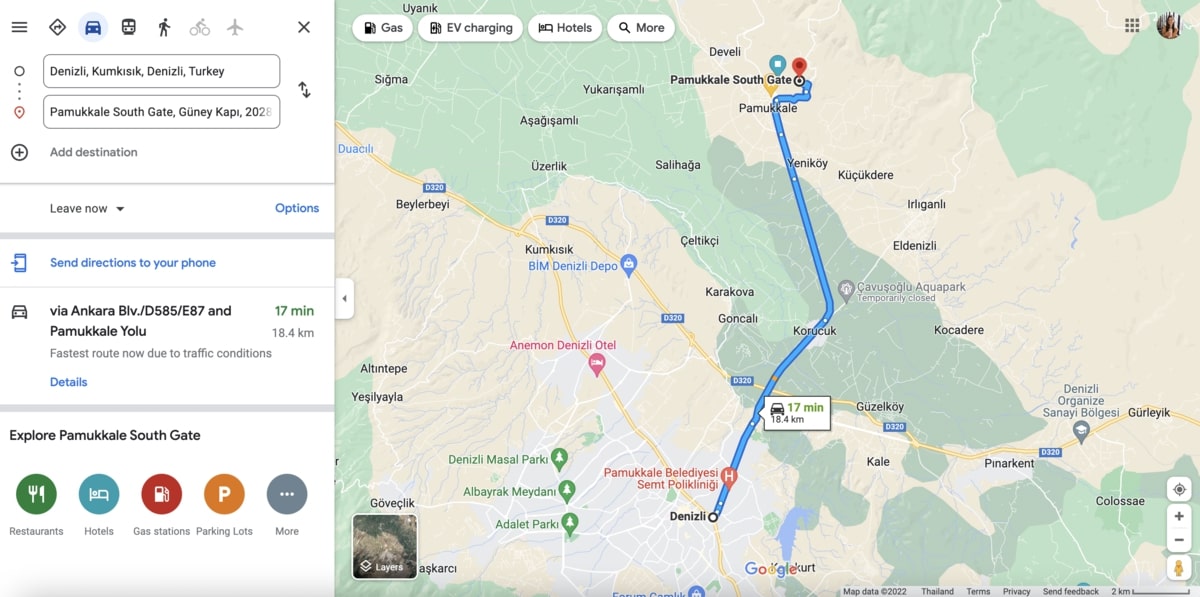 Getting to Pamukkale
To get to Pamukkale by bus, you must first get to Denizli bus station. If you are taking a long distance bus from Istanbul, Antalya or Cappadocia, they will most likely stop here.
From Denizli bus station, you must then take a minibus (dolmus). The minibuses leave from one floor below the main bus terminal on level B1.
You'll then need to find Gate 76 , this is where the buses go from Denizli to Pamukkale. They depart every 15 to 20 minutes, but they also depart whenever they are full, so you might find you have to wait a while.
The cost of the minibus from Denizli to Pamukkale is 14 TL. You pay directly to the minibus driver, and unfortunately you cannot book tickets in advance.
The journey takes about 45 minutes.
You can also take a taxi, but this is much more expensive. There are no trains to Pamukkale.
You can read more about how to get to Pamukkale from our below guides:
---
The History of Pamukkale
Pamukkale, meaning "Cotton Castle" in Turkish, is a natural wonder known for its Travertine Terraces. The site is made up of 17 hot springs of differing temperatures, which flow down the mountainside and deposit the mineral calcium carbonate as it cools.
Over time, the depositing of minerals forms these unique white terraces filled with pools of warm water.
The area has been used as a spa since the Roman era, but the tourism really started to flock to Pamukkale in the 1960s to see the iconic terraces.
However, it wasn't until after 1988 when it was declared a World Heritage Site that it really took off. Today, it is one of Turkey's most popular tourist destinations, attracting millions of visitors each year.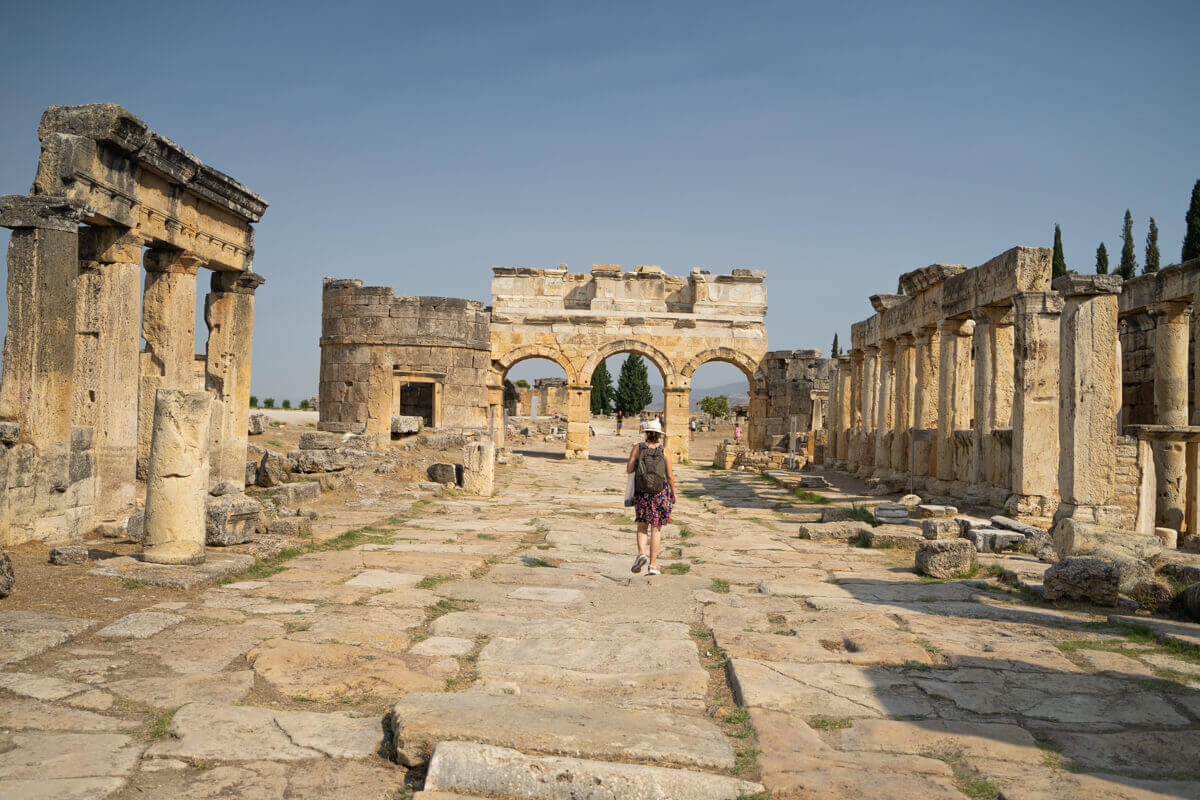 Above the terraces are the ruins of Hierapolis, an ancient city founded in the 1st and 2nd centuries A.D. by the Attalid King of Pergamon. The city grew rapidly due to its strategic location on the road connecting Lydia with Syria. There was a city standing before the Pergamon kings came to Hierapolis, but it was largely destroyed by an earthquake in 60 A.D.
All that remained from this Greco-Roman period before the Pergamons is the baths, an the ruins of a temple, an archway used as a city gate, a nymphaeum, necropolis and theater.
Hierapolis became a prosperous city in the 2nd and 3rd century, and a center of culture and learning, boasting a library second only to that of Alexandria. The city also played an important role in early Christianity; it was where Philip the Apostle was crucified in 80 A.D., and it's suspected his tomb resides in the ruins there.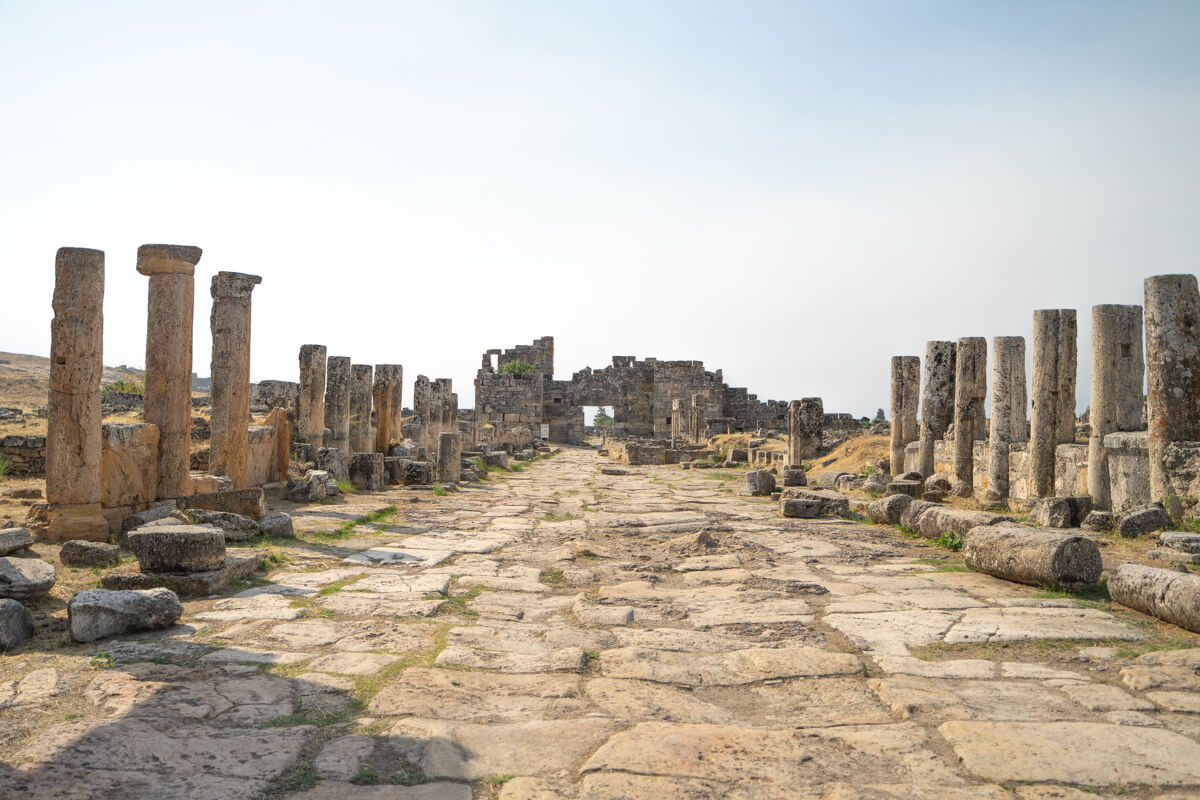 The hot springs at Hierapolis have been attracting visitors to the area since the Classical antiquity. The therapeutic properties were thought to have had healing properties. Hierapolis was taken over by Roman rule in 133 BC when Attalus III died, and was damaged by several major earthquakes.
When Turkey was taken over by the Byzantines in the 12th century, the city was abandoned. In 1354, another great earthquake toppled what was left of the city, and created the ruins you see today.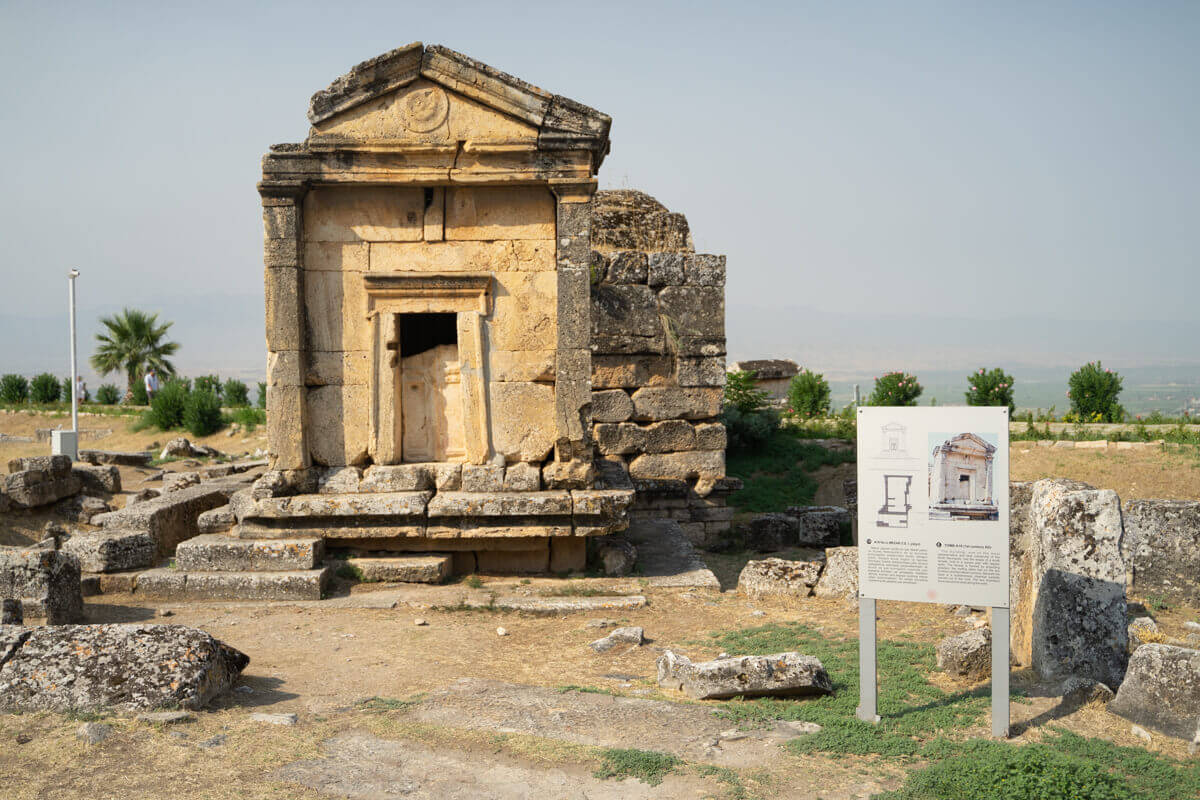 ---
When Is The Best Time to Visit Pamukkale?
Pamukkale is open all year round, and any time of year you'll be met with this beautiful natural wonder. But the best time to go to Pamukkale is definitely in the springtime.
The weather is just perfect in April and May, with average temperatures in the mid-20s Celsius. There are also not as many tourists as there are in the summer months, so you'll be able to enjoy the attractions without having to battle crowds of people.
The summer is incredibly hot. We visited in August and were so lucky we decided to visit at sunrise because by 10.00am we were already starting to burn.
When the sun comes up, the ruins and the terraces are a startling white. There's very little shade from the sun, so you'll need sun protection.
Winter is another good time to visit as you might be lucky enough to see snow. Not many people choose to visit in the winter, so you'll also be blessed with fewer tourists.
Sunrise is the best time of day to visit, or at least visit as early as you can.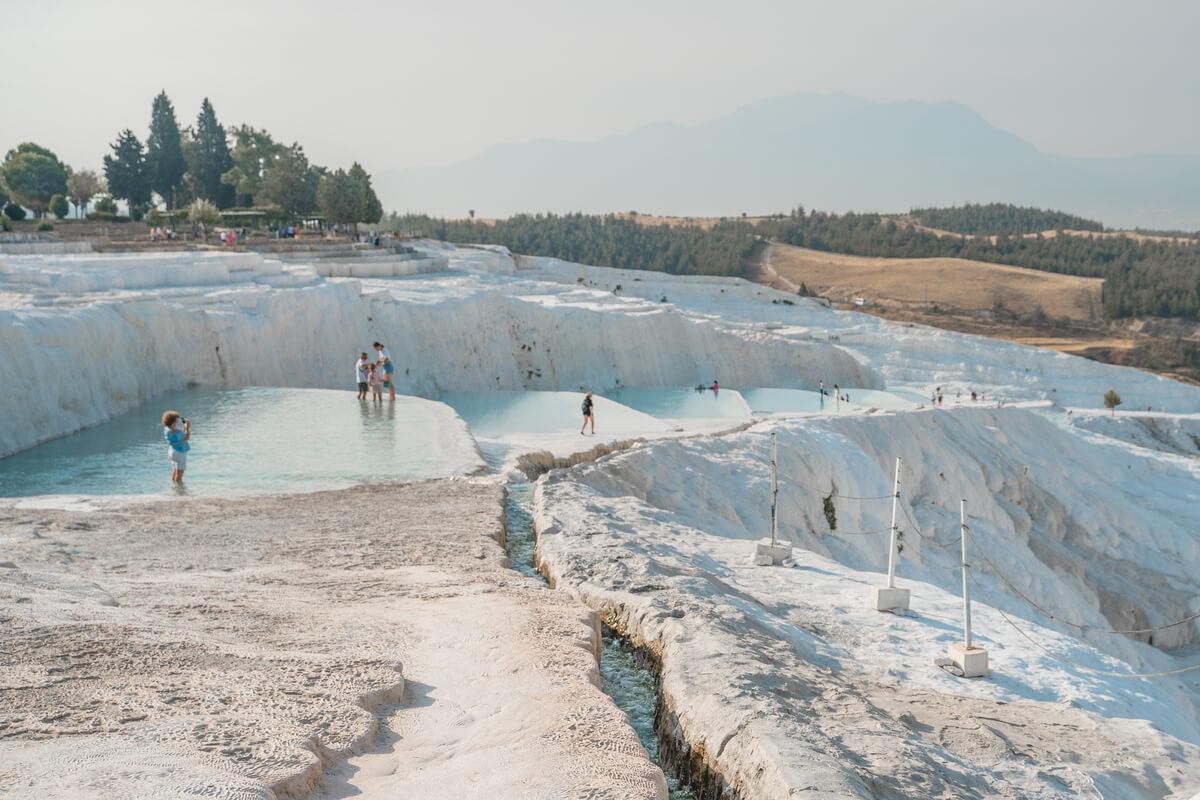 ---
How to Visit Pamukkale for Sunrise
The travertine terraces in Pamukkale are an incredible sight to see, but for the best experience, you should visit them for sunrise. The terraces are shaded from the morning sun which turns them a stunning pale blue color. And best of all, there are barely any visitors. It's a great way to start your day.
To visit the terraces for sunrise, you'll need to get up early. There is only one gate open at 6.30am, and that's the South Gate (sometimes referred to as the hidden gate). You'll also need to buy a ticket, which costs 200 Turkish Lira to enter, and then walk down to the terraces from the top of the hill.
Getting to the South Gate is a bit of a trek. It takes 30 minutes to walk there and it goes up a steep road. It's best to take a taxi if you can. You will find taxis from the town center, but there may not be many this time of the morning.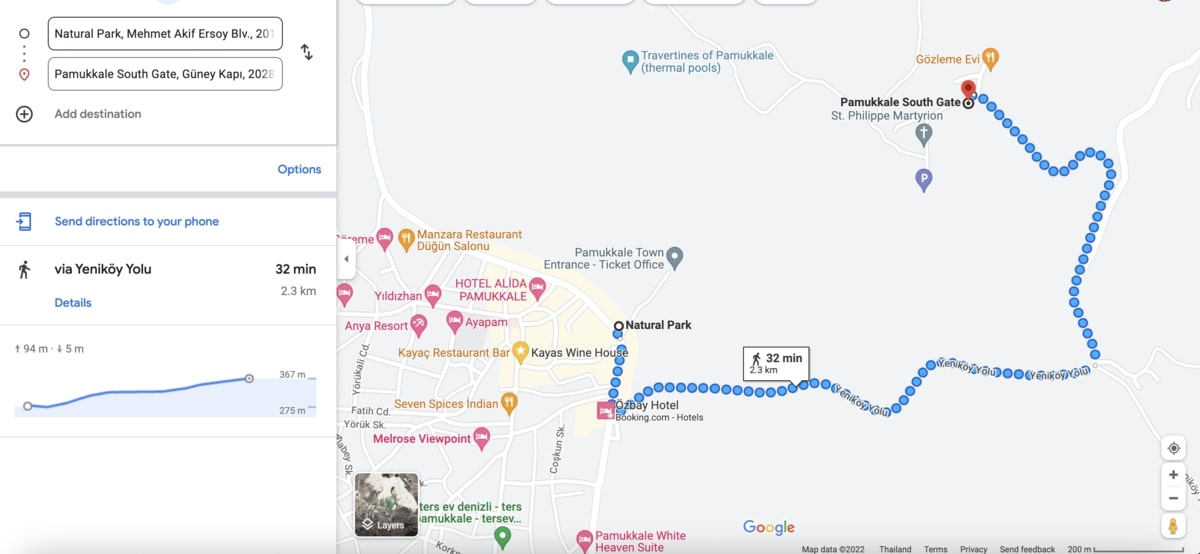 Is visiting Pamukkale for sunrise worth it?
If you're not sure you want to get up this early and you're wondering if Pamukkale is worth it for sunrise, the answer is an absolute yes!
The terraces were stunning this time of the morning, and we were also lucky enough to see some sunrise hot air balloons too.
There were pretty much no other visitors when we visited Pamukkale for sunrise. It was just us and maybe four other people. It remained quiet until the main entrance opened at 8.00am, but there still weren't a huge amount of people.
Here is what the Terraces look like at sunrise…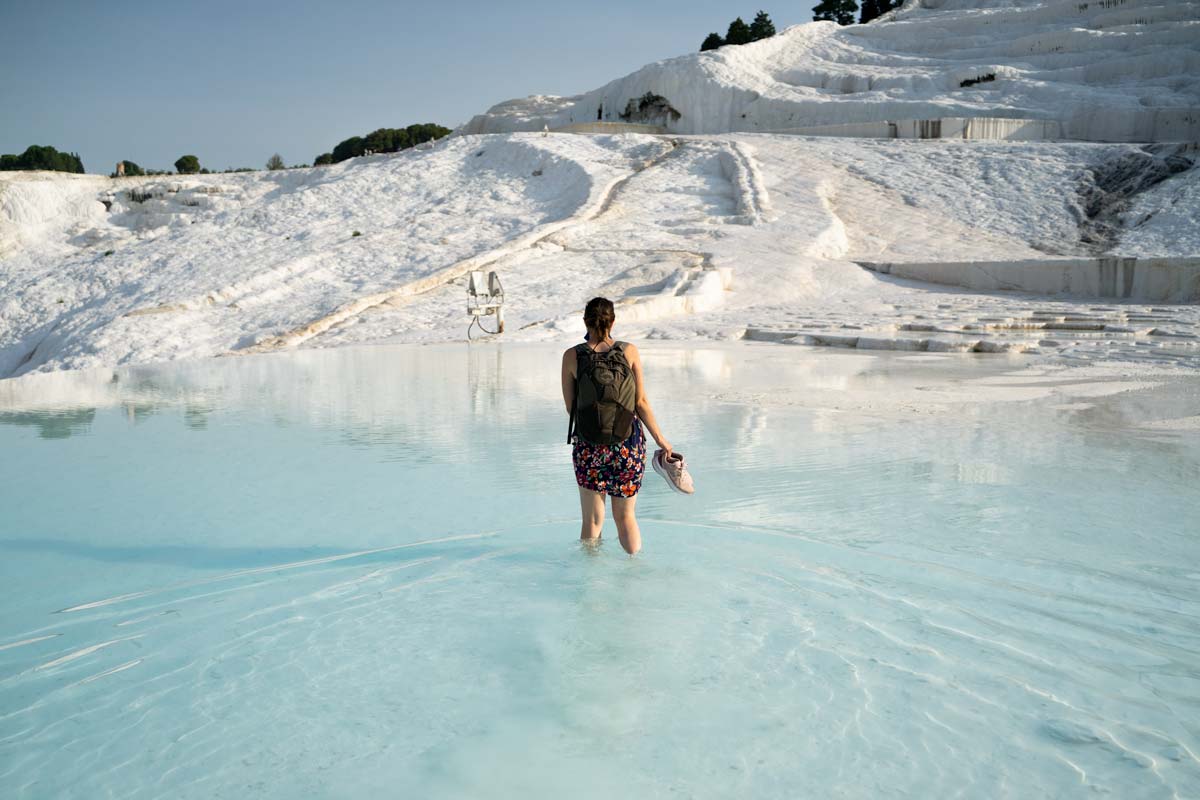 As you can see, it's really quiet with only a few other people in the distance. We enjoyed walking through the terraces, but decided to swim after exploring Hierapolis so we didn't walk around with wet clothes.
Big mistake. This is what the terraces look like by 10.00am…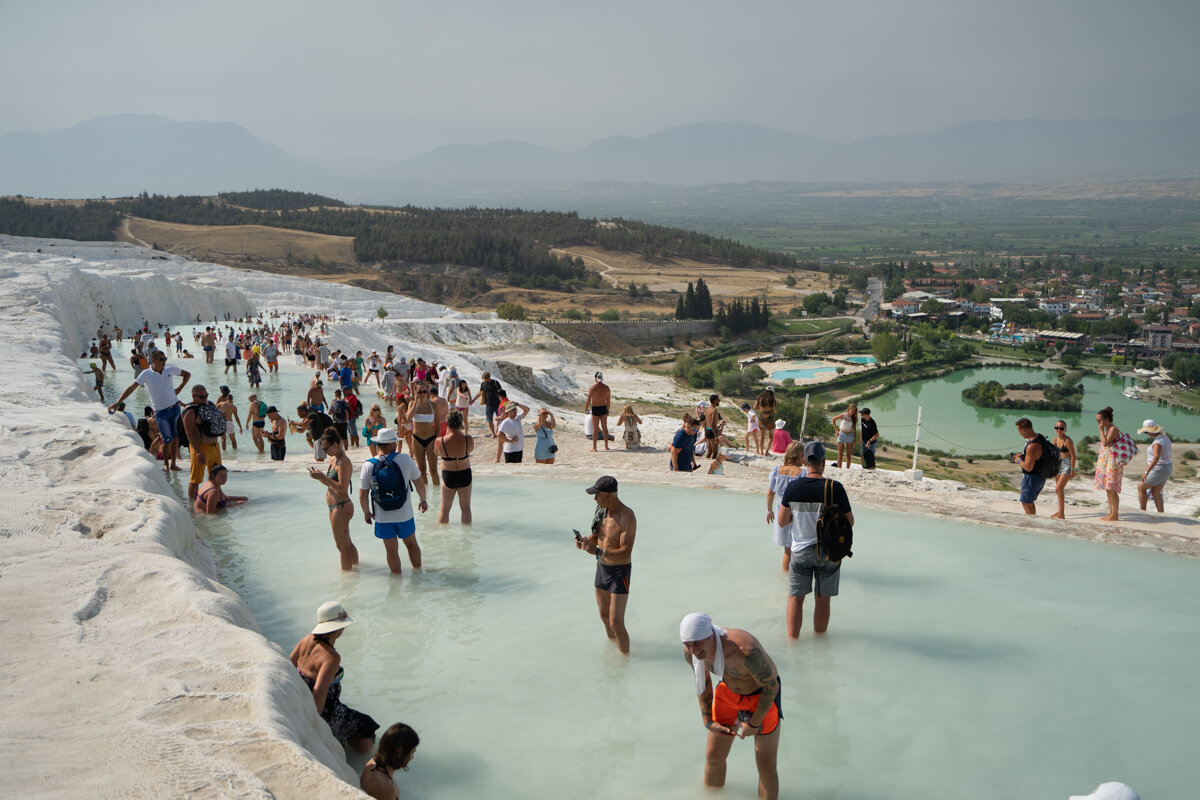 As you can see, it looks much nicer without the throngs of people. You won't be alone if you visit for sunrise, but you will at least be able to get a nice photo of you in the pools without anyone in the background photobombing you.
---
What To See and Do At Pamukkale
As we mentioned earlier, Pamukkale is actually a town and has a lot to see and explore. Here are some of the main things to see and do at Pamukkale.
Swimming in the Travertines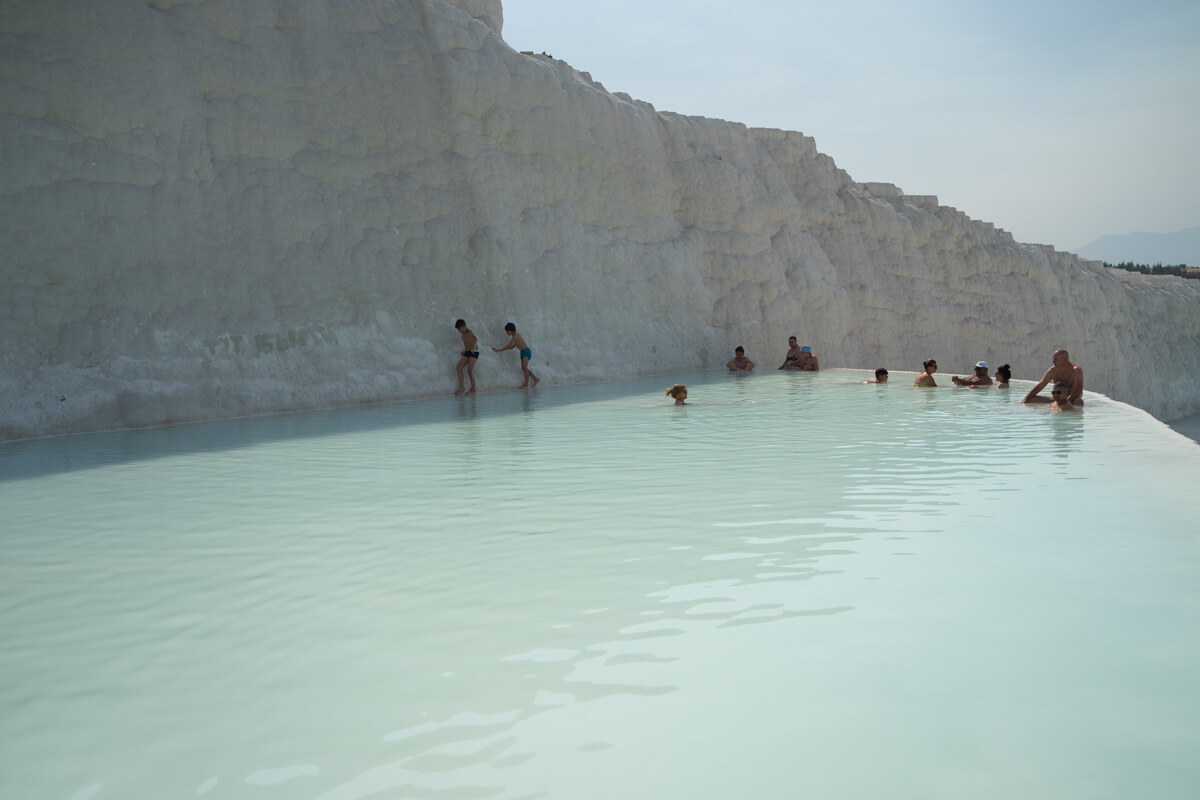 Pamukkale Travertine Terraces are one of the most beautiful places in the world for swimming. The water is a beautiful blue color and is filled with warm mineral water.
The water at Pamukkale is perfectly clear and very refreshing. It's the perfect place to cool down on a hot day. The white rock is quite hard and a little slippery in places, but it doesn't hurt your feet.
Some pools are deeper than others, especially the ones nearer to the bottom of the hill. You will find that most pools are waist deep (for an adult) and they slope gradually, so small children and toddlers can paddle near the edge too.
Visitors can enjoy swimming at Pamukkale year-round, but it's best to go during the spring or summer when the weather is warm. There are several pools located at different points along the terraces, so visitors can choose their favorite spot. There are also several restaurants and cafes nearby, so visitors can enjoy a meal or drink and rehydrate after swimming.
Hierapolis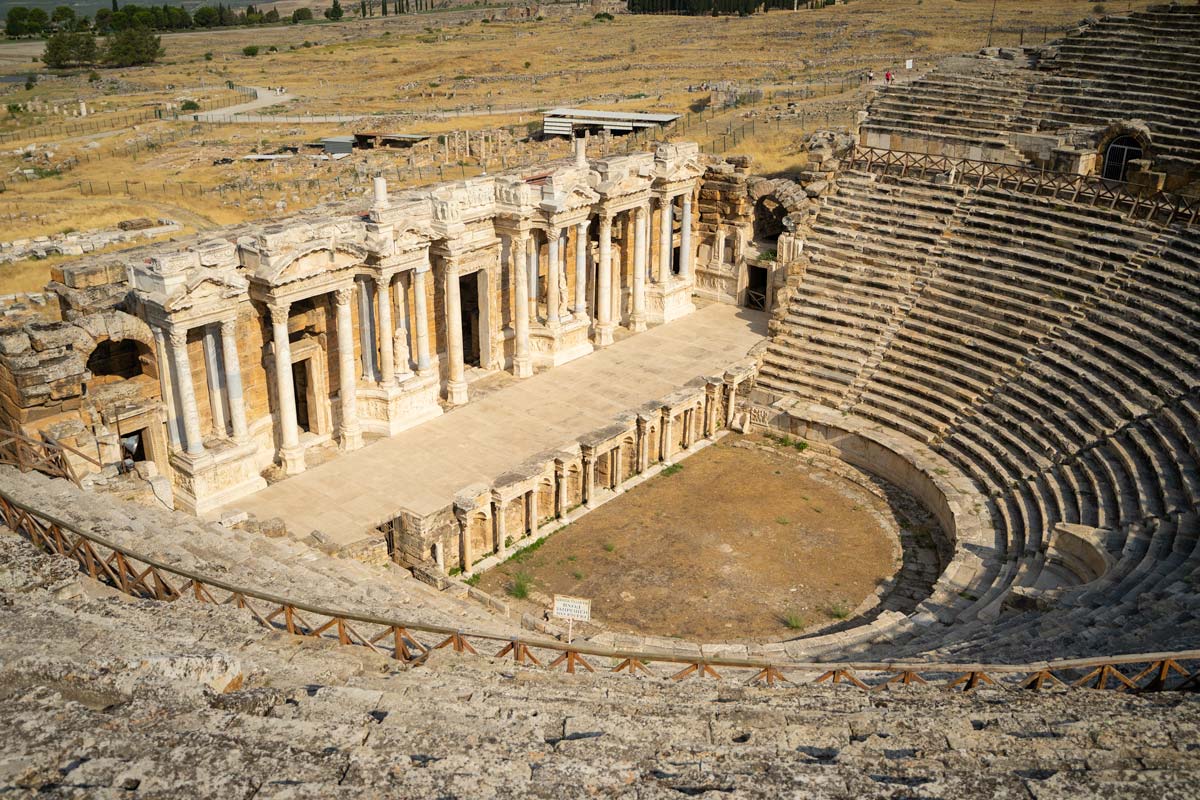 The ancient city of Hierapolis is a fantastic place to visit in Turkey for those interested in history and archaeology. The city is home to several ancient ruins, including the ancient theater, the Ancient Temple of Apollon, the Gate of Domitian, and the tomb of Philip the Apostle.
It is said that Hierapolis was founded in the 2nd century BC by the King of Pergamon. The city flourished as a religious and trade center in Turkey. It was destroyed by an earthquake in the 14th century, and so all that remains of the city now is ruins.
However, it's still possible to make out what the buildings would have looked like, and the city arches and gates still have many of their reliefs and ornate decoration still in tact.
The theater is the largest and most well-preserved structure in the city and was built in the first century AD. It could seat up to 10,000 spectators in its prime.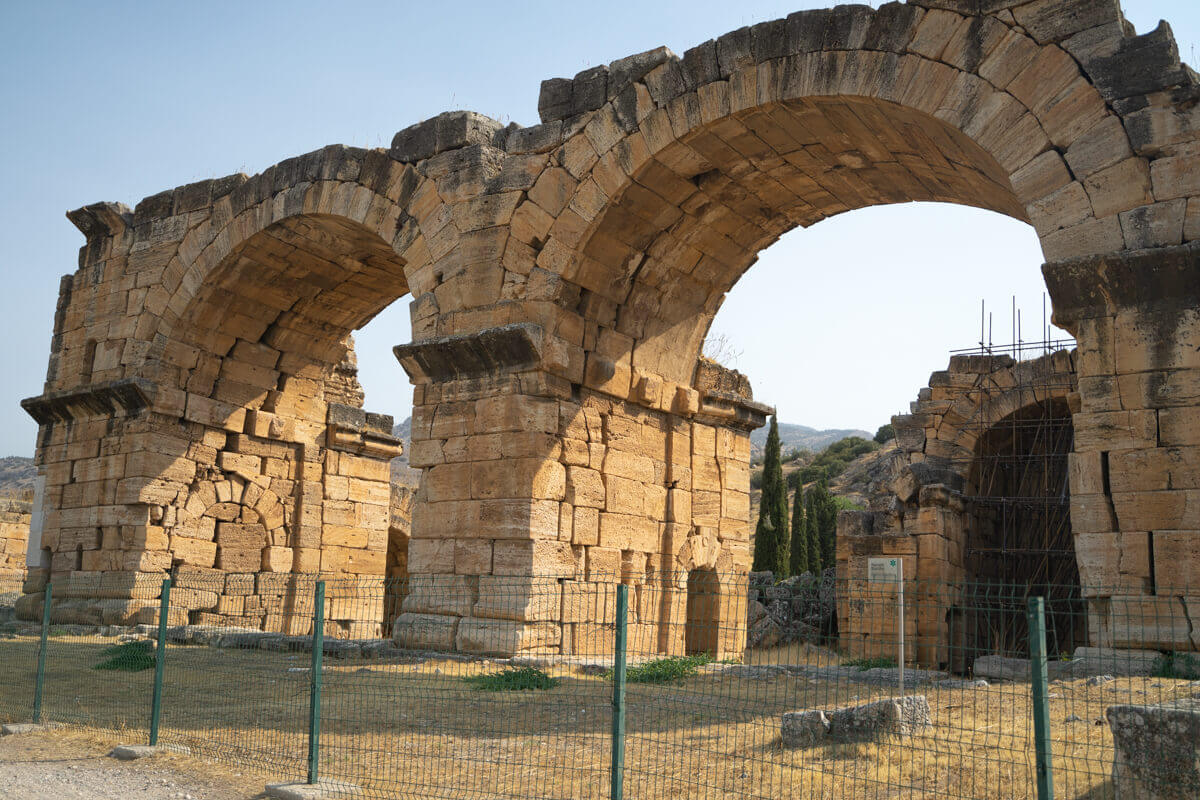 The Ancient Temple of Apollon is a small temple dedicated to the god Apollo, while the Gate of Domitian is a Roman arch that once served as the entrance to the city.
The tomb of the Apostle Paul is a small building located on the "hill of the victims."
Cleopatra Antique Pool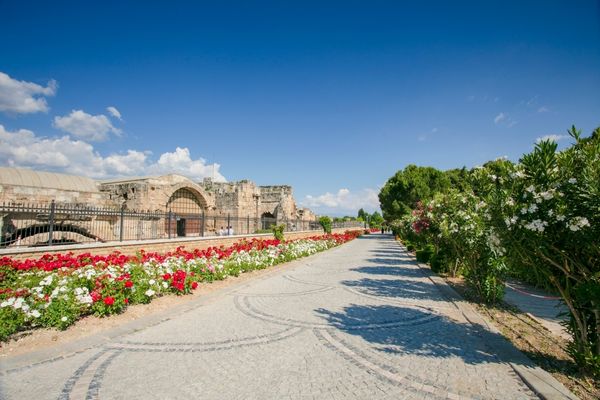 The ancient city of Hierapolis was a popular destination for tourists since the first century AD. One of the main attractions was the Cleopatra Antique Pool, which was fed by hot springs.
The pool was named after Cleopatra VII of Egypt, who is said to have bathed in its therapeutic waters. And it's easy to see why she loved it so much – the water is crystal clear and refreshingly cool, perfect for a relaxing swim.
The pool is an additional fee to the terraces and ancient city, but it offers a better place for swimming as it's much deeper than the terraces. The pool has been restored since it was built in the 1st century, but it retains the authentic Romanesque decor and architecture.
If you're looking for an unforgettable experience, be sure to add the Cleopatra Antique Pool to your list of places to visit!
The Archeology Museum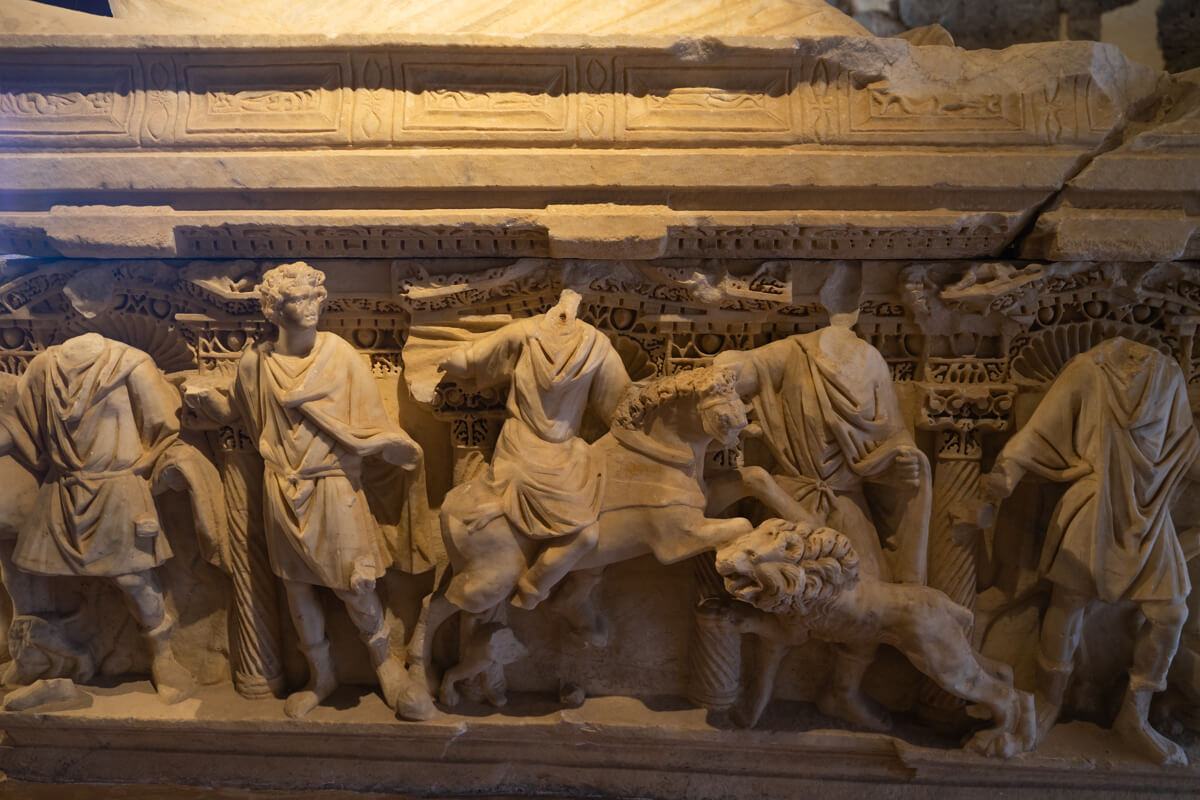 Pamukkale is also home to the Hierapolis Archeology Museum, which is also included in the entrance to the terraces and ancient city. The museum houses artifacts and statues from the city's ancient past.
The museum includes sculptures, coins, mosaics, and sarcophagi. It is a fascinating glimpse into life in this ancient city. It's only two rooms and doesn't take long to wander around, but it is definitely worth checking out…and for the air conditioning.
---
Opening Hours and Entrance Fees
The Travertines are open from 6.30am until 8.00pm every day, seven days a week. It's open until 8.30pm in the summer and closes at 6.30pm in the winter.
The Town Entrance and the North Entrance opens at 8.00am, which is why many people think that Pamukkale opens at 8.00 am. The South Entrance opens at 6.30am, which is the only way into the Travertines from 6.30am for sunrise.
As of February 2023, the entrance fee cost 200 Turkish Lira to enter the park. This grants you access to the terraces, the museum and the ruins of Hierapolis. If you want to visit the Cleopatra Ancient Pool, you will have to pay an additional entrance fee.
The Cleopatra Ancient Pool opens from 9.00am – 7.00pm every day and costs 130 Turkish Lira. If you have the Turkey attractions card, the price is reduced to 65 Turkish Lira. If you decide to take a locker, there is a 20 Turkish Lira deposit for your key.
Hierapolis and the Travertine Terraces are included on the Turkey Museum Pass!
Want to save money on Museums? Get the Museum Pass!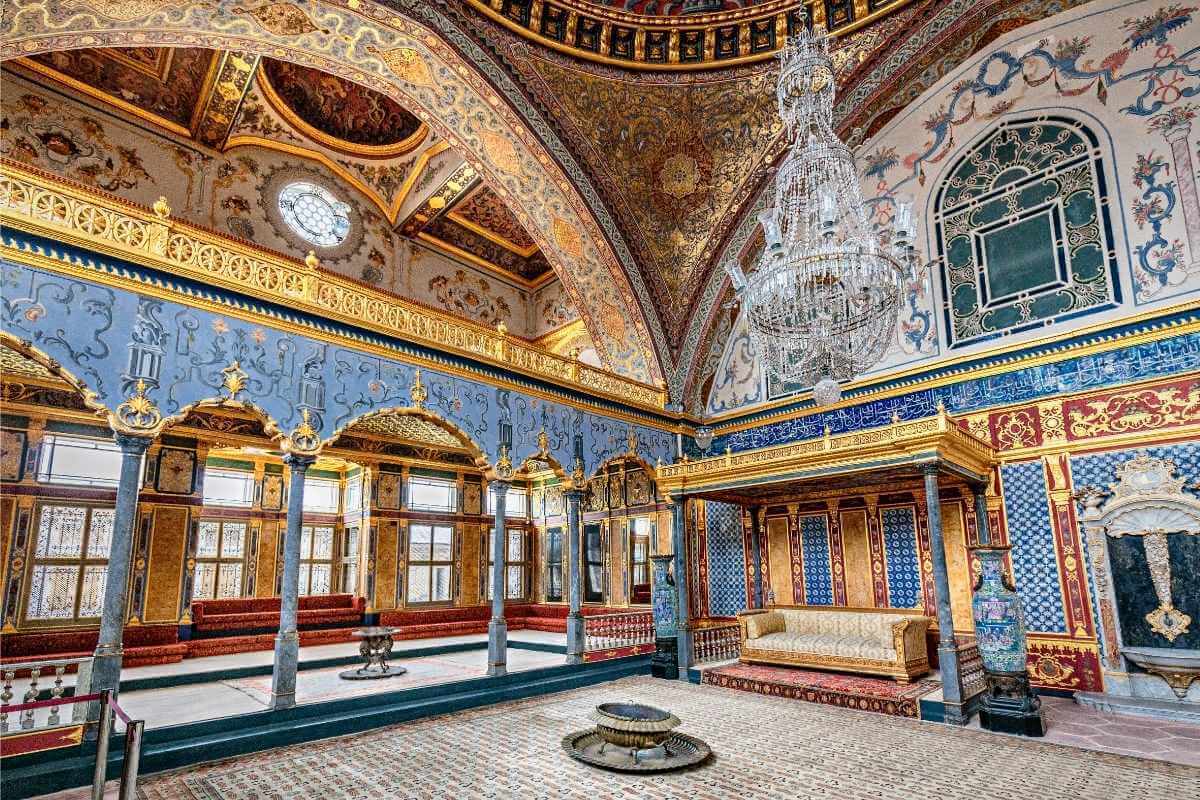 Get FREE access to over 200 museums in Turkey!
Make sure you get a museum pass to avoid standing in queues and save yourself some money on multiple attractions!
Get the pass delivered to your hotel for added convenience. Valid for 15 days!
---
Other Things to Do in Pamukkale Town
You might only know about the Travertines and Hierapolis and that's because they are pretty much the only things you can do in Pamukkale. Besides visiting the Travertines, there are only two other attractions you might want to check out:
1. Ride in a Hot Air Balloon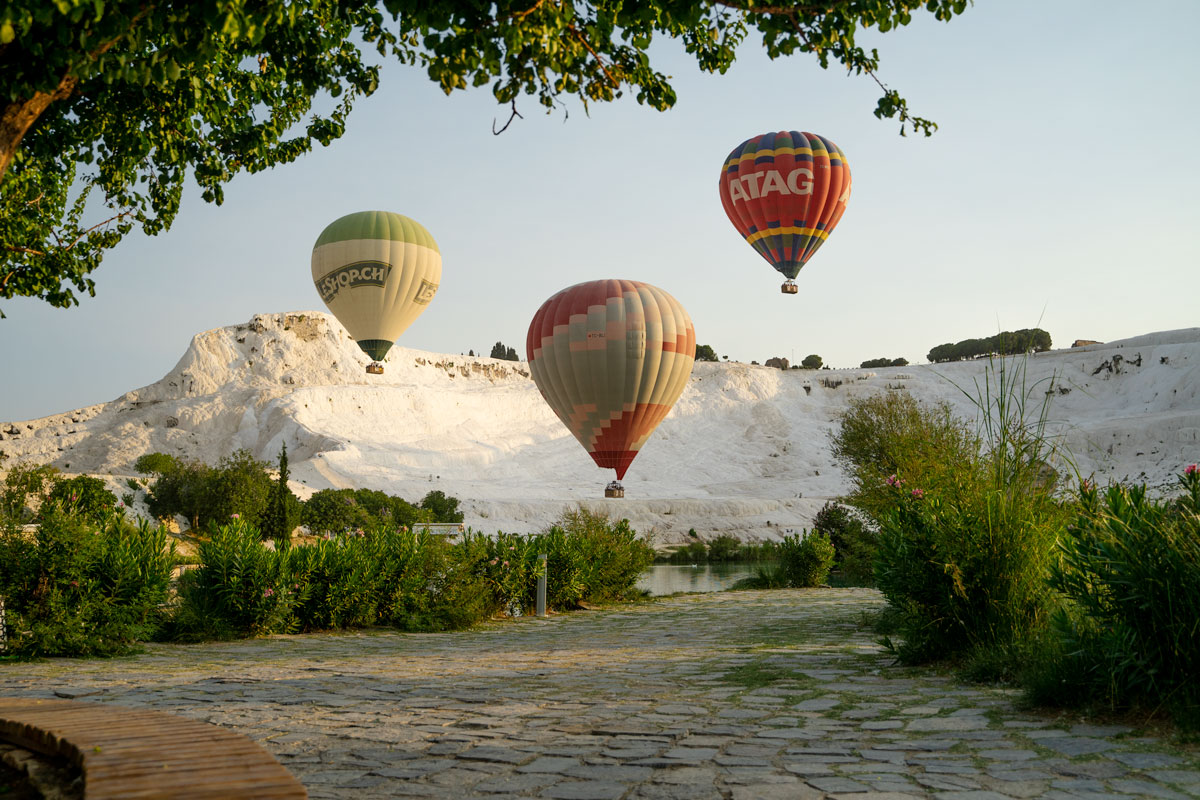 Riding in a hot air balloon is an experience like no other. As the balloon rises higher and higher into the sky, the view of Pamukkale below is breathtaking. It's hard to believe that such a beautiful place exists on Earth. The sparkling white cliffs and turquoise waters are a sight to behold.
The best way to enjoy Pamukkale is from high in the sky, where you can take in the entire landscape at once. There's nothing quite like floating above this natural wonder and taking in the peace and tranquility of the area. If you're lucky, you might even see a few hot air balloons passing by.
Most hot air balloon tours fly early in the morning as the weather conditions are at their most stable. You can also enjoy the views in a comfortable temperature and see the colors transform as the sun comes up.
2. Splash Around in the Cavusoglu Aquapark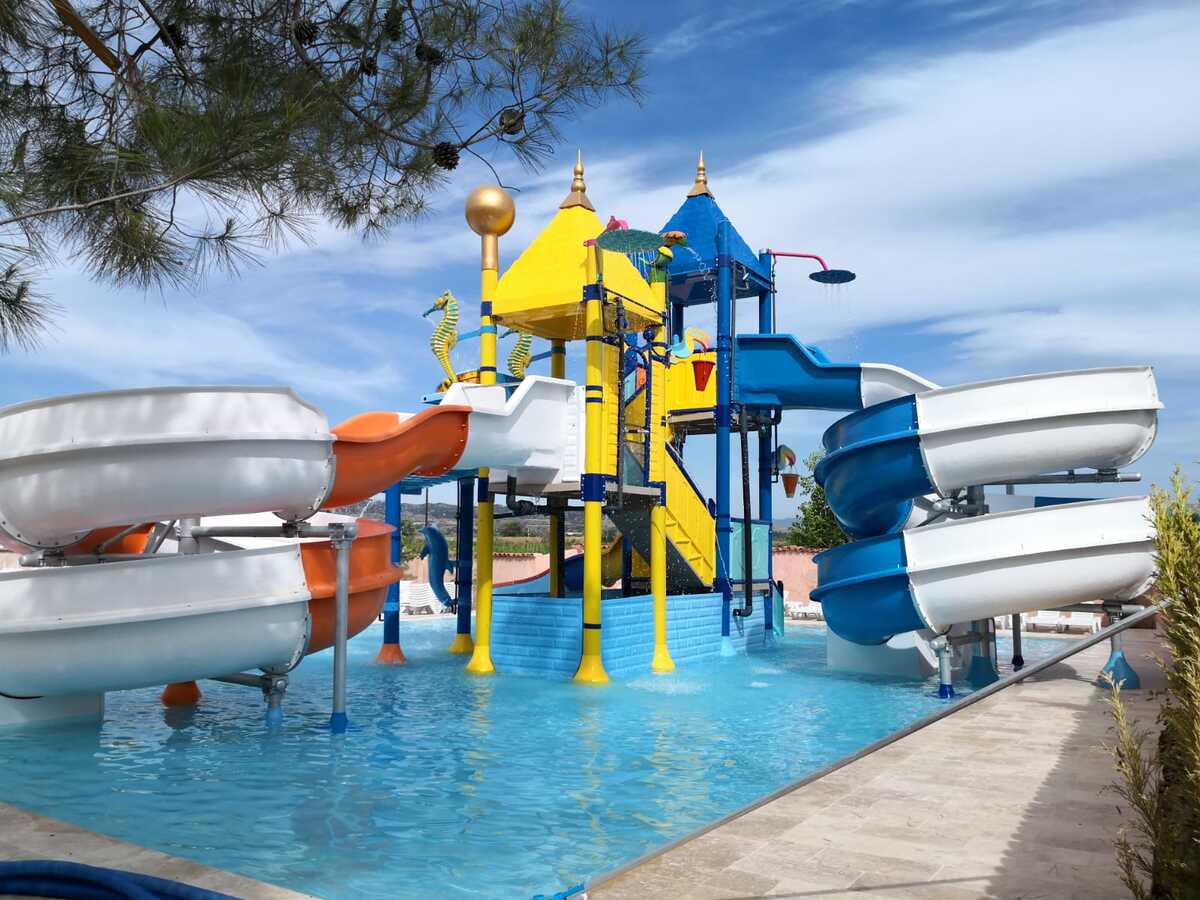 The Cavusoglu Aquapark is great for family fun and is located only a short drive outside of Pamukkale. It has waterslides, pools and fountains, and are a great palce for children to run around in and play. It's also a refreshing place to cool off when the Pamukkale heat gets a bit too much.
The aquapark features two swimming pools and a further two children's pools. There's also a sand pool, jacuzzi and twelve water slides, plus nine slides that are suitable for kids.
The waterpark is seasonal though, and is only open in the summer. If you are visiting outside June to September, then you won't be able to enjoy this attraction.
---
Where To Stay in Pamukkale
To make sure you make the most of your visit to Pamukkale, we recommend staying one or two nights so you can spend one full day exploring Pamukkale. Here are some suggestions for hotels: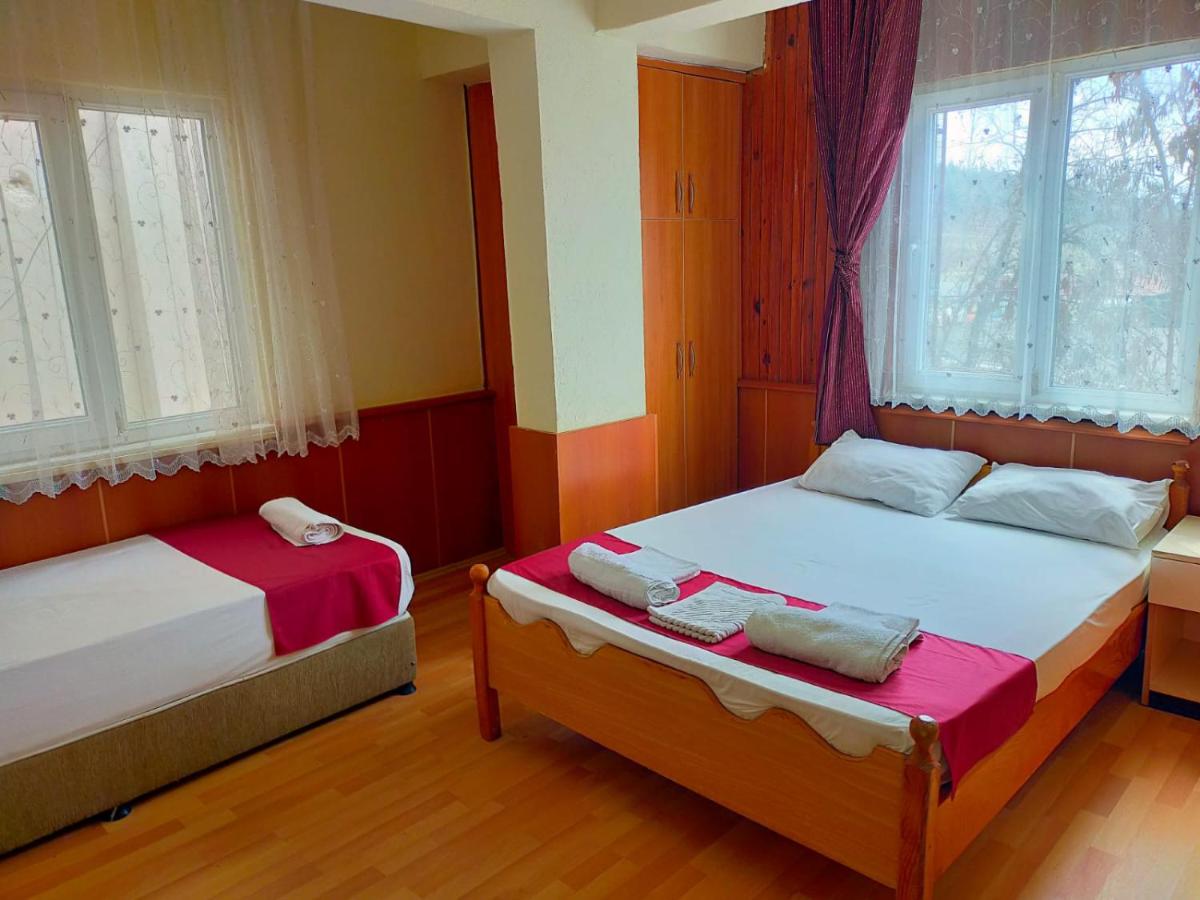 Best Budget Hotel in Pamukkale – Mustafa Hotel
We stayed at Mustafa Hotel when we visited Pamukkale and it was basic but comfortable. The location is great, only a five-minute walk from the Travertines and surrounded by restaurants. Actually, the hotel restaurant was the best food we ate in Pamukkale, so even if you don't stay here, at least check out the restaurant downstairs. For anyone looking for a budget accommodation, it's good for a couple of nights, but don't expect anything fancy.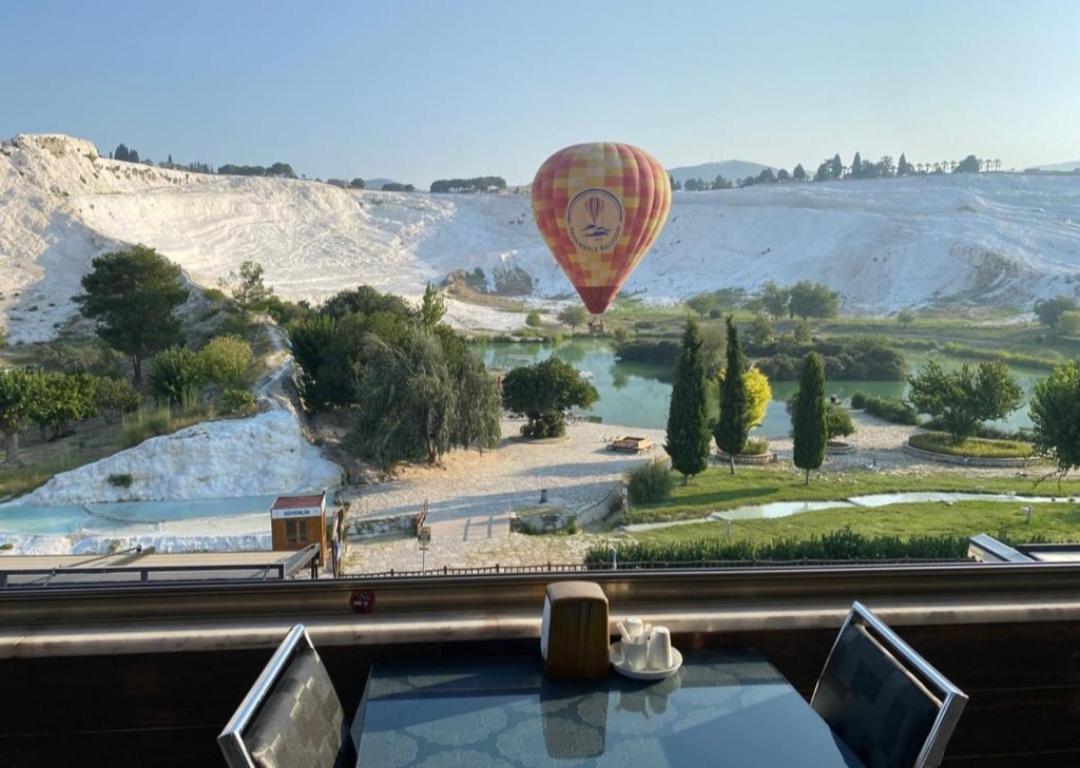 Best Mid-Range Hotel in Pamukkale – Hotel Sahin
If you're looking for a mid-range hotel in Pamukkale then the Hotel Sahin is one of the best rated hotels in the town. It's located directly across from the Travertines and you can even view them from the onsite restaurant. It has a refreshing outdoor pool, which you'll definitely use as Pamukkale is HOT. Rooms come with air conditioning (phew) and some rooms even have a balcony looking at the Travertines.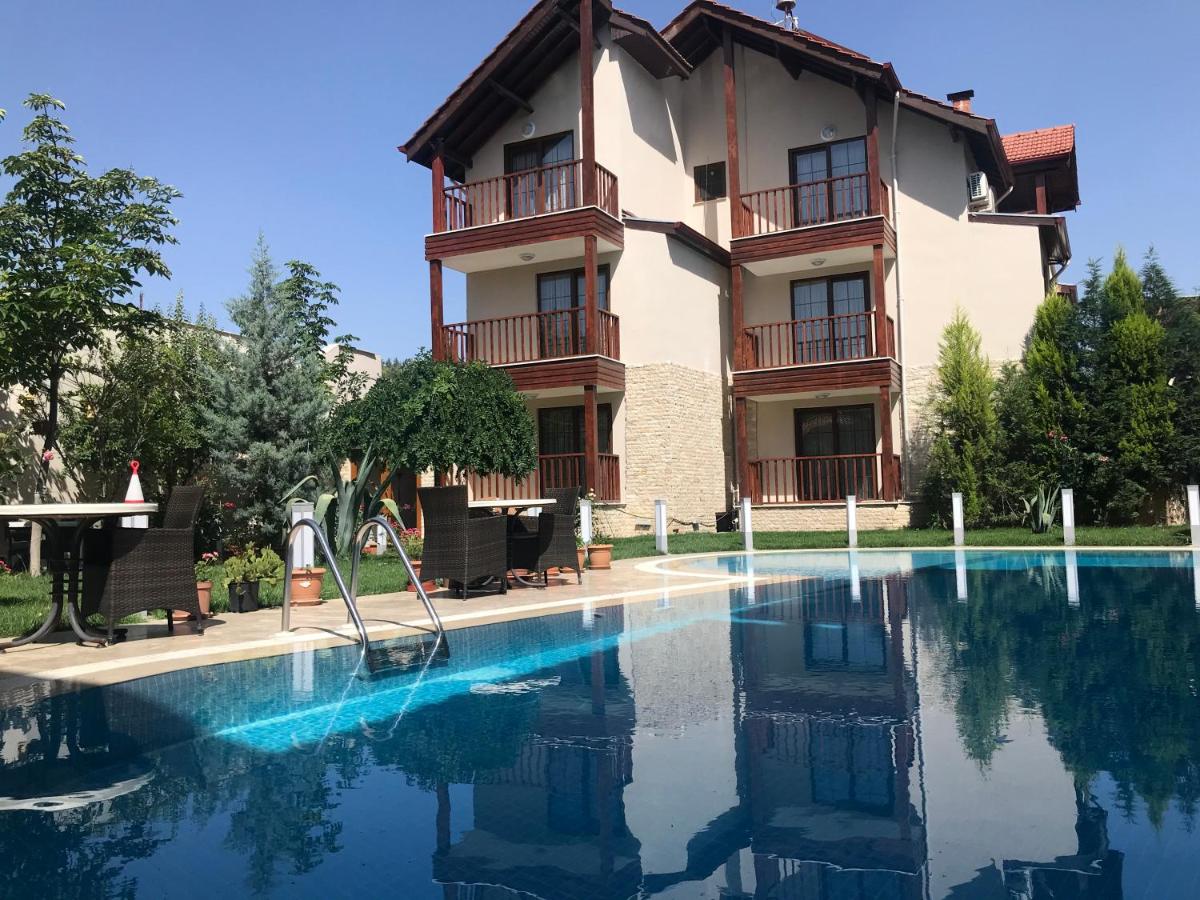 Best Luxury Hotel in Pamukkale – Venus Hotel
Located in a quiet area in Pamukkale is this luxurious hotel. Venus Hotel is a family-run four-star hotel with an outdoor swimming pool, open-air restaurant, and terrace. Rooms are spacious and decorated with modern furnishings. The best part about this hotel is that all meals are home-cooked and made in traditional style, so you get a really authentic experience when you stay here. It's a five-minute walk to the Travertines.
---
FAQs about Visiting Pamukkale
Here's what people usually ask us about visiting Pamukkale…
How much time do you need in Pamukkale?
Pamukkale isn't just about the travertine terraces, there is also an entire ancient city to explore. Well, its ruins anyway. There's also a Roman bath and you'll want time to swim in the mineral pools. Plan for at least half a day to see all of the Travertines and Hierapolis. Stay in Pamukkale for two full days.
Is Pamukkale worth the trip?
The travertine terraces and Hierapolis are definitely worth visiting. Aside from being a natural wonder and an area of historical importance, it's also beautiful. Aside from the Travertines and Hierapolis, the rest of Pamukkale is a bit boring, so we would say stay for a couple of days but no more.
Is there a train from Istanbul to Pamukkale?
There is a train to Denizli, the closest city to Pamukkale. From there, you would need to get a bus. There are shuttle buses that leave from Denizli Bus Station every 30 minutes.
Is 1 day enough for Pamukkale?
Yes, definitely. You will need half a day at the least to see the Travertine Terraces and Hierapolis, but if you have a full day to spend there do use all that time, there's so much to see.
---
Tips for Visiting Pamukkale and the Travertines
Before you visit Pamukkale, we have just a few words of advice for you. These are things we wish we knew before we visited!
Get there before 10.00 am, even if you don't make it for sunrise. This was the time we saw the biggest crowds when we visited.
Swim before you visit the Hierapolis. We decided to swim after because we didn't want to walk around all wet. How wrong we were. By the time we got back, the pools were packed with people and there was no space to swim.
Bring a change of clothes. Assuming you followed the advice above, change into some dry clothes before exploring Hierapolis.
Enter from the South Entrance. You do need to get a taxi here as it's a way out of the town, but it opens earlier and has fewer tourists using it.
If you want to swim in Cleopatra's pool, then get a ticket before you go because the queues are long.
Wear sunglasses. The terraces are startling white, which means they reflect the sun and can hurt your eyes. Don't forget your shades!
Put on sun block. No matter what time of year you visit, Pamukkale is HOT.
Bring flip flops. You are not allowed to wear shoes on the terraces, but for some reason flip flops are fine.
Leave the drones at home. You're not allowed to fly them here and there are people there telling you off for doing so (that was us, sorry).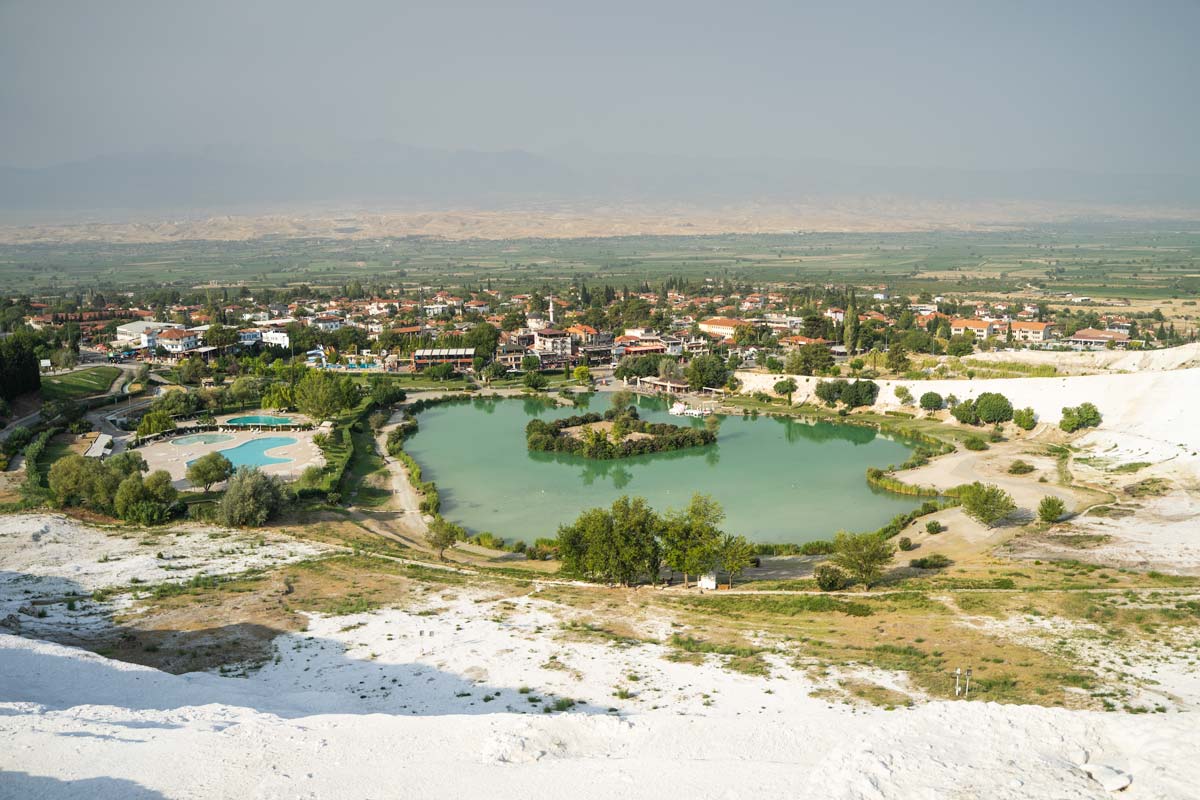 ---
Before You Go
So there you have it, this is everything you need to know about visiting Pamukkale. As you can see, there's a lot to explore here and it's definitely worth spending a day here.
Before you go, remember to get yourself the museum pass. This pass allows you entrance to Pamukkale and Hierapolis as well as 200 other museums in Turkey.
While Turkey isn't expensive to travel to, if you're planning an entire Turkey itinerary, this will definitely save you some money on attractions.
Disclaimer: Some of the links above are affiliate links. That means if you book or make a purchase through the links, we will earn a small commission at no extra cost to you! The money will help run this site! Thank you!