If your planning your next family holiday in Turkey and you're not sure what are the best places in Turkey to visit, you've come to the right place.
What makes Turkey an incredible destination to visit is the diversity, and we know that no two families are the same. So no matter whether you're an adventurous family who loves hiking or you prefer the quiet solitude of the beach or if you have fussy infants who need constant stimulation – there's something for everyone in this fascinating country.
In this guide, we'll be showing you all the best places to go in Turkey for families and what you can do there, so you can make an informed decision about whether it's right for your family. We'll also show you the best family-friendly resorts in Turkey, too.
So when you're ready, go take a look!
---
Overall Best Place in Turkey for a Family Holiday: Antalya
If you're ever stuck for a place for family holidays in Turkey then Antalya should be your number one choice. Located on the Turkish Riviera, otherwise known as the Turquoise Coast, this quaint region offers the perfect blend of a beach vacation and a historic city break.
Antalya is a region on the South coast, headed by its city with the same name. Most people tend to stay in the city of Antalya and travel around. Because it's so popular, public transport is pretty good here, but if you hire a car you can easily get to many of the outlying beaches and attractions in less than an hour.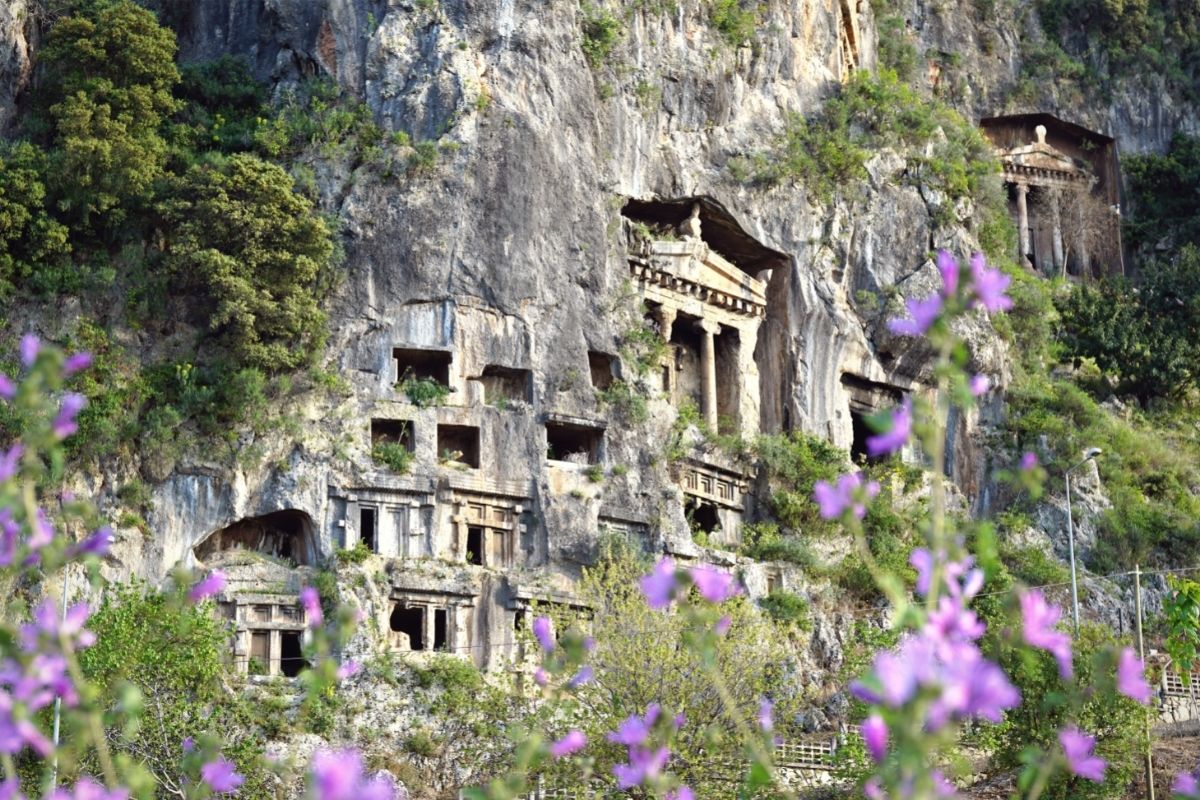 Because of its popularity and location, it's one of the greatest places in the country to base yourself and take day trips. You can visit many of the historic landmarks in Turkey within a day trip from Antalya, including the Lycian Rock Tombs, The Ancient City of Perge, and the Taurus Mountains. You could even get to Fethiye or Pammukale in a day if you don't mind long drives.
But for those with young kids who can't afford to spend over an hour in a car, don't worry. There are so many attractions in Antalya itself to keep the family busy, whether you're traveling with toddlers, small children, or teenagers.
For young children, there are several waterparks that children love to play in, including Park Aqua and Waterhill. Aktur Park is a theme park that offers a world of fun. Kids also love visiting Sandland and the Antalya Toy Museum.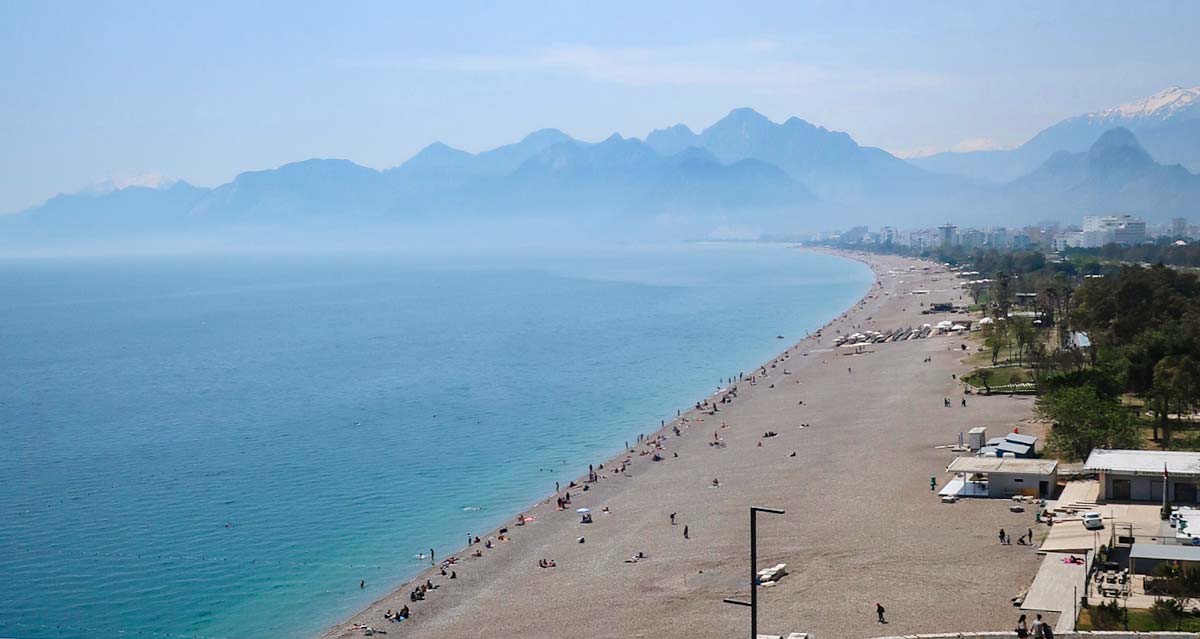 Of course, let's not forget Antalya's beaches. No matter what age you are, the beaches are one of the main reasons to visit the region – and there are many. A family-friendly beach in Antalya is Konyaalti Beach which has shallow water with gentle waves. There's also an inflatable aqua park for kids to play in.
Antalya is also a safe city, with several world-class resorts offering family-friendly amenities, such as outdoor pools, play parks, and daycare services.
---
Best Place in Turkey for An Adventurous Family: Cappadocia
If your looking for an adventurous family holiday to Turkey then Cappadocia is the place for you. This expansive desert region is surrounded by incredible, stunning landscapes and hiking trails. It's also where you can embark on one of the iconic hot air balloon tours.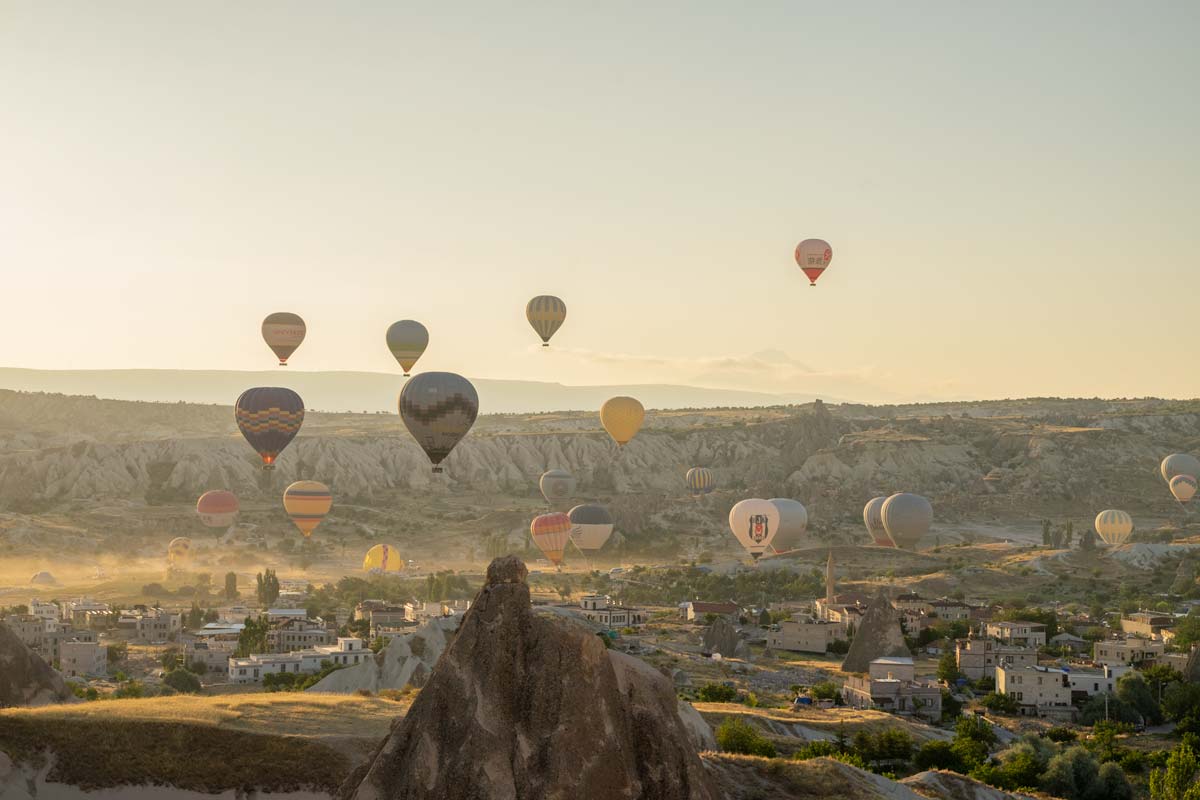 If you're visiting with children, a great way to see all the sites is on the organized tours. The red and green tours are the most popular options, which take you to some of the valleys to see impressive rock formations, explore underground cities, and find souvenirs in local towns.
The blue tour is also a great option for the adventurous family since it combines a hike to the Red and Rose Valleys. The hikes in Cappadocia are not challenging or difficult, but you should be mindful of falling rocks and slippery terrain.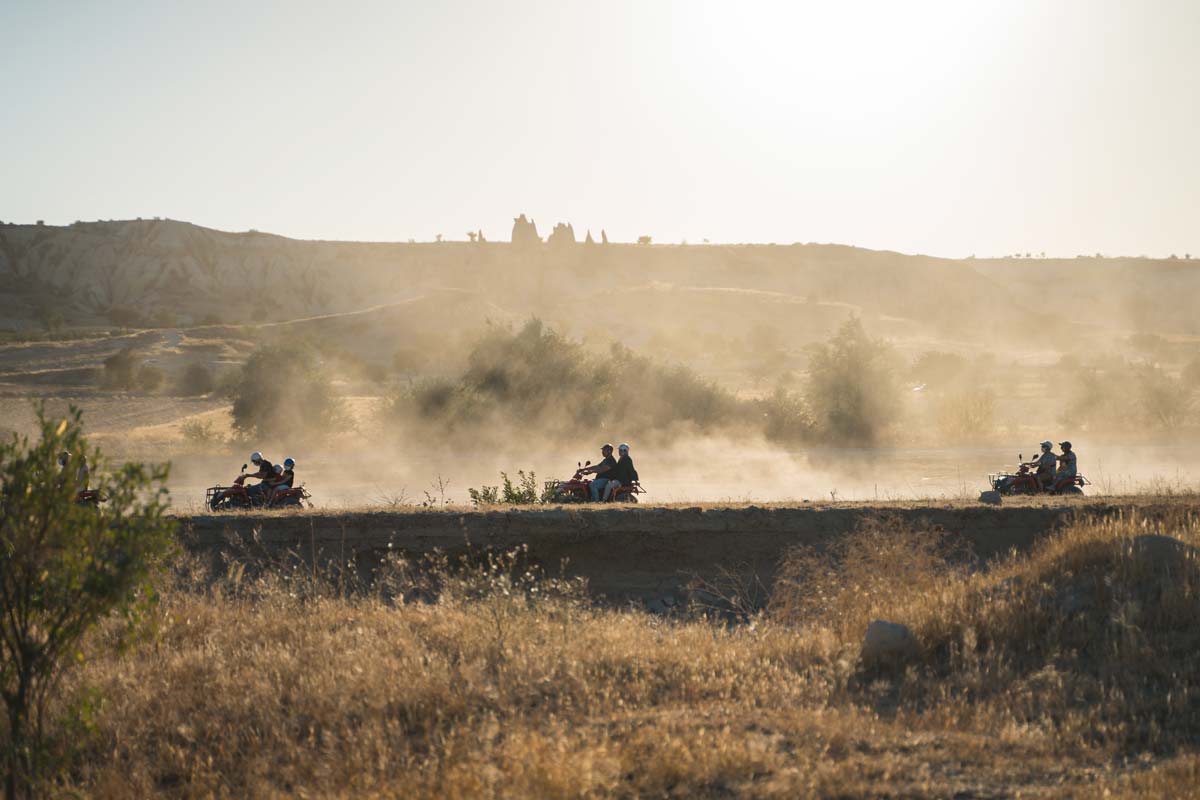 If you want to up the adventure levels, consider exploring the landscape on an ATV tour. This is suitable for children ages 10 and up and is a fun way to explore the rugged landscape of the desert.
Of course, any trip to Cappadocia would be incomplete without a hot air balloon tour. Hot air balloon flights are suitable for children aged 6 and up, and will offer them a magical experience they will never forget!
---
Best Place in Turkey for A Beach Family: Fethiye
If Antalya sounds too busy and crowded and you're looking for Turkey family vacations in a quieter spot, then consider Fethiye.
Fethiye can only be described as a stunning resort town on the South Coast of Turkey. Also part of the Turkish Riveria, you can expect to find crystal clear waters, stunning beaches, and plenty of water activities to do – but without the crowds of Antalya.
Now, don't expect seclusion, it's still a popular area, but you'll find the beaches in Fethiye are more family-friendly because the region is located inside a bay. This means the waves are gentler and the waters are shallower – perfect for swimming with kids. The most famous family-friendly beach is the Blue Lagoon in Ölüdeniz.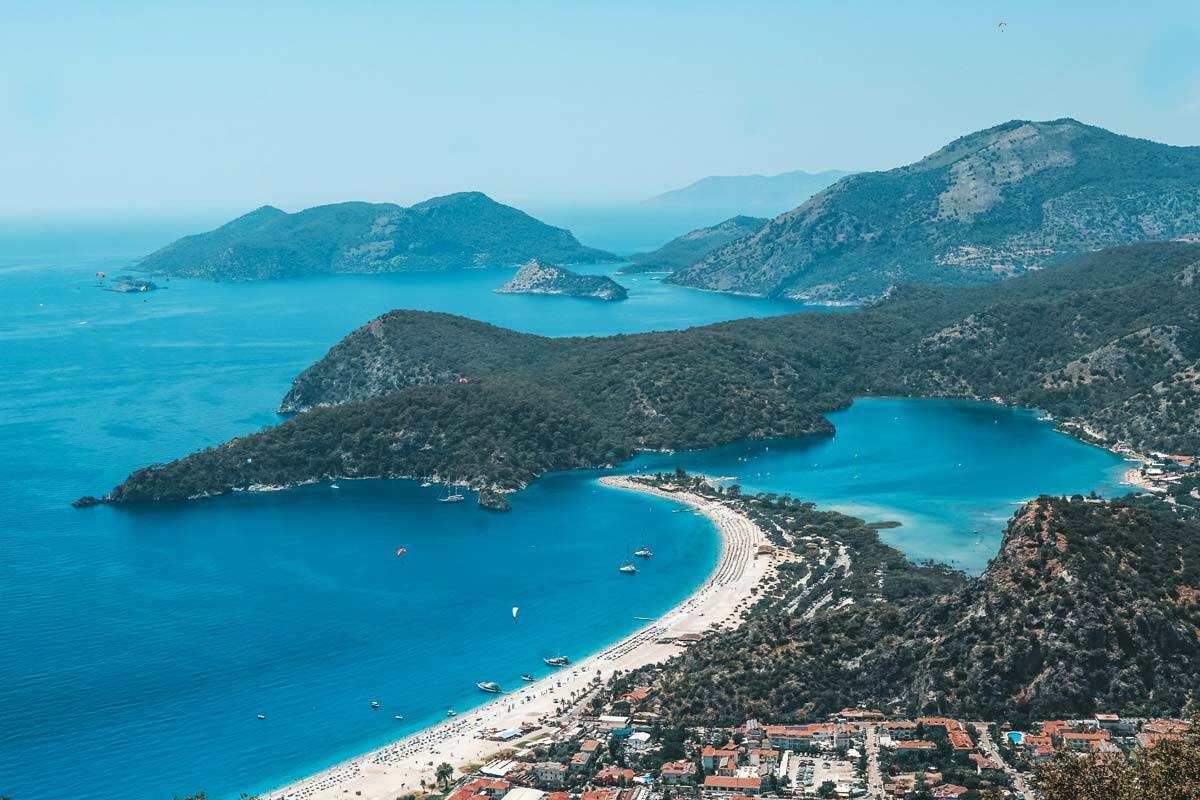 There are a few water parks, not as many as Antalya, but certainly enough to keep your kids entertained for a week. You can also take boat tours and sailing trips that take you around 12 of the islands around the Fethiye area.
If your kids are feeling really adventurous, you can find tandem paragliding tours for children aged 5 and up.
---
Best Place in Turkey for Relaxing: Marmaris
If your kids are a little more grown up and it's time to take a relaxing family vacation in Turkey then you might consider Marmaris. Like Fethiye, Marmaris is a quaint coastal town on the Turkish Riviera but it's much quieter than Antalya and Fethiye.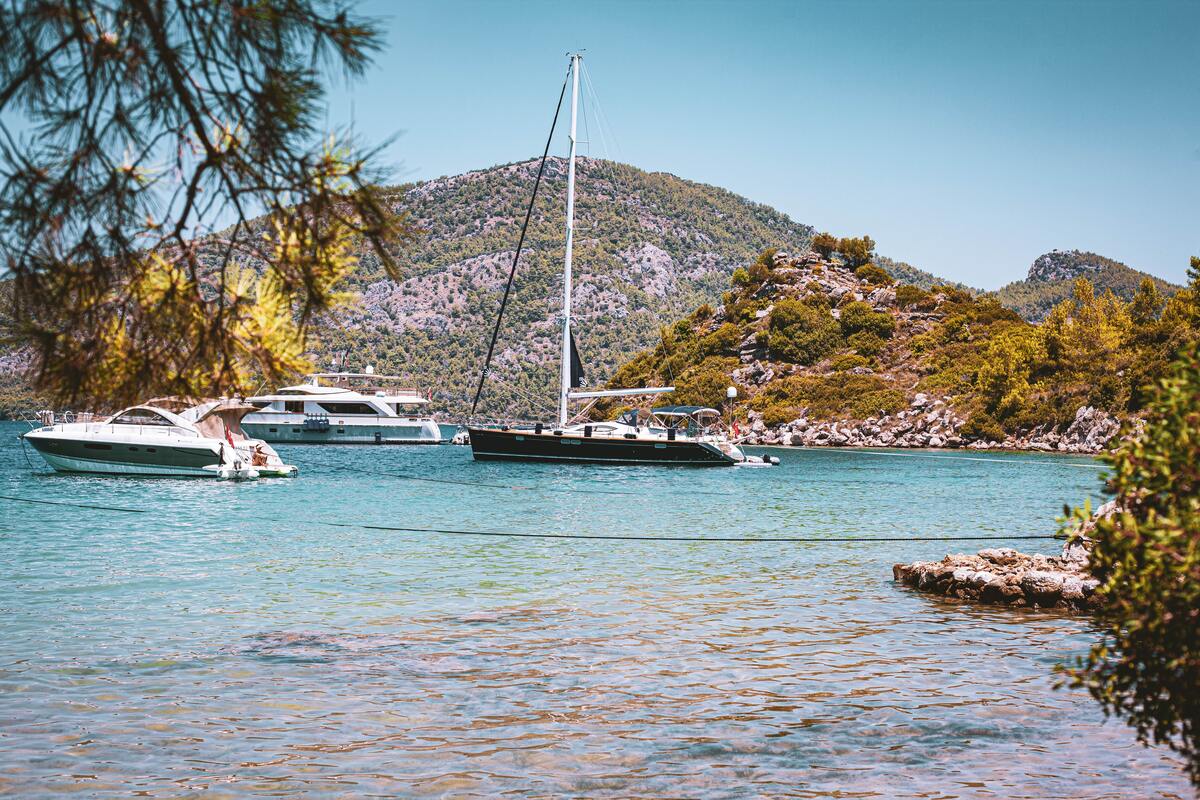 The region gets most of its tourism from sailing boats that dock here for a bit of a land break. In terms of things to do here, you'll find most of the activities venture out on the water – either through boat tours out to the surrounding islands or by exploring the nearby beaches.
There are a couple of water parks for small kids, but not many. This is why we'd recommend Marmaris for families whose children are slightly older and can find enough enjoyment out of spending days at the beach.
Read more: Antalya or Marmaris: Which is better?
---
Best Place in Turkey for A City Break: Istanbul
If you're looking for a short city break, one of the best places for family vacations in Turkey has to be Istanbul. This once ancient capital of the Ottoman and Roman Empire has tons to see and explore. From the historical monuments such as the Hagia Sofia to the vast variety of street food in Istanbul, you could easily spend a few days or even a week here and not run out of things do to.
For families, Istanbul offers a lot. If you have young kids, they will love running around the Legoland Discovery Center or Miniaturk – a model village of Turkey. Then there's Vialand, a theme park with rollercoasters, which is large enough to fill a full day.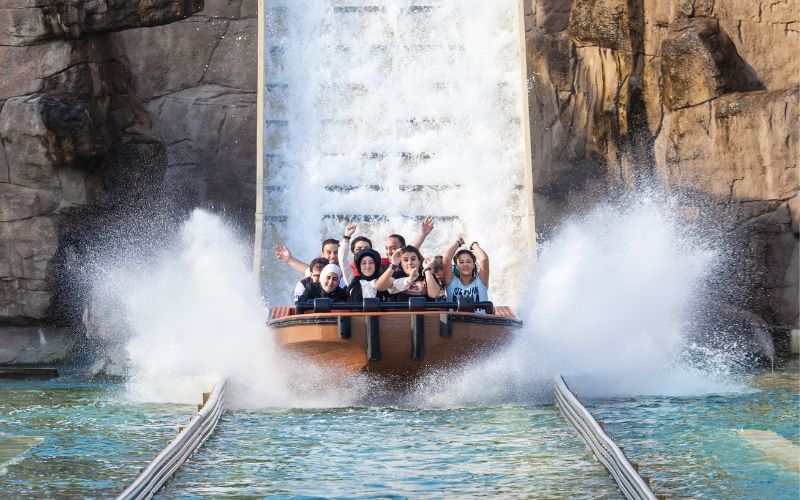 Of course, a family vacation is not just about the kids (though let's face it, it usually always is). Parents will enjoy the relaxing atmosphere of a Bosphorous cruise, which is our favorite thing to do in Istanbul at night.
If you want to escape the city for a while to somewhere quieter, then spend a day exploring the Princes Islands.
You'll find there really is something for everyone in this vibrant city. It's also very safe and easy to get around on foot.
Are you reading this from Turkey? Maybe you need a VPN!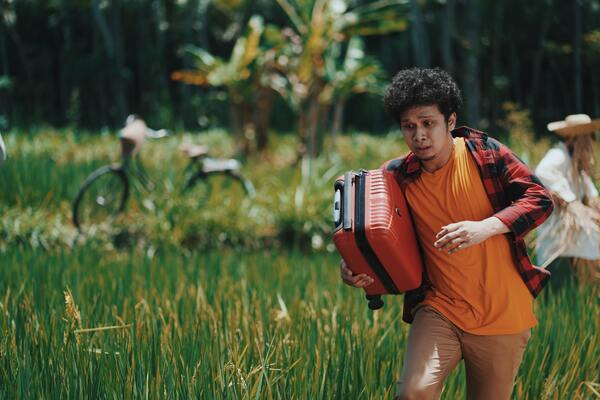 If you're already in Turkey, there is one thing you absolutely NEED: a reliable VPN.
You may find some of your favorite websites and apps are blocked in Turkey, such as popular hotel site booking.com
A VPN allows you to get passed this ruling and enables you to browse these sites without any hassle, and it's completely legal.
We use Express VPN when we're in Turkey and we'd recommend it to anyone. It's affordable, quick, and easy to use.
---
Best Turkey Resorts for Families
Now you know the best places in Turkey for families, it's time to look at where to stay. These are some of the best Turkey resorts for families in Antalya, Cappadocia, Marmaris, Fethiye, and Istanbul.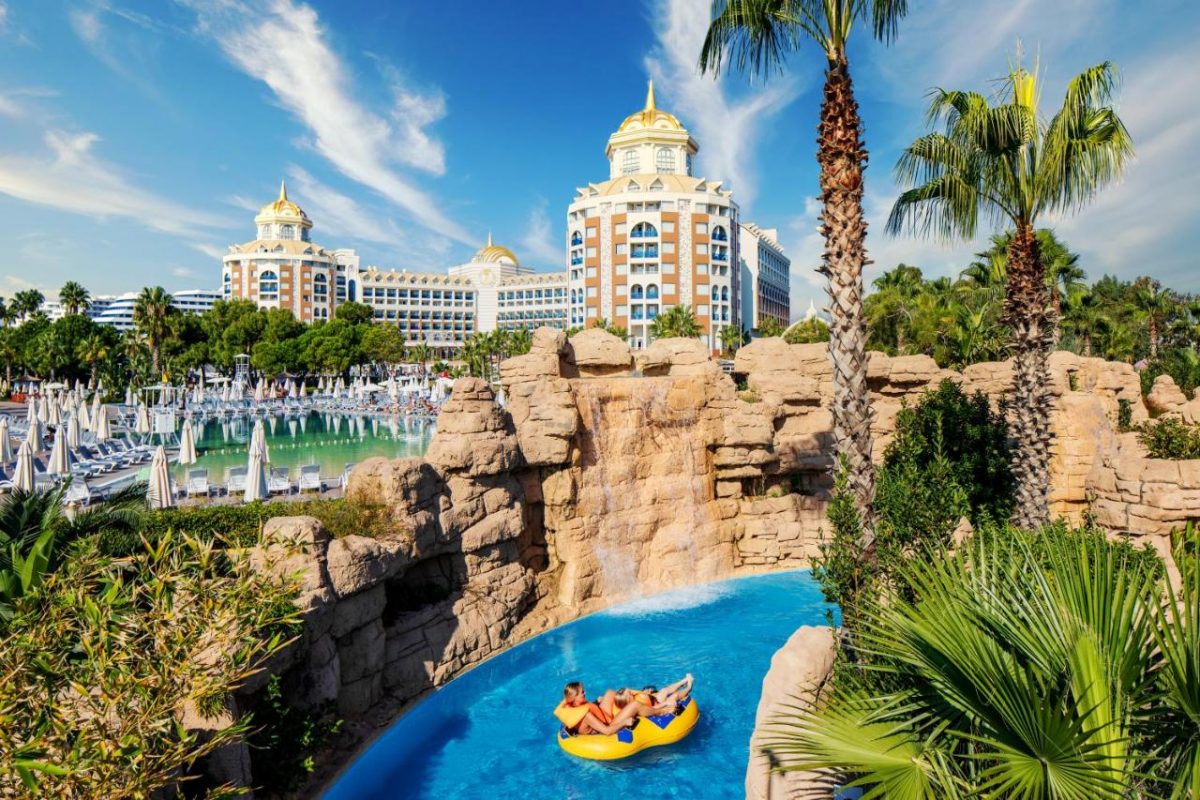 Best Resort in Antalya for Families – Delphin BE Grand Resort
Located outside the city of Antalya in the Lara region is this stunning family-friendly resort. It's near to all the best beaches in the region and has five-star amenities. For the kids, they will love playing in the extra-large pools, on one of the six tennis courts, or beach volleyball field during the day and watching the live entertainment in the evening. The resort has direct access to Lara Beach and has onsite restaurants and bars, as well as a spa and fitness center with personal trainers. Each room is spacious and well designed. What more could a family ask for?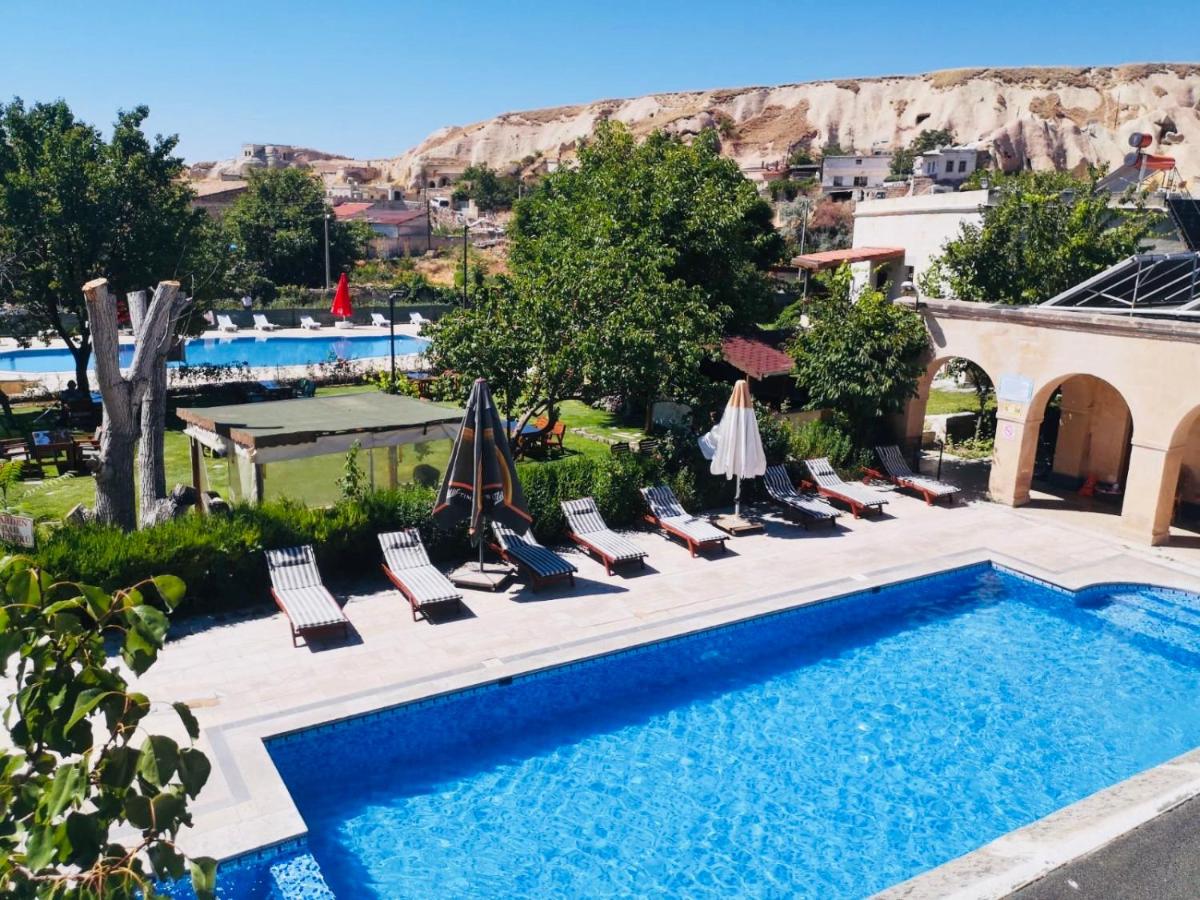 Best Resort in Cappadocia for Families – Melis Cave Hotel
Cappadocia is known for its luxurious cave hotels, but if you're in need of a family-friendly accommodation option then you'll be hard pressed to find one better than Melis Cave Hotel. Featuring a refreshing outdoor swimming pool and huge green gardens to play in, it has enough to keep your kids entertained during your stay. You'll also get to experience the authenticity of staying in a cave-dwelling, something that will be a treasured family memory for a lifetime. You'll be located in the bustling town of Urgup, which is one of the best neighborhoods in Cappadocia to stay in near all the major attractions.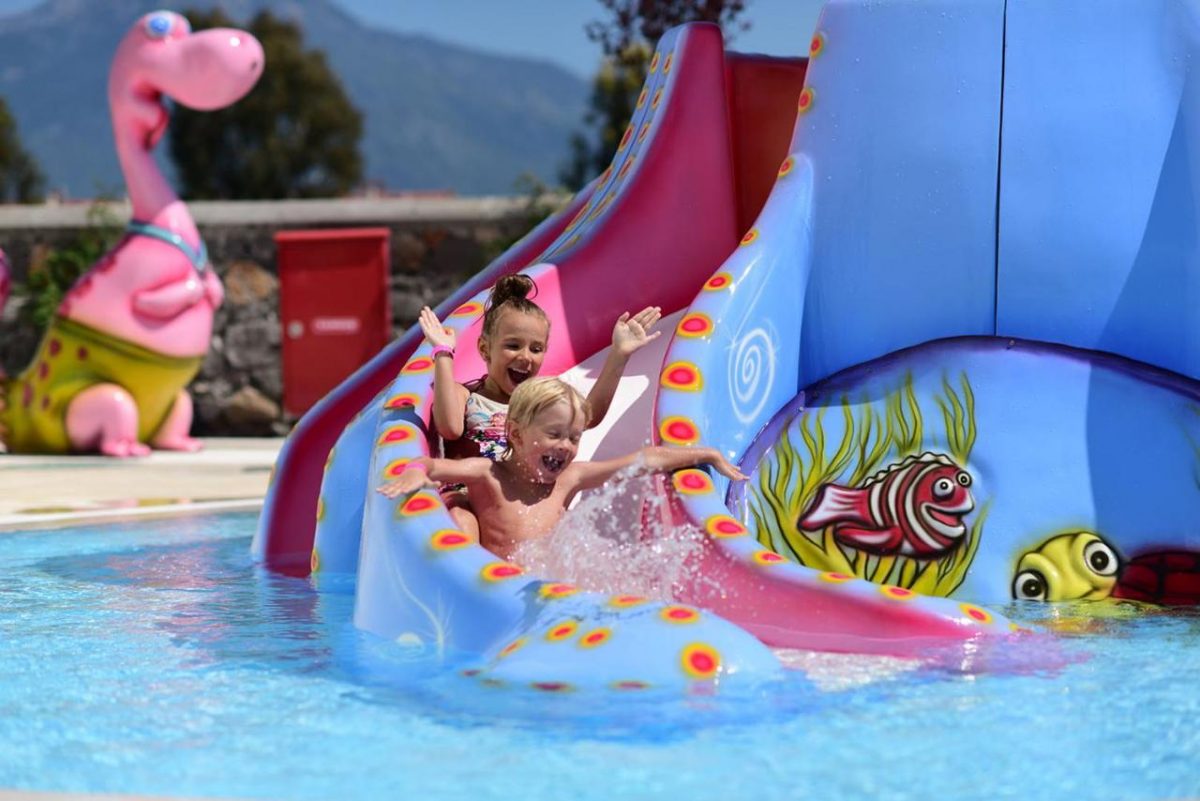 Best Resort in Fethiye for Families – Jiva Beach All Inclusive Resort
Located just a stone's throw from the beach, this all-inclusive resort covers a space of 35.000 m², has its own natural lake, 5 swimming pools (some with slides, some for adults) as well as plenty of activities to keep kids busy. They can play billiards, darts or table tennis. You'll never have to worry about meals as a buffet is served for breakfast, lunch, and dinner. There are three restaurants onsite and a patisserie. For mom and dad, enjoy the Turkish bath, sauna, or fitness room. Each evening, there's entertainment provided on sight including dance shows, discos, and live music.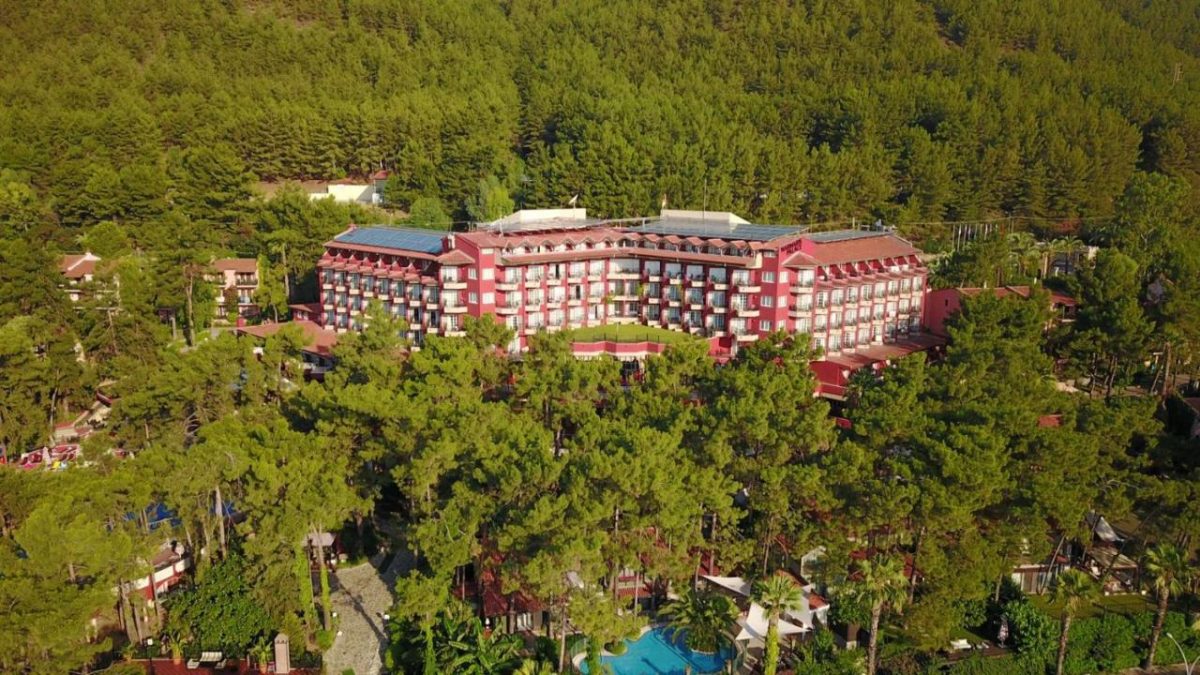 Best Resort in Marmaris for Families – Grand Yazıcı Club Marmaris Palace
Marmaris doesn't have much in the way of family-friendly resorts, but luckily the Grand Zazici Club has everything you could want and more! It's just 2 minutes from the water and has several lovely gardens. It has five-star amenities, including an outdoor pool and access to water activities such as jet skiing, parasailing, or surfing. Mom and dad will love kicking back in one of the six bars, while the kids let off steam at the playground. There are several restaurants nearby, or if you don't feel like going out, head to the elegant onsite dining room.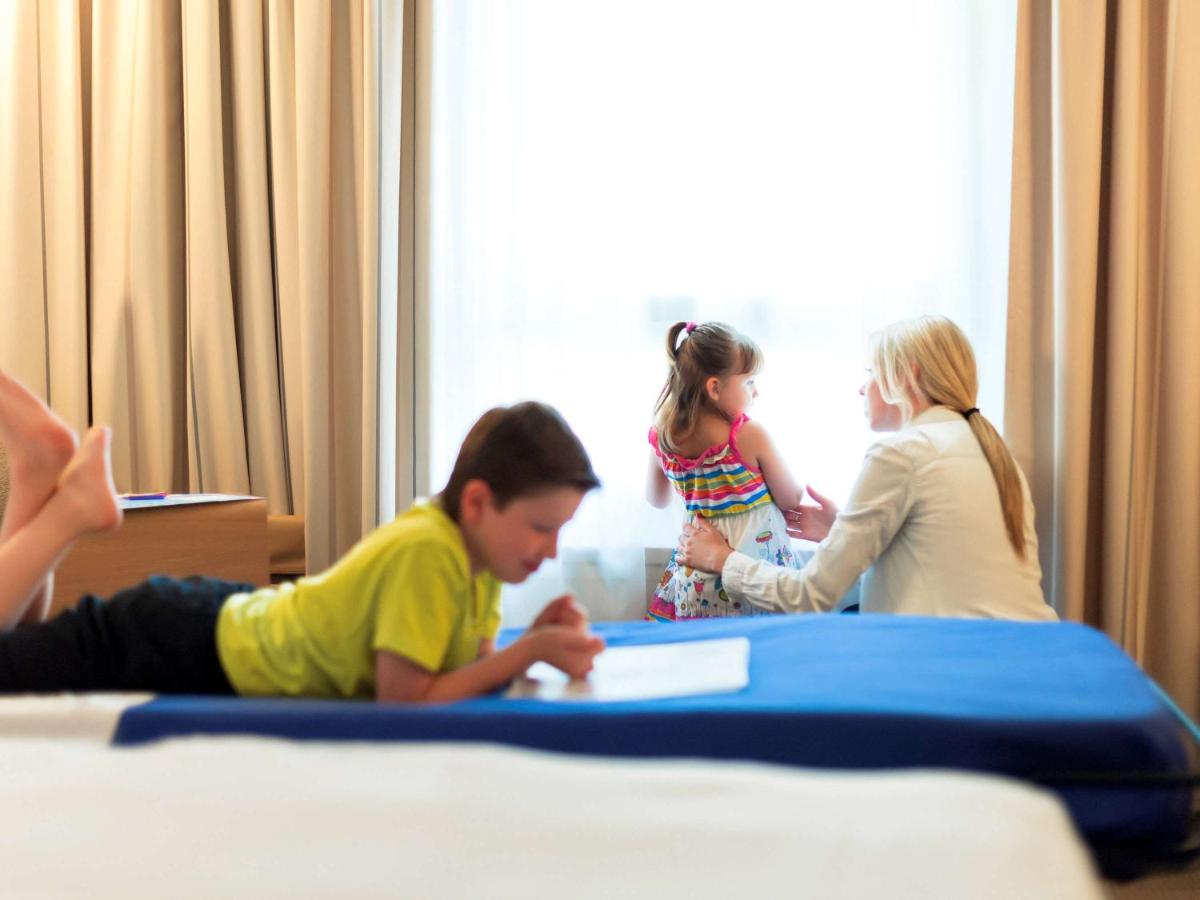 Best Resort in Istanbul for Families – Novotel Istanbul Zeytinburnu
For family-friendly hotels in Istanbul, you won't find much better than the Novotel. Featuring an onsite swimming pool, an indoor play area, and outdoor play equipment, there's enough here to keep your little ones entertained in the city. It's located in the Zeytinburnu district, a quiet area just outside the bustling tourist hot spot Sultanahmet. Each of the rooms is family-friendly and spacious. Mom and dad may enjoy the fitness center or sauna and steam bath. Each day, Turkish and International breakfast is served, perfect for fussy eaters. There's also live music in the restaurant every Tuesday and Thursday evening.
---
FAQs About Places to Go In Turkey For Families
Here's what people usually ask us about places for family vacations in Turkey…
Is Turkey a good place to visit with kids?
Yes, Turkey is absolutely a good place to visit with kids. With the sun, sea, and beaches, as well as all the theme parks and water parks. There's plenty of attractions in the country to keep kids busy.
Is Antalya Turkey good for families?
Yes, Antalya is very good for families. Aside from the fact that there's plenty of attractions for kids, the resorts here are some of the best in the country.
Does Turkey have a theme park?
Turkey has lots of theme parks! In Istanbul alone, there are several, including Kidzania, Legoland, Vialand, Jurassic Land and Aqua Park Istanbul.
Which part of Turkey is best for family holiday?
Our overall favorite part of Turkey for families is Antalya because of the number of attractions available to every family member. But Fethiye, Marmaris, Cappadocia, and Istanbul each have something unique to offer families.
---
Before You Go
So there you have it, our top places in Turkey for a family holiday. Whether you're looking for adventure, water parks, relaxation or beaches, you'll find the perfect spot for your next Turkey family holiday on this list.
Do you think we've missed anything? Let us know in the comments.
Disclaimer: Some of the links above are affiliate links. That means if you book or make a purchase through the links, we will earn a small commission at no extra cost to you! The money will help run this site! Thank you!