Cappadocia is known for its desert landscape and iconic fairy chimneys, and the UNESCO World Heritage Site of Goreme National Park is a huge area that is just waiting to be explored.
But if you have only a short time in Cappadocia, you might be considering one of the tour options. The most famous are the Red and Green tours, which are most often coach tours (though not always) that take you to some of the biggest highlights in the region.
But who really enjoys being on a bus with 40 strangers and not being able to hear your guide at each stop? Not us, that's for sure.
This is why the Blue Tour in Cappadocia is a great option for those who don't have long to spend and prefer being in a small group.
But what is the Blue Tour and what do you see? This complete guide to the Blue Tour in Cappadocia will answer this question and more…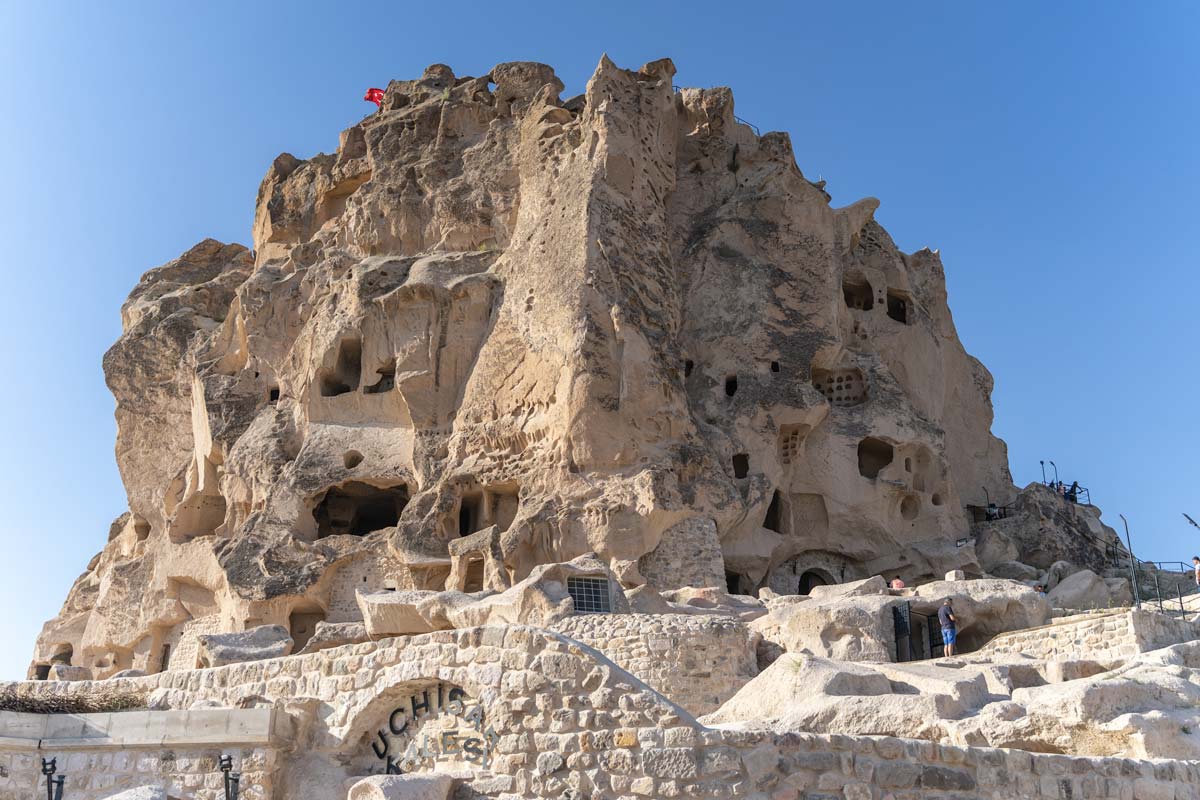 ---
What Are The Stops On The Blue Tour In Cappadocia?
The blue tour is a small group tour that takes you to some of the most iconic landscapes. These are the stops on the blue tour.
Red and Rose Valley Hike
Cavusin Cave Village
Local lunch in Cavusin
Özkonak or Kaymakli Underground City
Fairy Chimneys in Uc Guzeller (not included on every tour)
Pigeon Valley
This is the general itinerary for the blue tour in Cappadocia. Some of the tour companies have variations of this tour, with other stops included such as an optional balloon flight, but most of the companies offer this route.
The order of these stops might differ depending on the tour company to stop overcrowding at each site. You will spend roughly one hour at each place.
The blue tour starts between 9.30 AM and 10 AM (it picks everyone up from their hotel) and ends roughly 7 hours later at around 5 PM.
From our research, some tours don't include a visit to the fairy chimneys in Uc Guzeller, so if this is a deal breaker for you, it's a good idea to shop around. If you'd like to book a tour with this included, click the box below.
Red and Rose Valley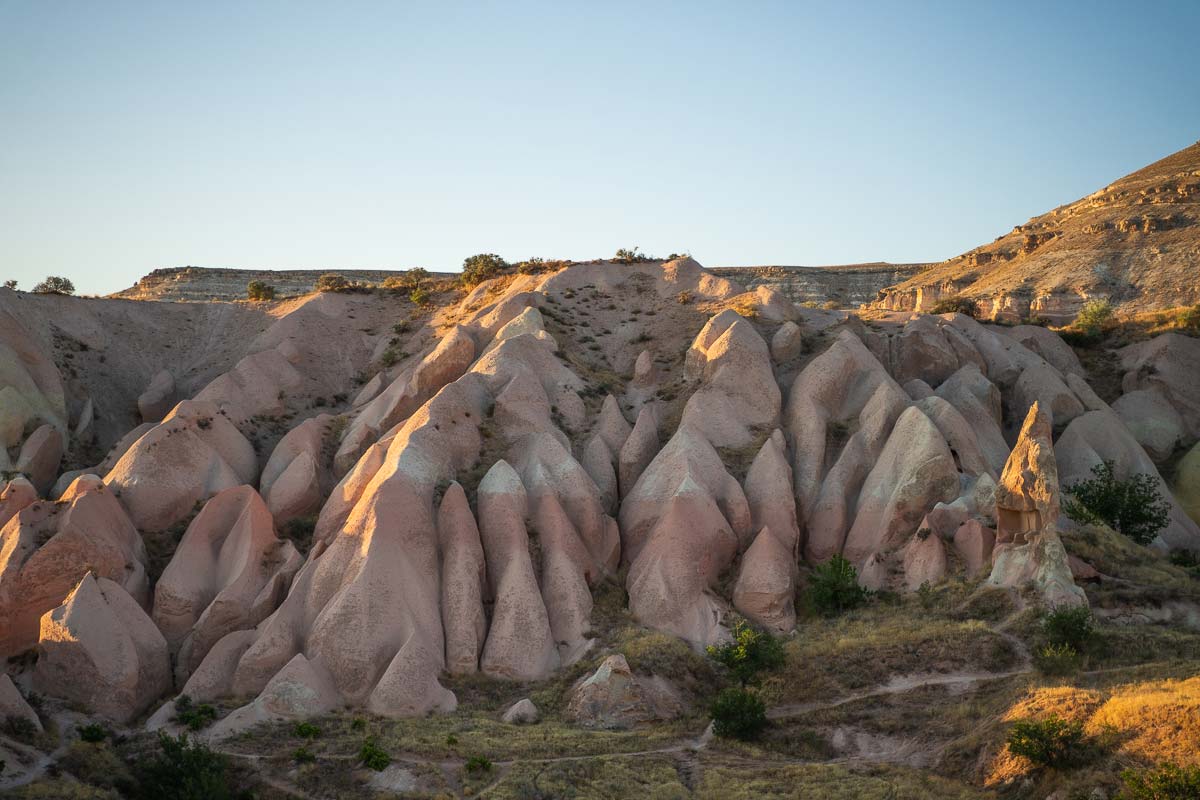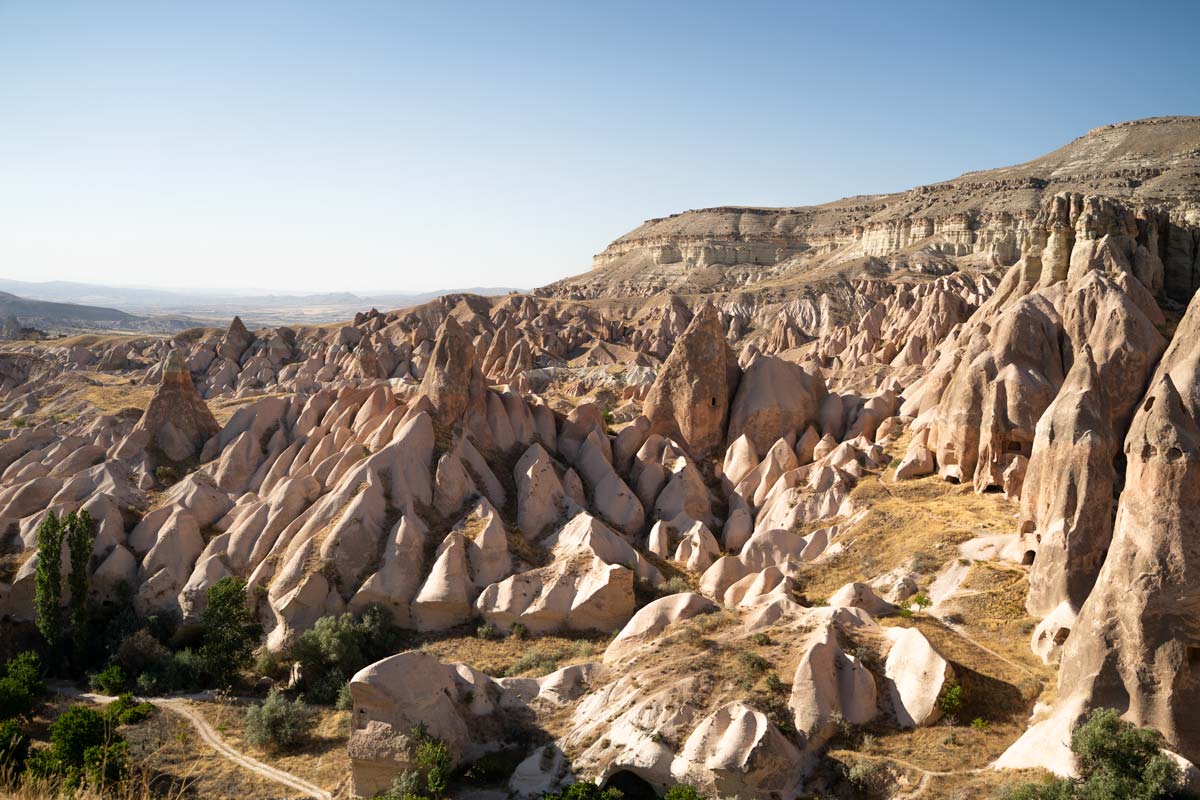 The first stop on the blue tour is the Red Valley and Rose valley.
Hiking in Cappadocia is one of the best things to do in the region but it's also not something you want to be doing in the heat of the day. This is why it's the first stop on the tour, so you can enjoy the beauty of the landscape during the coolest hours of the day.
Red and Rose Valley are connected to each other, which is why many people confuse the two. Rose Valley is North of Red Valley and is where you'll find most of the fairy chimneys and churches.
The Red Valley gets its name from the red rock type that adorns the landscape here. There are a few cave dwellings to explore here, too.
Cavusin Cave Village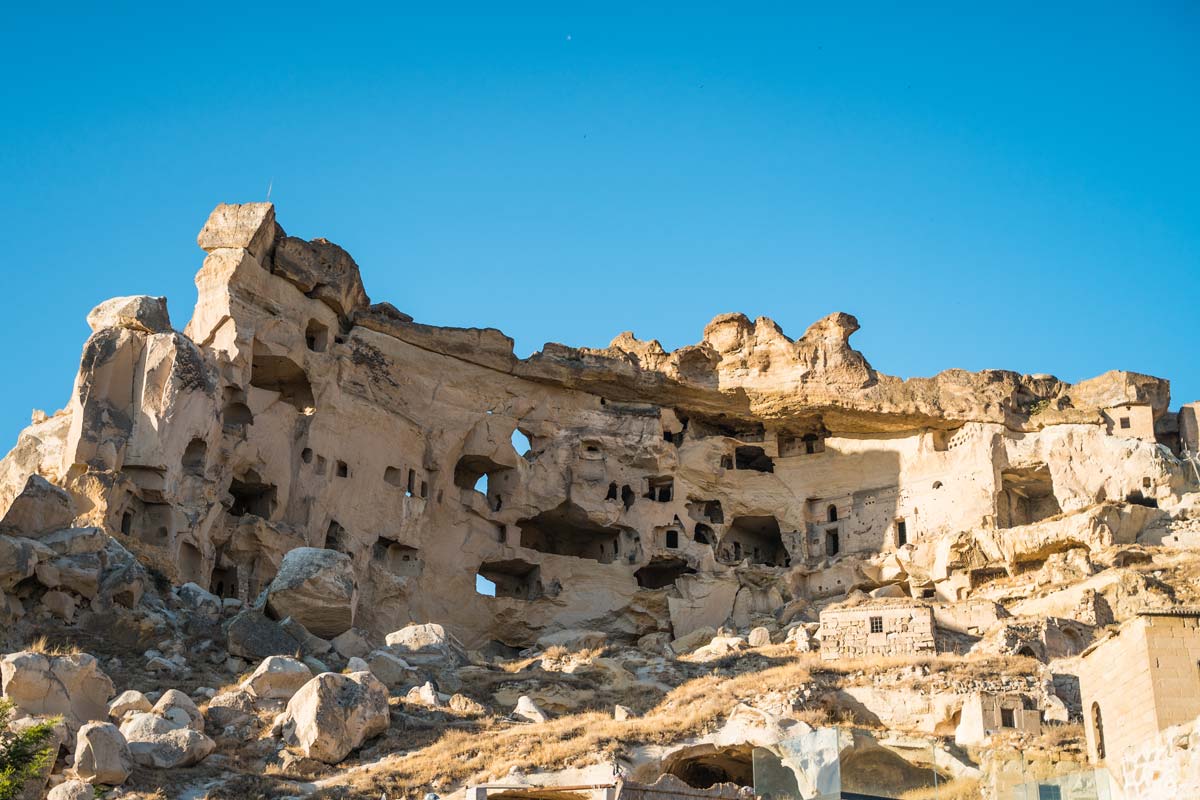 Cavusin is a cave village just North of Red and Rosey Valley, between Avanos and Goreme.
The village was built by the Greeks in the 7th and 8th centuries and has been inhabited right up until the 60s when the villagers were forced to leave by the government who deemed the dwellings to be unsafe.
The cave dwellings here are some of the largest and most impressive in the region and are one of the rare examples of dwellings on top of one another. There are also several churches that you can visit too.
Cavusin is also where this tour stops for lunch in one of the local restaurants. Some of the best restaurants in Cappadocia are in Cavusin, with incredible views of the dwellings from their windows.
Özkonak or Kaymakli Underground City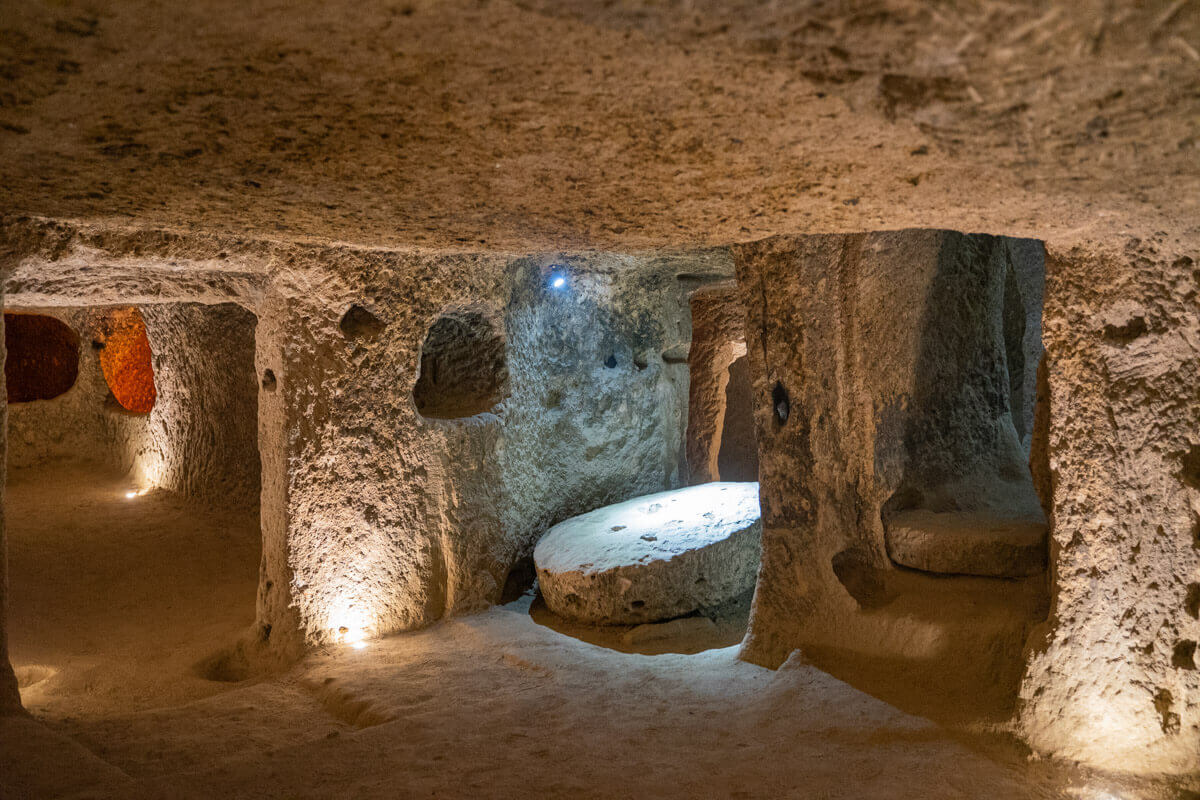 There are said to be around 200 underground cities in Cappadocia, but only a few are open for tourism. The main ones are the Derinkuyu Underground City and the Kaymakli Underground City. The Özkonak is another underground city open for tourists but it's much less well-known (though not less interesting).
The underground cities were thought to have been built in the 7th and 8th centuries as sanctuaries from Arab invaders. The Kaymakli Underground city is thought to be the oldest, which is why it's a popular attraction in Cappadocia.
During your visit to the underground cities, you will see how thousands of people lived in caves underground, including all their food sources and livestock. The cities have not only homes but churches, cellars, and storerooms, too.
The underground cities are best viewed with a guide, as there is no information provided about what you are looking at inside.
Uc Guzeller
Uc Guzeller, otherwise known as The Three Beauties or The Three Graces, is an impressive rock formation located between Urgup and Ortahisar.
They are three rock towers with a flat surface on top, similar to what you might see in Love Valley but with a flatter top. The interesting thing about these formations is that they are natural.
This is a quick photo stop on the Blue Tour and is not included on every tour, so if you really want to see it, make sure to book a tour that has this included.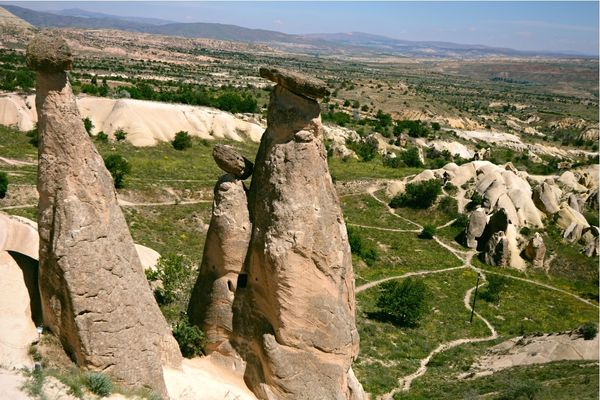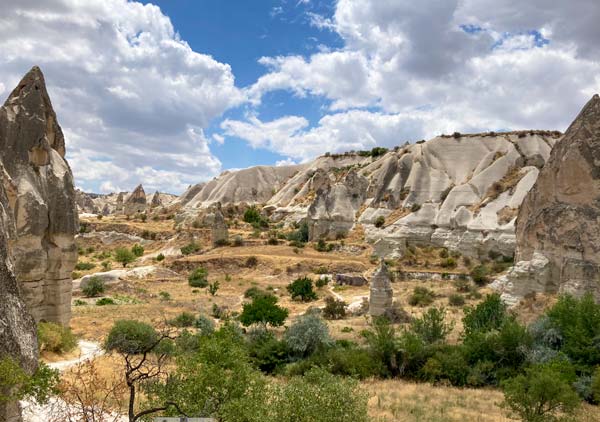 Pigeon Valley
Pigeon Valley connects Goreme with Uchisar and is usually one of the last stops on the tour. Compared to Red and Rose Valley, Pigeon Valley is small at only 3 km long. It's called Pigeon Valley because of the numerous pigeon houses you can see here.
Farmers used pigeon poop as fertilizer in ancient times, and it was very expensive. The houses here built houses for pigeons as a way to easily harvest their poop.
Uchisar Castle
Uchisar Castle is the only castle in Cappadocia and was the main source of defense against the Arabs during the Byzantine wars. The castle sits on the highest point of Cappadocia and is said to have access to the underground cities below.
The Castle is an impressive example of the unique cave dwellings and rock formations in the region. It's important to view the castle with a guide, as like the underground cities, there is no information about what you're looking at inside the museum.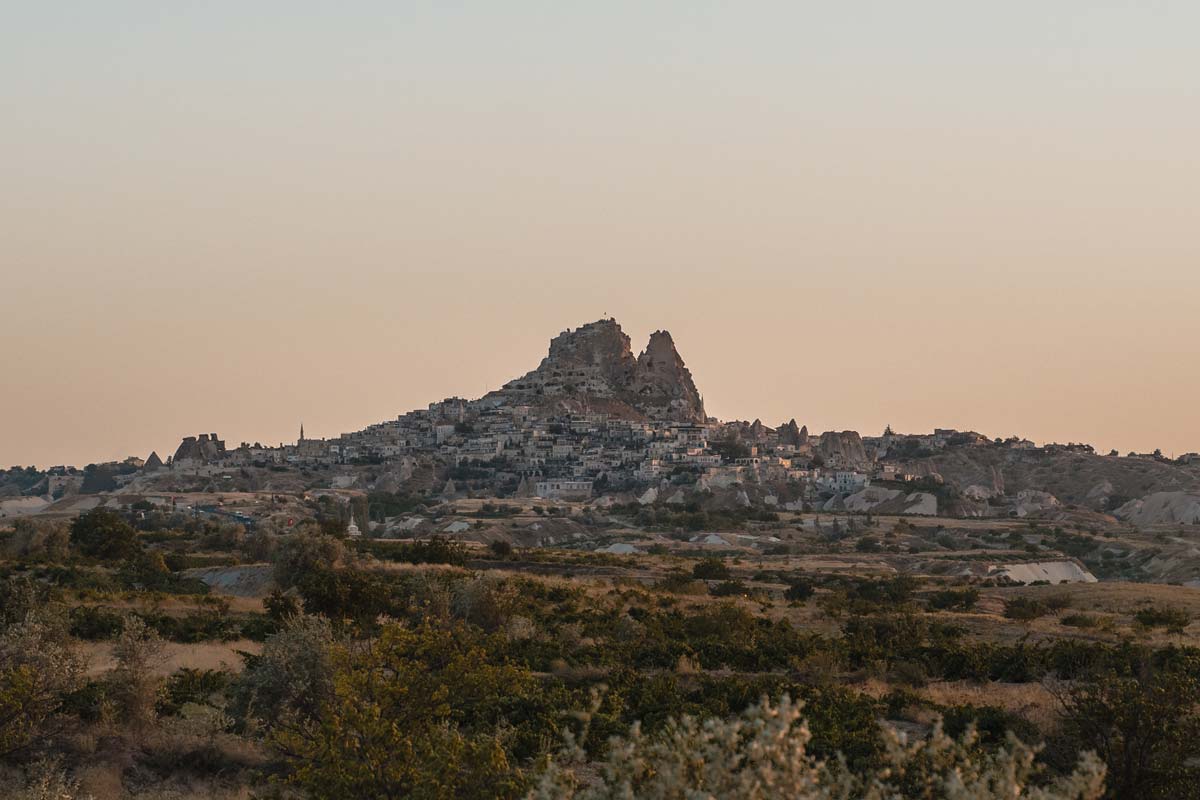 ---
Value-For-Money
One of the perks of the blue tour is that it's a small group tour of a maximum of 15 people. Rather than loading into a coast of 40+ tourists as you do on the Red and Green tour, you are paying a premium for a smaller and more intimate experience.
This means your questions are more likely to be answered and you will always be able to hear what the guide has to say – don't you just hate it when you're standing in the crowd at the back and can't hear a word?
Depending on which tour company you book, you'll be looking to spend around $78 USD per person. This includes your entrance fee and your lunch, as well as your guide.
If you were to do this tour yourself, you would be looking to spend around $10 on transport (unless you're renting a car in Cappadocia), $5 on food, and $10 on entrance fees, which essentially means you are spending an additional $40 for a professional guide, a luxury vehicle, hotel pick up and drop off, and the convenience of not having to organize it yourself.
I'll leave it up to you to decide whether you think that's good value for money.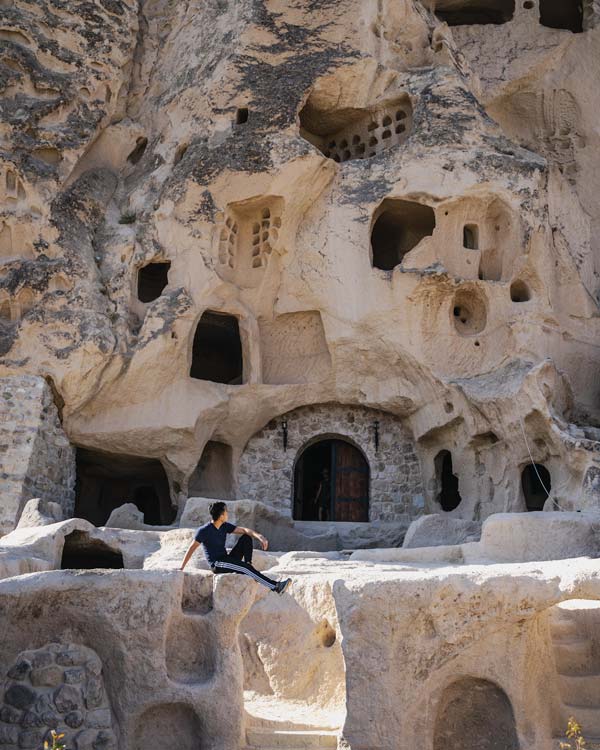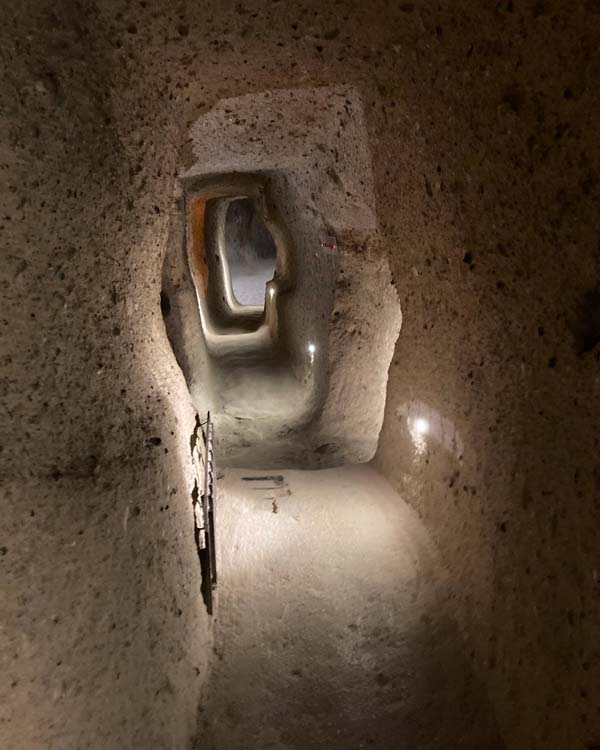 ---
Level of Physical Activity
Now there is a bit of hiking involved in this tour, as you visit some of Cappadocia's most famous valleys. However, the valleys are not steep and the walking is mostly flat.
You should also note that the underground cities have loose rock which can cause irritation for those with asthma. It's also not great for those with claustrophobia.
You don't need to be extremely fit to do this tour, but you do need to be aware that there is a considerable amount of walking. You will need to wear sturdy shoes (not sandals or flip-flops) and bring plenty of water.
Be prepared for some aching limbs at the end of this trip!
---
Attractions
Honestly, the attractions on this tour are all incredible. They are pretty much the highlights of Cappadocia, the best valleys, the oldest and most interesting underground city, and the only castle.
It's an all-around excellent way to see how the ancient settlers in Cappadocia live and you see some of the best rock formations in the region.
This tour cannot be faulted for its attractions as there isn't one we wouldn't recommend seeing.
---
Photo Ops
This tour has several incredible photo opportunities for those into photography. The Red and Rose valley have some of the most beautiful landscapes, and you won't find better examples of cave dwellings than those in Cavusin and Uchisar.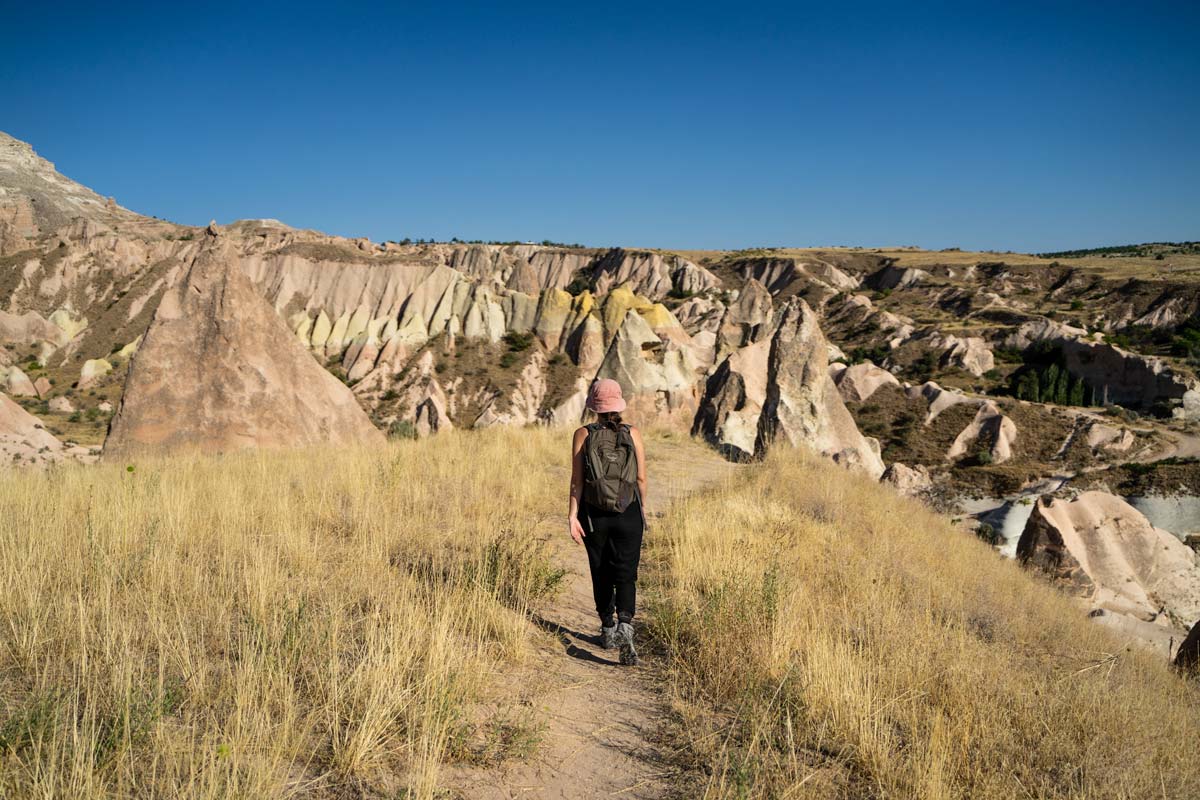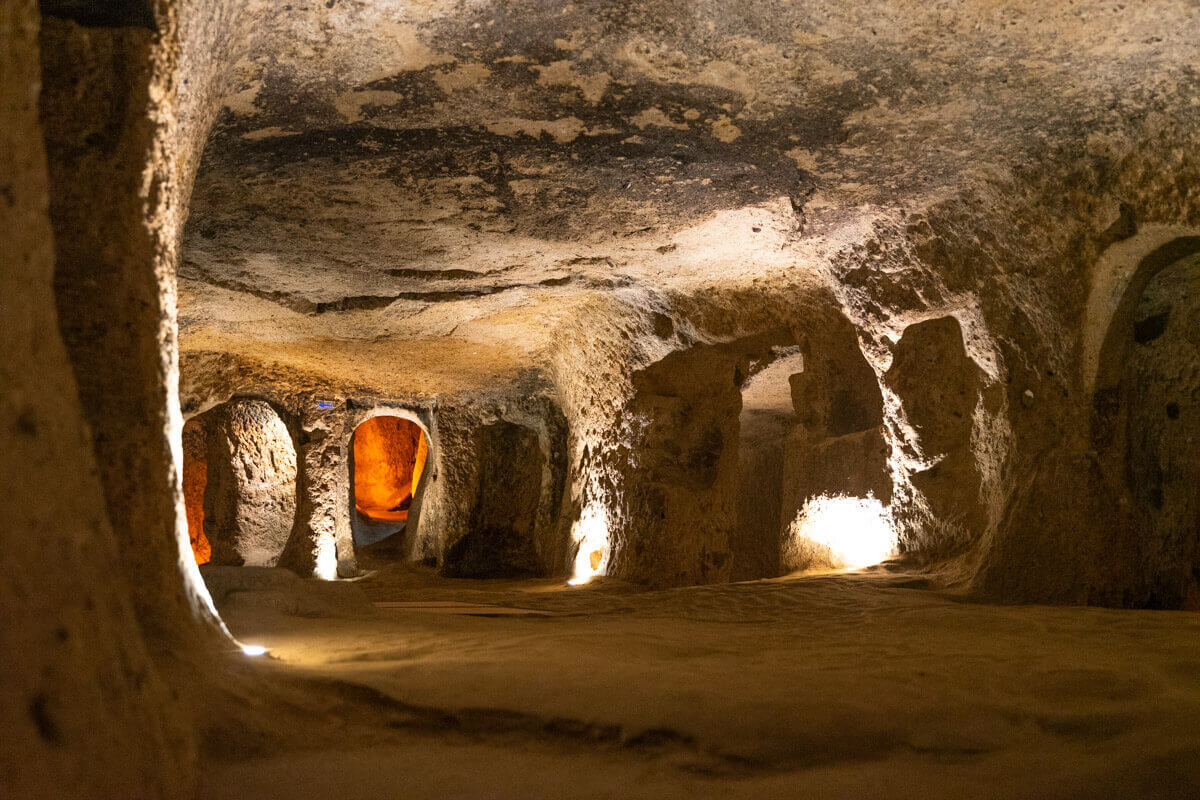 You also go to Kaymakli Underground City, which in our opinion, is much better for photo opportunities than Derinkuyu Underground City.
Although sometimes these tours decide to visit Derinkuyu or Kaymakli or Özkonak, depending on how crowded they are, it seems that Kaymakli is the preferred choice.
But don't worry, all the underground cities are incredible and have unique and interesting photo opportunities.
---
Is the Blue Tour Worth It?
If you're visiting Cappadocia for only a short time, the blue tour is absolutely worth it. It takes away the stress of having to organize your way around and it also stops at all the main highlights in the region.
If you hate the idea of a big coach tour, then the blue tour is a much better option as it's a small group tour.