Cappadocia is not foreign to unique fairy chimneys, but perhaps none are as cool as the ones in Love Valley (sometimes referred to as Valley of Love). Part of the UNESCO World Heritage Site of Goreme National Park, this valley in Cappadocia earned its name from the phallic-looking fairy chimneys that dominate the landscape.
After visiting Love Valley in Cappadocia ourselves, we can say that there is nothing quite like the fairy chimneys there. The shapes are more striking and prominent than any fairy chimneys in the region. No Cappadocia itinerary is complete without a visit to Love Valley.
That is why we have decided to write this guide on Love Valley Cappadocia so you can experience this unique landscape yourself, and snap a few photos that you shouldn't show to your grandma!
---
How Was The Love Valley Formed?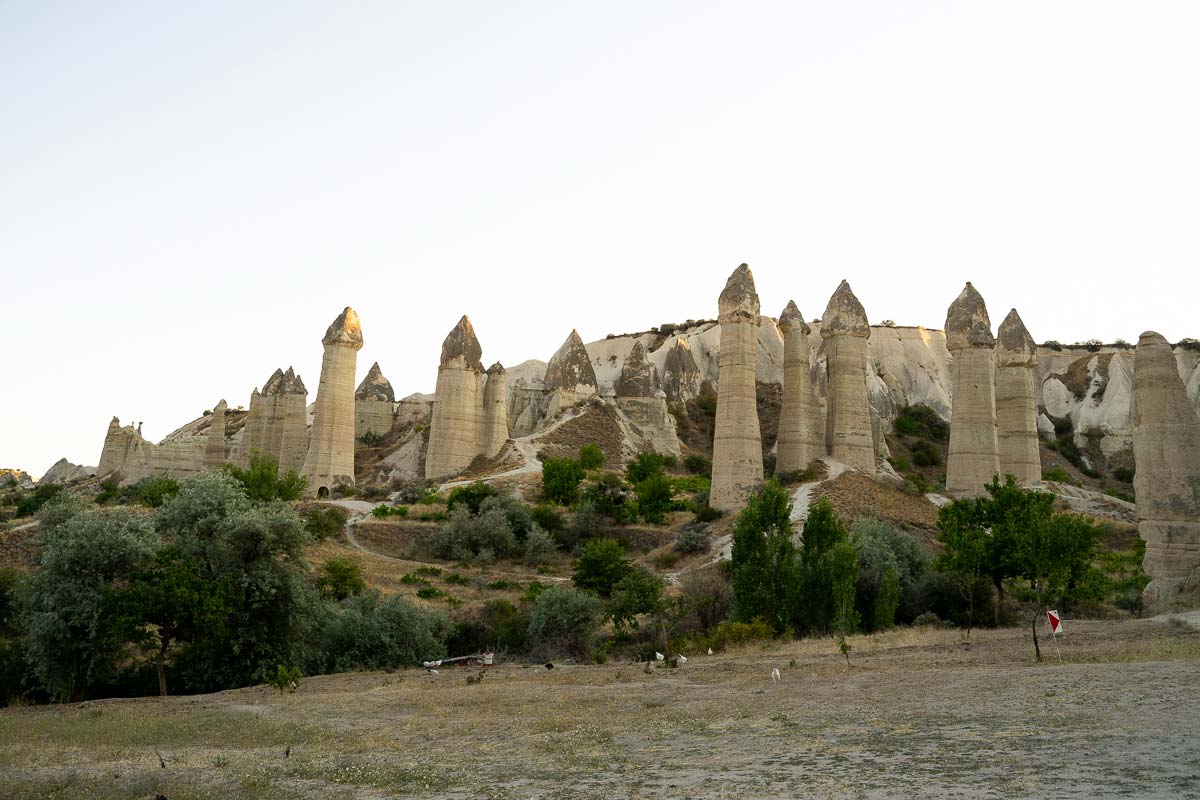 Before we jump into the details of our guide, let's dive into the geological formations of these fairy chimneys.
How do they get their unique shapes? Was there someone going around to sculpt these landmarks in Turkey?
Experts believe that the fairy chimneys in the Cappadocian Valley of Turkey were formed by ancient volcanic eruptions that occurred 9 to 3 million years ago.
The region was covered in thick ash, which eventually solidified into soft rock formations that eroded easily. The cap of the fairy chimneys is usually much more resilient to erosion, hence why the cap of the fairy chimney is usually bigger than the neck.
Pretty cool science, right?
Enough nerding out, let's get to the good part.
---
Where is The Love Valley In Cappadocia?
If this is your first time visiting Cappadocia, you might not know that the region of Cappadocia spans about 5,000 square kilometers. In other words, it is massive.
And in the valley of Cappadocia, there are many towns that visitors tend to stay in. The most notable ones are Goreme, Avanos, Nevsehir, Urgup, and Uchisar. Here is the distance from each of the towns:
Goreme: 3 miles (4.8 km)
Avanos: 5 miles (8.0 km)
Nevsehir: 7.5 miles (12.1 km)
Urgup: 7.4 miles (12.0 km)
Uchisar: 2.75 miles (4.4 km)
It is worth noting that there are usually two spots that are considered Love Valley – the valley itself where you are literally next to the fairy chimneys, and the Cappadocian restaurants with viewpoints above the valley.
Many tours in Cappadocia include Love Valley as part of their tour, but the tours don't go inside the valley. They go to the viewpoints with the restaurants so you can take cute photos with their heart-shaped swings and benches. The views from above the valley are incredible and we highly recommend it if you don't want to do too much walking.
Read More: Red Tour vs Green Tour in Cappadocia: Which is Better?
How to Get To Love Valley?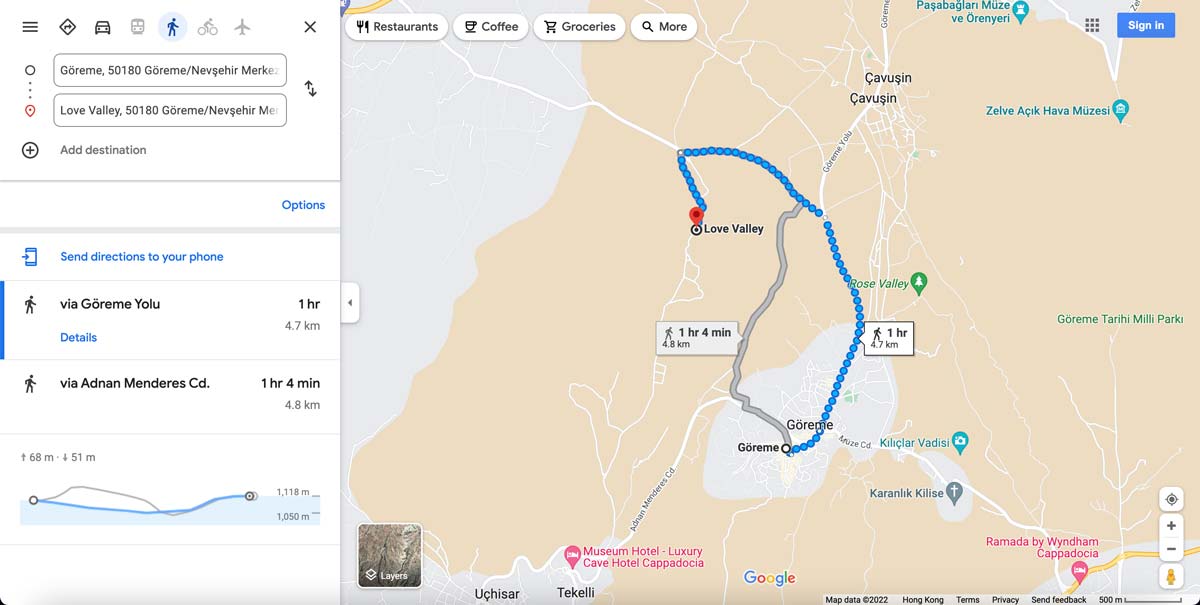 If you want the easiest way to get to Love Valley, you will want to base yourself in Goreme. It is not only the closest town to Love Valley, but it is filled with amazing cave hotels and delicious restaurants.
Starting from Goreme, you have two options to get to Love Valley – hiking or taking a cab.
If you wish to hike to Love Valley, it is about 3 miles and takes about 1 hour of hiking. The elevation gain is minimal and you are blessed with beautiful views of Cappadocia along the time. It is both feasible to hike to the valley and above the valley where the viewpoints are located.
The second option is to take a taxi. You can get the taxi to drop you off at the entrance of the Love Valley, where you will find a parking lot and the Keles Cafe. Alternatively, you can get the taxi to drop you off at one of the viewpoints at the top of Love Valley.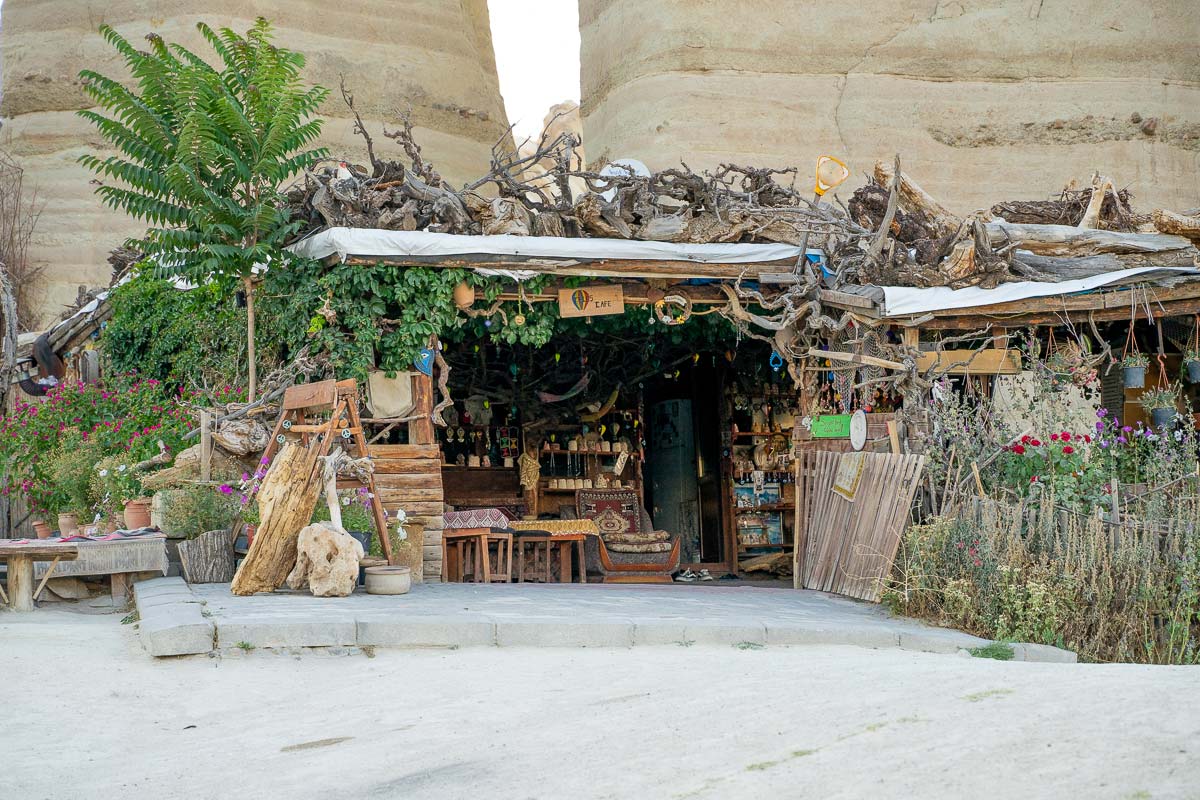 If you wish to hike the Love Valley in Cappadocia or get up-close and personal with the phallic structures, we recommend going to the entrance of the valley.
Read More: Devrent Valley in Cappadocia: Imagination Unleashed
---
Hiking Love Valley in Cappadocia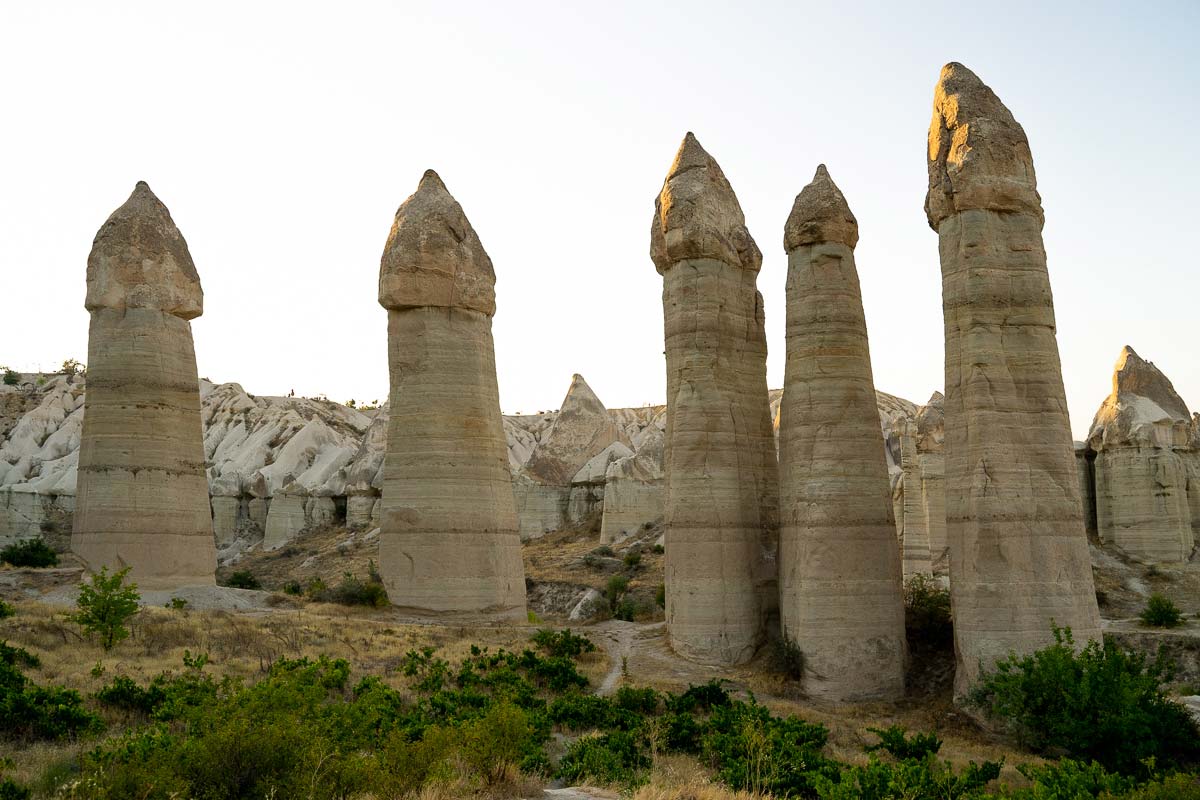 There are plenty of stunning hikes in Cappadocia, and the one in Love Valley is no exception.
The boundaries of the Love Valley is rather unknown because it is situated next to the White Valley, another hiking destination in Cappadocia.
Typically, if you decide to hike Love Valley, you would start in Goreme, walk to the start of Love Valley, hike through Love Valley, hike through White Valley, and end up in Uchisar to see the famous Uchisar Castle.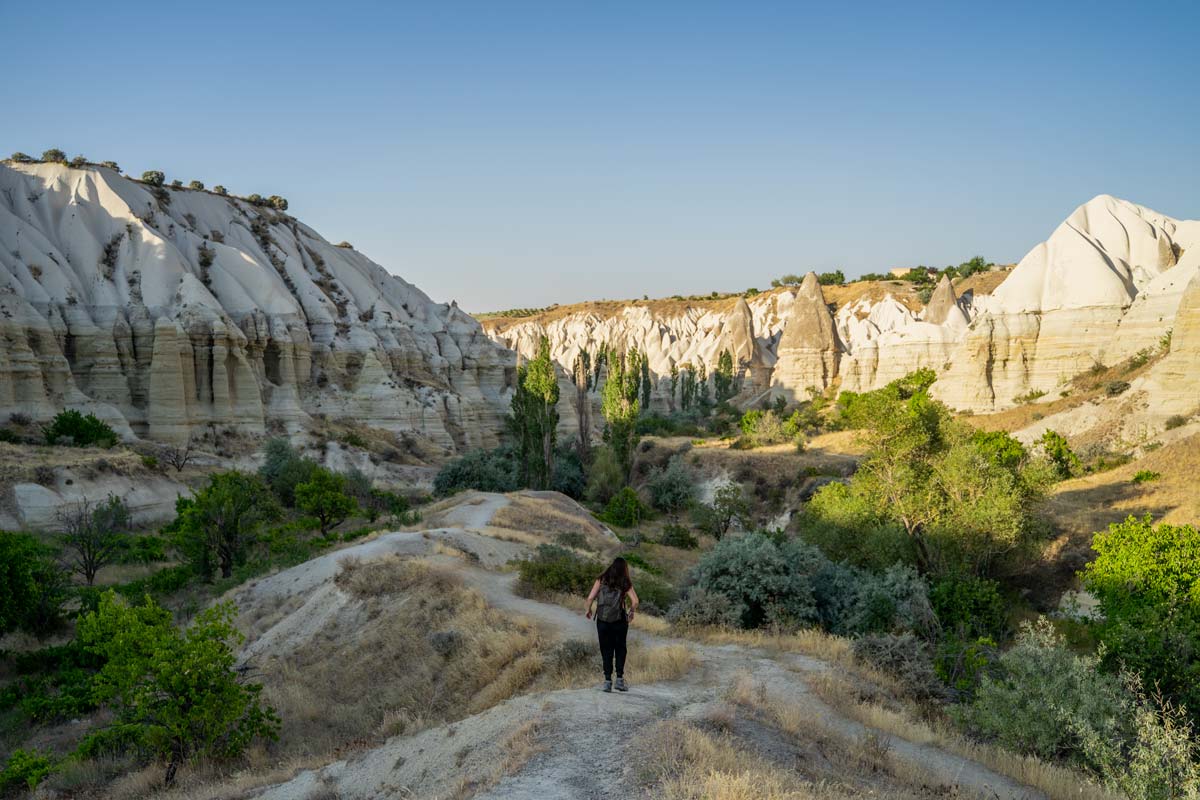 After Uchisar Castle, you can trace your steps back, hike the Pigeon Valley (which so happens to connect Uchisar with Goreme), or take a van back to Goreme.
Hiking from Goreme (through Love Valley and White Valley) to Uchisar Castle takes about 2 and a half hours to complete. Combined with a visit to Uchisar Castle and getting back to Goreme, this is easily a full-day activity. In fact, it is one of the best ways to see a lot of Cappadocia in one day.
Read More: Best Time to Visit Cappadocia
It is also possible to hike just the Love Valley. But to be honest, it isn't too big and it won't take more than 20 to 30 minutes to see everything. If you hike from Goreme to the base of Love Valley, it takes about 1 hour. Including 30 to 60 minutes to explore, a round trip should take around 3 hours to complete.
Check out our suggested Love Valley hiking route down below!
---
Love Valley Viewpoints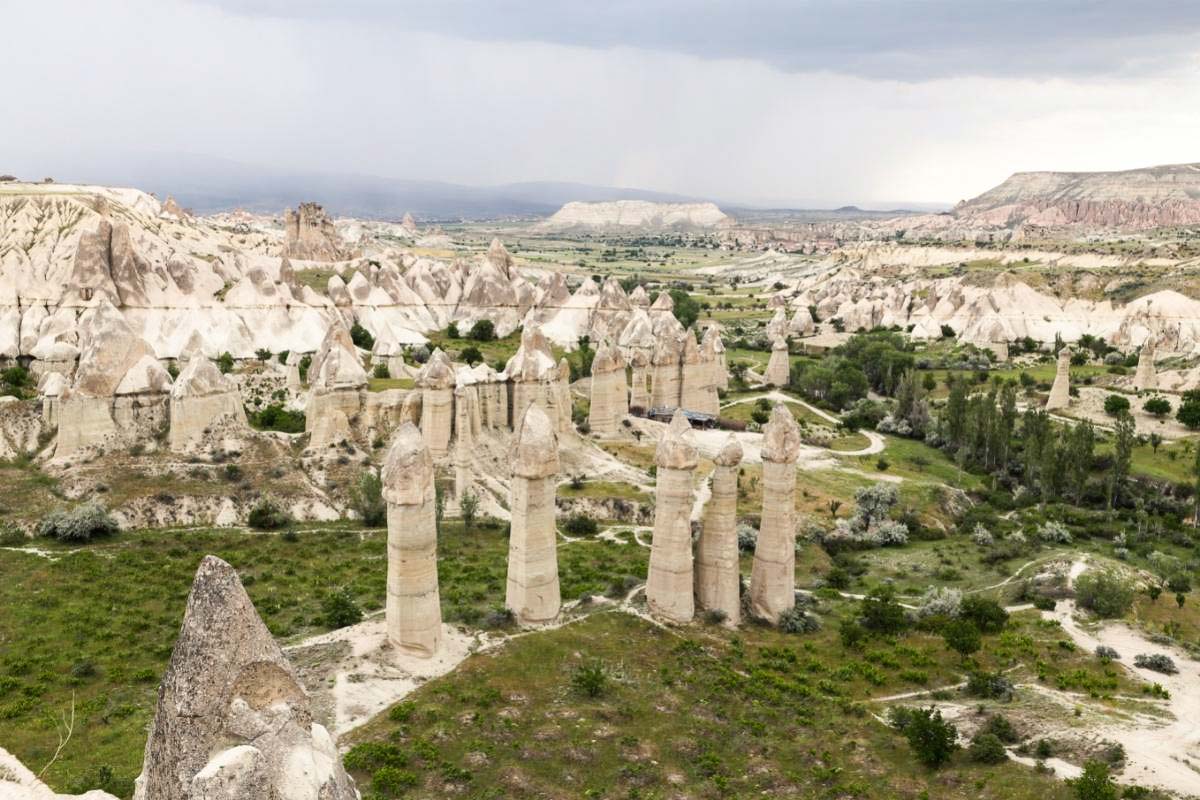 If hiking is not something you want to do, then we suggest you go to one of the viewpoints above Love Valley. These viewpoints are often situated inside a cafe or restaurant, so you can sip on a delicious Turkish tea as you marvel at the gorgeous views.
Besides having views of the Love Valley, the viewpoints are particularly nice during sunrise since they face east. If you are lucky, you might just be able to see the famous Cappadocia hot air balloons in the air!
As far as we know, there are only two cafes there – Love Valley Swing Cafe and Love Valley Panoramic View. In our opinion, the Love Valley Swing Cafe offers better views but they are right next to each other so you can check them both out.
Note: This is where you'll be taken if you put in "Love Valley" on Google Maps.
---
ATV Tours In Love Valley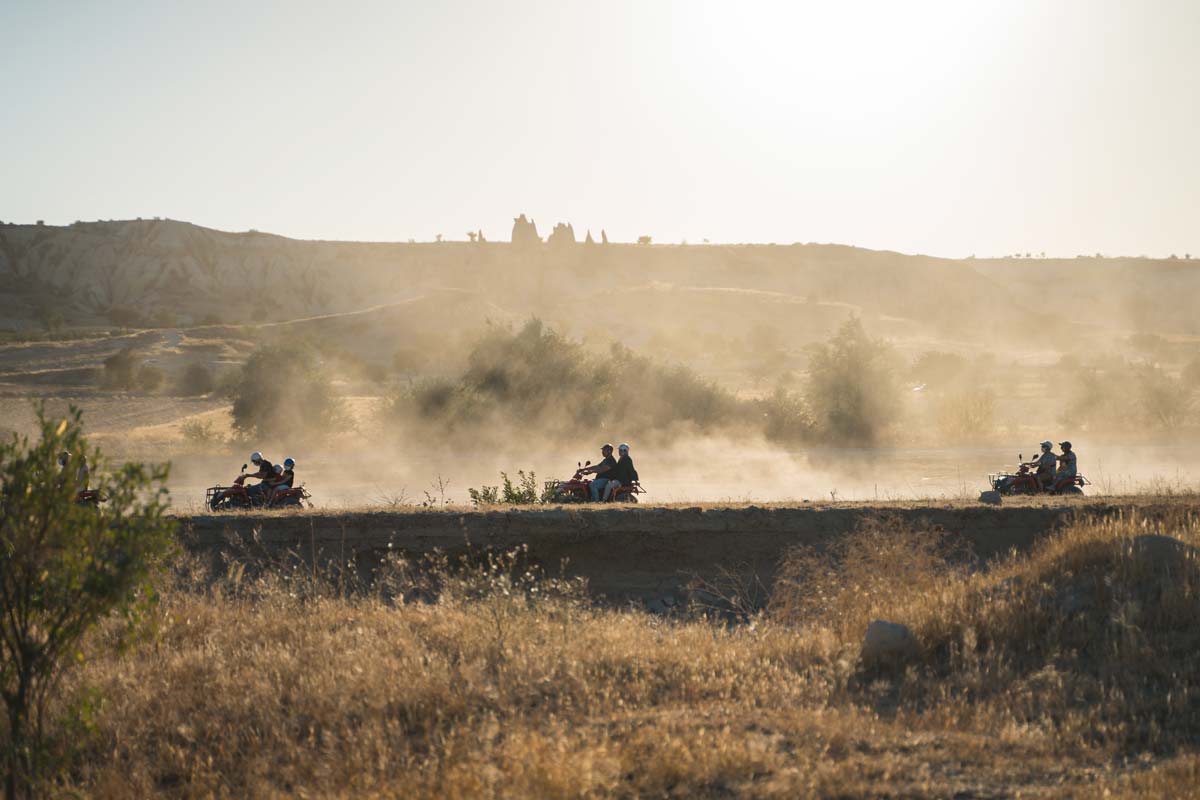 Another excellent way to experience the magic at Love Valley is through an ATV tour. For adrenaline-loving travelers, this might be the best option. There are two ATV tours that cover Love Valley – sunset tour and daytime tour.
The ATV sunset tour explores Sword, White, Love, and Red Valley in Cappadocia. It ends with the sun setting over the stunning Rose Valley.
The ATV daytime tour is a short 2-hour tour that only explores Sword, Love, and Rose Valley.
Alternatively, you can always rent an ATV (or even just a car) in Goreme.
---
When Is The Best Time To Visit Love Valley?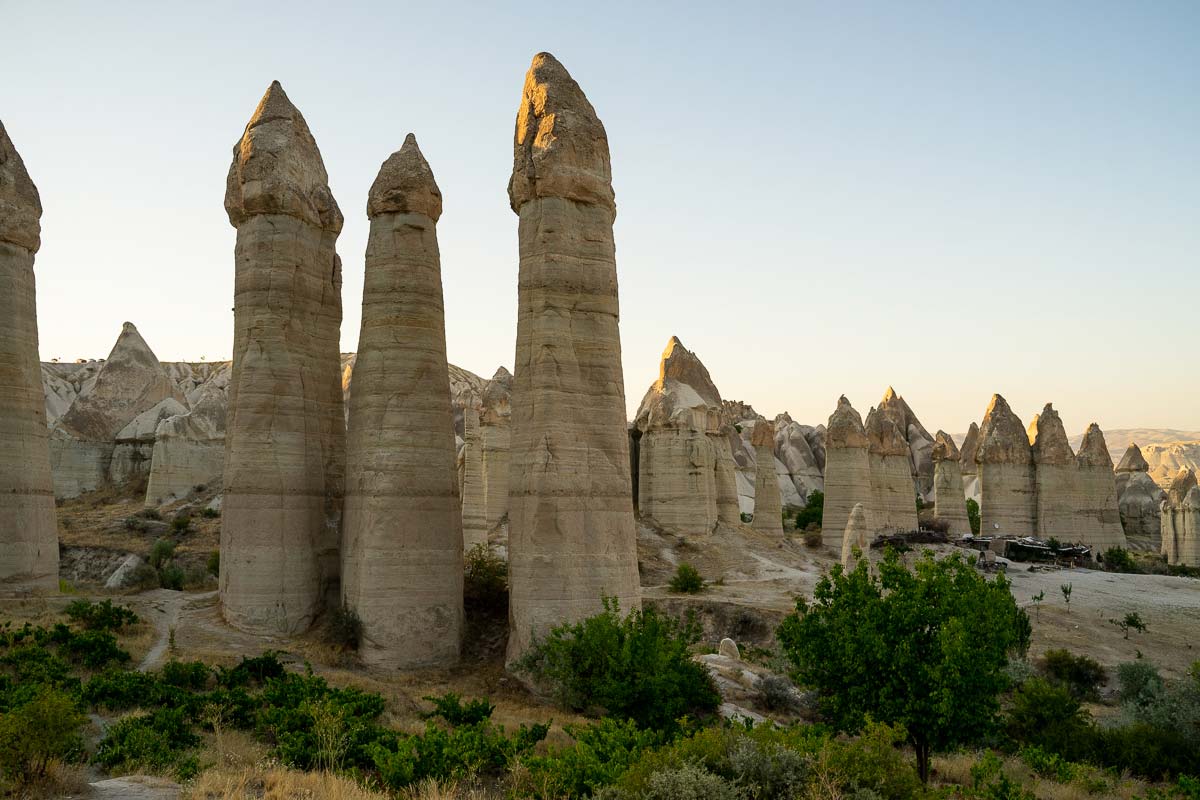 If you are planning to visit Love Valley's viewpoint, the best time would be sunrise followed by sunset. The sunrise is a little bit more gorgeous than the sunset there because the viewpoint faces east.
During the day (and sunset), this ridge above Love Valley is filled with visitors. It might be hard for you to find a seat in the cafe and you might have to queue up for a long time to take a photo.
If your plan is to hike Love Valley and get close to it, then we recommend early in the morning or late in the afternoon. The desert landscape means that the sun is incredibly strong in midday. Unless you are visiting Cappadocia in the winter, it is a good idea to avoid the midday heat. And remember to always put on sunscreen!
---
Visiting Love Valley Cappadocia FAQs
What are the opening hours of Love Valley in Cappadocia?
Like most of the valleys in Cappadocia, Love Valley is open 24/7. It is part of the natural landscape of Cappadocia so just rock up whenever you like and not worry about not being able to get in.
How much is the entrance fee for Love Valley?
Love Valley is completely free to enter. Similar to most natural attractions in Cappadocia, there isn't an entrance fee, perfect for anyone traveling Turkey on a budget!
Why is it called the Love Valley in Cappadocia?
It is no coincidence that the Love Valley is called the Love Valley. This area is filled with phallic-shaped fairy chimneys that mislead even the most innocent minds!
---
This concludes our guide on Love Valley in Cappadocia. Hopefully, you leave with an understanding of how to get to Love Valley, how to hike it, and how to best experience this unique place in Turkey!
Any questions? Leave a comment below!