Perhaps one of the most startling sights in Cappadocia is that of Red Valley. This elusive landscape is part of the UNESCO World Heritage Site of Goreme National Park and home to iconic fairy chimneys, historic cave dwellings and expansive views of the vibrant red rock that gives the valley its name.
Though often mistaken for its neighbor, Rose Valley, Red Valley is a valley of its own, and its sunset viewpoint is one of the most visited attractions in the region.
If you're thinking of adding Red Valley to your Cappadocia itinerary, you wouldn't be wrong to do so.
But how do you get there? How do you hike it? What is there to see and do? We'll be answering all of these questions in our helpful guide to Red Valley Cappadocia below.
---
Why visit Red Valley Cappadocia?
One of the most memorable things to do in Cappadocia is to go hiking through its iconic rocky landscape. The fairy chimneys that tell of the region's past are marvels to witness, and if you really want to see the best of them, you're going to hike to them.
But why Red Valley specifically? Because it's one of the most accessible valleys to get to, along with Rose Valley and Love Valley.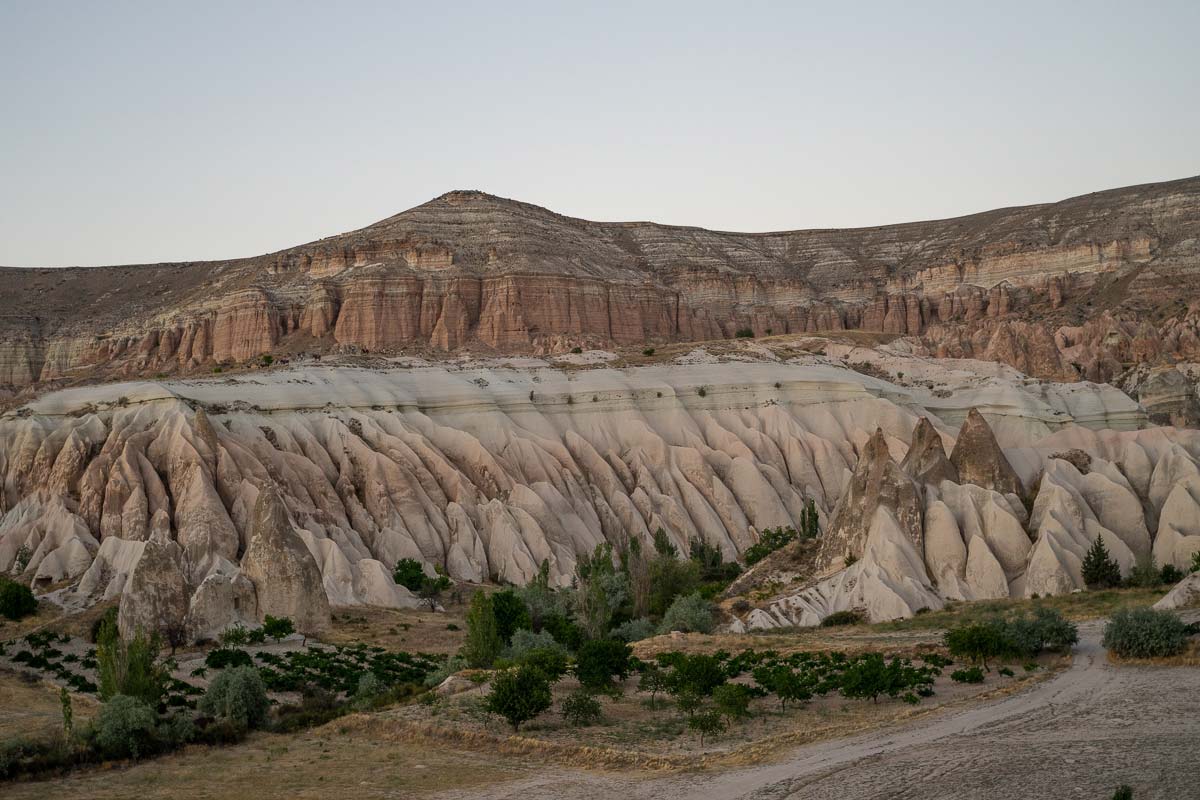 If you've just landed in Cappadocia, either by night bus or by plane, chances are you're going to be staying in Goreme or Avanos. Red Valley is only a 20-30 minute walk from Goreme and a short bus ride from Avanos, so it's really easy to get to.
On top of this, it's also stunning. It gets its name from the red hue the sun creates on the pinkish rock throughout the day, and it really lights up during sunset.
The valley is brimming with gorgeous nature, cave houses and cave churches, and it's not too taxing to hike it. You could even argue, why wouldn't you visit Red Valley?
If you don't have a lot of time to spend in Cappadocia, consider checking out Devrent Valley instead, which is a lot smaller and can be seen in 30 minutes.
---
Where is Red Valley Cappadocia?
Red Valley is located in the Nevsehir region of Cappadocia, Turkey. It can be found in the rocky landscape between Goreme, Cavusin, and Urgup, right next to Rose Valley.
Since Red Valley and Rose Valley are connected, they are often mistaken for one another, but they are separate valleys.
This map shows where Red Valley is located: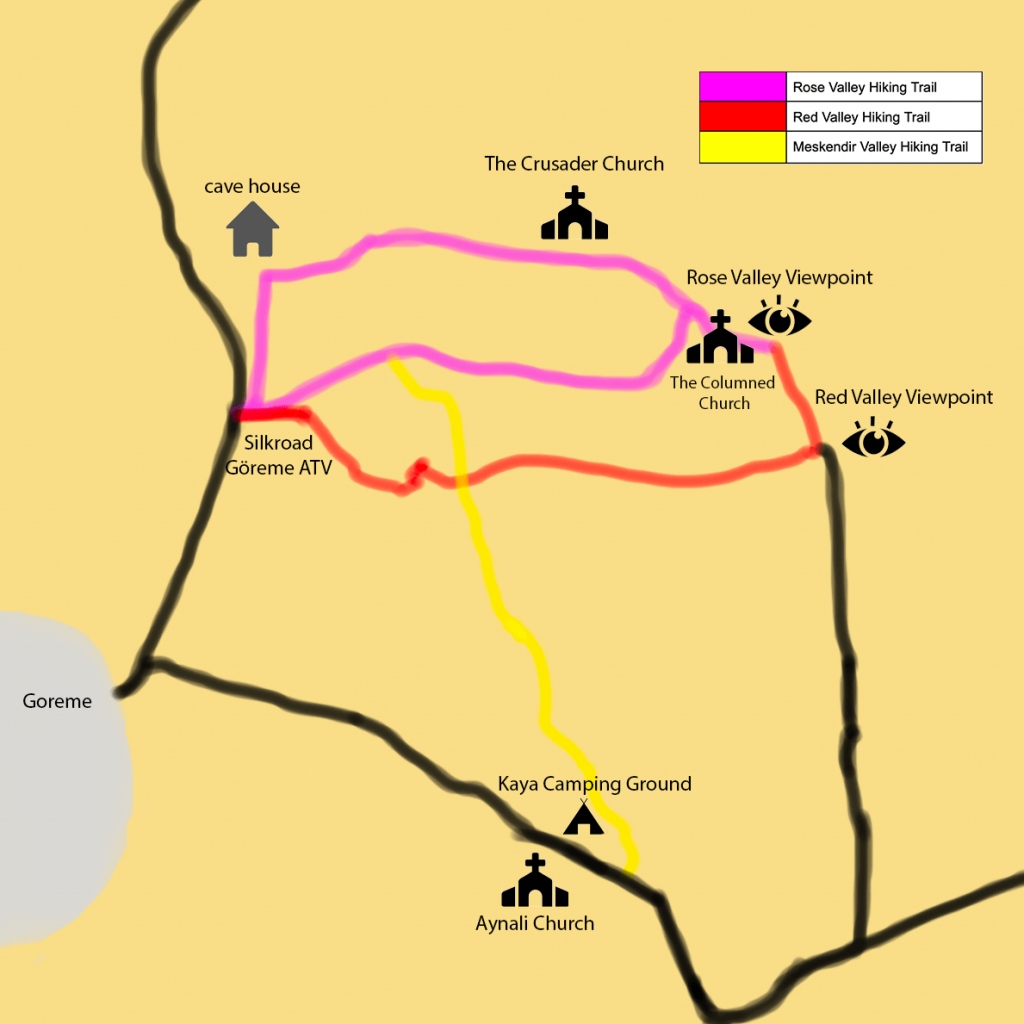 These are the distances from the nearest towns to the Red Valley trailhead.
Distance from Goreme: 1.6km
Distance from Cavusin: 1.7km
Distance from Uchisar: 6.1km
Distance from Avanos: 5.9km
---
Getting to Red Valley in Cappadocia
Red Valley is located 1.6 km North-East of Goreme or 1.7km South-East of Cavusin. Depending on whether you want to hike the Red Valley or just visit the viewpoint for sunset will determine the route you take. But we'll cover how to get to both below.
Bus
There is a bus that takes you from Goreme to Avanos, stopping at Cavusin. Since the valley is located between Goreme and Cavusin, you'll want to take this bus and ask the driver to stop outside Silkroad Göreme ATV Turları & Oskonca Travel.
You'll see a balloon landing site on your right and a dirt road that goes around it. The path winds around a little bit and you'll see a bunch of ATV tour companies here. You'll see signs pointing in the direction of Red Valley.
Get off the bus where you see the ATV tours and follow the route to the Red Valley viewpoint. You can download the map on MapsMe or you can follow Google Maps by clicking the photo below. Make sure you have downloaded Google Maps as there is little cell service in the valley.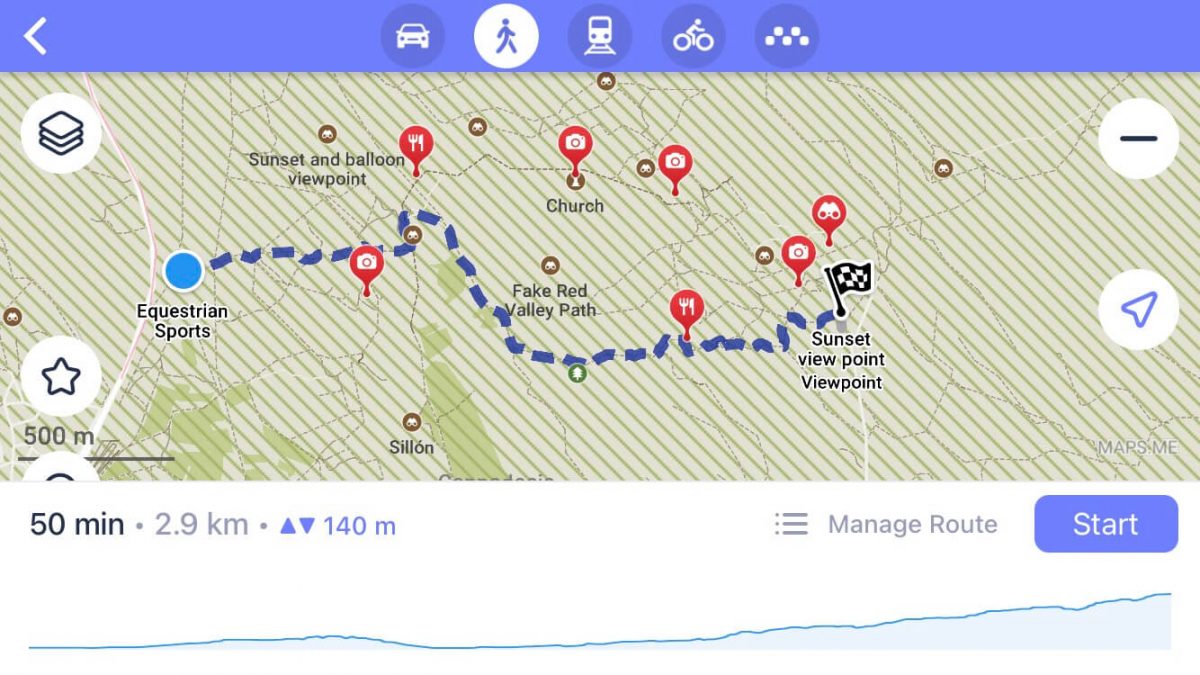 The bus you need to take is the Nevşehir Bus, which operates from Nevşehir to Avanos and departs every 20 minutes.
Walking
When we visited Red Valley, we decided to walk from Goreme town center, which took us only 20 minutes. Depending on where you're staying in Goreme, this is probably your best option as you'll reach the valley quicker than getting the bus.
If you want to walk to the viewpoint, your best option is to hike through the Red Valley trail, rather than walk along the road around it.
Thankfully, the road is all flat so at least you don't have to do any strenuous walking. You should note that the walk is along a dirt road that is frequently used by ATV tours and horseback riding tours, so keep your eyes out for vehicles in both directions when walking on the road.
If you are visiting in the warmer months, the heat in Cappadocia can be strong at times and the sun is at its most powerful in the middle of the day, so we recommend visiting late afternoon or early in the morning to avoid the hot sun.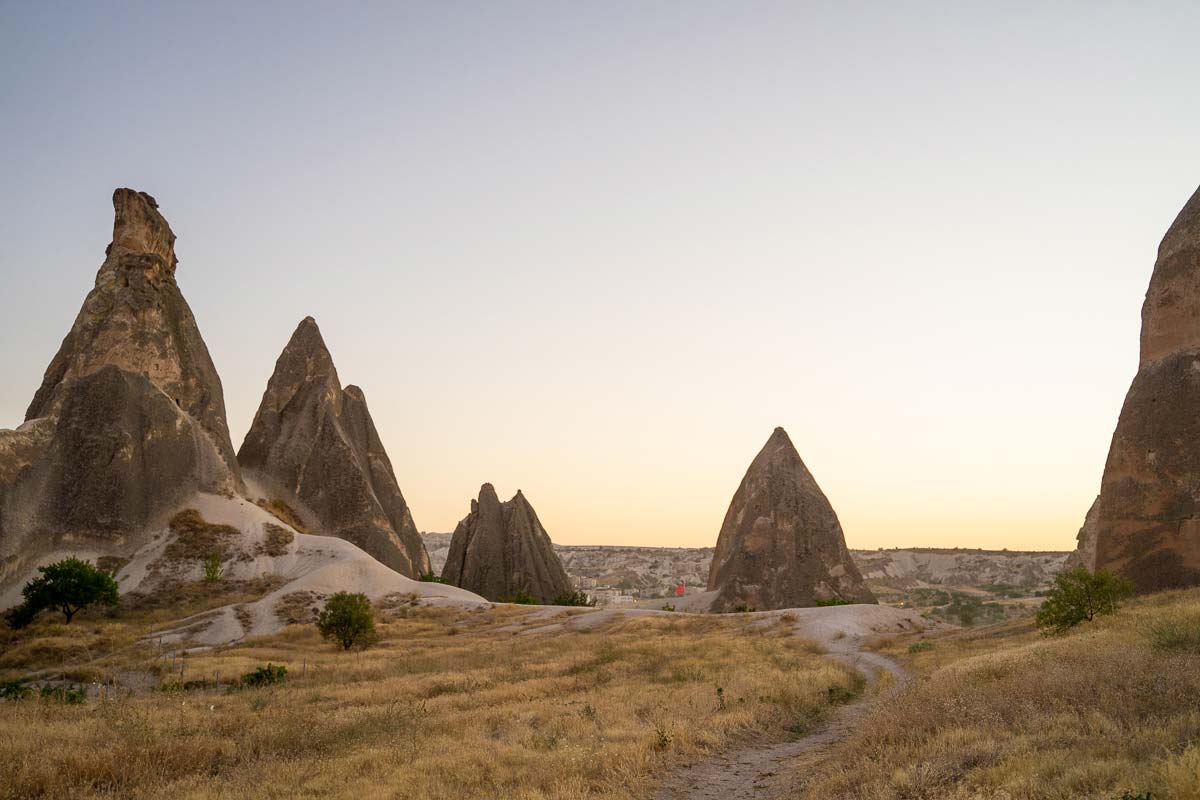 Driving
If you're only interested in heading to the viewpoint then you might as well drive or take a taxi. We highly recommend hiring a car in Cappadocia since public transport sometimes doesn't arrive on time and, let's be honest, it's inconvenient.
If you want to go to the viewpoint without hiking this is your only option, as from our knowledge there is no bus that takes you there.
The Red Valley viewpoint is 15 minutes driving distance from the center of Goreme.
From the town, you will want to drive down Müze Cd., past the Goreme Open Air Museum, and all the way to the end of the road. Turn left on the D302, and take the first left onto Dr. Zeliha Berksoy Blv.
You will reach the viewpoint at the end of this road.
ATV Tours
One of the most popular attractions in Cappadocia is to ride an ATV through the desert landscape. You will find an abundance of ATV tour companies at the entrance of Red Valley, but we highly recommend you book in advance to make sure you have a vehicle (it's a popular activity, they might all be full!).
If you've never been on an ATV before, then it's a good idea to look at tours. This way you will be accompanied by a skilled driver who can help you if you get stuck, and will also be able to tell you where to go.
Blue Tour
Red Valley and Rose Valley are also the first stop on the Blue Tour, a small group tour that takes you to some of the highlights of Cappadocia including an Underground City, Cavusin, and Uchisar Castle.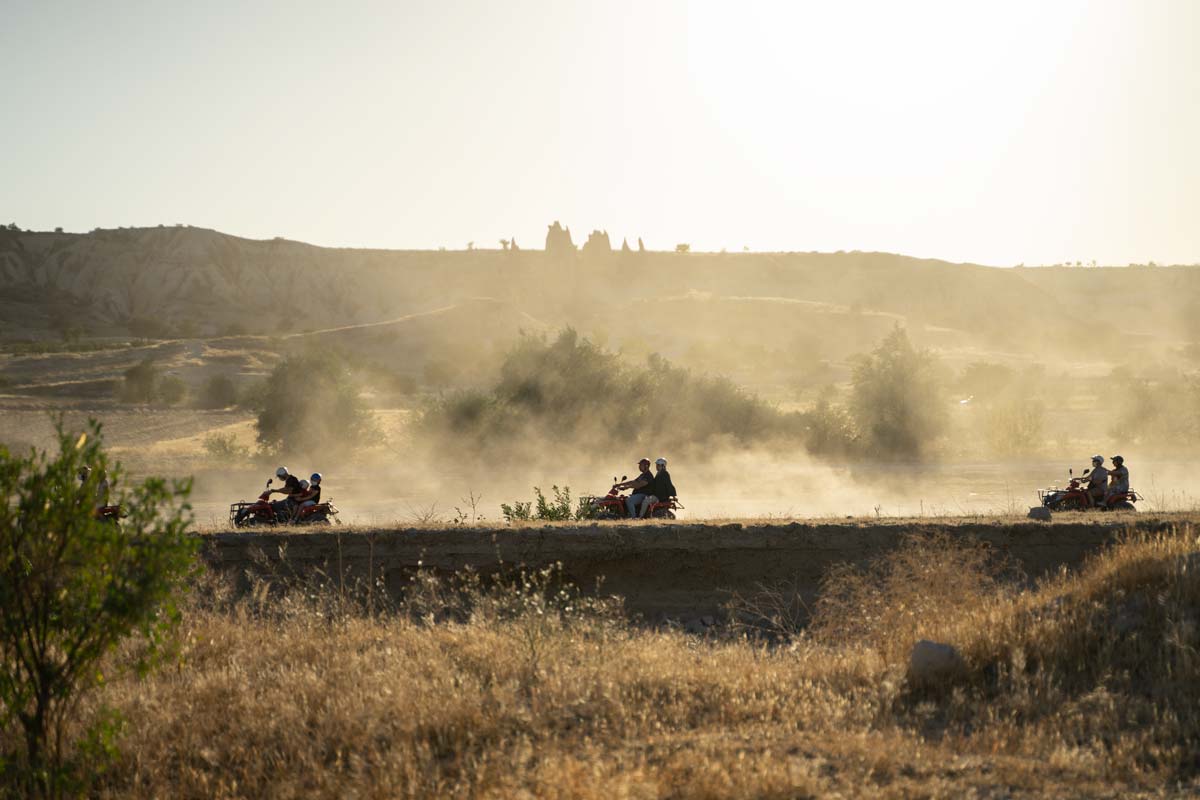 ---
Hiking Red Valley in Cappadocia
The Red Valley hike is one of the best hikes in Cappadocia. It is often combined with the Rose Valley hike since together they make a nice, easy loop of the area.
Of course, you can simply hike Red Valley if you're not bothered about Rose Valley, but since you're only option is to turn back and go the way you came, you might as well continue on to Rose Valley – but that's just the way we did it!
Whichever way you decide to hike, we recommend going late afternoon so you can catch the iconic Red Valley sunset and see that glorious red rock glow.
To begin hiking the Red Valley, you should make your way to the trailhead located just past Kadost ATV Safari, and then turn left onto a road leading up to the Exclusive Cappadocia ATV Tour. From here, you will see a trail that heads into the valley, surrounded by rocky cliffside and grassy outcrop.
Luckily, the route is laid out on Google Maps most of the way, and once you reach the start of the trail, it becomes obvious which way to go.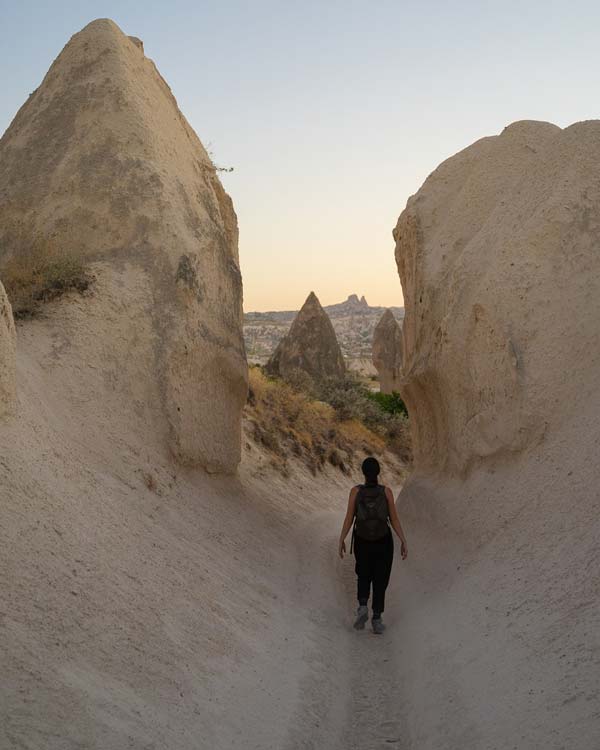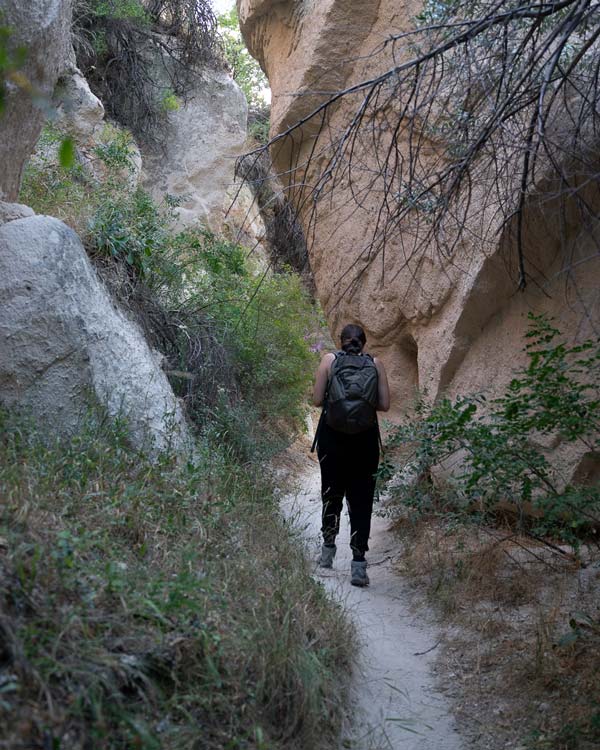 From the beginning, you'll notice the trail veers off in two directions. The lower trail is the Red Valley and the upper trail heads towards Rose Valley.
Take the lower trail and you'll soon see more vegetation on either side of the trail. As you walk, you'll be greeted by unique rock formations, caves and tunnels. The trail is really easy and flat most of the way.
About halfway along the trail, you'll see a little house offering refreshments to nearby hikers. You'll also pass some farms but these are privately owned – make sure to stick to the trail and not walk on their veggies!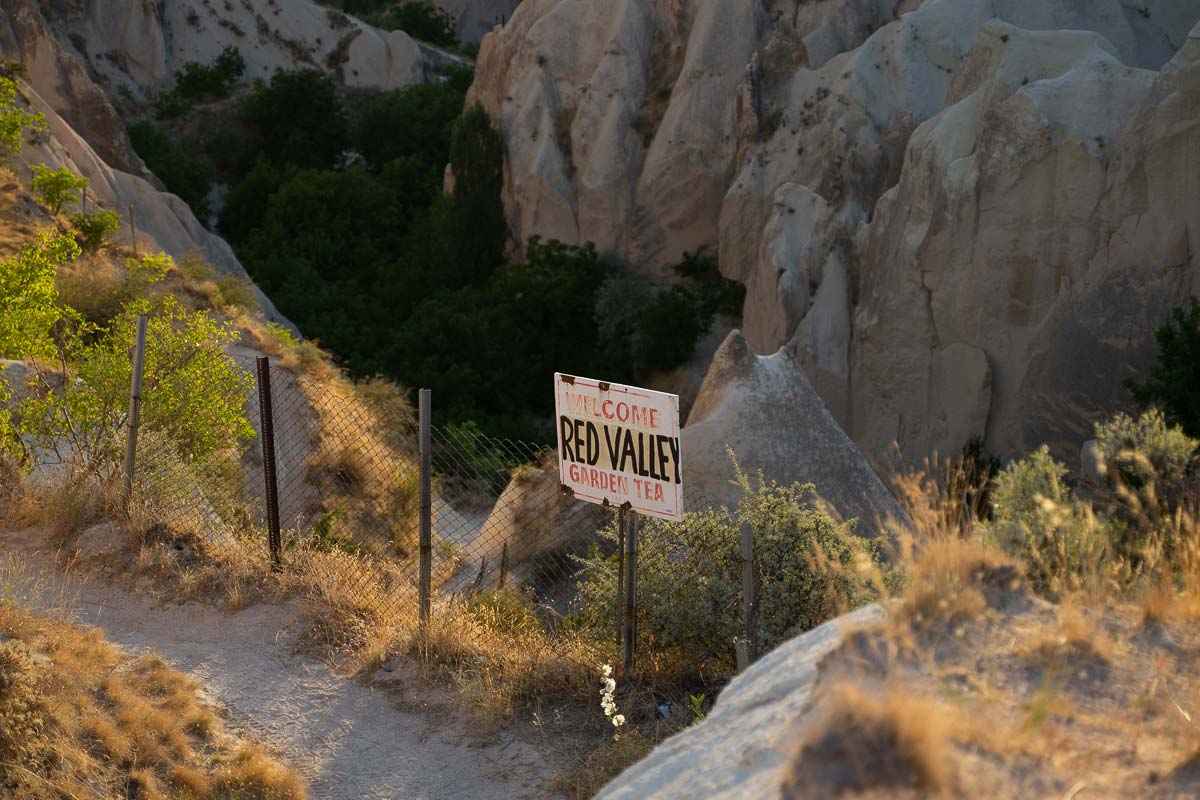 After about 45 minutes of hiking, you'll see the trailhead up the right side of the valley onto the ridge, this is the only ascent in the whole trail and takes you up to the sunset viewpoint.
The incline isn't very steep and it's not far to the top. It's a little narrow, so do be careful. We didn't think it was particularly dangerous, but we noticed that horses make their way up this path, which would probably make us feel uneasy.
Once you reach the top you will be greeted by swinging chairs, benches and some restaurants. This is the viewpoint. You can chill out here as long as you need and head back the same way, or continue on to hike Rose Valley.
Duration: 3 hours, longer if you stop to take photos
Distance: 5.8km in total
Difficulty: Easy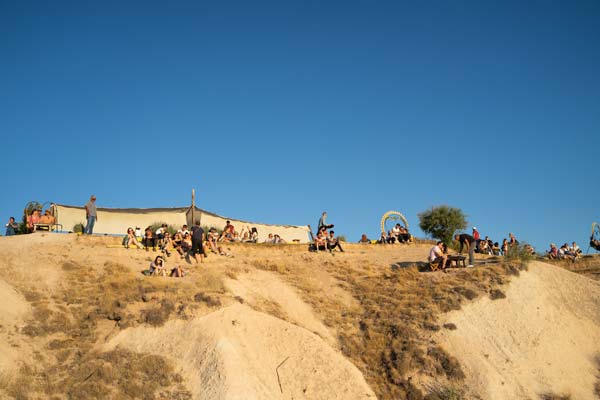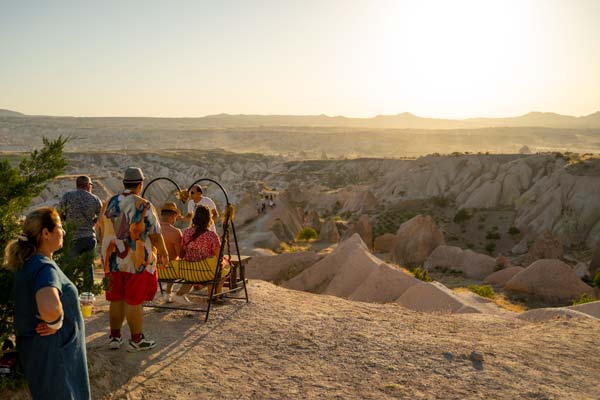 Red and Rose Valley Hike
When we hiked Red Valley, we actually decided to do Rose Valley first. It doesn't matter which way around you do it, but personally, we found Rose Valley had more to see along the way and we wanted to see them all.
If you want to hike Rose Valley as well, we recommend doing it first so you can take your time and not feel like you're rushing back.
To get to Rose Valley, remember that Kadost ATV Safari you see at the beginning? Instead of turning right here, head straight on and follow the signs for Rose Valley.
Hiking Rose Valley is slightly more complicated since it has two trails. We took the upper trail that goes onto the ridge, because we wanted to see The Crusader Church at the top.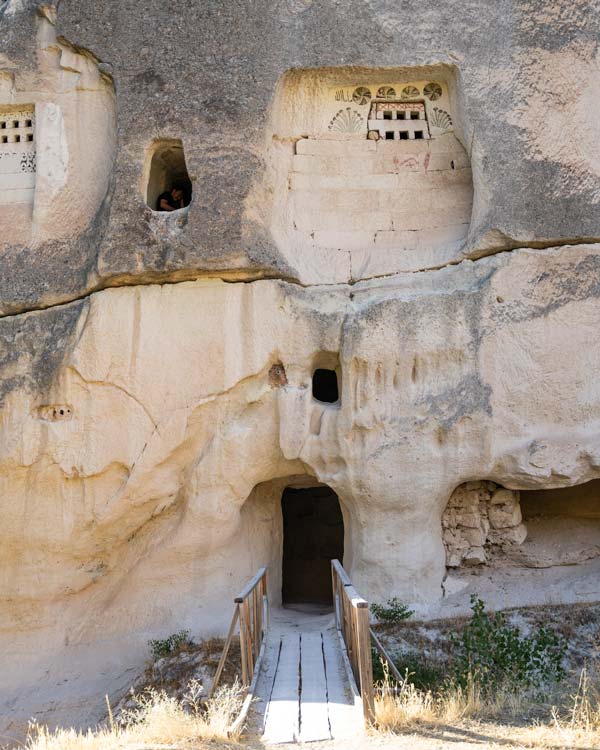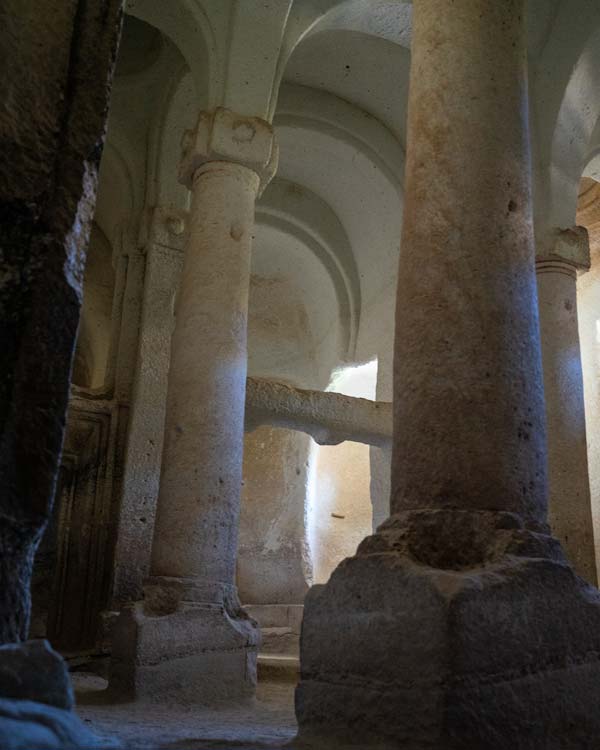 When you have reached a cave house at the start of Rose Valley, you will see two trails. Take the one to the far left and you'll pass through more cave houses, past a farm and then see a trail up onto the ridge.
The trail then takes you along the rocky outcrop with mesmerizing views of the valley below. After about 30 minutes of hiking, you'll reach The Crusader Church which is also surrounded by other cave dwellings. There's a guy here selling fresh orange juice and over refreshments.
The path then takes you down the other side of the valley and towards The Columned Church and Rose Valley viewpoint.
Once you've reached the Rose Valley viewpoint, you'll notice the path winding around the ridge towards the sunset viewpoint. This is where the Red Valley and Rose valley connect.
Duration: 4-5 hours, longer if you stop to take photos
Distance: 7.7km in total
Difficulty: Easy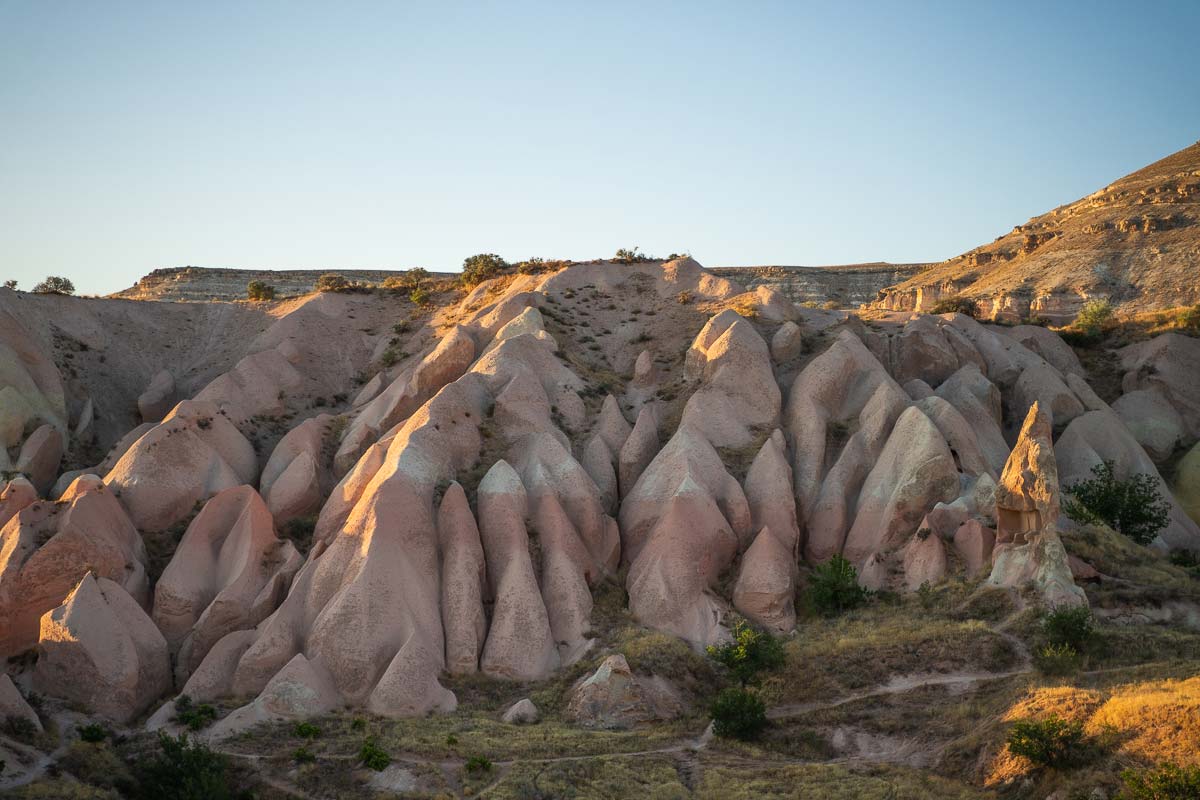 Rose Valley, Red Valley and Meskendir Valley
Another way to see Red Valley is to hike through Meskendir Valley first. The Meskendir Valley starts from Kaya Camping Ground, just across from Aynali Church. From here, you will immediately see a signpost in graffiti saying 'Rose' and 'Red' indicting this is the route to take.
Adding the Meskendir valley to your hike only adds another 2.7km and it's pretty flat most of the way. You'll pass by gorgeous rock tunnels and formations, and it takes you straight into the Red Valley.
If you plan on hiking all three trails, then this would be a good route to take.
Duration: 5-6 hours, longer if you stop to take photos
Distance: 10.4km in total
Difficulty: Easy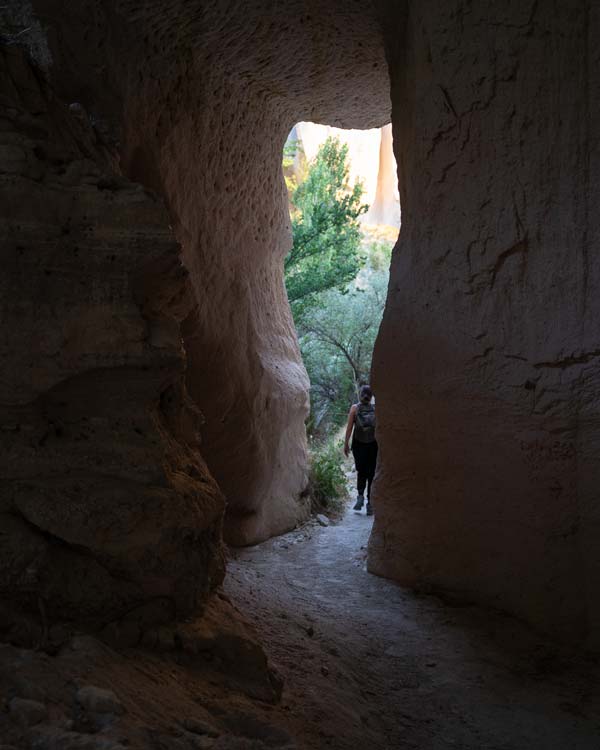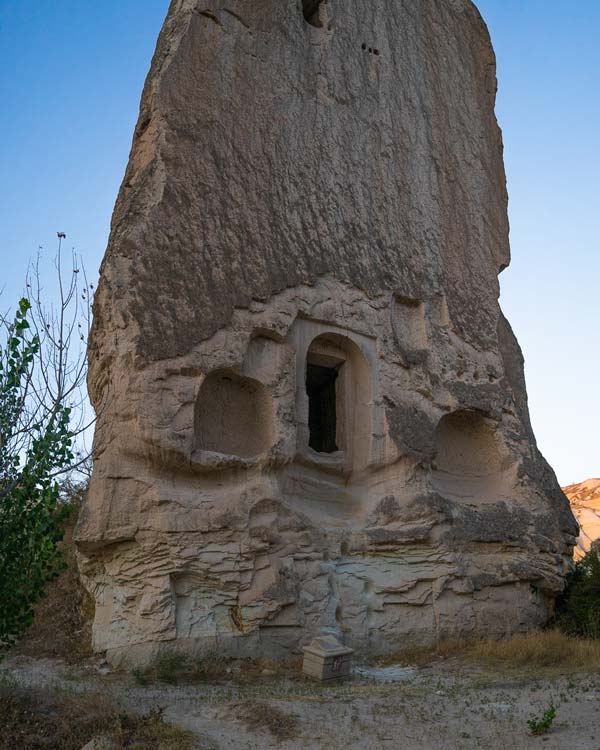 Tips for Hiking Red Valley
Download the Apps: A great way to make sure you don't get lost is to download AllTrails and follow the route there. This shows the previous hiker's route so you know it's a legit route to take. We also recommend downloading Maps.Me, which is a free offline GPS. The cell service is a bit spotty in the valley, so this is also a great way to make sure you can find the trail.
Wear hiking boots. The trail isn't particularly steep or rocky, but it is slippery. The sand has been well-trodden and is almost like walking on marble in places. You'll want strong shoes with a good grip.
Pack plenty of water. There are some cafes that serve drinks along the way but not many. It's a good idea to take as much as you need, especially if you are visiting Cappadocia in the warmer months.
Bring snacks. We didn't buy food from the cafes because from what we could see, they were a little expensive. That being said, the fresh-squeezed orange juice sure did look appetizing.
Put on Factor 50 Suncream. The sun is very powerful in Cappadocia and because much of the landscape is white, it reflects those UV rays right onto you. You could be hiking in the winter and still get sunburned, so best to prepare.
Check the best time to hike. The time of year you visit Cappadocia will determine when to start your hike. Consider looking up the best time to visit Cappadocia to make sure you plan your trip around optimal hiking times.
---
Things to See and Do in Red Valley
Aside from hiking the Red and Rose Valley, there are a few notable attractions to keep a look out for. Here are some of the top things to see and do that have made Red Valley so famous.
Hot Air Balloon Ride
If hiking Red Valley sounds too strenuous for you, then a good way to see the valley is from above – and by above, I mean by hot air balloon.
Embarking on a hot air balloon ride is one of the top things to do in Cappadocia and we have no doubt that the view of the Red Valley from above will be outstanding.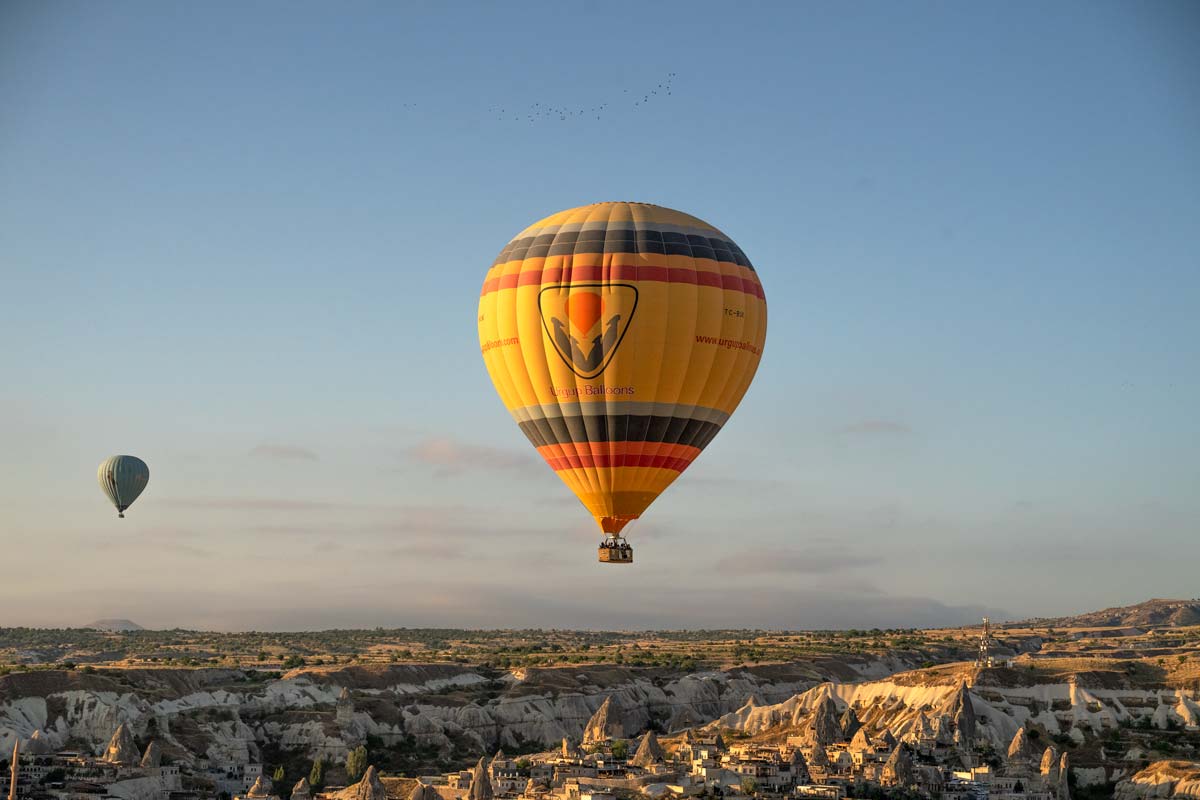 If you do decide to go for a hot air balloon ride in Cappadocia, sunrise would be the perfect time to do it since this is when all the other hot air balloons take off.
Imagine seeing all the hundreds of balloons in the sky with you as you gaze upon the rugged landscape below. What a memorable experience.
Cave Houses and Churches
Full disclosure, the best cave houses, in our opinion, were actually in Rose Valley. We did pass by a few cave houses in Red Valley, but they weren't as big or as impressive as the ones we saw in Rose Valley.
If you're not familiar with cave houses, then you're going to be soon, since many of the hotels and vacation rentals in the towns of Goreme and Ushisar are made from cave houses.
Unlike the hotels which have been renovated with modern amenities, the cave houses in the Red Valley are uninhabited. Some of them are crumbling and inaccessible, but others are free for you to roam around and explore.
There are also some cave churches, but if you really want to see some impressive ones, we highly recommend you walk on to Rose Valley and check out The Columned Church and The Crusader Church.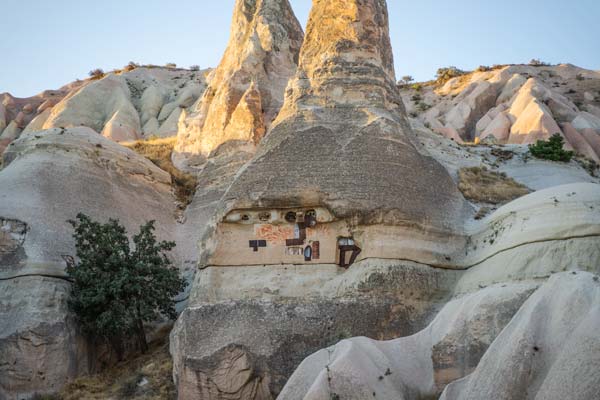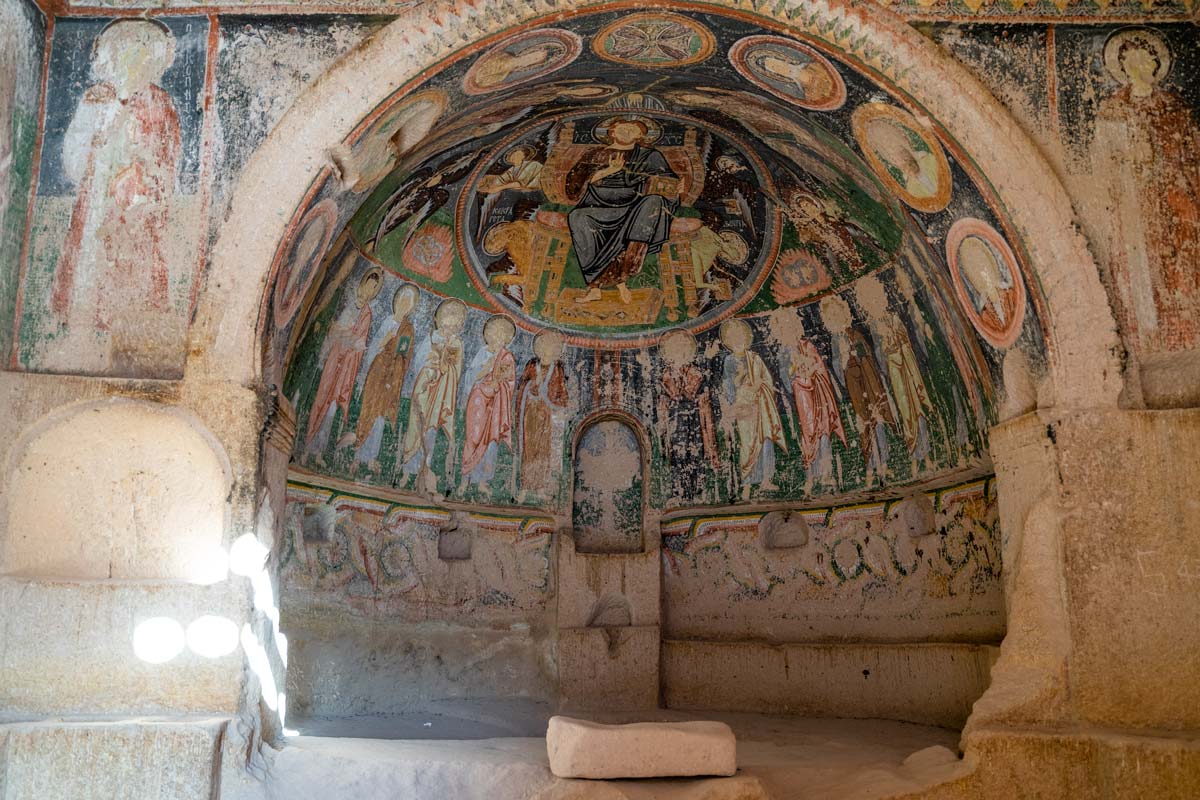 Sunset Viewpoint
The viewpoint is the most iconic part of the trail. As with most things beautiful, this area has been turned into a tourist attraction.
You'll find love swings (benches with flowers on them) and picnic tables. There are a few Cappadocian restaurants here too and you'll also see lots of horses taking a break from their tours.
Even though it's a bit touristy and you'll see a lot of people there, we still enjoyed sitting in the grass and watching the sunset over the red rocks of Red Valley.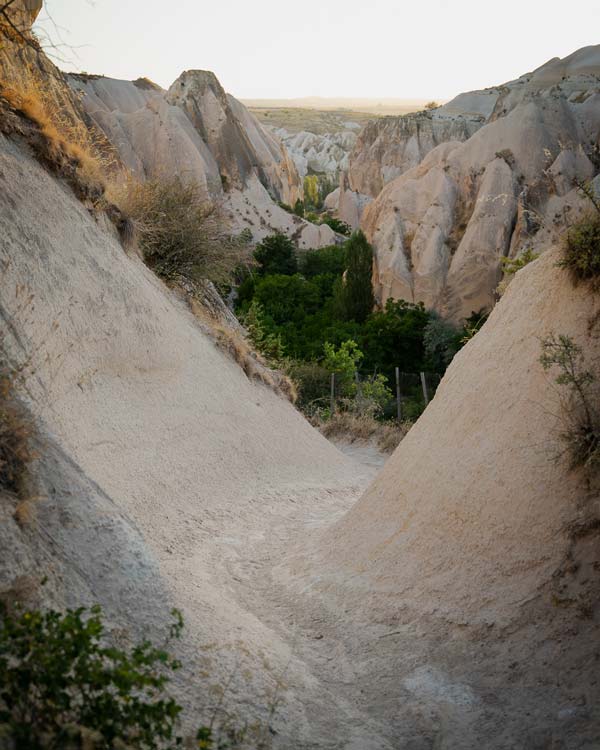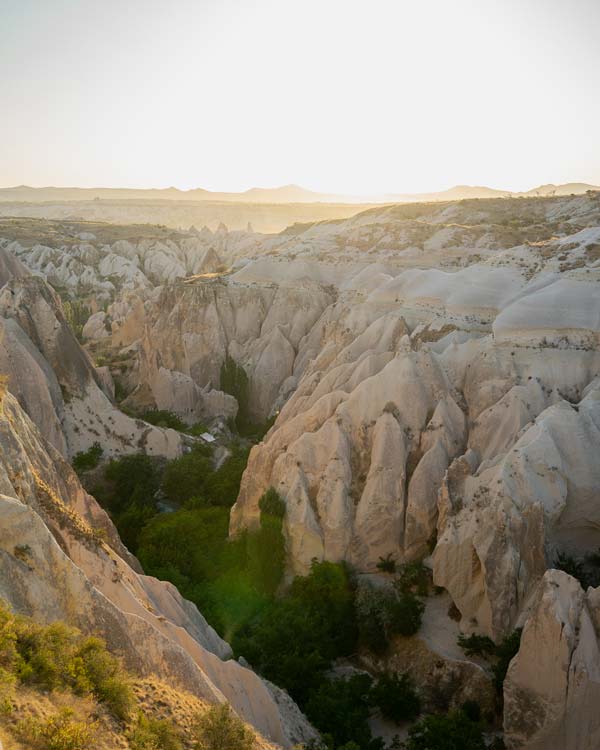 ATV and Horseback Riding Tours
A popular way to explore the Red Valley without hiking is to take an ATV or Horseback riding tour. While we don't have experience with these, we prefer to use our legs, many people choose to explore the valley this way and it could be a lot of fun!
---
FAQs About Red Valley in Cappadocia
Why is it called Red Valley?
The valley gets its name from the red-colored rock found in the area. It also shines in bright shades of red at various points of the day when the sun hits it.
How do I get to Red Valley?
From Goreme, go North along Bilal Eroğlu Cd until you see the ATV tour companies on the right side. You'll see a road with a balloon landing site on the left. This road takes you to the entrance of Red Valley.
Is Red Valley worth visiting?
100% yes! It was one of our favorite valleys in Cappadocia and will certainly be a memorable experience for anyone who travels there.
---
Last Piece of Advice Before Visiting Red Valley
So there you have it, that is Red Valley in a nutshell! We hope our guide on Red Valley in Cappadocia has proved helpful to you, and if you ever need anything explained further, we'd be happy to answer your questions in the comments.
Before you go, we have just a final piece of advice for you. Since Cappadocia is one of the top landmarks in Turkey and Red Valley is one of the most beautiful landscapes in the region, don't rush it. Take your time, drink plenty of water, and snap lots of photos!
And remember to bring your sunhat and shades, and plan your visit outside of the midday heat during the summer. The Cappadocian sun can be extremely hot and we wouldn't want you to take sunburn home as a souvenir.