If you're not sure what to do in Cappadocia, then you've come to the right place.
Cappadocia is one of our favorite destinations in Turkey. Home to the UNESCO World Heritage Site of Goreme National Park, this region of Central Anatolia is filled with stunning historical and natural wonders.
From the exotic fairy chimneys to the surreal hot air balloon rides and epic rock-cut churches, there are plenty of things to do in Cappadocia, Turkey.
That is why we have written this comprehensive post on the 30 best tourist attractions in Cappadocia, so you can explore this region beyond the typical tourist. We have also included essential information such as where to stay, where to eat, and more so you can have everything you need for your visit!
---
Best Things To Do In Cappadocia Turkey
1. Explore Cappadocia From Above On A Hot Air Balloon Ride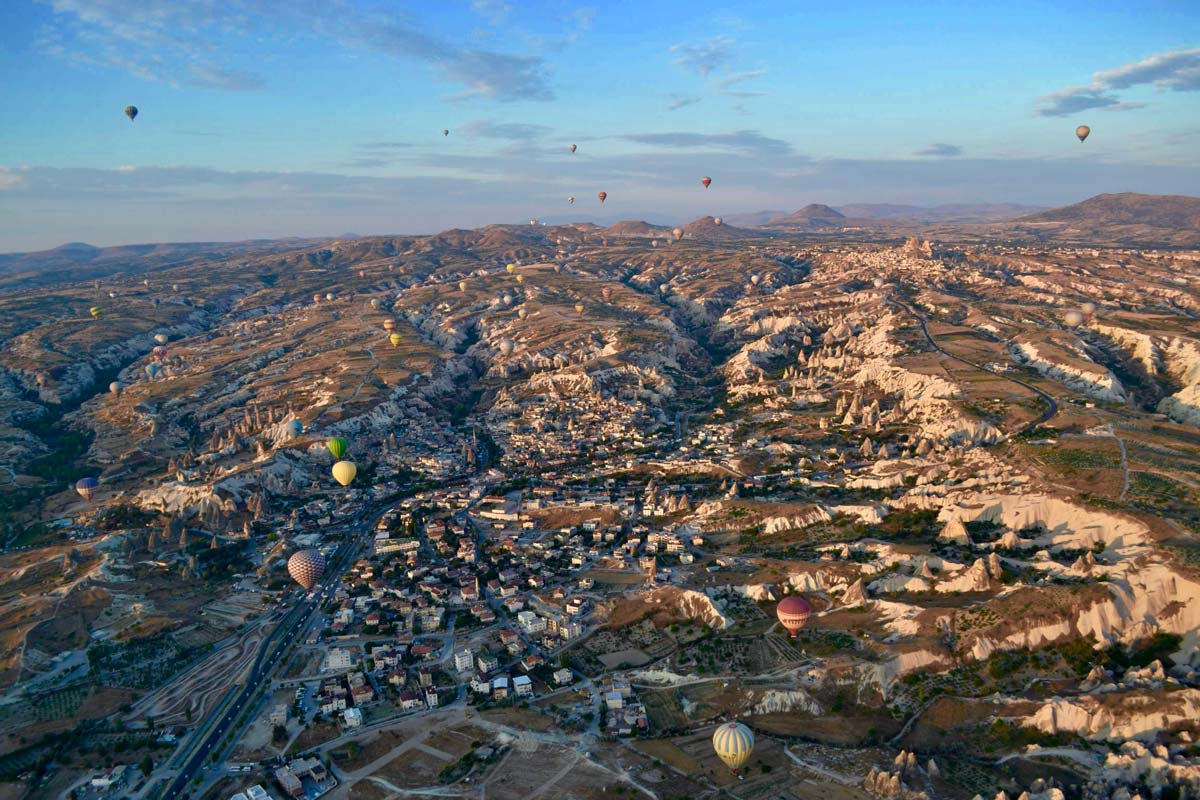 Perhaps the biggest attraction in Cappadocia is the opportunity to go on one of the hot air balloons and float through the sky during sunrise. There is no better way to appreciate the unique landscape of Cappadocia than to see it from above.
Visitors can see the unique rock formations that Cappadocia is known for. From the phallic fairy chimneys of Love Valley to the ancient rock-cut churches that dot the valley, everything is within your eye's reach.
Riding one of the hot air balloons is the best way to appreciate the scale of this region. When you see the rock formations all over the valley, you'll realize how special this place is.
The hot air balloon ride in Cappadocia is a once-in-a-lifetime opportunity and a bucket list item that should not be missed.
Read More: The Complete Guide To Hot Air Balloons In Cappadocia
2. Watch The Hot Air Balloons At Sunrise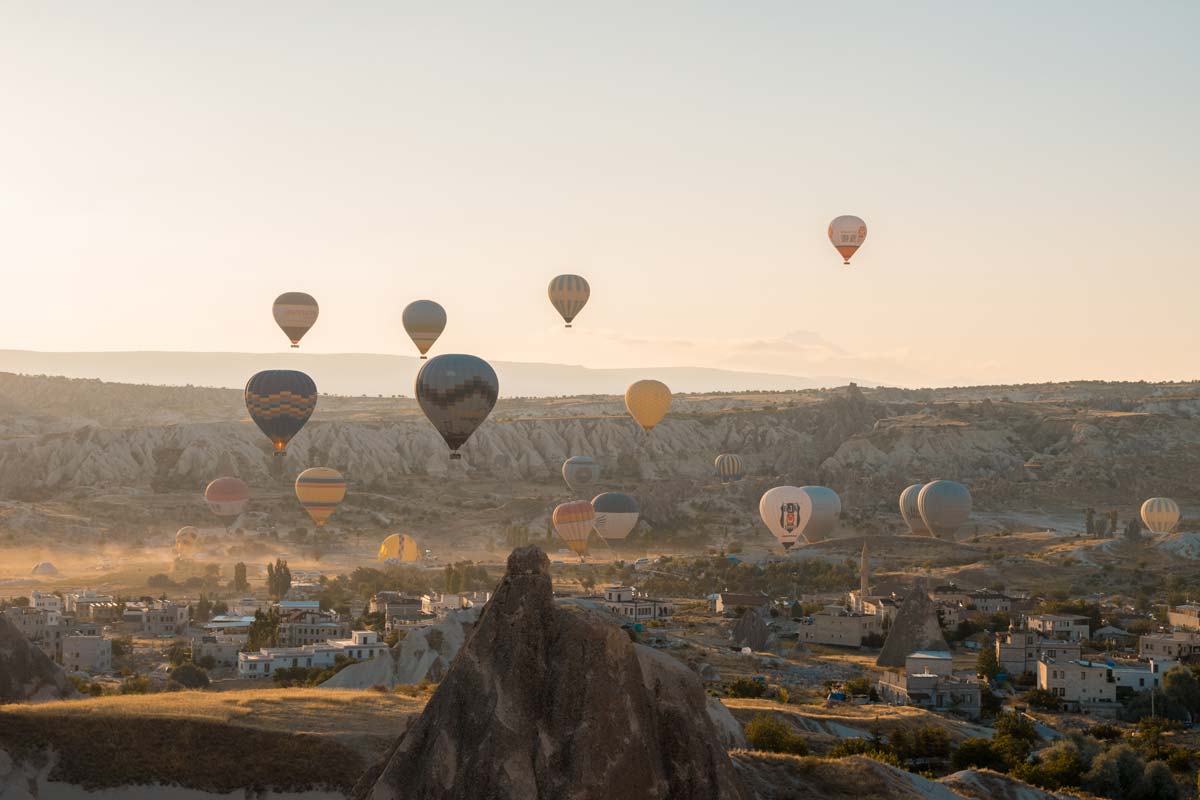 If you have several days in Cappadocia, consider waking up early one morning to see the hot air balloons at sunrise. Riding on one of them is an amazing experience, but seeing them at sunrise from one of the viewpoints in Cappadocia is equally breathtaking.
There are many places to see the sunrise in Cappadocia. The best views are a little bit further from town, but you can also just go to the terrace of your Cappadocia hotel to see the hot air balloons glide above you.
We recommend finding a viewpoint that faces east because that's the direction the sun rises. The sun slowly rising and illuminating all the features of the valley is an incredible sight. If you are a photographer, don't miss out on this opportunity.
3. Explore The Goreme Open-Air Museum and Its Rock Churches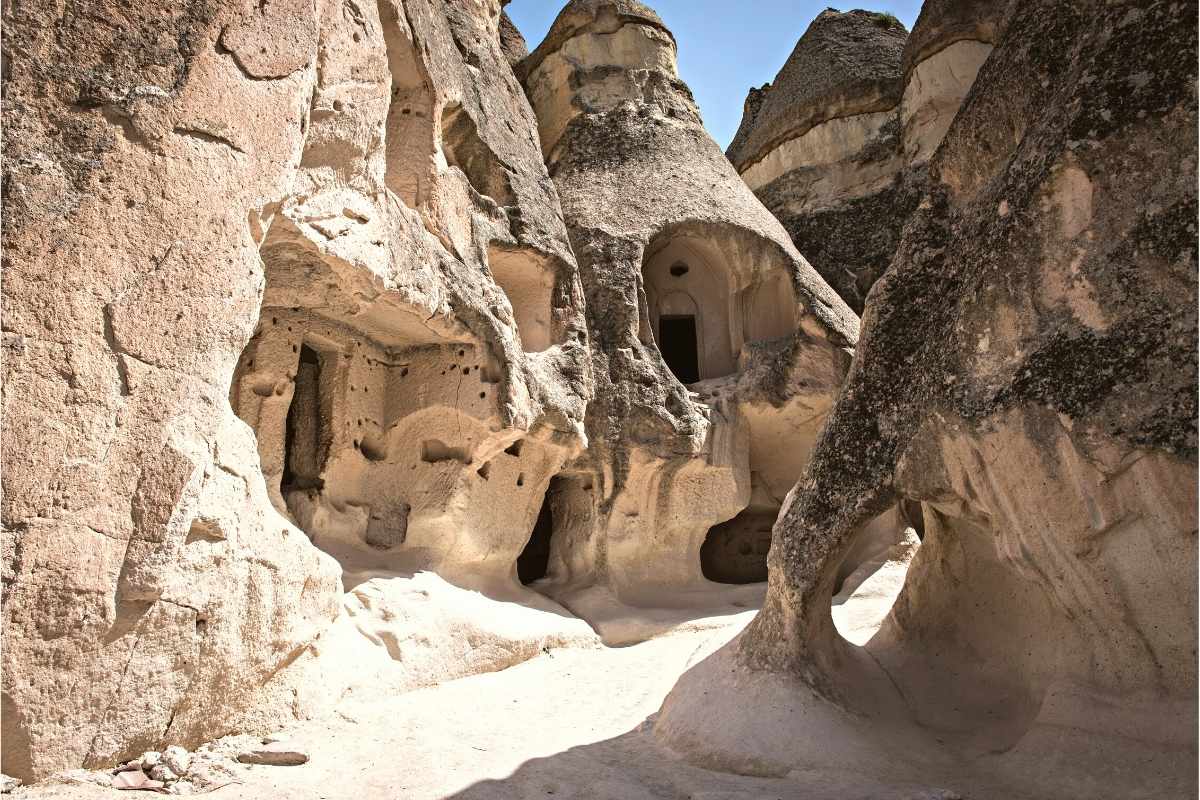 Without a doubt, the best museum in Cappadocia is the Goreme Open-Air Museum. It was one of the first three sites in Cappadocia that was included in the UNESCO World Heritage Site of Goreme National Park.
The most iconic feature of the Goreme Open-Air Museum is the numerous rock-cut churches, many of which contain original frescoes from the 10th to 12th centuries during the Byzantine and Roman era.
Though the Goreme Open-Air Museum dates back much older than that, it is the monastic settlement during this period that has made it one of the most popular sights in Cappadocia today.
One of the most well-preserved churches in the Goreme Open-Air Museum is the Dark Church. Because little light enters this dark cave, the frescoes are still vibrant and detailed. Visitors can admire frescoes depicting biblical scenes as well as the vaulted ceilings carved into the cave.
The best part about visiting Goreme Open-Air Museum is that it is within walking distance from the town center of Goreme!
4. Explore The Zelve Open-Air Museum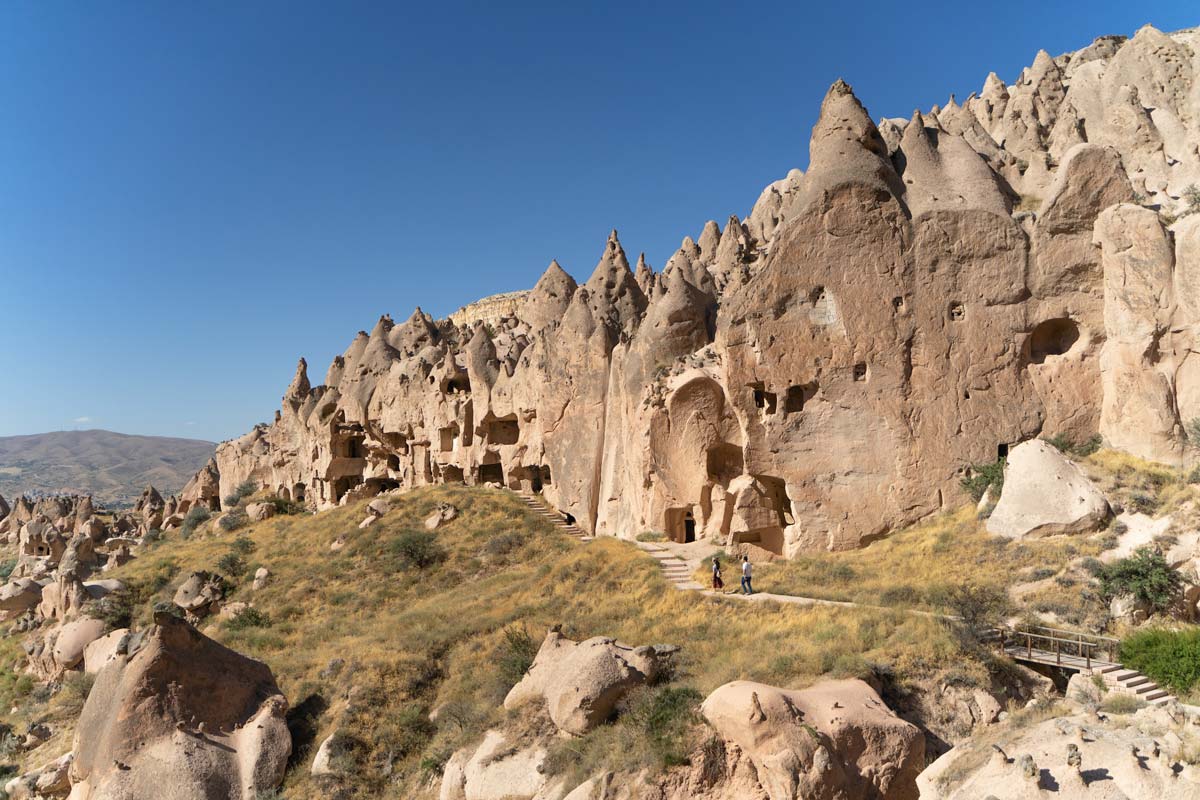 There are debates as to which open-air museum in Cappadocia is better – Goreme Open-Air Museum or Zelve Open-Air Museum. Our word of advice is to visit both as they are drastically different.
Unlike the Goreme Open-Air Museum, the one in Zelve is spread out into 3 valleys. Altogether, the three valleys used to make up the settlement that was called Zelve. Matter of fact, these valleys were inhabited until 1952, when the Turkish government relocated the residents due to the unsafe structural stabilities of the cave houses.
Historically, the Zelve Monastery was home to both Christians and Muslims. It was a place where they lived harmoniously. As you explore the valleys, you'll find both mosques and churches that were once used.
You won't find any religious frescoes here as you would at Goreme Open-Air Museum, but you'll find tons of cave dwellings, cool fairy chimneys, and several churches that were dedicated to different parts of daily life.
5. Stay In A Cave Hotel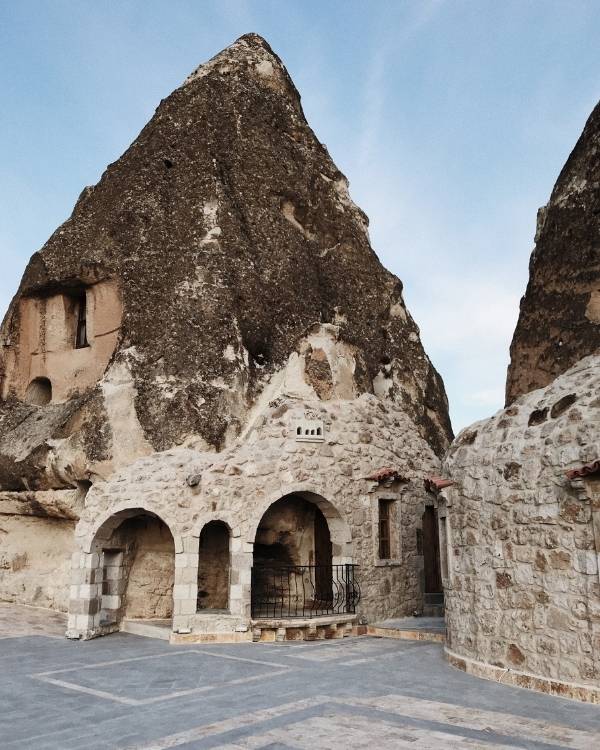 Thanks to the unique geological properties of the rock formations in Cappadocia, troglodytes carved cave dwellings out of them. While the majority of them are no longer inhabited, the tradition of living in caves has not died out.
Nowadays, travelers can experience a part of that history by staying in one of the many cave hotels in Cappadocia. These cave hotels are an upgrade from the more primitive kind, and feature modern luxuries such as free WiFi, private bathrooms, cozy decor, and comfortable amenities.
Cave hotels have natural insulation, which means they provide warmth in the cold winter of Cappadocia and coolness in hot summers.
We recommend Goreme Cave Lodge, which not only has authentic cave rooms, but a gorgeous outdoor area with a pool. It also has a terrace for relaxing and just admiring the views of Goreme after a long day.
6. Derinkuyu Underground City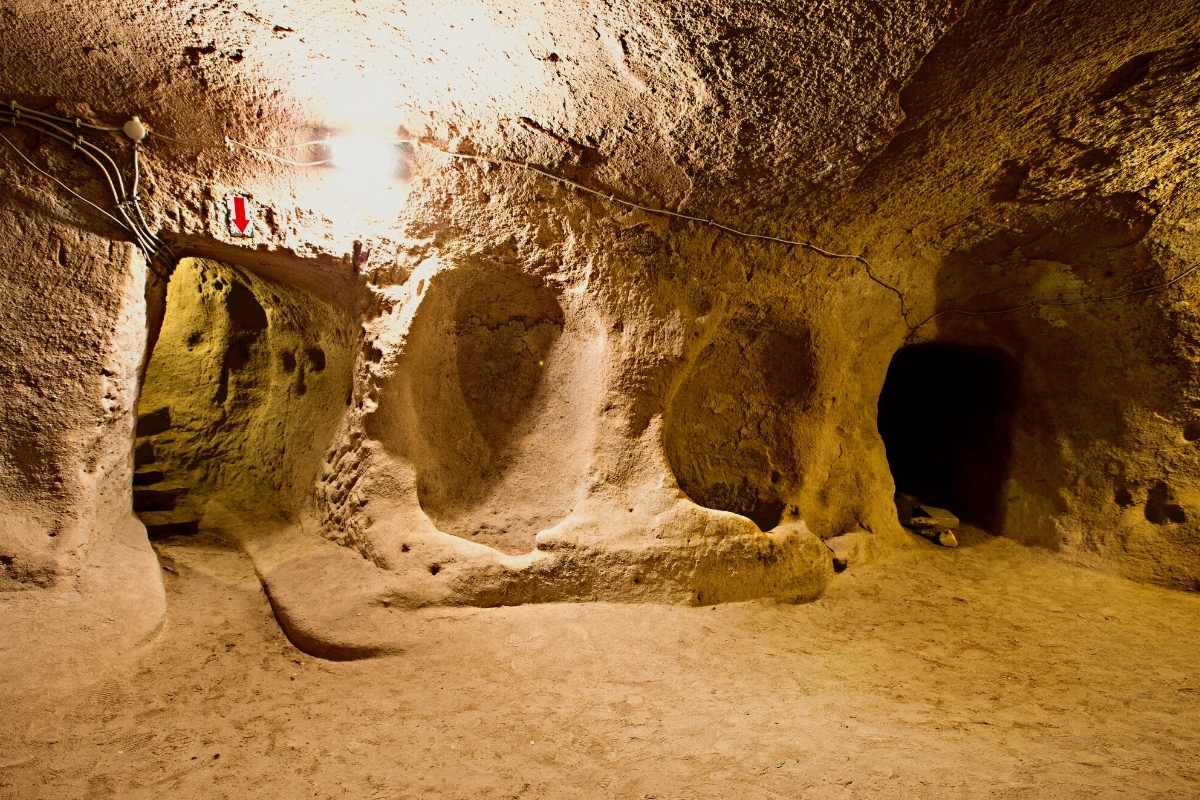 One of the most interesting places to visit in Cappadocia is the underground cities. They are truly a primitive engineering achievement as many of these underground cities are over several levels deep.
Thanks to the soft volcanic tuff of the region, early settlers (the Phrygians) in the 8th to 7th BCE were able to dig into them to create entire underground cities.
The biggest of which is the Derinkuyu Underground City. Derinkuyu Underground City didn't really take its current form until the Pyygrians died out and Romans and Byzantines inhabited them.
In the underground city, you can find stables, cellars, storage rooms, chapels and more. However, its most iconic feature is the barrel-vaulted ceiling which indicates that the room was most likely used as a religious school.
There are a total of 8 excavated floors in Derinkuyu, extending a total of 85 meters deep. Experts estimate that there might be a total of 18 floors in total, but more work needs to be done. The underground city was capable of housing 20,000 people inside!
7. Kaymakli Underground City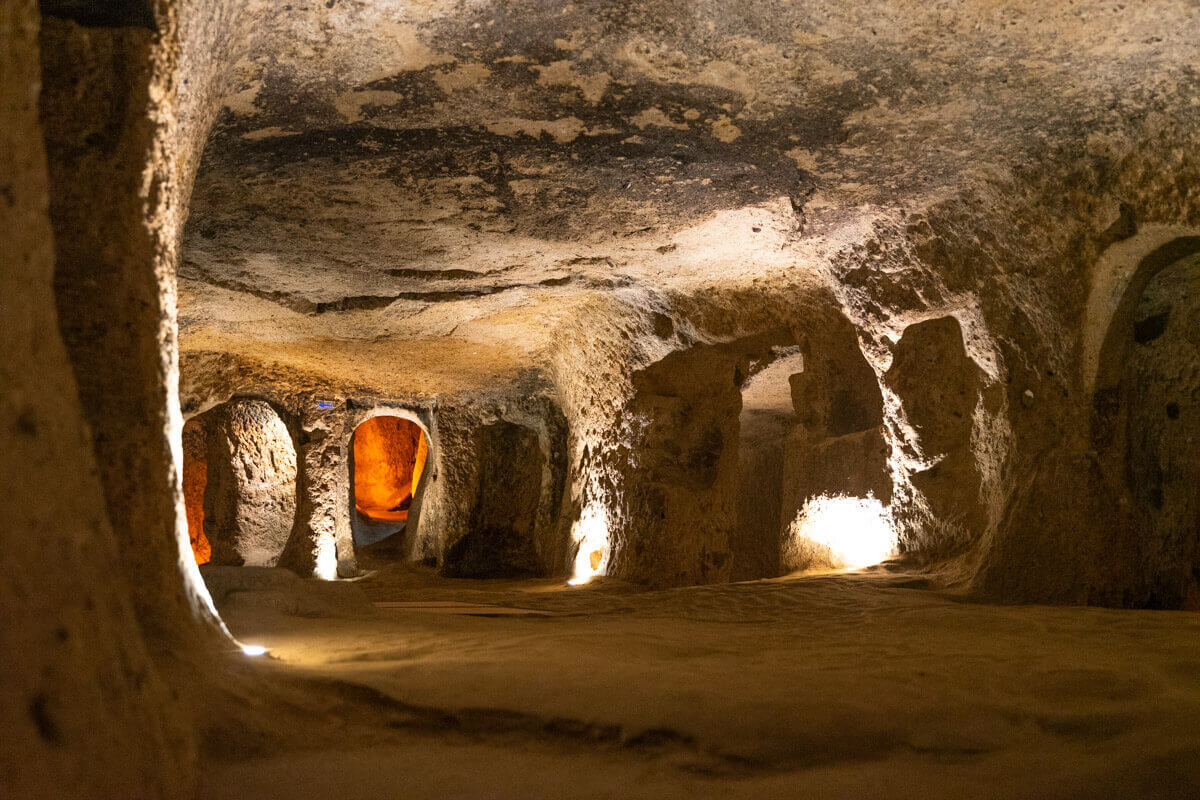 Though Derinkuyu is the largest underground city, it certainly isn't the oldest. The oldest one is believed to be Kaymakli Underground City, just a little over 9 km north of Derinkuyu.
Though situated 9 kilometers away from each other, archaeologists have discovered underground tunnels that connect one city to another. In fact, there are over 200 underground cities in Cappadocia, and most of them are connected through underground pathways.
Kaymakli is a little smaller in size compared to Derinkyuyu, Only 4 of the floors are available for tourists to visit, but the complex is much deeper than that.
Its most iconic feature is the clever use of a deep ventilation shaft that keeps the underground city with good air circulation. Some believed that the ventilation shaft could be a well in the past.
At Kaymakli Underground City, visitors can find a massive millstone door that acted as a defense for the inhabitants. The caves were used as a hiding place for many of its residents in the past, and their design could sustain life for many months.
Here you'll find places such as a stable, bathrooms, kitchen, storage spaces, and more! The underground cities in Cappadocia are proper cities!
Read More: Which Is Better? Kaymakli or Derinkuyu Underground City?
8. Uchisar Castle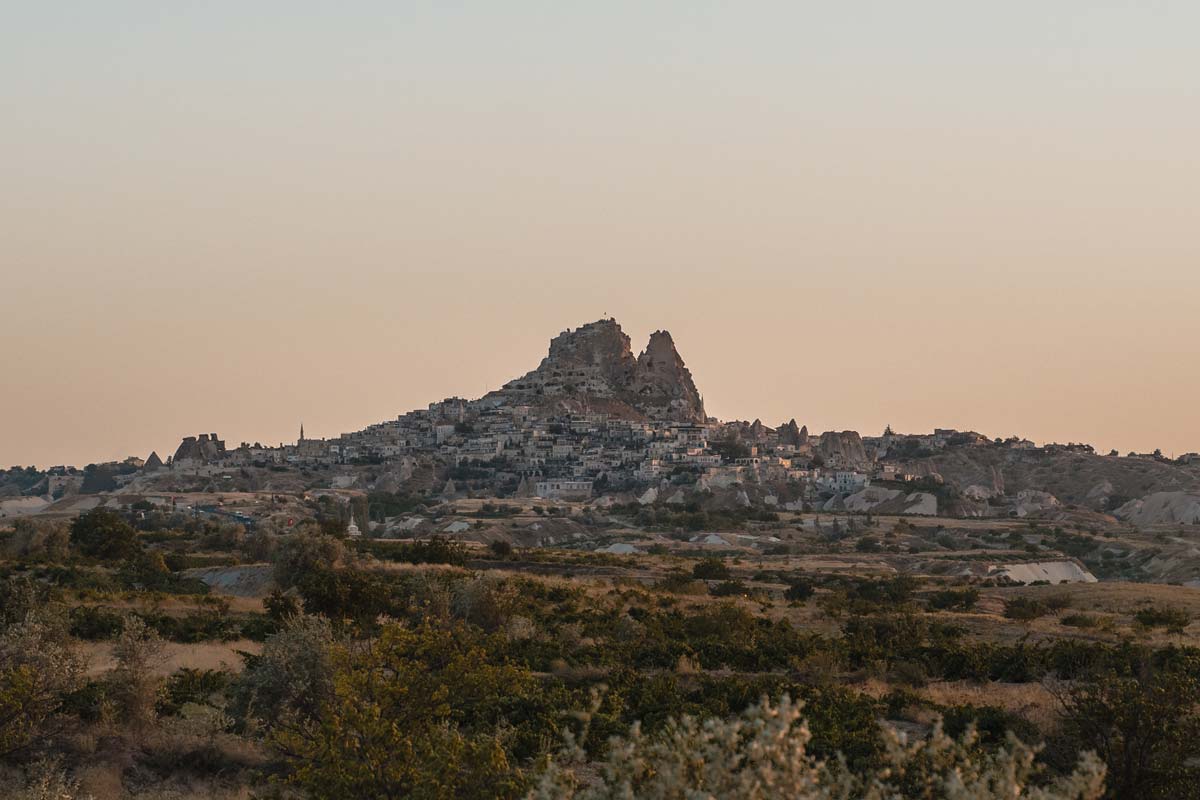 Rising 60 meters above the ground, Uchisar Castle is the highest point in Cappadocia.
Historically, due to its stature, Uchisar Castle was used as a lookout spot and fortification. When the people saw that invaders were approaching, they would simply go inside the castle, close the doors, and be safe.
Consequently, this Turkish landmark attracted more people coming to seek refuge. The new settlers started carving out more of the volcanic tuff to create living spaces inside. However, the castle could only hold so many people at once, so many had to settle outside the castle. This eventually formed the small town of Uchisar that you see today.
Though no longer a landmark for fortification purposes, Uchisar Castle still attracts plenty of travelers. Because of its height, visitors can get an epic panoramic view of Cappadocia and the Goreme National Park. It is one of the must-see places in Cappadocia, especially during sunset!
Read More: Best Sunrise Cappadocia Hot Air Balloon Tours You Can't Miss!
9. Watch Whirling Dervishes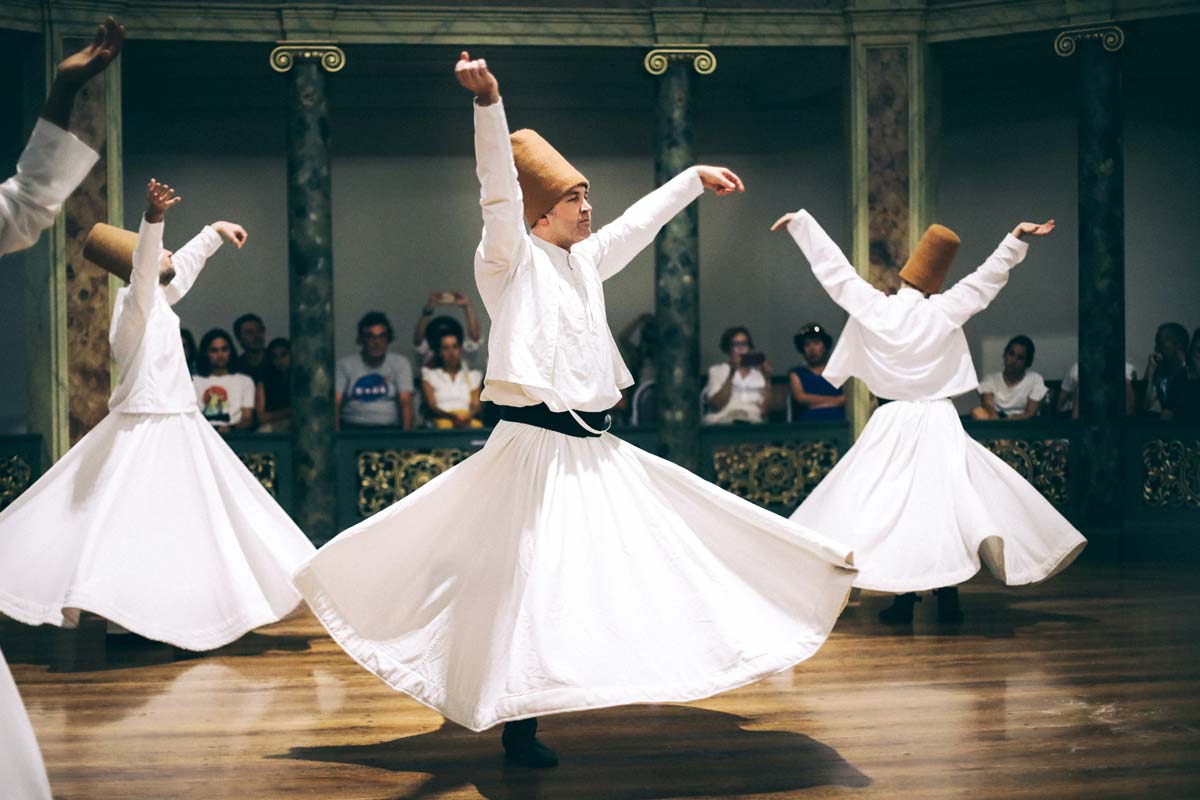 If you're looking for a more spiritual experience, then watching the Whirling Dervishes is a must. The Whirling Dervishes are part of the Sufi tradition and they are known to induce a trance-like state that leads to divine inspiration, or "ecstatic trances" for the performers.
The ceremony starts with the recitation of devotional Islamic prayer and then the dervishes start to spin. There are three sections to the dance, so they whirl around for about 10 to 15 minutes each time.
For many of them, this is a way to connect with God and achieve a state of inner peace. The experience can be quite powerful, even if you're not religious.
There are plenty of places where you can watch the Whirling Dervishes in Cappadocia. However, if you want to see it in an atmospheric setting, then I suggest watching it at the 13th-century Saruhan Caravanserai near Avanos. It is one of the best things to do in Cappadocia at night.
10. Catch The Sunset At Goreme Sunset Point (Lover's Hill)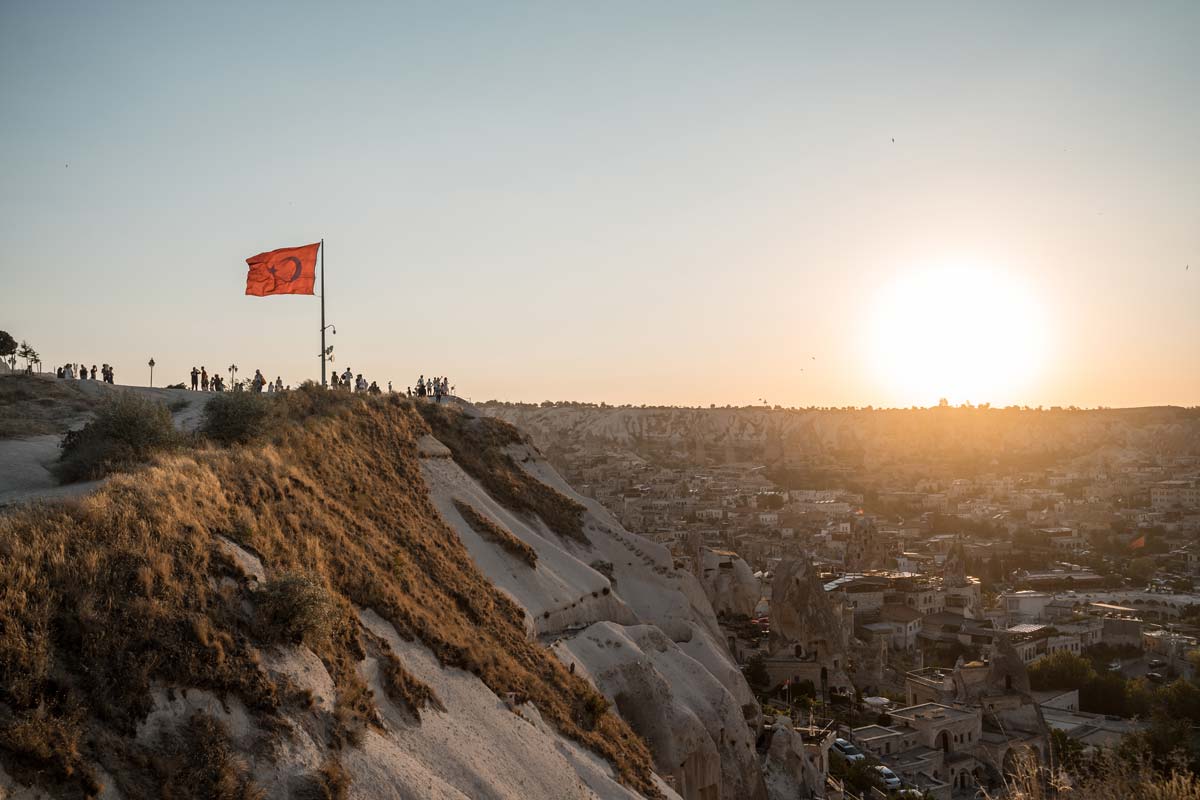 Perhaps one of the best things to do in Cappadocia is watching the sun set over the lunar-like landscape. There are many places to do so, but none is as easy to get to as Goreme Sunset Point, also known as Lover's Hill.
This sunset location is situated right about the town of Goreme, and it takes visitors no more than 15 minutes to arrive on foot from anywhere in town.
From Lover's Hill, visitors can see as far as Uchisar Castle, which looks so beautiful with the sun setting next to it. There is also a platform for visitors to take an iconic photo with Goreme town as the background.
Goreme Sunset Point has a few restaurants and tea shops where you can sit and enjoy the view with Turkish Tea in hand. However, it is one of the windiest places we've been to in Cappaodic and the sand can get overbearing.
11. Check Out The Pottery In Avanos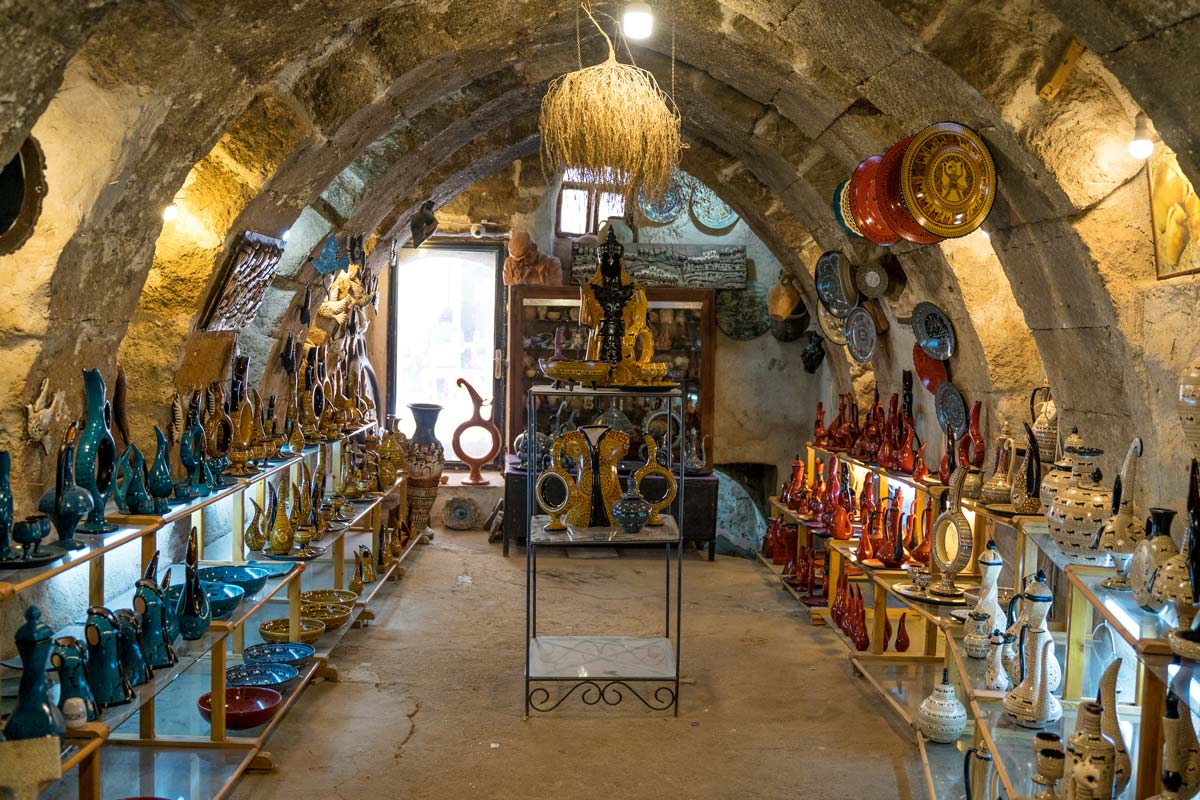 One of the most hidden attractions in Cappadocia is the pottery scene in Avanos.
The pottery here has a long history, dating all the way back to the Hittite period, around 2,000 BCE. The clay used to make the pottery comes from the Red River (Kızılırmak), which runs through Avanos.
The pottery-making tradition has been passed down from generation to generation, and today, there are many pottery shops in Avanos where you can watch the potters at work. When you walk down the street of Avanos, you might see some of the master craftsmen still practicing their pottery skills in their family-owned business.
Some of the pottery shops also offer free pottery-making sessions, perfect for travelers that like an interactive experience when traveling in Cappadocia. Without a doubt, pottery from Avanos is the perfect souvenir to remember your Cappadocia trip.
But beware of the tourist traps in Avanos. Many of the pottery is now mass-produced in factoriesto mimic the work of the skilled potters. If you are not sure how to look for a good properly handcrafted piece of work, then make sure you find someone that can help you with it!
12. Explore Salt Lake Tuz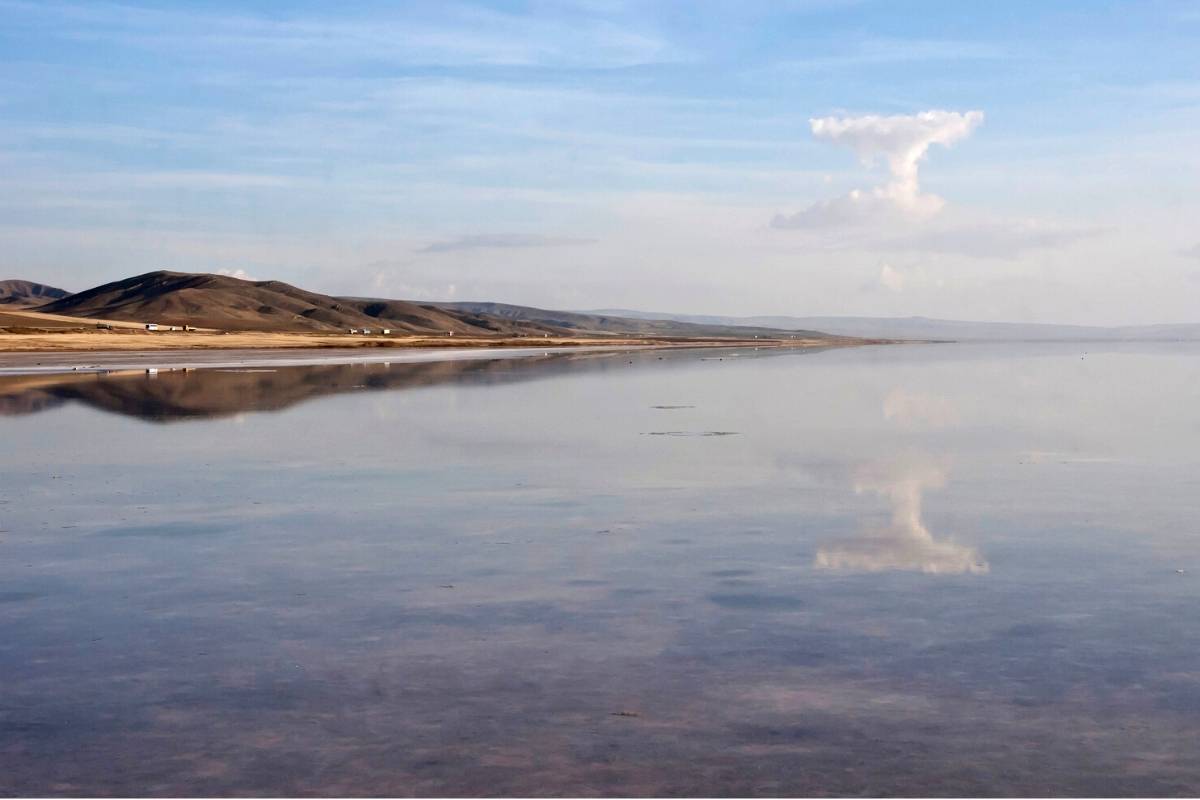 Situated over 160 km (99 mi) from Goreme is one of the best hidden gems in Cappadocia – Salt Lake Tuz (or Tuz Golu in Turkish).
This lake is actually the second-largest salt lake in Turkey and it's one of the few hypersaline lakes in the world. Because of the high salt concentration of the water, it is home to hardly any living organism.
One of the things that survive in the salt lake is algae. These algae are responsible for turning the salt lake pink, which creates a beautiful scenery. However, the algae might be difficult to find so there is no guarantee that you'll find a pink salt lake!
In the summer months when Cappadocia is dry, most of the water evaporates and leaves nothing but a bed of salt. Though there are places where you'll still find water, you might not have the best experience.
Because there are no tours that go to the Salt Lake in Cappadocia, it is difficult to get there. Your best bet is renting a car in Cappadocia or hiring a taxi driver for a day to take a day trip.
13. Visit Monks Valley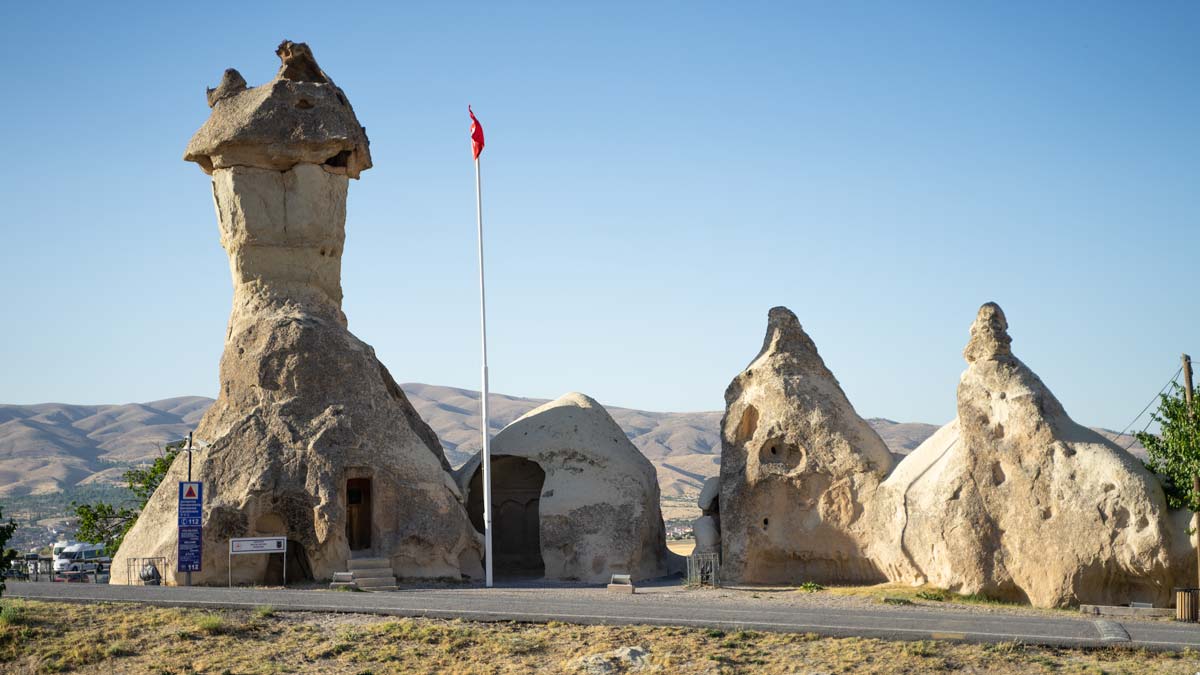 There are many cool valleys in Cappadocia, and one of the most unique ones is the Pasabag Valley, or Monks Valley in English. This valley is known for its unique fairy chimneys with double to triple mushroom heads.
The most interesting part of the valley is that some of the fairy chimneys have been turned into dwellings by monks and hermits, which is how the valley has gotten its name.
The caves were first inhabited by St. Simeon from Aleppo in the 5th century. Eventually, more and more monks followed in this footsteps and came to Monks Valley to escape from the world and live a simple life in nature.
Nowadays, the caves are no longer inhabited but you can still explore them! Just be careful with going in and out as some of the rooms are very high and might require a bit of climbing!
14. Try Pottery Kebab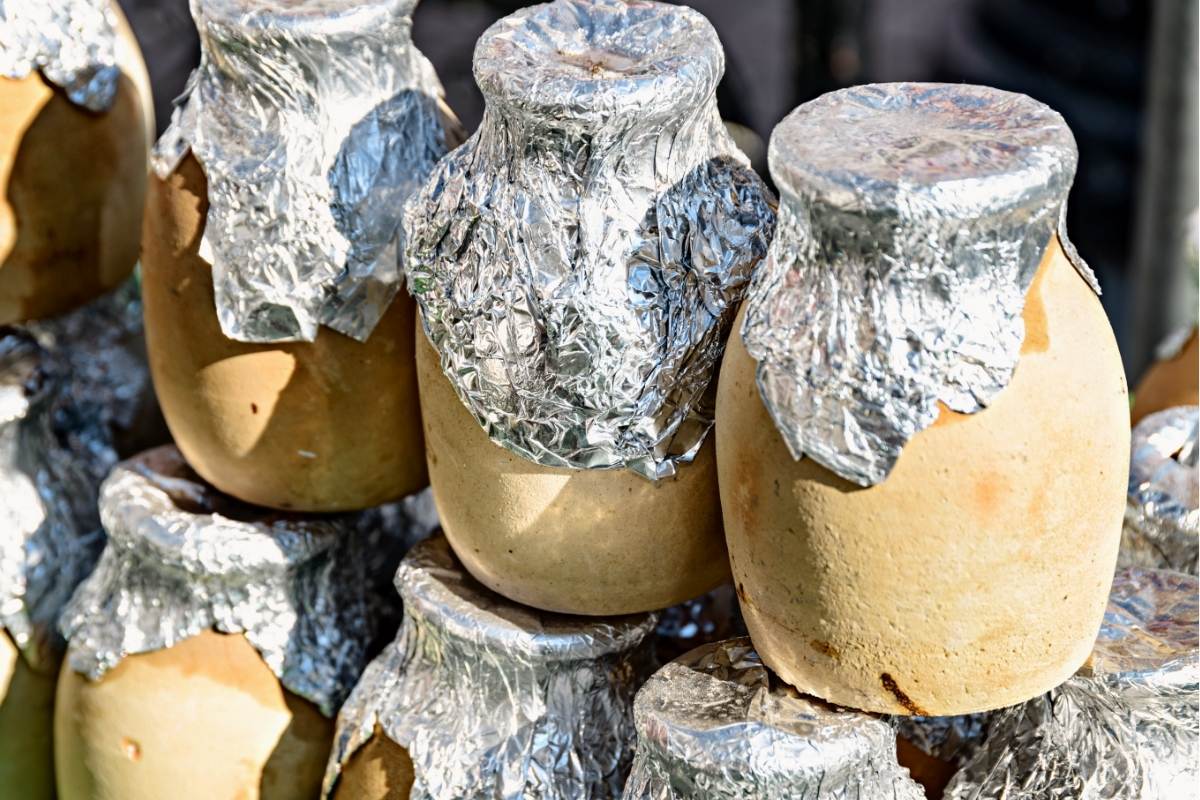 One of the most iconic Turkish dishes you can try in Cappadocia is Pottery Kebab, or Testi Kebab in Turkish.
This Anatolian delicacy is usually made with lamb, beef or chicken with vegetables such as onions garlic, and potatoes. The ingredients are put inside a clay pot, which is then sealed with bread dough.
The whole pot is then cooked over a tandoor for hours so the flavor of the ingredients comes out. But pottery kebab isn't just an experience for your taste buds. When served, the server must crack open the pottery kebab with a hammer to unleash the deliciousness within. Some of the restaurants in Cappadocia don't serve them this way, and that is how you know it is not traditional.
It takes several hours to prepare this traditional Cappadocia dish, so you can't just show up at a restaurant demanding one. You must make a reservation beforehand.
Two of the best places to try Testi Kebab in Cappadocia are Kapadokya Kebapzade and Dibek. They are both situated in the city center of Goreme so they're most likely going to be within walking distance from your accommodation!
15. Explore St. John the Baptist Chapel at Cavusin Castle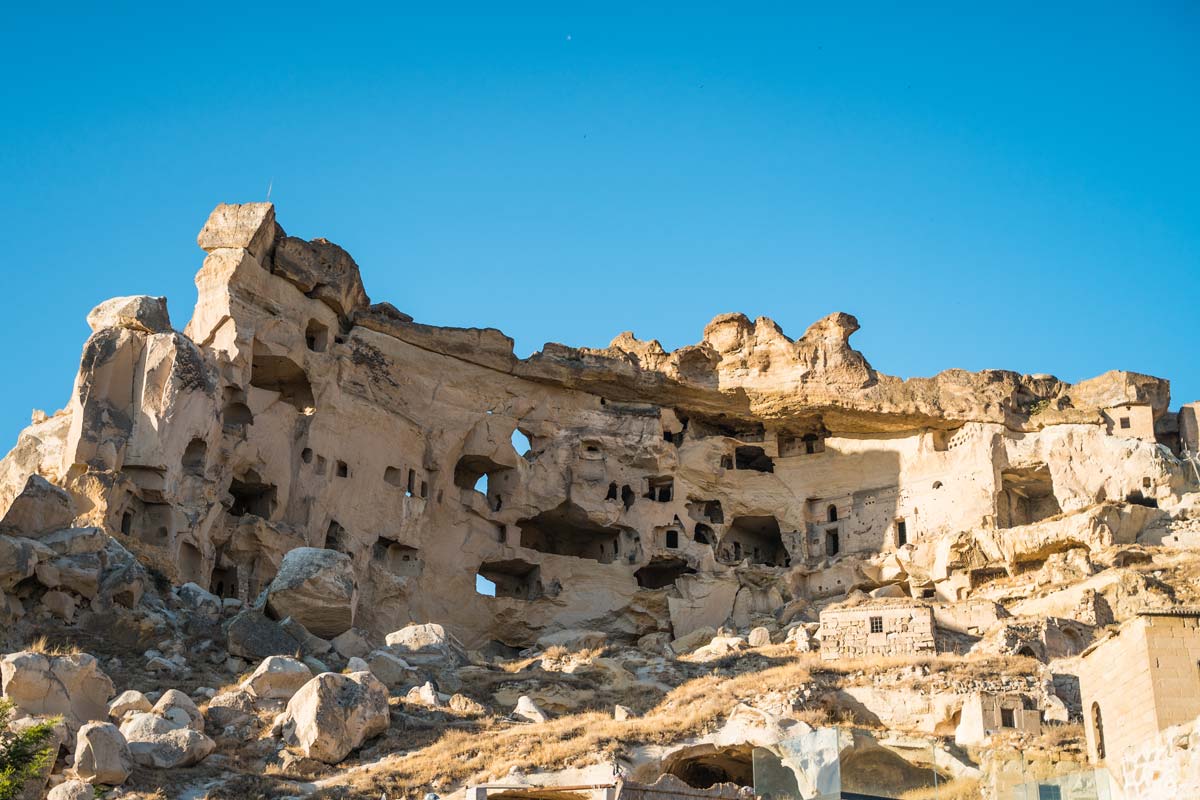 One of the best free things to do in Cappadocia is to explore Cavusin Castle, an epic rock formation that rises above the village of Cavusin.
The Cavusin Castle is home to St. John the Baptist Chapel, which is one of the largest cave churches in Cappadocia. Unfortunately, most of the Cavusin Castle has been heavily eroded, which means that it might not be the safest place to visit. There is a bridge that allows visitors to get to the chapel, but it is quite damaged.
If you are looking for something adventurous and off-the-beaten path, Cavusin Castle is the perfect place. Here you'll find what an old monastic settlement would look like if it wasn't well-preserved – faded frescoes, litter, graffiti, and more.
16. Chez Galip Hair Museum
Perhaps there is no attraction in Cappadocia more unusual than the Chez Galip Hair Museum in Avanos. This museum is exactly what it sounds like, a museum dedicated to hair, women's hair. It is estimated that there are over 16,000 locks of hair in the museum.
The museum all started when the owner of a pottery shop, Galip Körükçü, was given a lock of her friend's hair as a memento when she moved out. This story moved a lot of over women that stopped in the area, and many of them started to give some of their hair to Galip Körükçü.
Eventually, he opened up a museum dedicating the hair of women. Nowadays, women still come to donate their hair, but that is because they have a chance to win an all-expense-paid trip to Cappadocia.
When visiting the Chez Galip Hair Museum, make sure you check out the pottery shop that accompanies it.
17. Devrent Valley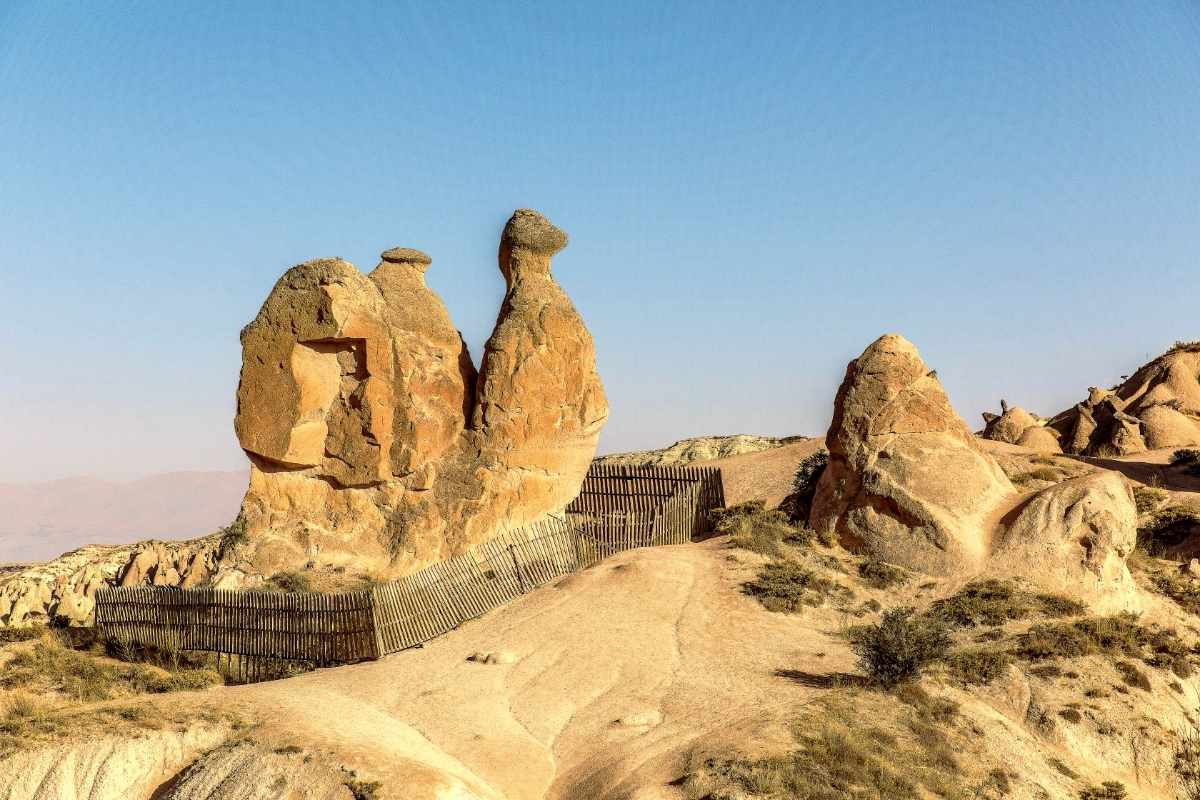 Devrent Valley, also known as Imagination Valley, is a place in Cappadocia filled with unique fairy chimneys. These rock formations have been carved out over time by erosion, and they look like different animals or objects.
The most notable one is the camel-shaped rock at the entrance of the valley. But as you walk around, you might find a dolphin-shaped rock, snail-shaped rock, and more! It is one of the best places to get a photo to remember your visit to Cappadocia!
Getting to Devrent Valley can be quite challenging since it is hard to get there via public transport. The best offer is to either get a taxi or take the red tour, which has Devrent Valley as one of the stops.
---
Best Hikes In Cappadocia
Because of Cappadocia's beautiful landscape, one of the best activities is to go hiking. There are many amazing hiking trails in the area that takes you up close to some rock-cut churches, pigeon homes, cave dwellings, epic fairy chimneys, and more. We have created a complete list of the best hikes in Cappadocia here.
Here are some of our favorite ones:
1. Rose Valley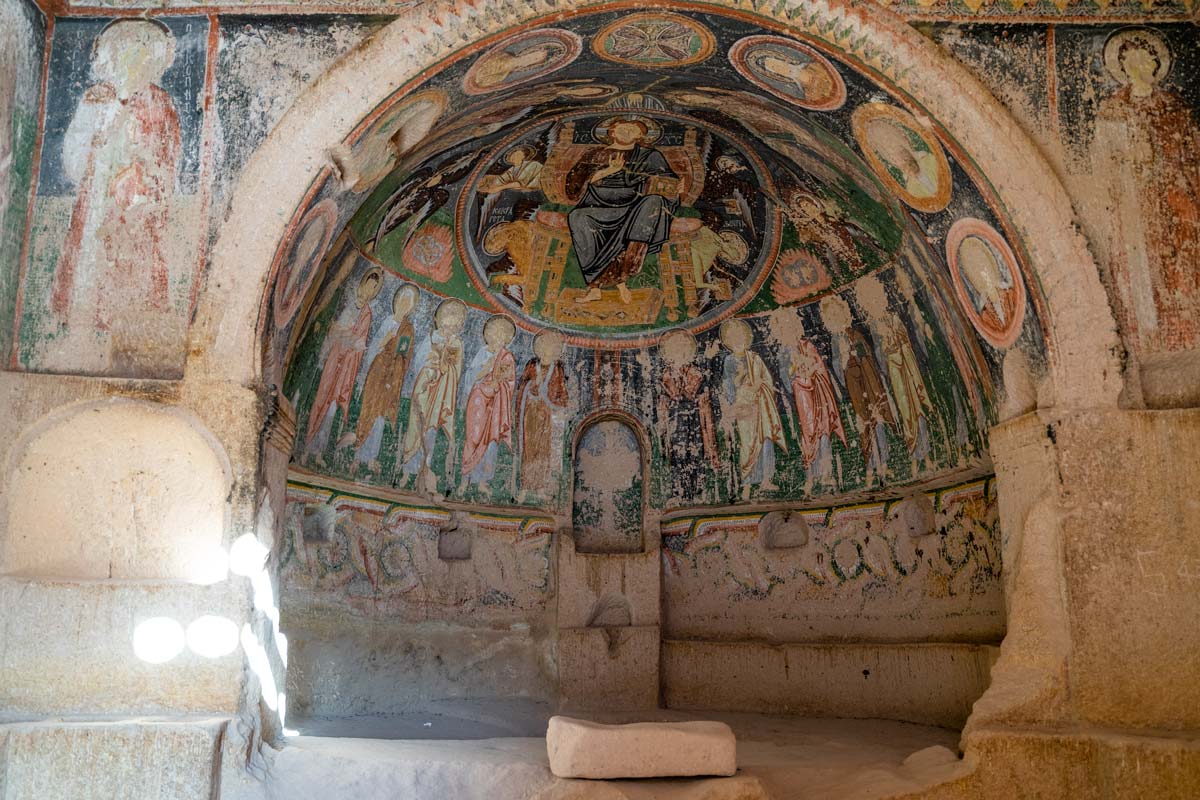 Distance: ~4.3 kilometers (2.67 mi)
Duration: 1.5 hours of hiking
Difficulty: Medium
If there is one hike to do in Cappadocia, it is Rose Valley. On the hiking trail, visitors will come across some of the most stunning characteristics of the Goreme National Park. Hikers will see a total of three rock-cut churches, including the Crusader Church with its beautiful frescoes and the Column Church with its beautiful architecture.
Besides the historical values of the sites on this trail, Rose Valley hike offers stunning vistas with amazing views. The most popular one is at the end of the trail, which is the Red Valley Sunset Viewpoint. It is one of the most popular spots to watch the sunset in Cappadocia.
However, this trail can be a little bit difficult because there is a section that is very steep. You might want to reconsider this trail if you have mobility issues.
2. Red Valley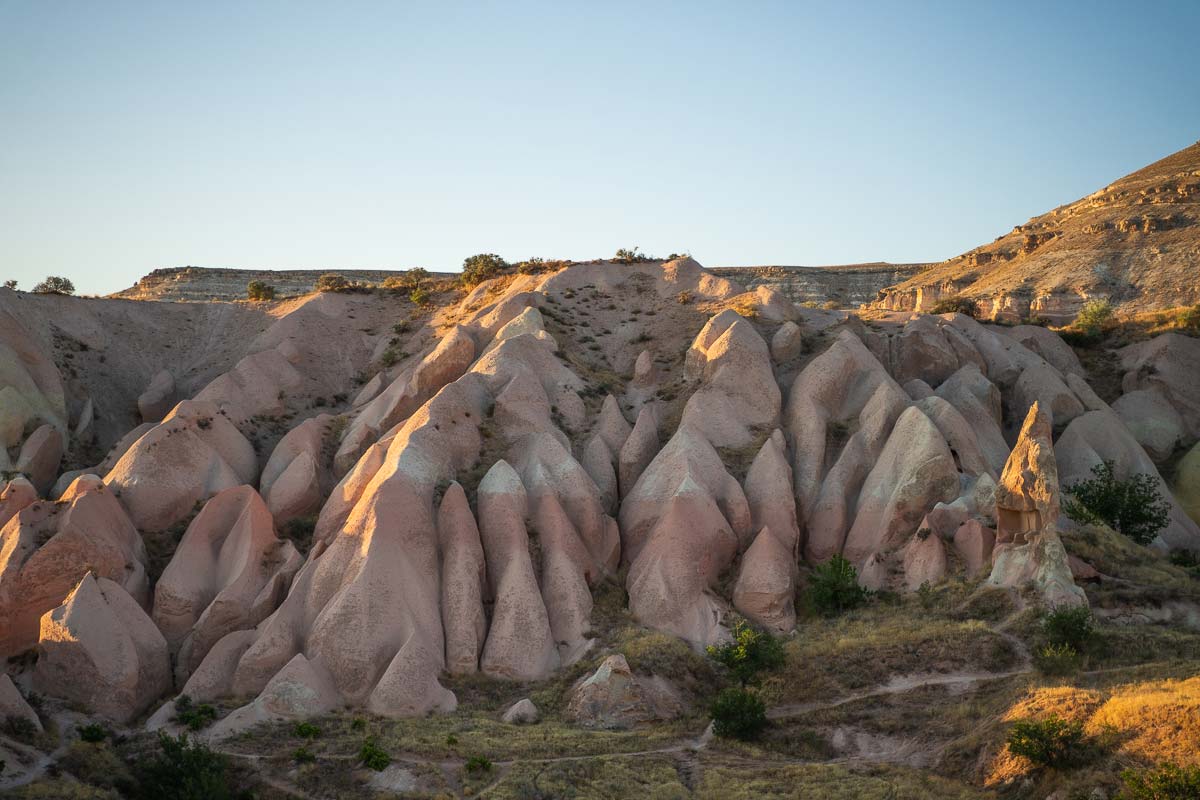 Distance: ~3.3 kilometers (2.05 mi) one-way
Duration: 1 to 1.5 hours of hiking, but allot extra time for photos
Difficulty: Medium
Red Valley is one of the most iconic hikes in Cappadocia. It earned its name from the rock formations that would have a red glow at sunset. The Red valley runs adjacent to the Rose Valley until they connect at the Red Valley Sunset Viewpoint.
As a result, we recommend you combine Rose Valley and Red valley to create a hiking loop. This way you don't have to return the same way you came and can explore more along the trail.
The Red Valley doesn't have as many cave churches as Rose Valley, but there are plenty of cool-looking fairy chimneys along the way. There is also a tea garden also the way where visitors can rest and have a refreshing drink before they continue hiking!
3. Pigeon Valley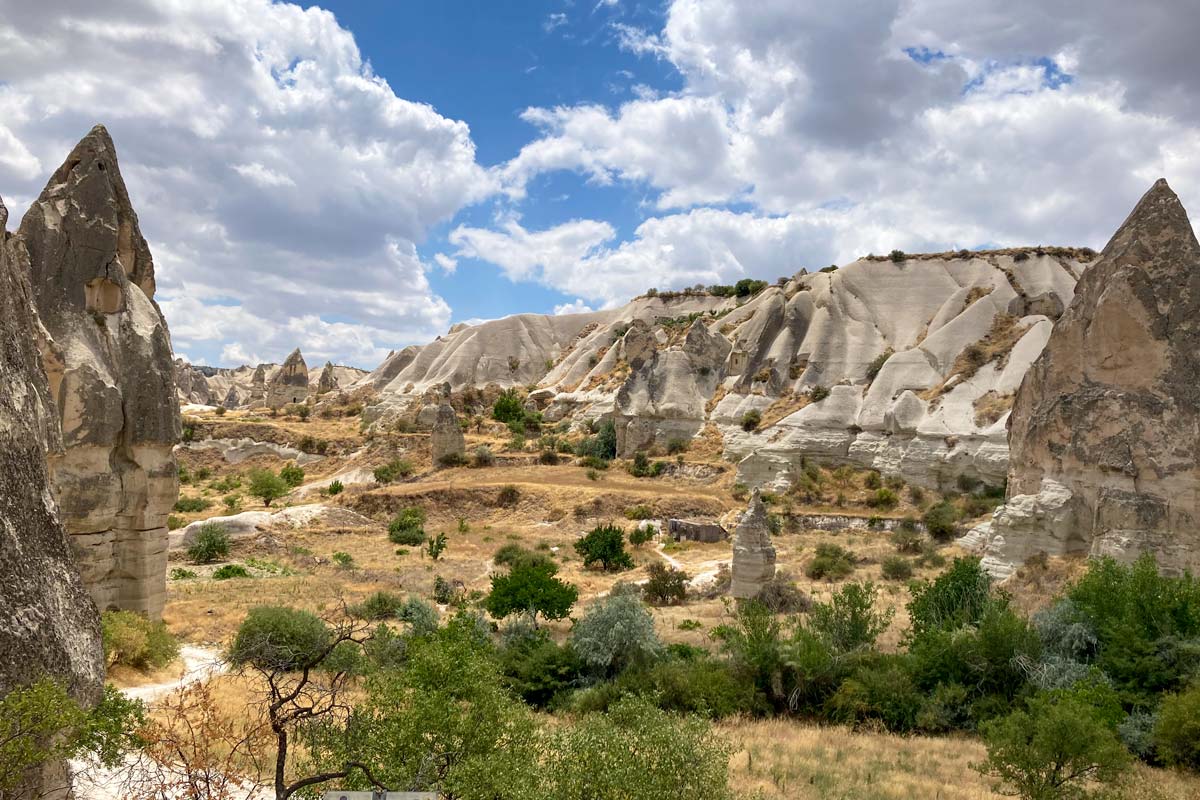 Distance: ~3 kilometers (1.86 mi)
Duration: 1 hour
Difficulty: Easy to Medium
If you are looking for an easy hike in Cappadocia, then check out Pigeon Valley. This valley connects Uchisar with Goreme, meaning that visitors don't need to drive to the trailhead if they are staying in either of those towns.
As the name suggests, Pigeon Valley is known for its Pigeon houses (dovecotes). Historically, pigeons were treasured in this region of Cappadocia because their droppings were used as fertilizer. That is why you will see many pigeon houses carved into the cliffs along this valley.
Pigeon Valley is a great option for those who are short on time or are not looking for a strenuous hike. It has beautiful views of the surrounding landscape and is relatively flat compared to some of the other hikes in Cappadocia!
4. Ihlara Valley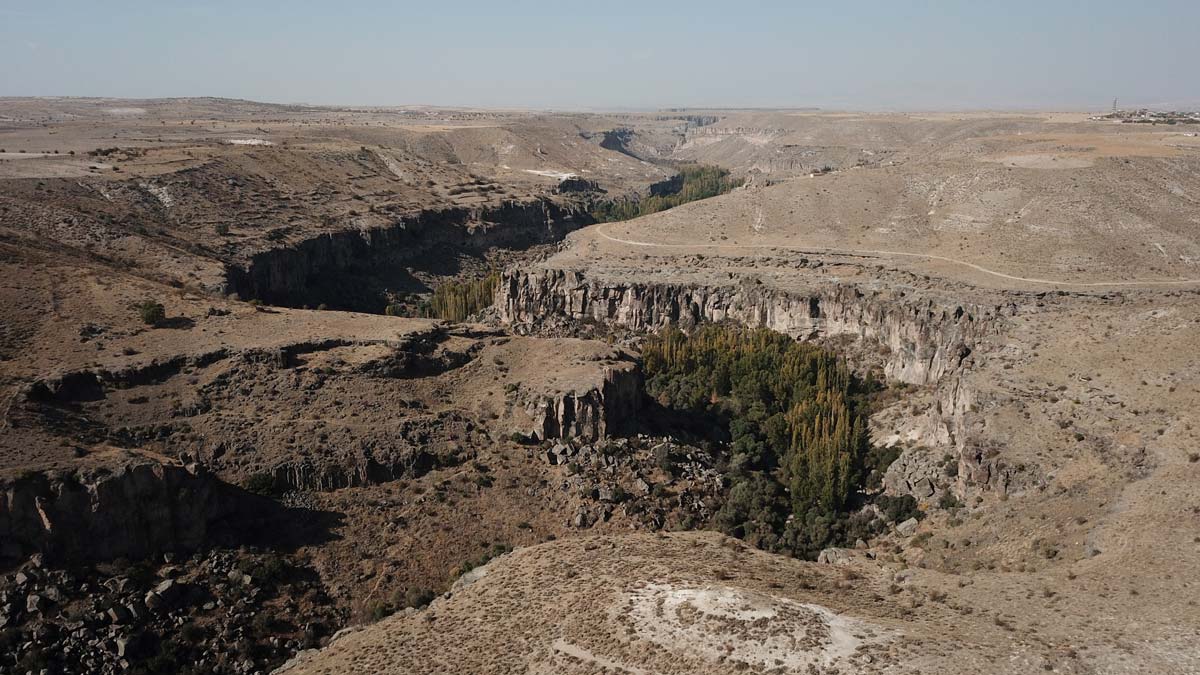 Distance: ~10.5 kilometers (6.52 mi), but can shorten or lengthen depending on your preference.
Duration: 3 to 4 hours of hiking
Difficulty: Medium to Difficult
If you want to do some proper hiking in Cappadocia, then Ihlara Valley might be the perfect place for you.
The Ihlara Valley hike takes you through a canyon with towering walls on either side. The trail follows along Melendiz River which flows through the valley. You will come across many Byzantine cave churches and dwellings along the way that was carved into the canyon walls.
This hike can be as long or short as you want it to be since many different trails branch off the main path. However, we recommend starting at Ihlara Village and finishing at Selime so you can see the Selime Monastery.
But if you don't want to hike for that long, you can start at Ihlara Village and finish at Belisirma Village, where you can have a meal at one of its iconic floating restaurants.
5. Love Valley And White Valley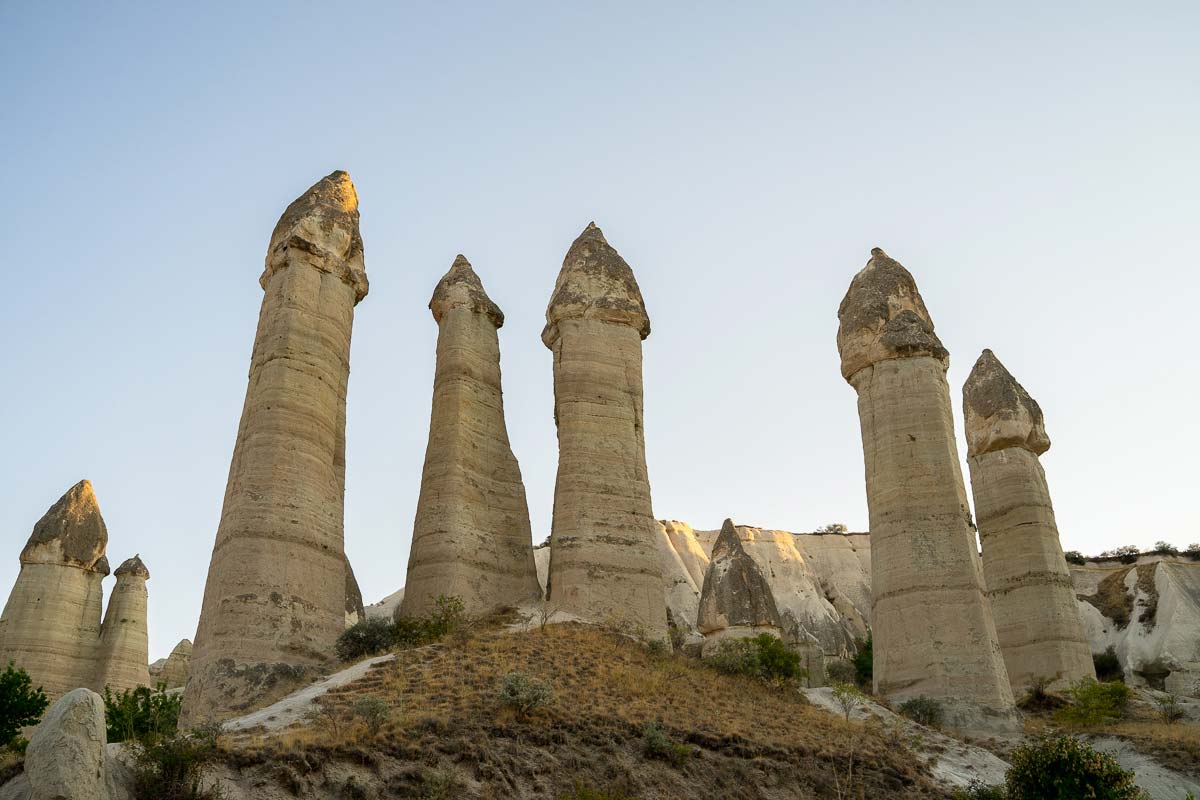 Distance: ~ 7.5 kilometers (4.66 mi)
Duration: 2 to 2.5 hours
Difficulty: Medium
Perhaps one of the most famous hiking trails in Cappadocia is the Love Valley and White Valley. Love Valley earned its name from the numerous phallic fairy chimneys that inhabit the valley. Though they might sound gimmicky, those fairy chimneys are some of the most prominent and impressive ones we've seen in Cappadocia.
Meanwhile, the White Valley gets its name from the type of rock that gives the valley a white hue. These two valleys are connected and a popular hike for hiking from Goreme to Uchisar or vice versa.
Along this hike, you are blessed with stunning landscapes and natural rock tunnels for exploring!
6. Zemi Valley Loop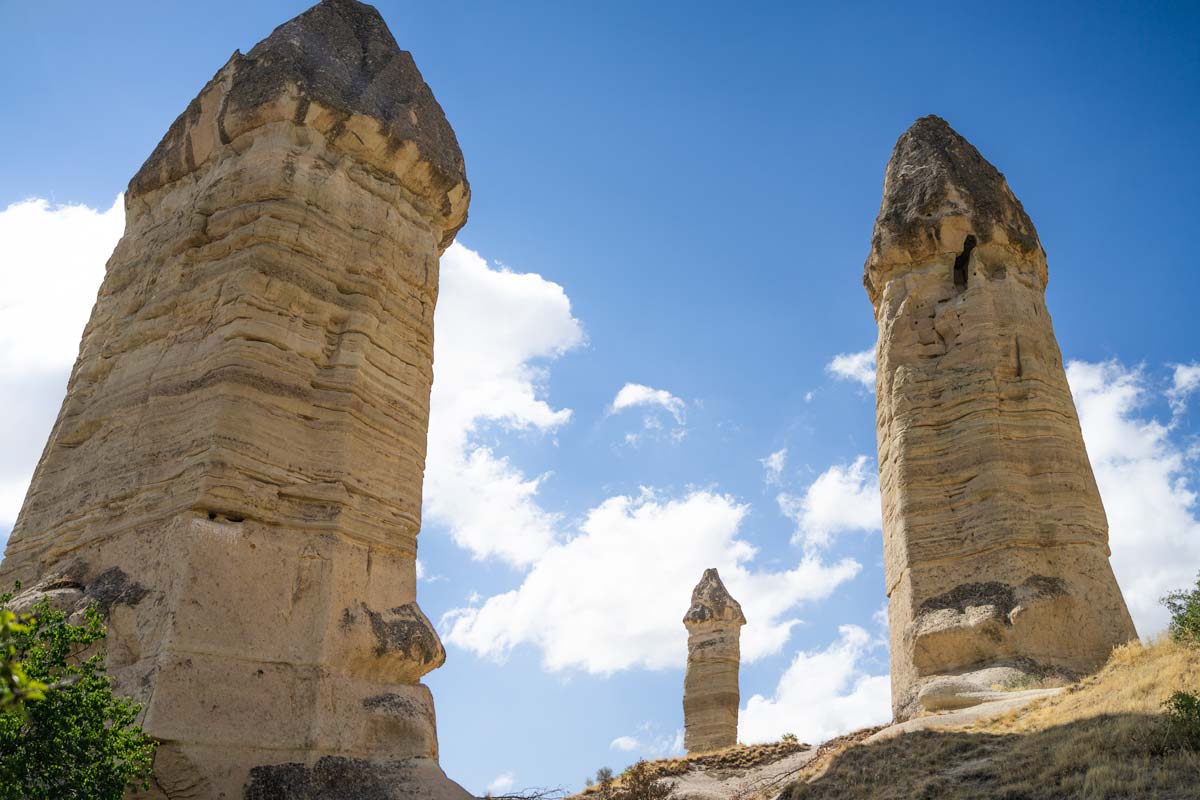 Distance: 3.2 km (2 mi)
Duration: 1 hour
Difficulty: Easy
If you are traveling in Cappadocia with kids or elders and want to explore some of the outdoors, consider the Zemi Valley Loop. This is one of the easiest hikes in Cappadocia and hikers are blessed with some really amazing fairy chimneys along the way.
Some refer to the Zemi Valley as a mini Love Valley, thanks to some of the phallic fairy chimneys in the Zemi Valley too. Unfortunately, visitors won't find any cave churches or pigeon homes, but the rock formations alone are enough to leave you amazed!
7. Hidden Church Hike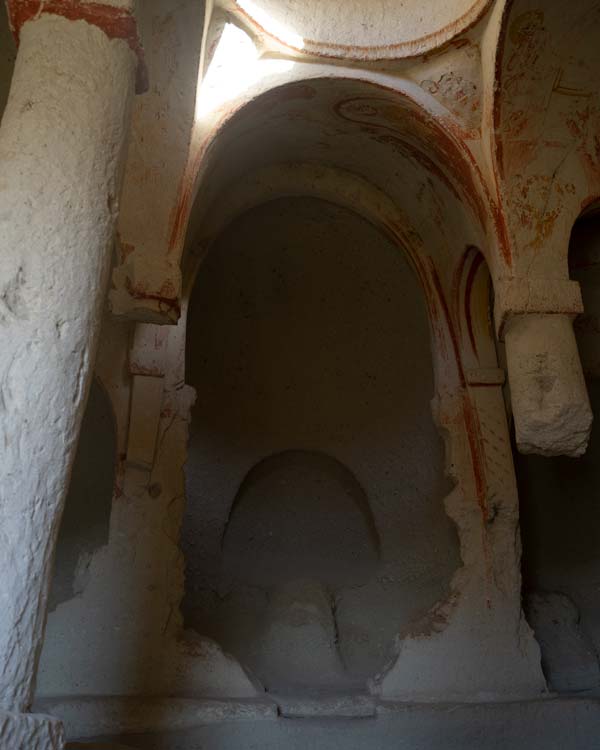 Distance: ~ 1.2 km (0.74 mi)
Duration: <30 minutes
Difficulty: Easy
There are many cave churches in the region of Cappadocia and unfortunately, not all of them are protected and well-preserved, such as the hidden church.
This is a cave church that you won't find in any guidebooks because it is so hidden. Thanks to some of the friendly locals we met, we were able to visit this beautiful hidden church in Cappadocia.
Because it is not preserved, you won't find any spectacular fresco or cool architecture. Matter of fact, many of the columns of the church have broken off, and that is exactly why we liked it so much. It showed what would happen if nature reclaimed what's hers.
It is a short hike and there are no signs on the trail, so if you want more information, shoot us a message!
---
Tours In Cappadocia
If you are not sure what to do in Cappadocia, there are plenty of tours that showcase some of the region's best sights without you having to do any planning. Though we aren't big fans of them because we like to travel slowly and explore some of the sites extensively, they are a good option for those with a short stay.
Here are the tours we recommend in Cappadocia.
1. Red Tour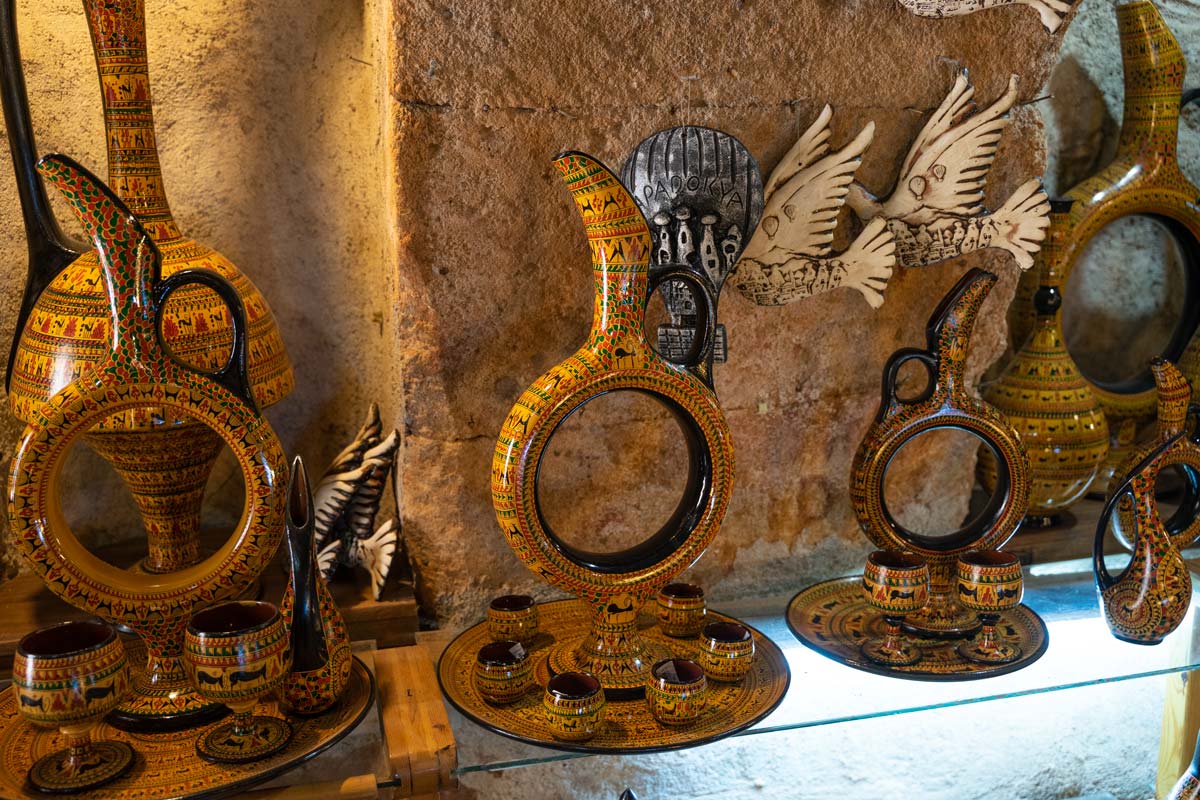 The red tour is one of the two most popular tours in Cappadocia, as it allows visitors to see plenty of the sights in the area in a shorter amount of time. Here are the stops on the Red Tour:
Uchisar Castle
Goreme Open Air Museum
Cavusin
Avanos Town (Pottery Workshops)
Pasabag Monks Valley
Devrent Imagination Valley
We love the red tour because it takes you to some of our favorite tourist attractions in Cappadocia such as the Goreme Open-Air Museum and Uchisar Castle. But it might not be the best in terms of value-for-money since many of these places are within a short walk from Goreme. Still, it's great if you only have 1 to 2 days in Cappadocia and don't want to do any planning.
2. Green Tour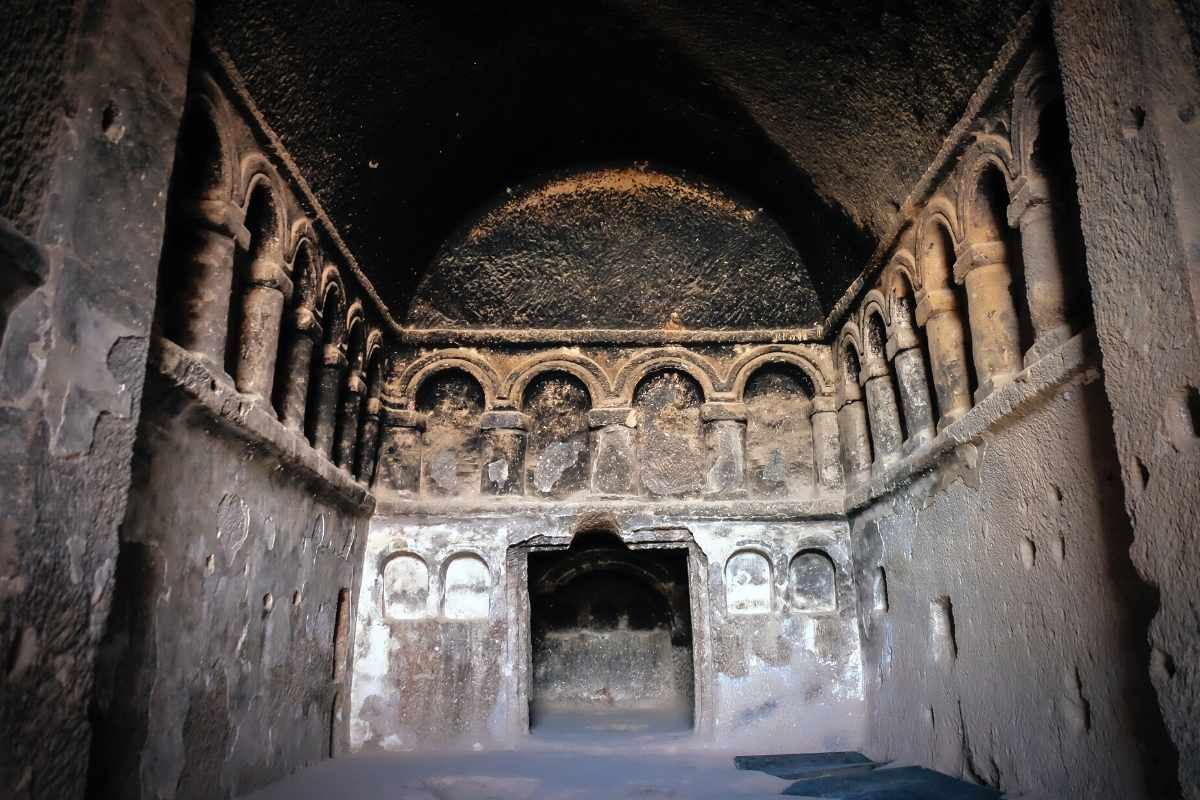 The green tour is another very popular tour in Cappadocia. Similar to the red tour, it showcases some of the region's best sights. Here are the stops on the Green Tour:
Esentepe Viewpoint
Derinkuyu Underground City
Ihlara Valley
Belisirma Village
Selime Monastery
Onyx Jewelry Factory
The green tour is known as the southern tour of Cappadocia since it focuses on attractions in the southern part of this region. The green tour is much better value-for-money than the red tour since a lot of the attractions are situated further from town, and visitors could spend ages or lots of money trying to get to them by themselves.
Some of the most notable attractions on the green tour are the Ihlara Valley and Derinkuyu Underground City.
Read More: Which Is Better? Red Tour or Green Tour In Cappadocia
3. Blue Tour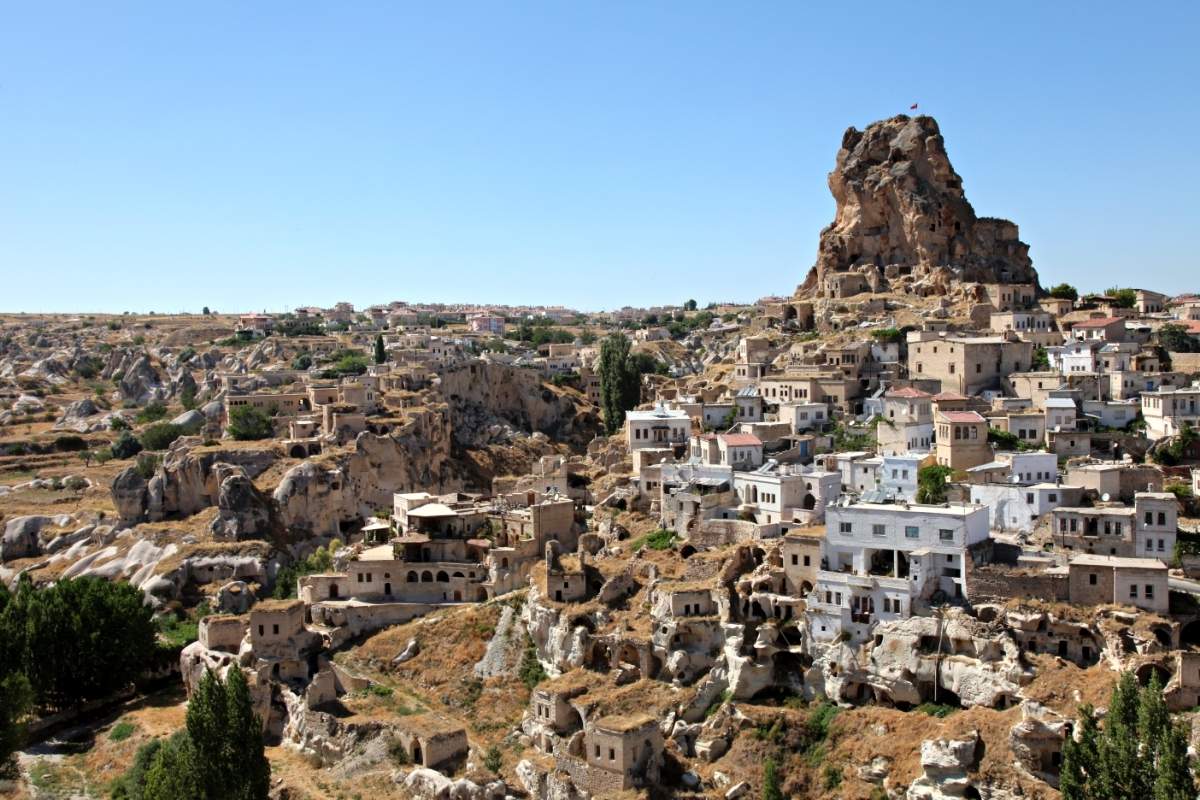 If you are looking to visit more of the less popular attractions in Cappadocia, then the Blue Tour might be the one for you. Here are the stops on the Blue Tour:
Red And Rose Valley Viewpoint
Cavusin
Ozkonak Underground City
Pigeon Valley
Ortahisar
Note that different tour companies might offer a different itinerary for the blue tour. The one listed above is the most common. Seeing some of the hidden gems in the region is cool, but we don't recommend this tour unless you are staying a long time in Cappadocia and running out of things to do.
Make sure you check out our complete review of the Blue Tour before going!
4. ATV Tour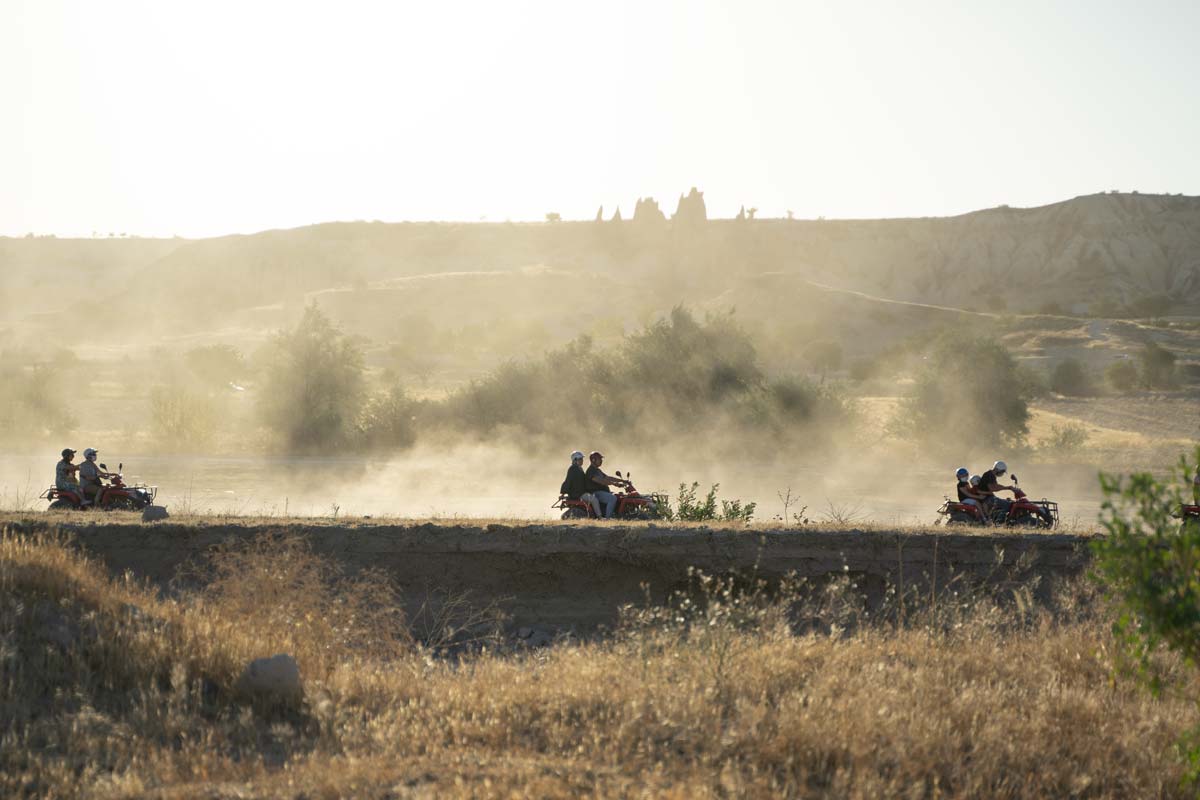 If you are looking for adventurous things to do in Cappadocia, then you must try the ATV tour. Zip through the valleys at high speed on an all-terrain vehicle, and explore Cappadocia in a way that few have experienced it.
The ATV tour is one of the most popular activities in Cappadocia, and for good reason. It is an adrenaline-pumping experience that is perfect for those looking for a little thrill. Just be sure to wear closed-toe shoes and long pants to avoid getting scraped up.
5. Horseback Riding Tours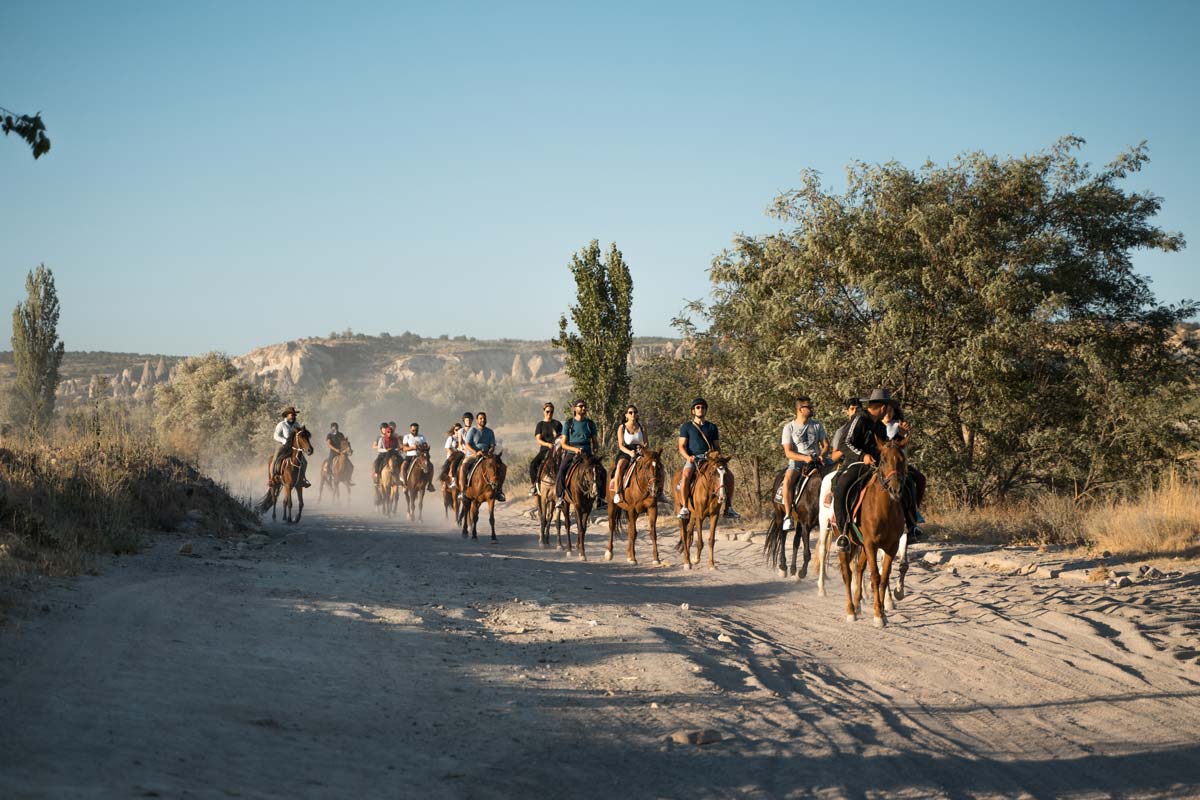 If hiking the valleys in Cappadocia is too demanding, then consider exploring them on horseback. Cappadocia is believed to be called "land of beautiful horses" and throughout the region, you'll find plenty of stables and horse farms that offer an enjoyable ride.
The tours are led by what people call "Turkish cowboys" and most of them are locals that have grown up in Cappadocia. Not only do you get to explore the beautiful valleys, but you'll learn a lot from your Turkish cowboy!
6. Winery Tours
As if there aren't enough reasons to visit Cappadocia! The region is also home to some of Turkey's best wineries. Matter of fact, the practice of wine-making has been taking place here for a long time. Thanks to the excellent grapes and fertile soil (thanks to the pigeon droppings), the wine in Cappadocia is some of the best in Turkey.
And visitors can experience a part of that tradition through one of the many wineries tours in Cappadocia. These tours will take you through the vineyards where you learn about the wine-making process. And of course, you get to sample tons of different types of wine in the process!
---
Map Of The Best Attractions In Cappadocia?
Above is an interactive map filled with all of the best things to do in Cappadocia we mentioned. This map does not include all the tours because there are plenty of tour agencies in town that can assist you with that.
This map is great when planning your day-to-day activities in Cappadocia. Knowing how far the attractions are from one another is going to help you plan the perfect itinerary.
Next to the name of the map, you'll find a small star where you can click and save this map to your personal Google Maps. This way, you can use it when you are in Cappadocia to get to places you would like to go.
---
Where To Stay In Cappadocia Turkey
Cappadocia spans around 5,000 square kilometers and there are numerous towns where visitors can stay. It is important that you pick a good place to stay otherwise all the tourist attractions might be situated very far away.
The best town to stay in Cappadocia is no doubt Goreme – the historic center of the Goreme National Park. In Goreme, you'll find tons of tourist-friendly amenities, such as tour companies, restaurants, hotels, and more!
Here are some of the accommodations in Goreme we recommend!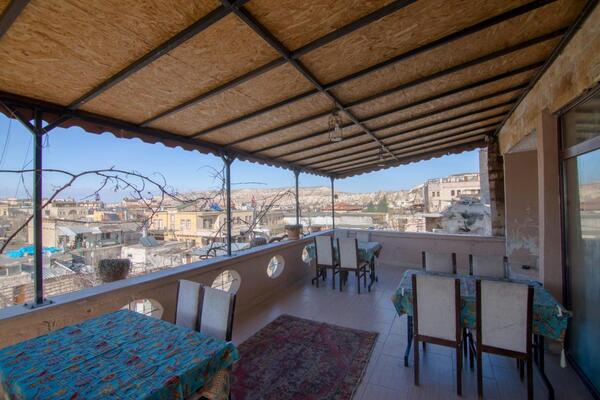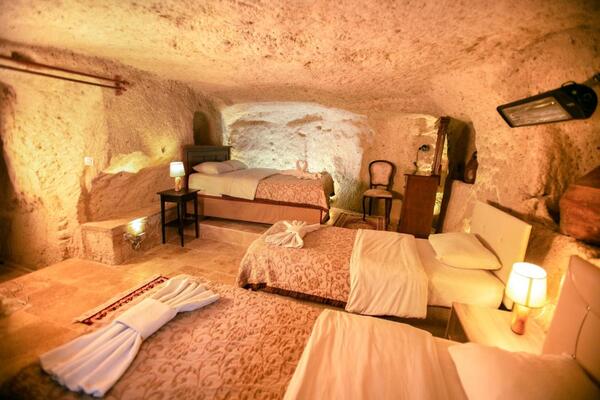 For budget travelers and backpackers, there is no better hostel to stay in Cappadocia than Kamelya Cave Hostel. They offer dormitory-style cave rooms so even people without a high budget can experience what it's like sleeping in a traditional cave room.
The hostel also offers free breakfast every morning on their balcony, where guests can drink a nice Turkish Tea (cay) as they admire the landscape. The hostel also has its own roof terrace, perfect for relaxing after a long day or watching the hot air balloons at sunrise!
Best Hotel In Goreme –

Henna Hotel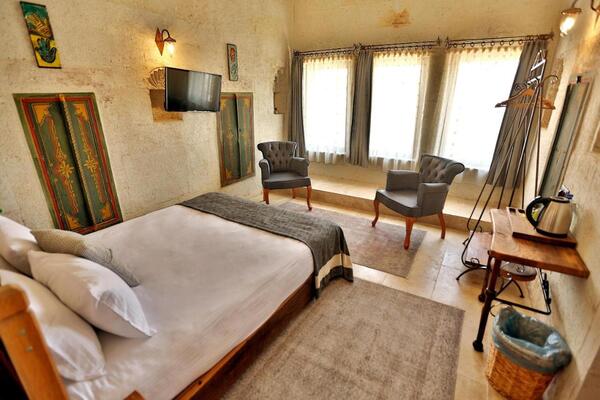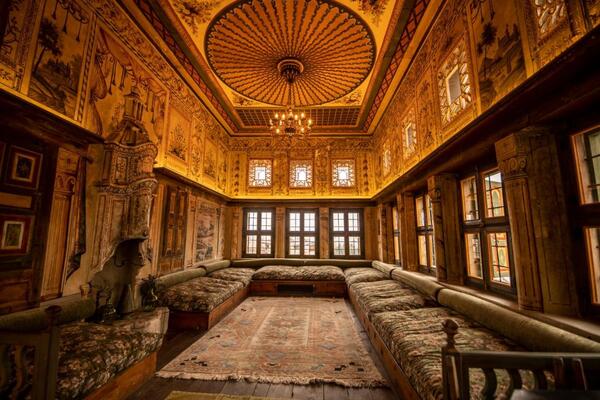 If you are looking for a hotel that just oozes Central Anatolian charm, then Henna Hotel is perfect for you. The common areas and rooms of this cave hotel in Goreme are decorated with traditional Turkish elements. You'll find nice Turkish rugs and common Anatolian symbols all across the accommodation.
But perhaps the most outstanding amenity of this hotel is the terrace. Not only does it offer sweeping views of Cappadocia, but it is tastefully decorated for the perfect photo-taking opportunity. If you want to get a nice photo for Instagram or just your social media, Henna Hotel is where you need to stay!
---
How To Get To Cappadocia
Getting to Cappadocia is quite easy, as there are tons of long-distance buses in Turkey and there are two airports in Cappadocia – Nevsehir Kapadokya Airport (NAV) and Kayseri Erkilet Airport (ASR).
Flights to Cappadocia
Nevsehir Kapadokya Airport (NAV) is the closer of the two airports to Goreme, the historic center of the region. However, flights are usually more expensive and come only from Istanbul. That means even if you are coming from Antalya, you'll have to do a layover in Istanbul.
Kayseri Erkilet Airport (ASR) is an international airport that serves many destinations in Turkey as well as several European cities. The airport is situated outside of the Goreme National Park, and it takes about 1-hour to get to Goreme.
However, the prices of the flights to Kayseri Airport are usually cheaper and there are more availabilities. Plus, if you get a pre-arranged transfer ahead of time, you don't have to deal with the taxi drivers that are going to scam you.
Buses to Cappadocia
For budget travelers, one of the long-distance buses to Cappadocia is perfect. There are many tour companies to choose from, such as Metro, KamilKoc, and more. From our experience, all the long-distance buses offer similar quality and comfort.
But you must decide whether you want to take a night bus or a night bus. Most of the popular destinations in Turkey are over an 8-hour drive from Cappadocia. Istanbul is over a 10-hour bus journey from Cappadocia, Antalya is over 9 hours away by bus, and going from Pamukkale to Cappadocia can take over 11 hours.
Try not to take a bus that arrives in the middle of the night because you might not be able to get to your accommodation until early morning.
We recommend checking out the bus schedule here before deciding on which bus to get!
---
How To Get Around Cappadocia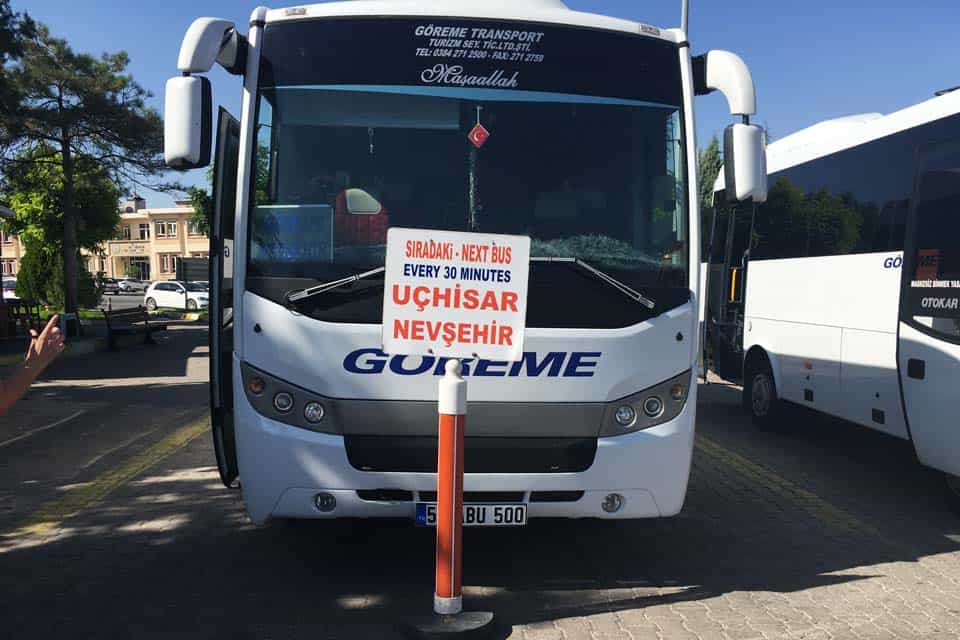 One of the most frequent questions we get asked is "How do you get around Cappadocia?" Is there public transportation or do you have to rely on taxis and private transport?
Luckily, there is public transport in Cappadocia, but it certainly isn't the best. Visitors can go from Goreme to Nevsehir and Avanos pretty easily, but to get to places that are a little far out of town (like Ihlara Valley), public transportation simply won't get you there.
To put it in perspective, we visited Derinkuyu Underground City using public transportation, and it took us 2 hours of commuting, 2 buses, and a whole lot of Google Translate with locals. With a taxi, it would've taken 35 minutes! It took 4 times as much time to use public transportation than a taxi.
For that reason, if you are not traveling on a budget in Cappadocia, it might be better to arrange a deal with a driver to take you to some of the places to visit in Cappadocia.
---
Best Time to Visit Cappadocia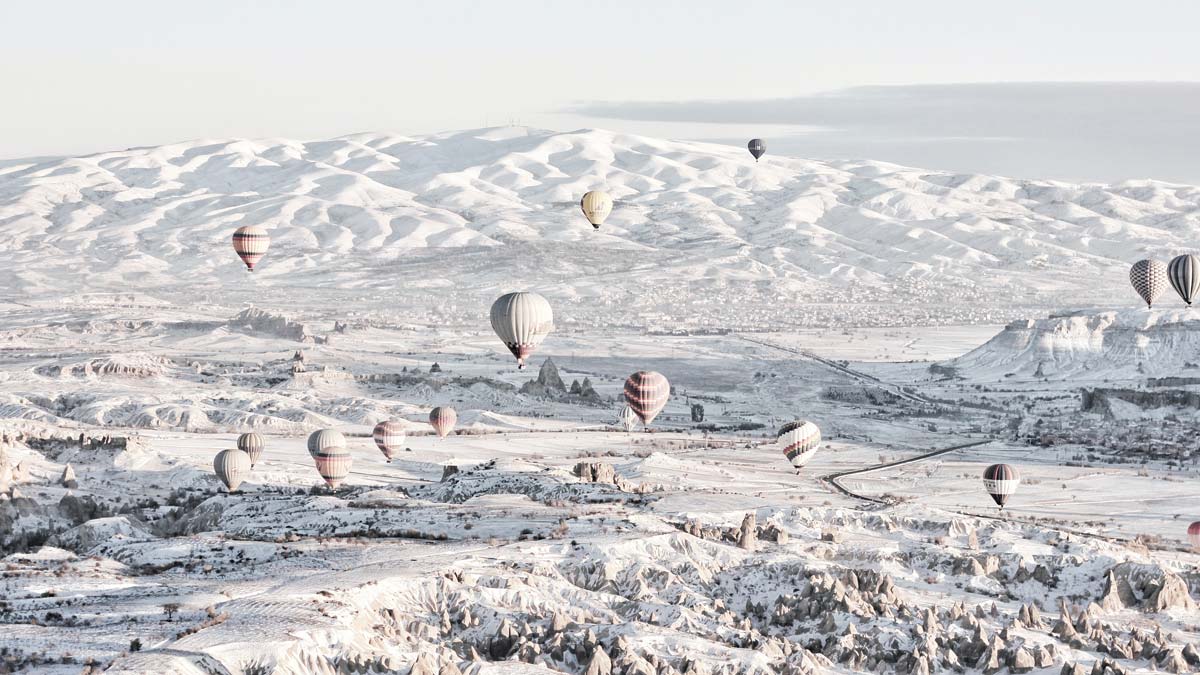 The best time to visit Cappadocia is generally the fall, or the months of September or October. Not only is the crowd slightly smaller than the crowd in the summer months, but the weather is more tolerable.
Because Cappadocia is a desert, the temperatures become excruciatingly hot in the middle of the day, limiting what tourists can see and do. The heat and strong sun during the summer are some of the biggest dangers in Cappadocia, so tourists must be aware.
But in September and October, the mid-day temperature isn't as hot, so you can go hiking, explore the open-air museums, or just go strolling around town.
The precipitation is also fairly low in the fall season, which means the hot air balloon tours won't get interrupted frequently.
For hot air balloons, the best time to visit Cappadocia is in the summer. This is when the mornings are the warmest and the hot air balloons are least likely going to get canceled.
---
Visiting Cappadocia FAQs
How Many Days To Spend In Cappadocia?
It is recommended that you spend at least 3 full days in Cappadocia. This way you have enough time to visit some of the best tourist attractions, go on a hot air balloon, and do a hike. Four days is also not a bad duration to stay in Cappadocia, especially if you want a higher chance of getting on a hot air balloon as they might not operate every day.
Is the Cappadocia Museum Pass Worth Getting?
Cappadocia Museum Pass is a 3-day pass that offers free access to 8 museums in Cappadocia. At the moment, it sells for 400 TL. It is worth buying if you intend on going to the majority of the attractions. Even if you don't go to all three underground cities (who would?), you can still get a good deal with the Cappadocia Museum Pass. Find out more about it here.
Is Cappadocia Expensive?
As the value of the Turkish Lira continues to decrease, Cappadocia is becoming more and more affordable. Budget travelers can get by with a daily budget of about 35 to 40 USD.
But if you want to splurge and live luxuriously in Cappadocia, there are plenty of options to do so. The sky is the limit when it comes to how much you want to spend in Cappadocia, but you can also have a cheap visit if you wish.
---
Before You Go
This concludes our guide. on the best things to do in Cappadocia. Hopefully, not only have we helped you discover some of the best Cappadocia attractions, but you have learned a whole lot about planning your Turkey itinerary!
Disclaimer: Some of the links above are affiliate links. That means if you book or make a purchase through the links, we will earn a small commission at no extra cost to you! The money will help run this site! Thank you!