Wondering if you should visit Pasabag Valley in Cappadocia? Worry not.
Though not as popular as some of the other valleys in Cappadocia, Pasabag Valley, also known as Monk Valley, is one of the most unique ones. While Cappadocia is no stranger to exotic fairy chimneys, the mushroom-shaped ones in Pasabag Valleys sometimes have double or even trip caps.
This is one of the few places in Cappadocia where visitors can observe this phenomenon, so it is definitely worth a visit! Without further ado, let's jump into our complete guide on Pasabag Monks Valley!
---
Pasabag Valley History
The region of Cappadocia is filled with epic history – from the Underground Cities to the historic cut-rock churches in Goreme Open-Air Museum. Pasabag Valley is no exception.
Matter of fact, Pasabag Valley's nickname, the Monks Valley, is a name given by the westerns, thanks to the hermitage of Simeon monks that used to inhabit the area.
St. Simeon was a monk that lived in solitude in Aleppo, Syria, in the 5th century. Rumors were going around saying that he had magical healing powers to perform miracles, and that naturally garnered him a lot of unwanted visitors.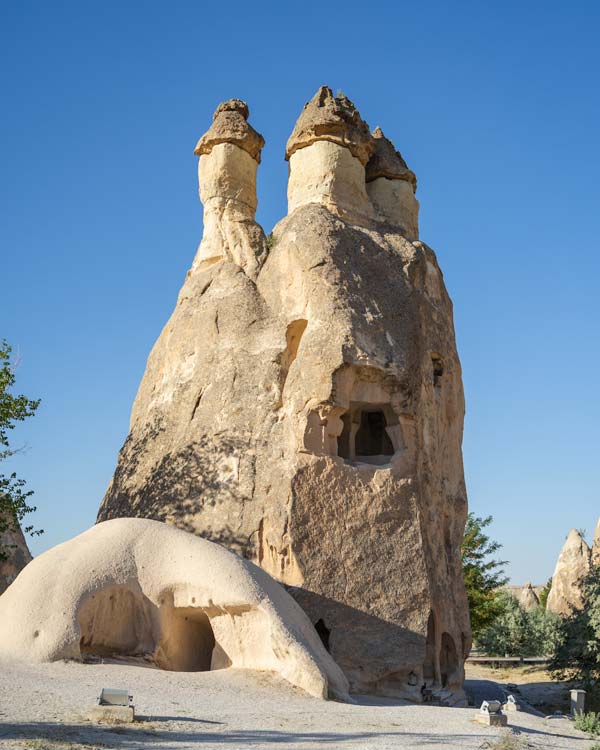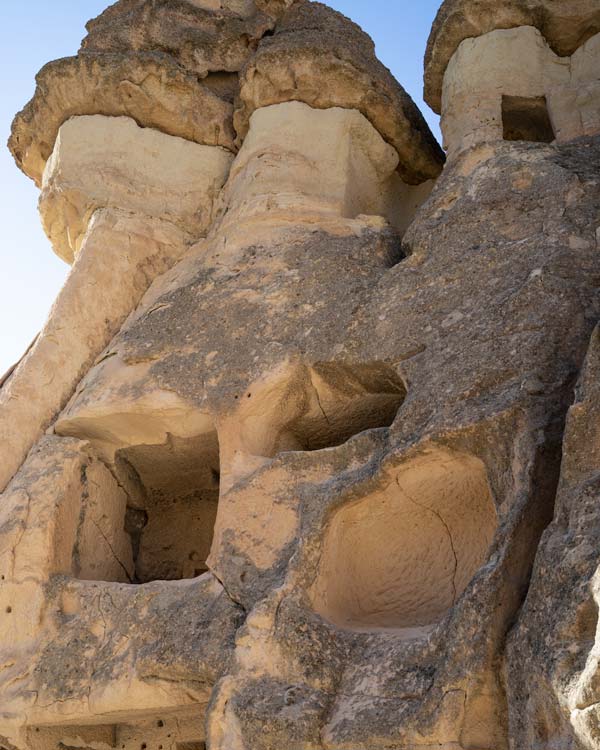 He decided that in order to continue his hermit lifestyle, he had to move. Out of the places, he decided to live at the top a 2-meter high fairy chimney in Pasabag Valley, before eventually moving to one that is 15 meters tall. St. Simeon would only come down the necessities such as food and water.
Many hermits from Cappadocia decided to follow St. Simeon's footsteps, carving out fairy chimneys into rooms where they could live in isolation. St. Simeon's lifestyle also inspired lots of Christian monks to do exactly the same. Those monks are how the name Monks Valley came about.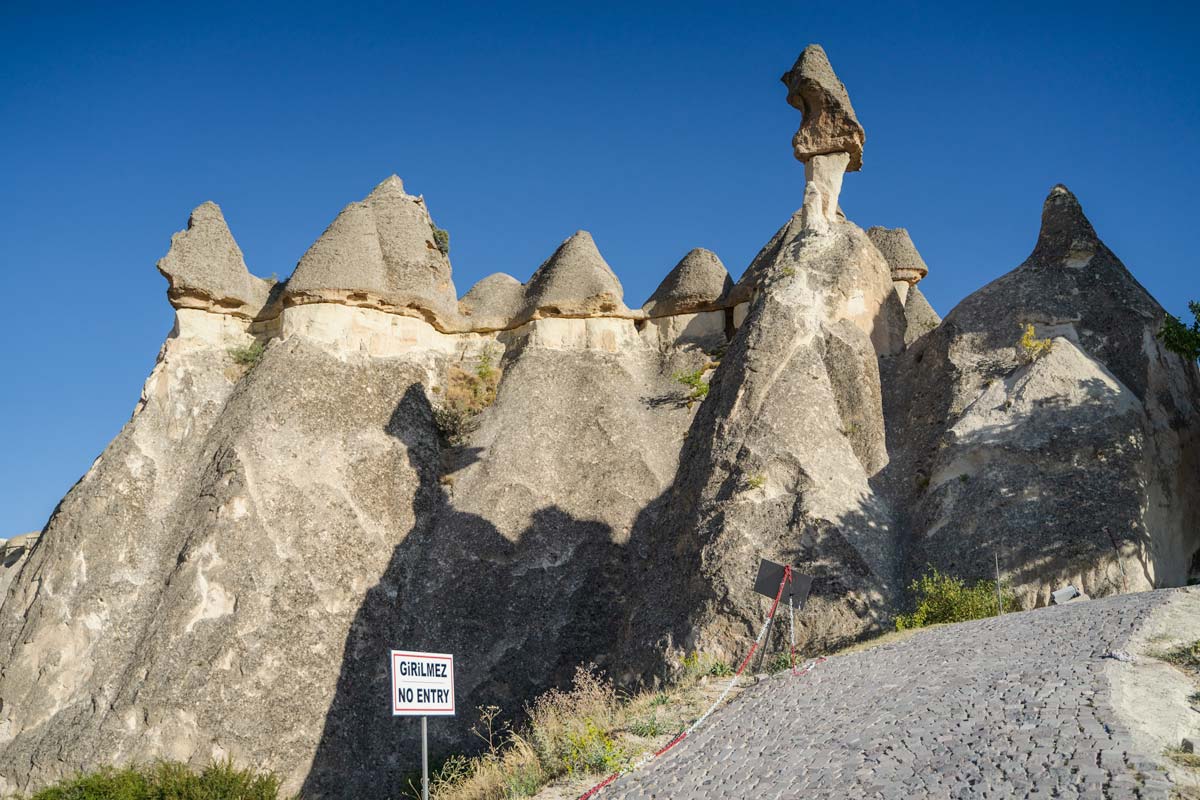 But its Turkish name, Pasagbag Valley, actually translates to "Pasha's vineyard". Pasha is the highest title of honor you can have in the Ottoman Empire (after sultan of course). And vineyard came from the fact that the valley is situated in the middle of a vineyard!
In Monks Valley, you can find a chapel dedicated to St. Simeon with antithetical crosses at the entrance.
---
How To Get To Pasabag Monks Valley
Pasabag Monks Valley is situated 6 km (3.7 mi) away from Goreme and 4.5 km (2.8 mi) from Avanos by car. Visitors have three options to get there:
Public transportation
Taxi or Rental Car
Red Tour
Public Transportation
Though it is possible to get to Pasabag Valley by public transportation, we wouldn't recommend it.
If you don't mind a little bit of waiting around and lots of walking, there are buses that run from Avanos to Zelve Open-Air Museum, which is a 1.8-km (1.1-mi) walk from Pasabag Valley. The buses run irregularly (sometimes more than an hour apart), making getting there difficult and returning home even more challenging.
Taxi or Rental Car
Perhaps the easiest way is to get a taxi or rent a car from town. There is a parking lot at Pasabag Valley, which means you can park your car there for free. Taxis also wait there to pick up passengers that want to return home.
Red Tour
The Pasabag Valley is one of the attractions visited on the Red Tour. The tour also includes a visit to Goreme Open-Air Museum, Devrent Valley, Avanos, Goreme Ensentepe, which is great for travelers short on time.
---
Opening Hours and Entrance Fee
The opening hours for Pasabag Monks Valley are 8 AM to 7 PM from April and October(Cappadocia's high season) and 8 AM to 5 PM during the winter (November to March)
The entrance fee to the Pasabag Monks Valley is 25 TL and includes entrance to the nearby Zelve Open-Air Museum, which is totally a steal!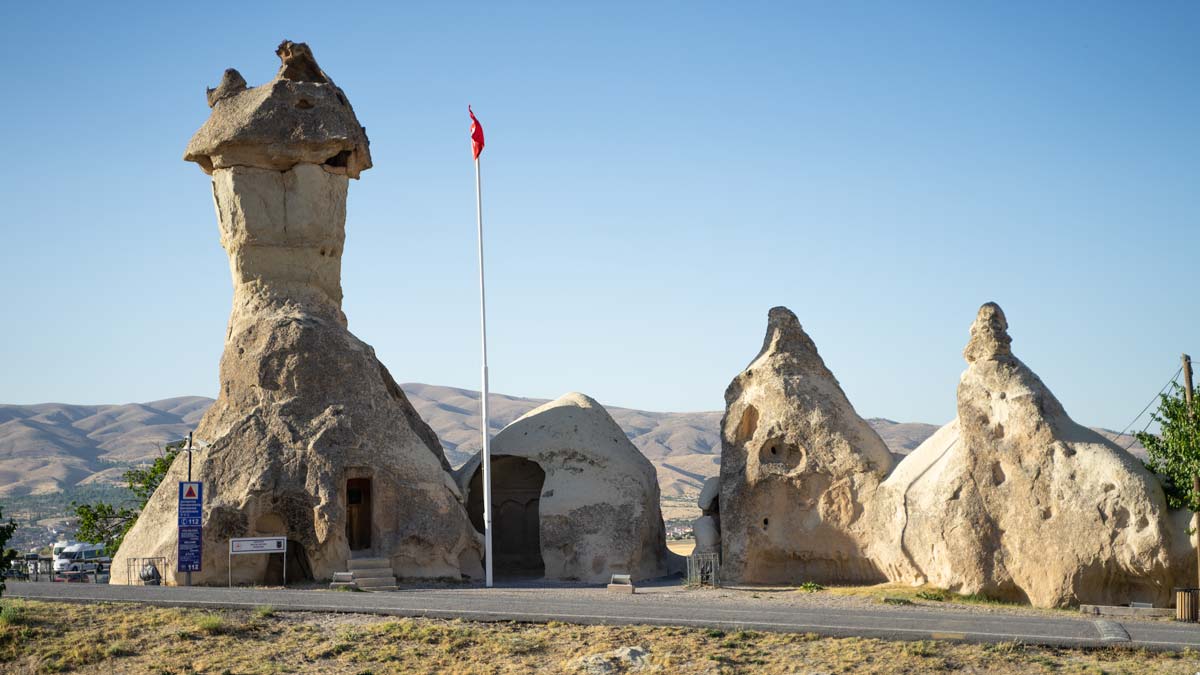 ---
Fairy Chimneys In Pasabag Valley
Perhaps the biggest reason to visit Pasabag is for its unique fairy chimneys. As we have mentioned, the fairy chimneys in Pasabag Monks Valley are mushroom-shaped and often with two or three caps.
But it isn't just the exterior of the fairy chimneys that are astonishing, the interior is equally unique. Since a lot of fairy chimneys have been lived in, visitors can admire how the hermits and monks carved out the soft volcanic rock to create their own space. It is almost like you are going apartment viewing, but in a historic place in Cappadocia.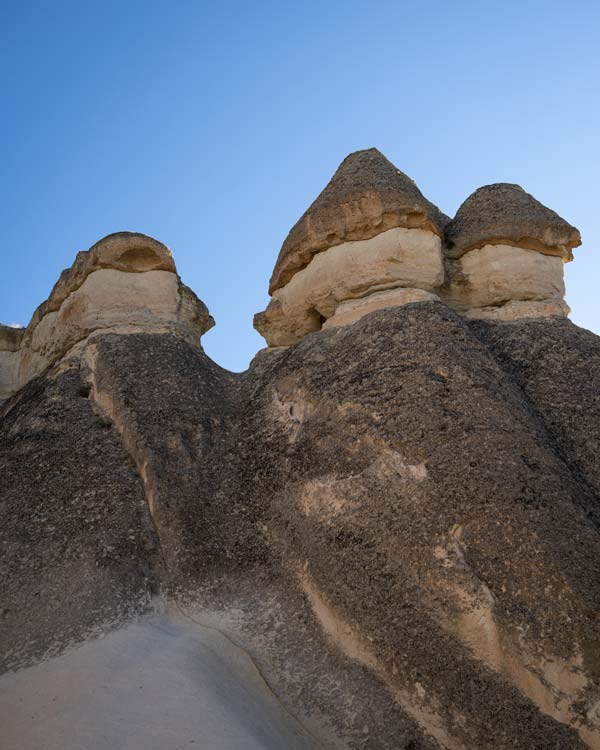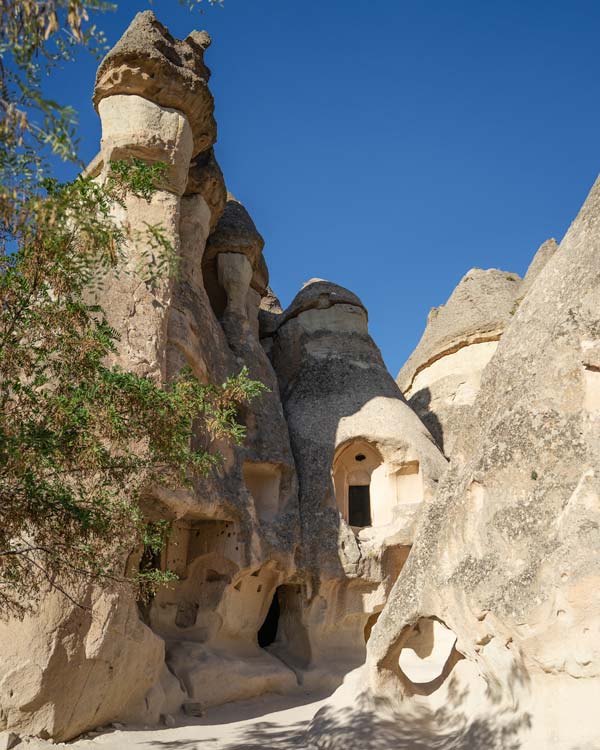 Some of these cave dwellings have a carved-in staircase that leads into them. Once inside, most of them have a small window where you can admire the epic landscape of Cappadocia and understand why it is a UNESCO World Heritage Site.
The most iconic rock formation there has to be the rock-cut chapel dedicated to St. Simeon with its three levels and three caps.
Note that a lot of the caves have been fenced off due to erosion of the structure and the loss of its structural stability. Keep that in mind when exploring.
---
Our Experience At The Pasabag Valley In Cappadocia
Our visit to the Pasabag Valley in Cappadocia was incredible. We didn't plan on going to the Monks Valley at first, but when we visited the Zelve Open-Air Museum, we saw that our entry ticket included a visit to the nearby Monks Valley. So we thought, why the hell not? It turned out to be one of our favorite places in Cappadocia.
We walked from Zelve to Monks Valley. At the entrance, we saw a few restaurants where you could have a proper meal, and a small bazaar where vendors were selling typical Turkish souvenirs. We didn't stop to browse and went straight through the turnstile.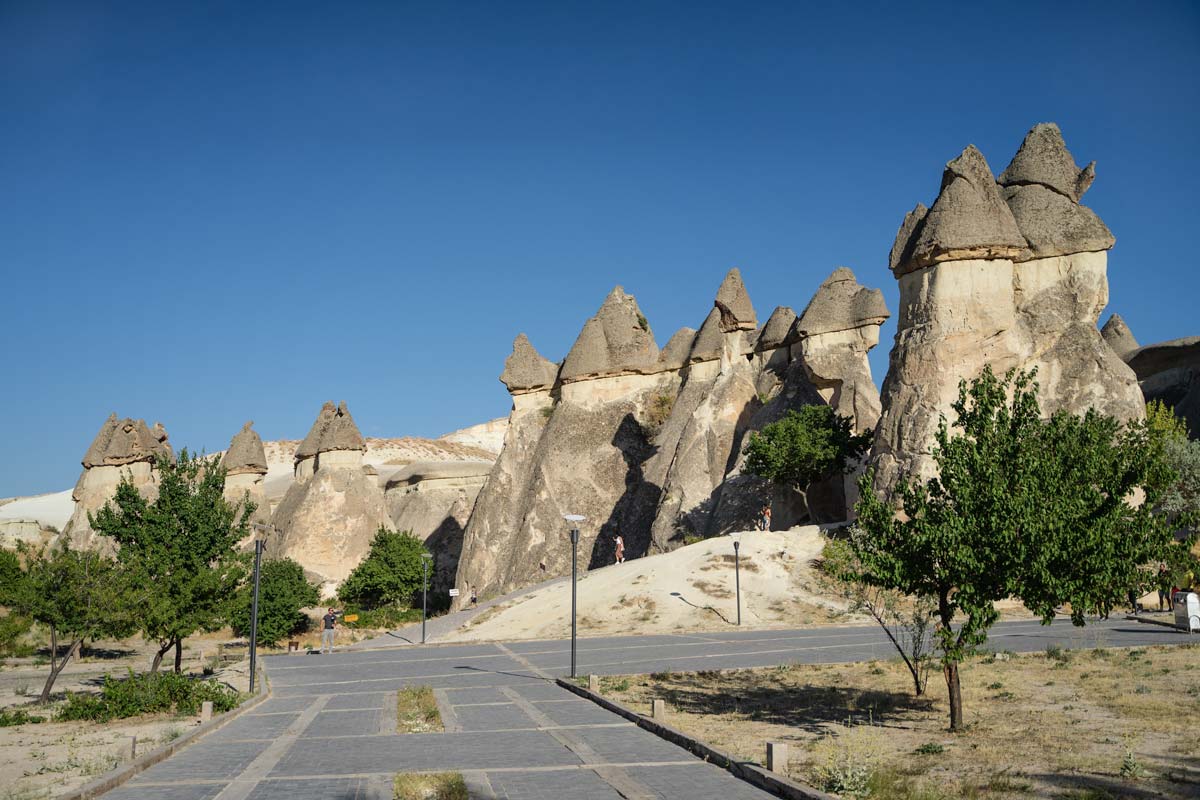 Once we were inside, we found it quite surprising that the path to the fairy chimneys was paved. However, once you get off the paved bit, the path was quite steep and slippery at many spots. We saw a few people slip and fall as they were climbing up to the fairy chimneys.
The best way, and probably the only way, to explore the Pasabag Valley is to just walk around and enter as many of the cave houses as possible, and that is exactly what we did.
It took us about 30 to 45 minutes to explore the entire valley and went home. Afterward, we found out that we missed one of the viewpoints on the upper level where you can get to on the side. Don't be like us, don't miss that viewpoint!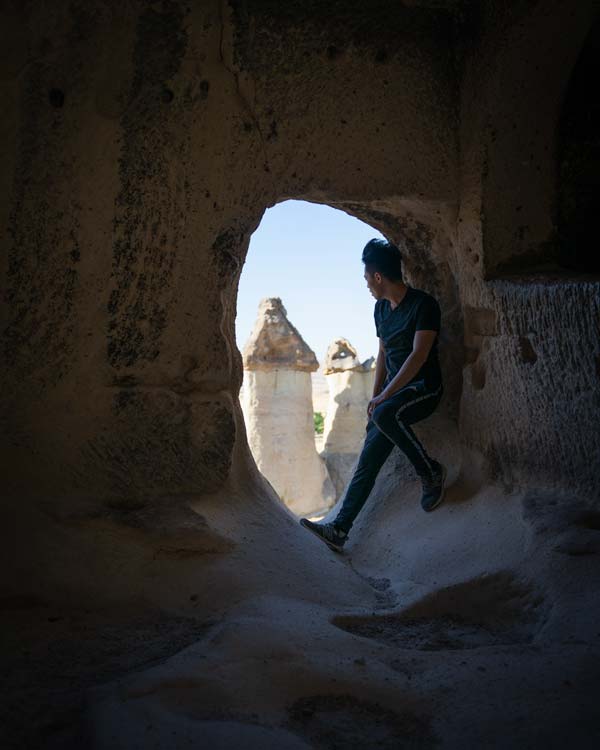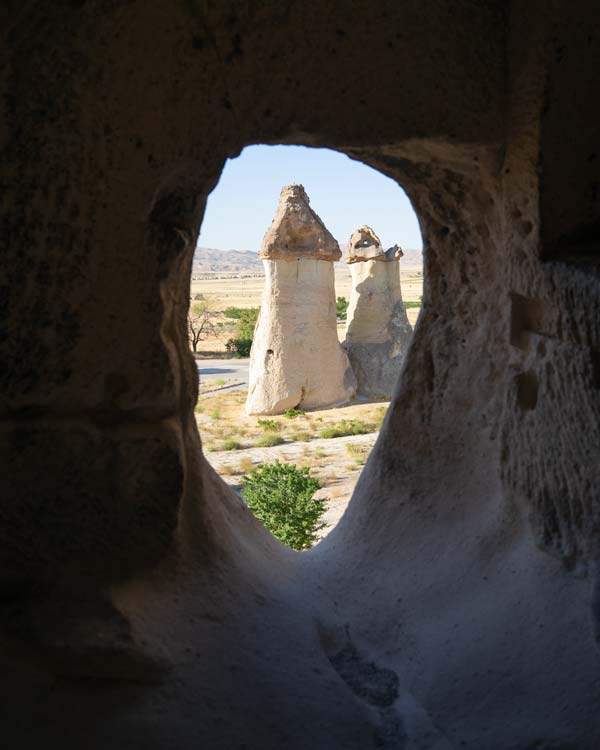 ---
Before You Go
The unique fairy chimneys at Monks Valley make it one of the places you must include in your Cappadocia itinerary. It not only showcases some unique geological formations, but also the history that makes this region so unique. We hope our guide has offered you all the information you need to make your visit as perfect as possible!
Disclaimer: Some of the links above are affiliate links. That means if you book or make a purchase through the links, we will earn a small commission at no extra cost to you! The money will help run this site! Thank you!