The desert landscape of the Cappadocian Valley is home to many unique fairy chimneys, but none are quite as unique as the ones in Devrent Valley.
Sometimes called the Devrent Imagination Valley or the Devrent Magic Valley, this valley in Cappadocia earned its name from the fairy chimneys that let your imagination run wild, with strange rock formations that resemble things such as a camel, dolphin, snail, seal, snakes, dragon, and more.
No trip to Cappadocia is complete without visiting the Devrent Valley and seeing the its quirky formations.
In our guide, you'll find out how to get there, what to expect, and tips for visiting the Devrent Valley.
---
Devrent Valley Quick Facts
If you are in a hurry and need some quick information about Devrent Valley, here are some quick facts to get you started:
Entrance Fee: Free
Opening Hours: 24/7
Best Way to Get There: Tour or rent a car
Average Time of Visit: 15 to 30 minutes
---
How to Get to Devrent Valley
Situated 11.8 kilometers (7.3 miles) from Goreme, the heart of Cappadocia, getting to Devrent Valley is difficult, especially with Cappadocia's horrible public transportation system.
So the best option to get there is by renting a car in Cappadocia, ATV/Quad tours, horse safari, or scooter and driving there.
If you plan on visiting Zelve Open Air Museum (which you totally should), or the Pasabag Valley (Monks Valley), then consider adding Devrent Valley to your itinerary.
From the Zelve Museum, it is only 4.7 kilometers (2.9 miles) to the Devrent Valley. And from the Pasabag Valley, it is 5.2 kilometers (3.2 miles) away.
It is possible to walk from those two places to Devrent Valley, if you don't mind walking in the middle of a desert. Just keep in mind that getting back from Devrent Valley is likely going to be a pain in your butt because there is no public transportation passing by.
That is why it is recommended to visit Devrent Valley from Goreme with a vehicle. From Goreme, it is a 15 to 20-minute drive to get to Devrent Valley.
The above map shows you the route to get to Devrent Valley from Avanos, the biggest town in Cappadocia. The valley sits roughly halfway between Avanos and Urgup. The closest village is Aktepe, which is just 2km from Devrent Valley. From here, you will want to drive along Ürgüp road.
Alternatively, if you really don't want to drive in Cappadocia (or can't drive), then the classic Red Tour in Cappadocia will include a visit.
Here is the distance from notable towns in Cappadocia to Devrent Valley:
Avanos – 6.1 km, 3.8 mi
Urgup – 5.7 km, 3.5 mi
Uchisar – 16.4 km, 10.2 mi
Nevsehir – 21.9 km, 13.6 mi
Ortahisar – 11.2 km, 7 mi
📚Read More: Red Tour vs Green Tour in Cappadocia: Which is Better?
---
What To Do At Devrent Valley
Take Your Imagination to the Next Level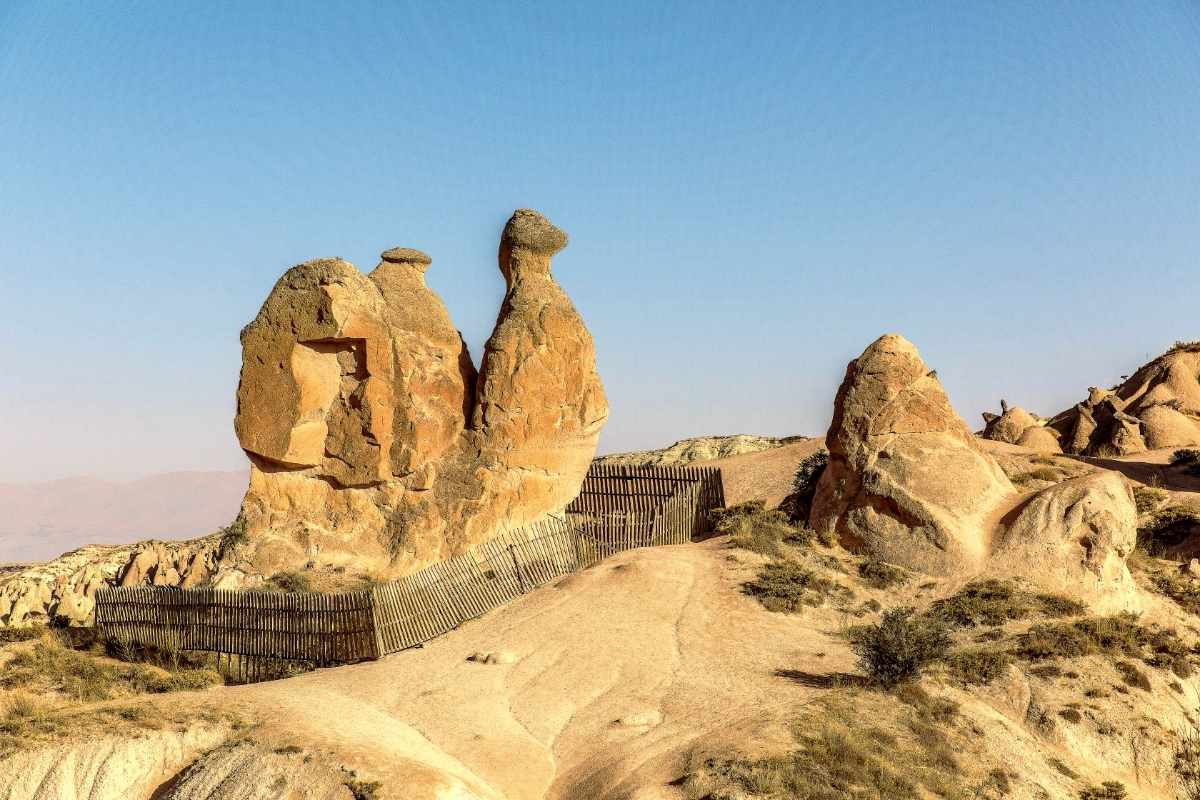 There is a reason why the Devrent Valley is also called the Imaginary Valley. The fairy chimneys at Devrent Valley are quite unique in the sense that their structure is very unusual.
According to geologists, they were formed after many years of natural differential erosion on the soft volcanic tuff rock, which created strange looking pillar-like shapes.
Some of these rosy rock cones have created some bizarre rock formations of various shapes and sizes.
If you use your imagination, you can see many different shapes and figures in the fairy chimneys.
The most obvious is the one that looks like a camel. It is situated at the entrance of the valley and is simply unmissable.
But if you look deeper and explore this Cappadocia valley, you will find rocks that resemble a dolphin, snails, and birds. Some even claim to see an old lady (in the rocks), a poodle, dancers, the Virgin Mary holding Jesus Christ, and Napoleon's hat.
Admire the Panoramic Views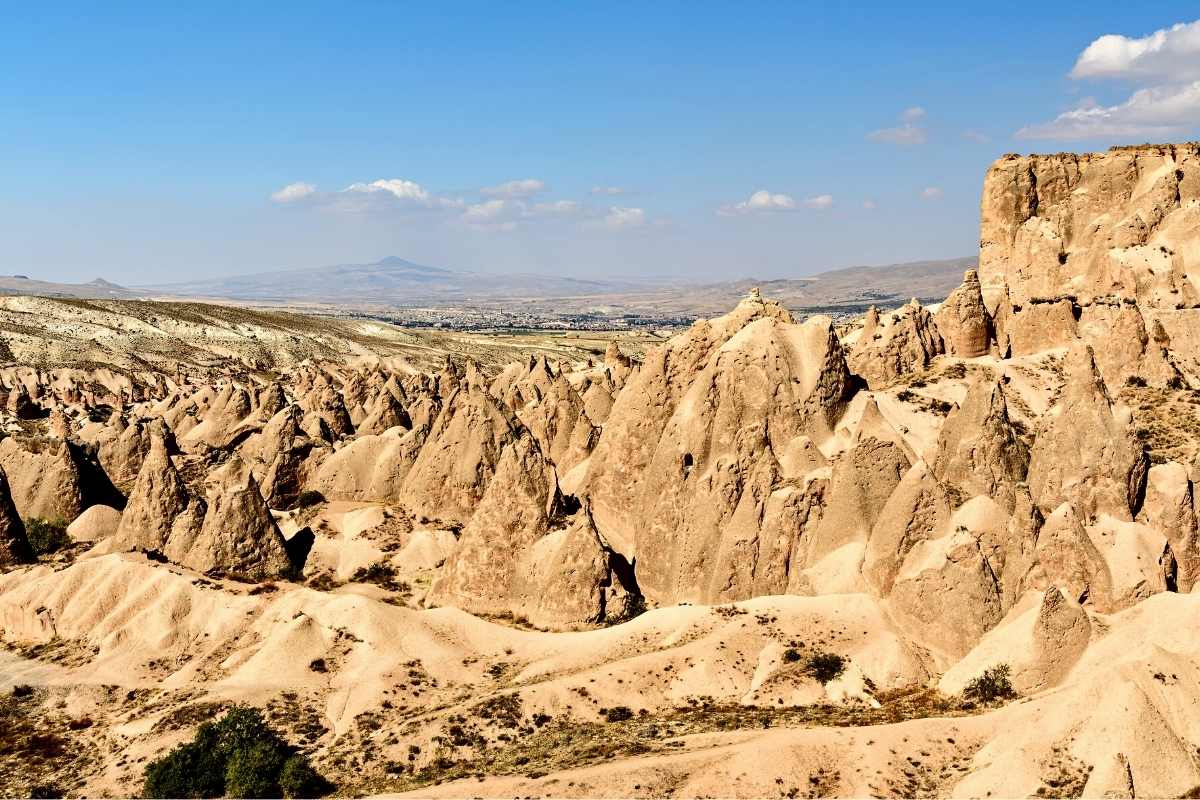 Devrent Valley isn't huge, and most of the unique rock formations are concentrated near the entrance.
But if you venture further out (and up), you will find a nice viewpoint with panoramic views of the valley.
From here, you can appreciate the Mars-like landscape of Cappadocia, something that the Goreme UNESCO World Heritage Site is known for.
You'll also find fewer tourists up there!
Take Some Unique Photos
One of the main reasons for visiting the Devrent Valley is to get cool photos, and we are not just talking about rocks that look like animals and the lunar landscape.
Near the entrance of the valley, you'll find a rock where you can take a picture that appears as if you are balancing the rock with your fingers.
The optical illusion is quite cool but very cheesy at the same time. Nonetheless, there is usually plenty of people waiting to take a photo like that.
Have a drink with a view
If you need to escape the sun for a bit, or simply need some refreshments, head to the Devrent Seyir Terası, a cafe with a view overlooking the moonscape and its different rock formations.
You can find fast snacks such as pancakes, toast, and Turkish pastries, or purchases juices and soft drinks.
---
Is It Worth Visiting Devrent Valley?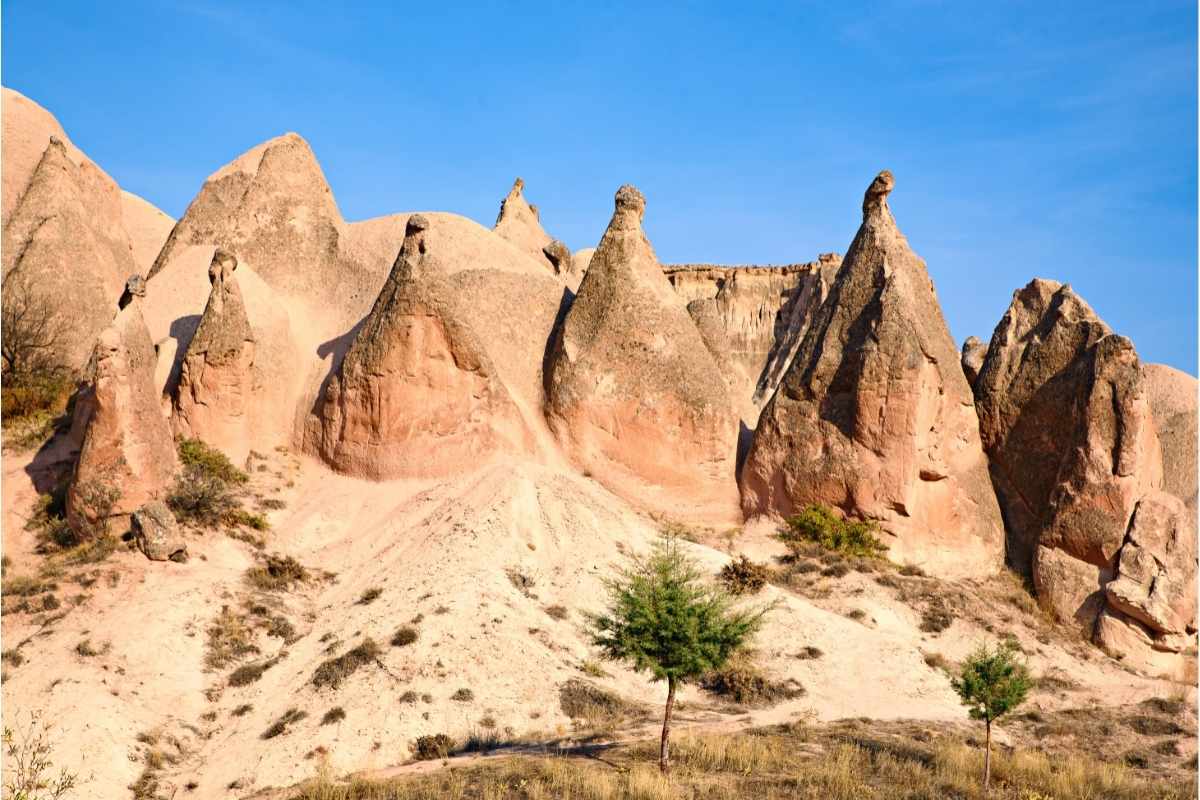 Devrent Valley is surely not one of the must-visit places in Cappadocia, but is it worth including it in your itinerary?
If you only have a few days in Cappadocia, it might not be worth visiting Devrent Valley. Though what you see at Devrent Valley is really cool, the other attractions in Cappadocia are much cooler.
Unlike other valleys in Cappadocia where you can hike such as Red Valley, Rose Valley, and Pigeon Valley, you won't be able to do a lot of hiking.
Devrent Valley was also never inhabited, meaning you won't see any rock-cut churches, cave dwellings, or pigeon homes that make this region so unique.
The Devrent Valley is a popular alternative to the Love Valley, whose fairy chimneys are more phallic in nature, especially for travelers with younger kids.
It is good to spend half an hour or so at Devrent Valley, but I wouldn't go out of your way to see it, especially since getting there is such a pain.
📚Related Reading: How Many Days in Cappadocia Do You Need?
---
Tips For Visiting Devrent Valley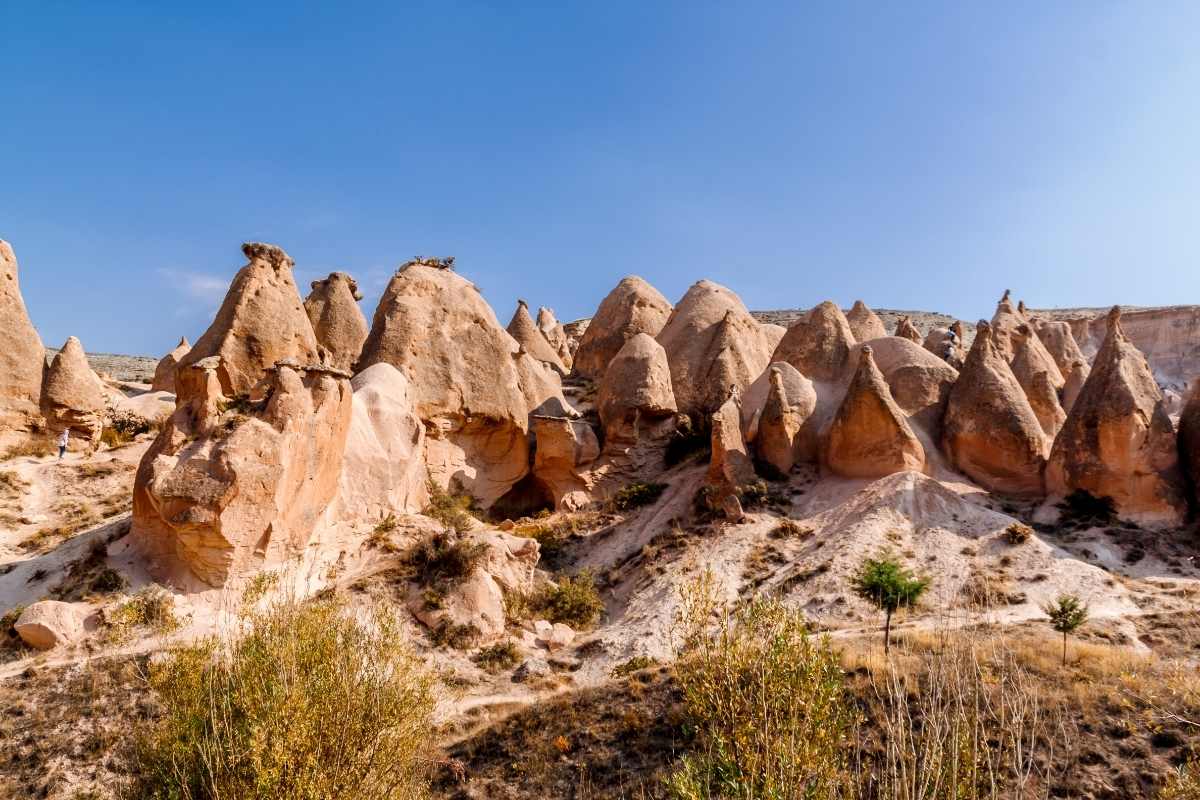 Devrent Valley is one of the most instagrammable places in Cappadocia, meaning there is a ton of people out there just to take photos. This can diminish the beauty of the Devrent Valley, so we recommend you to visit when there are fewer tourists.
The best time to visit Devrent Valley is early in the morning or late in the afternoon. This way, you can avoid all the tours that come in the middle of the day.
The paths can be slippery
Devrent Valley is steep, and with the hard sand, the surface becomes quite slippery for walking. Make sure you wear shoes with grip to make sure you don't slip and fall.
Park on the side of the road
If you are not visiting with a guided tour, you'll most likely come to visit by car. Unfortunately, the parking lot at Devrent Valley is only for tour buses, leaving regular cars with nowhere to park. It is okay to park on the side of the road, as long as it is in a safe spot. Chances are, you might even see other cars parked on the side of the road as well!
---
Devrent Valley FAQs
Is there an entrance fee for Devrent Valley?
No, the there is no entrance fee for Devrent Valley and it's free to enter.
What are the opening hours for Devrent Valley Cappadocia?
The Devrent Valley is open 24/7. It is a valley in the desert and has no walls or ticket office!
What are the easiest seen animal shapes?
The most obvious rock formation in Devrent Valley is the camel. This rock formation is what makes Devrent Valley one of the most famous valleys of Cappadocia
---
Final Thoughts
This concludes our guide to the Devrent Valley, also known as the Imaginary Valley in Cappadocia.
Hopefully, you'll know everything you need to know to plan the perfect visit to this gem in Cappadocia!
Any questions? Leave them in the comments!