There are many valleys in Cappadocia that showcase some of the best features of this historic region. But perhaps one of the most off-the-beaten path ones in Cappadocia is Pigeon Valley, also known as Guvercinlik Valley.
This incredible valley is located just a few miles from the town of Goreme and is home to one of the most unique rock formations of the region – the dovecotes carved into the fairy chimneys.
If you're wondering if it's worth it to visit Pigeon Valley, the answer is definitely yes!
Keep reading to find out everything you need to know to have the perfect visit to Pigeon Valley!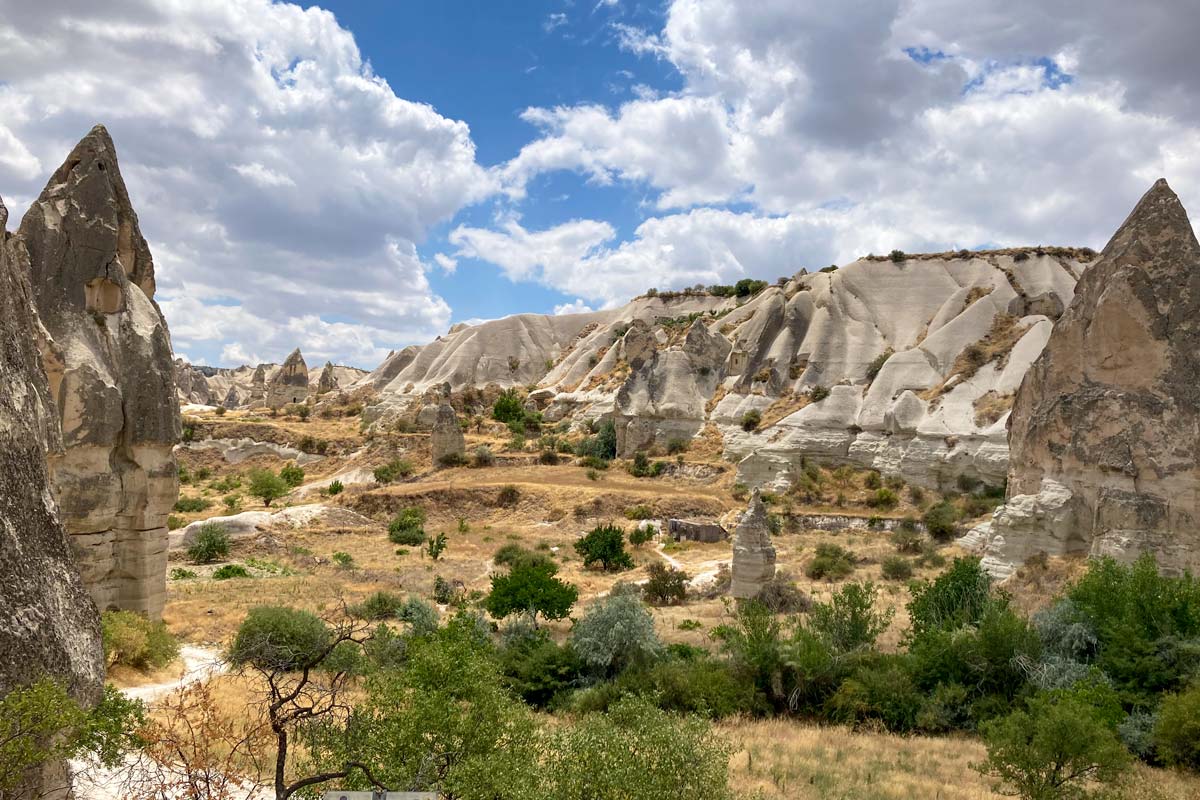 ---
Why Visit Pigeon Valley?
Pigeon Valley is named for the thousands of dovecotes that were carved into the soft volcanic tuff of the fairy chimneys here. These pigeon homes were created by early settlers to provide a place for the pigeons to nest. The pigeons were then used for their meat, feathers, and droppings, which were rich in nitrogen and perfect for fertilizing crops.
Vineyards relied on pigeon droppings to fertilize the soil, a practice that is believed to make the perfect grapes for making wine. Some of the best wines in Turkey are found in the region of Cappadocia.
The pigeon droppings were also used as materials to make some of the frescoes more vibrant, and visitors can see those in the rock-cut churches of Cappadocia. Pigeons were a huge part of the culture and traditions of Cappadocia.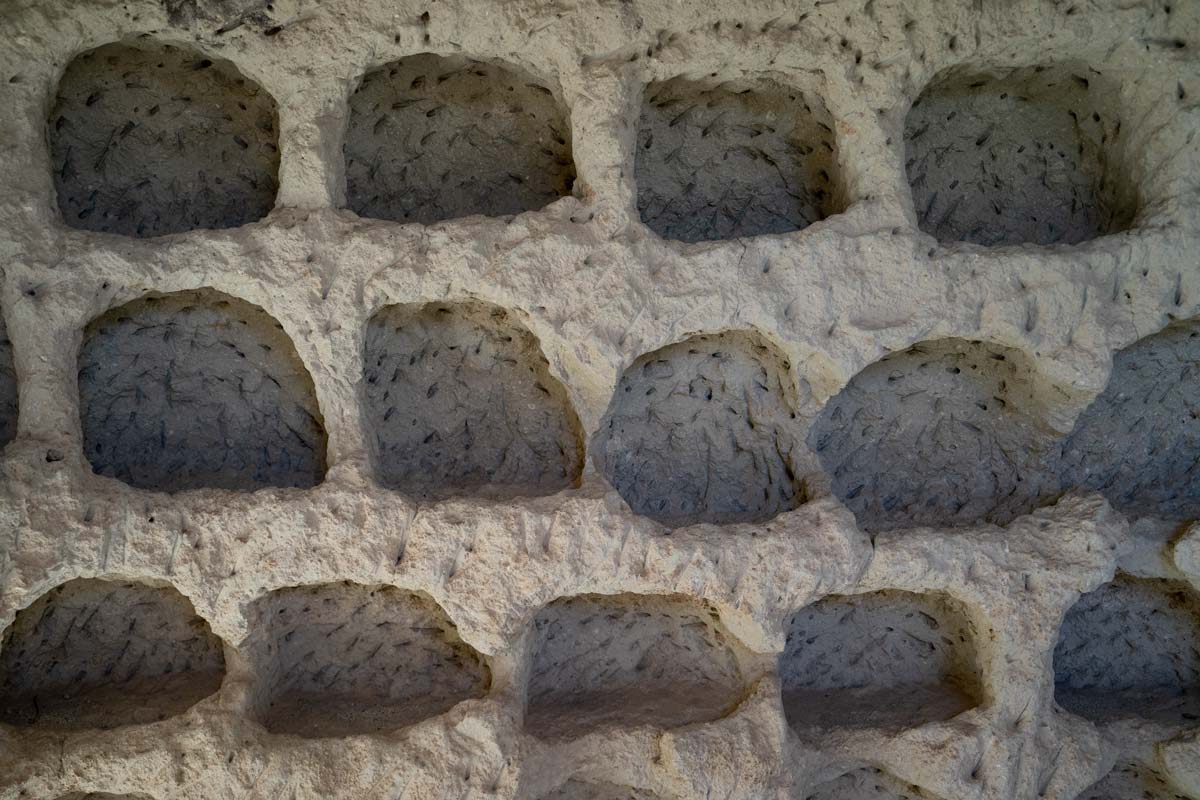 Today, there are only a few hundred of these pigeon homes left, and the best place to witness them is Pigeon Valley. In addition to the pigeon homes, Pigeon Valley is also home to some of the most incredible panoramic views in Cappadocia.
This Cappadocia valley is lined with cliffs that provide a stunning backdrop for photos. You'll pass by ancient cave dwellings, old frescoes, of course, epic fairy chimneys. And if you are visiting Pigeon Valley during sunrise, you might even see a hot air balloon or two!
Read More: Things To Know Before Getting On A Hot Air Balloon In Cappadocia
---
How To Get To Pigeon Valley
Now that we've you that Pigeon Valley is worth visiting, how do you get there?
The Pigeon Valley spans about 3 km (1.86 mi) and connects two main towns of Cappadocia: Goreme and Uchisar.
Whichever town you decide to stay in, it is simply a matter of walking for a few minutes to get to Pigeon Valley. However, to fully appreciate the beauty of Pigeon Valley, it is recommended that you hike the entire length!
Note that the Pigeon Valley location on Google Maps is the start of the hiking trail from Uchisar side, visitors can also get there from Goreme.
---
Pigeon Valley Hike
Distance: ~3 km (1.86 mi)
Time To Hike: 1 hour
Difficulty: Easy to Moderate
Elevation Gained: ~200 m
The Pigeon Valley hike is one of the easier hikes in Cappadocia. But before you strap on your hiking boots, you must decide where you want to start. Uchisar is situated higher in elevation than Goreme, so visitors starting in Uchisar will have an easier time hiking through Pigeon Valley.
At the start of the trail from Uchisar, visitors will encounter the Evil Eye Tree, a tree that is hung with tons of these amulets called Nazar, which are used to fight off the Evil Eye. But if you are starting this way, the hiking trail for Pigeon Valley is much more confusing, make sure you download some offline maps to guide you.
There are a few tea houses in Pigeon Valley, perfect for taking breaks and having a nice cup of Turkish tea or freshly squeezed orange juice. The Pigeon Valley hike is not any more strenuous than strolling around the hills of Istanbul.
If you enjoy hiking and don't mind a little bit more physical activity, you can do a loop that starts in Goreme, then goes to Pigeon Valley, Uchisar Castle, and returns through Love Valley and White Valley. It is an additional 2 to 2.5 hours of hiking but the fairy chimneys at Love Valley are spectacular and worth seeing.
---
Best Time to Hike Pigeon Valley
Because the Pigeon Valley hiking trail is hardly shaded, it is best that you hike early in the morning or right before sunset.
However, since the Pigeon Valley connects Goreme to Uchisar, we recommend hiking it so you arrive in Uchisar just at sunset. This way you can combine your hike with a visit to Uchisar Castle, the highest point in Cappadocia and one of the best sunset viewpoints in the region.
Note that this might not be possible if you are visiting Cappadocia in the winter, because the Uchisar Castle tends to close before sunset during that season.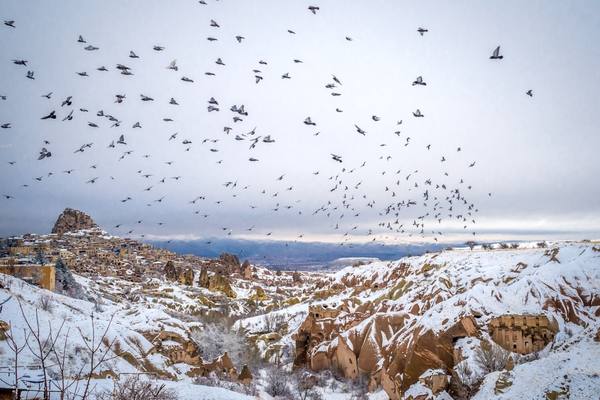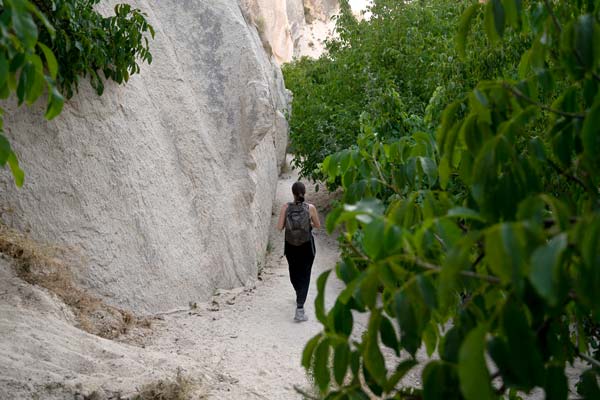 ---
Pigeon Valley Tours
Though there are no tours specifically for Pigeon Valley (it's simply too small for a tour), there are a few tours that go to the panoramic viewpoints of the valley. Though it is nothing compared to seeing the dovecotes pigeon homes up close, the tours offer visitors a glance of the valley, plus a lot more attractions.
If that is something you are interested in, check out the green tour! It includes other incredible sights of Cappadocia such as the Derinkuyu Underground City and Ihlara Valley.
---
Pigeon Valley FAQs
What is The Entrance Fee To Pigeon Valley?
There is no entrance fee to enter, it is completely free to go in the Pigeon Valley.
How Long is the Pigeon Valley Hike?
The Pigeon Valley hike takes about 1 hour to complete. There are many different paths on the trail that can make the hike slightly longer, but the length of the hike is approximately 3 kilometers (1.86 mi).
---
Final Verdict
Without a doubt, Pigeon Valley is one of the best valleys in Cappadocia. It showcases some of the most iconic features of Cappadocia that earned itself a place on the UNESCO World Heritage Site list. So if you have time on your Cappadocia itinerary, make sure you add Pigeon Valley to it!