Cappadocia is one of the most unique places on the planet. Its vast desert landscape has been made famous by its fairy chimneys and cave dwellings, as well as scenic hot air balloon flights, numerous hiking trails, and fascinating open-air museums.
There's so much to see and do, that putting together your Cappadocia itinerary is not easy.
If you're thinking of visiting Cappadocia but you're not sure what to see and when, in what order, and how to get around, you've come to the right place.
In this guide, I've listed our itinerary for 2, 3, 4, and 5 days in Cappadocia, so you can plan your visit and have a smooth trip.
But first…
---
How many days is Enough in Cappadocia?
The amount of time you spend in Cappadocia will vastly differ depending on how you travel and what you want to see.
If you are desperate to fly in a hot air balloon at sunrise, which is the most iconic thing to do in Cappadocia, then you should allow 3-4 days.
Why? Because they don't fly every day. You should allow yourself some time to avoid disappointment because if the conditions are too windy, they won't fly and you'll miss your opportunity.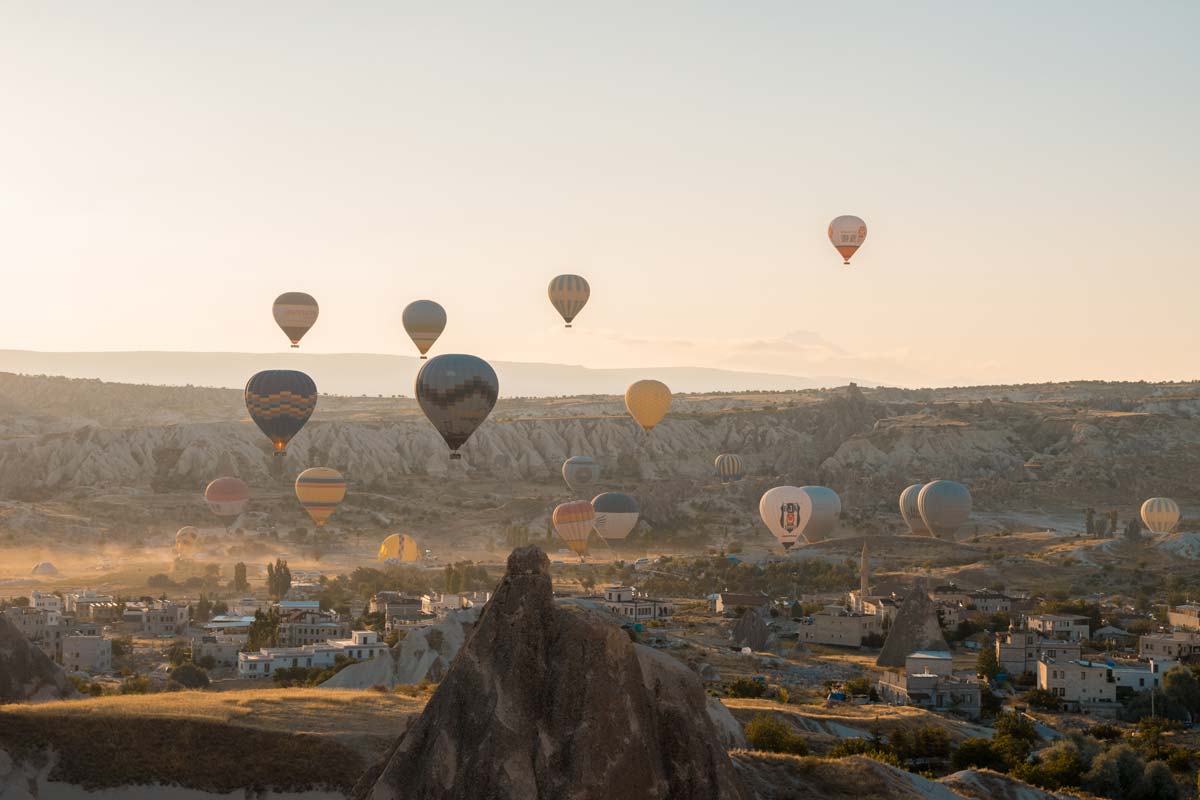 You should also allow more time if you intend on traveling by public transport. We used only public transport when we visited and it slowed us down a lot. Buses run sporadically and we had to change a couple of times. It took us an hour and a half to get somewhere you can drive in 30 minutes.
If you hire a car and you do it yourself, 3 days is the perfect amount of time to spend in Cappadocia to see the highlights. However, you can easily find enough to fill your time for 4 or 5 days.
We stayed for 10 days the first time we went because we loved it so much (and no, we didn't see it all).
---
Where to Stay in Cappadocia?
What many people don't realize about Cappadocia is that it's a region and not a city. It's made up of several small towns and villages and expands over an area of 150 square km.
If it's your first time and you're not sure where to stay in Cappadocia, we recommend you stay in the heart of the region in the town of Goreme.
This is where the night bus from Istanbul drops you off, it's where you can get buses to other towns in the region, and you can easily book the best Cappadocia tours and hire cars there.
It's well set up as a base to explore Cappadocia.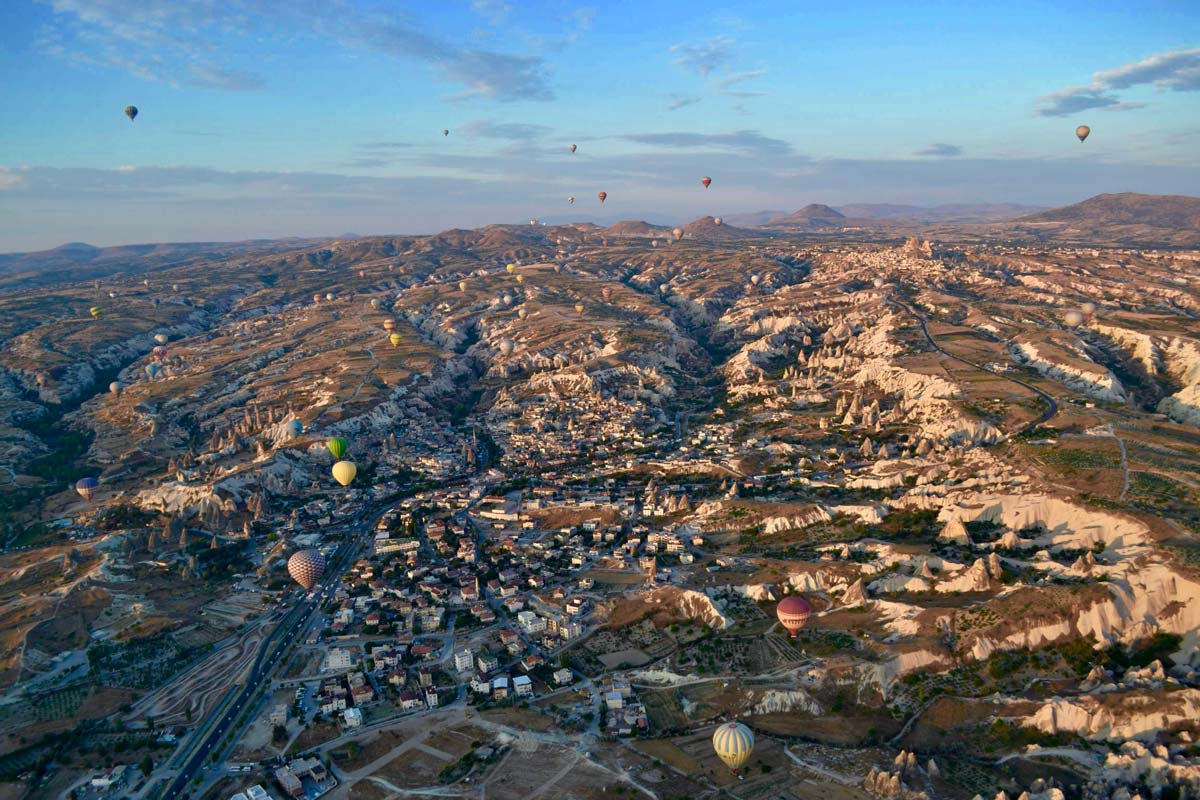 ---
The Best 2- Day Cappadocia Itinerary
If you only have two days in Cappadocia then you are going to need to strap on your comfiest shoes and set your alarm early, because we have a lot to pack in!
For those wanting to see the highlights of Cappadocia, we recommend you follow the Red and Green Tour itineraries for these two days.
These tours, whether you do them yourself or with a tour group, take you to the unmissable places in Cappadocia.
Day 1: Red Tour
We recommend you start with the Red Tour since it has the least amount of hiking (save your energy for the last day). But first, no trip to Cappadocia would be complete without…
Stop 1: Sunrise Hot Air Balloon Ride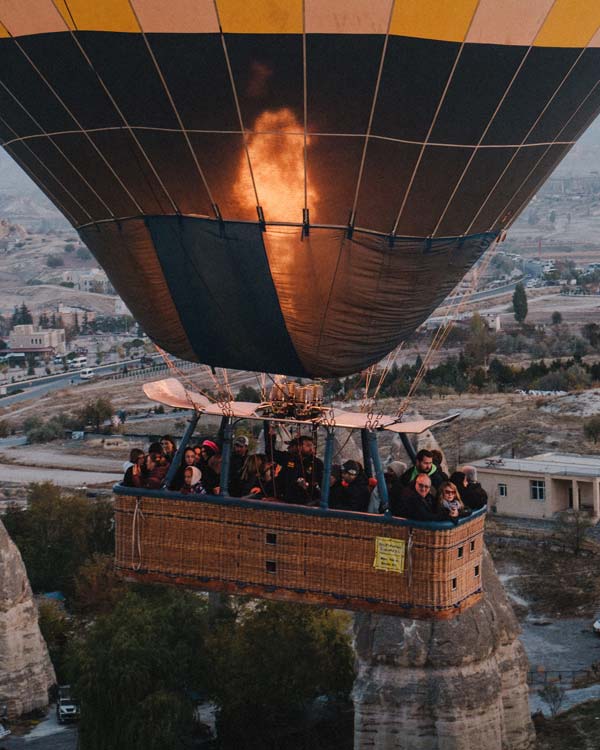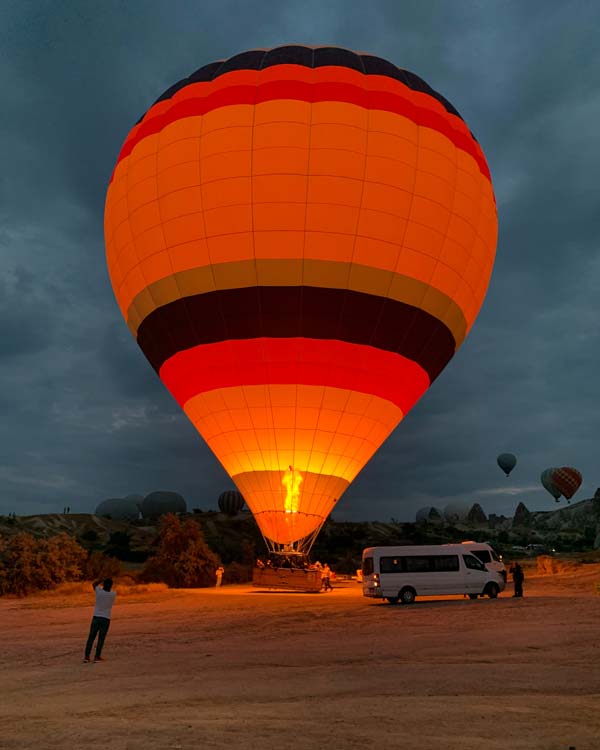 …a sunrise hot air balloon flight. This is what makes Cappadocia famous.
Taking a hot air balloon flight in Cappadocia is something that's definitely worth doing when you're visiting the area.
Due to the best wind conditions, they ride at sunrise, which means it doesn't interrupt your plans for the rest of the day since you have landed and been bought back to your hotel in time for breakfast.
A sunrise flight is truly spectacular, and the soft warm orange light really enhanced the incredible natural scenes of Cappadocia, with its interesting rock formations, deep valleys, and ancient cave dwellings framed against a glowing orange backdrop.
The experience of being up in the sky, drifting around all these historic sites, and taking in the majestic panoramic views is truly unforgettable.
Just make sure to have your tour booked in advance so you don't miss out. If the balloons are unable to fly on the day you booked, don't worry, you can reschedule for the next day.
Stop 2: Uchisar Castle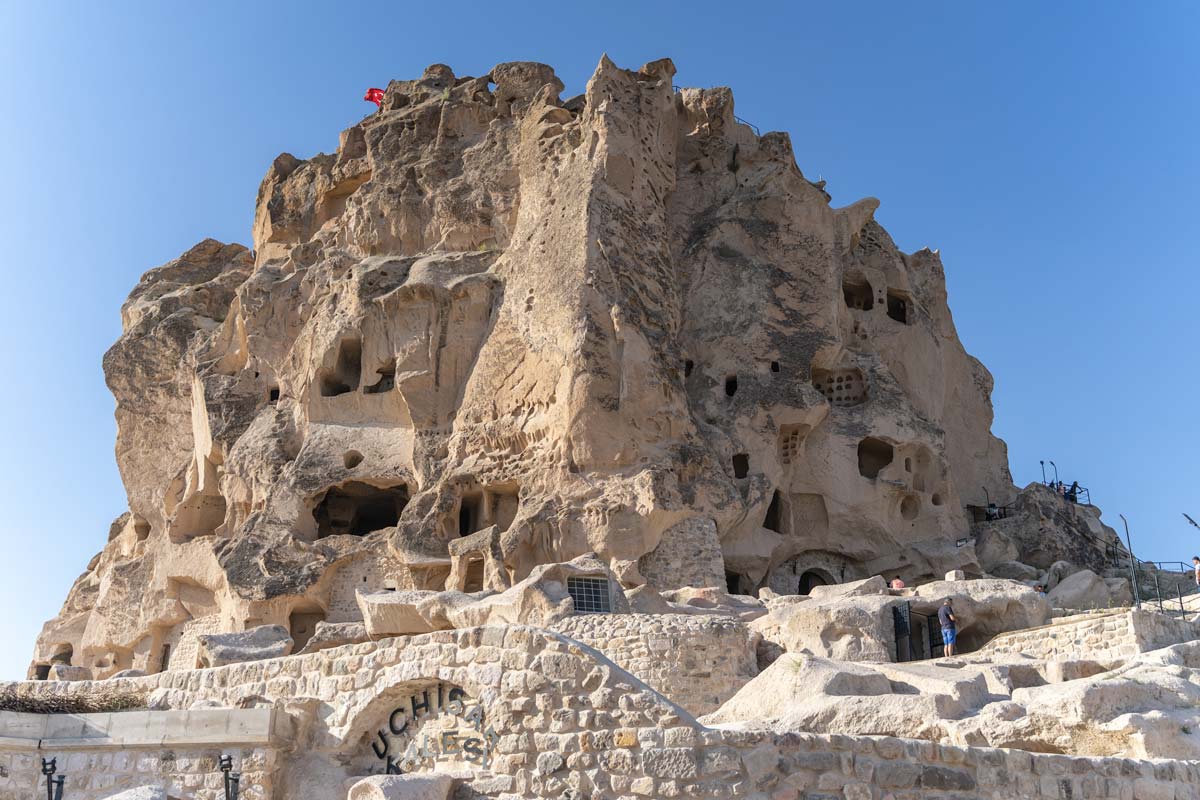 Uchisar Castle is one of the most iconic landmarks in Cappadocia since it sits at the highest point in the region. It is believed to have been built somewhere between the 6th and 7th century BC as a defense against oncoming Byzantine armies.
The castle was once a fortress housing over a thousand soldiers, but today it's an open-air museum that is best known for its views from the top.
As you walk around the museum you need to use your imagination to see how caverns and crevices were used as rooms, but there is no doubt the rock formations are fascinating.
Make sure you wear sturdy shoes as the rocky ground here can be slippery in places.
Stop 3: Goreme Open Air Museum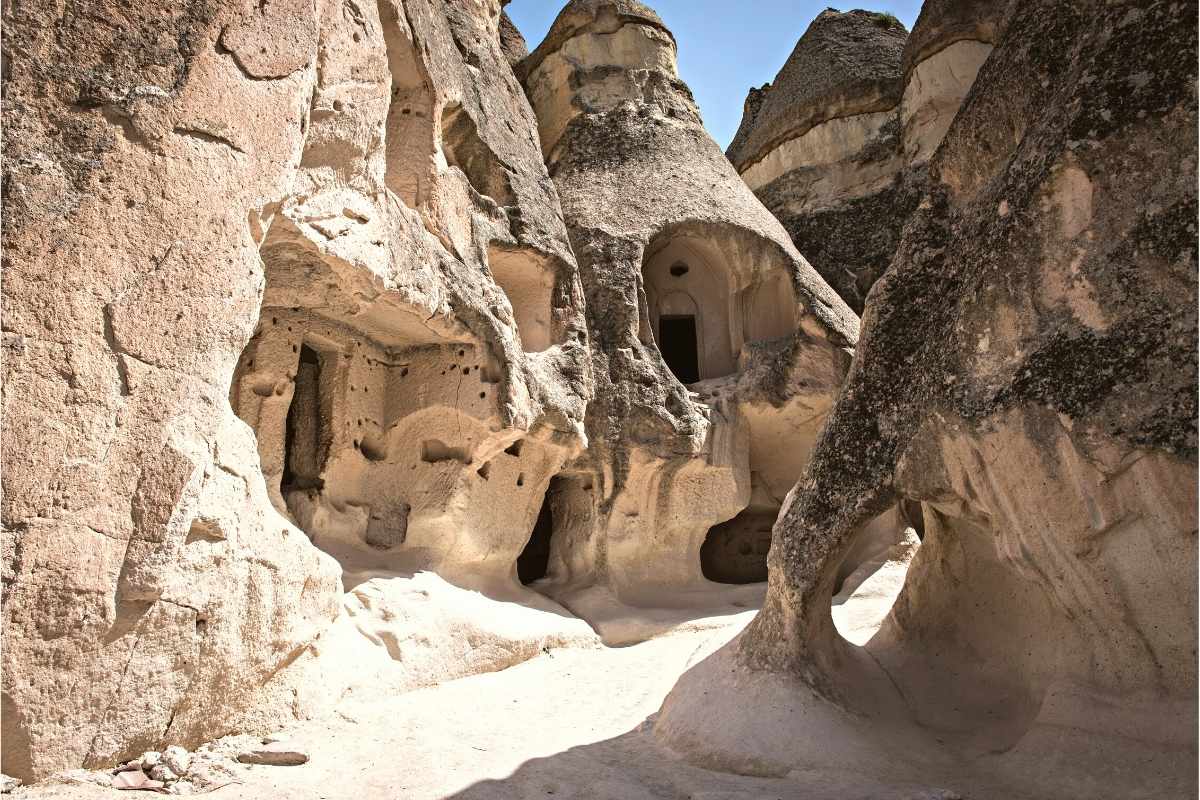 Without a doubt, the Goreme Open Air Museum is the best museum in Cappadocia. Nestled in the UNESCO World Heritage Site of Goreme National Park, this ancient village was one of the first settlements in Cappadocia.
While the exact time in which the settlement was created is unknown, it is considered one of the oldest monastic settlements in the region.
As you wander around the museum, you are surrounded by numerous cave dwellings, fairy chimneys, and rock-cut churches, many of which contain original frescoes from the 10th to 12th centuries during the Byzantine and Roman eras.
One of the most well-preserved churches in the Goreme Open-Air Museum is the Dark Church. It was named because of the little light that enters this dark cave. Despite its darkness, you can still see vibrant frescoes depicting biblical scenes on the vaulted ceilings carved into the cave.
The best part about visiting Goreme Open-Air Museum is that it is within walking distance from the town center of Goreme!
Read More: 7 Best Hot Air Balloon Tours In Cappadocia
Stop 4: Cavusin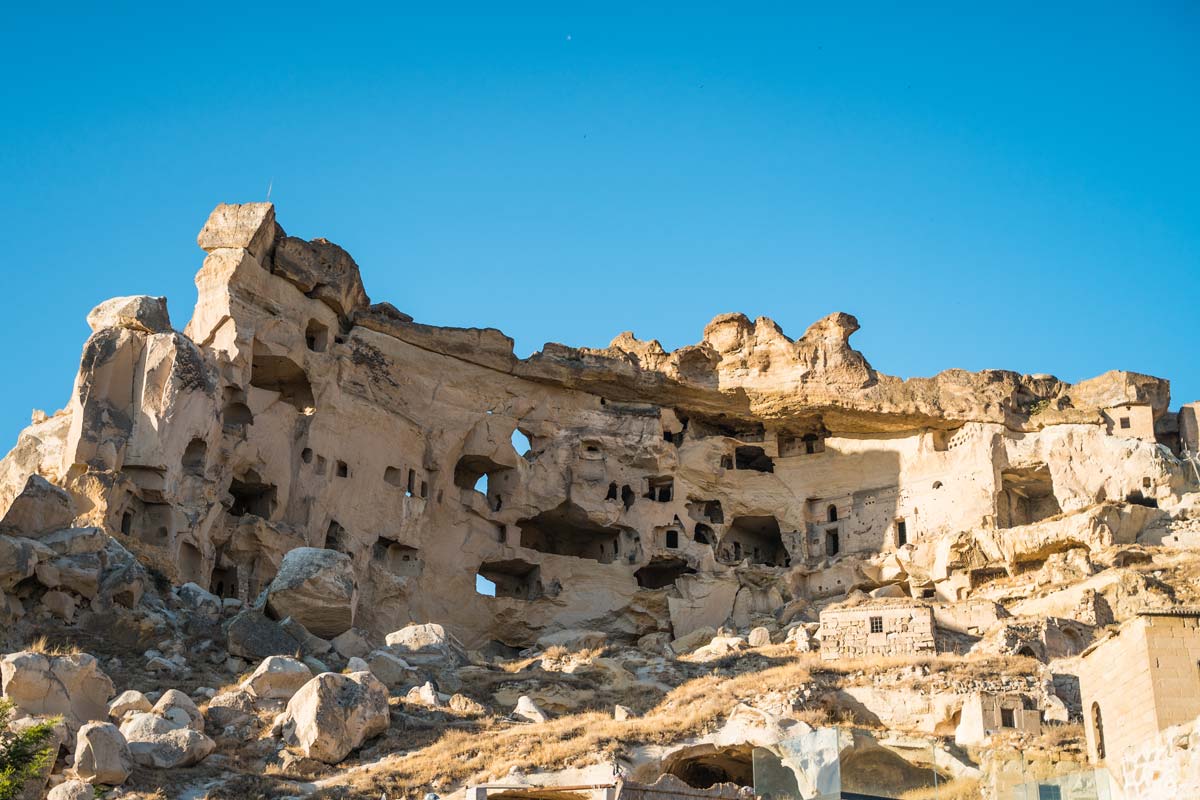 Cavusin is a small village located between Goreme and Avanos and is most famous for its castle and chapel. Cavusin Castle is an epic rock formation that rises above the village of Cavusin, and it's also the home of St. John the Baptist Chapel, one of the largest cave churches in Cappadocia.
Unfortunately, most of the Cavusin Castle has been heavily eroded due to the passing of time, so it's not safe to go climbing over the rock and into its rooms, but there is a bridge that allows visitors to get to the chapel to see it.
Fortunately, you can still get a pretty good view of it from the road.
Stop 5: Avanos Town (Pottery Workshops)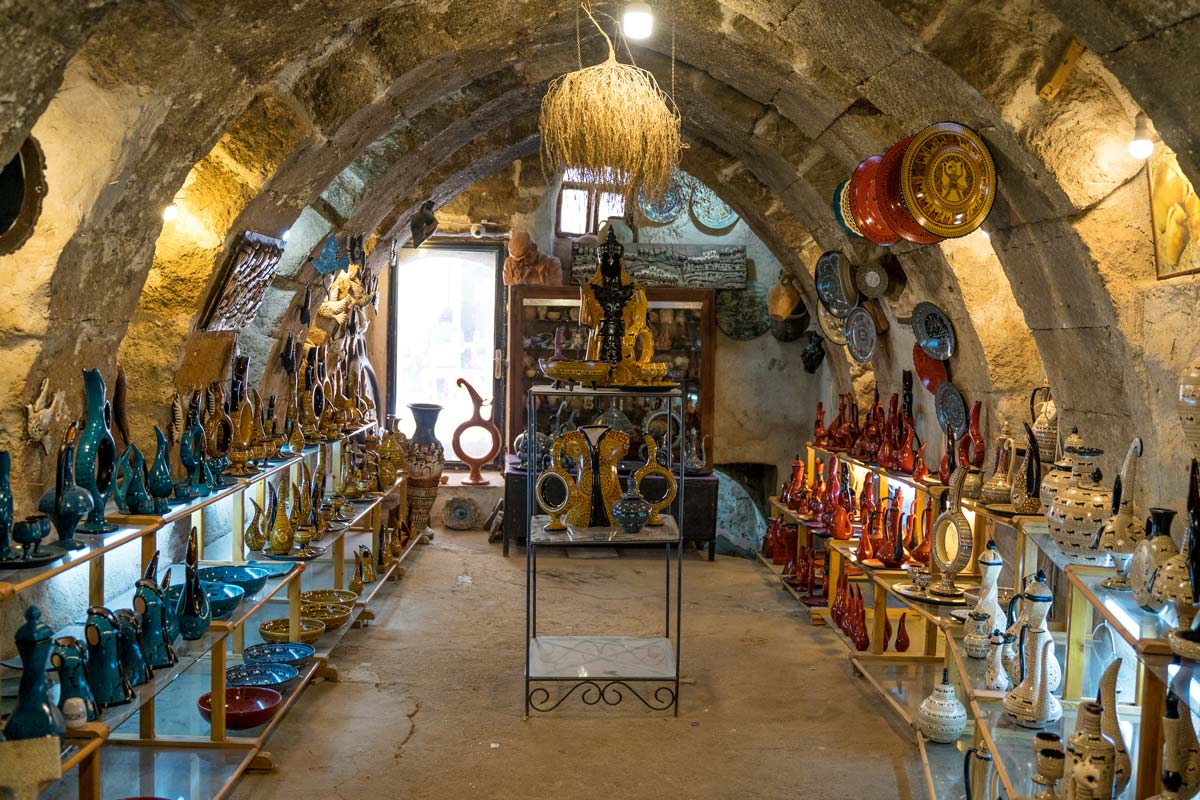 Avanos is well known for its pottery scene. The pottery here has a long history, dating all the way back to the Hittite period, around 2,000 BCE. The clay used to make the pottery comes from the Red River (Kızılırmak), which runs through Avanos.
The pottery-making tradition has been passed down from generation to generation, and today, there are many pottery shops in Avanos where you can watch the potters at work. When you walk down the street of Avanos, you might see some of the master craftsmen still practicing their pottery skills in their family-owned businesses.
Some of the pottery shops also offer free pottery-making sessions, perfect for travelers that like an interactive experience when traveling in Cappadocia. Without a doubt, pottery from Avanos is the perfect souvenir to remember your Cappadocia trip.
But beware of the tourist traps in Avanos. Much of the pottery is now mass-produced in factories that mimic the work of skilled potters. If you are not sure how to look for a good properly handcrafted piece of work, then make sure you find someone that can help you with it!
Stop 6: Pasabag Monks Valley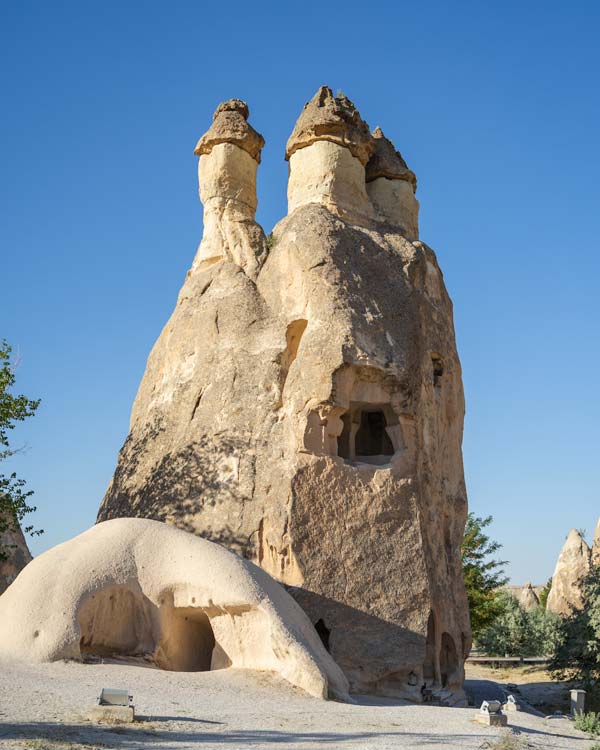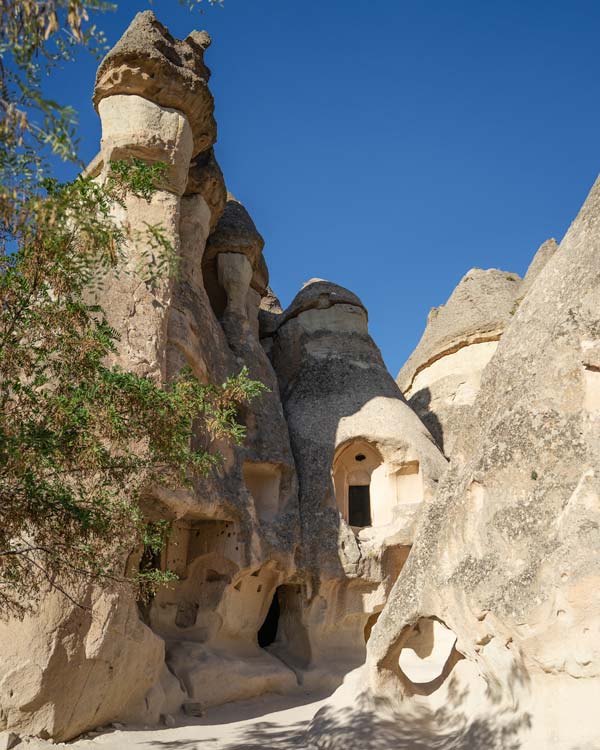 Just outside of Avanos is Pasabag Valley, or Monks Valley in English. This valley is known for its unique fairy chimneys with double to triple mushroom heads.
The most interesting part of the valley is that some of the fairy chimneys have been turned into dwellings by monks and hermits, which is how the valley has gotten its name.
The caves were first inhabited by St. Simeon from Aleppo in the 5th century. Eventually, more and more monks followed in this footsteps and came to Monks Valley to escape from the world and live a simple life in nature.
Nowadays, the caves are no longer inhabited but you can still explore them! Just be careful with going in and out as some of the rooms are very high and might require a bit of climbing!
Stop 7: Devrent Imagination Valley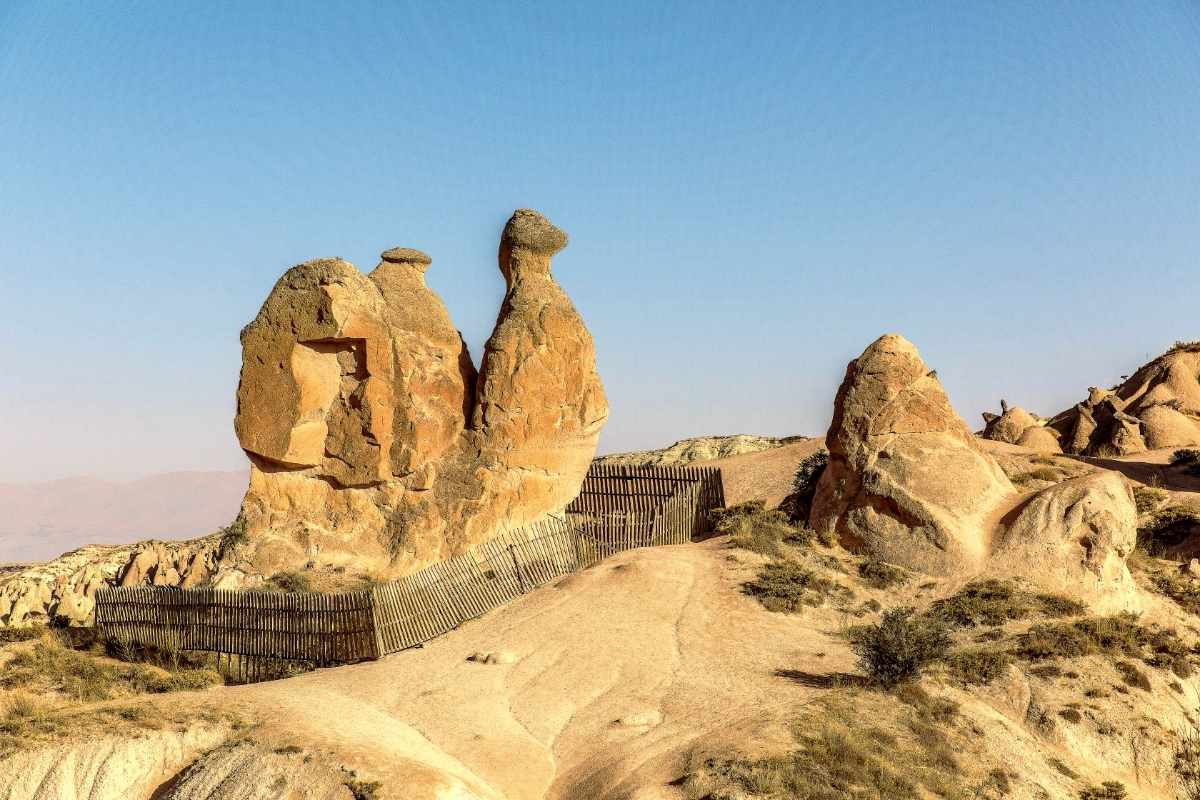 Devrent Valley, also known as Imagination Valley, is a place in Cappadocia filled with unique fairy chimneys. These rock formations have been carved out over time by erosion, and they look like different animals or objects.
The most notable one is the camel-shaped rock at the entrance of the valley. But as you walk around, you might find a dolphin-shaped rock, a snail-shaped rock, and more! It is one of the best places to get a photo to remember your visit to Cappadocia!
Getting to Devrent Valley can be quite challenging since it is hard to get there via public transport. The best offer is to either get a taxi or take the red tour, which has Devrent Valley as one of the stops.
Stop 8: Sunset at Lover's Hill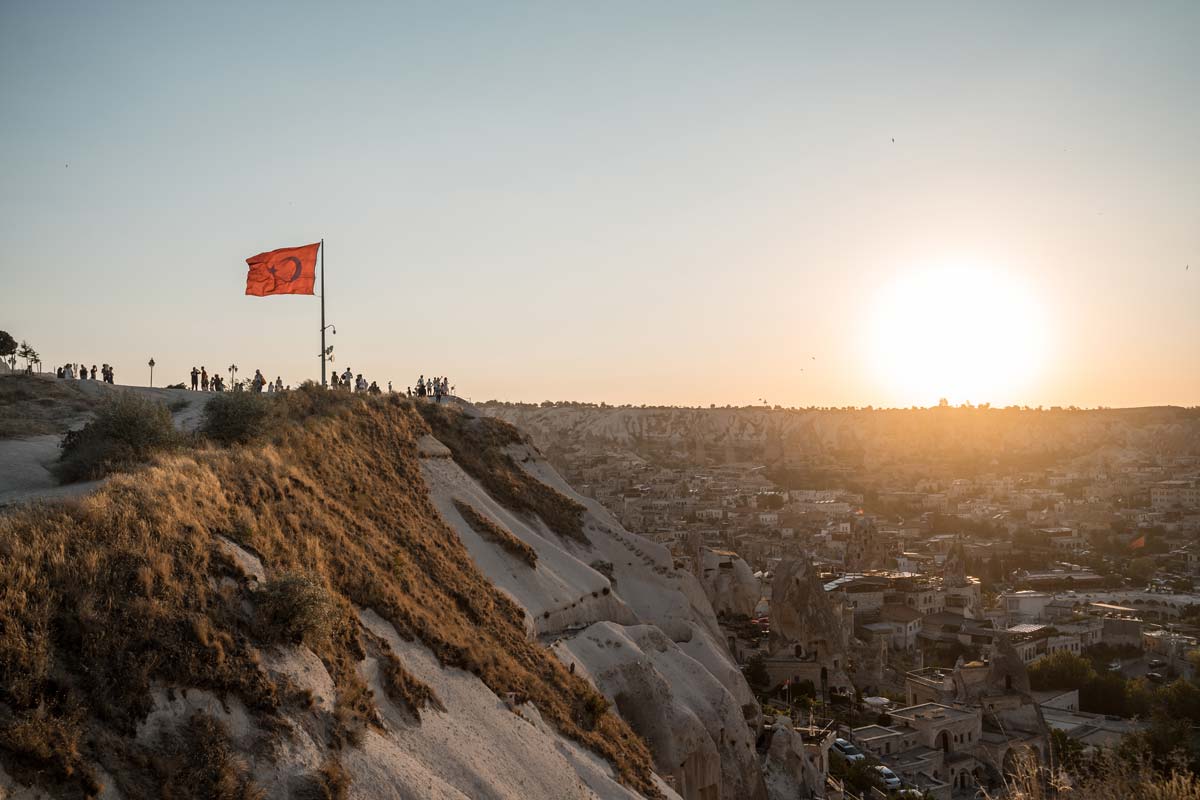 Lover's Hill is one of the best sunset viewpoints in Cappadocia and possibly the most famous. Located in the town of Goreme, it's also called the Goreme Sunset Viewpoint, and sits about 30 meters above the city, offering visitors nearly a 360-degree view of the region.
There is a platform built on top of the rock formations where visitors can take photos with the Goreme historic town as the backdrop. There is also usually a horse at the top where you can take photos with it, for a fee of course.
You can have a light snack or a drink at one of the restaurants on the hill, but it is quite windy so it makes eating and drinking quite difficult.
During sunset, the sun sets behind Uchisar Castle and creates a really cool silhouette of this Turkey landmark. On the other side of the Goreme Sunset Viewpoint, you can see Zemi Valley.
Because it is situated only a 15-minute walk from Goreme, this viewpoint is one of the most crowded places to visit in Cappadocia, especially during sunset. There is a small fee to enter if you are coming from Goreme, but you can go through Zemi Valley and avoid the fee.
Day 2: Green Tour
For the second day, you're going to want to wear your comfiest hiking shoes as it's time to explore the valleys.
Stop 1: Esentepe Viewpoint (Pigeon Valley Viewpoint)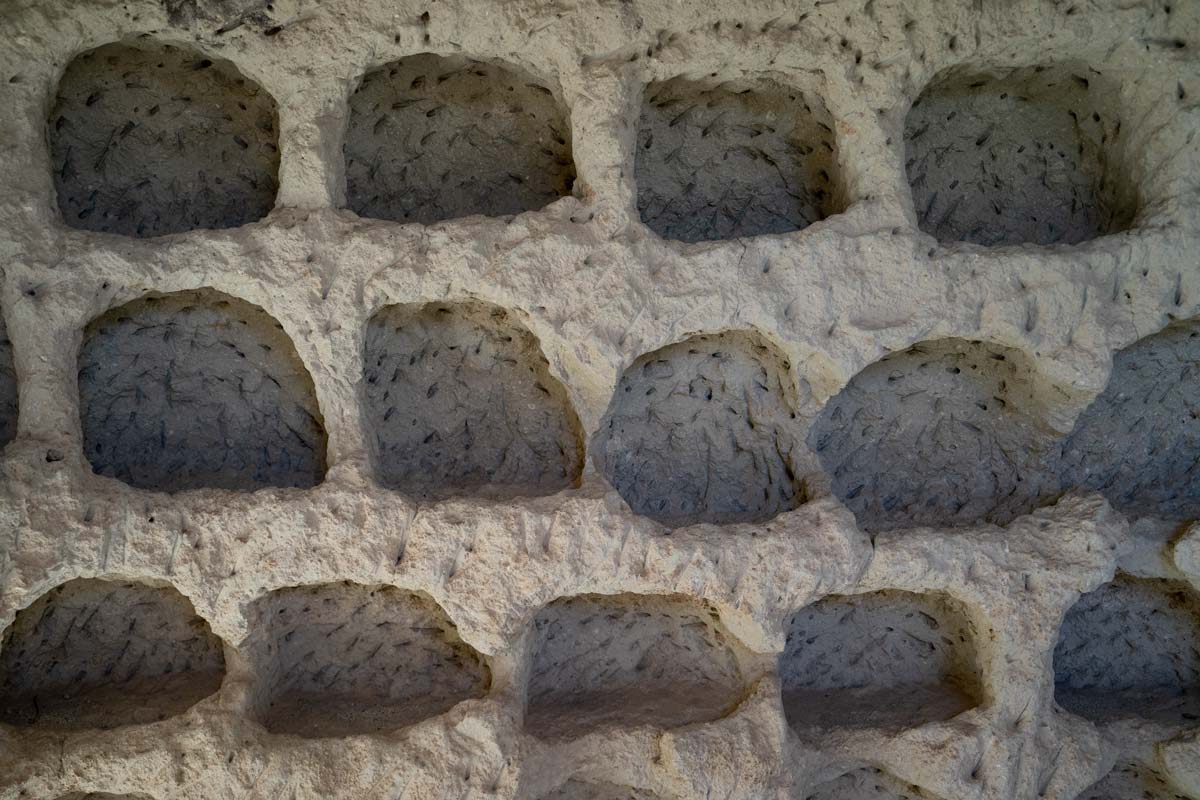 The Esentepe Viewpoint isn't a huge attraction in Cappadocia but it's worth stopping by to check out the incredible scenery. Cappadocia is huge and its size is often largely forgotten about unless you were able to see it from above in a hot air balloon!
One of the best places to appreciate how big the region is, is at Esentepe Viewpoint, which sits between Uchisar and Goreme and overlooks Pigeon Valley.
Pigeon Valley is a special valley in Cappadocia as it is home to several pigeon dwellings. Many years ago, pigeon poop was used as a fertilizer and was incredibly expensive, so the locals cut these pigeon holes into the rock here as a way to collect the poop.
You can wander down into Pigeon Valley from here to check them out, or you can see them from above. It's up to you!
Stop 2: Derinkuyu Underground City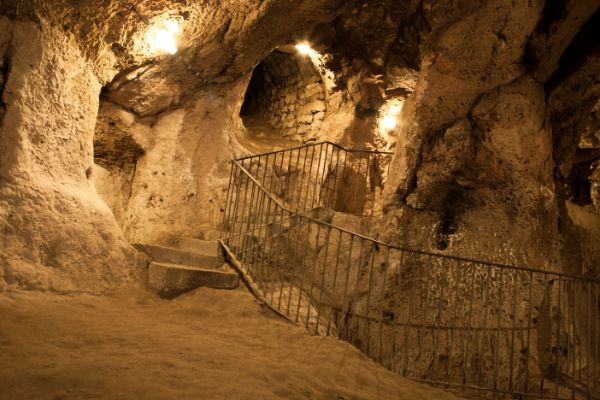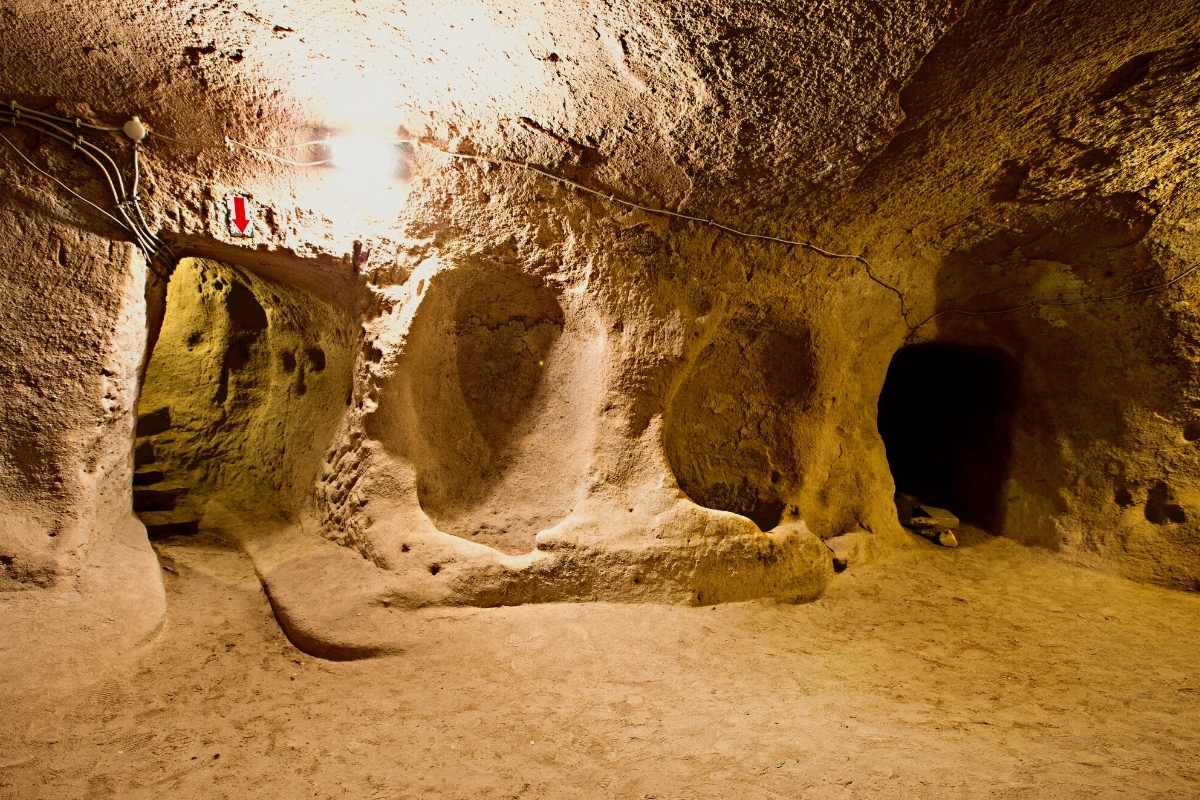 One of the most fascinating pieces of Cappadocia's history is the use of underground cities. They weren't discovered until the early 60s when a local villager was remodeling his house and knocked a wall into the city.
From there, archeologists discovered a huge metropolis of tunnels, caverns, chambers, and vents that make up a massive underground city.
It's believed that there are more than 200 underground cities in Cappadocia but they have not all been excavated. The largest underground city is the Derinkuyu Underground City, which goes down 8 levels to around 65 meters deep. The full scale is unknown as it's still being fully excavated, but they think it connects all the way to Kaymakli Underground City.
The cities were believed to have been used as hiding places from Byzantine invaders, and are estimated to have housed more than 20,000 people including all their livestock and belongings.
Stop 3: Ihlara Valley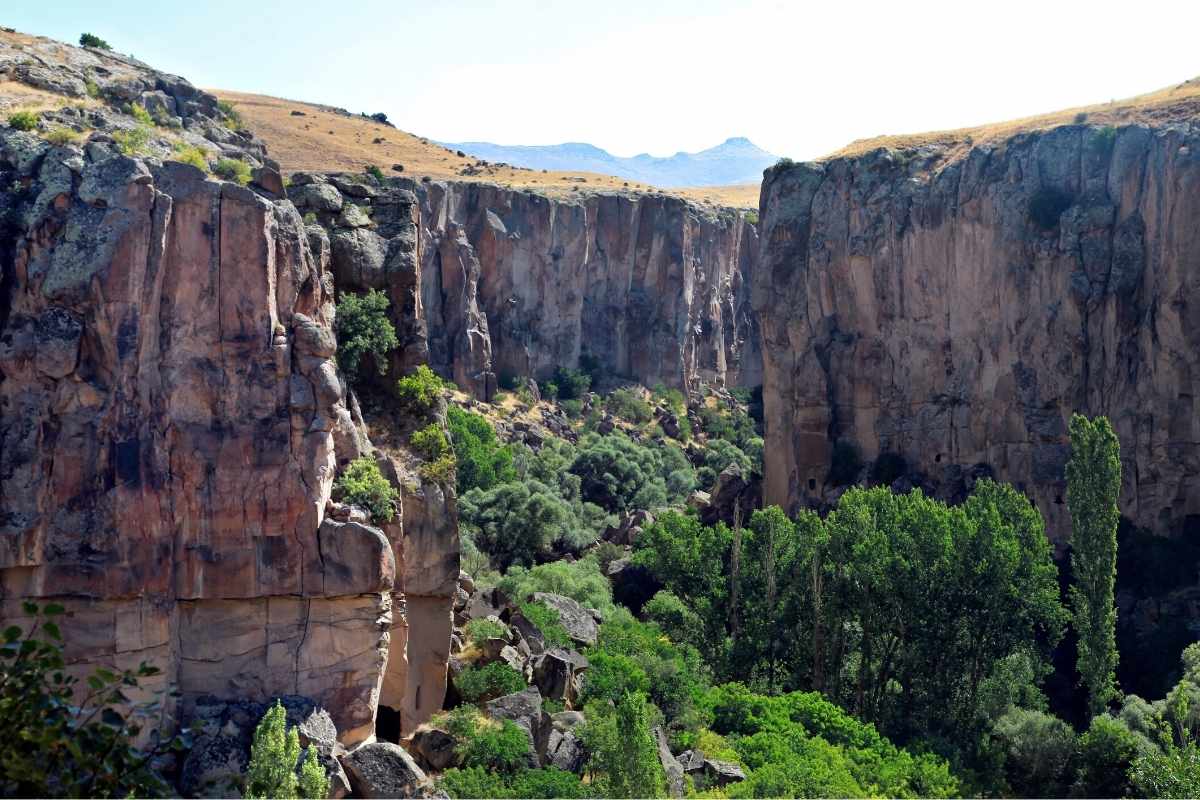 There are many valleys in Cappadocia but none as unique as Ihlara Valley – for the sole reason that it's incredibly green. Yes, there is lush nature in the desert!
Ihlara Valley is a gorge filled with lush green vegetation and the Melendiz River passes through the center. There is a hike that passes down through the valley, into the gorge, and past several ancient monuments along the way.
You will come across many Byzantine cave churches and dwellings that were carved into the canyon walls. It's truly a spectacular place.
This hike can be as long or short as you want it to be since many different trails branch off the main path. However, we recommend starting at Ihlara Village and finishing at Selime so you can see the Selime Monastery.
But if you don't want to hike for that long, you can start at Ihlara Village and finish at Belisirma Village, where you can have a meal at one of its iconic floating restaurants.
Stop 4: Belisirma Village
Belisirma Village is nestled in the heart of Ihlara Valley. Like most villages in Cappadocia, the houses in Belisirma were cut into the rock face.
But today, small wooden huts have been built on the water's edge and are used as restaurants for hikers. Some of these huts have platforms reaching out into the middle of the Melendiz River, so you can sit and have your lunch whilst listening to the waters rushing past you on all sides.
After hiking in the warm sun, it's the perfect place to stop and rest for a while.
Stop 5: Selime Monastery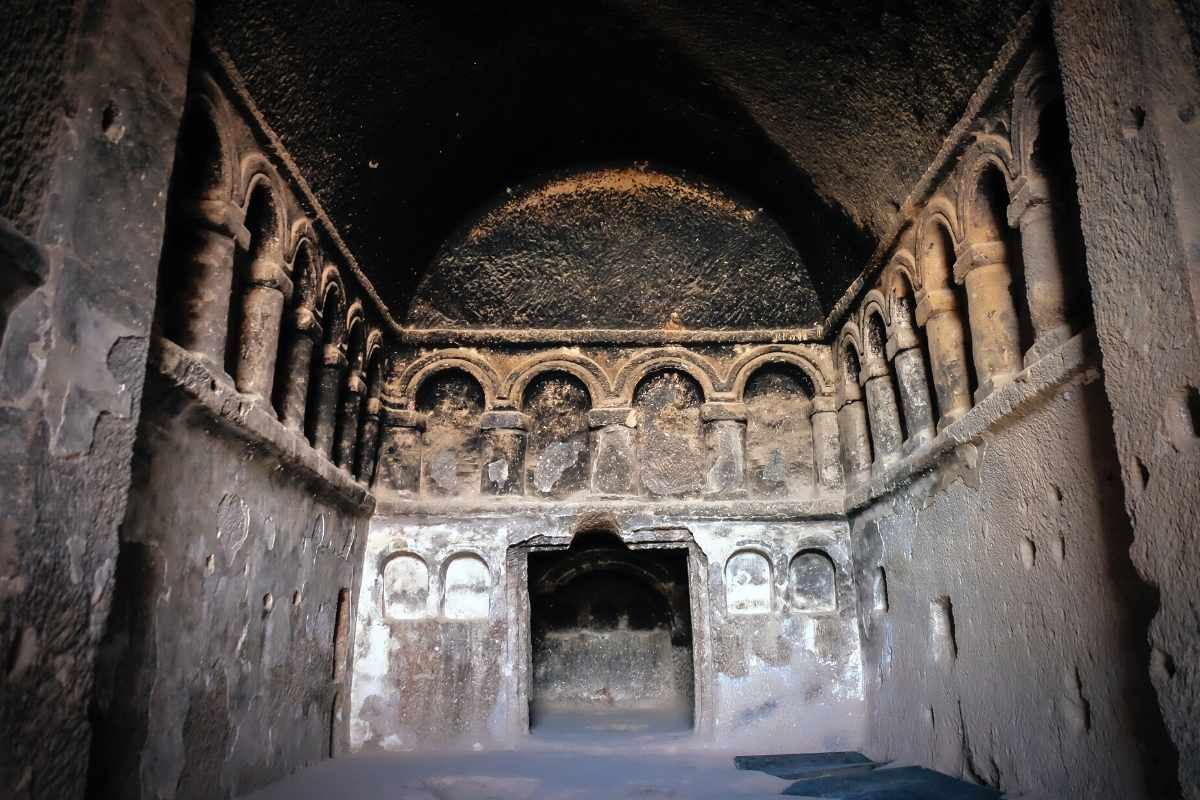 The Selime Monastery is the last monument on the Ihlara Valley hike and is an epic rock-cut church with plenty of frescos. This cathedral-sized church has been largely damaged by the weather and passing of time, but it's still impressive to see and with clever imagination, you can see how settlers lived here in the 8th and 9th centuries BC.
It was said that the monastery was also a fortress, as the upper section has what looks like trenches and steep staircases leading to passageways. This evidence puts the creation of the monastery back to the time of the Hittites, before the 8th century – or so it is believed.
The church in the monastery has been separated into 3 sections by two well-preserved rock columns. You can also see where the monks slept and where they cooked meals in the kitchens. It's truly a fascinating structure.
Stop 6: Onyx Jewelry Factory
Cappadocia is home to some precious gemstones used for jewelry making. The most precious stone in Cappadocia is the Black Onyx, a hard gemstone that can easily be used in the art of jewelry making.
The Onyx Jewelry Factory is a bit touristy and is obviously designed to encourage tourists to spend money, but it is still interesting to learn about the mining and craft work of this gem.
Stop 7: Watch a Whirling Dervishes Show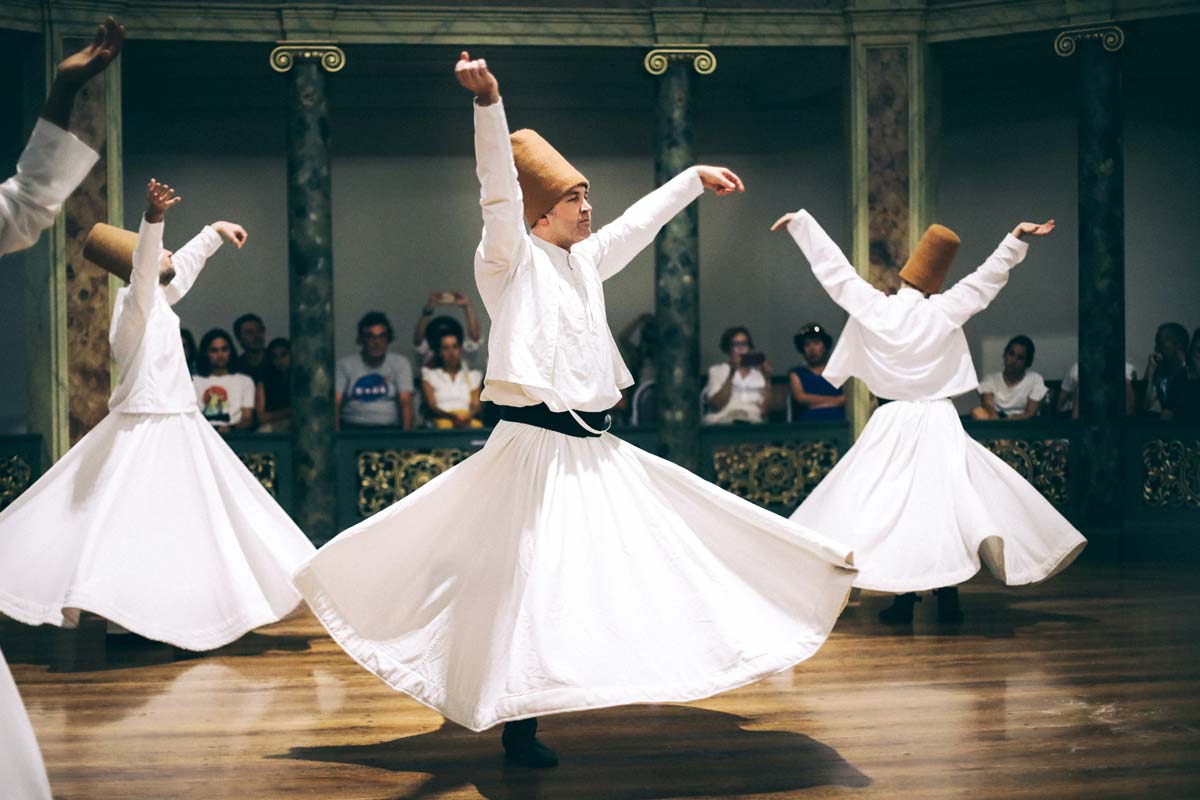 At nighttime, there's no better evening entertainment than a Whirling Dervishes show. The Whirling Dervishes are part of the Sufi tradition and they are known to induce a trance-like state that leads to divine inspiration, or "ecstatic trances" for the performers.
The ceremony starts with the recitation of devotional Islamic prayer and then the dervishes start to spin. There are three sections to the dance, so they whirl around for about 10 to 15 minutes each time.
For many of them, this is a way to connect with God and achieve a state of inner peace. The experience can be quite powerful, even if you're not religious.
There are plenty of places where you can watch the Whirling Dervishes in Cappadocia. However, if you want to see it in an atmospheric setting, then I suggest watching it at the 13th-century Saruhan Caravanserai near Avanos.
The Best Cappadocia Itinerary for 3 Days
Not tired of hiking? Good! Because today we are going to the BEST valleys in Cappadocia and our absolute favorites to hike.
Day 3: Hiking Red and Rose Valley
Depending on your fitness level, you may want to skip some of these hikes and just do the Rose Valley and Red Valley hikes.
We recommend you get up early to see Love Valley and then rest until early afternoon before hitting the rest. This means you can avoid the strong midday sun.
Stop 1: Love Valley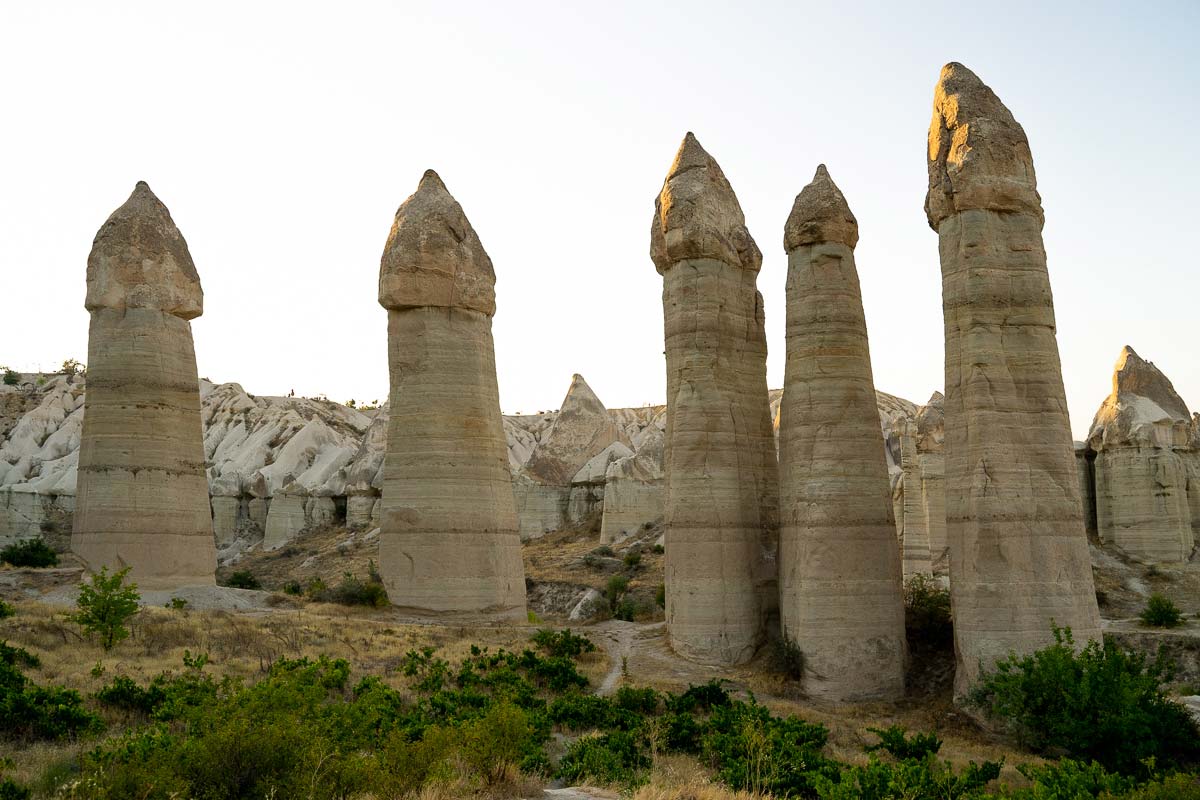 Love Valley is one of the closest valleys to Goreme so if you haven't wandered through it yet, you should make sure to check it out first thing in the morning.
It gets its name from the phallic shapes of the rock formations, which experts believe were formed by ancient volcanic eruptions that occurred 9 to 3 million years ago.
The region was covered in thick ash, which eventually solidified into soft rock formations that eroded easily. The cap of the fairy chimneys is usually much more resilient to erosion, hence why the cap of the fairy chimney is usually bigger than the neck.
The valley is small and won't take long to wander around. Once you've grabbed a few selfies, it's time to go on some real hiking.
Stop 2: Meskendir Valley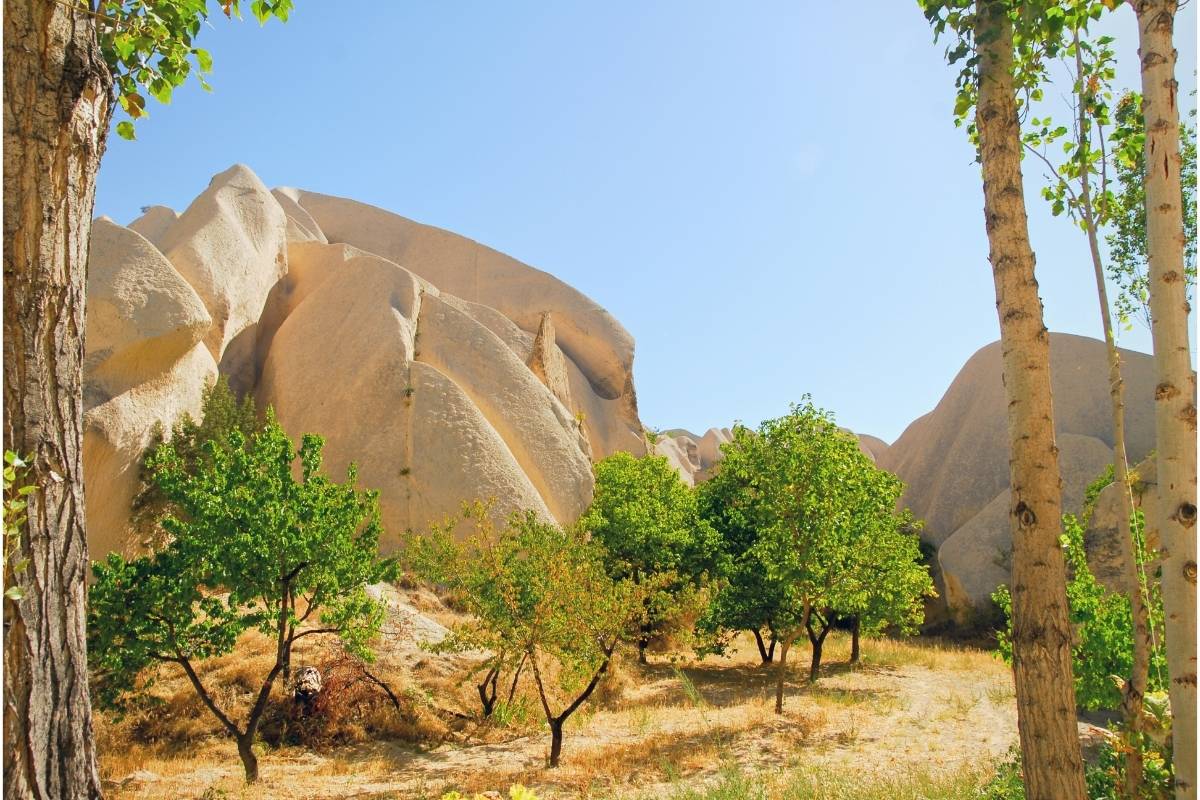 Meskendir Valley is often overlooked as a valley because it doesn't have those huge rock formations that everyone knows and loves. However, if you have allowed a full day to hike Rose and Red Valley, then it's easy to add this on to your hike and there is a good reason why you would want to do this.
The Meskendir Valley starts from Kaya Camping Ground, just across from Aynali Church. From here, you will immediately see a signpost in graffiti saying 'Rose' and 'Red' indicating the route to take.
Meskendir Valley only adds another 2.7km to the hike and it's pretty flat most of the way. You'll pass by gorgeous rock tunnels and formations, and it's also pretty green as well with a few trees for shading.
Stop 3: Rose Valley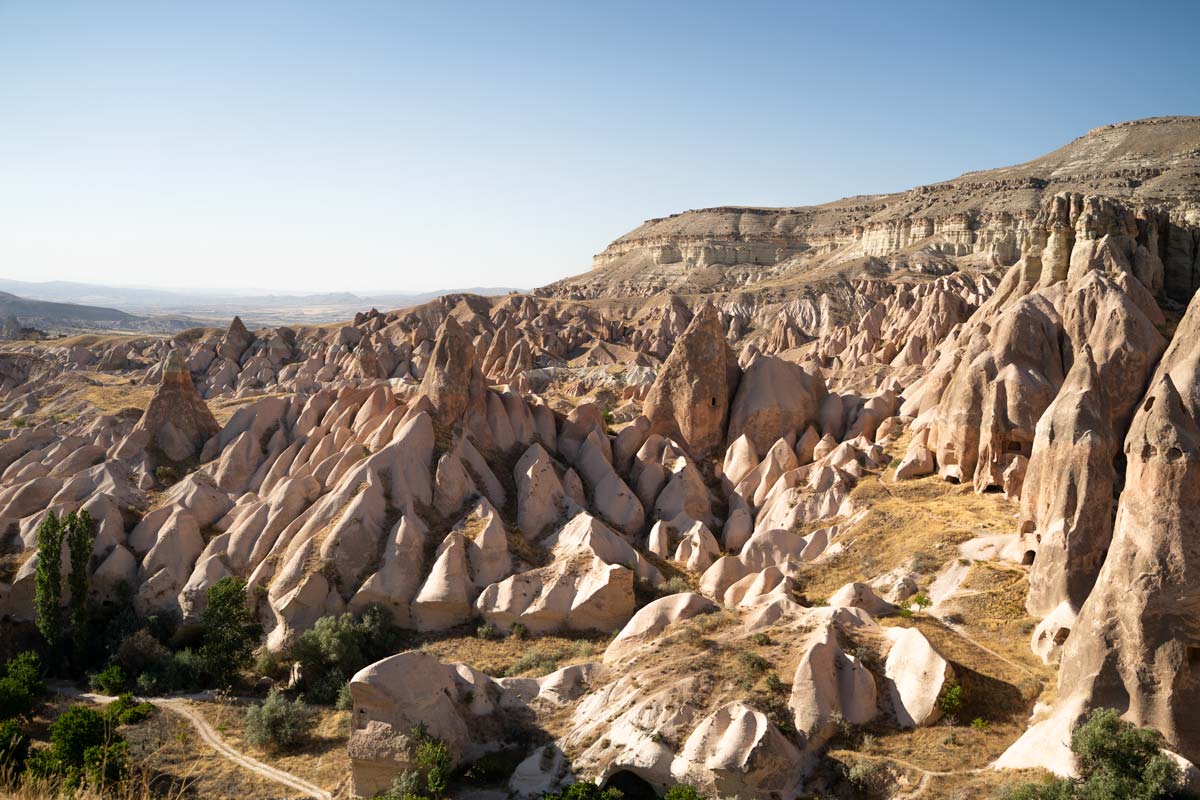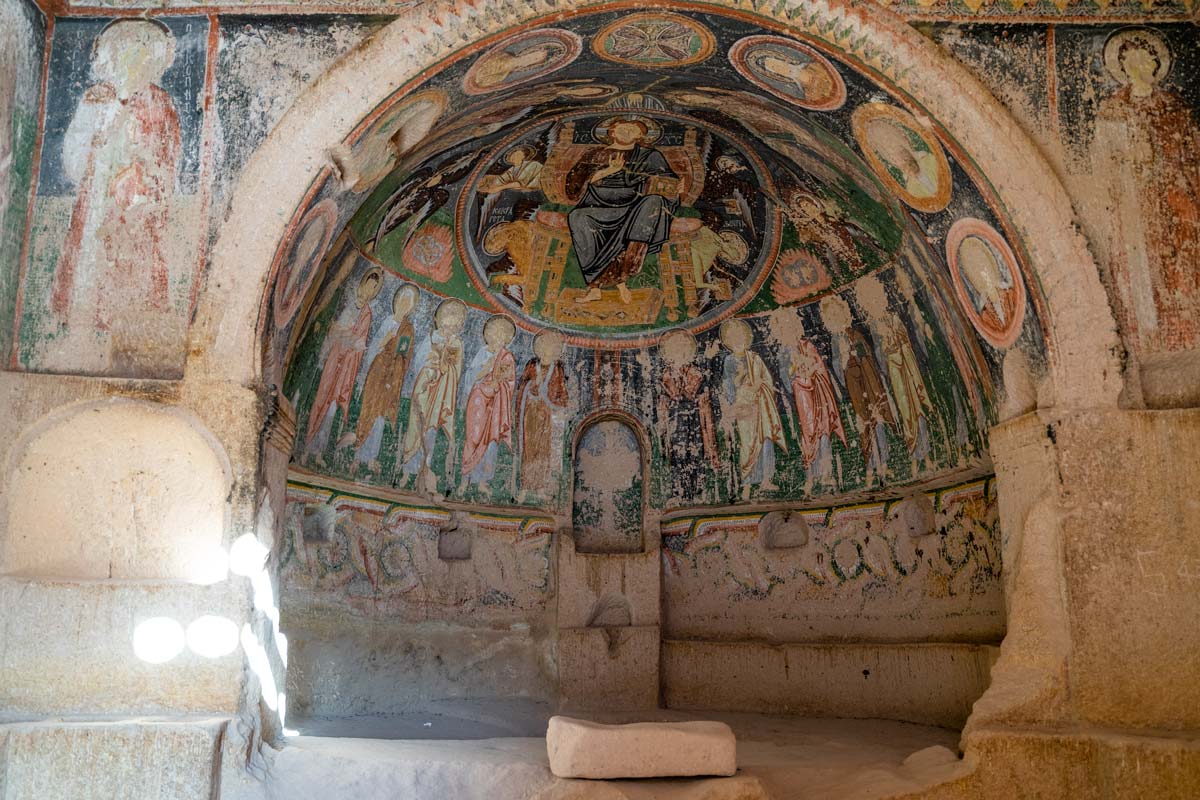 Rose Valley is one of the most famous valleys in Cappadocia because of the pink hue of the rock that lies here. Its landscape is stunning, with gorges and ridge lines that are covered in dry grass, and from the top of the ridge, you have pretty epic views into Red Valley as well.
It's also home to some ancient cave dwellings and churches. The most famous is The Crusader Church, which still has some well-preserved frescoes inside.
Inside the valley, you walk past pigeon homes (dovecotes) and more cave dwellings. The highlight is seeing the Columned Church, which is famous for its intact columns inside the church.
Stop 4: Red Valley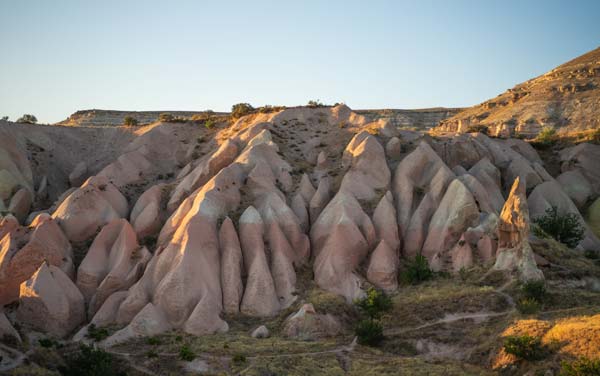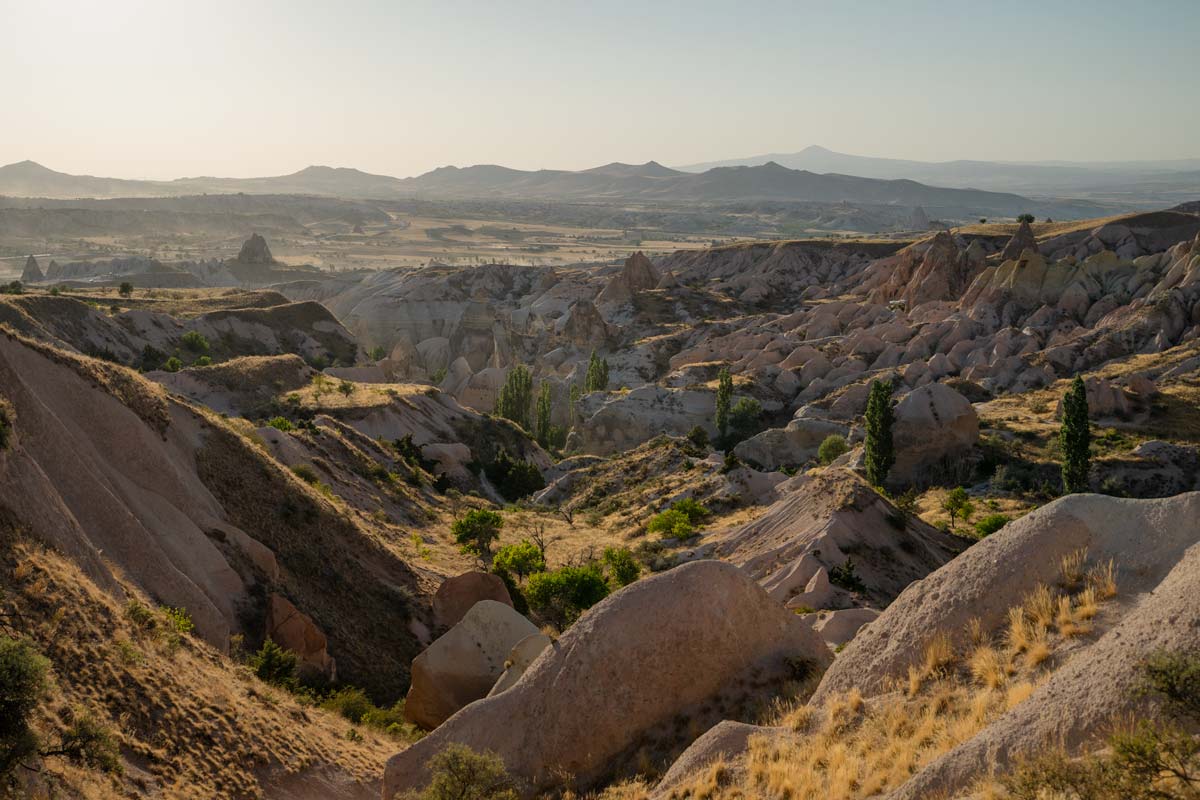 Rose Valley leads into Red Valley, and the exact spot in which the two valleys connect isn't exactly clear, but you will know when you enter Red Valley and the sun goes down as the rock is illuminated in a gorgeous red color.
Red Valley also has some fairy chimneys and churches, but unlike Rose Valley, you cannot go inside them. The landscape of Red Valley is reason enough to visit, and if you plan your hike too late afternoon, you should reach Red Valley around sunset.
The Red Valley sunset viewpoint is one of the most special places. You can sit on swing benches, unroll a picnic blanket, or sit on the picnic benches next to the refreshment stands and replenish yourself as you watch the sunset.
Don't dwindle too long as you still need to hike back. Fortunately, the hike is pretty flat all the way once you make it down from the ridge, and the sun takes a while to set, so you can reach Goreme before the sun passes behind the valleys.
Stop 5: Red Valley ATV Adventure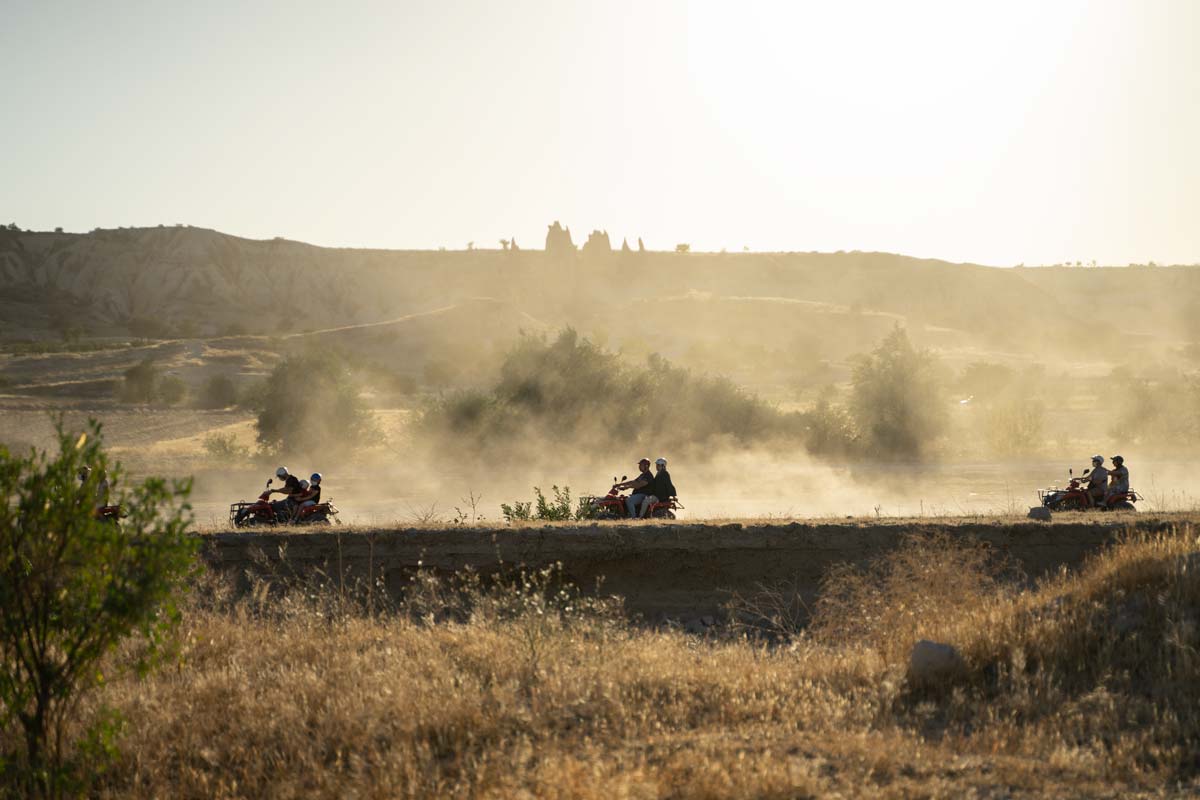 If you finished your hike earlier than sunset, don't rush off back to town, stick around and do an ATV sunset tour of Red Valley. This is an activity for the adrenaline junkie, as you get to zip through the desert on a four-wheel drive ATV quad bike.
You'll be led by an expert guide who will take you off-the-beaten-path, to the most beautiful spots where you can watch the sunset, and give you time to see how fast you can go on the flat stretch of sand used as a hot air balloon landing site.
Ever wanted to zoom around the desert on an ATV? Now is your chance.
The Best Cappadocia Itinerary for 4 Days
On the fourth day, we are going to travel a long way to Lake Tuz, which is around 126km West of Goreme.
Day 4: Avanos and Lake Tuz
The route to Lake Tuz first goes to the town of Avanos, so if you haven't explored it yet, we recommend you stop at two very iconic landmarks in the area first.
Then you pass through two cities in Cappadocia, Nevsehir, and Aksaray.
You will need to hire a car or take a tour to see Lake Tuz, it's just too complicated on public transport.
Stop 1: Zelve Open Air Museum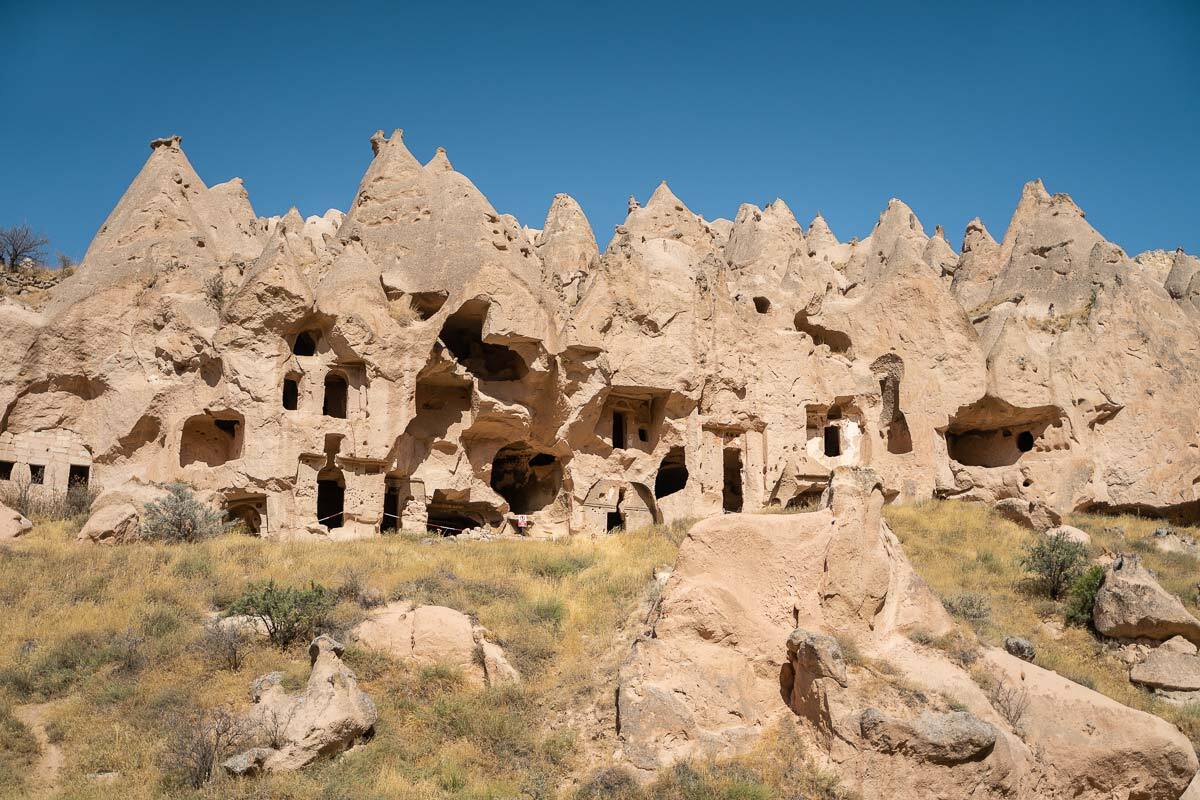 If you enjoyed the Goreme Open Air Museum, or maybe you skipped it, you might also like to see the Zelve Open Air Museum which is much of the same thing.
Zelve was a former settlement, and while there isn't much hard evidence that tells its history, we can learn from the architecture and excavations that the cave dwellings were used by a small troglodyte community since the Byzantine Era.
It was only until the 9th and 13th centuries did this small village come into religious importance, with the first seminaries for priests established here. In between those times, Zelve was used as a haven against the Persian and Arab attacks. After the Byzantine era, this small village was turned into a Muslim village under the Ottoman Empire.
Nonetheless, Zelve was a place where Christians and Muslims co-existed harmoniously, as detailed by the ruins of churches and a rock-cut mosque with a dome.
What's always fascinated me about Zelve was that people were living here right up until 1952! It was then that the Turkish government moved the settlers to nearby Yeni Zelve (Aktepe), just 2 kilometers to the northeast because the rock dwellings were deemed too unsafe to live in.
In 1967, the Zelve Valleys were turned into the museum, and you can see large portions of the village have been closed off due to erosion, but what's left to see is pretty cool.
Stop 2: Avanos Chez Galip Hair Museum
Perhaps there is no attraction in Cappadocia more unusual than the Chez Galip Hair Museum in Avanos. This museum is exactly what it sounds like, a museum dedicated to hair, women's hair. It is estimated that there are over 16,000 locks of hair in the museum.
The museum all started when the owner of a pottery shop, Galip Körükçü, was given a lock of his friend's hair as a memento when she moved out. This story moved a lot of women that stopped in the area, and many of them started to give some of their hair to Galip Körükçü.
Eventually, he opened up a museum dedicating the hair of women. Nowadays, women still come to donate their hair, but that is because they have a chance to win an all-expense-paid trip to Cappadocia.
When visiting the Chez Galip Hair Museum, make sure you check out the pottery shop that accompanies it.
Stop 3: Nevşehir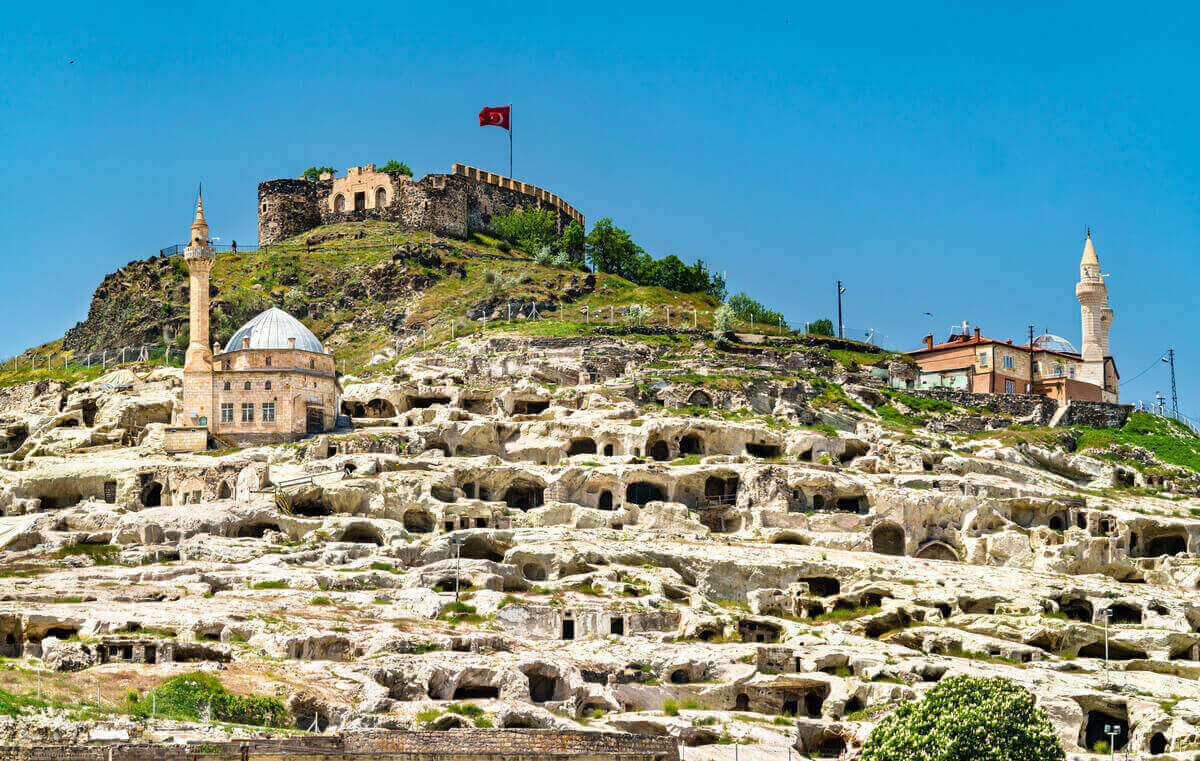 At the heart of Cappadocia lies the beautiful city of Nevşehir, the capital of Cappadocia. Partly surrounded by a horseshoe-shaped mountain ridge, the city is packed full of amazing historical sites and attractions.
As you head towards Lake Tuz, be sure to stop at the Nevsehir Museum which contains ancient relics and artifacts found in the area. You can also pass by Nevşehir Castle, which has amazing views of the city.
Stop 4: Aksaray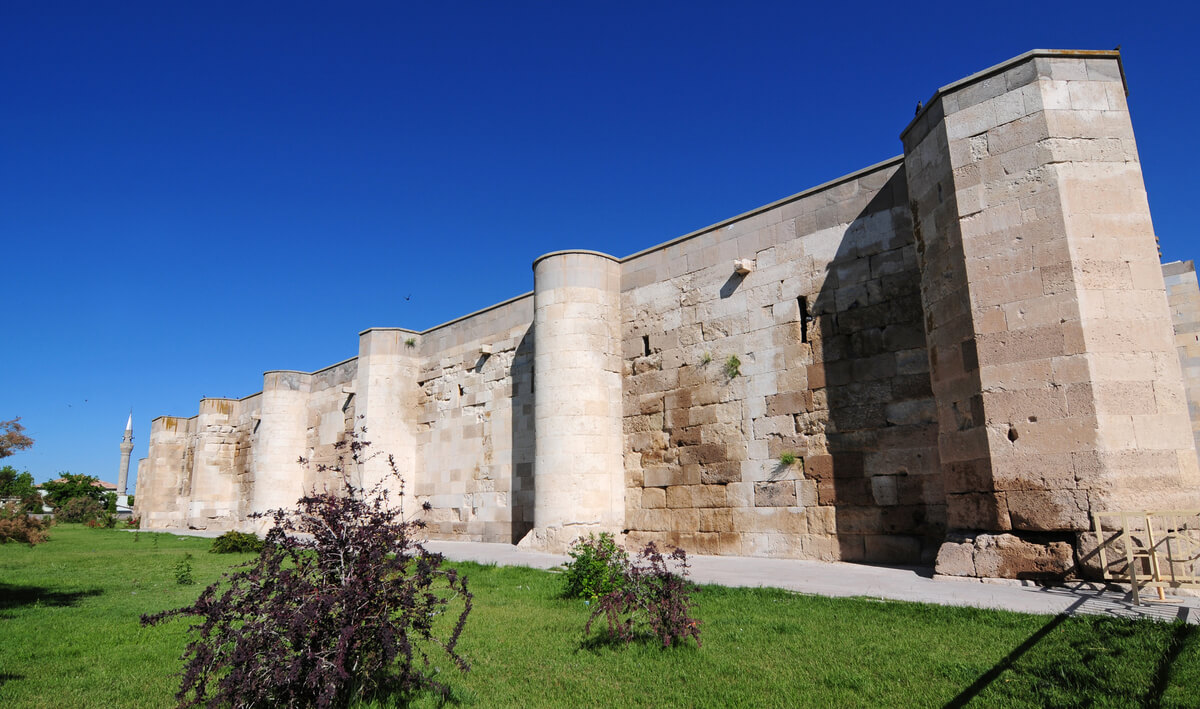 The city of Aksaray is full of beauty and history, making it a great pit stop on the way to explore Lake Tuz. With ruins from the Seljuk Empire and various historical mosques, including Somuncu Baba Tomb, Aksaray has many places to explore if you're still interested in Cappadocia's history.
The Zinciriye Madrasa church, Sultanhani Caravanserai, and Aksaray Museum are three of the top attractions in the city.
But the reason to visit Aksaray is that it is one of the largest cities in the region, meaning it has plenty of great places to enjoy the delicious local cuisine as well as unique shopping experiences.
Fuel up, both your car and your belly, and when you're ready keep driving to Lake Tuz.
Stop 5: Lake Tuz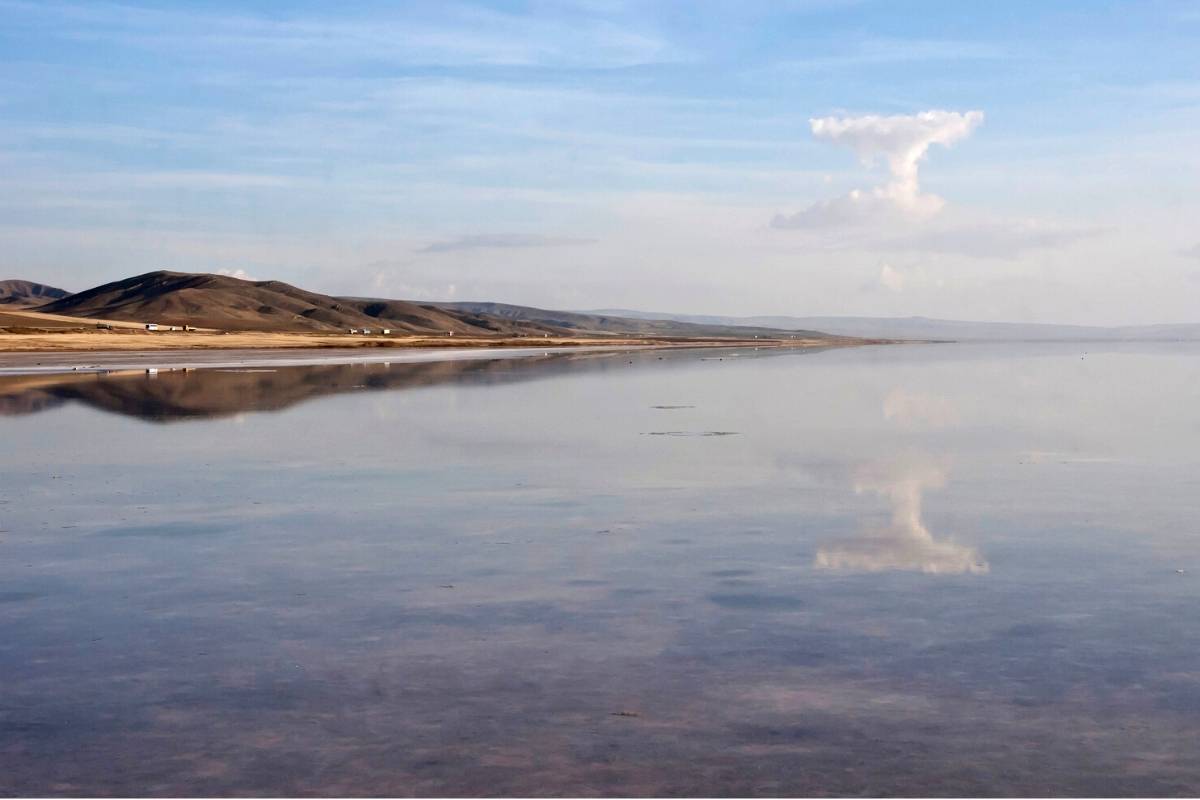 Lake Tuz was the second-largest lake in Turkey and one of the largest hypersaline lakes in the world. It's famous for its pink hue, which is caused by salt-tolerant algae.
The lake is not always pink though, it's only pink when the weather is hot and there's no rain – so it's best to visit in the summer if you want to catch the pinkness.
The lake may be a natural phenomenon, but it is also used for mining salt. It is believed that it supplies the country with 70% of its salt production.
Over the years, the lake has been slowly drying up due to climate change, and in October 2021, it dried up completely. Because there is no outlet, when the water is used up, it's used up.
It was also home to 5,000 flamingoes, but since there is no longer a home for them, they have all disappeared.
While you might want to visit to see the iconic pink hues that made it famous, today you should visit for another reason – to see the catastrophic effects of climate change with your own eyes.
---
The Best Cappadocia Itinerary for 5 Days
If you're planning to spend 5 days in Cappadocia, I wouldn't add any more attractions than the ones I've already given you. You could do some more hikes and see more valleys, but after 5 days you are probably feeling like you've seen a lot of the same landscape.
Instead, I would just do the four day Cappadocia itinerary above much slower. You may want to do the Red and Green tour itinerary yourself by hiring a car and spending more time at the Ihlara Valley for example.
You may also find the Derinkuyu Underground City fascinating and want to see the nearby Kaymakli Underground City as well.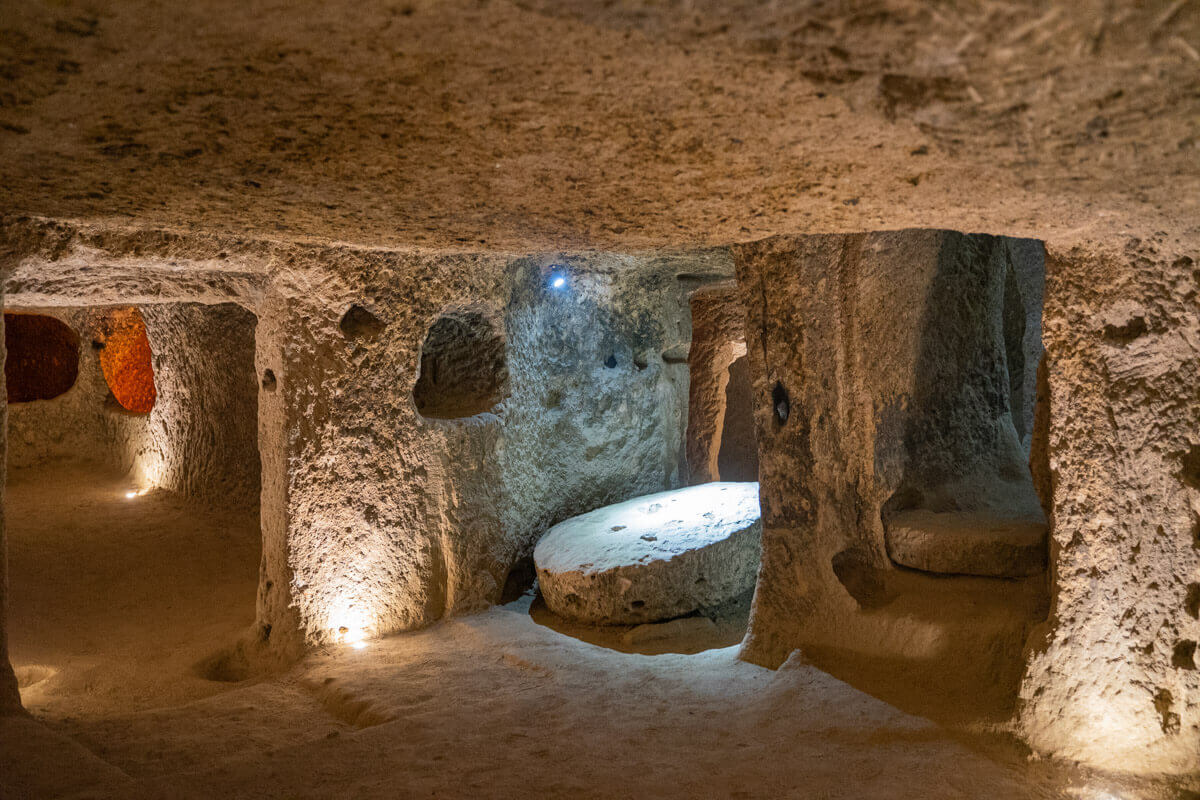 I suggest hiring a car for five days and being flexible. Use the itinerary above as a guide for which attractions to visit and in which order, but don't feel like you need to rush through them. Use your last day as a buffer.
Or simply relax in a Turkish hamam or have an extended lunch looking over the valleys. What's a vacation without a little relaxation as well?
Getting Around Cappadocia
Cappadocia is a bit of a pain to get around if you don't have a car. I highly recommend renting a car and driving yourself if you are spending more than 2 days in Cappadocia.
If you're short on time, it would be beneficial for you to book the Red and Green tours, as they take you to all the highlights.
You can get around Cappadocia by public transport (we did) but it was not an efficient use of time. The buses run every 20-30 minutes and they run on Turkish time, which means they show up when they feel like it.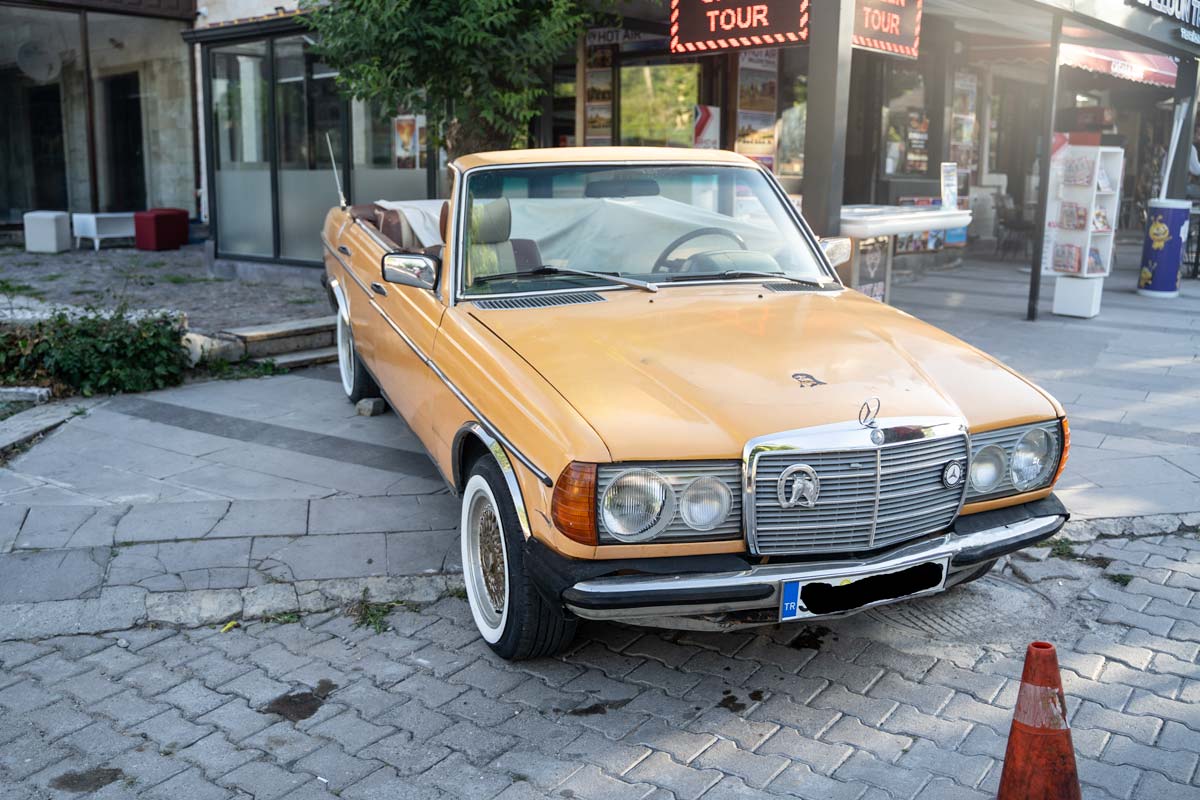 The bus drivers also speak very little English and you may have to change buses (especially if you plan to go from Goreme to the underground cities). It can take you up to an hour to reach each attraction on the bus, so you will need to allow at least 4-5 days in Cappadocia if you don't drive.
We found we hiked to most places. You can easily hike to Uchisar from Goreme by passing through Love Valley and White Valley, and you can also hike to Cauvusin from Goreme through Red and Rose Valley.
Tips for Visiting Cappadocia
To help you have the best trip to Cappadocia, here are a few words of advice:
Go slow and don't try to pack it all in. I know these itineraries are jam-packed, but you're going to exhaust yourself trying to see every valley and do every hike. Take time to just wander the towns and soak in the atmosphere as well.
Hire a car. It will honestly save you so much time and stress by doing everything yourself and driving.
Download the MapsMe App. This is an offline satellite GPS and is perfect for those who are hiking as you can follow the trails offline.
Prepare for cold weather. Even in the summer, nights can be cold in Cappadocia. Pack warm clothing such as a jumper to wear in the evenings.
Prepare for hot weather. Contrary to above, the daytime can be super hot because the landscape is all white and reflects the sun. Wear suncream and a sunhat. You'll thank me later.
Take out cash, as many places don't accept credit cards.
---
Final Thoughts on Cappadocia Itinerary
So there you have it, this is how you can spend your days in Cappadocia, and as you can see, there is a LOT to see and do.
No matter how many days you plan to spend in Cappadocia, we know you will have a great trip.
Do you have any questions about this itinerary? Let us know in the comments.
Disclaimer: Some of the links above are affiliate links. That means if you book or make a purchase through the links, we will earn a small commission at no extra cost to you! The money will help run this site! Thank you!