No trip to Cappadocia is complete without exploring some of the hikes in Cappadocia. This unique landscape of Cappadocia is dotted with many hidden gems such as rock-carved churches, epic fairy chimneys, exotic cave dwellings and stunning rock formations.
This is no better way to explore some of these attractions in Cappadocia than to go hiking. But the UNESCO Heritage World Goreme National Park and its surroundings are massive, and there could be hundreds of trails in the region.
That is why we have written this post on the 11 best hiking trails in Cappadocia, so you don't miss some of the best sights!
---
What Are The Best Hikes In Cappadocia?
Cappadocia is a massive region that stretches about 5,000 square km. If you want to enjoy some of the best sights in Cappadocia and do some hiking, we recommend basing yourself in Goreme. It is the most popular place to stay in Cappadocia.
1. Love Valley and White Valley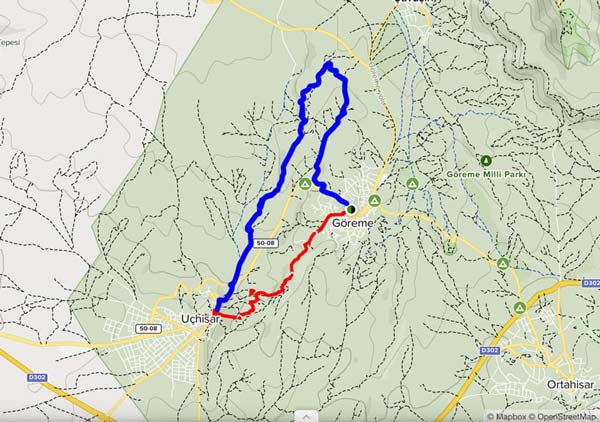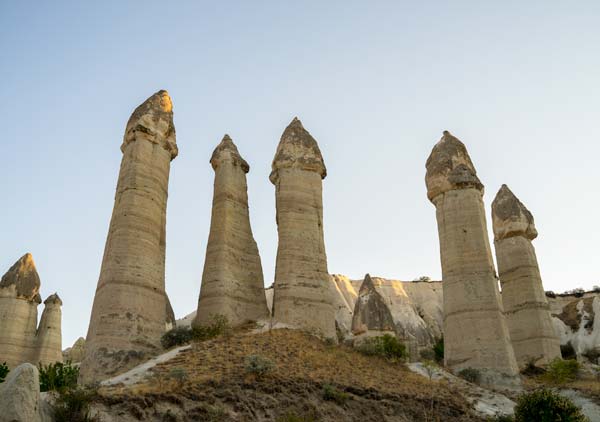 Distance: ~ 7.5 kilometers (4.66 mi)
Duration: 2 to 2.5 hours
Start Point: Goreme
End Point: Uchisar Castle
Difficulty: Medium
The Love Valley and White Valley hike is one of the most popular hikes in Cappadocia. It showcases some of the most unique fairy chimneys in the region.
Love Valley earned its name from the phallic-looking rock formations, which are a lot more prominent than other parts of Cappadocia.
On the other hand, White Valley earned its name from the white surface of the rocks and sand.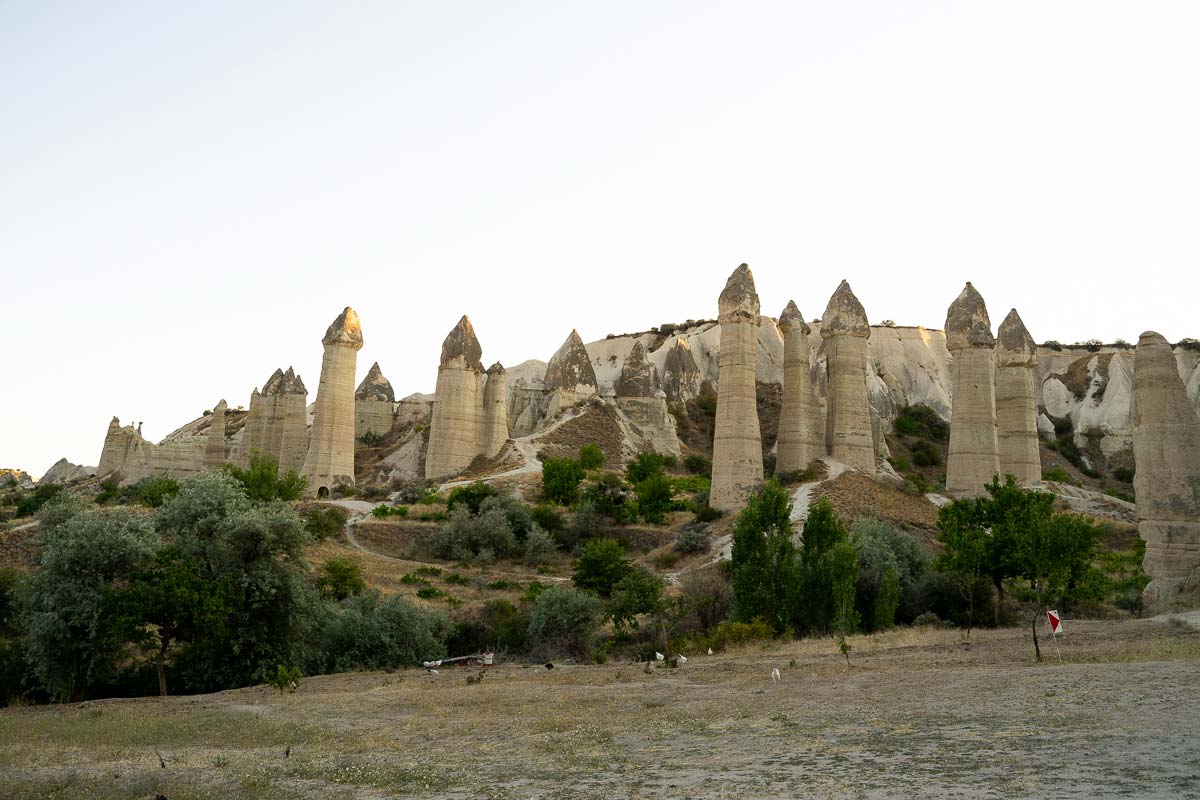 The two valleys connect with each other with no distinct separation. While it is possible to hike just one of the two valleys, they are usually combined because the hiking trail takes you from Goreme to Uchisar.
It is possible to do the hike backward, starting from Uchisar and ending in Goreme. Doing the hike in this direction will be slightly easier than the normal way, but you'll have to find a way to get to Uchisar first.
Once you are in Uchisar, make sure you visit Uchisar Castle before returning to Goreme, either through the same trail, the Pigeon Valley hike (which we'll talk about below), or a bus.
Pro Tip: Time this hike so you arrive at Uchisar Castle for sunset. Uchisar Castle is one of the tallest spots in Cappadocia, so the sunset views there are unparalleled.
If you want to learn more about Love Valley, check out our complete guide here!
2. Pigeon Valley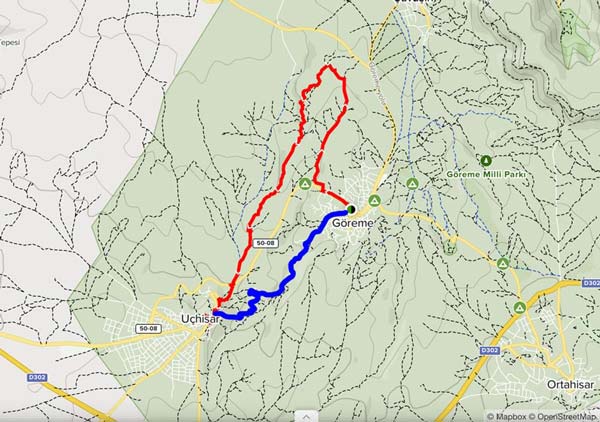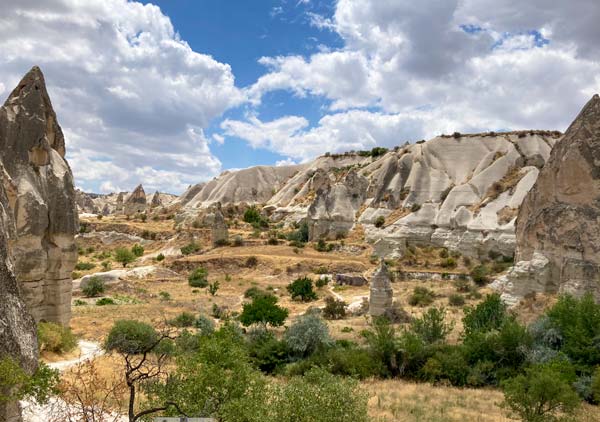 Distance: ~3 kilometers (1.86 mi)
Duration: 1 hour
Start Point: Goreme
End Point: Uchisar Castle
Difficulty: Easy to Medium
Similar to the Love Valley and White Valley, the Pigeon Valley connects Goreme with Uchisar. This is a great alternative trail to get back from Uchisar after hiking there via White and Love Valley.
Compared to Love Valley, the Pigeon Valley is much easier at only around 3 kilometers long. The valley earned its name from the numerous pigeon houses that you can see along the trail. Historically, pigeon poop was very expensive, so many houses for pigeons were built to harvest their poop.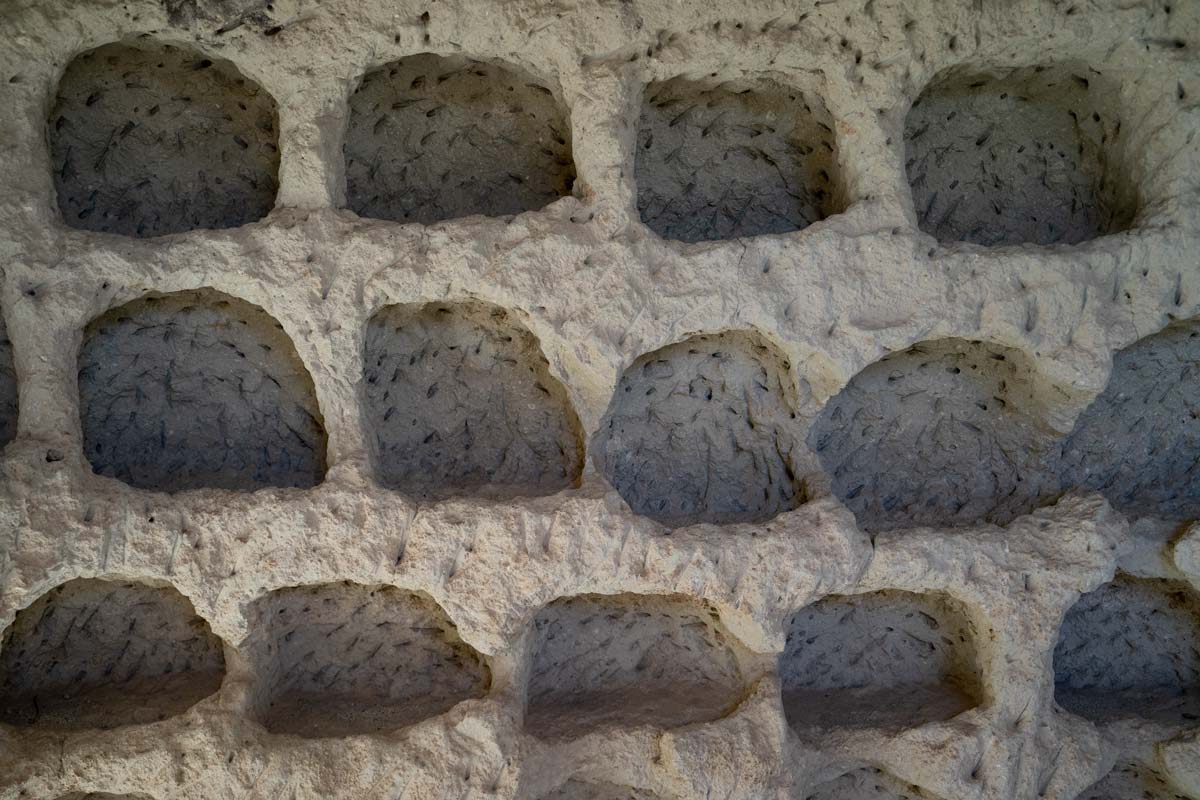 Hikers can experience a part of that history on the Pigeon Valley hike.
The start of the Pigeon Valley hike is near an amazing restaurant in Cappadocia known as Nazar Borek & Cafe. So make sure you get some refreshments and Turkish foods before you start your hike!
If you want to learn more, check out our complete Pigeon Valley guide here.
Pro Tip: You can see Pigeon Valley as part of the Blue Tour. There is a viewpoint at Pigeon Valley that you can see on the Green Tour, too. It is one of the best spots for seeing the hot air balloons in Cappadocia!
3. Rose Valley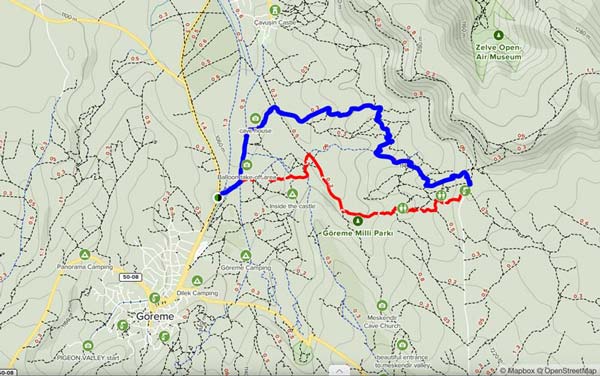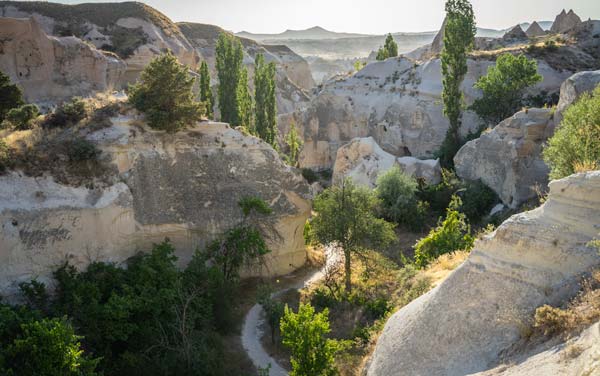 Distance: ~4.3 kilometers (2.67 mi) one-way (not including a 900-meter walk to get to the start of the trail from Goreme)
Duration: 1.5 hours of hiking, but you'll likely spend ~2.5 hours in total from stopping and admiring all the cool rock formations
Start Point: 900 meters North of Goreme
End Point: Red Valley Viewpoint
Difficulty: Medium
No Cappadocia itinerary is complete without hiking the Rose Valley and exploring its historical cave churches and incredible vistas. Along the hiking trail are two of Cappadocia's most exotic churches – the Crusader Chruch and the Columned Church.
Those Christian churches are believed to be built around the 3rd and 4th century AD, nearly 2000 years ago. You can still see some of the frescoes inside, but not as clear as the ones in Goreme Open-Air Museum. Now that Christianity is no longer the main religion in Turkey, those churches are in pretty bad shape.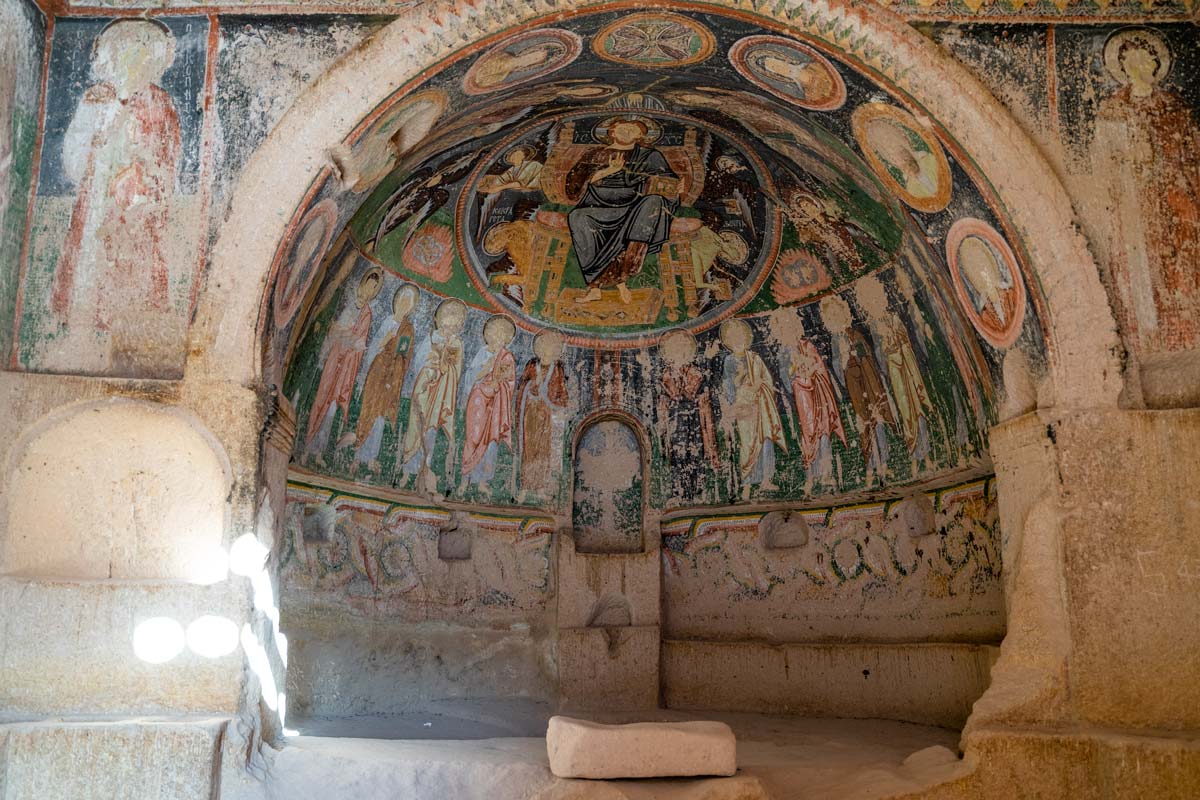 The Rose Valley hike starts about 1 kilometer north of Goreme and ends around the Red Valley Viewpoint, one of the best sunset viewpoints in Cappadocia.
This viewpoint is accessible by car and has a few cafes and seats for visitors to enjoy the view, which unfortunately means it is often very crowded.
Once you finish hiking Rose Valley, you have the option to hike back the same way you came, or exit via the Red Valley. We recommend doing the Red Valley to create a small loop and see what else this region has to offer.
Want to learn more about the Rose Valley? Check out our complete guide here!
4. Red Valley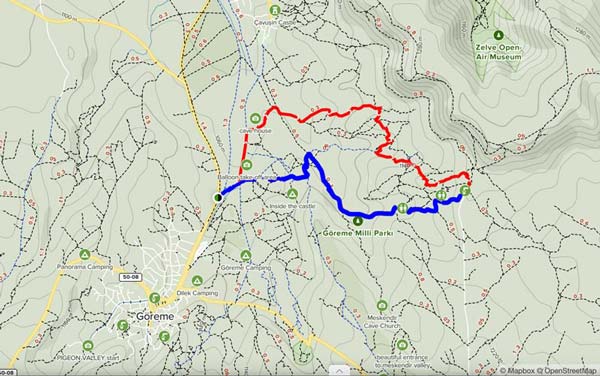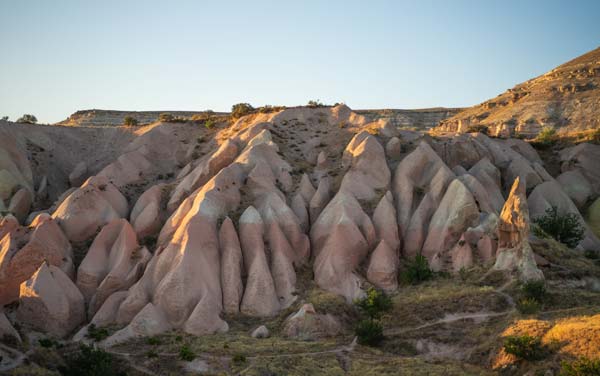 Distance: ~3.3 kilometers (2.05 mi) one-way (not including a 900-meter walk to get to the start of the trail from Goreme)
Duration: 1 to 1.5 hours of hiking, but likely to spend more to check out the views
Start Point: 900 meters North of Goreme
End Point: Red Valley Viewpoint
Difficulty: Medium
The Red Valley is the perfect hike in Cappadocia to compliment the Rose Valley. It got its name from the rock formations that would glow red and pink during sunset, which is quite spectacular if you so happen to be hiking through it during that time.
However, compared to Rose Valley, it doesn't have as many historical rock-cut churches.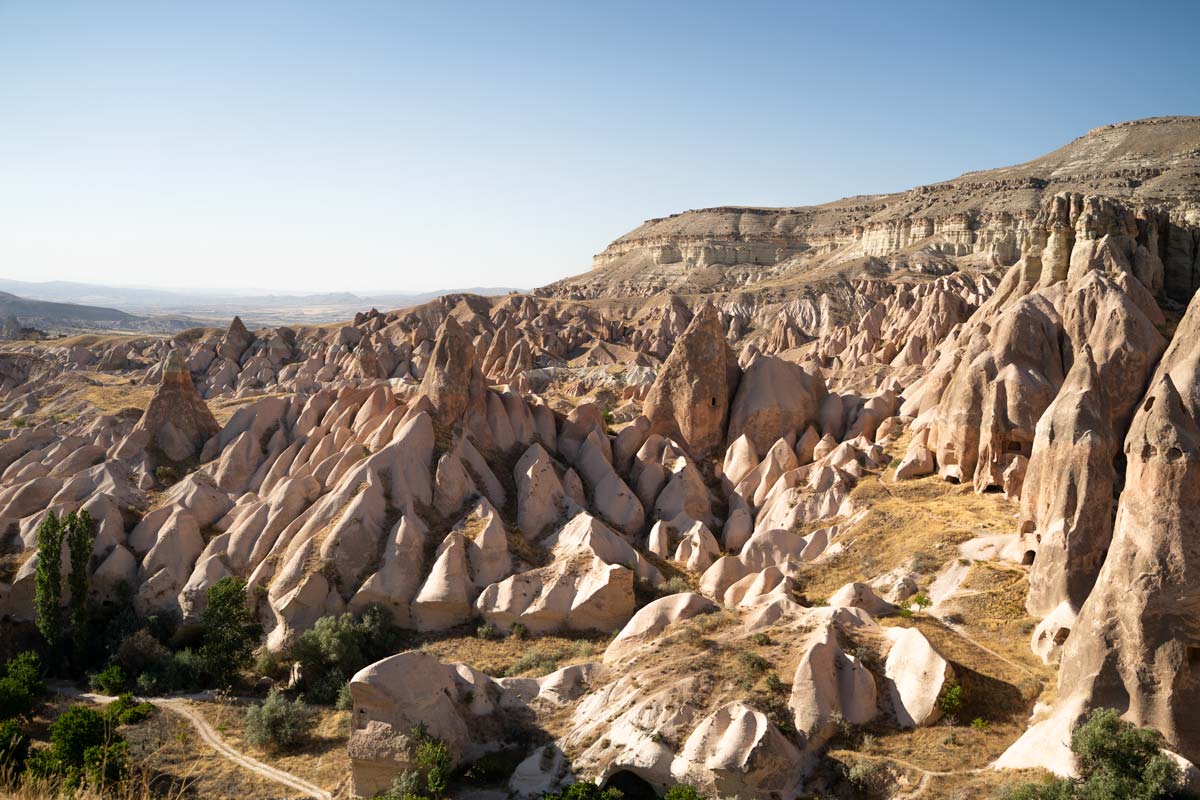 The starting point of the Red Valley hike is the same as the Rose Valley hike, about 900 meters north of Goreme. Its ending point is also the same – at the Red Valley Sunset viewpoint. That is why the combination of the Red and Rose Valley hike is one of the best hikes in Cappadocia.
Besides beautiful rock formations and fairy chimneys, hikers can stop for a light refreshment at the tea houses along the trail.
Planning to visit Red Valley? Check out our complete guide here!
5. Ihlara Valley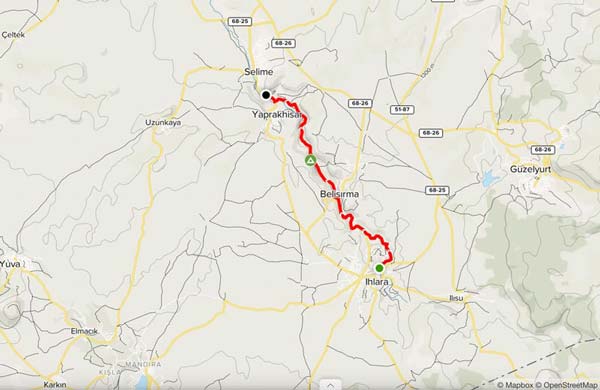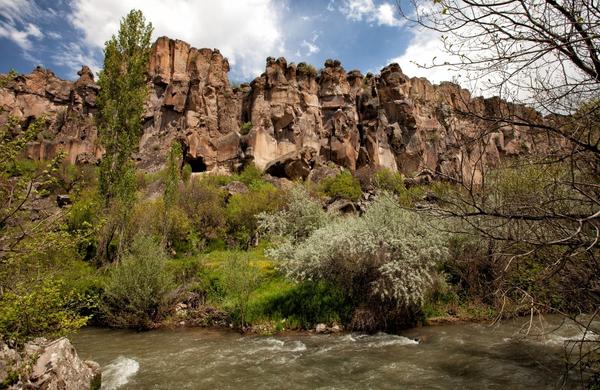 Distance: ~10.5 kilometers (6.52 mi)
Duration: 3 to 4 hours of hiking
Start Point: Ihlara Village
End Point: Selime
Difficulty: Medium to Difficult
Ihlara Valley is one of the longest hikes in Cappadocia at around a total of 14 kilometers. However, hikers typically only do a portion of the hike, and one of the most popular ones is the 10.5 kilometers part.
This part of the hike begins at the small Ihlara Village, where hikers will descend into the Ihlara valley. Following the Melendiz Stream, you will pass through the quaint Belisirma Village and eventually finish in Selime, where you can visit the epic Selime Monastery and see its incredible frescoes.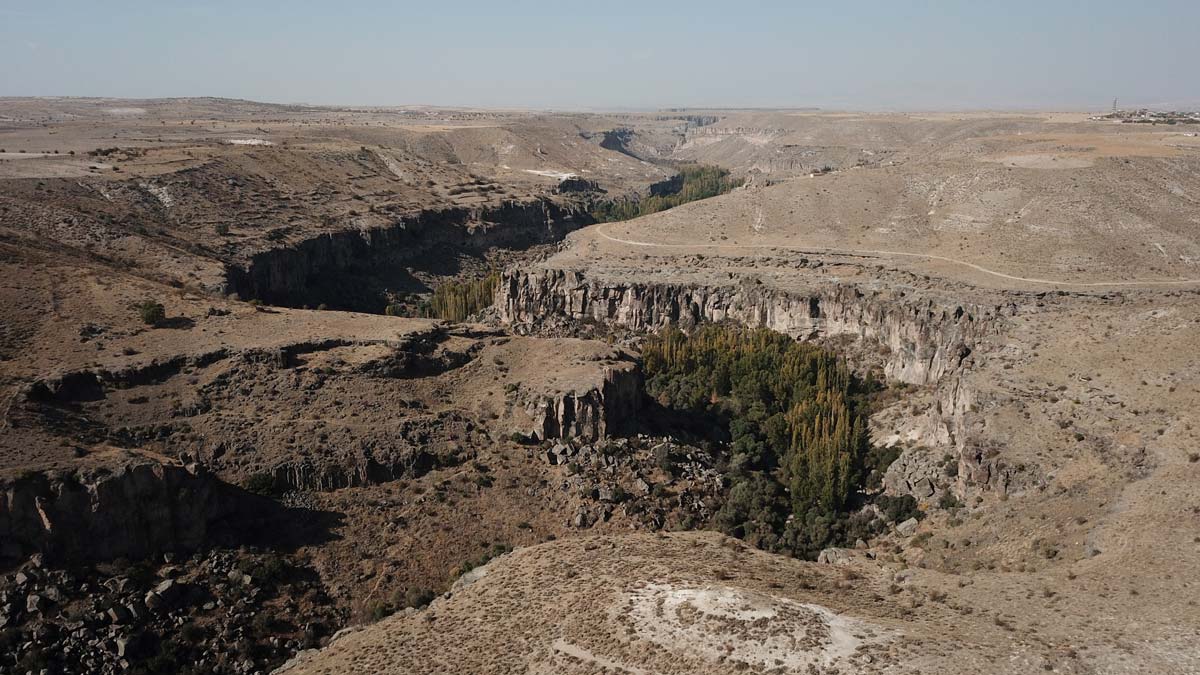 Another popular option is to hike from Ihlara Valley to Belisirma Village, where hikers can dine in one of the restaurants floating above the river. Surrounded by lush greenery and the sounds of the river, it is a unique experience that hikers cannot miss. This route is about 5 km (3.1 mi) long.
Ihlara Valley is quite a unique place to go hiking in Cappadocia, because the valley is so lush compared to the desert landscape of the region. Yet visitors can still find cave dwellings nestled under the dramatic rock formations and canyon.
Perhaps the most difficult part about hiking in Ihlara Valley is its distance from the major sights in Cappadocia. Goreme is situated over an hour's drive away. As a result, most people visit Ihlara Valley either rent a car or go on the green tour.
Read More: Red Tour Vs Green Tour: Which Is Better?
6. Goreme Sunset Point
Distance: <1 km (0.62 mi)
Duration: 15 minutes
Start Point: Goreme
End Point: Goreme Sunset Point
Difficulty: Easy
Goreme Sunset Point is arguably the easiest hike in Cappadocia, perfect for anyone traveling with kids or elders. The viewpoint is situated in the town itself, and visitors simply have to hike up a small hill to reach there.
It is known as the Goreme Sunset Point because the sunset is simply spectacular there. From this viewpoint, you can have panoramic views of the surrounding valleys and canyon, as well as Uchisar Castle in the distance.
There is also a built-in platform where visitors can take photos to remember their trip. Unlike most hikes in the region, the Goreme Sunset Viewpoint has a small entry fee.
This is one of the places you must when in Cappadocia, especially since it is so easy to get to. It is also a nice spot to see the hot air balloon rides at sunrise!
7. Hidden Church Hike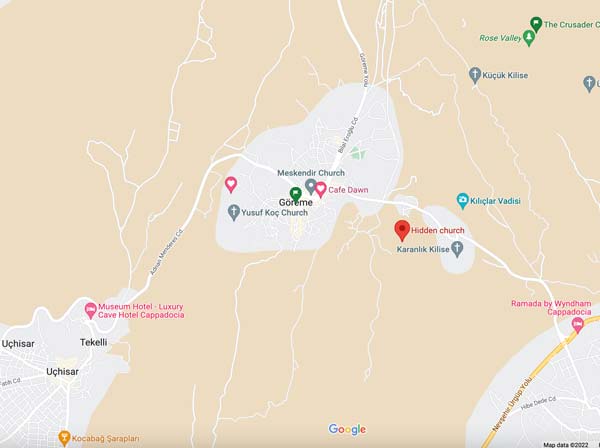 Distance: ~ 1.2 km (0.74 mi)
Duration: <30 minutes
Start Point: Goreme
End Point: Hidden Church
Difficulty: Easy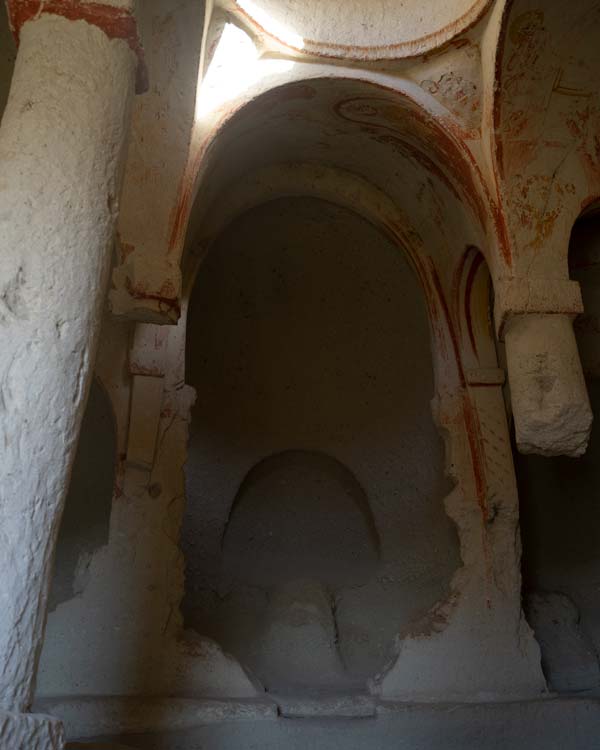 There are many hidden churches dotted throughout the valleys of Cappadocia, and one that we have gotten to know quite well is the hidden church. This church doesn't have a specific name, it is literally just called hidden church.
The hiking trail for this hidden church is not on any maps, but you can get a rough location from Google Maps. It is situated behind the Museum Ranch.
The hidden church is by no means in top condition. The paintings inside have almost completely faded and many of the columns are completely broken off. But that is why we loved it so much – it showed what happens when nature is left to reclaim what's hers.
Plus, you are likely going to be the only ones in the hidden church!
8. Zemi Valley Loop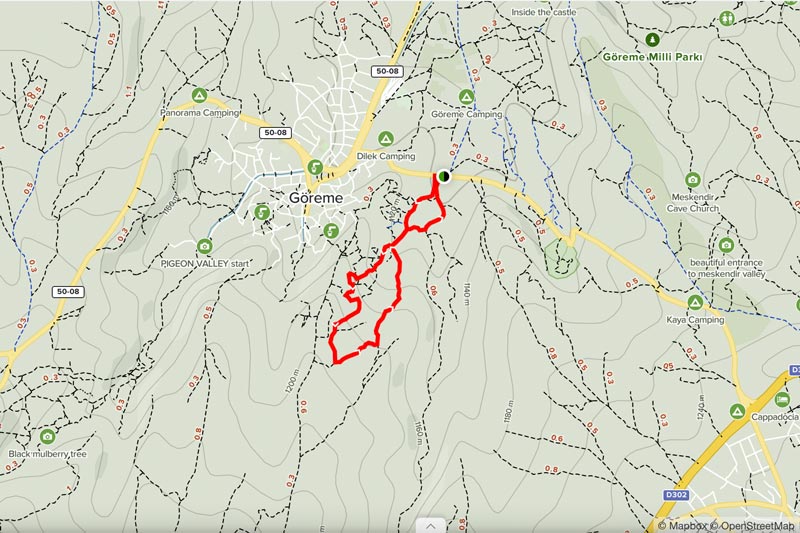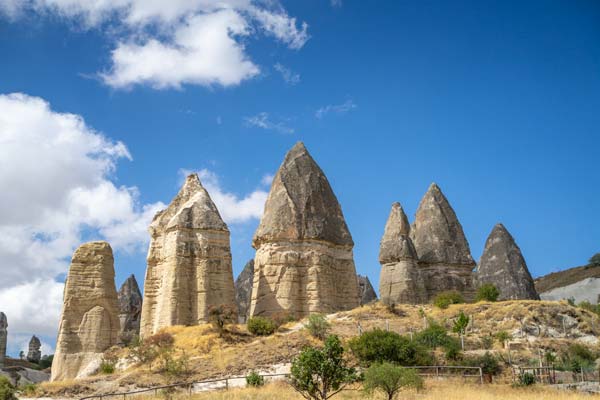 Distance: 3.2 km (2 mi)
Duration: 1 hour
Start Point: About 500 meters east of Goreme
End Point: About 500 meters east of Goreme
Difficulty: Easy
Zemi Valley Loop is one of the most accessible and easy Cappadocia hiking trails. The trail starts just a few minutes away from Goreme town center, and takes you through some really epic fairy chimneys in the region.
Some refer to Zemi Valley as the miniature Love Valley, and it is not difficult to understand why because this valley also has plenty of phallic-looking rock formations. Unfortunately, hikers won't find any caves or churches here, but the fairy chimneys themselves are worthy enough of a quick walk in the area.
It is one of the shortest hikes in Cappadocia where you can get up close to the chimneys – definitely worth checking out.
9. Zelve Open-Air Museum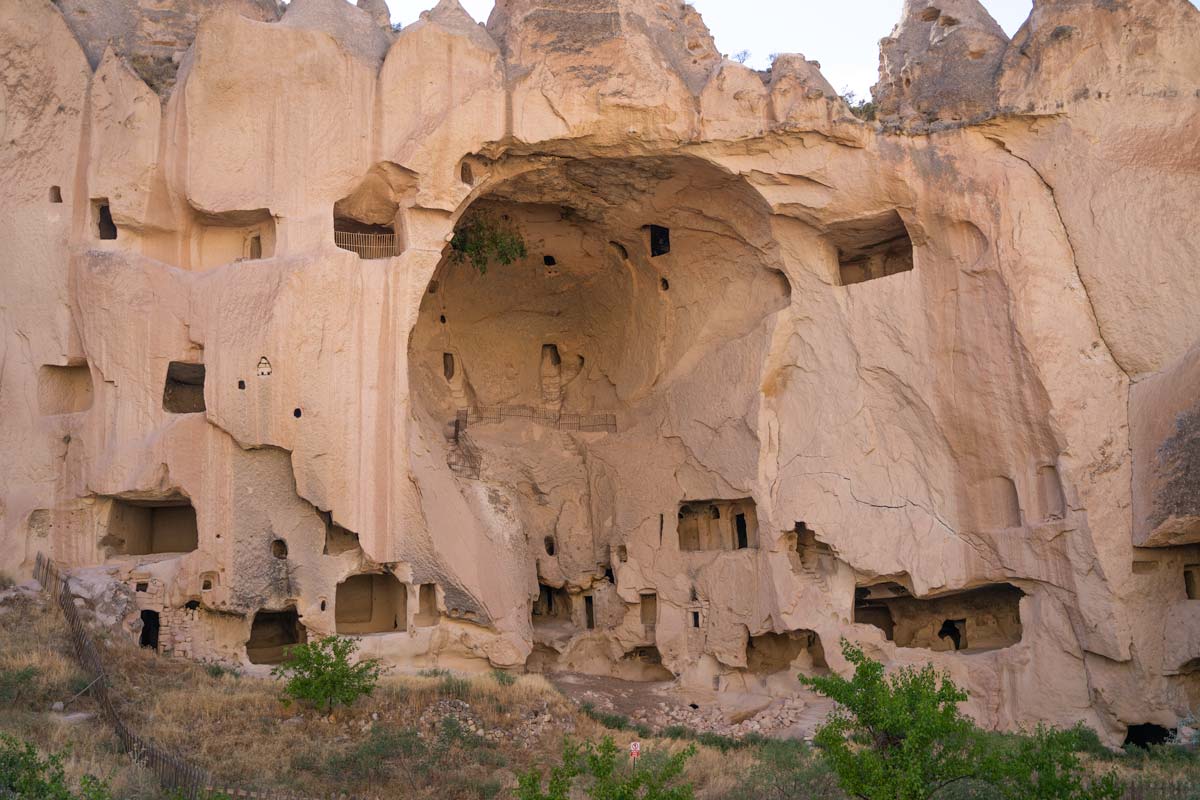 Duration: 1 to 2 hours
Entrance Fee: 25 Liras
Difficulty: Easy
Zelve Open-Air Museum is one of the best places to visit in Cappadocia, Turkey. Three valleys make up the Zelve Monastery, a Byzantine-era settlement that had both Muslims and Christian living harmoniously.
The inhabitants abandoned their homes in the Zelve Valleys due to safety concerns of the structures. Though hikers won't find any frescoes here, they will find some of the most spectacular rock-carved caves and cave homes.
The three valleys at Zelve take about 1 hour to hike. But if you are stopping and admiring all the historical beauty, then expect to spend around 2 hours here. It is a great place to get a nice hike in and learn something cultural along the way.
It is situated far from the towns of Cappadocia, so we recommend hiring a car or a taxi to get there.
10. Devrent Valley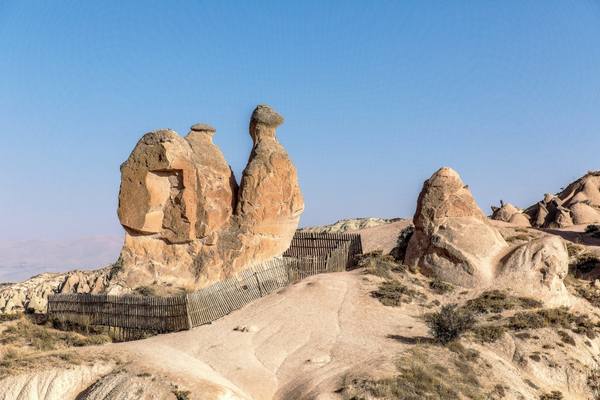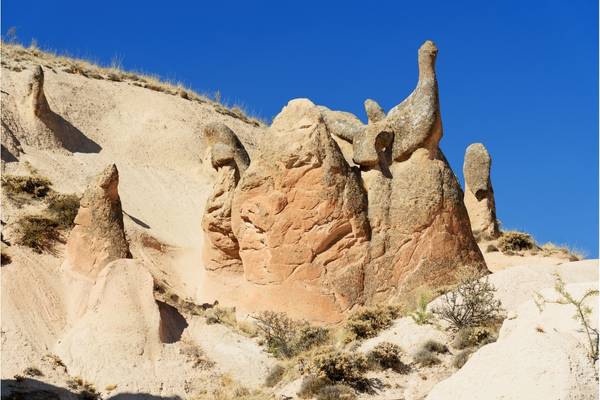 Duration: 30 minutes to 1 hour
Entrance Fee: Free
Difficulty: Easy
Devrent Valley is one of the most popular valleys in Cappadocia, but not for hiking. It is nicknamed the Imagination Valley, thanks to the fairy chimneys that look like various different things when you add a little bit of imagination and creativity to it.
The most iconic one is the camel-looking rock formation at the entrance, but visitors have also claimed to see a dolphin, snails, birds, and even an old lady.
Devrent Valley isn't one of the best places to go hiking in Cappadocia simply because it is so small. It takes less than 15 minutes to hike around the valley, but it isn't difficult to spend more than 30 minutes here just standing around and looking at the different rock formations.
Devrent Valley is part of the red tour of Cappadocia.
Planning to visit Devrent Valley? Check out our guide before you go!
11. Meskendir Valley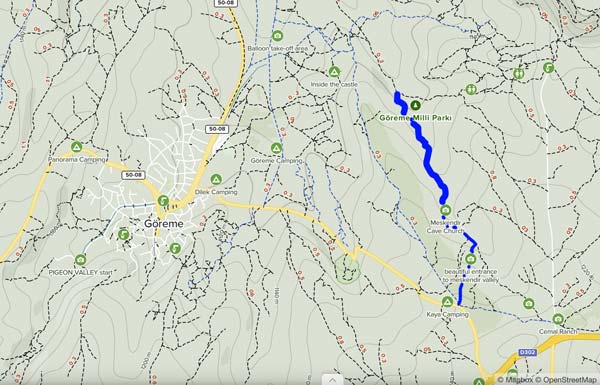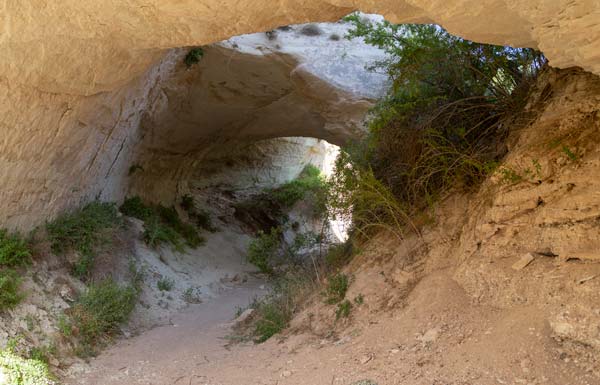 Distance: ~2 km (1.24 mi)
Duration: 45 minutes
Start Point: Near Kaya Camping
End Point: Merges With Red Valley
Difficulty: Easy
The Meskendir Valley isn't a super popular trail to go hiking in Cappadocia, but that doesn't mean it has nothing to see.
It is home to numerous cave dwellings, sand tunnels, and tea houses where you can drink Turkish tea (or a refreshing orange juice) and relax.
Unfortunately, because the trailhead is rather difficult to get to (nearly 2.6 km from Goreme), this trail doesn't see a lot of hikers. It is mostly used for people that are staying in Ortisar or Kaya Camping, which happens to be the entrance of the Meskendir Valley.
The end of the trail connects with Red Valley, which means visitors can explore Meskendir Valley, Red Valley, and Rose Valley in a big loop. Personally, nothing in Meskendir Valley has really stood out to us so we would only recommend me if it was convenient for you.
---
What To Pack For Cappadocia Hikes
Because of the unique desert landscape of Cappadocia, preparing for its hikes can be a bit challenging. Here are what you should be packing for your Cappadocia hikes.
Plenty of Water – This goes without saying but visitors can sometimes underestimate the power of the sun and its dehydrating effects. Pack a little more just in case, you can always just empty it if you need to.
Sunscreen – The sun is so strong in Cappadocia and most of the hikes are not shaded. Even a few hours out in the sun will get you seriously sunburned, especially if you are visiting in the summer.
Sunglasses – Not only is the sun usually very powerful in Cappadocia, but the sand reflects the sun rays and makes your eyes even more tiring. Sunglasses are a must if you want to protect your eyes in Cappadocia.
Desert Scarf – Used to protect your face and head from the sun and the sand. It's also useful for when the wind kicks up and the sand is slapping your face.
Hiking Poles – If you want to tackle multiple hiking trails in Cappadocia, then get some hiking poles. Some of the surfaces can be slippery due to soft sand.
---
Tips For Hiking In Cappadocia
Hiking in Cappadocia is quite different than hiking in other parts of the world. The desert landscape is full of beauty at every corner, but it can be quite dangerous if you don't respect it and take it seriously. Here are some of our tips for hiking in Cappadocia:
Avoid the midday heat – Though summer is one of the best times to visit Cappadocia, the heat and sun in the middle of the day are very strong. If you are not used to it, which most of us aren't, then the midday heat can cause heat-related illnesses.
Download offline maps before you go – The signal on most of these hiking trails is not exactly the best and sometimes you can be without any service. Make sure you have an offline map on your mobile so you can navigate your way. We recommend maps.me.
Be alert – Many of the structures you find in the Cappadocian Valley have been there for hundreds (sometimes even thousands) of years. Some of the structural stability isn't exactly where they are supposed to be, so make sure you are alert just in case something does collapse. Cappadocia is very safe, but that is something you must be aware of.
---
Cappadocia Hiking FAQs
What are the best hikes in Goreme?
The best hikes in Goreme are Red and Rose Valley, Pigeon Valley, and Love Valley. Those are all located within walking distance from the town center of Goreme and showcase some of the best features of the region.
What are the best short hikes in Cappadocia?
The best short hikes in Cappadocia are Goreme Sunset Viewpoint, Zelve Valleys, and Zemi Valley Loop. Those hikes take less than an hour to explore, ideal for travelers looking for something a little less strenuous.
---
Before You Go
Hiking is one of the best ways to explore the rich history and culture of Cappadocia. We hope our guide has helped you decide what is the best hike in Cappadocia. Enjoy!
Disclaimer: Some of the links above are affiliate links. That means if you book or make a purchase through the links, we will earn a small commission at no extra cost to you! The money will help run this site! Thank you!