If you're looking for a delicious, unique dining experience in Cappadocia, you'll want to check out some of the restaurants in the region. From traditional Turkish fare to modern European cuisine, there's something for everyone.
If you're staying in a hotel or guesthouse, be sure to ask about their dining options – many offer exclusive deals that can save you a lot of money. Alternatively, you can also visit one of the many local cafes and restaurants sprinkled throughout the region.
Whatever your preference, we're sure you'll find a great restaurant in Cappadocia to fit your needs.
---
Local Food in Cappadocia To Try
Before we discover where to eat in Cappadocia, let's quickly have a look at some of the most popular dishes in the region.
Manti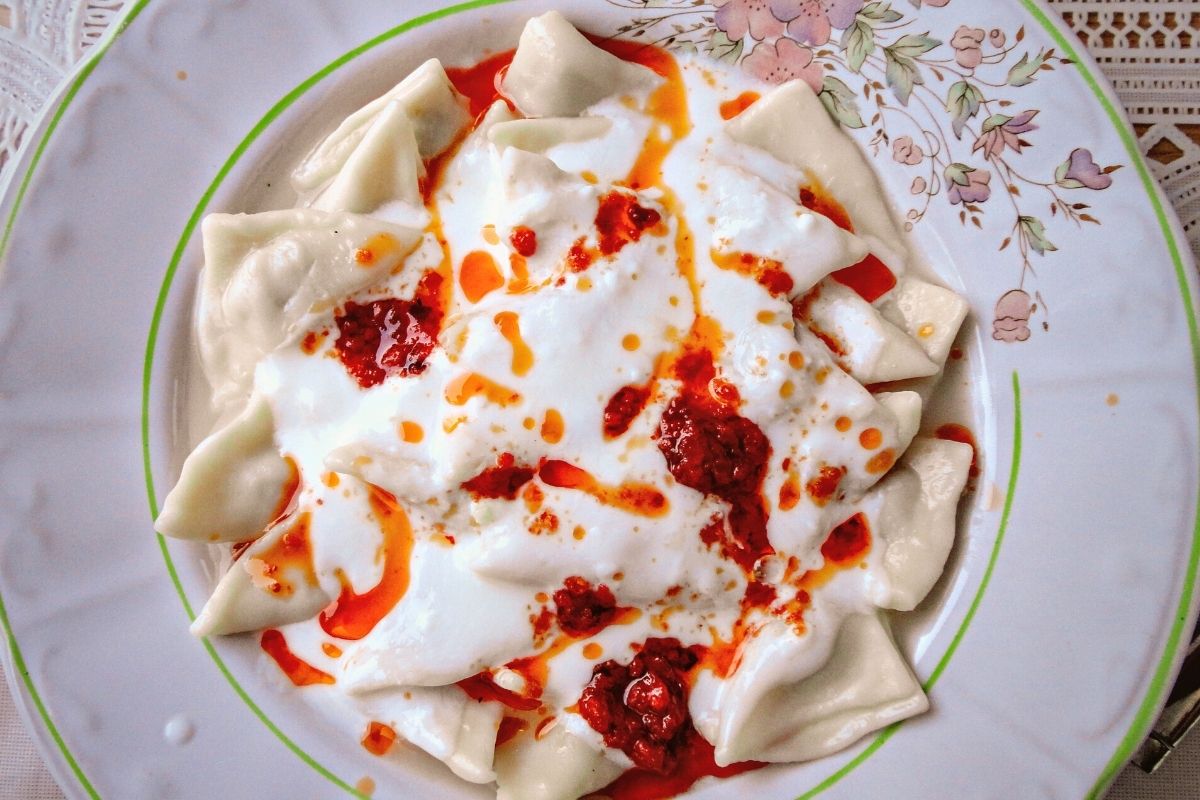 Manti is like a Turkish ravioli dish. It's small pockets of pasta filled with meat (usually lamb or beef) or vegetables and then topped with a tomato or garlic yogurt sauce.
Kurufasulye
Kurufasulye is a stewed dish of white beans, mixed with olive oil, onion, and tomato sauce. Sometimes cured beef like pastirma is added for extra flavor. If you're vegetarian, you can enjoy this as a main meal served with rice or bulgur. Or, you can have it as a side dish.
Testi Kebabı
Testi Kebab is an iconic dish of Cappadocia and the Central Anatolian region. It is not just a delicious meal, but a show for the diner to enjoy. You're warm kebab stew is brewing in a clay pot, which is then heated up in a wood fire. Your server will rotate the pot and tap the bottom of the pot, only when the pot breaks is the food ready. Trying a Testi Kebab is one of the coolest experiences in Cappadocia!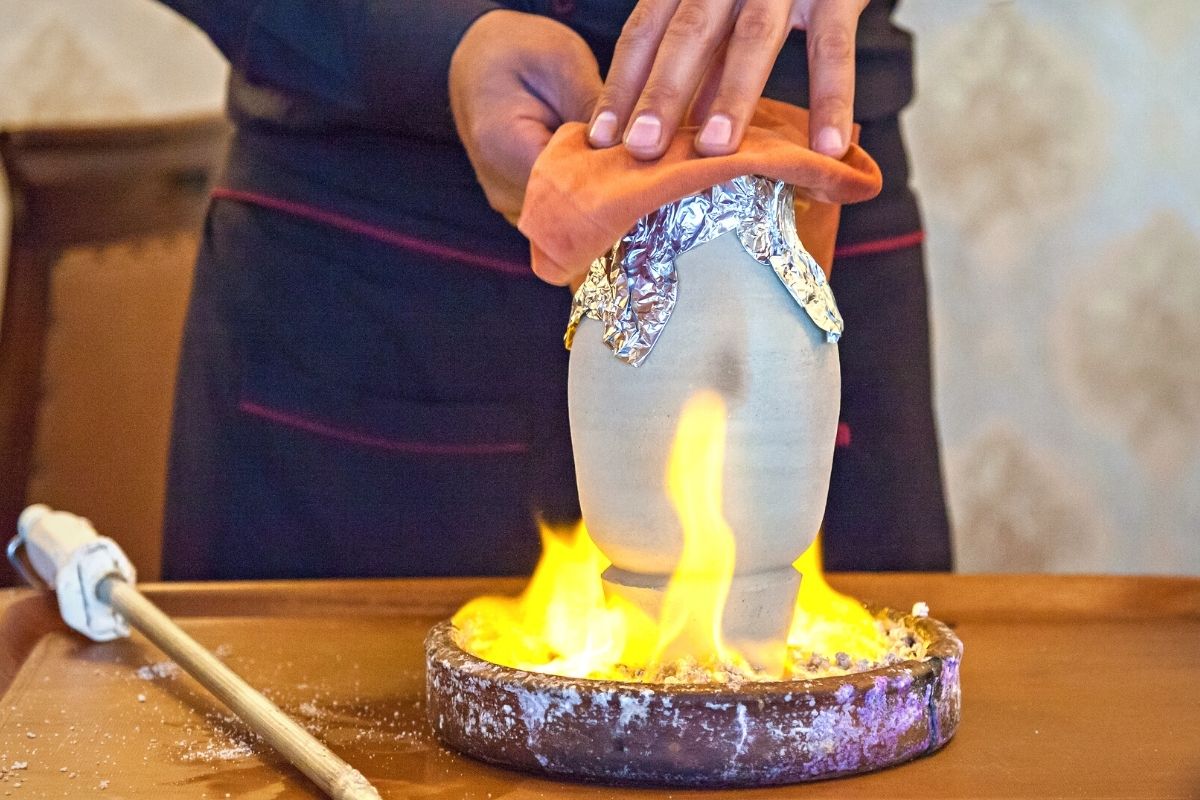 A pottery kebab is often filled with lamb or beef, mixed with tomatoes, green pepper, garlic, salt and pepper, and some chili. It's then sealed in the pot with some dough.
The dough inside the pot isn't really for eating, it's more to protect the meat and vegetables, but you are usually given a side of bread to go with it. Just be careful you don't eat pieces of the pot!
---
The 10 Best Restaurants in Cappadocia
It's important to note that Cappadocia is a region and not a city, therefore these restaurants are located in several different towns and villages.
We have chosen restaurants in some of the most popular areas, so no matter where you're staying, you'll find a fantastic Cappadocian restaurant on this list.
1. Overall Best Restaurant in Cappadocia – Nazar Borek and Cafe
Located in the quaint town of Goreme, Nazar Borek and Cafe is a must-visit if you're interested in traditional Turkish cuisine. Run by a local family, Nazar's place is located on a hill with views over the garden – it's definitely one of the best restaurants in Cappadocia for a view.
The chef uses fresh produce that they grow in their garden in their delicious meals, which come at a very reasonable price. You can sit out on the balcony or inside the cave dwelling as you enjoy local cuisines such as borek and gozleme. They cook everything fresh, so you can sit and admire the sunset over the fairy chimneys while you wait.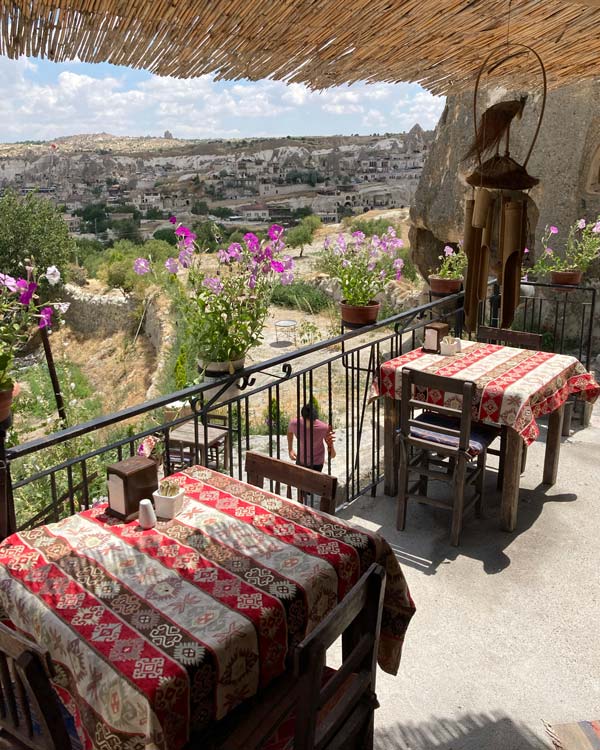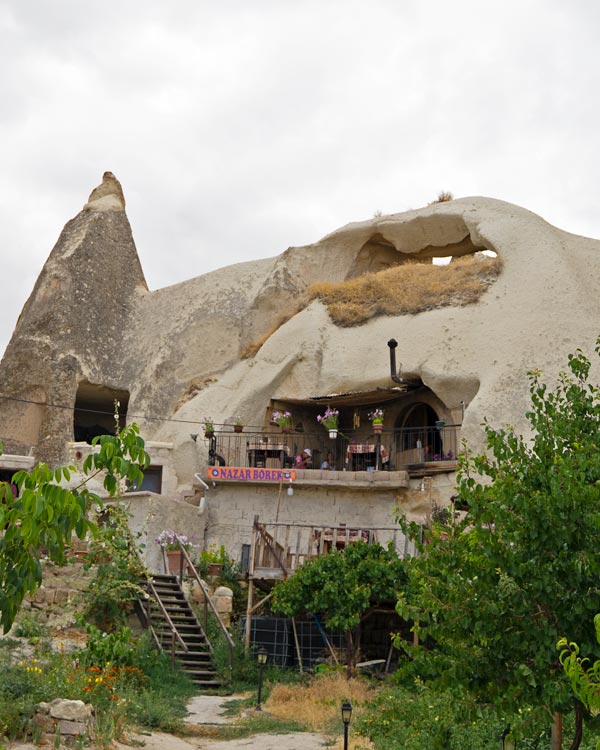 The owner, Nazar, loves to chat with tourists and is incredibly friendly. He even allowed us to explore the fairy chimneys on his property and come back during sunrise to watch the incredible Cappadocia hot air balloons.
The food is delicious and the atmosphere is so relaxing. Honestly, we couldn't find another restaurant that beat the quality for the price, so we went back several times. There is no wine served at Nazar's but he doesn't mind you bringing your own bottle.
2. Most Historic Restaurant in Cappadocia – Dibek Restaurant
If you're looking for a more historic place to dine, then you'll enjoy the Dibek Restaurant which is one of the oldest places in Cappadocia.
The restaurant is located in the heart of Goreme, one of the most popular towns for tourists to visit. The restaurant has been in the family for generations and the building itself is 475 years old.
The ground floor used to be a stables and the upper levels were the living quarters. Now, the restaurant is a welcoming family restaurant offering traditional, home-cooked Turkish meals.
Visitors get an authentic dining experience, as you sit around round tables on the floor while you sit on comfortable cushions.
Some of the most popular dishes you must try are the homemade mantı, kurufasulye, and testi kebabı. There are also some delicious local desserts such as kayısı tatlısı that perfectly round up any meal.
The setting is beautiful, with a relaxing ambiance and a real homey vibe. If you're looking for an authentic Turkish experience, then Dibek Restaurant is the place for you.
3. Family-Friendly Restaurant in Cappadocia – Aysel'in Mutfağı
If you're looking for a relaxed dining venue with a great view, then Aysel'in Mutfagi is the perfect place for you. This restaurant offers a more modern interpretation of Turkish cuisine, focusing on fresh ingredients and innovative dishes. The manti is really popular here.
The interior of Aysel'in Mutfagi is stylish and trendy, with plants for decoration and cushioned seats. But the highlight of this restaurant is the outdoor deck that offers gorgeous views of Goreme.
Aysel'in Mutfagi is a great Turkish restaurant for families, couples, or anyone looking to try something new!
4. Most Romantic Restaurant in Cappadocia – Lagarto Restaurant
If you're looking for somewhere to enjoy a romantic dinner surrounded by natural beauty then Lagarto Restaurant is perfect for you. The restaurant is at the top of the hill looking down over the historic town of Ürgüp and provides stunning views while you eat your dinner.
You can dine al fresco with a small round table designed for an intimate setting, or you can dine inside in the elegantly designed cave restaurant.
One of the most popular dishes on the menu is the mezze – a platter of small dishes served as an appetizer.
The staff here are a delight, who love to explain the history behind the dishes and the area and offer some excellent suggestions for table wines. There is a great selection of Turkish and International wines on the menu.
5. Most Unique Restaurant in Cappadocia – Aravan Evi
If you're looking for a truly unique dining experience, Aravan Evi is the place for you. Serving traditional Turkish cuisine, the restaurant is set in the quiet village of Ayvali, just outside Urgup. The restaurant is also a hotel, and what makes it even more special, is you can sign up for a cooking class if you really want to learn the ropes behind these iconic Turkish meals.
The restaurant grows its own fruits and vegetables on its eco-farm and uses water from a well that has the cleanest irrigation system – so no pesticides or chemicals. They value healthy eating that has little impact on the environment.
Guests are welcome to visit the gardens and pick their own fruit and vegetables and take part in the preparations of the meals if they wish.
As well as this, the restaurant and hotel are family-owned, and all meals are prepared by the lovely mother of the family. Some of the most popular meals include casseroles, homemade flatbread, and bulgar meals.
You can dine indoors or outdoors on the terrace using their lovely garden setting as your backdrop, and be sure to book yourself a table before it's too late!
6. Best Cave Restaurant in Cappadocia – Topdeck Restaurant
Topdeck is an authentic cave restaurant in Cappadocia who are making a name for itself as one of Cappadocia's best restaurants.
Serving up traditional Turkish cuisine from its cozy cave-dwelling, Topdeck has something for everyone – whether you're after hearty meat dishes or vegetarian and vegan options, they'll have something to tempt your taste buds! And for an affordable price, too!
The menu is small but this is because the chef prepares everything fresh. Guests love the stews and mezze, and the salad is fresh using locally sourced ingredients.
This restaurant only has 11 tables, so it's always a good idea to reserve a table beforehand as it's very popular. If you like an intimate dining experience, this is the place for you.
7. Most Relaxed Restaurant in Cappadocia – Zen Cappadocia Hotel & Cafe
If a quiet outdoor setting is your thing then look no further than Zen Cappadocia. This traditional Turkish restaurant and hotel is located in Uchisar, with unrivaled views of the Uchisar Castle from its dining terrace. The restaurant is small and cozy, with friendly staff and a comfortable atmosphere.
The mezze is a particular favorite, as it comes with several tasty bowls of freshly made dishes using locally sourced ingredients.
The atmosphere in this restaurant is relaxed and informal, with reasonable prices. It's perfect if you want to enjoy some good old-fashioned Turkish chat while you eat!
If you're visiting in the winter, dining whilst watching the snow fall on Uchisar Castle and the surrounding valleys is a sight you'll never forget.
8. Best Restaurant for Testi Kebab – Kapadokya Lezzet Sofrası
This relaxed restaurant in Cappadocia is a great place to go for a delicious dinner with the family for an affordable price. The setting is much more open than most Cappadocia restaurants with more tables, which means you're more likely to get seated quickly.
Keeping true to the authenticity of the region, the decor of the place is surrounded by Turkish art and fabrics, but with a few modern embellishments added (for instance, you get a table and chair here, instead of a cushion on the floor).
Their menus are full of delicious Turkish dishes, including some classics such as the iconic Testi Kebab in a clay pot. This is one of the most popular items on the menu so make sure to get there early before they sell out.
Guests also comment on the generous portion size, a rarity in restaurants in Turkey. You can also get authentic Ayran here, which is unusual for Cappadocia. Guests also love the pide and mezze selections.
If you're looking for somewhere where you can just enjoy your meal and spend quality time with your family, then Kapadokya Lezzet Sofrası is definitely the place for you!
9. Best Luxury Restaurant in Cappadocia – Millocal Restaurant Kapadokya
If you're craving something a little more substantial then Millocal Restaurant Kapadokya is perfect for you. They serve up traditional Turkish dishes with a modern flair, using ingredients from producers in the region. There are even some vegetarian and vena options too, just ask your waiter.
The atmosphere at this restaurant is casual but stylish, with tiled floors and soft, plush comfy chairs, and marble arches separating dining spaces.
The food here is a bit more on the pricier side, but everything has been made fresh and with innovative recipes that really bring out the best flavors of the region.
It's a great place to stop by if you're visiting Cappadocia for the first time and want to dine somewhere with a little more luxury.
10. Best Restaurant in Cappadocia for Views – Seyyah Han
The Seyyah Han is one of Cappadocia's liveliest restaurants with a live band playing while you dine in the evenings. They serve up traditional Turkish cuisine at affordable prices, making it a great option if you're on a budget. Some of the most popular dishes on the menu are lamb shank, veal ribs, and hummus.
The decor at this restaurant is classic Turkish – rustic and charming, with wooden floors and walls covered in antique posters and paintings. But the highlight has to be the view overlooking the fairy chimneys in Cavusin, which can be seen from the balcony or huge round windows. On a clear day, you can see as far as Red and Rose Valley.
It's the perfect place to enjoy a leisurely meal with friends – or your loved ones!
---
FAQs About Restaurants in Cappadocia
Here's what people usually ask us about Cappadocia's restaurants…
What food is Cappadocia famous for?
Cappadocia is famous for its manti dishes. These are small pockets of pasta filled with meat or cheese and then topped with a yoghurty sauce.
Does Cappadocia have good food?
Cappadocia has fantastic food, and if you know where to look, for a good price.
How much is the average meal in Cappadocia?
Depending on where you go and what you order, you can expect to pay around $10 USD per meal at most restaurants, including drinks.
---
Final Word on the Best Restaurants in Cappadocia
Cappadocia is full of incredible restaurants that will make your visit unforgettable. If you're looking for a place to try some of the region's most popular dishes, be sure to check out one of the restaurants on this list!
Disclaimer: Some of the links above are affiliate links. That means if you book or make a purchase through the links, we will earn a small commission at no extra cost to you! The money will help run this site! Thank you!