The valleys in Cappadocia are the perfect places to experience what this region is famous for. From epic cave dwellings to exotic fairy chimneys and rock-cut churches, there is no better way to see them up close than the Cappadocia valleys.
But Cappadocia is a massive area that spans nearly 5,000 square kilometers with tons of different valleys to choose from. And for someone with a short itinerary to Cappadocia, you might not have the time to discover them all.
That is why we have written this post on the 10 best valleys in Cappadocia, so you can know where are the best valleys to visit there! We'll also provide you with a map so you can use it to properly plan your trip!
---
What Are The Best Valleys In Cappadocia?
1. Rose Valley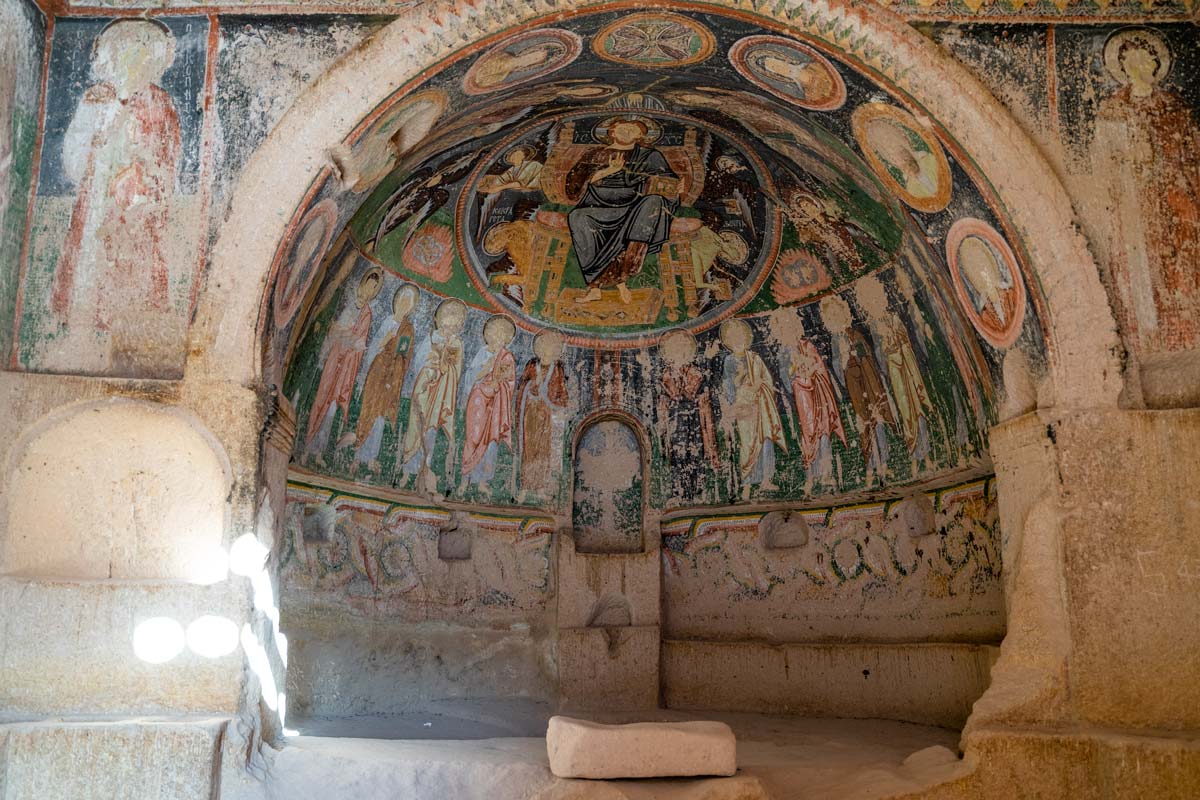 Known For: Crusader Church, Column Church, Hiking
Rose Valley in Cappadocia has earned its name from the rosy tint of the rock formations, especially during sunset. This valley is one of the most beautiful valleys in Cappadocia and is home to numerous churches and chapels.
Perhaps the most famous one in Rose Valley is the Crusader Church. It is one of the cave churches with some of the most stunning frescoes visitors you can find in Cappadocia. The fresco depicts Christ Pantocrator, with Pantocrator meaning "all-powerful" or "almighty. " Like most religious cave paintings in Cappadocia, the one here is damaged.
Another church you can see in Rose Valley is the Column Church, which as the name suggests, has cool columns.
The best way to explore the Rose Valley is through a hike. It takes approximately 1.5 hours to hike it, but you're likely going to spend more time in the valley from all the stopping and photographing.
Find out more about the Rose Valley in our separate guide here!
2. Red Valley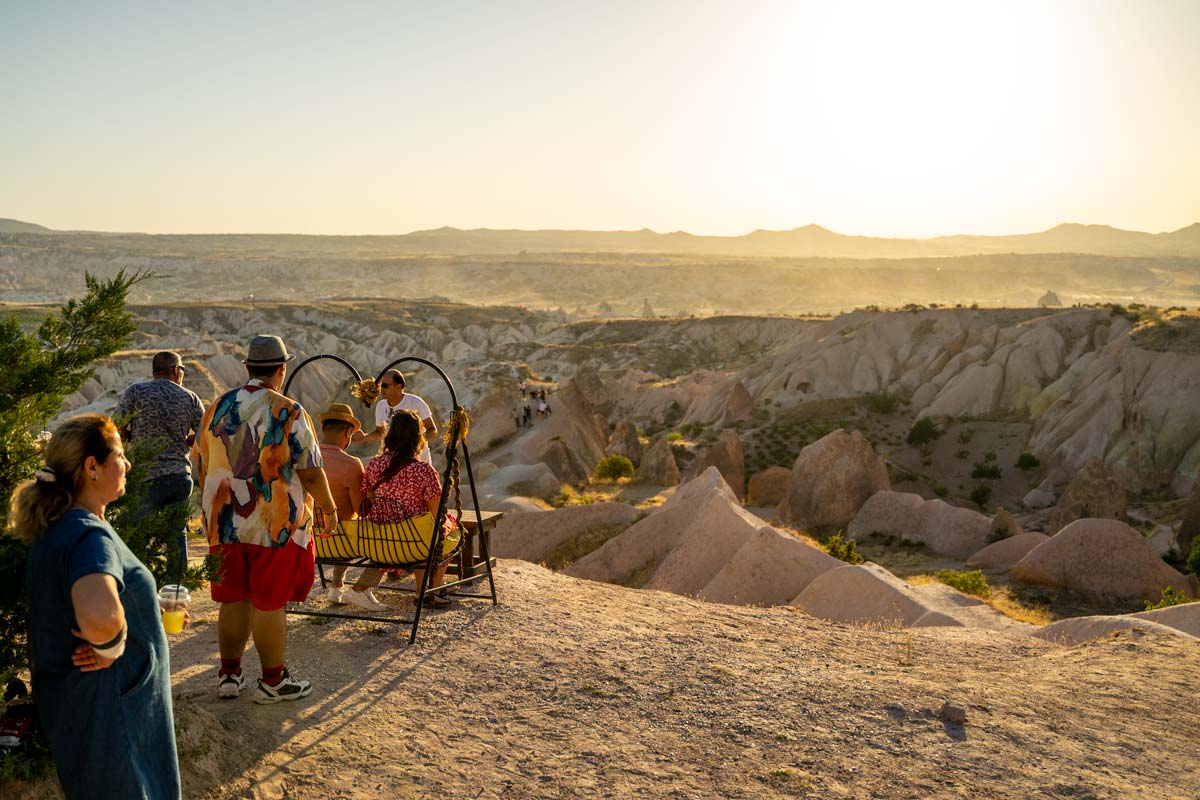 Known For: Amazing sunset viewpoint, hiking
Similar to the Rose Valley, the Red valley has earned its name from the red hues some of the rocks give off during golden hour and sunset. The two valleys connect at Red Valley Sunset Viewpoint (one of the best viewpoints in Cappadocia), and many travelers do a hiking loop involving Red Valley and Rose Valley.
Unlike the Rose Valley, the Red Valley doesn't have much when it comes to cave churches and dwellings. Nonetheless, the hike is beautiful and offers some of the most spectacular views of the region.
Like many of the valleys in Cappadocia, Red Valley is best explored through a hike. It takes about 1 to 1.5 hours to hike through Red Valley, but you can choose to combine it with Rose Valley to make a loop!
Find out more about the Red Valley in our separate guide here!
3. Pigeon Valley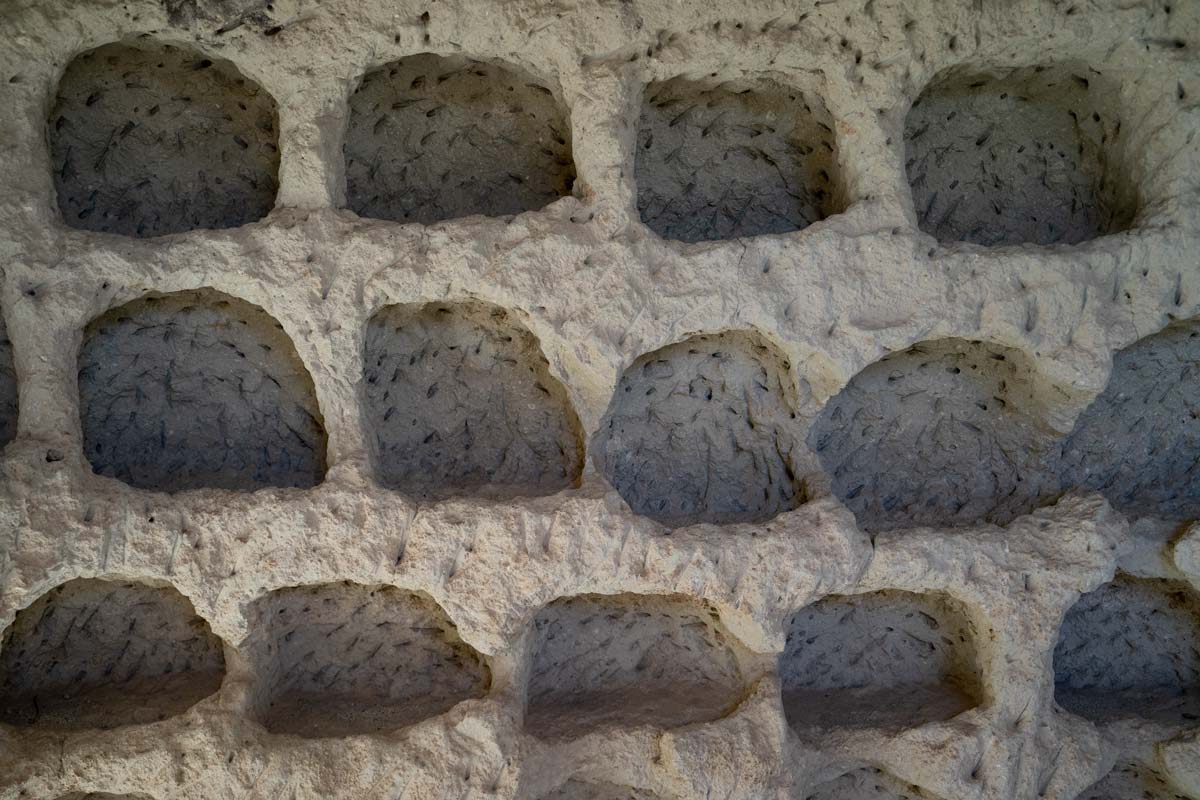 Known For: Dovecotes (Pigeon Houses), easy hiking
To no one's surprise, Pigeon Valley is named after the pigeons that used to inhabit this valley. Pigeons have been a vital part of the culture of Cappadocia, as their droppings were used to fertilize the soil and an ingredient to make the frescoes in the cave churches more vibrant.
In Pigeon Valley, visitors can see the pigeon houses, or dovecotes, that were built specifically for the pigeons to rest and poop. The houses are little indentations built into the cliff faces, which makes them very unusual to look at but really cool at the same time.
Though there are many valleys to see pigeon houses in Cappadocia, Pigeon Valley has the highest concentration of them.
The best way to see them is by hiking through Pigeon Valley, which takes approximately 1 hour. The valley connects Goreme with Uchisar, and visitors can combine a visit to Uchisar Castle for a day of activities!
Learn more about Pigeon Valley in our separate guide here!
4. Swords Valley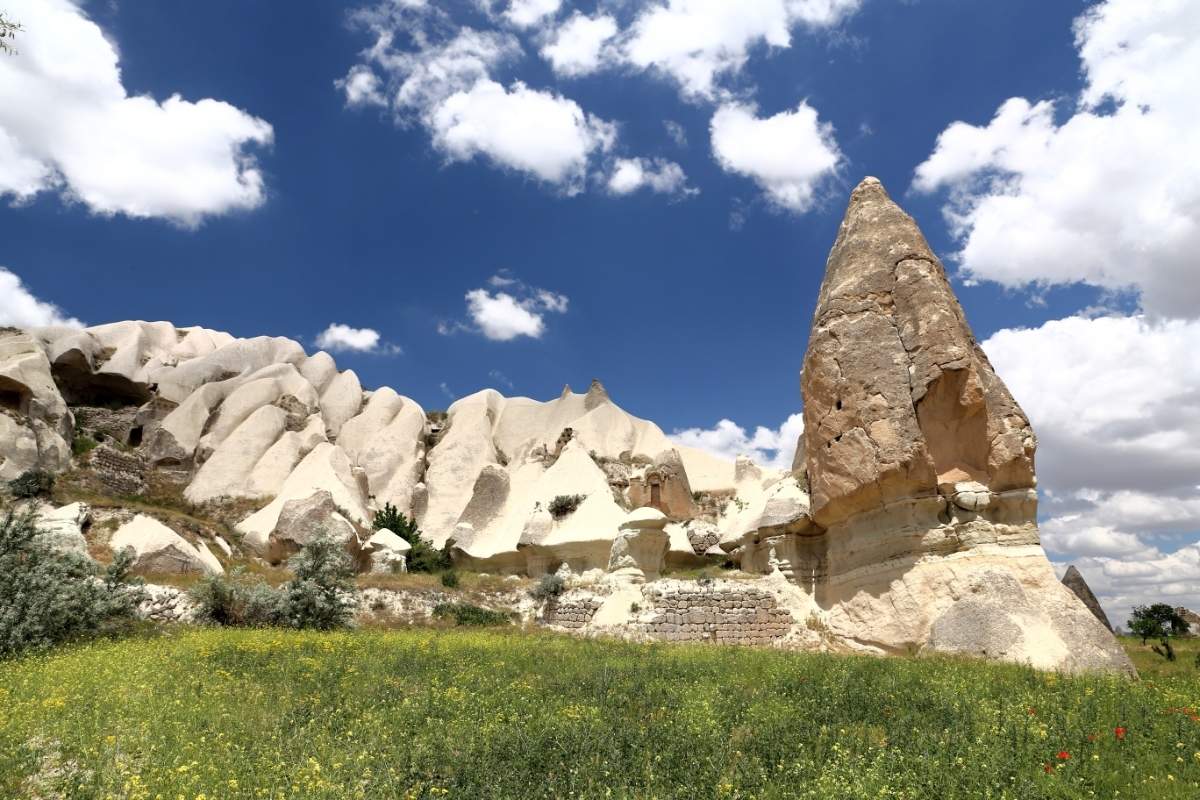 Known For: Sword-looking fairy chimneys, cave churches, ATV tours
Sword Valley is one of the most unpopular valleys in Cappadocia, but that doesn't mean it has nothing to offer. The valley earned its name from the rock formations that look like swords.
There are a few caves churches in Sword Valley, such as the Virgin Mary and Swords Church (Kılıçlar Church). The Swords Church has many frescoes depicting a total of 33 scenes from the Bible.
Perhaps the most unusual feature of the Sword Valley is a 300-meter-long tunnel that leads to a cliff face. No one knows exactly what that was used for, but some have suggested that used to be an entrance to an underground city.
One thing about Swords Valley is how easy it is to get lost. Because of its unpopularity, you are unlikely to see many tourists here, and the trail is now well indicated. Nonetheless, visitors can have tons of fun here exploring all it has to offer.
5. Love Valley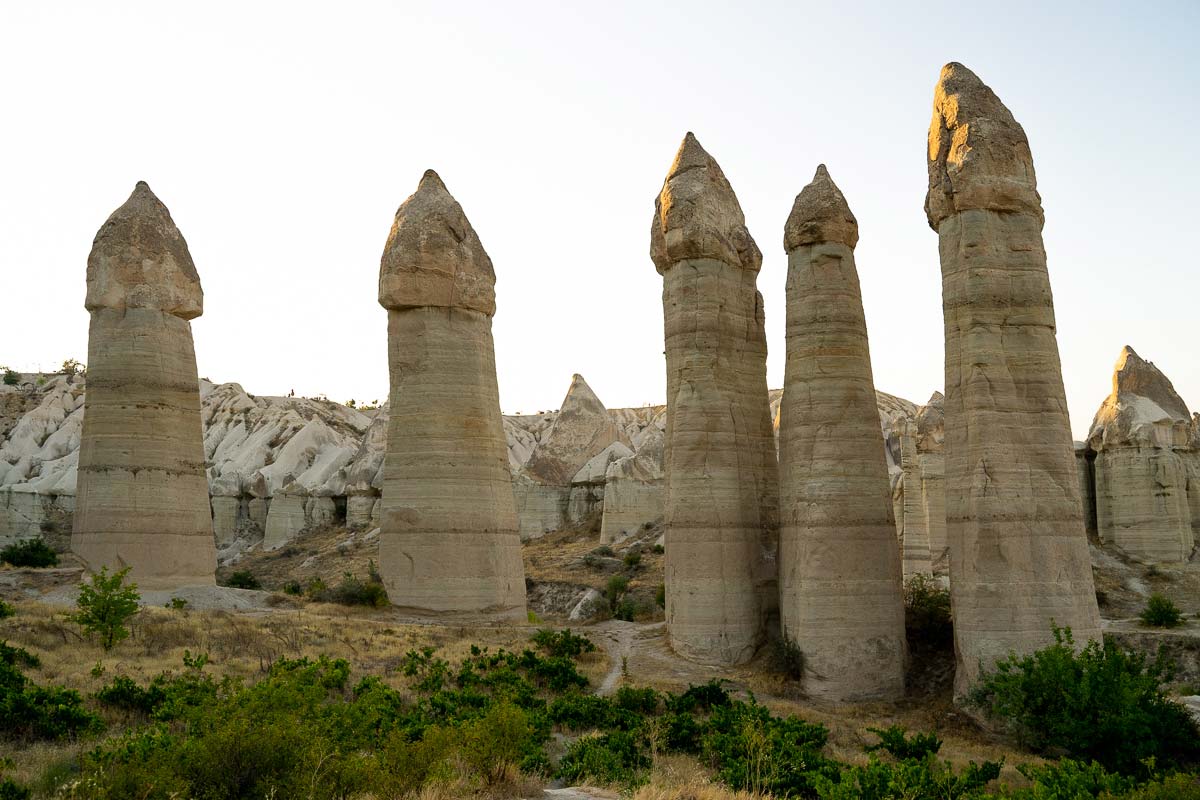 Known For: Phallic-looking fairy chimneys
There are many unique fairy chimneys in Cappadocia, but perhaps the ones in Love Valley have caught everyone's attention. Thanks to the phallic shapes of the rock formations, Love Valley attracts plenty of visitors.
After visiting ourselves, we can agree that Love Valley is totally worth visiting. The fairy chimneys there are gorgeous and sit in an expansive field. Visitors can get a sense of the scale and grandiose of these natural rock formations.
There isn't much of a hike to Love Valle, but visitors can combine it with White Valley and make their way to Uchisar. There is a small cafe at the bottom of the valley where you can enjoy freshly-squeezed orange juice or Turkish Tea.
The ridge above Love Valley is also a popular spot to catch the sunrise in Cappadocia, as it faces east and offers excellent views of the valley and the hot air balloons.
Find out more about the Love Valley in our comprehensive guide here!
6. Ihlara Valley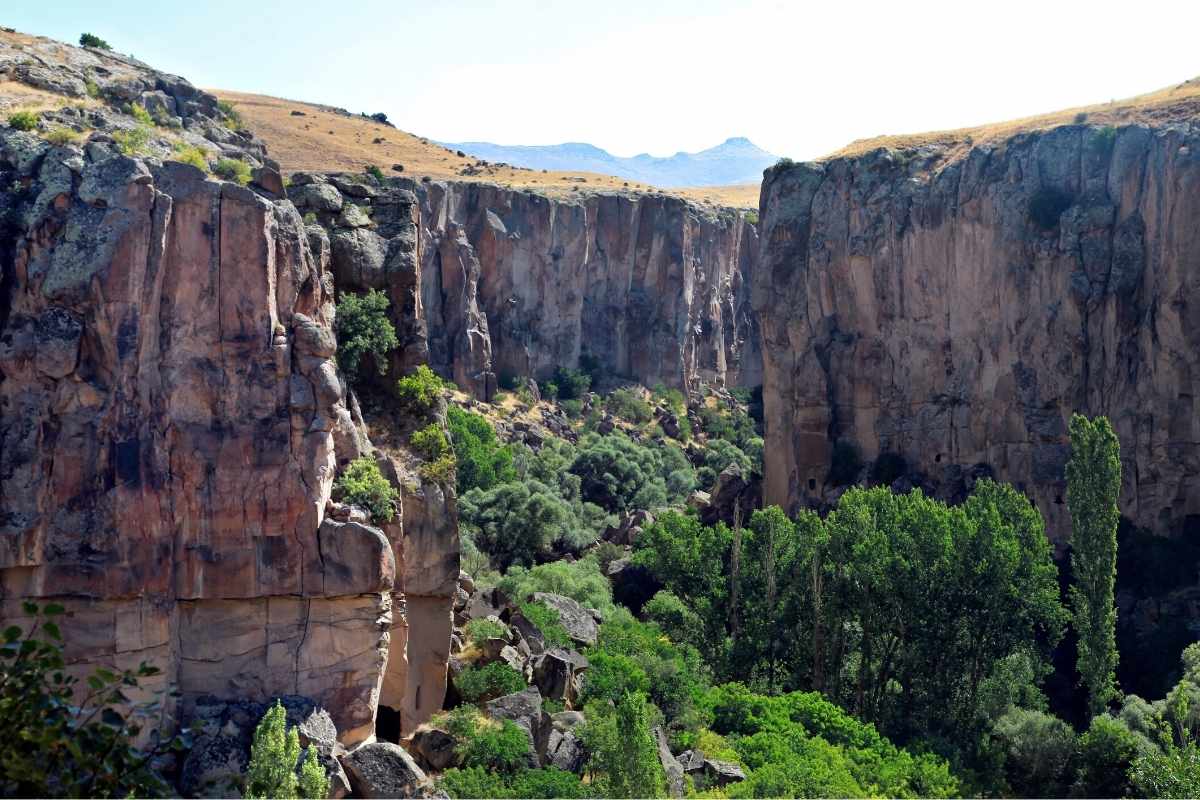 Known For: Long hike, serene scenery
Ihlara Valley is one of the most unique Cappadocia valleys. Unlike the other valleys that are dry and arid, Ihlara Valley is lush with plenty of vegetation, especially during the spring. Its landscape is unlike anywhere else in Cappadocia.
But inside the Ihlara Valley, visitors will still find cave dwellings and cool fairy chimneys. But perhaps the best thing to do in Ihlara Valley is simply just to hike it. The full valley is about 14 kilometers long, and most visitors decide to hike about 10.5 km of it to see the best sights.
Following the Melendiz Stream, visitors can start in Ihlara Valley and finish at Selima, where you can see the rock-carved Selime Monastery and the religious artworks inside. Along the way, you'll pass by the quaint Belisirma Village, where you can enjoy some delicious Turkish food in one of the floating restaurants.
7. Zemi Valley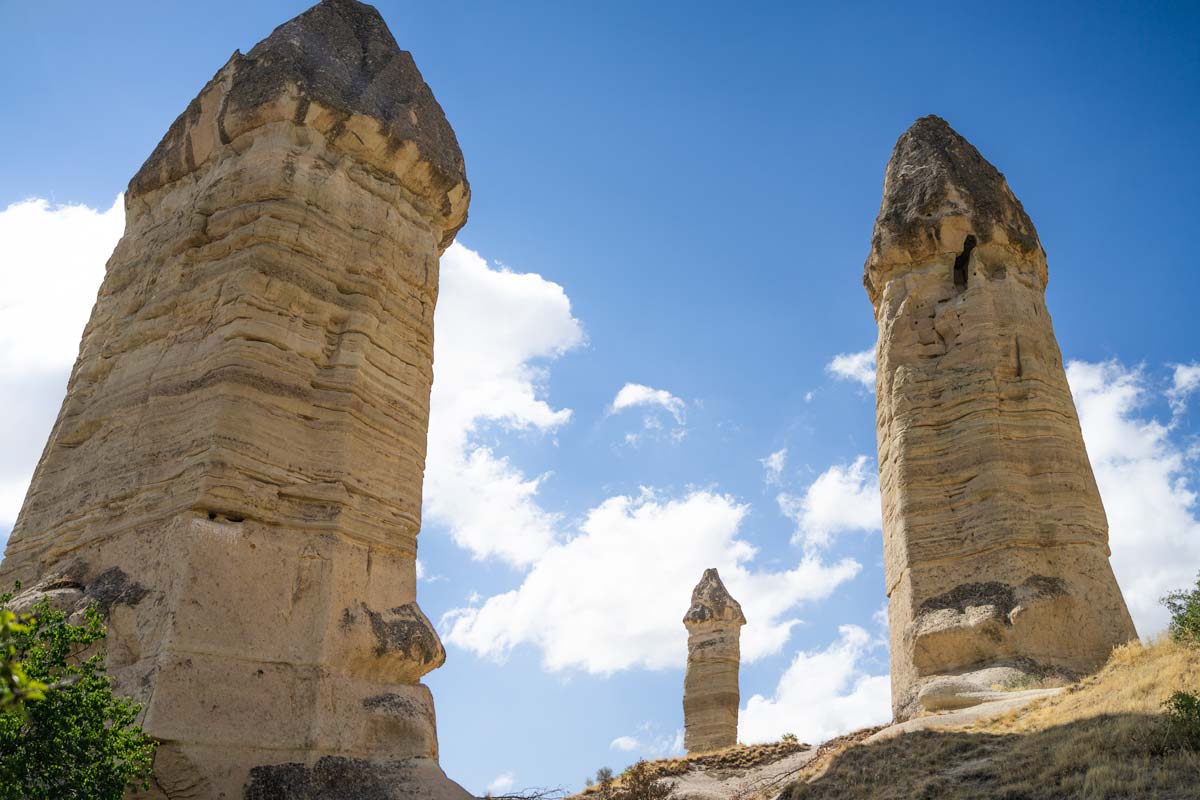 Known For: Easy hiking, nice fairy chimneys
Zemi Valley is one of the best hidden gems in Cappadocia. The valley is situated just outside of Goreme, making it the perfect place to visit on foot. Most people come to Zemi Valley to hike its short loop, which only takes about an hour. Along the way, there are some pretty impressive and massive fairy chimneys to be seen, especially the ones in the Gorkundere Valley.
The Zemi Valley connects to the Goreme Sunset Viewpoint, which is an excellent and easy spot to get to from Goreme. But going from the town requires you to pay a small entrance fee, going from Zemi Valley is free.
If you are visiting Cappadocia with kids and want to show them some of the epic features of Cappadocia, then take them to Zemi Valley!
8. Zelve Valleys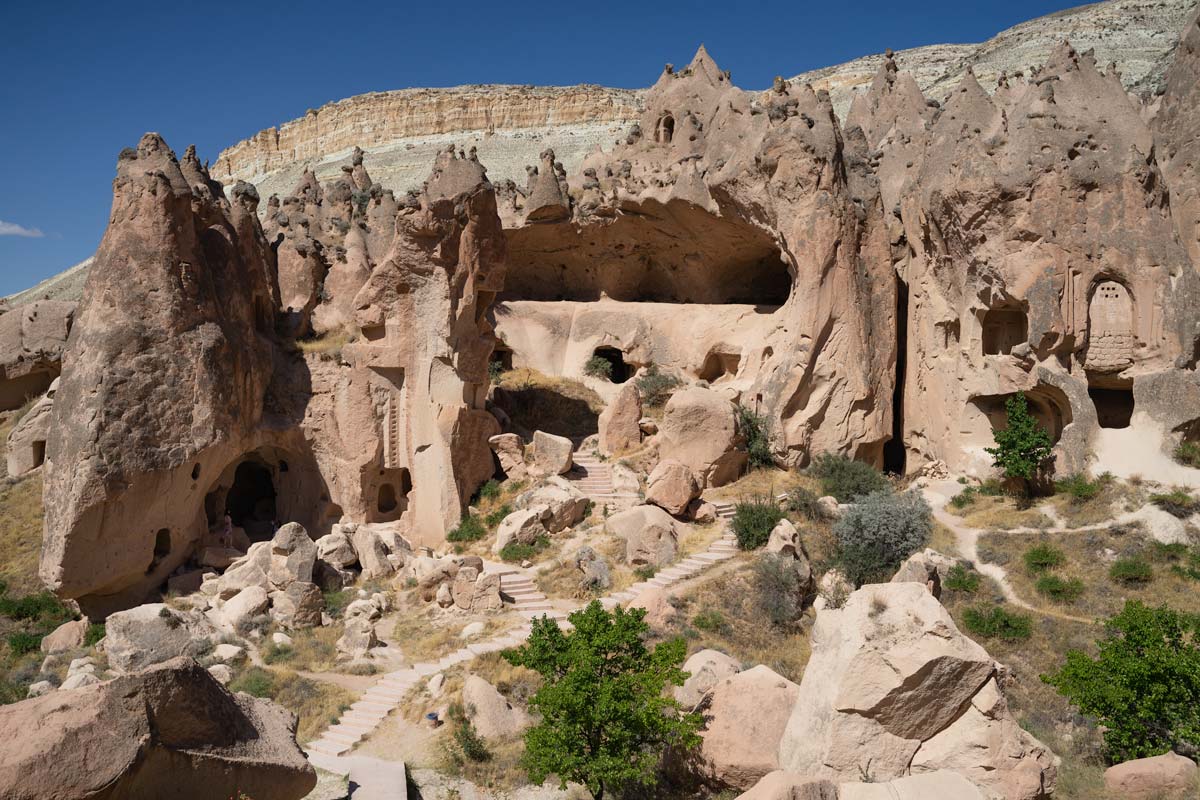 Known For: Zelve Open-Air Museum, an ancient settlement
The three Zelve Valleys in Cappadocia make up one of the best museums in the region – the Zelve Open-Air Museum. Unlike the Goreme Open-Air Museum which has a huge collection of rock-carved churches, the Zelve Open-Air Museum was a settlement inhabited by people.
It was only in 1952 did the settlement get abandoned due to the deteriorating structural stability of the cave dwellings. The inhabitants moved to an area called the Zeni Zelve, or Aktepe, just 2 kilometers northeast of the Zelve Valleys.
Since the Zelve Valleys were lived in, visitors can find a ton of features that are not seen in any of the other valleys. You can see a mill, a stable, plenty of cave dwellings, a church, and even a mosque. This is because at one point in time, both Christians and Muslims lived in the Zelve Valleys harmoniously.
Without a doubt the Zelve Valleys are some of the coolest places to visit in Cappadocia, so make sure you don't miss out!
9. Devrent Valley (Imagination Valley)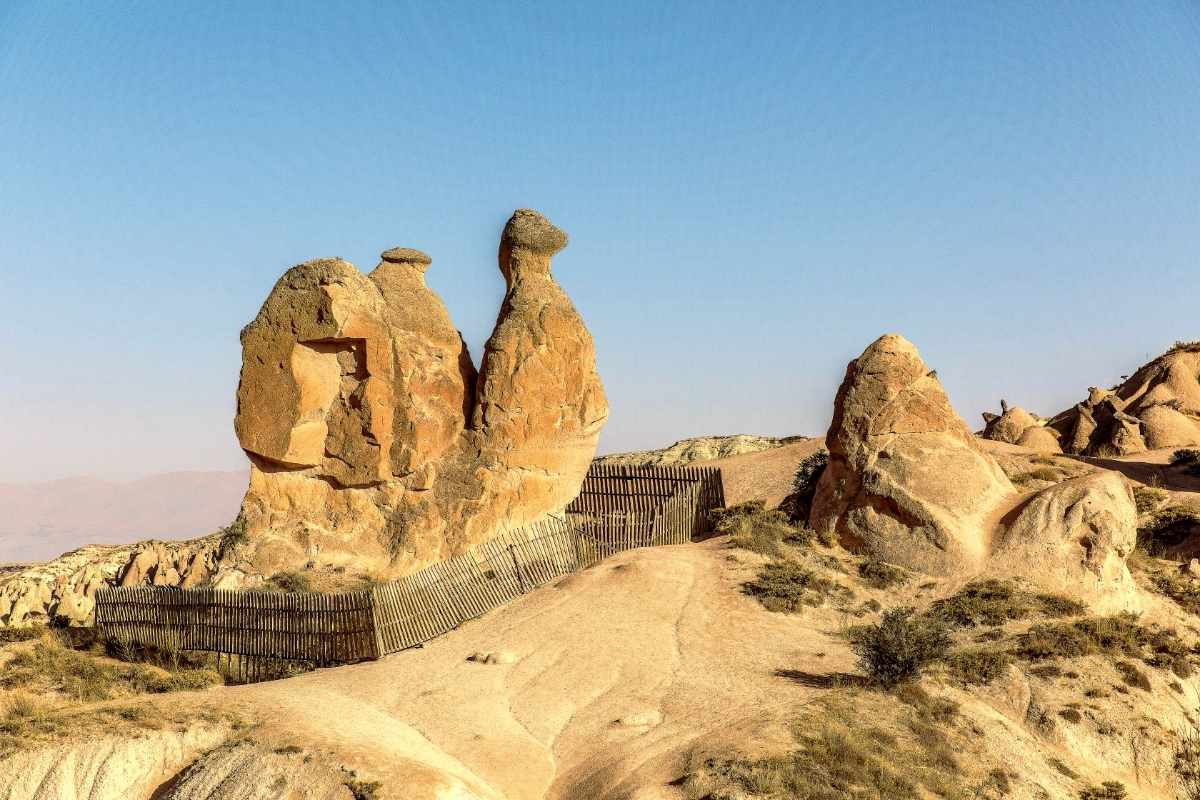 Known For: Fairy chimneys that look like different things
Devrent Valley is one of the most unique places in Cappadocia. Also known as Imagination Valley, this place is full of different fairy chimneys that look like different things. While some of them require a little bit of imagination and thinking outside of the box to see, the camel-shaped one is undeniable.
This valley is the perfect place to come if you want to explore and see some different rock formations. Because it isn't too big, it's a great place for kids to run around and explore all of the different nooks and crannies.
Unfortunately, there isn't much to see in Devrent Valley besides the cool fairy chimneys. You won't find any churches, frescoes, dwellings, or pigeon houses. Still, the camel rock alone is worth visiting!
The best part is you can see this attraction on the Red Tour in Cappadocia!
Find out more about the Devrent Valley in our full guide here!
10. Pasabag Valley (Monks Valley)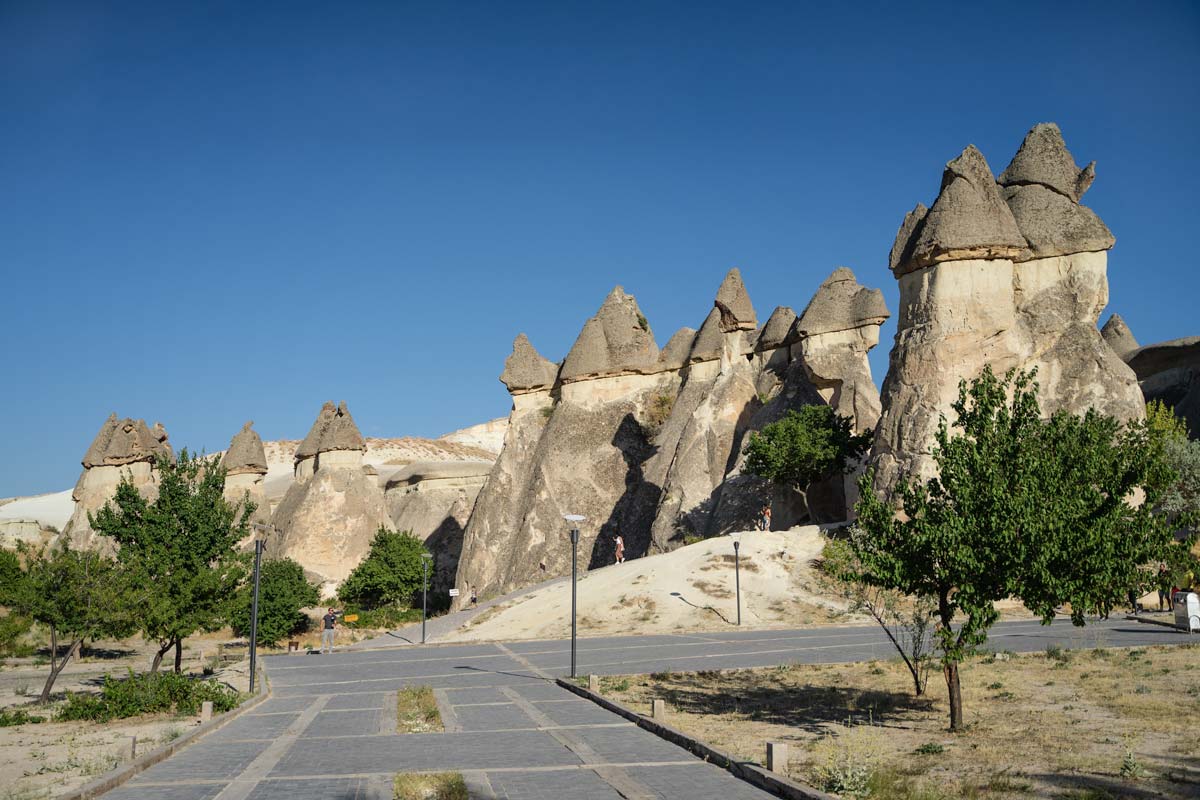 Known For: Tall fairy chimneys that became dwellings for monks and hermits
Monks Valley is one of the most unique places to visit in Cappadocia. As the name suggests, this valley was inhabited by monks, and many of them lived in Pasabag Valley in isolation. This trend was first inspired by St. Simeon from Aleppo, Syria, who wanted to live in peace and solitude.
He came to Cappadocia in the 5th century, and carved out a living area inside one of the fairy chimneys. The first one was only 2 meters off the ground, but he eventually moved to a 15-meter-tall one. His actions inspired tons of hermits to come to Monks Valley and do the same.
Nowadays, visitors can go up to some of the rooms that were carved by the hermits and monks. It is quite a cool experience to see what the people have done to create homes historically.
Check out our full Pasabag Valley guide here before going!
---
Map Of The Best Cappadocia Valleys
Above is a map of all the valleys in Cappadocia we've mentioned above. Most of the sites are situated near Goreme, which is the historic center of the Goreme National Park. If you are not sure where to stay in Cappadocia, then Goreme is the perfect place.
When using this map, it is worth noting that since the valleys are so big, the marker only indicates a part of the valley. This means you might need extra guidance when getting to the valley. For that, our separate guides are perfect for that.
There is a small star next to the name of the map. Click on that and you can save this map to your own device, so you can use it easily on your trip to Cappadocia. Some of these valleys might require you to take a taxi or drive there. From our experience, it is much better to rent a car in Cappadocia or hire a driver!
---
Cappadocia Valleys FAQs
How Were The Fairy Chimneys In Cappadocia Formed?
The fairy chimneys in Cappadocia were formed by a combination of two things – volcanic eruptions and erosion. The eruptions created a soft rock called tuff, which is very easy to erode. Over time, the wind and rain eroded the tuff into the strange-looking pillars that we see today. The different geological composition of the rock created slightly different looking fairy chimneys across the valleys You'll find that some appear to have a mushroom cap, or two, while others are more like the tip of a sword.
What Is The Best Valley In Cappadocia For Hiking?
The best valley in Cappadocia for hiking is the Rose Valley. It is a thru trail that takes you to some of the coolest cave churches in the region. The hike finishes at the Red Valley sunset viewpoint, where you can admire the spectacular views and hop onto the Red Valley trail if you wish.
If you are looking for an easier hike, then we recommend the Pigeon Valley, where you can see historic pigeon caves that were carved into the rock to create homes for pigeons and capture their droppings.
---
There is no better way to experience what Cappadocia is known for than heading into the valleys and exploring anything that interests you. Hopefully, you can find the perfect valley for you on this list!