If you are wondering whether you should visit the Zelve Open-Air Musuem, then you have come to the right place.
Zelve Open Air Museum is part of the UNESCO World Heritage Site that makes up the Goreme National Park. It should go without saying that the museum is definitely worth visiting, and perhaps one of the best things to do in Cappadocia. Filled with cave dwellings, historic churches and a mosque, there is nothing quite like it in Cappadocia.
That is why we have written this guide on the Zelve Open Air Museum, so you can get a rough idea of its importance and what to expect when you visit!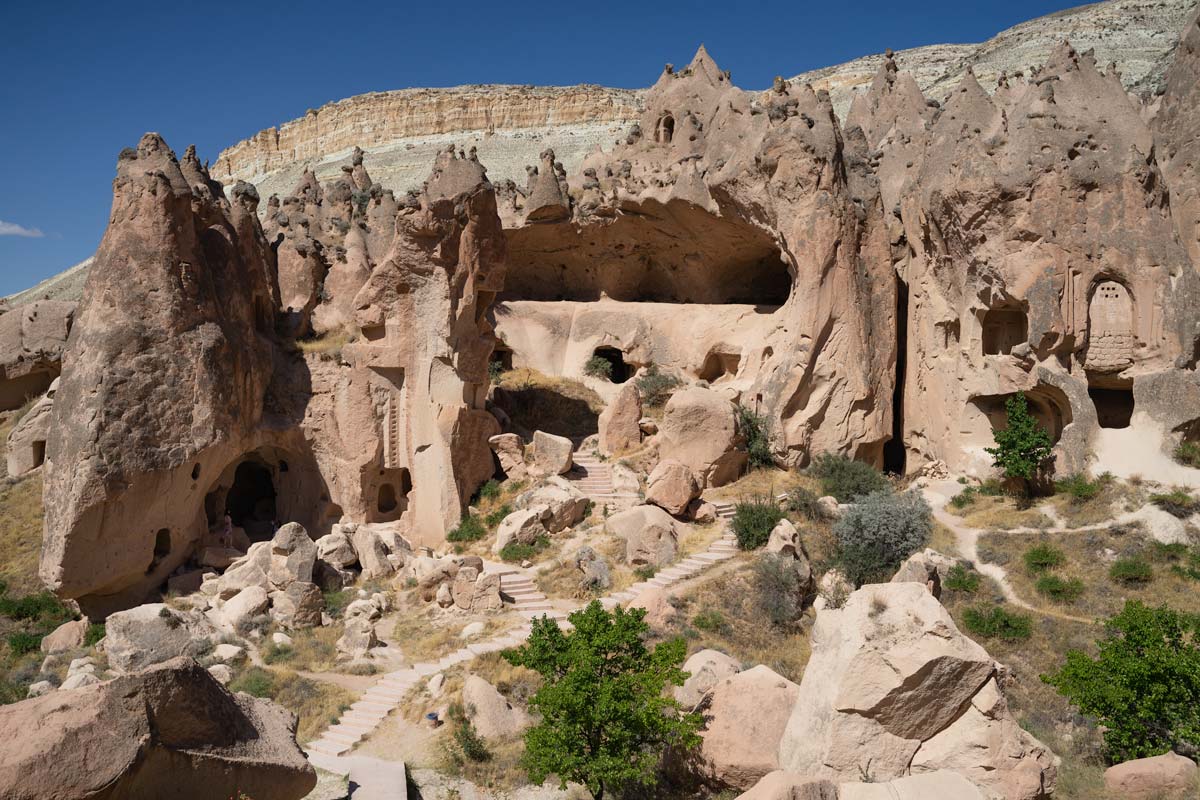 ---
Zelve Open-Air Museum History
There isn't much hard evidence that tells its history, but from the architecture of the cave dwellings and what is left, historians believe that the Zelve was a small troglodyte settlement since the Byzantine Era. It was only until the 9th and 13th centuries did this small village come into religious importance, with the first seminaries for priests established here.
In between those times, Zelve was used as a haven against the Persian and Arab attacks. After the Byzantine era, this small village was turned into a Muslim village under the Ottoman Empire.
Nonetheless, Zelve was a place where Christians and Muslims co-existed harmoniously, as detailed by the ruins of churches and a rock-cut mosque with a dome.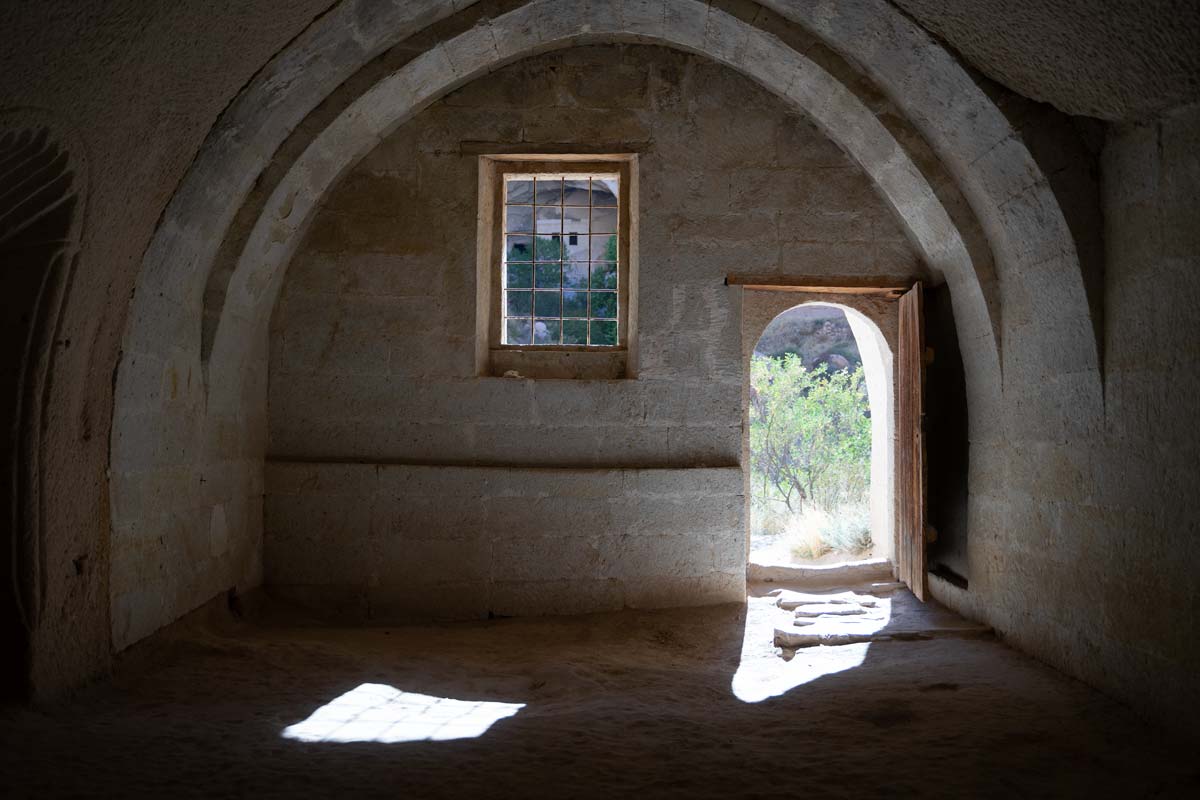 In 1924, the Christians had to leave Zelve due to the exchange of minorities that happened between Greece and Turkey.
The village was lived in until 1952, when the government of Turkey decided to move the people to a new place called Yeni Zelve (Aktepe), just 2 kilometer to the northeast. The rock structures at Zelve were becoming too unstable and the government was afraid that they could collapse in on them.
Since 1967, the Zelve Valleys were turned into the museum that you see today, but erosion is working its way every day, so many parts of the museums are closed off.
---
Zelve Open-Air Museum vs Goreme Open-Air Museum
Zelve Open Air Museum is often overshadowed by the Goreme Open Air Museum, which is a similar (but different) museum near Goreme. Both of these are some of the best places to visit in Cappadocia, but how are they different and which one should you visit if you are short on time?
The main difference is that the Zelve Open Air Museum was once a monastery and a small inhabited town while Goreme Open Air Museum was mostly a monastic settlement.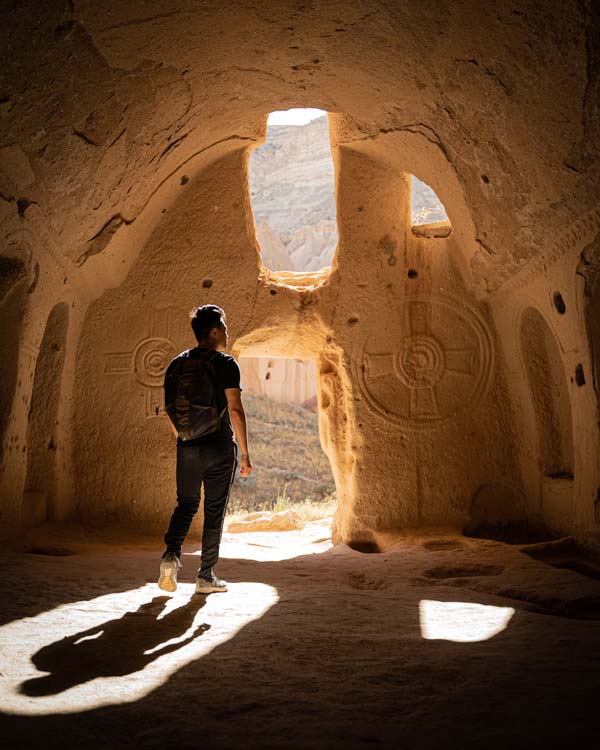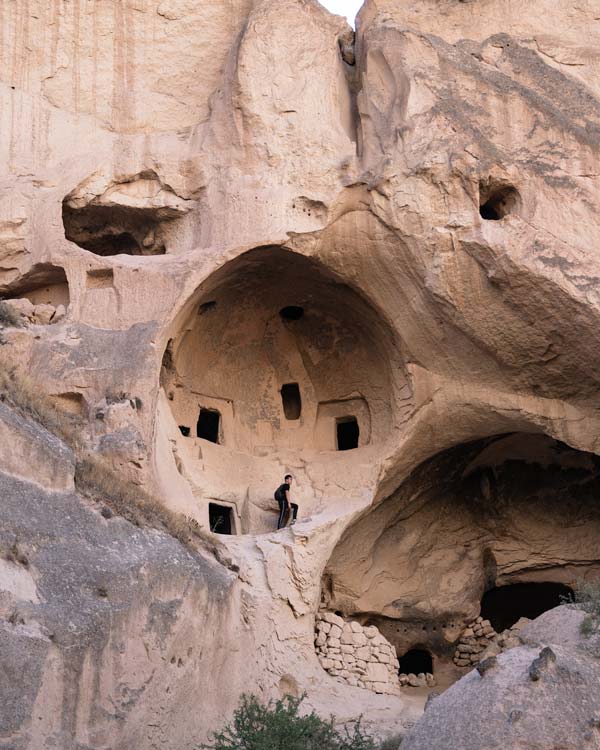 In Zelve Valley, you'll find incredible rock-cut cave dwellings, but hardly any religious frescoes. The Goreme Open Air Museum is dotted with numerous historic churches that were cut from fairy chimneys, many with some religious artwork painted on the walls.
On the surface, they might look very similar, but in fact, those two museums showcase different aspects of the history of Cappadocia. If you have the time, make sure you fit both attractions on your Cappadocia itinerary.
---
Opening Hours and Entrance Fees
The opening hours for the Zelve Open Air Museum are 8 AM to 7 PM during the summer (April to October) and 8 AM to 5 PM during the winter (November to March)
The entrance fee for Zelve Open Air Museum is 25 TL and it includes entrance to the nearby Pasabag Valley (Monks Valley). The parking fee is 5 TL.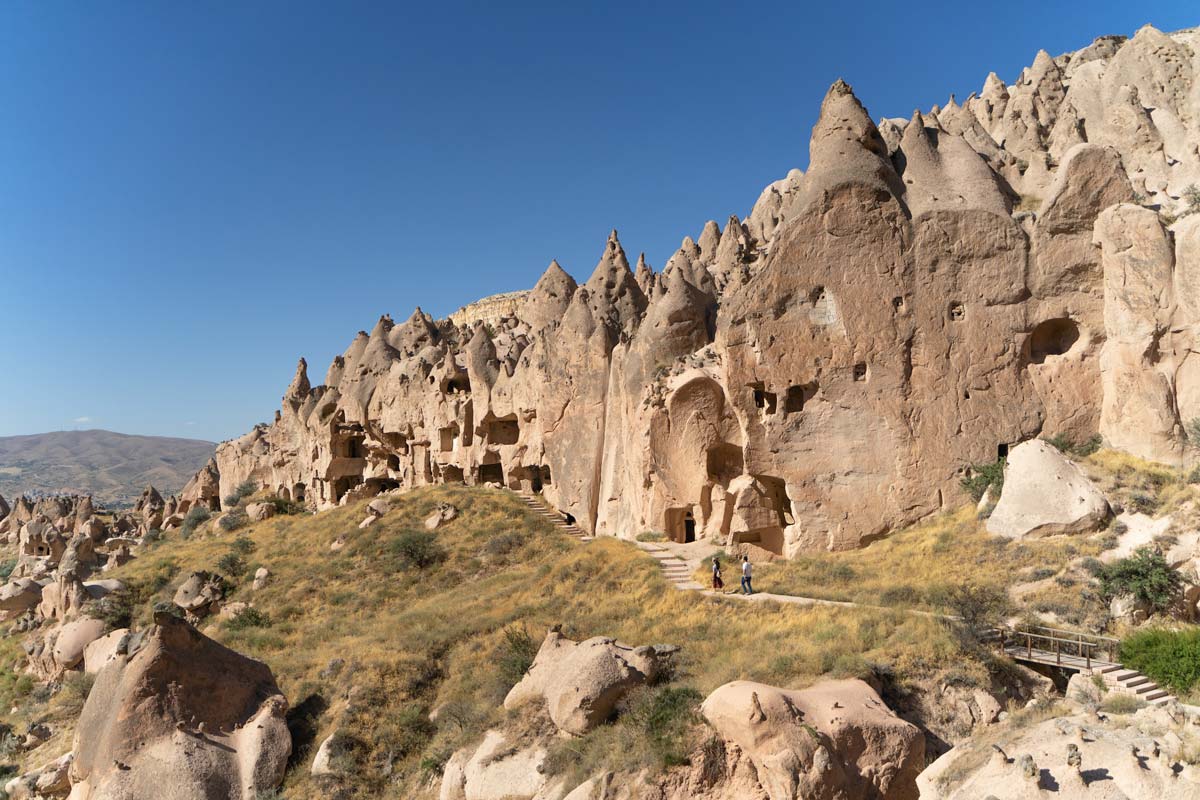 ---
How To Get To Zelve Open-Air Museum
Getting to Zelve Open-Air Museum isn't exactly the easiest. Because it is situated nearly 8 kilometers (5 mi) from Goreme (the best place to stay in Cappadocia) and about 6 kilometers (3.7 mi) from Avanos, it is not possible to walk there. To get there, you would need to do one of the following:
Rent a Car
Take A Taxi
Take Public Transportation
Renting a car in Cappadocia and driving there is a great option, especially if you want to visit all the sights in Cappadocia that are a bit further away. But if you don't want to, taking a taxi to Zelve is an easy and convenient option. You can also get a taxi back to town when you are done.
Public transportation in Cappadocia is not the easiest to navigate, especially going to Zelve. First, you'd need to get from Goreme to Avanos, and then catch a minibus from Avanos to Urgrup. Those minibuses depart from Avanos Bus Station here. They depart approximately every hour but the time schedule is a little bit inconsistent, which is why we recommend taking a taxi.
---
Our Experience Visiting Zelve Open-Air Museum And Its Valleys
Zelve Open Air Museum was one of our favorite attractions in Cappadocia. Because it was a little bit more remote than Goreme Open-Air Museum, there were fewer crowds and more space for us to take photos and enjoy the place.
We stayed at Goreme and took public transportation to get to Zelve. First, we took the bus to Avanos, where we spend some time exploring the pottery scene and the Hair Museum. After lunch, we took the bus from Avanos to the Zelve Museum. It was all pretty straightforward though we did wait some time for the bus.
We arrived at the entrance and paid the fee for the ticket, which included the entrance to Pasabag Valley (Monks Valley), just about 1 km away. The entrance fee was 25 TL.
We spent 2 hours exploring the three Zelve Valleys, where we saw:
Direkli Kilise (Columned Church)
Balikli Kilise (Fish Church)
Uzumlu Kilise (Grapes Church)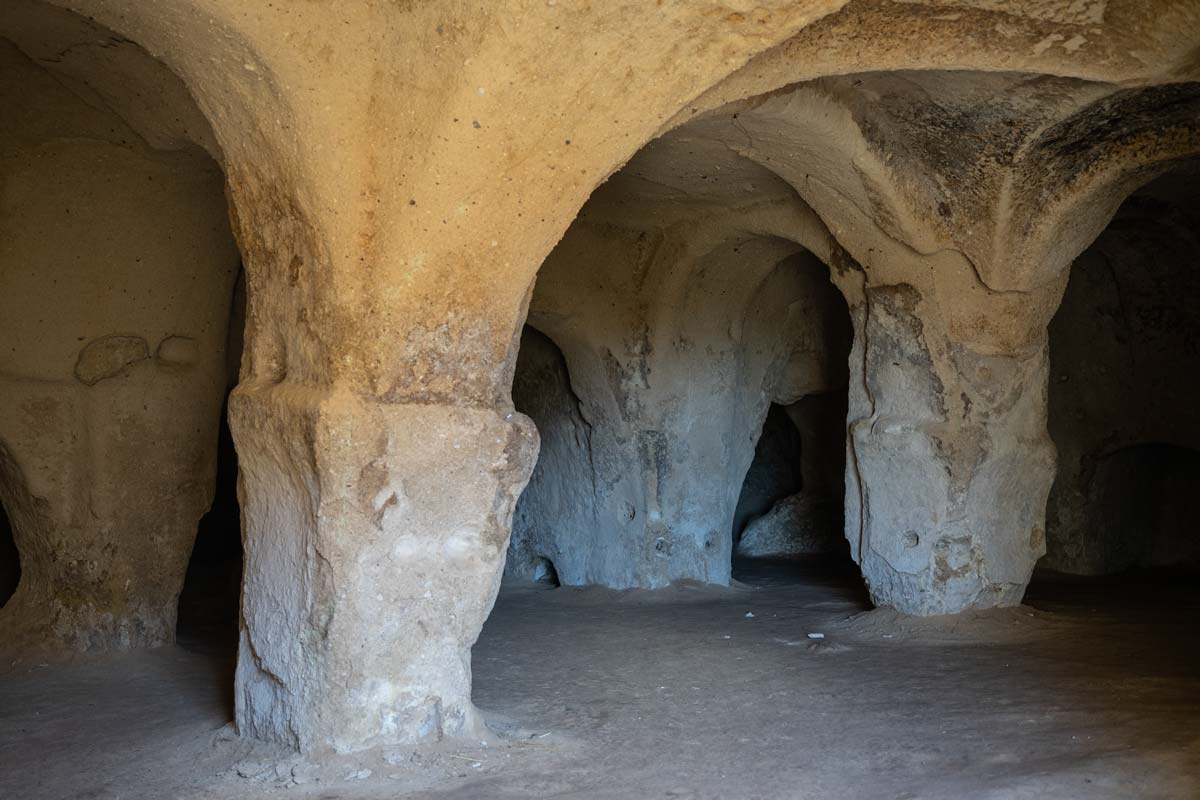 Unfortunately, we did not see the Geyikli Kilise (Deer Church) because it was collapsed and you could not enter. There was a tunnel that connected Valley 2 with Valley 3, but that was chained off.
We also saw the mill and winery that was in Valley 1. Most of what is in Valley 1 is fenced off because of unstable rock conditions. There weren't a lot of historical sites in Valley 2 minus the one cave church. However, the views in Valley 2 are definitely the best out of the three. If you want to take some nice photos, that is where you need to go.
The stable, mosque, and dovecotes (pigeon houses) were situated in Valley 3, and the church near the end is definitely worth seeing.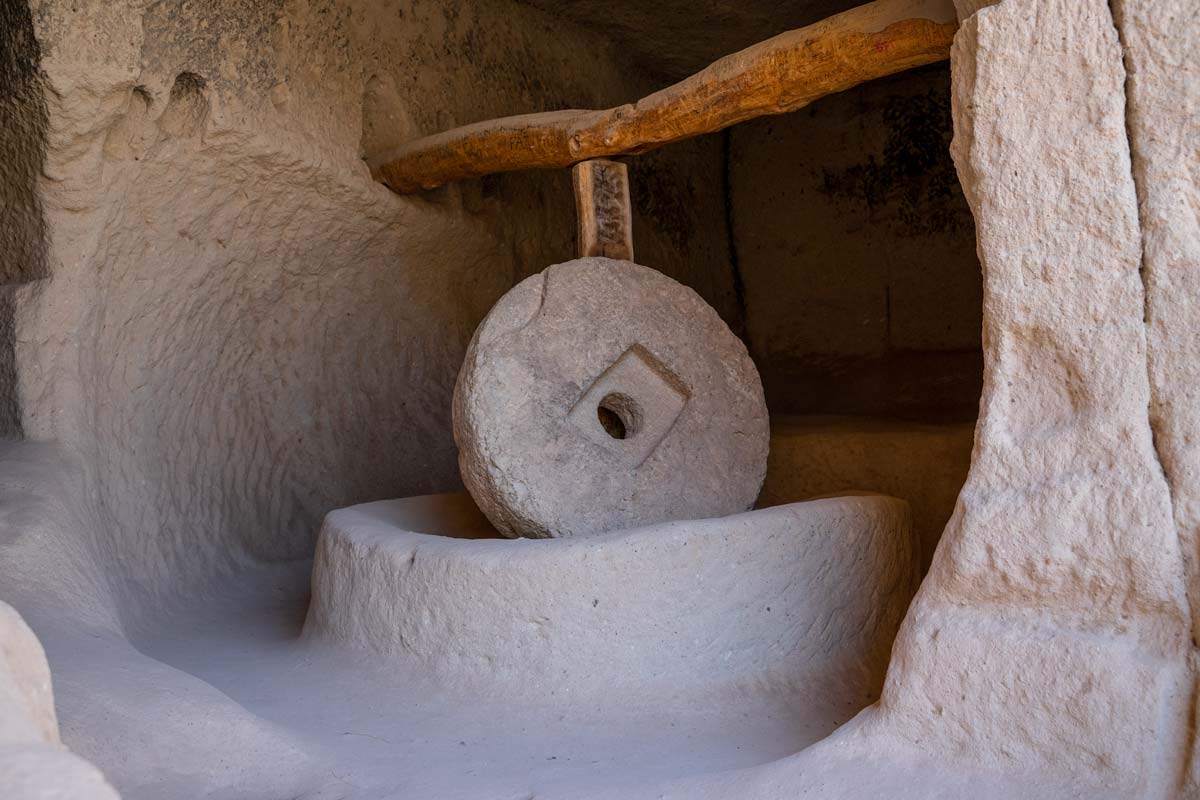 The Zelve valleys required a little bit of hiking to get around, but they weren't too strenuous. If you are looking for an easy hiking trail in Cappadocia with plenty to see along the way, the Zelve Museum might be good for you.
After visiting Zelve, we walked over to Pasabag Valley to take advantage of our free entrance! You can find out more about that in our post here!
---
Before You Go
Zelve Open Air Musem is an invaluable attraction and offers visitors a great understanding of Cappadocia's history. So without saying, it is definitely worth a visit, even if you have to take a taxi or use public transportation! We hope our guide has helped you with planning your visit to this Cappadocia gem!
Disclaimer: Some of the links above are affiliate links. That means if you book or make a purchase through the links, we will earn a small commission at no extra cost to you! The money will help run this site! Thank you!