There is no denying that Cappadocia is a special place with breathtaking natural landscapes. But what could be more magical than a trip to the desert? Why, visiting Cappadocia in winter of course!
During the winter, tourists can marvel at the snow sprinkled landscapes and enjoy solitude at attractions as it's one of the quietest times of year to visit the region.
But is Cappadocia worth visiting in winter? What is it like and how should I plan a winter visit? These are all questions we'll be answering in our comprehensive guide to Cappadocia in the winter.
---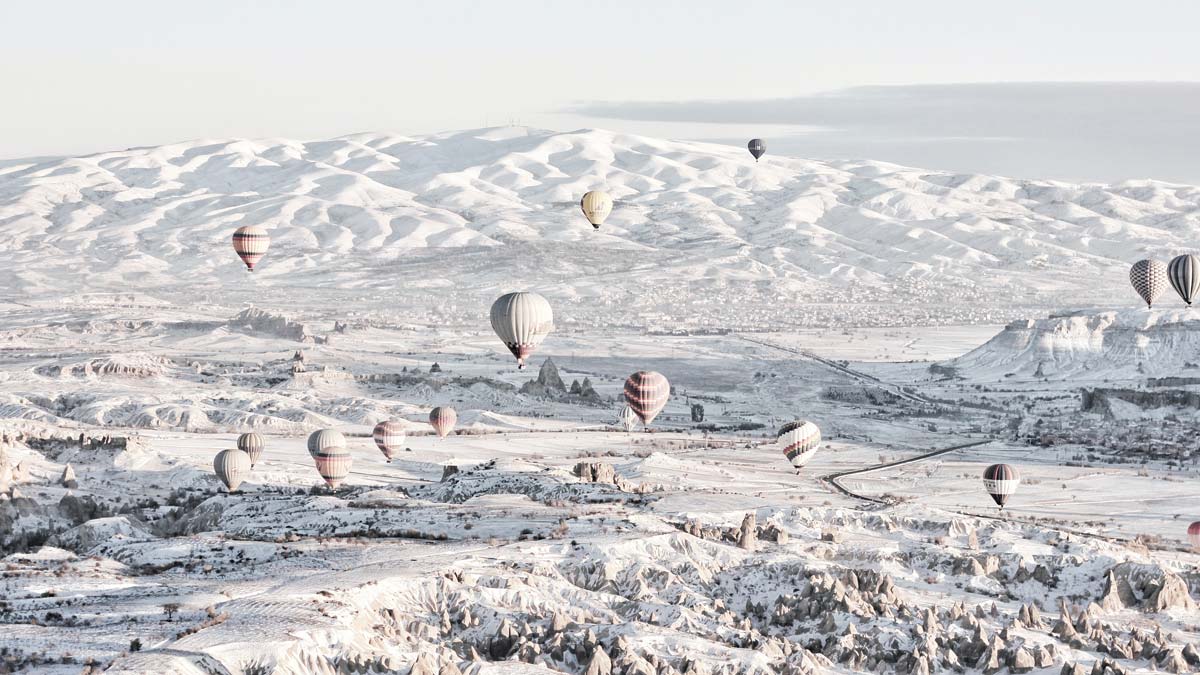 When is Winter in Cappadocia?
Cappadocia's winters run from November until February (and a little bit in March), but the harshest weather conditions are from December until February with the coldest temperatures and the most rainfall. The wind also picks up from January until March.
Average Lowest Temp
Average Highest Temp
Rainfall (mm)
Rainy Days
Max Sustained Wind (Knots)
Sunrise
Time
Sunset
Time
Nov
0°C, 31°F
13°C, 55°F
28
9
5
7:10 – 7:35 AM
5:20 – 5:40 PM
Dec
-3°C, 25°F
6°C, 43°F
39
12
5.4
7:40 – 8:00 AM
5:20 – 5:30 PM
Jan
-5°C, 22°F
4°C, 40°F
36
12
6.2
7:50 – 8:00 AM
5:30 – 6:00 PM
Feb
-4°C, 23°F
6°C, 44°F
39
12
6.5
7:15 – 7.45 AM
6:00 – 6:30 PM
Mar
0°C, 31°F
12°C, 54°F
48
12
7.3
6:30 – 7:00 AM
6:30 – 7:00 PM
November in Cappadocia
November is the end of Autumn in Cappadocia and the beginning of winter. You'll find the temperatures can still be quite mild and there's little rainfall this month of the year. The wind is at its most calm and makes for the perfect hot air balloon flying conditions.
However, you generally won't find snow in November as the temperatures haven't reached below freezing yet. November is one of the best times to visit Cappadocia as the temperatures are moderate, the weather is often dry and still, and there are fewer tourists.
December in Cappadocia
December is when the temperatures start to regularly drop in Cappadocia, getting to below freezing on occasion (especially at night). It has a decent amount of precipitation, which is often turned to snow because of the cold temperatures.
During the day, the temperature stays in the single digits but plummets to below zero almost every night.
The good news is that the outdoor attractions of Cappadocia are still open and accessible, you just need to wear warm clothes. The underground cities are also still open and because they are below ground, the temperature remains quite moderate all year round.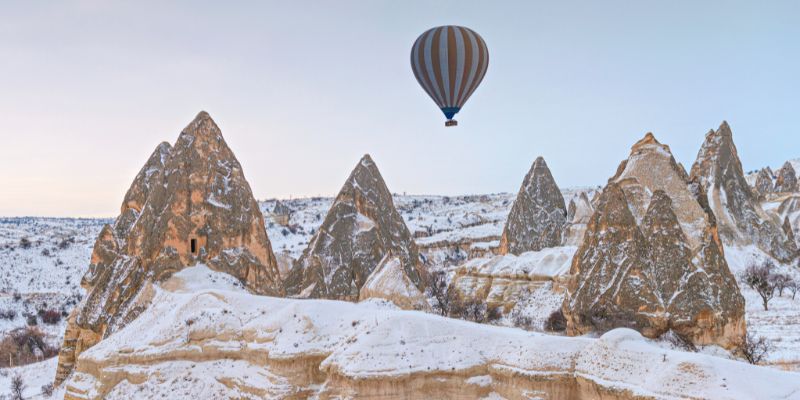 Hot air balloon rides still run but they are not regular, because they cannot fly during wet conditions. They also cannot land where the ground is icy, so you'll need to plan your visit carefully if you want to add a hot air balloon ride to your visit. The wind speed is also at the lowest this time of year, which is great for flying.
If you do manage to get lucky, witnessing the landscape of Cappadocia as it's sprinkled with snow is one of the most magical experiences you can have.
December is also around the winter solstice in Turkey, which means you have the least amount of sunlight in the day. Typically, the sun rises from 7:30 AM and sets at around 5:20 PM, so you need to factor this in if you're going hiking.
January in Cappadocia
January is the coldest month in Cappadocia and has the same amount of rainfall as December. Temperatures reach below freezing not just at night but sometimes in the day too.
This is the perfect time of year to go skiing in Cappadocia, as you are pretty much guaranteed snow by this point and the wind is at its lowest.
However, it's also when you will least likely find hot air balloons because the ground is often too icy for landing. That being said, it's not impossible to do a hot air balloon tour in January, as the wind speed is optimal, it just happens less regularly.
Like December, the attractions remain open in January. The days are short in January, with sunrise at around 8 AM and sunset at 5:30 PM.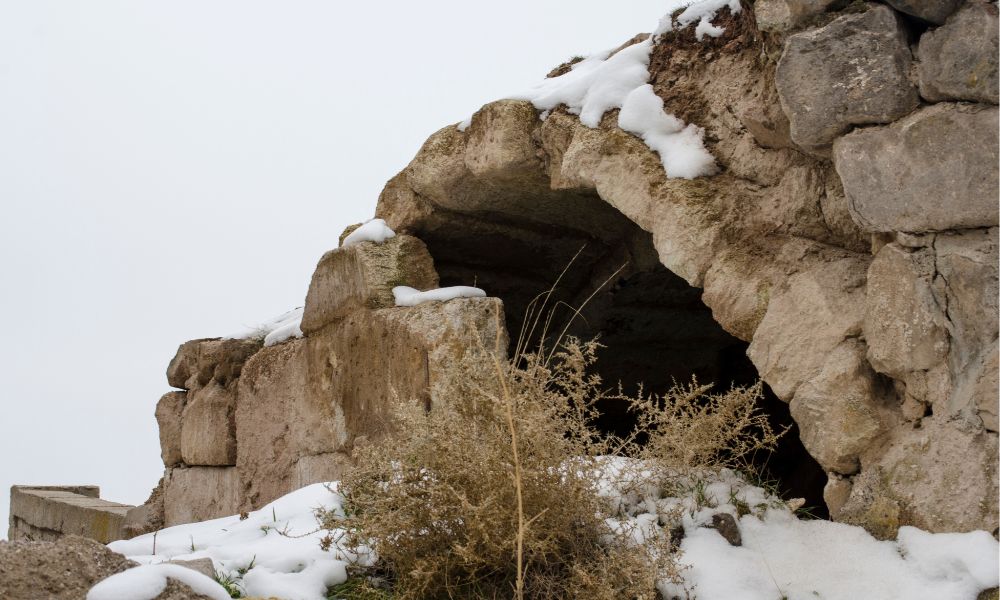 February in Cappadocia
The temperatures in February are some of the coldest all year round so you'll need to wrap up warm if you visit this time of year. It's common for temperatures to reach below freezing most of the day and night, and it also has the largest amount of rain all year.
February is arguably the worst time to visit Cappadocia for hot air balloon flights, as not only does it have a high chance of rain, but it's bitterly cold. There is likely to be snow throughout most of February, which is great for those visiting for skiing. The wind speed also picks up, which can often be too dangerous to fly in.
However, the days are a little longer in February with the sun rising around 7:15 AM and setting at 6:30 PM, so you have more time to explore and complete longer hikes.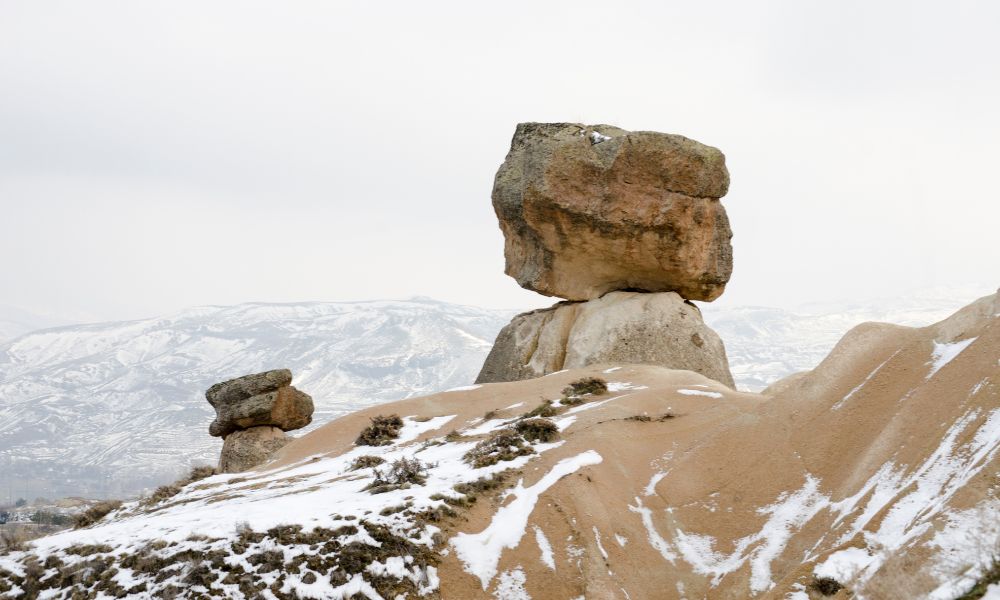 March in Cappadocia
The beginning of March in Cappadocia is still considered winter. The temperatures are still cold and it has the biggest amount of rainfall at the start of the month. The wind speed is also the strongest at this time of year, so you'll find hot air balloon rides at their rarest this time of year.
As the month goes on, the temperatures will warm up and the snow will start to melt. You'll find more rain than snow, which can make it feel a lot colder than it is.
However, you'll find more daylight this time of year compared to other winter months, so at least you have more time to explore. You can always take shelter from the rain.
Read More: Cappadocia Hot Air Balloons: All FAQs Answered!
---
Why Visit Cappadocia in Winter?
We can think of many reasons why you should choose a winter break in Cappadocia over any other season. The biggest reason is that there are fewer tourists.
People often think that winters in Cappadocia are harsh, that all the attractions have closed down, and that it's impossible to navigate through the snow. This couldn't be further from the truth.
The truth is all the attractions are still open and the snow isn't that deep, so you can still hike even in the winter. In fact, the weather is perfect for hiking as it's cooler, so you don't need to think about what time of day you head out. You might just need to wrap up a bit warmer, that's all.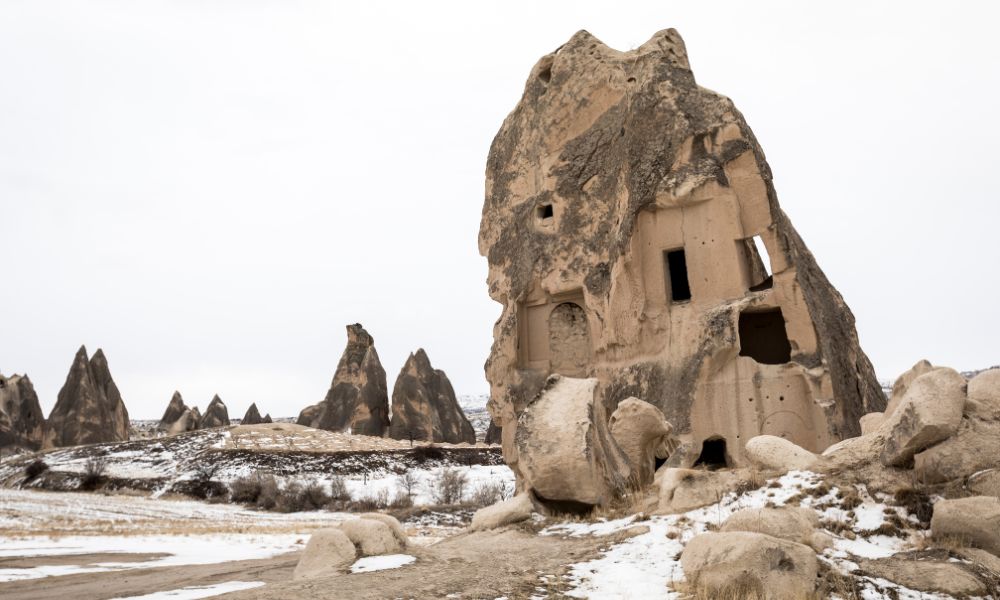 You can also ski in Cappadocia in the winter, which is largely what attracts people to the region in winter. Granted, you won't find any challenging Alpine skiing here, the slopes are short and mostly at beginner and intermediate levels. But the snow makes everything look way more pretty whether you're planning to ski or not.
Best of all is the cost. It's cheaper to visit Cappadocia in winter than in the summer. However, the best time to visit Cappadocia is the shoulder season between winter and spring as the prices are still low but the weather is slightly warmer.
---
Things to Do in Cappadocia in Winter
To prove that Cappadocia is worth visiting in the winter, here are some of the top things to do in the region during the winter months.
Ski on Mt Erciyes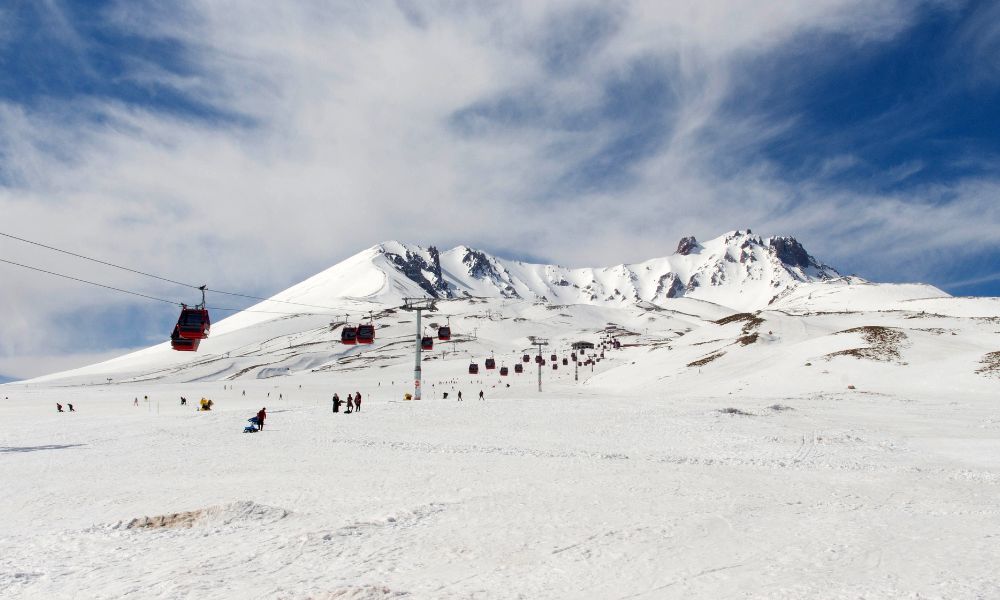 You might not have considered Cappadocia to be the prime skiing destination, but then again, there's a lot that surprises us. Mount Erciyes is a dormant volcano and the sixth highest mountain in Turkey. It measures 3,916 m above sea level and is located south of Kayseri, and East of Goreme.
It is the only ski resort in Cappadocia which opened in 2011. It has 150km of slopes on 33 pistes, all catering to beginner and intermediate level skiers. If you're a technical or advanced skier, you might feel that Mount Erciyes isn't up to your adventure level.
Since it's located high up, you can likely find snow on the mountain from the end of November right through to March, making it the perfect winter activity in Cappadocia.
Turkish Bath
After a day of skiing, what better way to warm up and soothe your aching limbs than to bathe in the warm thermal waters of a Turkish bath? Turkish baths, or Hammams, were adopted from the Romans by the Ottomans and appeared in most major cities in Turkey.
But a Turkish bath is not just a bath, it's a social bathing ritual. You'll share a public bathing space in thermal waters surrounded by a room full of stunning mosaics.
You can also get traditional Turkish bath massages, otherwise known as a Turkish scrub, which is when a person scrubs the dead skin off your body after you've bathed. You can then relax in the Hammam again to improve your blood circulation.
Hike the Red and Rose Valley
Hiking in Cappadocia is one of the best things to do in the region. There are many amazing hikes you can do, but our personal favorite is the Red and Rose Valley hike. This is because it not only offers incredible views, but it has cave dwellings, churches, and unique rock formations along the trail, showcasing all of the best aspects of Cappadocia.
It's also not a long hike, which if you're traveling to Cappadocia in the winter months, is something to consider. If you want to hike for sunset, then you'll find that you can quickly walk down from the sunset viewpoint to the valley and have a flat walk back.
Although we would never recommend hiking in the dark, we have done this hike ourselves and feel confident hiking back on this at night. Just keep a watchful eye out for animals.
Ride in a Hot Air Balloon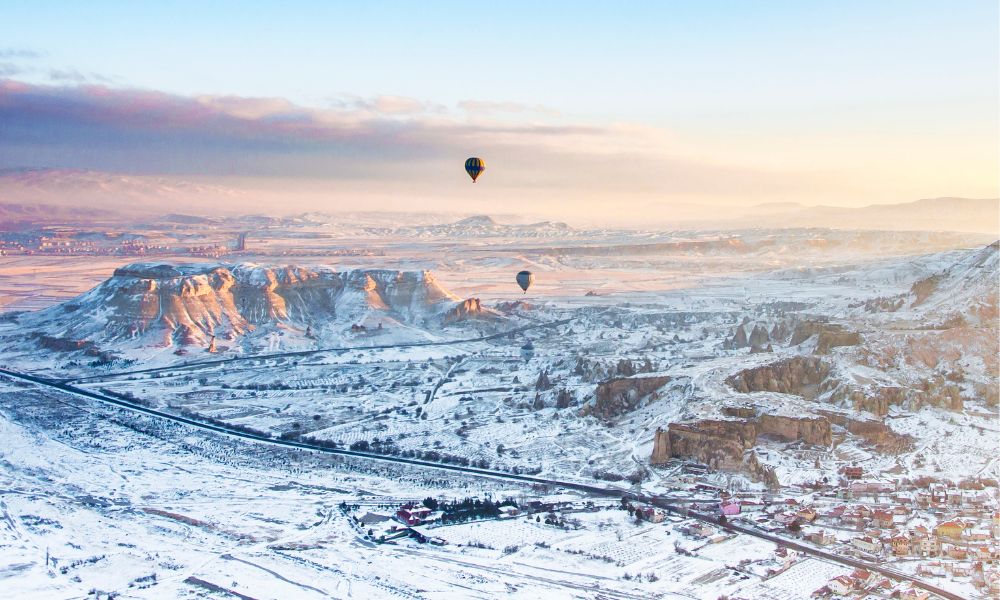 Riding a hot air balloon in Cappadocia during the winter is one of the most magical experiences you can have. Imagine seeing the vast desert landscape sprinkled with snow from above. It will certainly be an experience you will never forget.
However, if you want to make sure you have a hot air balloon ride in the winter, you'll need to make sure you stay for a fair few days to account for possible cancelations due to the weather. Hot air balloon rides don't happen every day so you need to make sure you have at least three or four days to make sure you can get a flight.
Zelve Open Air Museum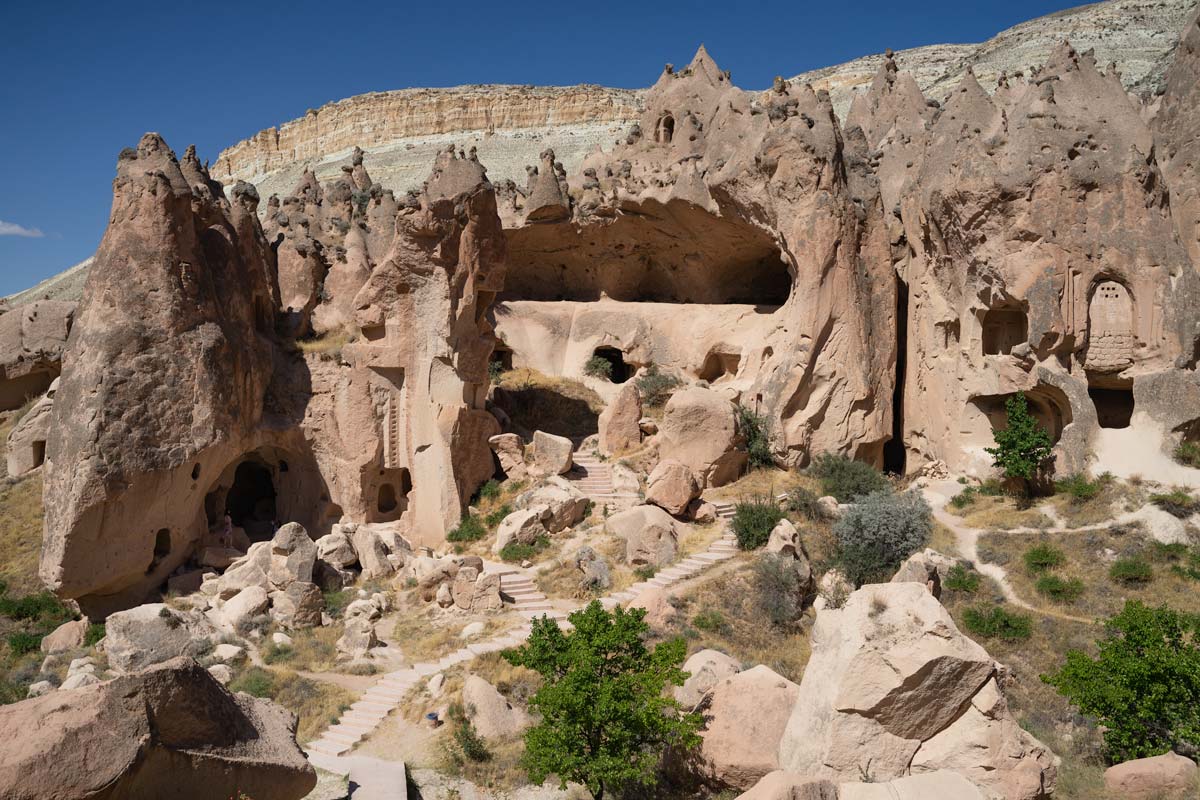 The Zelve Open Air Museum is one of the finest examples of how ancient civilizations lived in the region many centuries ago. The site is part of the UNESCO World Heritage Site that makes up Goreme National Park and was said to have been built in the 9th-13th centuries.
The cave settlement features churches, houses, mosques, bakeries, and stables. People apparently lived in these caves up until the 1950s when they were forced to leave by the government which declared the dwellings unsafe to live in.
Visiting the museum with snow sprinkling the ground really brings to light how incredible these dwellings are and gives a real insight into how they lived all those centuries ago.
Visit Uchisar Castle
One of the most magical sites in Cappadocia in winter is Uchisar Castle covered in snow. The castle was once an epic fortress, home to 1,000 people and the entrance to the underground cities.
While it's impressive to witness, we wouldn't recommend you go in during the winter. This is because the ground is incredibly slippery and offers no grip, even in the summer. In the winter when there is snow on the ground, it will be even more treacherous.
However, it's definitely worth stopping to admire from a distance.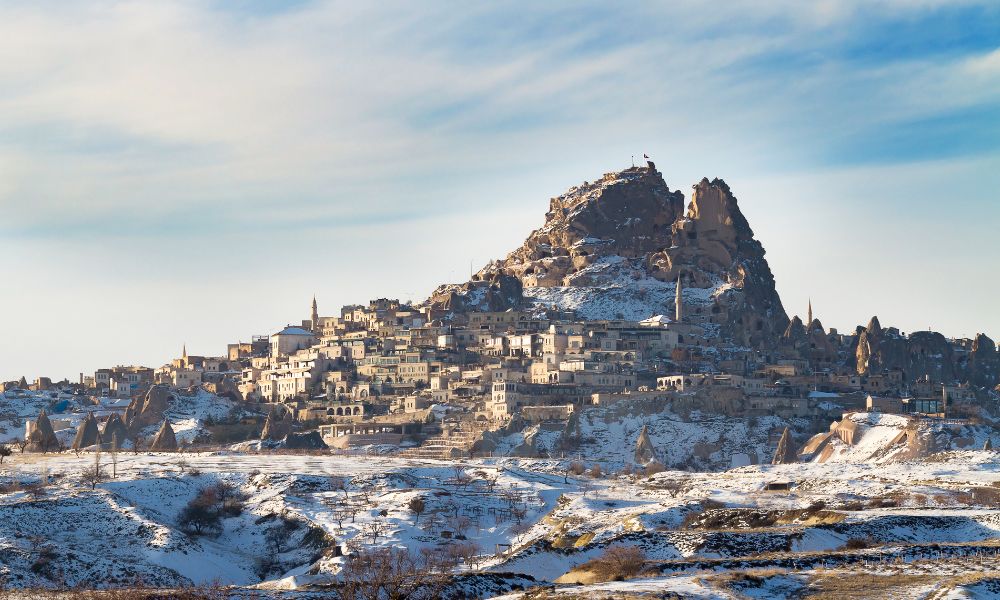 Explore on an ATV Quad Bike
If hiking isn't your thing, then you can still explore the amazing natural landscapes of Cappadocia but on an ATV instead. An ATV is a four-wheel drive motor vehicle that can cross all terrains.
If you've never driven an ATV before, don't worry, it's like riding a bike! You'll be given a full lesson on how to ride one as well as some practice laps around a flat landing site before you set off to explore the landscapes.
You'll find that riding around on an ATV is a really fun way to experience the landscape, and because you're visiting in winter, you won't find many people doing it either.
Visit the Underground Cities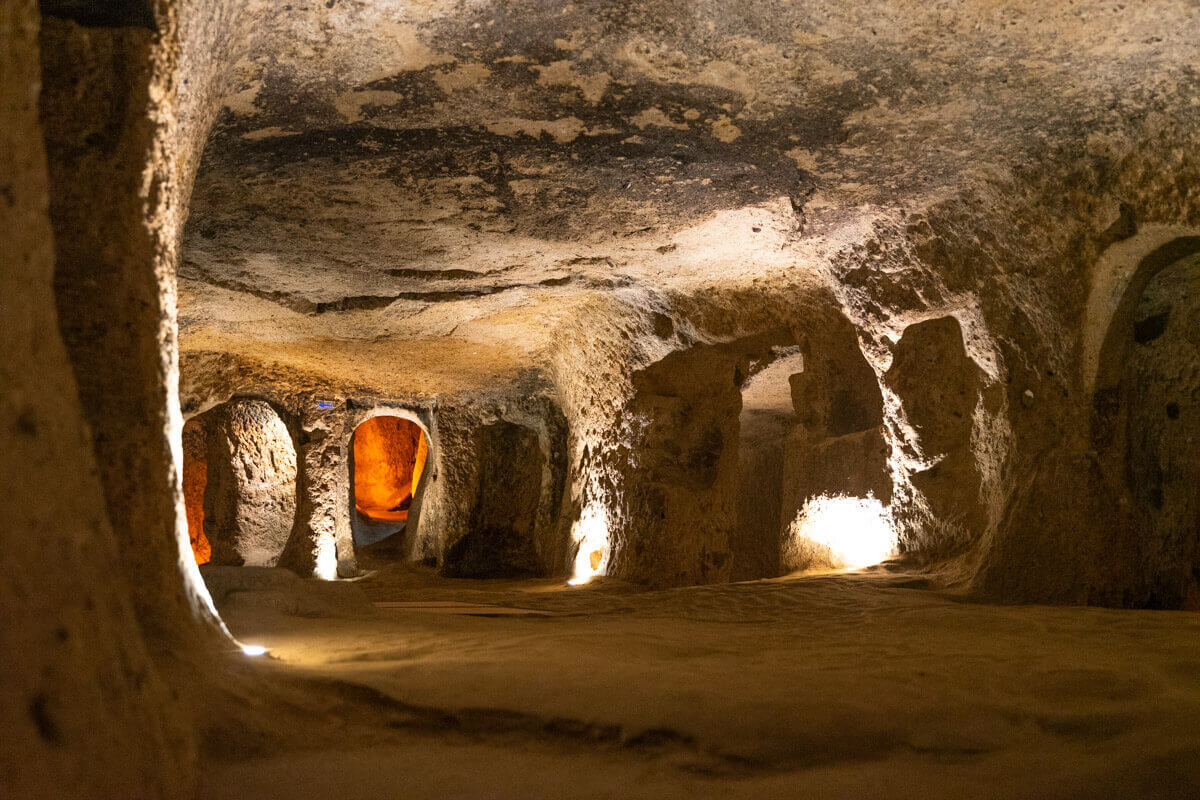 The underground cities are a must-visit in Cappadocia. The two most popular underground cities are the Derinkuyu Underground City and Kaymakli Underground City.
The underground cities were all connected at one point, so whichever one you choose to see, you'll pretty much have the same experience. They were built in the 7th century BCE as a way for Christians to escape from the Byzantine Arabs who were invading Turkey at the time.
Derinkuyu is the biggest and covers eight levels (four levels can be seen by tourists). It has a one-way system which means you cannot get lost. It has the widest passages of the underground cities so is the best one for those who might be claustrophobic.
Kaymakli is considered the oldest. It's smaller than Derinkuyu with only four levels open to the public. Unlike Derinkuyu it doesn't have one passageway, but several tunnels and passages that you can explore. This is the better option for adventurers.
Take the Red, Green, or Blue Tour
We mentioned earlier that all the attractions remain open during the winter, and it's true! It's even true that the tours are still operational, but not every tour company operates in the winter. This is because it's a quiet time for tourists and some tours don't see it as worth it to stay operating.
However, you can always find some tours still operating you just need to shop around.
If you're not sure whether you want to try the red or green tour, or the less known but equally exciting blue tour, then here's a quick overview of the stops.
Red tour: Uchisar Castle, Goreme Open Air Museum, Cavusin, Avanos Town (Pottery Workshops), Pasabag Monks Valley, Devrent Imagination Valley
Green tour: Esentepe Viewpoint (Pigeon Valley Viewpoint), Derinkuyu Underground City, Ihlara Valley, Belisirma Village, Selime Monastery, Onyx Jewelry Factory
Blue Tour: Red and Rose Valley Hike, Cavusin Cave Village, Local lunch in Cavusin, Özkonak or Kaymakli Underground City, Fairy Chimneys in Uc Guzeller (not included on every tour), Pigeon Valley, Uchisar Castle
Stay in a Cave Hotel
What makes Cappadocia unique is the fairy chimneys and rock dwellings. It would be a complete shame, no matter what time of year you visit, if you don't stay in a cave hotel in Cappadocia.
In fact, staying in a cave hotel in winter is the ideal time to do so. Not only are they dry and warm places to stay, but many of them offer roaring fireplaces and have plush lounges, that are the ultimate place to kick back and relax on a winter's evening.
Rooms tend to have heating and warm bedding all year round (it gets cold at night in the summer, too) so you can expect to have a warm night's sleep.
---
What to Pack for Winter in Cappadocia
It can get really cold in Cappadocia from November to February, so you'll need to pack accordingly. Here's what we recommend you take with you.
Hiking boots – even if you're not planning on hiking, the terrain can get slippy in the snow and it's always a good idea to have strong, durable, and sturdy shoes.
Warm winter clothing in layers – while you will need to wrap up warm, if you intend on doing some hiking you'll find that you warm up quickly. The valleys are sheltered from the wind, and the sun still shines, so it's a good idea to wear layers so you can put more clothes on or take them off when you need to.
Waterproof jacket – Cappadocia receives most of its precipitation in the winter months, so it's best to pack waterproof clothing to prepare for this.
Umbrella – it's not usually super windy in Cappadocia, but it does rain a fair bit in the winter. It's a good idea to pack an umbrella for those rainy days.
Hat, gloves, scarf – pack the usual clothing for cold weather, especially if you plan to take a hot air balloon.
Sunglasses – the sun can be bright, especially when it reflects off the snow. You'll still likely need sunglasses, even in winter.
First Aid Kit – Cappadocia is safe, but if you intend on doing some hiking, be prepared to slip and fall so pack a simple first aid kit just in case.
Head torch – Again, if you plan on doing some hiking, remember that day light hours are shorter in the winter so it's a good idea to carry a torch in case you have to hike back in the dark.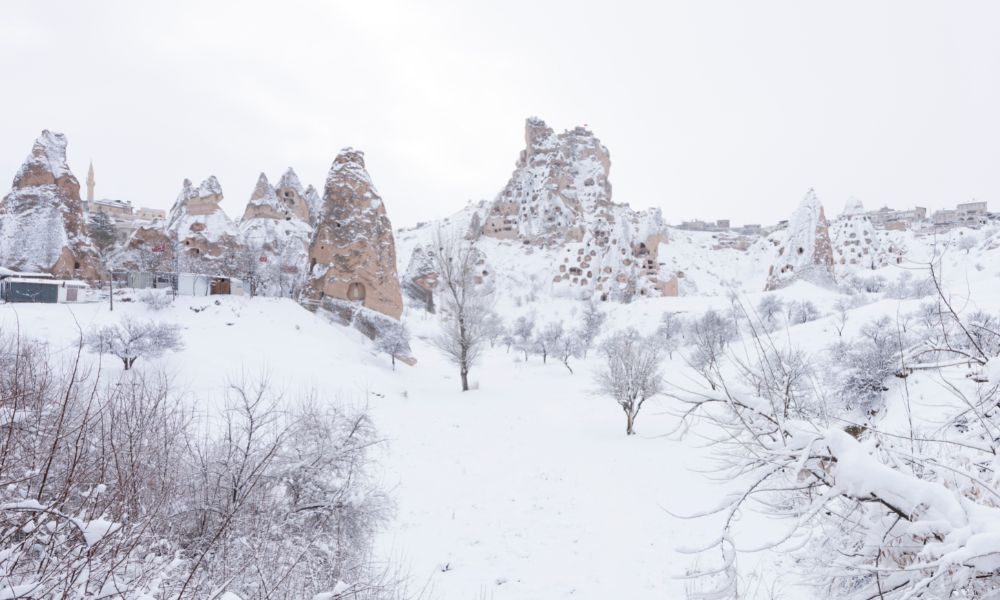 ---
Where to Stay in Cappadocia in Winter
If you're not sure where to stay in Cappadocia, don't worry! Here are some of our favorite places to stay in the region.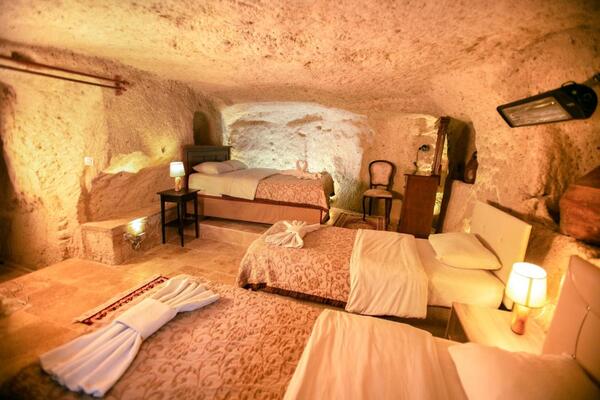 Best Hostel in Cappadocia – Kamelya Cave Hostel
There aren't too many hostels in Cappadocia, but it doesn't matter when the Kamelya Cave Hostel is so ideal. It's located in the center of Goreme, and connects you to many of the main attractions. Since it's a cave hostel, you get to sleep in the authentic Cappadocian housing, but with all the homely comforts from home. Each room is fitted with a heater and warm blanket, so you can be sure to have a good night's sleep.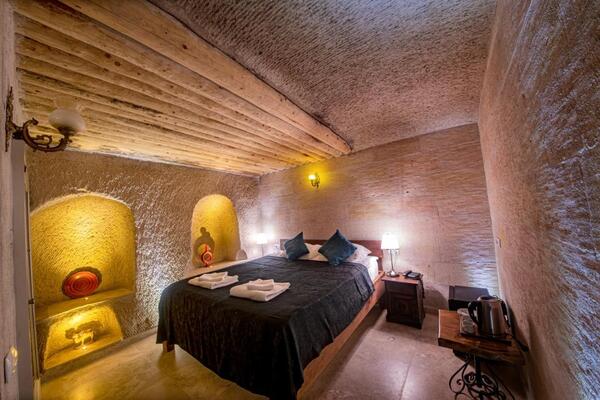 Best Budget Hotel in Cappadocia – Tabal Cave Hotel
One of the best areas to stay in Cappadocia in Winter is Uchisar. This affordable cave hotel offers incredibly cozy rooms with heating and warm bedding, as well as an outdoor terrace with views of the stunning Uchisar Castle. Each morning, you can sit back and enjoy the views as you dine on your buffet breakfast included in the price.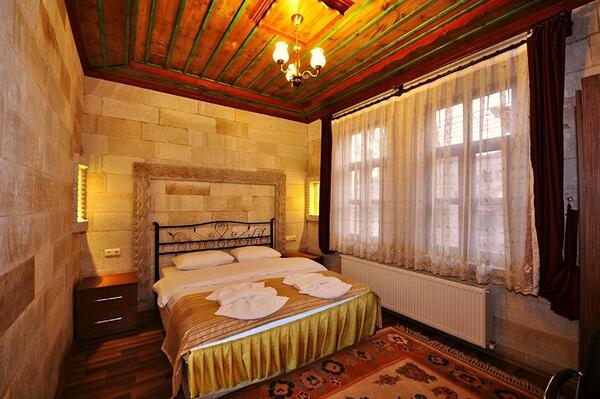 Best Mid-Range Hotel in Cappadocia – Cappadocia Stone Palace Hotel
If you're looking for an authentic place to stay in Cappadocia, then you'll want to stay in a cave hotel. The Cappadocia Stone Palace is a great mid-range option for those who want comfort and a few luxurious amenities. It's located in the center of Goreme, just a few minutes' walk away from the Turkish Bath. It has spacious rooms that are heated and with thick warm bedding, Each room has an ensuite bathroom with a spa bath – perfect for warming up your body after a day of exploring. The outdoor terrace is the place to go for panoramic views of the town and hot air balloons at sunrise.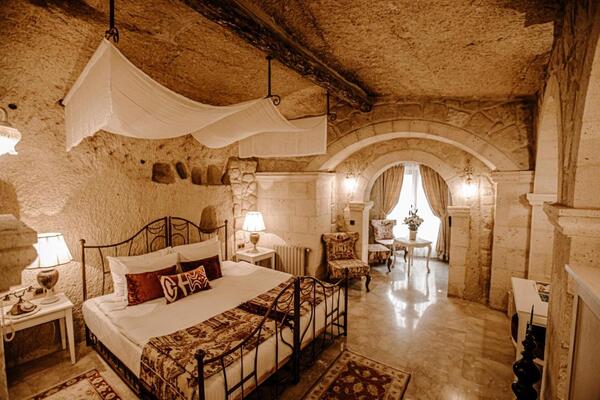 Best Luxury Hotel in Cappadocia – Tafoni Houses Cave Hotel
For those looking for high-end luxury, you'll find everything you could want and more at the Tafoni Houses Cave Hotel. Each room is a little suite with a comfy bed, a seating area and large ensuite bathrooms with spa tubs. To warm you up in the winter, the hotel even has stone fireplaces blazing which adds to the homey atmosphere. The hotel has a delicious on-site restaurant and also offers airport transfers.
---
FAQs About Cappadocia in Winter
Here's what people usually ask us about visiting Cappadocia in the winter.
Is Cappadocia worth visiting in the winter?
Absolutely! Not only is winter in Cappadocia the quietest time for tourism, but all the attractions are open, it's cheaper and you can witness the stunning landscapes sprinkled with snow.
How cold is Cappadocia in December?
The average temperature in December is as low as -3°C, 25°F and as high as -6°C, 43°F.
Is Cappadocia nice in January?
January can be nice in Cappadocia because it usually snows, which creates a really unique landscape. However, you'll need to wait for good weather for hot air balloon rides.
Is December a good time to visit Cappadocia?
Yes, December is when you will start to see snow and the temperature can be quite mild during the day.
---
Before You Go
This concludes our guide to Cappadocia in Winter and we hope it provided you with everything you need to know before you visit. This stunning region is undeniably beautiful, no matter what time of year you visit, but there's something particularly magical about visiting the desert when it's snowing.
If you do end up visiting Cappadocia during this time, let us know what you thought in the comments!
Disclaimer: Some of the links above are affiliate links. That means if you book or make a purchase through the links, we will earn a small commission at no extra cost to you! The money will help run this site! Thank you!