Cappadocia is known for its rocky landscape and impressive fairy chimneys, but what some people don't know is that it is also home to over 200 underground cities!
Before you get too excited, only two of them are open to the public. One of which, is one of the oldest underground cities in Cappadocia, the Kaymakli Underground City.
The Kaymakli City is a narrow, underground maze of passageways and ancient homes and settlements that once housed over 3,500 people, from as far back as the 7th and 8th centuries BCE. It's one of the most unique places to visit in Cappadocia and is a must-see attraction to add to any Cappadocia itinerary.
This guide will cover the history of the city and everything you need to know before visiting.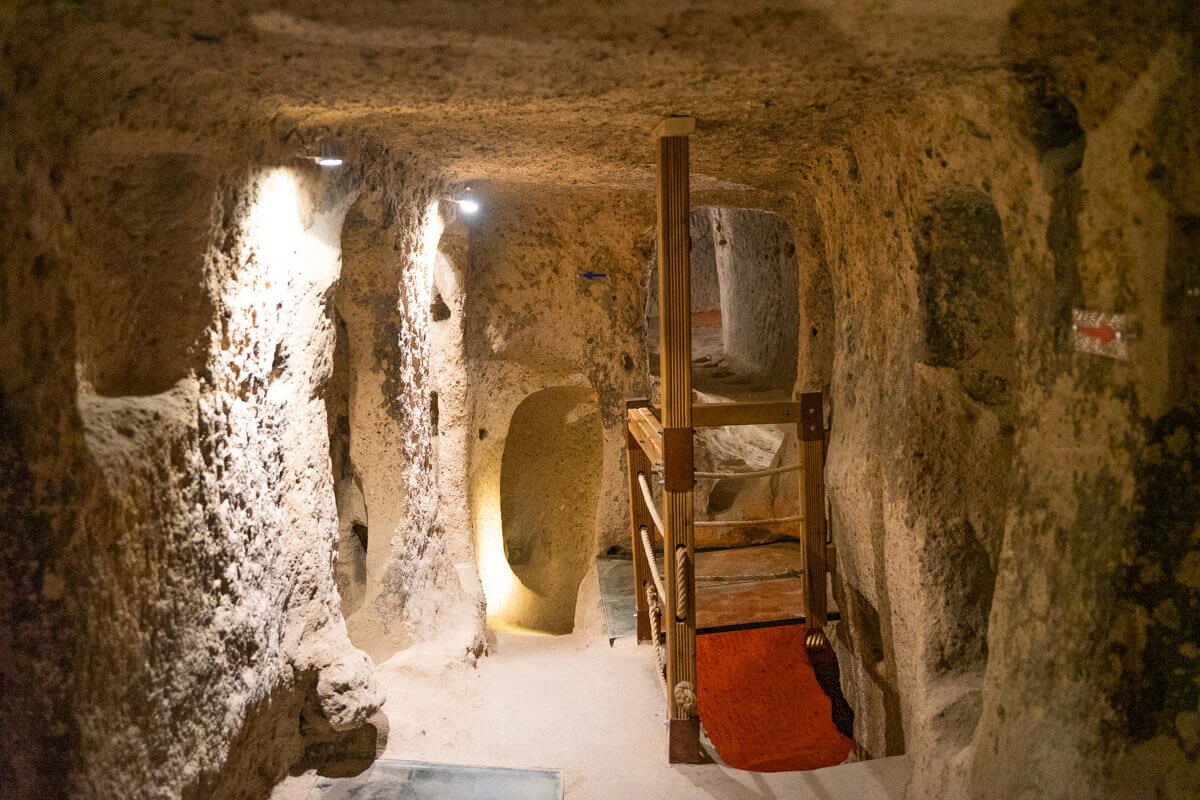 ---
History of Kaymakli Underground City
In Cappadocia, there are 36 underground cities that were excavated as early as the Hittite period. Some of the largest ones include Kaymakli Underground City and Derinkuyu Underground City.
The Kaymakli Underground City, formerly known as Enegup, was built under the Citadel of Kaymakli. It was constructed by the Phrygians in the 7th and 8th centuries BCE. The idea behind the underground cities was to offer protection from foreign invaders.
In the 14th century AD when Turkey was under siege by the Byzantines, the citizens moved into the caves to hide from the Arabs. Before the Byzantine era, Turkey was under the rule of the Romans where they primarily adopted the Catholic religion. Fearful of the Byzantines who led under Islamic law, Christians moved into the caves to hide from the Islamic invaders.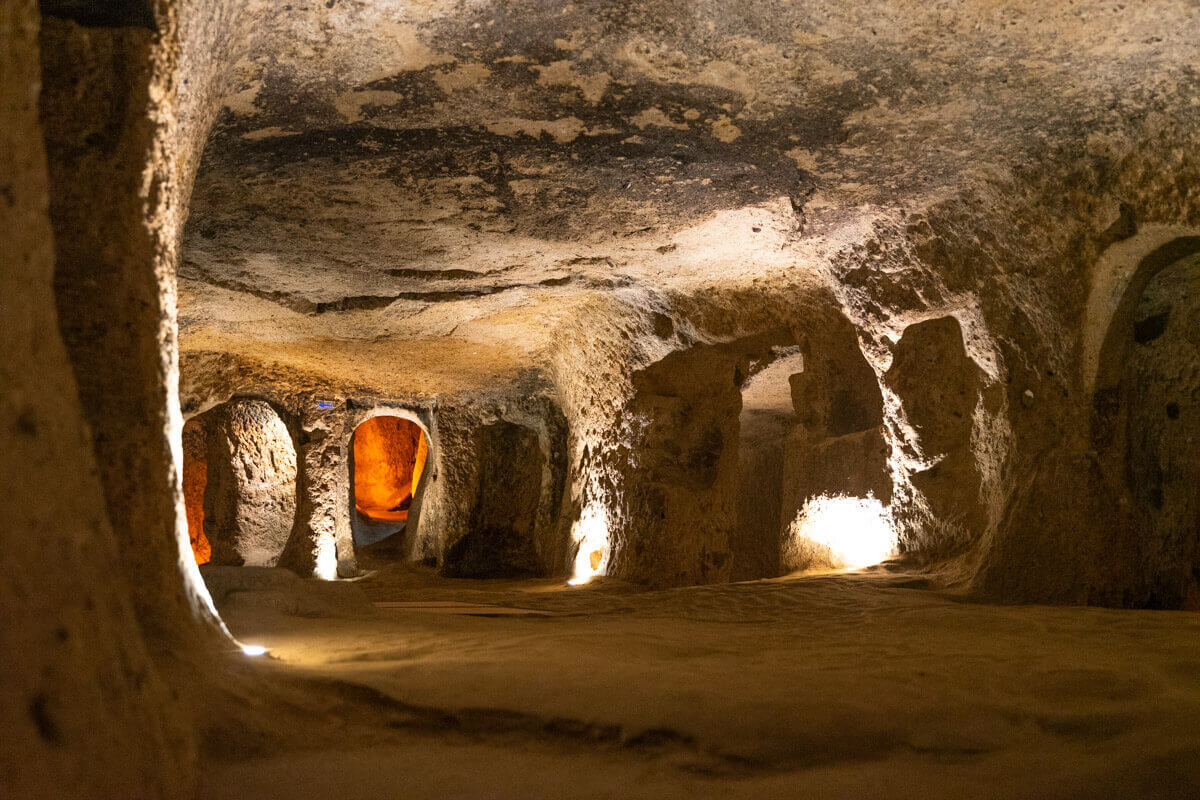 In 1923, the cities were abandoned after a population exchange happened between Turkey and Greece. In 1963, they were rediscovered and opened to the public as a tourist attraction. It became a UNESCO World Heritage Site in 1985.
Inside the underground city, there are nearly one hundred tunnels that go down for eight levels, though only four are open to the public today.
It's estimated to go as far down as 20 meters (66ft) underground, with the wealthiest families living on the top surface and the lower class living on the lower levels. They say that 3,500 people lived in the tunnels when the city was first created, including all of their livestock and food.
There were not just houses built in the city, but wine cellars, kitchens, churches, stables, stables, bakeries, and more. Ventilation shafts were also created to allow plenty of oxygen to reach the lower levels. They used large round boulders as doors, in case the city came under attack.
Today, there are still local people in Cappadocia who use the tunnels as cellars, storage rooms, and stables.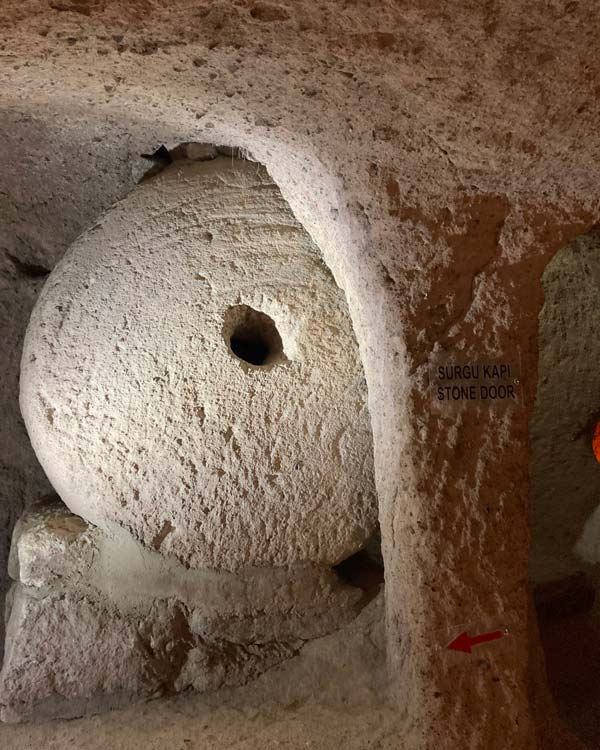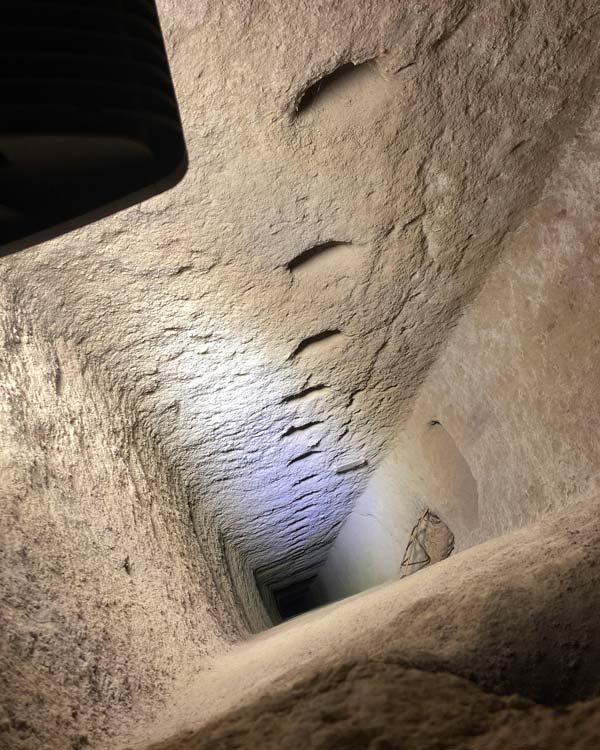 ---
Kaymakli Vs Derinkuyu
Thanks to the soft volcanic rock in the region, there are 200 underground cities in Cappadocia. Only two of them are open to the public – Derinkuyu and Kaymakli. The difference is that Derinkuyu is much bigger. It goes down to about 60 meters (197ft) and reaches 11 levels, so it's twice as big as Kaymakli. It also was capable of housing a whopping 20,000 people in its prime.
Derinkuyu is slightly newer than Kaymakli, having been built during the Byzantine era as a way to hide from Muslim Arabs during the Arab-Byzantine war of 780-1180 BCE. However, it's the deepest underground city you can visit in Cappadocia but only half the city is open to visitors.
Kaymakli's tunnels are much narrower, steeper, and smaller (if you're tall, you may need to duck down). If you're claustrophobic, you probably won't like either underground city, but Kaymakli is a little bit more of a tighter squeeze.
In Derinkuyu, you don't need to crouch or crawl in any place, and it follows one long tunnel rather than twisting around in various different directions. This does mean you have to wait for people to move on before you can move, but if you visit at the right time this shouldn't be a huge issue.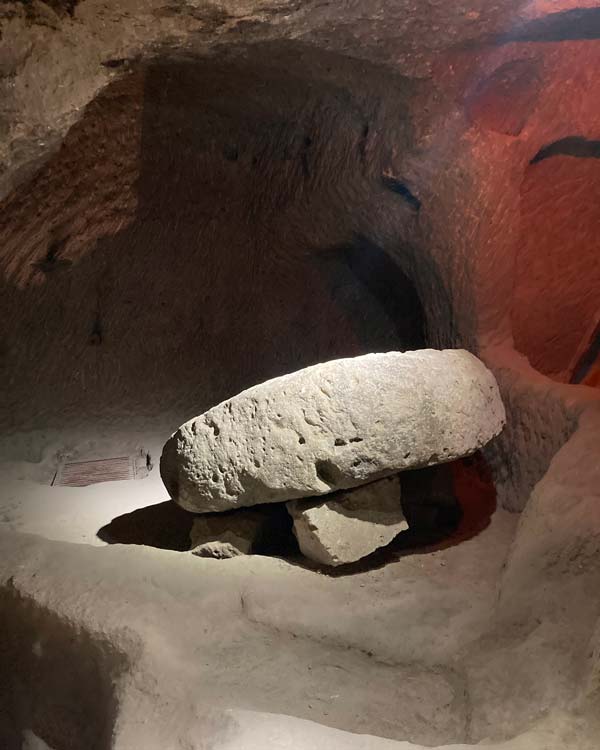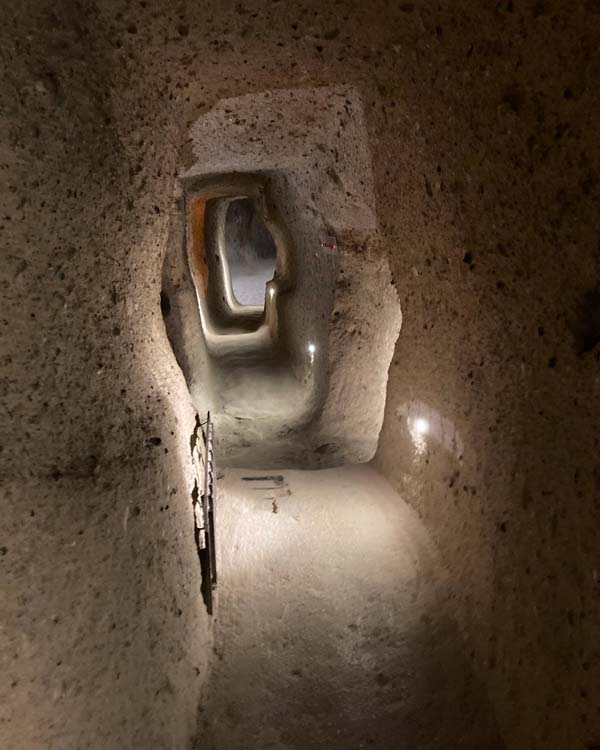 The passages are wider, in fact, it's the widest underground city of them all, so it gives the illusion of space even though it's underground.
If you want to see the oldest underground city, head to Kaymakli, if you're not a fan of small, tight spaces, head to Derinkuyu.
If you're planning on taking the red tour or green tour in Cappadocia, the green tour visits Derinkuyu but not Kaymakli. The blue tour often goes to Kaymakli but sometimes visits the Özkonak Underground City if Kaymakli is busy.
The two underground cities are close by, only a 10-minute drive away from each other, so it's possible to hit two birds with one trip. There is even a 9km (5.6 mi) long tunnel that connects the two cities, but it is not accessible to visitors.
Both underground cities have the same opening hours and ticket price.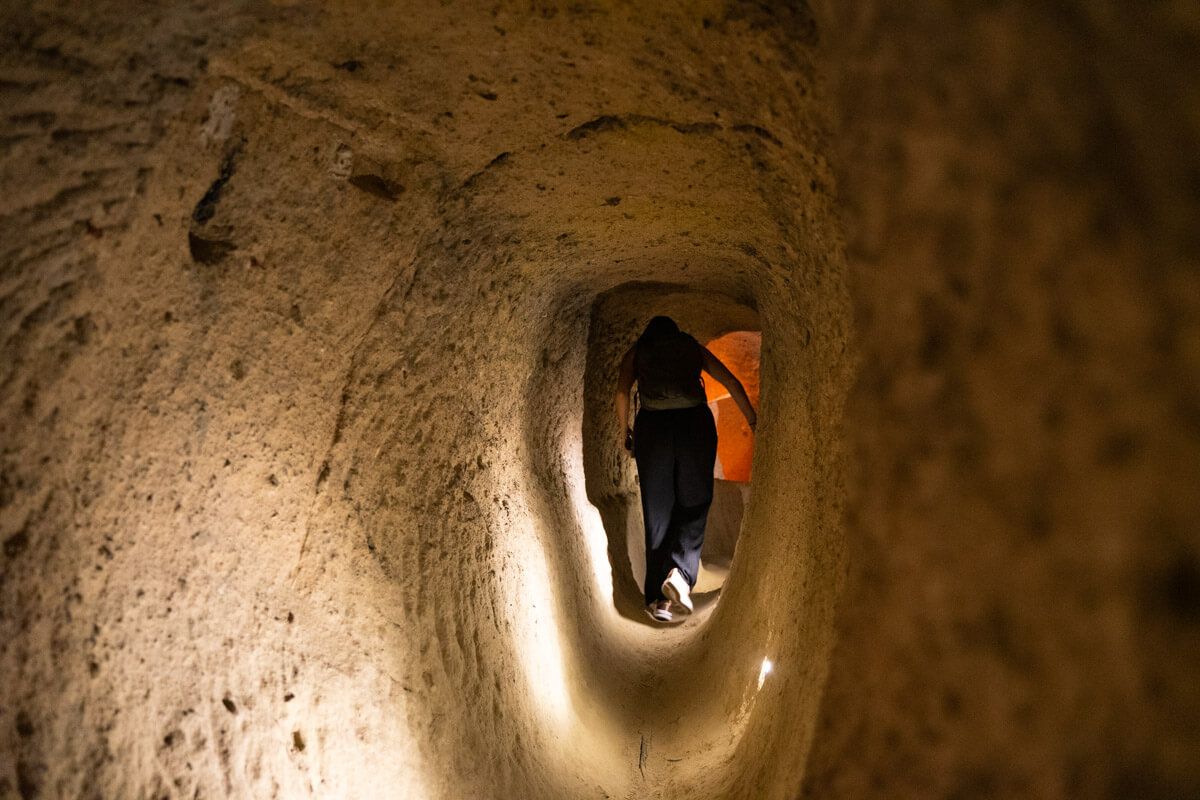 ---
How to Get to Kaymakli Underground City
Here are all the different ways to get to Kaymakli Underground City.
By Car
If you're hiring a car in Cappadocia, you'll be able to drive to Kaymakli from Goreme in 30 minutes or less. From Goreme, head east on Gül Sk. toward Belediye Cd, then take the Göreme-Uçhisar Yolu road.
Turn right onto Turgut Özal Cd and then turn right onto Nevşehir Niğde Yolu D765. Turn left onto Kaymaklı Köyü Yolu and follow this road to Kaymakli.
Kaymakli is not a big town, and The Underground City will be on your left. There is parking outside the entrance but there is a parking fee.
By Bus
From Goreme, take the bus from the town center towards Nevsehir. The bus operates every 30 minutes. You will need to get off the bus at Nevsehir and take another bus to Kaymakli.
The second bus leaves from the opposite side of the road, but your driver will be able to point to the bus stop if you're not sure. It's quite common for tourists to take this route, so don't be afraid to ask your driver how to get to Kaymakli.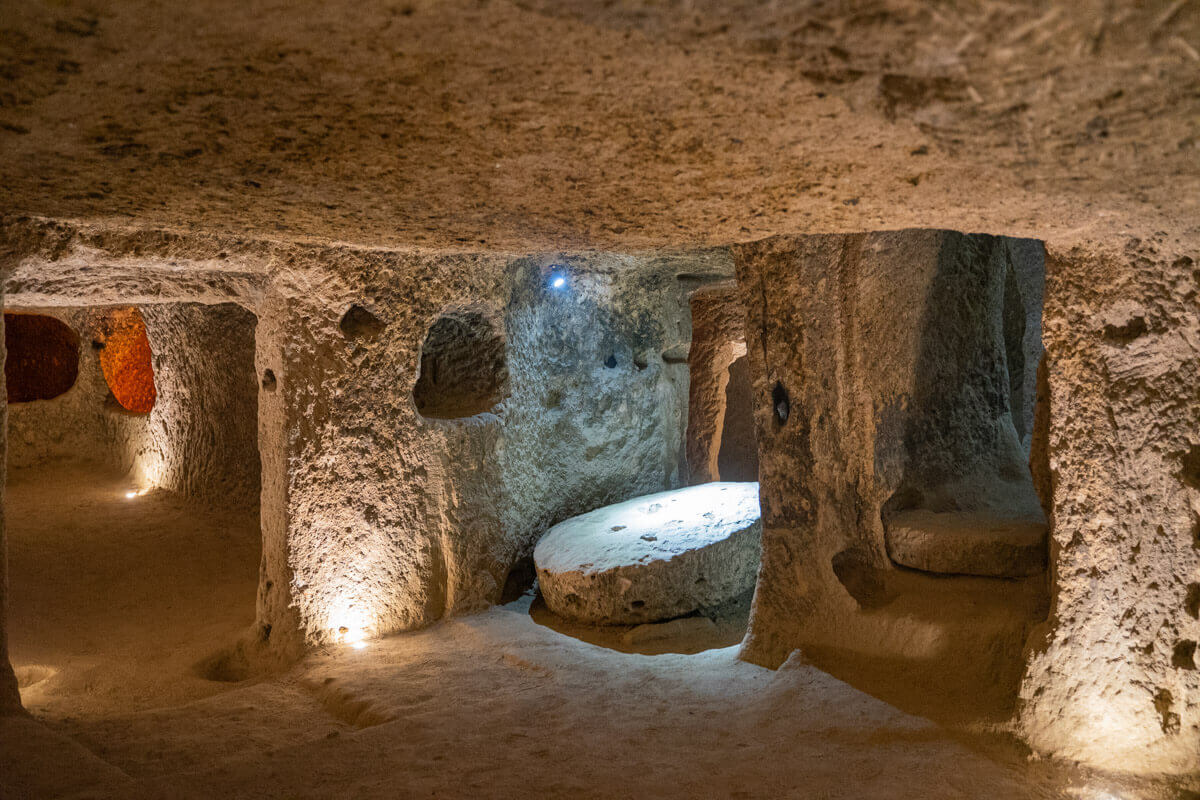 By Tour
There are two main tours in Cappadocia, the red tour and the green tour. The green tour goes to Derinkuyu, but no tours go to Kaymakli. However, you can join a small group tour that takes you to some other important landmarks in Cappadocia such as Rose Valley, Pigeon Valley, Uchisar Castle, and Cavusin.
---
Kaymakli Underground City Opening Hours and Entrance Fee
Kaymakli Underground City is open from 8:00 AM to 7:00 PM on Monday to Sunday during the summer months, but ticket sales end at 6:15 PM Hours may vary on religious holidays. During the winter months, it is open from 8 AM to 5 PM, and ticket sales end at 4:15 PM.
The entrance fee for Kaymakli Underground City is 300 Turkish Lira per person. However, prices change frequently so it is best to call the museum ahead of time to check.
If you want to purchase a tour, the guides are independent contractors and you need to negotiate your own rate. The price largely depends on the size of the group.
---
Tips for Visiting Kaymakli Underground City
Before you visit Kaymakli Underground City, take note of the following tips for visiting.
Follow the blue arrows. These will guide you around the visitable areas.
Watch your kids and don't wander off. No matter how tempting it is, don't go down any shafts or passageways that are not lit up by lights as these are passageways that have not been excavated yet and are unopen to the public. You'd expect them to be blocked off but they're not, so if you have kids with you, keep an eye on them.
Get a guide. We didn't bother with a guide when we went and we really regretted it. We found we wandered around aimlessly not knowing what each room was used for. In the end, we hovered around someone else's guided tour so we could learn some stuff as there were no signs with information (sorry for stealing a tour).
Visit early. Even though it's not on the typical tour route, it's still a popular activity. You can beat the crowds that come on tours if you get there early.
Wear sturdy and comfortable shoes. The terrain inside the passageways is quite slippery in some places and rocky in others. Flip flops, sandals, and heels are not advised. Wear trainers or hiking shoes.
Be mindful of enclosed spaces. If you have asthma or claustrophobia, be mindful that some of the spaces are enclosed and the air is quite dusty. If you feel short of breath, follow the blue arrows and they will take you straight out. The city isn't very big, so it won't take you long to get out.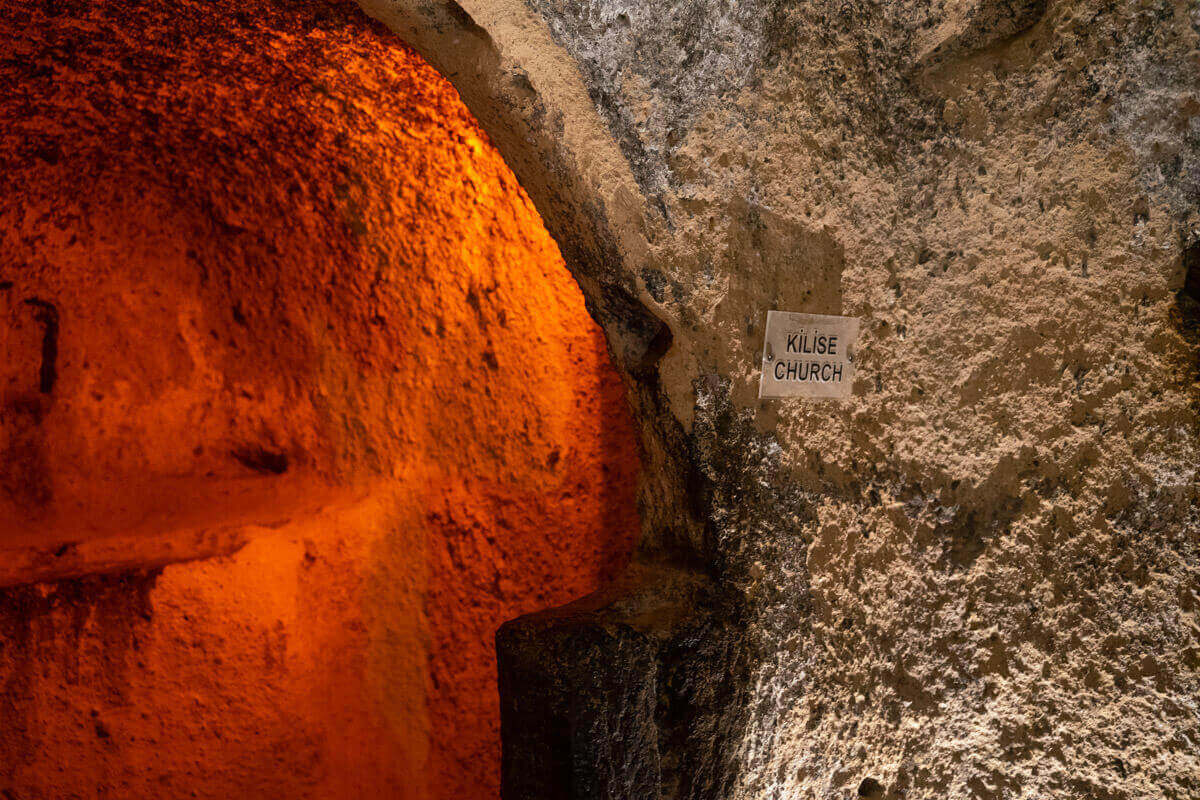 ---
FAQs About Kaymakli Underground City
Here's what people usually ask us about Kaymakli Underground City…
How Deep is Kaymakli Underground City?
Kaymakli Underground City in Turkey extends eight levels deep, but only four of these levels are open to the public. The fourth level is about 20 meters (approximately 65 feet) below ground. The depth of the ventilation shaft is about 80 meters in total, so the total depth of Kaymakli Underground City is estimated to be 85 meters deep.
Which Is the Best Underground City in Cappadocia?
The best underground city in Cappadocia largely depends on you. The Kaymakli Underground City is smaller, narrower, and less busy. Derinkuyu is busier, wider, and deeper but has only one tunnel whereas Kaymakli has several passages to explore.
How Old is Kaymakli Underground City?
The exact age of the Kaymakli Underground City is difficult to determine. However, it's believed that the earliest parts of the city were built around 2000 BC. The underground city is considered to have been in use since around the 7th or 8th century BC, making it at least over 2600 years old.
How Many People Lived in Kaymakli Underground City?
The Kaymakli Underground City is believed to have housed about 3,500 to 5,000 people along with their food stores and livestock at its prime. The complex system of tunnels and rooms includes living quarters, kitchens, wine cellars, churches, and stables, indicating a large and self-sufficient community.
How Long Does It Take To See Kaymakli Underground City?
It typically takes about 1 hour to see Kaymakli Underground City. This time allows visitors to explore the various rooms and tunnels in the underground city.
---
Final Word on Kaymakli Underground City
So there you have it, everything you need to know about the Kaymakli Underground City from how to get there to its history. All that's left for us to do now is to wish you an incredible time and we hope you enjoyed it as much as we did!
Disclaimer: Some of the links above are affiliate links. That means if you book or make a purchase through the links, we will earn a small commission at no extra cost to you! The money will help run this site! Thank you!