Cappadocia is well known for its unique desert landscape and cave dwellings, known as fairy chimneys, which used to be homes many centuries ago.
The finest example of a historic cave home is the Uchisar Castle. This beautiful and historic castle is located in the town of Uçhisar, in the Goreme Province of Cappadocia, Turkey.
The castle is built on a hilltop overlooking the town and the surrounding desert landscape and is the highest point in Cappadocia. Many people visit the castle not just for its history but for its panoramic views of the region, which on a clear day, shows Mount Erciyes in the distance.
In this guide, we will be covering everything you need to know about this important landmark in Turkey, from its history, to how to get there, to some advice you might want to consider before visiting.
---
History of Uchisar Castle
It is thought that the castle was the main point of defense in the region of Cappadocia. It's unclear when it was built since it was made by hollowing out natural caves in the rock into adjoining rooms.
However, it was first mentioned in the chronicle by Aziz ibn Ardasir, which was written in the 14th century when Turkey was under Ottoman control.
Although, people have been living in the area as far back as the 7th-8th century, as people had fled to the Cappadocia region to escape from the Islamic rule in underground cities, so it's possible that the castle was formed even earlier than the 14th century.
When we visited Uchisar Castle, we were hoping to learn more history about the castle, but there were no signs nor guided tours, so it appears little is known about the castle's history.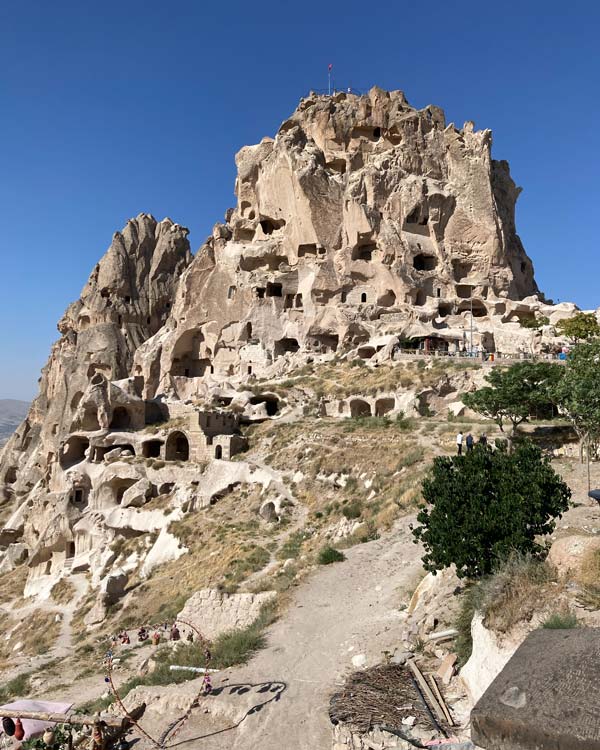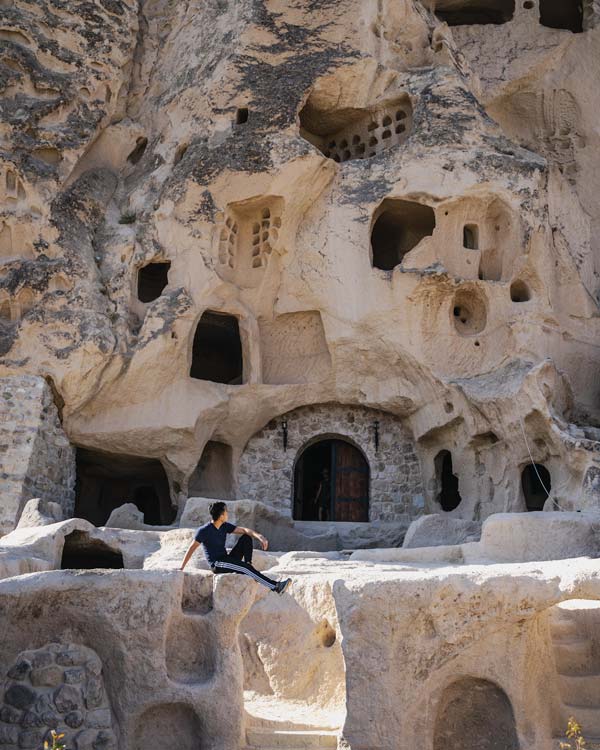 How was Uchisar Castle made?
The rock in Cappadocia is very soft volcanic tuff, which is very easy to work with and shape. As such, many of the fairy chimneys and Uchisar Castle were made by hollowing out structures that were already part of the natural landscape.
Uchisar Castle is a large cylindrical mound of volcanic tuff on top of a hill and is surrounded by several other cave structures which now contain hotels and restaurants in the town of Uchisar. In the Byzantine era, they would have been homes for soldiers.
The caves were tunneled out to create multi-level rooms and underground passageways. Many of these passageways have been damaged due to aging and weathering, but there are still a few that remain on the Northern side of the castle that is in good enough condition to be visited by tourists.
It is believed that in its prime, the castle had 1,000 people living in it.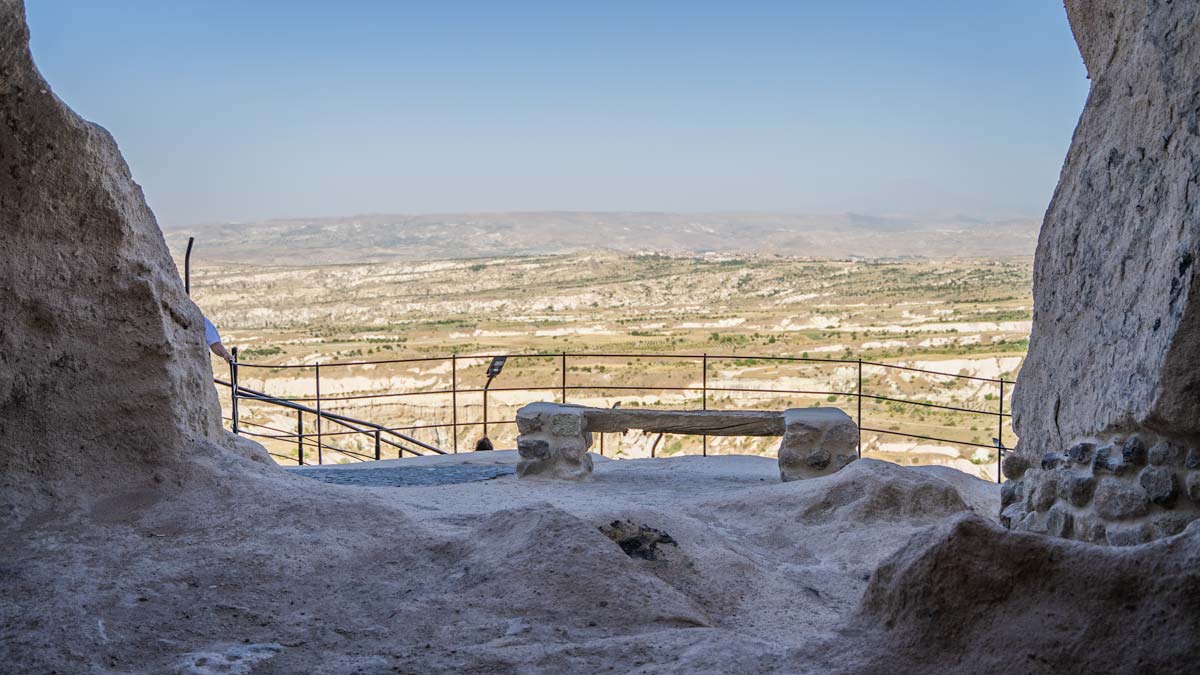 How to get to Uchisar Castle?
Since most visitors to Cappadocia base themselves in Goreme, you'll want to make your way here first.
By Bus
There is a bus that leaves every 20 minutes from Goreme town center. This is the bus that goes from Avanos to Nevisher.
By Car
If you are traveling by car (or renting a car in Cappadocia), you'll want to drive down Adnan Menderes Cd from the town center of Goreme. This will take you straight to the town of Uchisar in 5 minutes. From there, you'll be able to park your car on the road and walk up to the castle.
We recommend parking your car just off the main road past Uchisar Ranch as some of the roads in Uchisar are very narrow and windy, and have very few places to park.
Hiking
Another popular way to visit the castle is to hike. Hiking in Cappadocia is one of the best ways to see all of the landscape of Goreme National Park and the unique cave dwellings that are located here.
Hiking to Uchisar Castle was one of our favorite hikes in the region.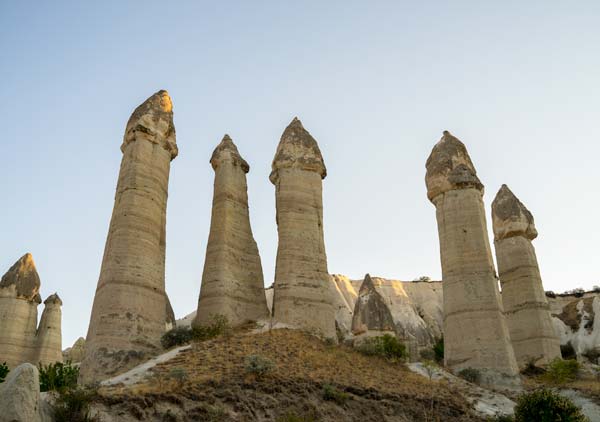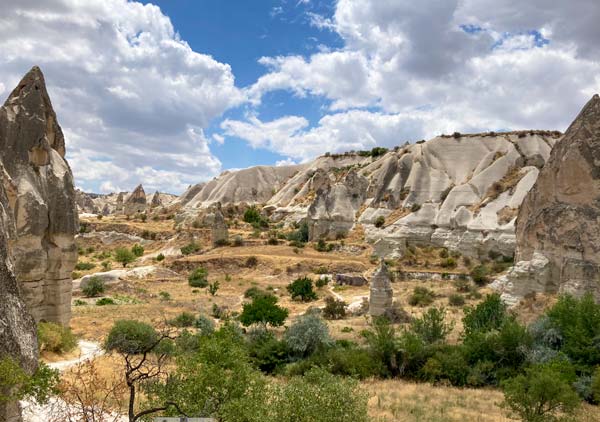 From Goreme, the White Valley and Love Valley hike takes you from the town of Goreme all the way to Uchisar Castle. The hike takes about 2 to 2.5 hours, and is mostly flat as you hike between the valley, though you'll need to hike up the hill to the castle.
You can either get a bus back to Goreme or hike back through Pigeon Valley, which takes about 1 hour.
By tour
There are a couple of tours that make a stop via Uchisar Castle and this is the red tour and the blue tour. Find out if the red tour is right for you by reading our guide on red tour vs green tour in Cappadocia.
Opening Hours & Entrance Fee
Uchisar Castle is open from 5 AM – 9 PM daily in the summer months. In the winter months, it is open from 5 AM to 7 PM. Opening hours may also vary on religious holidays. As of June 2022, it cost 50 Turkish Lira to enter.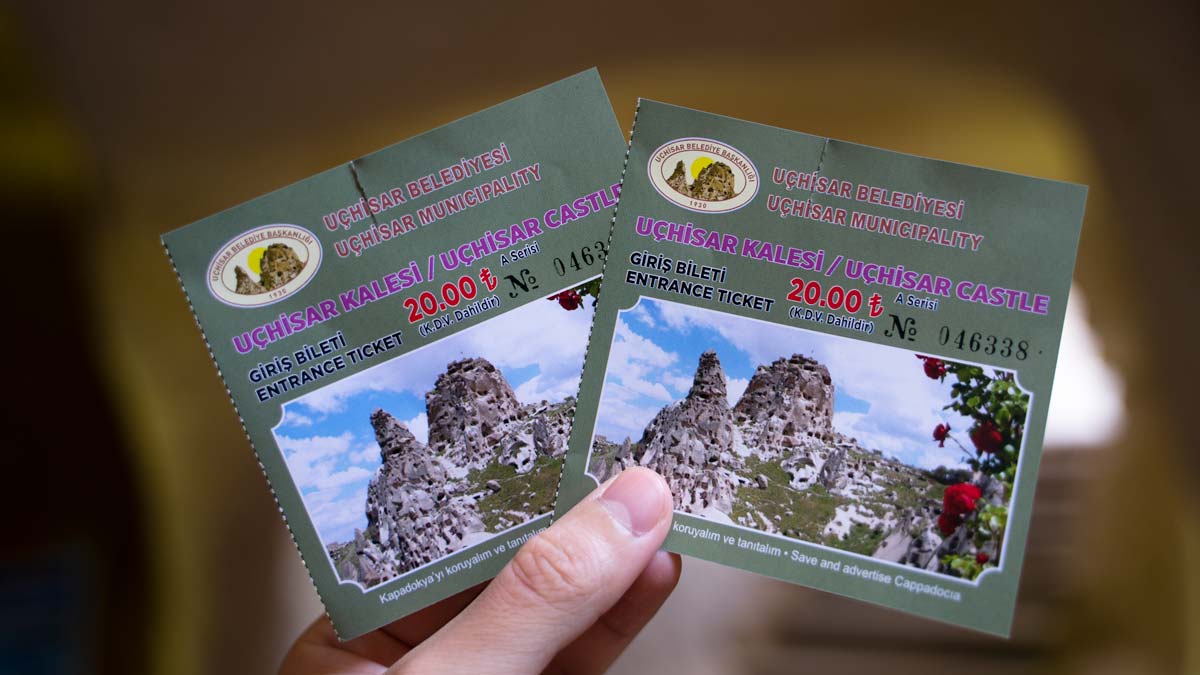 ---
Other things to do in Uchisar
Uchisar Castle is impressive, but full disclosure, it doesn't take that long to see. We recommend spending an hour or so at the castle, admiring the rock formations and the expansive views.
But while you're in Uchisar, there are some other Cappadocia attractions nearby that make the trip here worthwhile.
White Valley, Love Valley, and Pigeon Valley Hikes
One of the top things to do in Uchisar is to go hiking. There are three valleys nearby, the Pigeon Valley, White Valley and Love Valley, which take you towards Goreme.
White Valley connects to Love Valley, and since there is no marker stating where one ends and another begins, they are often seen as the same hike.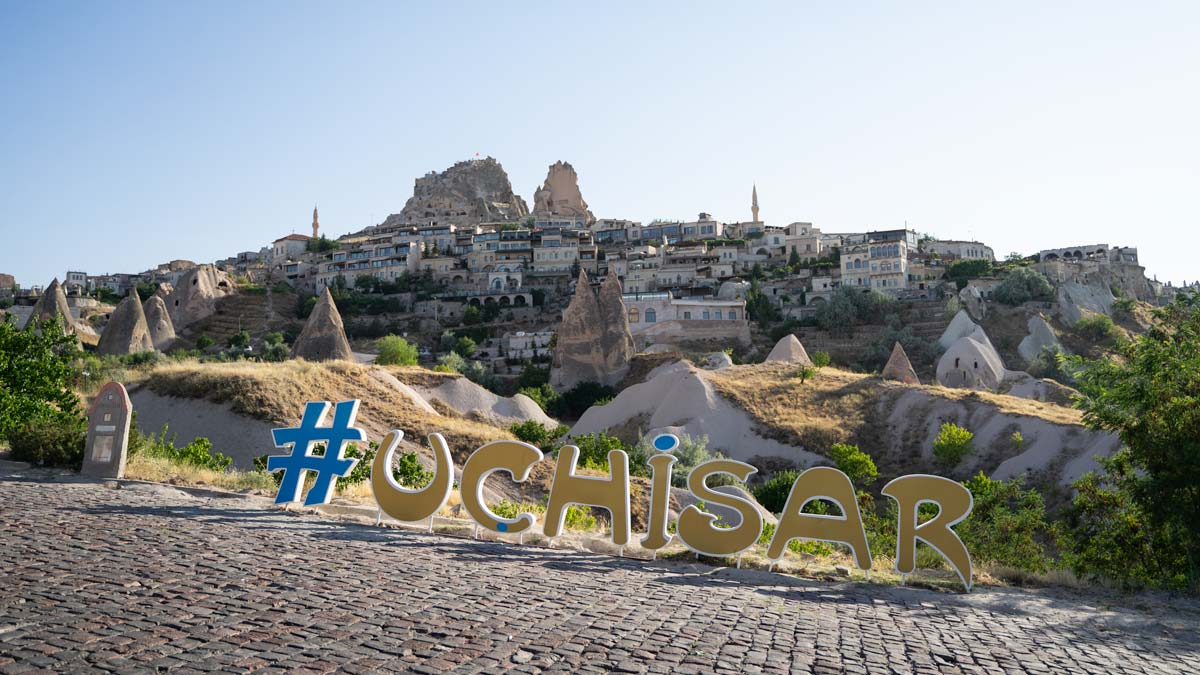 Eat at one of the best cave restaurants
There are many fantastic restaurants in Cappadocia. One of the best and most well-known is Zen Hotel and Cafe. It's a small, family-owned restaurant serving classic Turkish food. If you're looking for a unique dining experience, this is the place to go.
Visit the Underground City of Kaymakli
As I mentioned earlier, during the Byzantine era in the 7th and 8th centuries, the Christians built underground cities to escape Byzantine rule.
One of the best preserved underground cities in the region is the Kaymakli Underground City which is about 19km long (though tourists can only see a small fraction of this). The underground city is a 25-minute drive from Uchisar Castle.
Currently, the city has about 4 floors that have been excavated for tourists to see. It was said these underground cities held tens of thousands of citizens.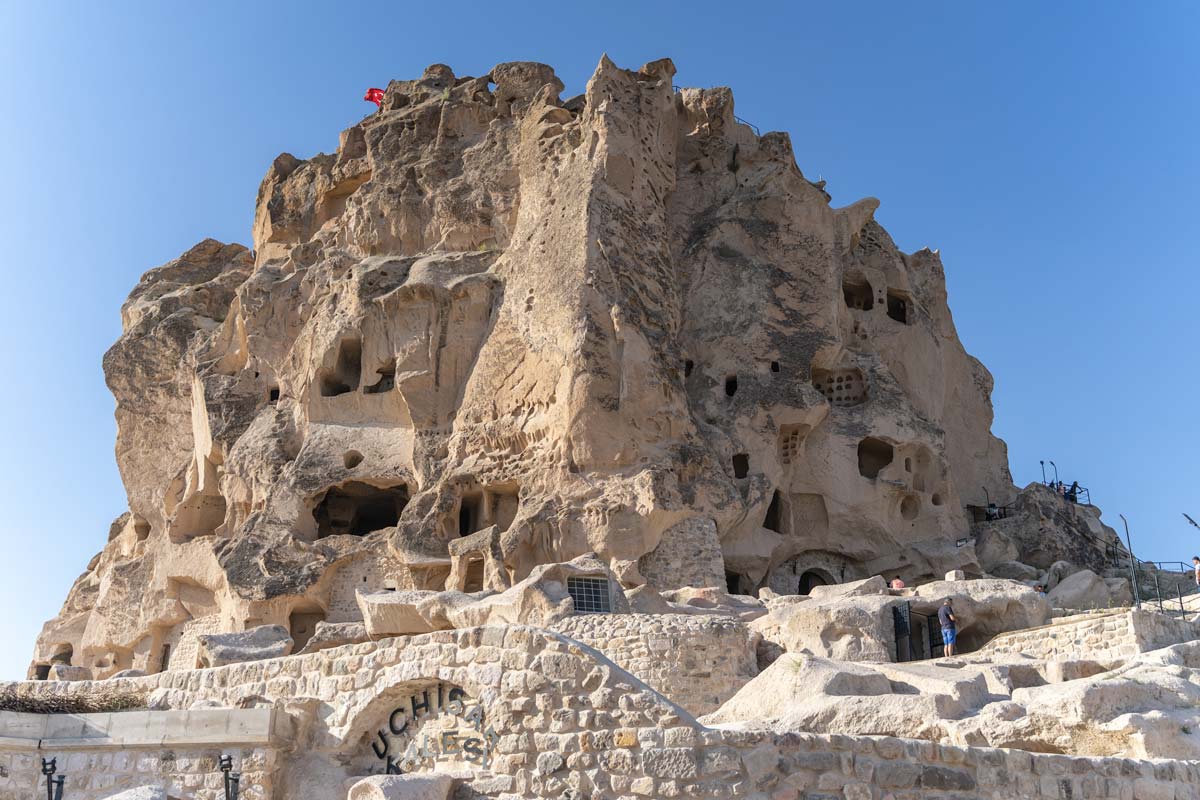 ---
Tips for Visiting Uchisar Castle
Although Uchisar Castle is impressive, there are some tips you should consider before visiting.
First, it's important to know that the castle is made from soft rock, and it can be slippery in places, especially on the steps. If you plan to explore the caves and formations, do take care and don't let children run about, as it's very easy to fall in places.
You should wear hard-wearing shoes, not sandals or trainers without grip. As we mention, the ground is slippery in places, so make sure your shoes have plenty of grip.
Although the summer is one of the best times to visit Cappadocia, it can be very hot. Make sure you bring plenty of water with you.
It's a popular attraction and is usually always crowded, especially at the top where there isn't a lot of room to walk around in. Be courteous of other visitors and don't rush to take photos, it's not worth the risk. If you want to avoid the crowds, visit early in the morning.
The castle is not wheelchair-friendly or suitable for those with strollers or reduced mobility.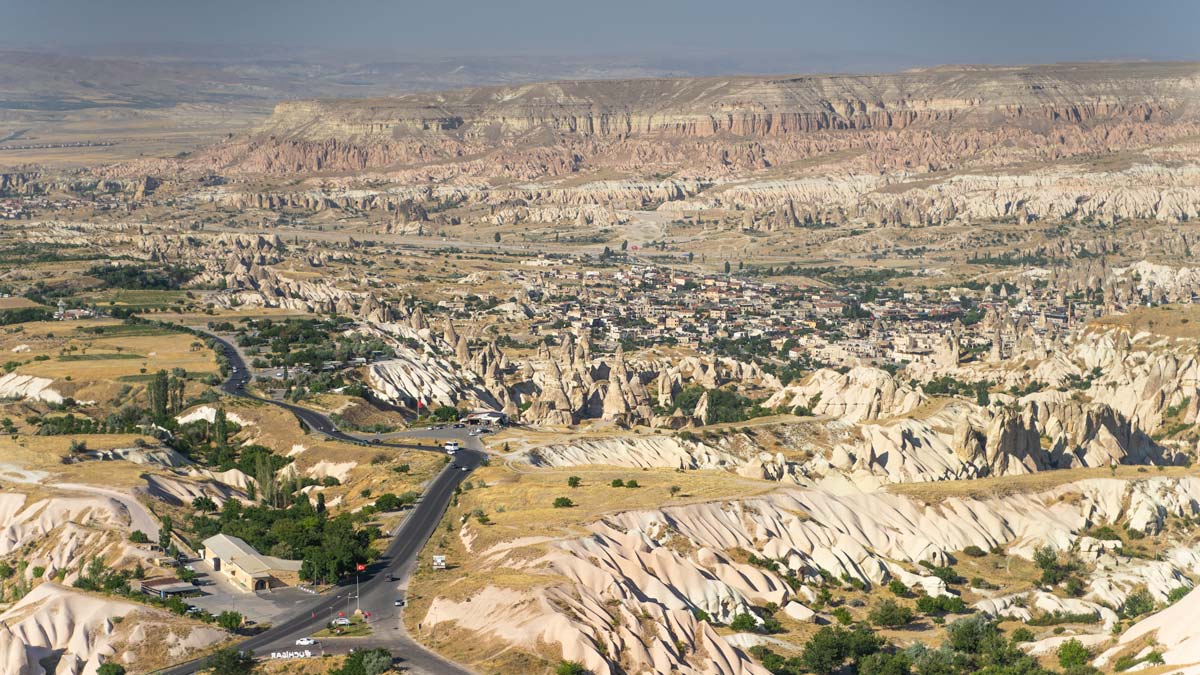 ---
FAQs About Uchisar Castle
Here's what people usually ask us about Uchisar Castle…
Is it better to stay in Goreme or Uchisar?
We personally think it's better to stay in Goreme as it has more accessible transport links to Cappadocia's top attractions, though Uchisar is great for those looking for luxury accommodation.
How old is Uchisar?
Records date back to the 14th century, but it's possible that settlers have lived in the region since the 7th-8th century.
Who conquered Uchisar?
The Byzantines conquered Uchisar in the 11th-12th century.
What tours go to Uchisar?
The red tour visits Uchisar Castle.
---
Before You Go to Uchisar Castle
All in all, Uchisar Castle is an impressive place to visit, with lots of cool rock formations and caves to explore. We had a great time climbing over the rocks and taking photos of the cave dwellings.
Just make sure you take the tips we've provided into account before visiting so that you have a successful and safe visit.
Disclaimer: Some of the links above are affiliate links. That means if you book or make a purchase through the links, we will earn a small commission at no extra cost to you! The money will help run this site! Thank you!