If you're looking for an unforgettable experience, watching the sunrise or sunset in Cappadocia is a must. With its unique lunar-like landscape, the area offers some of the most beautiful views in the world.
If you are going to see the sunrise, you might even get a chance to witness the legendary hot air balloons in Cappadocia, floating through the valley like a scene from a fairytale.
But where is a good spot to watch the sunset and sunrise in Cappadocia?
Cappadocia spans nearly 5,000 sq km (1930 sq mi), and there are hundreds, if not thousands of incredible spots where you can catch the morning or evening glow.
That is why we have written this post on the best sunrise and sunset spots in Cappadocia.
Enjoy!
---
Best Sunrise Spots In Cappadocia
Let's start with the best sunrise spots in Cappadocia. We've specifically picked spots that are facing east, so you can get views of the sun rising above the horizon and slowly illuminating the valley. These spots are also great for watching the hot air balloons, which almost always take place during sunrise.
On A Hot Air Balloon Ride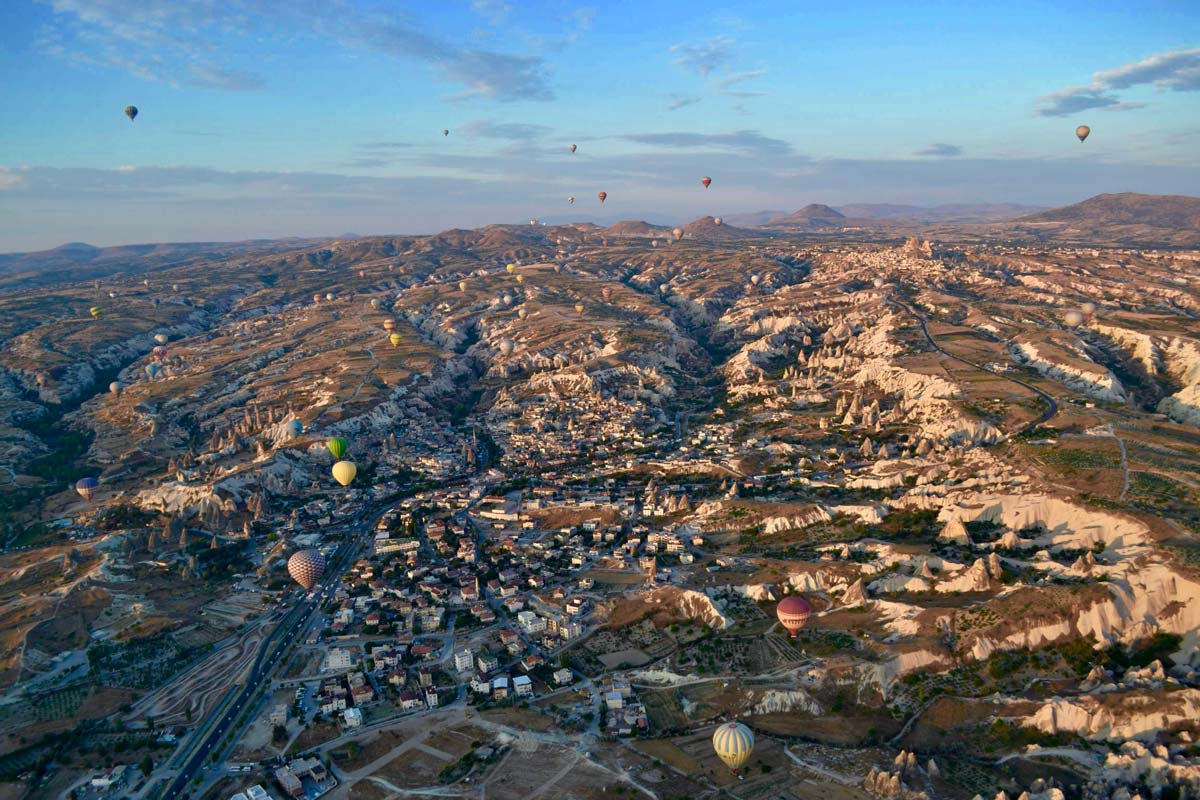 There is simply no better place to see the sunrise in Cappadocia than on one of its legendary hot air balloon rides. On a hot air balloon, visitors can get a bird's eye view of the epic landscape of Cappadocia.
As you float through the sky, the sun slowly rises from the horizon, illuminating the fairy chimneys that have made this region so iconic. Some of the fairy chimneys can be as tall as 30 meters, and seeing the scale of them from the sky is truly unforgettable. Not only is it one of the best sunrises you'll ever get in your life, but the experience itself is unworldly.
There are many companies that offer hot air balloon rides in Cappadocia and it is important to do your research to find a reputable one. Safety is always the number one priority when it comes to hot air ballooning. Read the reviews online before you book, or go with our trust recommendation down below.
Love Valley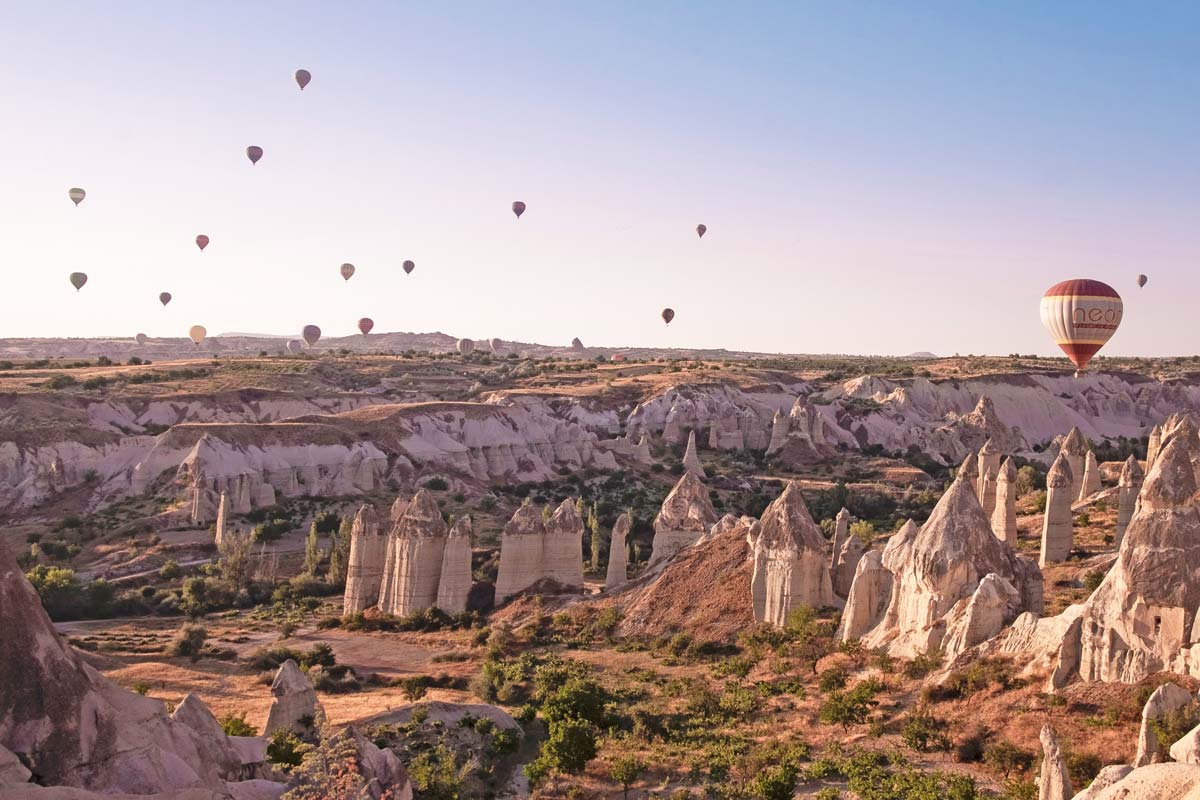 Perhaps the most famous sunrise spot in Cappadocia is Love Valley, a place in Cappadocia that has earned its iconic name due to its phallic fairy chimneys. These fairy chimneys are perhaps some of the most prominent in the region, and visitors that come here for sunrise have a unique foreground for their photos.
When visiting Love Valley for sunrise, you don't want to go into the valley, because you'll be surrounded by cliffs on both sides and not see anything. There's a ridge immediately to the west of Love Valley, where you can find the iconic Love Valley swing and a few restaurants. This is the perfect place to watch the sunrise, especially while sipping on a delicious cup of Turkish tea (çay).
Visitors can also see the hot air balloons here at sunrise, but since there is no balloon take-off area near here, they'll be quite far. A few do float all the way down to Love Valley to see its iconic fairy chimneys from above, but don't expect a lot of them.
The Love Valley sunrise viewpoint is about 4.8 km (3 mi) away from Goreme. Walking there takes a little over an hour, which is why we recommend taking a taxi or hiring your own car. Visitors might have difficulty finding taxis before sunrise, so renting a car in Cappadocia is your best bet. It is only a 10-minute drive from Goreme.
Hidden Sunrise Spot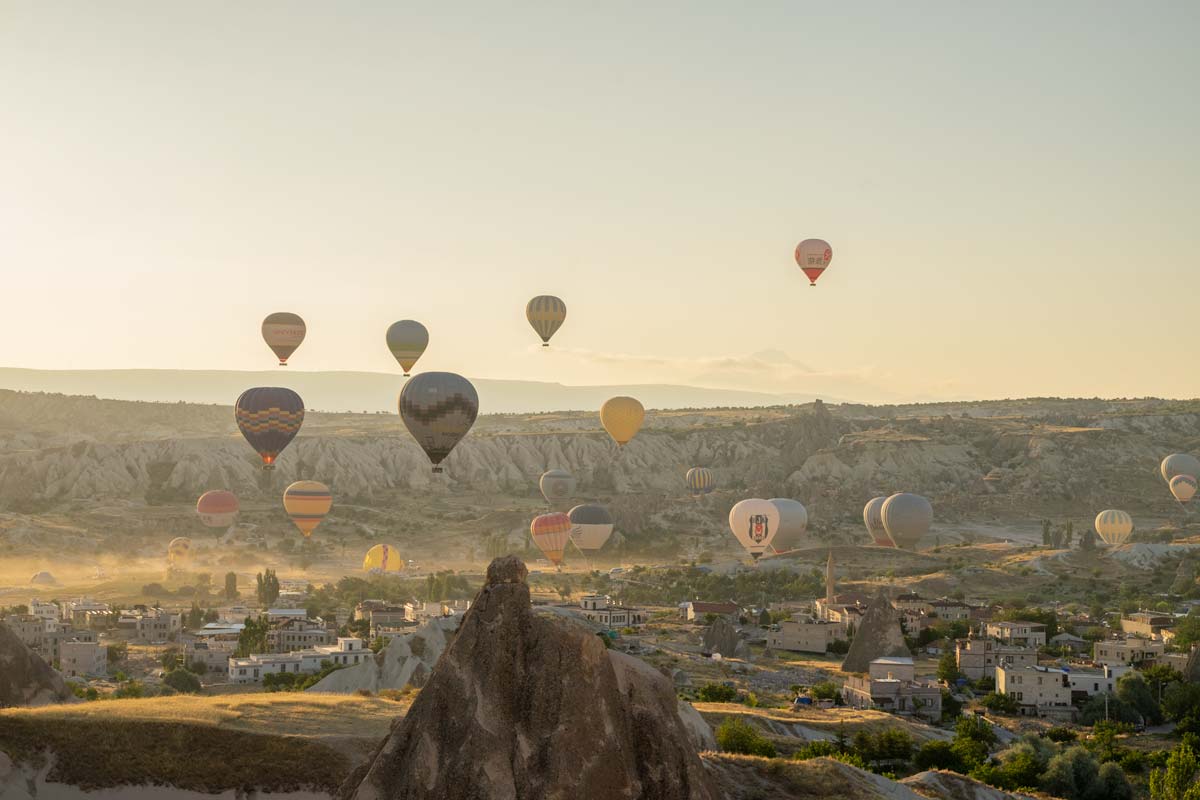 Because you have stopped by our blog, we want to share with you one of our favorite sunrise spots that is not anywhere on the map. If you want a secluded spot that is not too far from Goreme where you can take excellent photos and spend quality time with your friends or loved ones, this is the spot for you.
This sunrise spot overlooks the epic canyon that is just north of Goreme, the exact spot where the sun rises in the morning. This spot is also relatively close to the balloon take-off area, and if you have good eyes, you can see the whole process!
The downside to this spot is that you are going to be sitting on the grass. We personally don't think it's too bad, but you might want to go to another viewpoint if you want to be super comfortable.
This hidden sunrise spot is situated about a 15-minute walk from town, which means you can sleep more in the morning before having to wake up and hike to the spot. You can also drive there, but it is going to be a 5-minute drive, hardly worth it.
On One of The Hotel's Terraces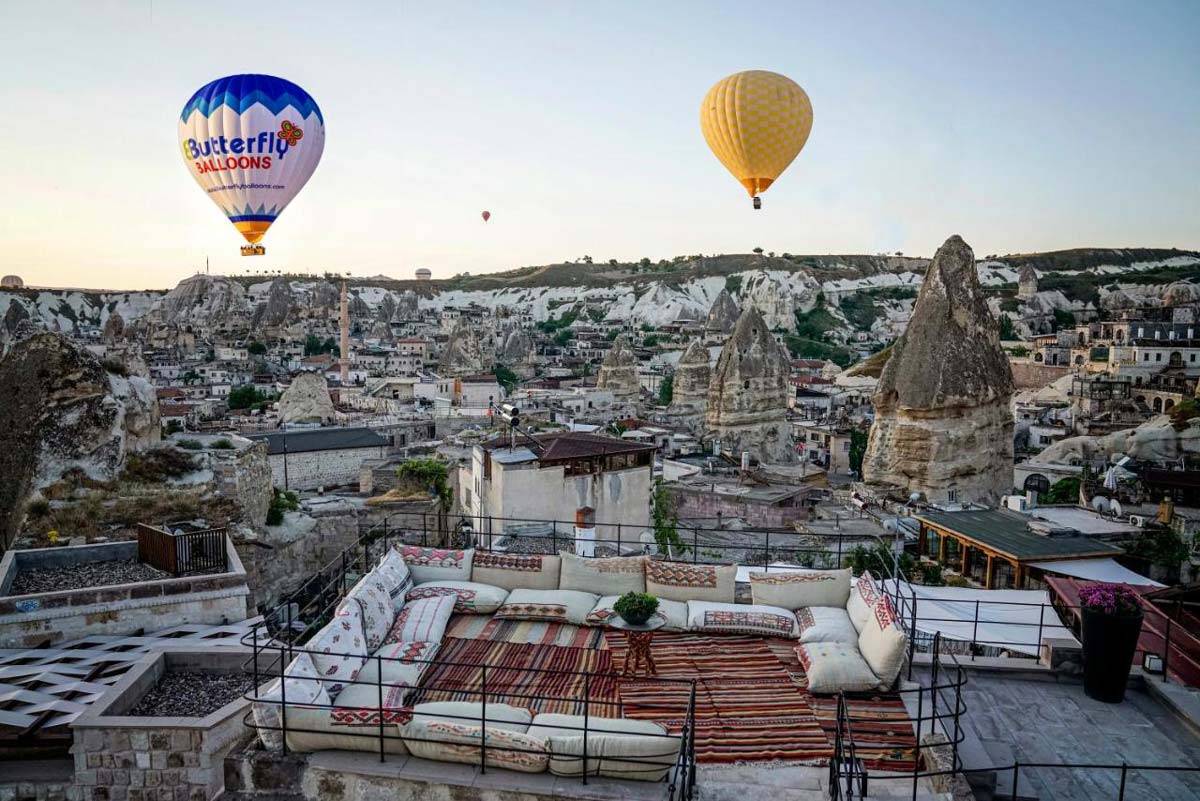 If you don't like getting up early in the morning and going through the valleys of Cappadocia just to catch the sunrise, worry not. The cave hotels in Cappadocia know that getting up early isn't exactly everyone's cup of tea, so many of them have built terraces and areas where guests can admire the sunrise without taking off their pajamas.
One of our favorite hotels with a view in Cappadocia is Luvi Cave Hotel. They have a terrace that is decorated with traditional Turkish carpets and cushions, making it look like a scene from a movie. Not only is it comfortable, but it also offers the perfect Instagram-photo opportunity for guests.
The hot air balloons hover over the town of Goreme, and it is a great sunrise spot to see the balloons up close.
The only downside is that the terrace of a hotel isn't very private, which means you might share it with a few other guests. The view from the hotel might also not be the best, and will largely depend on the direction it faces.
But without having to prepare to go outside, it is definitely a spot worth considering.
Read More: Best Hot Air Balloon Tour Companies In Cappadocia
---
Best Sunset Spots In Cappadocia
The best sunset spots in Cappadocia are the ones that face west and are easy to get to. Unlike the sunrise spots that are more quiet and secluded, the sunset spots in Cappadocia are usually quite crowded. But nonetheless, they offer some of the best views of the region.
Goreme Sunset Viewpoint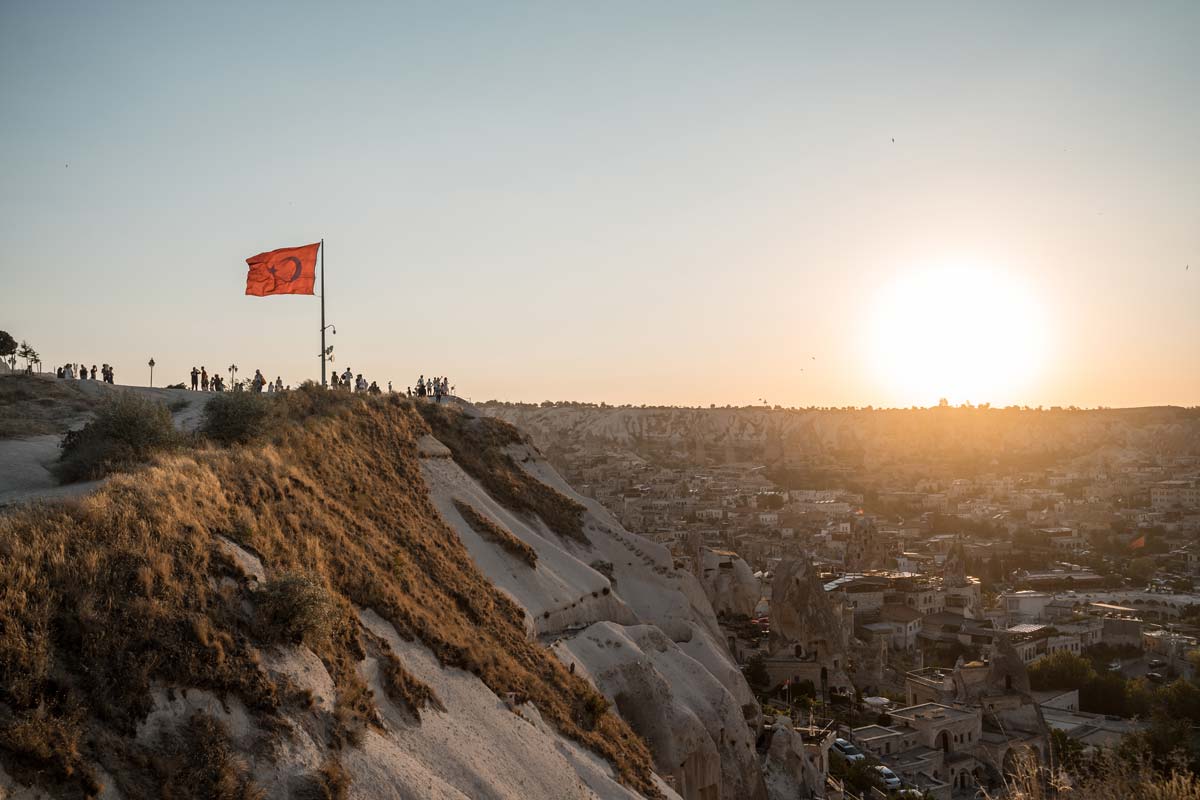 Perhaps the most famous sunset location in Cappadocia is Goreme Sunset Viewpoint, as you could guess from its name. The viewpoint is situated about 30 meters above the city of Goreme, offering visitors nearly a 360-degree view of the region.
There is a platform built on top of the rock formations where visitors can take photos with the Goreme historic town as the backdrop. There is also usually a horse at the top where you can take photos with it, for a fee of course.
You can have a light snack or a drink at one of the restaurants on the hill, but it is quite windy so it makes eating and drinking quite difficult.
During sunset, the sun sets behind Uchisar Castle, and creates a really cool silhouette of this Turkey landmark. On the other side of the Goreme Sunset Viewpoint, you can see Zemi Valley, one of the easiest hikes in Cappadocia.
Because it is situated only a 15-minute walk from Goreme, this viewpoint is one of the most crowded places to visit in Cappadocia, especially during sunset. There is a small fee to enter if you are coming from Goreme, but you can go through Zemi Valley and avoid the fee.
Uchisar Castle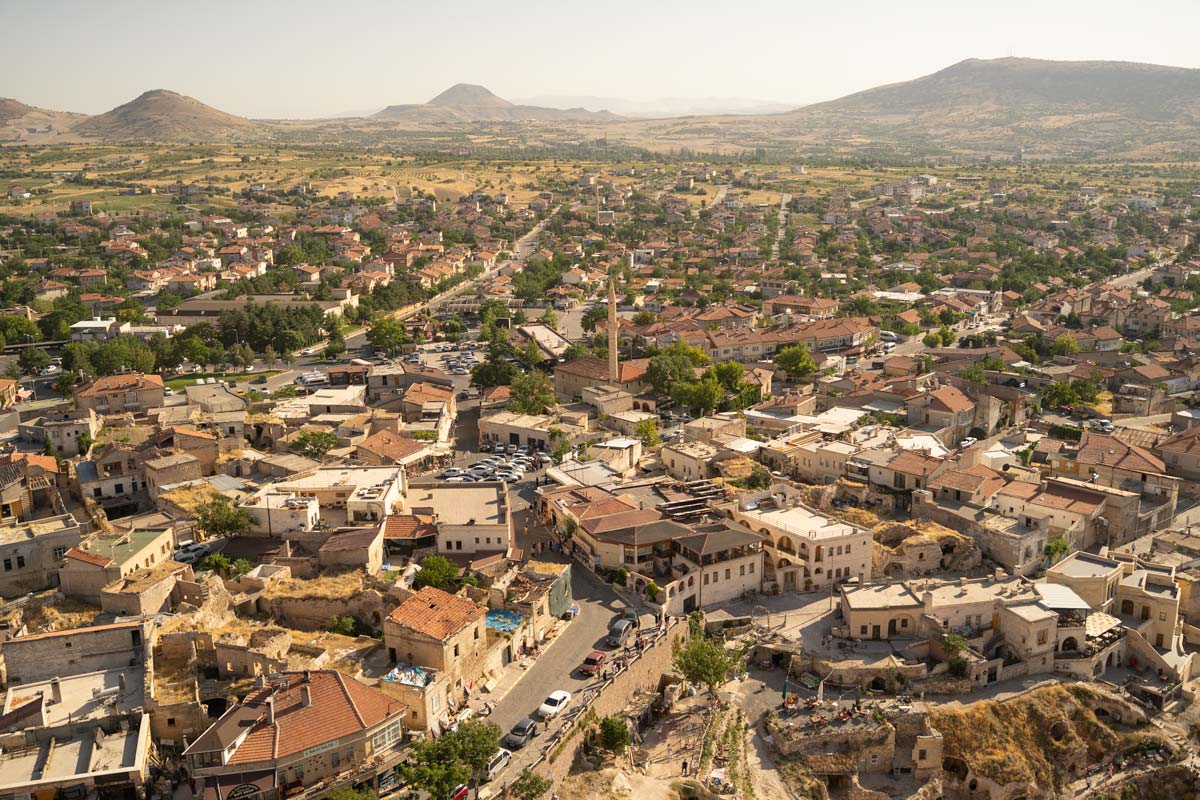 As the highest point in Cappadocia, Uchisar Castle is arguably the best place to watch the sunset in Cappadocia. The castle is perched over an epic rock formation in the town of Uchisar and looms over all the traditional houses in town.
Naturally, the height of Uchisar Castle made it one of the most important fortifications in Cappadocia during both the Byzantine and Ottoman rule. Houses (and eventually a town) were built around it, and anytime there were threats from the invaders, the villagers could easily enter the castle for protection.
The Uchisar Castle takes a few hundred steps to reach the top, but you are rewarded with stunning 360-degree panoramic views of the region. From there, not only can you see Goreme, but the valleys that make up the UNESCO World Heritage Site of Goreme National Park.
The only challenge is the opening hours of Uchisar Castle. In the summer, it is open until 9 PM, but during the winter, it can close as early as 6:30 PM, which means visitors might just miss the sunset depending on which season they are visiting Cappadocia.
Uchisar Castle is located 5 km (3.1 mi) from Goreme. Visitors can take a taxi or public transportation to get there. There is also the option of hiking through Pigeon Valley or Love Valley and White Valley to get there.
There is a small entrance fee to Uchisar Castle
Red Valley Sunset Viewpoint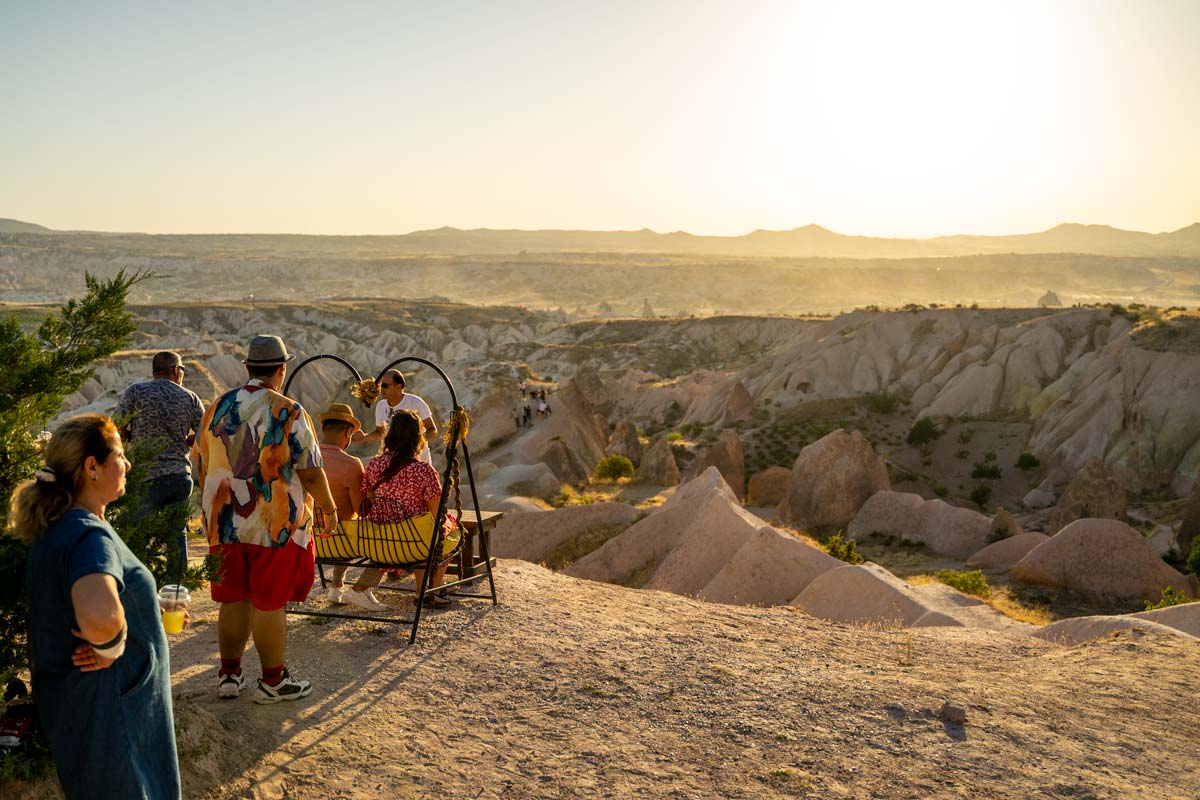 The Red Valley Sunset Viewpoint is one of the most popular sunsets spots for those that prefer hiking. Though it is reachable by car, it is often done by hiking through the Red Valley or Rose Valley, as those two valleys showcase some of the coolest rock-cut churches and cave dwellings in the region.
At the Red Valley Viewpoint, not only do visitors get to see the sun setting behind amazing fairy chimneys and rock formations, but there is a cafe where you can do so while enjoying a Turkish coffee or tea.
There are also plenty of seating areas, as well as a heart-shaped bench to spice up your sunset photos!
If you have decided to get a taxi or drive to the Red Valley Sunset Viewpoint, it'll take about 15 minutes. It is situated 6.1 km (3.8 mi) from Goreme and 3.6 km (2.2 mi) from Ortahisar.
At One Of Cappadocia's Terraced Restaurants
Who doesn't like comfort when admiring some spectacular sunset views? Well, you can do that at one of Cappadocia's terraced restaurants. There are many amazing restaurants in Cappadocia, and some of them offer a rooftop terrace where you can sample delicious Turkish cuisine while checking out some great views.
Perhaps the best one is Millocal Restaurant Kapadokya in Uchisar. It has an outdoor terrace where you can see all the different valleys in Cappadocia and Goreme. Plus, the interior decor of this restaurant is gorgeous and features traditional elements of the Central Anatolia region.
Just make sure you make a reservation beforehand, especially if you are visiting during the high season in Cappadocia.
---
Best Places For Sunrise And Sunset In Cappadocia Map
Above is a map that sums up the best sunrise and sunset viewpoints in Cappadocia. With this map, you'll get a rough idea of where the locations are and see which one is the most convenient for you!
Next to the name of the map is a small star that you can click on and save to the Google Maps on your device. This is perfect for putting the map on your phone and using it everywhere you go.
---
Cappadocia Sunrise and Sunset FAQs
What Time is Sunrise in Cappadocia?
Depending on the season, the sunrise in Cappadocia can be as early as 5:15 AM to 8 AM. The sun rises earlier in the summer months and rises later in the winter.
What Time is Sunset in Cappadocia?
Depending on the season, the sunset in Cappadocia can be as early as 5:30 PM to 8 AM. The sun sets earlier in the summer months and sets later in the winter.
---
Before You Go
Watching the sunrise and sunset in Cappadocia is one of the must-have experiences when visiting. We hope you enjoy our list of the best places for sunrise and sunset in this historic region of Turkey!