There is no better way to experience the beauty of Cappadocia than to stay in one of the best hotels in Cappadocia with views.
These hotels in Cappadocia offer the perfect opportunity to take in the magical Cappadocia landscape, from the unique fairy chimneys to the exotic cave dwellings and of course, the epic hot air balloons at sunrise.
There are many stunning hotels in Cappadocia to see the hot air balloons or just admire the epic landscape, that is why we have written this article on the 15 hotels with the best views in Cappadocia.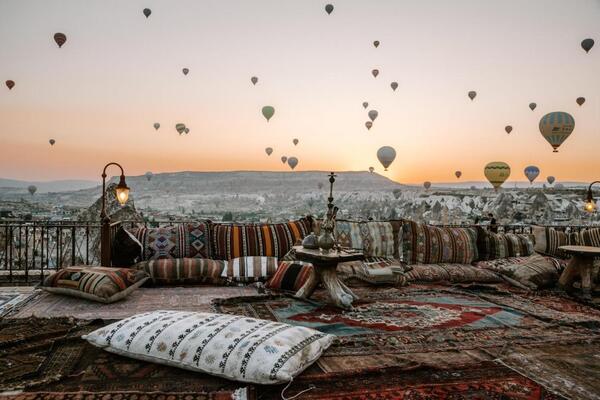 Perched on a hill in the town of Goreme, Koza Cave Hotel offers some of the best views money can buy. Its unique location means guests can get unobstructed views of the hot air balloons at sunrise. Plus, their traditional cave rooms are perfect for experiencing a unique part of Cappadocia's culture!
---
15 Best Cappadocia Hotels With Views of Hot Air Balloons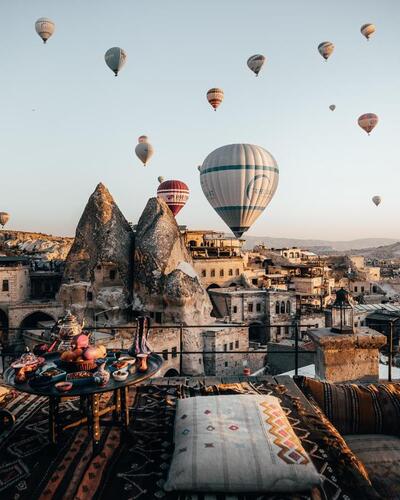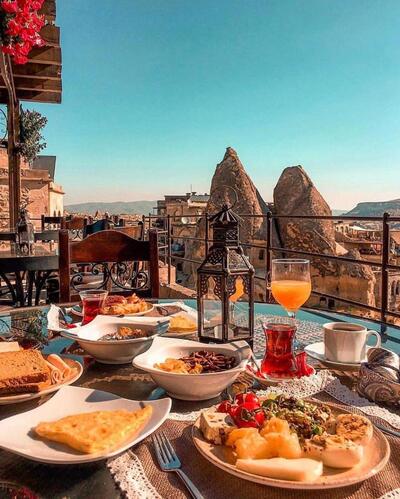 Sultan Cave Suites is one of the most popular hotels with amazing views. Perched on top of Aydinli Hill in Göreme, this 4-star hotel in Cappadocia rises above the landscape and offers guests unparalleled panoramic views.
The hotel's most impressive feature is the sun terrace, which is one of the best spots to see the hot air balloons in the morning. It is decorated with traditional Turkish textiles such as rugs and pillows, adding to the atmosphere when you take a photo.
The hotel offers authentic cave rooms where guests can live like how the troglodytes once lived in this region. When you are not indulging in your stunning suite, enjoy an authentic meal at their on-site Turkish restaurant.
Then spend some time on their roof terrace, admiring the sun set over the quaint village before the night sky fills with stars. Get some rest in your cozy cave room before waking up and living in paradise again!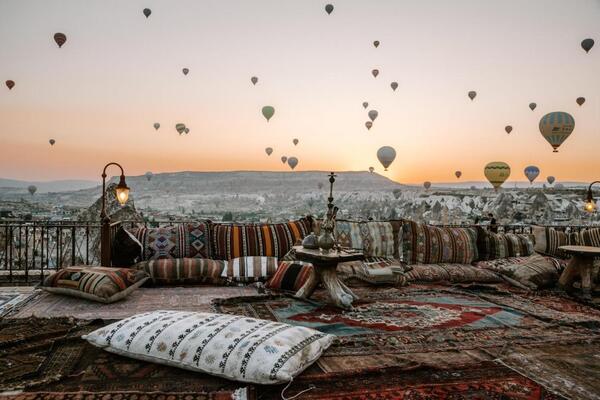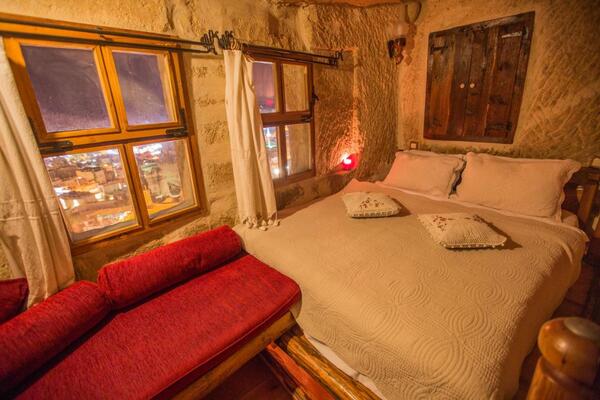 Koza Cave Hotel is a 3-star hotel in Cappadocia known for offering guests unique cave rooms and luxurious suites. It's situated in a historic cave overlooking Pigeon Valley, which guarantees guests stunning views of the region's cool fairy chimneys and geological formations.
The hotel was restored using reclaimed stone, wood, and iron. Along with the traditional Turkish textiles used for decoration, Koza Cave Hotel is an authentic accommodation in Cappadocia with amazing views.
At the rooftop of the hotel is where guests will the bar and the perfect spot to watch the hot air balloons rise in the sky at sunrise. Guests can enjoy a nice authentic Turkish breakfast as they watch the balloons glide through the air. At night, it is a nice romantic destination to have a few cocktails and enjoy the views of the sky and town.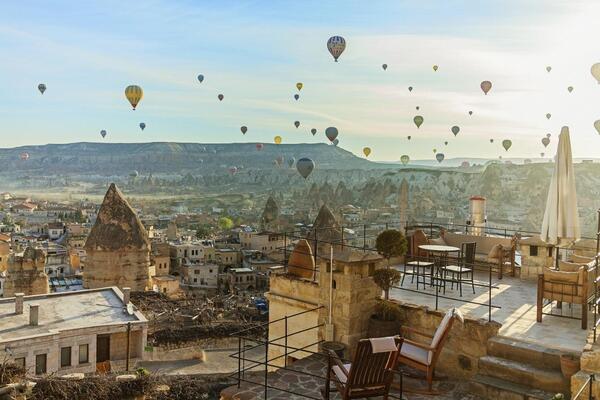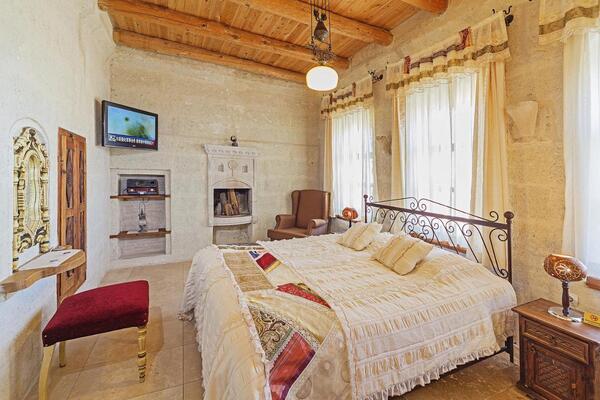 Mithra Cave Hotel is one of the best cave hotels in Cappadocia with views. It's located near the center of Goreme and offers guests stunning views of the quaint village and surrounding valleys such as Love Valley and Pigeon Valley.
The hotel stands out among the other hotels in Cappadocia as it offers unique cave rooms and suites decorated with traditional Turkish textiles. The terrace of Mithra Cave Hotel is a popular spot to watch the hot air balloons take off in the morning sky, providing a stunning backdrop for photos. There are also plenty of props and traditional Turkish textiles to add to the atmosphere.
One of the best things about staying at Mithra Cave Hotel is that there are plenty of rooms to choose from. Guests can select the classic twin or double cave room if they are traveling Cappadocia on a budget. Couples that are on looking for something more romantic can pick the honeymoon cave suites!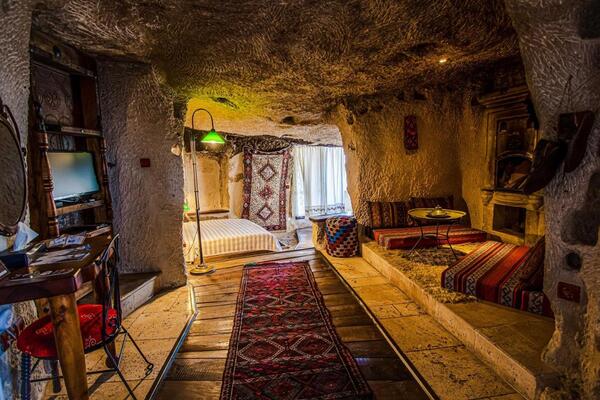 Kelebek Special Cave Hotel & Spa is one of the most luxurious hotels with stunning views in Cappadocia. The most iconic feature of this hotel in Cappadocia is the swimming pool that not only offers refuge from the heat in the summers, but also amazing views of the hot air balloons at sunrise.
Besides the swimming pool, the property is full of areas where you see the hot air balloons clearly and take photos of them.
The common area at Kelebek Special Cave Hotel & Spa is unparalleled, but it doesn't stop there. The rooms in Kelebek are incredible as well. For starters, many of the rooms feature private terraces that offer views of Uchisar Castle and Cavusin. Some rooms have fireplaces that further add to the coziness and luxury of the hotel.
You can also take full advantage of the on-site spa, which offers various massage and beauty treatments.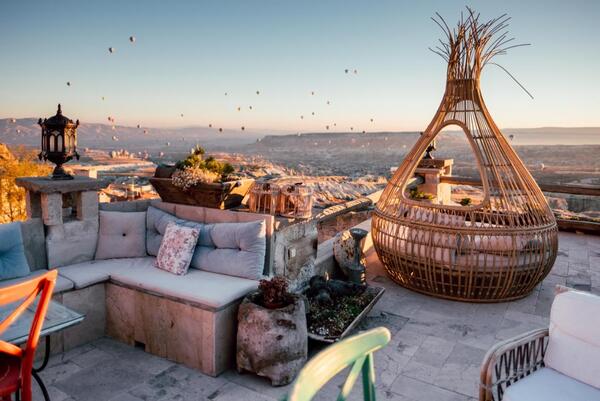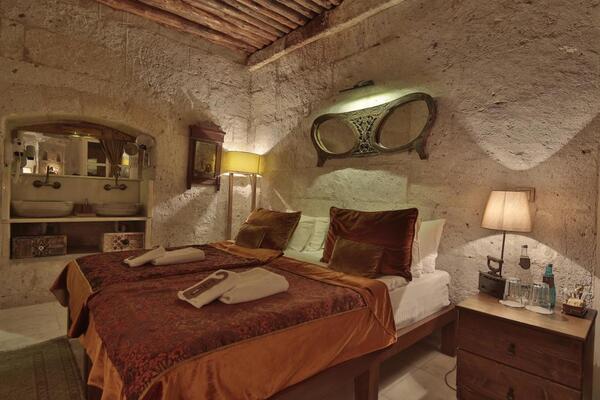 Rox Cappadocia is a unique hotel in Cappadocia with sunrise views of the hot air balloons. It is situated in Uçhisar, which is a town that is perched up over a hill. Consequently, visitors can have some of the most magnificent panoramic views of Cappadocia.
However, it's far from the takeoff points for some of the balloons, which means that it is unlikely that you get to see the hot air balloons from up close. But the hotel makes up for it with its well-decorated outdoor spaces that are perfect for taking photos or just relaxing and taking in the view.
While Rox Cappadocia might not be the best hotel to stay in Cappadocia to see the hot air balloons up close, its location in Uchisar offers some of the most spectacular views of the region. Plus, the rooms and beds are extraordinarily comfortable and some of the best you'll find in Cappadocia.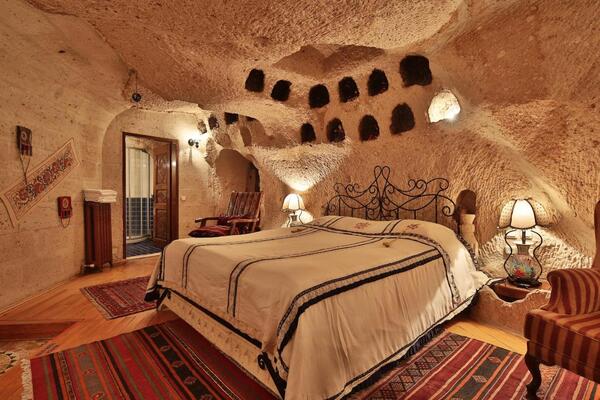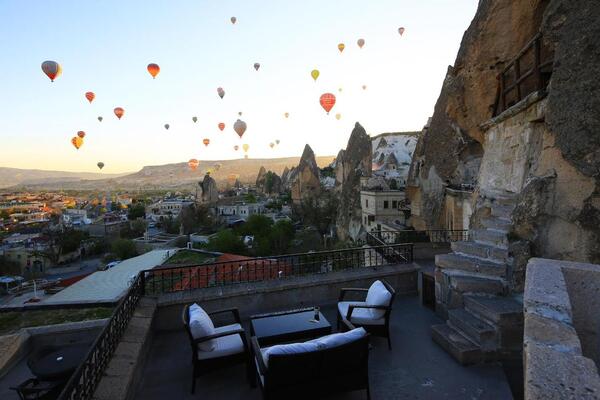 Cappadocia Cave Suites is one of the most popular Cappadocia hotels to see the hot air balloons and it is not surprising why. The hotel's elevated location offers guests sweeping views of the valley, and with the sun rising in the direction where the terrace is facing, it is the perfect photo opportunity.
The accommodation has a beautifully decorated terrace with tons of traditional Turkish textiles. It also has a cafe, so you can sip on Turkish tea while you are admiring the views of the hot air balloon in the sky.
When it comes to the rooms, guests can expect authentic cave rooms that ooze charm. Some of the rooms are carved right into the fairy chimney, and guests can still see some iconic features of Cappadocia such as the dovecotes, or pigeon houses, that were once used to catch pigeon droppings!
One of the benefits of the cave rooms is that they remain cool in the hot summers and warm in the winters, meaning there's no need to even put on their air conditioning.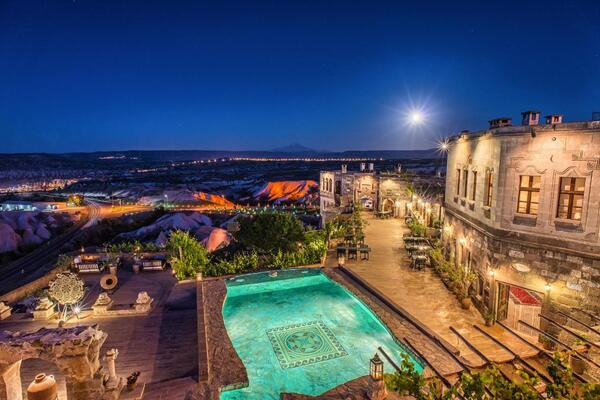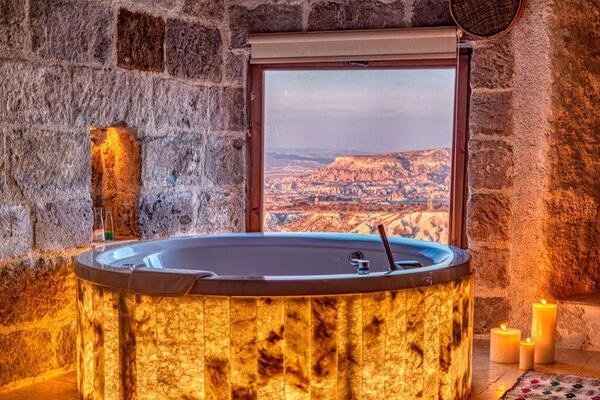 When it comes to luxury hotels with a view in Cappadocia, there is no hotel that will beat the Museum Hotel. Located in the breathtaking area of Uchisar, Museum Hotel is Turkey's only Relais & Chateaux member.
Here you can immerse yourself in a true museum experience with its restored historic ruins and accommodation furnished with priceless antiques. From the terrace, marvel at panoramic views over the valley while indulging in luxury amenities such as heated outdoor pool access throughout the year and free wine taps (in certain rooms).
The Eco-friendly Museum Hotel cultivates a lush ecological garden of sustainable fruits and vegetables, which guests can enjoy at their daily breakfast buffet. Staying in Museum Hotel is as much of a once-in-a-lifetime experience as flying in one of the hot air balloons in Cappadocia! But be prepared to splurge if you are staying here!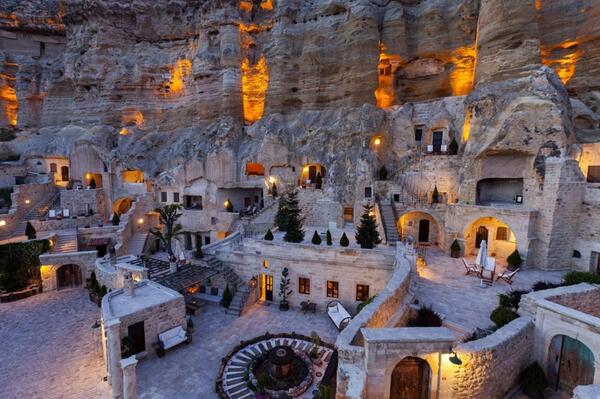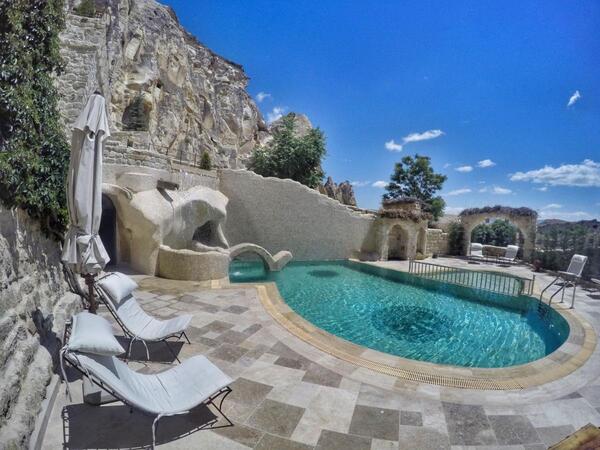 Yunak Evleri Cappadocia is a unique boutique hotel located in Urgup. The hotel is built onto the side of a cliff face, and it definitely has a magical castle-in-a-desert vibe to it. The whole property is absolutely stunning, with each room meticulously decorated with traditional Turkish elements.
The common areas include a swimming pool and wide spaces where you can admire the lunar-like landscape of Cappadocia plus the quaint town of Urgup. Unfortunately, Urgup tends to be quite far from where the hot air balloons take off, so it is not likely you'll see lots of hot air balloons.
This Cappadocia also faces west, which means that although it is amazing for sunsets, the sunrises here aren't as incredible as in some other locations.
All-in-all Yunak Evleri is a great hotel in Cappadocia with spectacular views, but you might want to avoid it if seeing the hot air balloons from your hotel is important to you.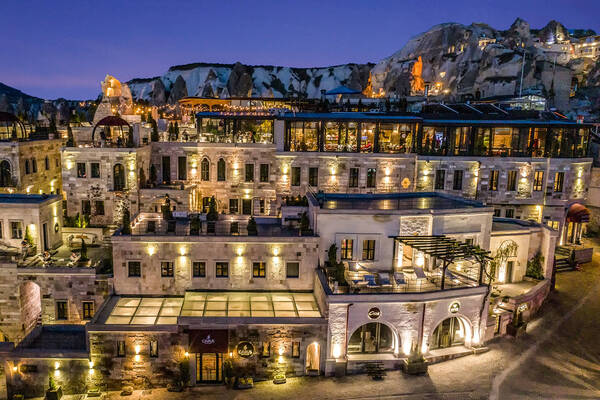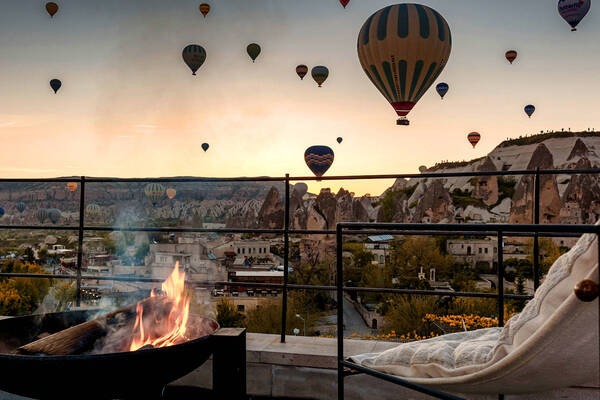 Located in the heart of Goreme, Carus Cappadocia is a gorgeous local cave house hotel in the region. The hotel complex is massive and it feels like you are staying in a village within a village. There are plenty of terraces and areas that make the perfect vantage points for admiring the landscape around you.
Carus Cappadocia offers two types of rooms – authentic cave rooms or upscale masonry rooms. Whether you are looking for luxury and comfort, or to relive a part of Cappadocia's history, you can do it in Carus Cappadocia.
This Cappadocia hotel has an on-site restaurant where guests can enjoy delicious Mediterranean and Turkish cuisine as they enjoy the views of Goreme. There is also a bar where guests can try raki, the national drink of Turkey.
Last but not least, the hotel has an indoor swimming pool and a sauna, perfect for relaxing after a long day in Cappadocia.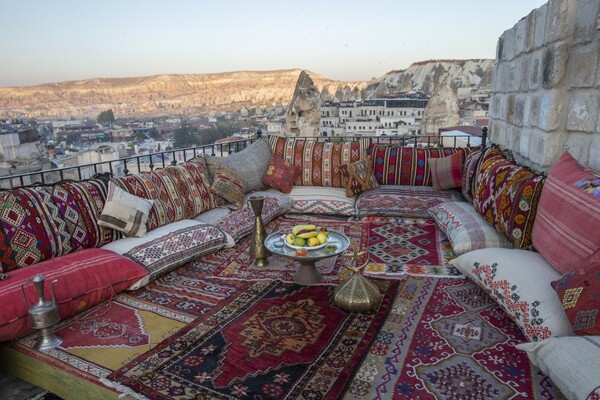 Zara Cave Hotel is a hotel in Goreme with incredible views. The hotel is built in a fairytale-like setting, surrounded by the mystical fairy chimneys of Cappadocia. Matter of fact, guests can enjoy a part of that experience by staying in their fairy chimney rooms.
Zara Cave Hotel has a garden, a shared lounge, a terrace and a restaurant. There is plenty of outdoor space for guests to enjoy, admire the sunrises and sunsets, and Instagrammers can take incredible photos.
Their most popular common area is the terrace, which is decorated with cushions and carpets featuring traditional Turkish motifs and patterns. From there, guests can have an obstructed view of the landscapes, and it is especially spectacular when the hot air balloons are in the sky.
It is no wonder why Zara Cave Hotel has a 9.6 out of 10 rating on Booking!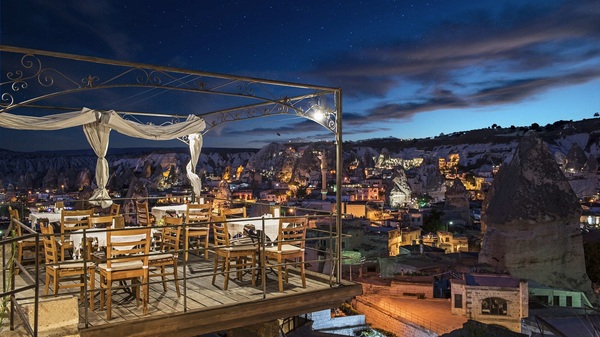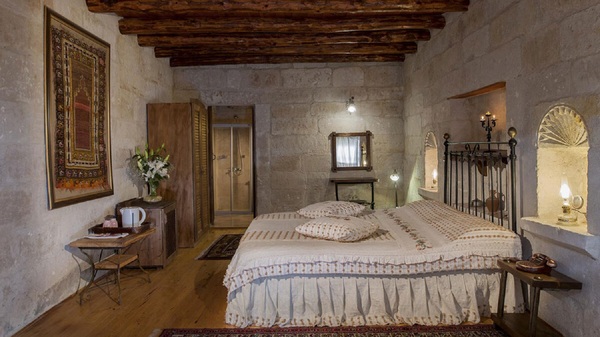 If you are looking for a cheap hotel in Cappadocia with good views, then check out Aydinli Cave Hotel. Situated in the historic centre of Goreme, Aydinli is in one of the best locations to observe the hot air balloons. It is also within walking distance of some of the best attractions in Cappadocia.
This family-owned hotel features traditional cave rooms of all sizes. Whether you are a solo traveler or a family of four, there is a room in Aydinli Cave that can accommodate you.
Start every morning at their rooftop terrace, where you can enjoy a traditional Turkish buffet breakfast while admiring the surreal views. Once you are all filled up, spend the day exploring Cappadocia on foot, which is possible thanks to its excellent location.
Perhaps the biggest advantage of staying in Aydinli Cave Hotel is that the staff are friendly and always to help. Because it is a family-run business, the owners are happy to give you tips for exploring Cappadocia. Whether you need to book tours for the hot air balloons or need more information on how to get around, the staff can help you.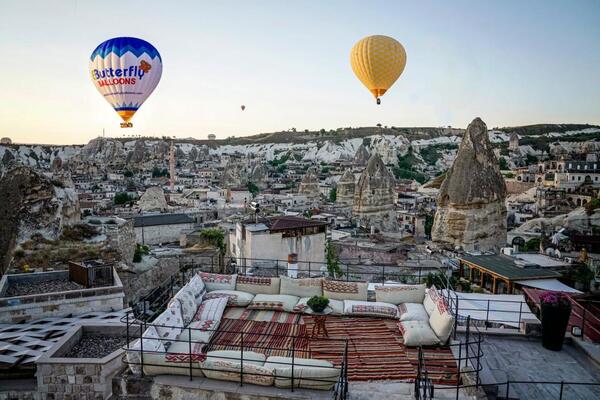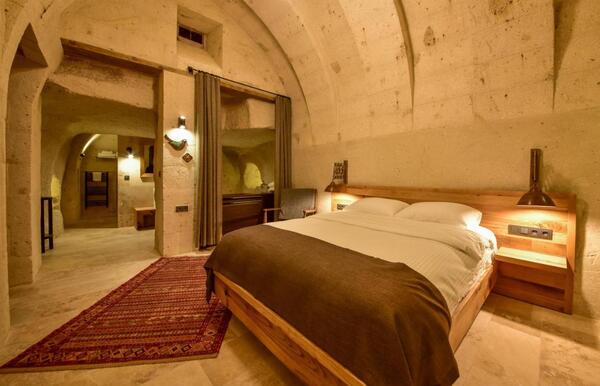 Luvi Cave Hotel is one of the best value-for-money hotels in Cappadocia with views. The hotel features a wide variety of rooms – from the deluxe room for budget travelers to the King Room with Spa Bath for travelers that prefer a bit more luxury.
But the most popular room in Luvi Cave Hotel has to be the King Room With Balcony. In this room, guests have their own massive private balcony where they can enjoy the views of Cappadocia in their own privacy. This is especially great if you want to snap a photo at sunrise, because the terrace is usually filled with other guests from the hotel. This is one of the few hotels in Cappadocia with a private balcony.
But if you don't have a room with a balcony, worry not. The rooftop terrace at Luvi Cave Hotel is purposely designed for guests to enjoy the immaculate Cappadocian views!
If you are looking for a family-friendly hotel to see the hot air balloons in Cappadocia, then Lunar Cappadocia is the place to stay. This accommodation in Cappadocia features family studios and family suites where a maximum of 5 guests can stay and enjoy its facilities!
But Lunar Cappadocia Hotel is more than just about accommodating families. In fact, they have a huge variety of rooms ready to satisfy guests with all different types of needs. For example, they have rooms that have a spa bath, rooms with a balcony, rooms with a terrace, and of course, budget-friendly standard rooms.
Like many Cappadocia hotels with views, Lunar Cappadocia Hotel has a dedicated deck area where the staff has set up the perfect setting for taking photos. While it is not being used for photos, it is an excellent spot to relax and enjoy the scenery. It also helps that the terrace at this hotel is one of the highest ones in the village, so the views are superb!
Cappadocia Caves Hotel is one of the most famous Cappadocia hotels to photograph the hot air balloons. That is because not only are the standard rooms in the hotel some of the most affordable ones, but an outdoor swimming pool can make your photographs stand out.
Though the pool isn't an infinity pool, it overlooks the village of Goreme and the surrounding geological formations. But if you don't want to take a photo poolside, then you have the option of taking it on the terrace where you'll find traditional Turkish textiles. The choice is yours!
Similarly, there are a total of 32 rooms for guests to choose from. Anyone that doesn't want to splurge can select the small but cozy Double Room. But if you don't mind splurging, you can get a suite with your own private pool inside the room. Talk about a unique experience!
It is also one of the cheapest hotels in Cappadocia with great views!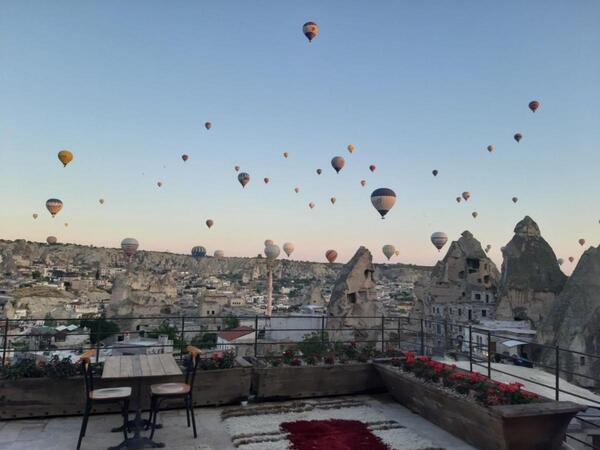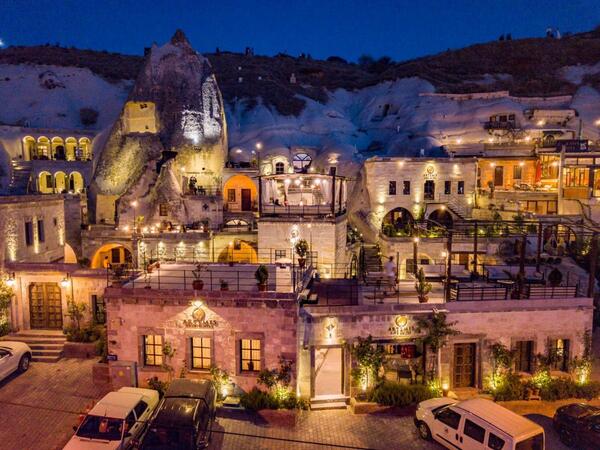 When it comes to the best cave hotel in Cappadocia with hot air balloon views, Artemis Cave Suites & Spa is the place to stay. The property is built into the side of a cliff and uses many of the fairy chimneys are cave rooms for the guests.
The rooms are designed with modern amenities and comfort, but still have enough of the traditional Turkish cave features to give them an authentic feel. The outdoor balcony is perhaps the best feature of the hotel. This is where you'll find most of the guests during sunrise and sunset.
But worry not, the hotel has plenty of outdoor spaces that are perfect for watching the hot air balloons or for taking an iconic photo!
After a long day of exploring Cappadocia, guests can relax in the Turkish Bath (Hamam) in the hotel. It is one of the few places where guests can experience a Turkish Bath in Cappadocia.
Note: Artemis Cave Suites & Spa is for adults only!
---
Map Of Cappadocia Hotels With Views
Above is an interactive Google maps featuring all of the best hotels in Cappadocia to see balloons that we've talked about.
These hotels are the best because of their proximity to the balloon take-off locations. If you are staying in Goreme, which we highly recommend, then you'll even get to see the balloons up close because they descend quite low.
---
Hotels In Cappadocia With Views of Hot Air Balloon Comparison Chart
---
Cappadocia Hotels With A View FAQs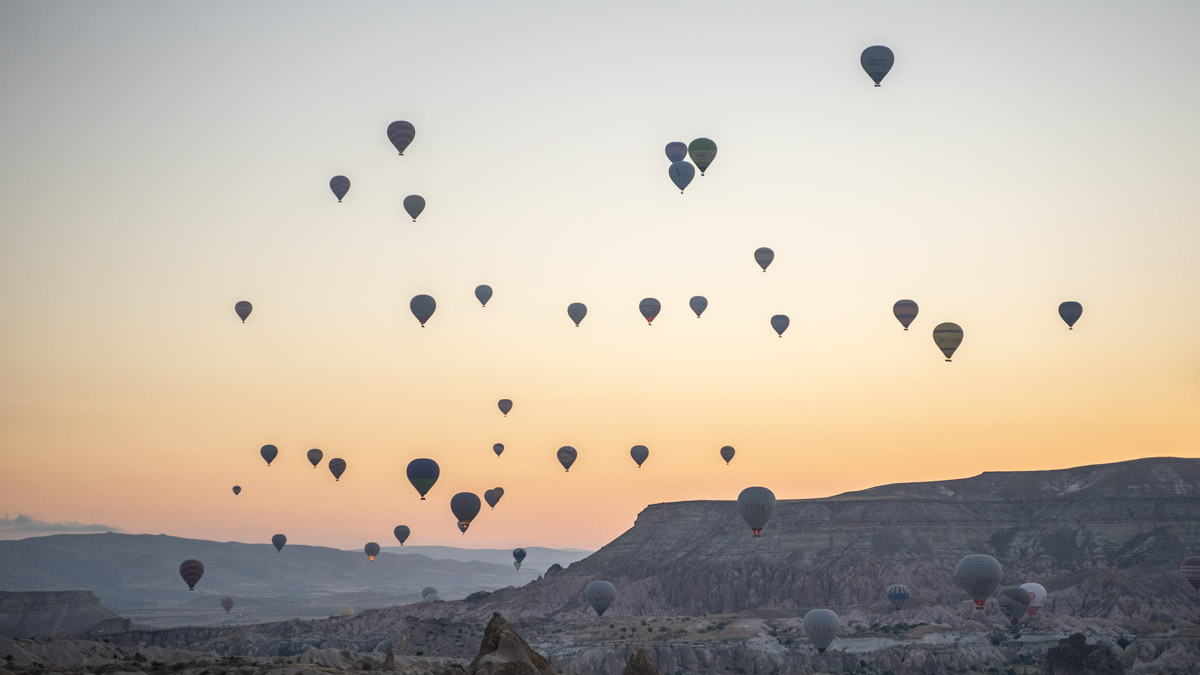 Where To Stay In Cappadocia For The Best Views Of The Hot Air Balloons?
If you're not sure where to stay in Cappadocia for hot air balloon views, then we think the best views of the hot air balloons are in Goreme, the historic center of the Cappadocia region. It is one of the best areas to stay in Cappadocia because most of the hot air balloons take off near Goreme, so visitors can get a great view. The hot air balloons often get really close to the town, so travelers can see them up close too!
What Is The Most Famous Hotel In Cappadocia?
The most famous hotel in Cappadocia is the award-winning Museum Hotel. It is called a museum hotel because many of the accommodations are furnished with authentic antiques that showcase the culture of Cappadocia.
When Is The Best Time To Visit Cappadocia For Hot Air Balloon Flights?
The best time of year to visit Cappadocia for hot air balloon flights is from Spring until Fall (April – September). During the winter, it's possible to snow in Cappadocia which means that the balloons can't land on the icy surface. Even during these months, it's important to note that balloons can only fly during optimal wind conditions and are unable to fly every day.
---
Final Verdict: Best Hotels In Cappadocia With Hot Air Balloon Views
If you are not sure what the best hotels in Cappadocia with a view of the hot air balloons at sunrise are, we hope you are now.
Overall, our favorite hotel is Koza Cave Hotel. It has some of the best views in Cappadocia thanks to its elevated location in Goreme. Along with its cave-style rooms, there is nothing not to love about Koza Cave Hotel.