Deciding how many days in Cappadocia to spend is perhaps the biggest challenge when it comes to planning the perfect trip.
This historical region spans nearly 5,000 sq km, and in Cappadocia's iconic landscape hides many incredible places to visit, from cave dwellings to underground cities and exotic fairy chimneys.
After having been to Cappadocia multiple times and spending weeks there, we are here to help you plan your itinerary.
When it comes to how many days to stay in Cappadocia, one shoe does not fit all. It'll depend on a variety of factors, such as when you are visiting, are you hiring a car, and much more.
Read on to find out how much time YOU need to spend in Cappadocia, Turkey!
---
How Many Days Is Enough For Cappadocia?
Generally speaking, we recommend spending at least three to four full days in Cappadocia for the typical tourists. 3 or 4 days is adequate to experience some of the best attractions in Cappadocia, and visitors have a good chance to ride in one of the legendary sunrise hot air balloons Cappadocia is known for.
The hot air balloons don't take off every day. They only take off under the optimal weather condition, and sometimes visitors can wait more than a week for that to happen (but that usually happens in winter in Cappadocia).
In other words, the success of your trip is somewhat dependent on luck, which is why we recommend staying a little longer to guarantee your chance to get on a hot air balloon.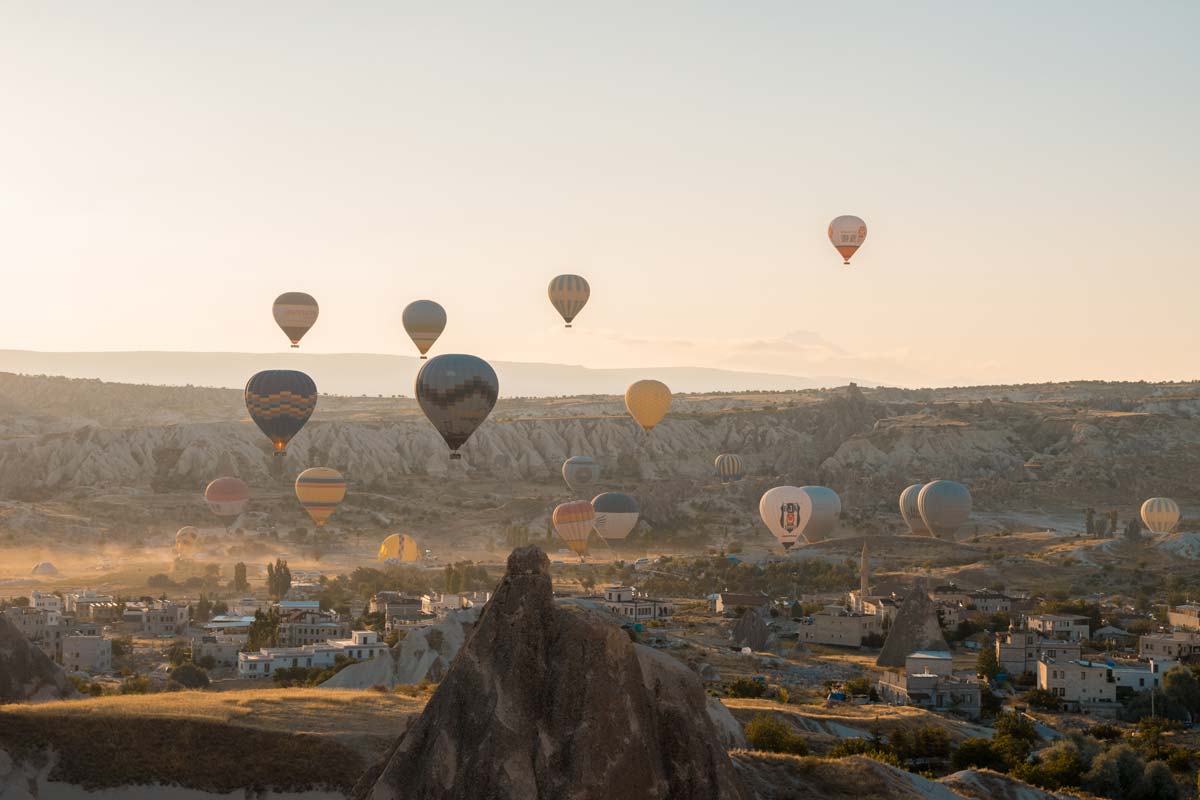 ---
How To Decide How Many Days In Cappadocia To Spend?
We understand that everyone has a different style of traveling. For example, we like hiking, which is why we spent such as long time exploring all the trails. But some of you might not want to do any hiking, or might consider renting a car in Cappadocia to see all the sights.
These factors can change how many days you want to stay in Cappadocia. Here are some of the factors that you should consider when planning your Turkey itinerary.
Are You Planning on Taking Tours?
Because the region of Cappadocia is so massive, many of the attractions are located far away from its center. Consequently, tours from Istanbul to Cappadocia, or just tours from within Cappadocia, are one of the best options for sightseeing as they allow you to see a lot of places in a short amount of time.
However, we understand that tours aren't everyone's cup of tea.
They are pricey and you often don't get much time to explore the place. But if you intend on taking tours, you can plan a shorter stay in Cappadocia.
Read More: Best Hot Air Balloon Rides In Cappadocia
The Red Tour and the Green Tour both effectively cover the majority of the things to do in Cappadocia. But they do not cover the hot air balloons, which you might need another day to do.
If you are taking tours, 3 days in Cappadocia is generally a good number of days to stay.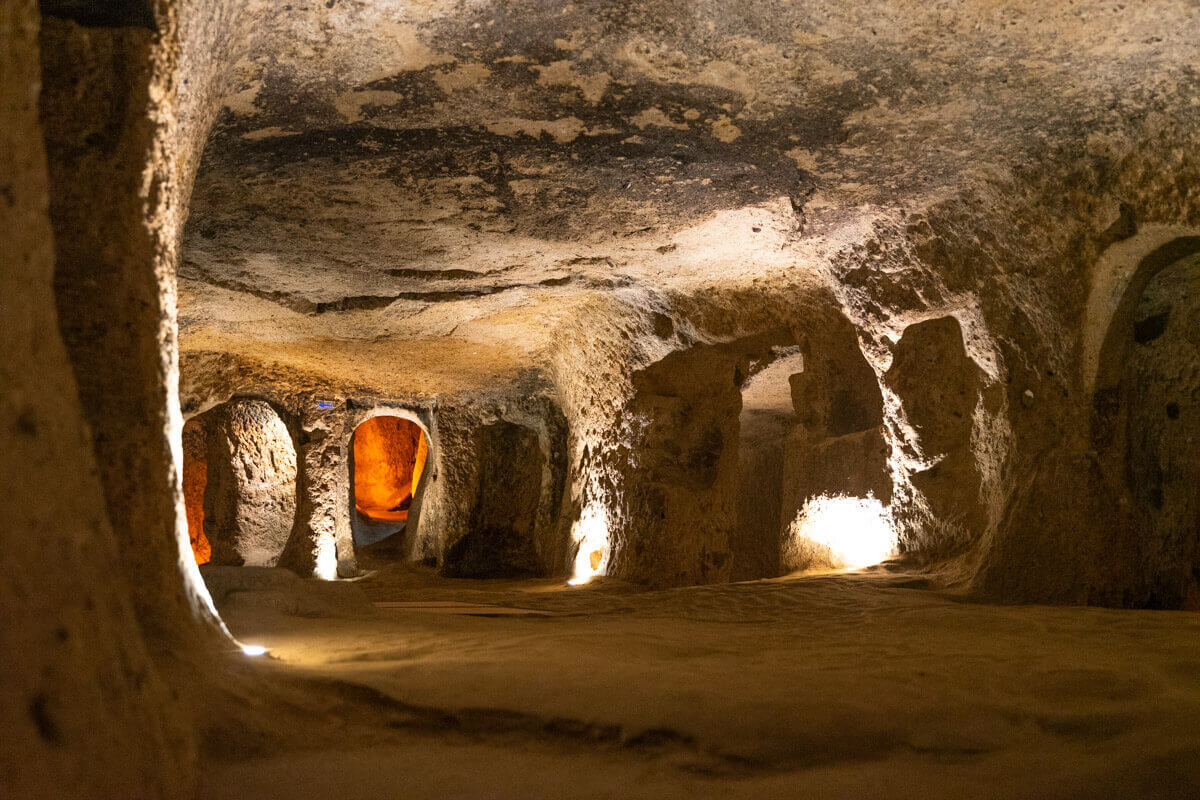 Are You Renting a Car or Hiring a Driver?
Perhaps the best way to see Cappadocia is by renting a car and driving or hiring someone with a car to do it for you. Doing this will allow you to go from attraction to attraction without any downtime. And when you arrive in a place you like, you have the option of staying as long as you want.
With a rental car or a driver, you can even have transport starting from the moment you arrive at one of the airports in Cappadocia. It is the most hassle-free way of sightseeing in Cappadocia, plus you get to cover lots of ground in a short amount of time.
If you are hiring a car or a private driver, then you can afford to stay only 3 days in Cappadocia, usually even 2 if you don't want to see everything.
Are You Going to Hike?
There are plenty of incredible hiking trails in Cappadocia that showcase some of the region's best treasures. For example, visitors can explore the Crusader Church in the Rose Valley (a historic cave church), or the epic dovecotes (pigeon houses) in the Pigeon Valley.
However, hiking takes time and there is a lot to explore. Many of the trails are quite long and can take somewhere between 1 to 5 hours to complete. If you intend on hiking in Cappadocia, we recommend spending 4 days there.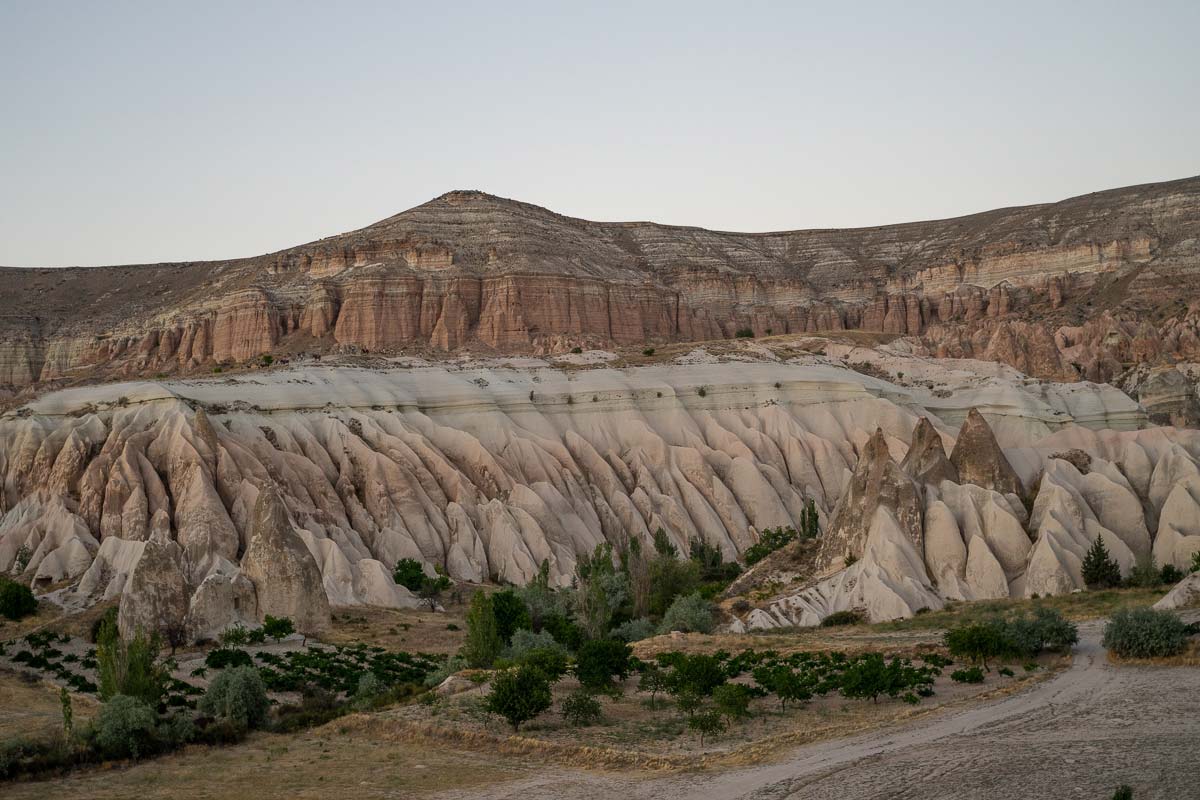 How Important is Riding The Hot Air Balloons in Cappadocia?
One of the biggest reasons why you need so many days in Cappadocia is to ride the hot air balloons. It is a once-in-a-lifetime opportunity to float through the sky and admire the epic region of Cappadocia that makes up the Goreme UNESCO World Heritage Site.
But unfortunately, as we mentioned, hot air balloons do not take off every day. Because the hot air balloons do not have brakes on them, it needs the optimal conditions to take off. This means it can't be rainy or windy.
Hot air balloons get canceled all the time. In the summer, the balloons take off more often because of the dry weather. So this means you don't typically have to wait more than 2 or 3 days to get a chance to ride in them. In the winter, they might take off once every 2 weeks, as Cappadocia sees a lot of rain (and snow) during that time.
If you want to make sure you get on one of those Cappadocia hot air balloons, we recommend staying at least 3 days in the summer, and longer if you are visiting in other seasons.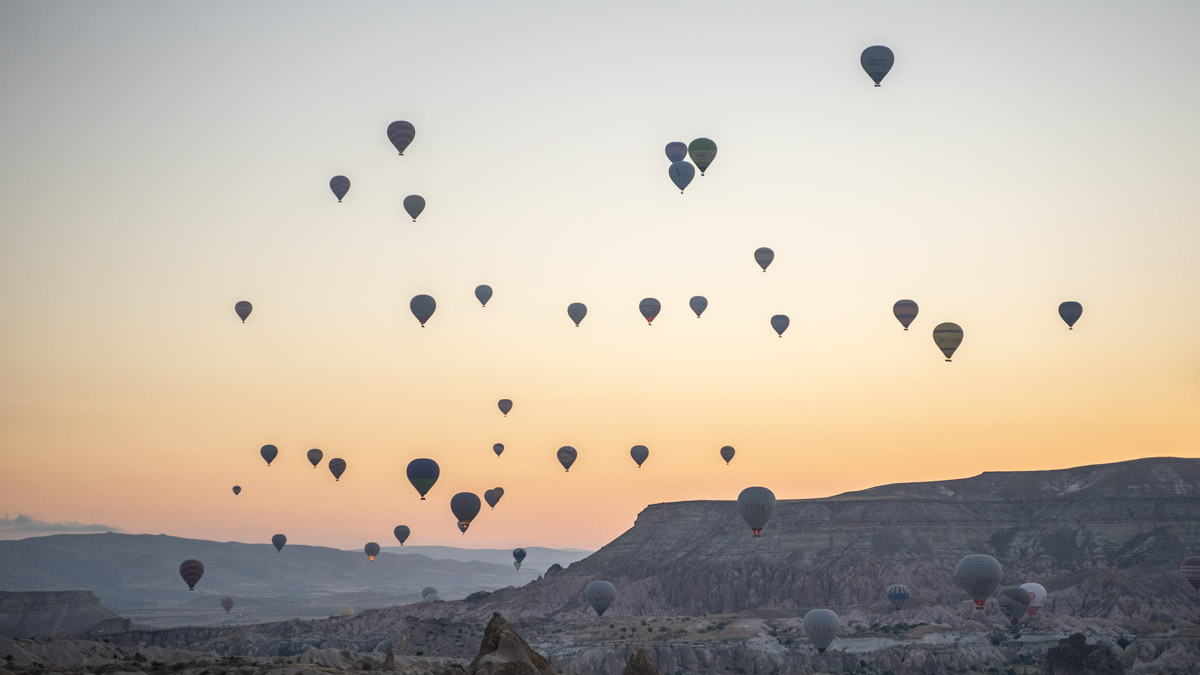 Are You Getting Around On Public Transportation?
Public transportation in Cappadocia is notoriously bad, especially for tourists. Many of the bus drivers speak very little English, and the schedules are quite sporadic. If you are planning on taking public transportation to go sightseeing, it will slow you down. You might only be able to accomplish one or two things a day.
For that reason, if you are only planning on taking public transportation (and hiking), then spend no less than 4 days in Cappadocia.
---
Sample Cappadocia Itineraries
Here are some sample itineraries of what to expect if you only have a certain number of days in Cappadocia.
1 Day in Cappadocia
Unfortunately, with 1 day in Cappadocia, you are not going to see much. Many people come on a day trip to Cappadocia from Istanbul on a guided tour, so they have a hired car to take them to as many sights as possible.
Even if you are staying in Cappadocia the night before, there's no guarantee you'll be able to get on a hot air balloon (which only happens at sunrise).
If you have 1 day in Cappadocia, make sure you hire a driver. These are the sights we recommend seeing if you just have 1 day in Cappadocia: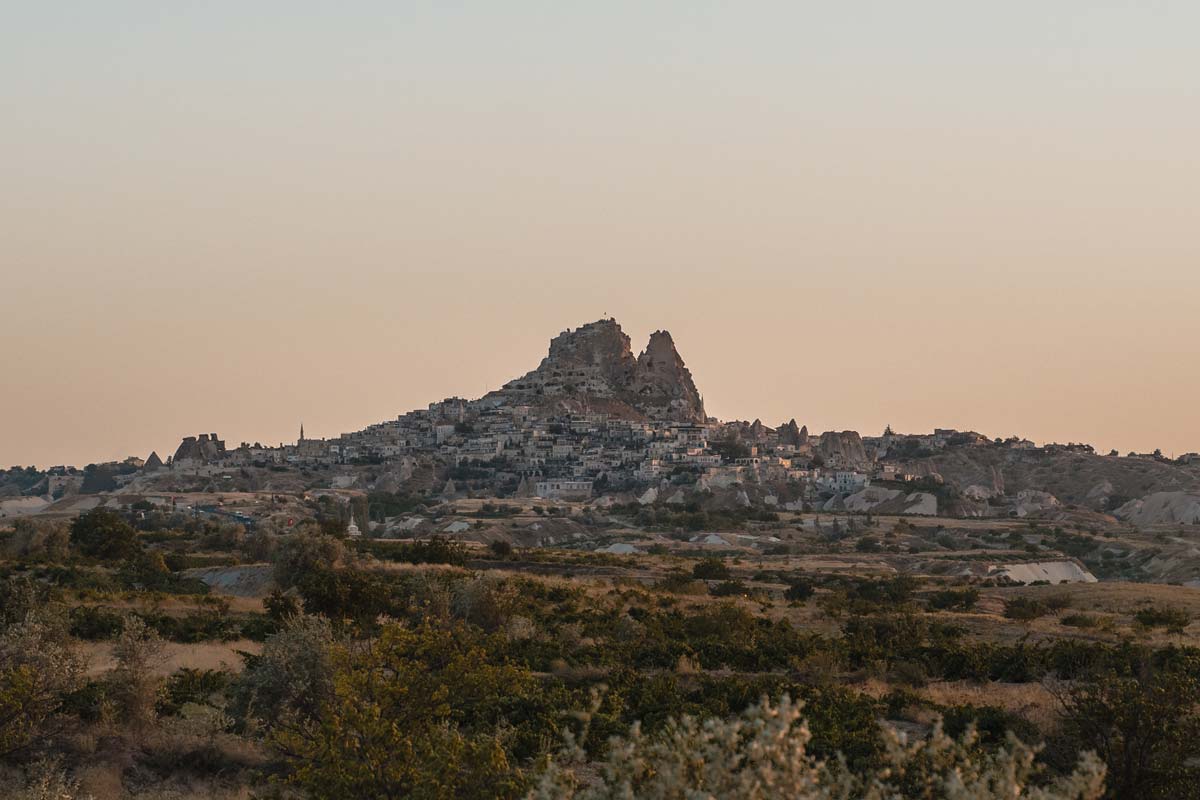 2 Days in Cappadocia
2 days in Cappadocia is the absolute minimum number of days you should spend to have a chance to experience the best Cappadocia has to offer.
2 days is now enough time that you don't need to hire a driver or rent a car to sightsee. But of course, it would help tons if you do.
If you only have 48 hours in Cappadocia, then we recommend taking the two tours Cappadocia is known for – The red tour and the green tour. These two tours cover the majority of the famous attractions in Cappadocia, and you'll have a great understanding of the region afterward.
The tours start in the morning right after the hot air balloon rides, which means you can do all three activities in 2 days, if all goes to plan.
If you are visiting in the summer and don't have a long time in Turkey, 2 days in Cappadocia might just work out for you, but we have to warn you, it is a very tiring two days.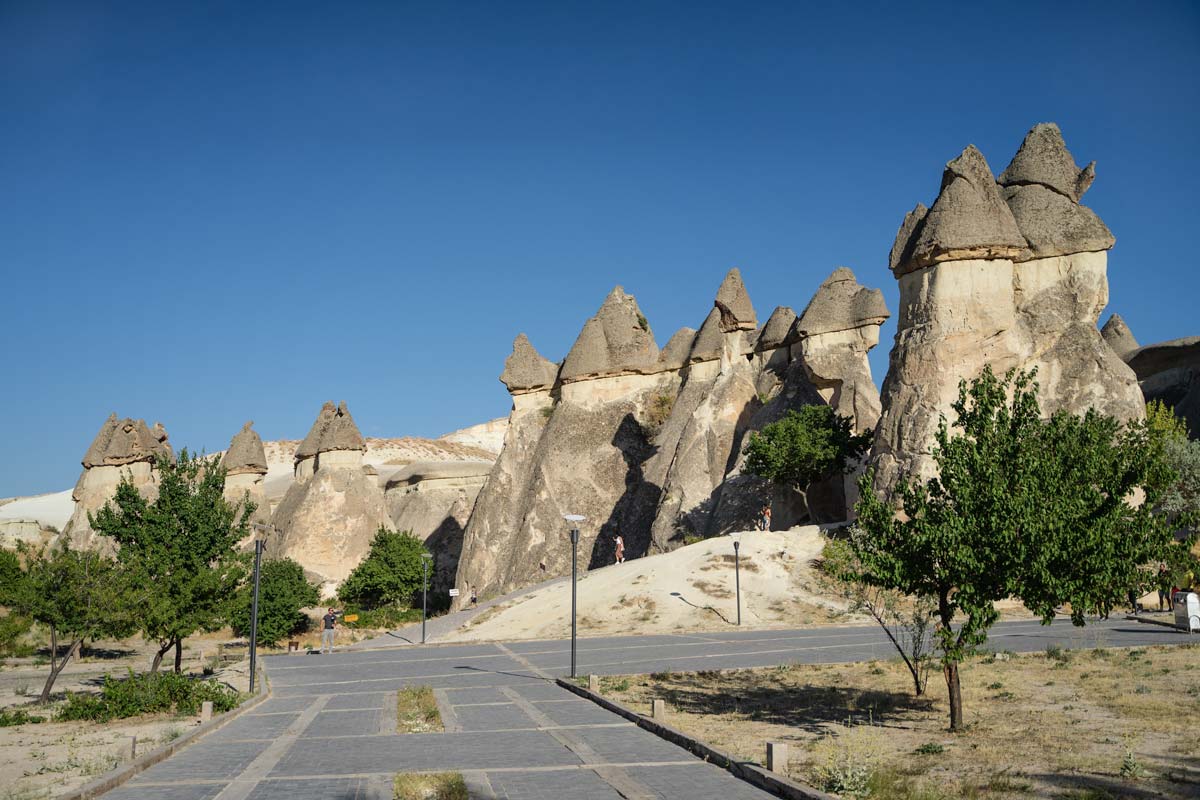 3 Days in Cappadocia
3 days in Cappadocia is the minimum number of days we recommend in Cappadocia. The extra day not only lets you have a higher chance of getting on one of the hot air balloons, but you can also take things slow and really enjoy the attractions.
You can spend some time enjoying delicious Turkish cuisine in one of the best restaurants in Cappadocia. Make sure you try pottery kebab, an iconic dish of the region. There are many restaurants with stunning views as well, so pick one where you can take in the landscape as you sip on a nice Turkish tea.
If you have 3 days in Cappadocia, you won't need to take the red tour and green tour. Just take the green tour and spend the other days exploring the attractions on the red tour independently. That is because the attractions on the green tour are very far out of town and hard to get to, but the ones on the red tour are closer and you can even walk to some.
We recommend going for a hike on one of your days. The one we would recommend is the Rose Valley hike, which takes you to many historical rock-cut churches and ends at one of the best viewpoints in Cappadocia – the Red Valley Sunset Point.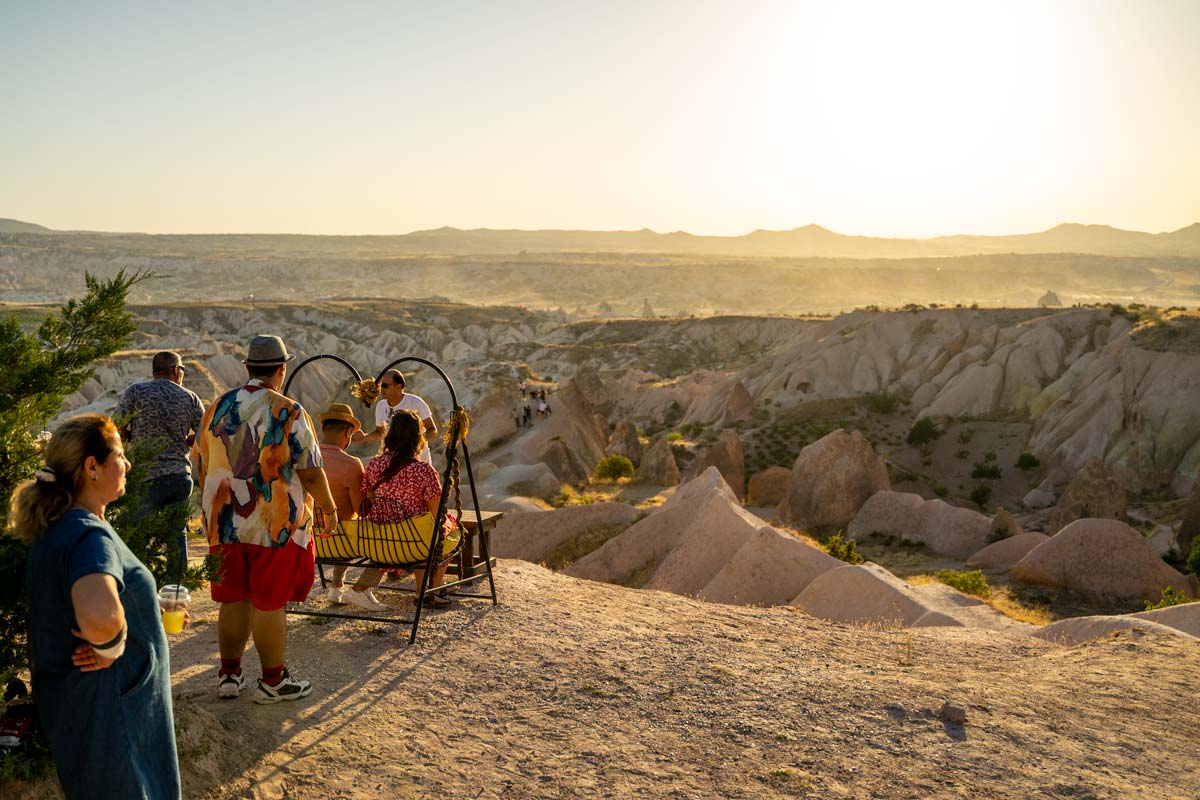 4 Days in Cappadocia
4 days in Cappadocia is perfect for those that like to travel slowly. With this number of days, you won't need to take any tours if you do not like them. You can use public transportation to get to some of the further attractions, such as the underground cities.
You have a high chance of being able to ride the hot air balloons. If you don't get on one in 4 days, then you just have really bad luck. Make sure you make an effort to watch the hot air balloons at one of the viewpoints in Cappadocia for sunrise. Being on one is an experience, but admiring them from the distance is also unforgettable.
4 days lets you explore at a comfortable pace, and gives you lots of flexibility just in case the weather isn't too good or you are too exhausted from the day before.
If you can afford to spend 4 days in Cappadocia, you can explore more leisurely, see everything you want to see, and possibly save some money on your budget while doing so!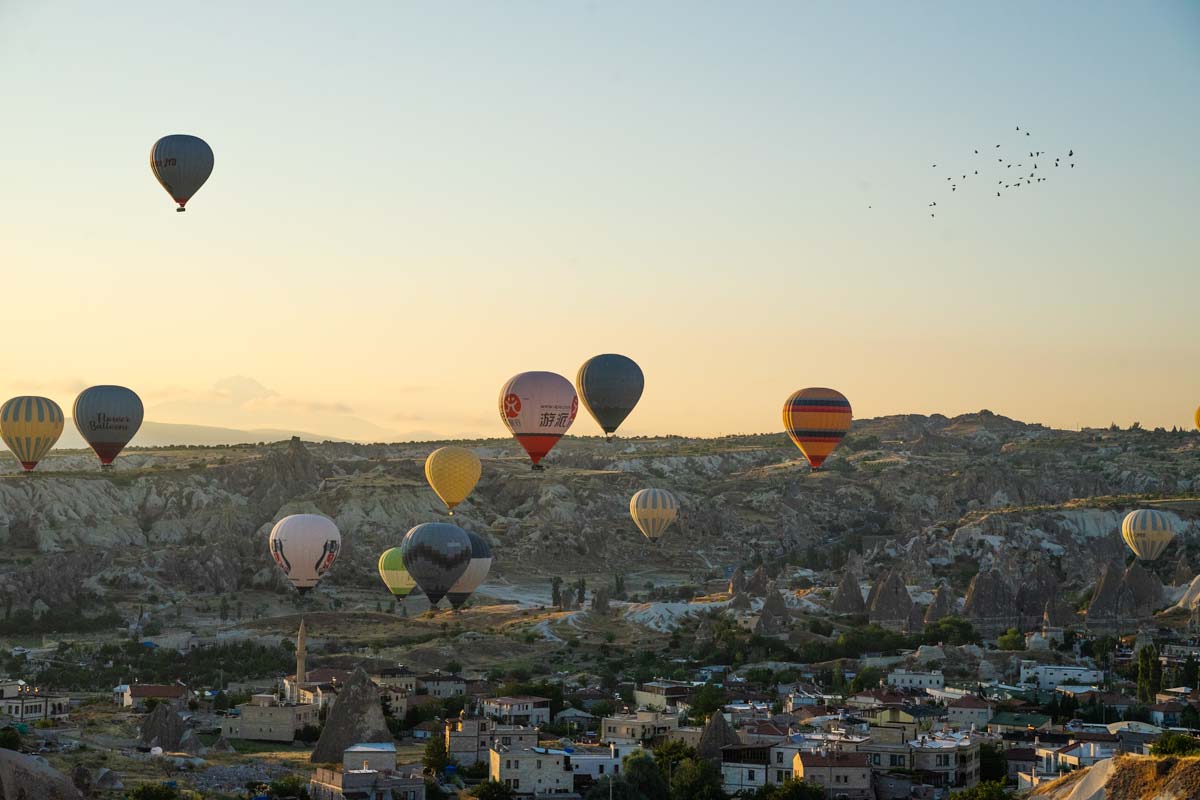 5 Days in Cappadocia (or more)
If you are digital nomads like us that spend some days working on the laptop, then maybe 5 days or more in Cappadocia is perfect for you. With 5+ days, we were able to use one of the days to recuperate after a long hike. There were days when the temperature was over 35+ degrees Celcius, so we didn't do much on those days either.
But is 5 days needed to see everything, probably not. I think that is too many days for the average tourist. Will you get bored if you spend that much time in Cappadocia? Definitely not. The landscape itself was so gorgeous we could look at it forever.
In 5 days, you can explore some of the more hidden gems of the region, such as Lake Tuz (Salt Lake), hike to the hidden church, go to the Hair Museum in Avanos, and do some shopping!
---
How To Get To Cappadocia, Turkey
There are two ways to get to Cappadocia – flying into one of its two airports or taking a long-distance bus.
By Flight
Travelers have two options when it comes to taking a flight to Cappadocia – Nevsehir Kapadokya Airport (NAV) and Kayseri Erkilet Airport (ASR).
To make things simple, Nevsehir Airport is the closer and more beautiful one, but nearly all its flights come from Istanbul, and they are more expensive than Kayseri Airport.
Kayseri Erkilet Airport is an international airport with flights from all around Turkey. Flights also depart from selected countries in Europe, so travelers might be able to go directly to Cappadocia without passing through Istanbul.
From either of the airports in Cappadocia, you can take a taxi (which we don't recommend because you'll get scammed) or pre-arrange an airport shuttle to your hotel.
Flying into Cappadocia? Make sure you check out our full guide on airports in Cappadocia!
By Long-Distance Bus
Turkey has a network of incredible long-distance buses that operate throughout the country, connecting places in Cappadocia with a variety of destinations.
They are more affordable than taking a flight, but the disadvantage is undeniably the amount of time they take. To put things into perspective, flights from Istanbul to Cappadocia take about 80 minutes, but a bus takes more than 8 hours.
Whether it is worth the effort or not, that'll depend on the type of traveler you are and what kind of budget you have.
One thing good about long-distance buses to Cappadocia is that they stop in Goreme, which is the best town to stay in Cappadocia and (most likely) within walking distance to your hotel. You won't need to catch a shuttle as you do at the airport.
To check long-distance buses in Cappadocia, you can use their official site obilet or busbud.com. We recommend busbud because foreign credit cards are typically declined when trying to reserve seats online at obilet.
---
Where To Stay In Cappadocia, Turkey
Perhaps one of the biggest factors in determining how many days to spend in Cappadocia is where you'll be staying. Cappadocia is massive, and if you stay in a bad neighborhood, it'll make sightseeing a lot more difficult and time-consuming.
Without a doubt, the best place to stay in Cappadocia is Goreme, the historic center of the region. Visitors will find a variety of accommodations here – from epic cave hotels to budget hostels.
Here are some of the places we recommend: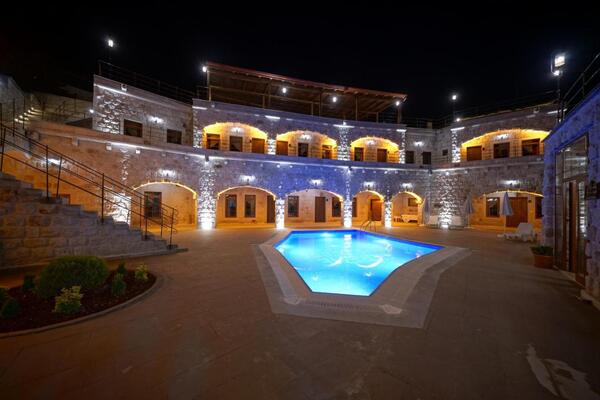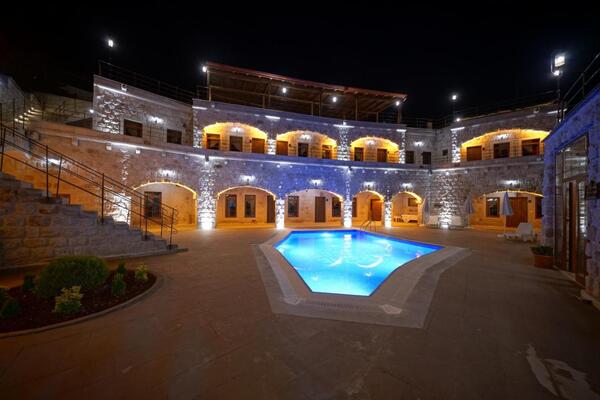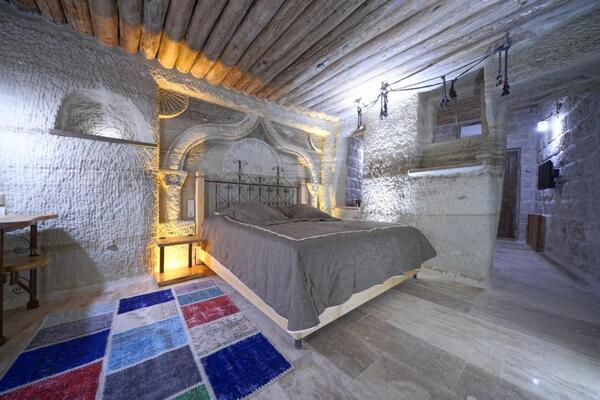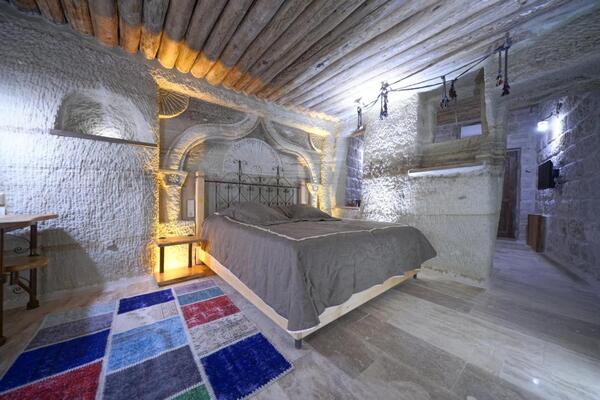 Goreme Cave Lodge is everything visitors might need on a trip to Cappadocia. This cave hotel boasts a seasonal outdoor pool and a pretty garden, as well as a rooftop lounge where guests can get stunning views without leaving their hotel.
All rooms are beautifully furnished with traditional Turkish textile to make you feel immediately at home. A breakfast buffet is provided every morning.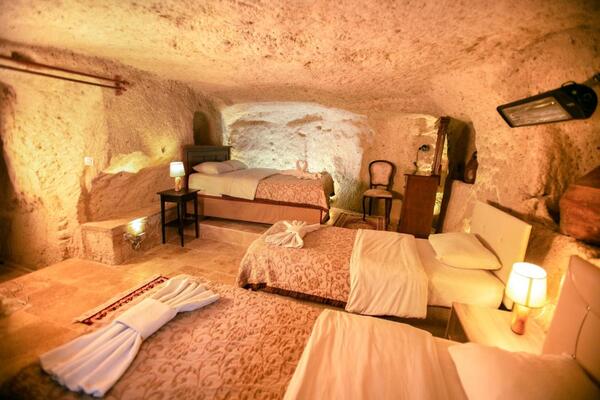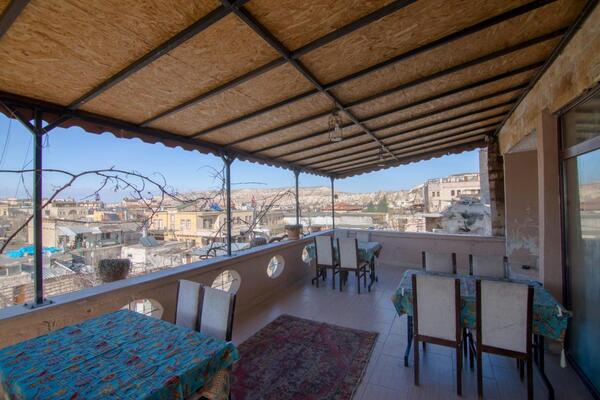 For budget travelers, there is no better hostel in Cappadocia than Kamelya Cave Hostel. Not only can guests stay in a dormitory-style cave room to experience the traditions of the region, but the hostel has a social and friendly vibe.
Every morning, breakfast is served on their communal terrace, where visitors can see the entire town of Goreme. But it also has a rooftop with Turkish carpets and pillows where you can catch the sunrise or sunset. Plus, it is only a few minutes' walk to the bus stop, what's there not to love?
---
Best Time to Visit Cappadocia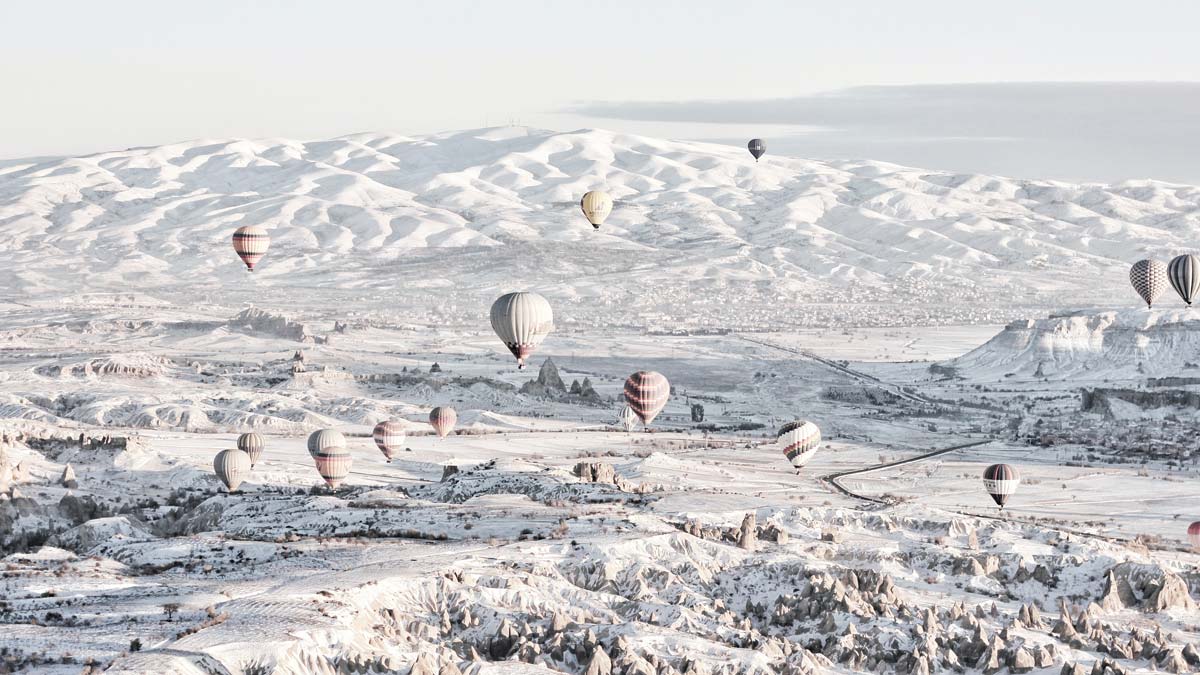 The best time to visit Cappadocia is during the fall. During this time, the weather is hot, but not too hot to explore the outdoor attractions in Cappadocia. This time of the year also sees little precipitation, which also ensures that the balloons take off regularly.
Summer is also a nice season to visit, but it is just too hot for things like hiking. You won't be able to go out in the middle of the day without risking heat-related illnesses.
Spring is great in terms of the temperature, as it is quite temperate. But spring sees quite a bit of rain, which could cause hot air balloon disruptions. It is a great time for hiking though because of the spring blossoms in the valleys.
Winter is not ideal for visiting Cappadocia. There is plenty of rain and snow and balloons do not take off regularly. But when it does, the snow-covered landscapes of Cappadocia are hypnotizing!
For a full guide on when to visit Cappadocia, check here!
---
Travel Tips For Visiting Cappadocia, Turkey
Avoid the Midday Heat – If you are visiting Cappadocia in the warmer months, the midday heat can make it so hot that it's dangerous to walk around the valleys. Remember, Cappadocia is a desert, and the heat in the middle of the day is bad.
Bring Warm Clothes – Back to the point of Cappadocia being a desert. Because of that, the temperature at night drops considerably after the sun sets. Even in the summer will you need a jacket for the nights in Cappadocia, especially if you are going on a sunrise hot air balloon tour.
Reserved Your Hot Air Ballon Tour As Soon As You Can – Because the hot air balloons don't run every day, make sure you reserve them for your first full day. If they get canceled, you'll still have the following days to try. Don't want to book your tours because they can get fully booked out.
Consider Getting The Cappadocia Museum Pass – The Museum Pass is a 3-day pass that gives you free access to 8 Cappadocia sites, including the famous Goreme Open Air Museum! If you plan on doing lots of sightseeing, then the Cappadocia Museum Pass can save you some money.
---
Visiting Cappadocia FAQs
How Many Days For Istanbul And Cappadocia?
We recommend spending around 3 days in Istanbul and 4 days in Cappadocia. If you are a slow traveler, consider adding one more than to Istanbul, but 3 days is generally enough.
Is Cappadocia Worth Visiting?
Whether Cappadocia is worth visiting or not depends on you. Do you like having the once-in-a-lifetime opportunity to fly through the sky on a hot air balloon in one of the most picturesque locations in the world? Do you like exploring underground cities that are over a thousand years old, and learning about their history and how they were built? What about epic rock formations (called fairy chimneys) that look unworldly? There's no doubt that Cappadocia is worth visiting.
Is Cappadocia Pricey?
Cappadocia can be pricey, especially if you intend on staying in luxurious cave hotels, participating in tours, and hiring a car. But if you travel frugally, there are options that can reduce your daily budget to as low as $30 USD a day. However, if you intend on riding one of the hot air balloons, just know that there is no way to make them affordable.
---
Final Verdict
As you can see, deciding how many days in Cappadocia is not exactly easy. But if you are in doubt, we recommend that you spend 3, ideally 4 days in Cappadocia. That'll give you lots of time and flexibility to make the most out of your trip!
Disclaimer: Some of the links above are affiliate links. That means if you book or make a purchase through the links, we will earn a small commission at no extra cost to you! The money will help run this site! Thank you!