One of the questions we often get from our readers is what is the closest airport in Cappadocia and which one should you fly into. There are only two airports in Cappadocia: Nevsehir Kapadokya Airport (NAV) and Kayseri Erkilet Airport (ASR). Of the two, the airport in Nevsehir is the closest one to the touristy towns of Cappadocia, where the majority of the tourists are staying.
Though Nevsehir Kapadokya Airport is the closest airport, it might not be the best one to fly into depending on a few factors. In our guide, we'll help you decide which airport in Cappadocia you should fly to!
Above is an interactive map including the two airports in Cappadocia and the popular towns where tourists stay. If you've not picked a place to stay yet, we'll help you decide later in the post. For the most part, travelers tend to stay in Goreme, which is the historic center of the Goreme National Park.
---
Nevsehir Kapadokya Airport (NAV): The Closest Airport To Cappadocia
At 37.6 km (23.4 mi) away, Nevsehir Kapadokya Airport (NAV) is the closest airport to Goreme. It takes about 37 minutes to drive from the airport to Goreme. Since Nevsehir is inside the Goreme National Park, travelers can admire some of the epic landscape this area is known for as they go from the airport to their hotel.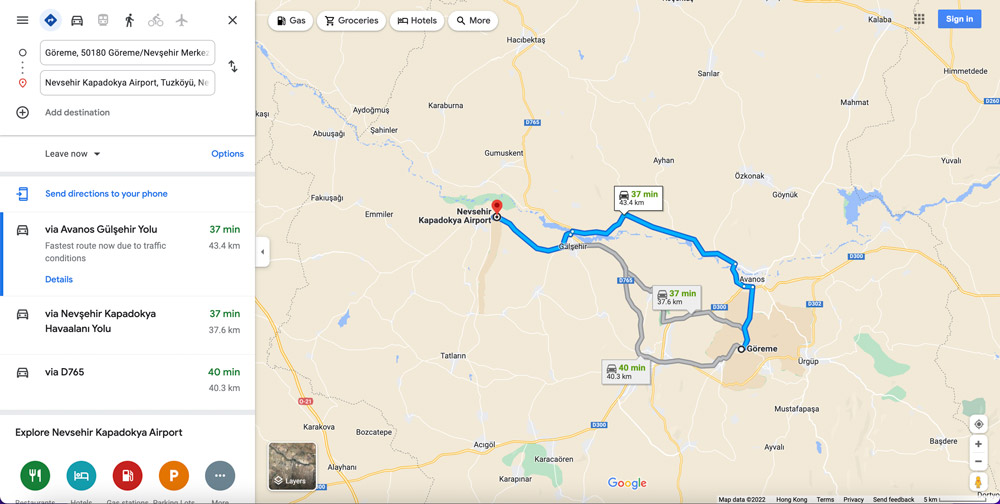 Without a doubt, the small Nevsehir Airport is the most desirable airport to fly into, but there are a lot of circumstances that might prevent you from doing so.
They are:
Flight prices
Destinations served
Flight schedule
Flight Prices
We've done some research and found out the flights to Cappadocia from Istanbul can be up to 167% more expensive when you fly to Nevsehir Airport instead of Kayseri Airport.
Of course, this number changes depending on availability, where you are flying from, and which season you are visiting Cappadocia. But in general, it is almost always more expensive to fly into Nevsehir Kapadokya Airport than Kayseri Erilet Airport. If you are traveling Turkey on a budget, this might not be ideal for you.
Destinations Served
Perhaps the biggest reason why you might not be able to fly into NAV Airport is because of the limited number of destinations it serves. Though the airport is technically an international airport, it only has seasonal charter flights from Kharkiv and Kyiv, Ukraine, and Sofia, Bulgaria.
The rest of the flights are all domestic, and in fact, all come from Istanbul. If you are traveling from Istanbul, that's perfect. But if you are coming from somewhere like Antalya or Izmir, you'll need to fly to Istanbul and get a connecting flight to Cappadocia. This could make your journey even pricier.
All flights from Istanbul to Cappadocia through the NAV Airport are operated by Turkish Airlines and AnadoluJet, which is a regional airline brand of Turkish Airlines.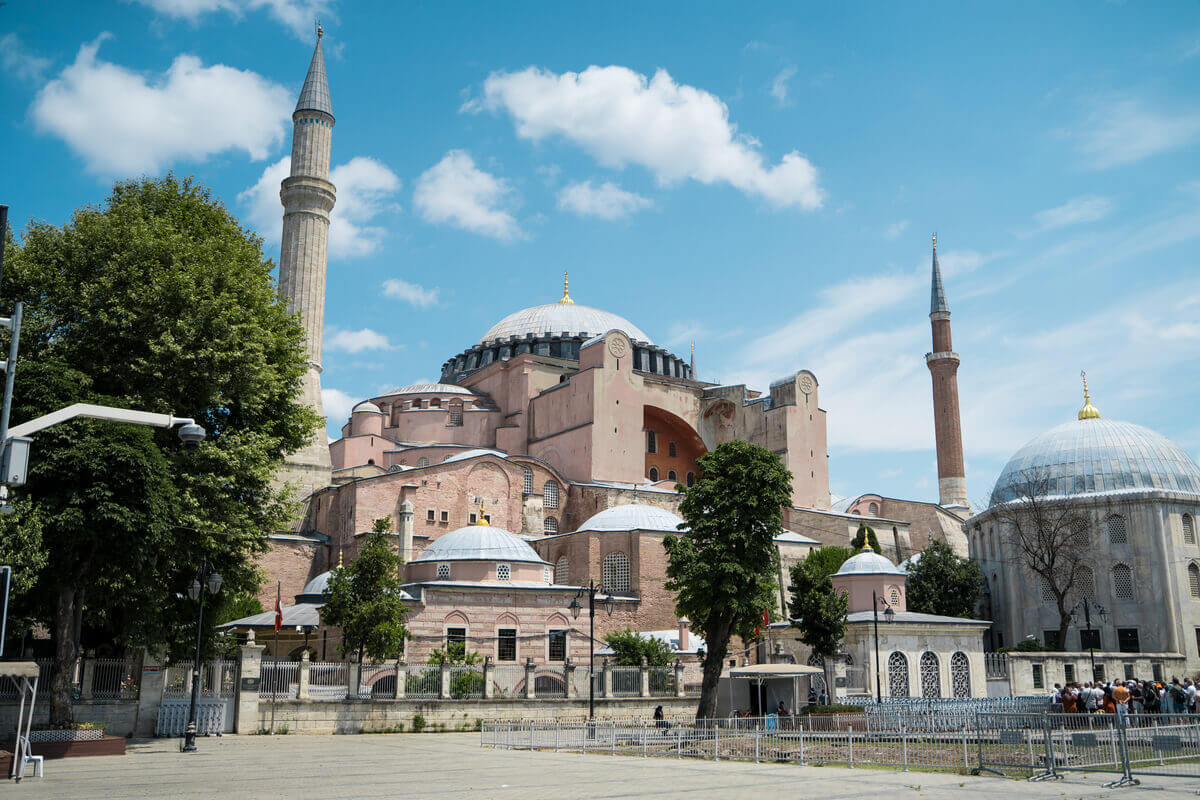 Flight Schedule
One of the biggest cons of flying into Nevsehir Airport is the limited number of flights. At the time of writing, there are only 4 flights departing per day, 3 operated by Turkish Airlines and 1 operated by AnadoluJet.
The time of the departures changes regularly throughout the year, but there is usually one that leaves early in the morning from Istanbul and returns at night. This is perfect for those people that want to take a day trip from Istanbul to Cappadocia.
---
Kayseri Erkilet Airport (ASR)
The Kayseri Ekilet Airport (ASR), also known as the Erkilet International Airport, is located 74 km (46 mi) from Goreme. It takes about an hour to drive from ASR to Goreme. Though it could take a little bit longer because Kayseri is a bigger city, and sometimes there's a bit of traffic.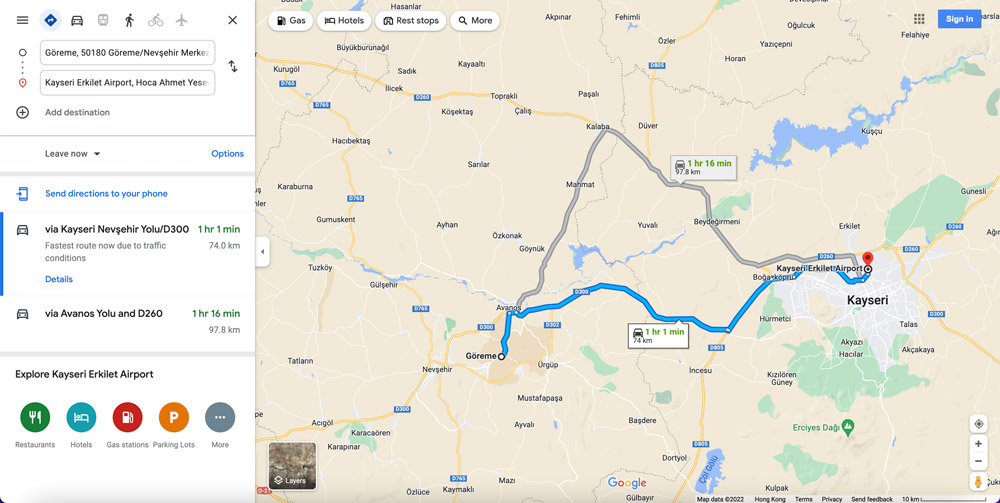 The drive from the airport to Cappadocia isn't as scenic, since Kayseri Province isn't part of the UNESCO Goreme National Park.
But there are several reasons why you might want to fly into Kayseri Airport instead of Nevsehir, such as :
Cheaper Flight Prices
International Destinations
Frequent Flights
Cheaper Flight Prices
As we have mentioned above, flying into Kayseri Airport is usually considerably cheaper than flying into Nevsehir Airport. That is mainly because the airport is bigger and that sees a lot more passengers. And if you are flying from somewhere that would normally need a connection in Istanbul, you might no longer need to by flying into Kayseri International Airport, saving you some money.
Plenty of Destinations Served
One of the biggest advantages of flying into Kayseri Airport is that you have plenty of choices when it comes to where to fly from. The airport serves 12 airlines, and there are flights from many countries in Europe such as Germany, The Netherlands, Belgium and more.
But perhaps the biggest advantage for Turkey travelers is the domestic options. You can fly from Izmir, Denizli, Antalya and some of the most sought-after destinations in Turkey. It makes going to Cappadocia and leaving Cappadocia much more convenient.
More Frequent Flights
Compared to Nevsehir Airport's 4 flights a day, there are a lot more flights arriving and departing in Cappadocia. Flights depart and arrive throughout the entire day, which means you can get to Cappadocia past midnight if you want. Getting to Cappadocia via ASR airport is a lot more flexible than NAV airport.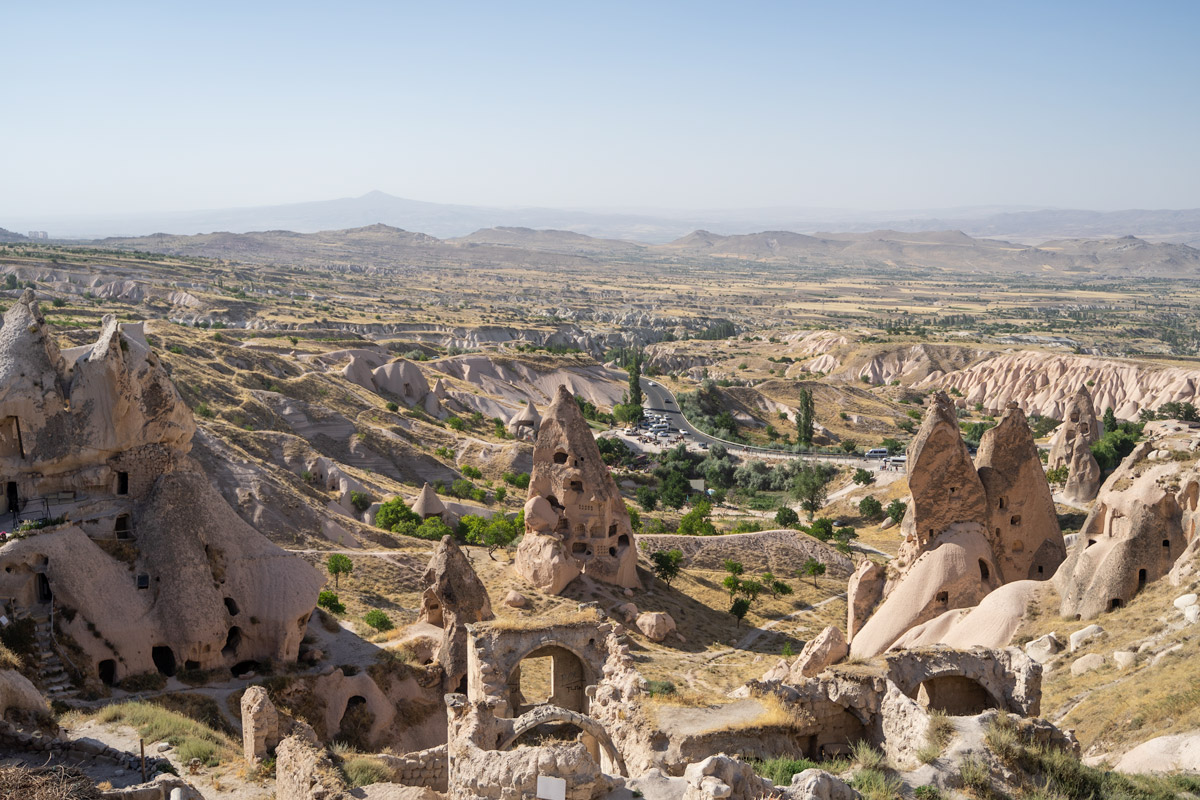 ---
Cappadocia Airport Shuttles
Now that you've decided which airport to fly to Cappadocia, let's figure out how you can get from the airport to your hotel.
There are typically three ways to get from the Cappadocia Airport to town, they are:
Airport shuttles
Taxis
Rent a car
Airport shuttles are the best option when it comes to getting from the airport to town. However, the airport shuttle buses are operated by the airlines, which means you need to pre-book your spot with them when getting your flight. If you don't book beforehand, then you have to ask the shuttle bus drivers whether they've extra space in their van or not once you arrive.
It is quite a hassle and there's a lot of uncertainty on the table, which is why we recommend pre-booking a shuttle through a Cappadocia company instead. You can either do this through your hotel, which usually charges you a little extra, or directly through one of the shuttle companies. We recommend the latter.
Taxis in Cappadocia airports are quick and convenient, but it is almost certain that the taxi driver will try to scam you. They'll succeed and you'll usually end up paying a lot more than you would with a shuttle bus. For that reason, we DO NOT recommend taking a taxi from the airports in Cappadocia.
Lastly, renting a car in Cappadocia is not a bad option, especially since sightseeing in this region is much better if you have your own transportation. There are multiple car rental companies in both Kayseri Airport and Nevsehir Airport, so visitors are not out of options. However, you personally recommend reserving the car online so you know what prices you are going to be paying when you get there.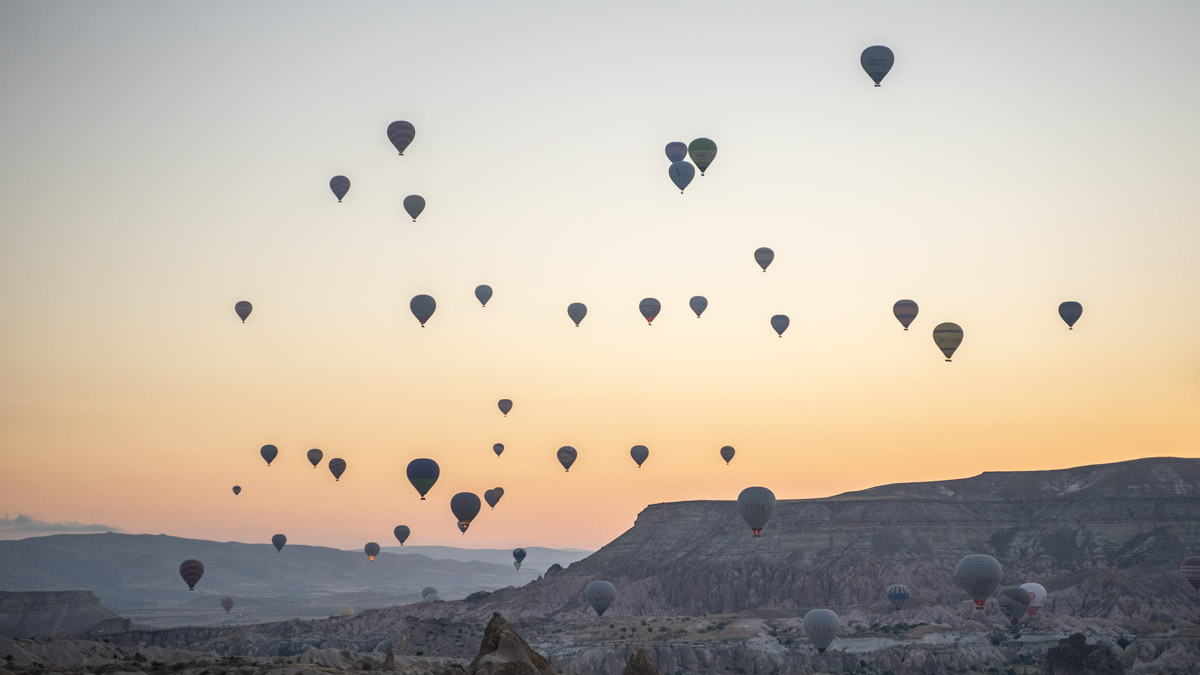 ---
Where To Stay In Cappadocia
Before you fly into any Cappadocia Airport and book your shuttle, you must decide where to stay. Cappadocia is around 5,000 sq km (1,930 sq mi) big, and there are many towns where you could possibly stay. But you'll want in the heart of all the action, which is Goreme. Below, we have recommended some hotels and accommodations for Goreme:
---
Hot Air Balloons In Cappadocia
The hot air balloon rides are undeniably the best thing to do in Cappadocia, but getting a tour isn't just as simple as signing up the day before and just getting on the next day. If you want to make sure you get one of the hot air balloon rides, you need to make sure you:
Book ahead of time, especially during peak travel season in Cappadocia
Make sure your tour is on the next following day of your arrival. That is because hot air balloon tours don't run every day. It needs the optimal weather condition to fly. So to maximize your chances of getting on one, don't wait and book the tour for the following day. If it gets canceled, you have a few more days to try until you leave Cappadocia.
---
Cappadocia Airport FAQs
How Many Airports Are in Cappadocia?
There are a total of 2 airports in Cappadocia – Nevsehir Kapadokya Airport (NAV) and Kayseri Erkilet Airport (ASR). Both are great options to get to Cappadocia, but they each have pros and cons.
How to Get to Cappadocia?
There are many ways to get to Cappadocia. You can fly to one of the two airports in Cappadocia, or take a long-distance bus from anywhere in Turkey. Unfortunately, there are no trains to Cappadocia.
---
Before You Go
To sum it up, there are two airports to fly into Cappadocia, each with its own advantages and disadvantages. Kayseri Airport is usually cheaper but it is not as close to Cappadocia and the car ride to your hotel is not as scenic. Nevsehir is closer to Cappadocia, but it is more expensive and you have fewer options when it comes to flights. Make sure you pick properly!
Disclaimer: Some of the links above are affiliate links. That means if you book or make a purchase through the links, we will earn a small commission at no extra cost to you! The money will help run this site! Thank you!