Not sure how to get from Cappadocia to Antalya or vice versa? Worry not. There are three different ways to get from this vast desert landscape to the seaside resorts of Antalya.
Cappadocia and Antalya are two of the most popular destinations in Turkey and no itinerary would be complete without a visit to each of them.
However, they are over 500km away from each other, which begs the questions; what is the best way to get to Antalya from Cappadocia?
Getting from Cappadocia to Antalya or Antalya to Cappadocia is not an easy task, especially as it largely depends on where you are staying in each of these two reasons. Generally speaking, there are three ways to get there: a long-distance bus, a flight, or renting a car and driving.
Though that might sound quite straightforward, there are a lot of details that you need to plan in order to get from A to B without a hitch. That is why have written this guide on how to get from Cappadocia to Antalya.
---
What Is The Distance From Cappadocia To Antalya?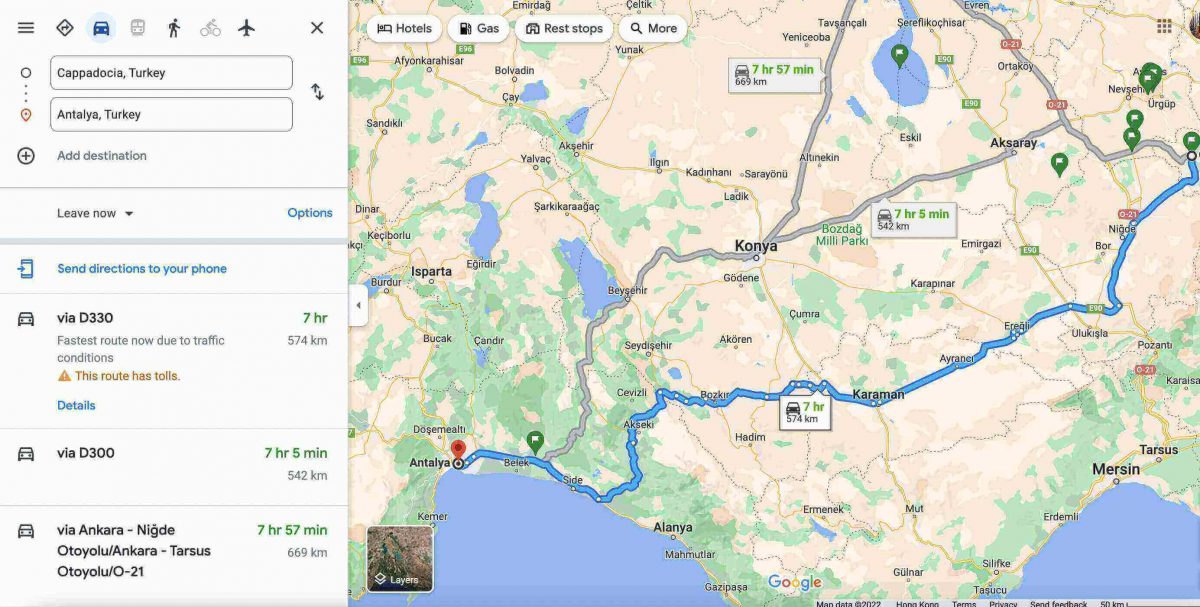 Anyone that is planning to go from Cappadocia to Antalya must be aware of the long journey.
The distance between Cappadocia and Antalya is about 574km kilometers or 356.6 miles. On average, it takes about 7-8 hours to drive from Cappadocia to Antalya.
A long-distance bus usually takes a total of about 8.5 to 11 hours, depending on the route and which bus company you go with. The time of day you travel also makes a big difference, as day travel means heavy traffic while night buses have much quieter roads.
A flight could take anywhere from 4 hours to more than 12 hours to get to the closest airport to Pamukkale, which is the Denizli Çardak Airport. From there, visitors will need to find a way to get from the airport to Pammukale, which is nearly 70 km (43.5 mi) away.
---
Different Ways To Get to Antalya from Cappadocia
Below we'll talk about the three more popular ways to get to Antalya from Cappadocia:
Long-Distance Bus
Flights
Renting a Car and Driving
Long-Distance Buses From Cappadocia to Antalya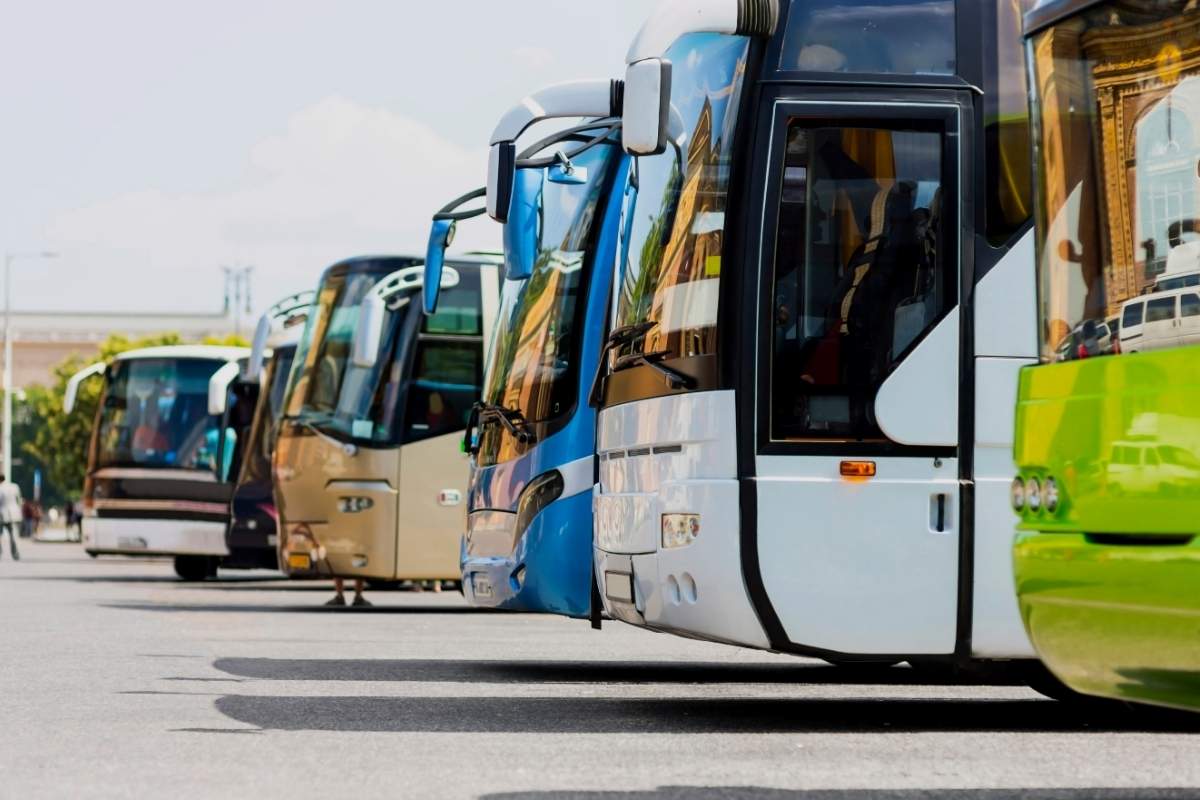 Perhaps the most popular ways to travel from Cappadocia to Antalya is by one of Turkey's reliable long-distance buses.
There are several direct buses that depart from Cappadocia to Antalya or vice versa, so it's definitely up there as one of the most convenient ways to travel. You'll find that most buses are night buses, departing at 9 pm-10 pm. This is because traffic in the day time can be terrible and it makes the trip longer, which is not fun for you or the driver.
To get to Antalya, travelers must first get to the one of the bus stations in Cappadocia that goes to Antalya. The bus stations that offer buses to Antalya are:
Nevşehir Bus Station
Goreme (Göreme Otobüs Durağı on Google Maps).
You can purchase your bus ticket online beforehand, or you can turn up earlier in the day and book your ticket from one of the tour offices next to the bus station.
Some of the bus companies we recommend are:
Isparta Petrol Turizm
Metro
Nevşehir Seyahat
We have taken a bus from all of those companies in Turkey and found that their quality is quite similar, though the prices for them are usually different.
If you're staying in a neighborhood outside of Goreme such as Uchisar or Urgup, then we recommend getting a ticket in advance. Tickets often sell out on the day, so you either have to book your ticket a day or two early or get to the ticket office when it opens on the day.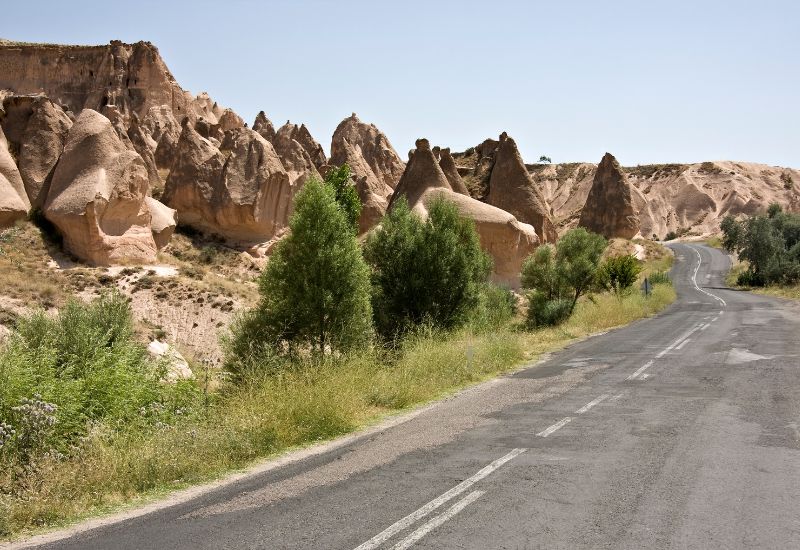 When it comes to picking a departure time, we really do think the night bus is your better option. Though there are departures throughout the day, it will take you up to 11 hours which is a long time to sit on a bus. At least with a night bus you can sleep, save money on accommodation and not waste a day of your Turkey itinerary traveling between places.
If you travel at night, you will arrive early in the morning, so make sure your accommodation has luggage storage or allows early check in. If you do opt for a day bus, you'll arrive very late at night and will need to find a way from the bus station in Antalya to your hotel.
The bus station in Antalya is located a little out of the city center. You can get a taxi, Uber, tram or public bus to the city center. If you're arriving at night, you have only two options; taxi or uber, as buses and trams stop running at 9pm. We recommend getting an Uber as it's the safest way to get around at night. If you arrive in the morning, you'll find the tram stop right opposite the bus station.
The price of the bus from Cappadocia to Antalya is usually around 19 to 22 USD.
You can purchase the tickets online here, or in person at the respective bus companies.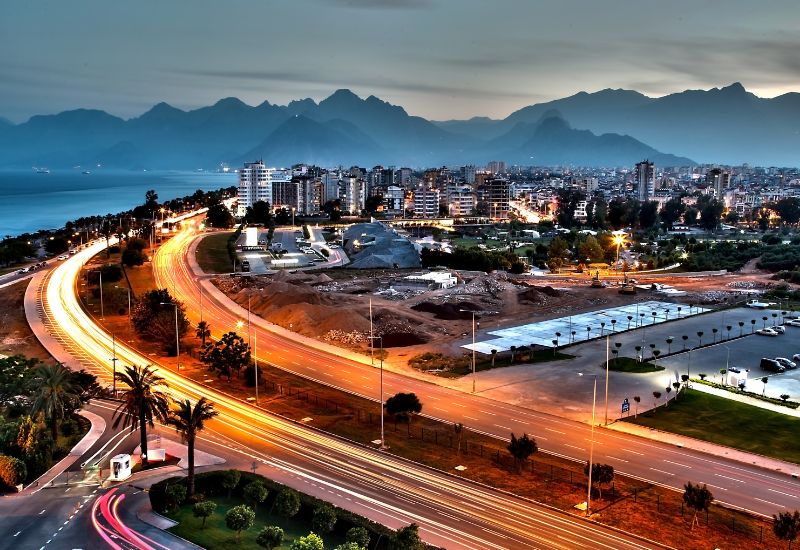 Flights From Cappadocia To Antalya
Possible the second most popular way to get from Cappadocia to Antalya is by flying, especially if you are repulsed by the idea of a long distance bus journey.
If you want to get to Antalya fast, you can find direct flights from one of Cappadocia's two airports; Kayseri Erkilet Airport. Flights from Kayseri Erkilet Aiport to Antalya airport take around 1 hour 15 minutes. Sun Express and Pegasus are the main airlines and they have several flights throughout the day.
You can also find flights from both airports in Cappadocia that have one stop via Istanbul. Luckily, it's a popular route, so you'll find flights throughout the day and generally, the connecting flight is within an hour so you practically board straight away. If you're connecting in Istanbul, usually flights take around 4 hours to get to Antalya.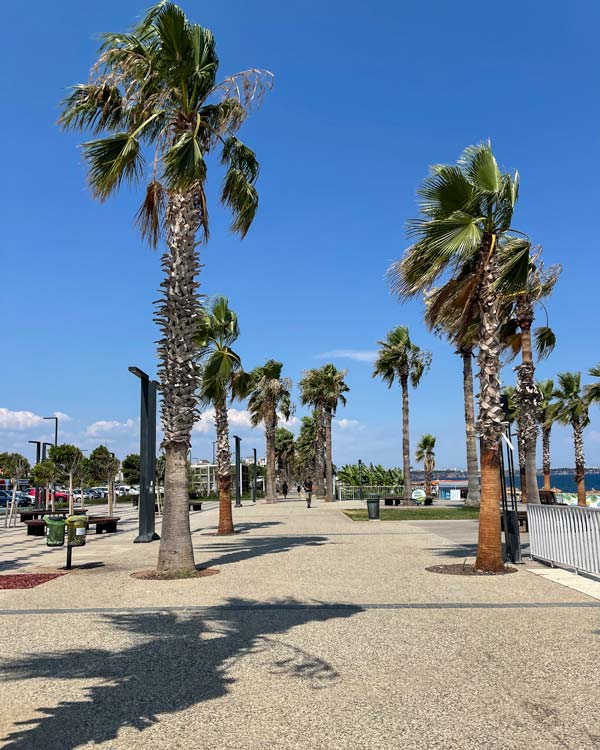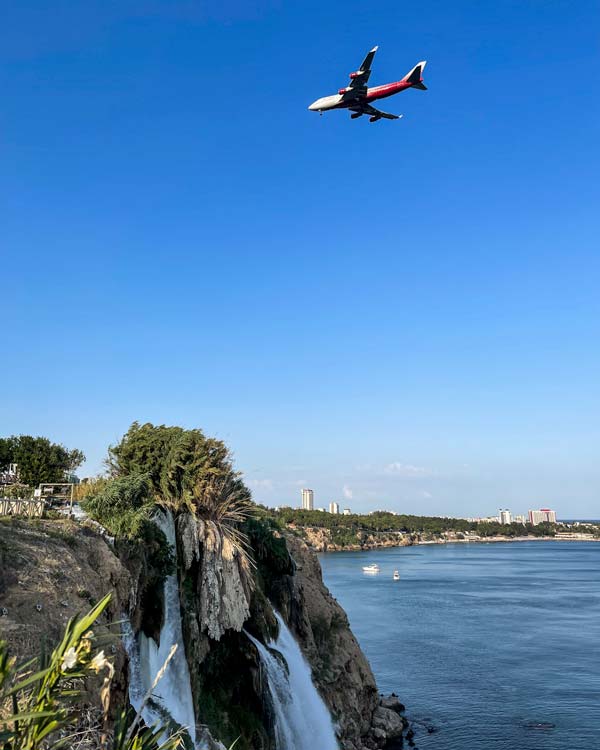 You also need to consider travel time to and from the airport. It can take 40 minutes to 1 hour to get to one of these airports from Goreme, the historic center of Cappadocia. If your flight leaves early in the morning, we recommend you book an airport transfer as you'll find buses and taxis are sparse this time of the morning.
After you arrive at Antalya Airport, you'll need to find a way to get to the city center. Luckily, there are several ways to do this. You can get a taxi, which takes about 25 minutes. Or you can take the tram (the cheapest option) which takes 45 minutes or the bus which takes 40 minutes. You can also hire a car directly from the airport.
If you're arriving in Antalya at night, for ease and safety, it's a good idea to book an airport transfer to your hotel as buses and trams stop running, so you're only choice is to book an Uber or get a taxi, where prices rise at night (especially when traveling to and from the airport). Booking an airport transfer could work out cheaper if you're traveling at night.
Flying to Antalya from Cappadocia is no doubt the easiest and quickest way to get from A to B, but it's also the most expensive. If you're prepared and book in advance, you can find flights for around $40 USD (one way). However, you do need to factor in the transport to and from the airport. If you're booking late, expect prices to reach as high as $150 USD (one way).
Renting a Car and Driving From Cappadocia To Antalya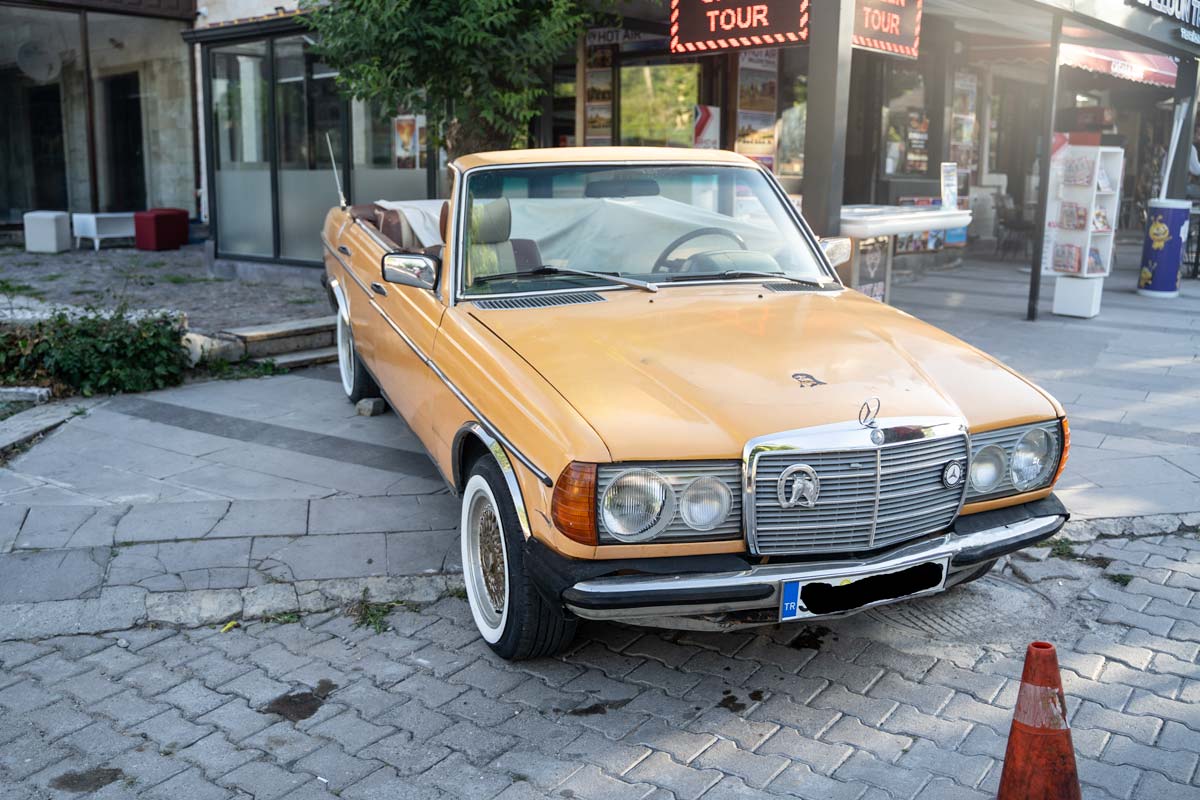 If you are renting a car in Cappadocia or doing a road trip in Turkey, then you might enjoy driving from Cappadocia to Antalya. However, at 574km kilometers, the journey isn't exactly short. On average it takes about 7 hours to drive to Antalya from Cappadocia, and that is if you don't make any stops along the way.
If you have more than one driver, then this trip might not be too bad. You also have to drive through the city of Konya, which is quite busy.
However, once you get past Konya the landscape is truly stunning. You'll pass by glistening lakes and sprawling green mountains. Quite the contrast from the desolate desert of Cappadocia.
Would we recommend driving from Cappadocia to Antalya? Absolutely, but do be careful. Traffic in the day time can be busy and drivers in Turkey are not known for being careful. You could always drive at night if you're worried about safety, and catch the stunning mountain region for sunrise.
Alternatively, you could make a stop in Konya for a night and break up the journey.
---
How To Get From Antalya To Cappadocia?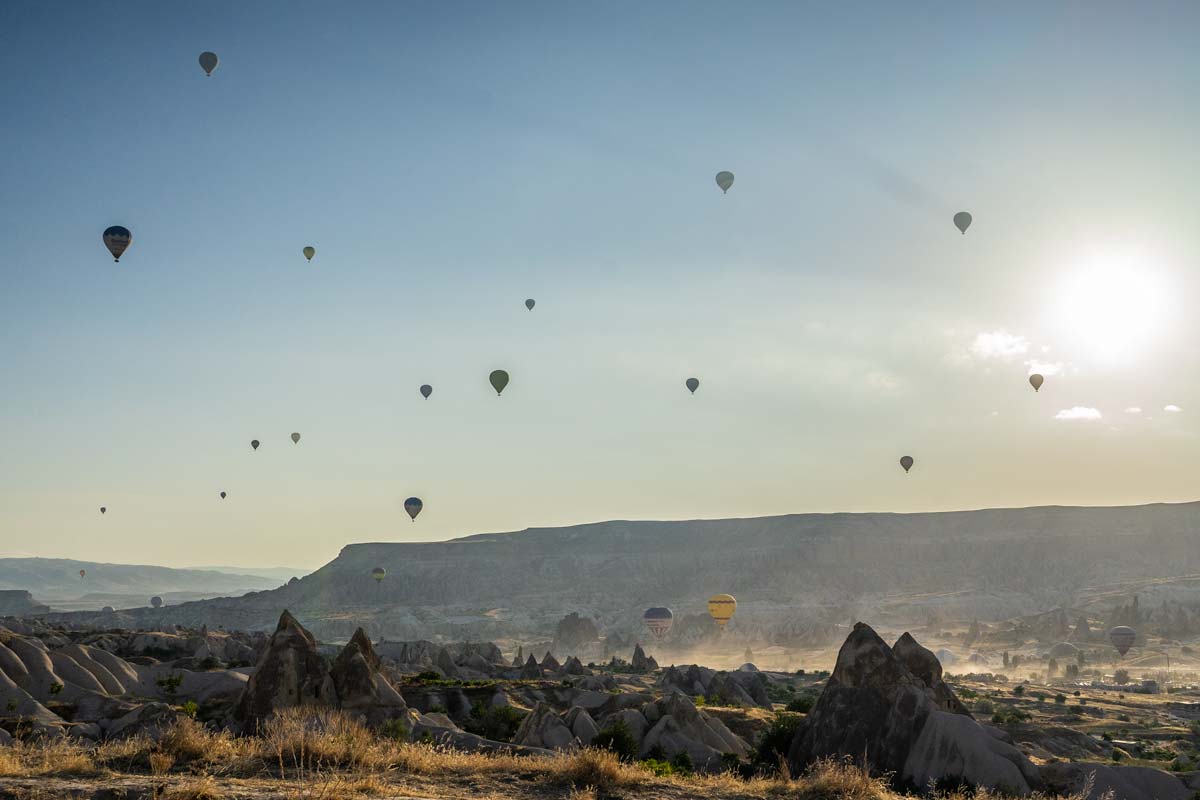 If you are going from the other direction and want to go from Antalya to Cappadocia, the process is similar.
For long-distance buses, you'll need to take them from Antalya Bus Station to Cappadocia. Most bus companies will go to Goreme or Nevsehir, so if your end location is outside of these areas, you should think about how you are going to get from the bus station in Cappadocia to your hotel.
For flights, you'll need to get from Antalya to either of the two airports in Cappadocia, it really doesn't matter. Both airports have airport shuttles to Goreme and other major towns in the region, and you can also get an airport transfer or taxi.
If you are driving from Antalya to Cappadocia, you can follow the same itinerary above. Make sure to plan your journey for early in the morning so you can avoid the chaotic traffic in Antalya. Try to get past Konya before rush hour so you don't get stuck in mega-traffic there.
Since you're likely going to be spending a few days in Cappadocia, there is no rush when it comes to driving.
---
Where To Stay In Antalya, Turkey?
Antalya is a region on the Turkish Riviera and as such, there are many places to stay. You'll find that Antalya has lots of beach resorts, and some of them are located in towns outside the main city of Antalya.
Depending on how long you spend in Antalya, we recommend staying in the Old Town of Antalya if you're staying for a couple days, and then check out one of the beach resorts outside of town after.
Here are some of the accommodations we recommend in Antalya: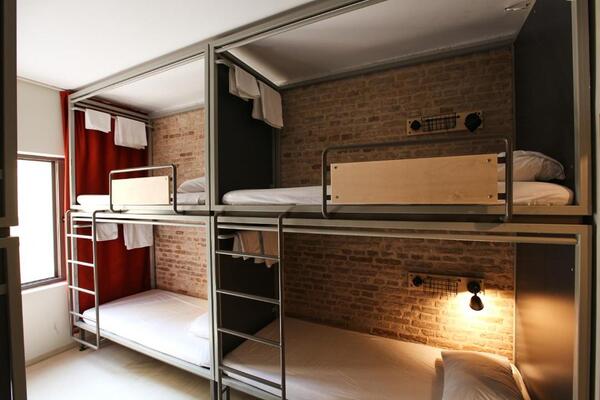 Best Hostel in Antalya – Flaneur Hostel
Antalya doesn't have many hostels, but that doesn't matter as Flaneur has everything you need and more. It's located in the heart of Old Town, perfect for exploring the top attractions in the city. It has comfortable dorms and private rooms, a shared lounge, a garden, and a shared kitchen.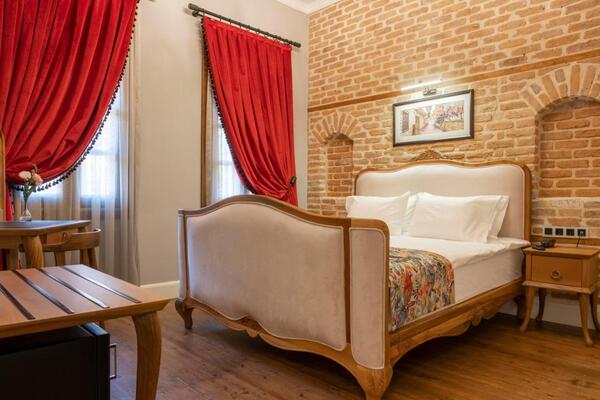 Best Mid-Range Hotel in Antalya – Lykia Old Town Hotel
Another affordable and excellently located hotel in Antalya is the Lykia Old Town Hotel. It has spacious and comfortable rooms and is located near to all the best attractions. Guests can reach Mermerli Beach within minutes, and enjoy free WiFi, air conditioning, and access to a garden. Each morning, a delicious buffet or halal breakfast is included in the room price. You can also hire a car from the hotel.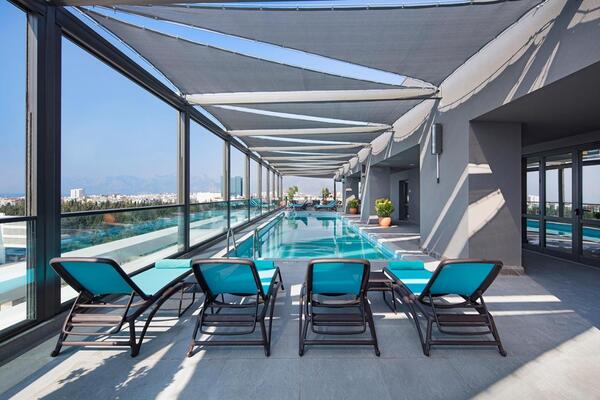 Best Luxury Hotel in Antalya – DoubleTree by Hilton
Located in the city center, the DoubleTree by Hilton is the perfect place to stay for those wanting to be near to nightlife. The hotel offers an onsite restaurant, free private parking, a seasonal outdoor swimming pool, and a fitness center. There's also an indoor pool and a hammam. Each day, a continental and buffet breakfast is available. Some rooms come with a sauna and terrace.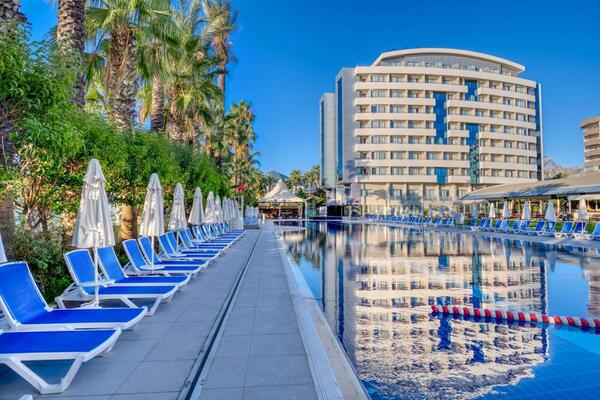 Best Resort Hotel in Antalya – Porto Bello Resort Hotel and Spa
Located on Konyaaltı Beach, Porto Bello Resort is the perfect resort in Antalya for a beach vacation. It features an outdoor swimming pool, hot tubs, tennis courts, and a spa with sauna and massage services. The onsite restaurant serves International and Turkish cuisine, and there's even a spot for al fresco dining. If you feel like keeping active while on vacation, the fitness center has state-of-the-art equipment.
---
Cappadocia To Antalya FAQs
Can you fly direct from Cappadocia to Antalya?
No, sadly you cannot fly direct from Cappadocia to Antalya. You will need to fly back to Istanbul and change here.
Is there a train from Antalya to Cappadocia?
No, there is no train station in Cappadocia so it's not possible to travel by train.
How far is Cappadocia from Antalya by plane?
The distance is 257 miles and it takes on average around 4 hours.
Is Antalya worth visiting?
Yes, absolutely! Antalya is worth visiting for its history, gorgeous nature spots, and, most famously, its stunning beaches.
---
Before You Go
The three ways you can get from Cappadocia to Antalya are – long-distance buses, flights, and driving. Each method has its own pros and cons which we discussed above.
Hopefully, now you have all the information to get you from this sprawling desert landscape to this iconic seaside region without any fuss.
Disclaimer: Some of the links above are affiliate links. That means if you book or make a purchase through the links, we will earn a small commission at no extra cost to you! The money will help run this site! Thank you!