One of the questions we get asked the most is; is Turkey expensive to travel to? The simple answer is no, Turkey is a cheap place to visit when compared to other European countries, but it's getting more expensive.
In recent years, we have found that more hotels, restaurants and tour companies have increased their prices to accommodate for the declining value of the Turkish Lira.
We also found that some destinations are more expensive than others, and the time of year you visit also factors into how much you will spend.
The truth is, visiting Turkey today isn't as cheap as it once was, but that doesn't mean you can't travel to Turkey on a budget.
If you're wondering how much does a trip to Turkey cost? How cheap is it really? In this guide, we'll be breaking down the cost of everything from transport, food, accommodation, and attractions, so you know exactly how much to budget for your Turkey trip.
---
At A Glance: How Much Does A Trip to Turkey Cost?
If you're in a hurry and need a quick answer to how much Turkey is going to cost you, here's a table showing estimates for how much you're looking to spend in 2023.
After this, we will go into detail about how much each factor costs and how you can save money. All prices listed are in USD($).
Note that prices tend to be higher in the summer season, and also depend on where in the country you visit, so use this as an estimate for budgeting purposes.
The estimated daily costs do not factor in long-distance transport or the price of alcohol, as this will largely depend on the individual. If you don't drink or plan to travel around Turkey, your daily budget will be cheaper.
| Expenses | Price Per Item | Estimated Daily Cost |
| --- | --- | --- |
| Accommodation | $30-$250 | $30-$250 |
| Food | $4-$20 | $12-$60 |
| Taxis & Inner City Transport | $1-$10 | $5-$30 |
| Long Distance Buses | $25-$40 | – |
| Internal Flights | $80-$120 | – |
| Alcohol | $1.60-$3 | – |
| Attractions | $20-$80 | $20-$80 |
| Souvenirs | $5-$50 | |
| Total (minus flights, long-distance buses, souvenirs, alcohol): | | $67.00 – $420.00 |
Prices vary depending on your travel style, time of year, and where in Turkey you visit.
Coastal regions such as Bodrum, Marmaris, Fethiye, and Antalya tend to cost more as they are popular tourist destinations.
---
Cost of Transport in Turkey
Transport is where the majority of your budget gets eaten up. You can save money on attractions, food, and even accommodation, but the price of transport is not something you can haggle down and is also a necessity.
Here is how much you will need to budget for transport in Turkey.
Cost of Flights to Turkey
The cost of flights to Turkey will largely depend on where you are flying from. Since Istanbul is the most popular airport for layovers, flights from all over the world travel here.
There are two airports in Istanbul, Sabiha Gokcen International Airport (SAW), and Istanbul International Airport (IST). Istanbul International Airport is where all international flights depart and arrive. Sabiha Gokcen International Airport is really used to domestic flights only these days.
You're more than likely going to fly into Istanbul International Airport. The average price of a flight to Istanbul is as follows:
From Europe and the United Kingdom: $120-$300
From Asia: $400-$600
From the United States: $700-$1000
The price of the flight will depend on how far in advance you book. The earlier you book, the cheaper the price (usually)!
If you're flying from the United States, Turkish Airlines are the only airline to operate direct flights. You can fly from the following airports:
Atlanta (ATL)
Boston (BOS)
Chicago (ORD)
Dallas-Fort Worth (DFW)
Houston (IAH)
Los Angeles (LAX)
Miami (MIA)
New York (EWR) & New York City (JFK)
San Francisco (SFO)
Seattle / Tacoma (SEA)
Washington (IAD)
The longest direct flight is from Mexico City which takes 14 hours. You can also fly direct from these major cities:
Amsterdam
Bangkok
Barcelona
Berlin
Brussels
Bucharest
Cairo
Dubai
Dublin
Hong Kong
Jakarta
Kuala Lumpur
London
Manchester
Milan
Paris
Rome
Seoul
Singapore
Tel Aviv
Vienna
Zurich
Vienna
Seoul
Cost of Internal Flights in Turkey
So your flight to Istanbul will be your largest expense. From here on out, it's cheap, cheap, cheap! Fortunately, internal flights are really affordable in Turkey.
Most internal flights are operated by Turkish Airlines, Pegasus Airlines, or Sun Express. You can fly direct to and from Istanbul, Antalya, Izmir, and Cappadocia.
If you want to fly from Cappadocia to Izmir, you will need to change in Istanbul.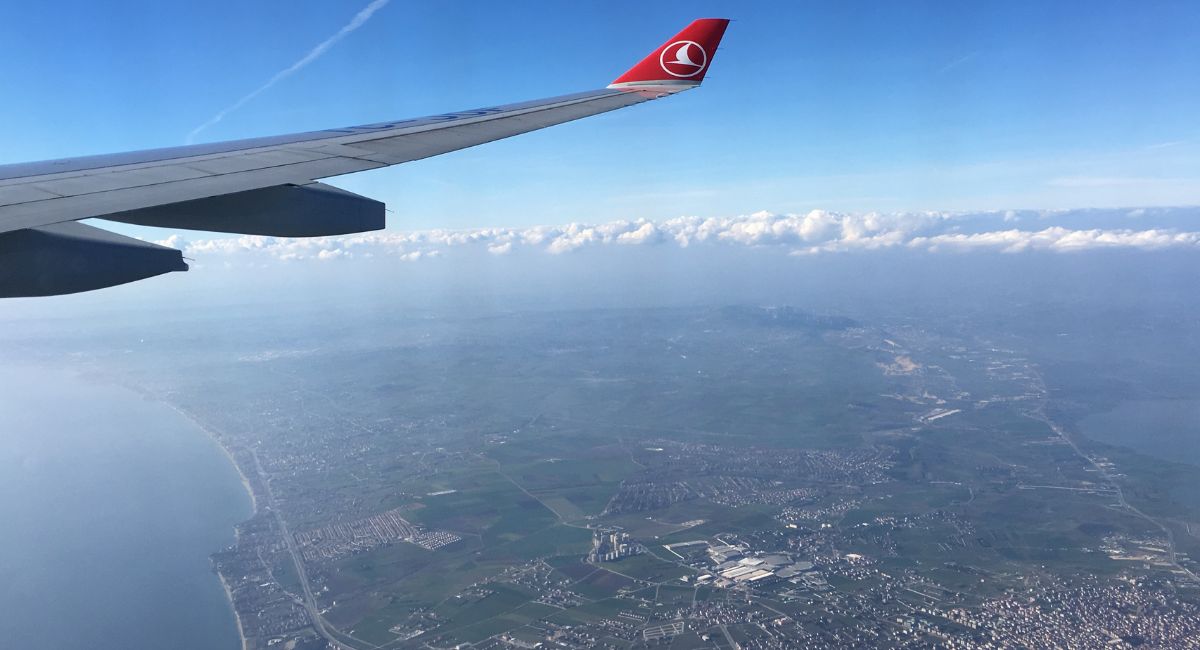 However, even if you need to change flight in Istanbul, the flights are really affordable and quite quick, with layovers only lasting between 1-2 hours.
This is because a lot of people take these routes, not just tourists but locals as well. So they are strategically timed to allow you to transfer quickly.
The average cost of internal flights in Turkey is $80-$120 per flight. If you are booking the day before, then you might have to pay up to $150, but it's very rare to exceed $100 if you're organized.
Cost of Long Distance Buses in Turkey
Long-distance buses are the most affordable way to travel across the country. If you're planning an epic Turkey itinerary, this will be your most affordable way to get from city to city, and it can also be quite convenient too.
Most long-distance bus journeys are night buses. This is because the roads are quieter and safer at night. Since you'll be traveling for 14-17 hours, we highly recommend you take a night bus if you have the choice to choose between the two. You also get to save on a night's accommodation!
The price of long-distance buses is usually between $25-$40 depending on the route you take. Istanbul to Cappadocia is a long journey, so it might be at the top end of the budget. From Cappadocia to Antalya, you might find the prices are a little cheaper.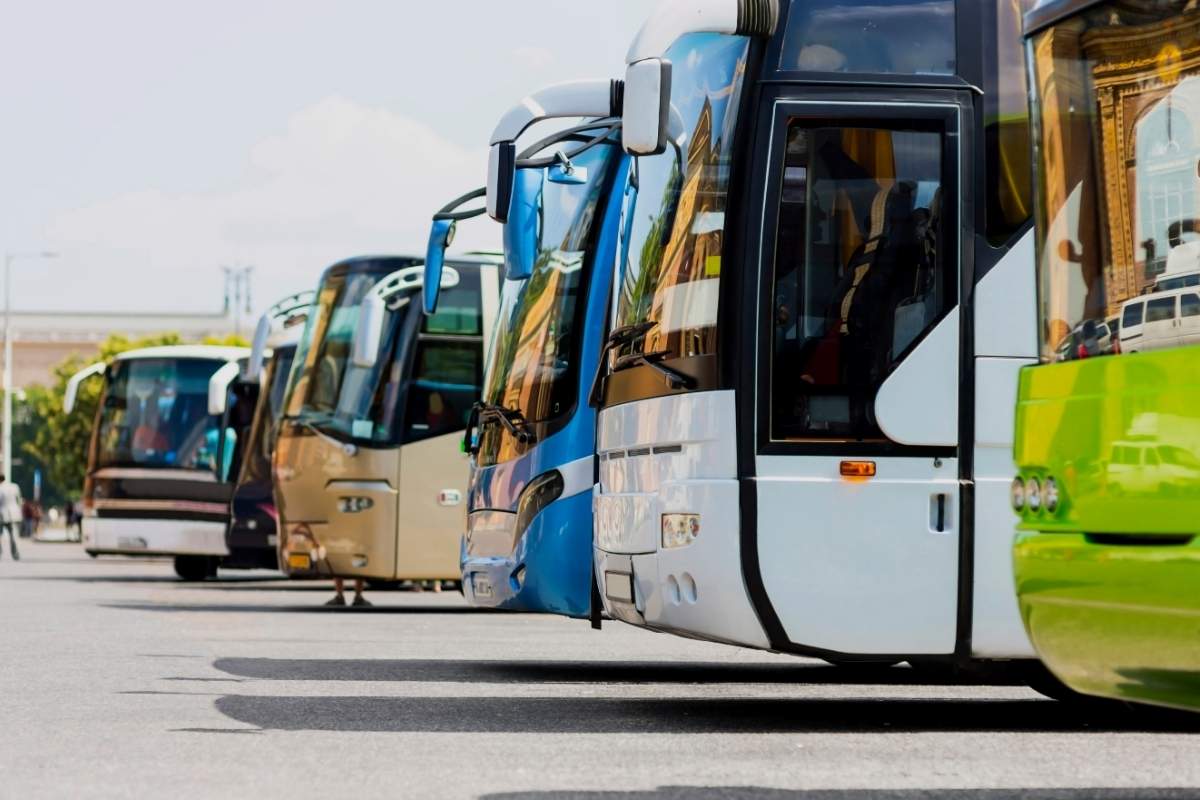 Top tip: we recommend you book your bus ticket locally using the tour providers. We booked using FlixBus, and it turned out they used the local companies anyway, so we would have saved money by booking direct.
Make sure to book a day in advance, as the buses are usually full and you can't buy a ticket from the bus driver.
The Cost of Inner City Transport
Getting around the cities in Turkey is super easy. In major cities in Turkey, there is a tram network, metro and bus route. The tram is the most affordable way to travel.
The tram network usually connects the suburbs to the city center, and passes by the top attractions. A single trip on the tram can cost you around $0.10 USD.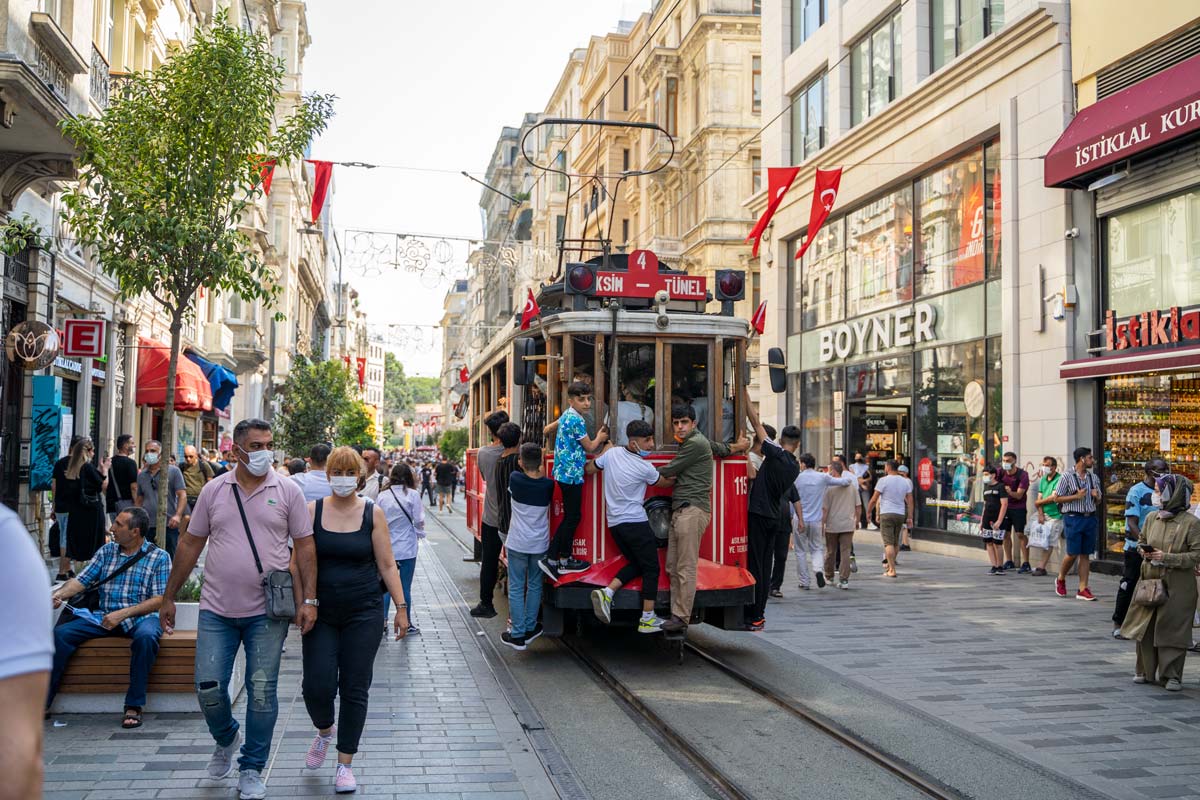 If you don't get the tram, the metro and the bus are just as convenient and affordable. The average price of one journey on the metro or bus is $1.00 USD.
You can use your contactless payment card on any mode of transport in the cities, such as metro, tram or bus.
📚 Read more: Getting Around Istanbul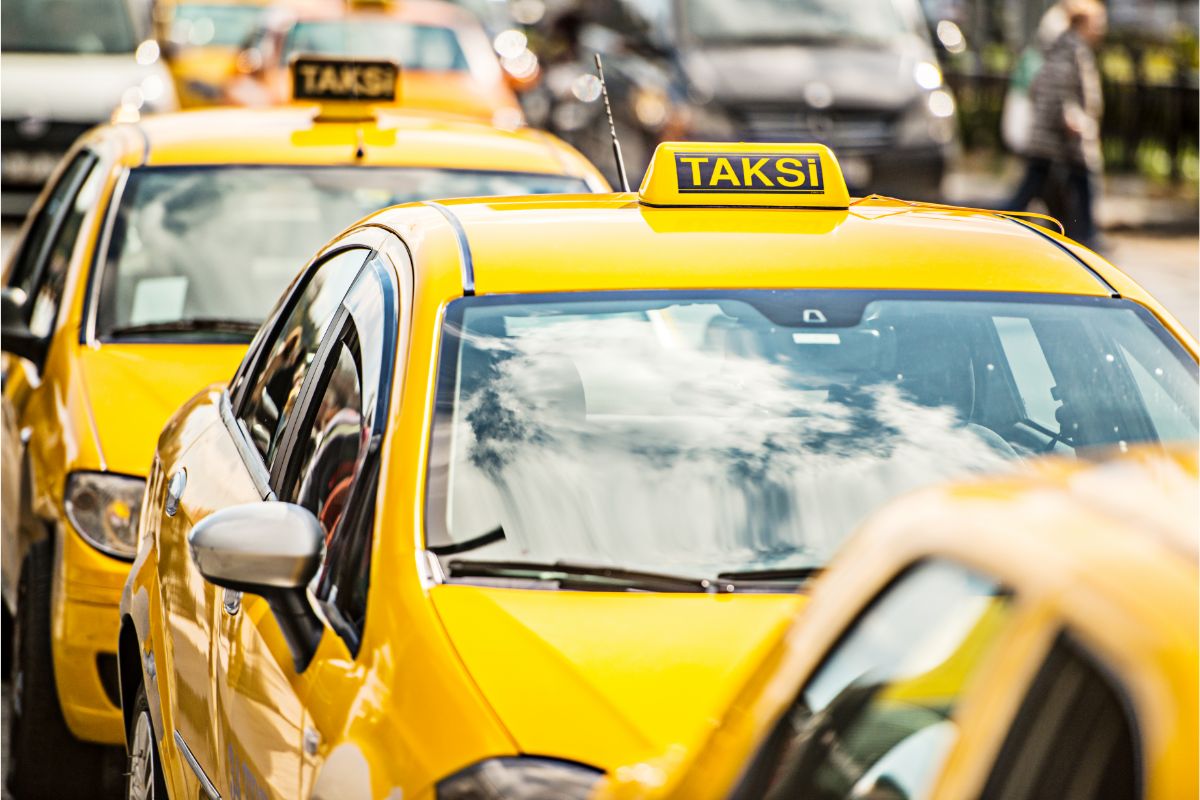 Taxis are the most expensive way to get around, largely because drivers try to scam you. Very rarely do taxi drivers use the meters, and if they do, they like to take the "scenic route" which ends up costing you more. We recommend you take Uber in Istanbul and major cities, so you know how much you are paying up front.
The average cost of a taxi fare in Turkey is between $0.50-$0.70 USD per 1km
You can also save money on the metro in Istanbul or Ankara by getting a monthly pass, if you plan on staying a while.
📚 Read More: Can You Use The Euro In Turkey? Currency In Turkey Guide
---
Average Cost of Accommodation in Turkey
Your accommodation is really where you can save your pennies. You can find a bed in a hostel dormitory for around $12 USD per night, or you can splash out on a five-star resort on a beach in Antalya for $300 per night. It's really down to you.
You can find hotels for as high as $500 per night, but those are really for romantic getaways and honeymoons. For the average traveler, or family, you wouldn't expect to pay this much (unless that's what you're looking for!).
To break it down for you, here are the average costs of accommodation:
Hostels – $8-$20 per night for a dorm bed, $34-$75 per night for a private room
Hotels – $45-$80 for a 3-star hotel, $65-$120 for a 4-star hotel, $150-$250 for a five-star hotel.
Vacation rentals – $70 per night for a room, $120 for entire apartments, $250 for houses
Are you reading this from Turkey? Maybe you need a VPN!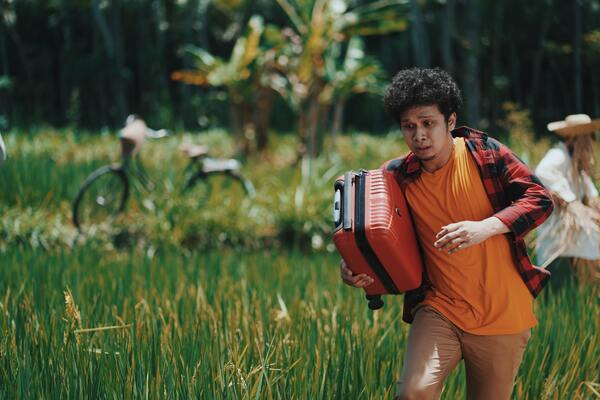 If you're already in Turkey, there is one thing you absolutely NEED: a reliable VPN.
You may find some of your favorite websites and apps are blocked in Turkey, such as popular hotel site booking.com
A VPN allows you to get passed this ruling and enables you to browse these sites without any hassle, and it's completely legal.
We use Express VPN when we're in Turkey and we'd recommend it to anyone. It's affordable, quick, and easy to use.
---
Cost of Food in Turkey
The best thing about Turkey is the food. The cost of food and drink prices in Turkey is very low, and you can honestly spend less to nothing on food, which makes it one of the most affordable places to visit for foodies.
The average cost of a meal in Turkey is anywhere from $4-$8 per dish. You might pay up to $20 if you include drinks and desserts, which you definitely should because Turkish desserts are just yum!
Street food in Istanbul tends to be really cheap too, but do be careful when trying the stuffed mussels as the price racks up. Generally, stuffed mussels are charged per mussel. When we visited, the going rate worked out to about $0.35 USD per mussel. Bargain!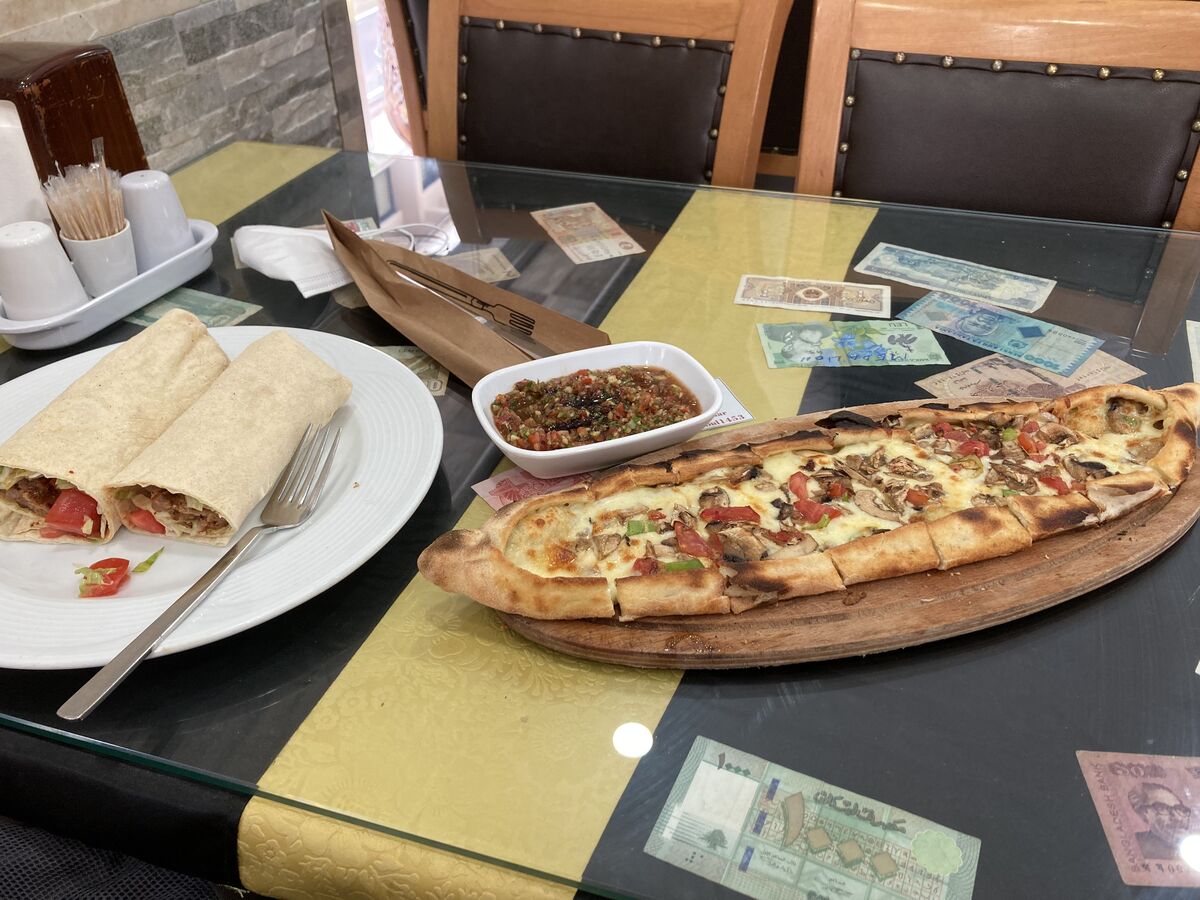 We ended up eating 20 mussels, which came to around $7 USD. It's not a lot but if you go crazy, it adds up. We also bought an ice cream later in the day for about $0.40 USD and then went to town in the Grand Bazaar.
Top tip: If you're in Istanbul and you've spent a large amount of your daily budget already, head to Eminou and get a fish sandwich for your dinner at just 15 Lira ($0.56 USD). Here's an image of the shop below so you know what to look for.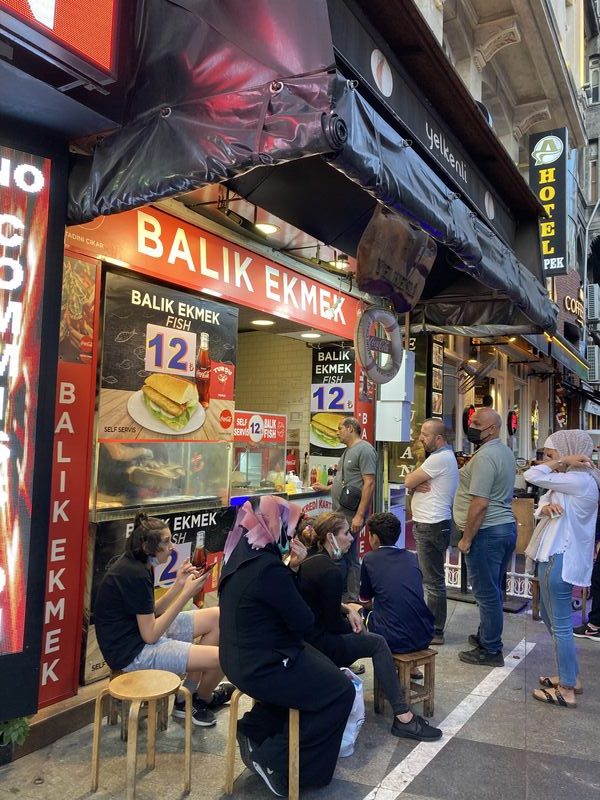 Don't forget you have three meals a day on average, so remember this when you're putting your daily food budget together.
Cost of Groceries in Turkey
You can save a lot of money by shopping at the supermarket and cooking for yourself.
To help you estimate the cost of your groceries, here is the average cost of some staple food items such as fruit, vegetables and meat:
| Item | Average cost ($USD) |
| --- | --- |
| Water Bottles (0.33 liter) | $0.37 |
| Tomatoes | $0.30 per Ib |
| Eggs | $1.56 per dozen |
| Chicken Fillets | $2.65 per Ib |
| Onions | $0.20 per Ib |
| Cheese | $3.50 per Ib |
| Rice | $0.68 per lb |
| Milk | $3.20 per gallon |
| Bread | $0.64 per lb |
---
Cost of Alcohol in Turkey
Alcohol in Turkey is really cheap and you can also find some exceptional Turkish wines from the Cappadocia region. We bought a bottle of wine in Cappadocia for about $2 and were able to bring it into a restaurant with us to have with our meal.
You should note that alcohol is rarely served in restaurants since it is a Muslim country. However, most places don't mind you bringing your own but do ask before you whip out a bottle and start chugging.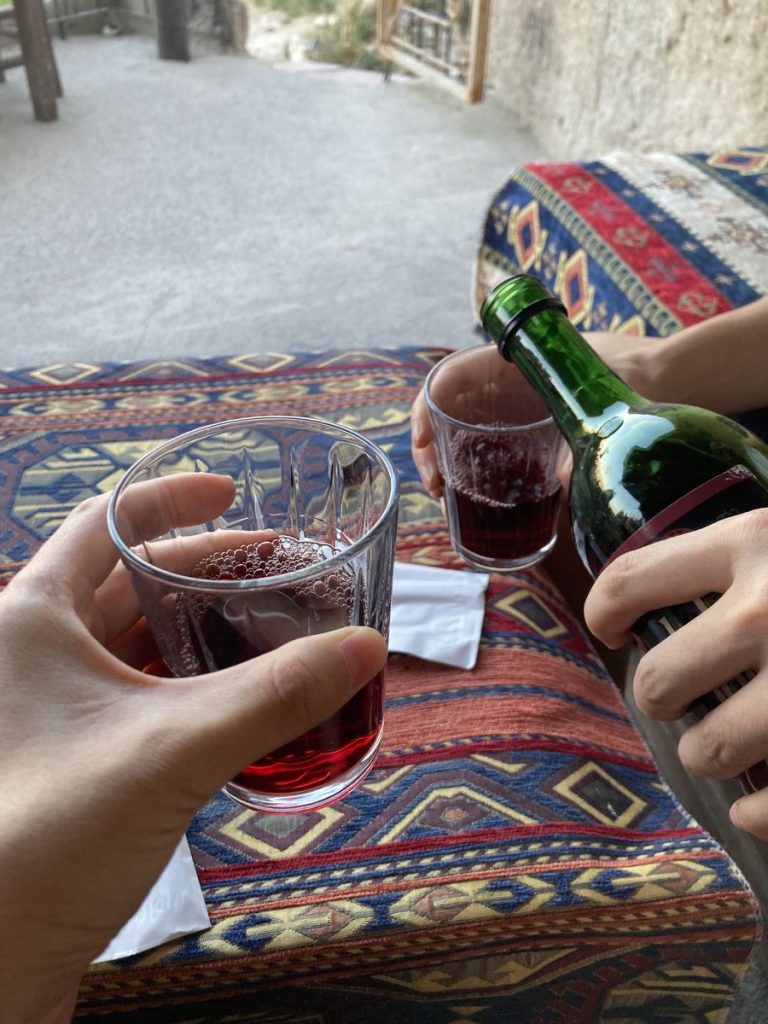 In places like Antalya or Bodrum, you'll find many bars serving alcohol. These cities have a nightlife culture, so you'll find plenty of bars and clubs here serving a variety of drinks, from local beers, to international beers, and spirits.
The average price of alcohol is as follows:
Wine by the bottle – $2 – $7.00
Wine by the glass – $0.50 – $0.85
Beer – $1.48 for a local beer, $2.50 for an international beer
Cocktails – $7.50
---
Cost of Attractions in Turkey
After transport, your second biggest expense is your attractions. Depending on where you are in Turkey, you can expect to pay quite a bit for tours.
However, you can save money by either visiting attractions yourself and planning your own transport. Or taking tours from nearby towns and cities, rather than from Istanbul.
For example, a trip to Ephesus from Izmir is going to cost you $200 from Istanbul if you include flights, transport, and the entrance ticket. But from Izmir, it will come to $35 if you include the transport and entrance fee.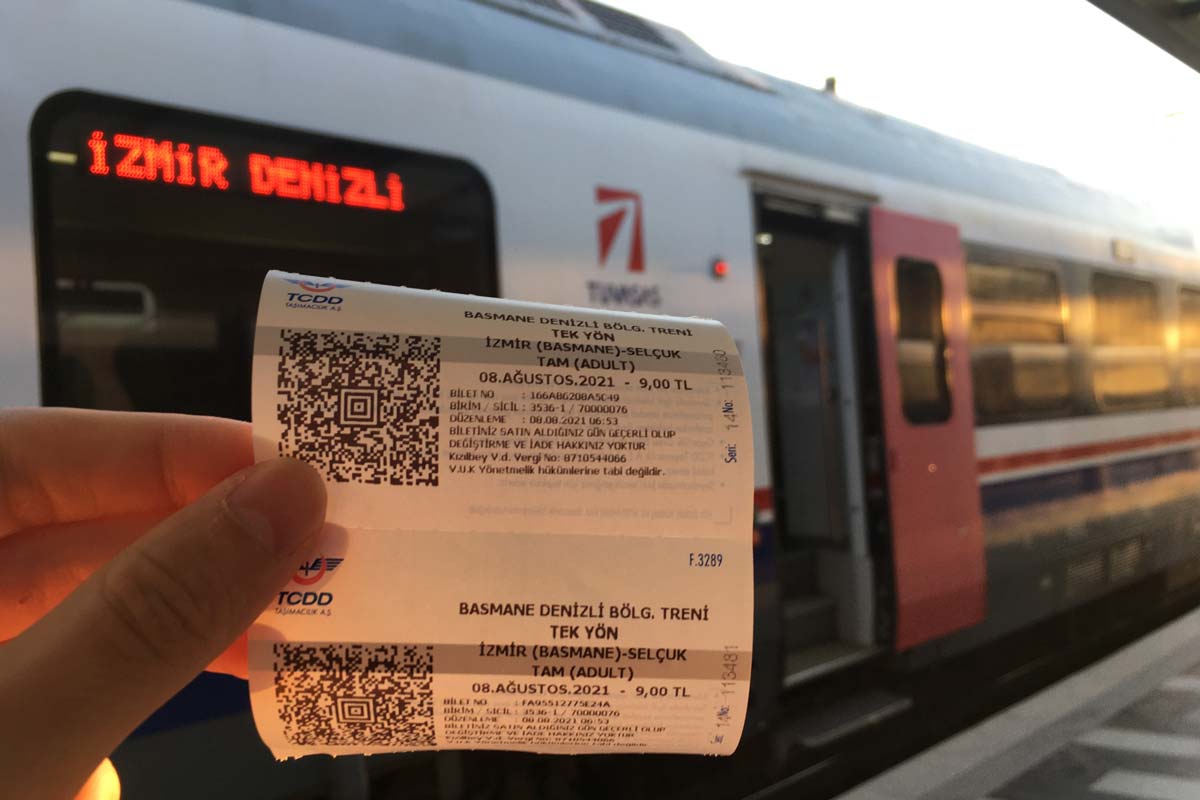 Booking tours save you time in planning, but it tends to cost a bit more than doing it yourself. It can sometimes cost a bit more to book online than by purchasing from a local tour company, but it can also sometimes save you money – it really depends on the tour and the time of year.
We do recommend shopping around before booking attractions to see the most economical way of seeing things.
Fortunately, many things to do in Istanbul are free, such as mosques, parks, and visiting landmarks such as The Grand Bazaar. In Cappadocia, it's free to hike any of the valleys.
You can also save money on attractions by getting an Istanbul Tourist Pass, which is a tourist pass that gives you discounts at 75 attractions in the city.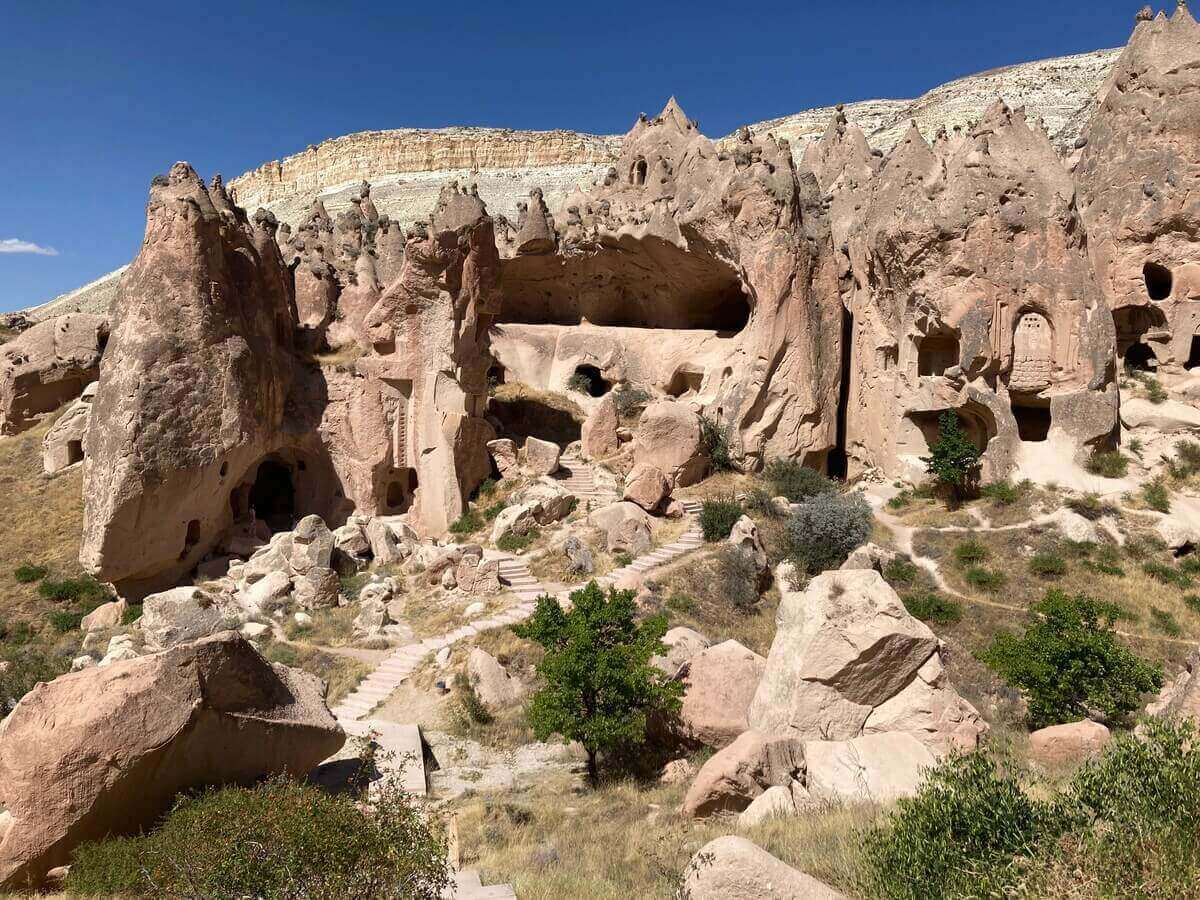 You can always find good deals for hot air balloon rides in Cappadocia when booking online.
The average cost of attractions is anywhere from $20 – $80 per attraction, depending on whether you need to organize transport and the type of attraction.
📚Read more: The best tours in Cappadocia
---
Cost of Souvenirs in Turkey
Everyone wants to get a souvenir on vacation and Turkey is the best place to do some shopping.
When shopping for luxury brands, you will find the same prices in high street brands like Zara and H&M as you would anywhere else in the world. You will find cheaper deals by shopping in local stores.
You can take home all manner of souvenirs and gifts for friends and families, and with places like the Grand Bazaar being full of thousands of stalls, you can get really carried away when shopping.
To help you work out how much to expect, here's the average cost of souvenirs in Turkey:
Turkish delight – $6 – $30, depending on whether you get one or a box
Turkish towel or textiles – $9-$18
Turkish tea / coffee – $12-$18
Turkish lamp – $48
Turkish rug – $50 – $100 USD (the cheaper ones tend to be factory-made knockoffs)
Nazar Amulet (Evil Eye) – $14
Herbs and spices – $1-$2
Ceramics – $12-$18
Baklava – $18 – $36
If you're not sure what souvenirs to take home with you, here's a complete guide to souvenirs in Turkey.
Note: you can sometimes haggle at markets such as the Grand Bazaar and Spice Bazaar, but prices in stores are fixed price.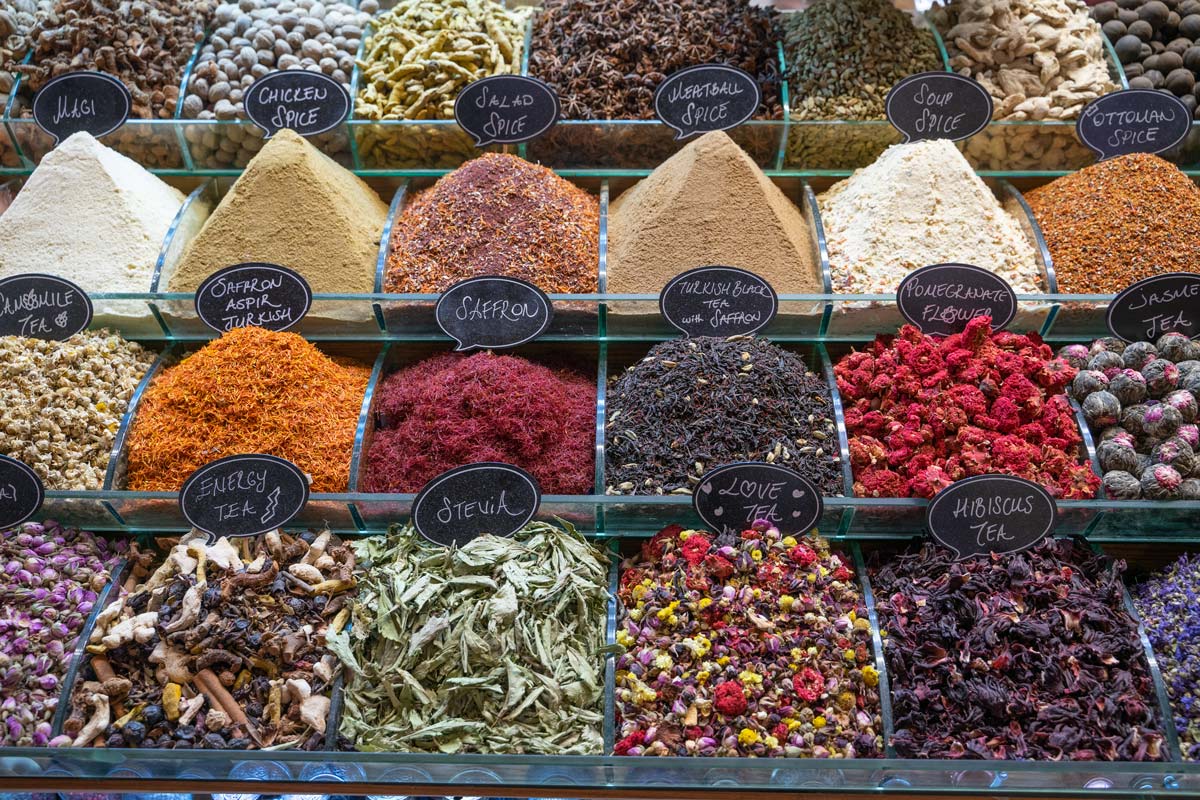 ---
Additional Costs to Consider
We have pretty much covered all the usual expenses for a vacation to Turkey, but there are some additional costs you should allow for in your budget.
We recommend you add 10% to your daily budget to cover any unforeseen purchases, such as medicine from a pharmacy or snacks.
Here are some other expenses to consider:
Water. Bottles of water tend to cost around $0.26 – $0.48. However, tap water is drinkable in many cities. You can also take a water filtration bottle such as Grayl or LifeStraw and save money on buying water.
Sun loungers or umbrellas at the beach. If you're planning on visiting one of the many beaches in Bodrum, Antalya or Fethiye, then you may have to pay for a sun lounger. Some places allow you to use a lounger outside a restaurant if you buy a drink or snack. Otherwise, the going rate is about $5.38 (100 Lira).
ATM fees. Depending on your bank account, you may get charged ATM fees. Most ATMs don't charge a fee, but your bank might. Check with your bank before visiting.
Tipping. It's customary to leave a 10% tip in Turkey. Places that usually require tipping is restaurants and cafes, and sometimes hotel chambermaids. You don't have to tip your taxi driver, but they usually appreciate you rounding up the fare.
Resort tax. Some five-star hotels and resorts will charge an extra 1% of the total stay price as tax per night. This isn't a huge amount but it can add up.
Visa. Some countries require a visa for Turkey. Americans can no longer get a Visa on arrival and must pay $85.00 for the Visa plus there may also be a service fee.
SIM card. You're going to want a SIM card so you're always connected to the internet, right? The cost of a SIM card can vary depending on the data plan you go for. Here's a comprehensive guide to sim cards in Turkey to help you decide.
Travel insurance. There are many different providers who offer travel insurance, so it's a good idea to shop around. You should make sure your travel insurance covers hospital bills and medical emergencies. Obviously, we don't want any accidents, but it's always a good idea to be prepared. You should also make sure it has trip cancellation cover, especially if you plan to visit Bodrum or Fethiye in the summer. This is because wildfires can sometimes happen and disrupt your travel plans.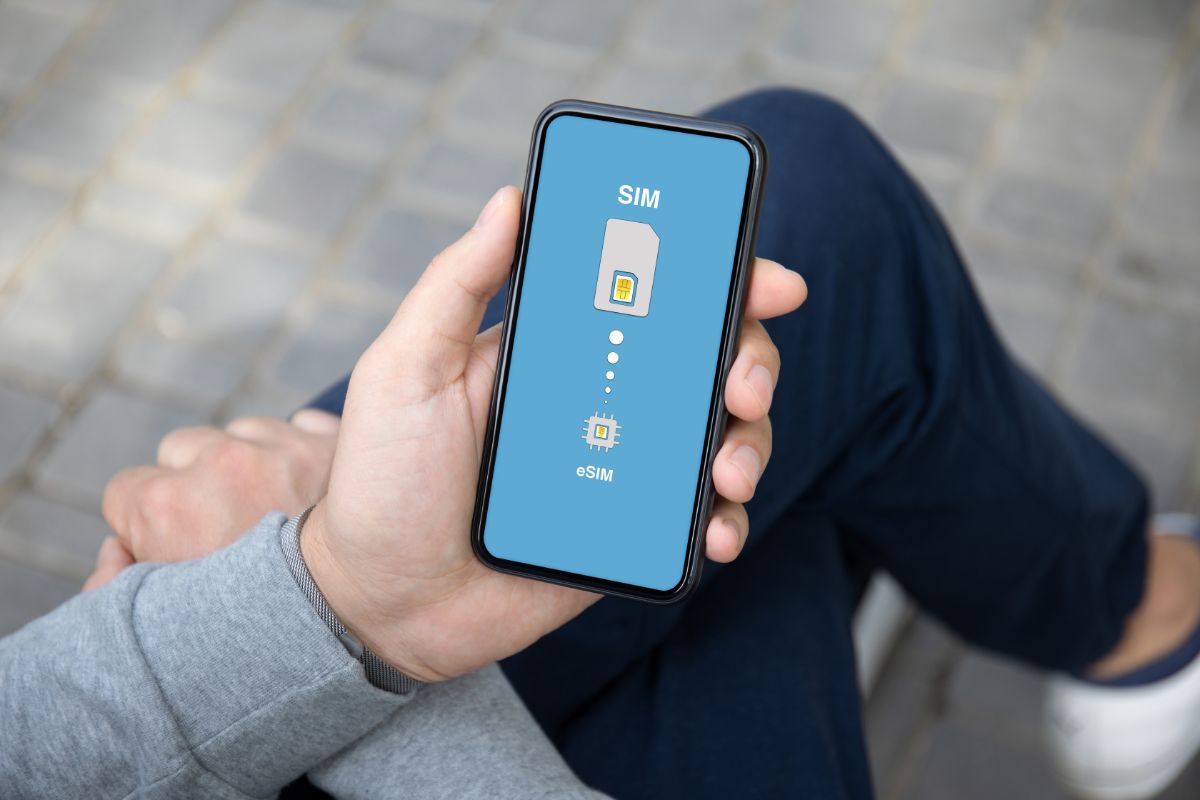 ---
Cost of Living in Turkey
Are you considering moving to Turkey? Or are you planning to stay for a month or more working as a digital nomad? Then you might be wondering whether the monthly cost of Turkey is expensive to live in.
The short answer is no. The typical cost of an apartment is around $530 USD per month. On top of this, you have utilities such as internet costs which are around $11 USD per month.
On average, a family of four spends $70 a month on utilities, which covers electricity, water, and garbage disposal.
You will also need to think about healthcare. The average cost of a dental visit, which includes consultations, cleaning, x-rays, is about $30 USD per visit. If you need fillings, it will be $60-$100, or $150 for a root canal per tooth.
To see a doctor, a standard appointment without the need of x-rays or special examinations, is around $7-$10 USD.
You can also find affordable coworking spaces in Istanbul that are as little as 100 TL per hour, if you do need to hire a hot desk space or private office.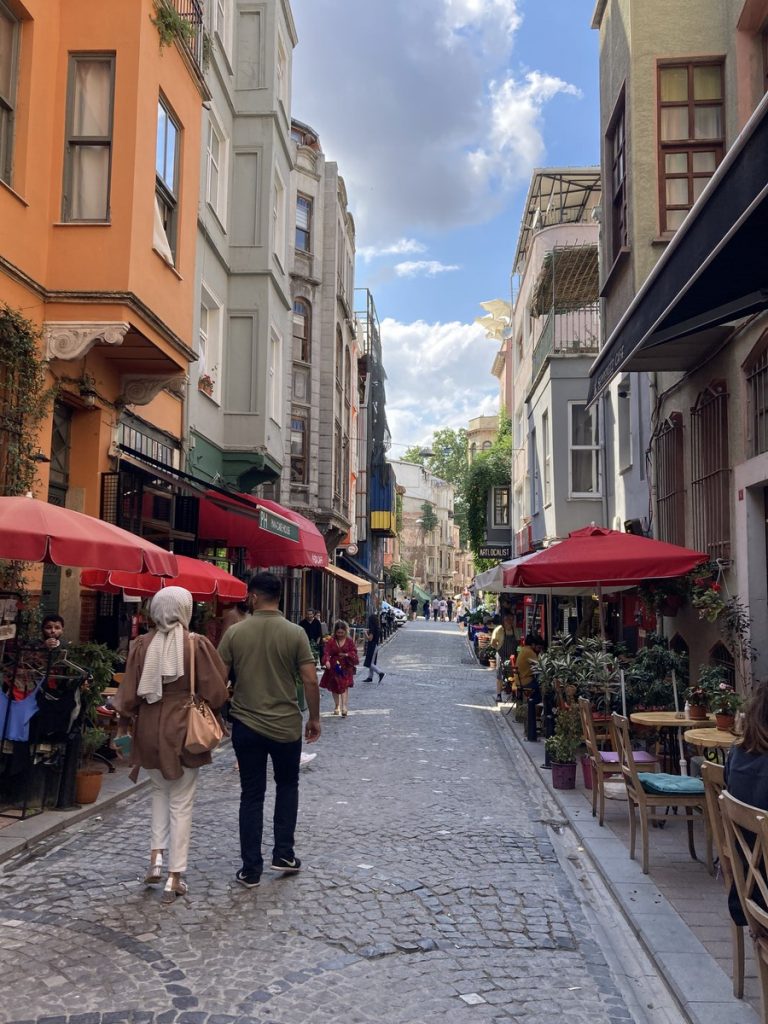 After that, the cost of living comes to around $350 per month on average, if you cook meals yourself and take public transport.
It's estimated that the cost of living in Turkey is about 61.25% less than in the United States, with rent coming at a whopping 86.29% lower than in U.S.
---
FAQs About Turkey Prices & Travel Costs
Here's what people usually ask us about whether Turkey is expensive:
Is Turkey expensive for a holiday?
No, Turkey is cheap, especially if you opt for budget accommodation and dine at local restaurants. However, it's not as cheap as it used to be because of the declining currency rate.
How much is a Coke in Turkey?
Coca Cola costs on average around $0.50 USD.
How much is a beer in Turkey?
In restaurants and bars, a beer will cost between $1.88-$2.42 USD depending on whether you get local or international.
Is food and drink cheap in Turkey?
Yes, food is very cheap in Turkey. You can get a kebab, gyro, or pide for as little as $4 USD.
When is the cheapest time to visit Turkey?
Those wanting to know when Turkey is cheap to visit, will need to plan their trip for the winter months, from November until February. You will find the highest prices in Turkey in the summer, from June until September.
---
Final Verdict: How much does it cost to travel to Turkey?
So there you have it, this is how much it will cost you to travel to Turkey. As you can see, there is a lot to consider when planning your trip and working out your budget. I bet you thought it was easy, right?
It's really easy to get carried away and go over budget, especially with booking tours and shopping for souvenirs.
To make matters easier, here's how much we would recommend for a daily budget in Turkey:
Solo travelers or backpackers – $60 per day
Couples – $100 per day
Families – $180 per day
As we mentioned earlier, it's a good idea to add 10% to cover emergencies – though we hope you don't need to use it!
Our final tip for those budget travelers out there is that you can save considerably by traveling off the beaten path and not sticking to the usual tourist trails.
The average salary for a Turkish local is about $600 USD per month, so you can't expect them to pay the same prices as tourists, right?
So, how expensive is Turkey really? By now you have a rough idea of what it will cost you to travel in Turkey and what kind of budget you need. If you have any more questions or would like to add something to this guide to help a fellow traveler out, reach out to us in the comments!
Note: The prices listed in this article are estimates based on the prices we found on our visit in December 2023 and are subject to change. This is because the Turkish Lira is always fluctuating and prices tend to be higher in the summer – so to ere on the side of caution. We have used summer prices in this guide. Who knows, it may even be cheaper when you visit!