If you are looking for things to do in Istanbul at night, you have come to the right place. This historic city comes to life after sunset, and visitors looking to enjoy some things to do after dark won't be disappointed.
The vibrant Istanbul nightlife is home to bars and nightclubs where visitors can have an unforgettable experience dancing and drinking. If you are looking for something quieter, check out the night views in Istanbul. There are plenty of vistas that offer a unique and charming perspective of the city – from the Bosphorus Bridge to mosques.
Lastly, visitors that like to dive deeper into the culture of Turkey can explore the culinary arts through a food night tour.
There are plenty of activities at night to keep you entertained, and that is why we have written this guide so you can have a magical evening in Istanbul!
Planning a trip to Istanbul last-minute?
Make sure you book your tours, places to stay, and airport transfers ahead of time to ensure availability!
Here is our recommended airport transfer in Istanbul:
Here are our recommended tours in Istanbul:
Here are our recommended places to stay in Istanbul:
Magnuara Palace Hotel (Gorgeous hotel in the historic centre!)
Cheers Hostel (Budget hostel near the Blue Mosque!)
---
Best Things to Do in Istanbul At Night
In no particular order, here are the best nighttime activities in Istanbul, from night cruises to relaxing evening entertainment!
1. Go On A Bosphorus Dinner Cruise
Perhaps the most popular thing to do at night in Istanbul is going on an evening cruise on the Bosphorus. The Bosphorus Strait is one of the world's most beautiful waterways and offers an incredible view of both European and Asian Istanbul from afar.
The evening cruise takes you to both the European side and Asian side of Istanbul, showcasing some of the most important landmarks of the city. Guests can see some of the most spectacular summer houses and palaces of Istanbul, the places where Ottoman sultans used for summer vacation.
Some Bosphorus dinner cruise even includes evening entertainment such as belly dancing and music performance. Along with the complimentary Turkish meze and local drinks such as Turkish tea, it is a comprehensive experience that tourists cannot miss. They typically last around 2 to 4 hours.
When we did the evening cruise, just seeing the buildings and lights flicker at night was enough to justify the cost. Besides, sitting out on the deck of the yacht after a long day of exploring Istanbul and feeling the wind breeze on our faces was incredible.
2. Enjoy A Turkish Bath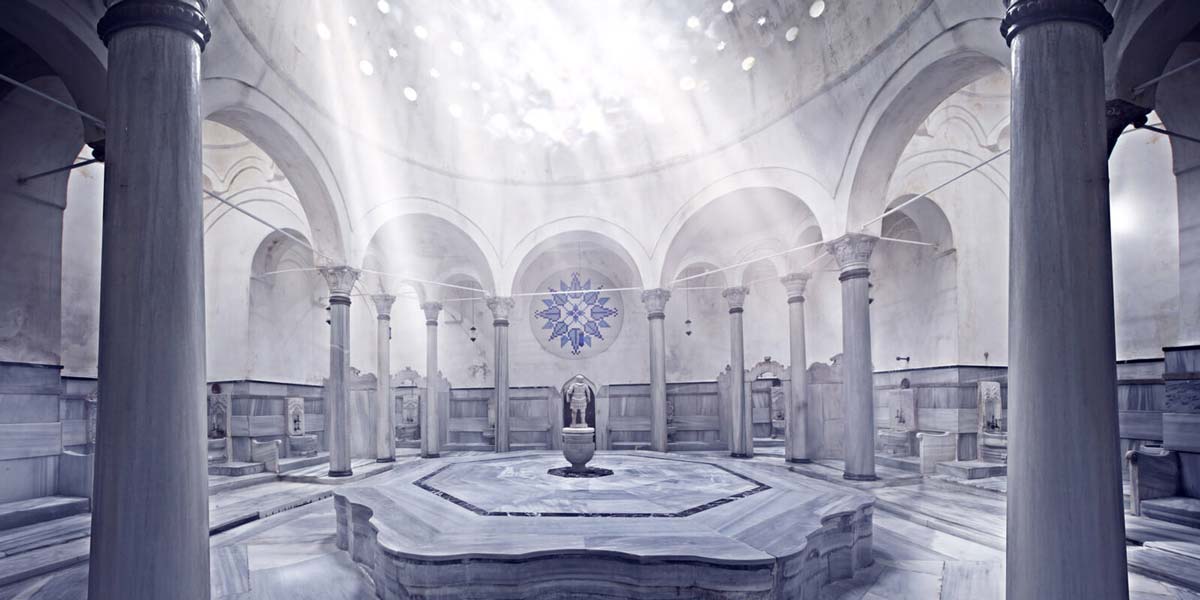 If you want something relaxing to do in Istanbul at night, then look no further than a traditional Turkish Bath (Hammam). Turkish Baths are a great way to unwind after a long day of sightseeing. The baths have been around since at least the 8th century and were originally built as places for people to get clean and relax.
You can find Turkish bath establishments all over Istanbul, but the most popular ones are likely to be in Sultanahmet or Beyoğlu. Our favorite one is Çemberlitaş Hamamı, the oldest Turkish Bath in Istanbul! It is conveniently situated next to the Grand Bazaar.
If you're interested in trying a Turkish bath, it is important to know that there's no need to be embarrassed. Most of the time, people come in simply for a relaxing soak and some much-needed skin care. It's also perfectly okay to doze off in the bath – there's no need to be anxious about your appearance!
It's important to note that Istanbul's Turkish Baths are separated between men and women, so if you're travelling as a couple, you'll need to look for those with couples suites.
Read more: A guide to Turkish Baths for women
3. Watch The Whirling Dervish Show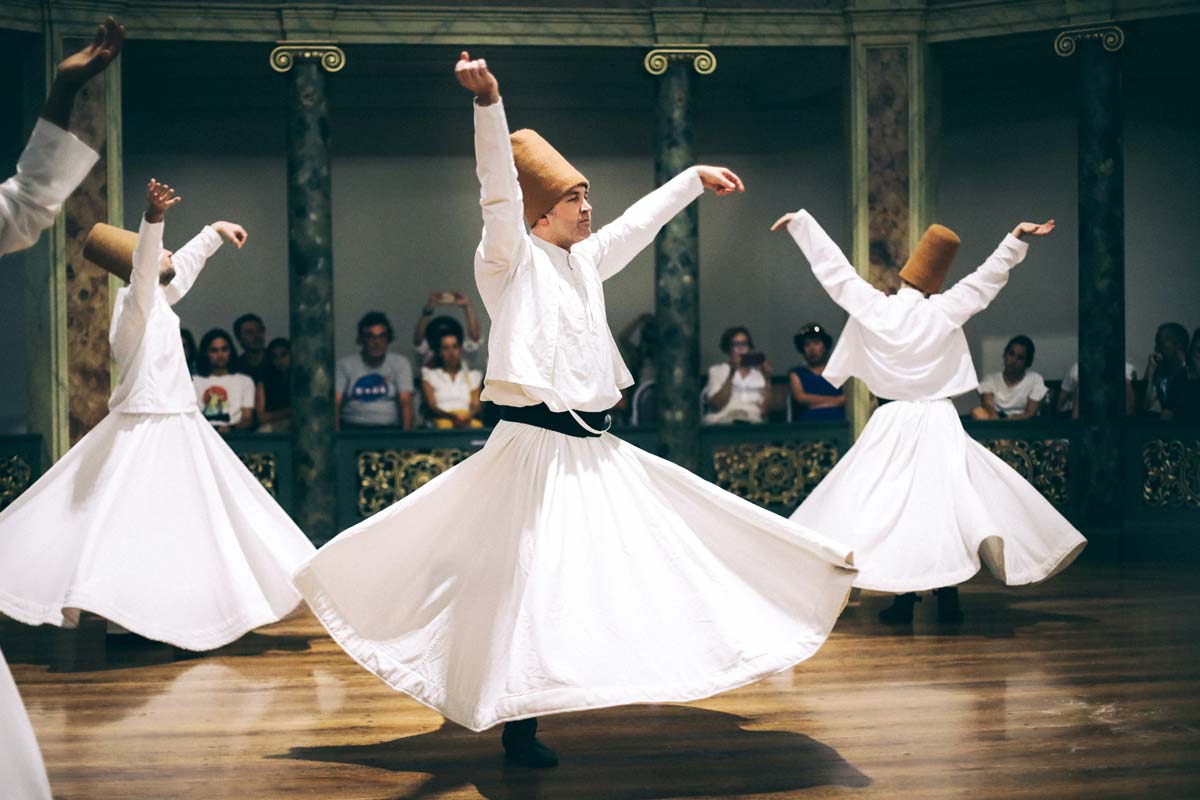 Perhaps there is nothing more iconic to Turkish culture than the Whirling Dervishes ceremony. Invented by Jalaluddin Rumi, the famous Sufi Muslim mystic and poet in the 13th century, the Whirling Dervish ceremony is a form of meditation to connect with God. Rumi believed that there were many ways you could reach God, so why not do it in the form of dance and music?
Even if you're not interested in the spiritual part of the Whirling Dervish show, the performance is definitely worth seeing – it's one of the most captivating things to do in Istanbul at night.
There are many places to see this unique ritual, but we recommend the Hocapaşa Culture Center, a 550-year-old restored Turkish Bath.
4. Take a Night Food Tour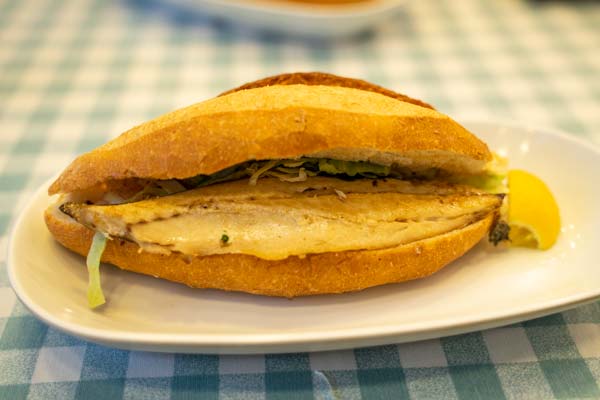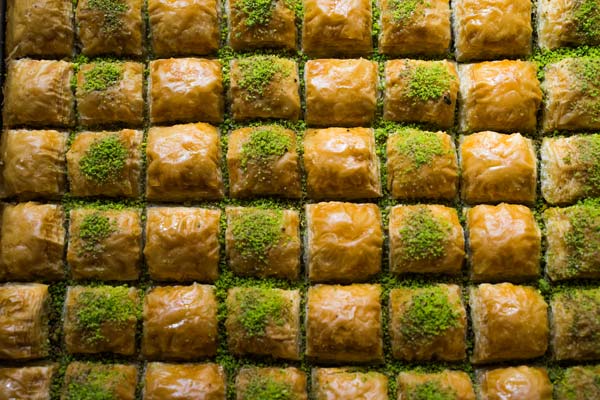 Without a doubt, one of the most famous things about Turkey is its incredible cuisine. And there is no better way to experience the local dishes and foods than with a local tour guide. On the food tour, you can learn about the history of Turkish cuisine, and the ingredients that are used to make the dishes so flavorful and unique.
Typically, we don't like doing food tours because we just walk around and eat the street food we see. But Turkish food is so unique that almost every dish is unheard of outside of Turkey (besides kebab of course). So it can be a little overwhelming navigating the Istanbul food scene and finding the best dishes possible.
And that is why we think that a night food tour is the best way to get a deep understanding of Turkish food. You can find out about the history, customs, and flavors of the local cuisine. Plus, there is no better way to enjoy a night out in Istanbul than with a group of fellow food lovers.
5. Explore Istiklal Street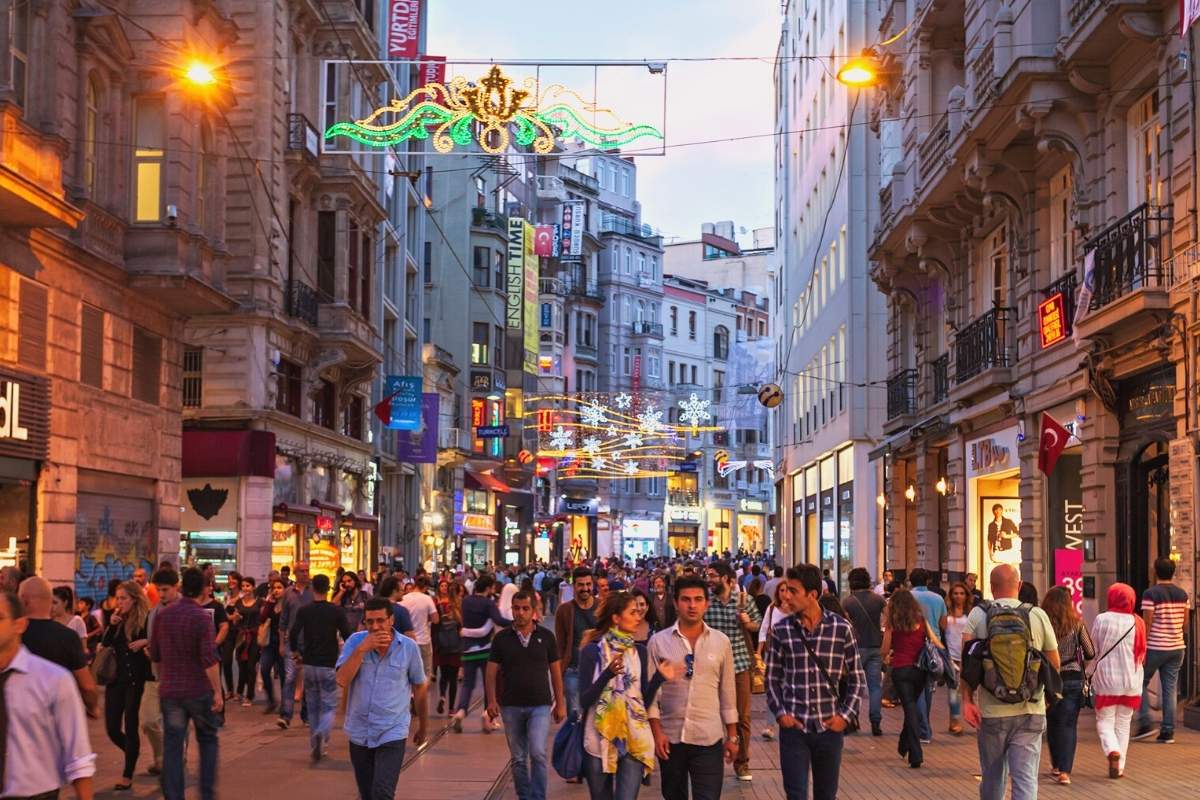 If there is a place to visit in Istanbul at night, it is Istiklal Street. Also known as the Grand Avenue of Pera, Istiklal Street is a 1.4-kilometer-long pedestrian street and one of Istanbul's most famous streets. In the daytime, this area is bustling with people enjoying the shops and restaurants. To be honest, we have never seen that many people on one street ever.
At night, Istiklal Street is popular for its nightlife. There are plenty of eateries, bars, and nightclubs within close proximity to the street. Located near Taksim, Istiklal Street is great for people who want to explore different types of nightlife without having to go too far from the city center.
Plus, this nightlife area in Istanbul is affordable, so even travelers on a budget can enjoy it!
6. Climb Up Galata Tower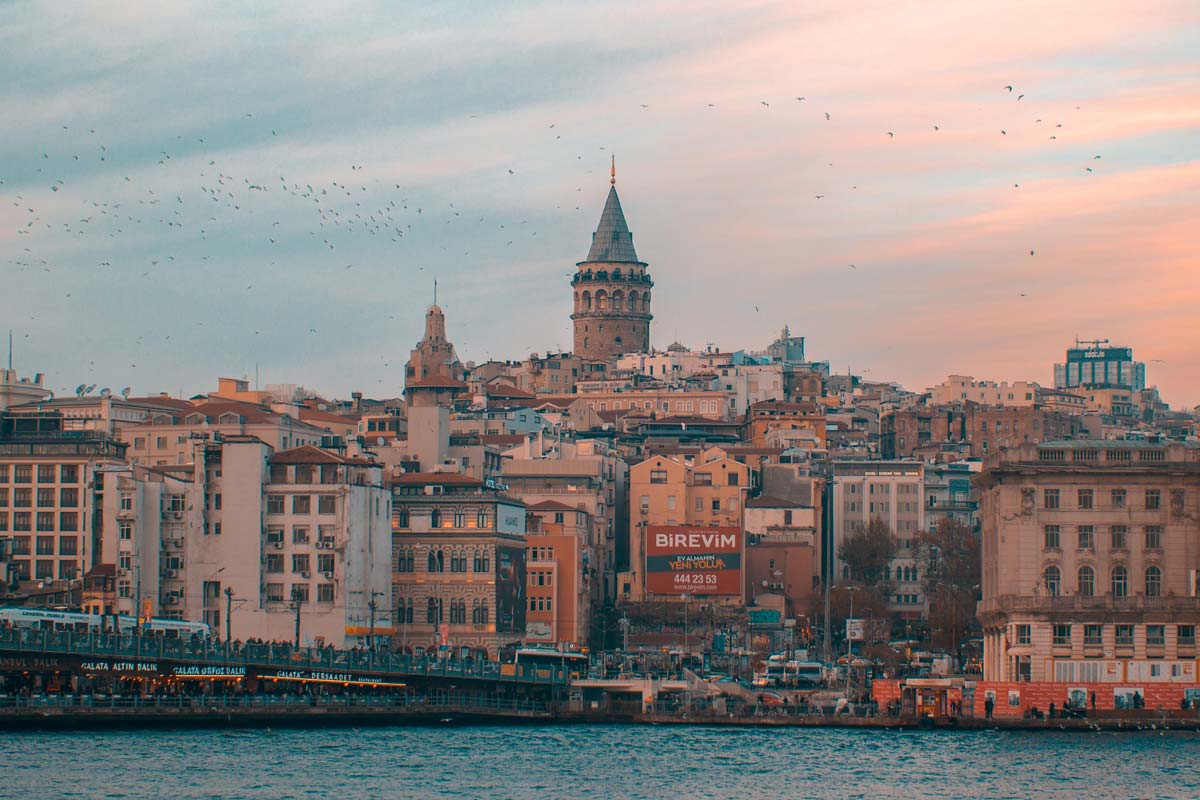 One of the most historical sites in Istanbul is Galata Tower. Completed in 1348, Galata Tower was once the tallest building in all of Constantinople (Istanbul's name under the Byzantine rule).
If you're looking to experience some of the city's history and architecture while enjoying excellent views, climbing up Galata Tower is a great option. There is a lift that takes you up to the seventh floor of the tower, but you'll need to climb up two more flights of stairs to get to the observation platform.
During the day, the lift often has a long queue so visitors sometimes have to wait an hour. During the night, Galata Tower is much quieter so guests can have a more enjoyable time. From the Galata Tower, you can see both continents of Asia, the Bosphorus Strait, and the Golden Horn.
It is certainly one of the best places to visit in Istanbul at night.
7. Go Late Night Shopping
Istanbullus love to go shopping. They love it so much that there is an Istanbul Shopping Festival every year and the event lasts 40 days and 40 nights.! That is why one of the non-touristy things to do in Istanbul at night is to go late-night shopping! Unfortunately, visitors won't be able to go shopping in night markets or any night bazaars as they usually close around sunset.
But there are plenty of malls and shopping centers open until 10 PM in the city. Some of the most famous ones are the Mall of Istanbul and Istanbul Cevahir. Those two malls are beautiful and so massive that you can spend probably days and not finish browsing through every shop.
Read More: Is The Tap Water Safe To Drink In Istanbul?
8. Visit Pera Museum
If you are looking for relaxing activities at night in Istanbul, check out Pera Museum. As one of the few museums in Istanbul that opens at night, Pera Museum is a fascinating museum that tells the story of Istanbul through its art.
There are a total of 5 floors, with the top three floors used for temporary exhibitions. The bottom 2 floors feature permanent exhibitions, many of which focus on 18th to 19th century Orientalist paintings.
One of the most famous paintings inside Pera Museum is "The Tortoise Trainer" by Osman Hamdi Bey. The painting depicts an anachronistic historical character training tortoises. This painting is often referred to as the Mona Lisa of Turkey and its original work is one of the most exclusive and expensive art!
Opening Hours: Tuesday – Saturday 10 AM to 7 PM, Friday 10 AM to 10 PM, Sunday 12 PM to 6 PM, Closed Mondays
Entrance Fee: 50 TL
Read more: How many days in Istanbul should you spend?
---
Explore The Electrifying Nightlife in Istanbul
If partying is more your scene, then you'll want to make the most of Istanbuls' thriving nightlife scene!
1. Smoke Hookah In A Hookah Lounge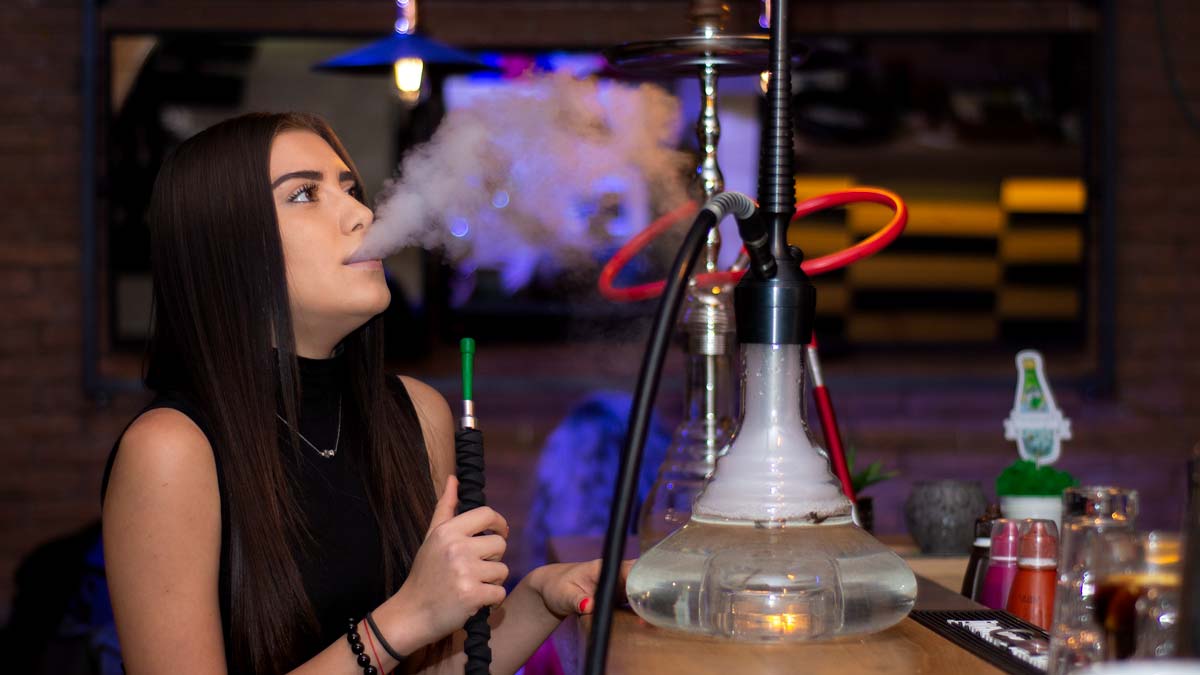 If you are looking to smell like a true Istanbulite, then you should try smoking hookah in an A Hookah Lounge. Known as Nargile in Turkish, hookah lounges are the perfect place for people to socialize, hang out, chat and just have a relaxing time.
Hookah lounges are usually cozier than traditional nightlife settings such as bars and clubs, so it is perfect for an easy night out.
If you don't like shisha, you can still hang out and enjoy the company. It is usually good fun at a hookah lounge.
Our favorite ones are Lotiz Lounge & Hookah and ikram Hookah & Lounge.
2. Try Raki, The National Drink of Turkey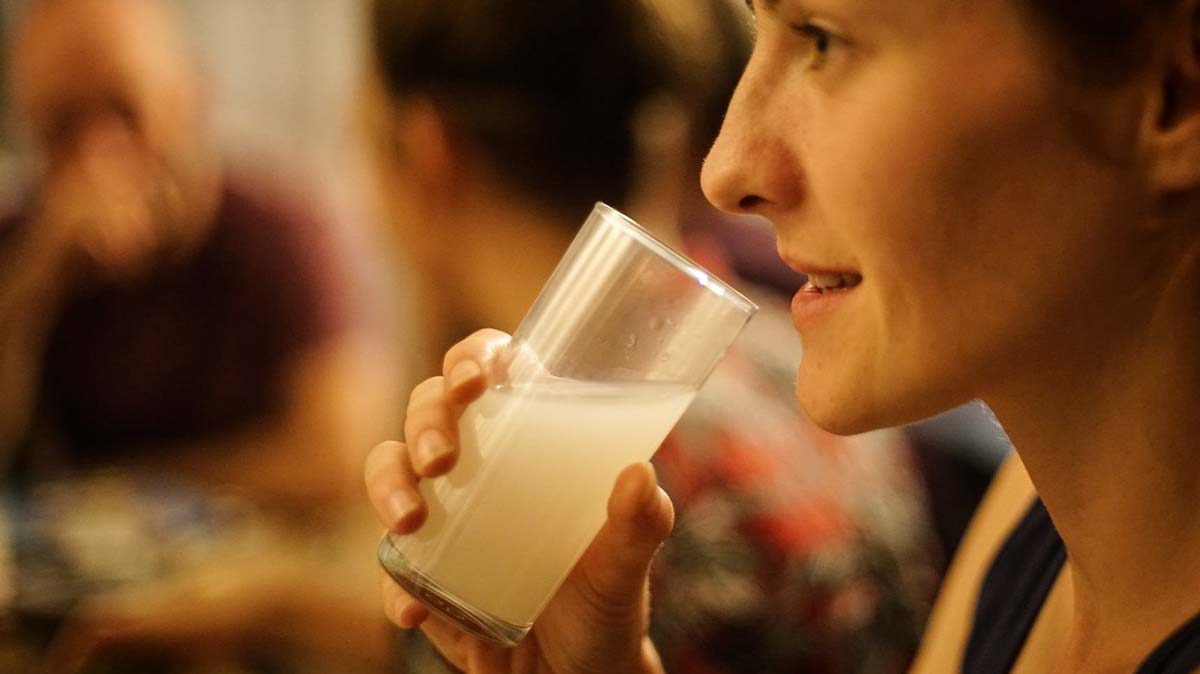 No Istanbul visit is complete without trying Raki, the national drink of Turkey. An alcoholic drink made of twice-distilled grapes and anise, Raki is super strong. That is why one of the most popular ways to drink it is to first dilute it with chilled water or ice cubes. This gives Raki the iconic milky-white color that you can see, but the liquor itself is transparent.
When we drank Raki the first time, we had it without it being diluted. I can tell you that the inside of my mouth was numb for a whole minute after drinking it… So dilute it!
Raki is typically served with meze, a selection of Turkish appetizers. Getting together and drinking raki is a very common social event in Turkey, where friends and family gather to drink and chat.
3. Go Party At One Of The Best Nightclubs in Istanbul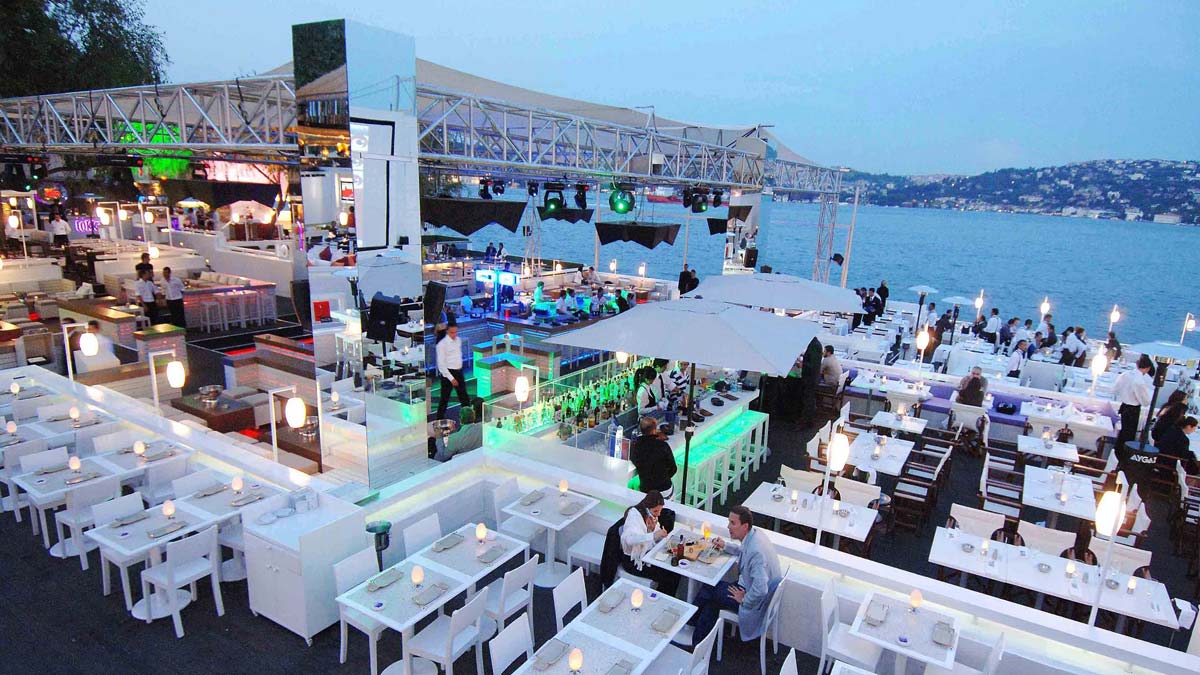 Nightlife and nightclubs go hand-to-hand, and it is no exception in Istanbul. To fully experience how incredible the nightlife is in Istanbul, you must go to a nightclub.
There are so many great nightclubs in Istanbul that it can be hard to decide which one to go to. For travelers that want to experience something posh, head over to one of the clubs in Ortakoy in the Besiktas district. This is home to some of the most luxurious clubs in Istanbul such as Sortie and Ruby.
For a more hipster experience, the areas of Karakoy and Taksim are filled with more budget-friendly nightclubs. This is usually where most tourists go because is it situated near the historic centre of the city.
Lastly, there is Kadife Street in Kadikoy on the Asian side. This area is more local-friendly and it is less common to see tourists!
4. Go On A Pub Crawl
Though a very touristy thing to do, a pub crawl is a great way to meet other travelers and explore some of the best nightlife scenes in Istanbul, especially if you are a solo traveler.
The Istanbul pub crawl is designed with ice breakers and activities where you can meet other participants in a stress-free setting with lots of drinks! Best of all, the tour leaders know how to make sure you have a good time.
The local guides will take you on some of the coolest nightlife hubs, rooftop parties, and trendy bars only known to local Istanbullus. It is surely a great way to explore the nightlife of the city and make some new friends and memories along the way!
5. Bar Hopping In Kadikoy
If you are looking to get off the beaten path and experience a more local side of Istanbul's nightlife, then go bar hopping in Kadikoy. The neighborhood of Kadikoy is a laid-back residential area in the Asian side of Istanbul, and there are a few streets that have so many amazing bars.
Visitors can go from one bar to another, trying out the different types of local cocktails and snacks. And since it isn't as touristy, you are going to be able to enjoy a more authentic nightlife experience here.
Whether you are looking for a bustling bar with live music or a more intimate spot to enjoy a drink, Kadikoy has it all. And for our pro tip, make sure you come back early in the morning the next day for some of the best breakfast in Istanbul to nurse your hangover.
Related Reading: What To Do on The Asian Side of Istanbul
---
Admire Istanbul's Night View
If you're looking for incredible views, the view of Istanbul at night is one to remember. Here are the best places to see the best views of Istanbul at night.
1. Rooftop Bars
Funny enough, some of the best night views of Istanbul aren't from historic vantage points, but from modern rooftop bars. In fact, a beautiful view has become such an essential of rooftop bars in Istanbul, that it is almost impossible to find one without a nice view.
Our favorite ones are the ones in Ortakoy, Besiktas. Most of the rooftop bars are situated next to the Bosphorus Strait and offer beautiful views of the water, Ortakoy Mosque, and the Bosphorus Bridge, an iconic landmark in Istanbul that lights up at night.
There are some really good ones in Taksim as well, such as 360 Istanbul. From its penthouse, you can have views similar to the one from Galata Tower – with Golden Horn, Bosphorus Strait and both continents in sight. The view is so spectacular that it is rated as one of the best rooftop restaurants in the world by CNN.
2. Sultanahmet Park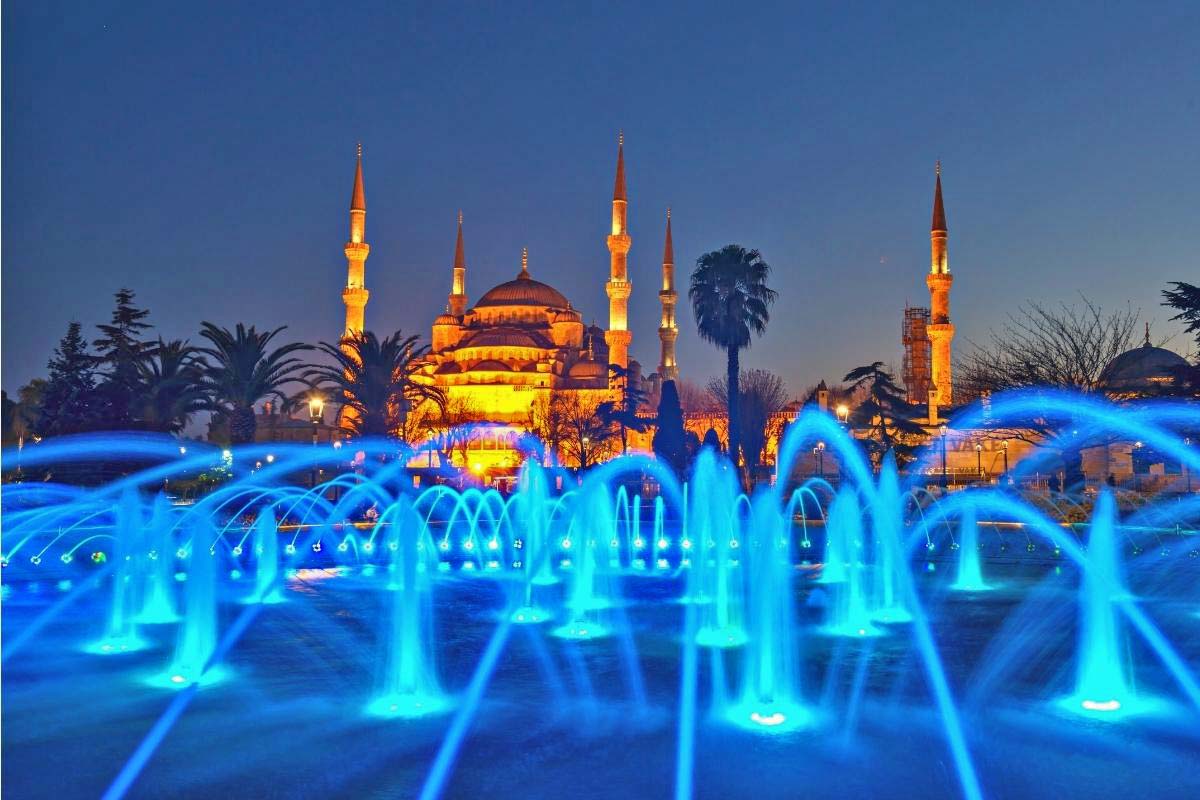 The historic centre of Istanbul, Sultanahmet, might not have the best nightlife in Istanbul. But what it does have are incredible views of some of the most important buildings in Istanbul, such as Hagia Sophia and Blue Mosque. Though the mosques are closed at night, their exterior is lit up during this time.
Combined with the small crowds compared to the daytime, nighttime offers a unique perspective of these historical landmarks. And perhaps there is no better place to admire the beautiful UNESCO World Heritage Sites of Istanbul than Sultanahmet Park. Here you can see both the Blue Mosque and the Hagia Sophia at the same time.
One of the best features of Sultanahmet Park is the Hurrem Sultan Fountain, a historic water fountain that lights up at night. It is also called the Dancing Fountain because of its light and water performance that looks as if the water is dancing.
Combined with an unworldly ambiance at the heart of the historic center in Istanbul, visiting Sultanahmet Square is an amazing and free thing to do in Istanbul at night.
3. Bosphorus Bridge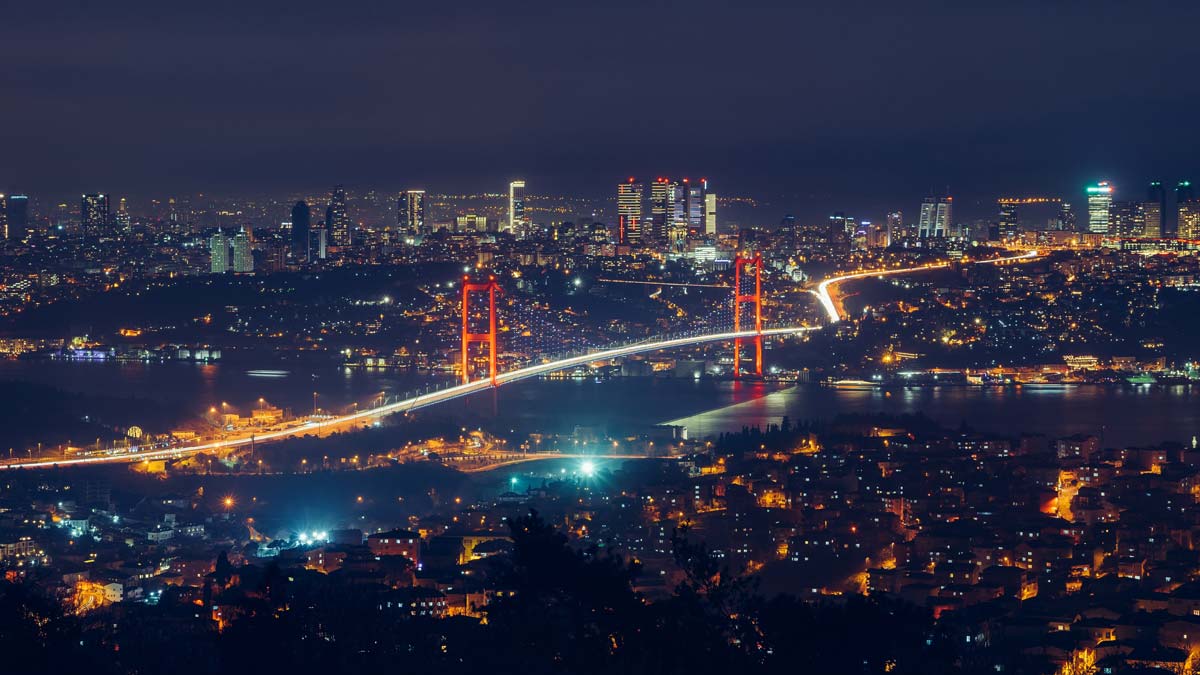 One of the most iconic landmarks in Istanbul that comes to life after dark is the Bosphorus Bridge, a spectacular 1560-meter long suspension bridge that connects the European side of Istanbul with the Asian side.
At night, the bridge and its steel towers are lit up and turn into a beautiful sight to behold. Unfortunately, visitors cannot walk on the Bosphorus Bridge, but there are many locations where you can take in the breathtaking views.
On the Asian side, you have Zippline Nakkaştepe park, which is located near the Bosphorus Strait. Çamlıca Hill is also an excellent vantage point. But since it is higher up, it is harder to get to. This park is the home of the biggest mosque in Turkey, the Çamlıca Mosque.
On the European Side, there are plenty of rooftop bars in Ortakoy that offer spectacular scenery, such as Sortie and Ruby. You can even see the Ortakoy Mosque from here, and it is also lit up at night!
3. Maiden's Tower In Uskudar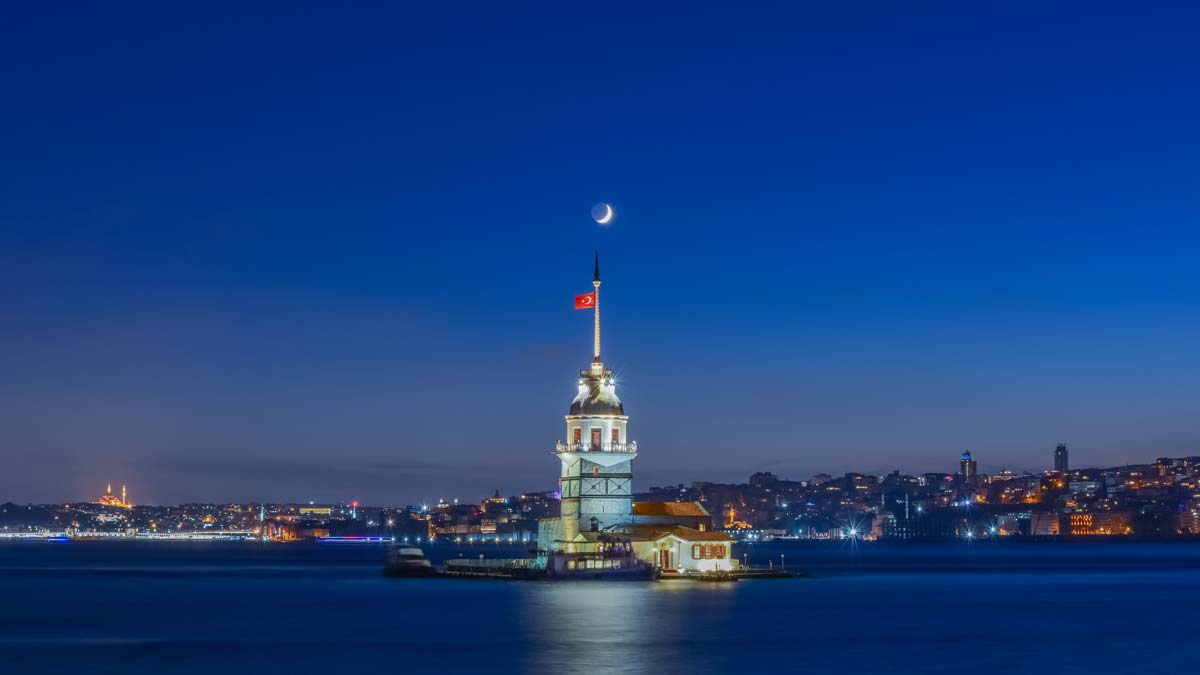 If you are looking for the perfect sunset spot in Istanbul, head over to Uskudar on the Asian side. This seaside neighborhood is home to hip cafes and bars, as well as its iconic fish markets.
Though this isn't what visitors tend to visit when they come to Uskudar, they usually come to see Maiden's Tower, a medieval tower located just a few hundred meters from the shores of Uskudar.
Over the years, Maiden's Tower has had a variety of roles – from being a lighthouse to a fortification tower to even a quarantine hospital.
Nowadays, it is one of the best places to visit in Istanbul, especially for the beautiful sunset!
---
Istanbul At Night FAQs
Is Istanbul Safe at Night?
Generally speaking, Istanbul is safe at night as long as you are in the right neighborhoods. Most of the nightlife areas are located in relatively safe areas, but you'll still need to watch out for thieves and pickpockets. There are dangerous neighborhoods in Istanbul, but tourists are unlikely going to just stumble into one.
Where Should I Go After Midnight in Istanbul?
Midnight in Istanbul is when the parties start to get crazy. This is the best time to experience some of Istanbul's most vibrant nightlife through its numerous nightclubs and bars. There are also plenty of places to grab a late-night snack!
Is the Grand Bazaar Open at Night?
Visiting the Grand Bazaar might not be the best thing to do in Istanbul at night because it usually closes at 6 PM. Even before 6 PM, the shops begin to close in Grand Bazaar and all the charm is lost.
---
Before You Go
There are plenty of amazing things to do in Istanbul at night – from enjoying the nightlife scene to some more relaxing like a food tour. Whichever activity you decide to do, is it of the utmost importance that you stay safe and enjoy your time!
Disclaimer: Some of the links above are affiliate links. That means if you book or make a purchase through the links, we will earn a small commission at no extra cost to you! The money will help run this site! Thank you!