Istanbul is a foodie heaven. When it comes to Turkish cuisine, you won't find a better place to try it than Istanbul. You'll find Istanbul's cuisine to be much more varied than the rest of Turkey, especially when it comes to breakfast.
Turkish breakfast is one of the best reasons to wake up early and start exploring. Not only is it healthy, covering a huge range of food groups and packing in all the vitamins and minerals, but it will also fill you up so you don't have to spend your whole travel budget on food.
But where is the best breakfast in Istanbul? In this guide, we'll not only be showing you our top recommendations for dishes to try but recommending you 15 of the best breakfast places in Istanbul!
Let's take a look…
Planning a trip to Istanbul last-minute?
Make sure you book your tours, places to stay, and airport transfers ahead of time to ensure availability!
Here is our recommended airport transfer in Istanbul:
Here are our recommended tours in Istanbul:
Here are our recommended places to stay in Istanbul:
Magnuara Palace Hotel (Gorgeous hotel in the historic centre!)
Cheers Hostel (Budget hostel near the Blue Mosque!)
---
What is a Turkish breakfast?
Before we go into our top recommendations for breakfast restaurants, let's quickly take a look at some of the most popular Turkish breakfast options in Istanbul.
Traditional Turkish Breakfast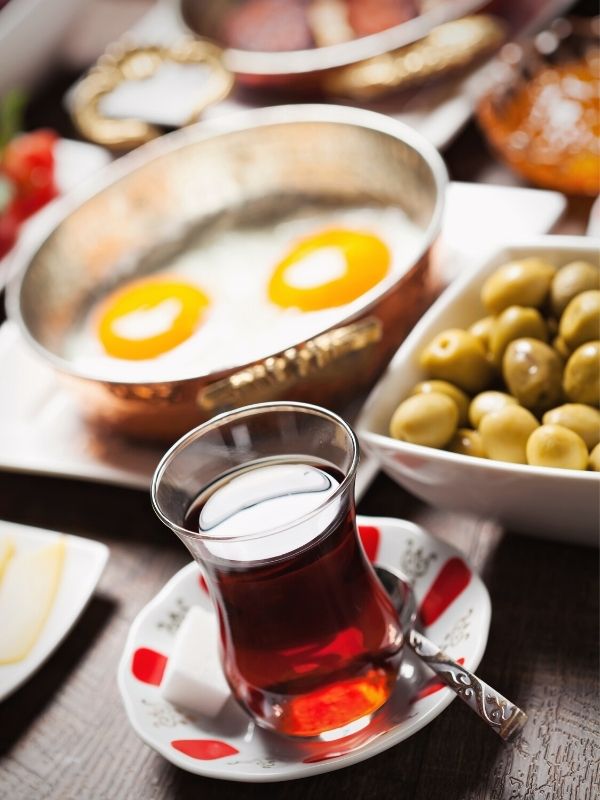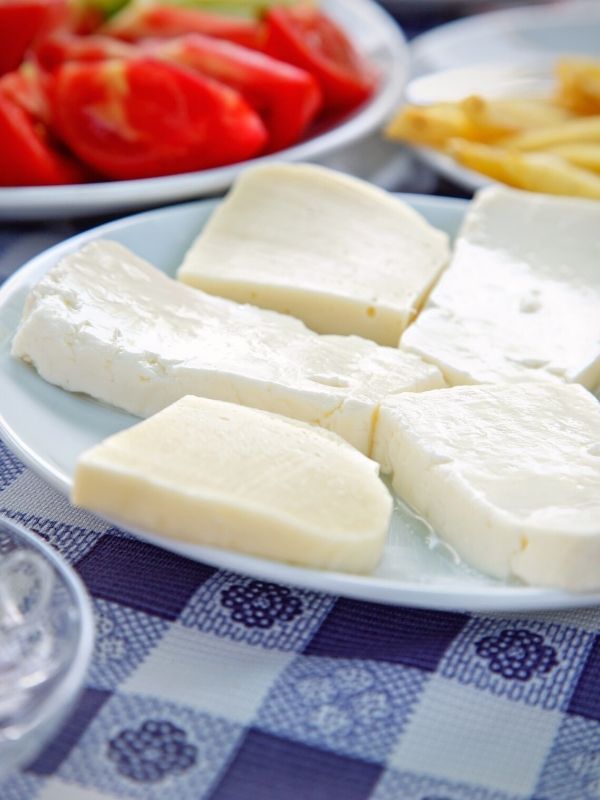 A traditional Turkish breakfast is usually a simple meal with eggs, cheese, black and green olives, cucumbers, cured meats, and bread with honey or jam. It is usually accompanied by black Turkish tea, or Cay, which is known for its crimson red color. Usually, Turkish coffee is not served with breakfast but you can always ask for it.
When we visited Istanbul, the most common type of cheese we were served with breakfast was a Beyaz Peynir, it's a soft white cheese made from unpasteurized milk. It's also common to be served Tulum Peyniri, a type of goat's milk cheese, or Kasar Peyniri, a medium-hard made from sheep and goat's milk (80% sheep, 20% goat).
Menemen
If you want something a bit more substantial than a traditional Turkish breakfast you can also try Menemen. This is a Turkish dish from a town with the same name, just north of Izmir, and made with scrambled eggs, tomatoes, onions, green peppers, and spices. It's a delicious breakfast meal that's a little similar to Shakshuka as it's made in the same way.
Çilbir
Another Istanbul breakfast you must try is Cilbir. It's an ancient dish that goes as far back as the Ottoman Empire. It's made with poached eggs and garlic with yogurt. It is usually served with paprika or chili flakes and bread on the side.
Sucuklu Yumurta
Another traditional breakfast in Turkey is the simple breakfast dish, Sucuklu yumurta. This dish is made from eggs with a dry, fermented sausage called sucuk.
Boregi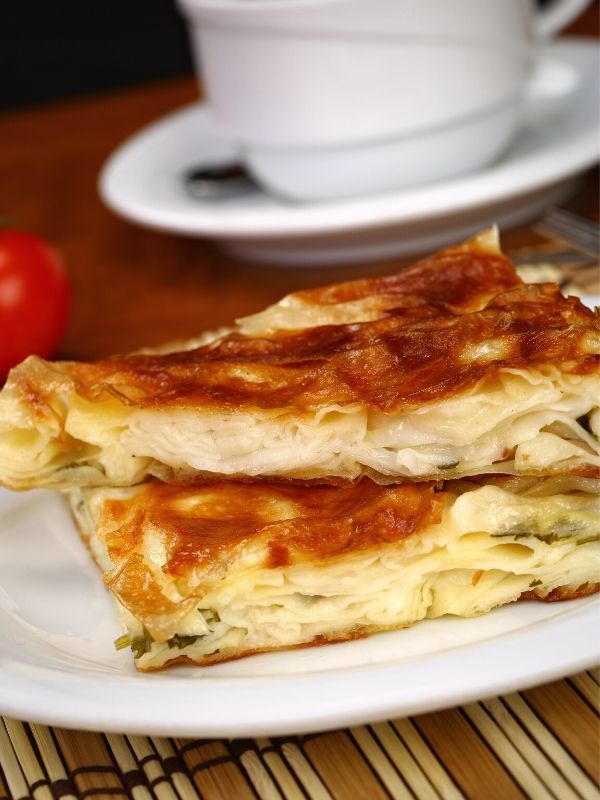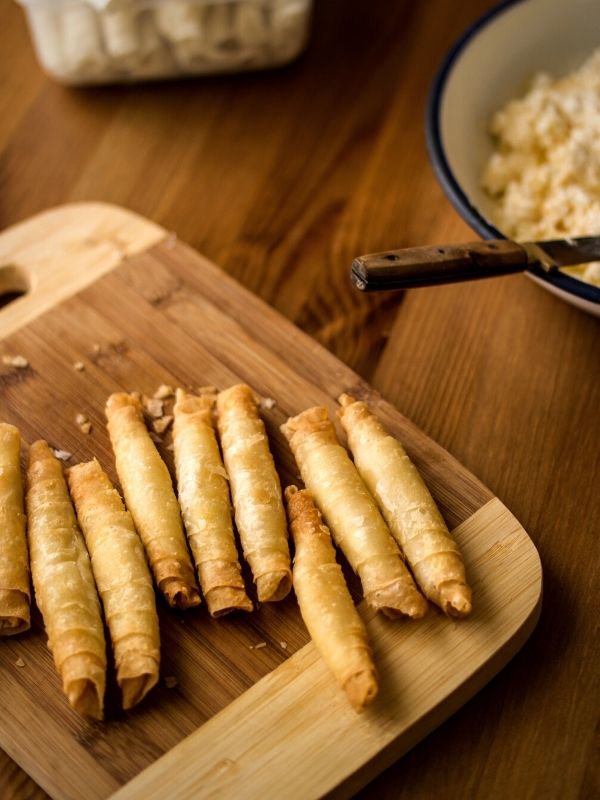 You can also find plenty of Boregi's in bakeries. These are a type of pastry with cheese and butter, that has been made in several layers of pastry. It's a common dish across the Balkans and can sometimes include meat, or spinach and cheese for vegetarians. You can also find Sigara Boregi which is when Boregi has been fried and rolled into a long thin tube.
Bal Kaymak
Bal Kaymak is a traditional Turkish meal prepared all over the country. It's a sweet, clotted cream made from water buffalo milk, drizzled in honey. It's a small dish and is usually accompanied by other breakfast meals or bread.
Pişi
Pisi is a type of doughy bread shaped in either a triangle or circular shape. It's made with flour, yeast, milk, eggs, butter, salt, sugar, and fat. It's got a similar flavor and consistency to donuts but not as sweet.
Simit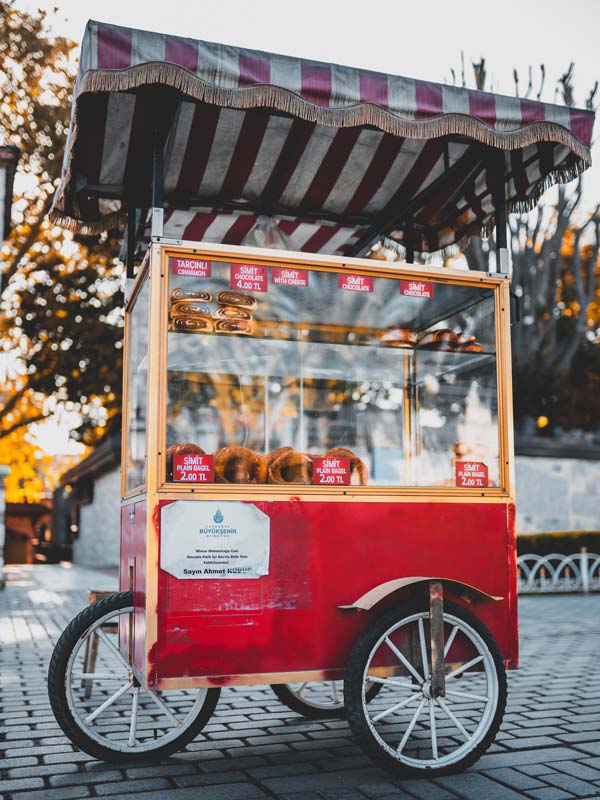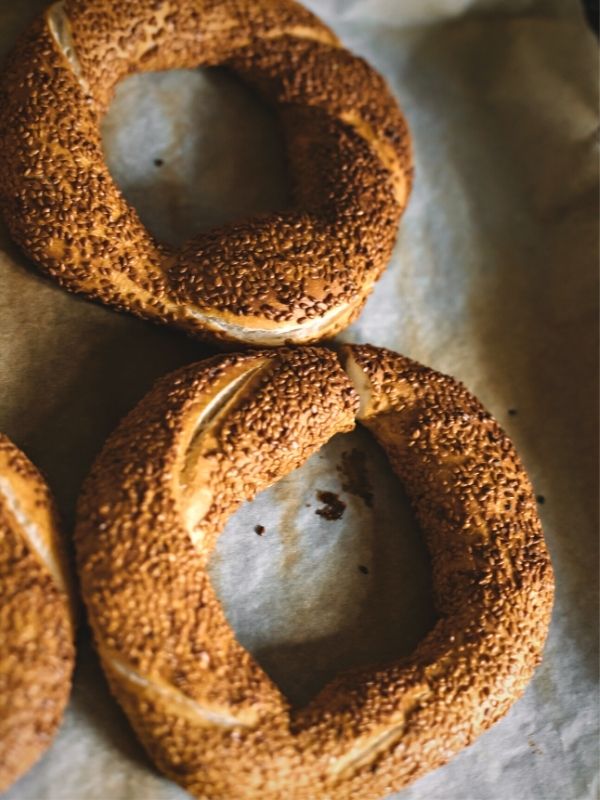 You might also see a lot of people eating Simit, especially around the Hagia Sofia and Blue Mosque. This is a circular sesame-seeded bread that is usually topped with honey or Nutella.
Gozleme
Another tasty Turkish breakfast you can try is Gozleme. This is usually more of a lunch dish but is often served during breakfast time too. It's a stuffed flatbread, usually topped with cheese and meats. It's traditionally savory with cheese, but you can find it with Nutella too. Though Turkish people tend to prefer the savory version.
---
The Best Breakfast Places in Istanbul
Now that you know what you can get as a Turkish breakfast, let's take a look at some of the best places for breakfast in Istanbul.
1. The #1 Best Breakfast Place in Istanbul: The Breakfast Street of Besiktas
Of course, somewhere so aptly named as Breakfast Street is going to win our top spot for the best place to eat breakfast in Istanbul on a budget.
On this small street in the student district of Beşiktaş, you'll find several small restaurants each serving very traditional Turkish breakfasts for an affordable price.
The staple food to try here is Pişi. It's available at most of the restaurants here. If you're looking for somewhere that serves good food at a low price, then this is definitely a great option.
2. Best Breakfast in Karakoy – Namli Gurme
Perhaps one of the most famous places in Istanbul for breakfast is the Namli Gurme. The restaurant operates like a buffet delicatessen, where you can pick and choose the meats, cheeses, and olives you want on your breakfast plate.
You can also ask for fried eggs and bread to go with your meal. This is one of the most wonderful restaurants because it has such a variety in its breakfast spread.
You can try many different traditional Turkish dishes, including Simit, Bal Kaymak, and Boregi. It's got a friendly market atmosphere and a wonderful place to take the family.
Do come early though, as it's incredibly popular and can get quite busy during peak times.
3. Best Breakfast in Kadikoy – Modda Kahvaltı Cafe
If you're staying on the Asian side, then you simply must check out Modda Kahvaltı Cafe. This lovely place in Moda has an outdoor seating area sheltered by plants and trees. It's the most relaxing setting to enjoy an al fresco breakfast in.
Since Modda Kahvaltı only serves breakfast dishes on its menu, you are spoiled for choice in what you can have; from fried eggs to pastries to traditional Turkish breakfast.
The prices here are a little more than other restaurants on this list, but the experience of dining in a beautiful tea garden whilst sipping your Turkish tea or coffee is worth the extra cost.
4. Best Breakfast in Salanahmet – Mivan Restaurant & Cafe
The Mivan Restaurant is one of the most luxurious restaurants in Istanbul and yet has a very relaxed dining scene.
The breakfast menu offers omelets, sausage and fried eggs, sigara boregi, cilbir, and of course, a breakfast plate which is your traditional breakfast. The food here is well presented and delicious. You also get a decent-sized portion.
While there is no vegan option, there is a separate vegetarian menu which is hard to find in Istanbul. It's slightly pricier than other restaurants but given its location and the quality of food you get, it's worth breaking your daily budget for it.
5. Best Breakfast in Galata – Cafe Privato
Eating breakfast on the street is normal in Istanbul, and at Cafe Privato, you can choose to dine inside their charming restaurant or sit at a table outside. Personally, we much prefer sitting outside and watching the world go by as we sip our Turkish tea over breakfast, but the choice is yours.
The breakfast menu is comprehensive with a lot of options. You won't have a hard time finding something you like, but you might have a hard time choosing. They also have breakfast spreads for one or two people, which is perfect for those traveling as a couple.
6. Best Breakfast in Taksim – Van Kahvalti Mutfağı
If you're looking for the best breakfasts in Istanbul, you'll find plenty of options at Van Kahvalti Mutfagi (not to be confused with Van Kahvalti Evi which we'll come on to later).
This cute and colorful restaurant in Beyoglu is the perfect place to try a traditional breakfast with eggs, olives, bread and honey, and cheese. In fact, they have several different types of cheese to choose from. They also serve Gozleme and Bal Kaymak, a small clotted cream and honey dish.
What makes this restaurant so inviting is not just the food but the decor. You won't have trouble finding this place as the outside is painted a vibrant blue color, and yet the inside is decorated with clean, modern interiors. It's the perfect place to sit back and relax with a book and a hot Turkish tea.
7. Best Breakfast in Beyoglu – Van Kahvaltı Evi
This is one of the most simple breakfast restaurants in Istanbul that doesn't take itself too seriously, and yet it's so cozy you'll find it difficult to leave. It offers Turkish breakfast, omelet, and egg dishes.
You can also have menemen and gozleme, the options are seemingly endless! And all for a low price. If you like to dine al fresco style, there is a table or two outside overlooking the cobbled street. This is one of the simplest and yet most welcoming places for breakfast in Istanbul.
8. Best Breakfast in Nişantaşı – Cesme Bazlama Breakfast
Cesme Bazlama is such a vibe, you won't find a cuter place in all of Turkey. This restaurant operates a little differently since there is no menu. You just sit down and all the food will be bought to you.
In the breakfast spread, there is a wide variety of breakfasts, from traditional Turkish breakfasts with cold meats, olives, and cheese, to spinach gozleme and bread with jams and honey.
However, most guests rave about the fried donuts, so make sure to dive into the pastries while they're hot! It also has a policy "forbidden to leave until you're full" so if you're still hungry, ask for more and you shall receive!
For those wanting to sample all the Turkish cuisine, the Cesme Bazlama is definitely worth a stop.
9. Best Breakfast in Moda – Zapata Moda Restaurant and Bakery
If you want a delicious breakfast place with a lot of options, then you'll want to make a stop by Zapata Moda Restaurant (not to be confused with Zapata Burger).
The menu here is extensive and has all the traditional Turkish dishes on the menu; from traditional street food in Istanbul from borek to menemen. Former guests rave about how they love the menemen. It also has vegan options on the menu, too, perfect for vegans in Istanbul.
The location is fantastic, on a quiet street just a short walk away from the promenade along the Bosphorus. Since it's located on the Asian side, prices tend to be a little cheaper, too.
10. Best Breakfast with a View of the City – Giriftar Cafe
For those looking for somewhere with a view, then Giriftar Cafe is the place for you. It's most popular at night when the sun sets over the Bosphorus strait, which is a view best enjoyed from its rooftop.
However, it also has a delicious breakfast menu too, and it's a lot quieter in the morning so you'll be able to enjoy uninterrupted views from your table in a calm environment.
Opt for a traditional Turkish breakfast or menemen, or opt for something more European such as a delicious sausage omelet. Another favorite on the breakfast menu is the pacanga pastry, which is similar to a sigara borek.
11. Best Breakfast in Istanbul for Vegetarians and Vegans – Coffee Lattas
Located in the heart of Istanbul is this cute little coffee shop. One of the biggest draws to this place is the vegan menu, which is really hard to come by in Istanbul. The food is of high quality and has some healthy options too.
You can sit at a table outside and watch the world go by, see shoppers go in and out of boutique stores, and marvel at the beautiful cobbled streets of Istanbul. This is one of the best places to enjoy breakfast for views of the city.
12. Best Breakfast in Istanbul with a Seaview – Arya Lounge
One of the most famous restaurants in Istanbul, not just for its food but for its amazing rooftop views.
This is one of the more pricey restaurants since you are paying for the experience of dining with views of the Bosphorus and Galata Tower in the distance, as well as of the Hagia Sofia and some of Istanbul's most beautiful palaces. But the food is of high quality and is one of the top-rated restaurants in Istanbul.
If you don't come for breakfast, make sure to add it to your list of things to do at night in Istanbul since it's open until 2AM.
13. Best Breakfast in Istanbul on the Bosphorus – Tarihi Çınaraltı Aile Çay Bahçesi
The Tarihi Cinaralti Aile Cay Bahcesi is the perfect place to sit and enjoy a tasty breakfast in the tea garden. One of the things we love about this place is you can bring your own food, so if you feel like heading to the nearby market and packing a picnic, you can! You just need to pay for your own drinks.
If you prefer someone else to cook your breakfast, you'll find tons of options on the breakfast menu. You can choose between a menemen or egg or omelet dish, or opt for the breakfast plate serving the usual cheese, cold cut meats, olives etc.
The real draw to this place though is the view. Since it sits right on the Bosphorus strait, you get gorgeous sea views from any seat in the restaurant. Opt to sit outside in the tea garden and enjoy the warm Turkish sun.
14. Best Breakfast in Istanbul for Couples – Galata Süheyla
If you're looking for romantic places for breakfast in Istanbul you cannot go wrong with Galata Suheyla. Located near the iconic Turkish landmark, The Galata Tower, you can enjoy either your typical Turkish breakfast or delicious menemen for a low price.
Guests love the cozy atmosphere and friendly staff. It might be a small restaurant but it has huge floor-to-ceiling windows that overlook the cobbled street beyond.
If you're looking for a place to enjoy quality time with your loved one over an affordable breakfast in Istanbul, this is the place to be.
15. Best Breakfast in Istanbul for Families – Velvet Cafe, Galata
Those traveling with families will know how hard it is to find food options for fussy children, but you need not worry about that in Istanbul.
The Velvet Cafe in Galata is a small and quaint coffee shop serving delicious traditional Turkish breakfast, as well as grilled cheese sandwiches or Nutella on Toast for fussy eaters.
The restaurant is full of antiques and interesting things to look at, so if you do travel with small children, be mindful of all the delicate ornaments around.
---
FAQs About Breakfast in Istanbul
Here's what people usually ask us about breakfast in Istanbul!
What is in a Turkish breakfast?
A Turkish breakfast consists of cheese, cold meats, olives, cucumber, tomato, bread with honey and jam, and of course, a Turkish tea.
Is Turkish breakfast healthy?
Yes, a traditional Turkish breakfast is a very balanced meal and healthy. You have cheeses, meats, and sometimes yogurt for protein and carbohydrate, plus olives, cucumbers, and tomatoes for vitamins. As long as you don't fill up on bread, it's a healthy breakfast.
---
The Verdict: The Best Breakfast in Istanbul
So there you have it, our top 15 restaurants in Istanbul serving up the most delicious breakfasts. Whether you want something light or something filling, you'll find the best traditional Turkish meals at these breakfast places.
If you're not sure where to go, we recommend heading to our overall favorite place; breakfast street. You'll find plenty of options there, and it's easily one of the most affordable places.
Wherever you choose to go, make sure you try some of the local cuisines and enjoy the friendly atmosphere and ambiance.
Disclaimer: Some of the links above are affiliate links. That means if you book or make a purchase through the links, we will earn a small commission at no extra cost to you! The money will help run this site! Thank you!