Istanbul is a melting pot of cultures, being the meeting point between Europe and Asia and a poignant stop on the ancient Silk Road.
So it's little wonder why Istanbul is full of fantastic places to eat!
If you want to get off the beaten track a little and explore the Asian side, then you may want to try dining at some of the best restaurants in Kadikoy, which offer delicious dining options but without the crowds you see on the European side.
As well as being less touristy, Kadikoy has a thriving food scene, with bustling markets known for selling the freshest produce and seafood, as well as small eateries offering up Anatolian cuisine.
The vibrant neighborhood of Kadikoy is one of Istanbul's best, and with that comes a variety of excellent restaurants. Whether you're looking for a humble kebab shop or a trendy bistro, here are the best Kadikoy restaurants you need to try!
Planning a trip to Istanbul last-minute?
Make sure you book your tours, places to stay, and airport transfers ahead of time to ensure availability!
Here is our recommended airport transfer in Istanbul:
Here are our recommended tours in Istanbul:
Here are our recommended places to stay in Istanbul:
Magnuara Palace Hotel (Gorgeous hotel in the historic centre!)
Cheers Hostel (Budget hostel near the Blue Mosque!)
---
The Best Restaurants in Kadikoy
1. My Chef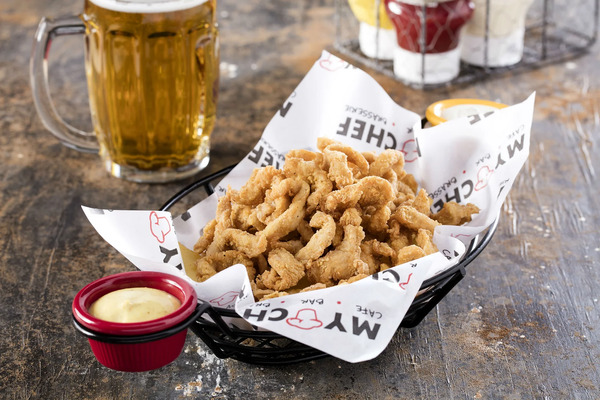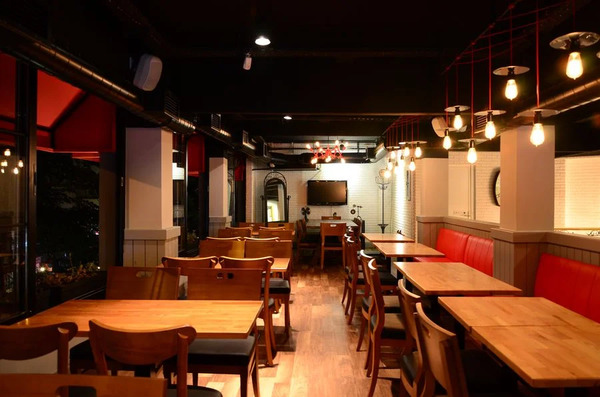 Just a short walk away from the vibrancy of Bahariye Street stands a two-story restaurant famed for the sheer diversity on its menu, MyChef.
You can find all sorts of dishes on the menu, with classical Turkish and Ottoman-inspired dishes, right through to fried calamari, chicken in mushroom sauce, and even a selection of superb plates of pasta.
If you're in the mood for hearty, home-cooked food then My Chef is the place to come.
They've got plenty of seating spread out across the two floors, as well as seating out on the street too. This all combines to create a really nice buzzing atmosphere and is particularly a great place to visit on weekends.
2. Ciya Sofrasi
You'll find Ciya Sofrasi right in the heart of Kadikoy's bustling market, one of the top attractions on the Asian side of Istanbul, and it's a true local gem for anyone who loves tasty, traditional Turkish and Anatolian cuisine.
You might recognize Ciya Sofrasi from its appearance on Netflix's Chef's Table series, and thanks to that worldwide exposure, it's become even more popular and is now a must-stop on any trip to Istanbul's Asian side.
Musa Dagdeviren gets the credit for starting up this simple yet incredibly satisfying eatery back in 1998.
What makes it truly special is the wide range of both well-known and lesser-known regional Turkish dishes that vary depending on the season.
And when you visit, don't miss the impressive meze bar where you can help yourself to a delicious spread.
Save room for some of the standout dishes though, including the slow-cooked lamb shoulder with quince, stuffed lamb's intestine, and the classic Lahmacun.
Related Reading: The Best Rooftop Restaurants in Istanbul
3. Balikci Lokantasi
Simply translating to 'Fisherman's Restaurant', there's no hidden surprise at what's being served at this incredibly popular fish restaurant. Tucked away down a narrow side street,
Balikci Lokantasi may not be a Netflix star, but it certainly ranks highly among the locals, which is evident in how busy this small restaurant has been ever since its first opening.
One of the intriguing things about this place is that there is no menu, so you just walk up to the display counter and choose your fish and how you'd like it cooked.
Don't be nervous about being ripped off, the prices are more than affordable when you look at the fish and how it probably came fresh off of the boat that morning.
Red mullet, black salmon, sardines, sea bass, king prawns, and fresh squid are all on display plus more so you're guaranteed a fresh, fishy feast if you so choose.
Its location is great too if you'll be heading back across to the European side of Istanbul, as it's just a short 500-meter walk to the pier.
Related Reading: Best Vegan Restaurants in Istanbul
4. Tahin
This simple, cozy, and delicious Lebanese chain is one of the best Kadikoy restaurants. Don't expect fancy cutlery and plush tablecloths, it's just wooden tables and chairs and not a lot else, except for some tiled mosaics on the wall.
To be honest, you don't need any of the fancy stuff when the food is this good.
It's simple Lebanese food cooked well, with the falafel being one of the highlights, and is regularly reviewed as some of the best falafel anywhere in the world.
The hummus is one of Tahin's signatures too and is fresh, creamy, and just the right consistency for mopping up with the moreish flatbread that comes with it.
We'd suggest visiting Tahin for lunch, or a quick and tasty late-night snack just before closing at 10 pm.
5. Basta! Street Food Bar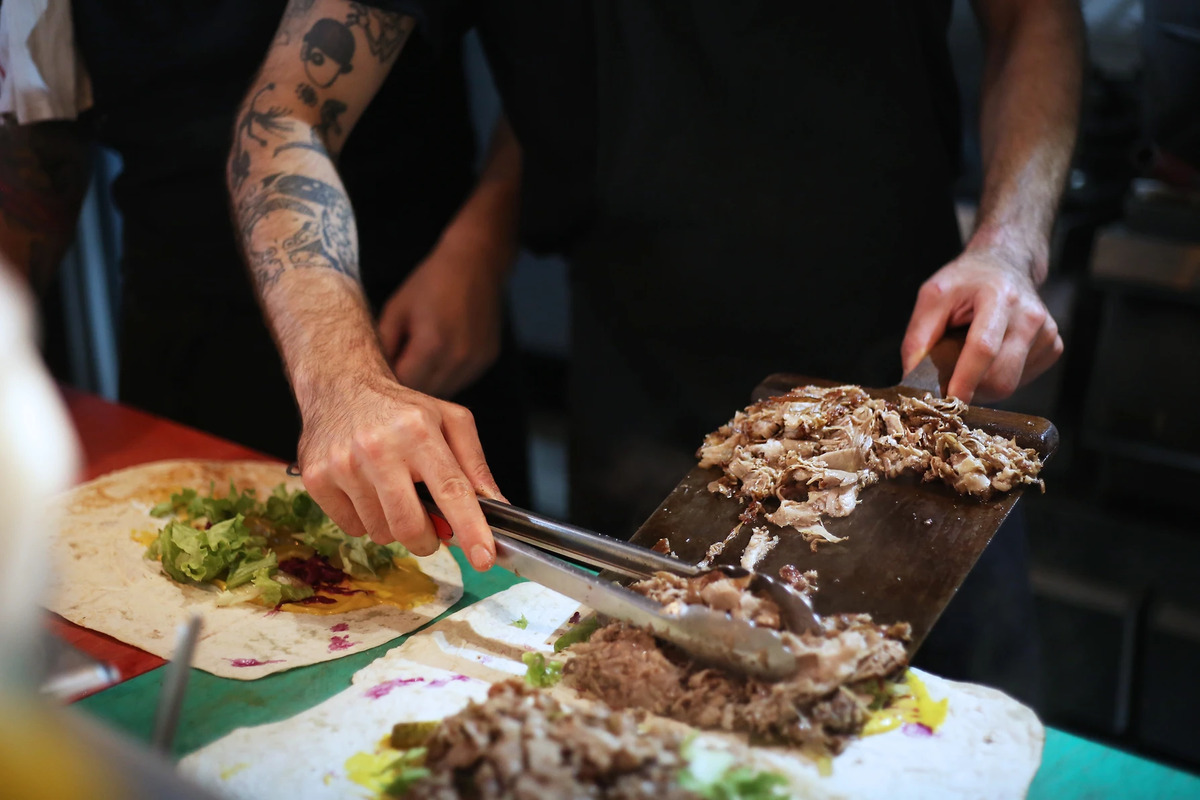 A street food bar in a list of best Kadikoy restaurants? Hear me out. The food they serve here and the idea behind it is just sublime.
It's a tiny place on the corner of three busy streets specializing mainly in just three areas. Fresh, piping hot durum wraps, juicy, succulent burgers, and small plates of hummus and salad to go with it.
I agree, it doesn't exactly sound like a recipe for being one of the best places to eat in Kadikoy, but honestly, do not knock it until you have tried it.
Basta's whole ethos is about applying fine-dining training to fast food and boy, do they hit the mark. Spicy harissa, thick and creamy yogurt, fresh, vibrant herbs, and sweet onions all combine to bring out the best of the fatty flavors of the lamb in their durum wrap.
The burgers are a similar story and the salad plates change daily depending on what's in the market offering a fresh alternative, or accompaniment, to your main.
Sit inside and watch the action or perch yourself on a table outside and watch the world go by.
Related Reading: The Best Rooftop Bars in Istanbul
6. Ethem Efendi Breakfast
If you've woken up and fancy something special for breakfast in Istanbul, then get yourself down to Ethem Efendi Breakfast shop.
Don't come expecting milk, cereal, toast, and jam though. This is an organic Turkish breakfast through and through and as authentic as it comes.
Situated in a huge old wooden building, from the moment you step inside you're greeted with the unforgettable aroma of fresh pastries, rich Turkish coffee brewing, and a dizzying array of sweet and savory breakfast items.
From creamy kaymak and honey-soaked pastries to meaty secuk sausage, fresh cucumber, hummus, tahini, and an abundance of cheeses and everything in between, you are guaranteed to leave feeling stuffed to the brim.
If that wasn't enough, there's freshly baked bread and 36 different varieties of jam all entirely homemade with ingredients sourced only from the Aegean.
It's an unlimited spread too so you can have as much as you want for just 395 TL (about $15 USD) per person. When you consider the food and ingredients are all locally sourced and organic, it's incredible value for money and one of the best Kadikoy restaurants.
7. Piraye Tas Plak Meyhanesi
If you're on the hunt for something traditional and authentic, then you can't go wrong with a methane.
A meyhane is a traditional restaurant or tavern that involves plenty of locals, plenty of alcohol, and plenty of really good food.
Piraye Tas Plak is arguably one of the best Kadikoy restaurants in the area, with its old-world, rustic charm and packed-out atmosphere on weekends.
The focus in the majority of meyhanes is on the mezze and here, it's no different. Top-quality ingredients make even the simplest of mezze dishes stand out, and on the wider menu, the meat skewers are also to die for.
Tender, juicy meat seasoned to perfection, with super-soft flatbreads soaking up all of the juices create a wonderful main course. Now you just need a glass or two of Raki to wash it all down for the most authentic of Turkish evenings.
8. Haçapuri
Again, this isn't exactly a restaurant per se, but it is one of the best places in Kadikoy and in Istanbul to get a Turkish Pide.
If you've never heard of a Pide, it's a traditional lengthy boat-shaped flatbread that serves as a 'bowl' for a huge variety of toppings of your choice. It's very similar to a pizza, but not in the conventional shape you might be used to back home.
Hacapuri solely specializes in Pide and they are completely freshly made to order. Super crispy but soft dough and high-quality toppings help to make one of the best Pides' in the city.
It's a simple concept done well, and there is plenty of seating inside and outside so you can make the most of the gorgeous Istanbul weather. It's perfect for a tasty lunch.
9. Yanyali Fehmi Lokantasi
Originally started over 100 years ago in 1919, this local family-owned Kadikoy restaurant serves loyal, hungry patrons a huge variety of Ottoman and Turkish dishes that they feel are close to being forgotten about in favour of popular tourist-oriented dishes like kebabs.
You'll still find these on the menu but in the authentic old style.
One of the most popular dishes in the restaurant is the meatballs wrapped in eggplant and then baked with tomatoes.
This is an absolute must-try and is one of the original recipes from when the restaurant first opened its doors.
A favorite of the older generation, be sure to head over to Yanyali's if you want to sample true Ottoman-style cookery.
10. Cibalikapı Balıkçısı Moda
Tucked away down a tiny back alley of Kadıköy Market, you'll find Cipalikapı Moda, one of the oldest and most delicious seafood restaurants in the city. It's a historical place and one that has been preserving authentic Turkish tradition for decades.
Plates are pre-prepared here but don't worry, that's just the traditional way, and it means you get your food lightning quick.
They make use of their ideal location, only using the freshest ingredients straight from the market. It can be a bit daunting heading into such a local place, but the staff are so friendly and always happy to help navigate the menu for you and explain the dishes.
11. Ysabel Restaurant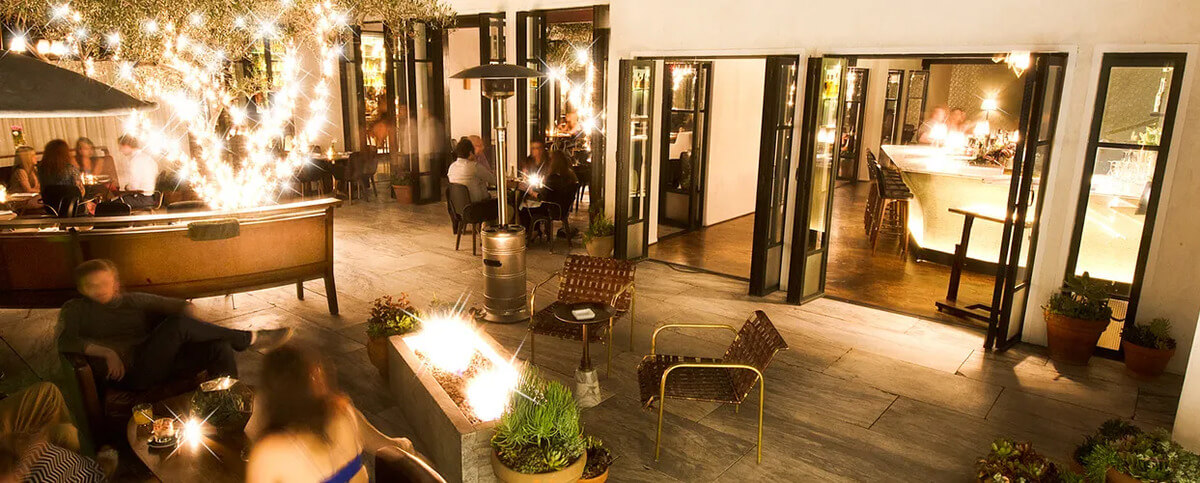 Ysabel Restaurant is up there with one of the best in Kadikoy, making the most of the delicious ingredients that grow in abundance all over the region. It's a slightly different affair, with a more international focus on dishes instead of purely Turkish, Ottoman, and Anatolian.
Flame-grilled steaks, creamy risotto, rich pasta dishes, and seafood all feature on the elegant food menu, and in terms of drinks, you're also definitely spoilt for choice.
The drinks list is huge, with several pages of spirits, wines, and cocktails to tickle your fancy that all go down especially well when the DJ starts in the evening.
The ambiance is also more stylish and elegant, as opposed to the traditional meyhanes you find all over the city. Ysabel Restaurant is a great place for a date or a fancy meal before the end of your trip.
12. Old English Pub Café & Restaurant
The Old English Pub Café & Restaurant offers a cozy slice of home right in the heart of Kadikoy. Despite its name, which might lead you to expect something less appealing, but it's a great spot to satisfy your Western cravings.
The 'pub' itself is decked out incredibly well and would not look out of place if this was in Central London. There are plenty of typical English-pub-style booths, screens showing sports, and a wide variety of local and imported beers on tap for you to choose from as well as a massive list of cocktails.
The food is surprisingly tasty too, with a huge variety of burgers, fish and chips, seafood platters, and just all-around good hearty English pub grub.
Being an 'English pub' in Istanbul, understandably it's not the place you'd expect to have such good food, but you can tell its high-quality ingredients are freshly cooked to order. It's one of our favorite cafes in Istanbul!
13. Güneşin Sofrası Meyhane
Summer nights in Istanbul aren't better spent anywhere else other than at Gunesin Sofrasi Meyhane.
If you manage to book a table outside, you'll be sat right alongside a beautiful old stone wall, and with brightly colored tables and chairs combined with an electric atmosphere, it is the place to come for the traditional Turkish summer experience.
Like in the majority of meyhanes, there's a wide selection of fresh mezze for you to order which comes in generous portions, and then as is standard in these types of eateries there's always a wide selection of Turkish, Ottoman, and Anatolian dishes.
The Sea Bass wrapped in vine leaves is one of the most popular dishes and fresh calamari is also a favorite on the menu.
Top tip: They're very generous with the Raki, so be warned!
14. Hatay Restaurant 1967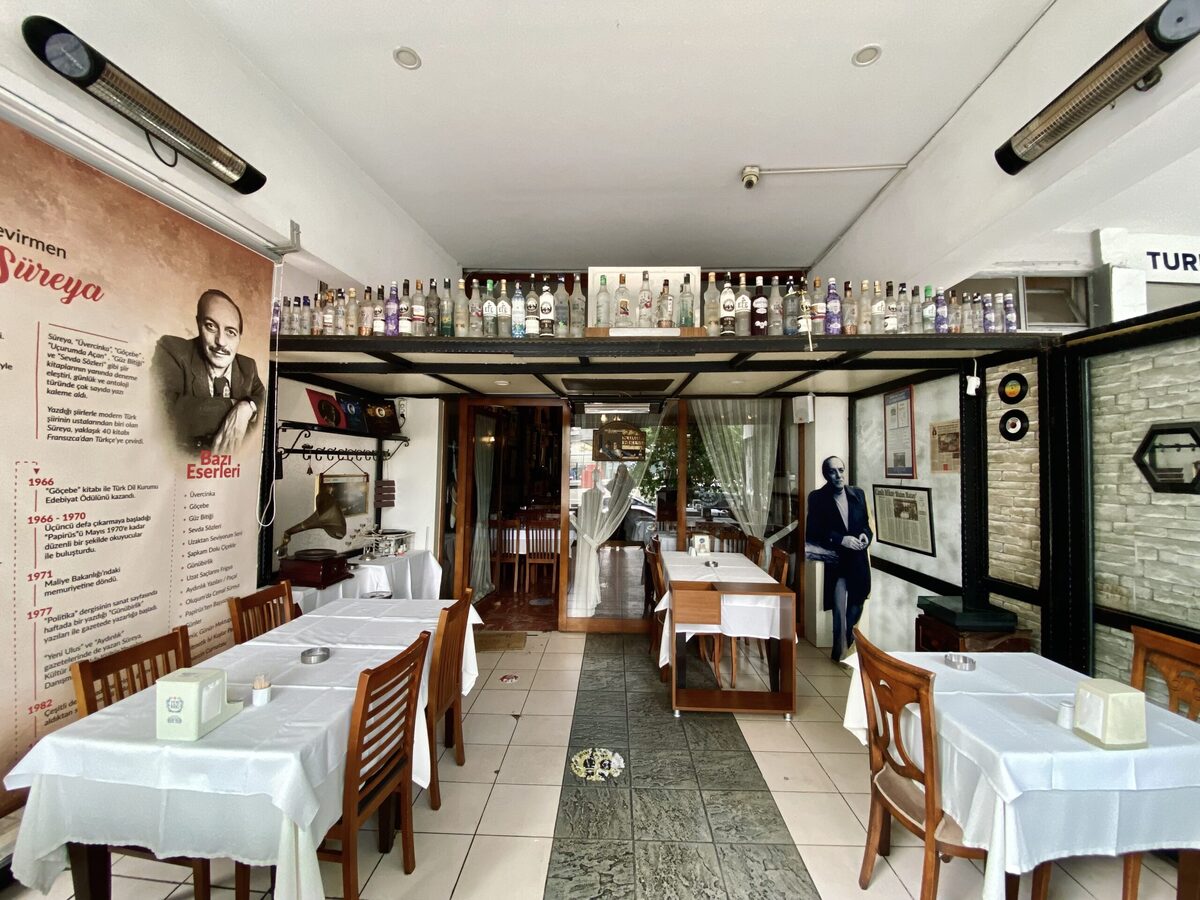 Hatay Restaurant has proudly been serving the locals of Kadikoy since 1967 and naturally is a favourite of the older generation.
As soon as you wander in, you feel the classical atmosphere of the restaurant. It feels like you've transported back 50 years to a time when things were much simpler.
The décor is intriguing, with newspaper cuttings of eras gone by, and pictures and paintings by Hatay's previous manager.
This all fits well with the style of food on offer. It's classical Turkish and Ottoman recipes that make up the menu with tasty mezze options like hummus with pastrami and liver, shakshuka, broad bean salad, and mains such as casseroled tripe and grilled fresh fish.
This is one of the best restaurants in Kadikoy if you want a truly authentic experience.
15. Ekspres Inegöl Köftecisi
Meatballs are big in Turkey, and no matter where you are in the country, they'll likely be on the menu.
Even though they are simple, they hold a very special place in the Turkish culinary scene and Ekspres Inegöl Köftecisi in Kadikoy is one of Istanbul's rare restaurants that are dedicated exclusively to these small meaty balls of deliciousness.
There's not much on the menu other than meatballs and different types of potatoes and salad, but trust us, if you come here, you won't want anything else.
They are juicy and delicately spiced and go so well with the fresh, handmade chips that come with them. If you'd like something else on the side, their piyaz (spiced bean and onion salad) is also light and moreish.
It's the perfect place to come to sample the simplicity of true Turkish meatballs.
---
Map of The Best Restaurants in Kadikoy
To help you plan which restaurant to visit, here is a helpful map that shows you the location of each of these places to eat.
---
Final Thoughts On The Best Restaurants In Kadikoy
When it comes to culinary experiences, Kadikoy is a hidden gem that beckons food enthusiasts. This vibrant district offers a cornucopia of delectable restaurants serving up the most irresistible blend of traditional Turkish flavors and contemporary dishes, creating an unforgettable culinary experience.
From sizzling kebabs to aromatic mezes, each of these restaurants transport you to a gastronomic paradise. The secret lies in the chefs' passion, as they meticulously curate their menus, using fresh, locally sourced ingredients that tantalize the taste buds.
Not to mention the warmth of Turkish hospitality, where every customer is treated like family.
We hope this guide helped you plan a place to eat in Kadikoy!
Disclaimer: Some of the links above are affiliate links. That means if you book or make a purchase through the links, we will earn a small commission at no extra cost to you! The money will help run this site! Thank you!