If you're planning to visit Istanbul and looking for an unforgettable experience, then consider spending an evening under the night sky at one of the best rooftop restaurants in Istanbul.
Fortunately, there's certainly no shortage of rooftop venues that offer spectacular dining experiences, with views overlooking some of the city's most iconic landmarks.
Whether you're looking to feast on some authentic Turkish flavors, dine on European cuisine, or delve into more international cuisine, all whilst taking in the breathtaking views, then consider visiting one of these restaurants in Istanbul with a rooftop.
Without further ado, let's jump straight into number one.
Planning a trip to Istanbul last-minute?
Make sure you book your tours, places to stay, and airport transfers ahead of time to ensure availability!
Here is our recommended airport transfer in Istanbul:
Here are our recommended tours in Istanbul:
Here are our recommended places to stay in Istanbul:
Magnuara Palace Hotel (Gorgeous hotel in the historic centre!)
Cheers Hostel (Budget hostel near the Blue Mosque!)
---
The Best Rooftop Restaurants in Istanbul
Dining at a rooftop restaurant is one of the top things to do in Istanbul at night. Whether you're looking for a vibrant atmosphere, a luxurious setting, or just looking for delicious food with refreshing drinks to pair with it, you can find all this and more at these restaurants!
1. Mikla Restaurant
Hours: 6.00am – 2.00am Monday – Saturday
Address: Asmalı Mescit, The Marmara Pera, Meşrutiyet Cd. No:15, 34430 Beyoğlu
An Istanbul icon since October 2005, Mikla Restaurant is one of the best places in the city to pig out on some true, authentic Anatolian cuisine.
For those that aren't familiar with Anatolia, it's a huge region in Turkey that shares borders with Greece to the west, Iran to the east, and a small land border with Bulgaria.
Freezing cold winters, and warm summers, with high mountains and rivers all encased by the Black Sea create a perfect breeding ground for an incredibly diverse range of ingredients that are all used in this restaurant.
The brainchild of Mehmet Gurs, the Turkish-Scandinavian chef-cum-owner, has crafted a stunning fine dining menu that pairs beautifully with the spectacular views from the roof of the trendy Marmara Pera Hotel in Beyoglu.
With the fresh, gorgeously prepared food on offer being paired with stunning views of city landmarks like the Golden Horn, Hagia Sophia, and the Topkapi Palace, it's little wonder why Mikla has been on The World's 50 Best Restaurant List since 2015.
It also has a separate cocktail bar, for anyone looking for Istanbul's rooftop bars with delicious cocktails.
2. Olive Anatolian Restaurant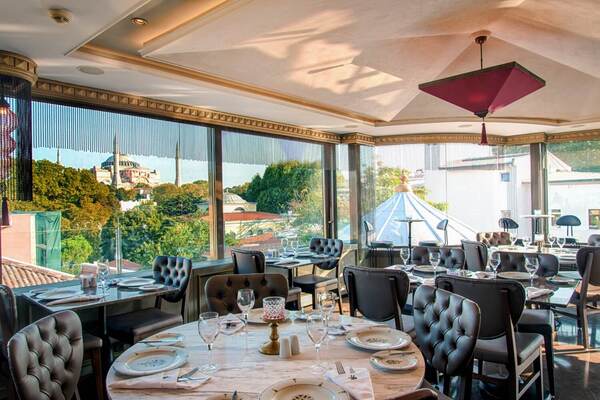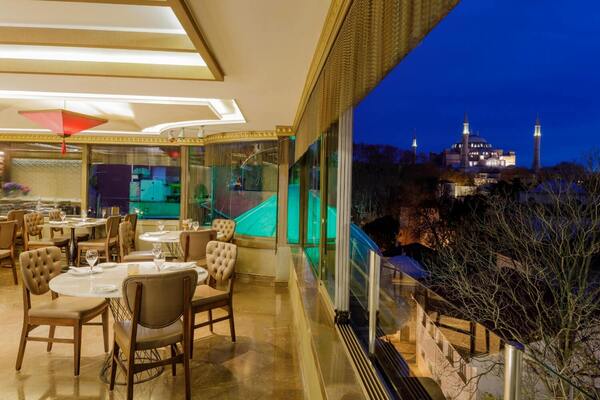 Hours: 7.30am – 11.30pm daily
Address: Hoca Paşa, Ebussuud Cd. No:12, 34110 Fatih
Continuing with the Anatolian theme is the next restaurant on our list. Like Mikla, Olive Anatolian Restaurant also places a huge emphasis on the region of Anatolia as well as the humble olive.
It's one of the cornerstones of Turkish and Mediterranean cuisine and is an ingredient you will find everywhere in the region, including in this restaurant.
Aiming to "maintain the savors of Turkey", the menu features favorites like fried calamari, thinly sliced beef fillet kebab, and Anatolian lamb shank alongside more intriguing items like fried lamb liver and crispy Turkish ravioli.
Oh – and for those with complete meat and dairy-free diets, Olive Anatolian Restaurant also has a separate Vegan menu for those looking for vegan restaurants in Istanbul. The menu features an abundance of fresh fruit and vegetables that grow in the Anatolian region.
It also has a gorgeous view, the restaurant's dark and moody interior complements the bright, twinkling lights of Istanbul's Old Town which creates an intimate atmosphere with great food and unparalleled views of Istanbul's skyline.
You can sit back and sip fine champagne whilst looking over the Bosphorus, Galata Tower, and the Topkapi Palace and beyond.
With all of that in mind, it certainly creates an enjoyable evening.
3. Nova Santiye Cafe
View this post on Instagram

Hours: 8.00am – 12.00am daily
Address: Süleymaniye, Siyavuş Paşa Sk. No: 24, 34116 Fatih

This next rooftop restaurant is the ultimate top floor destination for getting that perfect picture to make all your friends and family back home incredibly jealous.

Nova Santiye Café, located right next to the Suleymaniye Mosque, is a very cute little café that's main feature is its small but mighty rooftop terrace.

You'll have the chance to sit cross-legged Turkish-style on a beautiful traditional carpet with a fantastic view in the background. If you've been searching for the best rooftop terraces in Istanbul, then you'll likely have come across a picture of someone here.

Admittedly, you do have to pay quite a hefty price ($25) for the picture opportunity, but as the saying goes 'when in Rome…'.

You'll find a wide variety of Mediterranean and international food on the menu, with things like wood-fired Pide, kebabs, fresh fish, and salads all featuring but to be honest, many people come just for the picture opportunity and stunning view.

They serve breakfast which is well-reviewed so perhaps an early start and some breakfast is the thing to do at Nova Santiye Café.

4. Seven Hills Restaurant

Photo Credit: Seven Hills Restaurant

Photo Credit: Seven Hills Restaurant

Hours: 8.30am – 11.00pm
Address: Cankurtaran, Tevkifhane Sk. No:8 Kat:3, 34122 Fatih

Seven Hills Restaurant is arguably one of the most famous restaurants in the whole of Istanbul.

It's known the city over for its stunning range of freshly caught fish and seafood from the nearby Sea of Marmara, together with unbelievable panoramic views of the Blue Mosque, Hagia Sophia, and the Sea of Marmara in the distance.

In fact, I'd go as far as to say this is the best spot in the city to photograph the Blue Mosque. You can really feel the overall aura and presence of the mosque, and when lit up at night, it creates an imposing yet warm atmosphere that's just perfect for date night.

A small, but delicious variety of meat dishes is on the menu, but as we've already mentioned, the star of the show here is the long list of fish and seafood.

Everything from freshly grilled swordfish to jumbo shrimp, grouper, and red porgy is on offer together with an extensive menu of classic hot and cold mezze, soups, and salads.

Seven Hills Restaurant also opens early at 08:30 am, which even allows you to start your day with some delicious Turkish breakfast options with a good view.

Now that's surely something to set the alarm for!

5. Ararat Terrace Restaurant

Hours: 10.00am – 11.00pm
Address: Sultan Ahmet, Torun Sk. no : 3 D:101, 34400 Fatih

Just a short walk around the corner from the cultural hub of Istanbul, Sultanahmet Square, is Ararat Terrace Restaurant.

Similar to Seven Hills Restaurant, Ararat Terrace also has superb views of the Golden Horn, Blue Mosque, Hagia Sophia, and the Sea of Marmara but personally, I think this is the better option if you're wanting somewhat of an easier, more lowkey dinner.

Seven Hills Restaurant is heaving pretty much 24/7 so if you haven't made a reservation and your visit is spur of the moment, you'll be much better off coming to Ararat Terrace.

On top of the incredible views, signature cocktails, and fantastic food, the service at Ararat is also what makes this rooftop restaurant a great experience.

Nothing is too much trouble for the staff and they will do their best to make sure you have an unforgettable time, being both attentive and hospitable but with enough space for you to really enjoy your surroundings.

6. 360 Panorama Restaurant (Cihannuma Restaurant)

Photo Credit: 360 Panorama Restuarant

Hours: 11.00am – 1.00am Monday – Wednesday, 11.00am – 1.30am Thursday – Sunday
Address: Alemdar, Yerebatan Cd. No:18, 34110 Fatih

For a truly elevated fine dining experience, (and I don't mean just because of the view), a visit to 360 Panorama Restaurant (Cihannuma Restaurant) should definitely be on the cards.

Located in the busy district of Sultanahmet, 360 Panorama Restaurant gives visitors unparalleled panoramic views of the city with landmarks like the Hagia Sophia, Blue Mosque, and Old Town all in perfect view.

Because of the panorama, sunsets here are particularly impressive, so if you want to witness one of Istanbul's finest, you should definitely reserve a table.

The food is fairly expensive but it's of an excellent standard, with a wide variety of Mediterranean and Ottoman-inspired dishes to choose from.

Juicy grilled kebabs, slow-cooked casseroles, and hot and cold mezes all bursting with flavor are some of the best things on the menu and not to be missed.

One thing that also really takes 360 Panorama Restaurant to the next level is the beautiful presentation of some of the dishes.

Due to the nature of the food, Turkish and Ottoman cuisine is quite hard to look pretty, but the talented chefs here make light work of some challenging ingredients.

7. Tria Elegance Terrace Restaurant

Photo Credit: Tria Hotel Elegance Restaurant

Photo Credit: Tria Hotel Elegance Restaurant

Hours: 1.00pm – 11.00pm
Address: Cankurtaran, Terbıyık Sk. No:7, 34122 Fatih

You might be noticing a little bit of a trend at this point, but the next rooftop restaurant, Tria Elegance Terrace, is known for its usage of beautiful fish and seafood freshly caught from the seas local to Istanbul.

Overlooking the Bosphorus, visitors to this open-aired terraced restaurant can dine on tasty dishes of international fare like grilled calamari, slow-cooked octopus in red wine, and jumbo prawns sauteed in fragrant garlic alongside traditional Turkish dishes like kebabs, meze, and fresh salads.

The Tria Elegance Terrace Restaurant is located on the rooftop of the Tria Hotel near Istanbul's Sultanahmet Square, though it is closer to the Bosphorus.

You'll be able to see iconic landmarks of the city like the Topkapi Palace, Galata Tower, and of course, the busy streets of Istanbul's Old Town below.

Seafood and fish dishes are priced quite highly, though other main courses like kebabs and slow-cooked meats & casseroles are reasonably priced.

8. Lotiz Lounge & Hookah

Photo Credit: Lotiz Lounge Istanbul

Photo Credit: Lotiz Lounge Istanbul

Hours: 1.00pm – 2.30am daily
Address: Balabanağa Vidinli Tevfikpaşa Caddesi D:Kat:7 No:14, 34134 Fatih

Next up is a slightly different option if you're hunting for somewhere nice for dinner with a beautiful view of the Sea of Marmara.

Lotiz Lounge & Hookah is a rooftop restaurant bar/lounge that offers a very unique fusion of tasty Turkish and world cuisine, in a relaxed rooftop atmosphere with traditional live music and hookah smoking.

Hookah smoking dates back over 500 years ago and is a traditional way of socializing with friends and family over a fruity-flavored tobacco bowl that is shared.

Hookah isn't the only thing on the menu at Lotiz Lounge, a mouth-watering selection of traditional Turkish cuisine can be ordered with a selection of the finest steaks cooked to your liking.

The interior and sleek bar is beautifully designed with fancy furniture throughout with ambient lighting that creates a great atmosphere, especially when the DJ is playing.

Read more: Best Coffee Shops and Cafes In Istanbul

9. MyTerrace Café & Restaurant

View this post on Instagram

Hours: 8.30am – 1.00am daily
Address: No:9،Küçük Ayasofya Mh, Şht. Mehmet Paşa Sk., 34122 Fatih

Whether you're after a leisurely brunch with friends, a romantic dinner with a stunning sunset, or just a quick pit-stop for lunch in between shopping and sightseeing, MyTerrace Café & Restaurant caters to a wide variety of people and needs.

Similar to the Nova Santiye Café, MyTerrace has a quaint little rooftop terrace that's decked out in traditional Turkish furniture and materials giving it a real Istanbul Old City vibe.

Pair this with the amazing view of the sea, call to prayer, and golden sunset, and you've got yourself an incredible little rooftop hideaway that is perfect for any occasion.

10. Queb Lounge Rooftop Restaurant

Photo Credit: Queb Lounge Istanbul

Photo Credit: Queb Lounge Istanbul

Hours: 10.00am – 3.00am daily
Address: Cankurtaran, The Byzantium Hotel Teras, Akbıyık Cd. No:29 D:Kat, 34122 Fatih

Our final rooftop restaurant is Queb Lounge Rooftop Restaurant. This gorgeous, open-plan terrace is perched high up in Sultanahmet's skyline and features amazing views of the shimmering Bosphorus down below together with the Blue Mosque and Hagia Sophia in the background.

To complement the beautiful range of Mediterranean food that is served, expert mixologists have curated an interesting mix of great cocktails with more unique Turkish varieties like the 'Istanbul Dream' and 'The Bosphorus'.

If you'd like to start your day with a hearty breakfast, Queb Lounge also opens relatively early at 10:00 am meaning you can grab one of the city's most delicious breakfast spreads.

Everything from traditional Turkish sausage, eggs, hummus, and freshly-made dips with warm bread is served to hungry guests.

Perhaps best of all, is a traditional Turkish Hamam on the ground floor which you can visit before or after you've feasted on some of the best food in Istanbul.

---

Map Of Best Rooftop Restaurants in Istanbul

To help you figure out which restaurant with a rooftop you want to visit, here is a map of each of these restaurants so you can plan where to visit.

---

Final Thoughts on the Best Rooftop Restaurants in Istanbul

So, there we have it. 10 of the best rooftop restaurants in Istanbul all with magnificent views of some iconic landmarks, and serving up some of the city's most delicious food and most authentic Turkish and Anatolian cuisine.

You'll be hard-pressed to find better rooftop restaurants than these, so with 10 to choose from, you're quite literally spoilt for choice.

Read more: the best rooftop bars in Istanbul