Istanbul's rich history can be found in more than just its historic landmarks, it's also in its coffee culture.
Ever since the 15th century when the Ottomans took over Constantinople (now Istanbul), coffee has been a huge part of Turkish culture and tradition, which means there are plenty of coffee shops in Istanbul to explore.
Istanbul's coffee is aromatic, rich, and delicious, paired with the cozy atmosphere that cafes in Istanbul offer, you could spend hours sitting in these coffee houses and watching the world go by.
But with such a caffeine-fueled culture and coffee shops popping up all over the city, it can be hard to choose where to spend your time.
From traditional coffee houses to quirky, Instagrammable cafes, to cozy cafes with cats or coffee shops with a view, there is something for everyone on this list of the best cafes in Istanbul!
Planning a trip to Istanbul last-minute?
Make sure you book your tours, places to stay, and airport transfers ahead of time to ensure availability!
Here is our recommended airport transfer in Istanbul:
Here are our recommended tours in Istanbul:
Here are our recommended places to stay in Istanbul:
Magnuara Palace Hotel (Gorgeous hotel in the historic centre!)
Cheers Hostel (Budget hostel near the Blue Mosque!)
The Best Cafes in Istanbul
1. Cafe Naftalin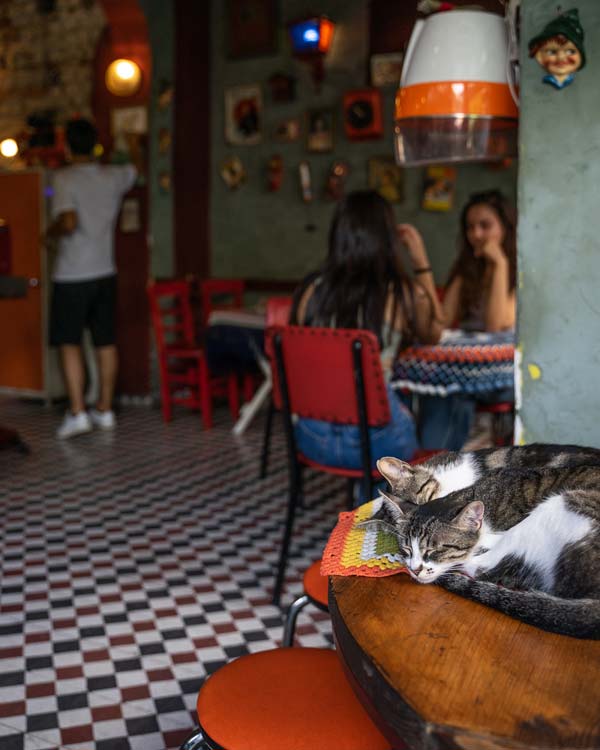 Hours: 10.00am – 11.00pm
Address: Yıldırım Cd. No:27/A, 34087 Balat, Fatih
Naftalin might be the best coffee shop in Istanbul if you're a fan of things classic and dainty. Located in Balat, a picturesque area of the city, this café is actually 'part two' of an old antique shop under the same name just across the road.
Naftalin's interior is so charming, with old vintage crockery in use and antiques like grandfather clocks and typewriters, it's genuinely like stepping back in time.
Those passionate about cats will also fall in love with the place as several resident felines call this particular café home.
Naftalin can get crowded especially during peak times, so be prepared to wait for a table.
2. Walter's Coffee Roastery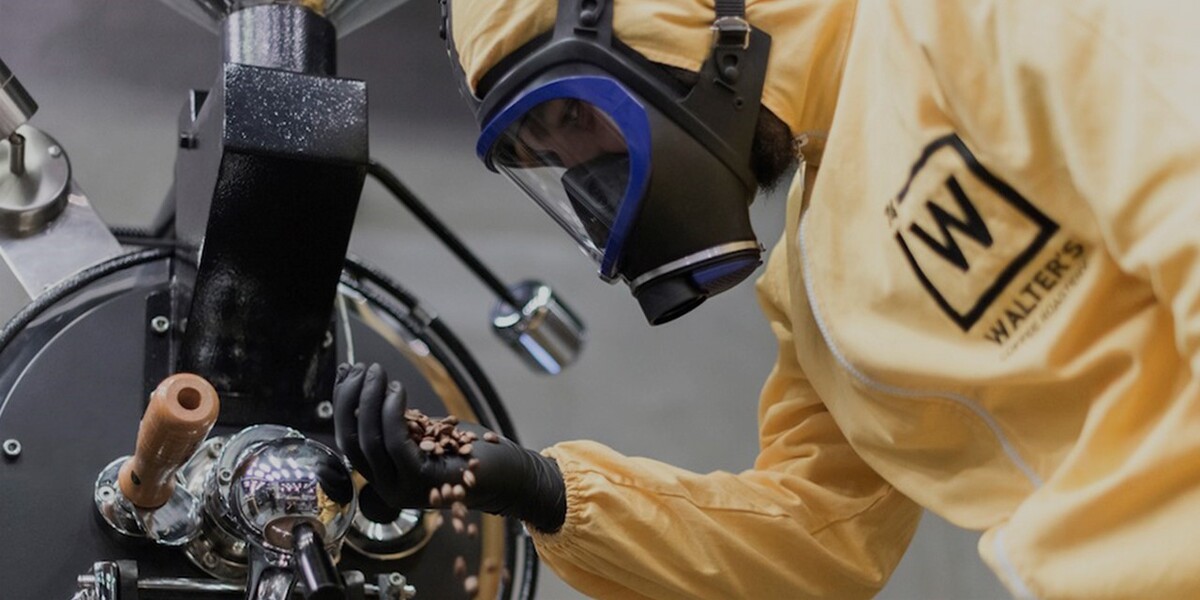 Hours: 10.00am – 11.00pm
Address: Caferağa, Bademaltı Sk. No:21, 34710 Kadıköy
There's no denying it, AMC's ground-breaking hit television series 'Breaking Bad' is arguably one of the best of all time.
An incredible storyline with brilliant characters, played by an even better cast, helped to spawn numerous spin-offs, merchandise, fancy-dress outfits, and even super-cool-themed coffee shops.
One of these coffee shops can be found in the very heart of Istanbul's Kadikoy district. Walter's Coffee Roastery serves some of the city's finest coffee, complete in test tubes, with the all too recognizable yellow hazmat suits hanging up and various other equipment you'd find in an industrial-sized meth lab.
Prices are competitive too so you don't have to worry about paying a premium for the theme.
Related Reading: Best Restaurants in Kadikoy 
3. F'Roses
Hours: 10.00am – 8.00pm (Closed Mondays)
Address: Arnavutköy, Bebek Arnavutköy Cd No:26/A, 34345 Beşiktaş
Anthophiles, this Istanbul coffee shop is for you. Decorated with an amazing amount of pink and white roses and other various flowers, it's safe to say F'Roses is perfect for your Instagram.
You'll discover this cute little café by the banks of the Bosphorus in the Bebek neighborhood of Istanbul, meaning it's a little further out than most on the list.
We think this is actually a benefit because it'll get you out and about, exploring the lesser-visited part of the city. The pink theme continues inside, with pink booths, pink tea cups, and even a delicious pink latte on the menu.
4. FiLBooks Café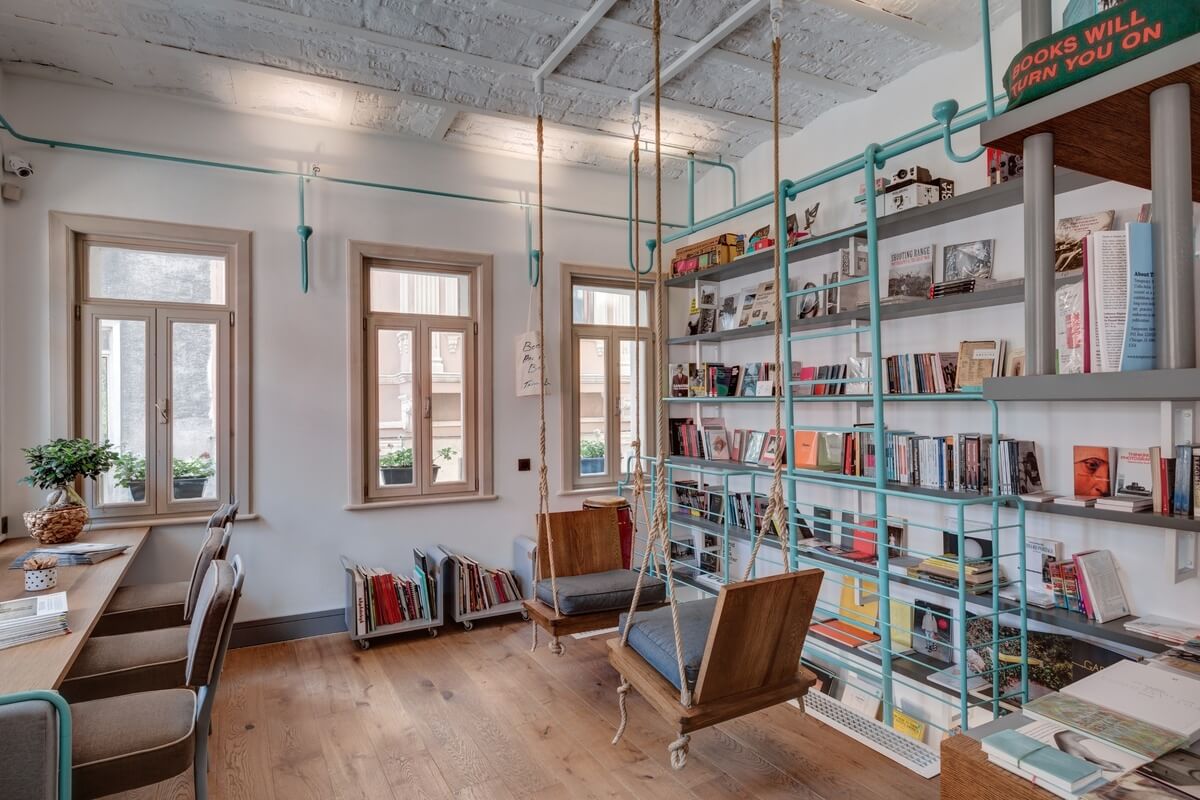 Hours: 10.00am – 10.00pm
Address: Kemankeş Karamustafa Paşa, Ali Paşa Değirmeni Sk. No:1, 34425 Beyoğlu
If you find yourself wanting to hit up some coffee shops in Istanbul during the cold winter months, get yourself down to the ultra-chic FiLBooks Café.
Its super cozy, relaxed environment is perfect for wandering in, picking out a good book, and settling down on a legless hanging chair with one of their signature coffees.
FiLBooks also do really tasty food too, perfect for if you're thinking of staying at the café a while, perhaps to get some work done, or because you're too engrossed in the latest thriller.
5. Minoa Akaretler
Hours: 8.00am – 1.00am (10.00am – 1.00am on Sundays)
Address: Vişnezade, Süleyman Seba Cd. No:52/A, 34357 Beşiktaş
Sticking with the theme of cozy bookstore cafés, Minoa Bookstore & Café, or Minoa Akaretler as it is locally known, is the next on our list. An all-day affair, this three-story café in Istanbul is open from the crack of dawn at 8 am, all the way through to the thick of night, closing at 1 am.
As well as their exquisite freshly-brewed coffee and hot drinks, Minoa also dishes up an unbeatable breakfast, seriously appetizing lunch options, and tasty dinners which is perfect for those wanting to chill out in a peaceful environment at any time with a quality book.
Minoa has an on-site library too with plenty of English-language books to choose from as well as a snug reading area for when you can't wait to dive into your newly-bought book.
6. Café Ara
Hours: 9.00am – 11.30am Monday – Friday, 10.00am – 11.30pm Saturday and Sunday
Address: Tomtom, Ara Güler Sk No:2, 34433 Beyoğlu
Serving up some of the city's most delicious bites to eat is Café Ara, which is just a short stroll away from the famous Istiklal Street.
What makes this particular Turkish coffee shop so unique is the fact its late owner, Ara Güler, was actually a well-known local photographer. Güler's work is all over the walls of the café, displaying the beautiful pictures he used to take of Istanbul from a variety of different eras.
The 100-year-old stained glass windows are also attractive, the staff is so friendly and, as we've mentioned, the food is second to none too. This all adds up to make Café Ara an extremely difficult Istanbul coffee shop to leave.
7. Karabatak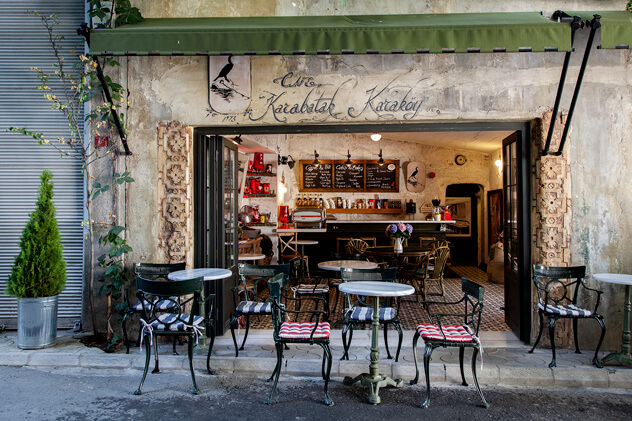 Hours: 8.30am – 11.30pm
Address: Kemankeş Karamustafa Paşa, Karaali Kaptan Sk. No:7, 34425 Beyoğlu
It'd be a good assumption to say that Karabatak wouldn't look all out of place if it was placed right in the middle of the Asian madness that is Hanoi.
But situated in one of Istanbul's oldest neighborhoods, Karakoy, however, this coffee shop has a vast amount of streetside seating and wide-open windows in what is hugely reminiscent of the charming, laid-back social coffee shops of Vietnam.
Grabbing a freshly made drink at Karabatak is the perfect respite from the craziness that is Istanbul. Not only is it beautiful outside, but if you're needing some shelter from the blistering Turkish sun, it's also stunning inside too.
Vintage bicycles hang from ceilings and works of art adorn the exposed brickwork walls. It's a lovely place to be, and it's even better with one of their delicious drinks from Turkey.
8. Limonluk Cafe
Hours: 9.00am – 5.30pm (Closed Mondays)
Address: Vişnezade, Dolmabahçe Cd., 34357 Beşiktaş
During 2019-2021, Limonluk Café was built. This gorgeously styled café is located in the lush gardens of the Dolmabahce Palace, with a small but pretty pond with swimming swans and plenty of magnolia trees that litter the ground with petals.
Tucked away in the corner of this lovely part of the Palace grounds, Limonluk Café's unique complete glass structure gives the interior a bright, welcoming feel and the indoor water fountain is the pièce de résistance helping to create a wonderfully royal atmosphere.
Pair the surroundings with the superb coffee, cakes, and desserts on offer and you've certainly got one of the best cafes in Istanbul.
9. Cukurcuma Antiques & Café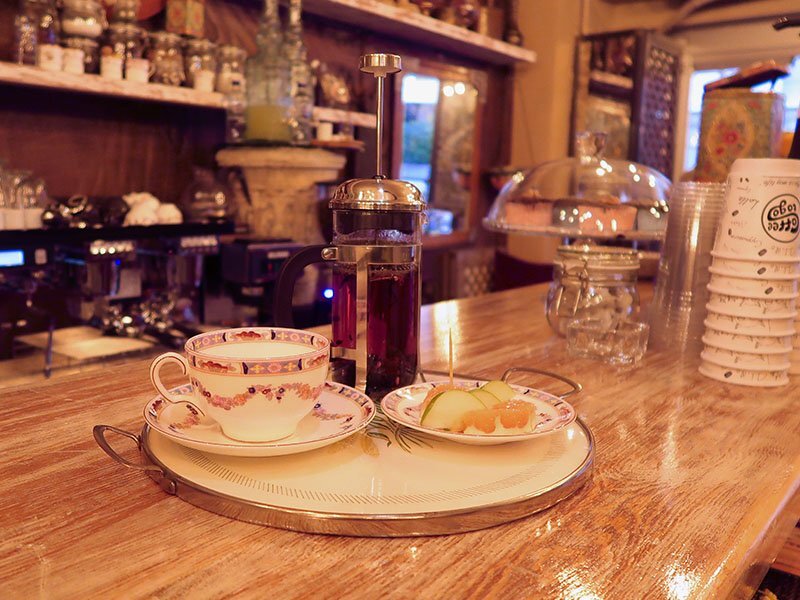 Hours: 9.00am – 7.30pm (10.00am – 7.30pm on Sundays)
Address: Firuzağa Mah, Çukur Cuma Cd. No:52B, 34425 Beyoğlu
Looking for somewhere different to grab some breakfast in Istanbul? Well, look no further, because in the hustle and bustle of Beyoglu is one breakfast café with a twist.
Filled to the brim with all kinds of unique, vintage treasures is Cukurcuma Antiques & Café. Step inside and you'd be forgiven for thinking you weren't in a café at all but actually in an antique shop.
For example, there are bookshelves, mirrors, colorful lamps, and velvet armchairs everywhere which all add to the cafe's vintage aura.
They also do delicious food too with things like pesto avocado pasta, poached eggs, sandwiches, wraps, and desserts all looking incredible.
If you've ever wanted to enjoy your Turkish coffee sitting at a 200-year-old Viennese oak table, or perhaps even on a real marble fountain, then this is the café to visit.
10. Emilia Café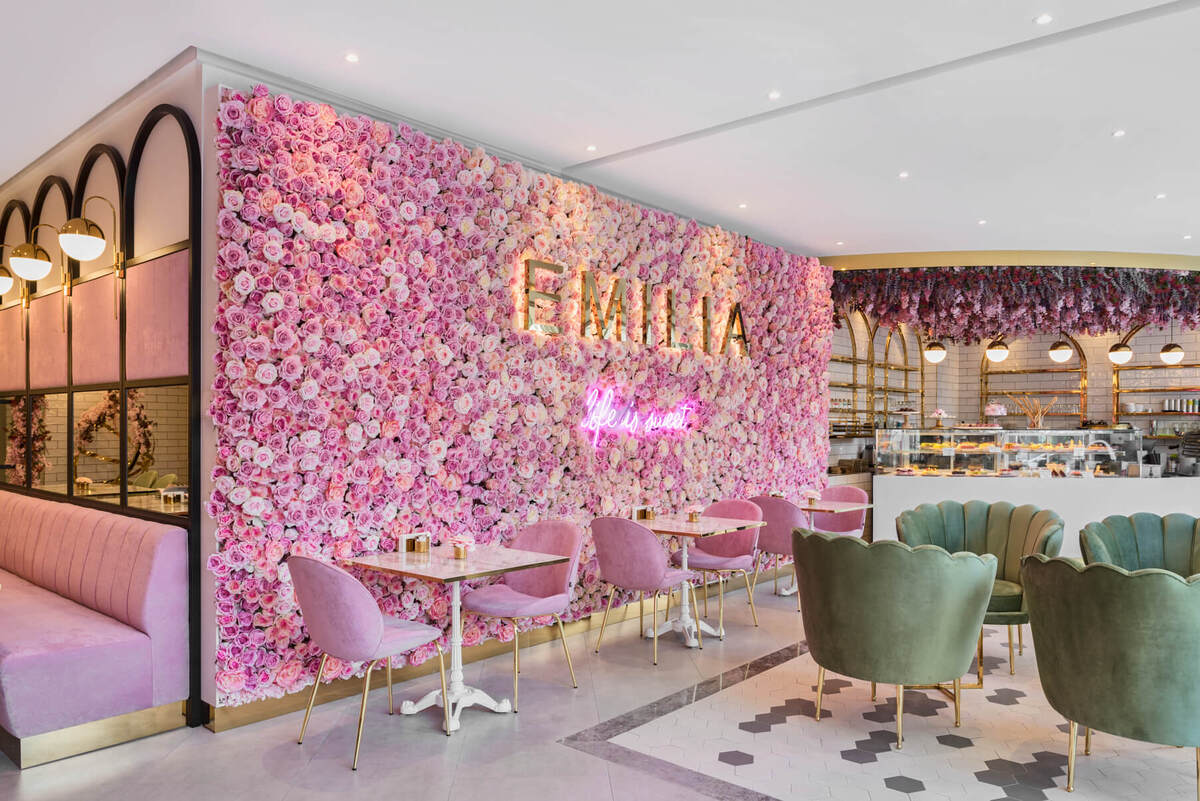 Hours: 9.00am – 11.00pm Sunday – Thursday, 9.00am – 12.00am Friday and Saturday
Address: Suadiye, Mücahit Sk. no:402/B, 34740 Kadıköy
Looking all pretty in pink is the next café on our list. Emilia Café is without a doubt one for the Instagram lovers as the aesthetically pleasing, floral-themed interior is just stunning.
There's only one other coffee shop in Istanbul with a similar vibe which is F'Roses, as we've mentioned previously, making this a very unique café indeed.
It's fun, it's quirky, and best of all the food and drinks served at Emilia Café are all made with the freshest ingredients so you can be sure you're getting good food and even better prices.
Eye-catching colored coffees, healthy mocktails, wraps, and even a mouth-watering Chicken Schnitzel are all on the menu.
The staff here are also a real delight, they're so friendly and all speak excellent English so you can be sure to get great service.
11. Suflor Kadikoy
Hours: 11.30am – 12.00am
Address: Osmanağa, Nihal Sk. No:5/a, 34714 Kadıköy
Visiting Suflor Kadikoy is like stepping into a real-life comic book. Its black-and-white animated décor is nothing short of mesmerizing.
Creative sketches plaster the walls and ordinary room features like skirting boards, window sills, and curtains have all taken the form of something out of a sketchbook.
There really can't be anywhere else like it in the world.
In fitting with the monochrome theme, there's chess to be played too, so you can sit down with a friend and play a game or two enjoying your drinks and the weird and wonderful setting you find yourself in.
We haven't even mentioned the Souffles yet, that the café is named after. Interestingly, the fluffy, self-rising food is the only thing that's served here and with a range of wacky flavors for you to try, there's no excuse not to get one.
12. Corlulu Ali Pasa Medresesi
Hours: 7.00am – 2.00am
Address: Mollafenari, Yeniçeriler Cd. No:38, 34120 Fatih
For a true, traditional Turkish experience, get yourself down to Istanbul's historical Fatih district where one of the city's hidden gems is located.
Technically a shisha bar, Corlulu Ali Pasa Medresesi is an absolute favorite of the locals and has been for decades, where Turks of all ages come to relax and enjoy a flavored shisha, or hookah, with one of Istanbul's finest Turkish teas or coffees.
It's a little off the beaten track, but once you arrive, you'll be greeted with a warm welcome and will soon realize your efforts in finding this spectacular place will be worth it.
13. Galata Konak Café
Hours: 9.00am – 11.30pm
Address: Bereketzade, Hacı Ali Sk. No:2, 34425 Beyoğlu
There's literally nothing better in Istanbul than relaxing after a hard, sweaty day of exploring with a refreshing homemade lemonade and some of the best views of the European side of the city. Galata Konak Café is just the spot to do exactly that.
Perfectly located in the central Galata district, perch yourself on the cafe's rooftop terrace and you'll get unparalleled views of the Istanbul icon that is the Galata Tower.
If you're not a fan of long queues but want to get up close to the Tower, then a visit to this café is a perfect alternative.
14. Pierre Loti Café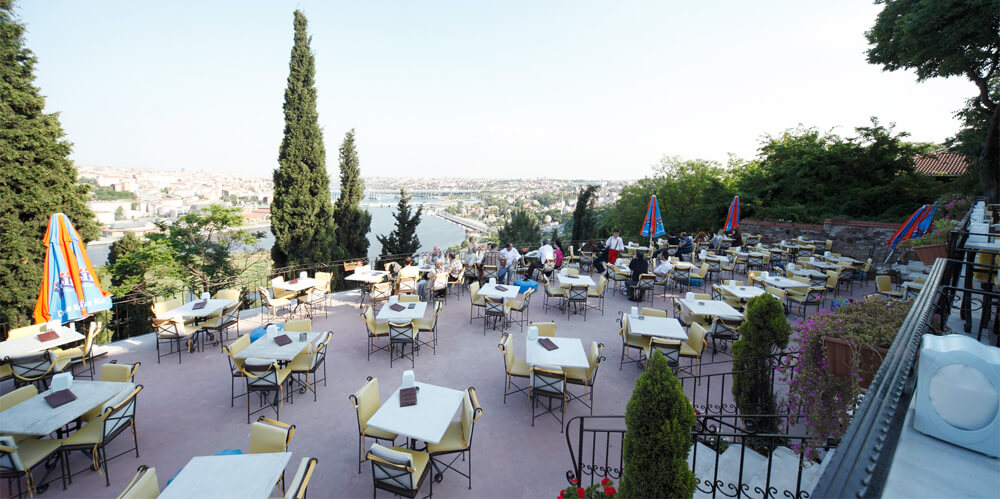 Hours: 8.30am – 12.00am
Address: Eyüp Merkez, Karyağdı Sk. No:20, 34050 Eyüpsultan
Named after the French naval officer turned novelist Pierre Loti, this hilltop café/restaurant has spectacular views across the Golden Horn and beyond.
It's situated in pretty much the same spot that Loti's original favorite coffee 'shop' was, and almost immediately it's easy to see why it was his favorite.
It's a peaceful escape from the business of Istanbul's streets, needing the adventure of a funicular to reach it, all of which would have been perfect for some inspiration before putting pen to paper.
Today, the café serves flawless food and some of the city's finest freshly brewed drinks. If you're after a bit of history with your afternoon tea or coffee, you can't go wrong with Pierre Loti Café.
15. Dervis Café & Restaurant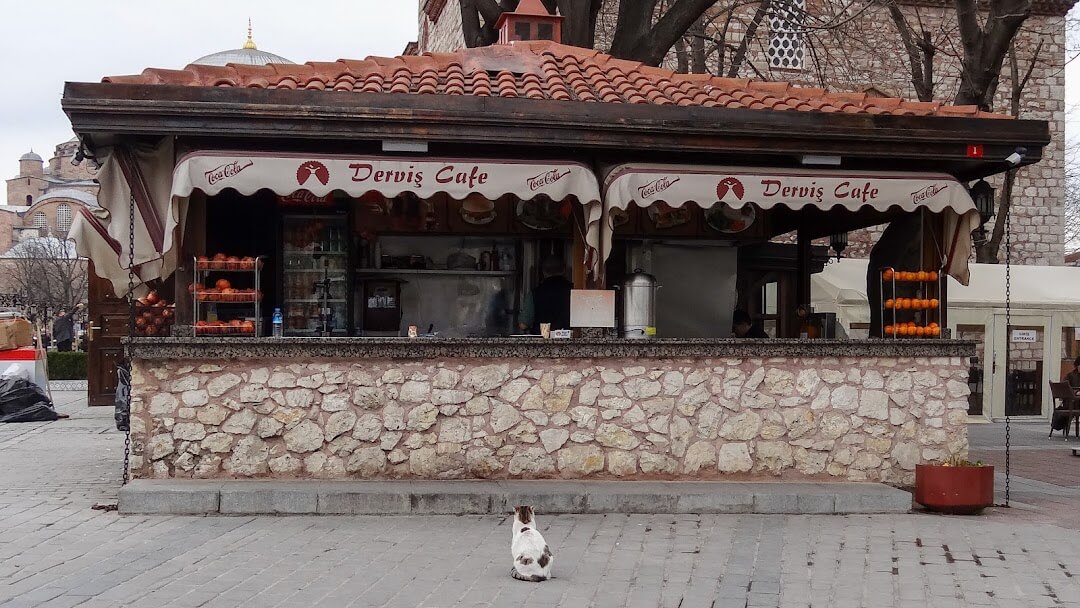 Hours: 8.00am – 2.00am
Address: Sultanahmet Mah, Kabasakal Cd. No:1 D:2, 34122 Fatih
With an ideal location in Sultanahmet, right next to the Hagia Sophia and Blue Mosque, Dervis Café & Restaurant is one of the only places in Istanbul where you can sit down with an apple tea or Turkish coffee after the sun goes down and watch a whirling dervish show.
Granted, it's not an 'actual' whirling dervish show, but it's still a wonderful experience nonetheless. It's even better in the summer months too as an abundance of outdoor seating becomes available to customers so you can relax al fresco.
Considering the cafe's prime location, the prices for food and drinks are reasonable meaning you can fill up to your heart's content for a great price. Best of all, the evening shows are free!
Related: Best Vegan Restaurants in Istanbul
---
Map of Coffee Shops in Istanbul
To help you plan your visit, here's a map showing the locations of these Istanbul cafes so you can plan which one to visit…
---
FAQs About Cafes in Istanbul
Here's what people usually ask us about Istanbul coffee shops…
What is the oldest coffee shop in Istanbul?
The oldest coffee shop on record in Istanbul is Tahtakale, which dates back to 1544.
Is Istanbul famous for coffee?
Yes, Istanbul is one of the best places in the world for coffee lovers. It has a deep love of coffee that dates back centuries, which has created this city-wide coffee culture. You can find some of the best coffees in the world at some of the coffee shops in Istanbul.
How much is the average Turkish coffee in Istanbul?
You should expect to pay around 25 Turkish Lira for a Turkish coffee, but International style coffees tend to cost a bit more. You also pay extra for coffee shops with a view.
---
Final Word on Istanbul Coffee Shops
So there you have it, those are the best coffee houses in Istanbul, and as you can see, there's a lot of variety on this list.
Whether you're looking for somewhere traditional or somewhere with a photogenic vibe to use as a backdrop for Instagram pics, there's a coffee shop for everyone on this list.
One thing's for certain though, they all offer incredible coffee! Do you have a favorite cafe in Istanbul? Let us know in the comments.
Disclaimer: Some of the links above are affiliate links. That means if you book or make a purchase through the links, we will earn a small commission at no extra cost to you! The money will help run this site! Thank you!