If you're looking for an off-the-beaten-path experience in Istanbul, Balat is the place to go. It is one of our favorite hidden gems in Istanbul, and the one that we continue to find ourselves in anytime we visit our favorite Turkish city.
That is why we have decided to write a guide on Balat, so that you too can explore its charming architecture, beautiful streets, and vibrant cultural scene.
Enjoy!
Planning a trip to Istanbul last-minute?
Make sure you book your tours, places to stay, and airport transfers ahead of time to ensure availability!
Here is our recommended airport transfer in Istanbul:
Here are our recommended tours in Istanbul:
Here are our recommended places to stay in Istanbul:
Magnuara Palace Hotel (Gorgeous hotel in the historic centre!)
Cheers Hostel (Budget hostel near the Blue Mosque!)
---
About Balat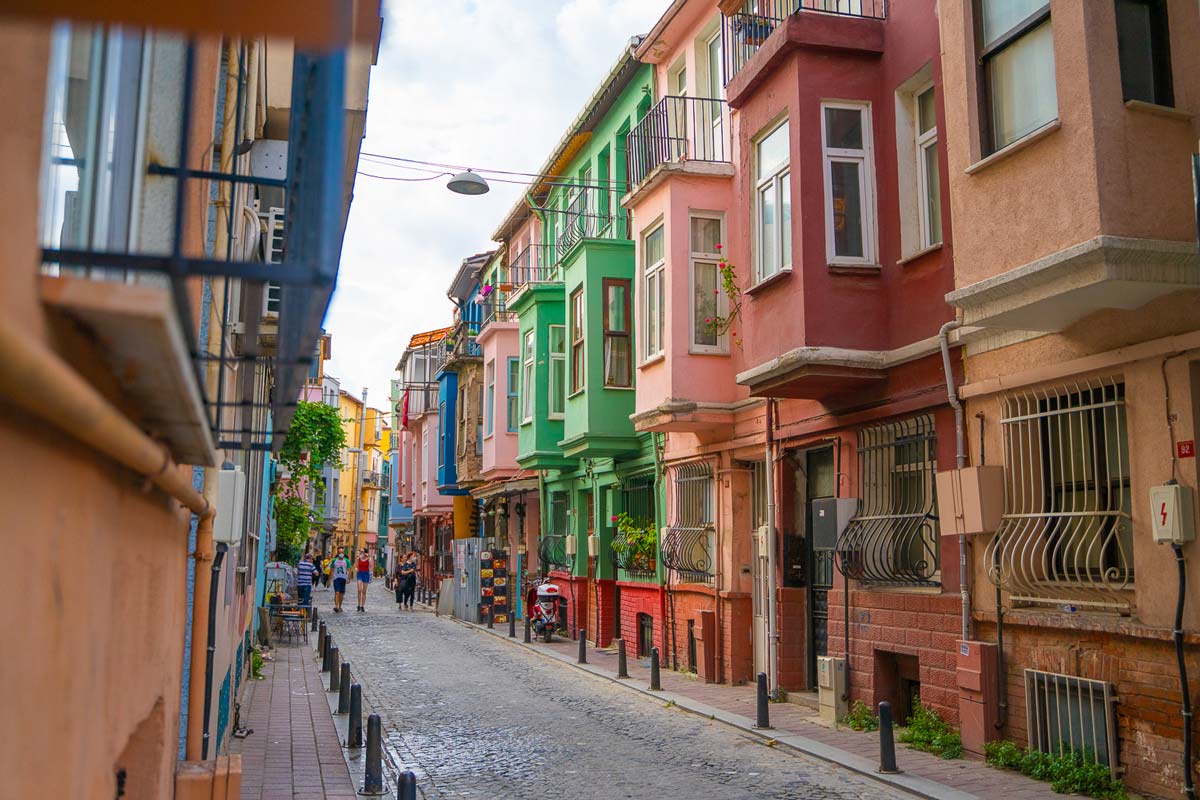 As a historic neighborhood located on the European side of Istanbul, Balat has long been known for its diverse population and beautiful architecture. It became known as the Jewish quarter of Istanbul in the late 15th century, when Sultan Bayezid II offered citizenship to the Jews fleeing the Inquisition in Spain and Africa.
Throughout the years, the neighborhood has become a melting pot of culture, with ethnic minorities from places like Armenia, Bulgaria, and more. However, nowadays, there are mostly Muslims staying in Balat.
Balat has become increasingly popular with tourists and young creatives seeking out its old-world charm. Despite an increase in tourism in recent years, Balat still retains its authentic local feel with small mom-and-pop shops and restaurants serving traditional Turkish cuisine.
The neighborhood also has a number of charming coffee shops and restaurants, as well as art galleries and boutique stores.
Along with the nearby Fener District, they make up part of the UNESCO World Heritage Site of the Historic Areas of Istanbul. Fener and Balat are must-visit destinations for anyone interested in experiencing Istanbul's rich culture and history.
---
Where Is Balat In Istanbul?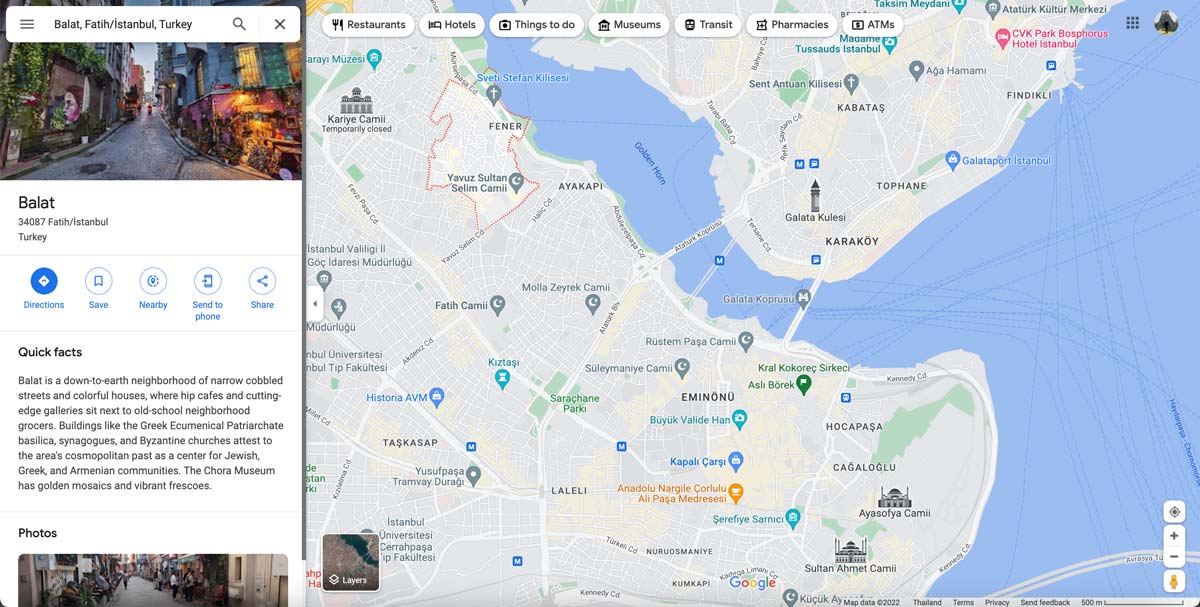 Balat is located on the European side of Istanbul, on the western side of the Golden Horn. It is situated between Eminönü and Ayvansaray, two other historic neighborhoods in Istanbul.
---
How To Get To Balat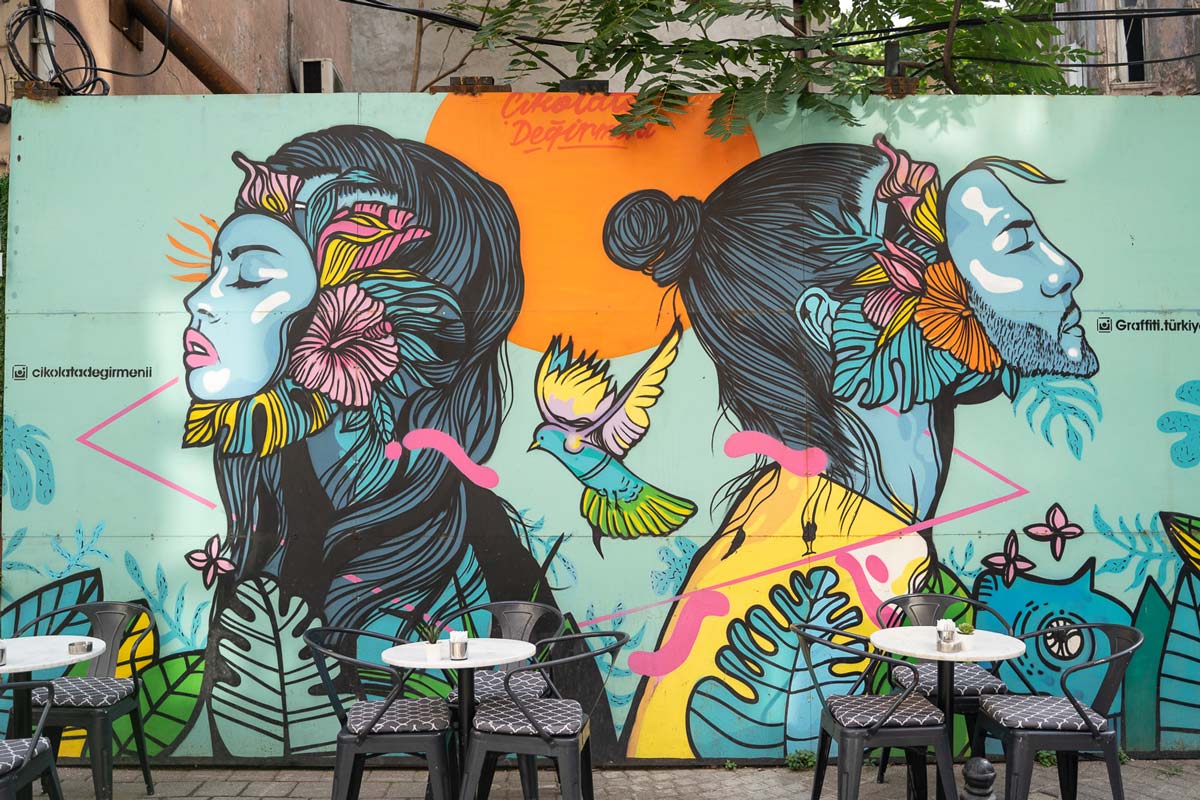 Getting to Balat is quite easy, as it is situated less than 5 kilometers from the historic center of Istanbul, Sultanahmet. Because of that, you can easily catch an Uber or taxi and arrive in no more than 20 minutes, as long as there's no traffic.
If you are coming from Taksim or Beyoğlu (in the modern center of Istanbul), then it is about 5.5 kilometers away. Though it is a little bit further, it is still very easy to get to Balat from Taksim.
If you are coming from Sultanahmet, we recommend you take the T5 tram to Balat or Fener station. It takes less than 30 minutes but your trip won't be interrupted by the horrific traffic Istanbul is known for.
Though Google Maps might advise you to take the bus, it is often slower than the tram.
If you are coming from Taksim or the nearby area, a bus can take you directly there – the No. 55T or 87 to Balat or Fener. Tram is also an option, but it takes considerably longer so it might not be a good way to get to Balat.
---
Things To Do In Balat
1. Take A Photo At The Famous Colorful Buildings In Balat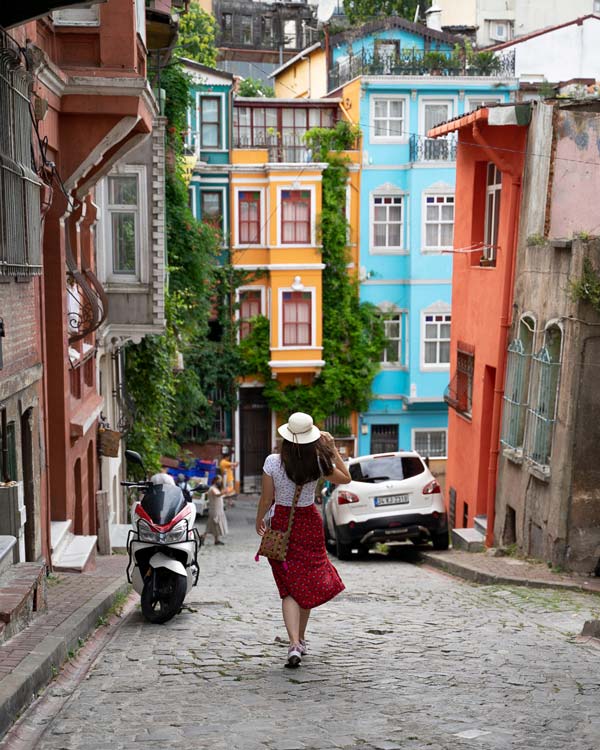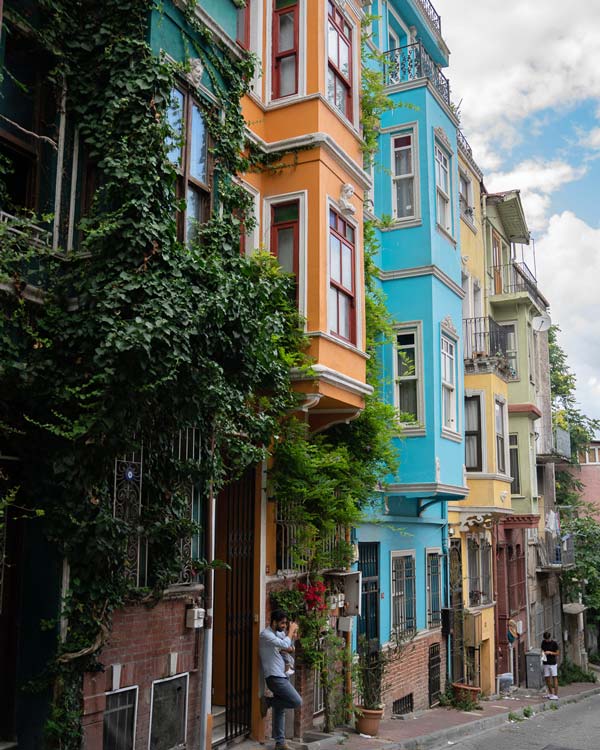 Perhaps the biggest reason why travelers come to Balat is to take a photo of the colorful buildings on Kiremit Caddesi (Kiremit Street). These pastel-colored buildings are some of the most beautiful buildings in Istanbul. With its beautiful colors and cobblestone streets, it is almost like stepping into a fairytale.
Just be respectful of the locals in the area. This is a neighborhood and a home to people, not just a tourist attraction, so please remember to be polite and quiet.
Make sure you also check out some of the surrounding streets, they are also very atmospheric and beautiful.
2. Enjoy a Cup Of Coffee At One Of The Quaint Cafes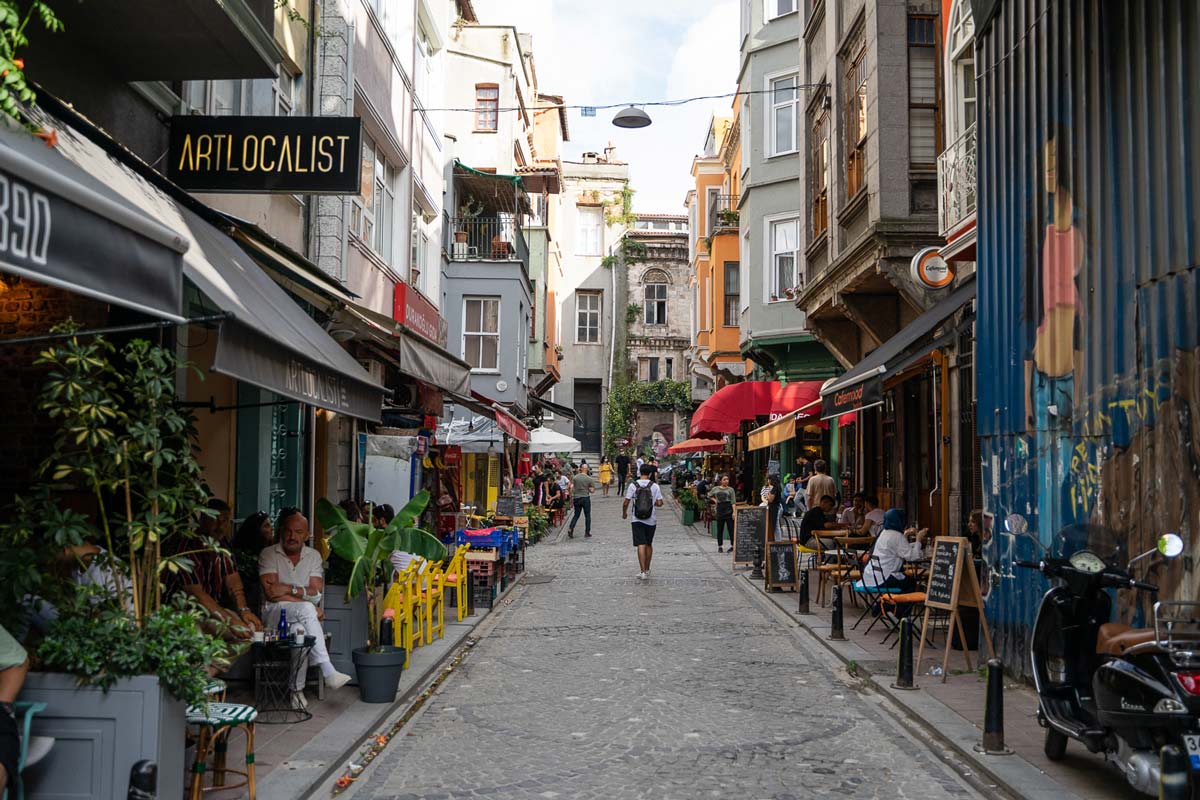 One of the charming aspects of Balat is its plethora of quaint cafes. Nestled among the historic buildings and winding streets, these cafes offer a cozy atmosphere to enjoy a warm cup of coffee or tea.
These cafes are the perfect place to take a break, people watch, and soak up the atmosphere of the neighborhood.
One of our favorite cafes is Cafe Naftalin K., which is a cafe with a lovely atmosphere, a great menu, and lots of cats! It is like a cat cafe you see in another country but the cats are all stray but well taken care of.
3. Check Out Merdivenli Yokuş Evleri
One of the most famous streets in Istanbul is Merdivenli Yokuş Evleri. This is a very steep street with a cobblestone road and colorful steps on the sides. There are also plenty of beautiful and historical houses on either side, making it the perfect place for a photo.
Another beautiful street in Balat that you mustn't miss is Sancaktar Yokuşu Çeşmes. This street is much longer and steeper but it is equally beautiful.
4. Visit İncir Ağacı Kahvesi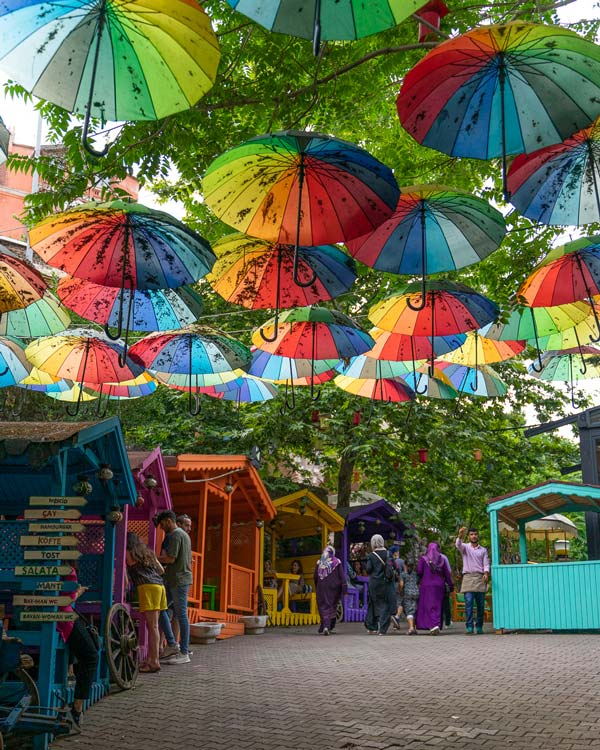 İncir Ağacı Kahvesi is one of the most popular cafes in Balat, but the place is so much more than just a cafe. It is a creative hub where locals and visitors come to enjoy the artistic decorations and gorgeous outdoor spaces.
The biggest reason why most come to İncir Ağacı Kahvesi is for the umbrella street. It is one of the best places to take photos in Istanbul!
There is a lovely garden area where you can sit and relax with a book or your laptop. The cafe also sometimes hosts art exhibitions, music performances, and other events. If you are looking for a place to relax and soak up the creative atmosphere of Balat, İncir Ağacı Kahvesi is the perfect spot.
5. Check Out The Vintage And Antique Shops
The historic district of Balat is full of vintage and antique shops, and it is the perfect place to find unique Turkish souvenirs. From vintage clothing to antique jewelry, there are plenty of treasures for those willing to dig deep.
Most of these antique shops aren't on Google Maps, but since Balat is so small, it is not difficult to find them while you are walking around.
6. Visit The Phanar Greek Orthodox College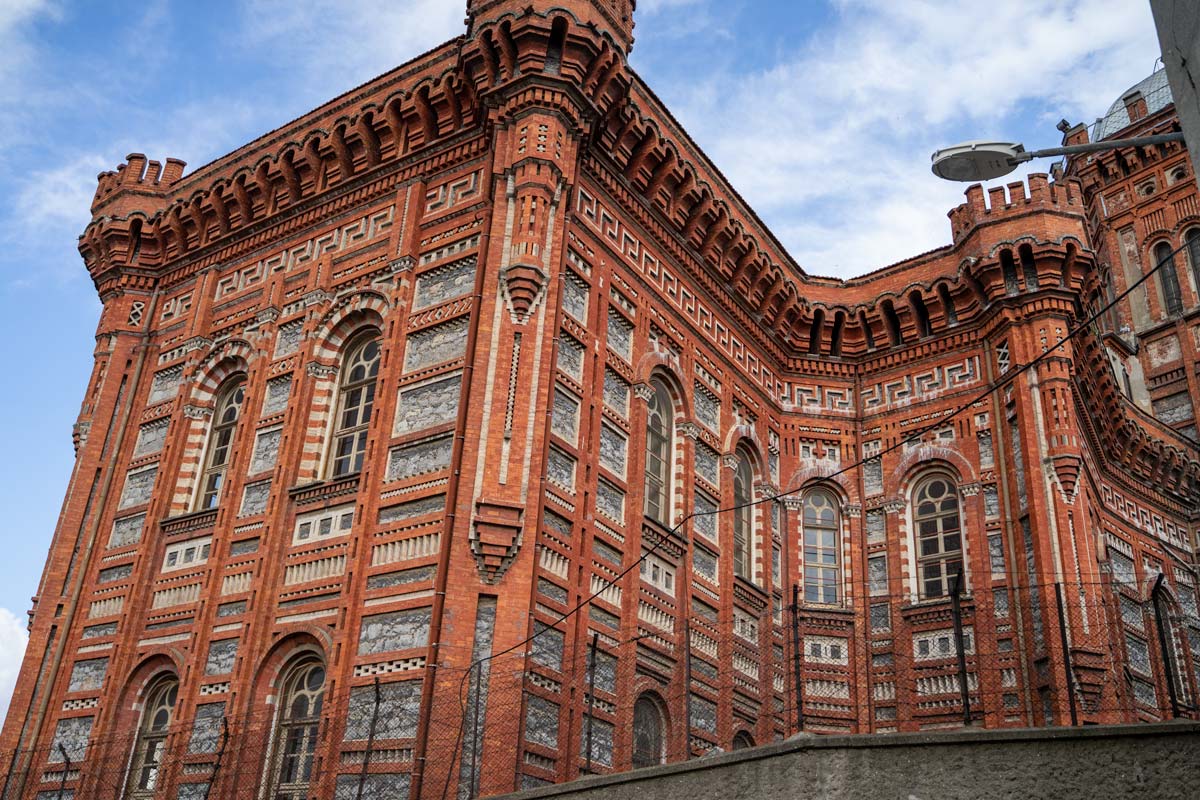 One of the most gorgeous buildings in Balat is the Phanar Greek Orthodox College. Founded in 1454, this is the oldest Greek Orthodox school in Istanbul and one of the oldest in the world. It is situated in the Fener District, which is a Greek minority district adjacent to Balat.
The school is beautiful with its vibrant orange exterior and ancient Greek architecture. On the front of the building, you'll find Greek letters that exemplify its authenticity. Given that Turkey is very much Muslim, it is very unique to find such a well-preserved Greek building.
7. Explore Saint George's Church and Ecumenical Patriarchate
Though the Saint George's Church and Ecumenical Patriarchate are technically in the Fener District, it is a short walk from most of the attractions in Balat.
The church dates back to the fourth century and has been the seat of the Eastern Orthodox Church since the 4th century. The current building was constructed in the late-1800s to early 1900s and features unique stunning Byzantine architecture with a hint of neo-classical influence.
Visitors can tour the beautiful grounds and enter the church. Though the exterior might not look impressive, the interior is lavishly decorated! It is also a popular destination for pilgrimages, especially for those from Greece and other Orthodox countries.
8. Check Out Of Of The Synagogues In Balat
As the historic Jewish Quarter of Istanbul, it shouldn't surprise you that Balat has quite a few synagogues.
The two most famous ones are – Yanbol Synagogue and Ahrida Synagogue.
The Yanbol Synagogues were built by the Sephardi Jews who moved from the Yambol in Bulgaria to Istanbul during the 15th century. For that reason, it is also known as the Bulgarian Synagogue.
The Ahirda Synagogue is also known as the Ohrid Synagogue, which is a town in present-day North Macedonia. It was built from the Romaniotes from Ohrid, which is how it received its name.
9. St. Stephen's Bulgarian Orthodox Church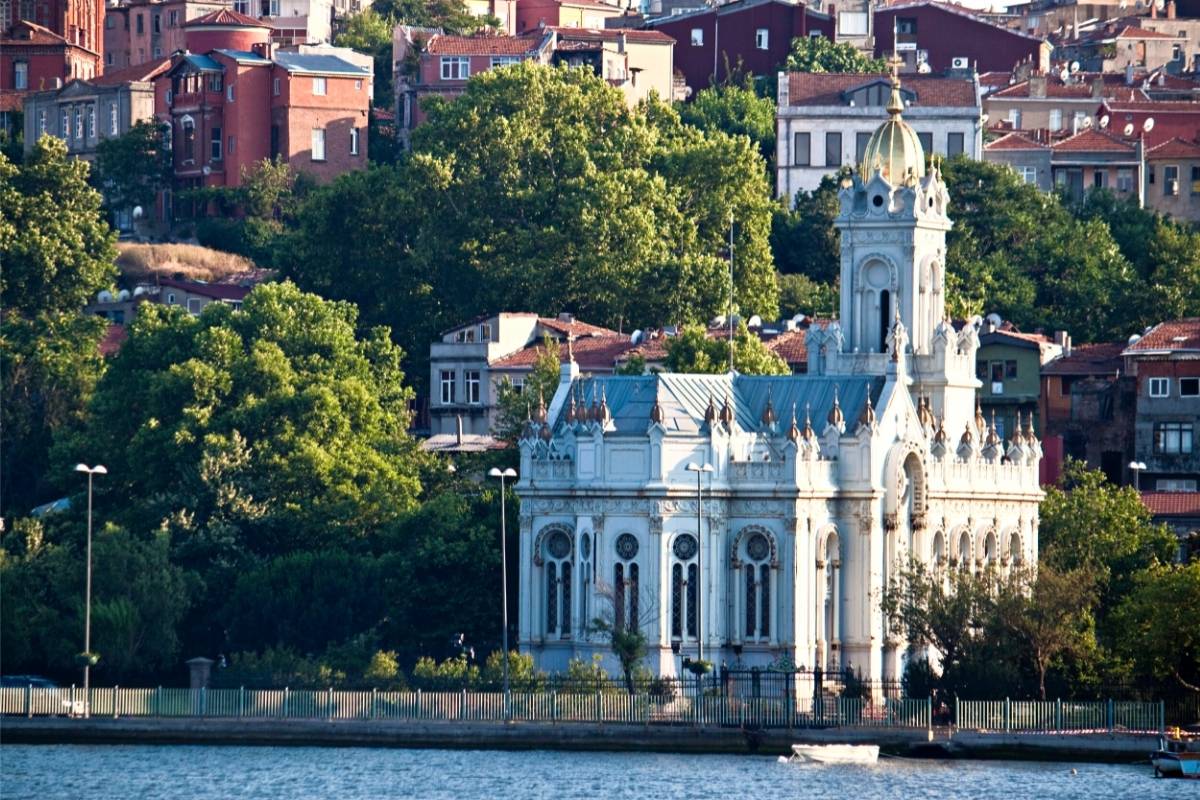 The St. Stephen's Bulgarian Orthodox Church is one of the most iconic landmarks in Balat. Built with pre-fabricated cast iron, the 19th-century church is very unique and stood as a symbol of the Bulgarian community in Istanbul for generations. The church features stunning Byzantine-style architecture, with intricate designs and colorful mosaics adorning the walls and ceilings.
In addition to being a religious site, the church is also an important landmark for Istanbul's diverse history and its connections with Bulgaria. Its continued existence and preservation serve as a testament to the city's rich multicultural legacy.
---
Where To Eat In Balat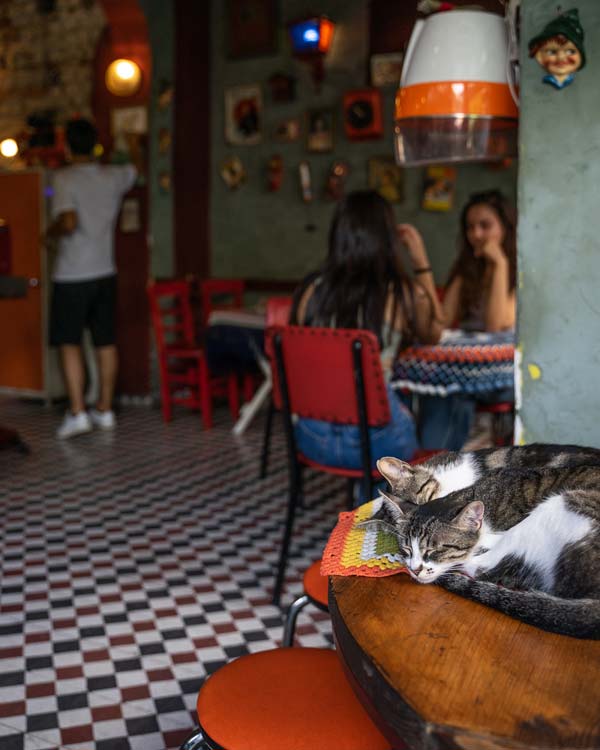 Balat is filled with tons of cafes and restaurants. Every time we visit, we are overwhelmed with choices. We typically just go down the main street in Balat, Yıldırım Caddesi, and find something we like.
But here are a few restaurants and cafes we especially love in Balat:
---
Balat Istanbul FAQs
Is Balat Safe?
Balat is generally a safe area to walk around and even to live in. Some of the buildings might be dilapidated which could be concerning, but it is one of the safest areas in Istanbul. At night, the quiet and narrow streets can be alarming and potentially dangerous, so we recommend not visiting Balat at night.
Is Balat Worth Visiting?
Balat is definitely worth visiting. It is a unique part of the city where the history of the city of Istanbul can be seen. Visitors can learn more about the history of the Greeks and other minority groups while strolling down its cobblestone streets and admiring its colorful houses.
Can You Visit Balat In A Day?
Balat can definitely be visited in a day, and maybe even half a day. Most visitors just wander around the charming streets, take photos of the breathtaking buildings, and enjoy a meal at one of the quaint cafes. Even if you want to explore the area in depth, it shouldn't take more than a full day because it is so small!
---
This concludes our guide to one of our favorite places in Istanbul – Balat and Fener. Hopefully, not only do you know what to expect, but how to make the best out of your visit to Istanbul and to this historic neighborhood!
Disclaimer: Some of the links above are affiliate links. That means if you book or make a purchase through the links, we will earn a small commission at no extra cost to you! The money will help run this site! Thank you!