If you are visiting Turkey, there is no better way to remember your trip than by purchasing some Turkish souvenirs in Istanbul. From the historic bazaars to the modern shopping malls, Istanbul is full of many great places to shop for souvenirs.
But the ultimate question remains. What do you buy from Istanbul as gifts and souvenirs? Of course, there's always the easy route of getting a fridge magnet or a T-shirt, but we want you to have the best items to take home with you.
But luckily, Turkish culture is very rich and there are many great souvenirs that you can purchase, no matter your budget. So without further ado, here are the best Istanbul souvenirs to buy on your next trip!
In our guide, we've also included tips on bargaining (because you'll need it) and where you can go shopping in Istanbul for gifts!
Planning a trip to Istanbul last-minute?
Make sure you book your tours, places to stay, and airport transfers ahead of time to ensure availability!
Here is our recommended airport transfer in Istanbul:
Here are our recommended tours in Istanbul:
Here are our recommended places to stay in Istanbul:
Magnuara Palace Hotel (Gorgeous hotel in the historic centre!)
Cheers Hostel (Budget hostel near the Blue Mosque!)
---
Best Istanbul Souvenirs To Buy
1. Turkish Tea Sets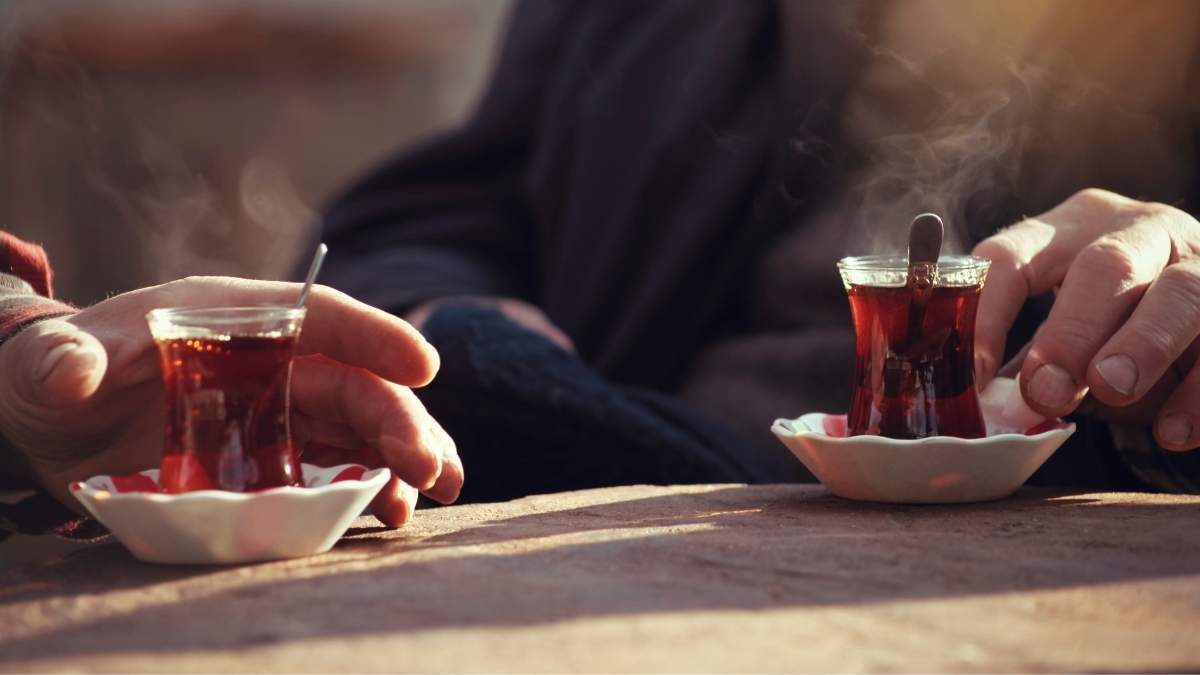 If there is one gift to buy in Istanbul, it is Turkish Tea, or çay in Turkish. Not only is it the most commonly drunk beverage in Turkey, but it is also incredibly delicious. It is estimated that Turkish locals drink about 3 to 5 cups of Turkish tea a day, and that number can go up to 10 cups in the winter.
It is a souvenir that is not only practical but represents a huge part of Turkish culture as well.
Tea lovers will surely appreciate the unique flavors of Turkish tea. The tea leaves come from Ceylon tea grown in the Rize region of Turkey, and it is known to be mellow but aromatic and flavorful. As avid tea drinkers ourselves, we like Turkish tea much more than black tea, earl grey, or even green tea!
When you purchase Turkish tea, make sure you get some traditional tulip-shaped glasses, or ince belli in Turkish. Not only is it the proper way to drink Turkish tea, but you can also see the color of your tea before drinking, which will indicate to you whether the tea is too strong or weak for your taste.
2. Turkish Rugs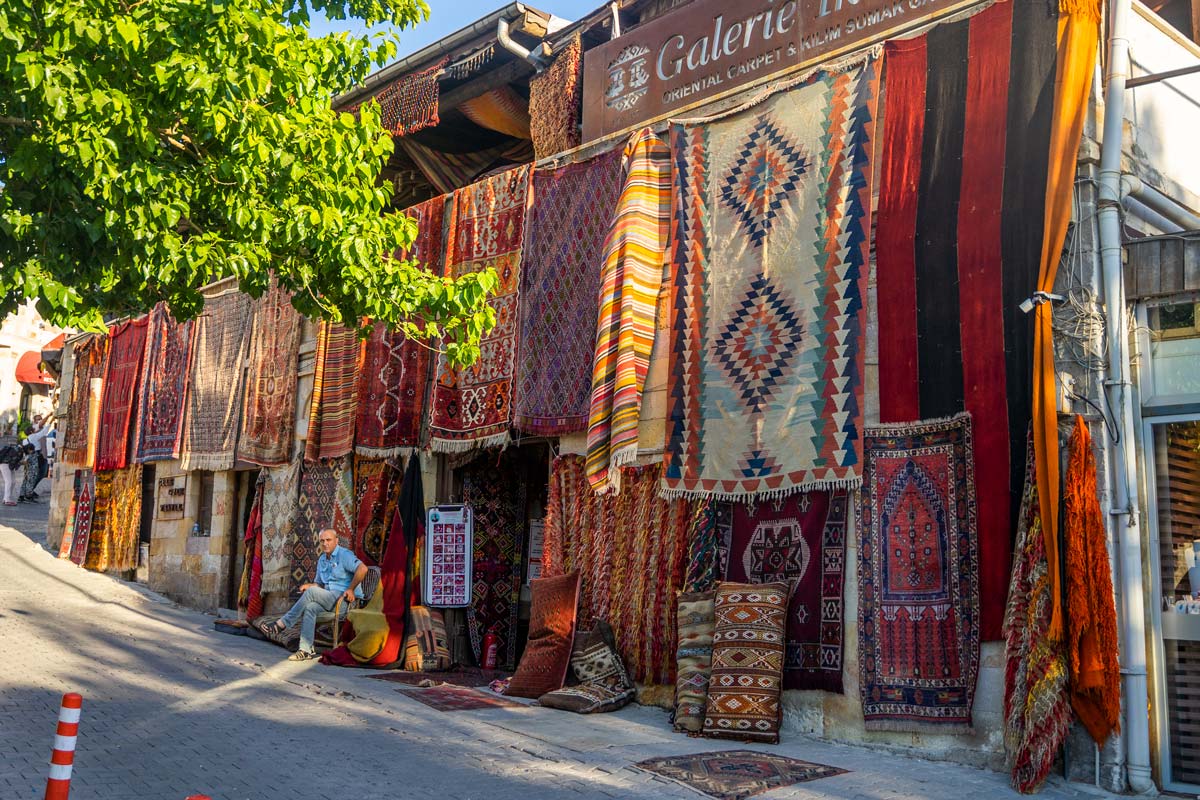 Perhaps one of the most popular souvenirs to get in Turkey is Turkish rugs. Also known as Anatolian rugs, the art of weaving these carpets are brought by the Turks who migrated from Central Asia to present-day Anatolia (near Cappadocia).
The craft of making these rugs are truly phenomenal, which is why they are not always the cheapest. Each carpet is double-knotted by hand with each piece of yarn double-looped to ensure maximum durability.
But perhaps what makes Turkish carpets even more desirable are the gorgeous designs. Each carpet features an intricate geometric pattern and is naturally dyed, representing the cultural diversity and popular motifs of Turkish traditions.
Unfortunately, identifying a good hand-woven Turkish carpet or kilim is no easy task. Local vendors know how popular they are which led to a lot of them being mass-produced in factories.
And since the price of them can go anywhere from as cheap as around 50 dollars to a few thousand dollars, it is best that you have someone trustworthy to show you the authentic ones.
And if you cannot afford a full-size Turkish rug, then there are plenty of smaller pile-woven items with the same geometric patterns such as pillows, tablecloths, and bags!
3. Nazar Boncugu Amulet (Blue Evil Eye)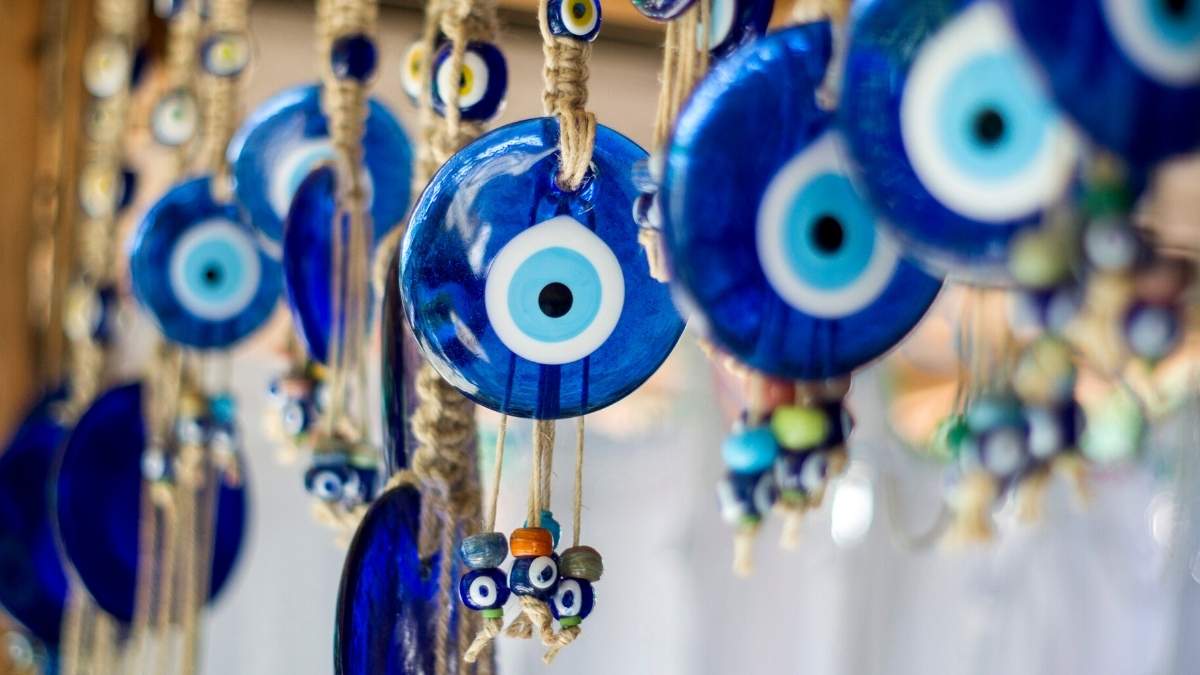 If you are looking for a more spiritual gift from Istanbul, then consider the Nazar Amulet, or Nazar Boncuğu. Sometimes referred to as the Evil Eye, the Nazar is actually meant to get rid of Evil Eye, which is a superstitious belief originating from 5000 BCE in various cultures.
The evil eye is a curse that is given to someone through a malicious stare, and is supposed to bring the person bad luck and misfortune. The only way to protect yourself against the evil eye is to wear one of these Nazar Amulets.
Nowadays, visitors will find a ton of these evil eye symbols all across Istanbul and Turkey. You'll find them as accessories, fridge magnets, and more!
These are some of the cheapest souvenirs you can get from Turkey, and they are quite symbolic so don't miss the chance!
4. Turkish Lanterns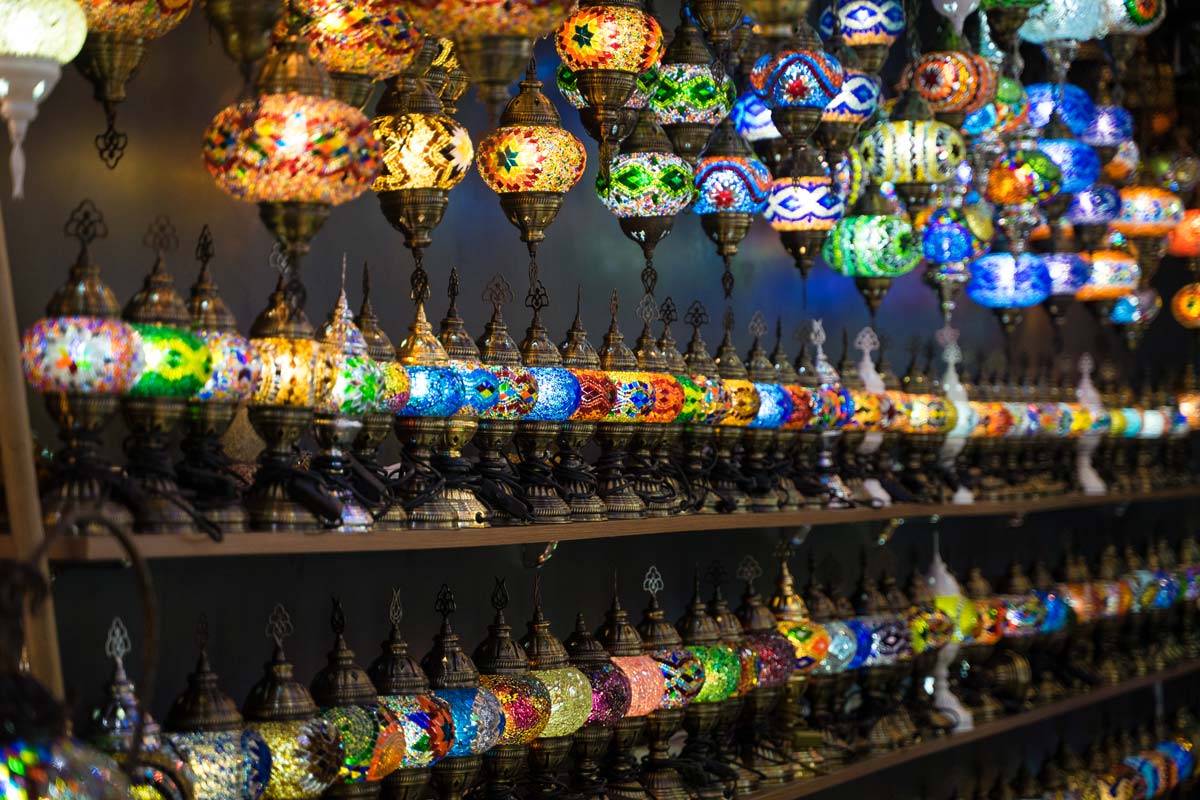 If you are looking for gifts from Turkey that can be decorations for your home, then look no further than the Turkish lanterns. These mosaic lamps are not only beautiful, but the glow that comes from them is warming and cozy, perfect for a romantic evening.
And because of the mosaic design of the lamps, they create unique patterns when lit in a dark room. How cool is that!
Turkish lamps have been used to decorate some of the interior spaces of the most influential members of the Ottoman Empire, namely the sultan. Nowadays, the art of crafting these Turkish Lanterns is a part of Turkey's culture and tradition.
Each Turkish lamp is handcrafted which ensures that every lantern is unique. That means you won't find any two identical lanterns, making them even more precious!
5. Turkish Delight (Lokum)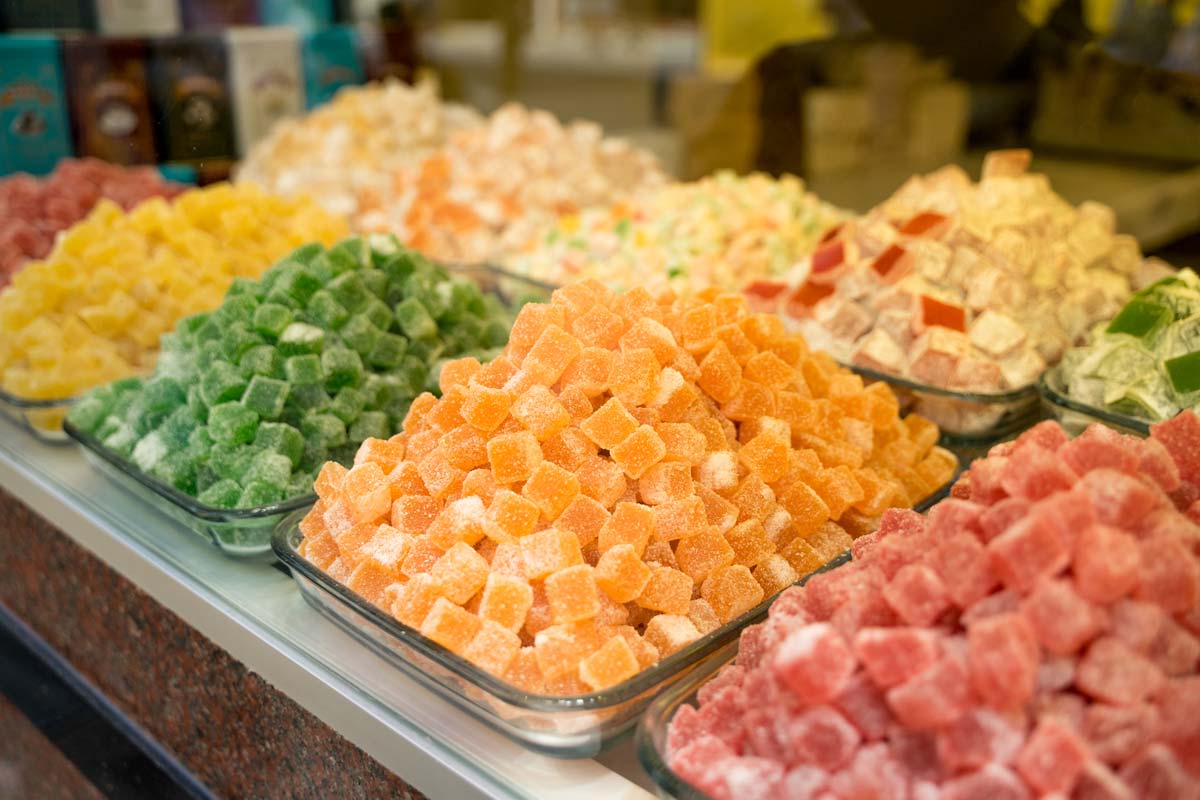 Perhaps one of the best souvenirs you can get from Turkey is Turkish Delight, or Lokum in Turkish.
These Turkish sweets are the perfect gifts for your co-workers, family, and friends because who doesn't like exotic confectionery from another country?
Turkish delight is made with a combination of starch and sugar, which is then boiled to create a thick syrup. This mixture is then flavored with rosewater or lemon, and sometimes even nuts or chocolate.
There are many different kinds of Lokum. The traditional one is rosewater-flavored, but you'll also find premium ones with hazelnut, pistachio and other kinds of ingredients! Our recommendation is to get a little bit of everything so you can try them all!
6. Herbs and Spices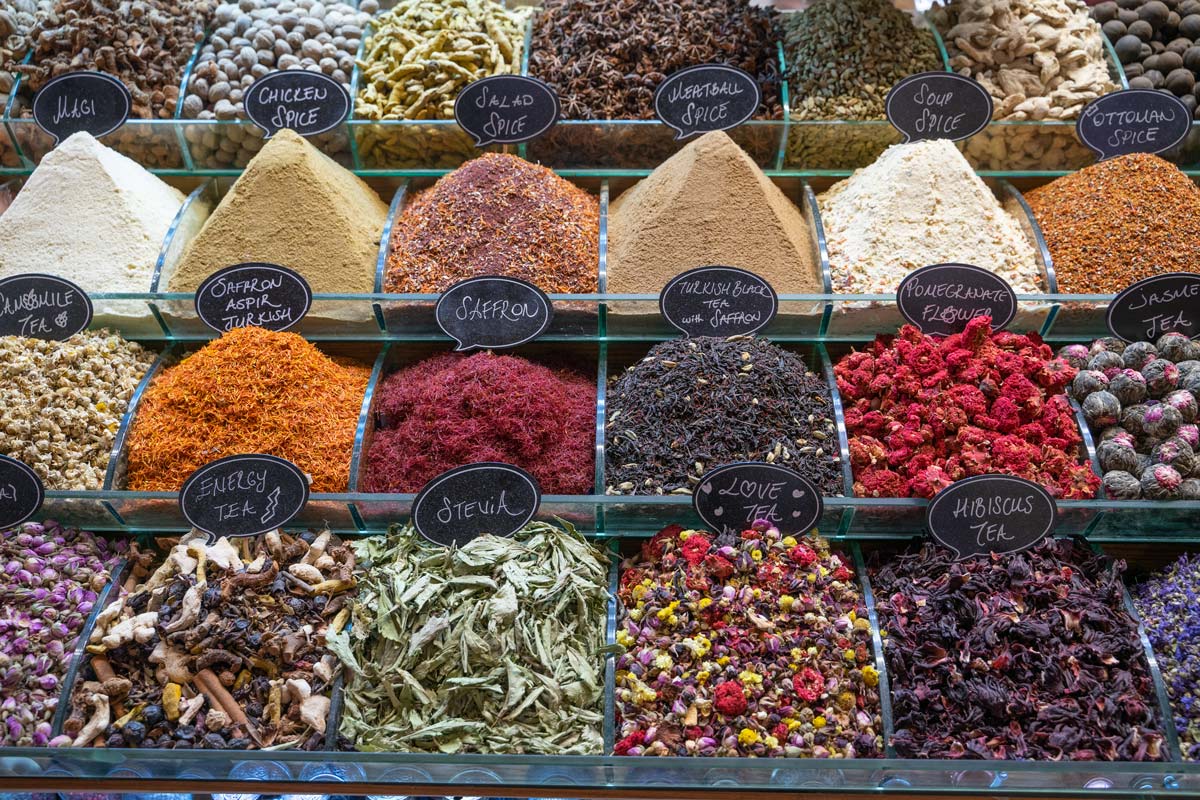 Turkey is huge on spices. In fact, they are so big that there is a bazaar named the Spice Bazaar solely dedicated to spices and herbs in Istanbul. If you have ever visited this iconic Turkish landmark, then you'll know the powerful and unique scent that hits you the moment you step in.
You can get everything from Turkish chili flakes (pul biber) to sumac (sumak) and Urfa pepper (isok). You might not know what the Turkish spices and herbs are when you first walk in, but the shopkeepers are usually more than happy to introduce you to some of the spices in Turkish cuisine.
Oftentimes, they'll even let you taste some before you decide to purchase! When it comes to purchasing herbs and spices in Istanbul, listen to your nose, not your heat or brain! They are also very affordable so travelers with a low budget for Turkey can buy some to take home!
It's also worth remembering that Istanbul used to be the meeting point on the ancient Silk Road, back when it was called Constantinople in Byzantium times. And what did they trade? Mostly spices. So not only is it an affordable item to take back home, it has a historic significance too.
7. Iznik Ceramics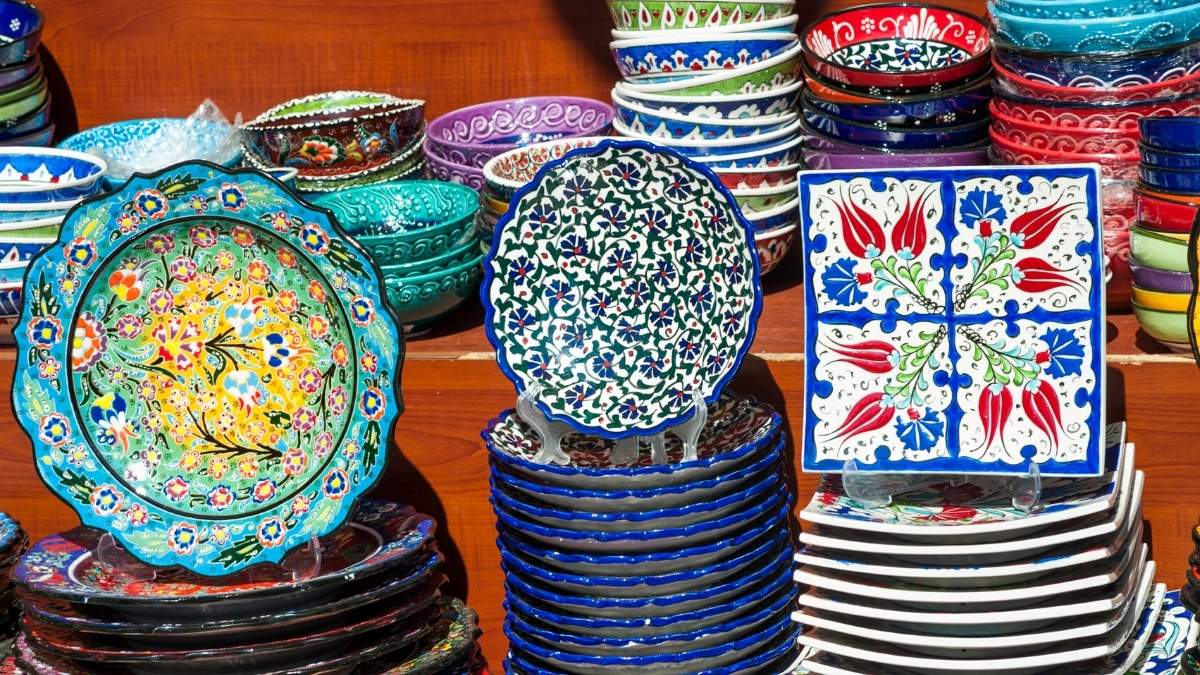 Iznik ceramics are a type of Turkish ceramics that originate from the city of Iznik in Western Anatolia. These types of ceramics became very popular in the 15th to 16th century, following the establishment of the Ottoman Empire.
One of the reasons why Iznik ceramics are so popular is because of their beautiful and intricate designs. It is known for its vibrant cobalt blue colors under a transparent glaze.
The most common design you'll see on these ceramics are floral patterns as well as geometric shapes. It combines Ottoman culture with influences from the East, especially the Chinese, which makes it very unique.
Traditional Iznik ceramic tiles were produced from the 15th century to the 17th century. It was stopped because the quality of the pottery dropped drastically. The last building in Istanbul to be decorated with Iznik ceramics is the Blue Mosque, which is actually how it got its name!
Nowadays, authentic ceramics from Iznik are hard to find, but travelers will see plenty of ones that look just like Iznik ceramics. They might not have the history like the original ones, but their beauty is undeniable. You can find bowls, tiles, plates, and so much more in this style.
8. Turkish Towels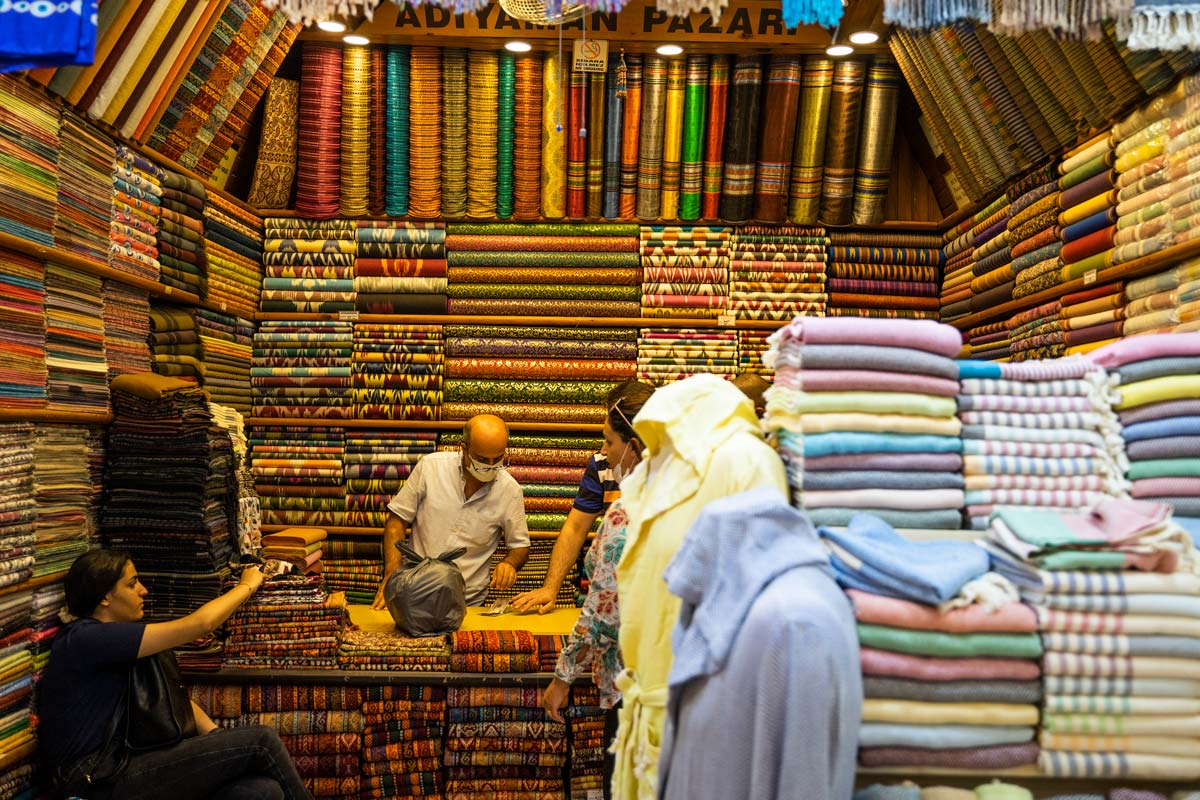 If you are not sure what to buy in Istanbul, then consider a Turkish towel, also sometimes called hammam towels.
Also known as a pestemal, a Turkish Towel is a type of flat-woven textile that is used as a bath or beach towel. However, it can also be used as a sarong, scarf, or tablecloth. It is usually made from cotton or linen and often features tassels on the ends.
Turkish towels are well-known for their absorbency, durability, and softness. They become even softer after each wash! They are also lightweight and take up very little space, which makes them perfect for travelers.
These towels are usually brightly colored and have intricate patterns. For its versatility and price, there might not be a better gift from Turkey!
9. Turkish Coffee Pot/Set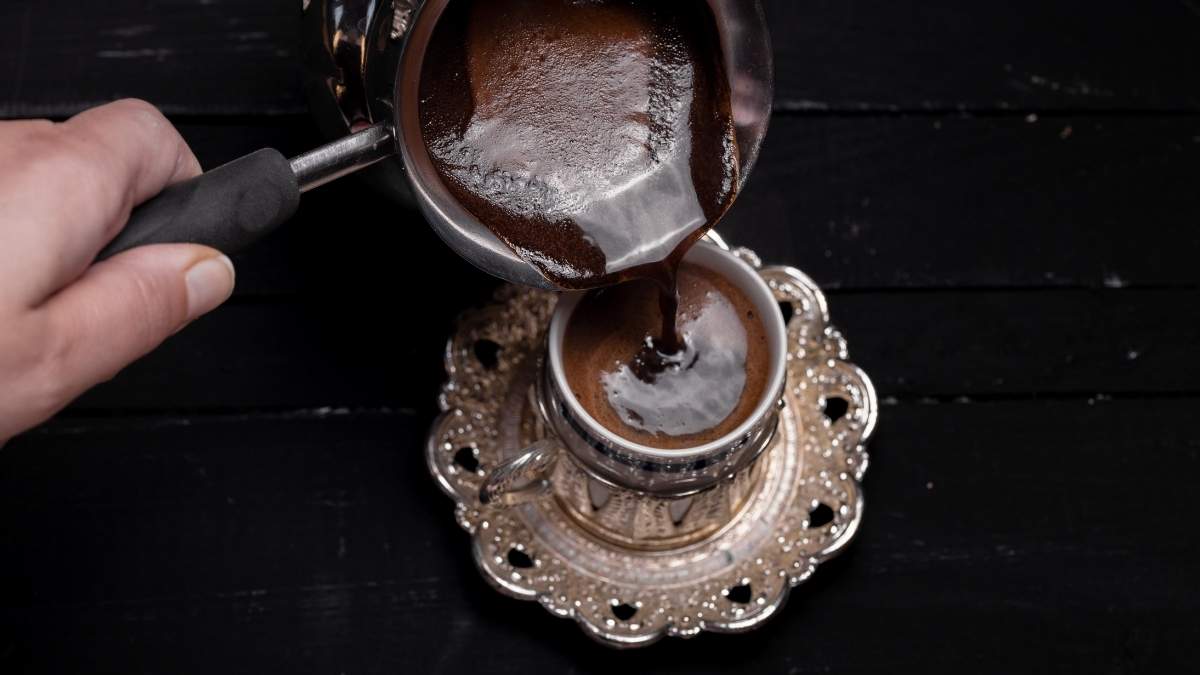 If you are looking for souvenirs or gifts for coffee lovers, then look no further than a nice Turkish coffee pot.
Turkish coffee is a type of coffee that is prepared using very finely ground coffee beans. It is usually served with water and sugar. The coffee grounds are boiled in a traditional copper pot called a cezve and then poured into small cups called fincan.
A Turkish coffee set typically includes the copper coffee pot cezve, fincan, as well as coffee and sugar. Sometimes, it also comes with a small box of Turkish delight.
Turkish coffee is an important part of everyday life and is often served during social gatherings. It is a great gift for coffee lovers or anyone who wants to try something new!
10. Handmade Olive Oil Soap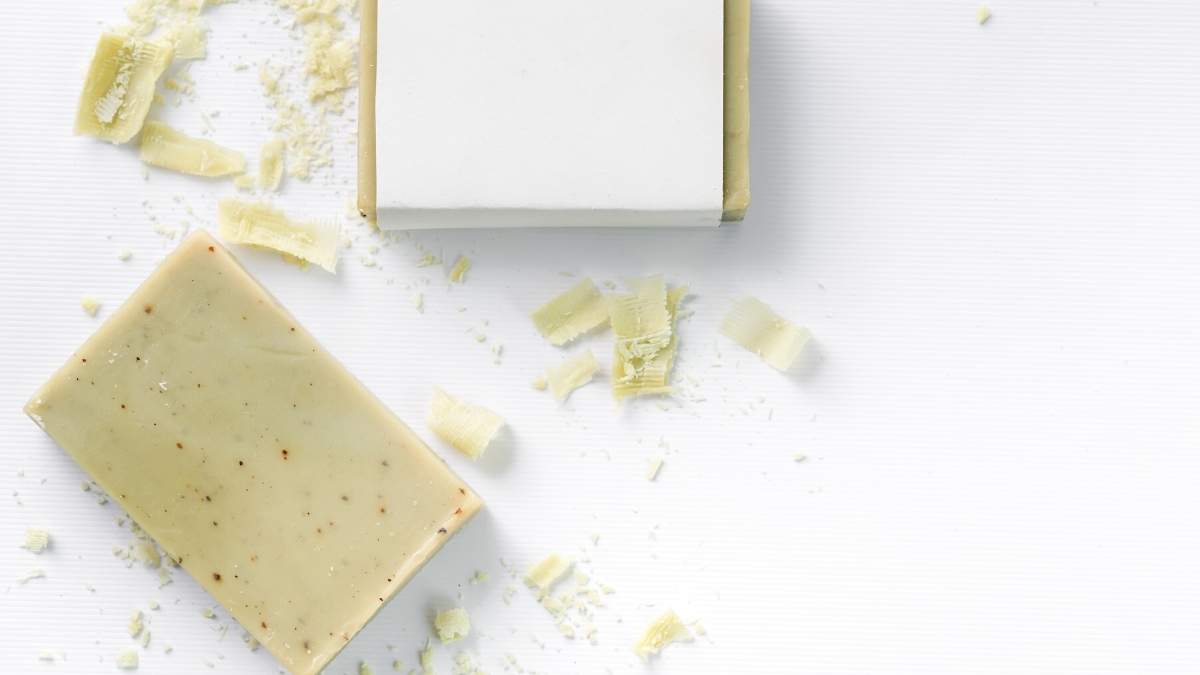 As the name suggests, Olive oil soap is a type of soap made primarily with olive oil and other natural ingredients. The practice of using olive oil soap has been a part of Turkish bath culture for over 600 years.
Nowadays, it is becoming more popular all over the world because of its many benefits. Olive oil soap is said to be very gentle on the skin and can even help with conditions like hair loss and dandruff.
This natural beauty product is also environmentally friendly because it is made from 100 percent natural ingredients and doesn't contain any harmful chemicals. Typically, you can find olive oil soap in a bar form, but liquid olive soap is sometimes available.
If you are looking for a souvenir that is practical, beautiful, and has deep roots in Turkish culture, then olive oil soap is a great option.
11. Baklava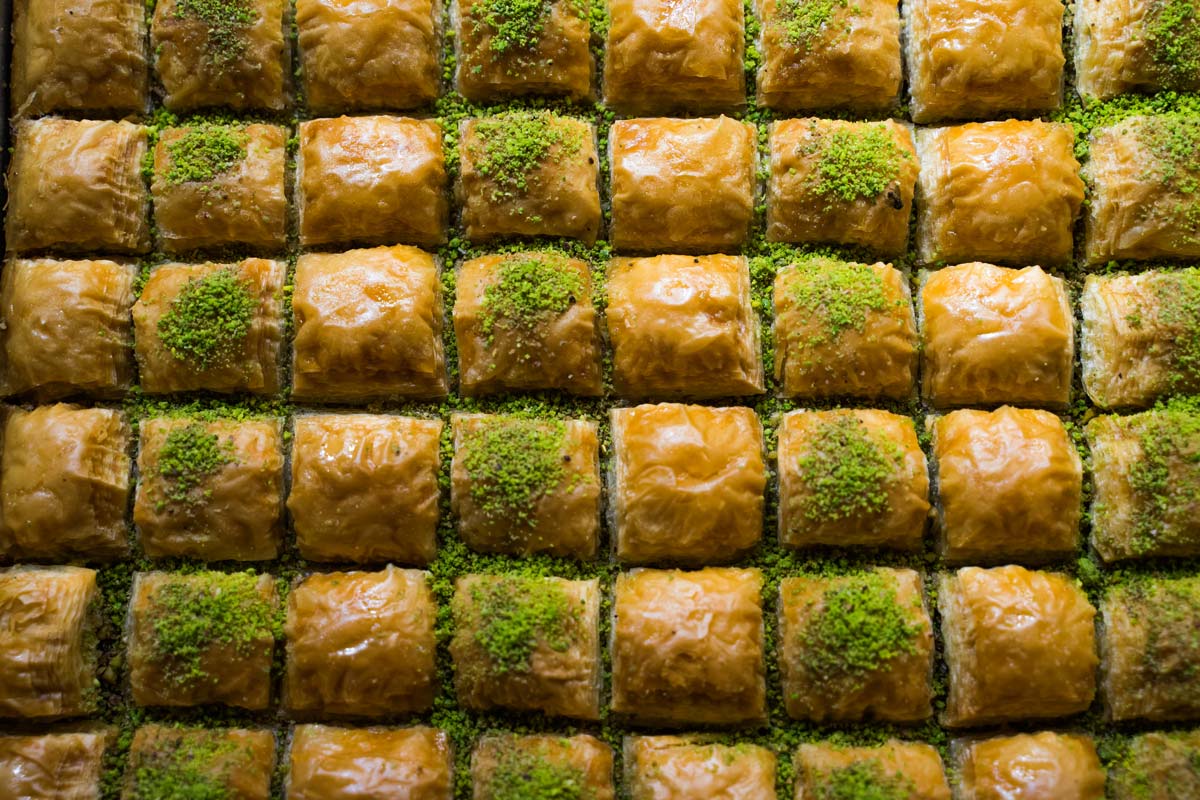 No list of the best Turkish souvenirs to buy in Istanbul is complete without mentioning the national dessert of the country – Baklava.
Baklava is a sweet pastry made from layers of filo dough that are filled with chopped nuts and held together with syrup or honey. The traditional type of baklava is made with pistachios, one of the most famous products from Turkey.
Other types of nuts used in baklava are hazelnuts, almonds, and walnuts. The syrup or honey not only adds sweetness to the dish but also help to keep the layers of filo dough moist.
Baklava is a dessert that has been around since the Ottoman Empire and its popularity shows no signs of slowing down. If you have a sweet tooth, then this is the perfect souvenir for you!
If you are buying it as a souvenir, make sure you tell the vendor. They'll wrap it in a way that maximizes its freshness so you can share it with friends and families once you get back home. It is also a good idea to purchase them at the airport before your flight.
12. Leather products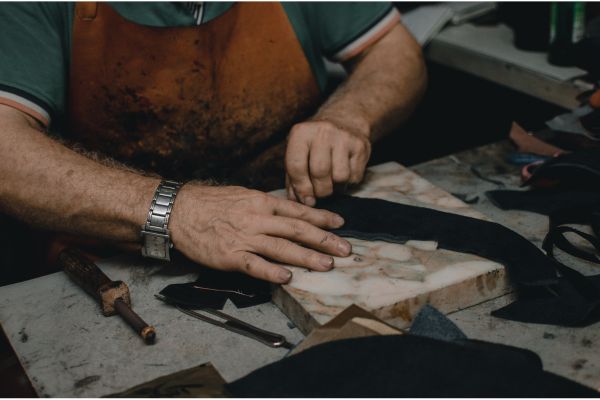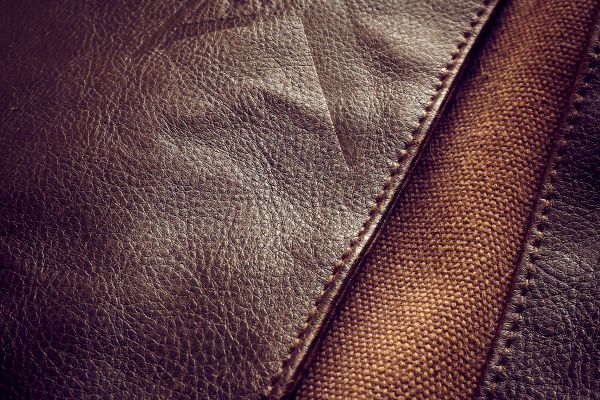 High quality and affordable leather goods are one of the top things to buy in Istanbul. You can find anything from belts, jackets, and wallets, to keychains and bookmarks.
Turkey is considered one of the world's top producers of high-quality leather, second behind Italy. Not only is the leather high quality, but it's usually made from sheep and goats as opposed to cows.
Sheeps leather is known to be softer than cow leather, whereas goats leather is lighter, water-resistent and durabile.
13. Backgammon Set or Chess Board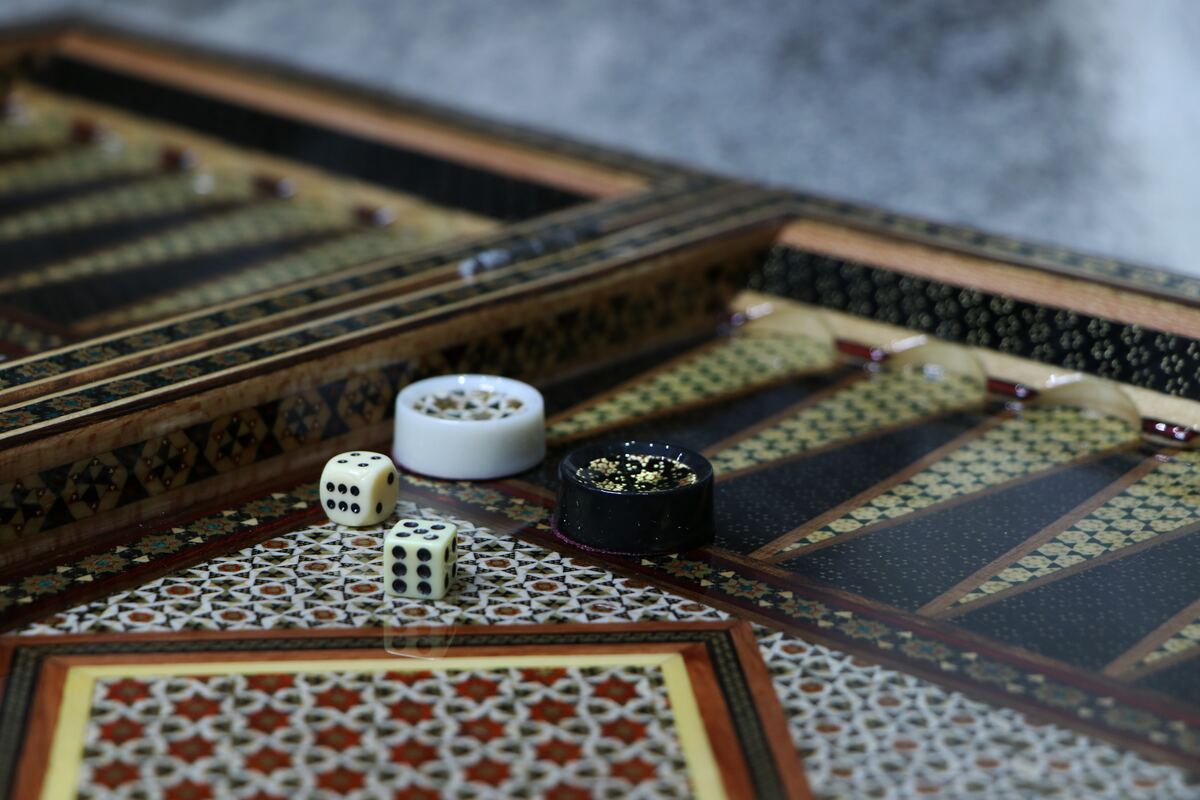 If you're looking for the best gifts from Istanbul, nothing tells someone you love them more than getting them something that you can share together. A game of chess or backgammon is one of the ways you can do this.
You might think that a Backgammon Set is a random thing to bring back from Turkey, but hold up, there is reason for this. It's believed that Backgammon originates from ancient Mesopotamia, which is known today as Iraq.
It's believed the game was introduced to Turkey on the ancient Silk Road and is a popular past-time hobby for the locals. You may see a group of old men sitting in parks and playing this game on a cool afternoon.
14. Artwork or Photography
Those looking for something unique and special to take home, may want to consider investing in some local artwork or photography.
Not only do you get to support the local artist community, but you have something unique that no one else has. Can you think of a better souvenir than that?
15. Honey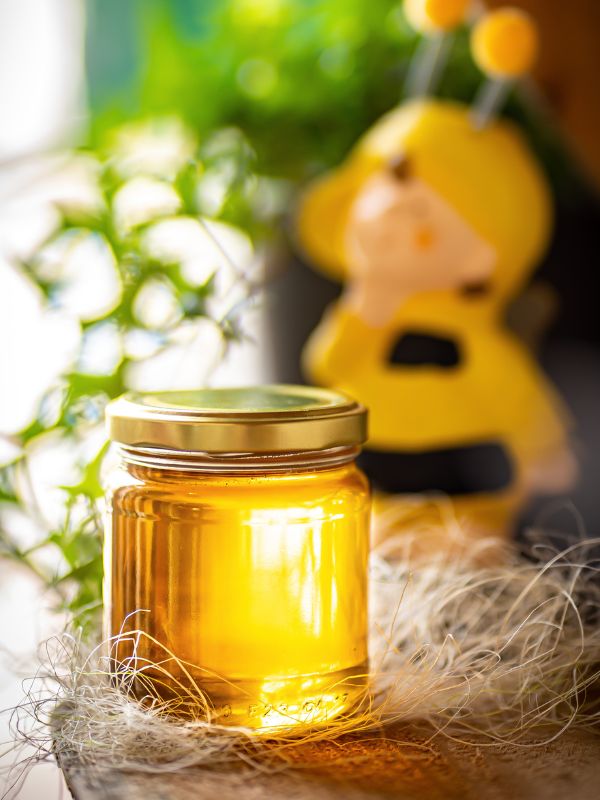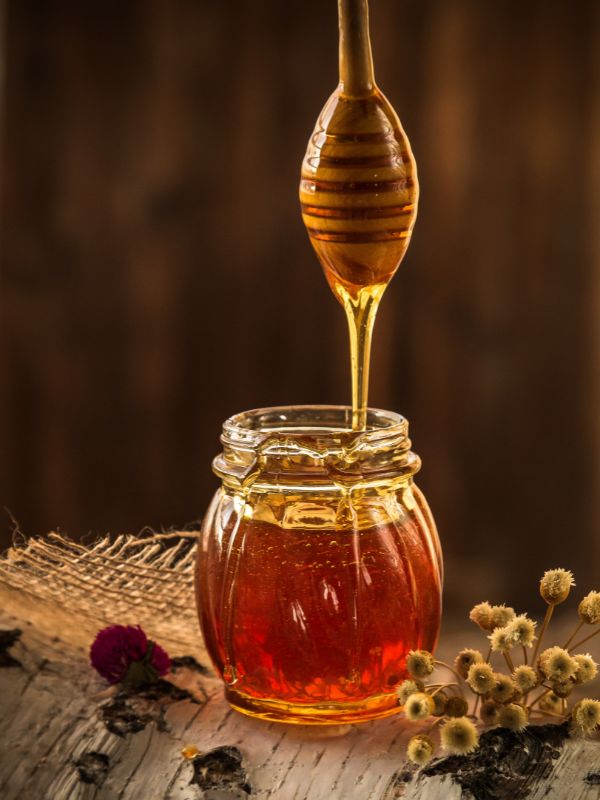 Did you know that Turkey is the second largest producer of honey in the world? Well, it is! And it's really affordable too, which makes it one of the best souvenirs from Istanbul to take home.
Honey is largely produced on the Black Sea region, because it's mountainous and cool climate is ideal for beekeeping.
Turkey's honey has a unique flavor and is considered some of the best quality honey in the world.
---
Where To Go Shopping In Istanbul For Souvenirs?
Istanbul is a shopper's paradise. Visitors will find a variety of shopping venues from traditional bazaars to modern shopping malls in Istanbul.
There are also plenty of shops and stores that visitors might stumble upon while walking around the city, especially in neighborhoods like Sultanahmet and Taksim.
Though some of those shops might look authentic and luxurious, there are good ones and there are bad ones. Just make sure you get good value for your money!
Here are some of the best places to go shopping for souvenirs in Istanbul!
Grand Bazaar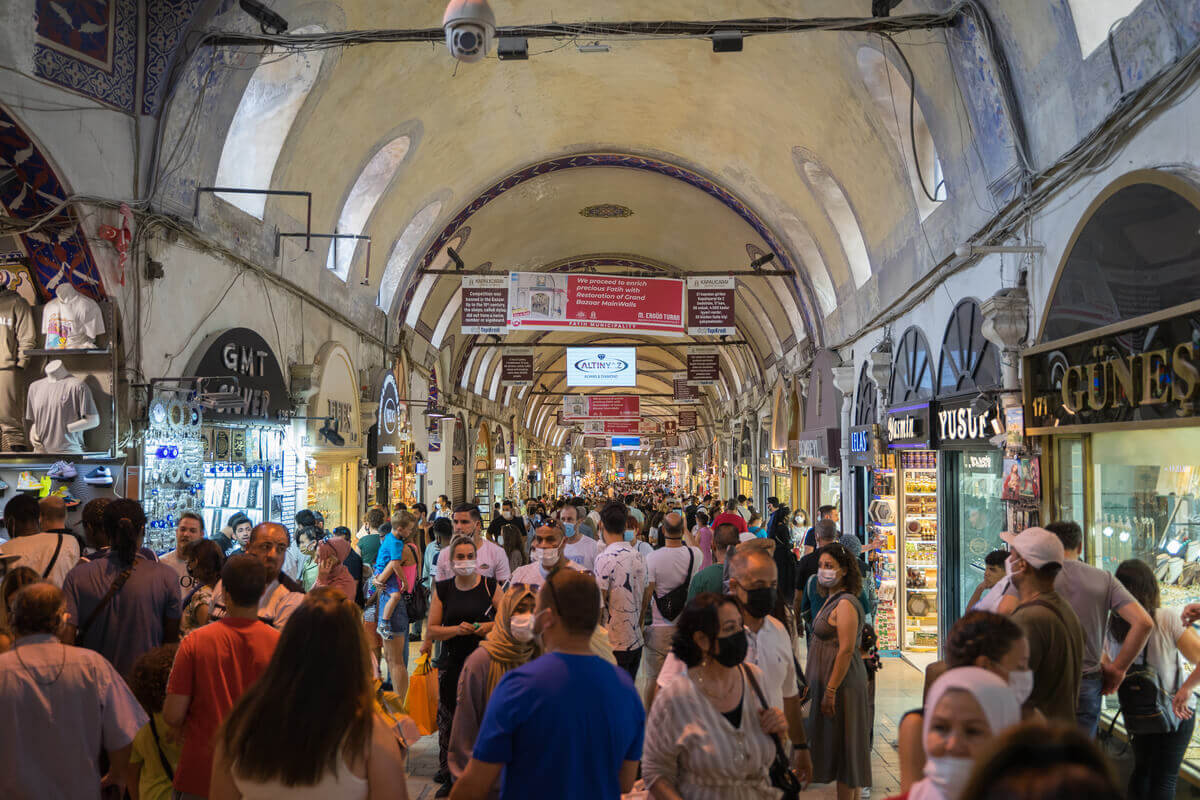 As one of the oldest and largest covered markets in the world, the Grand Bazaar is home to over 4000 shops and 61 covered streets. This is the most popular place to get souvenirs in Istanbul, as visitors can find anything from counterfeit goods to Turkish ceramics and carpets.
We recommend arriving early in the morning or late in the afternoon because it can get quite busy during the middle of the day! It is already hectic and overwhelming enough so try to do everything you can to minimize the crowds!
Spice Bazaar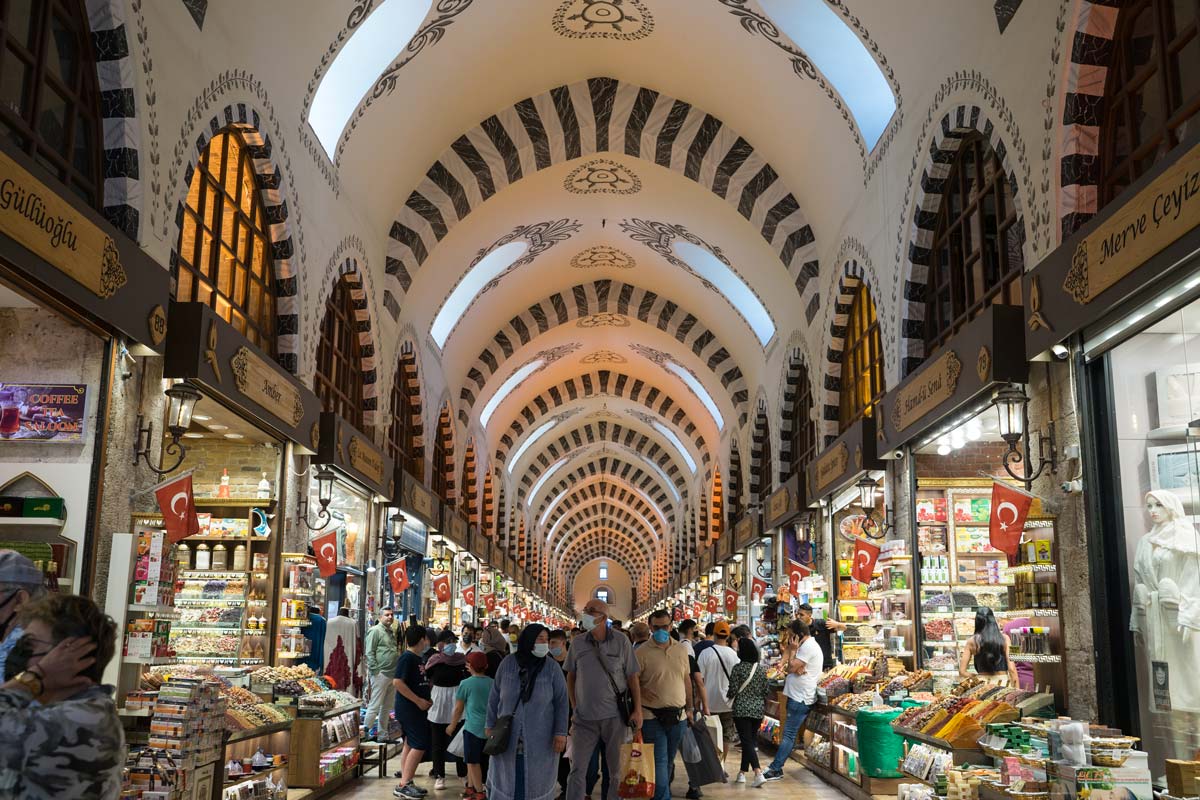 If you are looking for tea, herbs, and spices, there is no better place to go shopping than the Spice Bazaar in Istanbul. Also known as the Egyptian Bazaar, this covered market is only 2 streets long, which means it won't be as chaotic as the Grand Bazaar.
But shopping for spices and herbs isn't exactly the easiest as there are so many shops selling similar merchandise, so make sure you allot extra time here!
Istiklal Street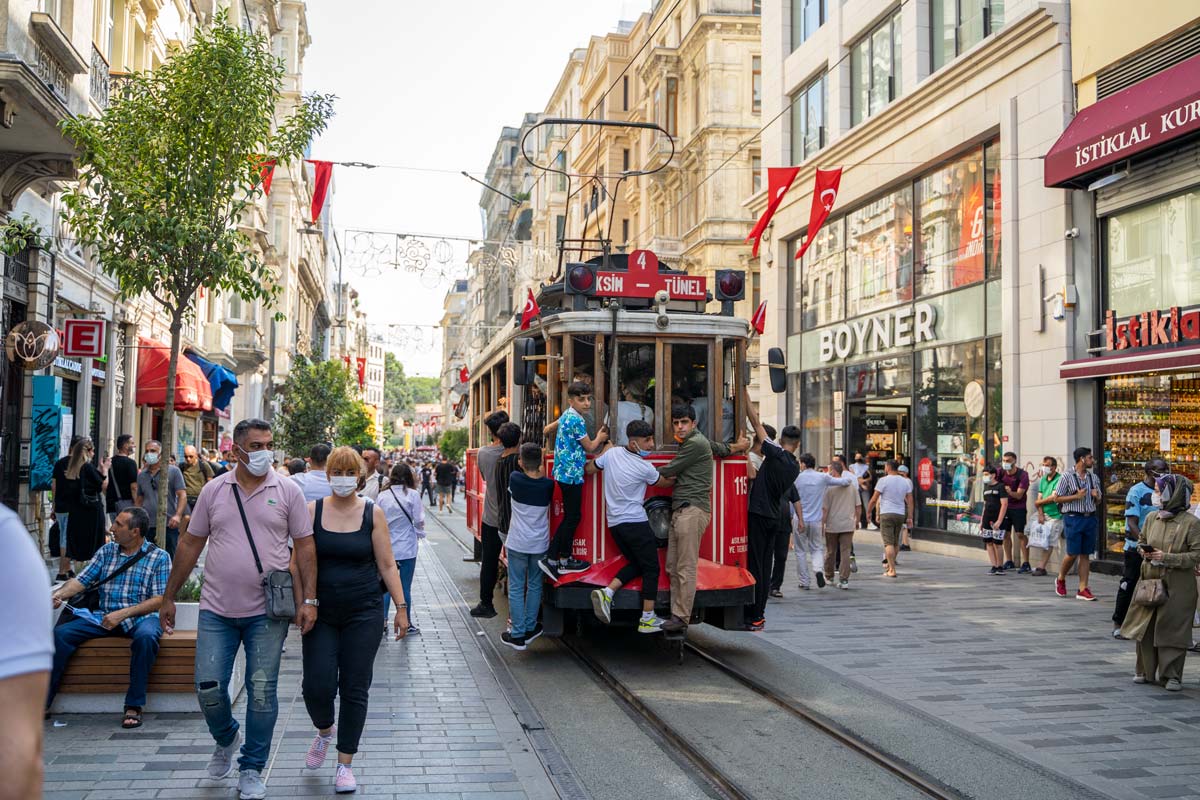 Istiklal Street is one of the most popular shopping areas in Istanbul, especially among young people and tourists.
This pedestrian street in Istanbul is over a kilometer long, spanning from Galata Tower to Taksim Square, and is lined with boutique shops, cafes, restaurants, bars, clubs, and more. It is one of the best places to experience the nightlife in Istanbul.
Though you are unlikely to find many traditional Turkish souvenirs such as carpets and Iznik ceramics, you'll have an easier time finding gifts such as baklava here. Even if you don't plan on doing any shopping here, exploring Istiklal street is one of the best things to do in Istanbul.
Arasta Bazaar
Arasta Bazaar is a small bazaar situated next to Sultanahmet Park and Hagia Sophia. It is only one street long, but visitors will find plenty of shops for all of their souvenir needs. In general, we found that the prices here were a bit higher, maybe because it is situated so close to all the historic buildings in Istanbul.
The crowds here are much smaller than the ones in Grand Bazaar or Spice Bazaar, which might be better for you if you don't want to deal with the noise and chaos.
---
How To Bargain When Purchasing Souvenirs in Turkey?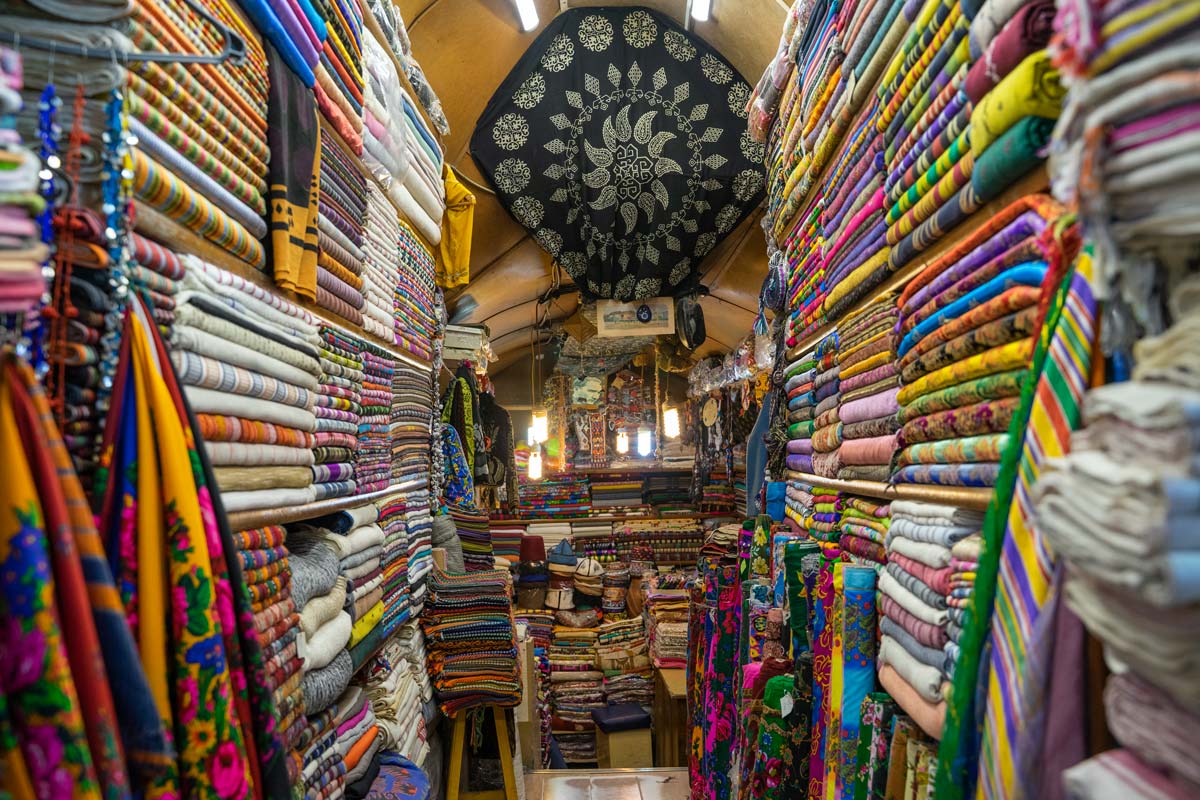 If you want to buy some souvenirs in Istanbul, you'll need to bargain. Otherwise, you might end up getting scammed for hundreds of dollars, or worse, buy something that you thought was invaluable but not.
But the art of haggling is not something every tourist might know. The end goal is about getting a fair deal for both you and the vendor, but the process has many variations. If you don't haggle right, you might end up offending the shopkeepers, which is the last thing you want to do in a foreign country.
Generally speaking, when you ask the shopkeeper what the price of the item is, you want to counter offer with about 50 percent of his price. Then he'll counteroffer you, something in the middle, and you guys will go back and forth until you agree on a price. That price is usually about 75% of what the initial offer is.
But if it is something that many shops sell, it is worth going to a few shops to get a general ballpark of how much the souvenir should cost.
You don't want to lowball the shopkeeper after he gives you the price. If you counteroffer with 25 percent of his offer, you might offend him and he might get angry and kick you out of the shop.
That tip works for most of the souvenirs you want to purchase, but if it is something super cheap, you might not be able to get any big discount. The prices for things like an Evil Eye amulet or some spices might not be up for bargain because the profit margin is already quite low.
And if you are shopping in shopping malls, don't try to haggle!
---
Buying Turkish Souvenirs Online
Did you just visit Turkey and forget to buy some souvenirs on your trip? Worry not.
Many of the Turkish products are exported, which means you can see snatch the same quality souvenirs online, but often for a higher price.
Sometimes that might be an even better option, especially if you are not a big fan of haggling and worry you might be getting ripped off!
Here are some of the places where you can get some authentic Turkish souvenirs online:
Amazon
Etsy
Grand Bazaar Shopping
---
Istanbul Souvenirs FAQs
Can You Buy Souvenirs From Istanbul Airport?
There are plenty of shops where you can purchase souvenirs in both of Istanbul's airports – Istanbul Airport (IST) and Sabiha Gokcen International Airport (SAW). However, these shops aren't massive, so you'll only find smaller items such as trinkets, accessories, and bags of tea and coffee. You won't find things like Turkish rugs or Turkish lanterns in the shops at the airport. The prices are also about 25 to 30 percent more expensive than in the city.
Where To Buy Cheap Souvenirs In Istanbul?
There are plenty of places to buy cheap souvenirs in Istanbul, but the most important part is picking cheap souvenirs to begin with. Things like a Nazar Amulet, Turkish Towel, tea and coffee are cheap, and you can easily find them in Grand Bazaar, which is one of the best places to shop for souvenirs in Istanbul.
---
Final Note
This concludes our article on the best Turkish souvenirs to purchase in Istanbul. Hopefully, not only have you found out what to buy in Istanbul, but where to buy them, and how to make your shopping experience as pleasant as possible!