No trip to Istanbul is complete without visiting Sultanahmet, the historic center of Istanbul and a present-day UNESCO Heritage Site. This neighborhood is home to some of the most stunning landmarks in Turkey, such as Hagia Sophia and the Blue Mosque.
Whether you are looking to learn about the culture and heritage of Istanbul, or just looking for a place to soak in the timeless atmosphere and charming old street, Sultanahmet is the perfect spot for you.
But navigating the historic district of Istanbul can be quite intimidating. There are too many things to do, places to visit, and tourist traps to avoid. That is why we have written this article with our insider knowledge, so you can have the perfect visit to perhaps the most historical place in Istanbul!
Planning a trip to Istanbul last-minute?
Make sure you book your tours, places to stay, and airport transfers ahead of time to ensure availability!
Here is our recommended airport transfer in Istanbul:
Here are our recommended tours in Istanbul:
Here are our recommended places to stay in Istanbul:
Magnuara Palace Hotel (Gorgeous hotel in the historic centre!)
Cheers Hostel (Budget hostel near the Blue Mosque!)
---
About Sultanahmet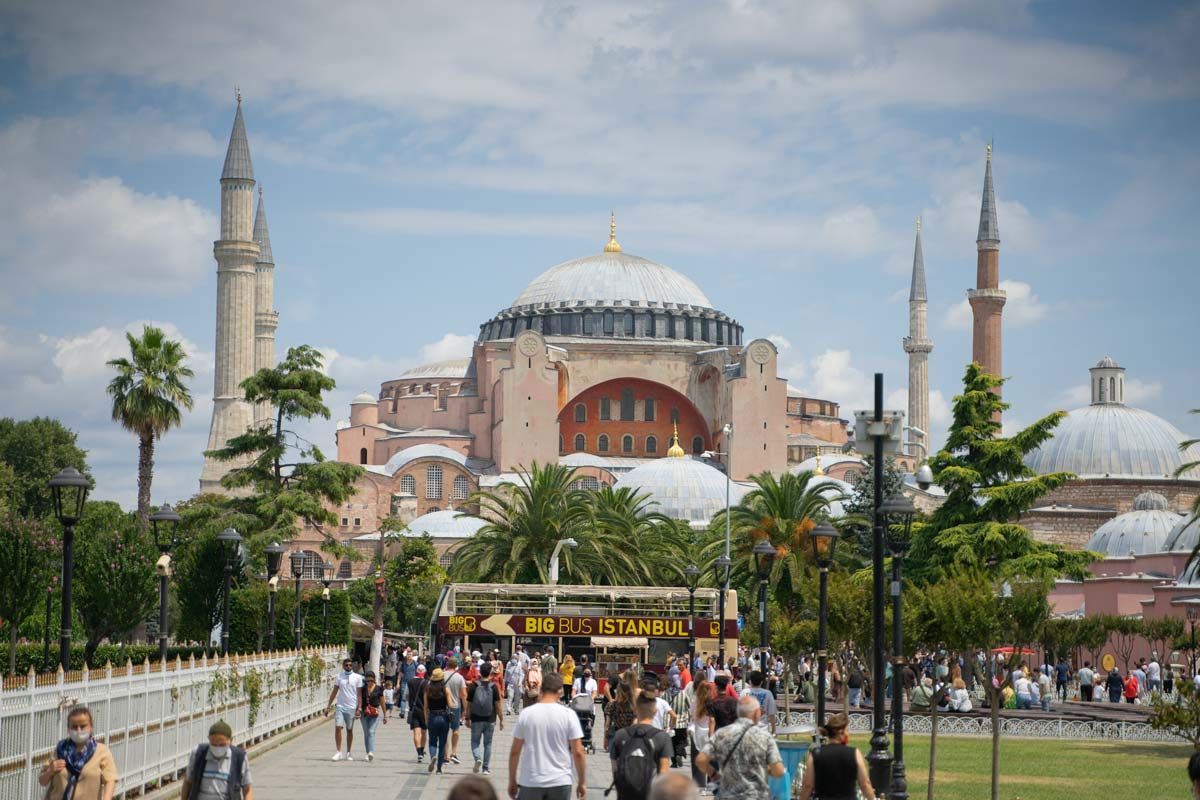 Before you dive into the Sultanahmet neighborhood, let's talk about how it got famous. As we mentioned, Sultanahmet is the historic center of Istanbul in the Faith district. You might have noticed that Sultanahmet is actually two words – Sultan + Ahmet.
As some of you might already know, Sultan is the sovereign ruler of a Muslim state. In this case, the state was the Ottoman Empire, and the sultan was Ahmed I. He built the Blue Mosque between 1609 to 1616, which is actually named Sultan Ahmed Mosque in Turkish. Subsequently, after the construction of the Blue Mosque, this area was known as Sultanahmet.
But Sultanahmet and Istanbul have a much deeper history than that. Matter of fact, Istanbul wasn't always Istanbul. Before the Ottoman Empire had control of Istanbul, the city was named Constantinople, after Constantine the Great. The city was the capital of the Byzantine Empire, and it was considered one of the most desirable cities in the world due to its access to water on three sides.
It wasn't until 1453 that Mehmed II conquered Constantinople, and the name gradually changed to Istanbul. Since then, many of the old Eastern Roman Empire buildings have been removed or converted. This is why we'll find a few remaining ancient aqueducts and Roman cisterns throughout the city.
---
Things To Do In Sultanahmet
1. Visit Hagia Sophia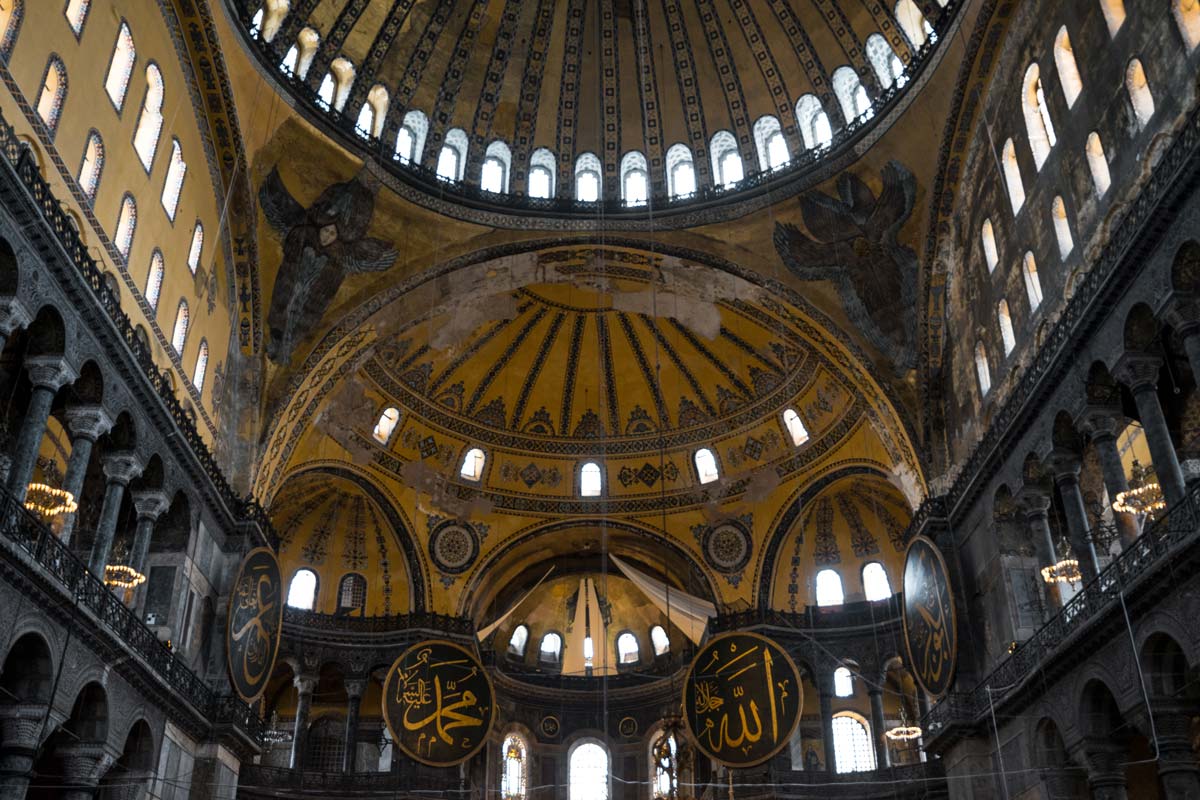 Hagia Sophia is one of the most important and oldest landmarks in Istanbul.
It was originally built as an Orthodox Cathedral by Justinian I under the Byzantine Empire in 537 AD. It served as one of the most important religious sites for the Eastern Roman Empire. After the Ottoman conquest of Constantinople in 1453, it was converted into a Mosque by Sultan Mehmed II.
During Ottoman rule beginning in 1453, the building underwent several renovations including transforming part of its interior into an Islamic mosque by adding four minarets outside as well as covering up many religious-related artworks inside with Islamic calligraphy artwork instead.
But when Turkey became secularized during early 20th century, Hagia Sophia reverted back to a place where visitors can appreciate the works of all eras combined together under one roof. In fact, even though it is a mosque now, visitors can still see figures of angels and Jesus Christ inside.
2. Admire The Blue Mosque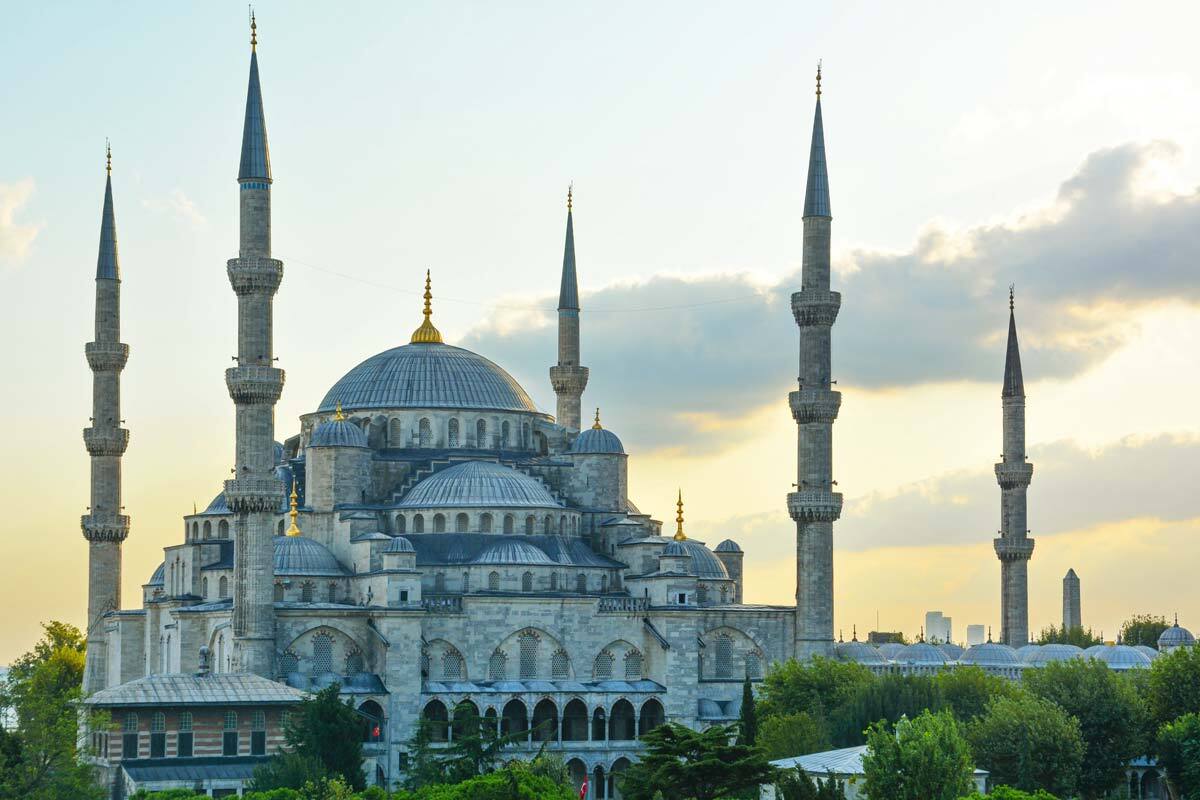 Unlike Hagia Sophia, the Blue Mosque is a much more recent construction. Built in 1616, the Blue Mosque is also known as Sultan Ahmed Mosque, thanks to Sultan Ahmed I that commissioned it.
The Blue Mosque is known as one of the most beautiful places in Istanbul thanks to the more than 20 thousand blue Iznik tiles that decorate its interior. These tiles give a fascinating appearance to the walls and domes of the mosque, hence its name "Blue Mosque".
The interior of the mosque also has over 200 stained glass windows that cover all four walls, giving it an ethereal atmosphere when sunlight pours through them on sunny days. The vast space is full of intricate details including marble columns, Islamic calligraphic inscriptions and ornate chandeliers that hang from the ceiling.
Though often frequented by tourists, the Blue Mosque is still an active place of worship. During religious holidays and festivals in Istanbul, such as Ramadan, the mosque is filled with people from all over the country praying. So make sure you dress conservatively when visiting.
3. Check Out Sultanahmet Square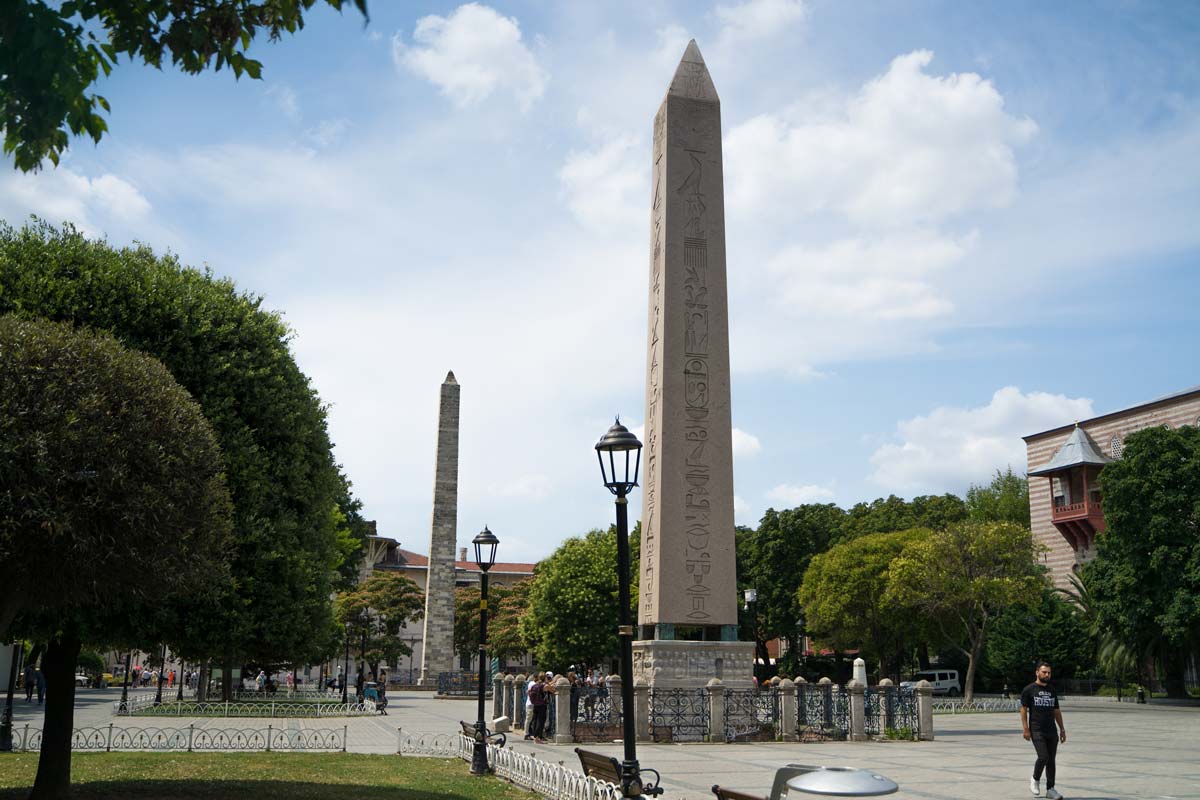 Sultanahmet Square is one of the most stunning parks in Istanbul. It is also known as the Hippodrome of Constantinople, and that is because the square was built on top of it. Nowadays, this Square is known for some of the most famous buildings in Istanbul.
One of the sites you must see in the Sultanahmet Square is the Obelisk of Theodosius. It is an Ancient Egyptian obelisk of Pharaoh Thutmose III that was re-erected at the Hippodrome of Constantinople. Also, check out the Serpent Head. This ancient Greek monument, with its missing serpent heads, serves as a timeless reminder of a historic battle.
The Sultanahmet Square is also dotted with ornate fountains, trees, and open green spaces. If you have a few days in Istanbul, you could spend some time relaxing here, having a picnic, and admiring the surrounding views of the Blue Mosque and Hagia Sophia.
4. Try Dondurma (Turkish Ice Cream)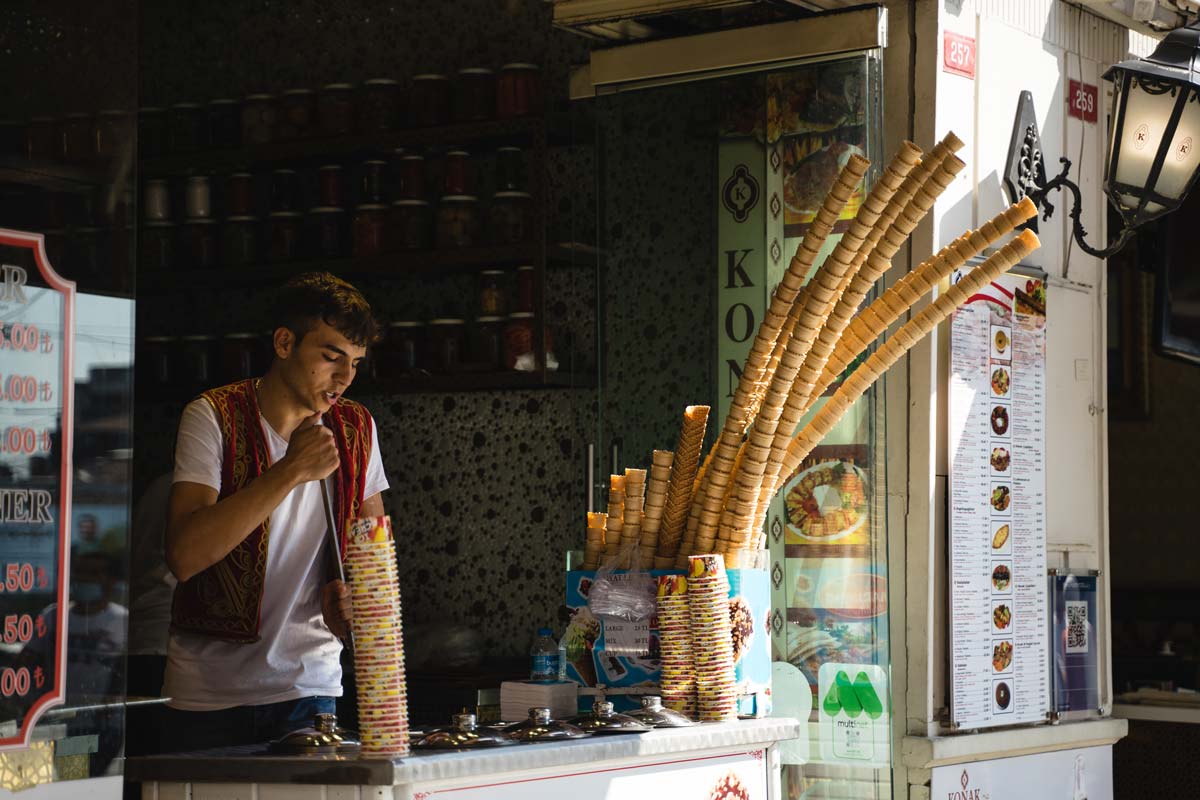 If there is one popular dish in Sultanahmet, it is the Turkish Ice Cream vendors. Known as Dondurma in Turkish, the ice cream is made of thick, milky cream and mastic, a fragrant resin gathered from the Pistacia lentiscus tree.
The taste of the ice cream is comparable to other ice creams around the world, but the chewy texture is something some people might be put off. We really like it when our ice cream lasts so having it a little bit thicker is perfect for us.
But what is the best about getting a Dondurma from Sultanahmet is the performance that comes with it. The vendors here tend to be quite entertaining as they put on a show while serving customers. We're not going to spoil what happens but it is something you must do in Sultanahmet!
5. Go On a Walking Tour
Perhaps the best way to take in all the history and heritage of Sultanahmet is by going on a walking tour with a professional guide.
We've been to Sultanahmet many times now, and we are still learning more about it every time we go. There is just too much history and interesting facts!
It also doesn't help that there isn't much information in the attractions for visitors to read on their own. With a guided walking tour, you will learn so much more about the sites and monuments of Sultanahmet than if you are just doing it on your own.
Make sure to book a tour with knowledgeable guides who can give insight into the culture and history of Sultanahmet in detail!
6. Explore Topkapi Palace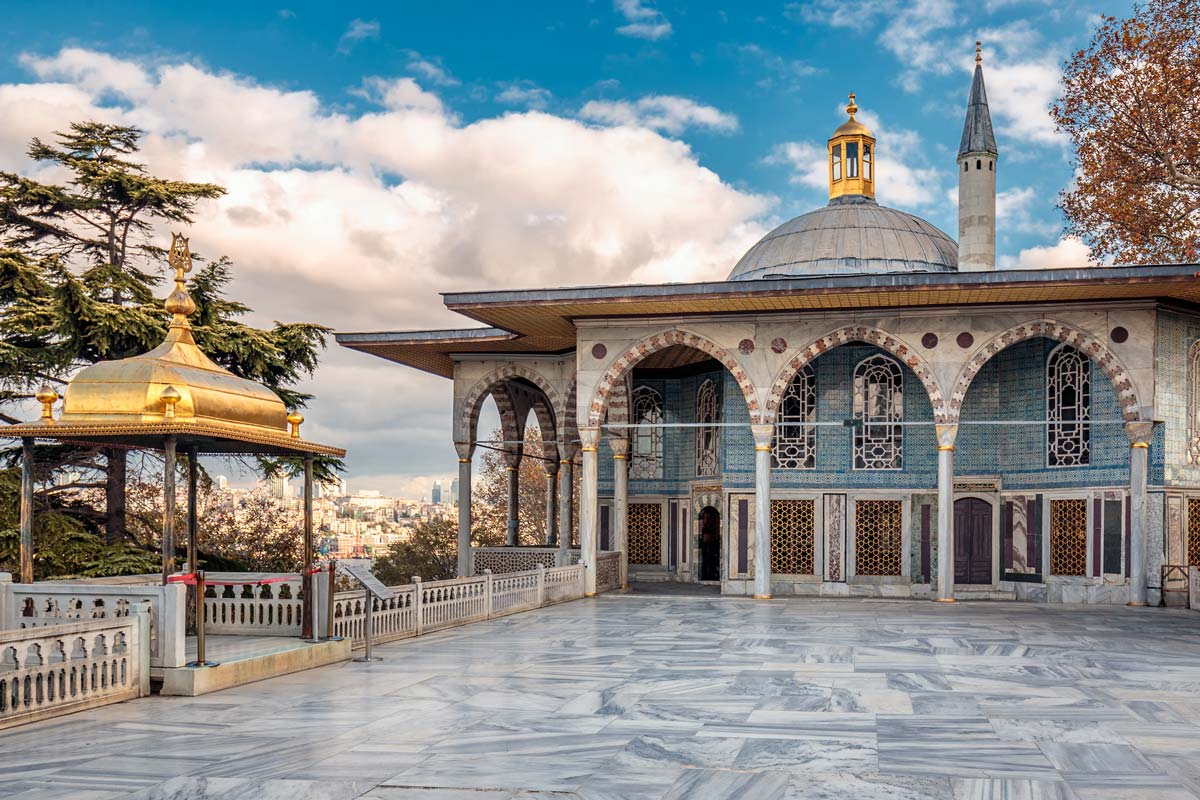 Topkapi Palace is one of the most majestic palaces in Istanbul. Originally constructed between 1460 and 1478 by Sultan Mehmed II, it served as the primary residence of the Ottoman Sultans for nearly four centuries.
It was the administrative center of the Ottoman Empire, and its grandeur stood as a symbol of the Ottoman Empire's power.
The layout of the Topkapi involves four consecutive courtyards surrounded by high walls. Each courtyard was separated by a gate, and each entry with incrementally restricted as you went along. The third and fourth courtyards were highly restricted.
The courtyards are decorated with ornamental pools, fountains, gardens, pavilions, and other opulent structures. and intricate marble structures. The complex houses numerous administrative buildings – from the Chamber of the Sacred Relics to the Chamber of Petitions and much more.
But perhaps the most remarkable building inside the Topkapi Palace is the Harem. This is the living quarters for the female members of the sultan's family. The interior of the Harem is decorated lavishly, and even though there is an extra entrance fee for it, it is worth seeing it in person!
7. Visit The Basilica Cistern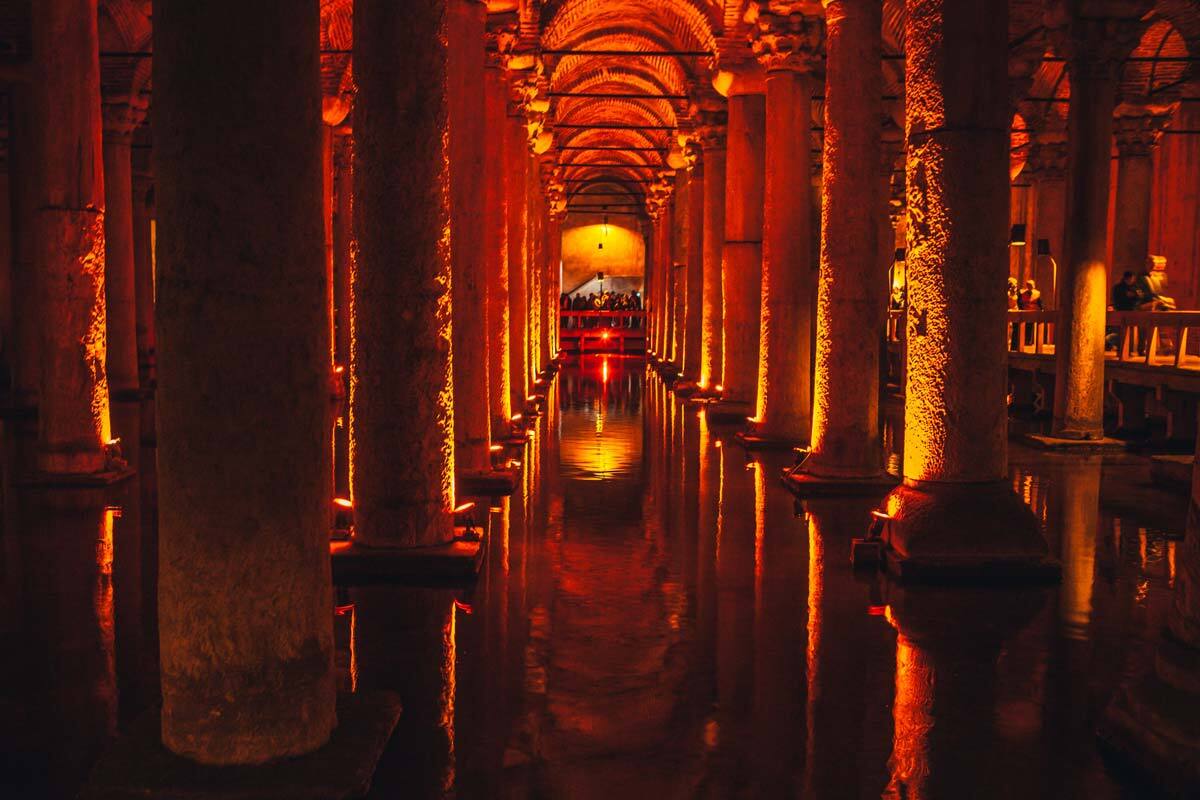 The Basilica Cistern is one of the greatest architectural wonders handed down from the Byzantine Empire. Built during the 6th century by Emperor Justinian I, it was used to store water for the Great Palace of Constantinople and other nearby buildings.
The cistern is made up of 336 columns, laid out in a 12 by 28 grid pattern. These columns help hold up its roof and its reservoir has a capacity of 80,000 cubic meters. It is one of the largest ancient cisterns in the world and definitely one of the best attractions in Sultanahmet.
Audio guides are available which provide further insight into this incredible site and allow visitors to gain a deeper understanding of its history and significance.
If you are looking for cool photo spots in Sultanahmet, Basilica Cistern is the perfect place!
8. Enjoy A Luxurious Turkish Bath at Hurrem Sultan Hammam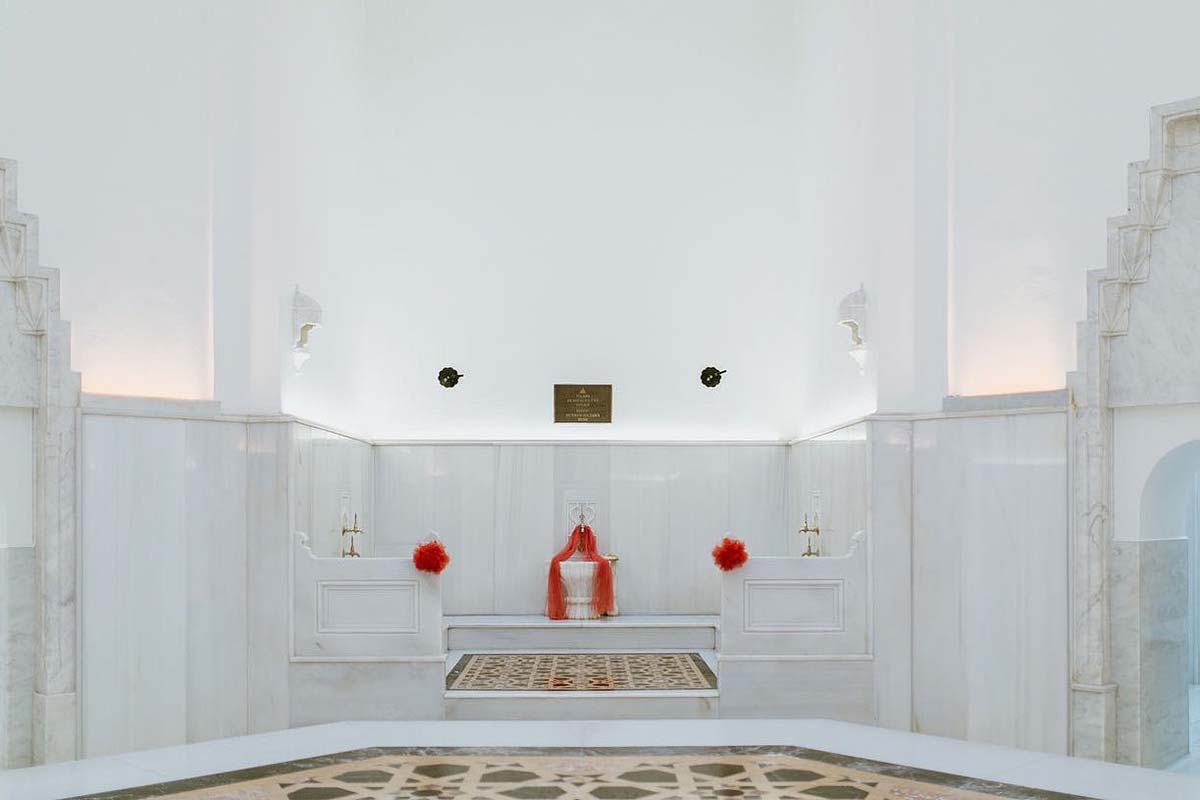 No trip to Turkey is complete without indulging in a relaxing Turkish Bath (or Hammam in Turkish). Luckily for you, as the historic center of Istanbul, Sultanahmet has a few incredible ones to choose from.
The best Turkish bath in Sultanahmet is the Hurrem Sultan Hammam. Commissioned by the Hurrem Sultan, the legal wife of Suleiman the Magnificent, the Hurrem Sultan Hammam finished construction in 1557.
It's situated between two of the most powerful landmarks in Istanbul – Hagia Sophia and the Blue Mosque, and is thought to be the spot where Zeuxippus' ancient public baths once stood.
Visitors can not only get a relaxing bath time, but they can also admire the exemplary Ottoman architecture.
Do note that this is one of the priciest Turkish baths in Istanbul, but the price point is very well-justified. It is perhaps the most luxurious treatment you can get in one of the most historical hammams in Turkey!
Read More: The Turkish Bath Guide For Ladies
9. Walk Around Gülhane Park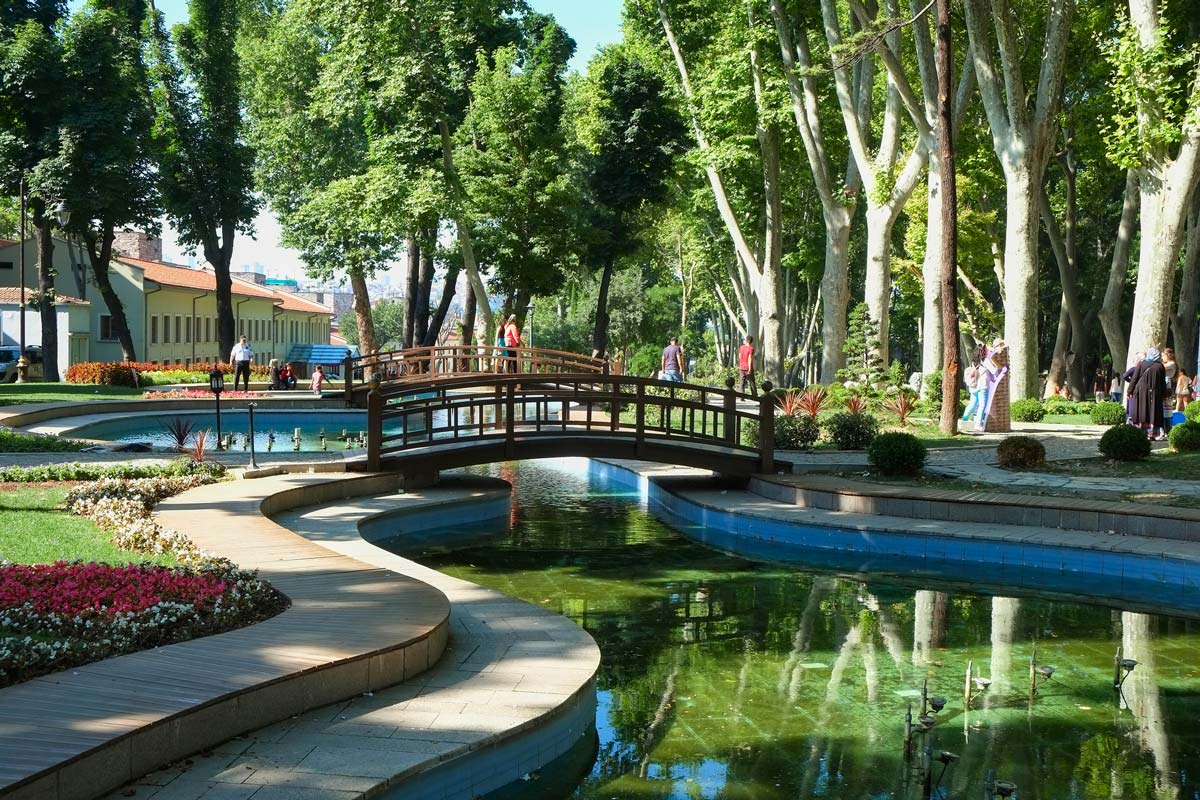 If you are looking for free things to do in Sultanahmet, make sure you check out Gülhane Park. It is the biggest park in Sultanahmet, and is the perfect place to get some quiet time in the middle of the busy historic center.
There are plenty of things to do in Gülhane Park, from strolling among its lush gardens to relaxing on one of the benches and people-watching. There are plenty of vendors in the park selling iconic Turkish street food such as Simit or corn on a cob.
But perhaps what Gülhane Park is most known for is its tulips. April in Istanbul is when the International Tulip Festival occurs, and the tulip blossoms in Gülhane Park are absolutely breathtaking. Even when they are not in bloom, there are plenty of flowers and greenery in the park o admire.
10. Eat At A Rooftop Restaurant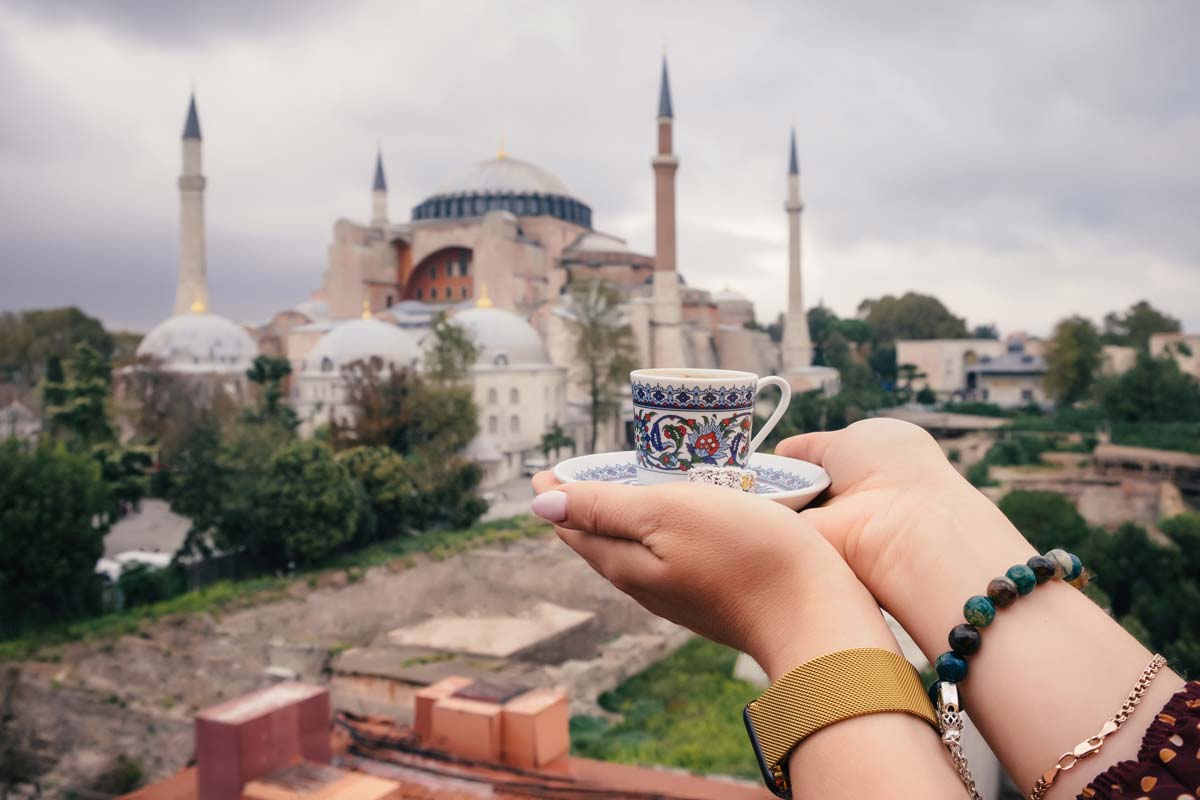 Perhaps the best way to appreciate the beauty and scale of the Sultanahmet neighborhood is from above, and there is no better way to do so than dining in a rooftop restaurant.
Sultanahmet has a myriad of rooftop restaurants, ranging from high-end luxury restaurants to budget-friendly eateries.
For something fancier, we recommend Seven Hills Restaurant, which is located a short walk from Sultanahmet Square. Its rooftop offers some of the best views of Hagia Sophia, Blue Mosque, and the famed Bosphorus Strait that separates Istanbul's European side and Asian sides.
11. Discover Istanbul Archaeological Museums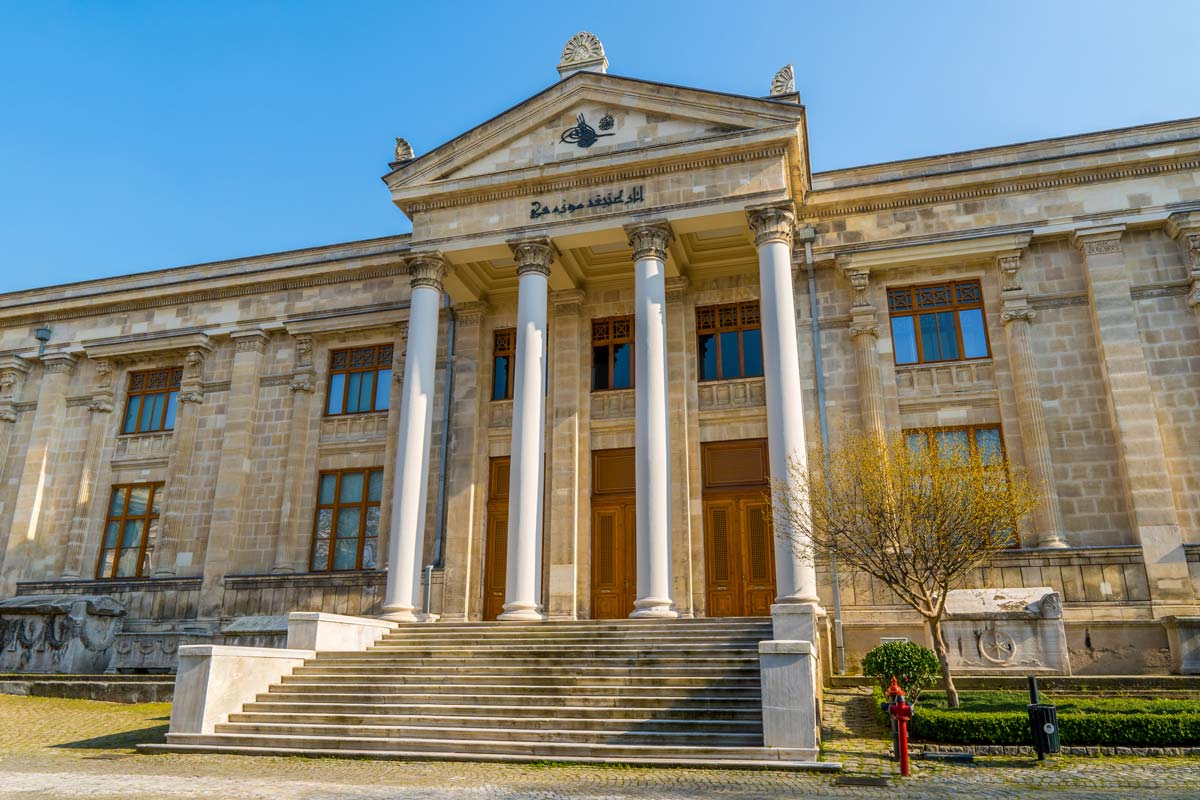 There are plenty of incredible museums in Istanbul, but one of the ones visitors must not miss in Sultanahmet is the Istanbul Archaeological Museums. It consists of three different museums:
The Archaeology Museum
The Museum of the Ancient Orient
The Tiled Kiosk Museum
The most famous museum is the Istanbul Archaeology Museum, established in 1891. This iconic building houses over a million objects from excavations throughout Turkey, ranging from ancient pottery and coins to frescoes and sculptures.
One of the most impressive parts of the museum is the Sarcophagus displays. Don't miss the Alexander Sarcophagus, which features low-relief carvings of Alexander the Great and detailed historical and mythical stories.
And because of Istanbul's history, the museum details some of the most ancient civilizations in the world – from the Hittites to the Greeks and Byzantium to the Ottoman Empire. We particularly liked the parts about the history of Anatolia, which is not often discussed in the history books!
And don't miss out on the section on Troy, one of the most historical cities in classical times. It is believed that Troy is situated near present-day Canakkale, and visitors can take a day trip to this city near Istanbul!
12. Stroll Along Soğukçeşme Street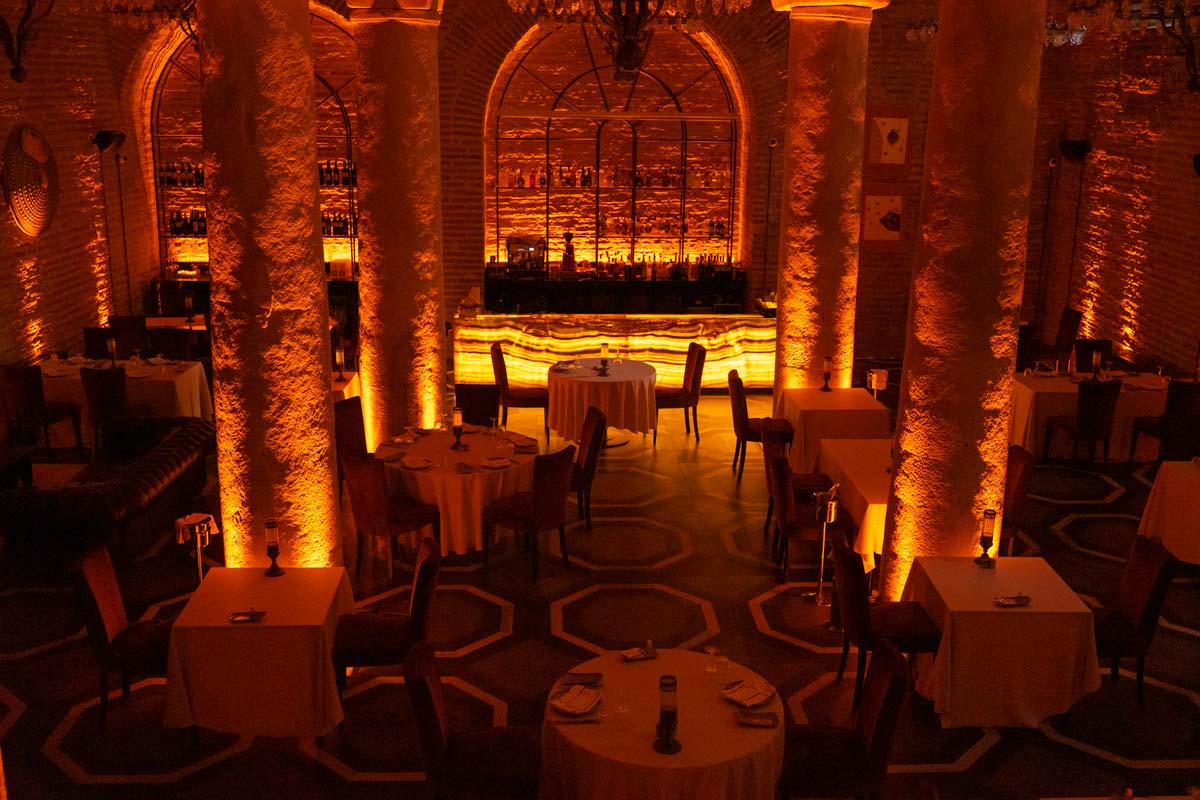 Soğukçeşme Street is one of the most historical and beautiful streets in Istanbul, especially Sultanahmet. This narrow pedestrian-only street is situated between Hagia Sophia and the walls of Topkapı Palace, and a place that many tourists often miss.
The cobblestone street is home to several historic Ottoman mansions, some of which might look similar to the ones you find on the Princes' Islands. Some of them have been converted into hotels, so visitors that want to stay somewhere historical can have a chance to do so.
The most remarkable place on Soğukçeşme Street is Sarnıç, an ancient Roman cistern that has been turned into one of the best restaurants in Istanbul. Dining here is a unique experience, but be prepared to spend a lot of money.
Also, if you are looking to buy some Turkish souvenirs in Istanbul, Soğukçeşme Street might have something you'd like. The street isn't very long or big, and there are better places for souvenirs in Sultanahmet, so don't despair if you don't find anything.
13. Try Turkish Coffee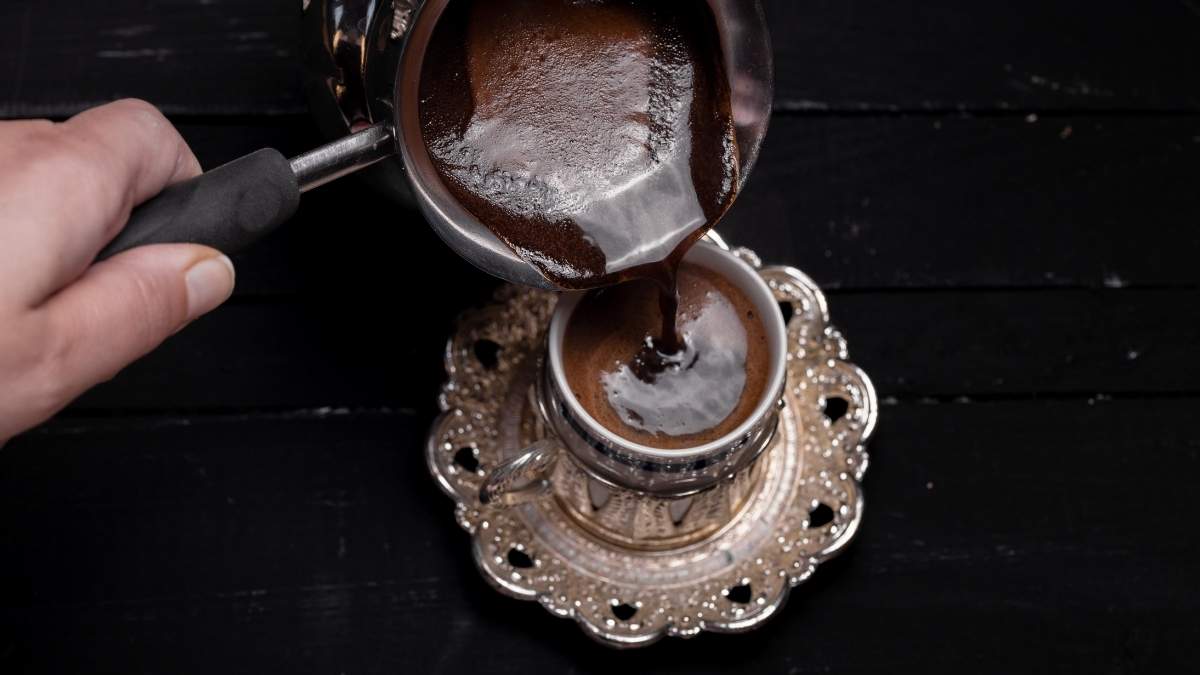 Perhaps one of the most popular drinks in Turkey for tourists is Turkish coffee.
Turkish Coffee is different from other coffees around the world, in the sense that it is made from finely ground roasted coffee beans and water and boiled to create a strong-bodied drink with a thick layer of foam on top. The grounds are left at the bottom of the cup, making it easy to distinguish from other types of coffee.
Unlike most other types of coffee which use filters to strain out the grounds, Turkish Coffee is prepared by boiling the grounds in water in an ibrik or cezve – a small pot with a long handle. This method results in an incredibly smooth and flavorful cup without any bitter aftertaste. The foam created during the boiling process gives Turkish Coffee its signature creamy texture.
There are many cafes in Sultanahmet where you can try authentic Turkish Coffee, Hafız Mustafa is a chain but one of the highest quality cafes in Istanbul.
Read More: Where To Go For Breakfast In Istanbul?
---
Best Restaurants In Sultanahmet
No visit to Sultanahmet is complete without trying some of the most authentic Turkish cuisine and flavors. Luckily, as one of the most touristy areas in Istanbul, good restaurants are not different to find. Here are some places to eat in Sultanahmet:
1. Seven Hills Restaurant
As we have aforementioned, Seven Hills Restaurant is one of the best restaurants in Istanbul with a view. Their rooftop offers a 360-degree panoramic view of all the main landmarks in Sultanahmet, as well as the famous bodies of water (Golden Horn, Sea of Marmara and Bosphorus Strait) that surround this area.
We recommend coming here for sunset and getting a coffee or a drink. The food is good here, but it is very expensive for the quality and quantity you get. It is better to just get a drink, admire the views, and then go somewhere else for a full meal.
2. Matbah Restaurant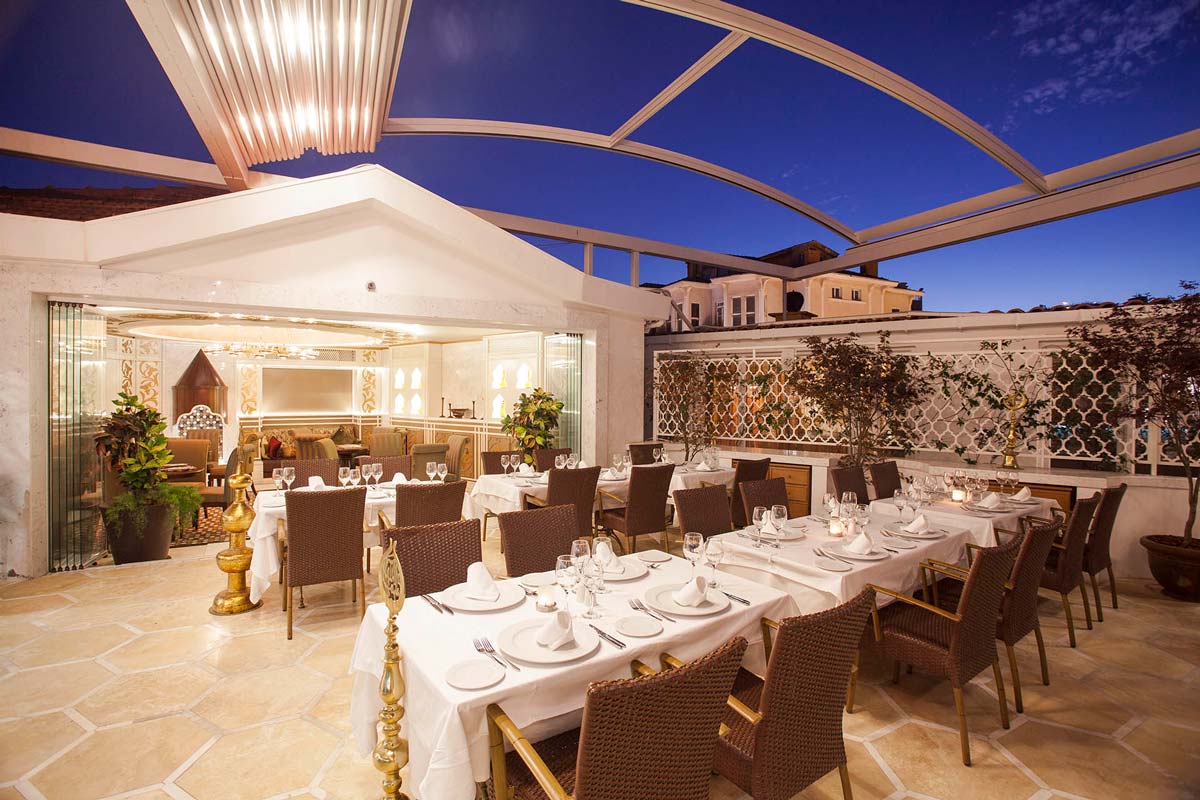 If you are looking for a fancy restaurant in Sultanahmet, perhaps for your honeymoon or a special occasion, then check out Matbah Restaurant. The restaurant is part of a luxurious hotel, which was a former 19th-century hospital, and it now serves some of the best Turkish food money can buy.
There are plenty of dishes on the menu. Though we haven't tried every dish, the lamb shank and the sea bass are absolutely delicious and we cannot recommend them enough.
Besides the delicious Ottoman cuisine, you can expect some of the most sincere Turkish hospitality. The staff is attentive and ensures that everyone is well taken care of! They even gave us complimentary Turkish Teas, salads, and bread!
3. Ortaklar Kebap Restaurant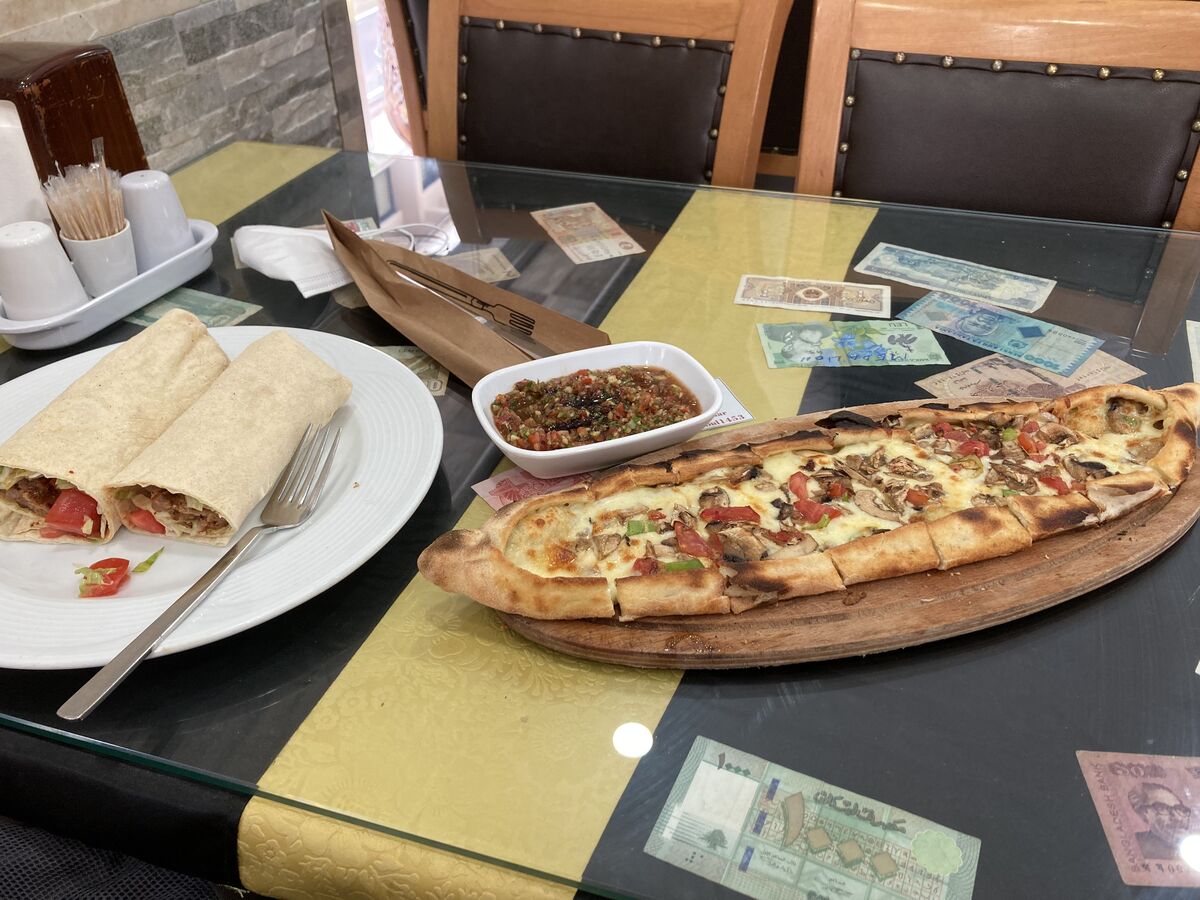 Cheap restaurants in Sultanahmet are hard to come by, and cheap restaurants that are good are even rarer. Luckily, there is Ortaklar Kebap Restaurant!
This Turkish restaurant is situated next to the Cistern of Theodosius, another one of the cisterns left behind from Roman times. The food quality is actually quite good, everything is made fresh and the staff is attentive but not overbearing.
They have several floors to their establishment, including a roof terrace with some decent views. But if you want an air-conditioned place for the hot summers of Istanbul, then you might want to sit inside.
4. Divella Bistro Restaurant
Istanbul's incredible location near several bodies of water results in some of the freshest seafood you can get anywhere in the world. Consequently, there are a lot of seafood restaurants in Istanbul.
One of the best we've found is Divella Bistro Restaurant, just minutes away from the Blue Mosque and Hagia Sophia. It is a charming and laid-back restaurant that serves delicious Turkish foods with seafood as its specialty.
Along with the reasonable prices (especially for Sultanahmet), there is no better place to try seafood than Divella Bistro Restaurant.
5. Hidden Garden
A lot of Turkish foods are meat-based, which makes it hard for vegetarians to find something to eat in Sultanahmet. That is why Hidden Garden – Vegetarian stands out so much.
As the name suggests, Hidden Garden is a restaurant that is situated in a small garden, away from the chaos of Sultanahmet. The restaurant serves a wide variety of dishes, including a ton of authentic and delicious vegetarian dishes that will make your mouth water!
Meat lovers don't need to worry. The majority of the menu is with meat and they are as delicious as the vegetarian options!
Read More: 11 Amazing Vegan Restaurants In Istanbul Worth Visiting!
---
Where To Buy Souvenirs In Sultanahmet
As the historic center of Istanbul, Sultanahmet is full of souvenir shops selling the usual range of items such as fridge magnets, t-shirts and postcards.
Though there is plenty of options, there is somewhere that even has more options – the Grand Bazaar. The Grand Bazaar isn't in Sultanahmet, but in the neighborhood adjacent called Eminonu. So for those that are looking to do some serious shopping in Istanbul, we recommend you check out the Grand Bazaar.
But nonetheless, there are a few options for shopping inside Sultanahmet, and here are them.
1. Arasta Bazaar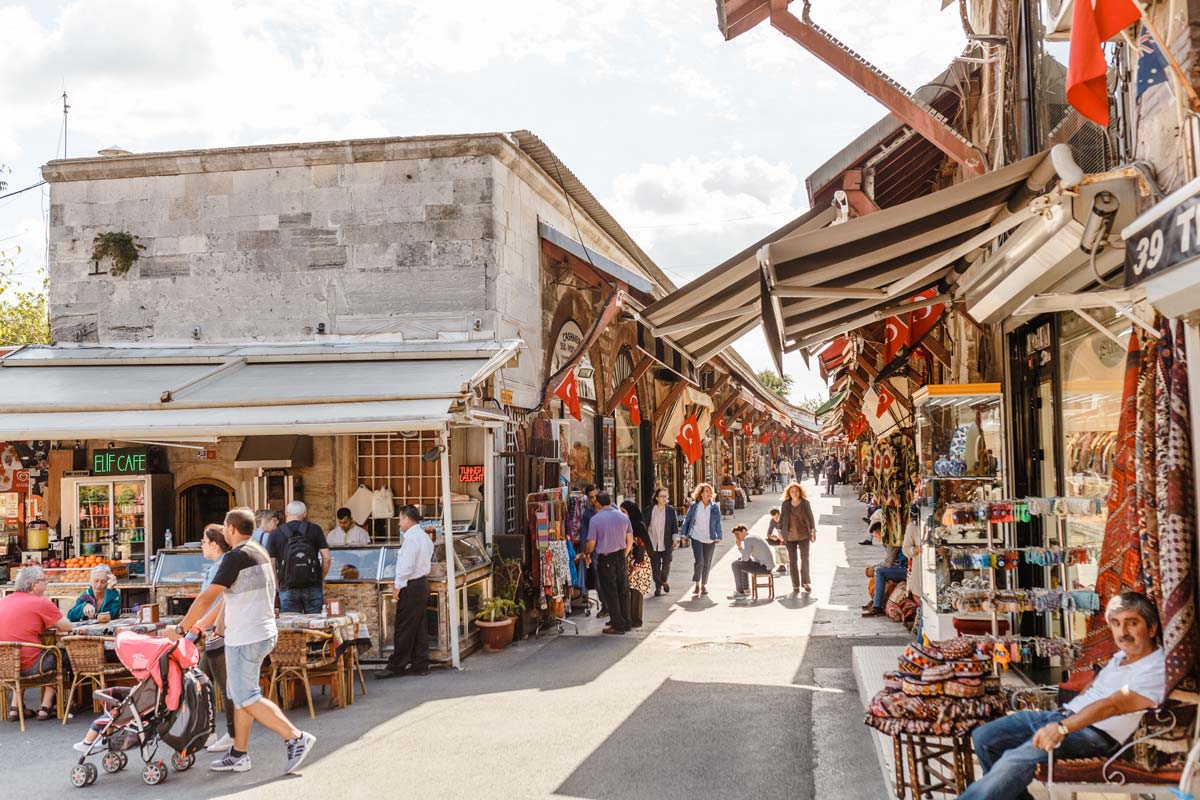 The Arasta Bazaar is situated behind the Blue Mosque and has been around since at least the 17th century. It is only one street long and it has over 200 shops selling all sorts of goods including clothing, jewelry, carpets, ceramics and various other souvenirs.
There are restaurants and cafes at both ends of the open-air bazaar, perfect if you want to replenish yourself after some shopping.
2. Divan Yolu Street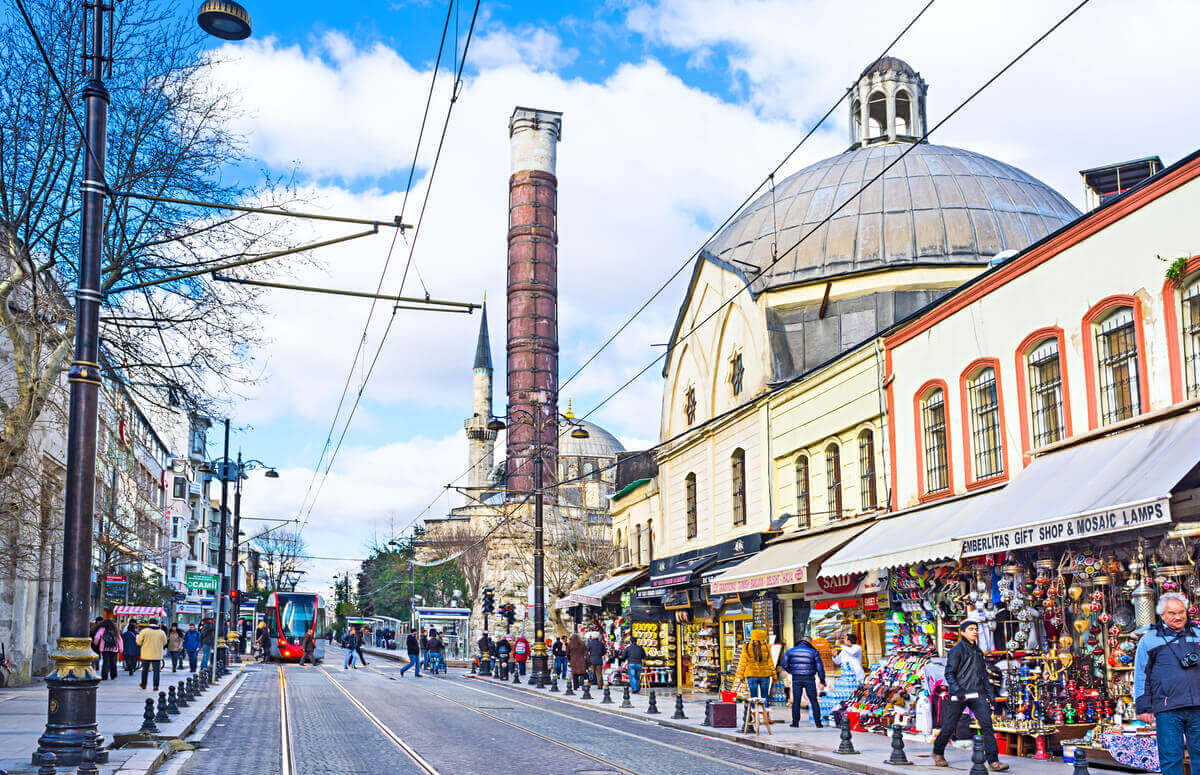 Divan Yolu Street is one of the most bustling streets in Istanbul. It runs along the T1 tram line and is home to a large concentration of restaurants, shops, and more.
Because there are so many shops, it is a great place to look for some souvenirs. Don't be afraid to head into any of the side streets connecting Divan Yolu Street, they often have plenty of souvenir shops as well.
3. Tree Of Life Ceramics and Gift Shop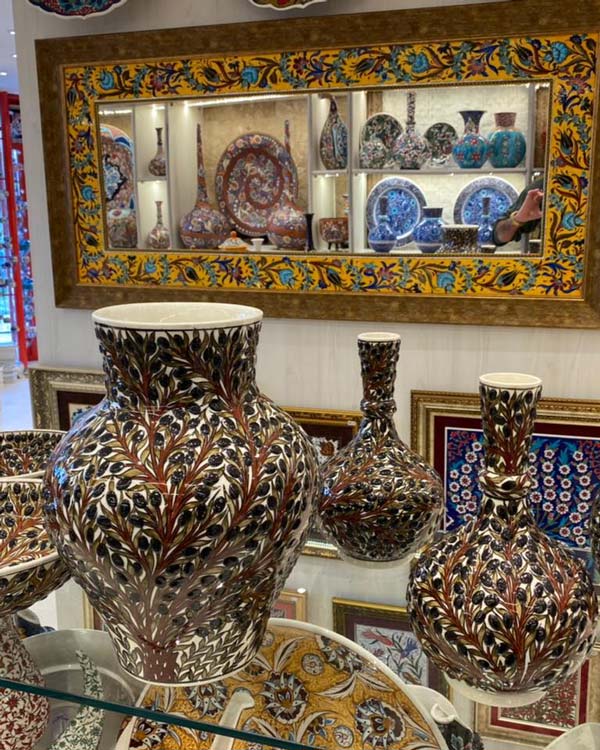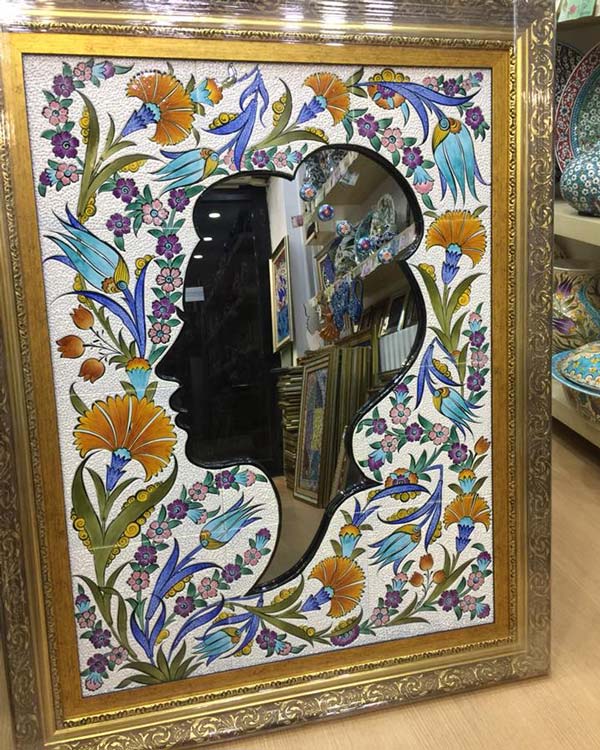 If you are looking for a place to purchase some unique souvenirs in Sultanahmet, then Tree of Life Ceramics and Gift Shop is where you need to go. This shop focuses on beautiful handmade ceramics, ensuring that no two pieces are exactly identical.
The shop owner is also very kind and treats you with the utmost hospitality even if you don't plan on buying anything.
---
Where to Stay In Sultanahmet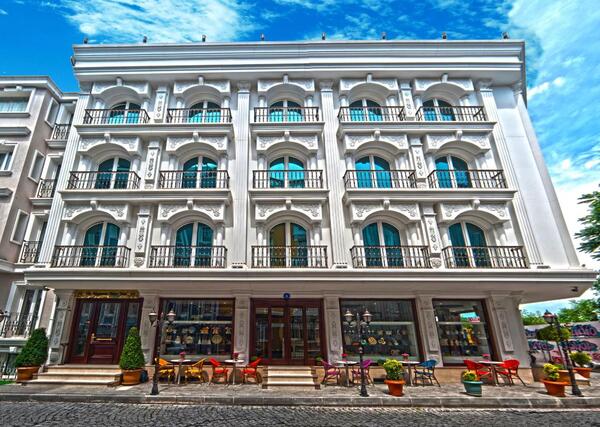 Magnuara Palace Hotel is one of the best hotels in Istanbul near Hagia Sophia. It is situated minutes away from the Blue Mosque and Hagia Sophia. But when you are not visiting them, you can admire their beauty through the terrace of one of the rooms. And if you fancy historic mosques, then you can choose to look at the Sea of Marmara instead – equally impressive. The hotel is decorated with traditional Turkish textiles, so guests can immediately feel like they are part of history when staying here. Along with a luxurious interior design and attentive staff, guests are guaranteed to have a good time here.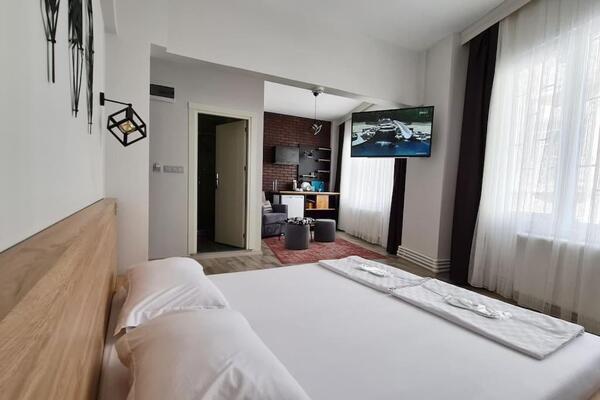 Best Vacation Rental In Sultanahmet – Social House
If you are looking for an affordable and cozy vacation rental in Istanbul, then consider Social House. Tucked behind a quiet street in Sultanahmet, visitors can get the peaceful rest they need and be close to all the action at the same time. Their studio apartment offers guests a comfortable space with a private bathroom and small kitchen at an affordable rate. If you don't mind sharing bathrooms and a kitchen with a few possible guests, then they have double rooms as well! But worry not, the communal spaces at Social House are clean, relaxing, and receive plenty of sunlight. It is the perfect place to relax or work from your laptop!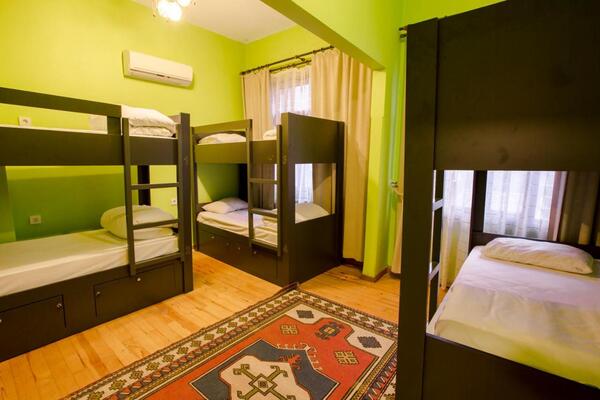 Best Hostel In Sultanahmet – Cheers Hostel
Cheers Hostel is the best hostel in Sultanahmet, nestled behind the Hagia Sophia and the Blue Mosque. It offers comfortable, individually styled rooms and dorms, with spacious shared bathrooms. The terrace bar and restaurant serve up kebabs and international cuisine for those who don't want to venture far for food and have wonderful views of Istanbul's Old Town.
---
Visiting Sultanahmet FAQs
Is Sultanahmet Safe?
Sultanahmet is one of the safest districts in Istanbul. There is a huge police presence because the area receives a ton of tourists and is also home to some of the most important buildings in the country.
Is Sultanahmet Safe At Night?
Though Sultanahmet is quiet at night compared to the day, the area is still very safe. The streets in the neighborhood are well-lit and there are plenty of people out enjoying an evening walk or a meal in a nice restaurant.
Is Sultanahmet In the Asia or Europe Side of Istanbul?
Sultanahmet is located in the Fatih District, on the Asian side of Istanbul. It is located just across the Bosporus, in the historic heart of Istanbul.
How Far Is Sultanahmet From Taksim?
Taksim is approximately 4 to 4.5 kilometers away, depending on which part of Taksim you are going to and which part of Sultanahmet you are departing from. It takes about 20 minutes to drive there, but it can take much longer due to Istanbul's infamous traffic.
---
Sultanahmet is one of the most-visited neighborhoods in Istanbul, and for good reason. After reading our guide, you can now plan your own perfect trip to Istanbul and check out this amazing part of the city!