The Hagia Sophia, or Aya Sofya as it is also known, is one of the most spectacular places of worship in the world. It's one of the most iconic landmarks in Istanbul and should be at the top of every first-time visitor's list to Istanbul.
If you're short on time, or just want to stay in the historic center, then it's a great idea to stay at one of the best hotels near Hagia Sophia.
The Hagia Sophia is located within Sultanahmet Square in the Fatih district, which is largely the center point for some of the most important sights in the city including the famous Blue Mosque, Topkapi Palace, The Archeology Museums, and the Museum of Turkish and Islamic Arts.
But finding the right hotel is no easy task, so we've picked out the best hotels near Hagia Sophia so you can worry less about where to stay, and focus on planning your time in this incredible city.
Let's jump straight in…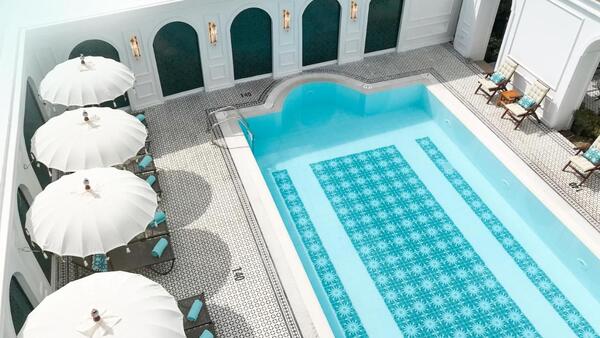 Sura Hagia Sophia Hotel
Located on a quiet street within a five-minute walk of Hagia Sophia is the beautiful 5* luxury Sura Hagia Sophia Hotel.
Boasting spacious rooms, lush botanical gardens, and a beautiful Ottoman-inspired outdoor pool, the Sura offers family-friendly luxury just a stone's throw from the historic sights of the Sultanahmet district.
Best 5-Star Hotels Near Hagia Sophia In Istanbul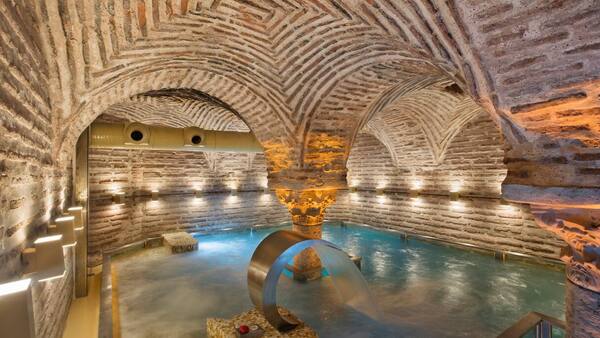 If you're wanting to visit the major attractions of Istanbul's Old City and then retreat to five-star luxury, built within historical buildings reminiscent of the ones you'll be gawping at all day, then this is the place to book.
Tucked down a shaded, tree-lined street pretty much on the Hagia Sophia's doorstep is the beautifully designed Hagia Sofia Mansions Istanbul.
Part of the Curio Collection by Hilton, you can be guaranteed that no expense is spared within the 17 mansions, all featuring luxurious bedding, soft lighting, and artwork individual to each room.
The Mansions' underground Cistern Spa is also one of the facilities on offer and to be honest, you'll struggle to find a more incredible wellness center in the entire city, which in Istanbul, is saying something.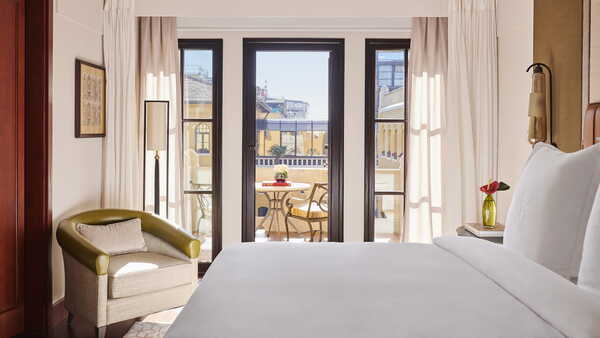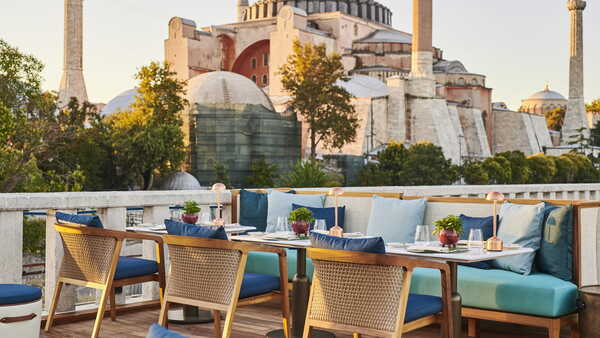 Staying in a former prison understandably might not be at the top of everyone's wish list, but with its beautiful courtyard garden, marble bathrooms, and insanely luxurious rooms, the stunning Four Seasons Hotel Istanbul at Sultanahmet is one that you almost certainly will.
Strategically located in Sultanahmet, just a stone's throw from the Hagia Sophia, this five-star retreat is a favorite hotel of travelers all over the world, evidenced by the near-perfect reviews it has received.
The building itself is three-storey's of neo-classical uber-luxury, rooms filled to the brim with high-end furniture, colorful artwork, and all of the amenities you ever could need.
If you want to relax with a cold drink in hand, head up to the rooftop Sureyya Teras Lounge and bask in the evening sun with a stunning view, or sit in the hotel's courtyard or terrace as you make your way through the finest of Anatolian cuisine in the fine-dining Avlu Restaurant.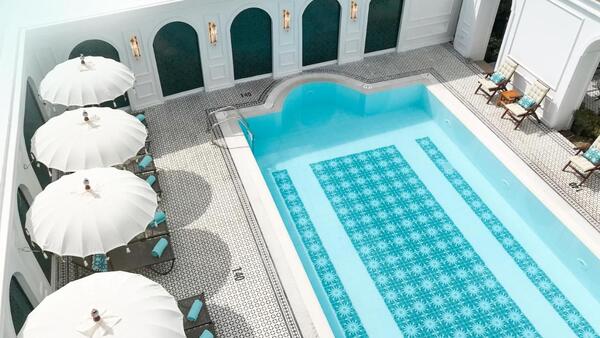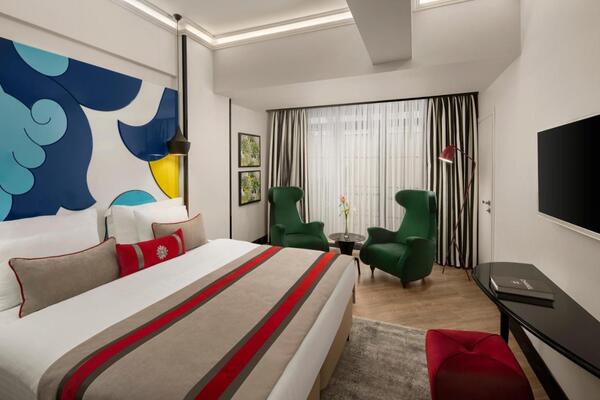 The Sura Hagia Sophia Hotel Istanbul is perfect for those with children wanting to relax in five-star luxury, something that the former two hotels we've mentioned aren't so ideal for.
With its fully soundproofed and well-equipped rooms, serene botanical gardens, and traditional Ottoman-inspired pool area, the Sura is a great compromise on family-friendly luxury that's within a few minute's walking distance from the famous sights of the Sultanahmet district, including the Hagia Sophia.
Families can choose between a simple family room, a family connection room, or even a two-bedroom family room.
If you're not traveling as a family, don't worry, there are plenty of lovely double rooms with Hagia Sophia views to choose from. Business travelers can take advantage of the meeting rooms or business center where you can use free faxing/photocopying facilities.
It's also located on a quiet street away from the tourist crowds, so even though you're close to the action, you won't be disturbed by the throngs of people.
Specializing in Mediterranean cuisine, there are also several on-site restaurants for you to try out.
Galeyan samples freshly made, traditional Anatolian dishes such as pide, kebaplar, and the mouth-watering Begendili Kofte.
Deraliye is an elegant Ottoman restaurant serving up favorites of the Sultans like Kuzu Kol, Kaz Kebabi, and Baklava.
If you're traveling by car, you'll find free private parking at the hotel, a rarity in the historic district of Istanbul. If you don't have a car, no worries, you are within a 2-minute walk of the nearest tram station.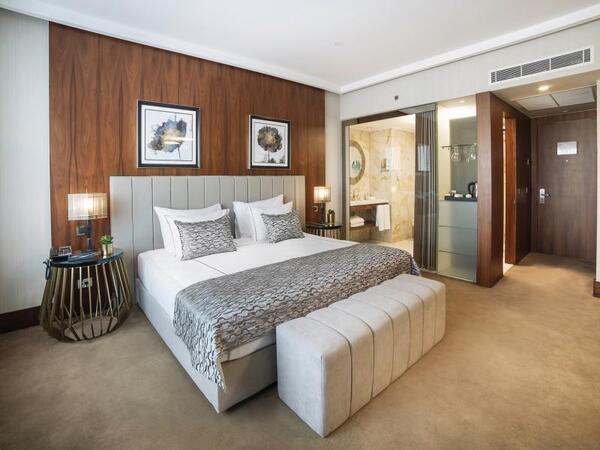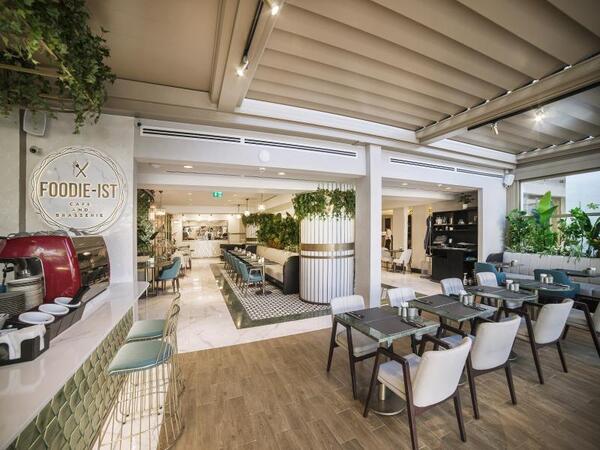 Even closer to the Hagia Sophia is our next five-star luxury hotel.
The Vogue Hotel Supreme Istanbul is one of the district's closest hotels to the famous mosque and much like its name, is in a perfect location to the other iconic historical sights of the Blue Mosque, Basilica Cistern, and the Topkapi Palace.
The rooms are of a great standard with amenities like cold air-conditioning, flat-screen TVs, and super-soft bedding as standard, with some rooms even coming with views of the Sultanahmet Square itself, including the Hagia Sophia.
If you're a big foodie, the highly-acclaimed Otantik Restaurant is pretty much next door which you can visit for some superb Turkish food along with live music and a buzzing atmosphere.
Best 4-Star Hotels Near Hagia Sophia In Istanbul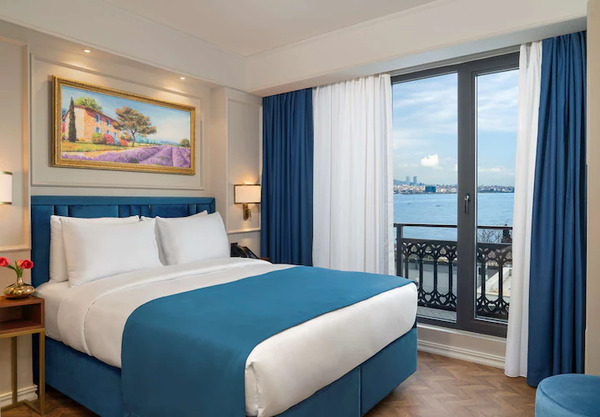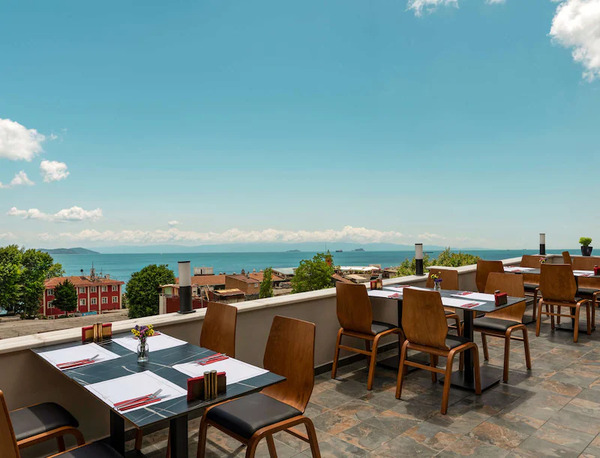 Muscling their way in on the prime hotel location close to the Hagia Sophia is the Royan Hotel Hagia Sophia Istanbul, a four-star hotel with convenience at its heart.
It's less than five-minutes walking distance to the Hagia Sophia and other Sultanahmet Square attractions making this the perfect base for a historical adventure in Istanbul's old town.
Its spacious rooms throughout are an excellent blend of classic, tasteful Ottoman-style furnishings, a modern flat-screen TV, and air-conditioning.
If you're wanting to splash the cash, perhaps for a special occasion, the Royan Hotel offers a stunning private sea-view suite complete with a jacuzzi and a hammam perfect for relaxing after a hard day exploring.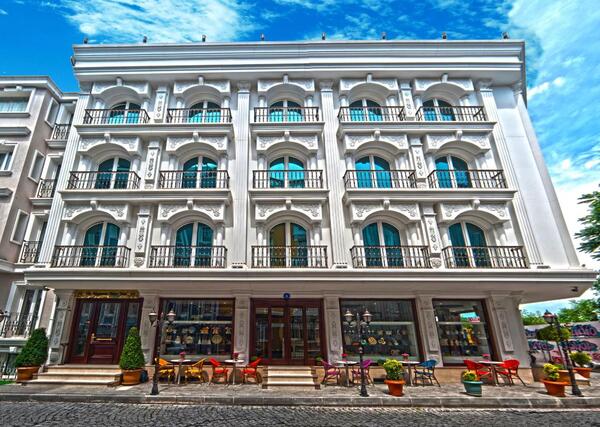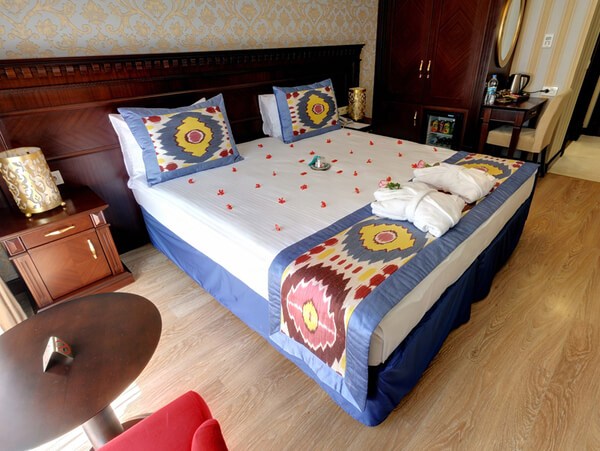 Just around the corner from the Hagia Sophia, on top of the Byzantine ruins of the Magnaura Palace, is the appropriately named Magnaura Palace Hotel.
Much like the other hotels on our list, The Magnaura Palace is in an optimum location for exploring the nearby attractions in the city.
Not only are the historical sights all within a short walking distance away, but the Sultanahmet tram stop and other public transportation is also close by meaning you can easily explore the rest of the city.
The Magnaura's rooms are super clean and spacious rooms, with a huge double bed dominating the layout and a bright and clean bathroom complete with free toiletries, a robe, and slippers.
This is just for the Standard Double room too, with extras like a minibar and kettle, a jacuzzi, and a terrace with a sea view for the Deluxe Room, Superior Room, and private Suites respectively.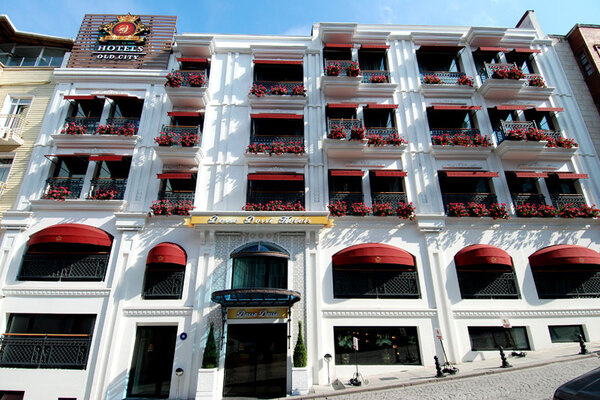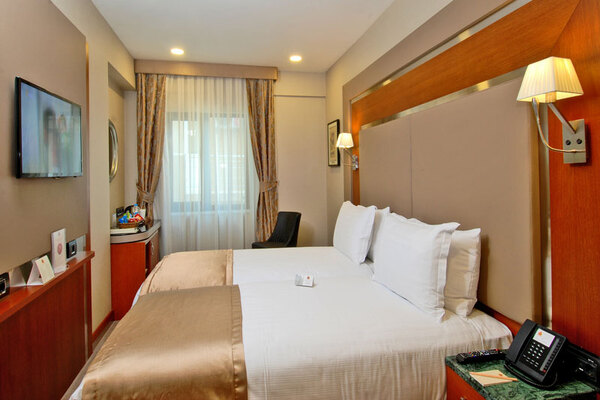 Dosso Dossi is a chain of Istanbul hotels dotted around the city, close to major landmarks and popular areas.
The Dosso Dossi Old City hotel is perhaps their best and most conveniently located, certainly for those wanting to visit the Hagia Sophia and the other nearby major attractions, like the Topkapi Palace, Blue Mosque, and the Basilica Cistern.
With comfortable rooms that are bright and airy, you will feel right at home! The Dosso Dossi Hotel features an in-house sauna and spa, where you'll be able to get a relaxing massage to finish off your day. Or head to the fitness center and indoor pool to stay active during your trip.
If you're after some of the best-tasting kebabs in the city, almost directly opposite the hotel is Kosk Kebap. Here, you'll be able to dig into a variety of traditional Turkish kebabs like Adana, Sis, and even a special aubergine kebab.
When you need it, the hotel has an airport shuttle service for an additional fee.
Related: Best Hotels in Istanbul with a pool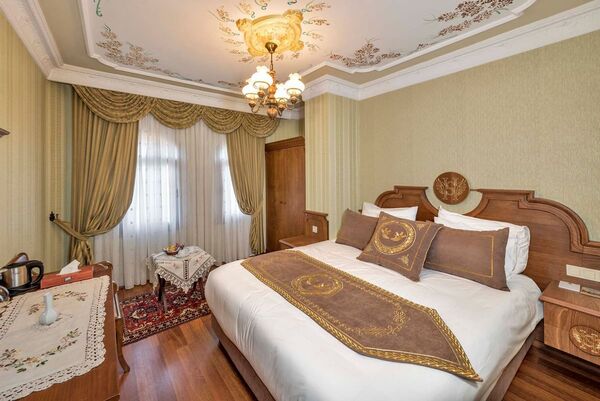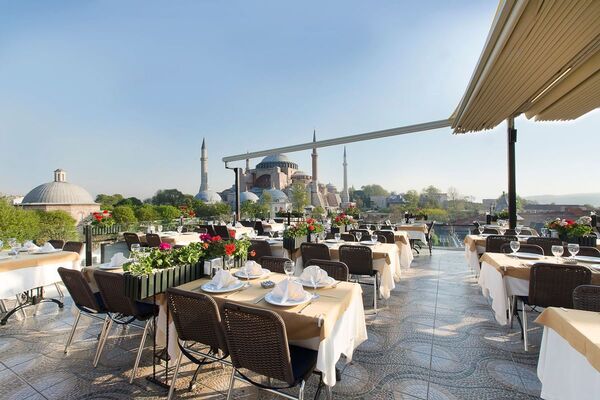 Self-proclaimed as 'one of the best hotels in Istanbul', is the insanely beautiful Seven Hills Hotel, and just by standing outside you know it's going to be a special experience.
Full of grandeur and elegance, the Seven Hills Hotel is also in the very center of Sultanahmet. You can see just how amazing its location is by heading up to its terraced restaurant for a bite to eat. Here, you'll get an unrivaled panorama of the entire Hagia Sophia complex which is arguably its main drawing point.
Aside from the view, the hotel prides itself on the classic Ottoman architecture of the rooms, with its traditional rugs and wooden floors taking center stage. The superior rooms are nice enough, but the suites take it to another level.
You'll feel like a ruling Ottoman Sultan as you relax in your private jacuzzi overlooking some of the key points of interest in the Old City including the Hagia Sophia and the Marmara Sea.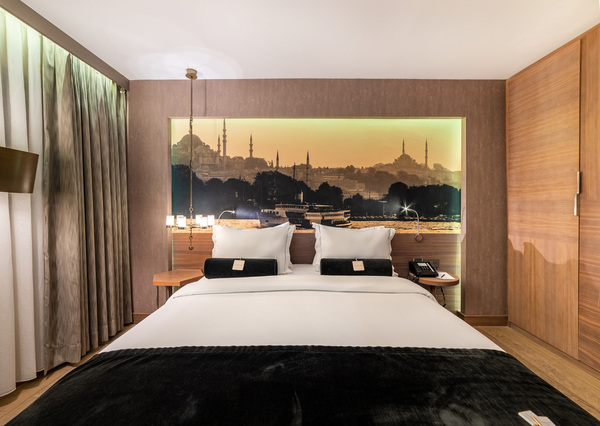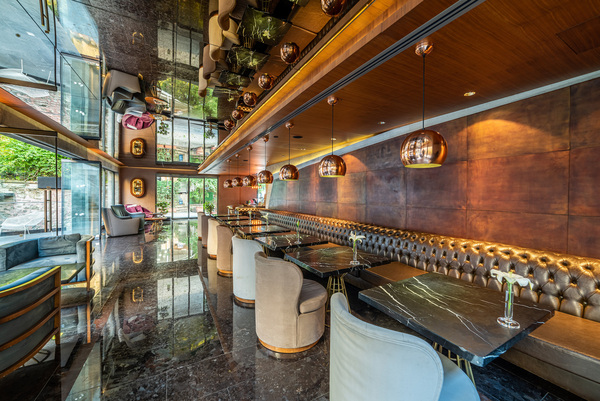 Boasting the Hagia Sophia as its literal neighbor, you are going to be hard-pressed to find a closer hotel to the iconic landmark than this.
The Boutique Saint Sophia Hotel Istanbul is a wonderful little four-star boutique hotel, comprised of 26 rooms all stylishly decorated, complete with a marble bathroom, free Bulgari toiletries, and a free minibar for your convenience.
Pay a little extra and you'll get a larger room with a quaint balcony, table, and chairs overlooking the courtyard of the Hagia Sophia, the perfect location for your morning tea or coffee.
They also offer complimentary high tea for guests, pastries included, free wifi as well as free bicycle rentals for those that want to explore the city on two wheels.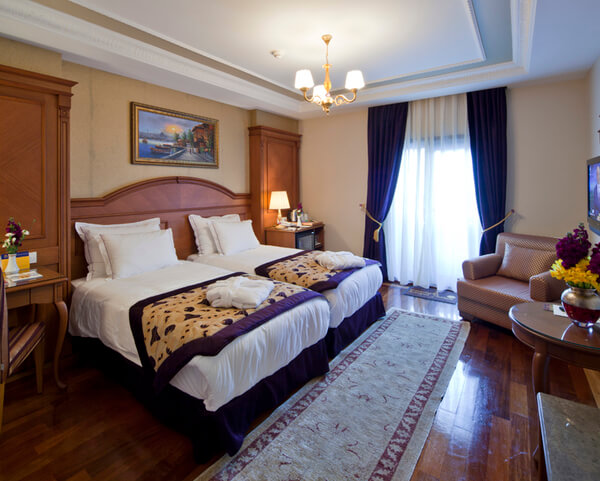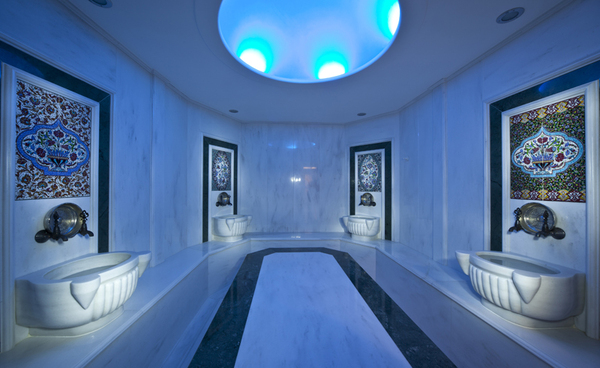 Situated within a fully-renovated 19th-century Ottoman building, GLK PREMIER Acropol Suites is as close to a home away from home as you'll get in Istanbul.
It's the furthest away from Hagia Sophia on this list but is still only a short 10-minute walk to the Hagia Sophia and other Sultanahmet places of interest.
The very nice helpful staff members here are the real star of the show, making you feel like family from the moment you walk through the door. It's not just limited to your first arrival; you'll be greeted with the friendliest of smiles every time you come and go.
The suites themselves aren't too shabby either, kitted out with lush wooden furniture, the most appealing of bathrooms, and a bed so large you might even get lost in it.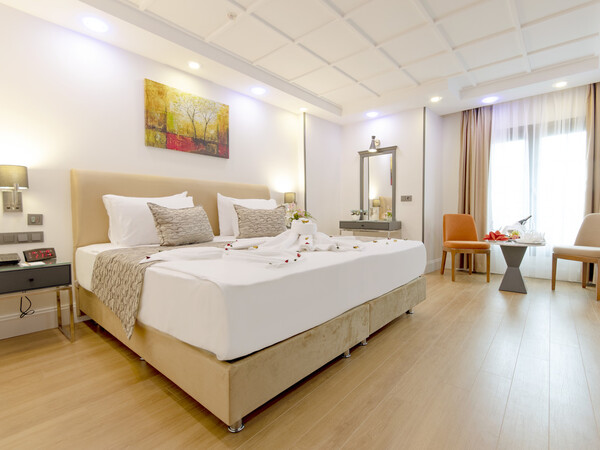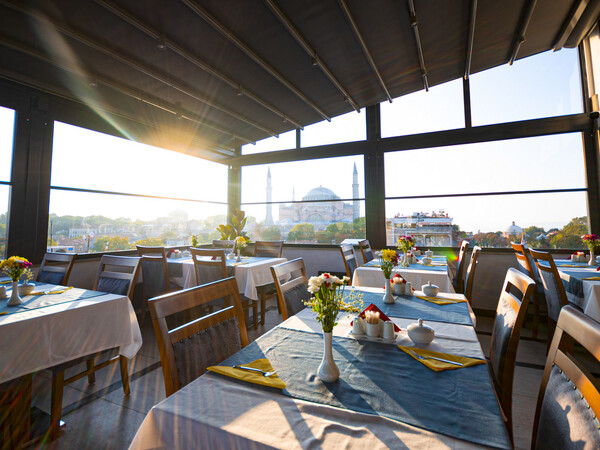 Just a few steps away from the bustling Sultanahmet Square is the Antusa Design Hotel & Spa. Opulently designed, this nice hotel is a great option if you're looking for a hotel close to all of the action, that also has its own Hamam on site.
After an exhausting day of wandering around Istanbul's old city, I think we can all agree that there's nothing better than getting a traditional Turkish bath, in your hotel, no less.
After your scrub and foam massage, you can make use of the Hamam's other facilities including the sauna, steam room, and even a rare salt room.
After feeling like you've been reborn again, sit down at the hotel's magnificent Zeugma Rooftop Terrace Restaurant where you can enjoy some delicious Turkish food along with a spectacular view of the Hagia Sophia and Bosphorus.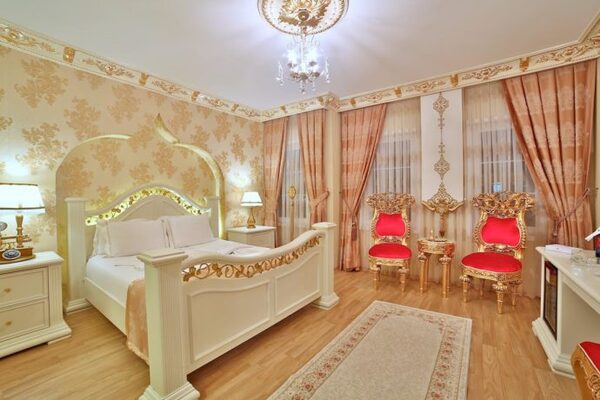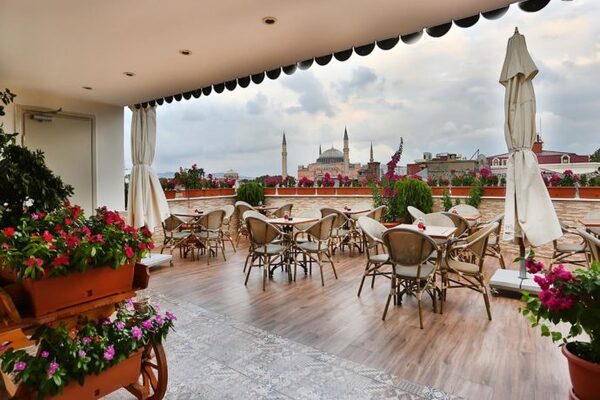 Taking influence from Istanbul's two-sided, east-meets-west continental history is the striking hotel that is the White House Hotel Istanbul.
With an exterior façade based largely on the Roman influence within Istanbul, and an interior that is almost entirely Ottoman, it's safe to say that staying in this hotel is a fantastic and memorable experience.
The staff's professional, yet super-friendly nature will please you almost instantly, and their attentiveness is also second to none.
The air conditioned rooms are luxurious and have everything you could need, and they make a great place to get some shut-eye after a few drinks in the hotel's roof garden.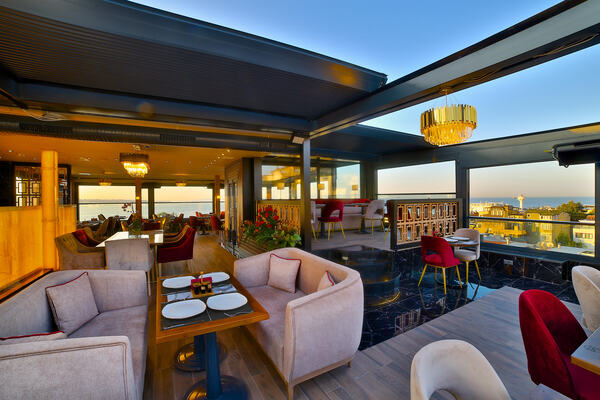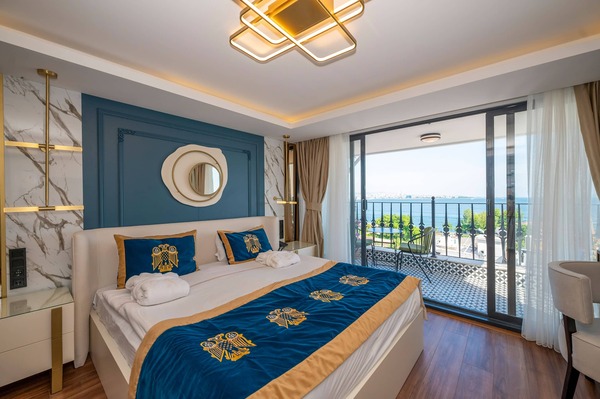 Last but not least on this list of the best hotels near the Hagia Sophia is the plush Byzantium Hotel & Suites.
Like many historical buildings in this part of Istanbul, this building has been painstakingly restored and optimized for hotel guests with 70 rooms, all equipped to a superb standard.
Expect luxurious bedding, flat-screen TVs, a minibar, and crisp air-conditioning, even in the most basic of rooms. If you decide to stay in the Executive Suite, you'll even get a little kitchenette for your convenience.
Guests can also look forward to the complimentary buffet breakfast consisting of fresh fruit, locally-made jams, cereals, pancakes, cold meats, and your choice of eggs.
FAQs About Hotels Near Hagia Sophia Istanbul
How far are these Hagia Sophia hotels from the airport?
As Istanbul is such an old and historic city, the airport had to be built quite far out of the city center. For that reason, it'll take about 45 minutes to an hour to drive from the airport to the hotels we've listed above. Of course, this depends on the time of day and traffic levels, but use this as a rough estimate.
I have an unlimited budget. What's the best hotel in the area near the Hagia Sophia?
Well, that would almost certainly have to be the first one on our list, the Hagia Sofia Mansions Istanbul, Curio Collection by Hilton. It's an incredible place to stay, and if you can afford it, you almost certainly will not regret it. There's no hotel in the world where you can swim in an actual converted ancient cistern.
Map of The Best Hotels near Hagia Sophia
To help you pick the right hotel near Hagia Sophia, here is a map of the hotels in this guide to help you pick the best location for your Istanbul trip.
Comparison of The Best Hotels near Hagia Sophia
Still not sure which hotel is right for you? Here's a quick summary of the stats to help you out…
Final Thoughts on the Best Hotels near Hagia Sophia Istanbul
Staying near the Hagia Sofia not only allows you to stay in the best hotels in Istanbul but also puts you close to the best attractions.
Whether you want to visit the Grand Bazaar and Spice Bazaar or just stay near the mosques, there can be no doubt that the best hotels near the Hagia Sophia are the perfect place to base yourself when you visit Istanbul.
Not only are these hotels right in the center of all of the action, but they are also comfortable and greet you with a warm welcome.
We hope this list gave you some great inspiration for your trip to Istanbul.
Disclaimer: Some of the links above are affiliate links. That means if you book or make a purchase through the links, we will earn a small commission at no extra cost to you! The money will help run this site! Thank you!