Istanbul is one of the most incredible cities in the world. There's so much to see and experience that it's virtually impossible to be left twiddling your thumbs back at the hotel without anything to do,
After you've spent all day on your feet exploring and getting lost down what seemed to be an endless amount of quaint streets, cute cafes, neighborhood markets, and back alleys, the best way to unwind is with a traditional Turkish bath in Istanbul, or Hamam as they're called.
With over sixty Turkish Hamams in Istanbul to choose from, it can become a little overwhelming trying to figure out which one you should visit. Well, luckily, we've done all of the hard work for you.
Let's jump straight in…
Planning a trip to Istanbul last-minute?
Make sure you book your tours, places to stay, and airport transfers ahead of time to ensure availability!
Here is our recommended airport transfer in Istanbul:
Here are our recommended tours in Istanbul:
Here are our recommended places to stay in Istanbul:
Magnuara Palace Hotel (Gorgeous hotel in the historic centre!)
Cheers Hostel (Budget hostel near the Blue Mosque!)
---
Best Traditional Turkish Baths
We'll begin our list with the most traditional Turkish Baths in Istanbul. Here are the most authentic and historic…
1. Cağaloğlu Hamam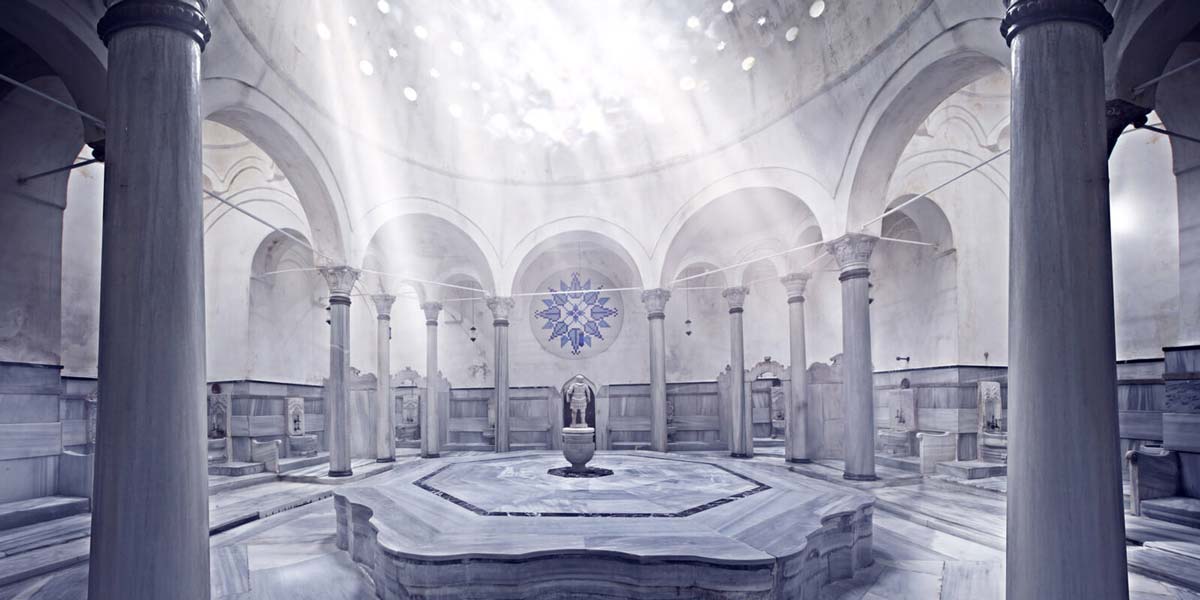 Hours: 9.00am – 10.00pm (11.00pm on Friday – Sunday)
Address: Alemdar, Prof. Kazım İsmail Gürkan Cd. No:24, 34110 Fatih
Istanbul is home to some of the most beautiful Hamams anywhere in the world. Turn down a quaint little side street near the hustle and bustle of Sultanhamet Square and you'll find arguably the most beautiful of the lot.
What looks like an unassuming storefront from street level actually opens out into what feels like an underground palace fit for the wealthiest of Ottoman people and the Sultans themselves.
Welcome to Cağaloğlu Hamam – a favorite of Istanbul's residents for almost 300 years.
2. Süleymaniye Hamam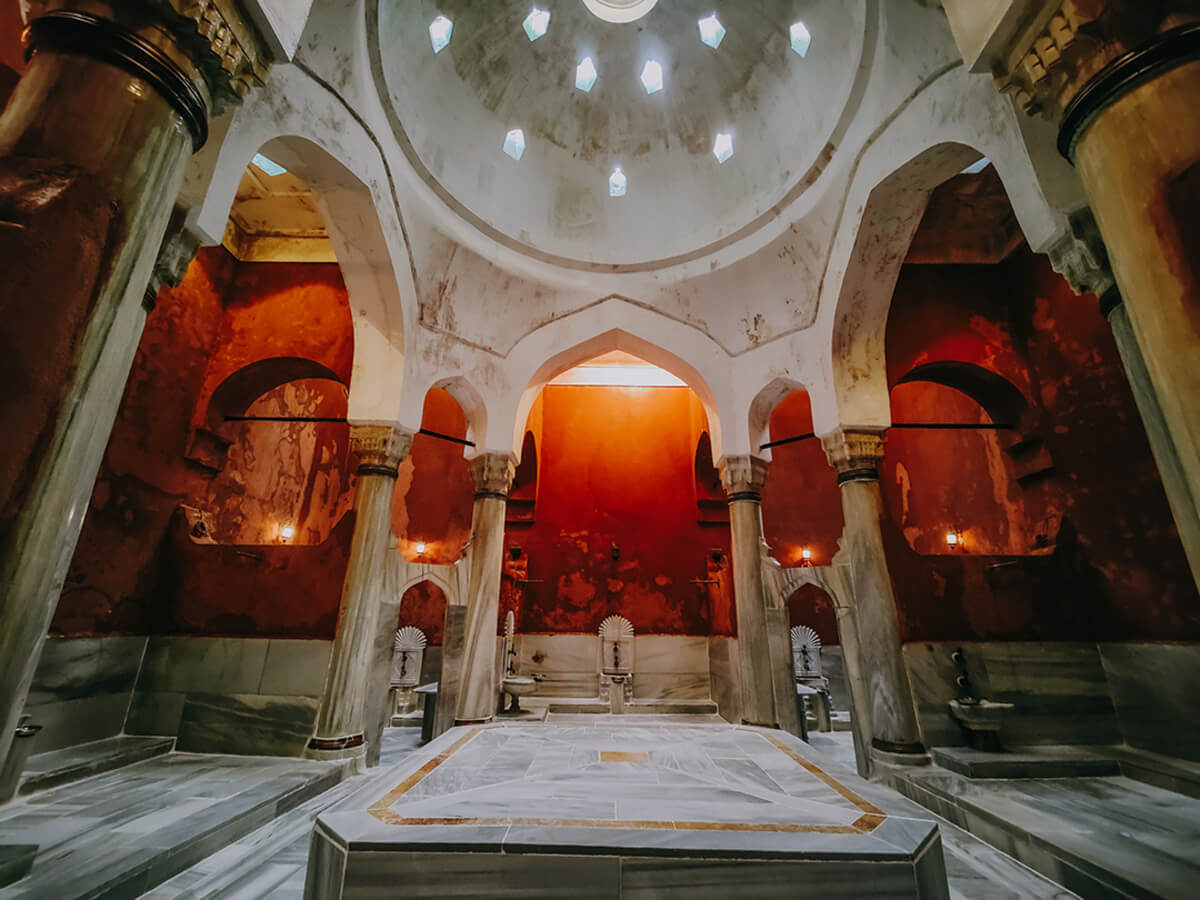 Hours: 10.00am – 10.00pm
Address: Süleymaniye, Mimar Sinan Cd. No:20, 34116 Fatih
Dating back to 1557, this particular Hamam was commissioned by none other than the Ottoman Sultan Suleyman the Magnificent himself.
As a result, Suleymaniye Hamam is one of the most revered in the city. Immerse yourself in the history of the building, built by the chief architect of the Ottoman Empire Mimar Sinan, whilst relaxing on the marble slab in the Hamams hot room, sweating away the toxins in your body.
Following this traditional first process, a full-body exfoliation and massage will be given to get those knots out and leave you feeling like a true Sultan.
3. Ayasofya Hürrem Sultan Hamam
Hours: 8.00am – 10.00pm
Address: Cankurtaran, Ayasofya Meydanı No:2, 34122 Fatih
So, you're after traditional Turkish baths in Istanbul. Well, believe us, there's no better place for a traditional Hamam than on the very same site as the 2000-year-old Baths of Zeuxippus, next to the stunning Hagia Sophia.
Whilst this is almost certainly one of the more expensive Hamams on our list, you'll be sure to get what you pay for with a variety of Hamam rituals, massages, and special packages to suit anyone.
4. Ağa Hamam
Hours: 10.00am – 10.00pm
Address: Kuloğlu, Turnacıbaşı Cd. No:48, 34433 Beyoğlu
Centrally located near Taksim Square and various other attractions of the city is Ağa Hamam, the oldest one in the city.
It was originally constructed by another Ottoman Sultan, Mehmed the Conqueror in 1454, making it the oldest Turkish bath in Istanbul.
Rather royally, this was his own private Hamam and upon entering this historical site you can instantly see why.
If you're on the hunt for a traditional Turkish Hamam in Istanbul, then the historical setting and atmosphere of Ağa Hamam is hard to beat, not to mention the reasonable price of just 850 TL, or $45 for the traditional package.
5. Mihrimah Sultan Hamam
Hours: 6.30am – 11.00pm
Address: Karagümrük, Fevzi Paşa Cd. No:333 D:333, 34091 Fatih
Mihrimah Sultan Hamam is a slightly different option on the list. This classic Turkish bath, named after Sultan Suleyman's daughter, is a much simpler, more local Hamam that will give you a much more authentic experience.
Mihrimah was given a beautiful renovation in 2022 too, which allows for a luxurious feel whilst still keeping prices low.
So low in fact, that packages at this particular Hamam are less than half the price of the more popular ones. This is a fantastic option that gives you incredible value for money.
---
Best Turkish Baths for Women
Since Turkish Baths are separated between men and women, it can be challenging to find Turkish Baths for women. No matter, here are some of our favorite female-only Turkish hamams in Istanbul…
6. Kılıç Ali Paşa Hamam

Hours: 8.00am – 11.30pm
Address: Kemankeş Karamustafa Paşa, Hamam Sk. No:1, 34425 Beyoğlu
Not only is Kılıç Ali Paşa Hamam one of the most exquisite Hamams in Istanbul, but it's also actually one of the more relaxed Hamams when it comes to gender.
Each day, the morning and noon are kept reserved for women only, allowing pure relaxation for female attendees wanting the company, or peace of mind of other women.
This differentiates Kılıç Ali Paşa from other Hamams in the city and is why it's one of the best Turkish baths in Istanbul for women.
7. Çemberlitaş Hamam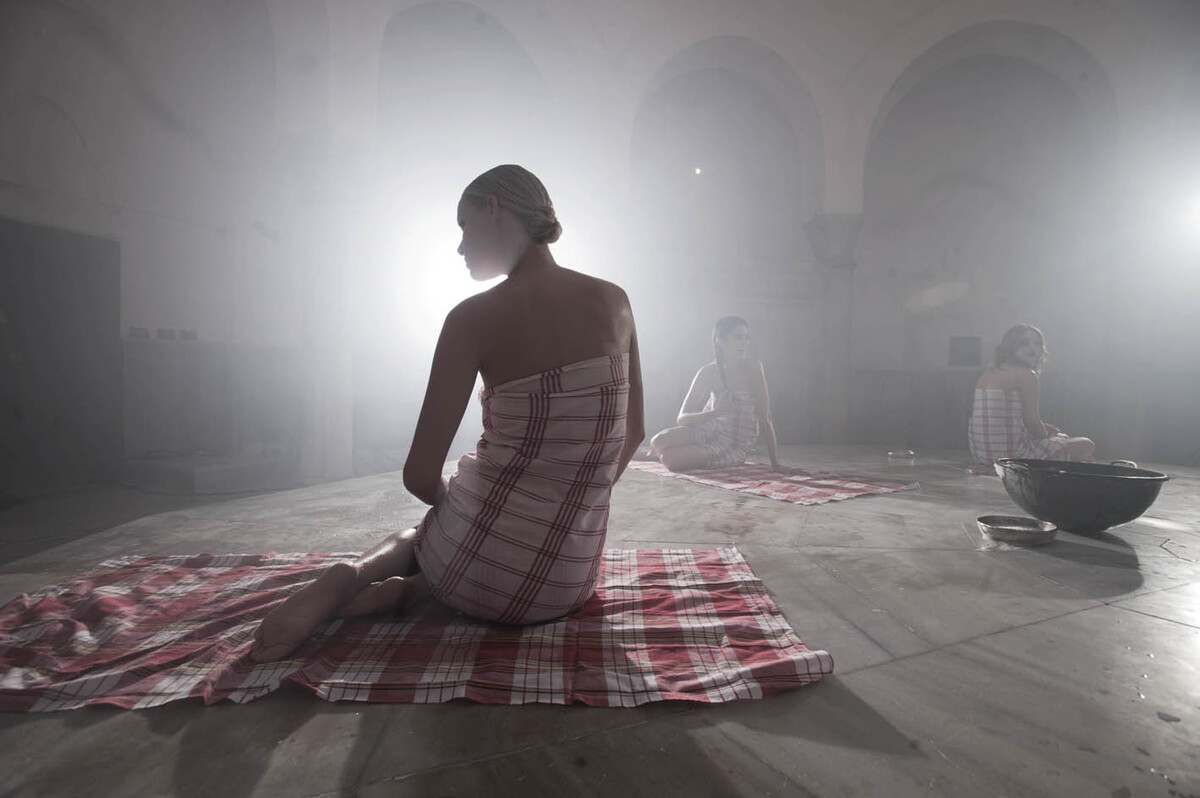 Hours: 6.00am – 12.00am
Address: Mollafenari, Vezirhan Cd. No:8, 34440 Fatih
In keeping with age-old traditions, the men and women at Çemberlitaş Hamam are kept separate which is great news for those wanting a women-only experience.
Quite a lot of traditional Hamams in Istanbul are catered to both men and women, and at Çemberlitaş they offer a wide variety of treatments and pampers that you might not find in some other, more traditional Hamams.
Some of these treatments include a clay mask pamper, and also an Indian head massage.
8. Catma Mescit Hamam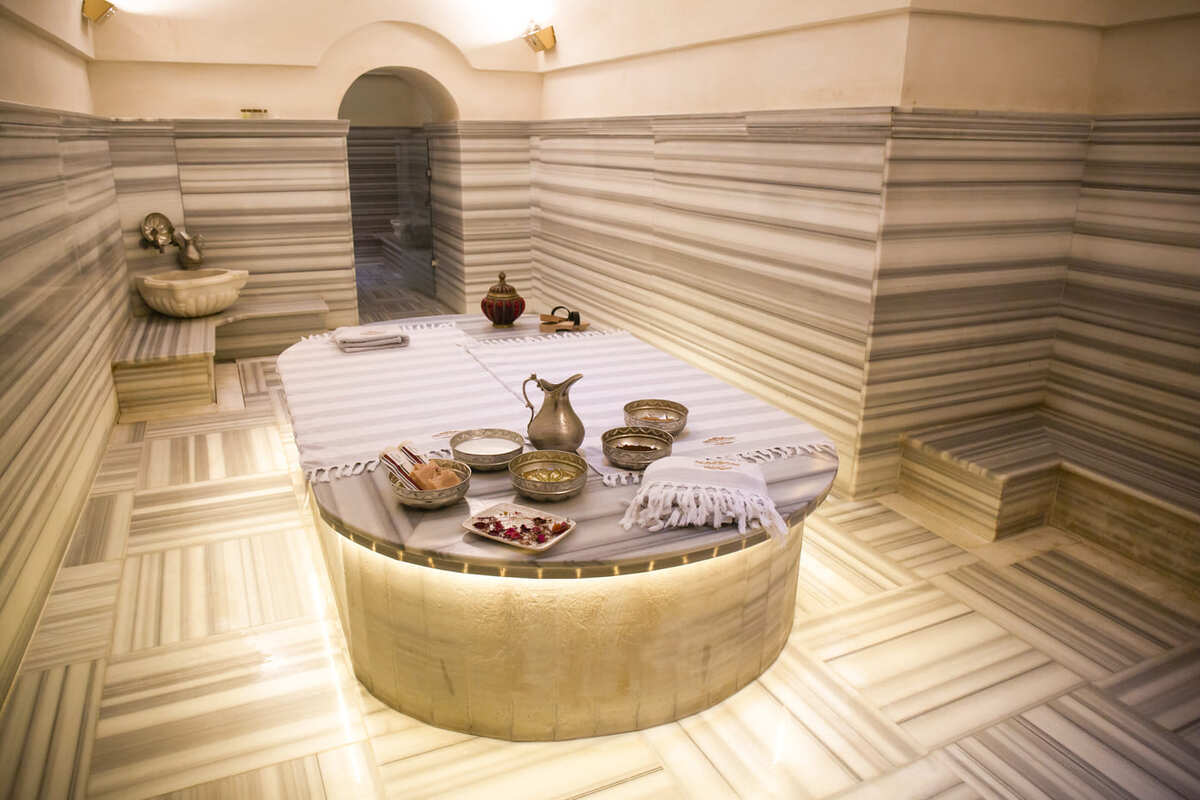 Hours: 9.00am – 11.00pm
Address: Çatma Mescit, Hayratçı Sk. No:1, 34430 Beyoğlu
We believe Catma Mescit Hamam is a hidden gem if you're searching for beautifully traditional Hamams that cater to women. It's tricky to find good information on the suitability of Hamams for women in Istanbul, but with Catma Mescit you can let your mind rest.
Men and women have complete privacy of one another in this Hamam which is a huge positive for some. After all, going for a classical Turkish Hamam in Istanbul is all about the mind and the body's relaxation, so why would you want to be anxious and on edge the whole time if mixing with men isn't your thing?
9. Çinili Hamam
Hours: 7.00 am – 10.00pm
Address: Çavuşdere Cad Çinili Hamam Sok No 6, 34664 Üsküdar
If you don't mind a little bit of effort to get there, then Çinili Hamam is one of the best options for females wanting a more personal experience.
Because of its location on the other side of the Bosphorus just south of Uskudar, it's usually always quiet meaning you can sit back and relax knowing that there are probably not going to be any annoyingly loud tourists and groups.
As is customary in traditional Turkish baths in Istanbul, men and women are kept apart with separate entrances. If that wasn't enough, Çinili Hamam is clean, well-kept and the friendliest of female staff work there too where nothing is too much trouble.
---
Best Turkish Baths for Couples
Hamams that allow couples are rare since traditionally men and women are separated. However, you can find the odd few that allow couples to share in the experience.
10. The Galata Istanbul Hotel (Tarihi Çeşme Hamam)
Hours: 8.00am – 11.00pm
Address: Azapkapı, Bankalar Cd. D:No 21, 34420 Beyoğlu
Traditionally, Hamams were not meant for couples to enjoy together, in the same space. Women bathed with other women and men were only allowed to share the Hamams with other men.
However, in today's more modern and tolerant society, certain Hamams across the world have opened their doors to mixed and couples bathing.
Apart from a very small minority, these 'couples' Hamams will be located in large, luxury hotels primarily catering to tourists. Tarihi Cesme Hamam is exactly one of those, being part of the Galata Istanbul Hotel MGallery.
11. Sultan Suleyman Hamam – Multiple Locations
Sultan Suleyman Hamam is the first 'chain' Hamam we've listed. I say 'chain' because they have multiple Hamams in a variety of different locations in the city.
They offer a couple's experience that includes pretty much all of the treatments you'll want from a Hamam leaving you both feelings refreshed and ready to explore the rest of what Istanbul has to offer.
As is usual in Hamams, complimentary towels, slippers and robes are given for the experience so you won't need to worry about a thing. The staff at Sultan Suleyman Hamam's also seem particularly friendly too.
12. Alaturka Bath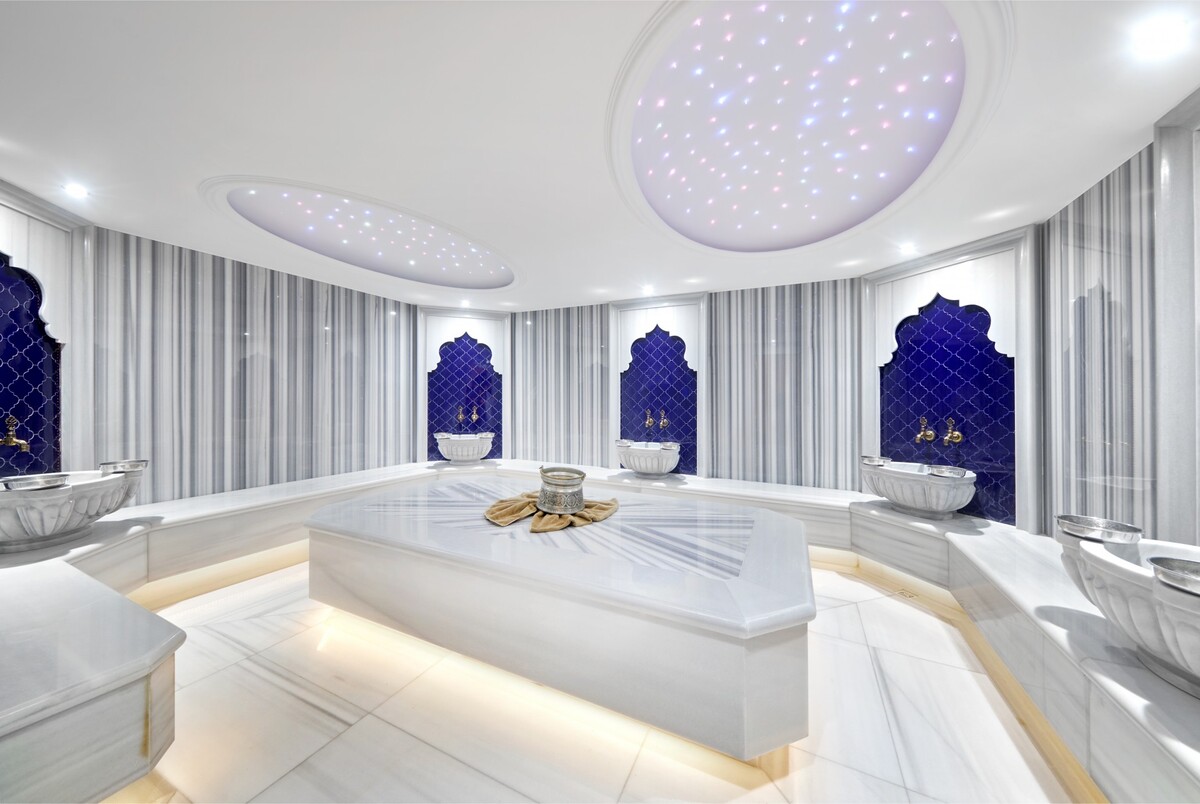 Hours: 9.30am – 10.00pm
Address: Binbirdirek, Terzihane Sk. No15, 34122 Fatih
Alaturka Bath is one of the most well-known Turkish baths in Istanbul. Many people think it's one of the most beautiful in the city and the wider north-western region.
It's by no means classic in its style, but Alaturka is a modern take on a traditional Turkish bath. Not only by being kitted out with the finest of white marble and bronzed taps but also by offering a couples package for those wanting it.
For those that do take up the couple's experience, you'll get whisked off to a private room where you'll enjoy an oil massage together, and then finish off with a traditional Hamam.
13. Dibekli Grand Hamam
Hours: 12.00pm – 10.00pm
Address: Mimar Kemalettin, Beyazıt, Dibekli Cami Sk. No:11, 34130 Fatih
Dibekli Grand Hamam is the last option on our list of the best Turkish Hamams in Istanbul for couples. They offer a couple's package, complete with clay masks to give you and your partner the best and most fulfilling Hamam experience possible.
Situated in a perfect location, you'll likely not have to go far to be within a short trip away from the Hamam.
If you're not a fan of public transport, or would even just prefer to arrive without the added stress of navigating Istanbul's busy streets, they offer an optional shuttle bus that'll pick you up from your hotel and drive you to and from the Hamam itself.
---
Best Luxury Turkish Baths
If you're looking for a Turkish Bath in Istanbul that offers a little more luxury treatment, then these are the hamams for you…
14. The Ritz-Carlton Istanbul Spa
Hours: 7.00am – 10.00pm
Address: Vişnezade, Süzer Plaza, Elmadağ, Asker Ocağı Cd. No:6 K:4, 34367 Şişli
Known across the world for its pristine, grandeur interiors and top-quality reputation, The Ritz-Carlton hotel in Istanbul certainly lives up to its name.
With some of the best views of the Bosphorus in the entire city, a world-class 'farm-to-table' dining experience as well as a luxury spa offering a range of traditional treatments, you're guaranteed to have one of the most memorable and luxurious experiences here.
If you're after a relaxing end, (or start!) to your day, head down to the Soul Spa where you can choose between a wide range of facial and body treatments as well as a traditional Turkish Hamam. Couples are welcome too, with a dedicated marble suite waiting to be used.
Read more: Hotels in Istanbul with a pool
15. Sanitas Spa at Çırağan Palace Kempinski
Hours: 9.00am – 11.00pm (opens 10.00am on Sunday)
Address: Yıldız Çırağan Cad. Çırağan Palace Kempinski İstanbul No:32, 34349 Beşiktaş
Official Website
Don't be fooled though, the Ritz-Carlton is not the only five-star hotel where you can get a traditional Turkish Hamam.
In terms of luxury, the Çırağan Palace Kempinski Istanbul is up there with the world's best, and remarkably, the building itself is a former Ottoman imperial palace.
That alone is worthy of a visit to Istanbul, right? Take a visit to the authentic-looking, marble-clad Sanitas Spa and you'll be greeted with friendly smiles and a huge list of treatment options.
For those with a *seriously* deep bank account, the hotel offers one of the world's most expensive hotel rooms, the Sultan's Suite, at an eye-watering $35,000 per night.
---
Final Thoughts on Turkish Baths in Istanbul
So there you have it, those are the best Turkish hamams in Istanbul for every type of traveller. We hope this list helped you find the right Turkish bath for you!
Visiting a Turkish bath in Istanbul is one of our favorite things to do in Istanbul at night, and on a winters day, so be sure to add it to your itinerary.
As always, if you have any suggestions or questions, feel free to reach out to us in the comments!