Istanbul is a bustling city that attracts over 14 million tourists a year. This huge number of visitors puts the city as one of the top 100 most visited cities in the world.
So while it's definitely popular, is Istanbul worth visiting? With a plethora of historical landmarks, stunning palaces, diverse culture, and unique and delicious street food, Istanbul is definitely worth a visit.
But don't just take our word for it. In this guide, we'll be listing all the main reasons to visit Istanbul and why it should be more than just the first stop of your Turkey itinerary.
Planning a trip to Istanbul last-minute?
Make sure you book your tours, places to stay, and airport transfers ahead of time to ensure availability!
Here is our recommended airport transfer in Istanbul:
Here are our recommended tours in Istanbul:
Here are our recommended places to stay in Istanbul:
Magnuara Palace Hotel (Gorgeous hotel in the historic centre!)
Cheers Hostel (Budget hostel near the Blue Mosque!)
---
Reasons to Visit Istanbul
1. The History is Fascinating!
Istanbul has a long and fascinating history, having been conquered by the Lygos, the Byzantines, the Romans, and the Ottomans. Each tribe that conquered the city gave it a new name and added its own staple landmarks.
The Romans built the cisterns and the Hagia Sophia, while the Ottomans built several of the stunning palaces and the iconic Grand Bazaar. As you walk down the streets of Istanbul, hints of each of these tribes can be seen in the architecture of the building.
Though it was conquered several times, the historic monuments have been well maintained and looked after, and even restored to near perfection. The Hagia Sophia is a perfect example of this, having been built as a Roman Catholic Cathedrale, and then converted into a mosque.
There are several UNESCO World Heritage Sites in Istanbul, including the Blue Mosque, the Hagia Sophia and Galata Tower. One of the major reasons to visit Istanbul is to explore all the remains of its history.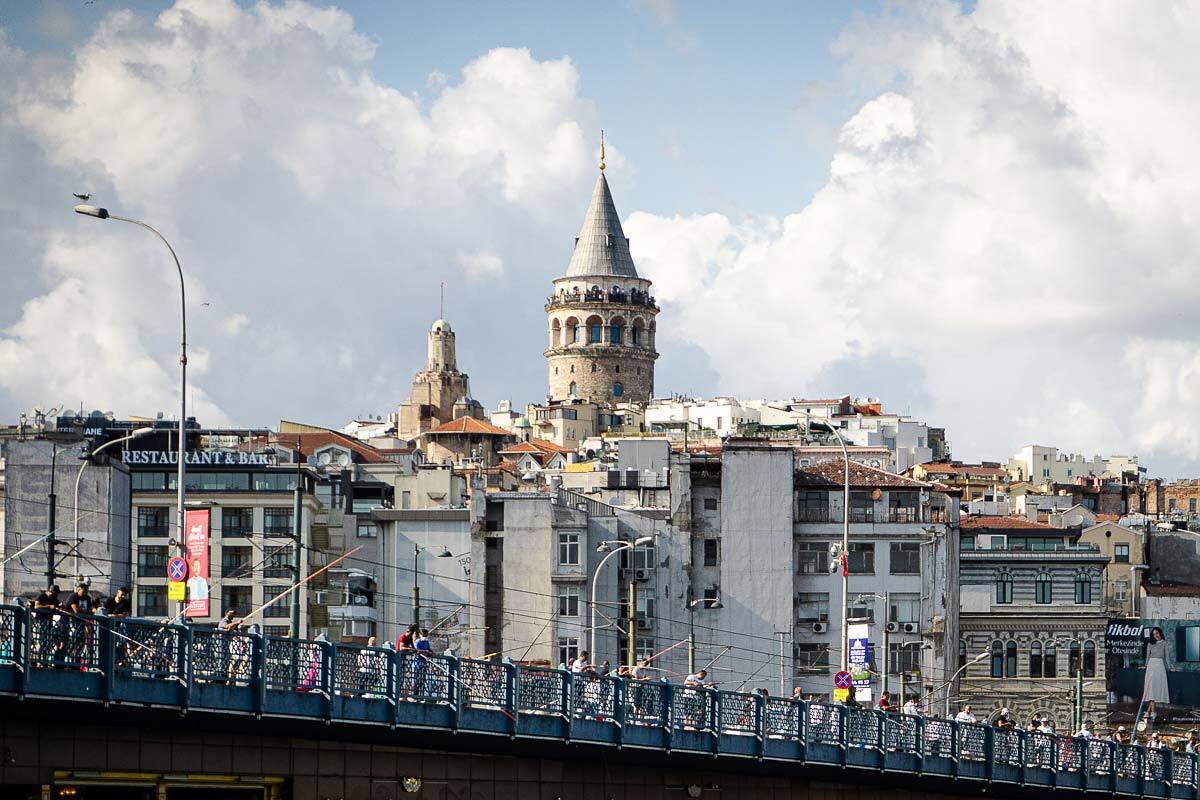 2. The City Has Some Stunning Mosques
Some of the biggest and most important mosques in Turkey are located in Istanbul. The Blue Mosque, The Hagia Sophia, The Suleiman Mosque and the Camlica Mosque are all stunning and world-renown mosques worth visiting Istanbul to see.
The Hagia Sophia is the oldest mosque in the city, having originally been built as a Roman Catholic church and then converted into a mosque. The Blue Mosque gets its name from the stunning, hand-painted blue tiles that adorn the walls and arches inside the mosque.
Perhaps the most underrated but equally beautiful mosque in Istanbul is the Suleiman Mosque which was built by the Ottoman's as a tribute to Sultan Süleyman the Magnificent – a magnificent mosque for a magnificent ruler, which explains it's beauty.
The largest mosque in the city is the Camlica Mosque on the Asian side of the city. It's a grand mosque with bright, white marble and can hold a capacity of 20,000 worshipers.
Each of these mosques is beautiful in its own way and has its own unique story to tell.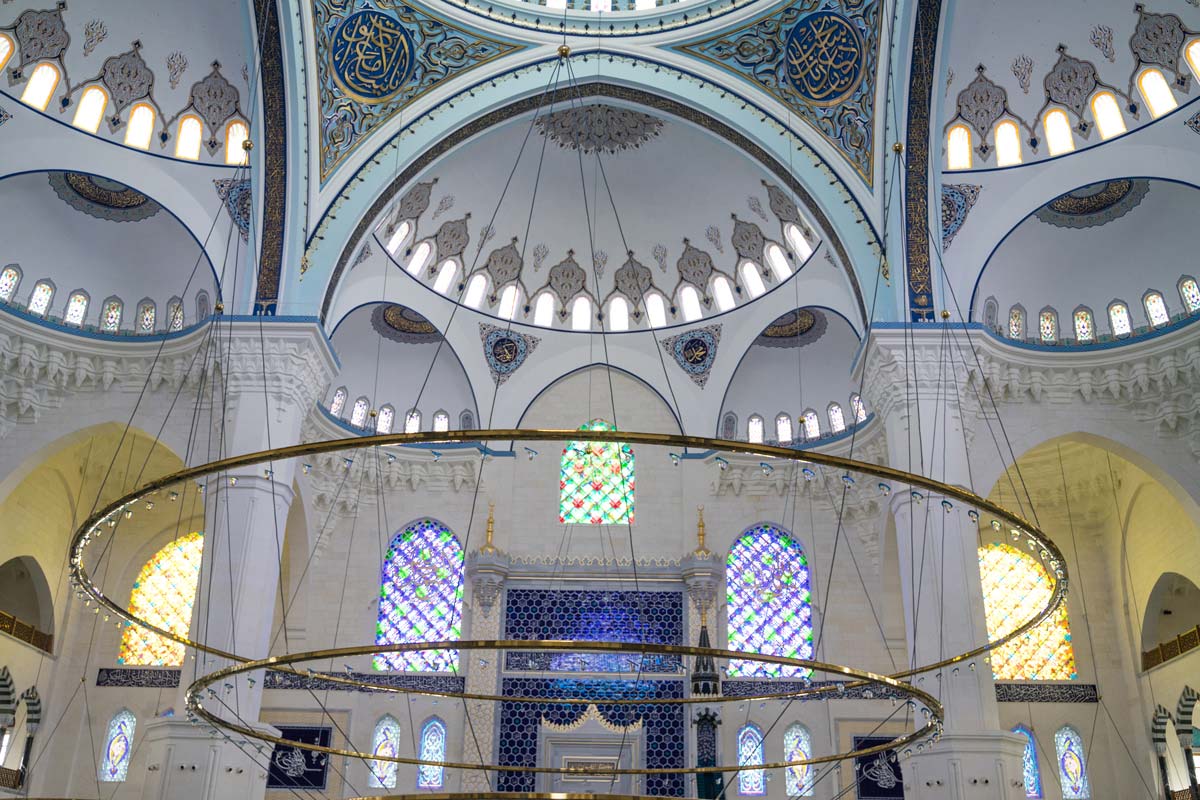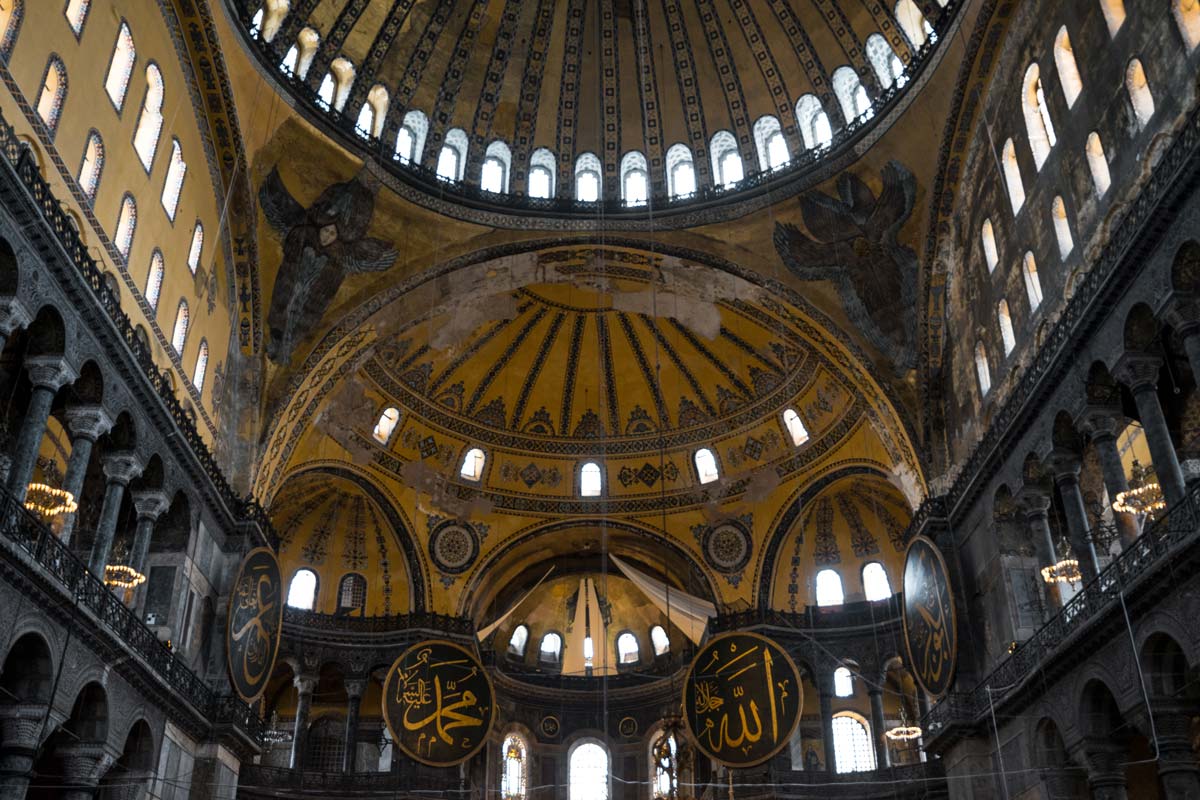 3. To Try Unique Street Food
Contrary to what people believe, Turkish food is not all kebabs. In fact, each region in Turkey has its own unique cuisine, and in Istanbul in particular, you can find several dishes that you won't find in other parts of the country.
One of the biggest reasons to visit the city is to try all the incredible street food in Istanbul. From stuffed mussels, simit, wet burgers and fish sandwiches, you'll find delicious delights at every corner.
Some other foods you must try in Istanbul include borek, baklava, Tavuk göğsü (a dessert with chicken), rice pudding, pide, Lahmacun, manti, menemen, gozleme, and of course all the different types of kebabs. And of course, you must have a traditional Turkish breakfast while you're there.
And you simply must try Turkish ice cream. If not for the flavor then for the entertainment value.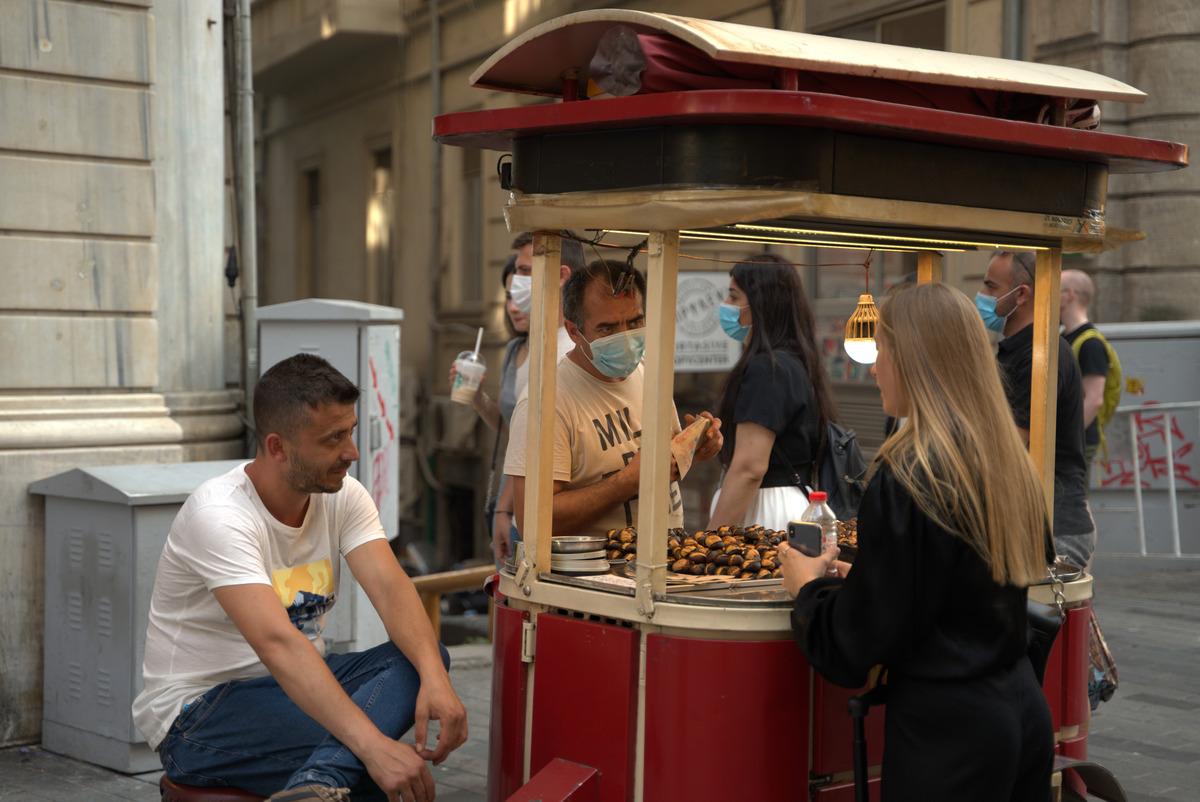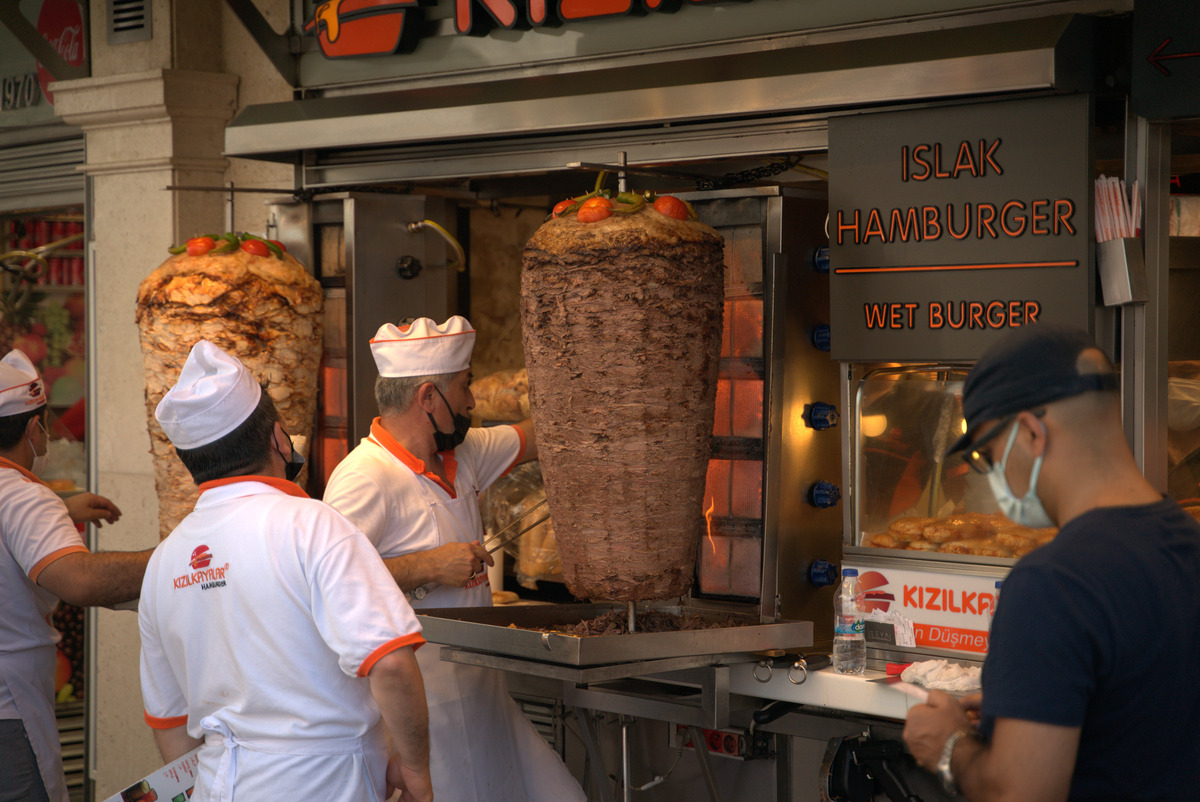 4. For Incredible Nightlife
The nightlife in Istanbul is vibrant and electric, and it seems that the city never sleeps. You can sip cocktails on a rooftop terrace bar, or smoke shisha in Beyoglu, or dance the night away in nightclubs.
The nightlife near Istiklal Street is world-renowned and the locals in Istanbul like to party hard. They stay up all night eating delicious food and laughing with friends. You'll find loud music, flashing lights and live bands playing.
Istanbul is definitely up there as a great city for nightcrawlers and partygoers and it's one of the best things to do in Istanbul at night.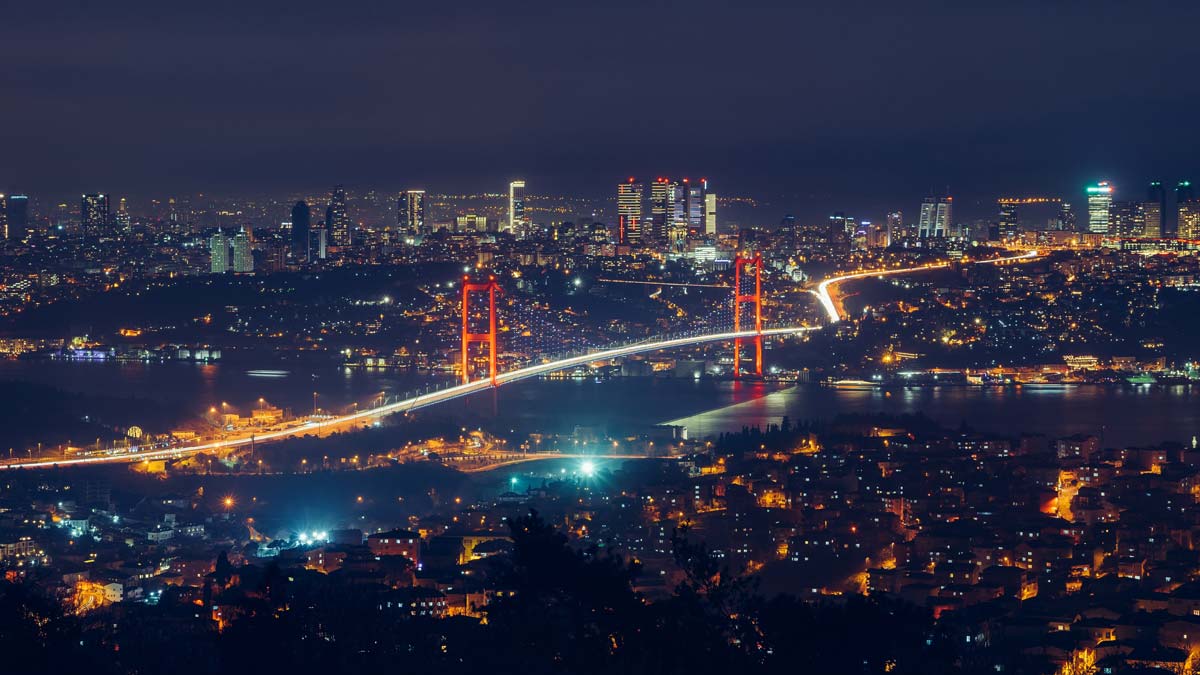 5. The Amazing Shopping Facilities & The Grand Bazaar
Istanbul is home to the oldest shopping mall in the world; the Grand Bazaar. As the once magnificent trading hub of the Ottoman Empire, the Grand Bazaar has over 4,000 shops selling everything you can think of from Turkish rugs, lamps, and towels to Turkish souvenirs such as Turkish Delights and Turkish Tea.
As well as the Grand Bazaar, there's also the Spice Bazaar which sells, as you might have guessed, spices. It also sells special teas that are said to be good for certain conditions such as Diabetes or mood enhancers.
For more modern, highstreet shopping, head to Istiklal Street. This pedestrianized street is lined with some of the biggest brands, who have set up shop inside the historic buildings that line the street.
If you can't find what you need in these places (and this would be a hard task) there are a few shopping malls in the city center too.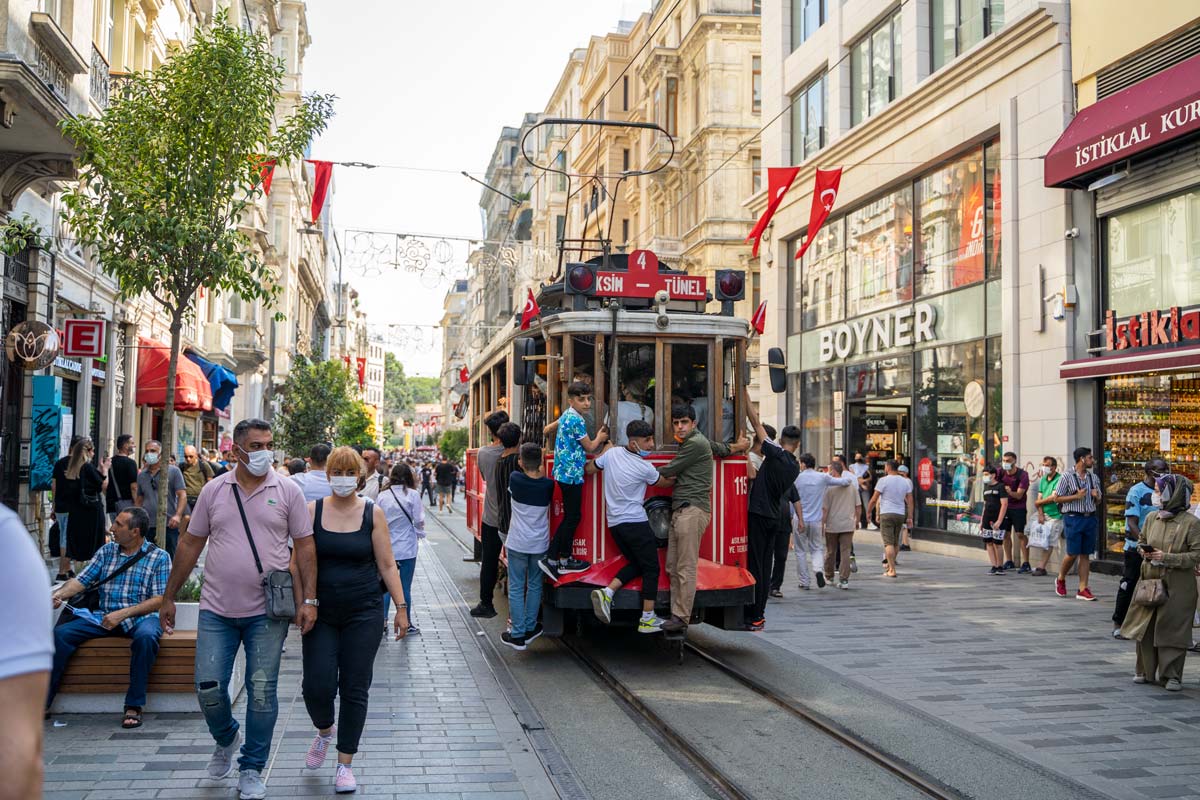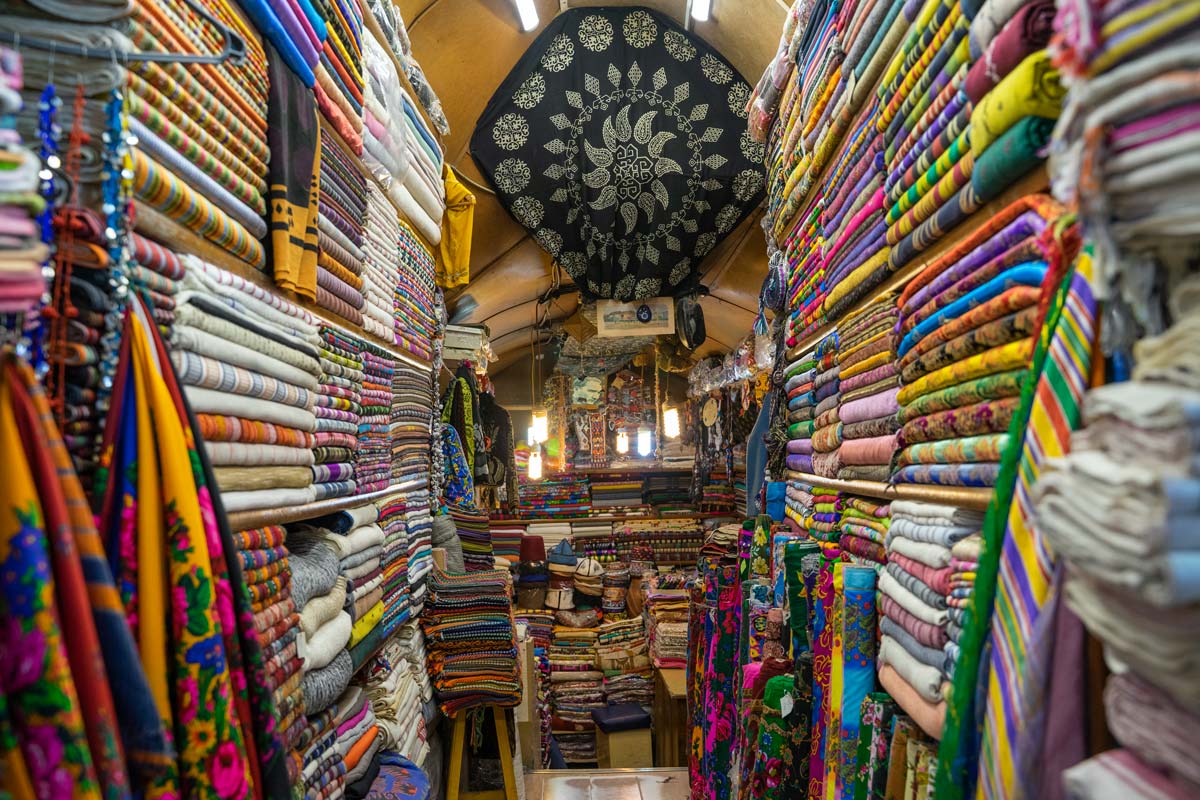 6. The Architecture is Incredible
We had mentioned earlier how Istanbul had been conquered by many tribes and as such, you can expect to find a diverse array of architecture. Throughout the city, you'll find hints and glimpses of its Roman past, Ottoman era and even as far back as the Lygos.
If you want to see the most beautiful architecture, you'll want to check out the palaces in Istanbul. Most of these palaces were built by the Ottomans as houses for their sultans, either their main residence or summer getaways. The Ottomans spared no expense when it came to building mosques and homes for their sultans.
Each of these palaces took many years to build and has such intricate and delicate detailing. The most beautiful palaces, in our opinion, are the Dolmabahçe Palace for its outside facade, and the Topkapi Palace for its mosaic and gold-encrusted treasury.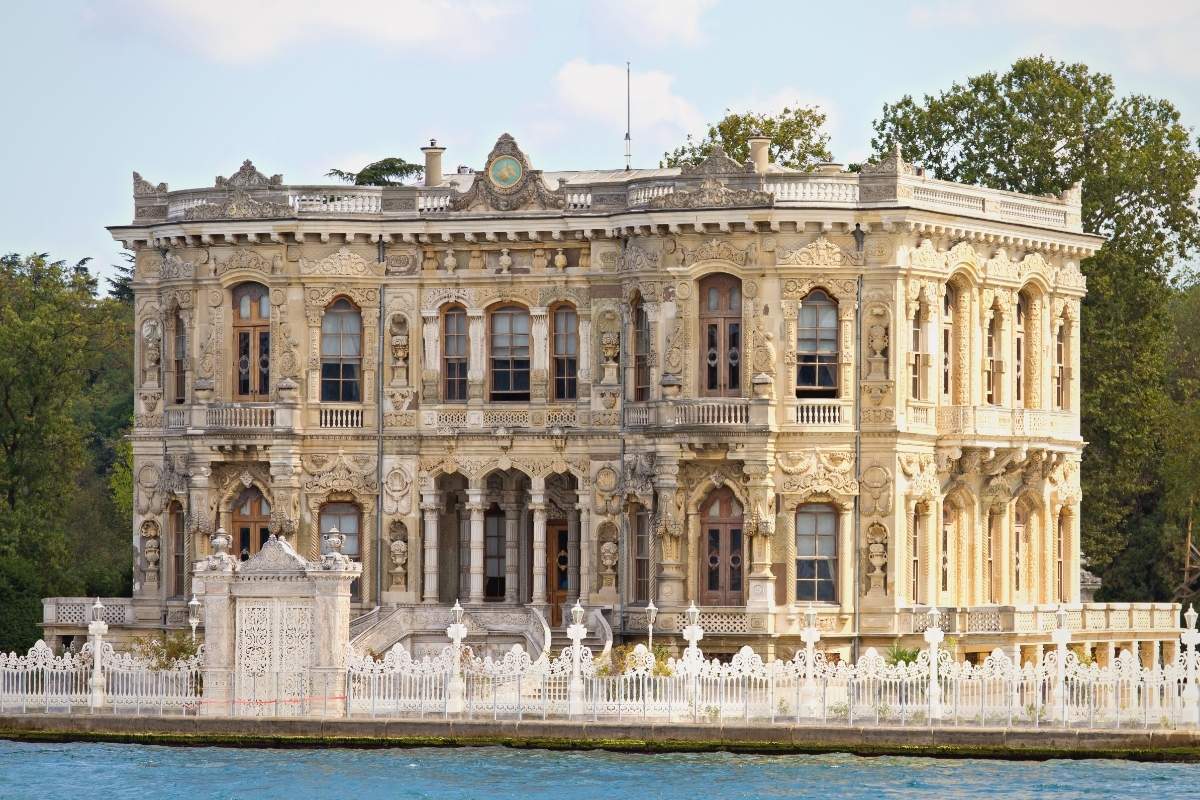 7. The Diverse Culture
Because Istanbul lies on the border between Europe and Asia, it has a very unique culture where the East meets West. It has a more laid-back vibe compared to the more Eastern countries, but it still maintains much of its traditions from its Persian routes.
Though most of the population identifies as Muslim, there are several diversities that call Istanbul home. The neighborhood of Balat is where you'll find the city's Jewish community, who came to Istanbul to flee the Spanish inquisition.
There are also Greek and Armenian communities who have settled here. The mix of cultures creates a diverse population of people who all coexist harmoniously.
8. The Beautiful Photo Ops
If you're a photographer like us, we highly recommend Istanbul. It's full of beautiful places that are a photographer's delight. Balat, for example, is a quirky neighborhood with brightly colored buildings.
The Blue Mosque and the Hagia Sophia have been carefully and intricately designed, and when the right light shines through the stained glass windows, it will be hard not to pick up your camera.
One of the popular photo ops that travelers love to snap in Istanbul is from a rooftop terrace with views of the Bosphorus, as the swarm of seagulls fill the skies. It's the only city in the world that offers this unique scene, so photographers go charge your batteries.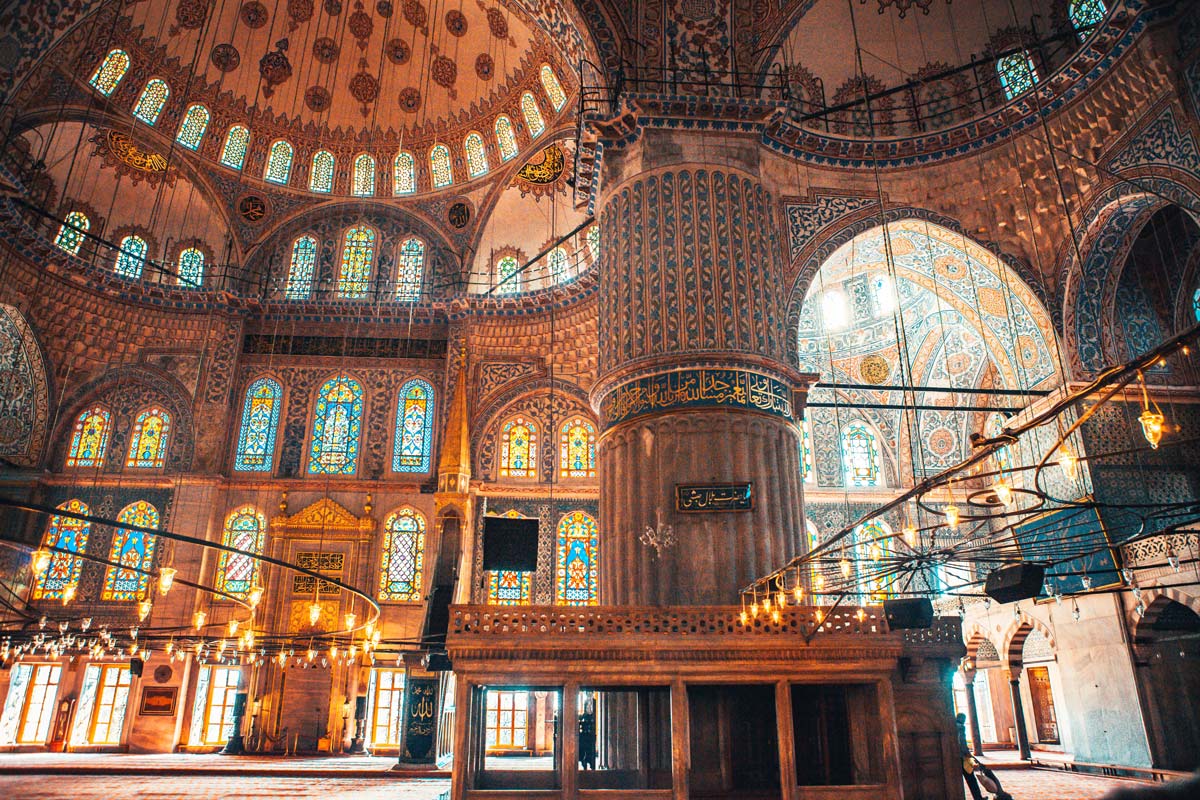 9. The Turkish Baths (Hammams)
If you're someone who loves relaxation, you're going to love the Turkish baths. They are similar to Roman baths in that they are public bathing spaces, but they also usually offer spa services such as saunas and steam rooms, as well as beauty treatments.
Some of the oldest Turkish baths in Turkey are in Istanbul, some dating back to the 16th century at the time of the Ottoman Empire. They are also beautiful, with mosaic tiles and arches.
There are few cities in the world where you can dip in a warm, steam bath and feel the steam cleanse your skin and calm your senses. Turkish baths were created to be a place for relaxation and cleansing. The act of cleaning is a religious symbol before worship in Islamic culture, so you'll find these bath houses are to the highest hygiene standards.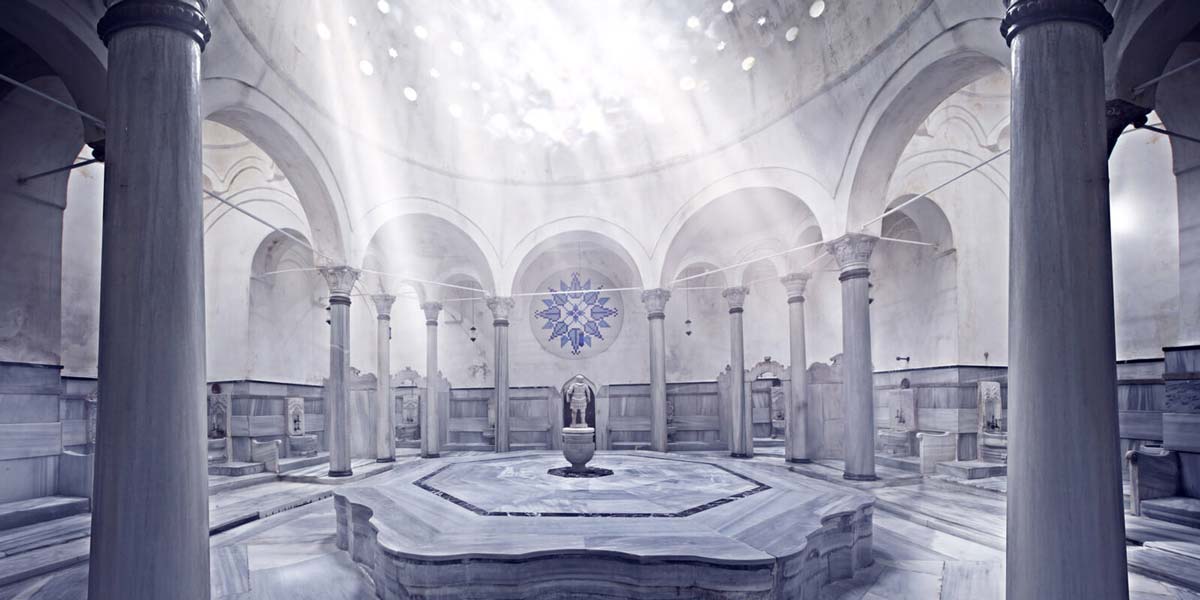 10. The Year-Round Good Weather
One of the best things about Istanbul is the weather. No matter what time of year visit, you can expect hot and sunny summers with mild and dry winters. The wettest months are December – February, but even these months see little rainfall.
The hottest months are June – September, with temperatures in August reaching a maximum of 78°F (25°C) on average. While it can sometimes get warmer than this, generally the weather all year round is a comfortable temperature that makes for the perfect temperature for exploring.
---
Places To Visit In Istanbul To Make Your Trip Worthwhile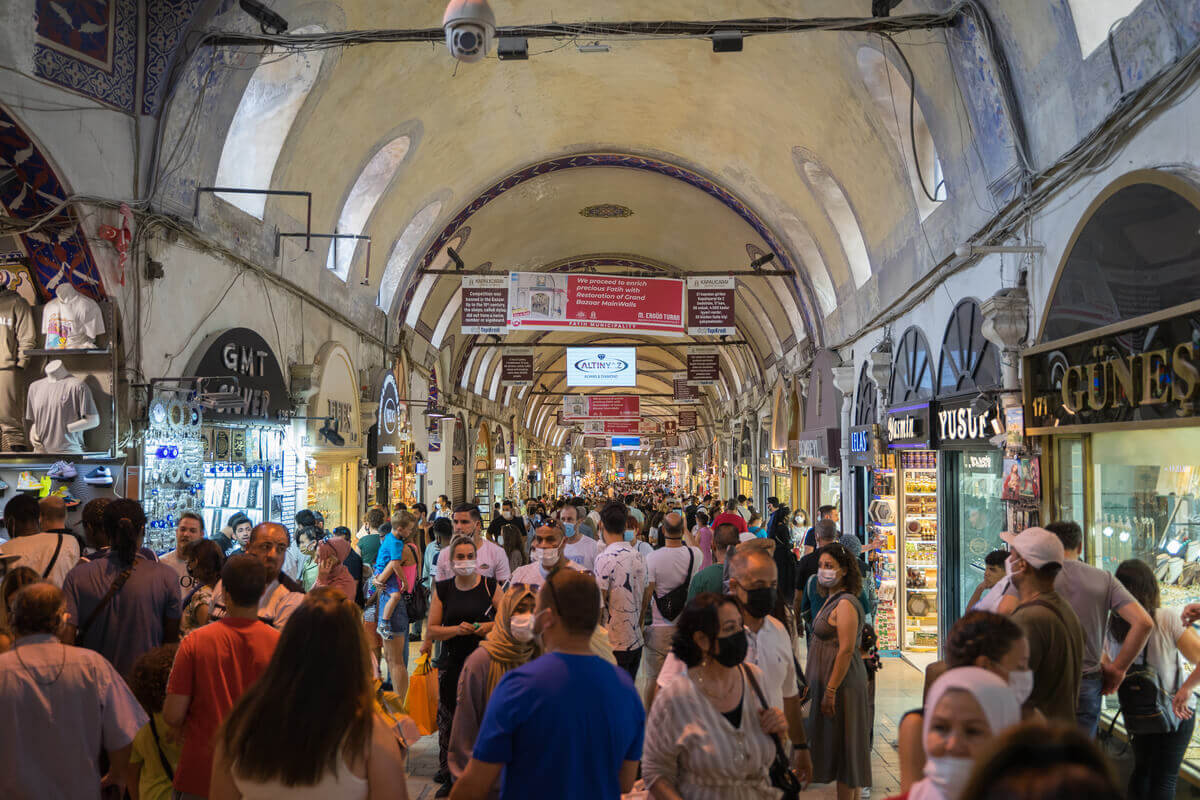 If you want to make your Istanbul visit worthwhile, then you'll need to visit some of the most spectacular attractions in the city. While walking around and taking in the atmosphere is great, you can have a better time by visiting the city's most iconic landmarks. Here are some of the places you need to add to your Istanbul itinerary.
Hagia Sophia – One of the oldest religious landmarks in Istanbul and arguably the most well-known one.
Blue Mosque – Known as one of the most beautiful mosques in the country, Blue Mosque is decorated with ethnic Iznik tiles that bring this place to life! It is great for photography and taking in the spectacular architecture.
Grand Bazaar – The best place to purchase souvenirs and take in the unique culture of Turkey. It has all sorts of things you can only get in Turkey and will be a culture shock to most visitors!
Galata Tower – Galata Tower is the place to go to if you want stunning panoramic views of the city. The landmark has a rich history but more people come here for the views at the 360-degree outdoor observatory.
Princes Islands – Princes Islands are a great place to escape the hustle and bustle of Istanbul. Only electric vehicles are allowed and the islands are filled with greenery, beaches, and gorgeous mansions. The perfect day trip from Istanbul!
Bosphorus Cruise – As the body of water that separates Europe and Asia, getting on a Bosphorus Cruise is a must. It showcases some of the most important monuments and buildings of Istanbul and offers incredible views that cannot be had anywhere else.
---
Is Istanbul Worth Visiting FAQs
Here's what people usually ask us about whether Istanbul is worth it…
Is Istanbul worth the trip?
Absolutely! Istanbul offers a huge array of attractions and things to do. It stands on two continents, Europe and Asia, so you can expect the culture to be a diverse mix of East meets West. It's a very unique city.
How many days should I spend in Istanbul?
We recommend you spend at least four days in Istanbul to see all the main sites at a comfortable pace. If you don't mind rushing around, you could squeeze it all in three days.
What is so special about Istanbul?
Istanbul is the only city to span two continents; Europe and Asia. It was also the former capital of the Roman Empire; Constantinople, which means it has a fascinating and diverse history.
Why is Istanbul famous for tourism?
Istanbul has always been a busy city with a lot of visitors, due to its station as the head of the Roman and then the Ottoman Empires. It has been a trading hub for many years, and its long and fascinating history can still be seen throughout the city today. Many visitors come to Istanbul to glimpse on the bustling bazaars and experience its diverse culture.
---
So, Is Istanbul Worth Visiting?
So there you have it! Those are ten major reasons why Istanbul is worth visiting. As you can see, there are plenty of good things about Istanbul and it's easy to see why it's one of the most popular cities to visit in the world.
If you want to have a more relaxing time in Istanbul and avoid the crowds, we recommend you visit during the shoulder season is April and from October to Mid-November, as this is a quieter time for tourists. June to August are the busiest times to visit Istanbul.
Do you have any questions about Istanbul? Let us know in the comments…
Disclaimer: Some of the links above are affiliate links. That means if you book or make a purchase through the links, we will earn a small commission at no extra cost to you! The money will help run this site! Thank you!