Are you thinking of visiting Istanbul in April and wondering what it will be like? Istanbul is a bustling city with many historic landmarks, deep traditions, and delicious food.
But the question remains, is April a good time to visit Istanbul? Yes, it is. April is the beginning of Spring and is when you will start to see that winter weather move away and open up the skies to sunnier weather.
It's also still the shoulder season, so there are fewer tourists and yet the attractions remain open.
Still not convinced? Read on to find out exactly what Istanbul in April is like…
Planning a trip to Istanbul last-minute?
Make sure you book your tours, places to stay, and airport transfers ahead of time to ensure availability!
Here is our recommended airport transfer in Istanbul:
Here are our recommended tours in Istanbul:
Here are our recommended places to stay in Istanbul:
Magnuara Palace Hotel (Gorgeous hotel in the historic centre!)
Cheers Hostel (Budget hostel near the Blue Mosque!)
---
Istanbul Weather in April
Spring is in full flow and the month of April is when the weather in Istanbul really starts to get a bit better. Gone are the days (and nights) of temperatures in the low single figures which will be a great relief for those travelers and locals that favor a warmer climate.
The average daytime temperature is around 12C (53.6F) with daytime highs typically up to a very pleasant 18C (64.4F). These higher temperatures are usually reserved for later in the month, but Turkish weather can be very unpredictable.
You'll soon be reminded it is still only April however, as temperatures overnight drop significantly to around 8C (46.4F). Definitely a good idea then to pack a warm fleece or jacket.
As lovely as the warm daytime temperatures are, we shouldn't jump the gun and claim April as one of the best months in terms of weather. The rain can still be quite problematic so you should be packing a waterproof if you plan on exploring this great city. Rainfall averages about 60mm, spread across 11 days, which isn't much better than the previous month.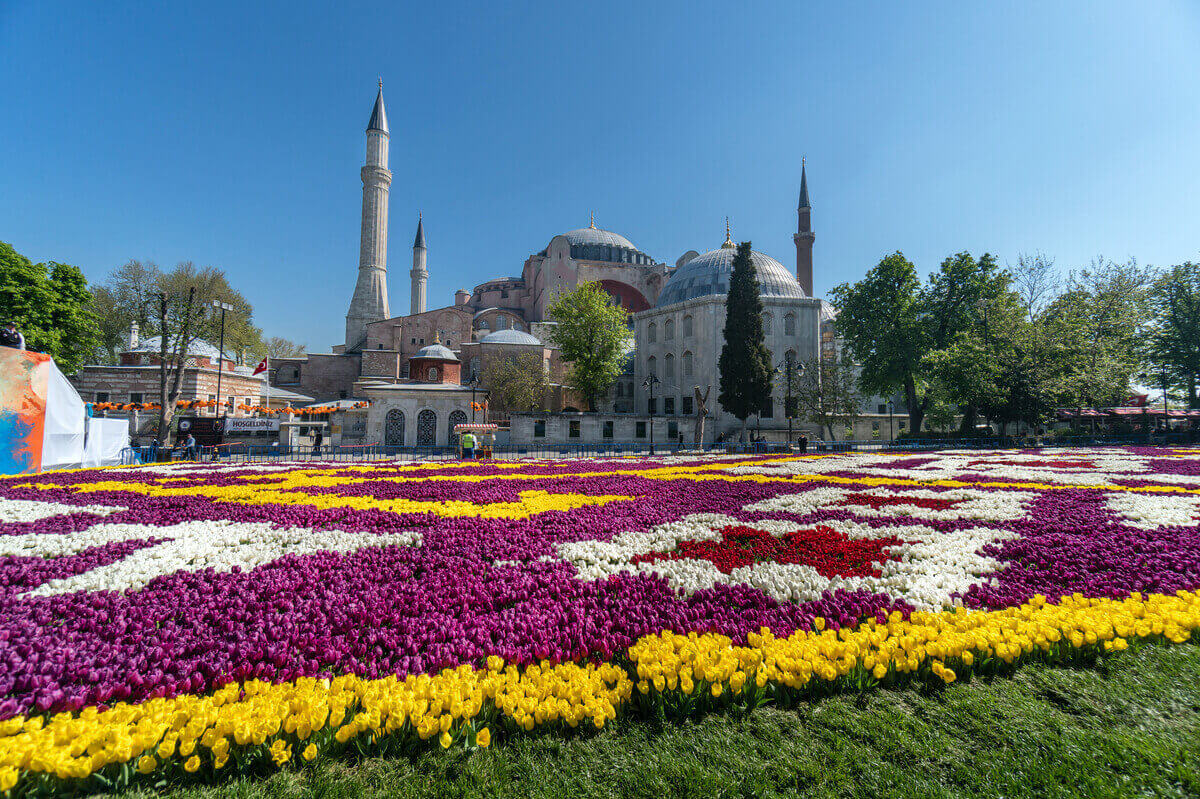 Being in the midst of Spring, the wind coming off of the seas can make it seem chillier than it is. February is the windiest month at an average speed of 15.8mph (25.4kph) and by comparison, the average wind speed during April is about 13.1mph (21.0kph).
This is a significant drop, but you'll certainly still feel the cool breeze along open areas such as Taksim Square, Sultanahmet Square, and along the promenades for example.
Similar to the beginning of Istanbul's spring in the previous month of March, the days continue to get longer which naturally means more hours of warm Turkish sun. If you'll be visiting at this time of year, you can expect there to be around 6-8 hours of sunlight per day, possibly even up to 10 hours towards the very end of the month.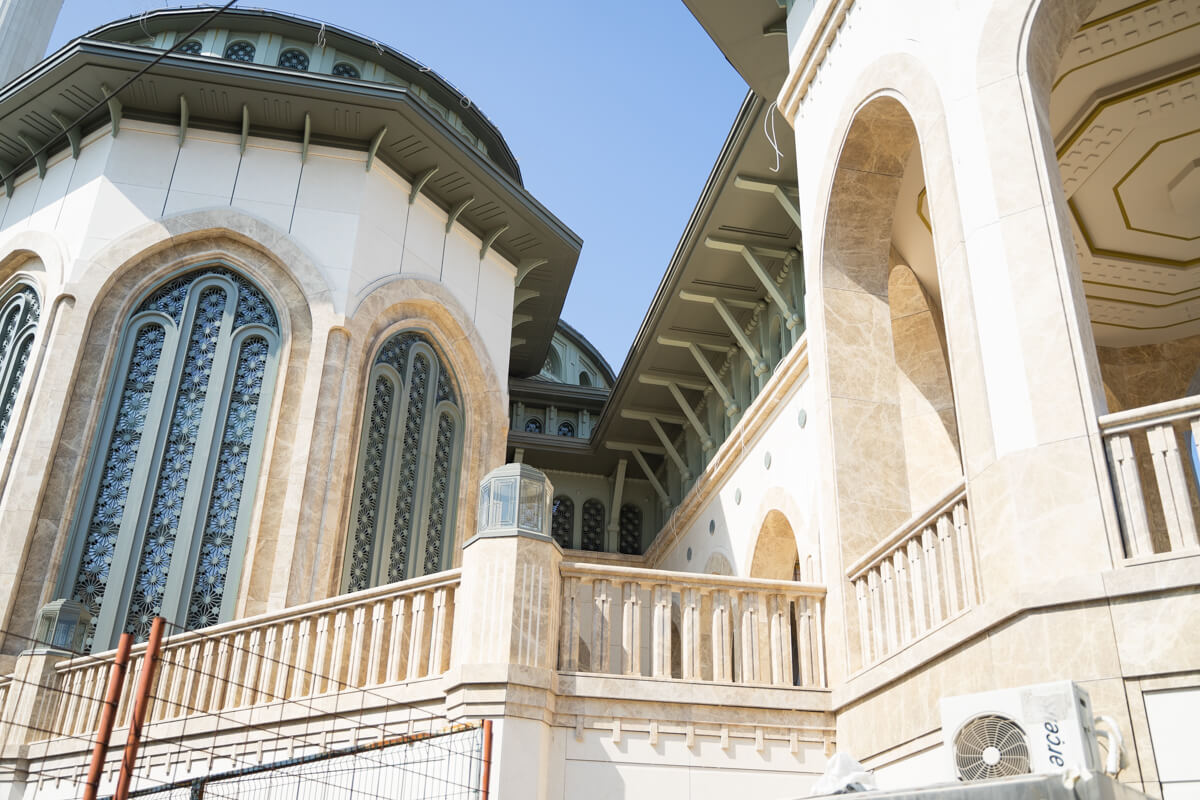 Sunrises and sunsets vary greatly throughout the month of April. This is because of the change from winter to spring. At the beginning of April, on the 3rd, the sun rises at 6.44 am and sets 12 hours and 46 minutes later at exactly 7.30 pm.
In contrast, at the very end of the month, early birds will be pleased to know that the sun rises at 6.03 am, shining for almost 14 hours before dipping below the horizon at 19.59 pm.
| Istanbul Weather in April | Averages |
| --- | --- |
| Temperature (Day) | 12°C (53.6°F) |
| Temperature (Night) | 8°C (46.4°F) |
| Number of Rainy Days | 11 |
| Rainfall (mm) | 60 |
| Wind Speed (miles per hour) | 13.1 |
| Daylight Hours | 12-13 |
| Humidity | 75% |
Source: Holiday Weather
---
Top Things to Do In Istanbul During April
With the weather getting noticeably better, if you're a fan of getting out and about and exploring the lesser-visited places and neighborhoods, this list is for you. Here's our top ten list of things to do in Istanbul during April…
1. Explore the Galata District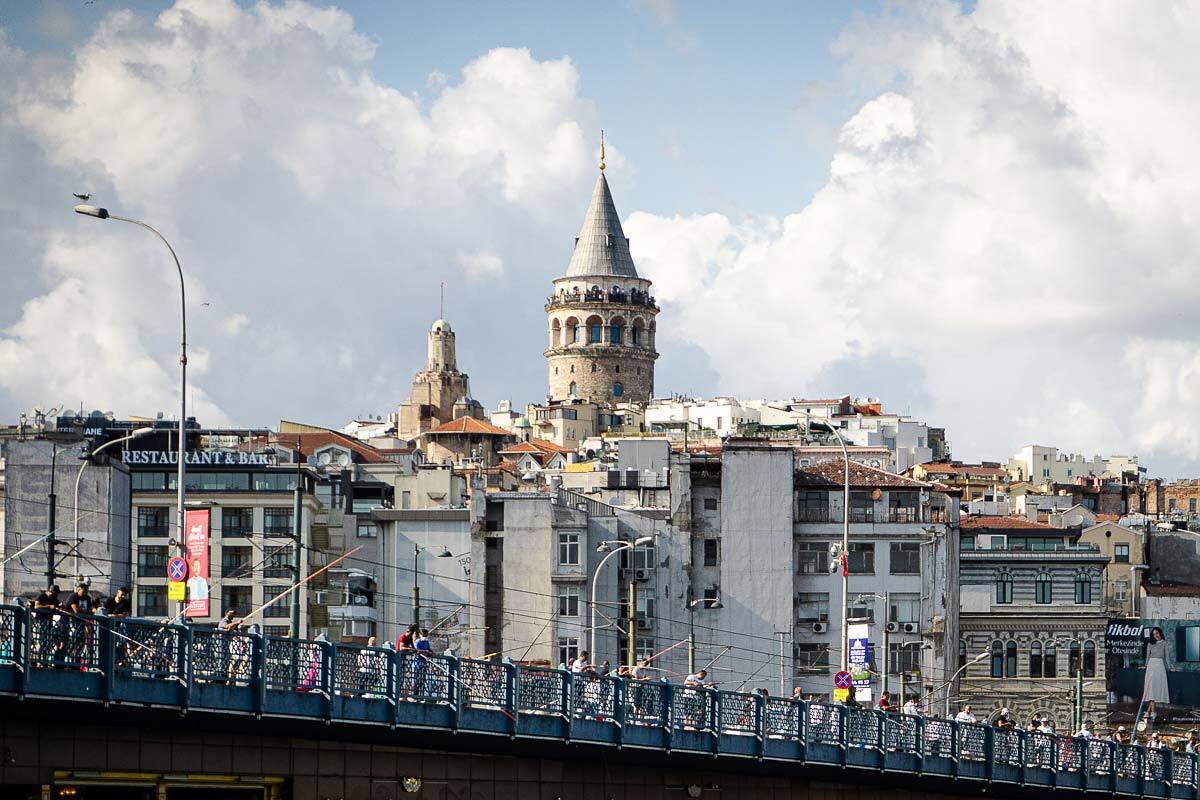 One of the best ways to spend a sunny spring afternoon in the former capital city of the Ottoman Empire is to explore the wonderfully unique neighborhood of Galata.
Not only can you visit one of Istanbul's must-see attractions, the Galata Tower, but afterward you can stroll the streets seeing the best of what this vibrant city has to offer. The Galata Tower was built in 1348 and was originally a watchtower providing excellent panoramic views of the city, views you can see for yourself today.
2. Visit the Hagia Sophia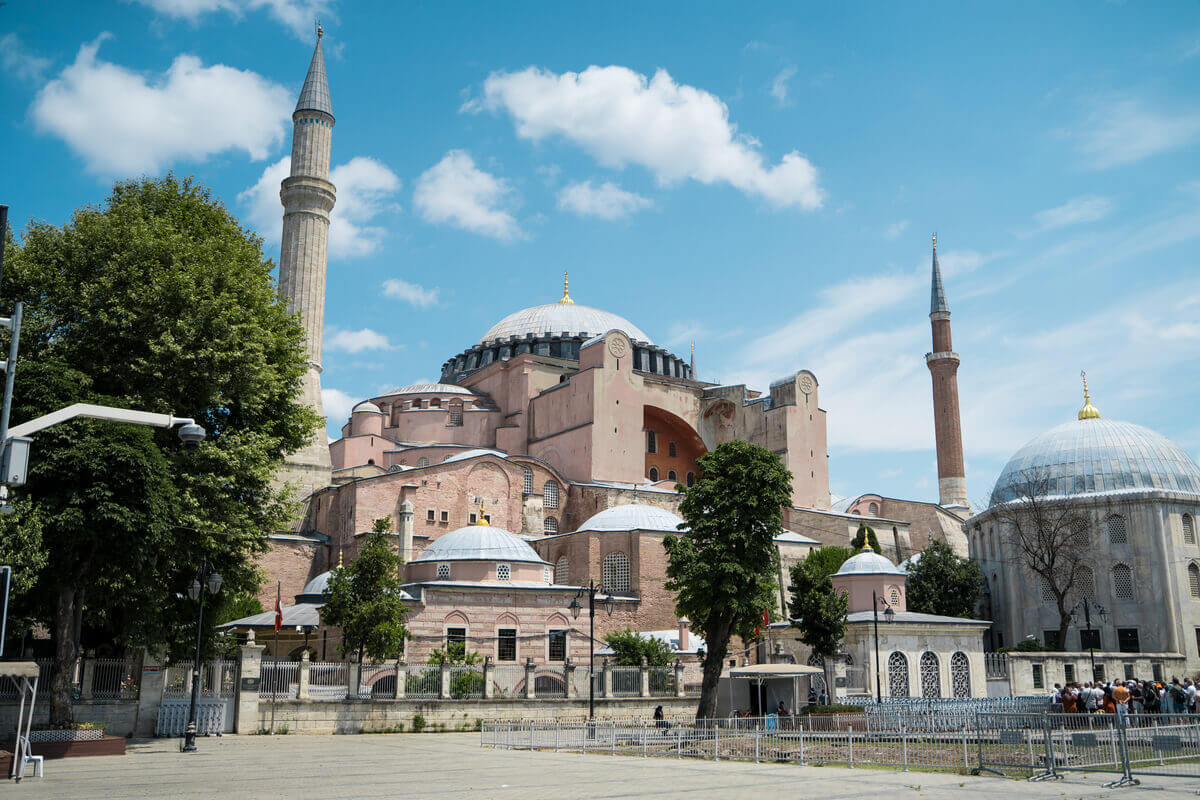 One of the highlights of any trip to Istanbul is always the Hagia Sophia. A complete masterpiece of Byzantine architecture, the mosque was originally built as a Greek Orthodox Church an incredible 1500 years ago.
As the city of Constantinople fell to the Ottomans in 1453, its iconic minarets were added and the church was converted into a mosque. It remained a mosque until 1931, when it was closed for four years, later reopening as a museum in 1935 until the present day.
3. Cruise Along the Bosphorus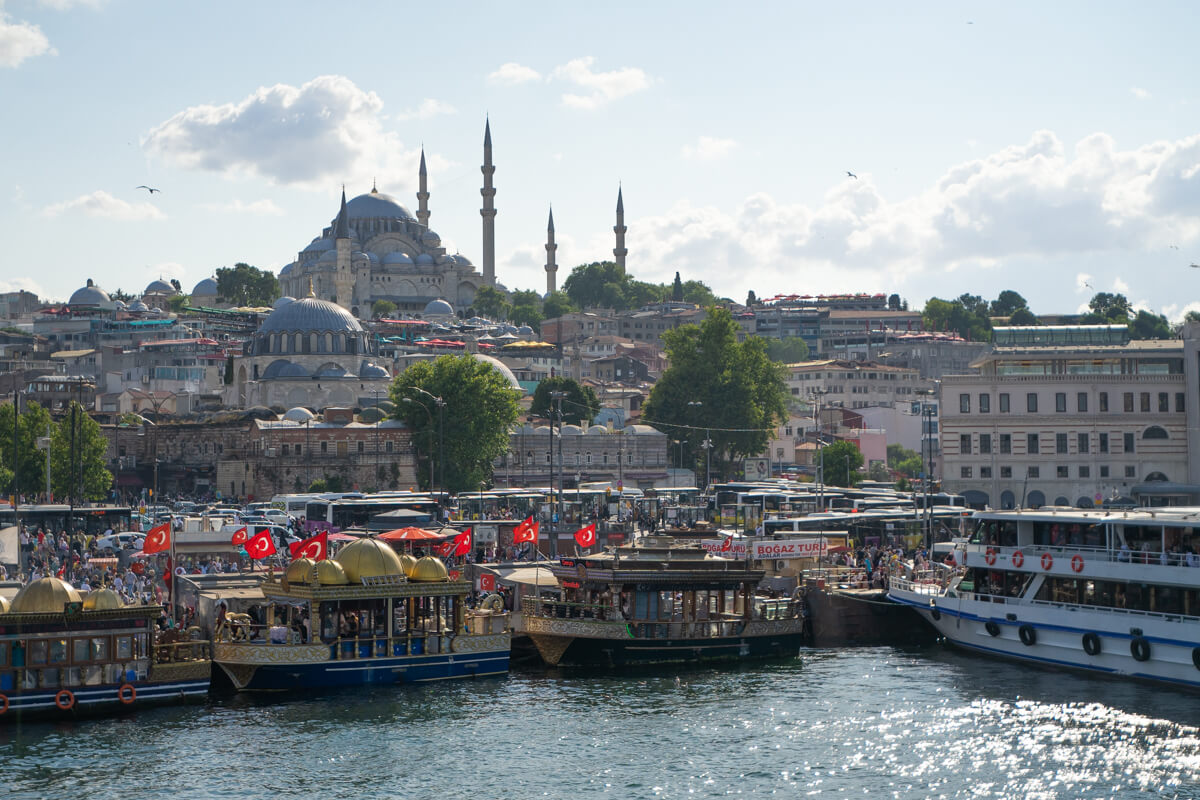 No trip to Istanbul is complete without a cruise along the Bosphorus. If you pick a lovely and warm spring day for your trip, you'll be treated to a fantastic view of the city's sights which will make for a unique experience.
Feast your eyes on the best of what Istanbul has to offer as iconic minarets and mosques, palaces, colorful houses, and mansions dot the skyline. Pick an evening cruise and you'll likely be wining and dining on the boat complete with traditional Turkish entertainment.
4. Discover Beautiful Bebek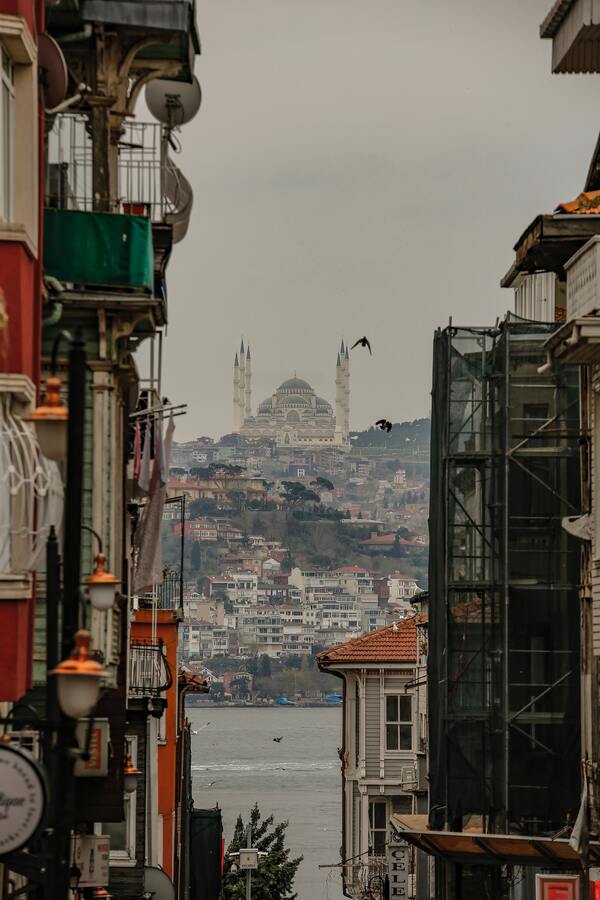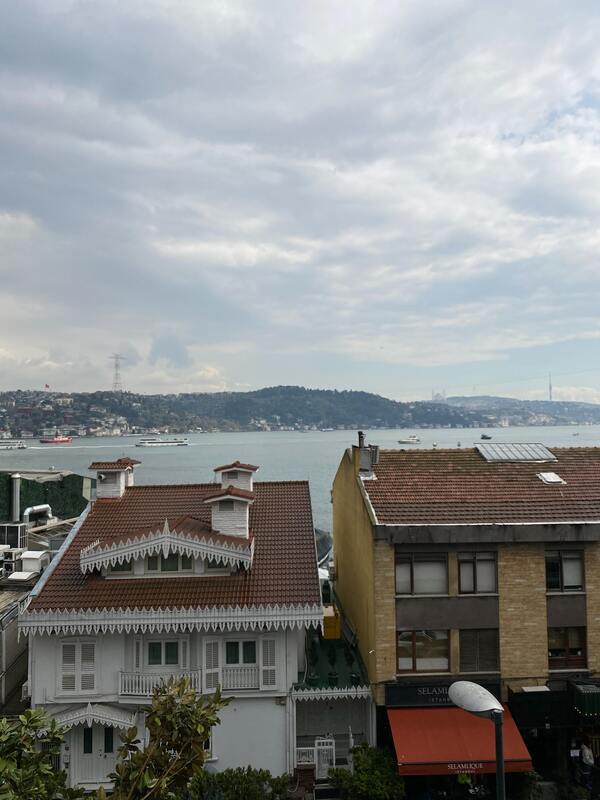 If the sun is shining and the temperatures are nice and warm, we suggest visiting one of the lesser-known parts of the city. Bebek is a gorgeous neighborhood that is saturated with quaint cafes serving the finest of Turkish tea and treats, as well as walking trails that will gift you unparalleled and Instagram worthy views of the Bosphorus.
5. Be Amazed By the Blue Mosque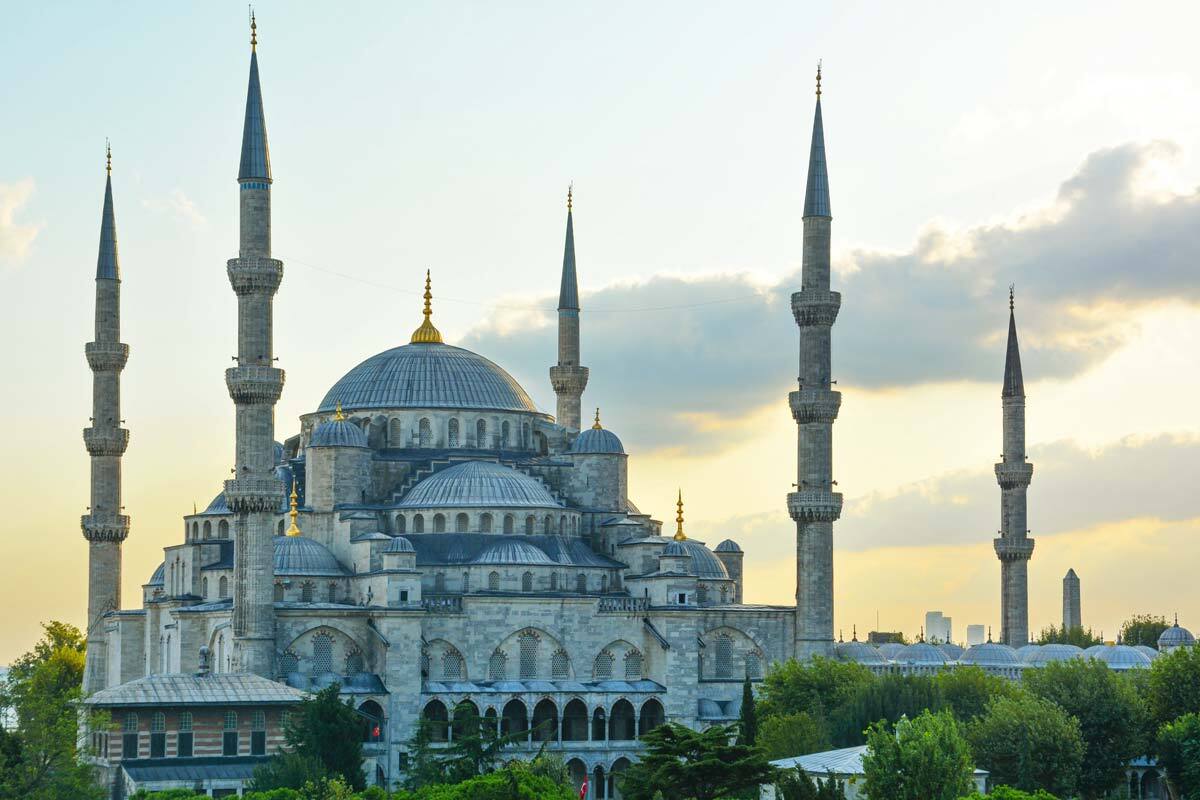 Built in the early 1600s under the rule of Ahmed I, the Blue Mosque is one of Istanbul's prettiest sights. The delicate blue tiles that adorn the interior of this huge mosque make it one of the most unique places of worship in the world.
Even with millions of visitors per year, the Blue Mosque is still a functioning mosque so it's definitely advised to check when the worshipping times are as it will be closed to visitors. Always remain respectful when visiting active places of worship, which includes covering up!
6. Visit the Suleymaniye Mosque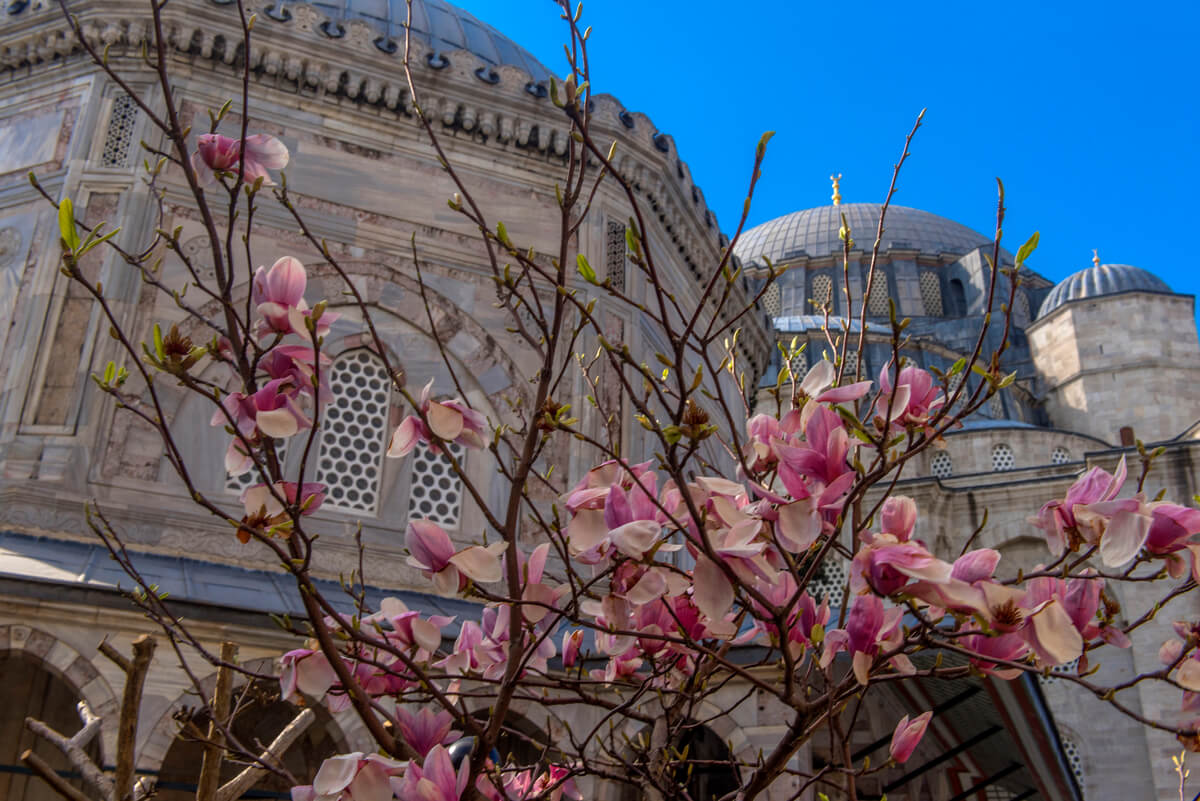 The Suleymaniye Mosque is not as popular as the two previously mentioned, but that doesn't mean it's not worthy of a visit. The Suleymaniye Mosque is one of the most outstanding mosques in all of Turkey and dates all the way back to 1550.
Inside the mosque, behind the qibla wall, you'll find the mausoleums of Suleiman the Magnificent and his wife, Hurrem Sultan. Suleiman was the tenth and longest-reigning Sultan of the Ottoman Empire, which makes this mosque a very important one in Turkish and Ottoman history.
7. Basilica Cistern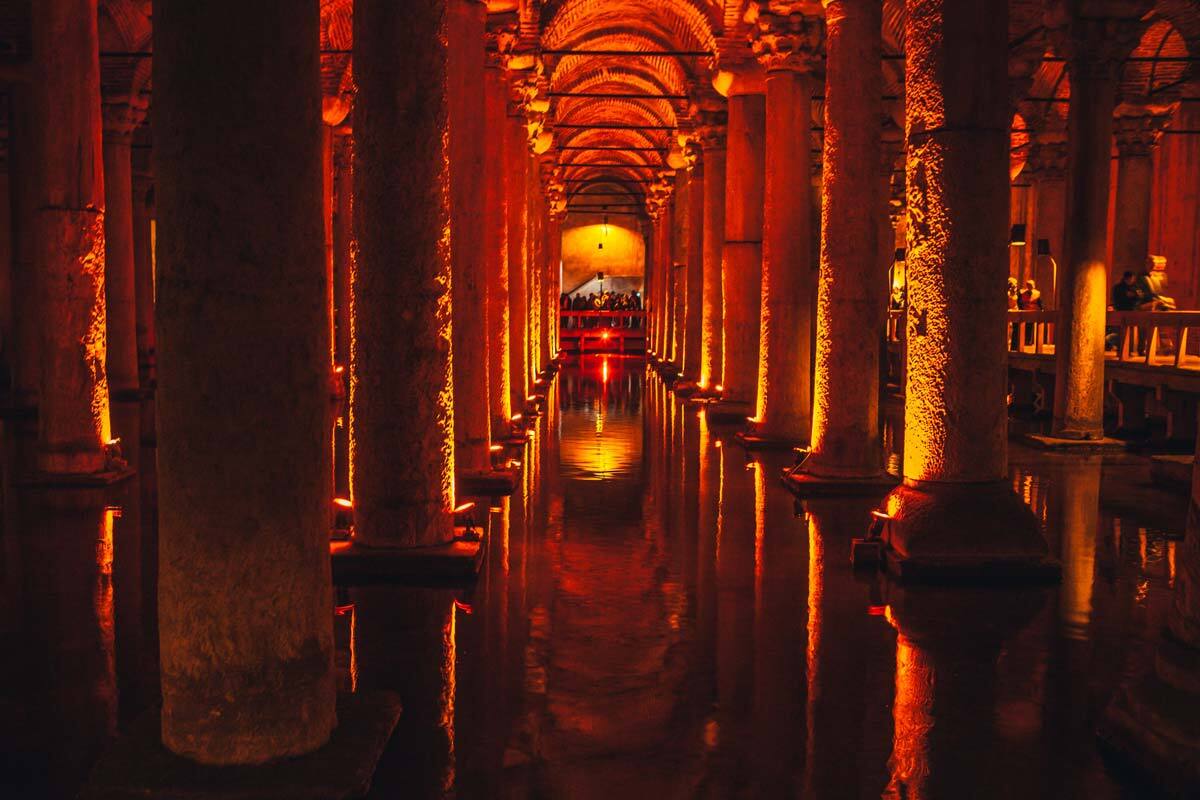 With April being an unpredictable month weather-wise, make your way to one of Istanbul's most well-preserved attractions if the rain starts to fall – the Basilica Cistern. This is a medieval cistern deep under the streets of Istanbul that was built in the 5th century, around the same time as the Hagia Sophia.
The cistern's iconic columns are what makes this attraction so unique. Combine them with the water slowly dripping from its ceiling and the dark and gloomy lighting, you almost feel like you're in the cistern with the Romans themselves.
8. Visit the Grand Bazaar and Spice Bazaar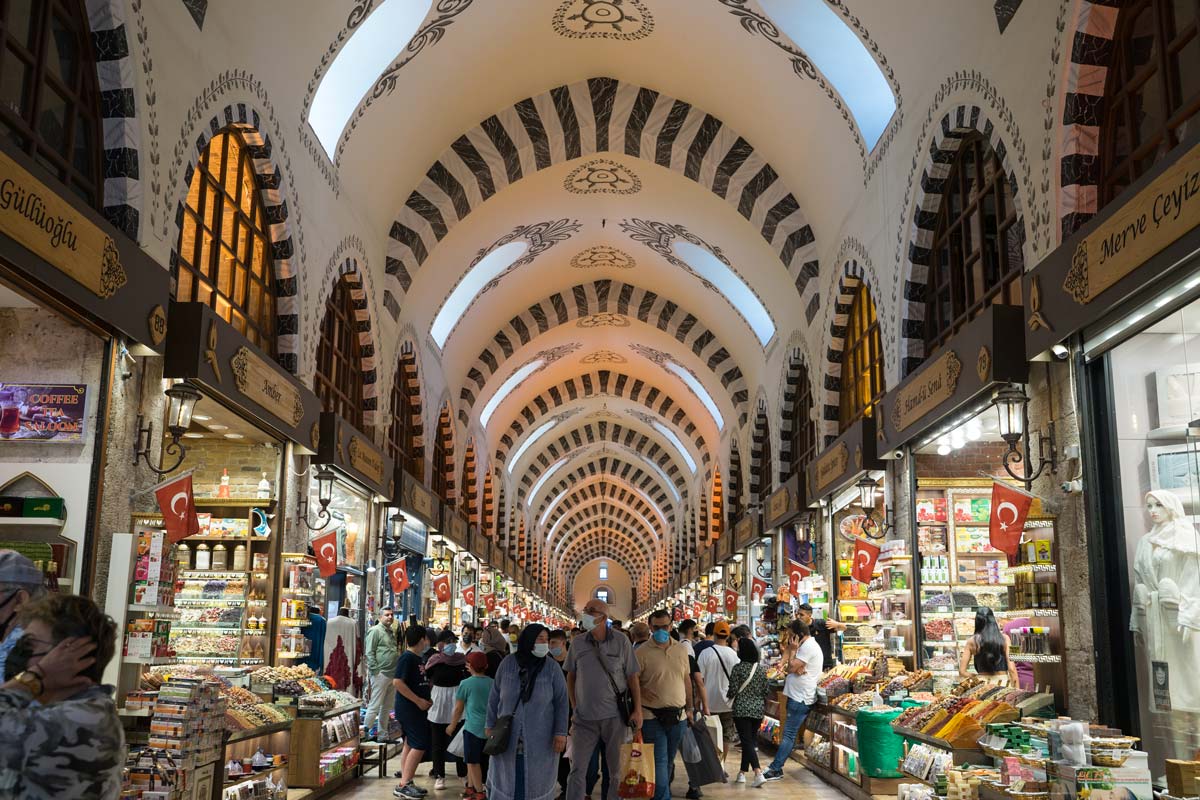 Alternatively, if you promised your friends and family you'd bring them some unique gifts back from your trip to Istanbul, then what better place to go to than the Grand Bazaar.
Dating back over 500 years, it's the largest covered market in the world and is also one of the world's most visited attractions.
The Spice Bazaar is also a feast for the senses, as you wind through the narrow walkways witnessing the incredible array of spices and other Turkish treats on offer.
9. Get Lost in the History of the Eyüp Sultan Mosque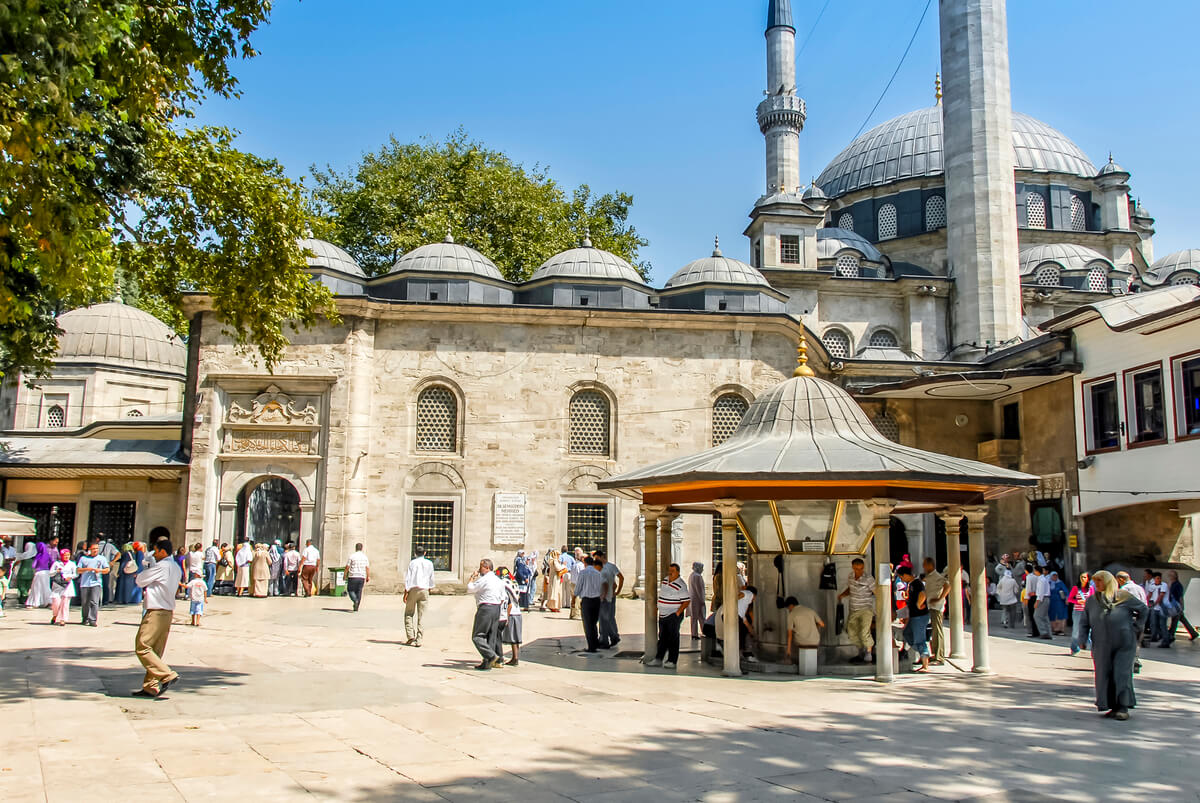 If the Blue Mosque and the Hagia Sophia didn't scratch your historical itch, then the Eyüp Sultan Mosque might just do the trick. This particular Mosque is one of the most important in the entire country and across the Muslim world.
The tomb of Abu Ayyub al-Ansari, a close friend and acquaintance of the Islamic prophet Muhammad, is located here. It's no surprise then that this is an active place of worship, so always be respectful if visiting.
10. Head Over to the Beylerbeyi Palace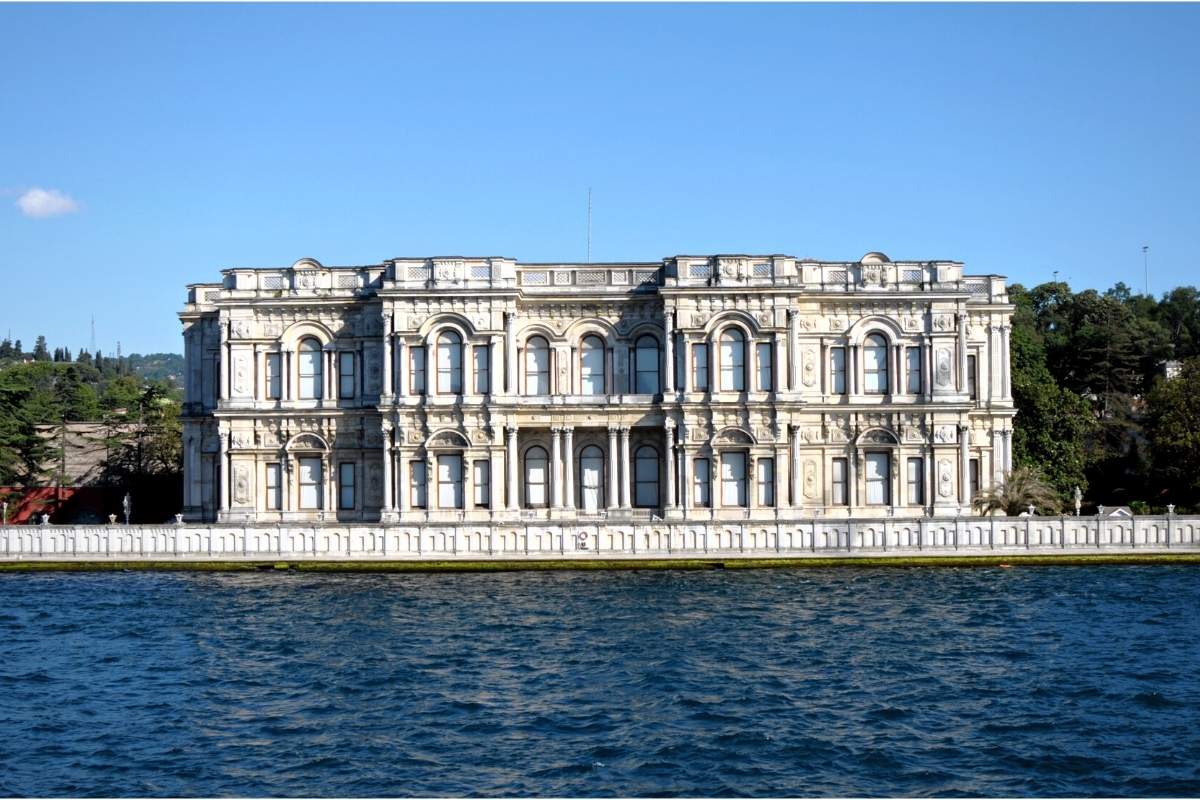 If it's good enough for the Ottoman Sultans then it's good enough for us! This is one of the most beautiful palaces in Istanbul and is startling in the warm April sunlight.
Built in the early 1860s, Beylerbeyi Palace is an incredible building, located in the Üsküdar district, right on the banks of the Bosphorus.
This makes it a stunning visit particularly if the spring weather has gifted you a gorgeously sunny day.
---
Festivals and Events
As we've spoken about, April is when the weather really starts getting a little better. Festivals and events are more likely to be happening, so here's a list of the currently scheduled events for April 2023.
International Tulip Festival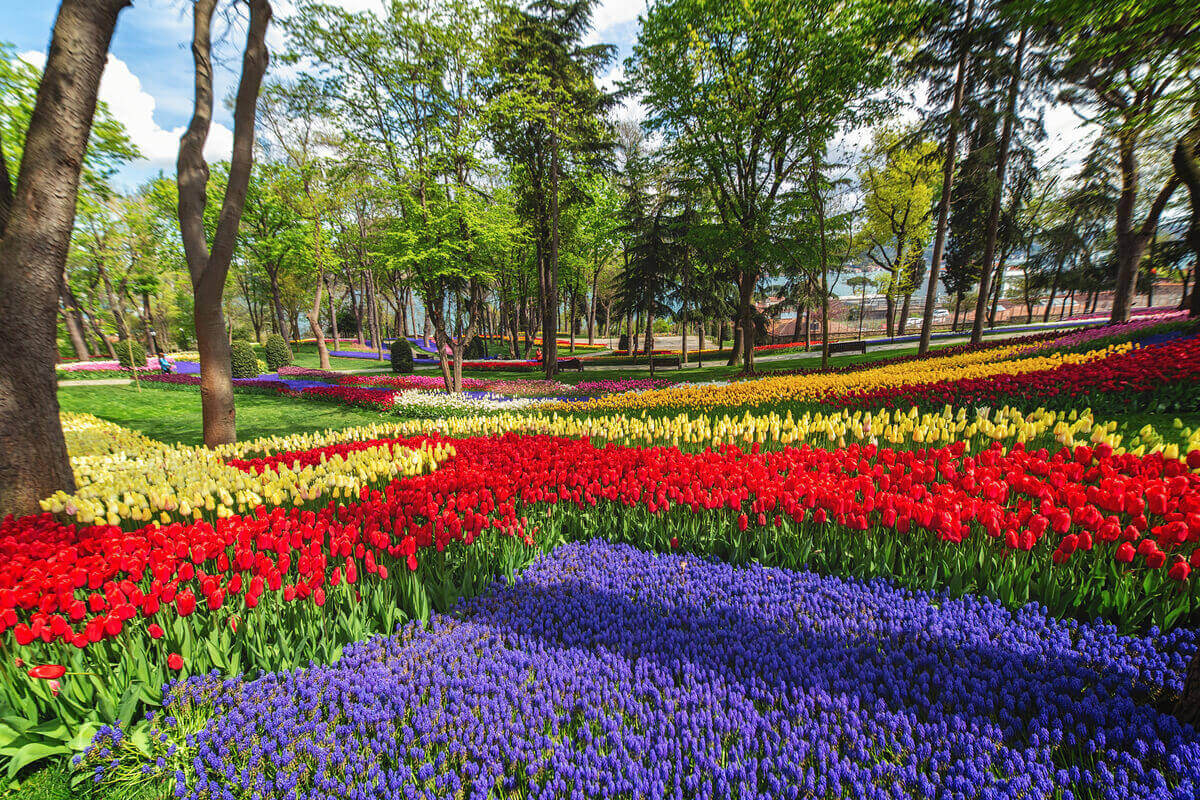 If you thought Amsterdam and Keukenhof in particular is the only place that celebrates the humble Tulip, then think again.
Tulips were actually growing wild in Turkey and across Central Asia long before they were in Northern Europe, and the vibrantly colored plants were a firm favorite of the Ottomans.
The Istanbul Tulip Festival is held in the spring month of April every year since its inception in 2005, tens of millions of tulips are planted making this Istanbul festival certainly worth seeing.
Istanbul International Film Festival
April is an important month for budding filmmakers. In the media, it's 'festival season', meaning cities and countries all over the world hold film festivals to promote home-grown, up-and-coming talent. Istanbul is no different and its film festival is held in April.
You can be a part of the action as films are shown in Istanbul's cinemas, so grab your popcorn and watch something a little more niche.
Eid al-Fitr
This is the first Islamic holiday of the year and it is celebrated to be the end of the month-long fast known as Ramadan. It falls from March 22nd until the 20th April, 2023, but the date changes every year as it coincides with the Islamic calendar. It is based on where the new moon is located.
Eid al-Fitr is celebrated with prayer, usually performed in an open field or large hall. You can expect many of the mosques and attractions to close, or have differing opening times, on the 20th and 21st of April 2023 for this reason.
Read more: What is Istanbul during Ramadan like?
---
Pros and Cons of Visiting Istanbul in April
In our opinion, Istanbul is one of the best cities in the world. It has so much to offer in any month of the year. If you're still not sure if Istanbul is worth visiting in April, here's a breakdown of the pros and cons.
Pros
Tourists flock to Istanbul in the summer, so the city's attractions will be quieter than usual.
Potentially cheaper flights.
Warmer and sunnier than the previous months of the year.
Longer days mean you can make the most of your trip.
Cons
April is still a wet month for Istanbul, so be prepared and bring an umbrella.
Istanbul's weather is unpredictable and as a result, there can be some very chilly days, even in April.
The seas surrounding the city might still be rough, so weather-dependent, a cruise might not be the best idea.
---
Where To Stay in Istanbul in April
One good thing about visiting Istanbul in April is that it's the shoulder season, so you can expect cheaper prices!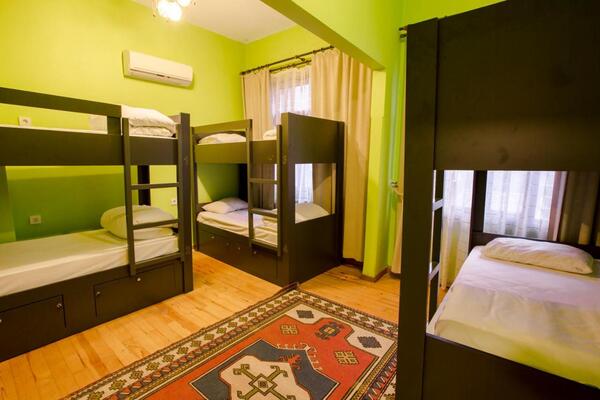 Best Hostel in Istanbul – Cheers Hostel
Cheers Hostel is the best-located hostel in Istanbul, nestled behind the Hagia Sophia and the Blue Mosque. It offers comfortable, individually styled rooms and dorms, with spacious shared bathrooms. The terrace bar and restaurant serve up kebabs and international cuisine for those who don't want to venture far for food and have wonderful views of Istanbul's Old Town.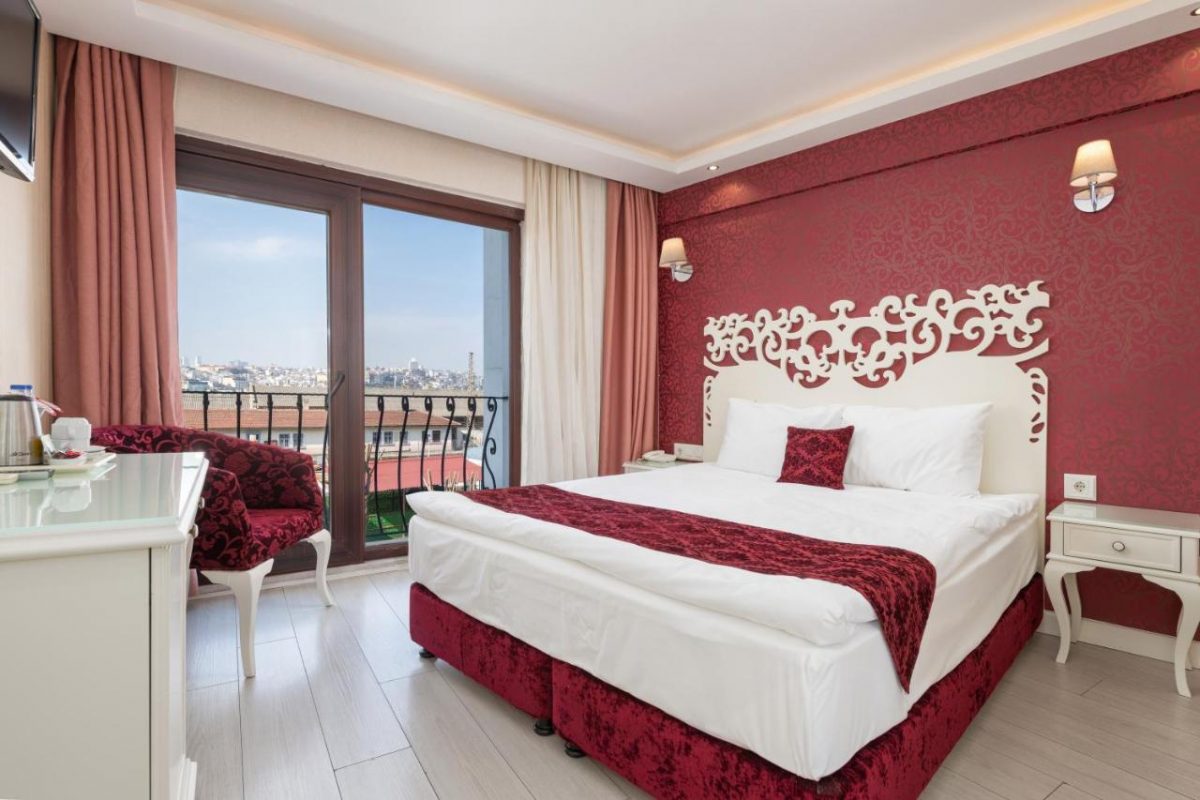 Best Mid-Range Hotel in Istanbul – Dream Bosphorus Hotel
If you're looking for a mid-range hotel in a great neighborhood, then Dream Bosphorus hotel is the ideal choice. It's located in the heart of Old Istanbul, in the Sirkeci area. Each room has been individually styled in traditional Turkish decor and comes with a private bathroom and 24-hour room service. Some rooms have views of the Golden Horn. Each morning a daily breakfast buffet is served and the Dream Café offers soft drinks and snacks throughout the day. Each afternoon, it's worth returning for free cakes and cookies.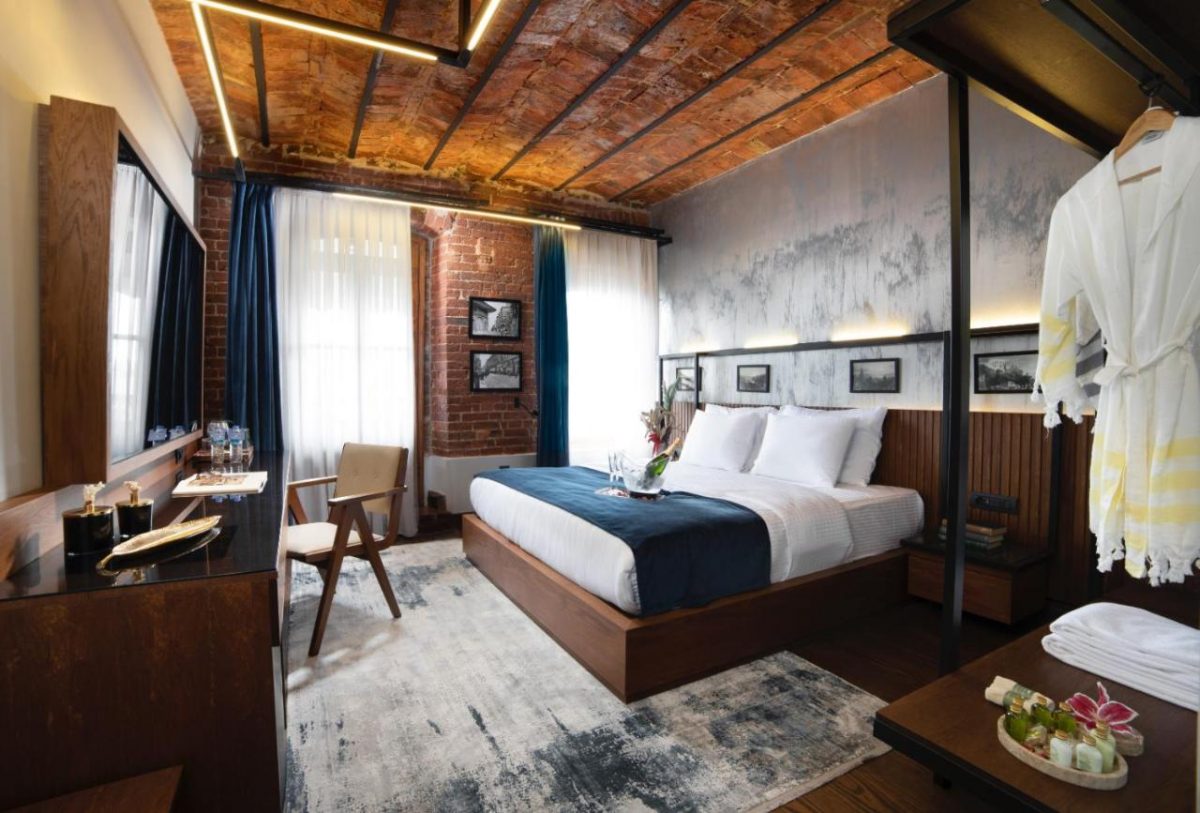 Best Luxury Hotel in Istanbul – Hotel DeCamondo Galata
Located on the riverfront in Kadikoy, the Hotel DeCamondo is the ideal place to stay for a luxury getaway. It has a stunning bar and terrace as well as an onsite restaurant and car rentals. Each morning, a continental or a la carte breakfast is offered, and when it comes to exploring, the hotel can help organize your tours and car rentals.
---
Tips for Visiting Istanbul in April
If you do decide to visit Istanbul in April, here are a few tips to make your experience more enjoyable.
Bring a jumper and warm clothing for the evenings. Although it's warming up in April, it is still cold at night and you'll want to bring a warm jumper to wear when going out for dinner.
Pack a headscarf if you're a woman. You will need a scarf to cover your hair when entering a mosque. You also need your knees and shoulders covered, which shouldn't be a problem if visiting in the winter.
Carry an umbrella and waterproof clothing. You'll likely encounter rain this time of year so be prepared with your waterproof gear.
Carry cash for the markets. Many shops and malls in Istanbul still don't accept cards.
Are you reading this from Turkey? Maybe you need a VPN!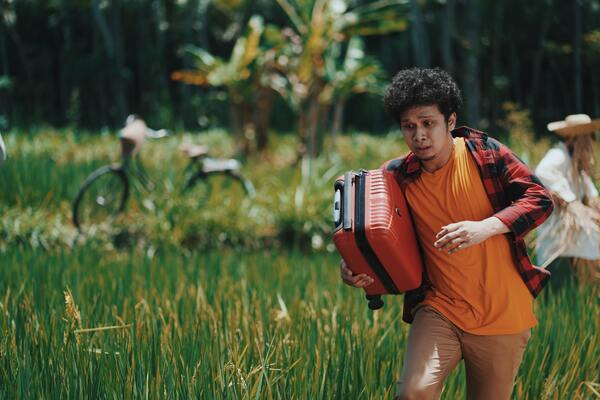 If you're already in Turkey, there is one thing you absolutely NEED: a reliable VPN.
You may find some of your favorite websites and apps are blocked in Turkey, such as popular hotel site booking.com
A VPN allows you to get passed this ruling and enables you to browse these sites without any hassle, and it's completely legal.
We use Express VPN when we're in Turkey and we'd recommend it to anyone. It's affordable, quick, and easy to use.
---
FAQs About Istanbul in April
Here's what people usually ask us about visiting Istanbul in April…
Is Istanbul sunny in April?
Yes, it is usually sunny in April, but rain is also expected on occasion. You may find the weather to be interchangeable when visiting in April.
Is it good to visit Istanbul in April?
Yes, April is a good time to visit Istanbul as it's still considered the shoulder season so there will be less crowds, and the weather is quite mild.
Is Istanbul warm in April?
The daytime temperatures averages around 12C (53.6F), which is a pleasant walking temperature. The evening temperature can drop to as low as 8C (64.4F), so you'll find nighttime to be quite cold.
---
Before You Go
So there you have it, this is everything you need to know about visiting Istanbul in April. As you can see, the weather is warm and there's more sunlight hours for exploring, but do make sure to bring warm clothing for the evenings.
Even though there is a good chance of rain, you'll find many of Istanbul's top attractions are indoors and can easily be seen on a rainy day.
As this is the start of Spring, expect flowers to start blooming and the colors to feel warm again.
We hope you have a great time exploring Istanbul in April!