Istanbul is a bustling metropolis that's full of unique and historic streets. You'll find fascinating remains from Constantinople, the capital of the Roman Empire, and glimpses of the Ottoman past as you wander down some famous Istanbul streets.
You'll also find that some streets have a special purpose; such as a street dedicated to offering breakfast, or a shopping street of only designer brands.
Other streets offer photographers the chance to revel in their craft, with colorful buildings as a backdrop and unique landmarks nestled in the perfect position.
But where are these most famous streets in Istanbul and why are they so famous? In this guide, we'll be answering these questions.
Planning a trip to Istanbul last-minute?
Make sure you book your tours, places to stay, and airport transfers ahead of time to ensure availability!
Here is our recommended airport transfer in Istanbul:
Here are our recommended tours in Istanbul:
Here are our recommended places to stay in Istanbul:
Magnuara Palace Hotel (Gorgeous hotel in the historic centre!)
Cheers Hostel (Budget hostel near the Blue Mosque!)
---
Famous Streets in Istanbul
1. Istiklal Street, Taksim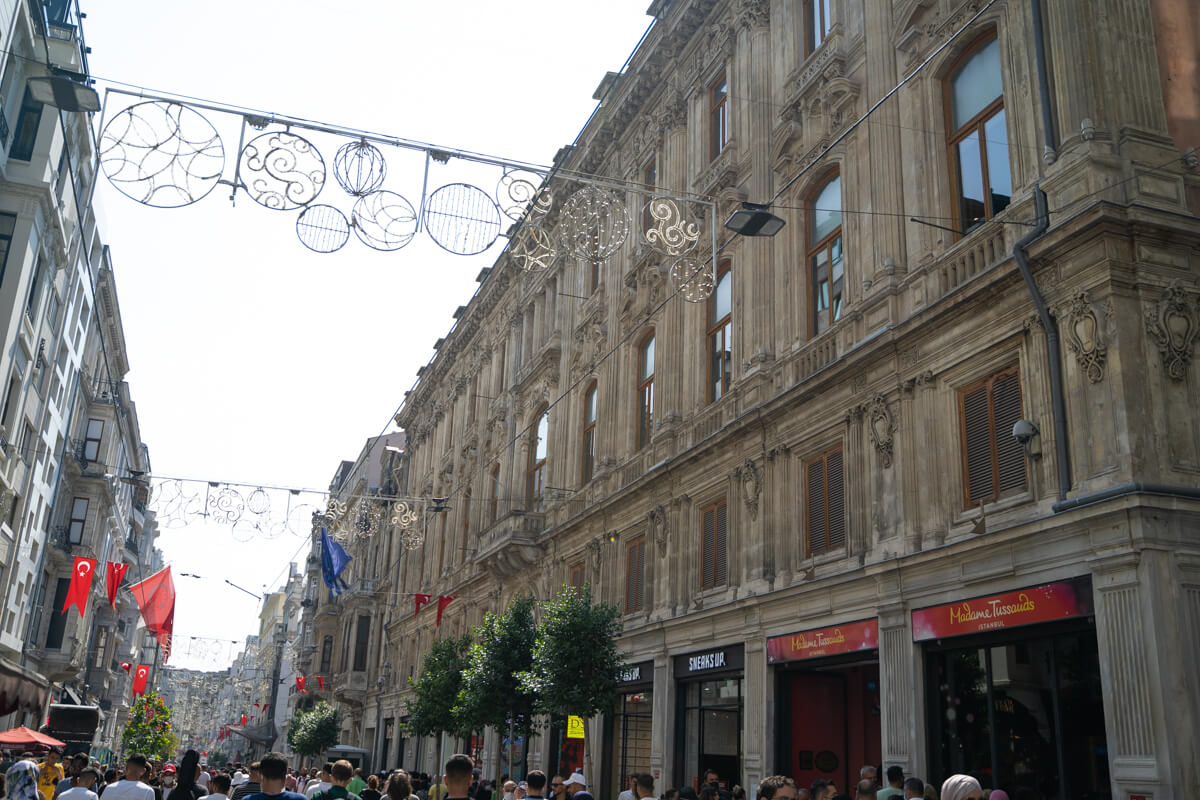 The most famous street in Istanbul is Istiklal Street in Taksim, or "Independence Street" in English.
Istiklal Street has a rich history dating back to the time of the Ottoman Empire. It was originally known as the Grande Rue de Péra in the 19th century and was home to many foreign embassies and businesses that wanted to rub shoulders with the West. It was here that Turkish businessmen and European traders would connect and integrate.
Today, Istiklal Street is famous for its bustling shopping and nightlife scene. Visitors can stroll down the pedestrian-only street and browse trendy boutiques, international chain stores, and traditional Turkish shops selling handcrafted goods. The street also has numerous cafes, restaurants, bars, and clubs for all types of entertainment.
In addition to shopping and dining options, Istiklal Street offers cultural attractions such as historic churches, the Pera Museum, and Galatasaray Square, which sits in the center of the street and marks the spot of the oldest secondary school in Istanbul.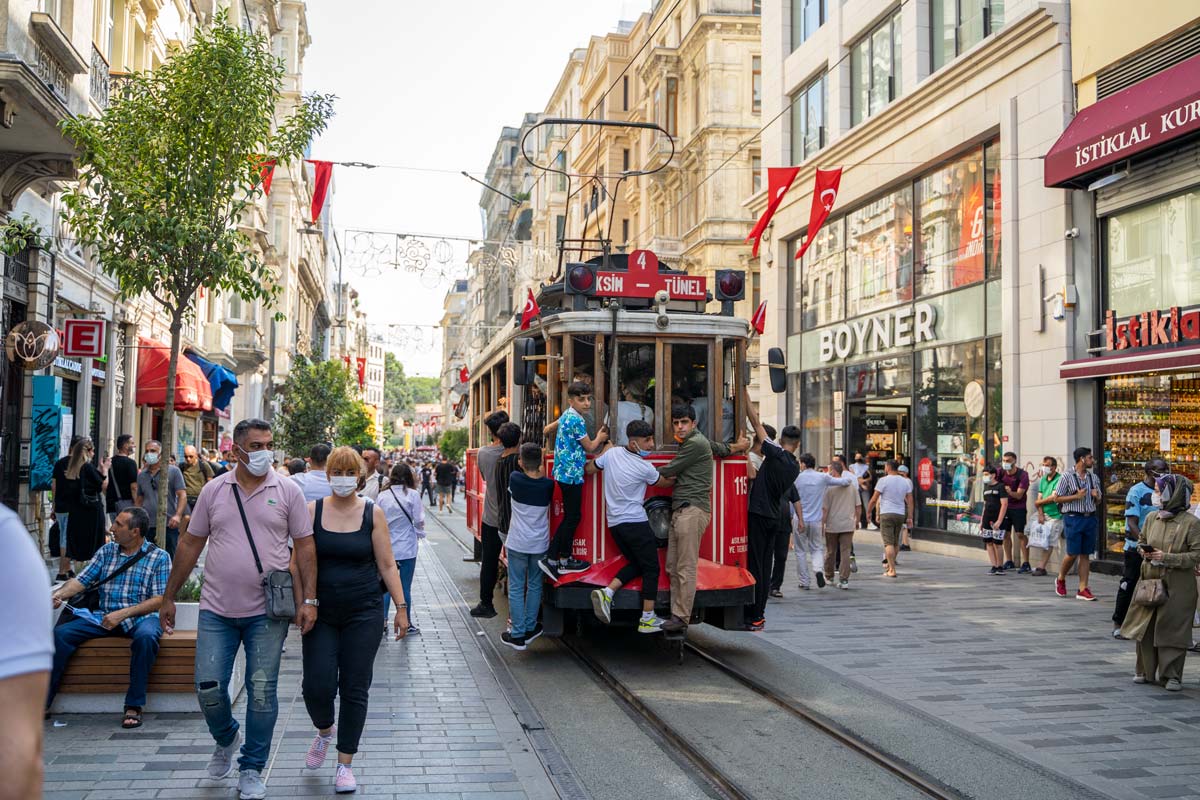 The iconic red tram also runs along Istiklal Street, giving visitors a unique way to explore the area. The tram runs every 15 minutes and even though it's a paid for service, it's common to see locals clinging to the outside.
Overall, Istiklal Street is a must-visit destination in Istanbul for its combination of history, culture, and modernity.
2. Perihan Abla Street, Kuzguncuk
Istanbul is full of quirky and unique streets, but Perihan Abla Street in Kuzguncuk (on the Asian side) is perhaps a hidden gem in the city – despite appearing in the TV show 'Perihan Abla'.
While many people flock to Balat to see colorful buildings, the tiny Perihan Abla Street is where you'll find some of the best-preserved colorful antique wooden houses.
The Turkish word kuzguncuk translates to "little raven" or "barred window of a prison door" in English. It is said that the name was given to the neighborhood in honor of a holy person, named Kuzgun Baba, who lived here during the time of Sultan Mehmet II.
But the area really started to transform in the late 15th century, when the Jews were expelled from Spain and Portugal and given refuge in Istanbul. While most Jews settled in neighborhoods such as Balat, others lived in Kuzguncuk. In the 18th century, Armenians moved into the area and the area became largely gentrified.
Today, many of Istanbul's Greeks and Armenians still live in the area. The architecture, though stunning, does not fully resemble the history of the area. The buildings were remodeled in the 50s and 60s by architect Cengiz Bektas, with the help of residents and other Turkish architects.
The renovations were documented in the documentary Life and Architecture, which was made in the 90s.
3. Breakfast Street, Besiktas
As you might have gathered from the name, Breakfast Street is a street dedicated to serving delicious breakfasts in Istanbul. This small street is located in the student district of Beşiktaş, and is lined with several small restaurants each serving very traditional Turkish breakfasts for an affordable price.
The staple food to try here is Pişi, which is available at pretty much all the restaurants. While the street isn't exactly aesthetic, it has become a very famous food street in Istanbul and the number-one place to go for an early morning breakfast.
4. Büyük Hendek Cd., Taksim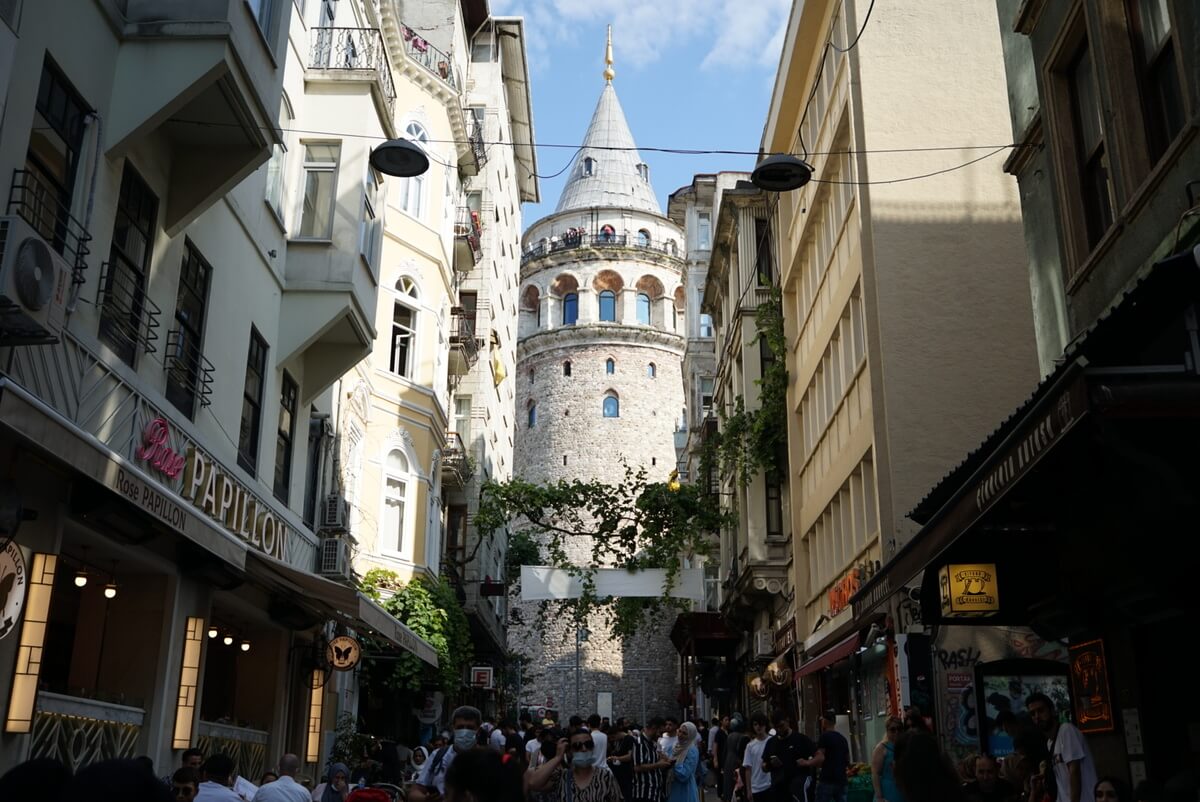 If you're looking for a sweet Instagram photo spot where you see a busy street lined with restaurants and cafes with outdoor seating, with the Galata Tower sitting pretty in the center of the frame, then you'll want to visit Büyük Hendek street.
This is a lively and busy street that's filled with people wanting to get the perfect shot. But it's also filled with bars, restaurants, and boutique shops.
It's the place to go to sit outside, drink a Turkish coffee, and do a spot of people-watching.
5. Kiremit Caddesi, Balat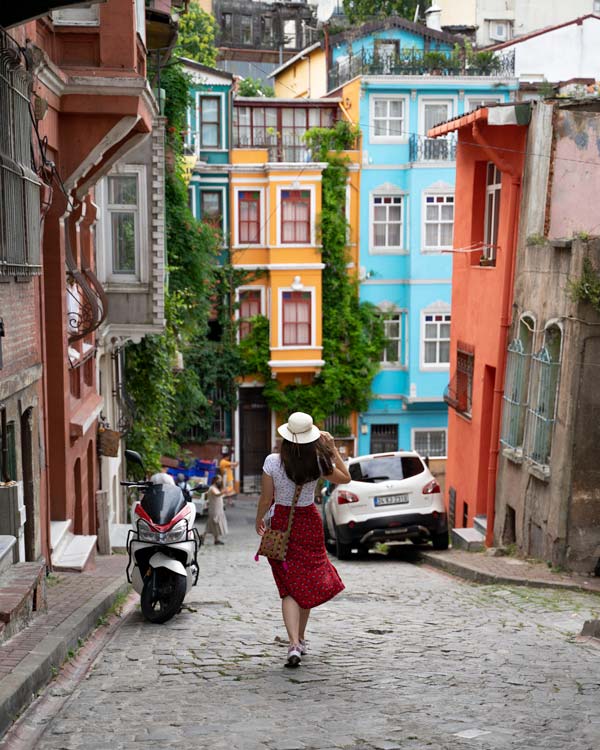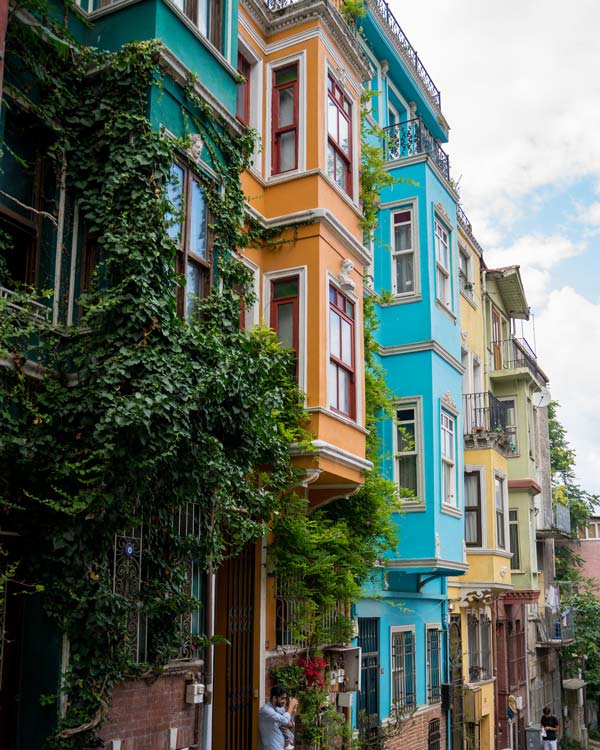 Kiremit Cd is similar to Perihan Abla Street in that it's lined with unique, colorful houses built during the time when Jewish communities settled in Istanbul – though it's much more famous. The neighborhood of Balat became home to the Jewish community of Istanbul, who settled here in the late 15th century after they were expelled from Spain and Portugal.
The hilly neighborhood is known for its colorful wooden houses and quirky coffee shops. These homes are more than 200 years old and are usually three or four stories high, and very narrow.
The bay windows and ornate facade has become somewhat of a staple of Balat architecture and can be seen on many streets in the neighborhood, though the best street to see them at their best is Kiremit Cd.
While only a small fraction of the Jewish community still lives here, the area is considered a beautiful place in Istanbul and one of the most unique photo spots in the city.
6. Divan Road (Divan Yolu Cd.), Sultanahmet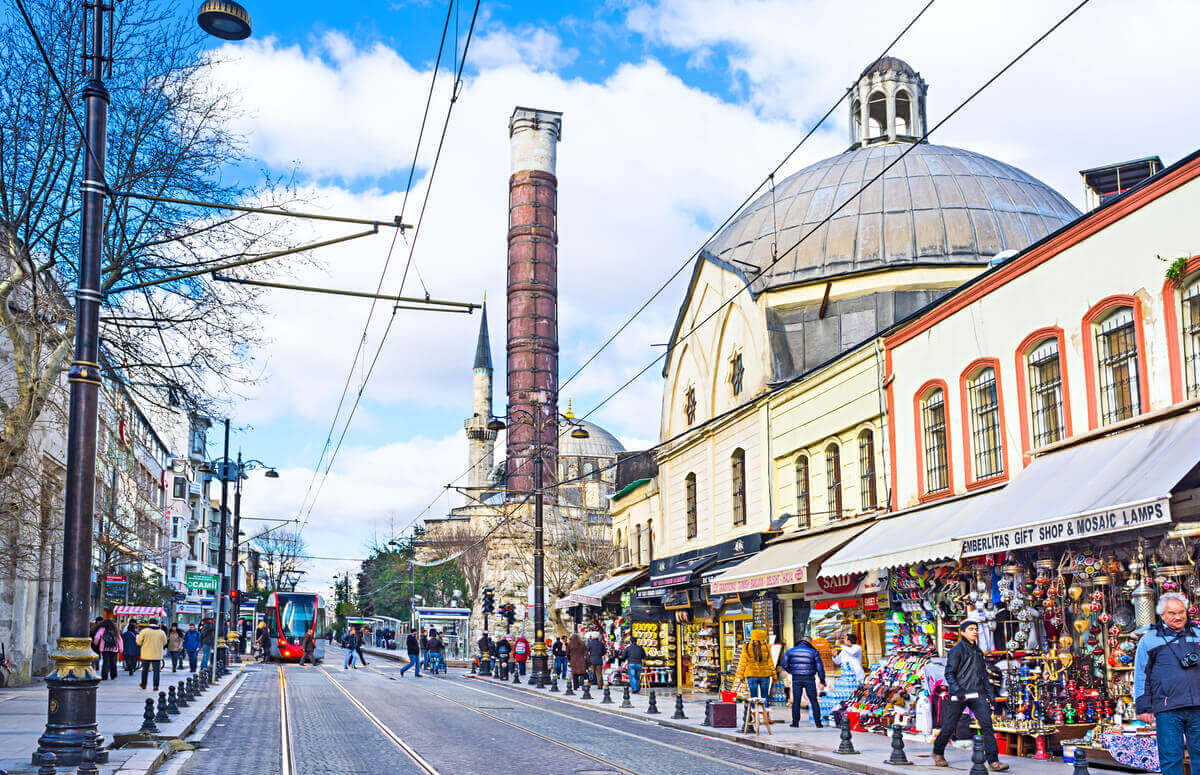 Divan Road is the former 'Road to the Imperial Council' that connects Sultanahmet Square and Beyazit Square. It's one of the longest roads in Istanbul and well known for being the road to connect some of the famous Turkey landmarks and historical sites.
While the sides of the streets are lined with shops, eateries, and restaurants, the center of the street is where the Istanbul tram operates.
As such, it's a bustling street and one that you will probably find yourself on at one point, even if you're not looking for it.
7. Galip Dede Street, Beyoğlu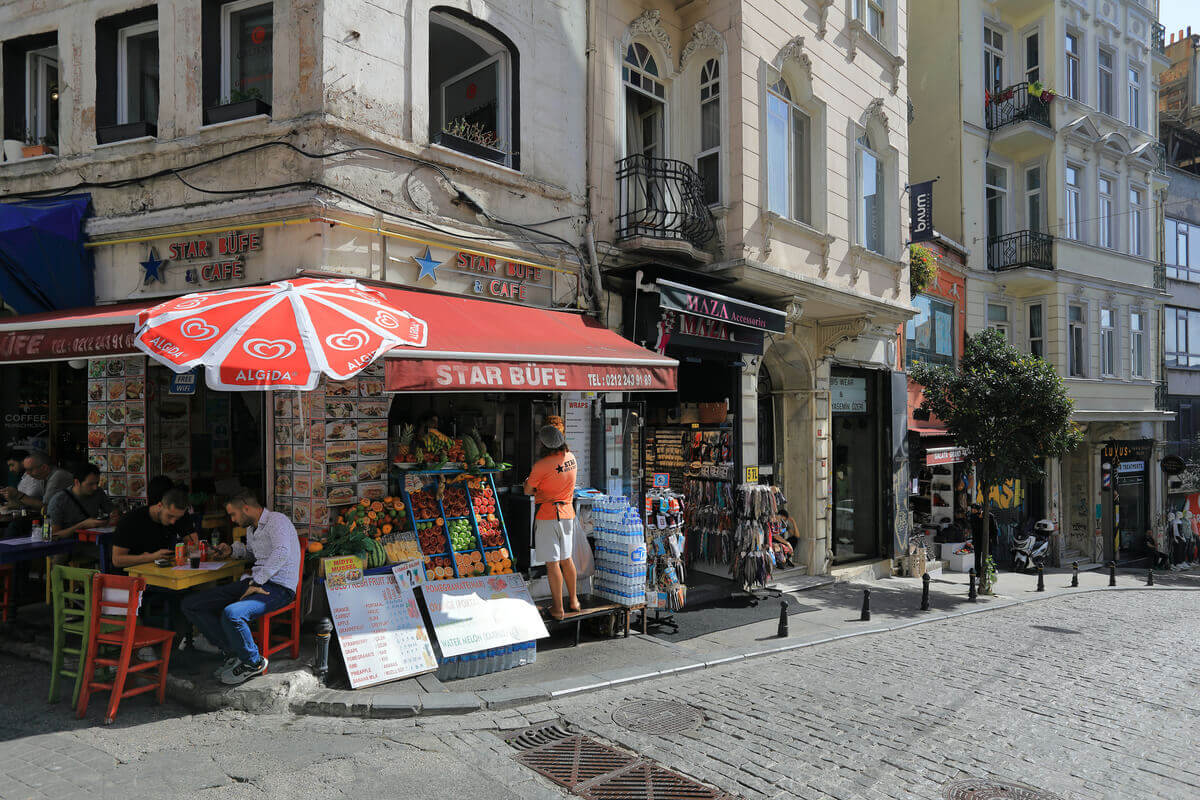 Galip Dede Street is a steep, cobbled street in Istanbul that is lined with boutique shops and bars. Many of the bars here have a roof terrace and offer incredible views of the Golden Horn and the city.
The street is most well known for being home to musical instrument stores, which have been operating here for more than 30 years.
But for tourists, it's a cute street to wander down, stop in the boutique stores, and find unique Turkish souvenirs, or drink at one of the many bars and coffee shops.
8. Bagdat Street, Kadikoy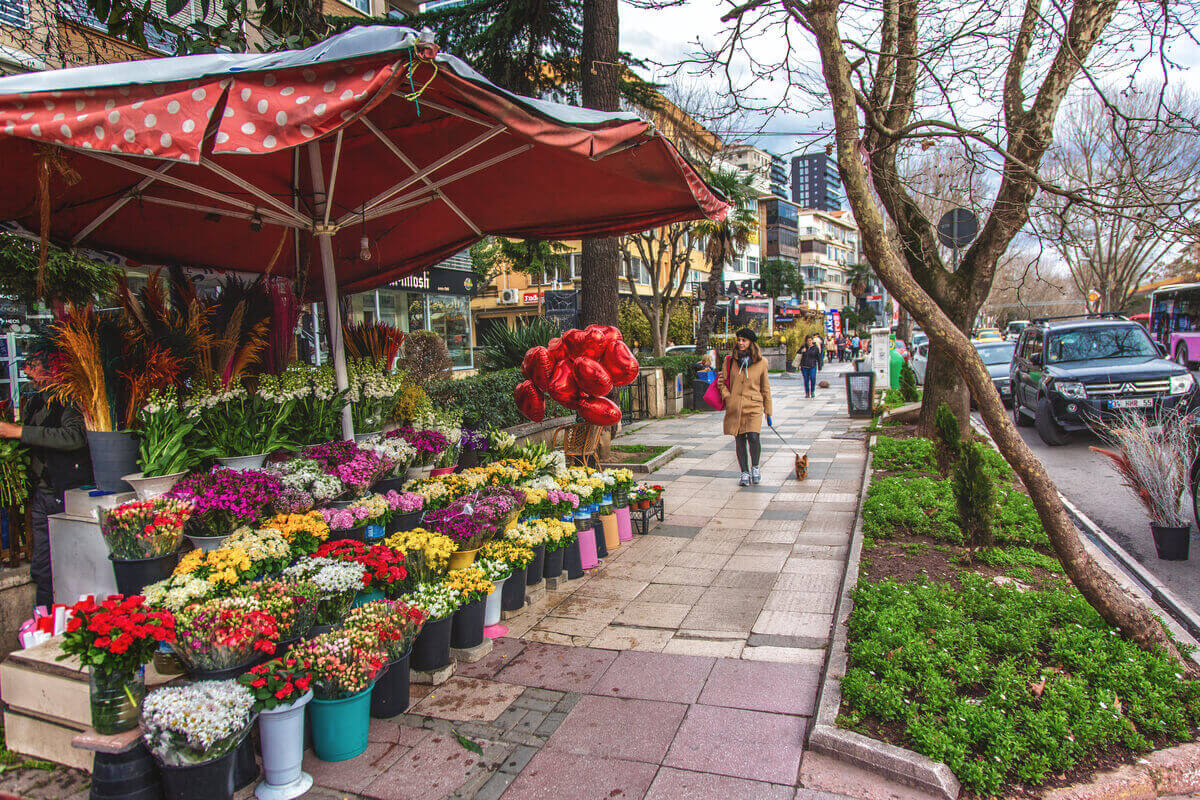 For designer shopping, you'll want to head to Bagdat Street in Kadikoy. This 9km long Istanbul street is one of the most famous places to visit for both tourists and locals.
You'll find elegance and luxury here, with a variety of high-end restaurants and bars, as well as high-end shopping.
The name of the street comes from Sultan Murad IV at the time of the Ottoman Empire. It is said that he used this road to leave Istanbul for the Baghdad Battle. After that, it became an elite street of Istanbul and not much has changed since.
9. Abdi Ipekci Caddesi, Şişli
Another high-end shopping street in Istanbul is Abdi Ipekci Caddesi in the Şişli district. It's not a particularly long street, but it became famous in the last decade for housing prestigious brands, such as Louis Vuitton, Gucci, Chanel, Prada, and Dior to name a few.
It's also famous for being the most expensive street in Istanbul, not just to shop but to live. In 2009, the average monthly rental on a store here was $3500 m². If you plan on doing some shopping here, you better save up some pennies as this is the only part of Turkey that's expensive!
The street was renamed Abdi İpekçi street after the editor-in-chief of the Milliyet, a major Turkish newspaper, was murdered in 1979. He was killed in his car outside his apartment on this street by a man named Mehmet Ali Ağca, who also tried to assissinate Pope John Paul II.
Don't worry though, as the street is very safe to visit today.
10. Bankalar Caddesi, Karakoy
Another historic street in Istanbul is Bankalar Caddesi, or Banks Street in English. It is located in the Galata quarter of Karakoy and was known to be the financial hub of the late Ottoman Empire. Banks such as Ottoman Central Bank and the Ottoman Stock Exchange were established here.
Today, you can still see the grand, 19th-century buildings lining this street. Though the banks left in the late 90s, the buildings are still in use as luxury hotels and restaurants.
The street is also sometimes referred to as Voyvoda Yolu (Voivode Road) after the 17th-century travel book written by Evliya Çelebi, an Ottoman Turkish traveler.
---
Map of Istanbul Streets
To help you plan your visit to these streets, here is a map of the top streets in Istanbul.
---
FAQs about Istanbul Streets
Here's what people usually ask us about streets in Istanbul.
What is Istanbul downtown called?
Taksim Square is Istanbul's downtown area. However, the downtown part extends for the whole area inside the 0-1 highway, and as far as where Karakoy meets the Golden Horn.
What is the richest part of Istanbul?
Besiktas is the richest part of Istanbul and is where you'll find some of the stunning Ottoman palaces, such as Dolmabahçe Palace.
Is Istanbul walkable?
Yes, Istanbul is a very walkable city. Most of the tourist attractions are compacted into a few neighborhoods, and it's possible to walk to them all. If your feet get tired, there is a tram service and metro that go to all the top tourist attractions.
---
Final Word on Streets of Istanbul
So there you have it, those are ten of the most famous and photographed streets in Istanbul. Whether you're looking for a sweet photo spot, a place of historical importance, or a place to shop, there's something for everyone on one of these streets.
Disclaimer: Some of the links above are affiliate links. That means if you book or make a purchase through the links, we will earn a small commission at no extra cost to you! The money will help run this site! Thank you!