Are you thinking of visiting Istanbul in March and wondering what it will be like? Istanbul is a bustling city with many historic landmarks, deep traditions, and delicious food.
But the question remains, is March a good time to visit Istanbul? Yes, it is. In March, there are fewer tourists and the attractions remain open. The weather is cold, but not freezing. It does see some rain, but as it's the beginning of spring, you'll find the weather is starting to get sunnier…
Still not convinced? Read on to find out exactly what Istanbul in March is like…
Planning a trip to Istanbul last-minute?
Make sure you book your tours, places to stay, and airport transfers ahead of time to ensure availability!
Here is our recommended airport transfer in Istanbul:
Here are our recommended tours in Istanbul:
Here are our recommended places to stay in Istanbul:
Magnuara Palace Hotel (Gorgeous hotel in the historic centre!)
Cheers Hostel (Budget hostel near the Blue Mosque!)
---
Istanbul Weather in March
March signifies the end of winter and the beginning of spring for Istanbul. Whilst not quite the same rosy temperatures of April and May, March's arrival is a welcome relief for many locals. That said, temperatures can still get very cold, especially overnight and there are still a fair few days of rainfall expected over the course of the month.
If you'll be visiting Istanbul during March, expect average daytime temperatures to be about 8 – 11℃ (46.4°F – 51.8°F). Istanbul's subtropical climate means that the temperatures between daytime and night don't fluctuate too dramatically so you can expect similar, albeit slightly lower night-time temperatures of around 7 – 10℃ (44.6°F – 50°F) with lows of a chilly 5℃ (41°F).
Whilst the upturn in temperature throughout the month of March is the first sign of Spring's arrival, that doesn't deter the rain from falling. The average rainfall is around the 50mm mark, which is spread over about 13 days of the month. Still certainly worth packing a raincoat or waterproof for then.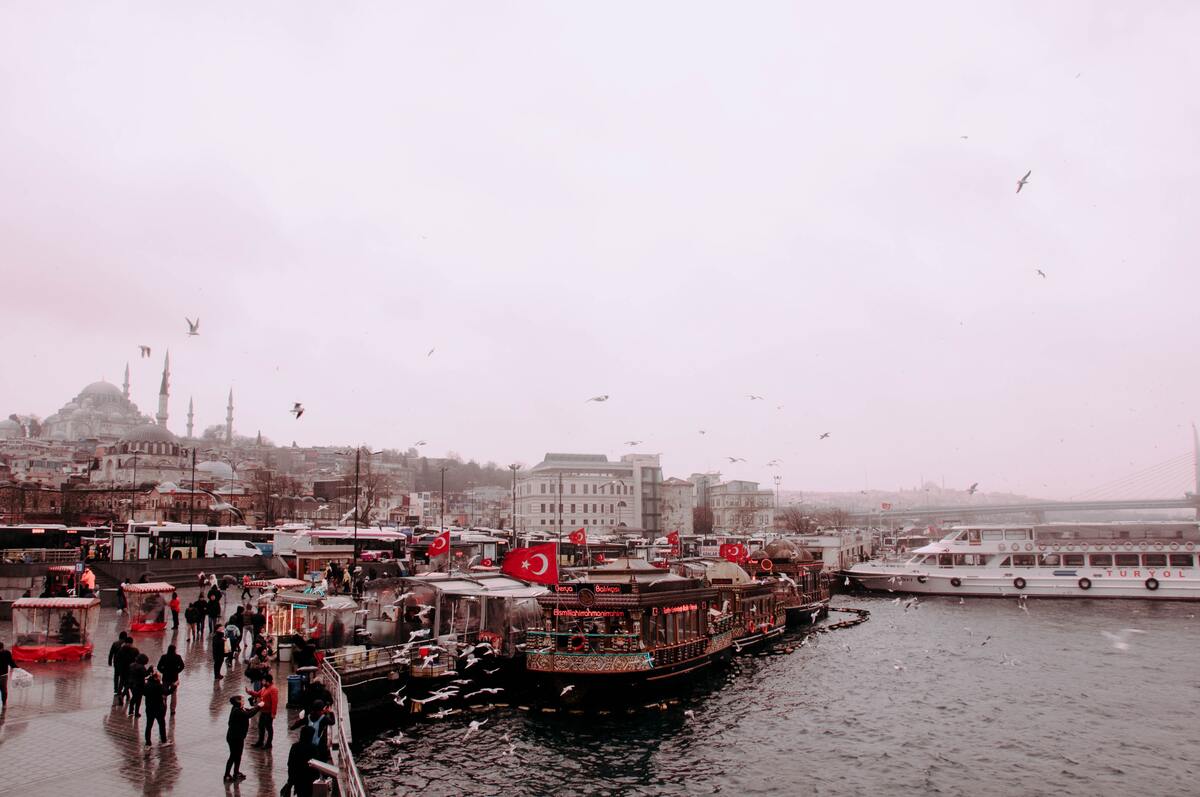 Even in the slightly warmer month of March, it is not uncommon for snow to fall. If the temperatures drop below freezing overnight, you might be opening your curtains in the morning to a fresh blanket of snow. Though it's more common to see snow in December – February.
Istanbul is essentially surrounded by the open sea which makes for a fairly windy city. The wind blows at an average speed of about 14.6mph (23.6kph). Though not as blustery as February, March is still quite a windy month, which can also help to make the temperatures feel much colder than they are. This is especially noticeable down along the promenades and the seafront.
One of the biggest benefits of March and springtime, in general, is the longer and sunnier days. These will be much more prominent towards the end of the month when locals and tourists to Istanbul can expect almost 9 hours of sunlight on average compared to just 4 or 5 in February.
Sunrises at the start of the month of March are later in the morning, occurring at 7:30 am on the 6th of March and setting at 7:00 pm that evening. Longer days mean that at the end of the month, on the 31st, the sun rises at 6:49 am and not setting until 7:27 pm.
| Istanbul Weather in February | Averages |
| --- | --- |
| Temperature (Day) | 10.6°C (51.8°F) |
| Temperature (Night) | 9.9°C (49.8°F) |
| Number of Rainy Days | 13 |
| Rainfall (mm) | 50 |
| Wind Speed (miles per hour) | 14.6 |
| Daylight Hours | 10-12 |
| Humidity | 72% |
Source: Holiday Weather
---
Top Things to Do In Istanbul in March
March is an excellent time to visit the incredible city of Istanbul. The temperatures are starting to become a little warmer, and the days are longer and sunnier. Here's our list of the best things to do in Istanbul during the off-season month of March.
1. Climb the Galata Tower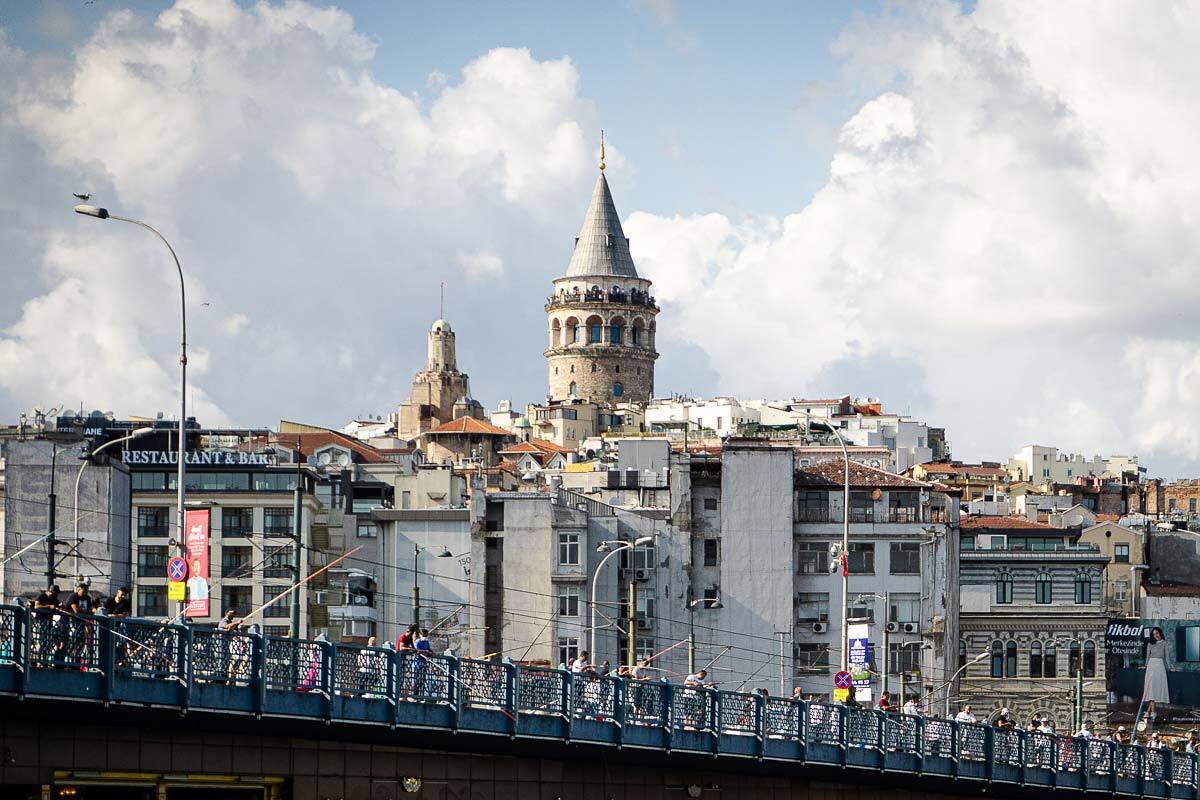 One of the best things to do for any visitor to Istanbul is to visit the Galata Tower. Built in 1348, the 'Tower of Christ' was intended to be, and was, the tallest building in Istanbul for hundreds of years.
Visiting the tower, you'll be treated to incredible views of the city and you'll also get to understand how this incredible Byzantine building was used as a watchtower to protect the city during the Ottoman Empire's rule of Constantinople.
2. Visit the Hagia Sophia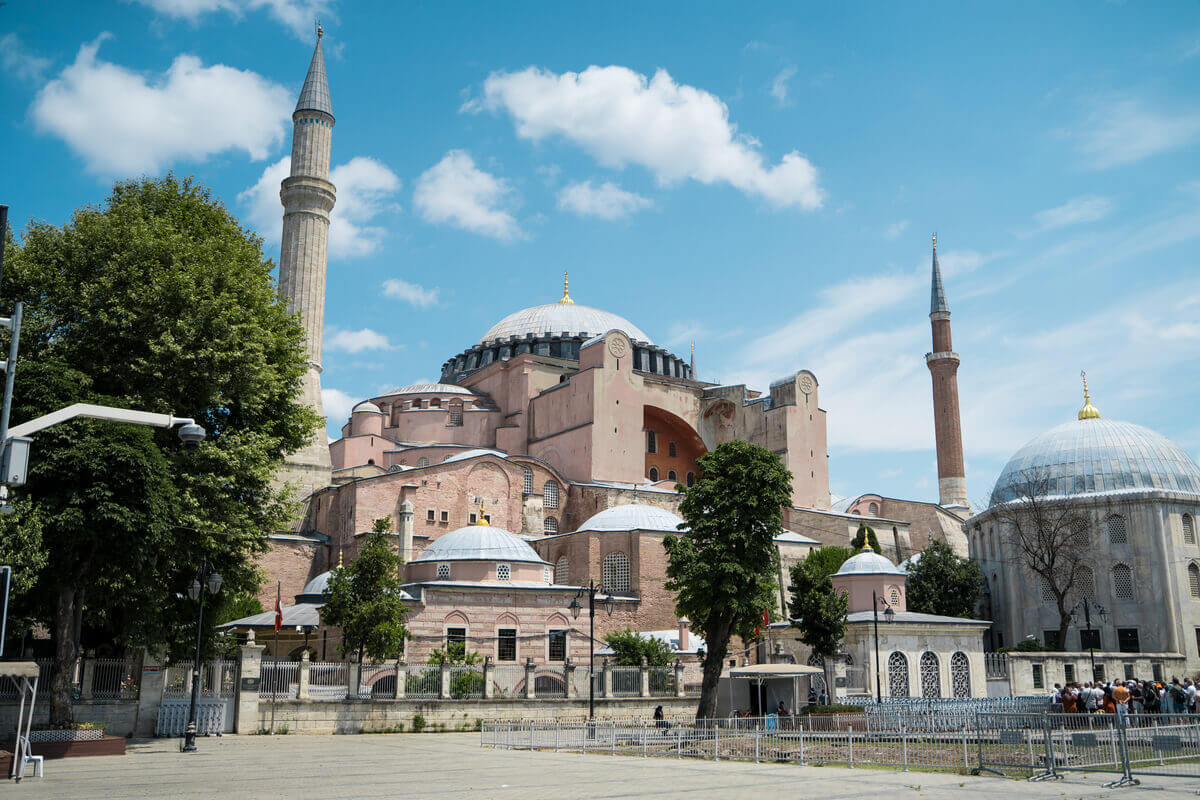 Arguably Istanbul's most famous attraction is the Hagia Sophia. Originally built in 537 AD during the reign of Emperor Justinian I, it was used as a Greek Orthodox Church and would have been one of the most impressive buildings ever built at the time, and still is almost 1500 years later.
The Hagia Sophia's iconic minarets were added in the 15th century and it was fully converted into a mosque. March can be a wet month for the city so the Hagia Sophia is an excellent place to spend an hour or two admiring the beauty of this magnificent piece of history.
3. Take A Trip to the Topkapi Palace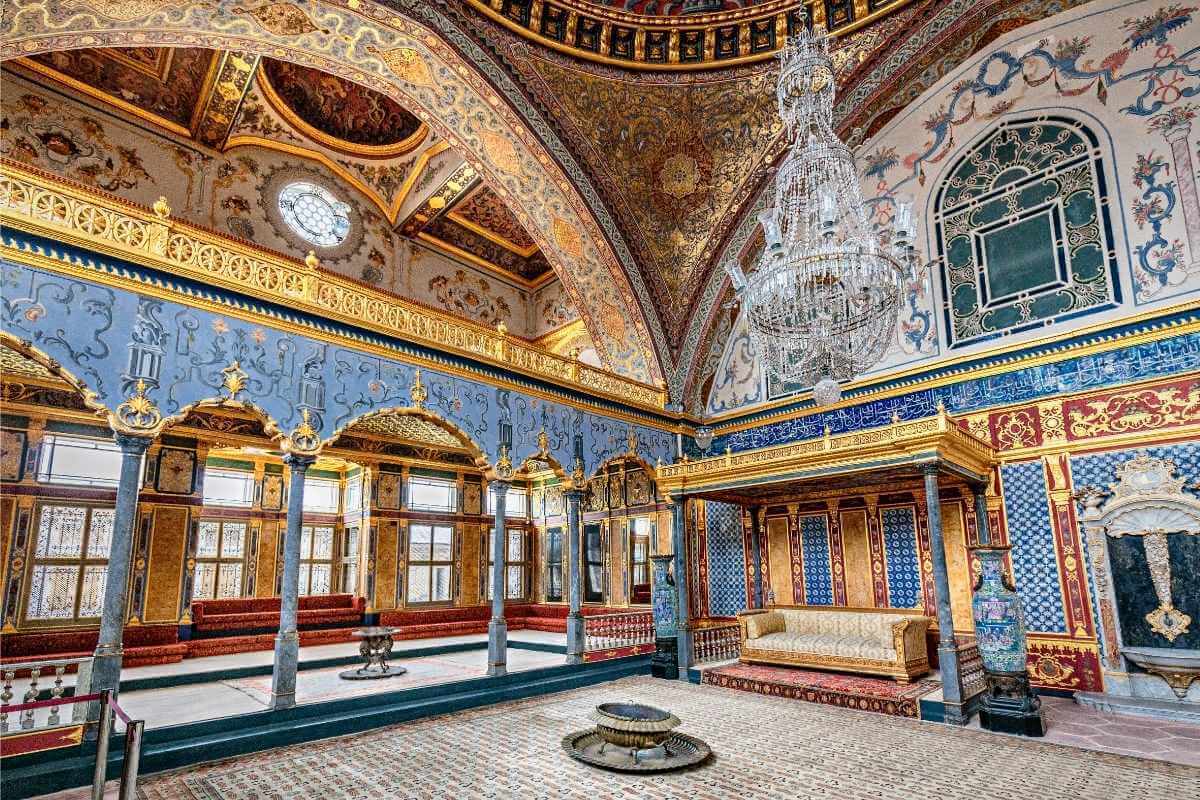 Over 560 years ago, in 1453, the mighty city of Constantinople (Istanbul), fell to the Ottoman Empire, led by Sultan Mehmet II. After capturing the Byzantine capital, the Ottomans set up their headquarters in the Topkapi Palace, right in the heart of Istanbul.
Today, this is one of Turkey's most visited attractions and houses an astounding collection of Ottoman artifacts, like the armor of Sultan Mustafa III and even weapons used by some of the most important people in Turkey's rich history.
4. Go Deep into the Basilica Cistern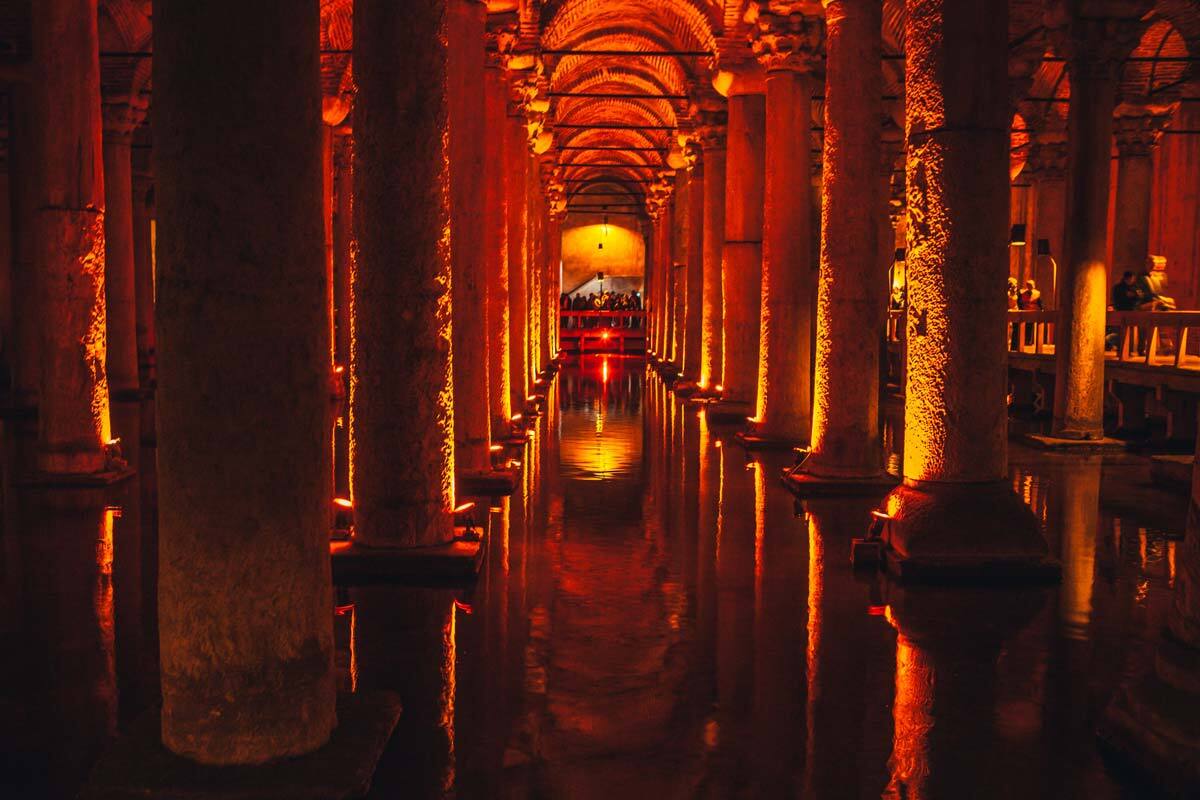 As we've mentioned, the weather can be a bit hit-and-miss during March in Istanbul. If the rain starts to fall, or if the wind is becoming a nuisance, we've got the perfect place for you to visit.
The Basilica Cistern is a mesmerizing chamber deep underneath the surface of Istanbul. As well as the Hagia Sophia, this cistern was built under the rule of Justinian I and can store about 80,000 cubic meters of fresh water. It's perhaps most iconic for the dizzying array of 336 columns that are now lit up, giving the place an eery, medieval atmosphere.
5. Be Mesmerized by the Blue Mosque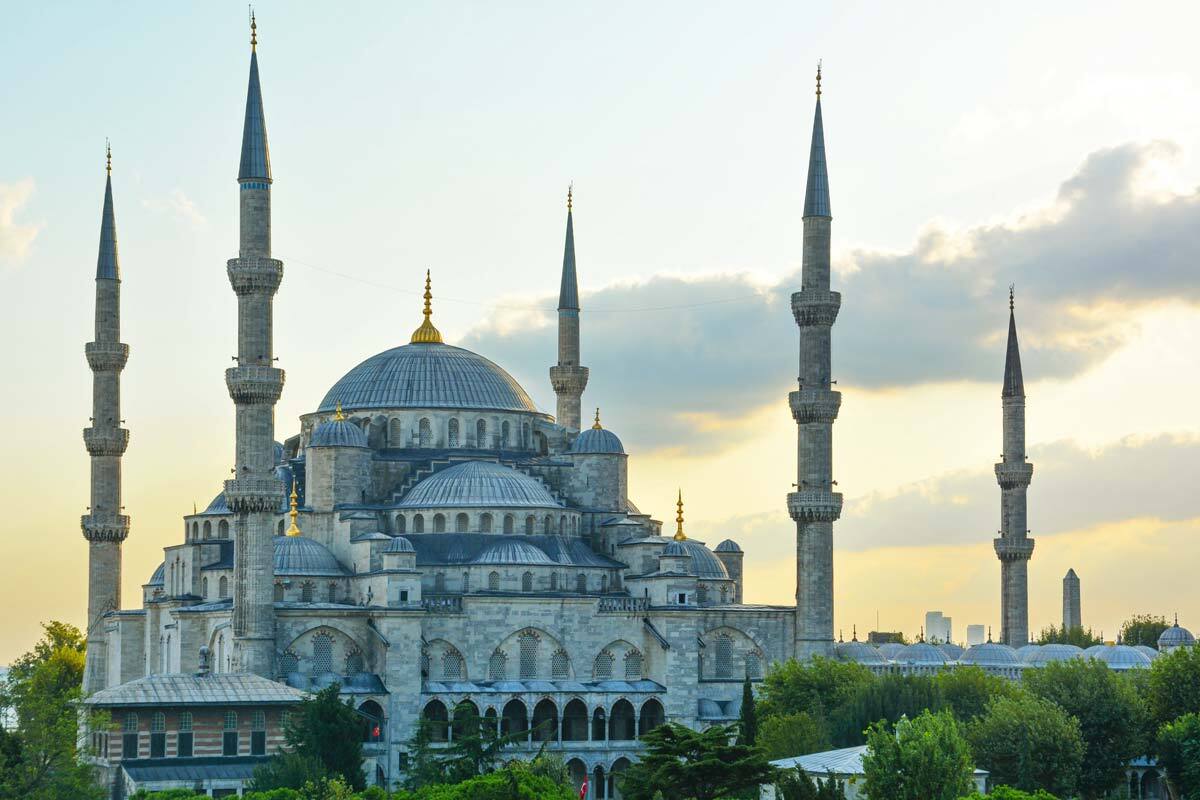 If you've visited the Hagia Sophia and that wasn't enough to satisfy you, we suggest visiting what is also one of the most famous mosques in the city. And guess what – it's virtually almost opposite the Hagia Sophia!
The Blue Mosque is famed for its gorgeous, hand-painted, blue-tiled interior and was constructed in the early 17th century under the watchful eye of Ahmed I. To this day, over 400 years later, it's still a functioning mosque so if you visit, make sure to be respectful and always follow the rules of the mosque.
6. Visit the Kanlica Neighborhood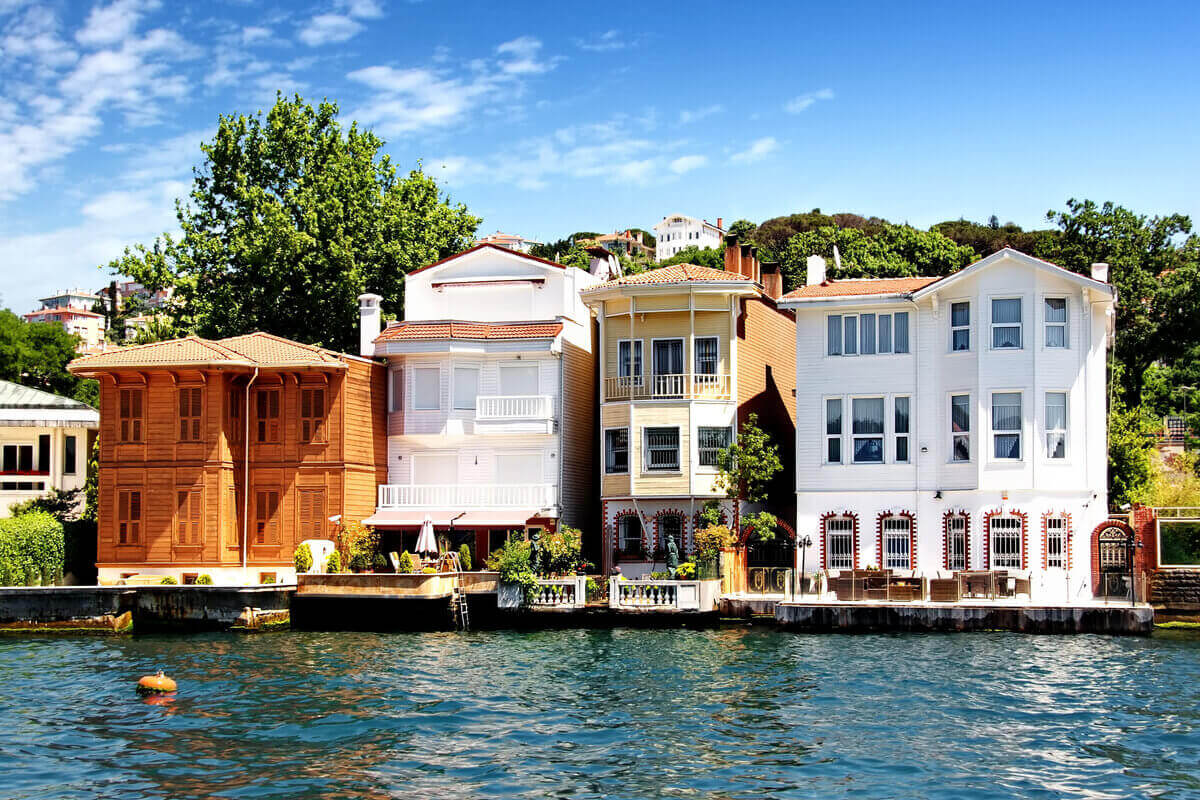 As you'll be visiting in March, if it's a sunny day for the first time in a while why not take a short ferry over to the beautiful Asian neighborhood of Kanlica?
The hustle and bustle of Istanbul center can be a bit overwhelming at times, and Kanlica's quiet and quaint streets will be a welcome relief to those wanting a peaceful break.
Spend a couple of hours admiring the gorgeous mansions along the water's edge or take a stroll through the unspoiled nature of the Mihrabat Nature Park.
7. Check Out the Çamlıca Mosque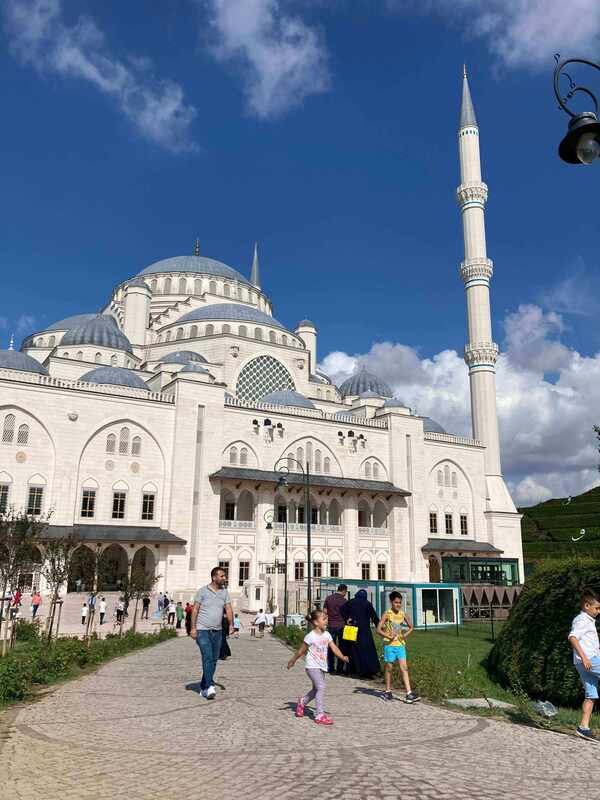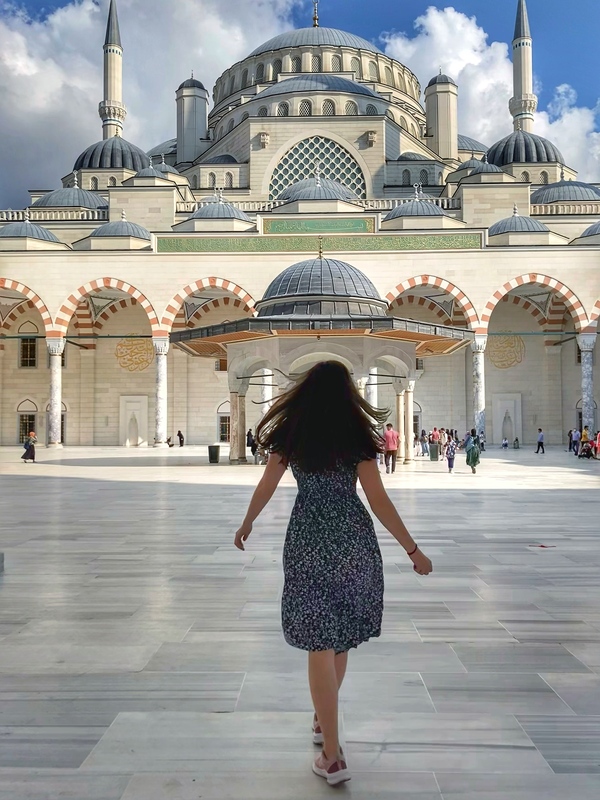 Whilst not as popular as the Hagia Sophia or the Blue Mosque, the Çamlıca Mosque should also be on the list of every visitor to Istanbul. Why is it not as popular you might be asking? Well, in our opinion this is due to the lack of history associated with the mosque having only been completed in 2019.
That doesn't make this particular mosque any less appealing, however, as it's officially the largest mosque in the entire country, capable of holding up to 63,000 worshippers. It's a spectacular feat of classical Ottoman architecture and certainly worth a visit.
8. Visit the Grand Bazaar and Spice Bazaar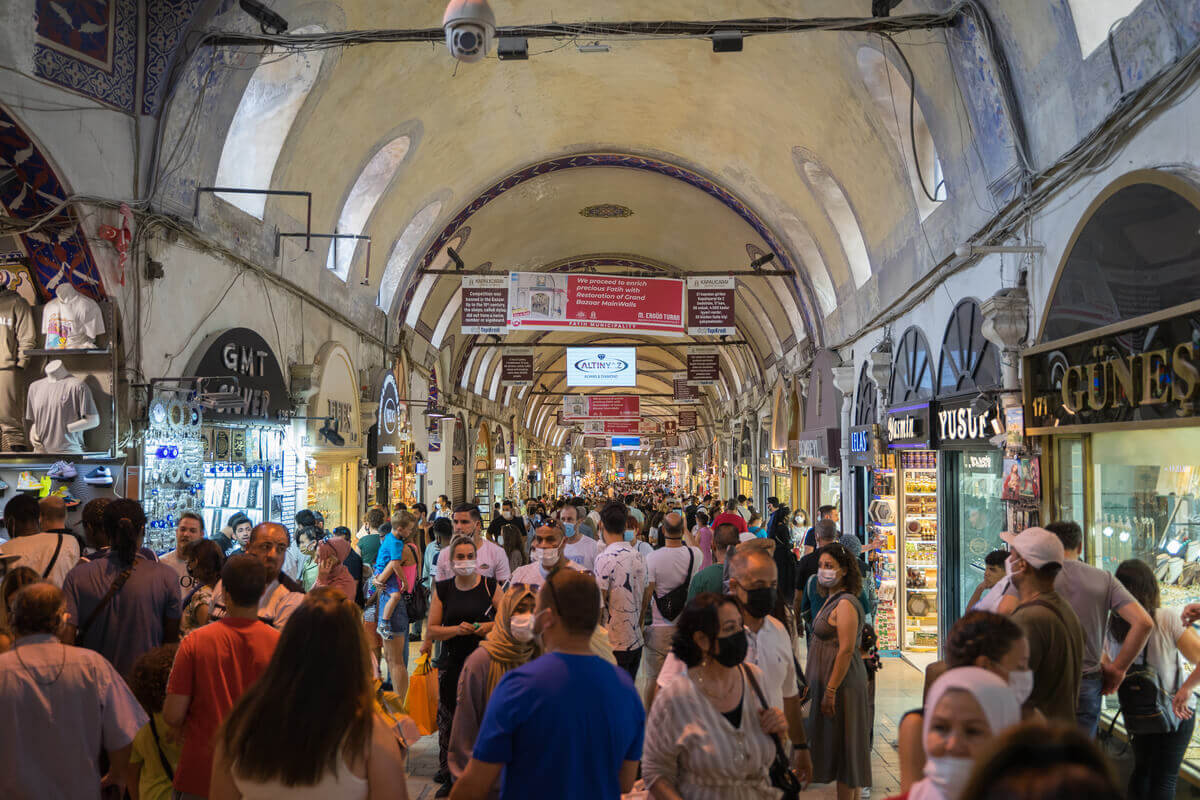 If you're a fan of markets then the Grand Bazaar simply has to be at the top of your list. Dating back over 500 years ago, the Grand Bazaar has been a permanent fixture of Istanbul's culture and is consider the oldest shopping mall in the world. It has an incredible 4,000 shops and stalls, all housed under a labyrinth of 61 covered streets.
The Spice Bazaar, or Mısır Çarşısı, as it's known in the Turkish language, is any budding chef's dream. As the name would suggest, there's a jaw-dropping array of spices for you to look at, smell, and purchase as well as a variety of other Turkish delicacies such as nuts, dried and candied fruits, cheeses, and of course, Turkish delight.
This is one of the best places in Istanbul to pick up some Turkish souvenirs.
9. Visit Beautiful Bebek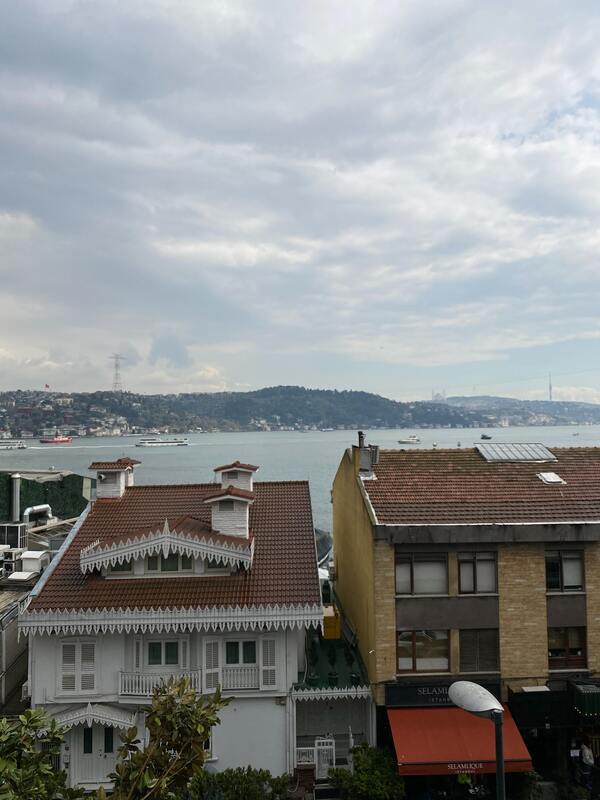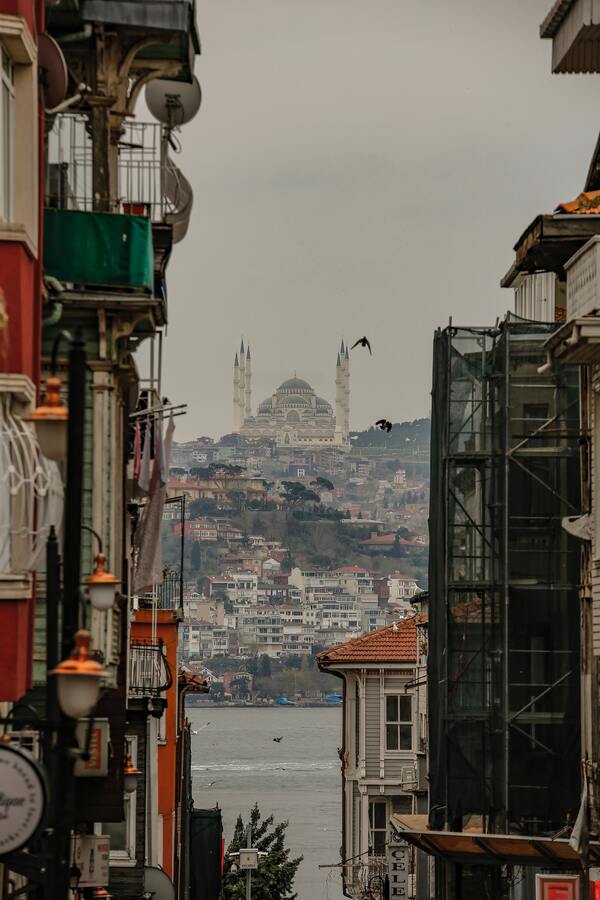 Perched right on the banks of the Bosphorus, Bebek is a stunningly beautiful neighborhood on Istanbul's European side and is an excellent way to make the most out of the Spring weather.
One of our favorite things to do here is to simply choose one of the chic local cafes and relax with Turkish tea or perhaps treat yourself to delicious homemade ice cream. Bebek is a favorite of the locals for a mini-getaway so don't be surprised to be one of the few tourists in this area.
10. Feast on a Food Tour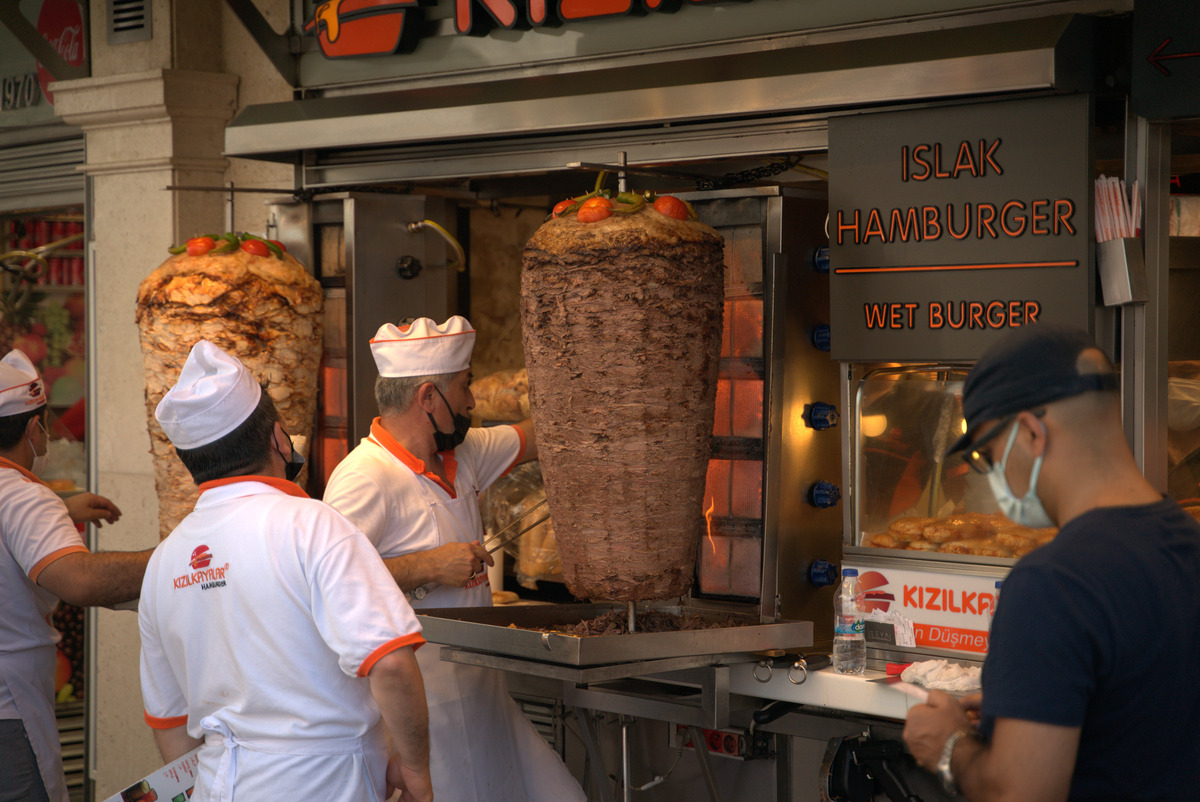 Istanbul, and indeed Turkey as a whole, is one of the best places in the world to visit if you're a massive foodie. That surely makes a food tour of Istanbul one of the must-do's when visiting, right? Well, in short, yes!
Pig out on a Pide, taste the most incredible grilled kofte and doner kebabs, share a lahmacun with your newly made friends, sample the tantalizing Turbot, and then wash it all down with a warm, sweet mint tea.
Istanbul is famous for its street food, and you simply cannot visit without trying some stuffed mussels, fish sandwiches or simit.
What a day!
---
Festivals and Events
If you happen to be visiting during the month of March and are looking for some events to go to, there is not a huge amount to choose from. Of course, there are industry-specific trade shows, and March Equinox falls on Monday, March 20, 2023 (though it's not really celebrated).
The most famous event in Istanbul in March is Ramadan, a religious holiday that entails a month-long fast. This doesn't interrupt daily life in Istanbul too much but you may see some attractions are closed or open at different times during this period.
Here's a short list of events for March.
Akbank Short Film Festival
The Akbank Short Film Festival is a popular event that has taken place annually since 2004. It showcases the work of up-and-coming filmmakers and budding cinematographers.
There are two main competitions, the National Competition, which is only for Turkish nationals, and then the International Competition where filmmakers from across the world are encouraged to submit their work.
The dates have not been confirmed for 2023 yet, however, 2022's festival took place between 21st March – 31st March.
The Turkish Athletics Championships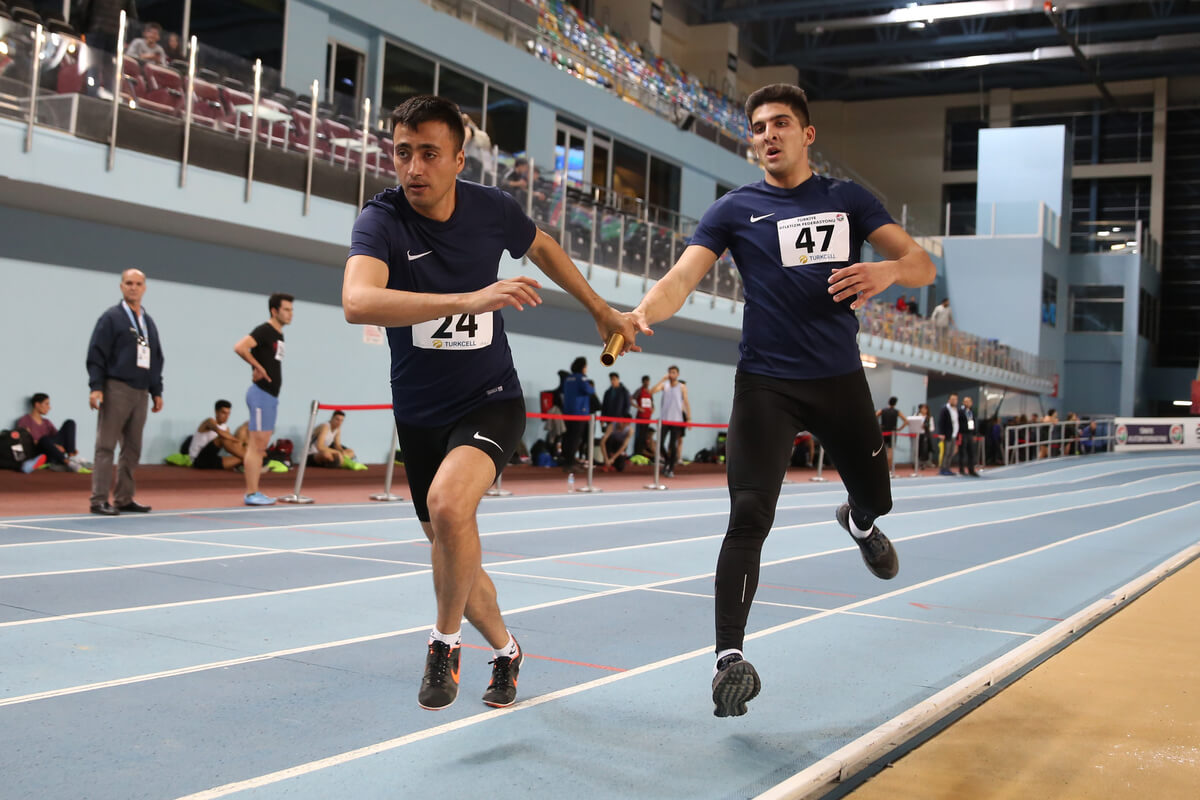 March is a great time to visit for sports fans, as it's the time of the Turkish Athletics Championships. The competition is an annual indoor and outdoor track and field competition, where you can see cross-country running, road running, and racewalking outside.
Inside the Ataköy Athletics Arena, you can watch track running, high jumps, long jumps, and various other athletic competitions.
It's organized by the Turkish Athletic Federation and has been running every year since 1922. Women have been allowed to compete since 1975, making it the last large European nation to allow women to compete in athletics championships.
There are 40 individual events as part of the Turkish Championship – 20 for men and 20 for women.
This event takes place from the 2nd to the 5th of March 2023. You can purchase tickets from the official website.
Istanbul Dance Festival
Each year, 4000 dancers share the stage at the Istanbul Dance Festival, making it one of the biggest dance festivals in the world. The festival is still quite young, having celebrated its 10th year in 2022.
Whether you want to take a class from one of the world's leading dancers or just break out some moves, it's the number one festival to visit for dancers.
The Istanbul Dance Festival runs from Tuesday 21st March 2023 – Sunday 26th March 2023.
Ramadan
Ramadan is a religious holiday in Islam and is held on the ninth month of the Islamic calendar. It is a month of fasting, prayer, giving, and self-evaluation.
The holiday is supposed to help Muslims strengthen their connection with Allah and is a time for self-reflection.
The month lasts for 29-30 days depending on the position of the crescent moon. In 2023, it runs from the 22nd of March until the 20th of April but will change each year.
Istanbul during Ramadan is a special time to visit, but those visiting on the first day and last three days in April (Eid al-Fitr) should expect some museums and attractions to close and busier crowds.
---
Pros and Cons of Visiting Istanbul in March
In our opinion, Istanbul is one of the best cities in the world. It has so much to offer in any month of the year. If you're still not sure if Istanbul is worth visiting in March, here's a breakdown of the pros and cons.
Pros
Fewer tourists on the streets which could mean cheaper hotels.
Potentially cheaper flights.
Attractions will be much quieter than in the summer months.
March is the start of Spring which brings slightly warmer temperatures.
Longer and sunnier days mean you can make the most of your trip.
Cons
Bars and restaurants in certain locations could be very quiet.
Being March, it can still be very chilly and wet.
It tends to snow in March which could be hazardous for elderly visitors.
---
Where To Stay in Istanbul in March
One thing to consider about visiting Istanbul in March is that some hotels may not be open, since it's the off-season. However, there are always places to stay in Istanbul and here are just a few places we recommend.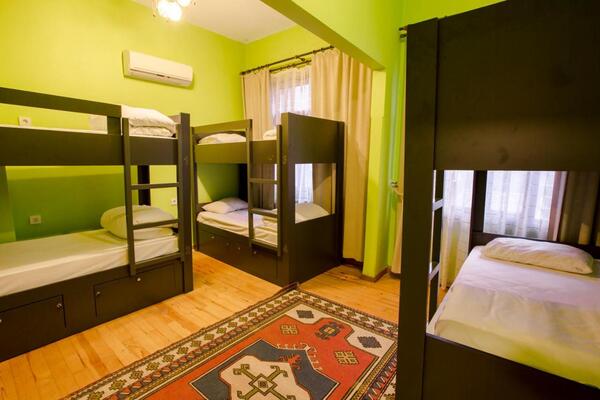 Best Hostel in Istanbul – Cheers Hostel
Cheers Hostel is the best-located hostel in Istanbul, nestled behind the Hagia Sophia and the Blue Mosque. It offers comfortable, individually styled rooms and dorms, with spacious shared bathrooms. The terrace bar and restaurant serve up kebabs and international cuisine for those who don't want to venture far for food and have wonderful views of Istanbul's Old Town.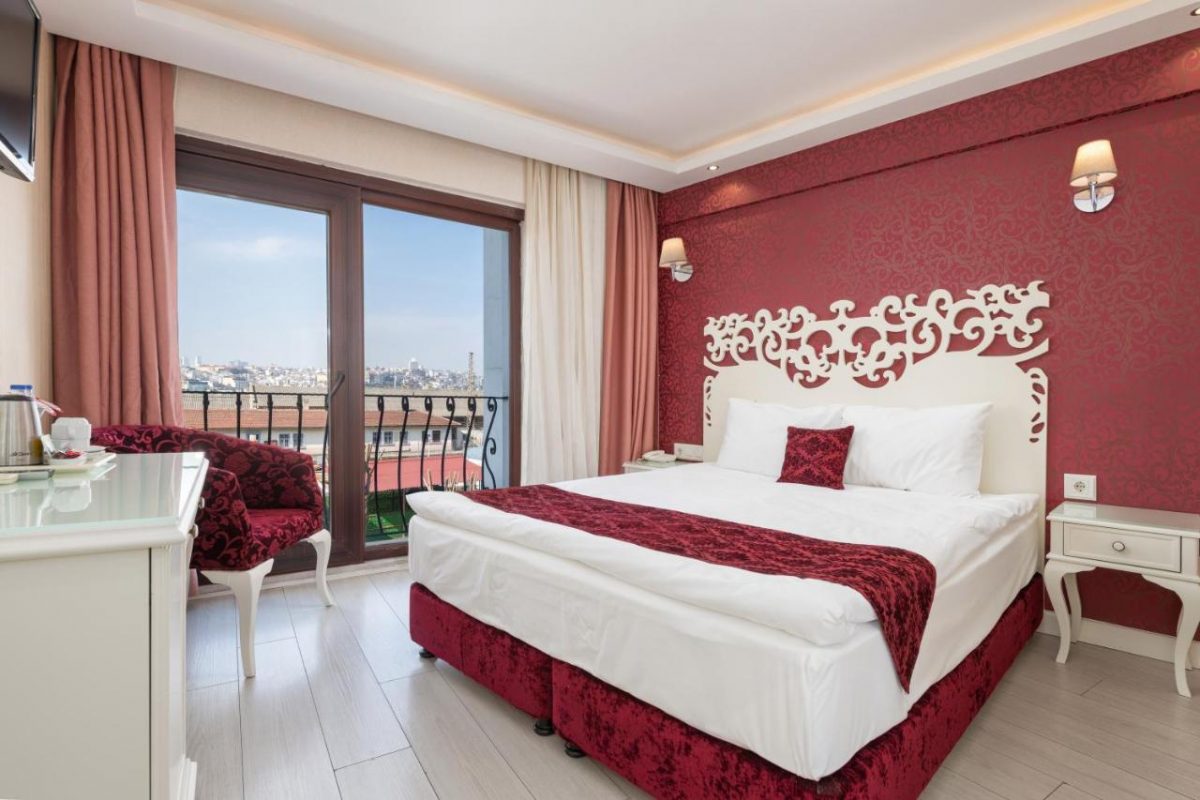 Best Mid-Range Hotel in Istanbul – Dream Bosphorus Hotel
If you're looking for a mid-range hotel in a great neighborhood, then Dream Bosphorus hotel is the ideal choice. It's located in the heart of Old Istanbul, in the Sirkeci area. Each room has been individually styled in traditional Turkish decor and comes with a private bathroom and 24-hour room service. Some rooms have views of the Golden Horn. Each morning a daily breakfast buffet is served and the Dream Café offers soft drinks and snacks throughout the day. Each afternoon, it's worth returning for free cakes and cookies.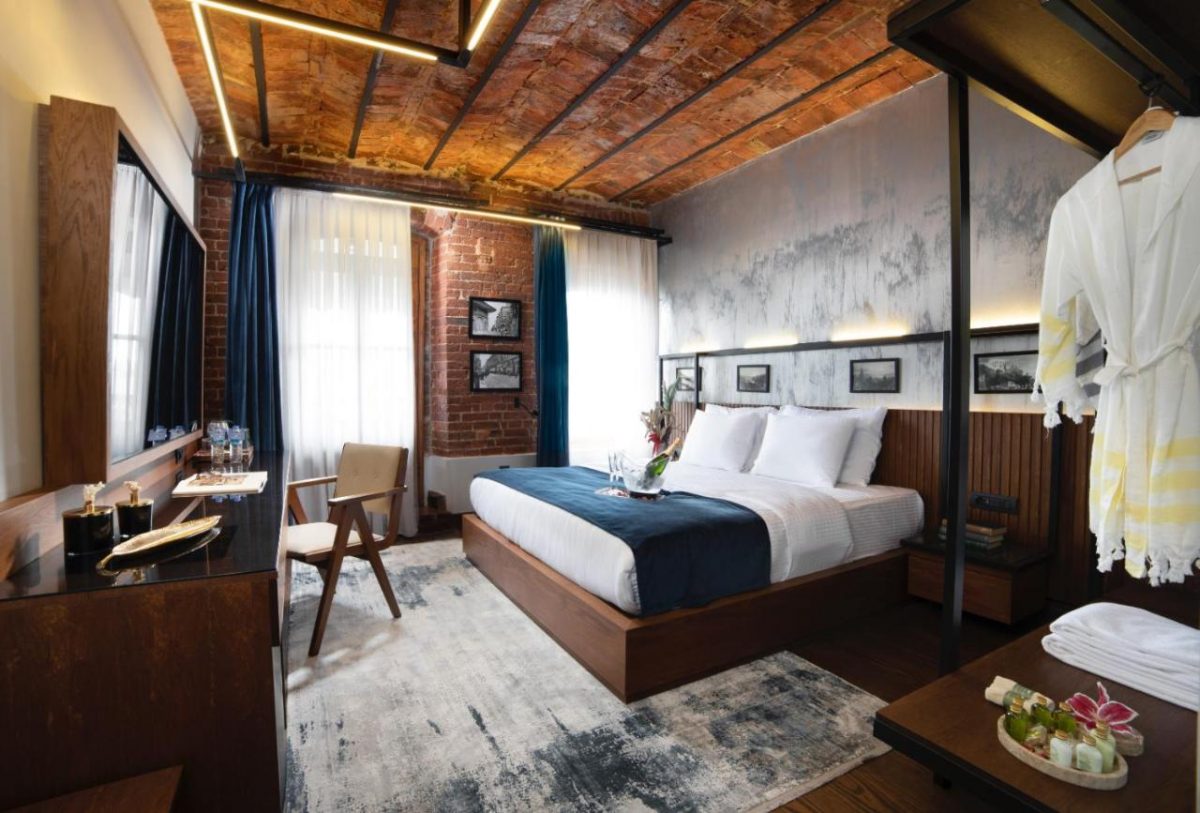 Best Luxury Hotel in Istanbul – Hotel DeCamondo Galata
Located on the riverfront in Kadikoy, the Hotel DeCamondo is the ideal place to stay for a luxury getaway. It has a stunning bar and terrace as well as an onsite restaurant and car rentals. Each morning, a continental or a la carte breakfast is offered, and when it comes to exploring, the hotel can help organize your tours and car rentals.
---
Tips for Visiting Istanbul in March
If you do decide to visit Istanbul in March, here are a few tips to make your experience more enjoyable.
Bring warm clothing you can wear in layers. It's cold and wet this time of year, but some days may feel warm. Pack warm clothing that you can wear in layers so you can take it off when the sun is warm.
Pack a headscarf if you're a woman. You will need a scarf to cover your hair when entering a mosque. You also need your knees and shoulders covered, which shouldn't be a problem if visiting in the winter.
Carry an umbrella and waterproof clothing. You'll likely encounter rain this time of year, so come prepared.
Carry cash for the markets. Many shops still don't accept cards.
Are you reading this from Turkey? Maybe you need a VPN!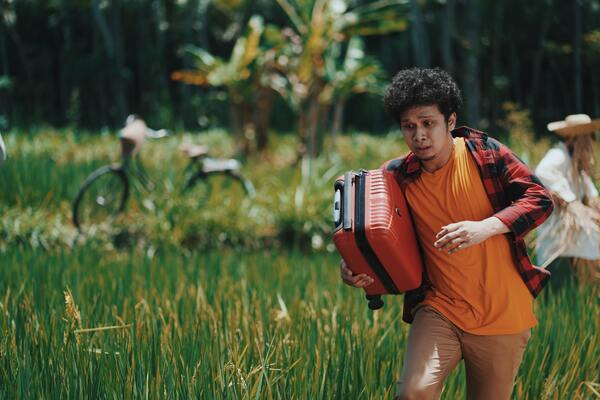 If you're already in Turkey, there is one thing you absolutely NEED: a reliable VPN.
You may find some of your favorite websites and apps are blocked in Turkey, such as popular hotel site booking.com
A VPN allows you to get passed this ruling and enables you to browse these sites without any hassle, and it's completely legal.
We use Express VPN when we're in Turkey and we'd recommend it to anyone. It's affordable, quick, and easy to use.
---
FAQs About Istanbul in March
Here's what people usually ask us about visiting Istanbul in March…
Does it snow in Istanbul in March?
Snow starts to fall sometime in December and can snow until March, but it usually clears up before March hits. It could snow, but it's unlikely.
Is it good to visit Istanbul in March?
Yes, March is a good time to visit Istanbul. It's less busy, and the iconic attractions are still open. Plus the weather is starting to warm up after the winter.
Is Istanbul too cold in March?
March is the beginning of spring in Istanbul and temperatures are quite mild. Some days are cold, and others are warm. It is quite a comfortable temperature this time of year.
---
Before You Go
So there you have it, this is everything you need to know about visiting Istanbul in March. As you can see, there is no reason not to visit Istanbul this time of year – the weather may have a few wet days, but the temperatures are starting to heat up.
The good news is, it's still quiet this time of year so you won't need to wait in queues for attractions. Plus, the Atheletics Championship is certainly a unique event to witness.
If you have any more questions about visiting Istanbul in March, let us know in the comments!