Are you thinking of visiting Istanbul in May and wondering what it will be like? Istanbul is a vibrant city with so much to see and do, and with Spring season well in force, you might just be thinking of Istanbul as your Spring-time vacation.
But the question remains, is May a good time to visit Istanbul? Yes, it is. May is still considered the shoulder season in Istanbul and so you benefit from fewer crowds and sunnier weather.
But was is Istanbul in May like? This complete guide will reveal everything you need to know!
Planning a trip to Istanbul last-minute?
Make sure you book your tours, places to stay, and airport transfers ahead of time to ensure availability!
Here is our recommended airport transfer in Istanbul:
Here are our recommended tours in Istanbul:
Here are our recommended places to stay in Istanbul:
Magnuara Palace Hotel (Gorgeous hotel in the historic centre!)
Cheers Hostel (Budget hostel near the Blue Mosque!)
---
Istanbul Weather in May
May is undoubtedly one of the best months to visit the city of Istanbul. The rains of spring are slowly dissipating, making way for clear sunny skies and warm temperatures, and it's still just outside of peak season meaning you can usually benefit from a quieter city.
Temperatures in Istanbul during May are very pleasant. Winter jackets can be left at home as the daily average temperature for the city is 16C (60.8F) – a much higher average than the first four months of the year.
If you're lucky, you might even benefit from warm temperatures in the low 20s. Jumpers will almost certainly come in handy though, as overnight, temperatures can drop to 12C (53.6F).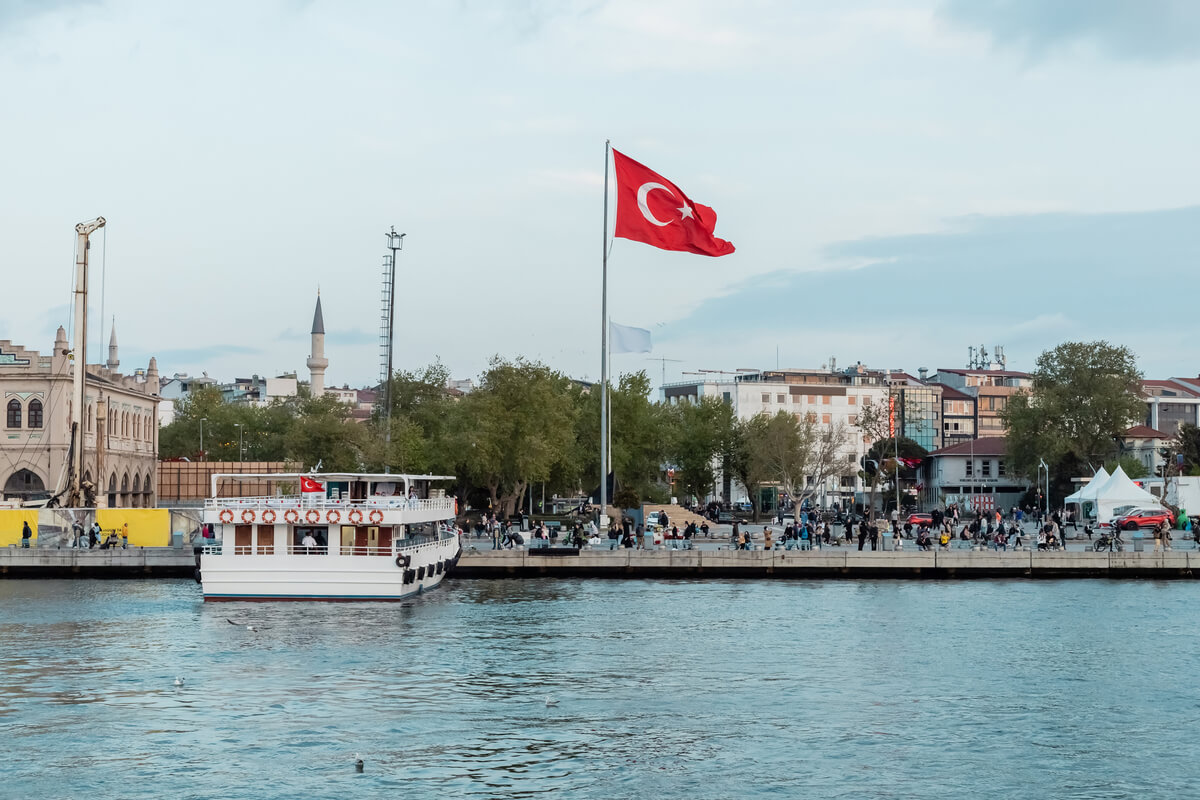 Rain can be one of the biggest downers if you're away on holiday. Luckily, May is the first month of the year that rainfall averages drop.
Only 9 days of the month see rainfall; even this is a reduced amount – 40mm compared to April. In true tropical fashion, this will likely come in short bursts, meaning you can dive into a quaint café in the city for Turkish tea before coming back out to brilliant blue skies. Done like a true Istanbulite!
The cold winds have also slowed down with average wind speeds in May topping out at about 8.8mph which, surprisingly, is the calmest month of the year. Thanks to sharing borders with two seas, Istanbul is a windy city so whilst the winds never truly disappear, May is likely to be the best month for the winds.
With spring coming to a sunny close, Istanbul braces itself for what is always a hot summer season. In May, the days are getting longer and longer, reaching almost 15 hours of daylight towards the end of the month. On average, 9 of those hours will be sunlight so you should certainly be bringing sun cream with you.
Sunrises in May are very early, with the beginning of the month seeing the first rays of sunlight at about 6 am and at the end of the month about half an hour earlier at 5:30 am. After a long day of sunny sightseeing, the sun sets between 8.00 pm on the 1st of May and 8.29 pm on the 31st.
| Istanbul Weather in May | Averages |
| --- | --- |
| Temperature (Day) | 16°C (60.8°F) |
| Temperature (Night) | 12°C (53.6°F) |
| Number of Rainy Days | 9 |
| Rainfall (mm) | 40 |
| Wind Speed (miles per hour) | 8.8 |
| Daylight Hours | 14 |
| Humidity | 68% |
Source: Holiday Weather
---
Top Things to Do In Istanbul During May
So, you may have picked one of the best months to visit this wonderful city. Full of life and with the sun finally shining more often than not, there's an incredible amount to do in Istanbul. Here are our top 10 things to do in May…
1. Visit the Hagia Sophia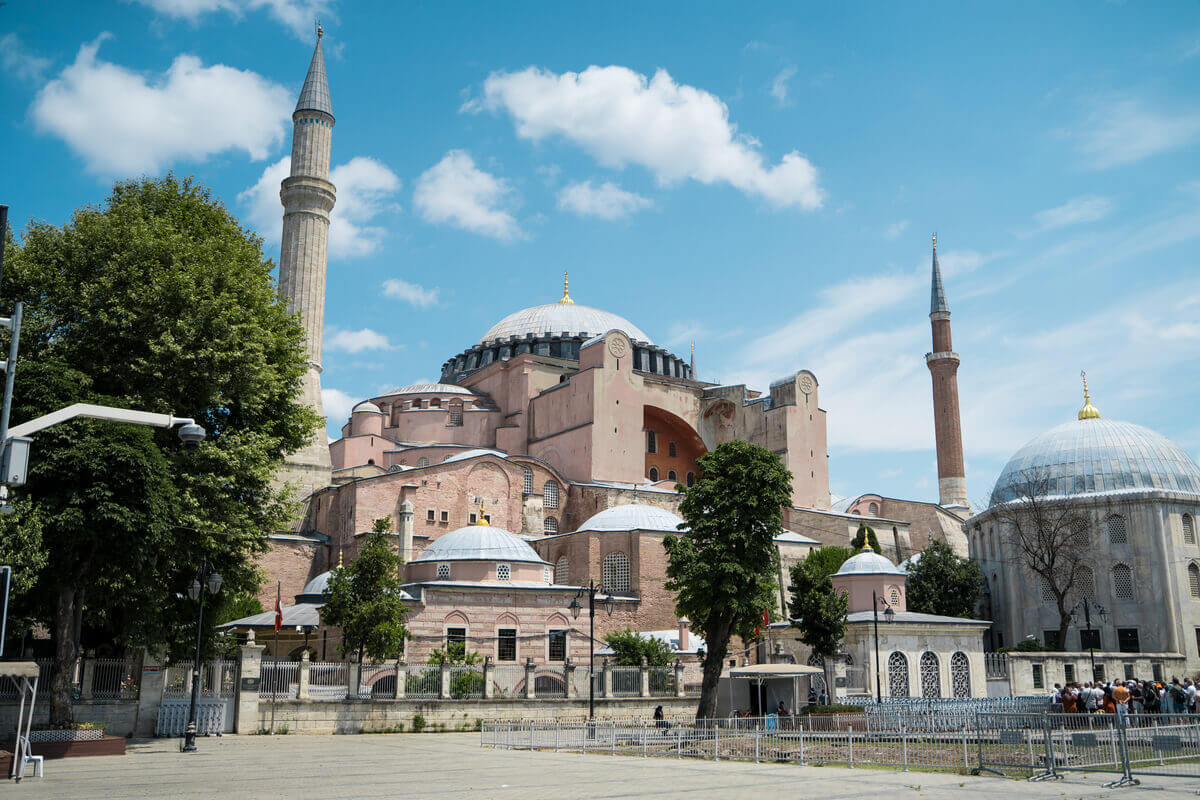 Naturally, no trip to Istanbul is complete without a visit to the iconic Hagia Sophia. This marvelous feat of architectural competence is one of, if not the, most important buildings in the entire country.
Roman Emperor Justinian I was ruling at the time of construction and was originally built as a Greek Orthodox Church. Widely considered the greatest Byzantine structure ever made, it was eventually converted into a Mosque following the Ottoman's takeover of Constantinople.
2. Marvel At the Blue Mosque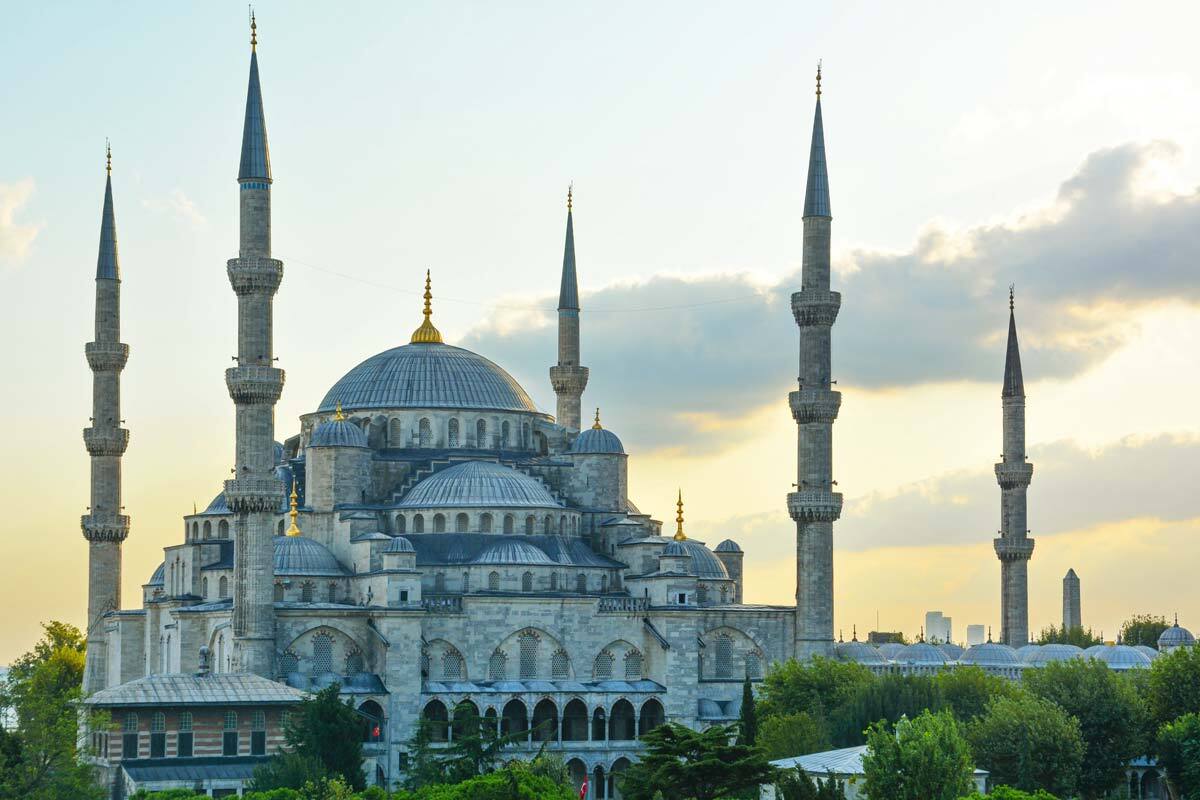 The Blue Mosque is arguably one of the most beautiful places in the entire city. Shrouded in history, the Mosque got its iconic name from the intricate blue Iznik tiles that are on the interior.
Photos simply don't do this Mosque any justice and is an absolute must if visiting Istanbul. Being one of Istanbul's main attractions, it's usually always teeming with tourists so go early in the morning to avoid the crowds.
3. Set Your Alarm and Go to Ortakoy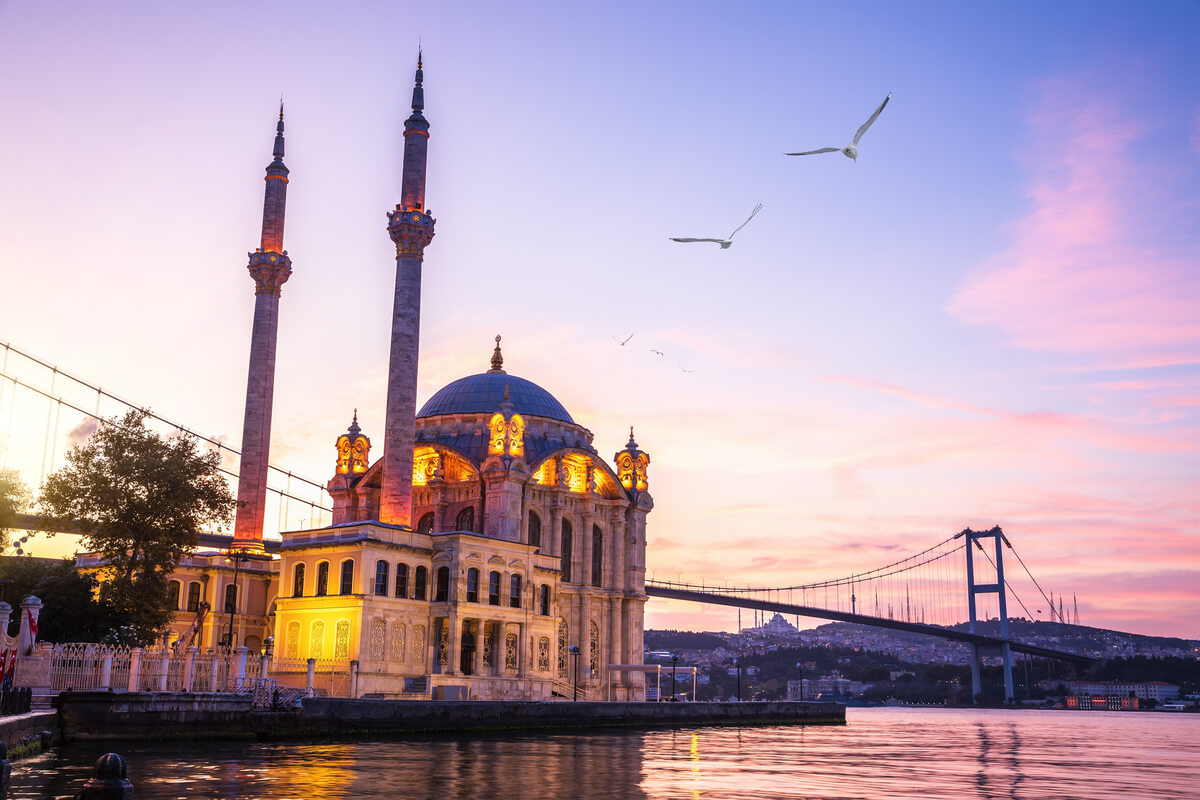 Fish is a hugely popular staple in Istanbul thanks to the city's close prominence to two seas. If you love a fresh catch of the day, set your alarm early and head down to Ortakoy's seafront.
You'll be able to witness the hard-working Turkish fishermen set off for the day and if you're lucky, get to see them unload their boats full to the brim with the freshest of fish. The little streets around this part of town are a hotspot for cafes where you can grab yourself some breakfast by the water's edge. This makes for a unique morning in a very unique setting.
4. Pamper Yourself with A Turkish Hammam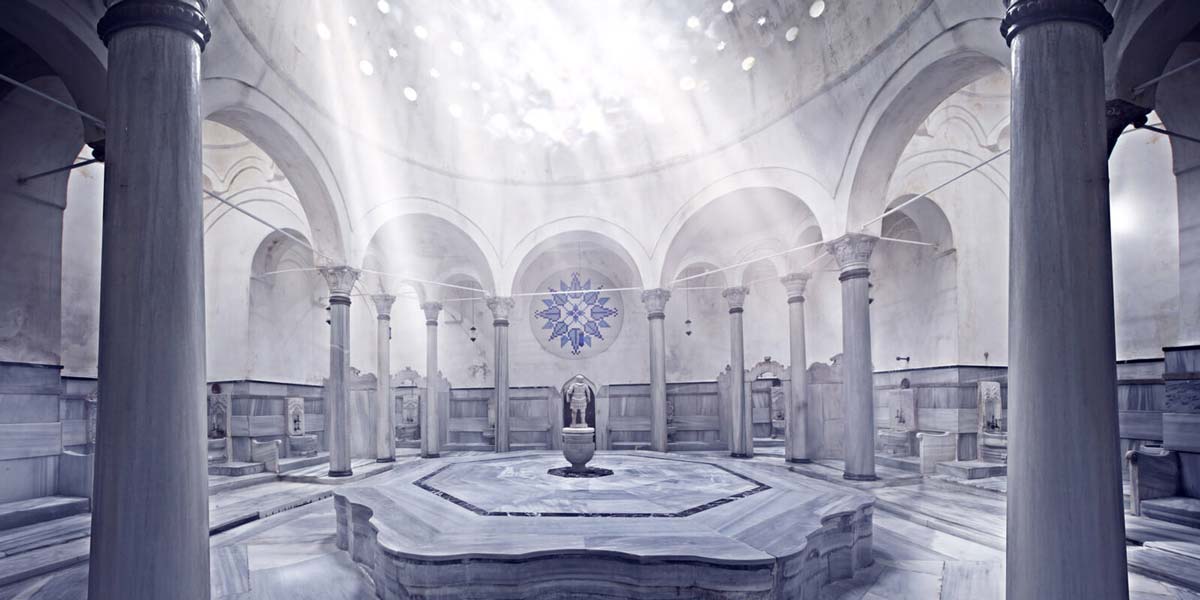 If you're feeling a little dreary-eyed and worn out from exploring Istanbul all day, then why not treat your tired legs and body to a traditional Turkish hammam?
These bathhouses have stood the test of time and even in today's modern, busy world, there's still a place for the hammam in Istanbul. Steam rooms rejuvenate your skin, clearing the days (or weeks) toxins from your body. Massages are available too if you want them meaning you can end your day feeling reborn.
5. Get Panoramic Views from the Galata Tower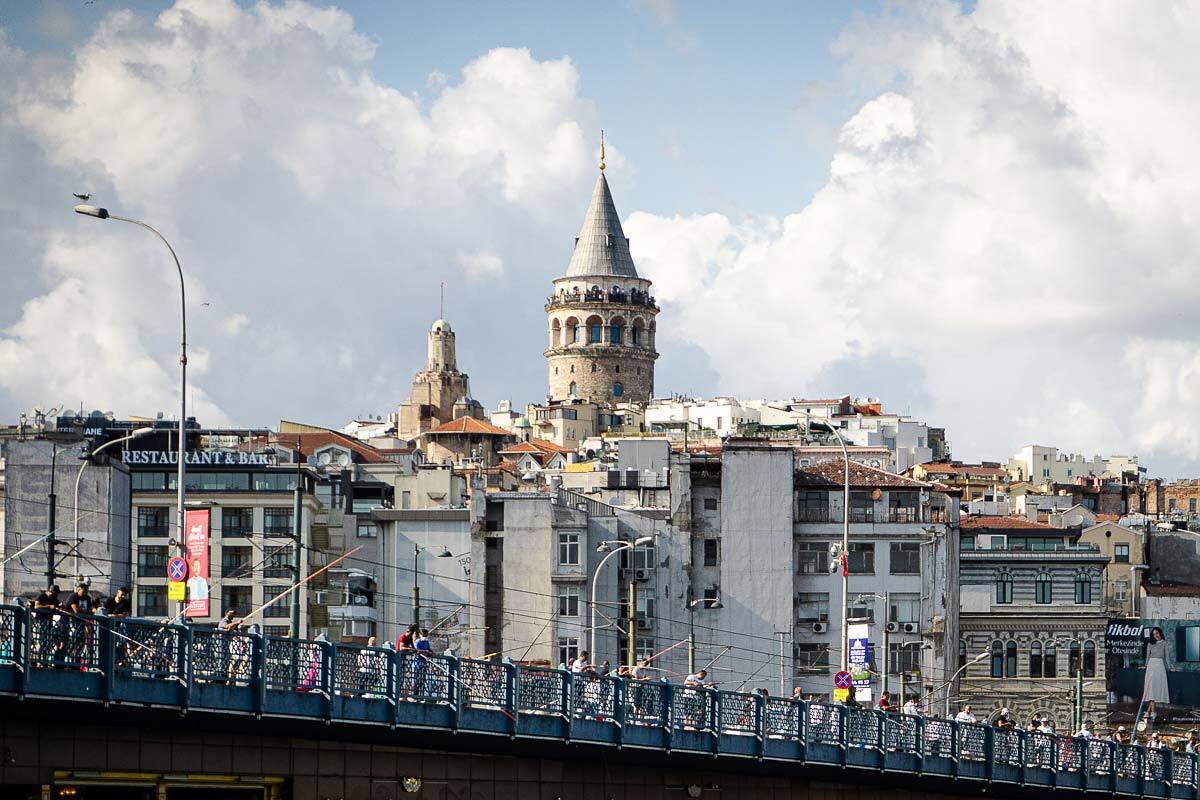 Now that May has arrived, you should be treated to beautifully sunny days. Why not make the most of these clear blue skies and head up to the top of the Galata Tower for panoramic views of the city and the surrounding districts?
Named after the area it is located, the Tower has been one of the iconic figures of the city's skyline ever since its construction in 508 AD. Once you're done with the Tower itself, Galata is a lovely district for you to explore. Perhaps get some lunch down the famous Istiklal Street, or grab an afternoon mint or apple tea in one of the many cafes that line the streets.
6. Feast on Street Food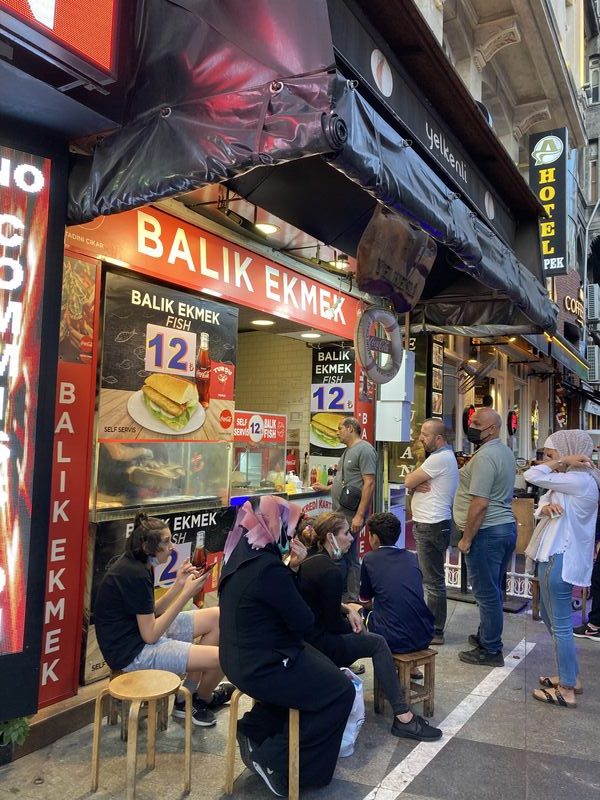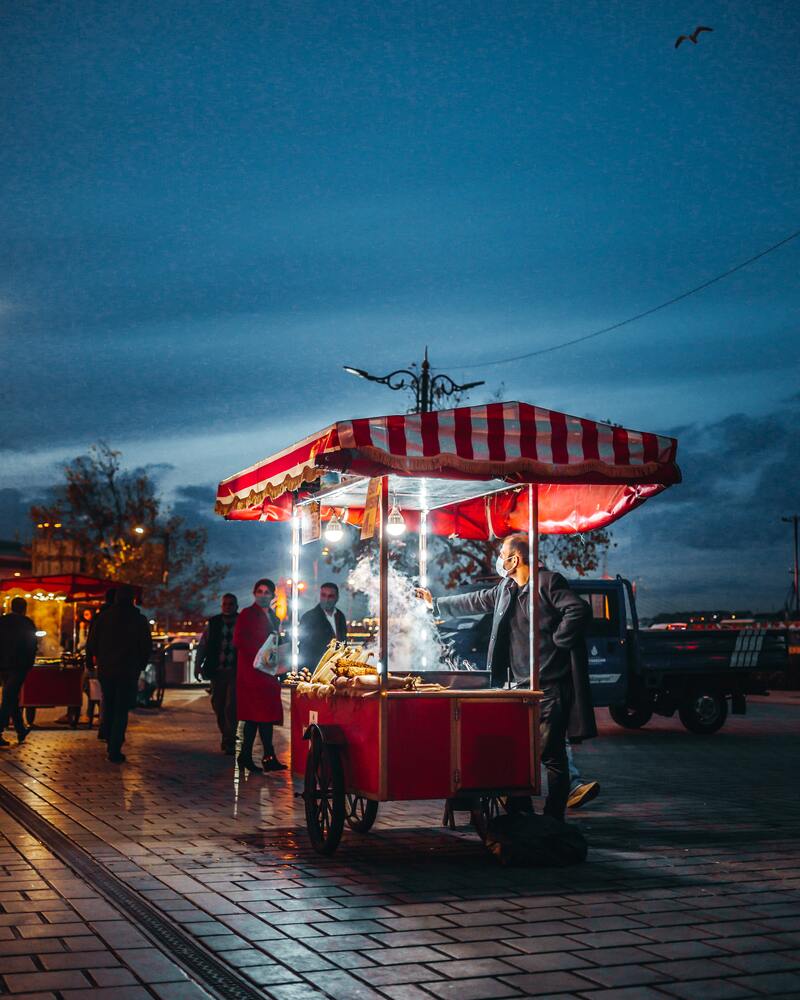 If you're a self-confessed food lover, Istanbul is one of the best places you can visit in Europe for street food. It's quite literally food heaven. Turkish culture is heavily influenced by food and the feel-good, family vibe it brings.
On the street, things are no different. Everywhere you walk in the city, there are stalls selling all kinds of Turkish delights for you to sample. Kebabs, Turkish pizzas, freshly baked bread, and sweet treats like baklava and lokma are all on offer.
7. Explore the Basilica Cistern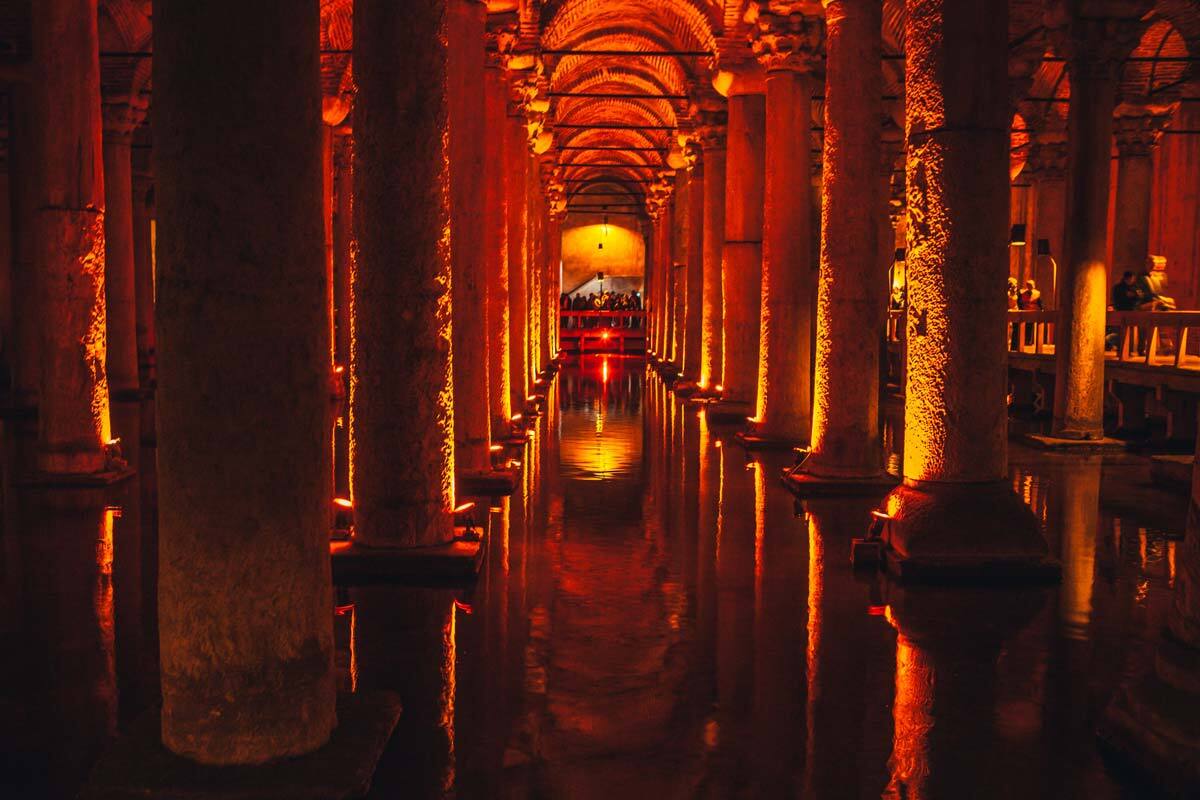 Conveniently located right near the Hagia Sophia is the magnificent Basilica Cistern. If you happen to wake up to rain showers, fear not, as the Basilica Cistern is deep underneath the city.
One of many medieval cisterns, the Romans built these underground chambers to provide a unique water filtration system to the area. Water slowly drip-dropping from the ceiling together with eerie lighting and its staggering 336 columns make you feel like you've been transported back to when the Romans ruled the roost.
8. Visit the Grand Bazaar and Spice Bazaar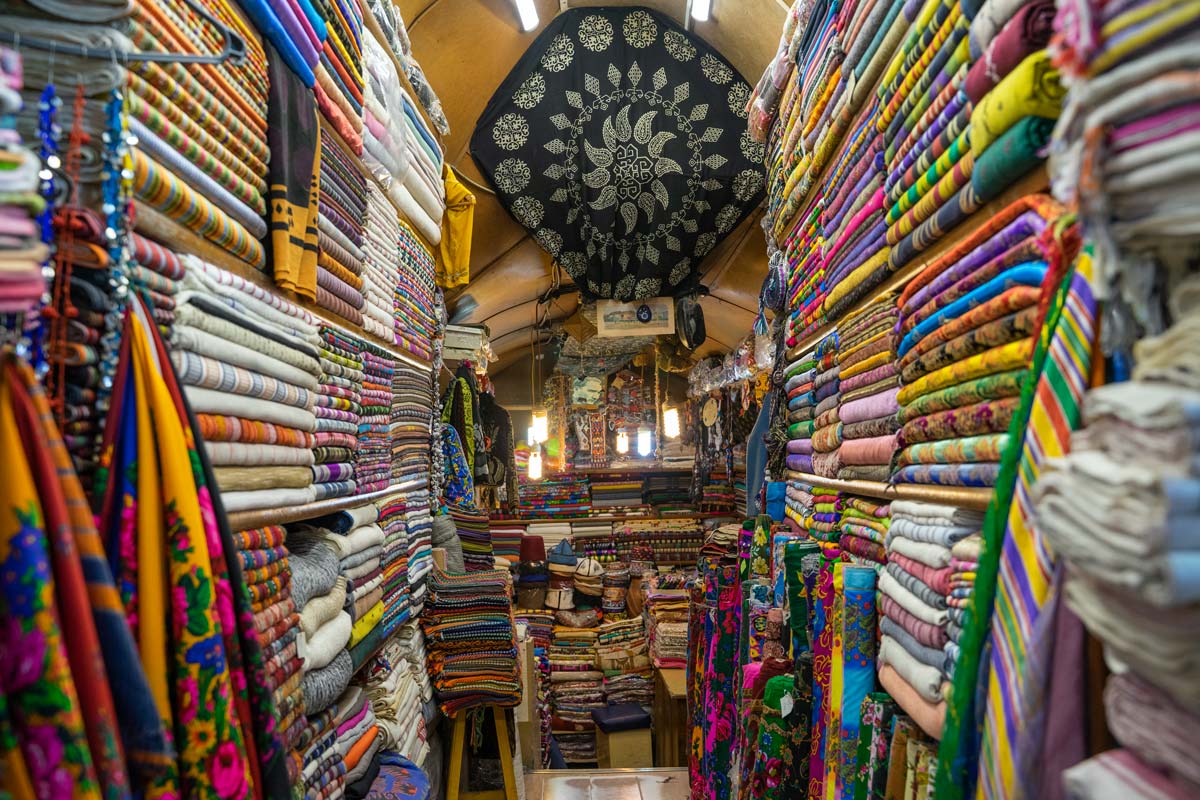 Istanbul's Grand Bazaar is one of the world's oldest and largest covered markets. Around 4000 shops and stalls occupy 60 streets and alleys, giving you effectively a shopper's paradise. Haggling is a way of life in Istanbul and the wider region so don't be afraid to give it a go. You might be surprised at how much cheaper you can get things for.
For the foodies, the Spice Bazaar is equally as famous and you'll find all kinds of spices and things to snack on such as dried fruits, nuts, and of course, the famous Turkish delight. These two bazaars are the perfect places to pick up some Turkish souvenirs to take home!
9. Visit the Turkish and Islamic Arts Museum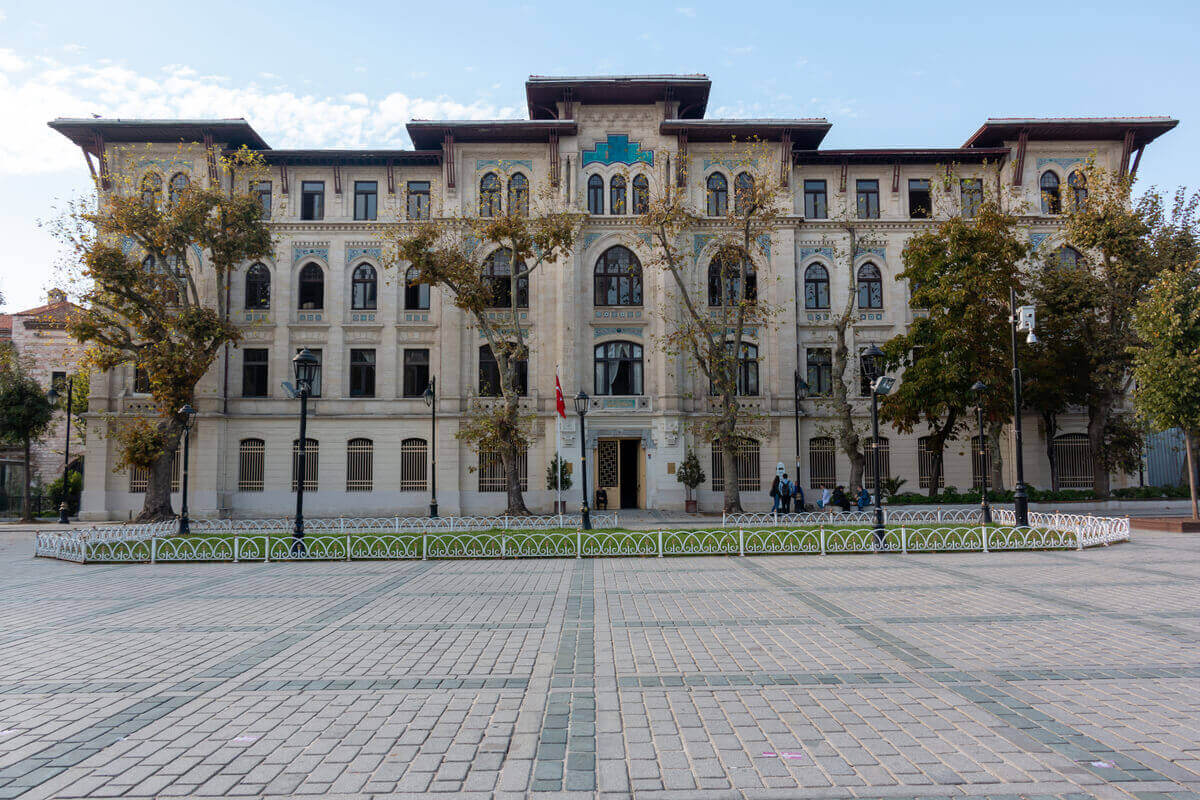 Based right in the historical part of the city is Sultanahmet Square. Here is where you'll find pretty much all of the absolute must-see and do things in the city. One that might not be on everyone's list though, is the Turkish and Islamic Arts Museum. If you're a fan of museums then this is one Istanbul museum not to miss.
It has an unbelievably impressive collection of Islamic calligraphy, ancient tiles, and rugs dating back hundreds of years as well as fascinating insights into ancient Turkish history. Oh, and it's also inside the former palace of Suleiman the Magnificent's head of government Ibrahim Pasha which dates back to 1524.
10. Watch A Turkish Football Game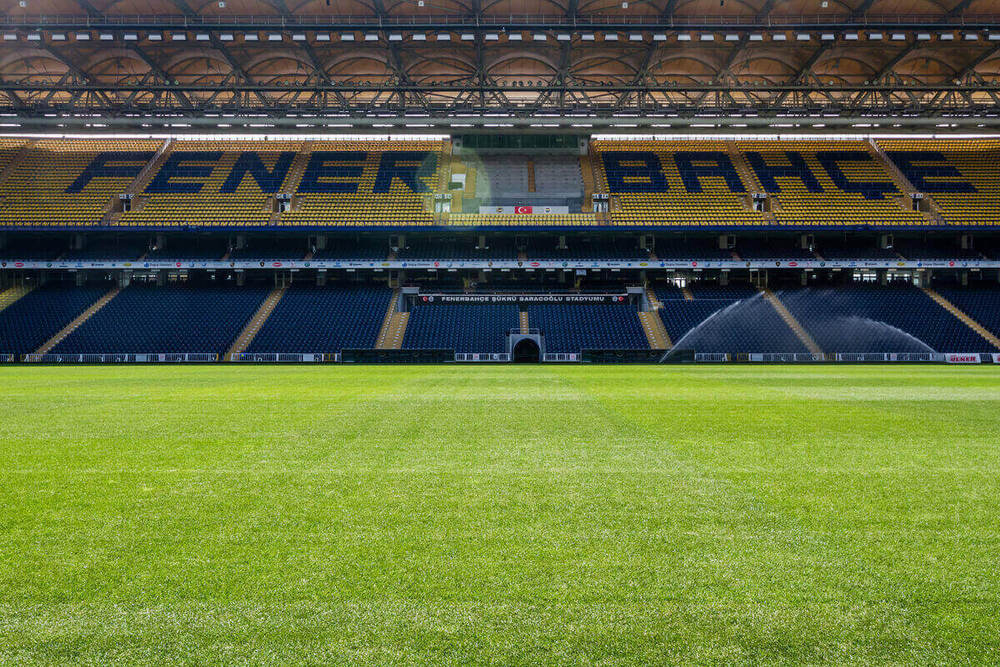 Football is a serious business in Turkey and every team in its football pyramid is followed religiously. Istanbul is home to what's collectively known as the 'Big Three', Besiktas, Fenerbahce, and Galatasaray.
If your trip coincides with a game hosted in Istanbul, why not get some tickets and go and watch a game? It'll be an experience you won't forget, particularly if you're a fan of football.
---
Festivals and Events
May is the very start of the busy summer season for Istanbul. As a result, festivals and events are more frequent. Here's a list of the currently scheduled events for May 2023.
May 1st – Labor and Solidarity Day
Dating back to the start of the twentieth century, when the Ottomans still ruled the land, tobacco and cotton workers were the first workers to recognize this day as a day to fight injustice and inequality. Since then, it's become an important day for the Turkish people and every year on May the 1st, workers across the country use this public holiday to rally and protest for what they believe in.
May 5th & 6th – Hidirellez Festival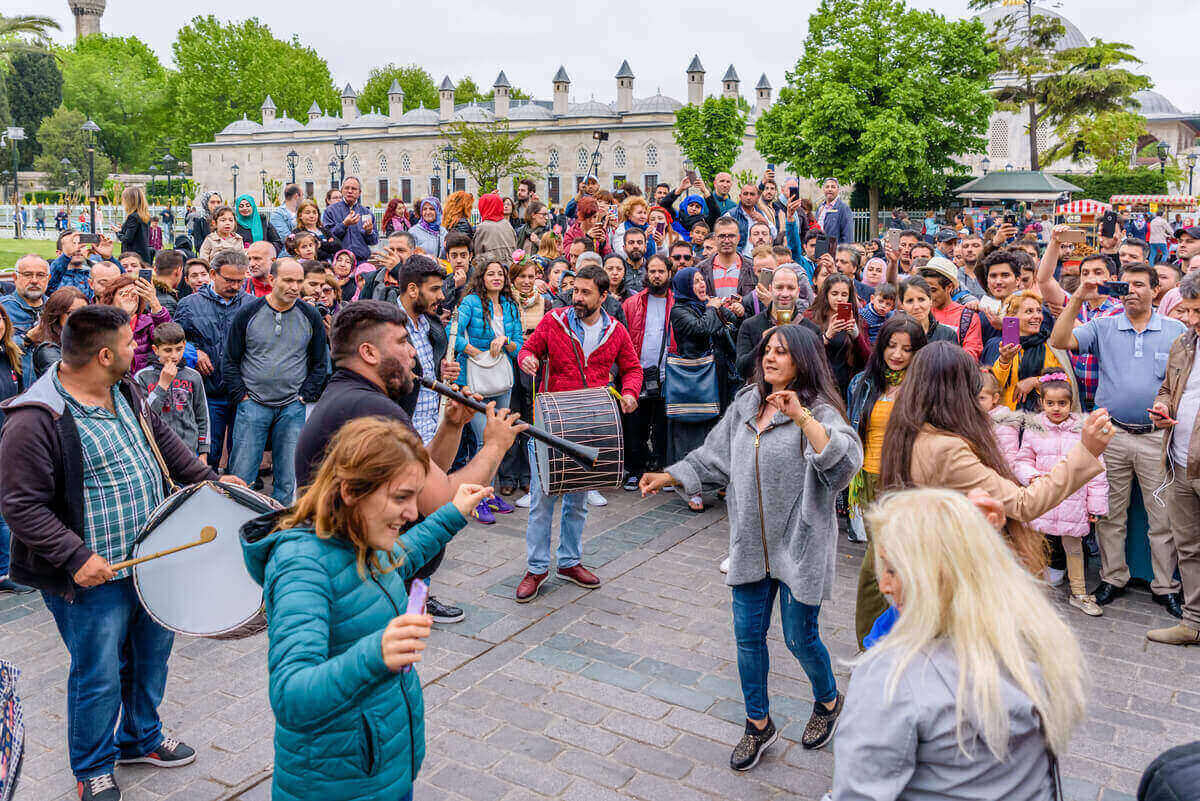 Hidirellez festival is the celebration of the arrival of Spring. It's a folk holiday and is celebrated with street dances, music, and festivities.
In Islam, it is the day on which the Prophets Al-Khidr and Elijah met on Earth. Celebrations are always performed in green, wooded places and near water sources; so expect lots of celebrations in Sultanahmet around the Hagia Sophia and Blue Mosque.
Locals usually eat fresh spring plants and lamb meat, as they believe that eating the first lamb of Spring gives good health and cures the sick. It is one of the most unique celebrations in Turkey!
May 19th – Commemoration of Ataturk, Youth & Sports Day
Another annual public holiday, May 19th celebrates and commemorates Mustafa Kemal Ataturk. The founding father of the Turkish Republic, Ataturk began an uprising shortly after the decision was made to divide up the Ottoman Empire's territories.
It's been a national holiday since 1938 and young, aspiring Turkish athletes carry the national flag from Ataturk's point of landing at Samsun to the capital of Ankara where the president takes the flag.
---
Pros and Cons of Visiting Istanbul in May
In our opinion, Istanbul is one of the best cities in the world. It has so much to offer in any month of the year. If you're still not sure if Istanbul is worth visiting in May, here's a breakdown of the pros and cons.
Pros
May is the start of summer so expect plenty of warm, sunny days.
Days are longer in the summer so you can get the most out of each day of your trip.
Because of the lovely weather, al fresco dining becomes a staple of the city's culture.
Still slightly out of peak season so hotels and flights could be cheaper.
Cons
Some days in May could be very hot so if you're not a fan of extreme heat, summer months are best avoided.
May is the start of the summer season so attractions will be much busier.
Flights and hotels will certainly start to rise in price from May onwards.
---
Where To Stay in Istanbul in May
One good thing about visiting Istanbul in May is that it's the shoulder season, so you can expect cheaper prices!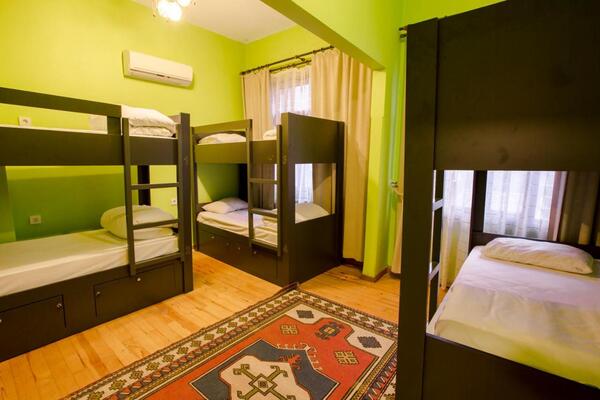 Best Hostel in Istanbul – Cheers Hostel
Cheers Hostel is the best-located hostel in Istanbul, nestled behind the Hagia Sophia and the Blue Mosque. It offers comfortable, individually styled rooms and dorms, with spacious shared bathrooms. The terrace bar and restaurant serve up kebabs and international cuisine for those who don't want to venture far for food and have wonderful views of Istanbul's Old Town.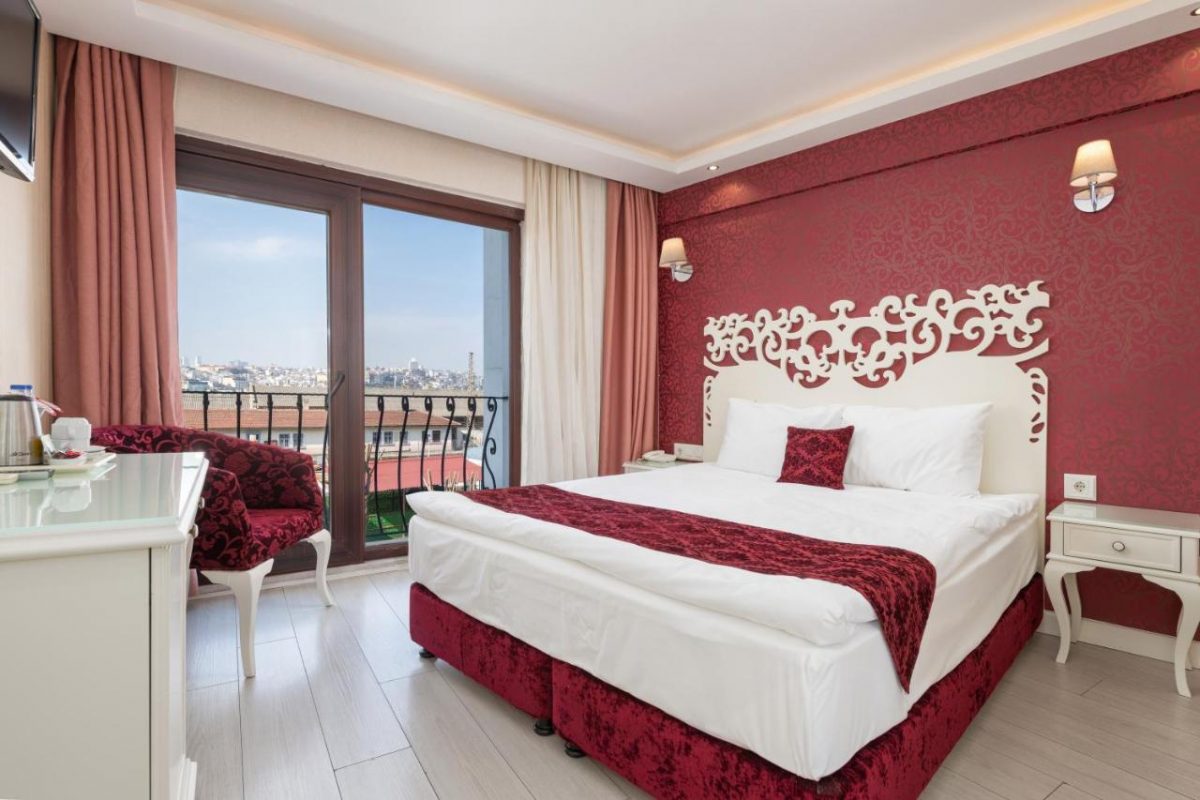 Best Mid-Range Hotel in Istanbul – Dream Bosphorus Hotel
If you're looking for a mid-range hotel in a great neighborhood, then Dream Bosphorus hotel is the ideal choice. It's located in the heart of Old Istanbul, in the Sirkeci area. Each room has been individually styled in traditional Turkish decor and comes with a private bathroom and 24-hour room service. Some rooms have views of the Golden Horn. Each morning a daily breakfast buffet is served and the Dream Café offers soft drinks and snacks throughout the day. Each afternoon, it's worth returning for free cakes and cookies.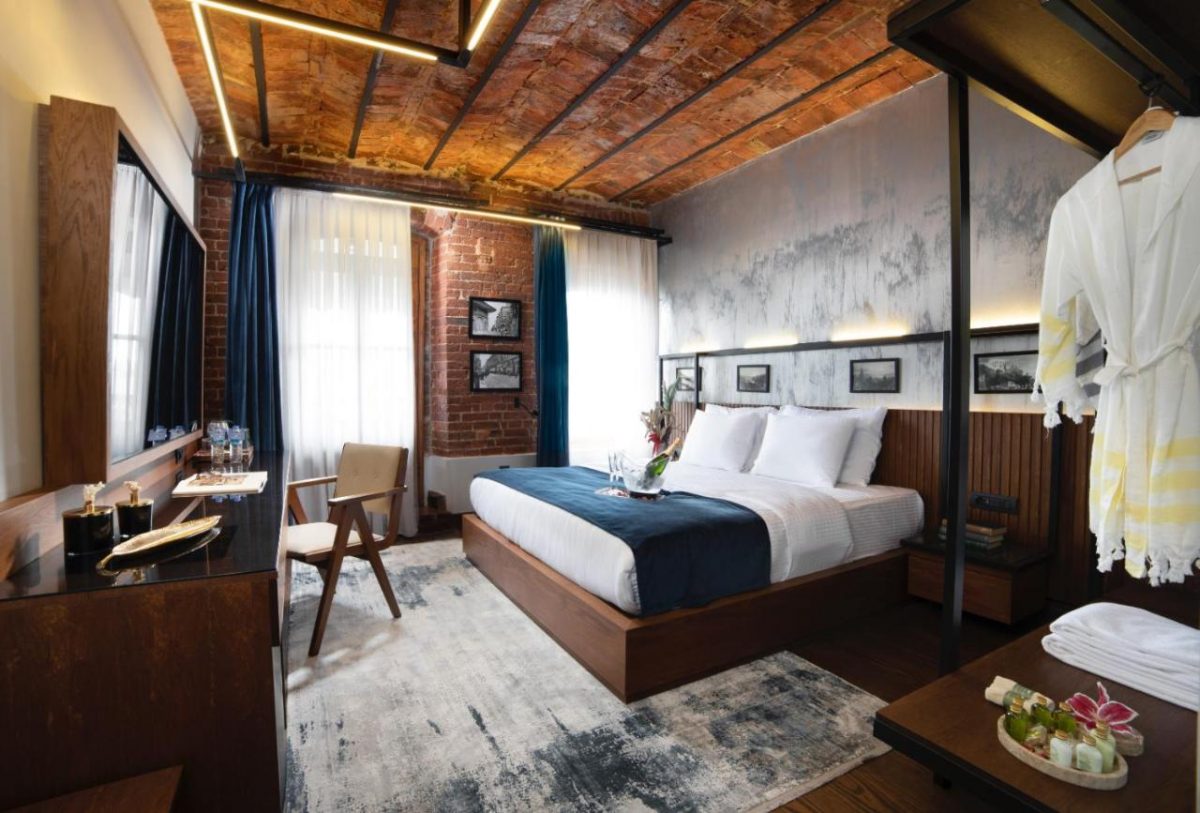 Best Luxury Hotel in Istanbul – Hotel DeCamondo Galata
Located on the riverfront in Kadikoy, the Hotel DeCamondo is the ideal place to stay for a luxury getaway. It has a stunning bar and terrace as well as an onsite restaurant and car rentals. Each morning, a continental or a la carte breakfast is offered, and when it comes to exploring, the hotel can help organize your tours and car rentals.
---
Tips for Visiting Istanbul in May
If you do decide to visit Istanbul in May, here are a few tips to make your experience more enjoyable.
Bring a jumper and warm clothing for the evenings. Although it's warm in the day time in May, it is still cold at night and you'll want to bring a warm jumper to wear when going out for dinner.
Pack a headscarf if you're a woman. You will need a scarf to cover your hair when entering a mosque. You also need your knees and shoulders covered, which shouldn't be a problem if visiting in the winter.
Carry an umbrella and waterproof clothing. You might have a small chance of rain this time of year so be prepared with your waterproof gear.
Carry cash for the markets. Many shops still don't accept cards.
Are you reading this from Turkey? Maybe you need a VPN!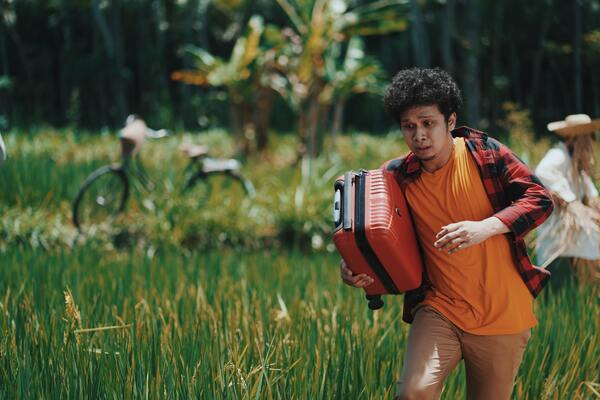 If you're already in Turkey, there is one thing you absolutely NEED: a reliable VPN.
You may find some of your favorite websites and apps are blocked in Turkey, such as popular hotel site booking.com
A VPN allows you to get passed this ruling and enables you to browse these sites without any hassle, and it's completely legal.
We use Express VPN when we're in Turkey and we'd recommend it to anyone. It's affordable, quick, and easy to use.
---
FAQs About Istanbul in May
Here's what people usually ask us about visiting Istanbul in May…
Is May a good time to visit Istanbul?
Yes, May is a good time to visit as it's the shoulder season, which means fewer crowds and cheaper prices. It also has good weather with little rain throughout the month.
What is Istanbul like in May?
The weather is warm in the day time and cool at night. You might see a bit of rain from time to time, but it usually won't rain for the full day.
Is May hot in Istanbul?
The weather can be hot in May, but not uncomfortably hot. The average temperature is 16°C which is a comfortable, warm temperature.
---
Before You Go
So there you have it, this is everything you need to know about visiting Istanbul in May. As you can see, the weather is warm and there are more sunlight hours for exploring, but do make sure to bring warm clothing for the evenings.
The rainy days are starting to move away and you'll see fewer crowds as this is still the shoulder season.
As this is the beginning of Spring, expect to see some more festivals and events coming up, as well as see the stunning tulips bloom in Sultanahmet.
We hope you have a great time exploring Istanbul in May!