Are you thinking of visiting Istanbul in August and wondering what it will be like? Istanbul is a vibrant city with so much to see and do, and with the summer season in full force, you might just be thinking of Istanbul as your perfect summer vacation destination.
But the question remains, is August a good time to visit Istanbul? August is the end of the high season in Istanbul and it gets pretty busy. It's also the hottest month of the year. So it's not our favorite time of year to visit.
But was is Istanbul in August like? This complete guide will reveal everything you need to know!
Planning a trip to Istanbul last-minute?
Make sure you book your tours, places to stay, and airport transfers ahead of time to ensure availability!
Here is our recommended airport transfer in Istanbul:
Here are our recommended tours in Istanbul:
Here are our recommended places to stay in Istanbul:
Magnuara Palace Hotel (Gorgeous hotel in the historic centre!)
Cheers Hostel (Budget hostel near the Blue Mosque!)
---
Istanbul Weather in August
Being the very height of summer, August in Istanbul is extremely hot and dry. It's marginally hotter than July, making August the hottest month of the year, and there's actually less rainfall in August than in July. If you like your summer holidays extremely hot and with very little chance of rain, August is the month to come.
The average temperature in Istanbul during August is a lovely and warm 24°C (75.2°F). Daytime highs of 28°C (82.4°F) make walking around the city for any great length of time a tad difficult and you'll be wanting to take refuge from the sun in a café or shop from time to time. Expect temperatures to dip into the low 30's (89.6°F) too at points.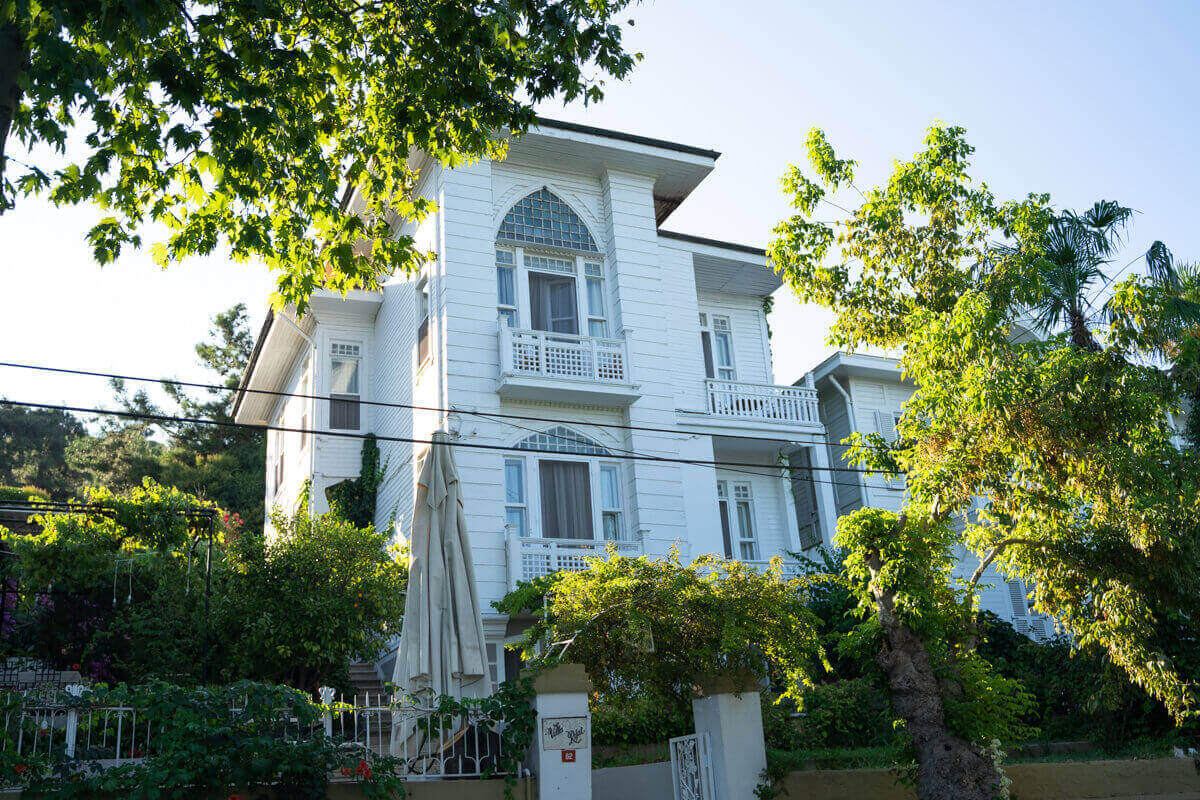 It's certainly advisable to bring plenty of sun cream with you and also perhaps a hat to keep the sun off of your face. Overnight the temperature drops down to about 19°C (66.2°F), but it rarely ever gets cooler than that at night.
Rainfall in Istanbul during August is at its lowest levels, barely touching an average of 20mm. This amount is spread across more than in July, on an average of 4 days of the month.
Northern provinces of Istanbul are more prone to rainfall, so averages will be higher. Any rain showers that do occur in August will be tropical in nature, fairly short, and probably quite heavy.
It's noticeably windier in August, with speeds picking up to over 15mph. This is a jump up from the previous months, so whilst summer is still in full flow, the signs are there that it's not too long until the seasons change.
Days have been getting a little shorter now for a while, with the day length dipping into the 13-hour mark for the first time. The sun doesn't rise now until just after 06.00 am and gets later as the month progresses.
Naturally then, the sun also starts setting much earlier than in June and July and visitors can expect sunsets between 20.20 pm and 19.38 pm on the 31st of August.
| Istanbul Weather in August | Averages |
| --- | --- |
| Temperature (Day) | 27°C (81°F) |
| Temperature (Night) | 25.9°C (79°F) |
| Number of Rainy Days | 4 |
| Rainfall (mm) | 20 |
| Wind Speed (miles per hour) | 15.5 |
| Daylight Hours | 13 |
| Humidity | 70% |
Source: Holiday Weather
---
Top Things to Do in Istanbul in August
August is undoubtedly one of the best months to visit Istanbul. Glorious sunshine, clear blue skies, and warm sea temperatures combine to make the city an excellent summer destination that ticks all the boxes. Here's our top ten list of things to do in Istanbul during August.
1. Visit the Basilica Cistern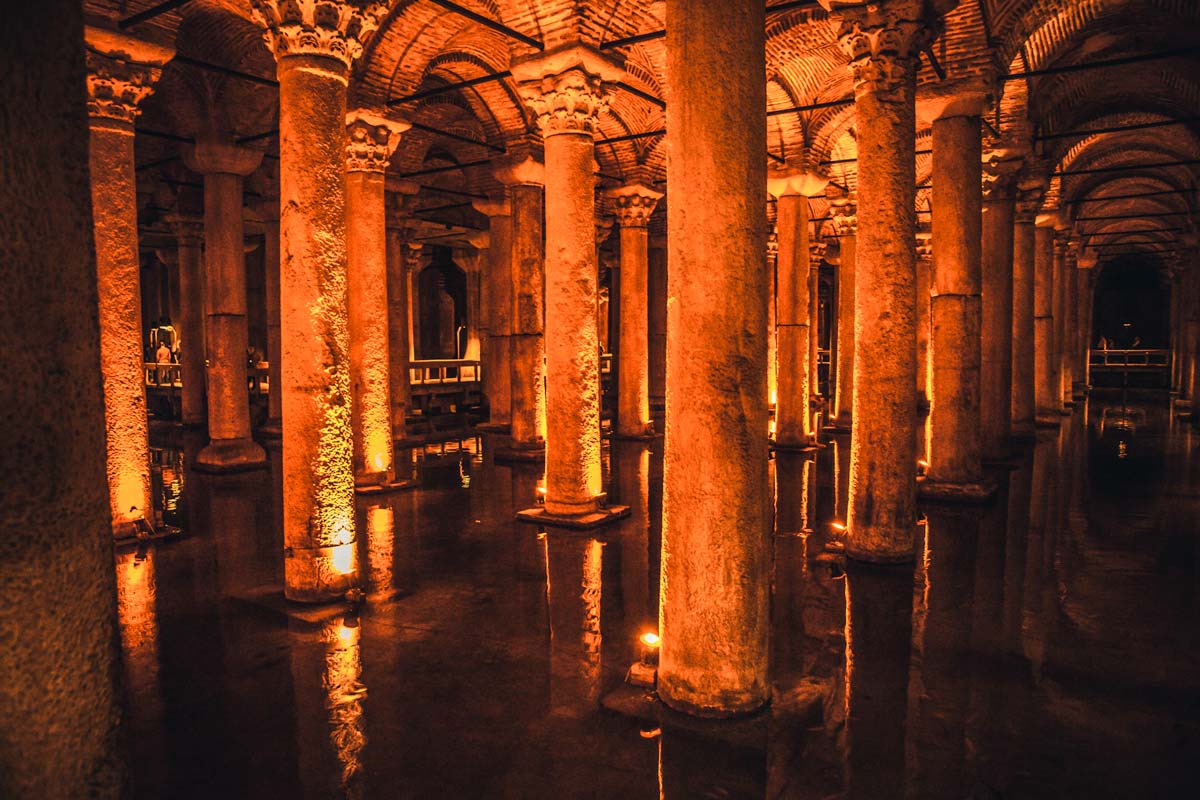 One of the best places to cool off from the intense Turkish sun is by heading deep underneath Istanbul's streets to see the medieval wonder of the Basilica Cistern. The Basilica Cistern was built by the Romans in Constantinople as a water filtration system for the city's important buildings.
Byzantine Emperor Justinian I commissioned the building during the 6th century. Recent restorations have turned this dark, cold, and damp cistern into an ancient wonder that'll leave you stunned.
2. Visit the Blue Mosque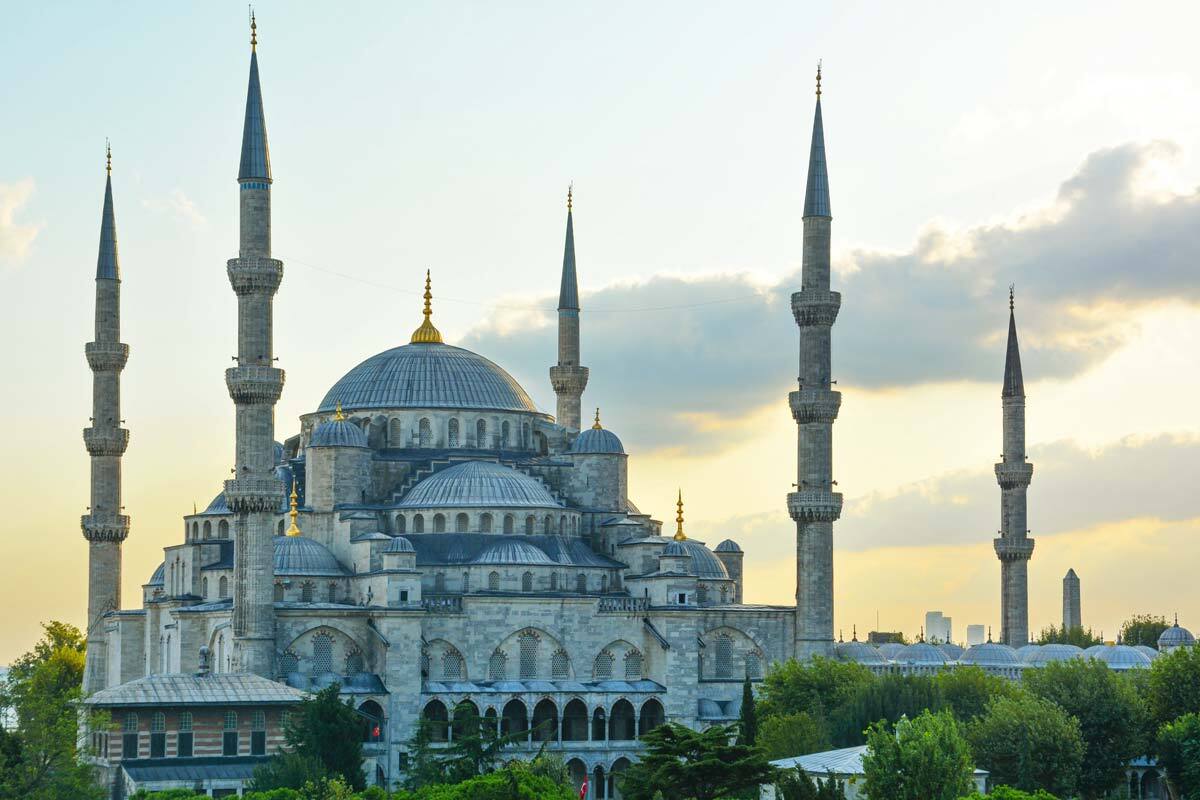 Constructed just over 400 years ago by Ahmed I, the Blue Mosque is one of the most important, and impressive mosques in the entire country. Still functioning as a mosque today, what makes this particular place of worship special is the interior.
Hand-painted, blue tiles cover the walls and ceiling making this truly one-of-a-kind and an attraction you won't want to miss.
3. Go to the Hagia Sophia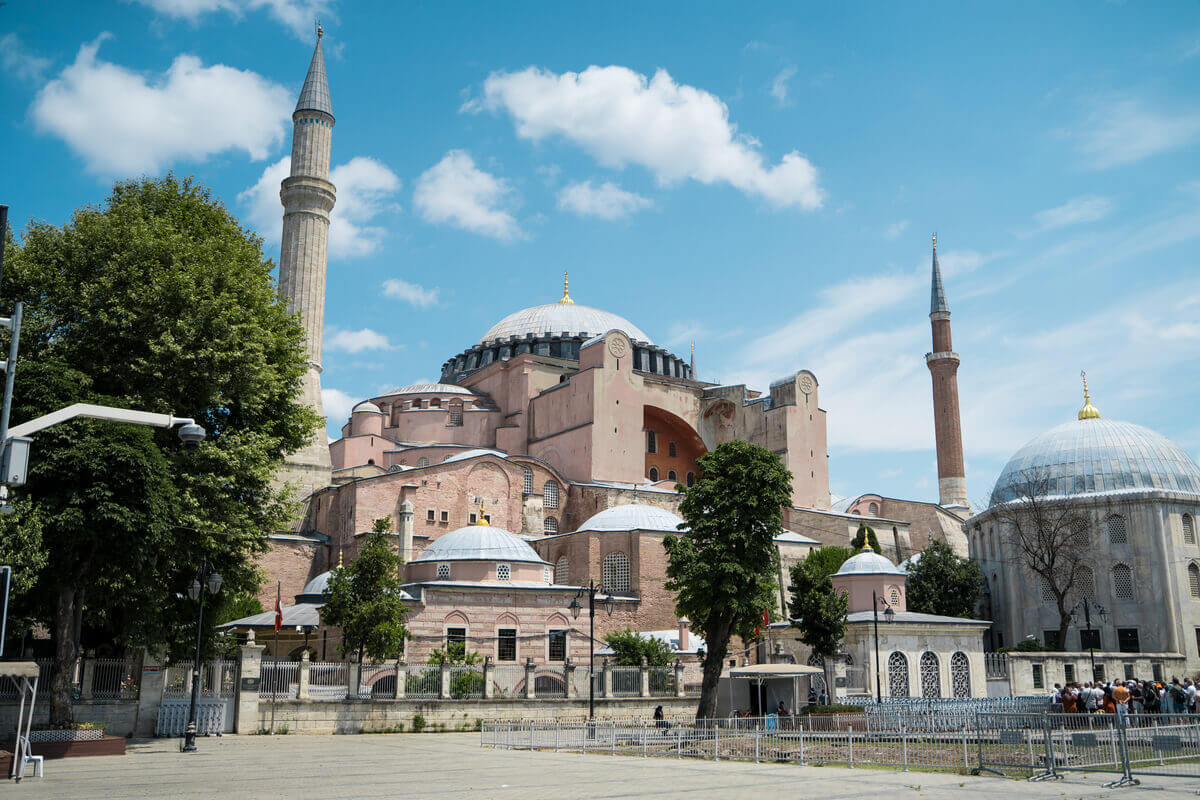 Rather handily for the tourist, Istanbul's other top attraction is just across Sultanahmet Square.
The Hagia Sophia is another of Istanbul's famous grand mosques, and being just a short walk away from the Blue Mosque, you can combine the two for an interesting and impressive couple of hours.
Built an incredible 1500 years ago, this ancient building was originally a Greek Orthodox Church which was eventually converted to a mosque following the Ottoman's conquering of the city.
4. Watch a Whirling Dervishes Show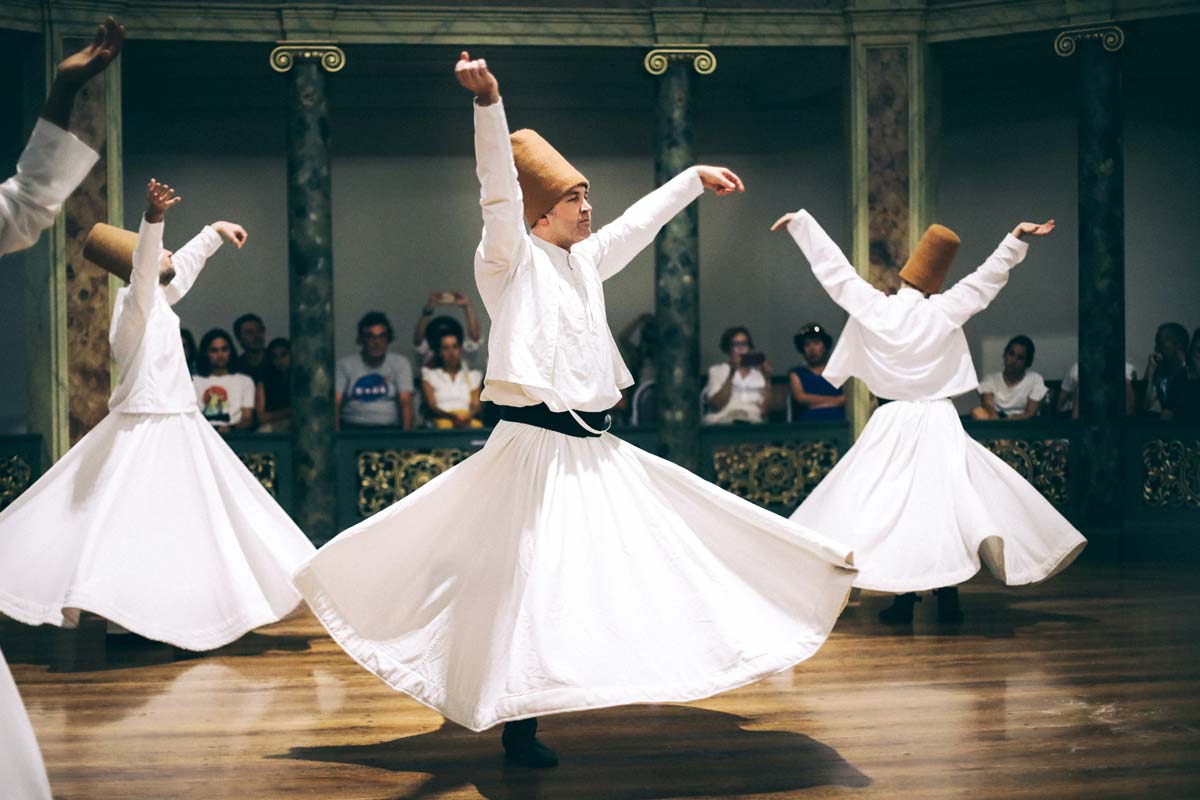 In 2008, UNESCO declared the Mevlevi Sema Ceremony among the 'Masterpieces of the Oral and Intangible Heritage of Humanity', ensuring that this age-old tradition is kept alive and shown throughout the course of history.
You can watch it for yourself today in Istanbul, and we recommend visiting the Galata Mevlevihanesi Whirling Dervishes Show as the historical building it's held in has been the site of these shows for generations.
By watching this deeply religious show, you actually feel a part of history.
5. Take A Trip to the Beach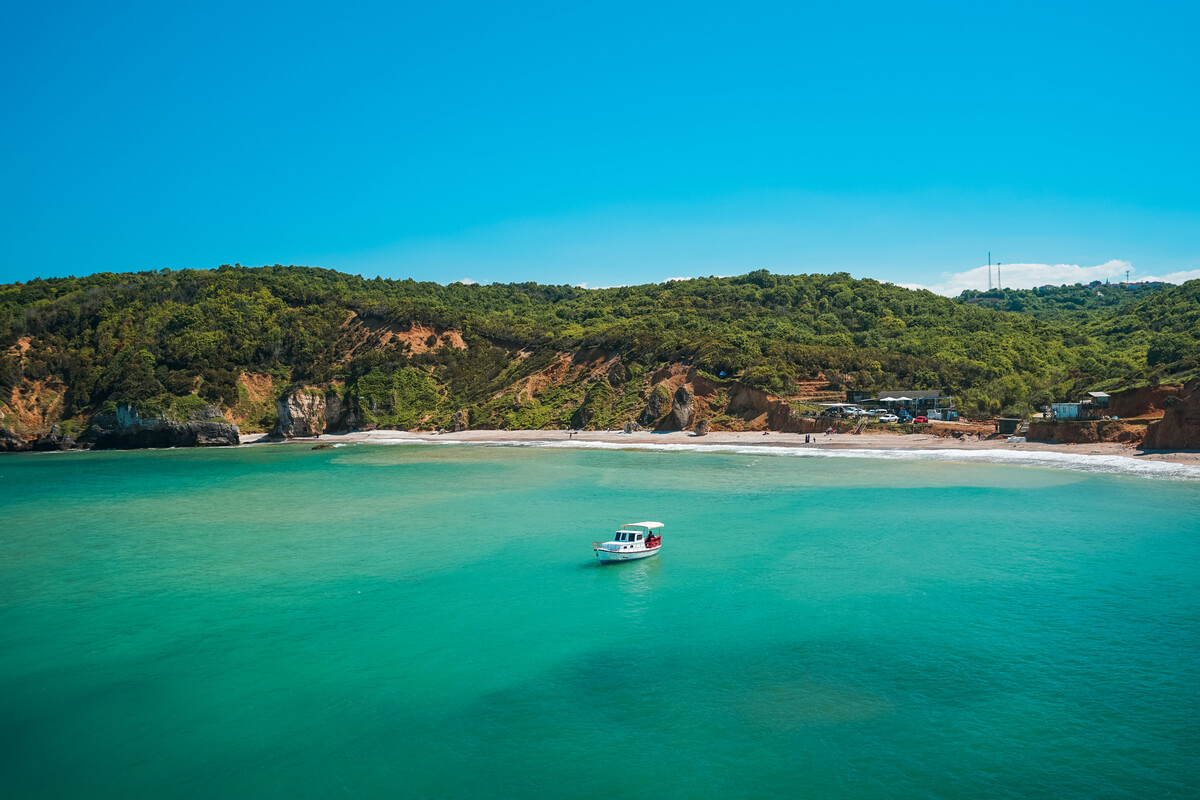 Just because you're visiting a city, doesn't mean you can't take a little day trip to the beach. After all, it'd be a shame not to with the sun beaming down on you all day.
Luckily for those visiting Istanbul, the city is actually bordered by two seas, the Sea of Marmara and the Black Sea. It's along these coasts we recommend a beach trip due to the close proximity to the city, but also because of the beaches themselves.
Golden sands as far as the eye can see, and calm, clear, and warm waters that feel like a bath are just a short one-hour drive away from the center.
6. Shop Till You Drop Down Istiklal Street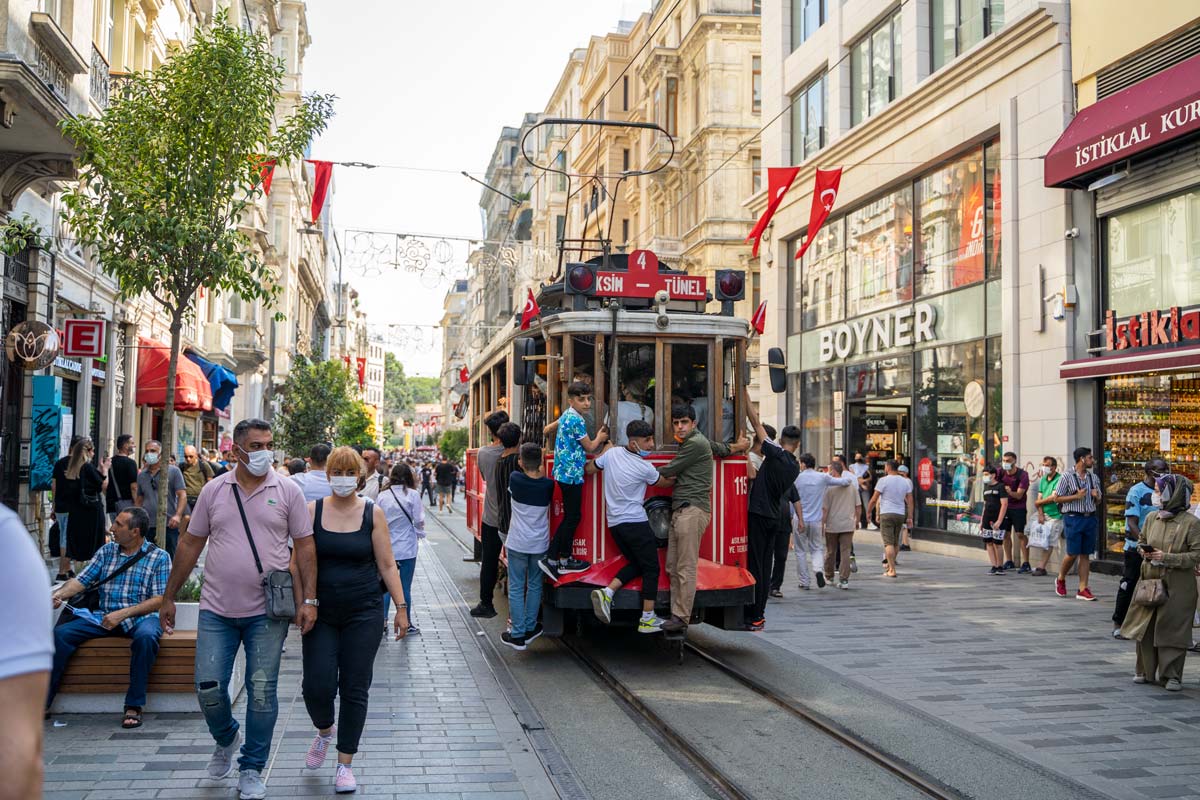 Istiklal Street is one of the most famous avenues in all of Istanbul. The gorgeous old red and white trams navigate the street, lined with cafes and shops you can dive in and out of until your heart's content.
Because of this, it's a great way to cool off from the sun as all of the shops and restaurants will have the A/C blasting. Alternatively, do it how the Turkish do it and dine al-fresco watching the crazy world of Istanbul go by.
7. Visit Buyukada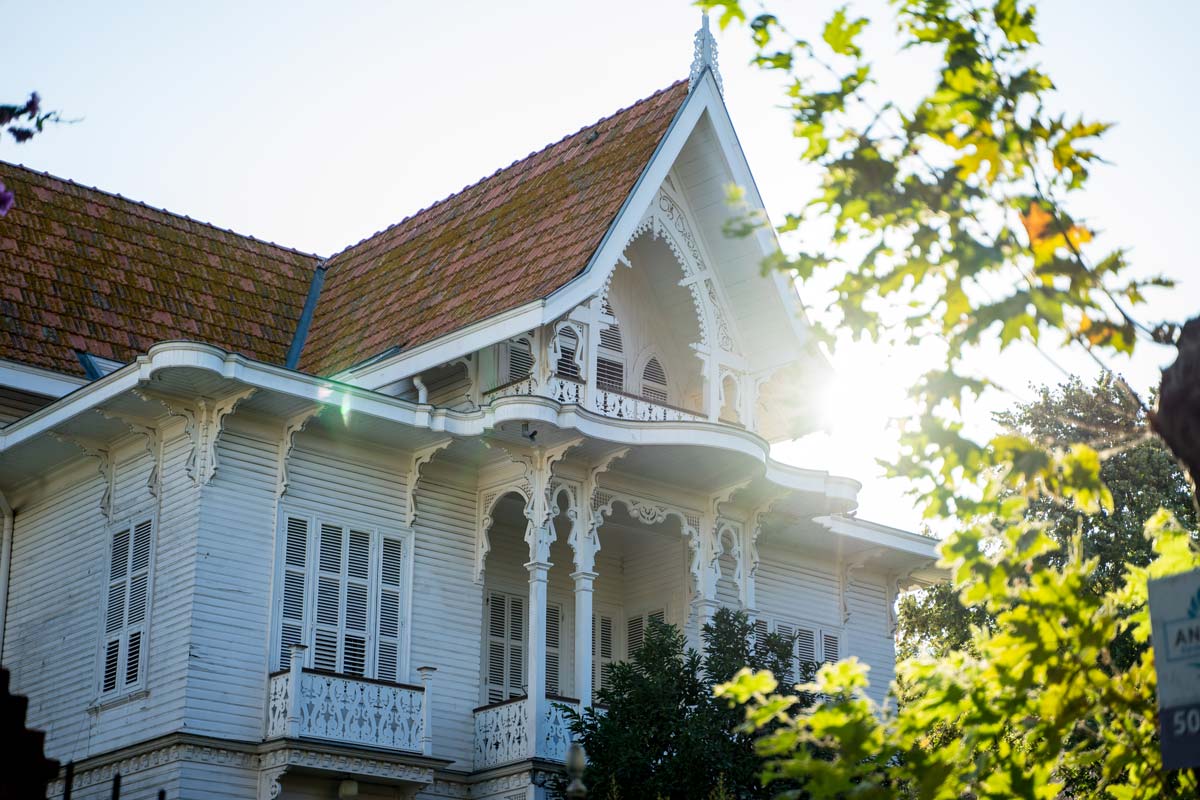 If you feel like you've pretty much explored Istanbul's city center and want something a little further afield, then you should be considering a trip to Büyükada Island. The largest of the Princes' Islands, it's full of picturesque viewpoints and impressive historical mansions.
The beautiful island can be accessed via ferry or boat from any port in the city, and we recommend renting a bicycle to get around. This is an excellent day trip that not many people do when visiting Istanbul, so you'll be sure to make some unique memories.
8. Sail the Bosphorus on a Cruise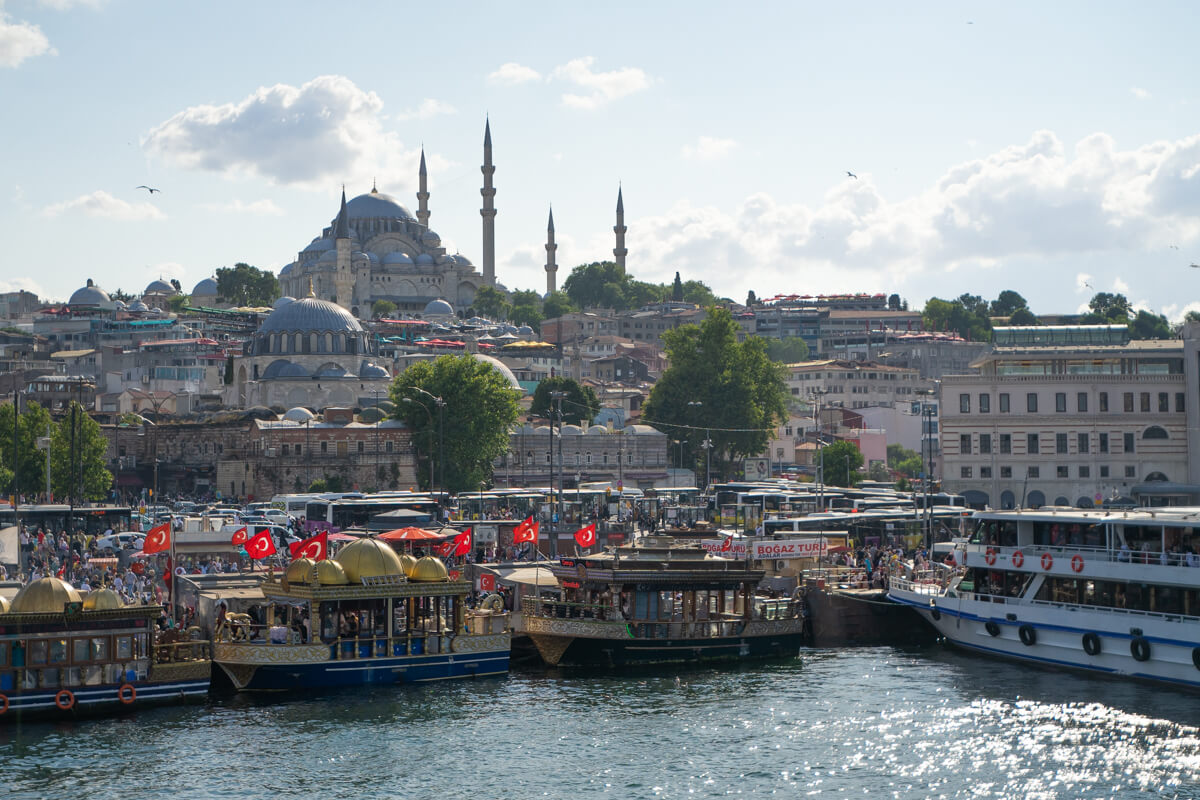 Talking of memories, they don't come much more memorable than sailing down the Bosphorus through the lit-up skyline of Istanbul, on a gloriously warm August night.
If you're feeling extra fancy, or perhaps it might be your last night in the city, make it special and have dinner on the boat too. You'll get a three-course authentic Turkish meal complete with entertainment making this an unforgettable experience.
9. Eat Mezze & Sip On Raki
One of the best things about visiting Mediterranean countries is the Mezze that is on offer everywhere. Small plates of delectable appetizers will leave your mouth wanting the entire menu.
Take a seat out the front of the restaurant and order a handful of Turkish mezze such as olives, a range of dips, fresh bread, cheeses, and cured meats. Wash it all down like a true Turk with a couple of glasses of Raki. Afiyet Olsun!
10. Get Lost in the Belgrad Forest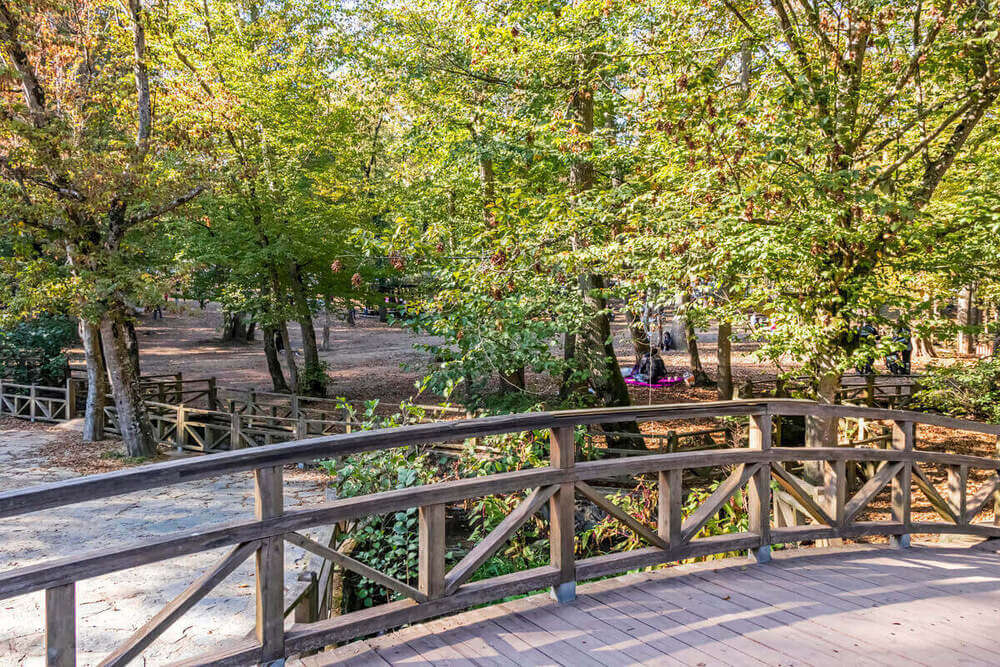 If you want to escape the hustle and bustle of Istanbul and let's face it, it can get overwhelming at times, especially during the peak summer season, located just 15km outside of Istanbul itself is the pristine natural paradise of the Belgrad Forest.
Filled with Ottoman aqueducts and historical ruins left over from previous empires, it's amazing this natural wonder isn't visited more often by tourists. Take a Turkish picnic and you've got a wonderful, calm, and tranquil day away from the madness of the city.
---
Festivals and Events
If you're thinking of checking out some events in Istanbul during August, then you might enjoy these festivities.
30th August – Victory Day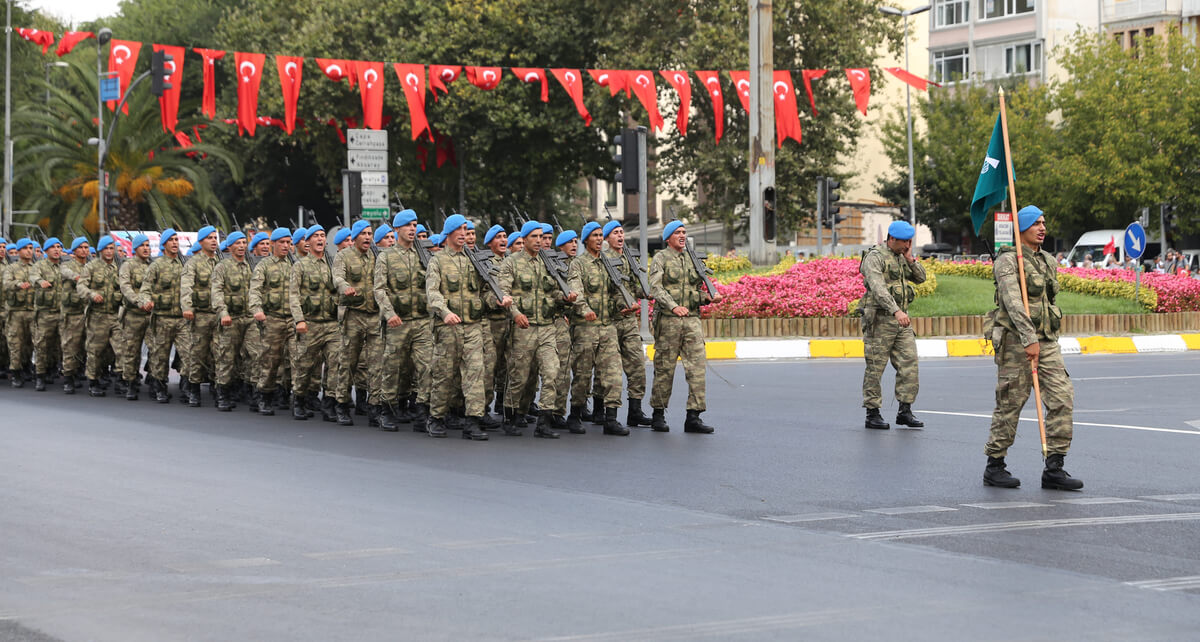 Every year on the 30th of August is Victory Day – a day for friends and family in Turkey to come together, celebrate and commemorate the victory of winning the Battle of Dumlupinar, ousting the Greeks from Anatolia, leaving just the Turks to occupy their own country.
As you can imagine, they take this public holiday very seriously and celebrations are seen up and down the country in most major cities and towns, with the Turkish Armed Forces at the center of the celebration.
---
Pros and Cons of Visiting Istanbul in August
So, as we've discussed, Istanbul is an incredible city that has so much to offer in any month of the year. If you're still not sure if Istanbul is worth visiting in August, here's a breakdown of the pros and cons.
Pros
Long, sunny days with very little rain.
All attractions are open.
Summer nights in Istanbul are one of the best things about the city.
Sea will be calm and warm.
Cons
It's peak high season so attractions will be busy.
Flights and hotels will be at their most expensive for the year.
Extreme heat is possible, so keep in mind if the elderly or sensitive to heat.
Marginally more rain than in July.
---
Where To Stay in Istanbul in August
One good thing about visiting Istanbul in August is that it has lovely weather and lots going on, but it's also the school holiday season which means accommodation gets booked up quickly! Be prepared and book accommodation in advance…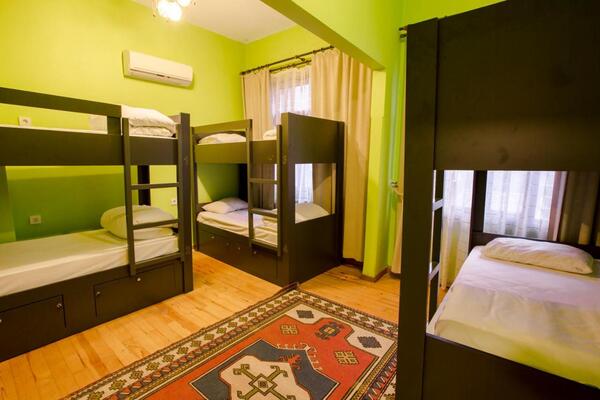 Best Hostel in Istanbul – Cheers Hostel
Cheers Hostel is the best-located hostel in Istanbul, nestled behind the Hagia Sophia and the Blue Mosque. It offers comfortable, individually styled rooms and dorms, with spacious shared bathrooms. The terrace bar and restaurant serve up kebabs and international cuisine for those who don't want to venture far for food and have wonderful views of Istanbul's Old Town.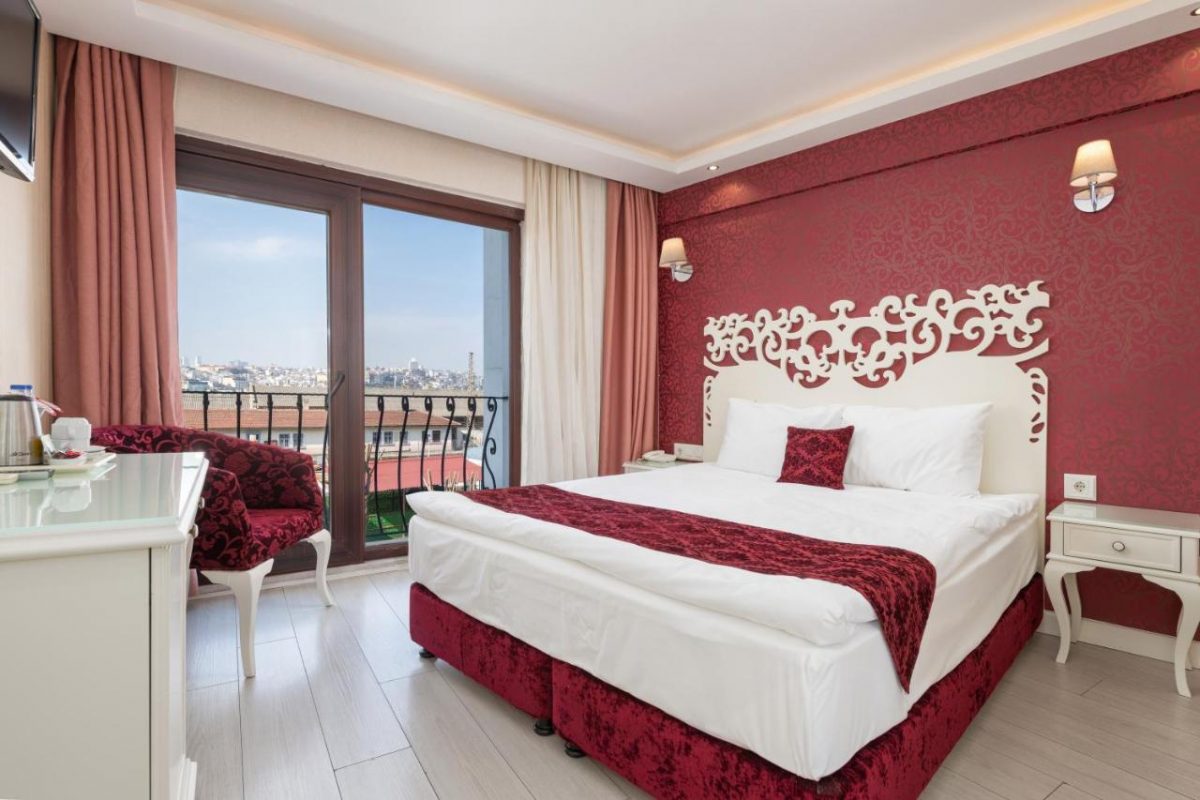 Best Mid-Range Hotel in Istanbul – Dream Bosphorus Hotel
If you're looking for a mid-range hotel in a great neighborhood, then Dream Bosphorus hotel is the ideal choice. It's located in the heart of Old Istanbul, in the Sirkeci area. Each room has been individually styled in traditional Turkish decor and comes with a private bathroom and 24-hour room service. Some rooms have views of the Golden Horn. Each morning a daily breakfast buffet is served and the Dream Café offers soft drinks and snacks throughout the day. Each afternoon, it's worth returning for free cakes and cookies.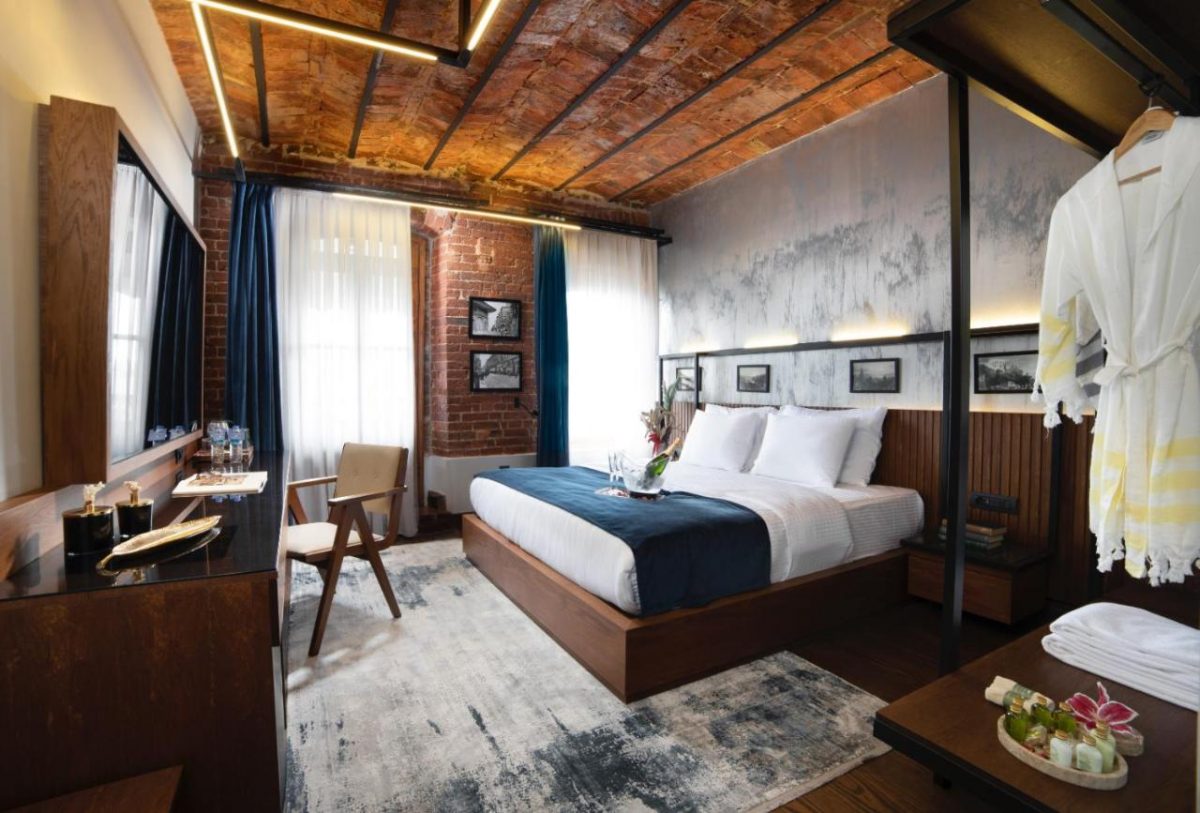 Best Luxury Hotel in Istanbul – Hotel DeCamondo Galata
Located on the riverfront in Kadikoy, the Hotel DeCamondo is the ideal place to stay for a luxury getaway. It has a stunning bar and terrace as well as an onsite restaurant and car rentals. Each morning, a continental or a la carte breakfast is offered, and when it comes to exploring, the hotel can help organize your tours and car rentals.
---
Tips for Visiting Istanbul in August
If you do decide to visit Istanbul in August, here are a few tips to make your experience more enjoyable.
Pack for hot weather! Istanbul is at its hottest this time of year, so bring suncream and prepare for summer. But remember to bring conservative clothing for visiting mosques.
Pack a headscarf if you're a woman. You will need a scarf to cover your hair when entering a mosque. You also need your knees and shoulders covered, which shouldn't be a problem if visiting in the winter.
Get an Istanbulkart at the airport. This is a transport card that enables you to get on buses, metros, and trams. It's best to get this at the airport to avoid trying to sort it in the city where it's much busier.
Carry an umbrella and waterproof clothing. You might have a small chance of rain this time of year so be prepared with your waterproof gear.
Carry cash for the markets. Many shops still don't accept cards.
Are you reading this from Turkey? Maybe you need a VPN!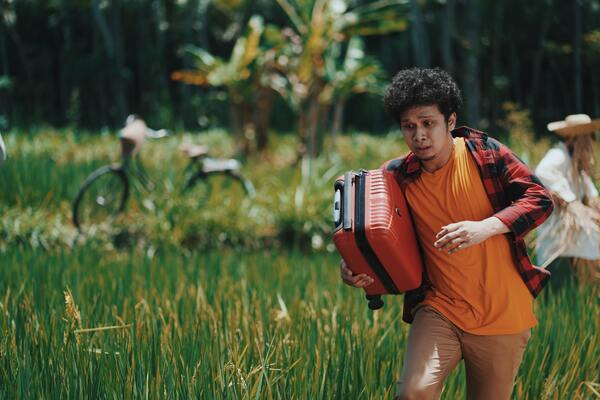 If you're already in Turkey, there is one thing you absolutely NEED: a reliable VPN.
You may find some of your favorite websites and apps are blocked in Turkey, such as popular hotel site booking.com
A VPN allows you to get passed this ruling and enables you to browse these sites without any hassle, and it's completely legal.
We use Express VPN when we're in Turkey and we'd recommend it to anyone. It's affordable, quick, and easy to use.
---
FAQs About Istanbul in August
Here's what people usually ask us about visiting Istanbul in August…
Is it a good time to visit in August?
August is not our favorite month to visit because the weather is hot and sticky and it's also very busy.
Is Istanbul crowded in August?
Yes, Istanbul is crowded in August. It's considered the end of the high season and will remain crowded until the schools go back in early September.
Is Istanbul too hot in August?
The weather can be very hot in August and is even the hottest month of the year. It can also get humid.
---
Before You Go
So there you have it, this is everything you need to know about visiting Istanbul in August. As you can see, the weather is very hot and the crowds are dense, so it's not the best month of the year to visit if you don't like throngs of people.
The good news is there is no rain and the attractions remain open.
As it's the end of high season, be sure to be prepared and book your accommodation and attractions early.
We hope you have a great time exploring Istanbul in August!
Disclaimer: Some of the links above are affiliate links. That means if you book or make a purchase through the links, we will earn a small commission at no extra cost to you! The money will help run this site! Thank you!