Are you thinking of visiting Istanbul in September and wondering what it will be like? Istanbul is a vibrant city with so much to see and do, and with the new school year approaching and the summer holidays coming to a close, you might just be thinking of Istanbul as your perfect destination in September.
But the question remains, is September a good time to visit Istanbul? September is the end of the high season in Istanbul, so depending on when in the month you visit you could see some summer crowds still lingering.
The weather is pretty good this time of year, and there are still plenty of events and festivals to keep you entertained.
But was is Istanbul in September like? This complete guide will reveal everything you need to know!
Planning a trip to Istanbul last-minute?
Make sure you book your tours, places to stay, and airport transfers ahead of time to ensure availability!
Here is our recommended airport transfer in Istanbul:
Here are our recommended tours in Istanbul:
Here are our recommended places to stay in Istanbul:
Magnuara Palace Hotel (Gorgeous hotel in the historic centre!)
Cheers Hostel (Budget hostel near the Blue Mosque!)
---
Istanbul Weather in September
It's the same all over the world, you wait for what feels like an entire year for those 2 or 3 months of glorious summer weather. Well, summer arrived, and in a flash, it's almost already over.
Autumn is on the horizon in Istanbul meaning temperatures have been at their yearly peak, and things are slowly getting toned down.
With that being said, it's still lovely and warm, with the average temperature sitting at 21°C (69.8°F) and the city experiencing daytime highs of up to 25°C (77°F). As usual, temperatures cool down quite dramatically overnight, hovering around 16°C (60.8°F).
A light jacket or something to throw on and cover up from the chill will probably be needed if you're out and about after the sun goes down.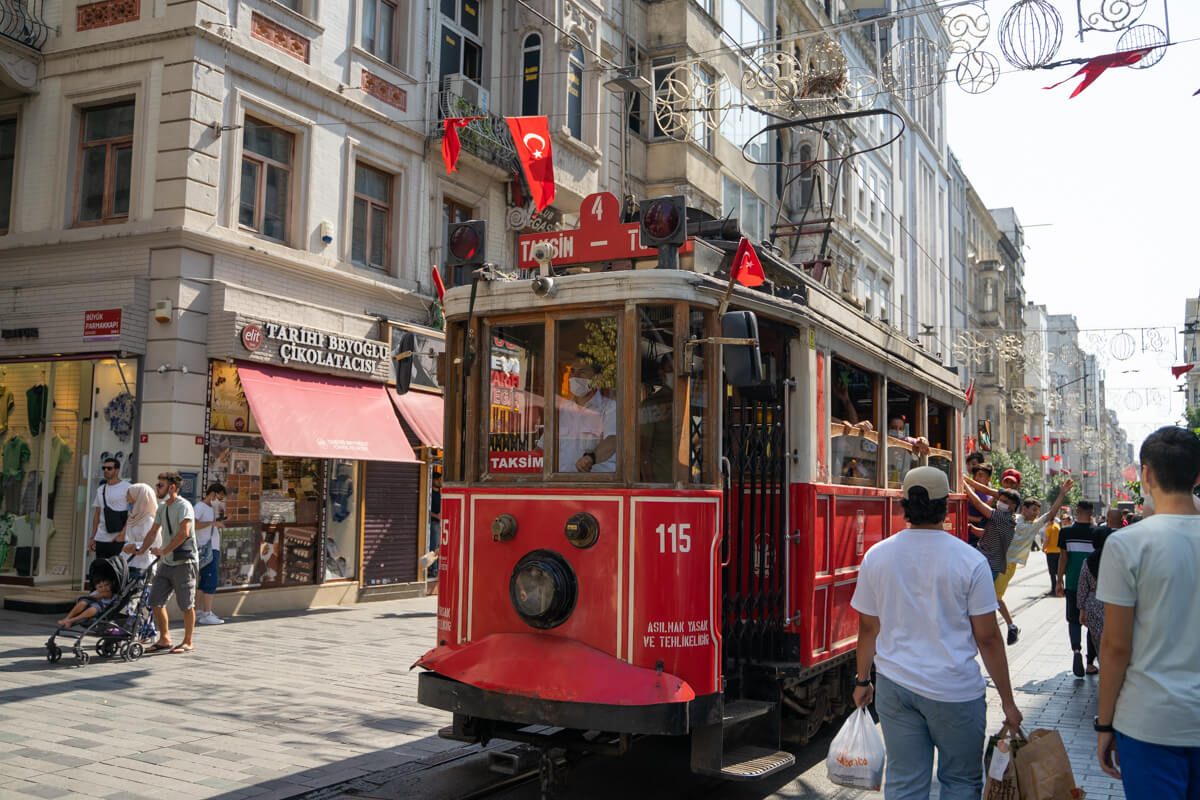 Rainfall averages increase quite dramatically for the month of September. With just 20mm falling from the heavens in August, September is a different story altogether. The average more than doubles to 50mm of rainfall during September, which is spread over 8 days. This is a stark contrast to last month when it rained on only 4 days.
As the weather gets a little more autumnal, the wind also increases to an average speed of about 14mph. You should keep this in mind when along open areas and promenades along the water's edge. It'll feel colder in these locations, so if you plan on spending the day by, or on, the water, bring a jacket just in case.
As the summer season draws to a close, the nights close in and the sun sets earlier and earlier as the month goes on. At the start of the month, there are a little over 13 hours of daylight, compared to the very end of the month when there are just 11 hours and 48 minutes.
Sunrises at 06.30 am, soon become sunrises at 7 pm and the sun drifts below the horizon at a fairly early time of 18.48 pm at the end of the month.
| Istanbul Weather in September | Averages |
| --- | --- |
| Temperature (Day) | 23.1°C (74°F) |
| Temperature (Night) | 22.5°C (73°F) |
| Number of Rainy Days | 8 |
| Rainfall (mm) | 50 |
| Wind Speed (miles per hour) | 14 |
| Daylight Hours | 11/12 |
| Humidity | 70% |
Source: Holiday Weather
---
Top Things to Do in Istanbul in September
Summer season might be coming to a close but that doesn't mean the weather instantly turns poor. On average, there are still only 8 days of rain out of 31, meaning for the rest of the time there will be blue skies and patches of cloud with warm temperatures.
Here's our list of the top things to do in Istanbul in September.
1. Visit the Hagia Sophia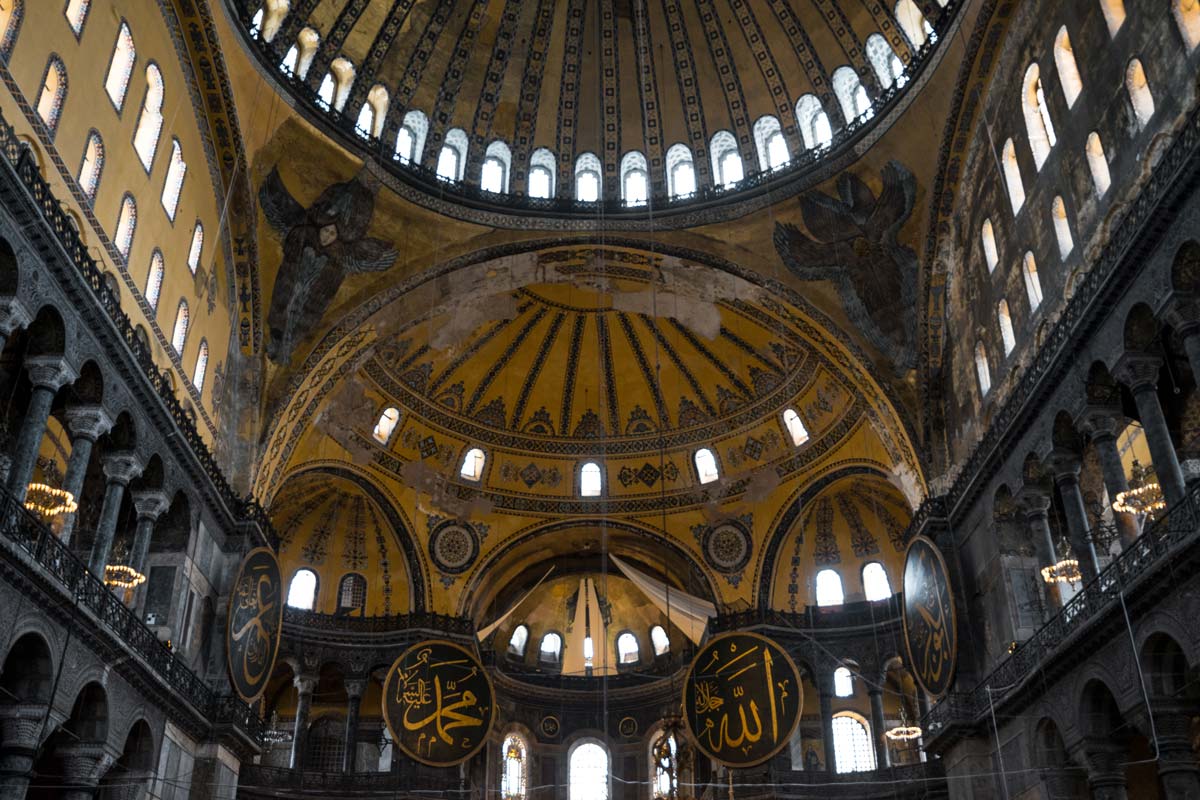 One of the best attractions in the entire city is the truly magnificent Hagia Sophia. Constructed as a Greek Orthodox Church over 1500 years ago, it is widely considered one of the world's greatest architectural feats. It is the epitome of Byzantine architecture, with its domes and mosaics defining characteristics. The Hagia Sophia was converted into a mosque in 1453 shortly after the Ottomans conquered the city.
2. Visit the Blue Mosque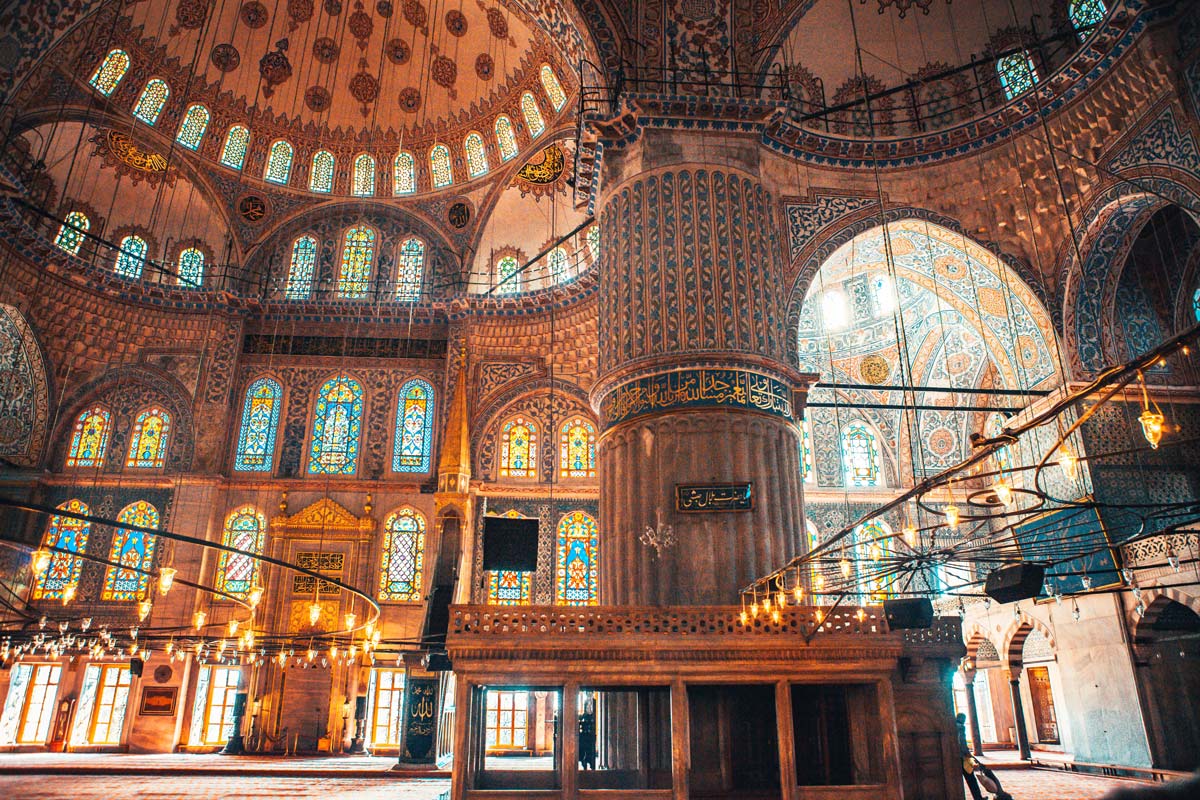 One of the most beautiful mosques in the entire world is the Blue Mosque which stands proudly in Sultanahmet Square. Not quite as old as its neighbor, the Hagia Sophia, it was built during the 17th century by the order of Ottoman Sultan Ahmet I.
It gets its name from the stunning, hand-painted blue Iznik tiles that plaster the mosque's interior. This is truly a one-of-a-kind mosque and an absolute must-see when visiting the city of Istanbul.
3. Sit on the Top Deck of a Tourist Sightseeing Bus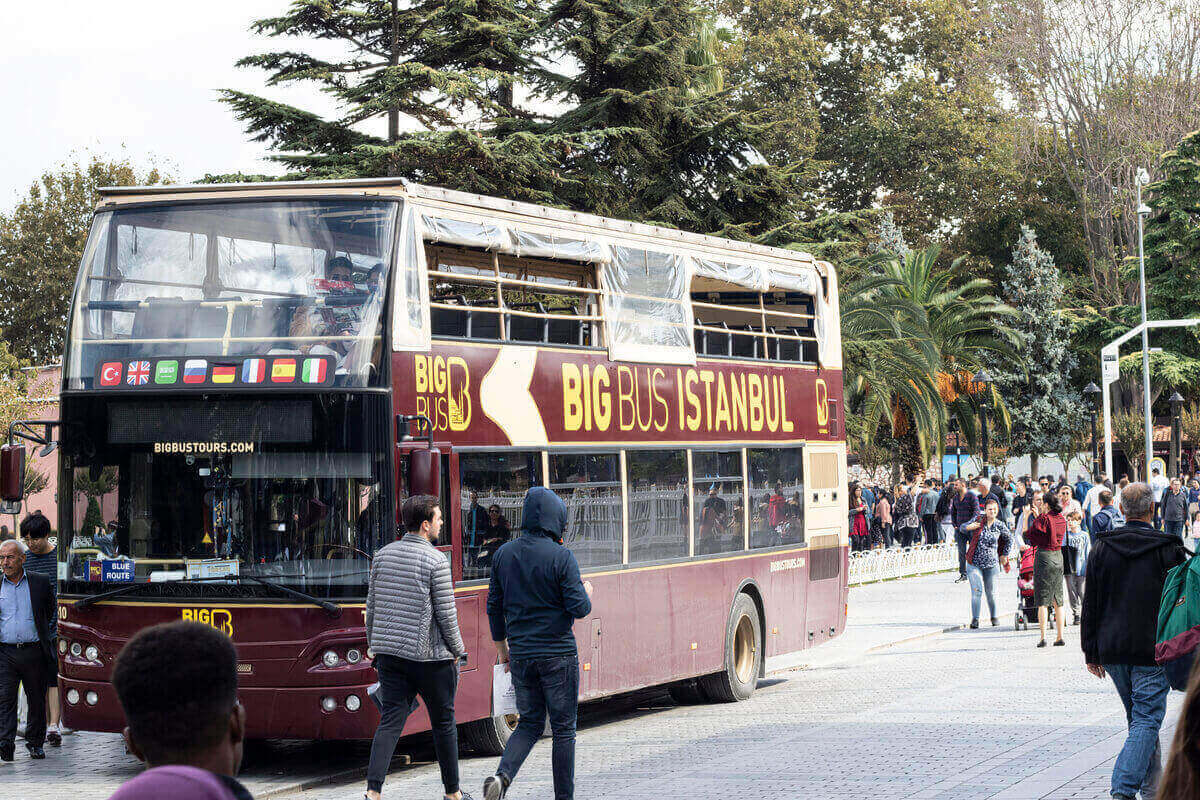 Whilst this can be a very touristy activity, it's an excellent way to see the many sights of Istanbul in a relatively short amount of time. You simply wouldn't be able to see all the attractions of Istanbul within a day or two, but the sightseeing bus makes it possible.
If the September weather is being kind, sit on the top deck for unparalleled views of the city. The hop-on/hop-off element comes in really handy, so you can pick and choose what you'd like to explore more of.
4. Day Trip to the Princes' Islands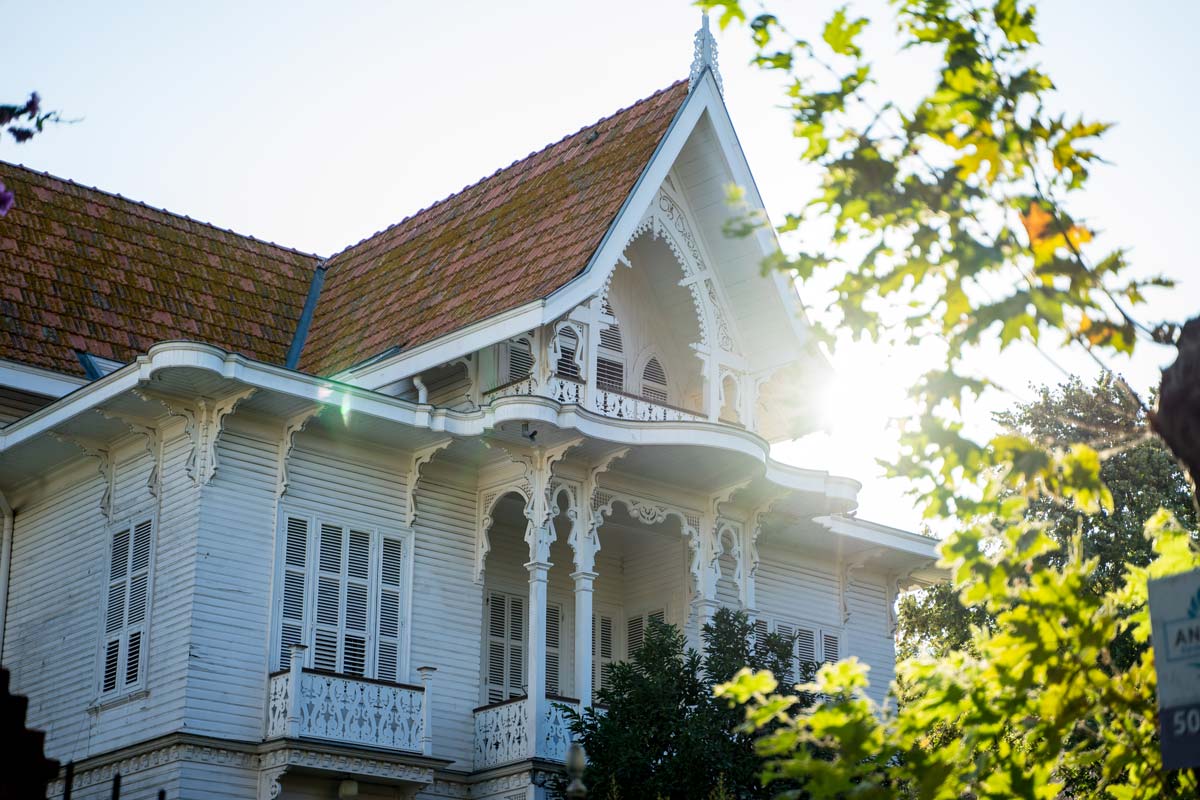 It's little to no wonder why these islands were a favorite of the Byzantine Princes. The stunning natural beauty of this group of islands, and the close proximity to Istanbul itself, make this a superb day trip from the city.
In just a short one-hour sailing, you can leave the hustle and bustle of one of Europe's most populous cities in favor of a peaceful serenity on the forested Princes' Islands.
5. Take A Trip to the Beach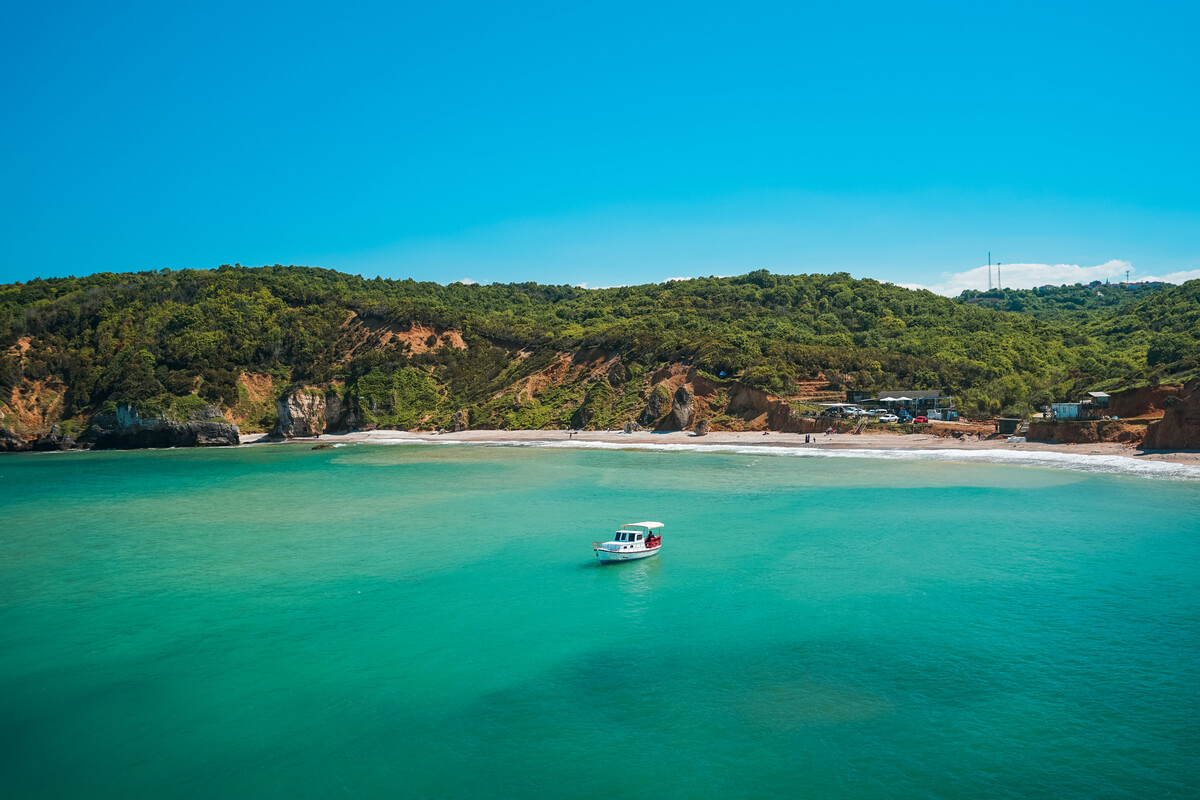 If you happen to be visiting Istanbul in September, why not make the most of the last couple of weeks of spotless weather by visiting one of the stunning beaches that litter the coastline?
Şile is just over an hour's drive from Istanbul's city center and this picturesque area has a few sandy beaches that are blue flag protected, and even a lighthouse dating back to 1859.
6. Explore the City on a Bicycle
The weather in Istanbul during September is almost perfect for touring the city on the back of a bicycle. Walking around the city, you'll notice many bicycle rental stands that many tourists use to get around this huge city.
Pedal the streets of Istanbul as you weave your way through notable places like Sultanahmet Square, Galata, and if you're up for it, through the mazes of the Grand Bazaar. Flick the stand out and grab a quick bite to eat in one of the many restaurants and cafés that line the streets.
You can also find bike tours where you can explore the city with a knowledgeable local guide.
7. Visit Topkapi Palace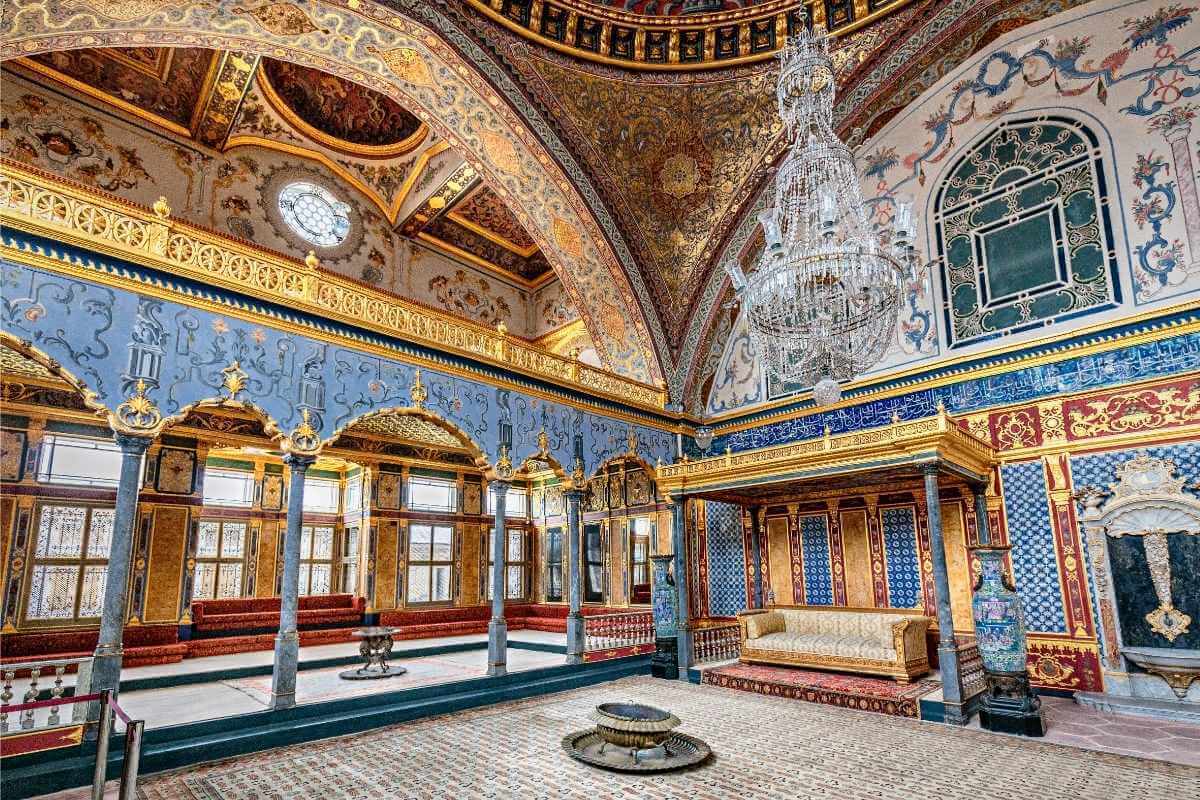 Situated in the Ottoman Empire's former headquarters, the Turkish government transformed the historically important Topkapi Palace into one of Turkey's most visited museums in 1924.
Since then, hundreds of rooms of the Palace have been turned into permanent residing places for some of Turkey's most important artifacts like the Topkapi Dagger and the Spoonmaker's Diamond. UNESCO labeled the Palace as a World Heritage Site in 1985 and has been one of Istanbul's most visited attractions.
8. Sail the Bosphorus on a Cruise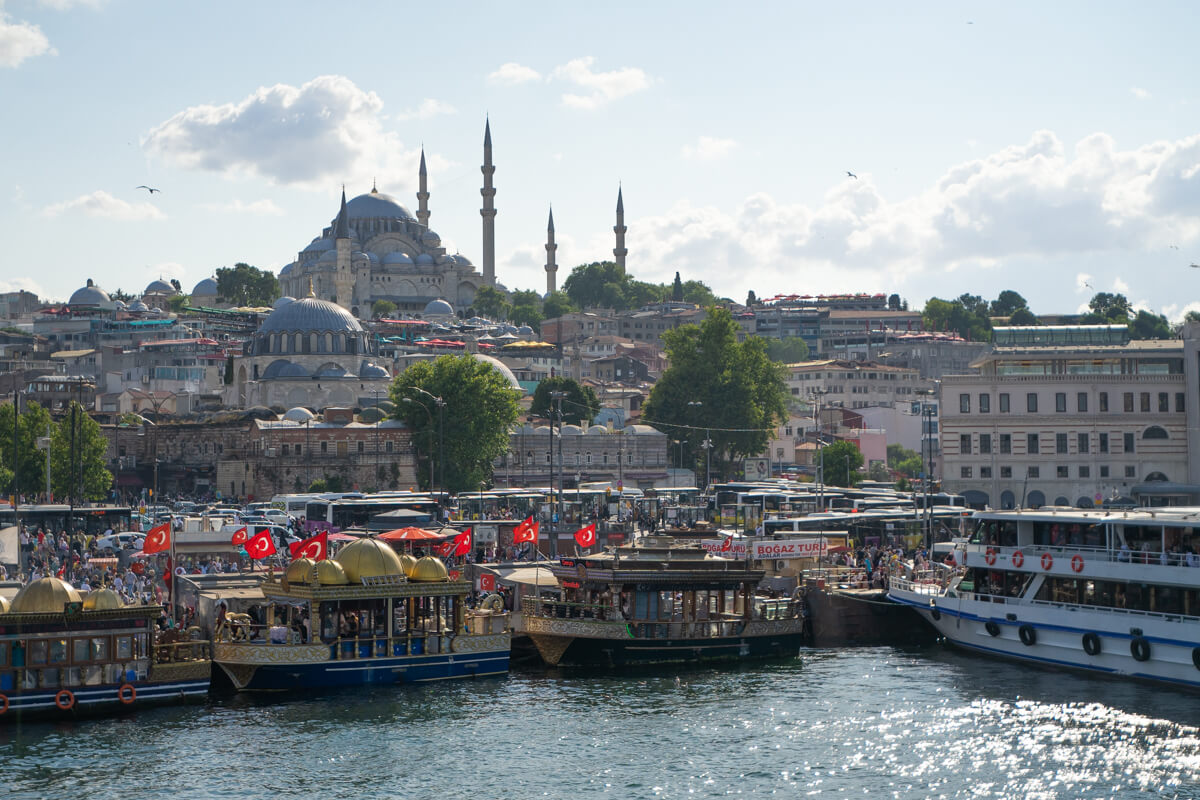 Have a unique day and sail down the Bosphorus on a cruise boat. You'll get a fantastic different perspective of the city from the water and will be able to see some famous sights you might not have been able to see otherwise.
If you want to do something super special, we recommend a sunset dinner cruise complete with entertainment. It'll be fairly pricey, but you will be treated like royalty and you'll have a fantastic experience on the Bosphorus.
9. Visit the Grand Bazaar & Spice Bazaar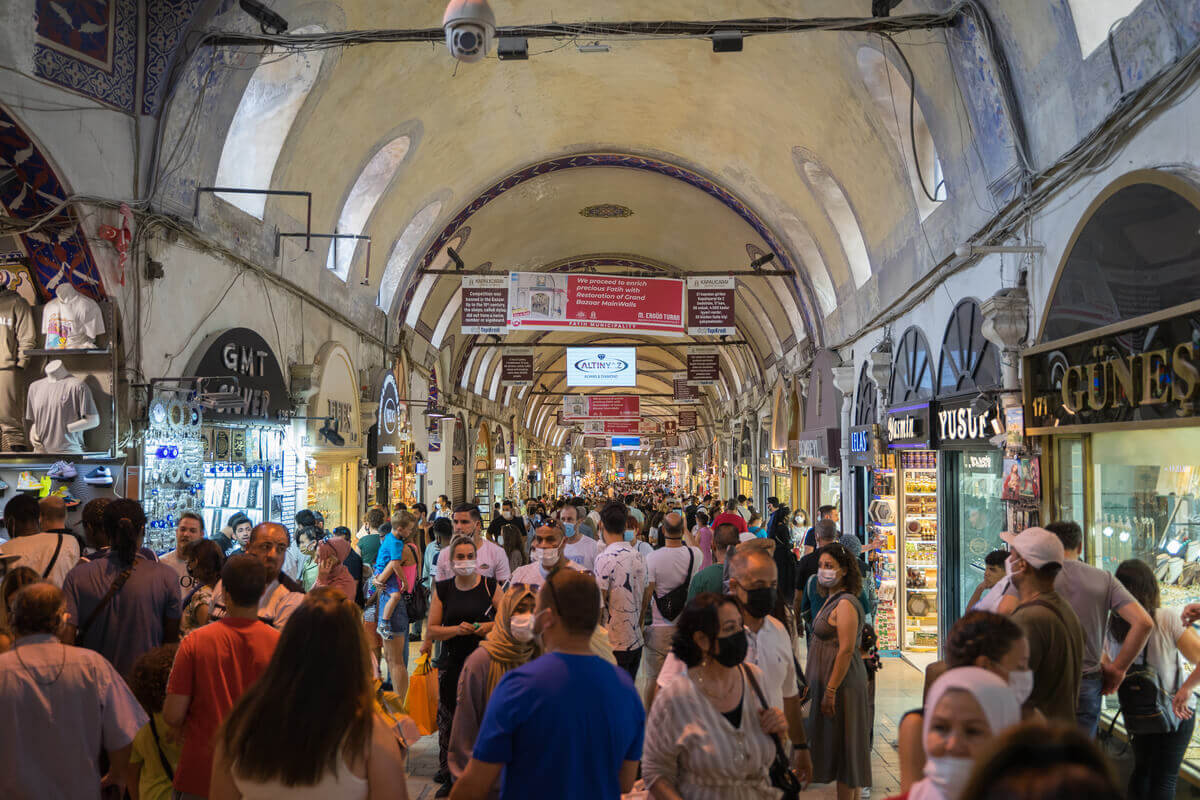 The origins of the Grand Bazaar date back to the 15th century when Ottoman Sultan Mehmet II ruled the roost in Istanbul. This makes it the world's oldest covered market, with over 4,000 shops and stalls calling the 61 streets and alleyways home.
If you're a bit of a foodie, the Spice Bazaar will be worth visiting. Mountains of vibrant spices as far as the eye can see line the market, as well as other delicacies such as dried fruits, nuts, and cheeses, and Turkish souvenirs, are all on offer too.
10. Delve into History at the Museum of Turkish & Islamic Arts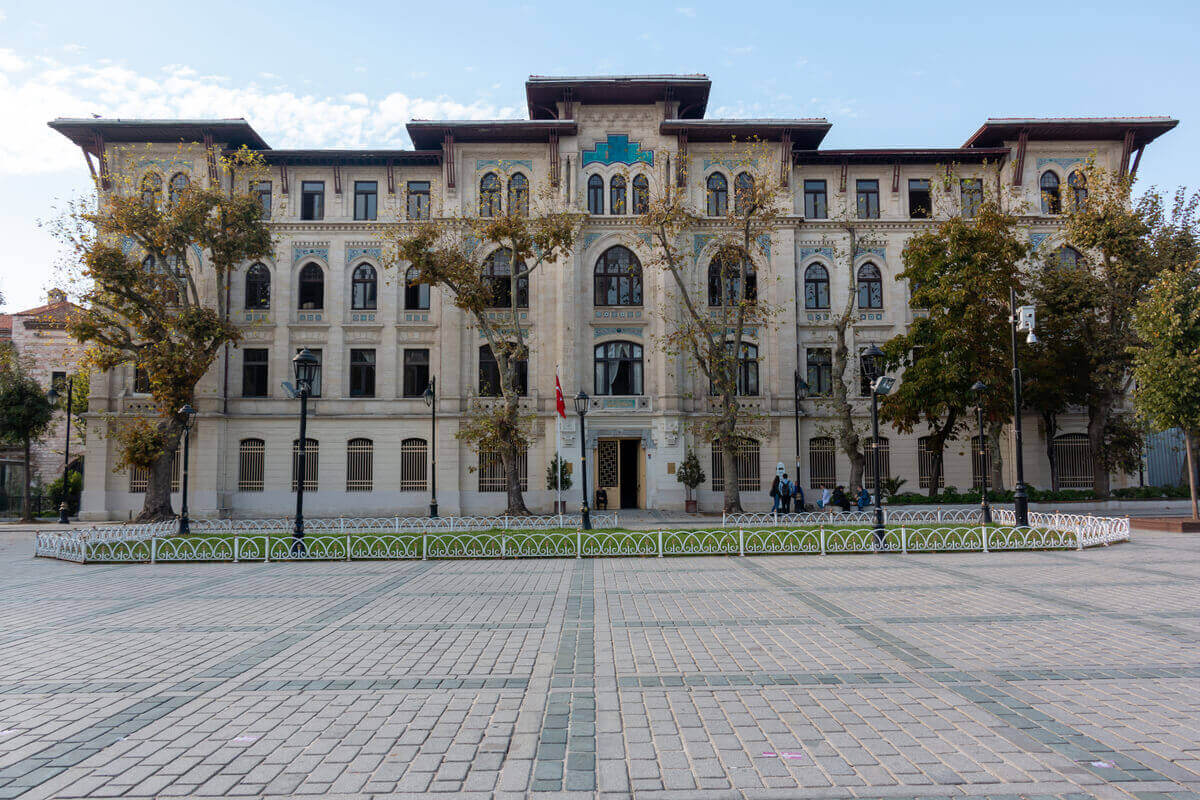 In what is a mightily impressive museum in Istanbul, the Museum of Turkish & Islamic Arts, unsurprisingly, combines the best of both Turkish and Islamic history.
Handily located in Sultanahmet, right near other must-do attractions like the Hagia Sophia and the Blue Mosque, if you like your history then this is certainly worth spending an afternoon marveling at the 40,000 ancient wonders this museum holds.
---
Festivals and Events
Are you thinking of visiting some festivals or events in Istanbul? Then you may enjoy these events!
16th – 23rd September – Istanbul Fringe Festival
In several locations across Istanbul, you will find performing arts events, live music, and theater.
The Fringe Festival will bring 15 international and 5 local shows to the city of Istanbul, which will share their love of the performing arts through a range of performances and workshops.
This is a buzzing event and definitely worth checking out during your trip to Istanbul.
19th – 23rd September – Contemporary Istanbul Exhibition
Turkey's largest art market comes to Istanbul during the month of September annually. Though dates haven't been released for the 2023 exhibition, the 2022 edition was held from the 19th to the 23rd of the month. Over 600 artists from Turkey and across the world showcase their best pieces of art. If you're an art lover in the city, this exhibition is worth checking out.
---
Pros and Cons of Visiting Istanbul in September
So, as we've discussed, Istanbul is an incredible city that has so much to offer in any month of the year. If you're still not sure if Istanbul is worth visiting in September, here's a breakdown of the pros and cons.
Pros
Days are mostly still sunny and warm.
All attractions are open.
Summer nights in Istanbul are one of the best things about the city.
Sea will be calm and warm.
Summer season is coming to an end, so could be some good last-minute deals on flights and hotels.
Cons
Huge increase in rainfall, so make sure you pack an umbrella.
As Autumn rolls into Istanbul, days become shorter.
Nights will feel noticeably chillier.
---
Where To Stay in Istanbul in September
One good thing about visiting Istanbul in September is that it's still gorgeous weather but the summer crowds are starting to disperse. You may be able to find a good deal on accommodation this time of year!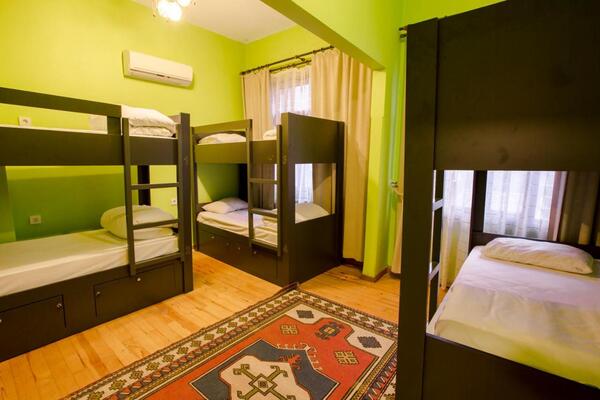 Best Hostel in Istanbul – Cheers Hostel
Cheers Hostel is the best-located hostel in Istanbul, nestled behind the Hagia Sophia and the Blue Mosque. It offers comfortable, individually styled rooms and dorms, with spacious shared bathrooms. The terrace bar and restaurant serve up kebabs and international cuisine for those who don't want to venture far for food and have wonderful views of Istanbul's Old Town.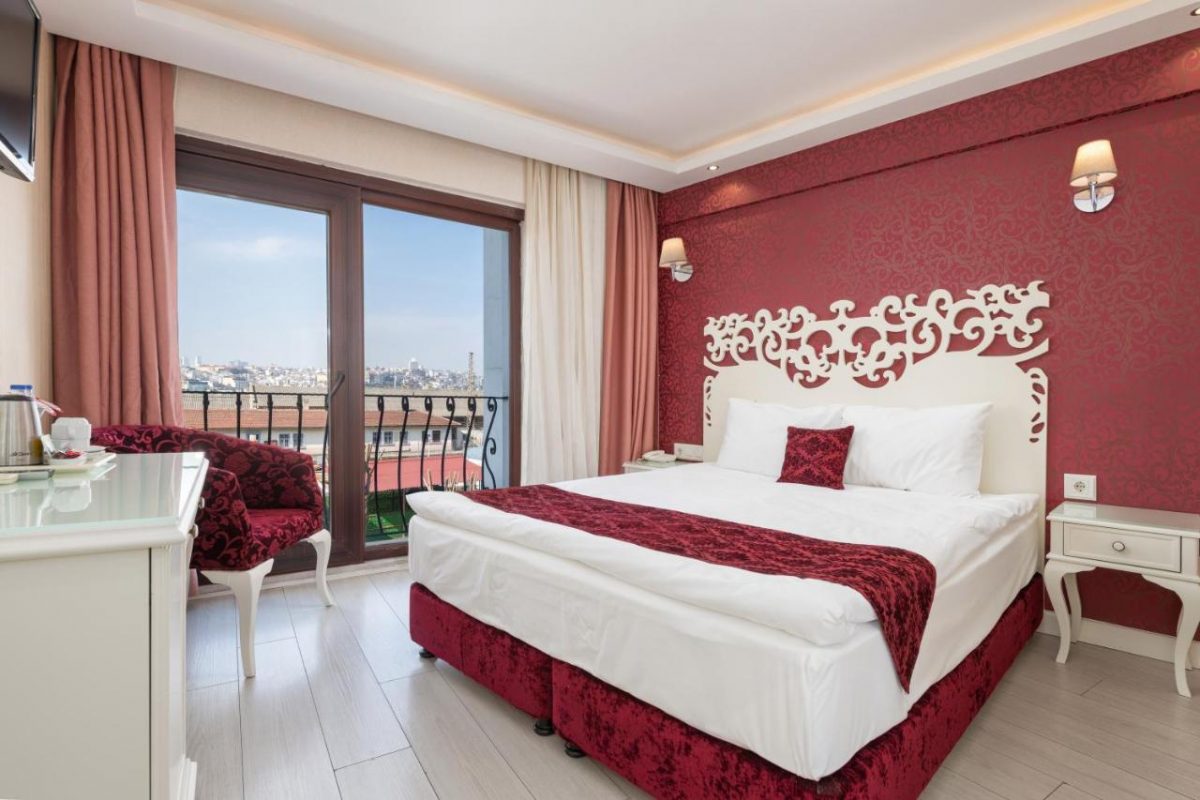 Best Mid-Range Hotel in Istanbul – Dream Bosphorus Hotel
If you're looking for a mid-range hotel in a great neighborhood, then Dream Bosphorus hotel is the ideal choice. It's located in the heart of Old Istanbul, in the Sirkeci area. Each room has been individually styled in traditional Turkish decor and comes with a private bathroom and 24-hour room service. Some rooms have views of the Golden Horn. Each morning a daily breakfast buffet is served and the Dream Café offers soft drinks and snacks throughout the day. Each afternoon, it's worth returning for free cakes and cookies.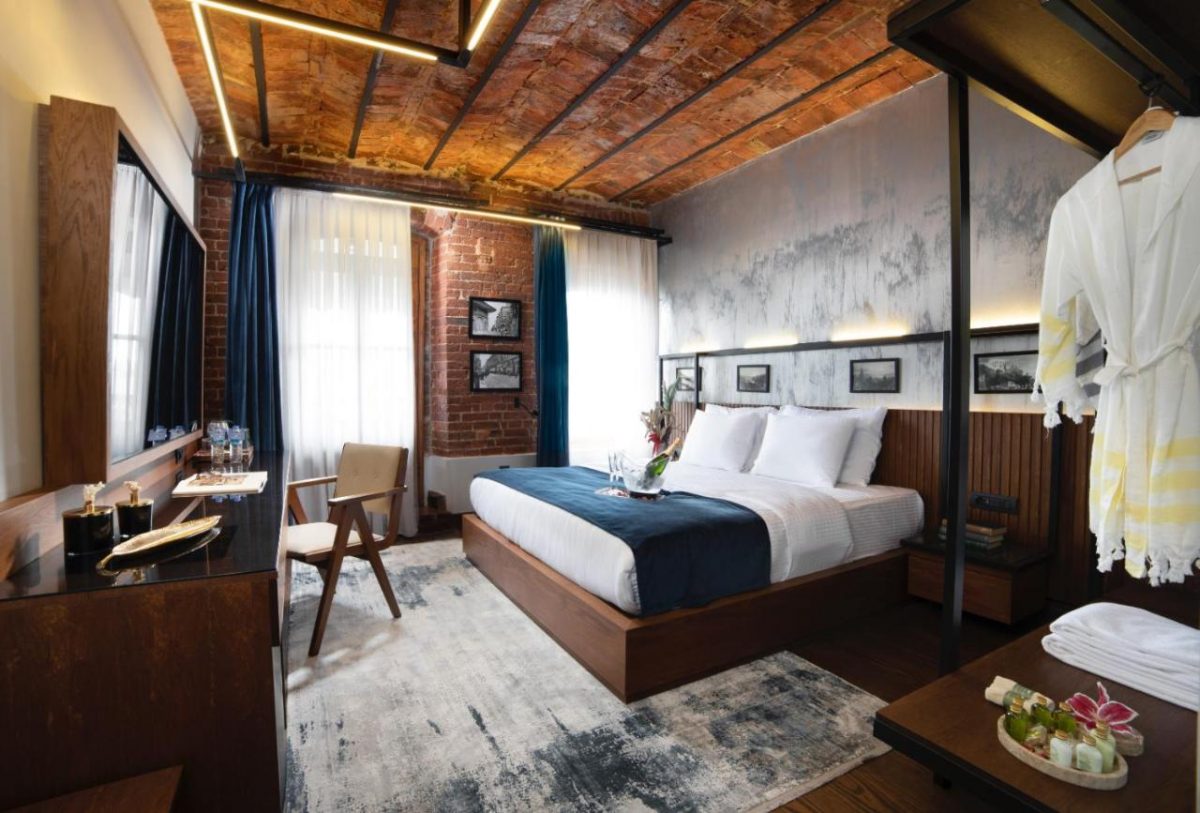 Best Luxury Hotel in Istanbul – Hotel DeCamondo Galata
Located on the riverfront in Kadikoy, the Hotel DeCamondo is the ideal place to stay for a luxury getaway. It has a stunning bar and terrace as well as an onsite restaurant and car rentals. Each morning, a continental or a la carte breakfast is offered, and when it comes to exploring, the hotel can help organize your tours and car rentals.
---
Tips for Visiting Istanbul in September
If you do decide to visit Istanbul in September, here are a few tips to make your experience more enjoyable.
Pack for summer, but bring a jumper. The daytime weather will be warm and summery, so you'll want to wear summer clothes when visiting. However, pack a jumper in case it gets cold at night. Also remember to bring conservative clothing for entering mosques.
Pack a headscarf if you're a woman. You will need a scarf to cover your hair when entering a mosque. You also need your knees and shoulders covered, which shouldn't be a problem if visiting in the winter.
Carry an umbrella and waterproof clothing. You might have a small chance of rain this time of year so be prepared with your waterproof gear.
Carry cash for the markets. Many shops still don't accept cards.
Are you reading this from Turkey? Maybe you need a VPN!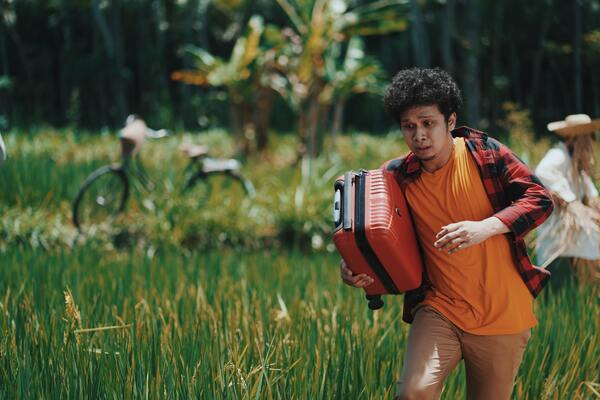 If you're already in Turkey, there is one thing you absolutely NEED: a reliable VPN.
You may find some of your favorite websites and apps are blocked in Turkey, such as popular hotel site booking.com
A VPN allows you to get passed this ruling and enables you to browse these sites without any hassle, and it's completely legal.
We use Express VPN when we're in Turkey and we'd recommend it to anyone. It's affordable, quick, and easy to use.
---
FAQs About Istanbul in September
One good thing about visiting Istanbul in September is that it isn't as hot as the scorching summer but still warm and lots going on. It's still a busy season, so be prepared and book accommodation in advance…
Is September a good time to visit Istanbul?
September has sunny and warm weather and the crowds tend to thin towards the end of the month. We would say September is a good time to visit Istanbul.
Is September crowded in Istanbul?
At the beginning of September, you can expect Istanbul to be crowded. However once the schools go back, the crowds are much quieter.
Is September hot in Istanbul?
The weather in Istanbul in September is quite hot still, as summer temperatures tend to linger. But it is much more comfortable than July and August.
---
Before You Go
So there you have it, this is everything you need to know about visiting Istanbul in September. As you can see, the weather is warm and sunny, but do bare in mind that the crowds will still linger around the start of the month.
As this is the end of summer, expect to see some festivals and events still happening, but they will start winding down for Autumn.
We hope you have a great time exploring Istanbul in September!