Are you thinking of visiting Istanbul in June and wondering what it will be like? Istanbul is a vibrant city with so much to see and do, and with the Spring season passing and summer approaching, you might just be thinking of Istanbul as your perfect June vacation.
But the question remains, is June a good time to visit Istanbul? June is starting to get busy in Istanbul as the shoulder season has passed and the high season is beginning. The weather is pretty good this time of year, which means there are a lot of events, especially outdoors, so you'll always find something happening this time of year.
But was is Istanbul in June like? This complete guide will reveal everything you need to know!
Planning a trip to Istanbul last-minute?
Make sure you book your tours, places to stay, and airport transfers ahead of time to ensure availability!
Here is our recommended airport transfer in Istanbul:
Here are our recommended tours in Istanbul:
Here are our recommended places to stay in Istanbul:
Magnuara Palace Hotel (Gorgeous hotel in the historic centre!)
Cheers Hostel (Budget hostel near the Blue Mosque!)
---
Istanbul Weather in June
The month of June marks the halfway point in the year and summer is certainly in full swing. High temperatures, crystal clear skies, and a warm sea are what personify the month of June in Istanbul.
The average temperature in Istanbul during June is a lovely and warm 22°C (71.6°F). Some days of the month might average 26°C (78.8°F) which is plenty hot enough, especially if you'll be traipsing around the city all day.
Hot daytime temperatures make way for cooler night temperatures averaging about 17°C (62.6°F), so it's advisable to pack a light jumper for those summery night walks back to your choice of accommodation.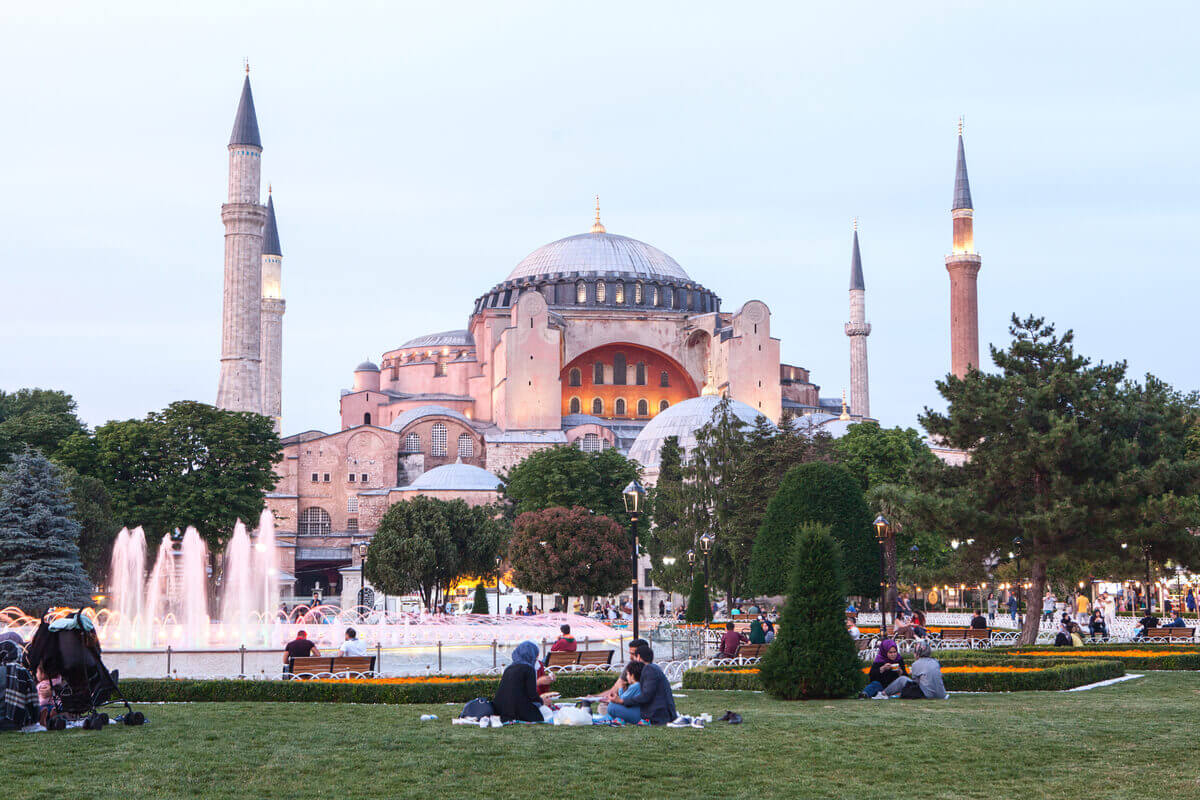 Summer in Istanbul doesn't necessarily completely eradicate the rainfall though. On average, Istanbul sees about 30mm of rain across the month, spread generously across only 6 days. You'll have to be a bit unlucky to experience rain on your trip but it should be noted that it's still possible.
If you're staying in a hotel, there's a good chance they might have umbrellas for guests to borrow in the event of a downpour.
There's always a little bit of wind in Istanbul, no matter what time of year it is. May is the calmest month for wind, so June isn't too much stronger. Average wind speeds are around 11.5mph and will be coming off of the two seas the city borders. You shouldn't need to seek protection from the wind as it's not very cold or too strong.
June is the month of the summer solstice, so the days are very long. Solstice is on the 21st of June with the sun rising at 05.32 am and not setting a staggering 15 hours and 7 minutes later at 8.39 pm. If you wish to see the sunrise, you're going to have to set your alarm very early, but don't worry, you'll be rewarded with a stunning view.
| Istanbul Weather in June | Averages |
| --- | --- |
| Temperature (Day) | 22°C (71.6°F) |
| Temperature (Night) | 17°C (62.6°F) |
| Number of Rainy Days | 6 |
| Rainfall (mm) | 30 |
| Wind Speed (miles per hour) | 11.5 |
| Daylight Hours | 15 |
| Humidity | 70% |
Source: Holiday Weather
---
Top Things to Do In Istanbul In June
Istanbul in June is an excellent month to be in the city. It's teeming with life, tourists walk the streets from all corners of the globe, and locals go about their daily lives, all with the summer sun beating down on everyone.
Here's our list of the best things to do in Istanbul during June.
1. See the Blue Mosque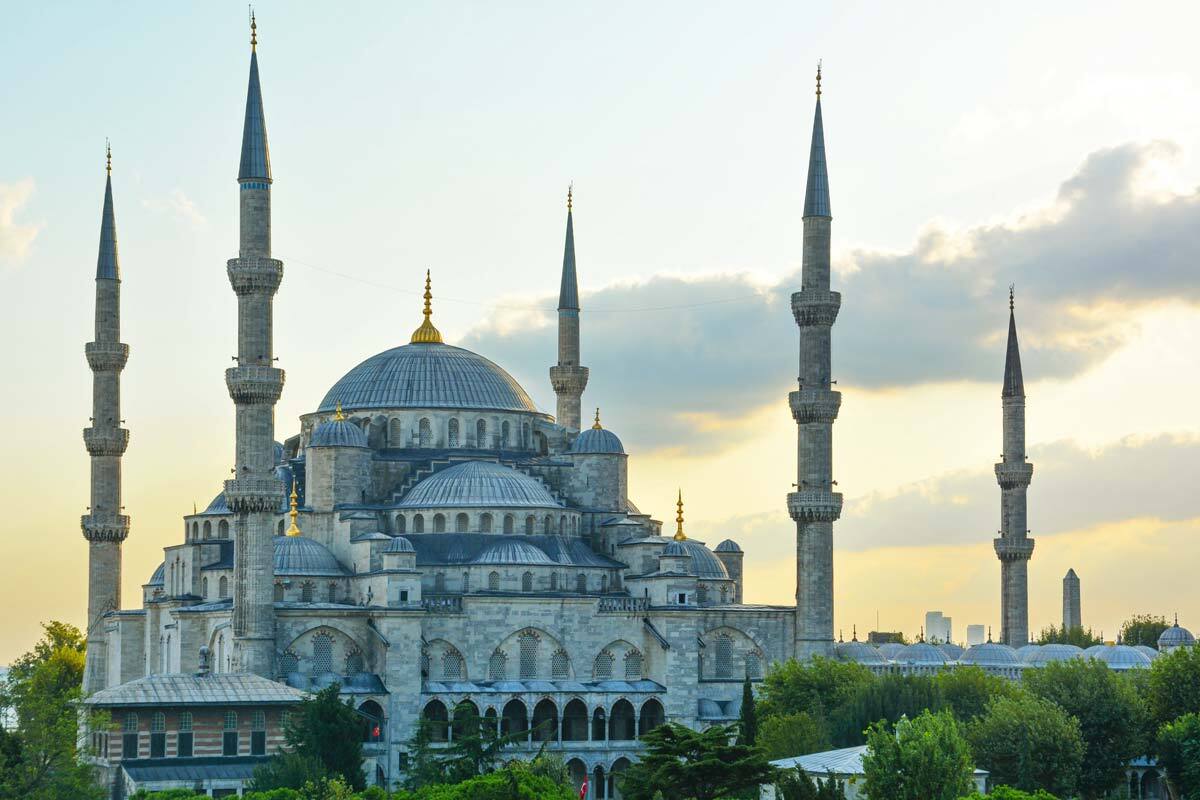 One of the most important things to make sure you see on your trip to Istanbul is the wonderful Blue Mosque. Built in the early 1600s during the Ottoman rule of the region, the Blue Mosque is a fascinating place of worship thanks to the intricate blue tiles that adorn the interior.
Interestingly, the Mosque is still an active place of worship some 400 years later. Make sure to not visit during the times of worship as it closes so you won't be allowed inside.
2. Take A Trip to The Beach
We know Istanbul is technically a city-break destination, but bordering two seas, why not make the most of the stunning Turkish summer and take a day trip to one of many beaches on the outskirts of the city?
With several ideal beaches for you to visit all within an hour's drive – you'd be crazy not to visit at least one. Uzunya Beach in the Kilyos region would be our recommendation, as it's beautifully picturesque and secluded, meaning it'll be quieter than others nearby.
3. Wander the Hagia Sophia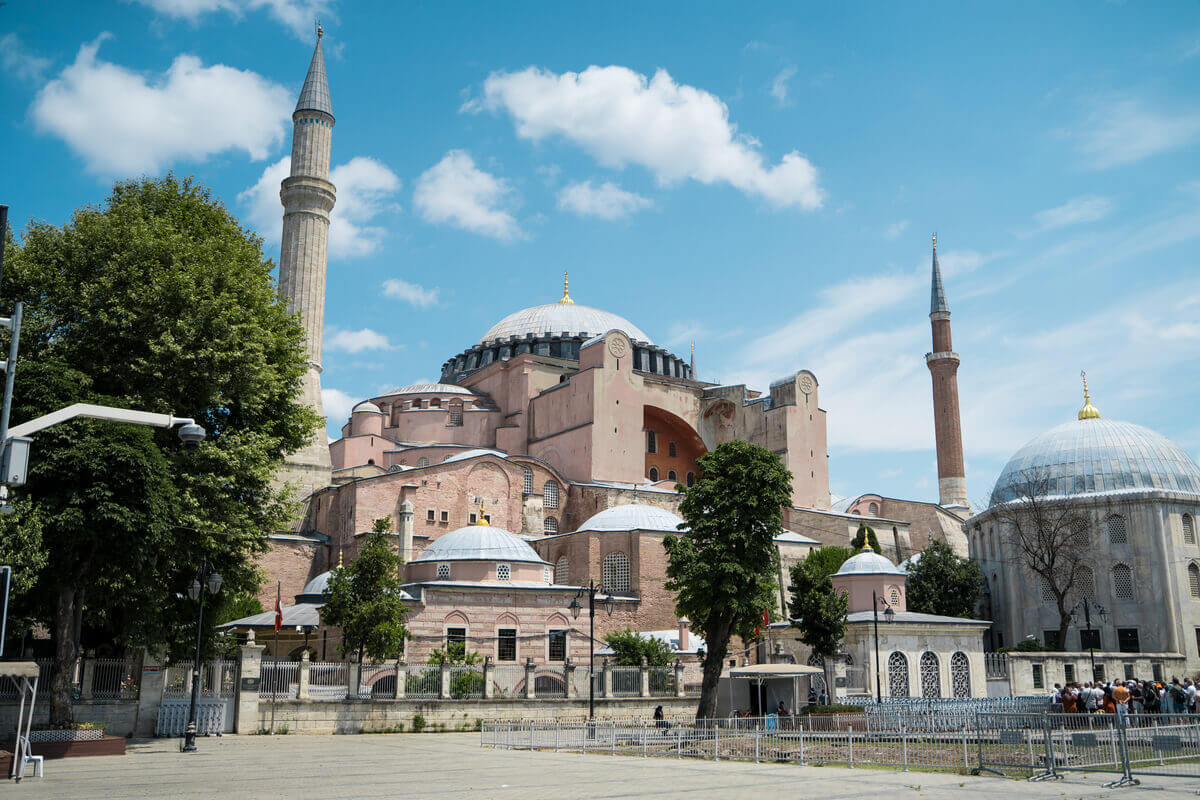 Unsurprisingly, the Hagia Sophia features on all of our Istanbul to-do lists because this mosque is simply so magnificent. It's an iconic piece of Turkish history, the centerpiece, and the greatest example of Byzantine architecture.
Originally built as a Greek Orthodox Church, the mosque dates back well over a jaw-dropping 1500 years ago. It was converted into a mosque when the city of Constantinople fell to the Ottoman Empire in 1453.
4. Cool Down Underground at the Basilica Cistern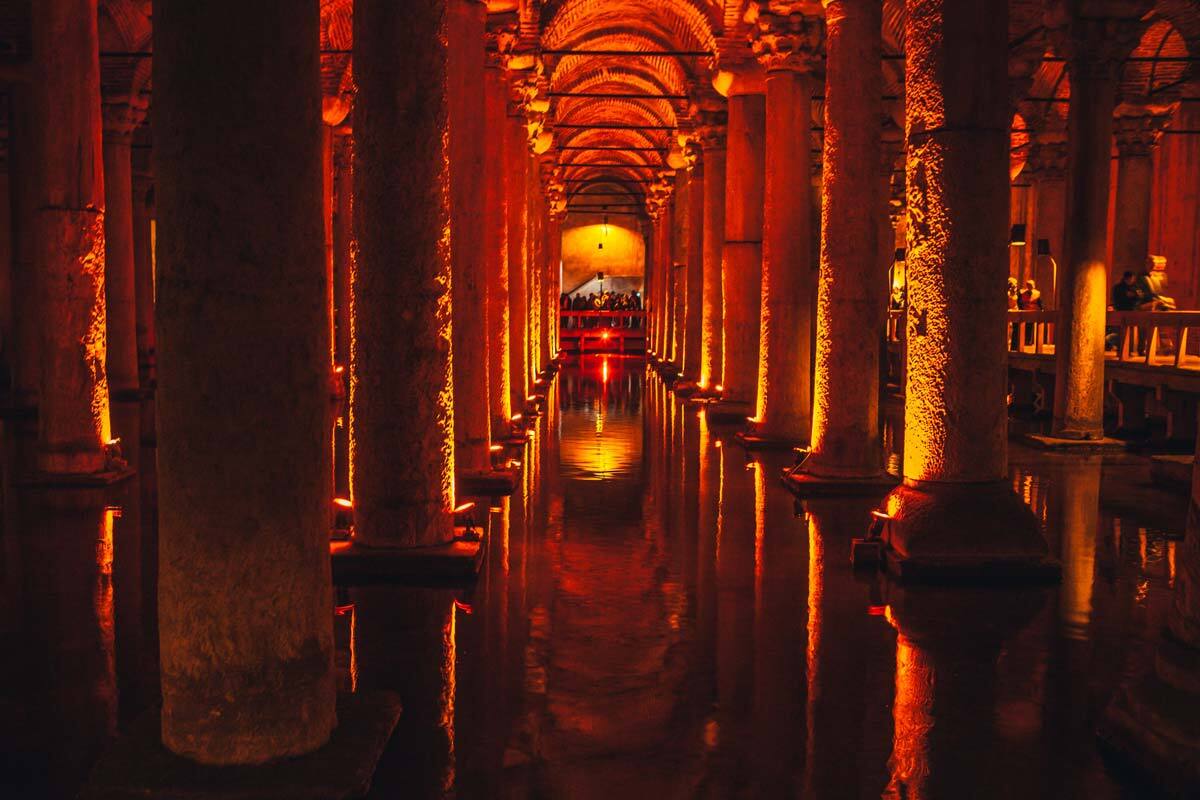 If the hot temperatures are getting to you, then one of the best places to cool down is deep underneath Istanbul's streets. The famous Basilica Cistern is an underground cistern that was built on a similar date to the Hagia Sophia, under the rule of Roman Emperor Justinian I.
It provided a water filtration system to the huge buildings in the immediate area, notably the Great Palace of Constantinople and the Hagia Sophia. 336 marble columns give the cistern a surreal feel, almost like you're in a Harry Potter novel.
5. Night Cruise on the Bosphorus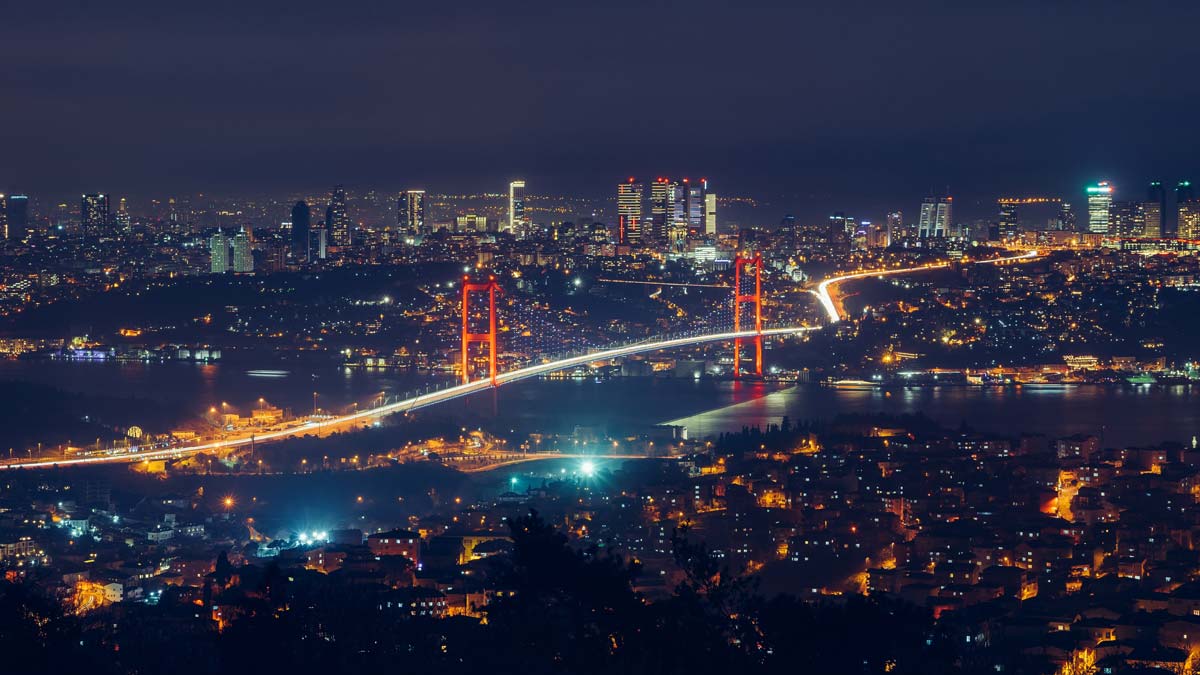 Summer in Istanbul usually means that the nights are lovely and warm, and very little chance of rain. This makes the perfect conditions for a cruise down the Bosphorus, complete with dinner and entertainment.
You'll be served authentic Turkish cuisine and top-class entertainment, all with the stunning backdrop of Istanbul at night. A perfect way to begin, or end your trip to the city.
6. Day Trip to the Princes' Island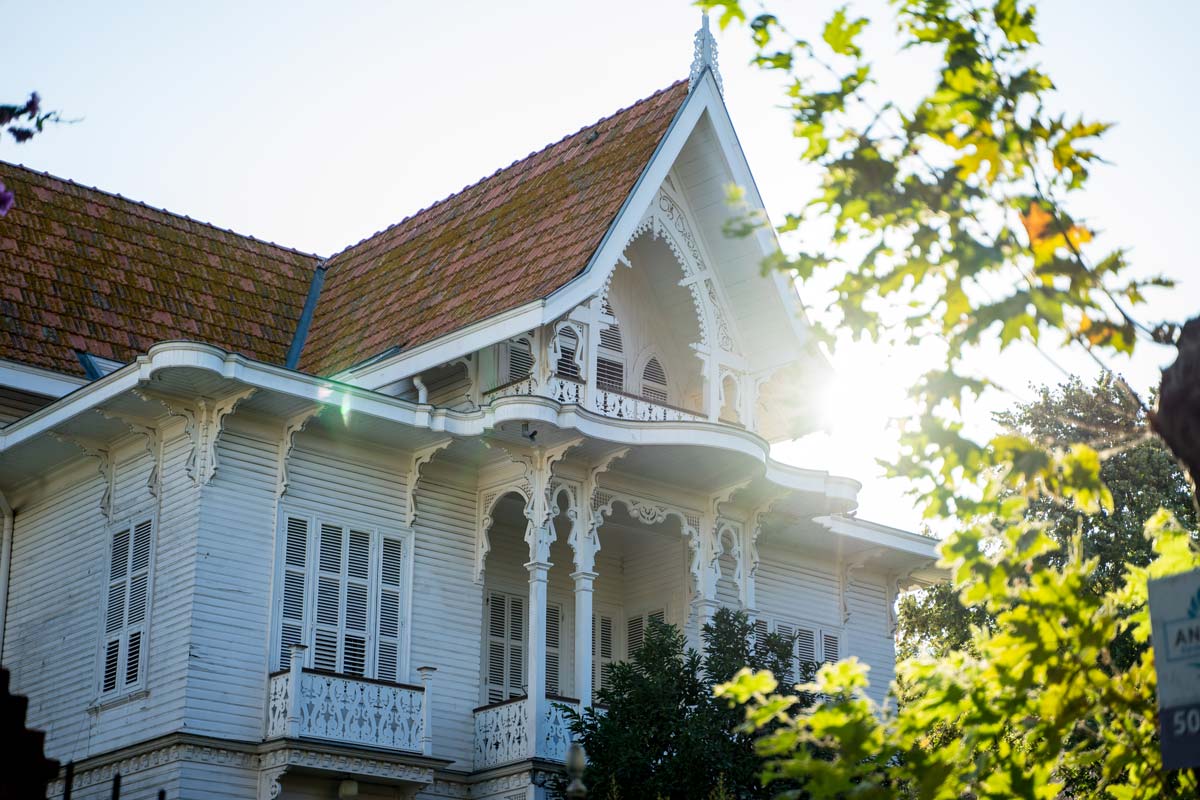 If you've woken up to clear, blue skies why not board a boat and set sail on the Sea of Marmara to visit the beautiful Princes' Island? The islands are steeped in history, with activity on these remote islands dating back to the early Byzantine Empire.
Princes who didn't cut the mustard, so to speak, were exiled to these islands, and later on, they were used as a holiday destination for Turkey's wealthy. The natural beauty of this island is worth seeing on its own and is preserved by the total lack of any vehicles on the island.
7. Visit the Grand Bazaar and Spice Bazaar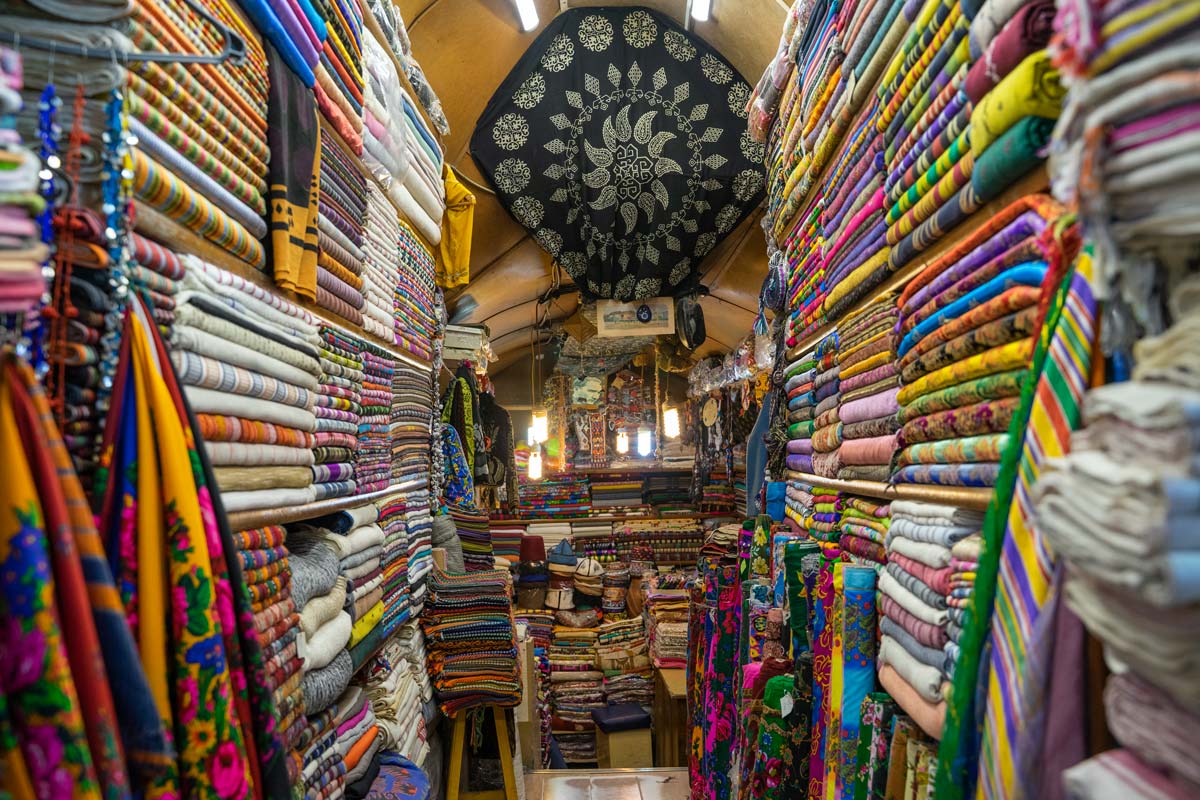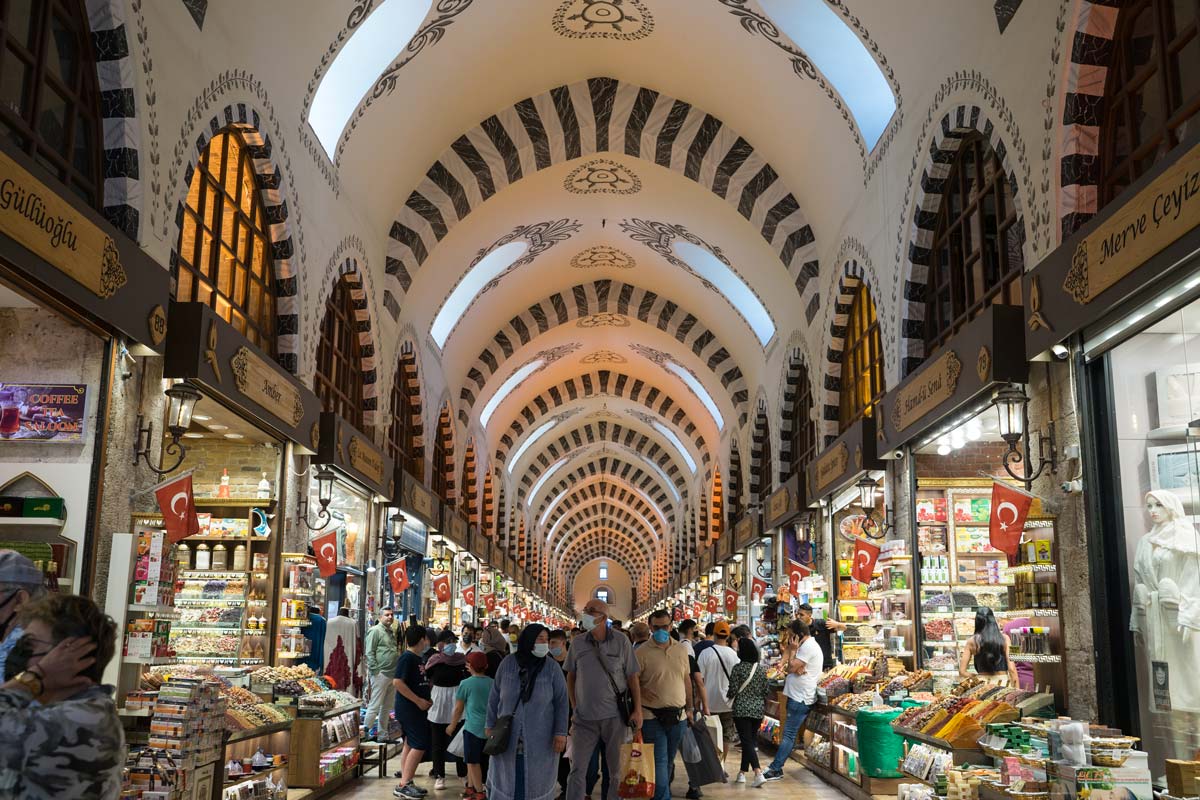 Constructed back in 1455, the world-famous Grand Bazaar is one of the oldest covered markets in the world. It was built to effectively be the very center of all local trade in Istanbul and even today, over 500 years later, that is still true today. You can get all sorts at the market, everything from rugs and lanterns to teacups and Turkish teapots, also known as Caydanlik.
For the foodies, the Spice Bazaar is similarly just as old, and just as vast. Vibrant colors of endless mounds of spices line the alleys, and traditional Turkish treats are available to buy.
8. Climb the Galata Tower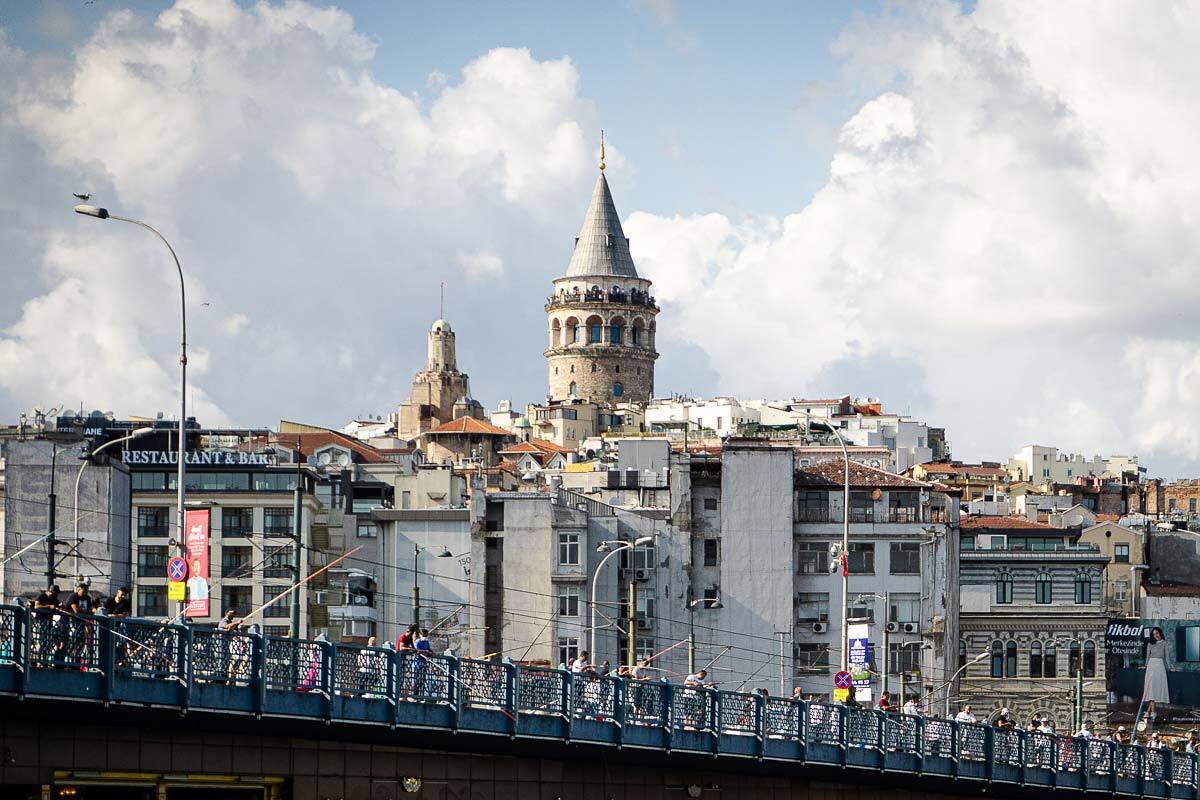 The blue skies of Istanbul's summer make it perfect for viewing points. One of the best viewing points in the city is at the very top of the medieval Galata Tower.
Built-in 1348, this watchtower was constructed to provide a vantage point over the old city of Constantinople. Because of its height, you'll be able to get panoramic views across the entire city. Be warned though, it's a narrow climb up 146 stairs, but the effort is more than worth it.
9. Drink Cocktails on a Rooftop Bar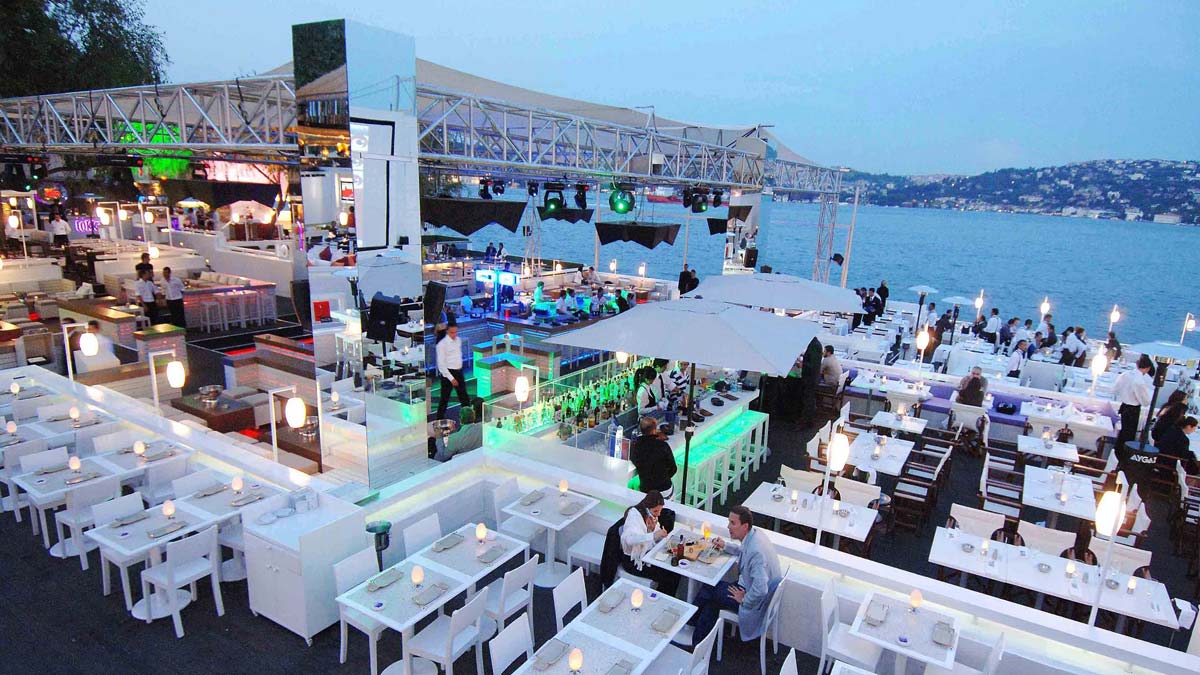 After a long, tiresome day exploring, one of the best ways to relax and unwind is with a few delicious cocktails at the top of an impressive rooftop bar. One of the best rooftop bars in the whole city, and one we recommend, is 16Roof.
Serving everything from signature cocktails with a Turkish twist, like the Bosphorus Passion, to a humble pint of Efes, there'll be something for everyone at 16Roof. Oh, and did we mention the views?
10. Spend an Afternoon at Beylerbeyi Palace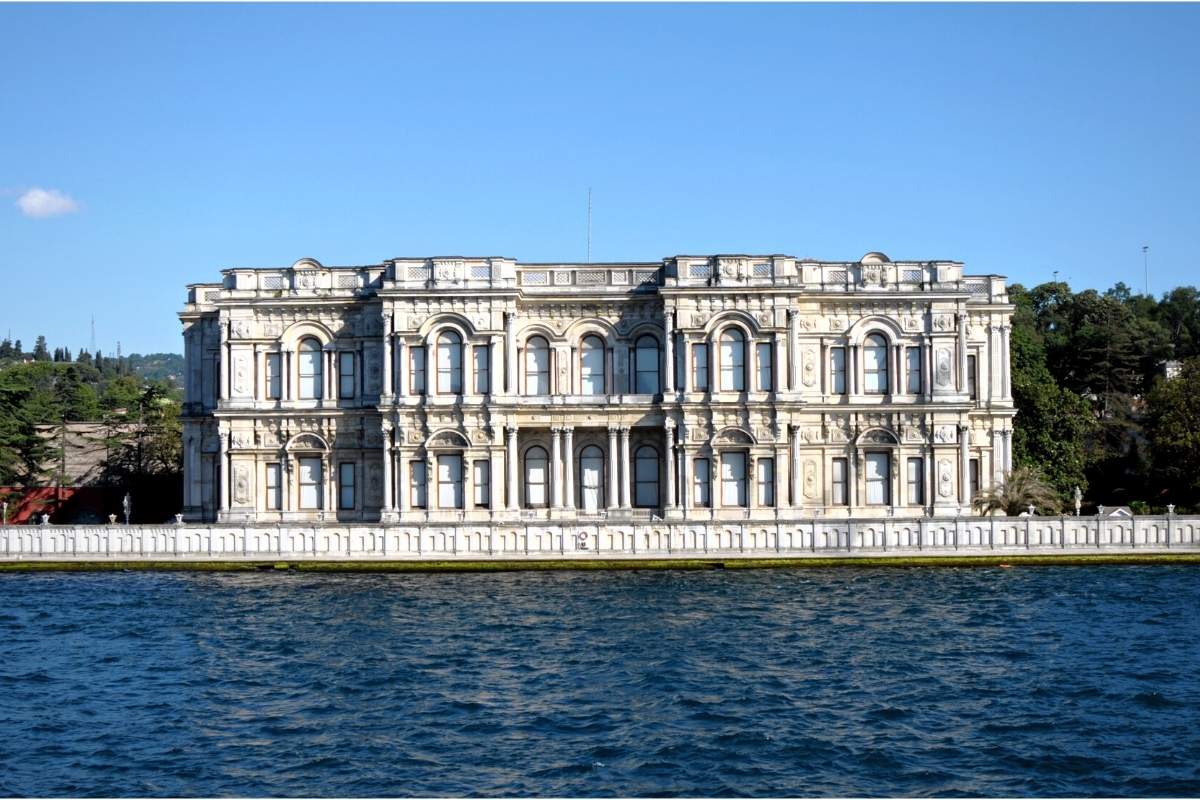 As historical buildings in Istanbul go, the Beylerbeyi Palace is relatively new, being constructed in 1861. This impressive building was the summer residence of the Ottoman Sultans who wanted something a little out of the city but still near the capital.
Its white marble exterior is extremely grand and the lavish interior rivals that of Buckingham Palace.
Read more: The Best Palaces in Istanbul
---
Festivals and Events
June's weather, for the most part, is wonderful. Sunny and warm with little rain make it ideal for festivals and events in Istanbul. Here's a list of the currently scheduled Istanbul events for June 2023.
June 6th – 24th – Istanbul Music Festival
Taking over the majority of June is the Istanbul Music Festival. Celebrating the best of classical, ballet, and opera, this festival has been held during the month of June every year since 1973.
Various award-winning artists and groups perform each year, including the Berlin Philharmonic Orchestra, Julian Lloyd Webber, and Cecilia Bartoli. If you're a classical music fan, be sure to check this festival out if you'll be in the city.
June 10th 2023 – 2023 UEFA Champions League Final
Football fans rejoice! The UEFA Champions League final will be held in Istanbul on June 10th, 2023 at the Atatürk Olympic Stadium.
Expect accommodations to fill up around this time, so be prepared and plan ahead.
June 28th – 2nd July 2023 – Eid al-Adha
Eid al-Adha is a religious holiday in Turkey that commemorates the devotion of Ibraham and the survival of Ismail.
According to Islam, the prophet Ibrahim was going to slaughter his son Ismail, but a lamb from heaven was offered by Angel Jibreel instead of Ismail.
During this time, families will sacrifice a ritually acceptable animal (sheep, goat, camel, or cow), and then share the meat with their families and the poor, friends, and neighbors.
It's a time for visiting with friends and family and for exchanging gifts. You can expect attractions to have different opening hours on these dates.
There will be a "Sacrifice Feast Eve" held on one of the evenings in late June, but the dates for 2023 have not been determined yet.
---
Pros and Cons of Visiting Istanbul in June
In our opinion, Istanbul is one of the best cities in the world. It has so much to offer in any month of the year. If you're still not sure if Istanbul is worth visiting in June, here's a breakdown of the pros and cons.
Pros
Expect plenty of warm, sunny days.
Days are longer in the summer so you can get the most out of each day of your trip.
Because of the lovely weather, al fresco dining becomes a staple of the city's culture.
Cons
June can be very hot. If you struggle in the heat, Istanbul might not be the best destination.
Summer season is in full swing so attractions will be very busy.
Flights and hotels will likely be more expensive in comparison to previous months.
---
Where To Stay in Istanbul in June
One good thing about visiting Istanbul in June is that it has lovely weather and lots going on, but that means accommodation gets booked up quickly! Be prepared and book accommodation in advance…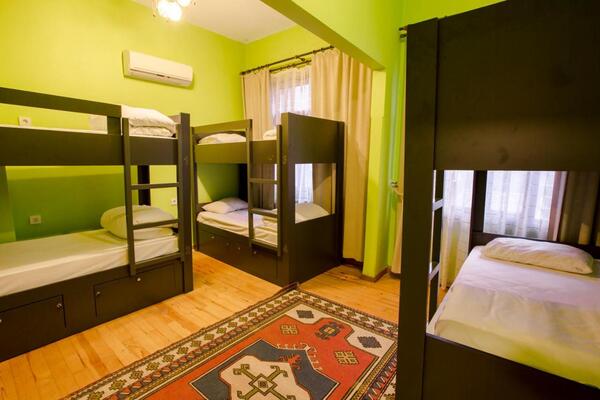 Best Hostel in Istanbul – Cheers Hostel
Cheers Hostel is the best-located hostel in Istanbul, nestled behind the Hagia Sophia and the Blue Mosque. It offers comfortable, individually styled rooms and dorms, with spacious shared bathrooms. The terrace bar and restaurant serve up kebabs and international cuisine for those who don't want to venture far for food and have wonderful views of Istanbul's Old Town.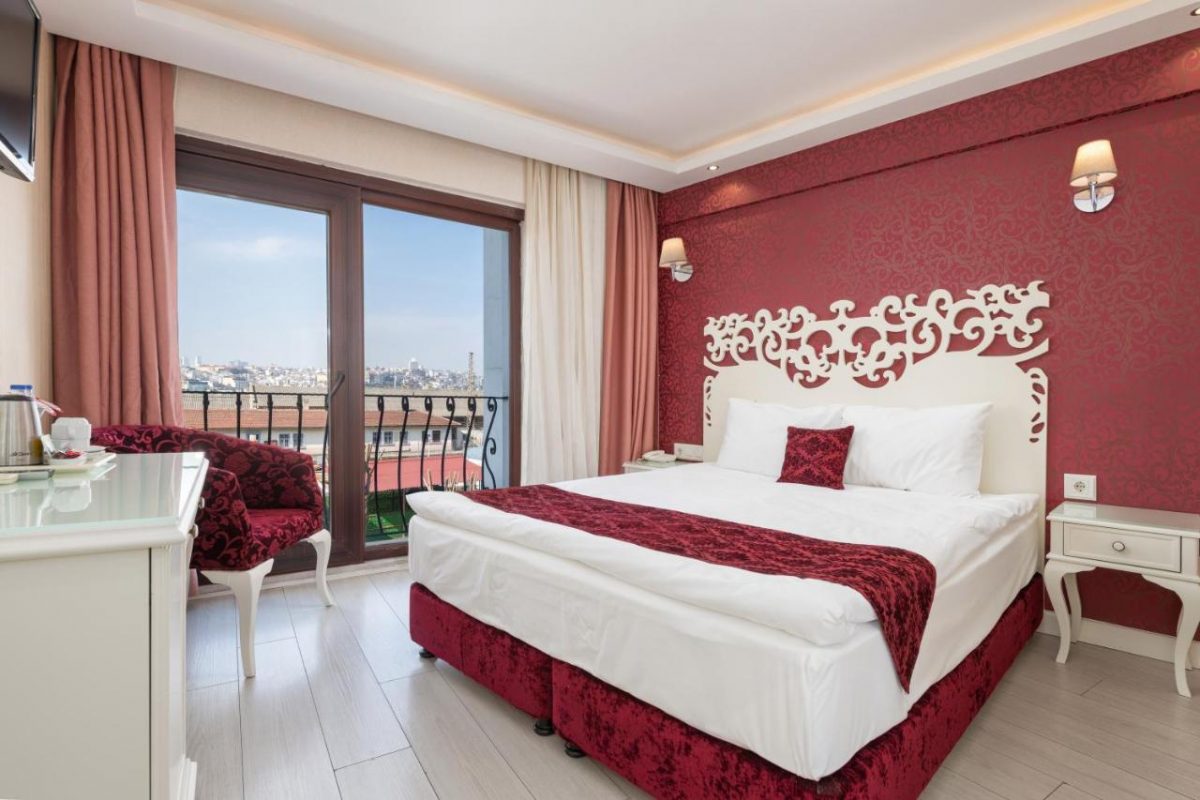 Best Mid-Range Hotel in Istanbul – Dream Bosphorus Hotel
If you're looking for a mid-range hotel in a great neighborhood, then Dream Bosphorus hotel is the ideal choice. It's located in the heart of Old Istanbul, in the Sirkeci area. Each room has been individually styled in traditional Turkish decor and comes with a private bathroom and 24-hour room service. Some rooms have views of the Golden Horn. Each morning a daily breakfast buffet is served and the Dream Café offers soft drinks and snacks throughout the day. Each afternoon, it's worth returning for free cakes and cookies.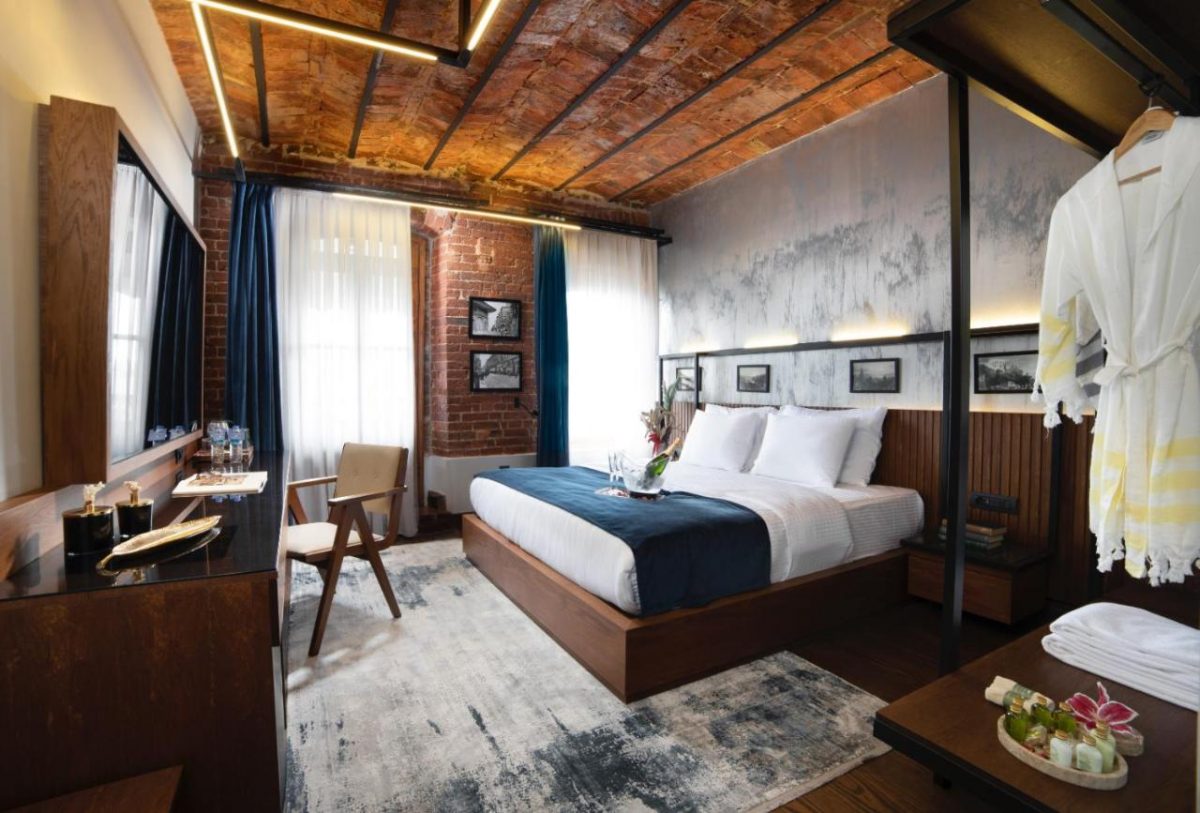 Best Luxury Hotel in Istanbul – Hotel DeCamondo Galata
Located on the riverfront in Kadikoy, the Hotel DeCamondo is the ideal place to stay for a luxury getaway. It has a stunning bar and terrace as well as an onsite restaurant and car rentals. Each morning, a continental or a la carte breakfast is offered, and when it comes to exploring, the hotel can help organize your tours and car rentals.
---
Tips for Visiting Istanbul in June
If you do decide to visit Istanbul in June, here are a few tips to make your experience more enjoyable.
Drink plenty of water. You might be surprised by how strong the sun can get so be prepared and keep hydrated.
Pack for summer, but bring a jumper. If you're not sure what to wear in Istanbul in June, pack for summer but bring a jumper incase it gets cold in the evening.
Pack a headscarf if you're a woman. You will need a scarf to cover your hair when entering a mosque. You also need your knees and shoulders covered, which shouldn't be a problem if visiting in the winter.
Get an Istanbulkart at the airport. This is a transport card that enables you to get on buses, metros and trams. It's best to get this at the airport to avoid trying to sort it in the city where it's much busier.
Carry an umbrella and waterproof clothing. You might have a small chance of rain this time of year so be prepared with your waterproof gear.
Carry cash for the markets. Many shops still don't accept cards.
Are you reading this from Turkey? Maybe you need a VPN!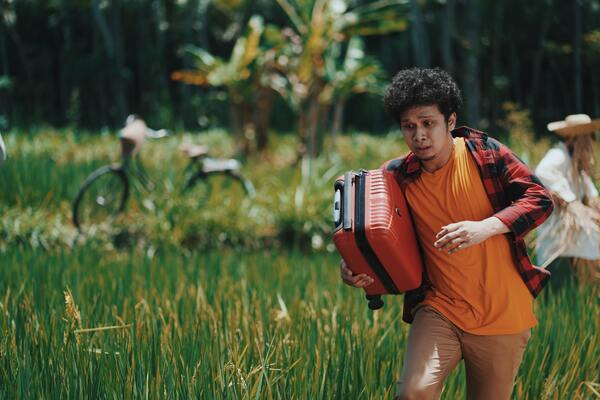 If you're already in Turkey, there is one thing you absolutely NEED: a reliable VPN.
You may find some of your favorite websites and apps are blocked in Turkey, such as popular hotel site booking.com
A VPN allows you to get passed this ruling and enables you to browse these sites without any hassle, and it's completely legal.
We use Express VPN when we're in Turkey and we'd recommend it to anyone. It's affordable, quick, and easy to use.
---
FAQs About Istanbul in June
Here's what people usually ask us about visiting Istanbul in June…
Is Istanbul good to visit June?
Personally, we think June is one of the best months to visit Istanbul. This is because the weather is warm but not sticky hot and there are a lot of things happening this time of year.
Is June too hot in Istanbul?
The average temperature in Istanbul in June is around 26°C, which is hot but not scortching. Because of the breeze coming from the Bosphorus, it might feel cooler. Be prepared with sun protection, though.
Is Istanbul crowded in June?
June is the start of the high season in Istanbul so you will find more crowds filling in towards the middle and end of the month.
---
Before You Go
So there you have it, this is everything you need to know about visiting Istanbul in June. As you can see, the weather is warm and there are more sunlight hours for exploring, but it's not as hot and humid as the weather in July and August.
The rainy days are starting to move away and you'll more crowds coming to visit as it's just after the shoulder season.
As this is the end of Spring, expect to see some more festivals and events coming up, as well as see the last of the stunning tulips bloom in Sultanahmet.
We hope you have a great time exploring Istanbul in June!
Disclaimer: Some of the links above are affiliate links. That means if you book or make a purchase through the links, we will earn a small commission at no extra cost to you! The money will help run this site! Thank you!