Istanbul is a really easy city to navigate, but it's also huge. It also spans two continents, Europe and Asia, separated by the Golden Horn which connects to the Bosphorus Strait.
These two sides and the varying modes of transport can make getting around Istanbul confusing.
This is why we wrote this guide to public transportation in Istanbul so you can understand how to get from place to place with ease.
Planning a trip to Istanbul last-minute?
Make sure you book your tours, places to stay, and airport transfers ahead of time to ensure availability!
Here is our recommended airport transfer in Istanbul:
Here are our recommended tours in Istanbul:
Here are our recommended places to stay in Istanbul:
Magnuara Palace Hotel (Gorgeous hotel in the historic centre!)
Cheers Hostel (Budget hostel near the Blue Mosque!)
---
What is the best way to get around Istanbul?
The best way to get around Istanbul is on foot. The city is quite walkable, especially in the areas where all the tourist attractions are.
The districts of Sultanahmet, Besiktas, and Eminou are the three main areas where tourist attractions reside. You can easily walk between these three districts since they sit next to each other.
Besiktas is located across the Galata Bridge and connects to Eminou, which connects to Sultanahmet.
If you decide to stay in these areas, you won't need to use much public transport to get from A to B.
But of course, we can't all walk for miles and sometimes we need to give our weary legs a break, so you may need to use public transport when walking isn't an option.
Public Transport in Istanbul
Tram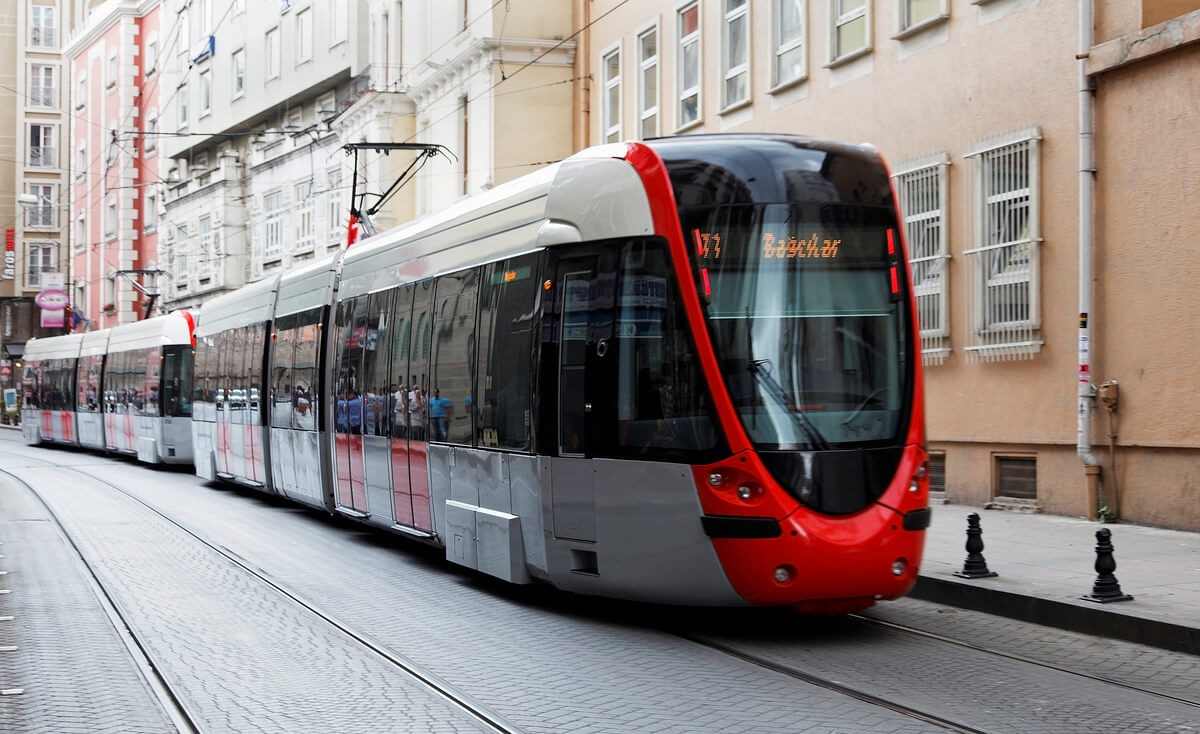 The main way to get from each tourist attraction is on the tram. The tram is very simple to use and it's difficult to get lost since there are only three lines and it only runs on the European side of Istanbul.
Riding the tram in Istanbul is a great way to explore the city, and it has been conveniently built to ride between some of the most notable tourist attractions.
It started as a horse tram during the Ottoman era in 1860, and became an electric tram in 1912, making it one of the oldest public transportation options available.
In 1992, it was modernized when the T1 line opened, followed by the T2 in 2006. In 2011, the T1 and T2 line merged and was simply called the T1 line, which is why there is no T2 line today.
The T4 and the T5 lines opened in 2007 and 2021.
With a modern network covering much of downtown, trams are a comfortable and economic way to get around Istanbul.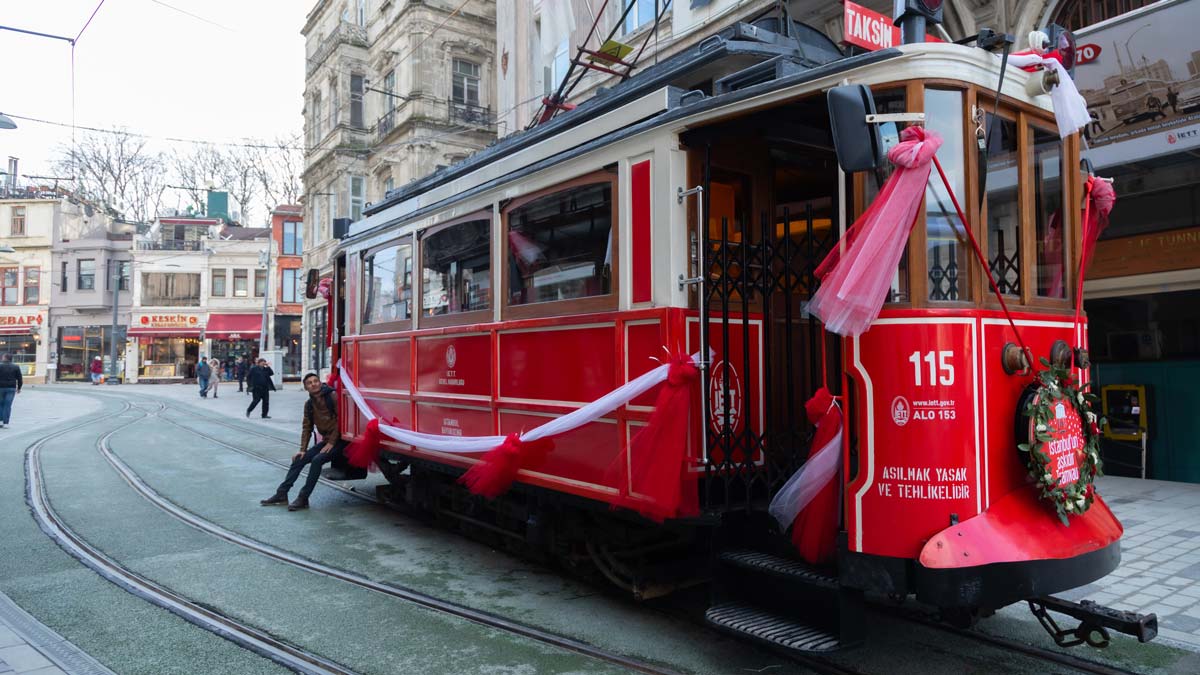 The T1 Line runs from Bagcilar to Kabatas, and is the main line that connects the suburban neighborhoods to Sultanahmet where the Hagia Sofia, Blue Mosque, and Topkapi Palace are located, and runs into the Besiktas district where you'll find the Galata Tower and Istiklal Street.
The T1 connects to the T4 Line at Topkapi which runs up to Mescidi Selam. This line runs mostly through suburban areas and is rarely used by tourists.
The T3 Line is located on the Asian side and operates in a circular loop around Kadikoy and the Moda district.
The trams are modern and quite atmospheric, with detailed information panels inside each car informing passengers on how to use them and where they're heading.
All lines are now air-conditioned, accessible for strollers and wheelchairs, and even provide WiFi!
A ride costs only 15TL regardless of destination or length of the journey. You can purchase 1,2,3,5 or 10 ride tickets, or use the Istanbulkart.
Metro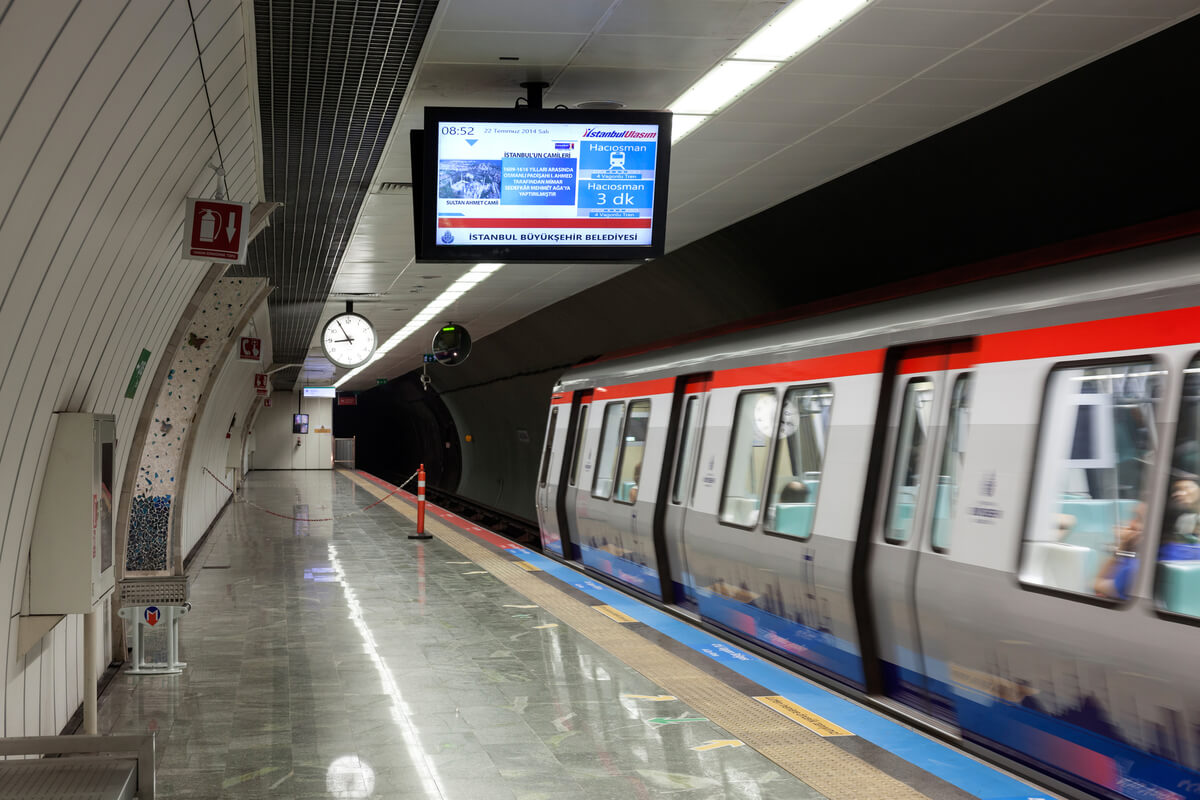 If you're looking for the quickest way to get around Istanbul, you may need to take the metro.
It's been around since 1989 and was the world's second-oldest underground urban rail line, the top spot goes to the Underground in London. It has expanded far beyond its original line between Taksim and Levent and today has 11 lines.
Nowadays it runs over 194 kilometers of track with a total of 133 stations, linking neighborhoods all over the city.
Riding on the modern and comfortable metro system is a great way to save time while seeing some of Istanbul's major sights.
Plus, navigating it is pretty straightforward: buy your ticket at one of the many vending machines scattered around the station or from the friendly ticket staff. You can also use the Istanbulkart and top it up at the machines.
The metro reaches most major points in Istanbul such as Sultanahmet and Uskidar.

It's also the quickest and easiest way to reach the Asian side of Istanbul.
Bus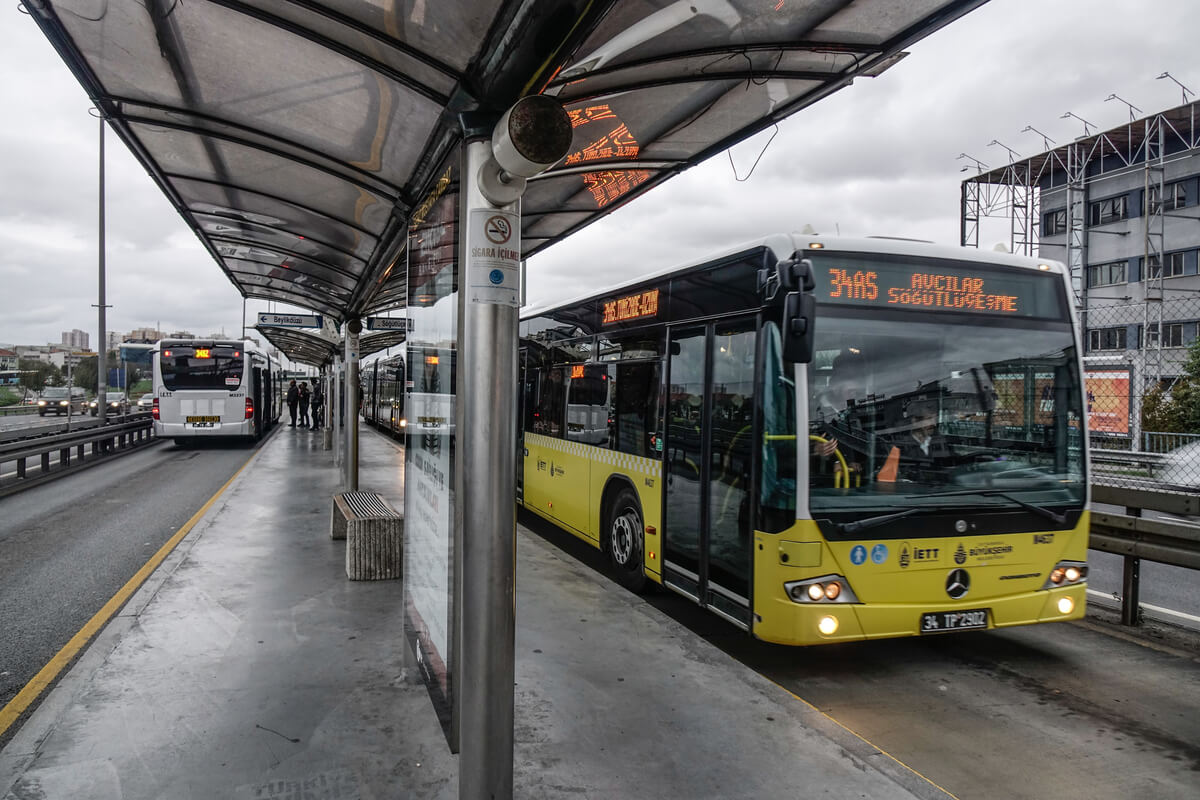 Istanbul is a bustling city with so much to see, so if you don't want to travel underground, another great way to get around is by bus.
The large, yellow buses take you to places all over Istanbul. With over 4,012 buses and 783 bus lines, you can find a bus to take you anywhere.
The buses usually transport from suburban areas into the city and traffic can be a problem in some areas, so we don't recommend a bus for getting around downtown. You may use the buses when traveling to and from the airport, or for reaching attractions further afield such as the Vialand Theme Park or Legoland.
Some routes are even diverted during peak times, which is quite inconvenient for tourists who aren't aware of these alternate routes.
If you want to visit just the touristy sites, you might want to consider the hop-on hop-off bus, which rides around Sultanahmet Square, Eminönü, Karaköy, Galata, past the Dolmabahçe Palace and Naval Museum, and up towards Taksim Square, Şişhane, and Egyptian Spice Bazaar.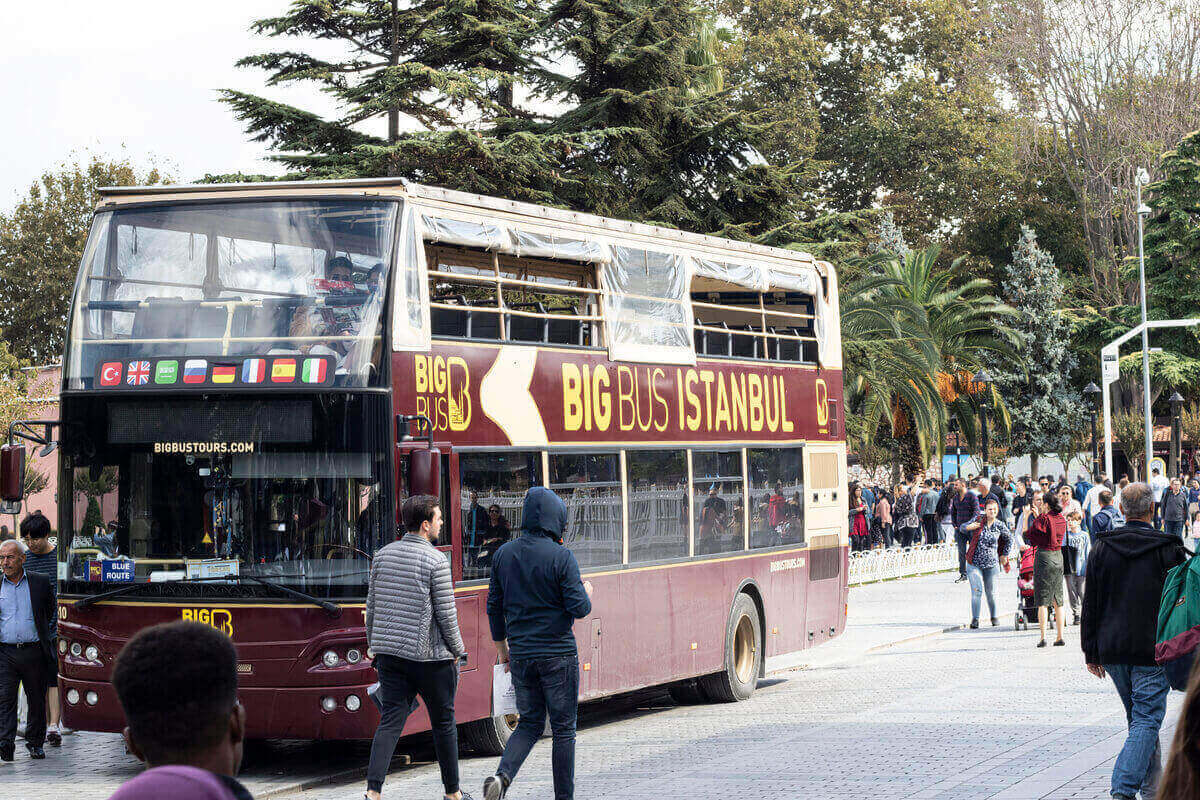 Ferry
The iconic ferry system in Istanbul has been around since the reign of Ottoman sultan Abdülmecid and is an affordable way to cross the Bosphorus.
Depending on where you want to travel, you can choose from different routes that connect the European and Asian sides of Istanbul.
There are various ticket options ranging from day tickets and group discounts to monthly subscriptions; and you can also use your Istanbulkart too.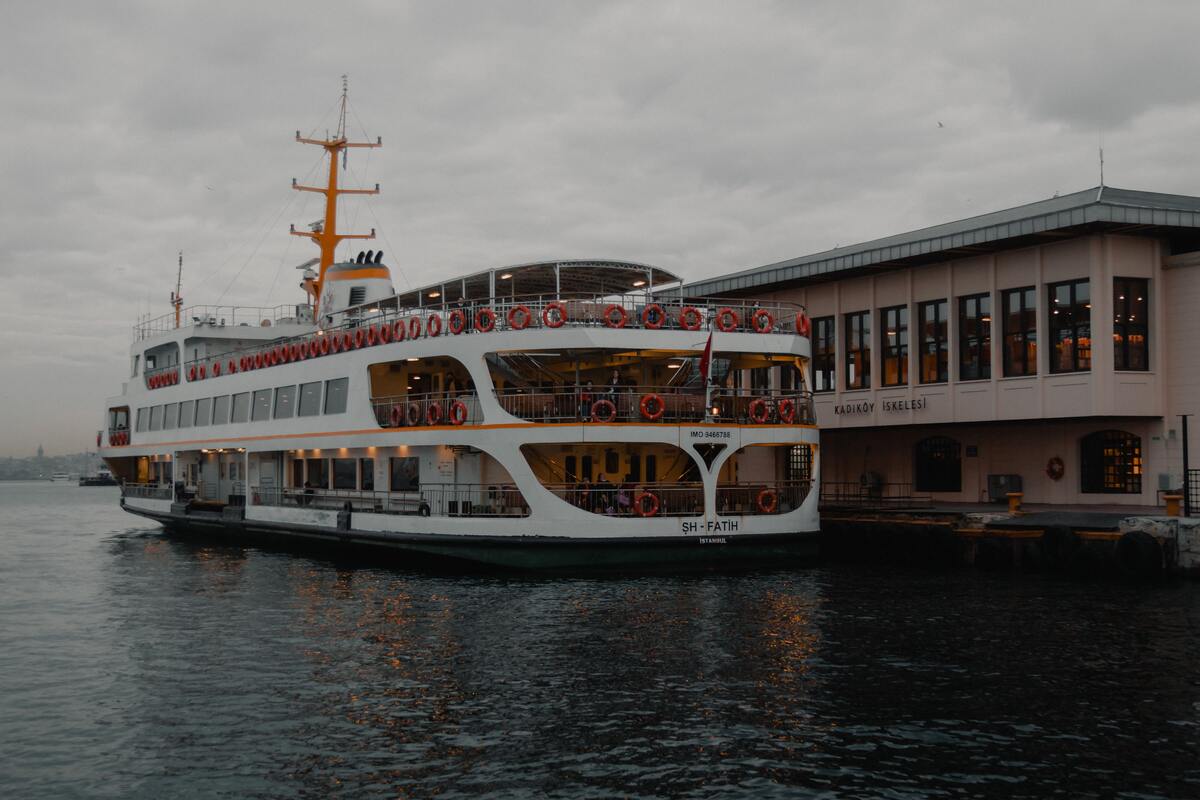 Taking a ferry ride is an experience worth having and it's quite affordable, too. The perks of the ferry are uou get to witness part of Istanbul's history while traversing through two continents.
The downside is that ferry times are not as regular as other forms of transport, so if you want to take a ferry, you need to plan ahead and make sure you make it to the pier with enough time to spare, otherwise you may end up waiting as long as an hour for the next ferry.
The experience undoubtedly adds another layer to this unique city that continues to dazzle visitors and locals alike, but we do recommend you take a look at the ferry times before you visit so you can plan when you need to get to the pier.
The ferry times can all be found here.
Taxi/Uber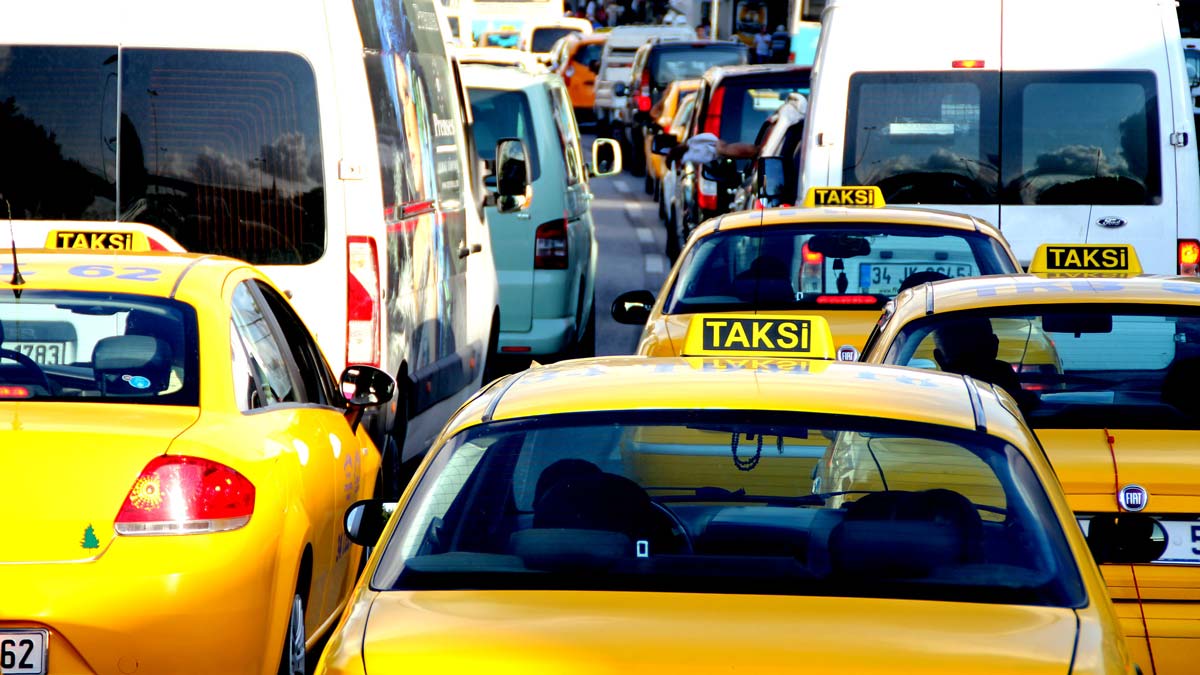 Honestly, we wouldn't recommend getting a taxi in Istanbul. The one time we did this, we were scammed and ended up paying more than was written on the meter.
The driver pretended to be lost and drove in the wrong direction – only because we had our route on our phone were we able to tell him of his mistake and he turned around. Of course, we paid for that mistake.
This is why we always recommend using Uber in Istanbul. This means you see the fare before you get in the taxi and you can also follow the route on your phone. If there are any problems, Uber has a support team that can help.
We felt much safer using Uber and never had any issues using it.
Tips for Using Public Transport in Istanbul
Get the Istanbulkart. This is a transport card that allows you to use the trams, metro, buses, and ferries. They are easy to use, since there are card machines at every stop which can be translated into English. You can top them up using cash.
Get the Istanbulkart from the airport. We made the mistake of taking the bus from Istanbul International Airport to the city and so we didn't get the card. It was a nightmare trying to find somewhere that sells it, as it's only sold at major metro and bus stations. As a tourist, knowing what is considered a major station is not easy.
Be aware of pickpockets. Especially on the tram. While crimes are rare and Istanbul is safe, petty crimes like pickpocketing can sometimes happen. Wear your backpack on your front and lock away any valuables.
Carry a city map. Don't rely on Google maps as it's not foolproof. You can collect a map from your hotel or from tourist information centers.
Carry cash. Many ticket machines don't accept cards, only cash, so bring cash to avoid needing to queue at ticket booths. When taking the tram, the ticket machine is the only way to buy a ticket.
Final Thoughts on Getting Around Istanbul
So there you have it, this is how you get around Istanbul using public transportation. As you can see, it's fairly easy to navigate.
We hope this guide helped you plan your trip to Istanbul and helped you plan your route around the city. Hopefully now you have some insight into how to use public transportation in Istanbul.
Disclaimer: Some of the links above are affiliate links. That means if you book or make a purchase through the links, we will earn a small commission at no extra cost to you! The money will help run this site! Thank you!