As of 2023, there is Uber in Istanbul. Users can order an Uber from anywhere within the Istanbul city limit, even the airports. But it is worth noting that the Uber you call in Istanbul is going to be a regular yellow taxi on the street. While there is the convenience of being able to order transport directly through your phone, you might have to pay extra for your Uber.
So before you order your Uber in Istanbul (or Turkey), make sure you read our guide on Uber in Istanbul. We will talk about the different types of Ubers you can get, how to avoid scams, Uber alternatives in Istanbul, and more!
Looking for a shuttle from Istanbul Airport to the city center?
Check out our recommended airport shuttle company here!
Planning a trip to Istanbul last-minute?
Make sure you book your tours, places to stay, and airport transfers ahead of time to ensure availability!
Here are our recommended tours in Istanbul:
Here are our recommended places to stay in Istanbul:
Magnuara Palace Hotel (Gorgeous hotel in the historic centre!)
Cheers Hostel (Budget hostel near the Blue Mosque!)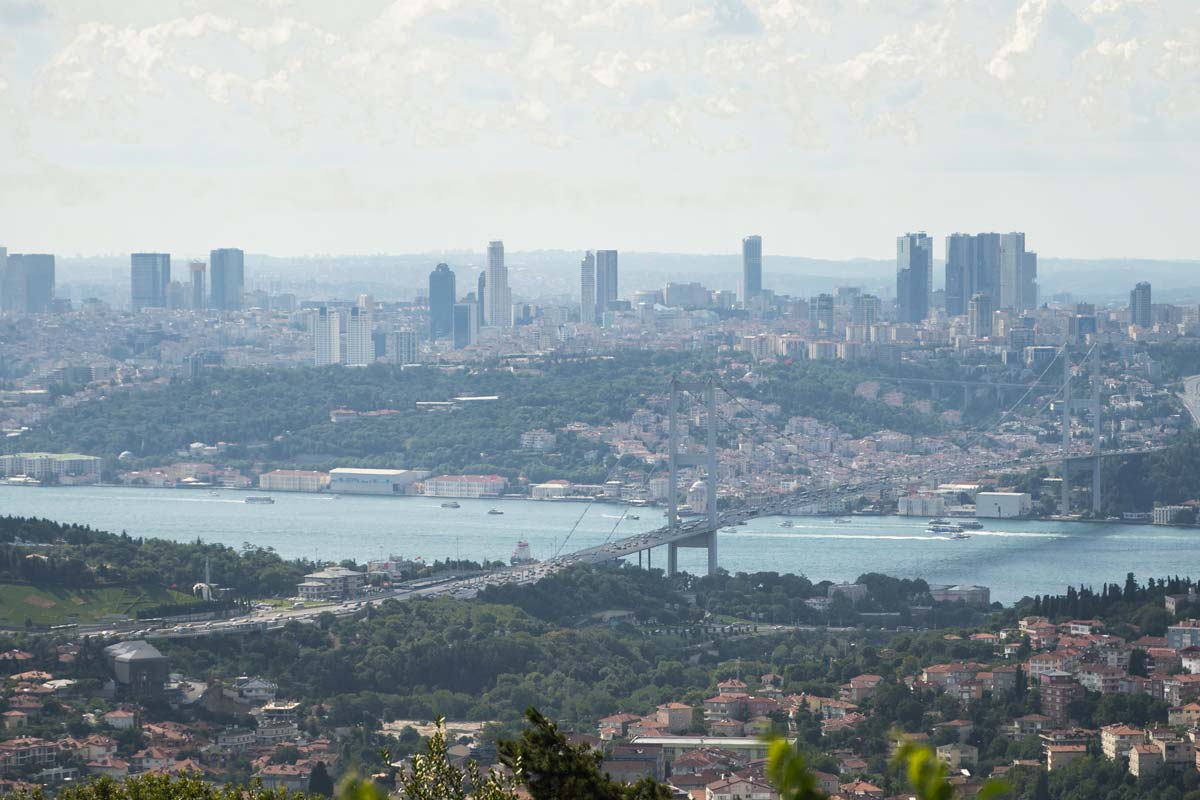 ---
Is Uber Banned in Istanbul?
So why are so many people asking does Uber work in Istanbul?
If you look online, you might find that people mention Uber being banned in Istanbul. Historically, the company Uber has had a rough time in this Turkish city.
Uber first launched in 2014 and received mostly positive feedback. Locals and foreigners started to love its convenience and began to favor Uber over traditional yellow taxis of the city. This put a huge detriment to the taxi business and Turkey's United Taxi Drivers Association started to protest, eventually filing a lawsuit against Uber in 2019.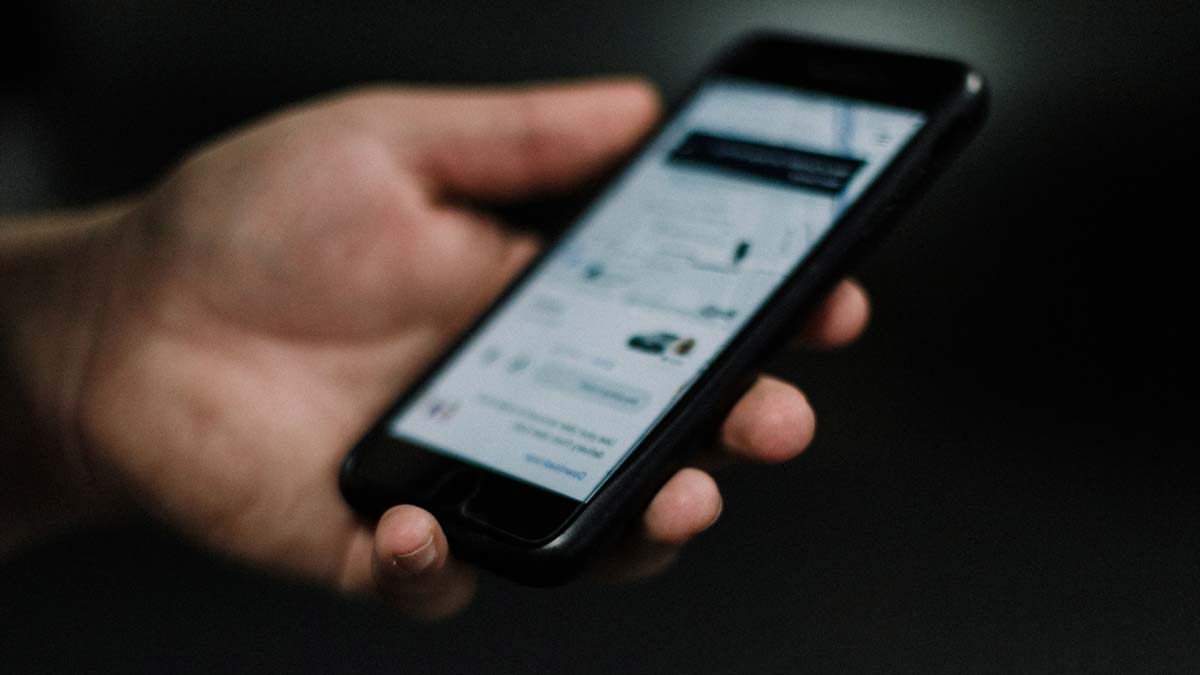 Uber's operation was completely halted in late 2019. Both the app and website were disabled and inaccessible. That is why some people think that Uber is banned in Istanbul, but in fact, it is not.
That is because in late 2020, an Istanbul court overturned the ban on Uber and said they could resume service with the city's yellow and turquoise taxis. Their appeal was a success and Uber fully resumed its service starting in 2021.
Though the situation seems fairly stable at this point, it won't surprise us if Uber has to discontinue its service in Istanbul (and Turkey) at some point.
---
Types of Uber in Istanbul
At the moment, there are three types of Uber you can order through your phone or online. They are:
Regular Yellow Taxi
Turquoise Taxi
Black Taxi
Yellow Taxi Uber
The yellow taxi Uber is the regular city taxi that you can flag off the street. There is nothing unusual about this, except that because it is an Uber, it is likely going to cost more than getting a taxi off the street. Well, that is unless the taxi driver tries to scam you by taking a detour, which happened to us!
Yellow Taxi Ubers are very common in Istanbul and an economical option for getting around the city. Yellow taxis are typically vehicles like Renault Clio and similar standards. They carry 4 passengers plus luggage.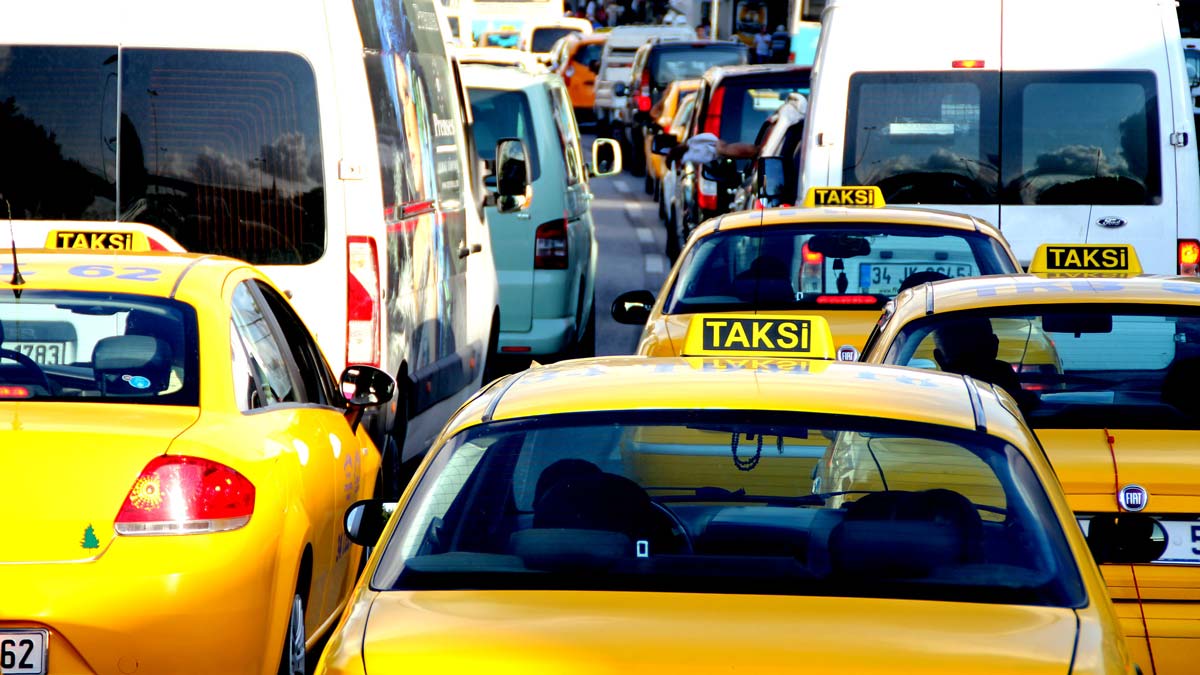 Turquoise Taxi Uber
Turquoise taxis are premium taxis you can only order through the app. These taxis are usually a nicer vehicle, which might be something you want if you are going on a date at night in Istanbul and want a more luxurious ride.
"Premium taxi ride with comfortable vehicle"

-Uber
Some of the types of vehicles you get picked up in are Volkswagen, BMW and Mercedes. Turquoise Uber Taxis are quite rare in Istanbul, so keep that in mind if you need to get somewhere on time. They are typically 15% more expensive than regular yellow taxis.
Black Taxi Uber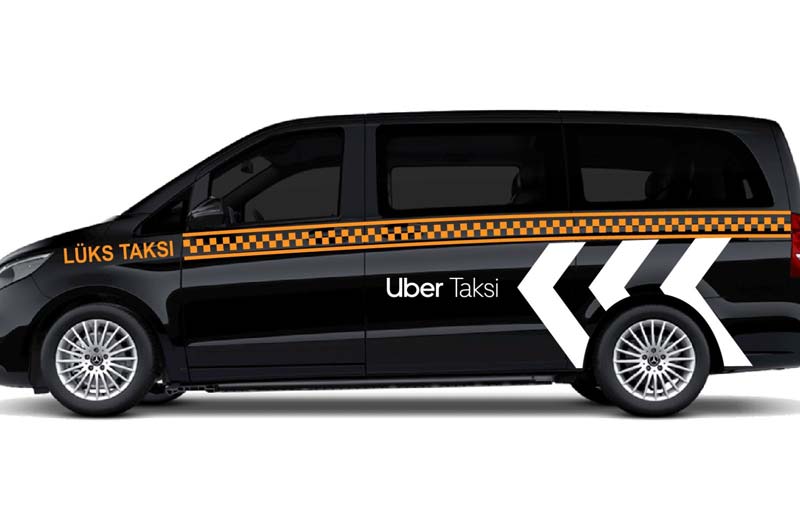 Black Taxis are an 8-seater Uber taxi with a large seating area designed to accommodate families and groups of friends. They launched in 2022 and are a major hit for locals and foreigners alike. Black Taxi Uber in Istanbul utilizes premium vehicles so riders can travel in style and comfort.
On average, they are about 70% more expensive than traditional yellow cabs. But for double the capacity, it is worth it if you have a big group. Since this service has only commenced in early 2022, there is a limited number of black taxi Ubers in Istanbul.
---
How To Pay For Uber in Istanbul
Paying for Uber in Istanbul is like paying for Uber in any other place. Visitors can pay one of the four ways:
Cash
Credit or Debit Card
PayPal
Google Pay or Apple Pay
Note that if you decide to pay with cash, it is important that you pay the amount said on the app. Taxi drivers can sometimes try to scam you and make you pay extra.
---
Uber Alternatives In Istanbul
There are two Uber alternatives apps in Istanbul that are rather popular:
Because these apps are local to Turkey, they are typically cheaper than Uber and much preferred by the locals.
Bitaksi and Itaksi are similar to Uber, in the sense that you can order a taxi from your phone. The price is computed beforehand and you pay with a credit card through the app or directly to the driver with cash.
Compared to hailing a taxi off the street, the price is actually about the same. In some cases, it might even be cheaper to use one of these apps because it forces the taxi driver to take the most direct route instead of taking a detour to rack up the meter.
The challenging part is getting the apps to work. We've tried multiple times and couldn't get an activation code, even with a Turkish sim card and number. Phones with international sim cards are unlikely to work.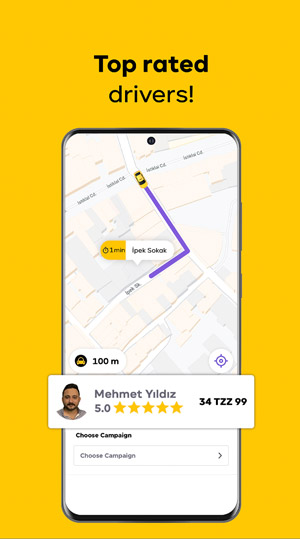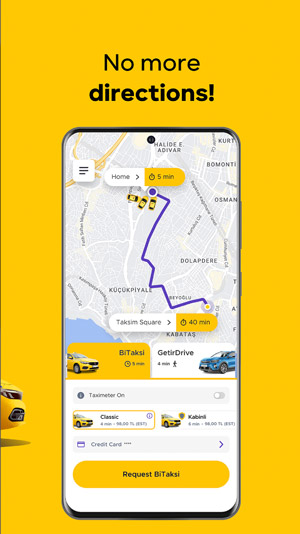 Though with Bitaksi and Itaksi, users can only order regular taxi cabs. So if you are a big group and you want an 8-seater vehicle, Black Uber taxi might still be the best option for you.
Another thing we have noticed with Bitaksi and Itaksi is that the drivers are more likely to scam you if you are a tourist. Many foreigners have reported getting ripped off by their taxi drivers from Bitaksi or Itaksi.
For a few bucks cheaper, maybe it is best to stick with Uber, an internationally recognized company!
---
How To Get Around Istanbul
The best part about Istanbul is how easy it is to get around, even without Uber or a taxi. Istanbul is a very walkable city, with many of the main attractions concentrated in Sultanahmet, the historic centre, or Taksim, the modern center.
Within the neighborhood, it is easy to walk around and see all the sights. But if you want to go from one neighborhood to another, you might want to take public transportation or a taxi.
Public Transportation in Istanbul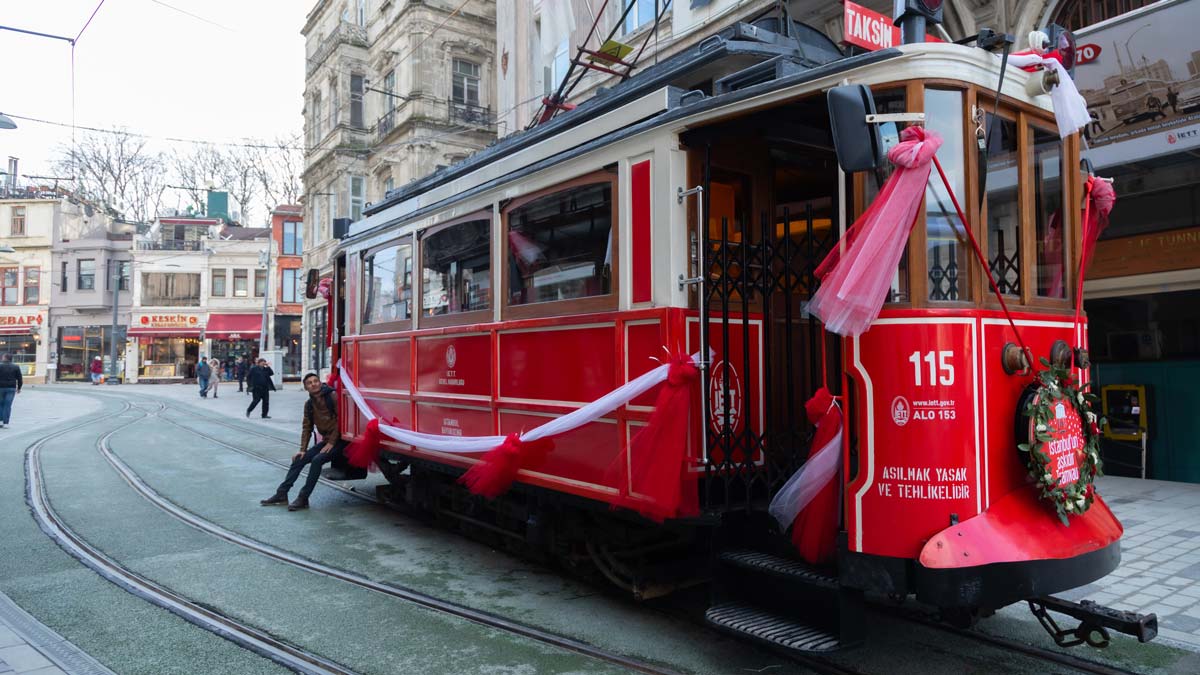 The public transportation system in Istanbul is convenient and easy to use. There are many modes of public transportation in Istanbul – from trams to the metro, ferries, and more. Public transportation can easily connect tourists from one touristy area to another (such as Taksim with Sultanahmet for example), and even the airports in Istanbul.
All you need to take the metro is the Istanbulkart, which can be purchased at yellow and blue vending machines at nearly all public transportation stops (tram, metrobus, metro, ferry, and more). You can also get one at the airport, which means you can take the bus straight into the city center from the airport.
Taxis And Uber in Istanbul
Taxis and Uber are also common ways to get around Istanbul, especially since that Istanbul is quite hilly. The metro or tram will usually take you to the bottom of the hill, where you'll still have to walk up a considerable amount. Istanbul's public transportation is also not the most luggage-friendly, especially the trams that are often crowded.
Taxis in Istanbul are metered, so make sure that the taxi driver uses it instead of negotiating a fixed price. That'll always be a rip-off. It is also recommended to have your navigation up when the taxi driver is driving to ensure that he doesn't take a detour and charge you more than necessary.
---
Is there Uber in Turkey?
Though there is Uber in Istanbul, is there Uber in the rest of Turkey? The answer is no. Uber is only in three cities in Turkey – Istanbul, Izmir, and Ankara. That means there is no Uber in places like Cappadocia and Antalya.
---
Final Verdict
Yes, Uber in Istanbul started operating again in 2021. There are three types of Uber vehicles you can pick from, and visitors should know what they are getting themselves into. Besides Uber, there are also other taxi-hailing apps specific to Turkey. Though they might be cheaper, it is often harder to use and drivers are more likely to scam tourists.
Disclaimer: Some of the links above are affiliate links. That means if you book or make a purchase through the links, we will earn a small commission at no extra cost to you! The money will help run this site! Thank you!