If you're visiting Turkey anytime soon, you're going to want to stay connected. This is why you should consider getting yourself a Turkey sim card for tourists.
Whether you need data plans so you can share photos with those back home, you want to stream Netflix whilst camping, or you have business calls you need to make – there are many reasons why you need the best Turkish sim card when visiting the country.
But what are the best Turkish sim cards for tourists and how much will it cost? Is it worth getting a sim card or should you look towards eSIM deals? These are all great questions we'll be answering in this guide to the best Turkey Sim Cards for tourists.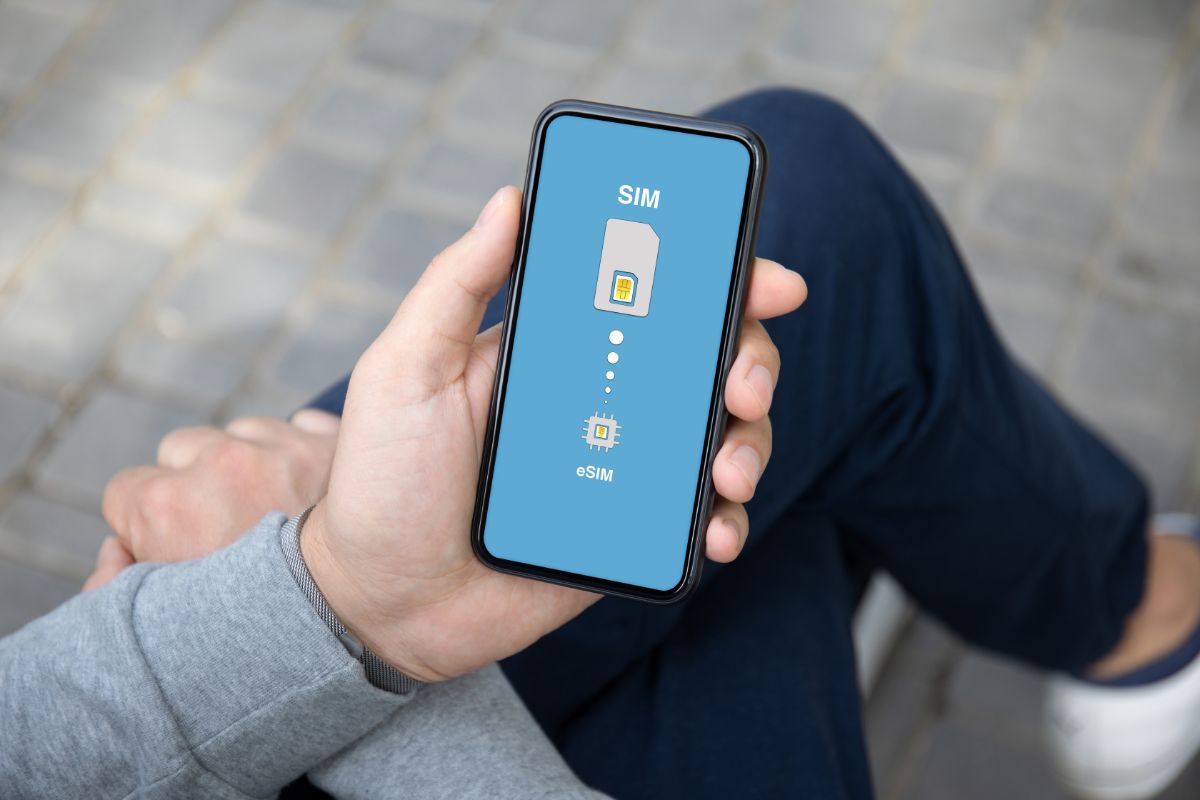 Airalo E-Sim Cards
If you need a SIM card but don't have a lot of time, then our top pick for tourist SIM cards in Turkey is the e-Sim packages from Airalo.
You can choose from as little as 1GB for 7 days up to 20 GB for 30 days packages.
The prices are the most affordable and the most transparent we have found compared to local companies and it's quick and easy to connect. You can read our full review of Airalo in Turkey here.
---
Why Buy a Prepaid Tourist Sim Card in Turkey?
There are many reasons why you should consider buying a sim card, and not just so you can share Instagram stories.
There are many network providers these days that allow you to use your home network abroad. T-Mobile and 3 are two examples of companies that allow their contract users to use data abroad, but there's always a catch.
Some network providers only allow their users to use 2G abroad. To put that into perspective for you, it will take you 5 minutes to load a webpage. Other network providers only allow you to use 500MB. This can be used up in a few days and is not suitable for more than a weekend in Istanbul.
So if you want to stay connected, or you need calls and texts while you're away, the solution is to get a tourist sim card in Turkey.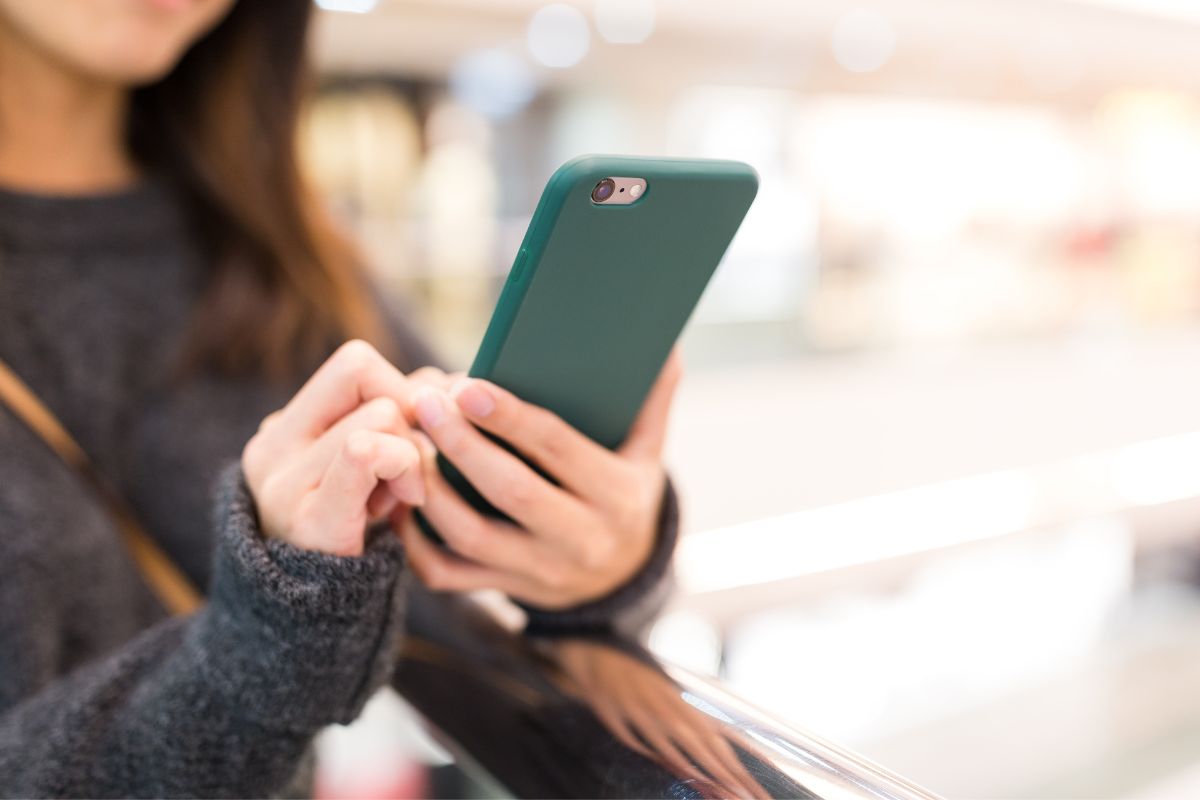 Getting a Turkish sim card means you have access to fast, reliable data since you are connected to the country's network. Having fast data is extremely helpful for using things like Google Maps, and Google Translate, and looking up information about attractions or how to get from A to B (such as how to get to Ephesus from Istanbul).
A local sim card also gives you calls and texts, which is extremely useful when you want to book tours and need to keep in contact with the guide or driver.
But most importantly, having a tourist sim card in Turkey means additional safety. Not only so you can call emergency services, but so you can look up directions when you're getting lost, you can download maps and GPS tools.
Are you reading this from Turkey? Maybe you need a VPN!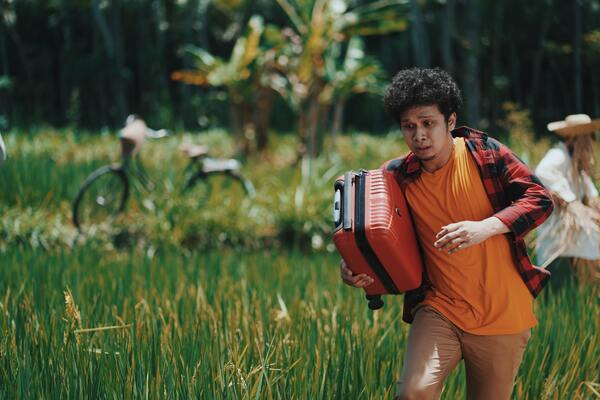 If you're already in Turkey, there is one thing you absolutely NEED: a reliable VPN.
You may find some of your favorite websites and apps are blocked in Turkey, such as popular hotel site booking.com
A VPN allows you to get passed this ruling and enables you to browse these sites without any hassle, and it's completely legal.
We use Express VPN when we're in Turkey and we'd recommend it to anyone. It's affordable, quick, and easy to use.
---
Things To Consider Before Buying a Turkish Sim Card
Before you go browsing through the airport service counters, you need to know what to look for in a Turkish sim card. Here are some things you need to consider before making a purchase.
What is the registration process?
Usually, the registration process is quite simple. When we bought our Turkish sim card in Istanbul, we only had to present our passport for them to register our details to the sim card.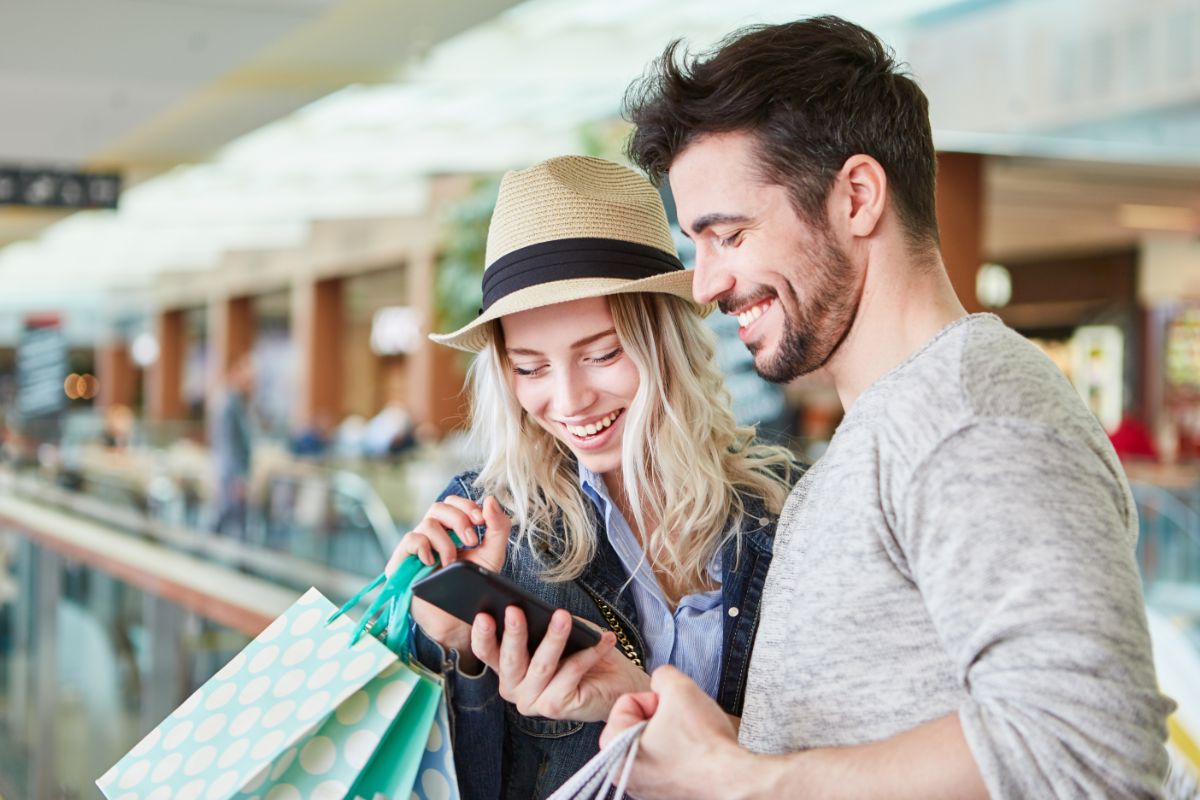 How do you activate the sim?
If you're buying your sim card from a shop, the assistant will set it all up for you and you'll likely be connected before you've even left the store. If you're buying a sim card online or opting for an E-Sim, does the activation process seem simple? Will you have access to the tech support if you cannot figure it out?
What if you need to top up?
You should make sure to ask how to top up your sim card when purchasing it. If you buy your sim card from a store, they will usually tell you where you can top up such as from kiosks, convenience stores, or coming back to one of their stores.
You are usually given a card with your sim card that has these details on it so do not throw this away.
---
Where to Get Sim Cards in Turkey
The good news is there are many ways you can buy a sim card in Turkey, so you don't need to worry about finding a place. Here are three main ways to buy a Turkish sim card…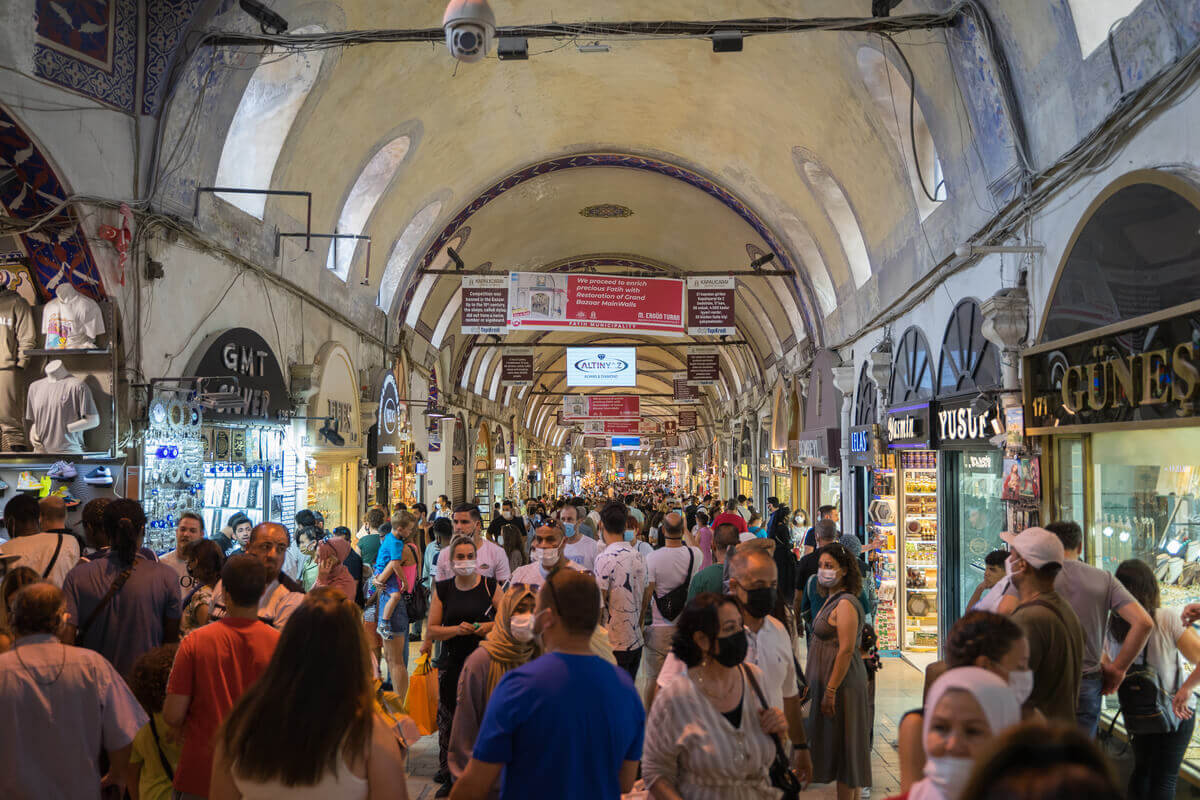 At The Airport
The most obvious place to get a sim card is at the international airports (Istanbul, Antalya, Izmir etc). However, we don't recommend this. When we landed at Istanbul airport, we compared deals to what we found online and they were three times more expensive at the airport.
We're not sure why, but we can only put it down to "airport prices." Either the sales assistant thought we don't know any better, or they just charge more for being in the airport.
Unless the airport is missing free WiFi or you absolutely need a sim card before you leave the airport, we don't recommend this option.
📖 Read more: Is Turkey Expensive?
In Stores
There are many stores across Turkey where you can get tourist sim cards in Turkey. The main providers are:
Turkcell
Turk Telekom
Vodafone
You will find several shops for each of these providers in all major cities, as well as travel company shops offering sim cards as well.
We recommend you visit the official stores for each provider, such as the Vodafone store, Telecom store, or Turk Telekom stores, as they will have the best deal. You won't have any issues finding a store no matter which area of Turkey you're visiting, even in small towns like Fethiye.
However, you should scout around different stores. Turkcell does not share its prices online, and we found we were quoted different prices at different stores. You should be sure to visit a few different stores to scout out prices and get the best deal.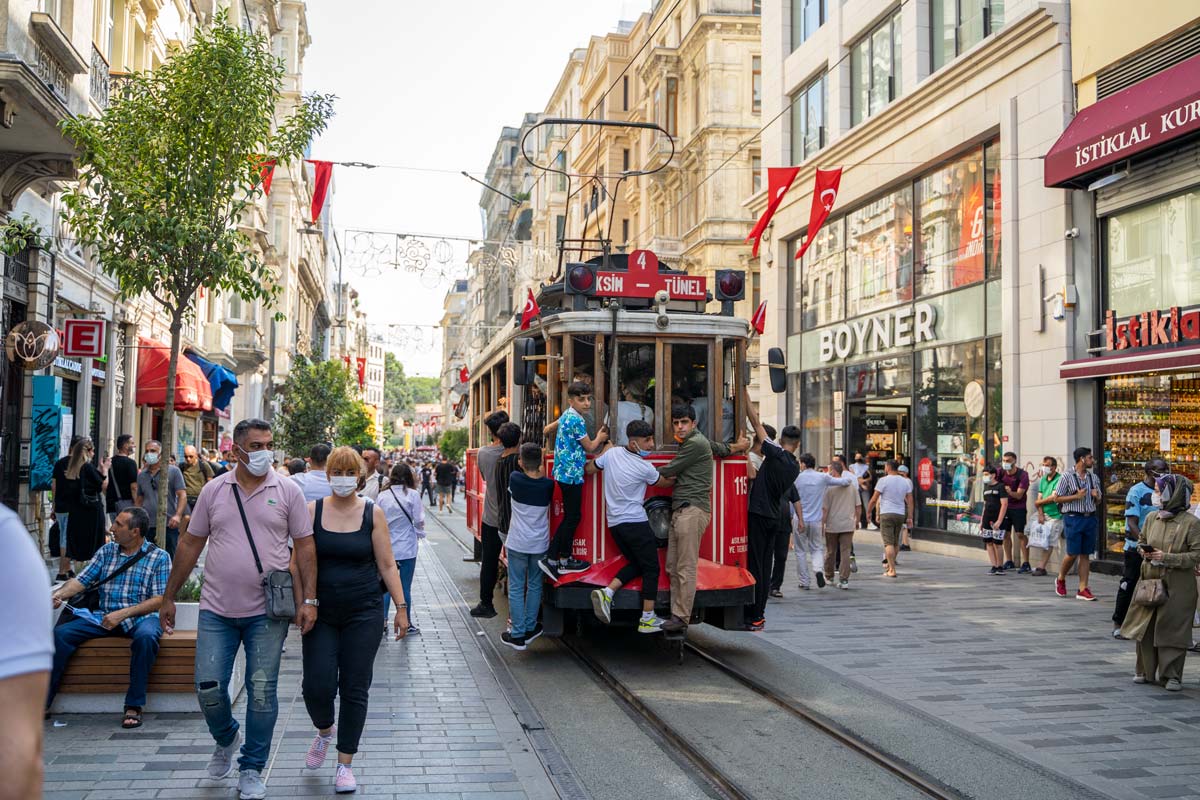 Online
If you're planning ahead and you have the time to wait for delivery, you can always get an e-sim card online before you visit.
Sometimes you can arrange for the sim to be delivered to your home address, or you can arrange to pick it up when you arrive at the airport. At present, there is no option to do this with the local sim cards in Turkey.
---
Best Turkish Sim Card Providers for Tourists
Now you know what to look for in a Turkish sim card, here is an overview of each plan available for tourists in Turkey. You can purchase these plans online before you visit, or you can pick them up from any of the network provider stores in Turkey.
Note: due to the fluctuation of the Turkish Lira, Turkcell, and Vodafone have removed their prices from their website and prices vary from store to store. As of August 8th, 2023, we have seen prices anywhere from $25 USD to $28 USD, and you should scout around for the best deal.

In the below table, I have included the price in USD so you can check the exchange rate on the day of purchase. We try to update these prices regularly, but cannot always keep up with the moving exchange rates. These prices were given to us by members of staff in the network's official stores in Turkey in August 2023.
Prepaid Tourist Sim Cards for Turkey
*Scroll left-right to view more
Data
Plan Length
Minutes
Texts
Price
Turkcell Tourist Welcome Pack
20 GB
30 days
200
Free Whatsapp
$28 USD
Türk Telekom
40 GB
28 days
750
750+ Free Whatsapp
$25 USD
Vodafone
20GB
+ 5 days of 5GB data if you buy online
28 days
750
1000 + Unlimited Whatsapp
$26 USD
---
Data Coverage Map
Perhaps the biggest decider on which sim card is best for you is determined by the data coverage. While many Turkish sim cards connect you across the country, there are some patches that coverage cannot reach.
Here is a map of each provider's data coverage.
Turkcell Data Coverage
As you can see from this data coverage map for Turkcell, the map is washed in red. This means that most of the country is connected to 4G+, even in rural areas. You'll find no problems finding data coverage wherever you visit, as even Cappadocia has 4G and 4G+.
If you are planning a road trip and will pass through some of these rural areas, this is the best network provider for you in terms of data coverage. There are not many areas that have 5G with Turkcell.
Telekom Data Coverage
As you can see from the map above, Telekom has pretty good data coverage in the cities with most areas seeing 4G+ network service. In the region of Cappadocia, you can see there are 3G, 4G and some spots with 4G+ in most towns. In Istanbul, it is possible to connect to 5G.
There are a lot of rural areas in Turkey that don't have connectivity according to this data coverage map, but these areas don't tend to be on the main tourist trail. For tourists, Telekom provides decent data coverage, but if you are visiting Cappadocia you might find some areas a bit spotty.
Vodafone Data Coverage
Vodafone has similar connectivity as Telekom, but with few areas connecting to 5G. If you are sticking to the main tourist areas and not planning a road trip, the data coverage provided by Vodafone in Turkey will suffice.
---
e-Sim Cards for Turkey
Another option is to get an eSIM card. These are great for people who don't have the time to find a sim card shop or you're not visiting for long enough to make the purchase worth it.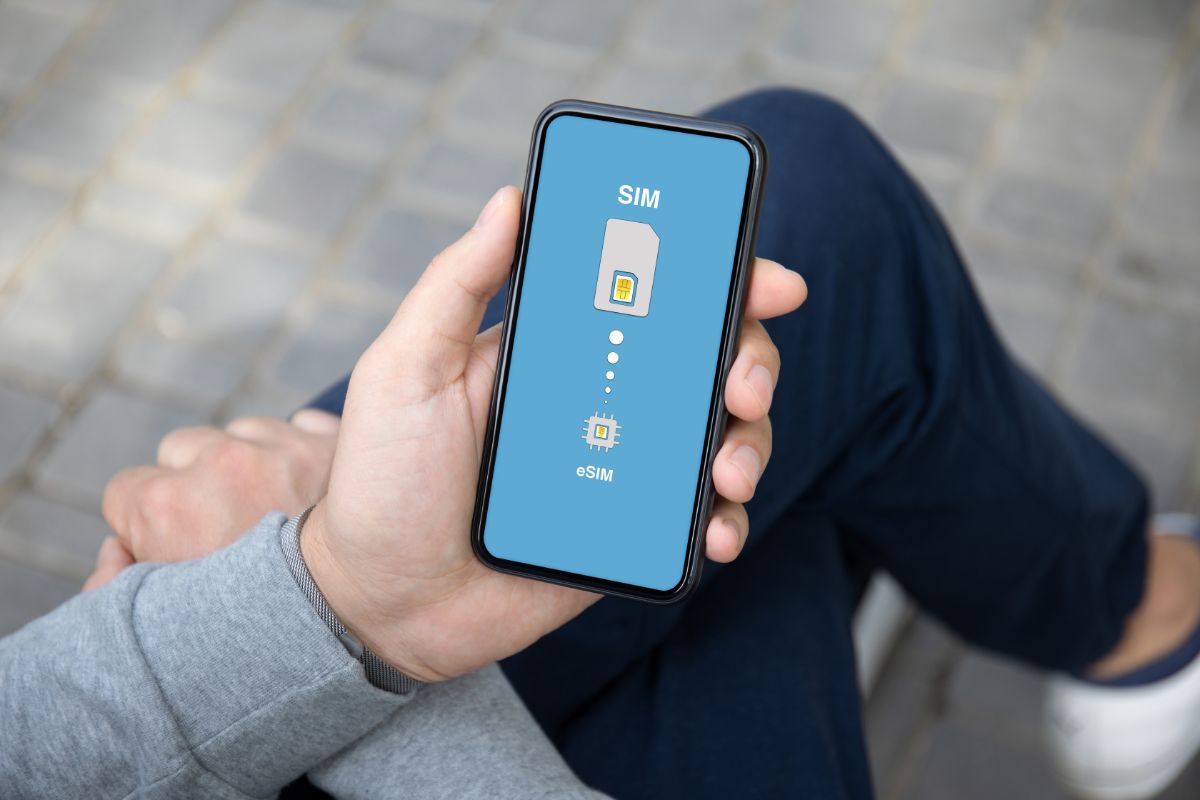 eSIMS work by allowing you to buy flexible data packages without the need to buy a sim card. eSIM companies usually connect you to the local network, as they have deals with the providers who operate there.
They are quick and convenient, especially if you are planning to visit multiple countries on your trip.
Here are some eSIM providers we would recommend:
Airalo
No calls or SMS
1 GB / 7 Days – $4.50
2 GB / 30 Days – $6.50
3 GB / 30 Days – $8.00
5 GB / 30 Days – $12.00
10 GB / 30 Days – $18.00
20 GB / 30 Days – $26.00
OneSimCard (eSIM World)
$0.25 USD per MB
Free to receive texts and calls
$0.45 per minute to call anywhere in the world
$0.59 per text anywhere in the world
Free Whatsapp
Holafly Turkey
No calls or SMS
Unlimited data / 5 days – $19.00
Unlimited data / 7 days – $27.00
Unlimited data / 10 days – $34.00
Unlimited data / 15 days – $47.00
Unlimited data / 20 days – $54.00
Unlimited data / 30 days – $64.00
Unlimited data / 60 days – $84.00
Unlimited data / 90 days – $99.00
MOGO eSim
No calls or SMS
300MB / 3 Days – $2.50
1GB / 15 Days – $6.00
2GB / 10 Days – $11.00
5GB / 30 Days – $29.90
10GB / 30 Days – $55.00
Flexiroam
1GB / 3 Days – $4.50
1GB / 8 Days – $5.00
1GB / 15 Days – $5.50
3GB / 8 Days – $12.50
3GB / 15 Days – $13.50
5GB / 15 Days – $20.00
5GB / 24 Days – $21.50
7GB / 15 Days – $24.50
7GB / 24 Days – $25.00
10GB / 24 Days – $31.00
50GB / 90 Days – $100.00
The TRASST e-SIM Card for Turkey
Unlimited / 3 Days – €16.95
Unlimited / 5 Days – €17.95
Unlimited / 7 Days – €19.95
Unlimited / 14 Days – €26.95
Unlimited / 30 Days – €44.95
Unlimited / 90 Days – €89.95
---
Prepaid Sim Cards vs Pocket WiFi
If you're just after a sim card for the data, then you might consider getting a pocket WiFi instead. These are small gadgets that allow you to connect to a mobile hotspot from wherever you are.
If you're on the beach, simply connect to your pocket WiFi and you can share photos, chat with friends, and browse the internet just as you would with data. They also connect you to the whole of Turkey, and not just limit you to a region or city.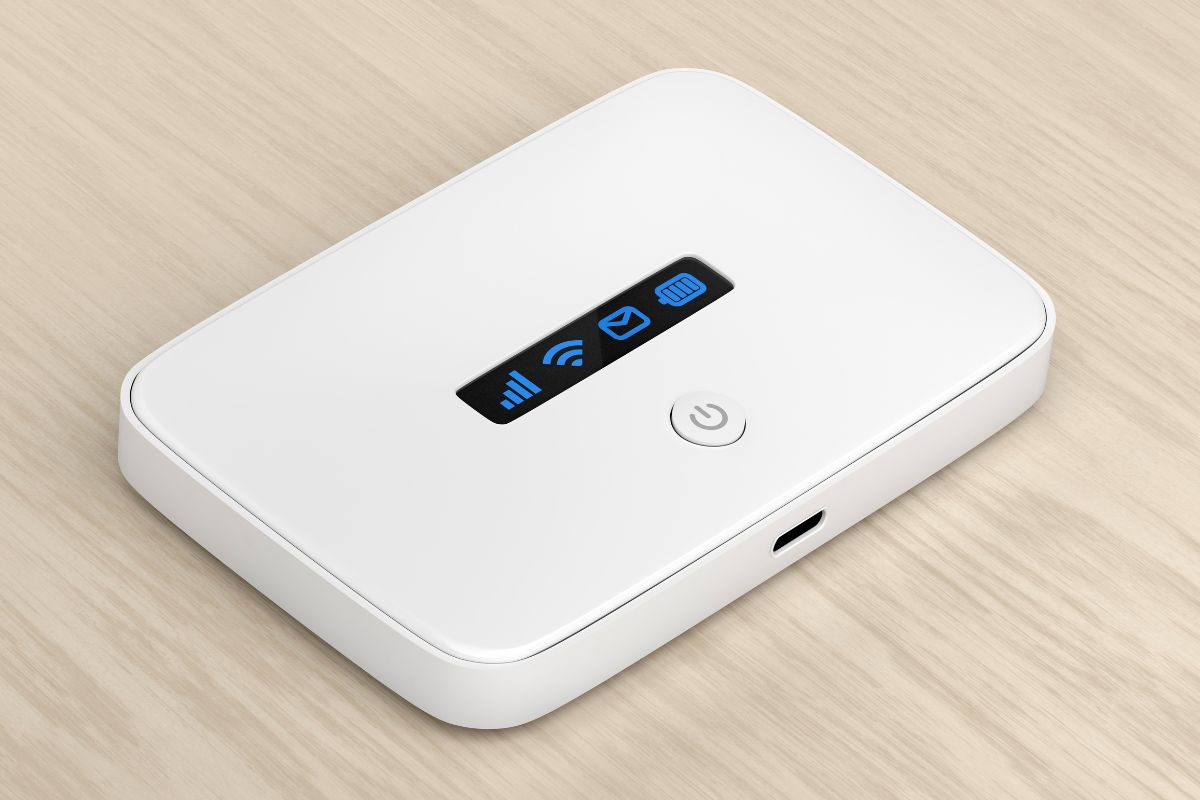 You can also connect to more than one device, so if you're traveling as a family and everyone needs mobile internet, this could be better valued than getting everyone a sim card.
Pocket WiFi's are usually expensive to buy, but fortunately, you can rent one for your trip and pick them up and drop them off at the airport. The fee is determined by how long you need it for.
Here's where you can pick up pocket WiFis in Turkey…
*Scroll left-right to view more
| | Plan | Price | Where to buy |
| --- | --- | --- | --- |
| Istanbul | 3 days – 1 month | $48.00 USD – $479.98 | Click here |
| Antalya | 1 day – 14 days | $13.94 – $85.60 | Click here |
| Alanya | 1 day – 14 days | $13.94 – $91.57 | Click here |
| Bodrum | 1 day – 14 days | $13.94 – $79.63 | Click here |
| Izmir | 1 day – 14 days | $13.94 – $91.57 | Click here |
| Ankara | 1 day – 14 days | $13.94 – $91.57 | Click here |
| Trabzon | 1 day – 14 days | $13.94 – $91.57 | Click here |
---
Tips for Buying a Turkish Sim Card
Before you run off to buy your sim card, I have a few more words of advice for you.
Don't buy the sim card from the airport. The deals we were offered were a lot more expensive than in the city. We're not sure why, but they were working out to be around 3x the price.
Scout around for the best deals. Unfortunately, some companies do not advertise their prices and we found that the price varied depending on which shop we visited. Go to a few and compare prices.
Remember the exchange rate for the Lira changes dramatically. You may find that the price of a sim card changes from week to week, this is because the exchange rate for the Lira is always changing. You should have an idea of prices in USD and then convert it to Lira on the day. In fact, many stores in Turkey are now accepting Euros or British Sterling instead, so if you're visiting from Europe, be sure to carry some of Euros as well.
Keep your receipt and the packaging. The little card that the sim card comes in usually has details on how to top up and emergency numbers, as well as your sim card's pin code, so don't throw this away.
Don't leave the store until you're up and running. If there's a problem and you've left, you need to go back and get it fixed. This adds more time and effort. It should connect you within minutes, but sometimes it can take up to 15 minutes to an hour. So just wait around until you're good to go.
Don't remove your sim card unless you're finished with it. The sim card is locked with a pin number (found on the card that the sim card comes in), which you need to enter to be able to open your mobile phone. If you forget your pin, you'll be unable to use your phone if you take the sim card out and put it back in again.
---
FAQs About Turkey Sim Cards for Tourists
Here's what people usually ask us about sim cards for tourists in Turkey…
Can tourists get a SIM card in Turkey?
Yes, tourists only need to show their passports to get a sim card anywhere in Turkey.
What is the best SIM card to use in Turkey?
In our opinion, the Telekom 40 GB data plan is the best value deal for tourists. If you want good connectivity, the Turkcell 20 GB plan has the best data across the country.
How much is the SIM card in Turkey?
This is dependent on the provider and the plan. You can find plans for as little as $2.50 USD, to as much as $40 USD. The most popular options are around $25 USD.
Can I use WhatsApp in Turkey?
Yes, you can use Whatsapp in Turkey.
---
The Verdict: Best Sim Card in Turkey for Tourists
As you can see there are a lot of choices to choose from when picking the best Turkish sim card for tourists. When we visited, we chose a Turkcell sim card for tourists because we planned to stay longer than a month and were traveling to more rural areas.
We were quite happy with Turkcell and found we always had connectivity, even when hiking in Cappadocia. We also found it easy to top up by visiting the store and asking for assistance. Their staff spoke English and were very helpful.
At the time, we believed Turkcell to be the best value for money. You get decent network coverage and 40GB lasts a long time, plus the price makes it a pretty good deal for those who need a lot of data. You can stream movies on long-distance buses for that amount.
However, we have started using the Airalo E-Sim Card because they are more transparent with their prices, and they also connect to the Vodafone Turkey AND Turk Telekom networks. If you only need data and no calls, this is the cheapest and most convenient option.
However, if your phone doesn't support E-Sim Cards, then Telekom is the cheapest option, just be sure to shop around for the best price.
So in short, for the best data coverage, go for Turkcell, for the best-priced data plan, go for Telekom.