Wondering how to get from Istanbul to Ephesus? Or whether a day trip to Ephesus from Istanbul is feasible? Worry not.
Though great distance separates one of the most vibrant cities in Turkey and the UNESCO Heritage site of Ephesus, it is possible to go from Istanbul to Ephesus on a day trip.
However, because this involves lots of planning, it is highly recommended that you go with a tour company. There are plenty of Ephesus tours from Istanbul that allow you to visit this site without you planning anything.
Find out all the best ways to get to Ephesus from Istanbul and how you can do it on a day trip down below!
In a hurry?
Check out our recommended Ephesus day trip to Istanbul tour here!
---
Istanbul to Ephesus Distance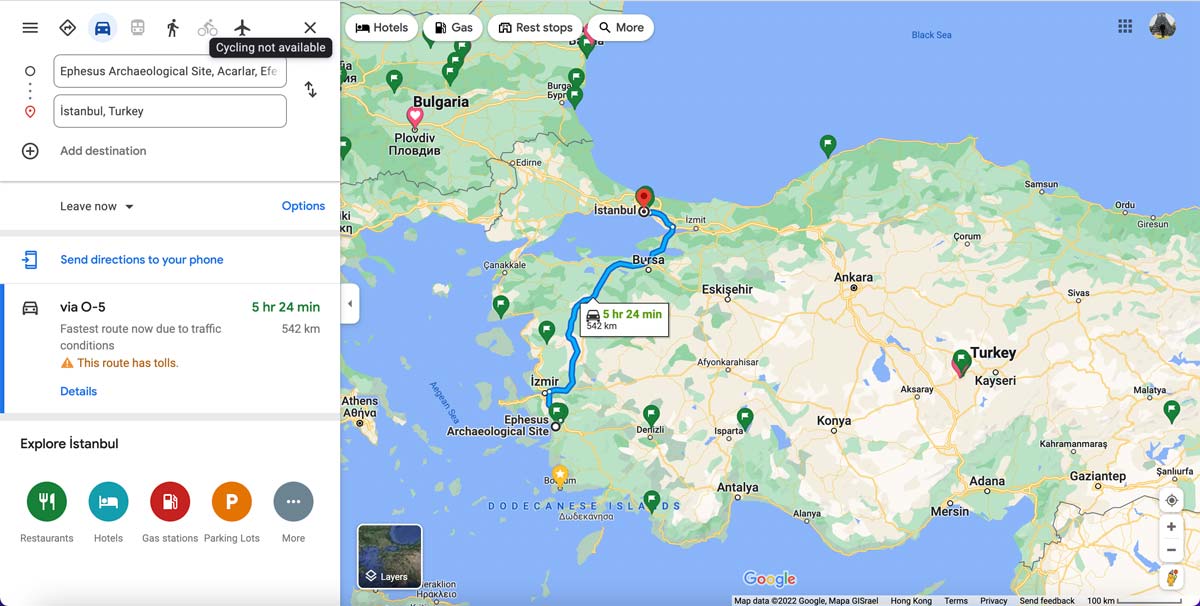 With around 550 kilometers (342 miles) separating Istanbul and Ephesus, these two historic landmarks in Turkey aren't exactly neighbors. If you look on the map, it almost looks like you've traveled half the height of the country.
That is exactly why doing an Istanbul to Ephesus day trip isn't exactly an easy feat. There are also plenty of interesting sights along the journey such as Izmir and Bursa, which you'll miss out on if you take a day trip.
But we understand that not everyone has all the time in the world for a long Turkey itinerary. Maybe you only have a few days in Istanbul and still want to see everything you can – Cappadocia, Ephesus, Pamukkale, and maybe more.
That is totally fine. We just want to give you a heads-up on the long journey you'll be taking so you can mentally and physically prepare yourself!
---
Taking An Istanbul To Ephesus Day Trip (Flying)
Just a quick warning, taking a day trip to Ephesus from Istanbul involves LOTS of planning, and if you miss a transfer, you might be stuck somewhere! This is a quick summary of how to get there and back:
Take an early flight from Istanbul to Izmir
Get the train from Izmir Airport to Selcuk (or take a 1-hour taxi to Ephesus directly)
Walk from Selcuk Train Station to Selcuk Bus Station (10 minutes)
Take the minibus from Selcuk Bus Station to Ephesus (Could substitute this step for a taxi ride)
Explore Ephesus Archaeological Site
Reverse all the steps to get back to Istanbul!
On the surface, it might not look too complicated, but timing is everything when you want to take this day trip. Here are more details on how it can be done:
If you want to take a day trip to Ephesus from Istanbul, you'll need to fly. There is no debating it.
The closest airport to Ephesus is Izmir Adnan Menderes Airport, which is still about an hour's drive from Ephesus Archaeological Site.
But travelers don't have to drive if they don't wish to because there is a TCDD Turkish Railway that runs between Izmir Airport and Selcuk (a town situated 5 minutes away from Ephesus by car.) Actually, the railway line's final stops are Izmir city center (Basmane Gar) and Denizli (near Pamukkale), which is why most travelers visit Ephesus from Izmir.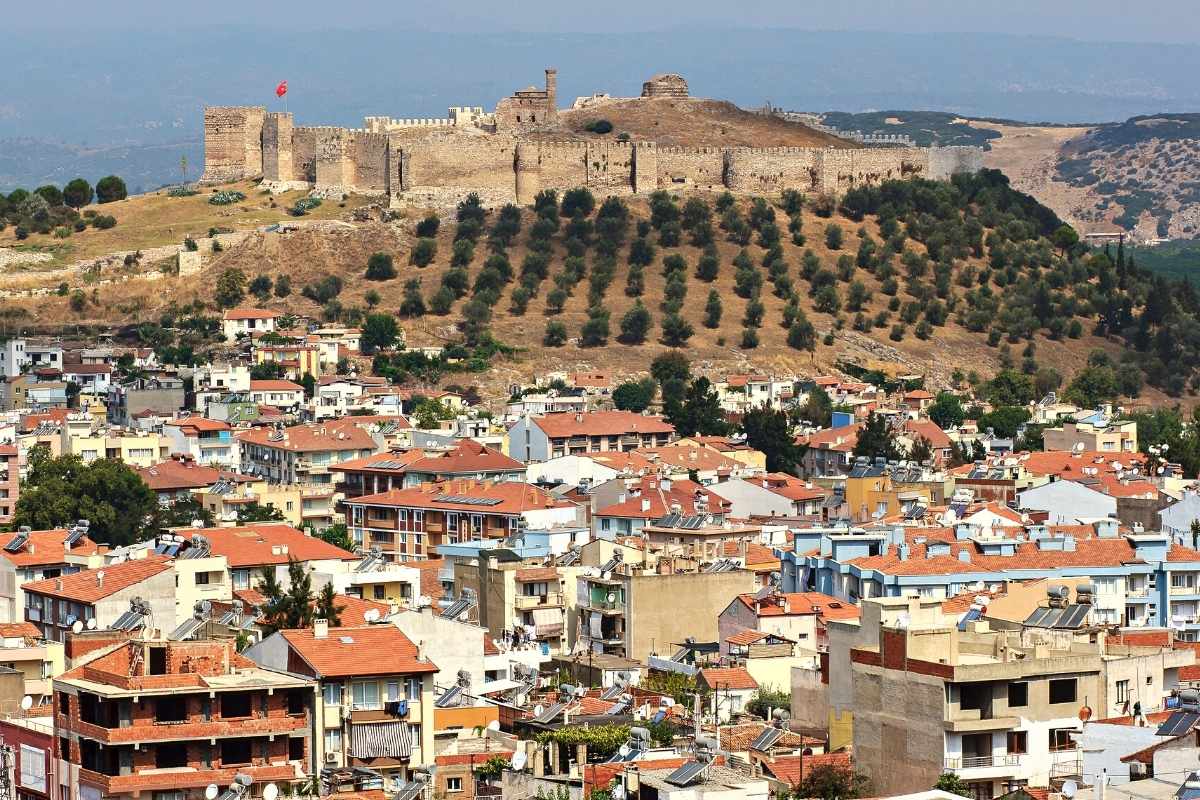 Once you arrive at Selcuk Train Station, you can either get a taxi to Ephesus, which is quite affordable since it's only a 5 to 10-minute drive. Or you can take a dolmus (minibus) from the Selcuk Otogar (Selcuk Bus Station), which is located here. The Selcuk Bus Station is only a 10-minute walk from its train station.
But the most CRUCIAL part is catching the train from Izmir Airport to Selcuk. There are only 6 departures daily, and sometimes the train schedule changes. The earliest train departing from Izmir Airport to Selcuk is at 7:32 AM. HOWEVER, the earliest flight that arrives in Izmir is at 7:05 AM.
Here is the TCDD Turkish Railway Timetable from Izmir Airport to Selcuk:
| Departure Time (Izmir Adnan Menderes Airport) | Arrival Time (Selcuk Train Station) |
| --- | --- |
| 7:32 AM | 8:34 AM |
| 11:08 AM | 12:08 PM |
| 12:56 PM | 1:55 PM |
| 2:56 PM | 4:03 PM |
| 5:09 PM | 6:15 PM |
| 6:23 PM | 7:22 PM |
This means you have 25 minutes to navigate through the airport and find your way to the train station, if you don't get delayed. If you know exactly where to go at the airport, 25 minutes is actually enough time.
But to be on the safe side, you might want to catch the next train at 11:08 AM (yes, almost a 3-hour difference). We actually recommend you to try to catch the 7:32 AM train, and if you miss it, no big deal. Just chill out in Izmir Airport until the next train arrives.
There are a total of 3 airline companies that offer a direct flight from Istanbul SAW Airport to Izmir Airport. Don't confuse that one with Istanbul Airport, which is probably going to be the one you arrive in if you are flying internationally.
The three airlines are:
Turkish Airlines
Pegasus
Aztec
Flights depart daily and frequently, but it is worth knowing the earliest one departs at 5:55 AM and is operated by Pegasus. That is the one we mentioned above that arrives at 7:05 AM in Izmir.
This also means you must find a way to Istanbul SAW Airport early in the morning, and SAW Airport isn't exactly one of the easiest airports to get to.
The last resort is to get a taxi from Izmir Airport to Ephesus if you end up missing the train and don't want to wait for the next one.
If this is all too much fun for you, just know the fun doesn't stop there. Because getting back to Istanbul is almost as complicated as getting to Ephesus.
Ephesus Tour From Istanbul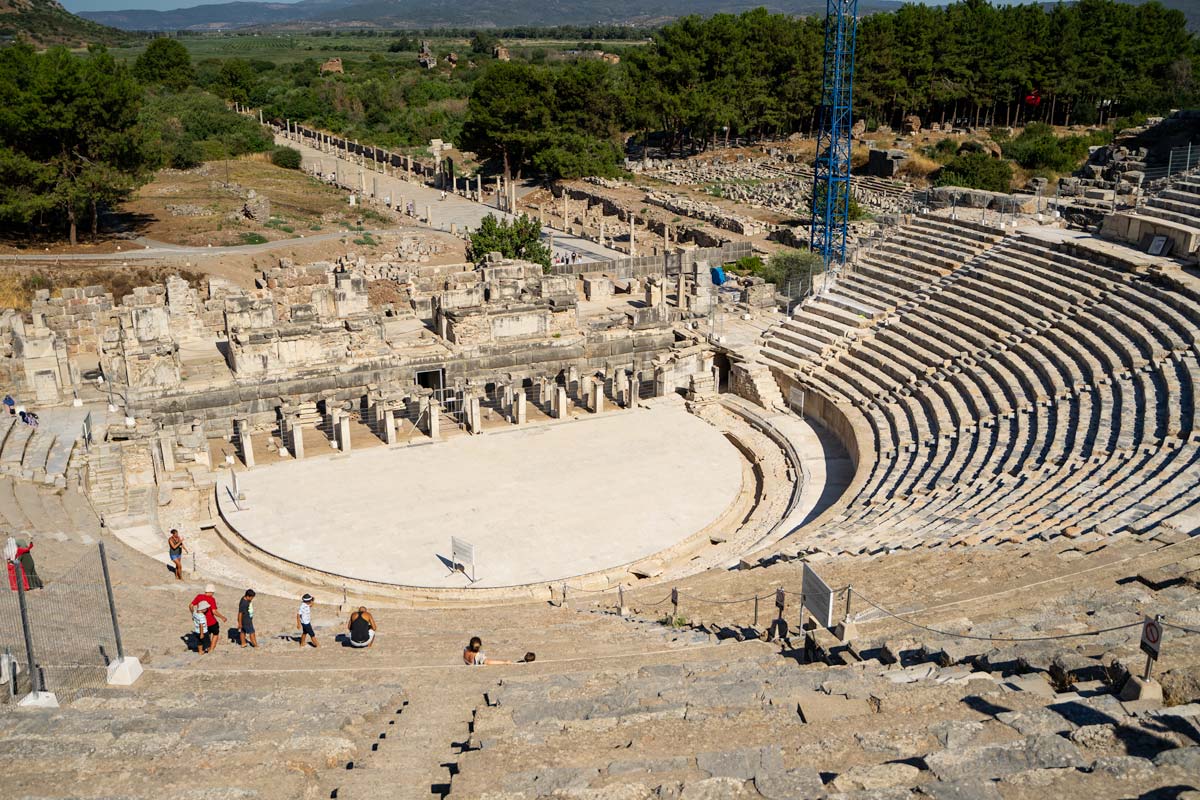 Though we enjoy doing things ourselves (and to help us write guides like this one), we actually recommend taking an Ephesus Tour from Istanbul. Because everything is planned for you, it is the easiest and probably most practical way to have an Istanbul to Ephesus day trip.
Here is a quick layout of an Ephesus day trip tour from Istanbul:
Pick up from your hotel in Istanbul and transport to Istanbul SAW Airport
Round-trip flight from Istanbul to Izmir included
Air-conditioned transportation from Izmir Airport to Ephesus
A guided tour inside the famous archaeological site of Ephesus, including a visit to the Temple of Artemis (one of the Seven Wonders of the Ancient World) and the House of Virgin Mary
A lunch buffet at a local restaurant in Selcuk
Transport back to Izmir, flight to Istanbul, and transport back to your hotel
This tour also has a maximum of 15 people, meaning each and every one of you gets individualized attention from the guide. No question goes unanswered on this Ephesus day trip tour.
The best part is that you can get a FULL refund up to 24 hours before the start of your tour if your plans change. If something happens or you change your mind, you can easily get all your money back. That is why we cannot recommend this Viator tour enough!
---
Can You Take A Bus From Istanbul to Ephesus?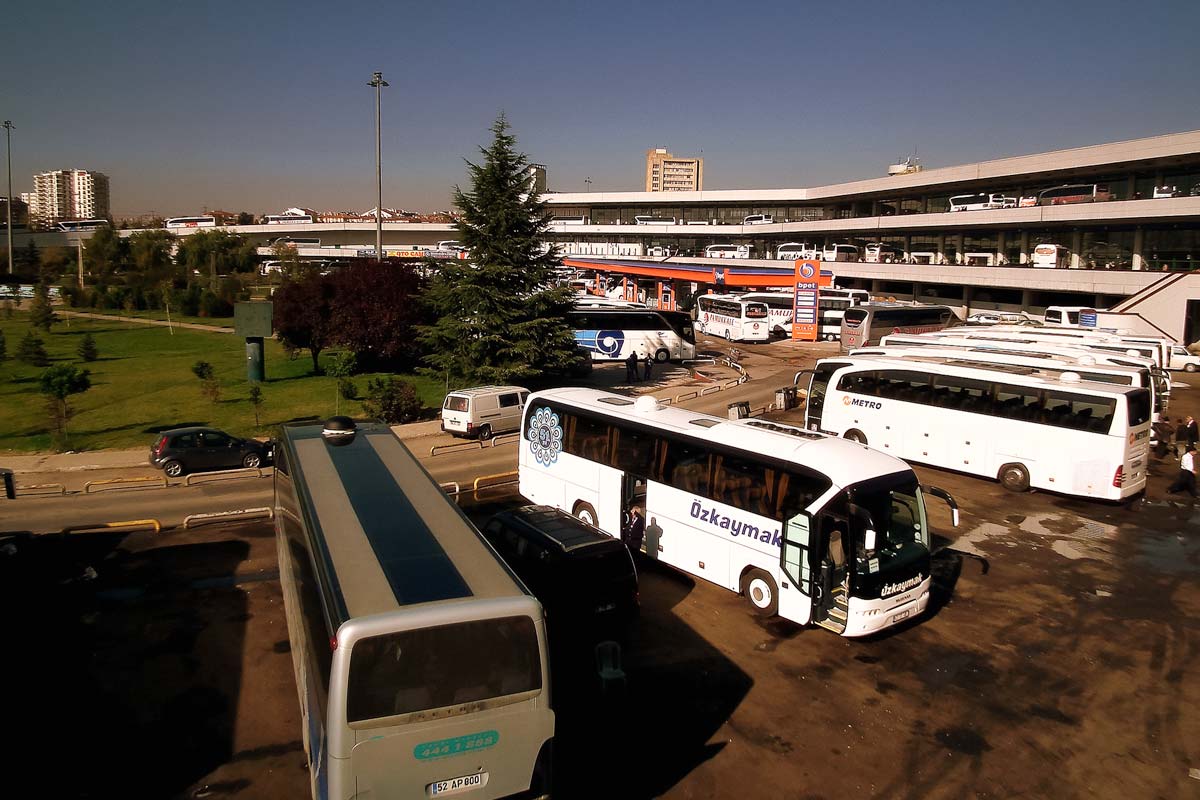 If you want to take a day trip from Istanbul to Ephesus, going by bus might not be a good option. The bus from Istanbul to Selcuk takes around 9 hours (during the day), so if you leave early in the morning (the earliest bus is around 7 AM), you'll arrive at 4 to 5 PM.
From Selcuk, you'll need to take a taxi or a minibus to Ephesus. And by the time you arrive, either Ephesus will be closed, or you won't have enough time to fully enjoy it.
HOWEVER, there is one way you can take the bus from Istanbul to Ephesus and still have enough time to enjoy it. This is for the youngins who don't mind a little bit of a restless night.
Travelers can take a night bus from Istanbul to Selcuk, which leaves at around 1 AM and arrives at 9 AM. Then with the minibus or a taxi, you'll be in Ephesus before 10 AM.
And when you are done seeing Ephesus, you can take a day bus from Selcuk to Istanbul, which leaves at 1:20 PM and arrives in Istanbul at around 9:20 PM. This gives you about 2 to 3 hours at Ephesus, which is just enough time to see it. This isn't the best plan, because you'll literally spend 16+ hours on a bus, but it is definitely feasible if you want it bad enough.
There are also night bus options that leave later in the day from Selcuk and arrive in Istanbul in the middle of the night.
---
Driving From Istanbul to Ephesus With a Rental Car
With a rental car, you can drive from Istanbul to Ephesus much quicker than a bus, though it'll still take you about 6 hours minimum. As we've mentioned, 550 kilometers (342 miles) of Turkish roads are between these two sites.
Though it is possible to get to Ephesus at a good time, especially if you start driving in the middle of the night, you'll need to drive at least 12 hours for a round trip. We generally don't recommend this, but this might be the option for you if you have multiple people that can take turns driving.
There are also plenty of beautiful stops along the way, and it is a shame that you won't be able to stop to enjoy some of them.
---
Getting Back to Istanbul From Ephesus
If you've decided to DIY your day trip to Ephesus from Istanbul, you need to know how to get back. Getting the flight from Izmir to Istanbul is the easy part because there are so many departing flights. However, getting back to Izmir from Selcuk is more difficult because there are only 4 trains that go from Selcuk to Izmir Airport.
This is the timetable for trains going from Selcuk to Izmir Airport (note that the schedule can change):
| Departure Time (Selcuk Train Station) | Arrival Time (Izmir Adnan Menderes Airport) |
| --- | --- |
| 2:22 PM | 3:22 PM |
| 4:04 PM | 5:01 PM |
| 7:49 PM | 8:45 PM |
| 9:40 PM | 10:37 PM |
If you don't miss your train to Izmir Airport, then you are pretty much all set!
Before you go, make sure you check out our full Ephesus Guide so you don't miss anything!
---
From Istanbul to Ephesus FAQs
Where do you fly into for Ephesus?
The closest airport to Ephesus is Izmir, which is located about 62 kilometers (38 miles) away. It takes about one hour to drive from Izmir Adnan Menderes Airport to Ephesus Archaeological Site.
Is Ephesus worth visiting?
Ephesus is perhaps one of the greatest landmarks in Turkey. Its gorgeous and well-preserved historical wonders make you feel like you are in the classical era.
---
We hope our guide will help you get from Istanbul to Ephesus, on a day trip or not! To wrap things up, if a day trip is what you are looking for, seriously consider this Viator tour that we cannot recommend enough!
Any questions? Leave them in the comments!
Disclaimer: Some of the links above are affiliate links. That means if you book or make a purchase through the links, we will earn a small commission at no extra cost to you! The money will help run this site! Thank you!