Not sure how to get from Izmir to Ephesus? Worry not. There are many ways to go between the beautiful city of Izmir and the UNESCO World Heritage Site of Ephesus, but the two easiest ways of getting to Ephesus from Izmir are taking the train yourself or going on an Ephesus tour.
Of course, there are pros and cons that come with each method of transport, which might make it not suitable for you.
If you're planning a trip to the Ancient City of Ephesus, keep reading to find every detail you need to get to Ephesus from Izmir, including how to get the train, a tour, or even a bus!
Don't want to do any planning?
---
Key Takeaways: How To get From Izmir to Ephesus
The most convenient and quickest way is to book a day tour from Izmir, which includes all transport and entrance fees.
The cheapest way is to take the train from Basmane direct to Selcuk, and from there catch the minibus to the entrance.
If you are short on time, a tour is the best option as you can see more in one day.
Trains operate every 1.5-2 hours, so planning beforehand is essential.
---
Izmir to Ephesus distance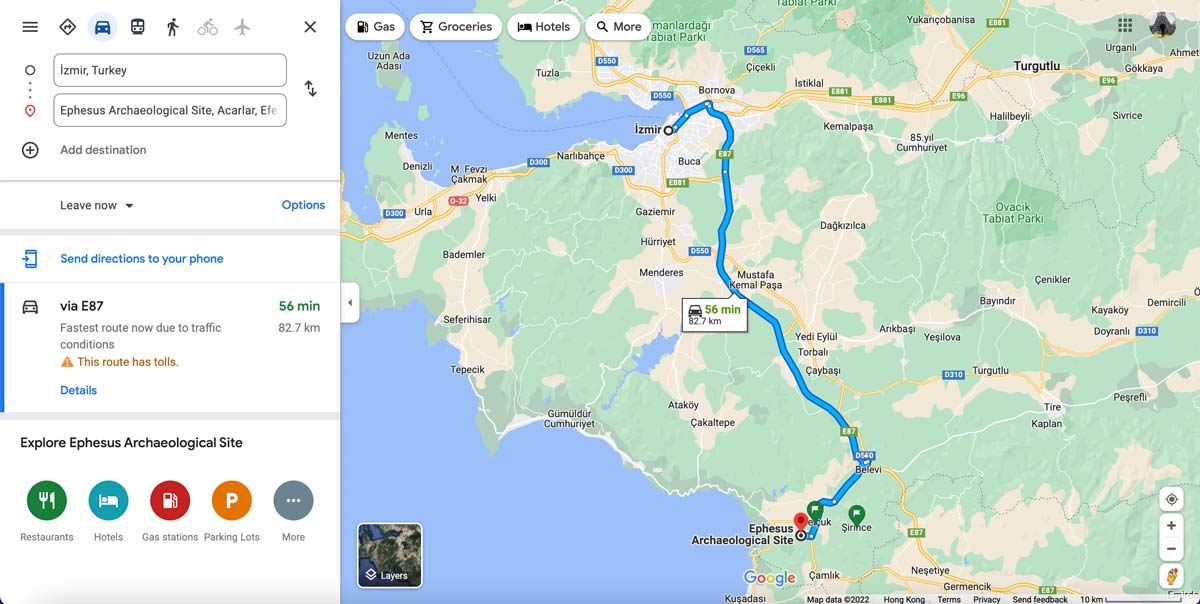 Before we jump into the ways to get to Ephesus from Izmir, let's look at the distance between them. Nearly 80 kilometers (50 miles) separate those two sites, and it takes about 1 hour to drive from Izmir to Ephesus. Luckily, most of this route is done on the E87 Highway, making it easy even for tourists to navigate.
For that reason, one of the best ways to get to Ephesus is by renting a car in Izmir and driving there. If you have a rental car, you can drive to the entrance of Ephesus, park it in its parking lot, and just walk right into this iconic Turkey landmark hassle-free!
Having a car also offers you the freedom to explore other parts of the region, no matter how remote they are!
Just make sure you are qualified (and confident) enough to drive in Turkey.
Read More: How To Get From Istanbul to Ephesus on a Day Trip
---
How To Get To Ephesus From Izmir (Tour)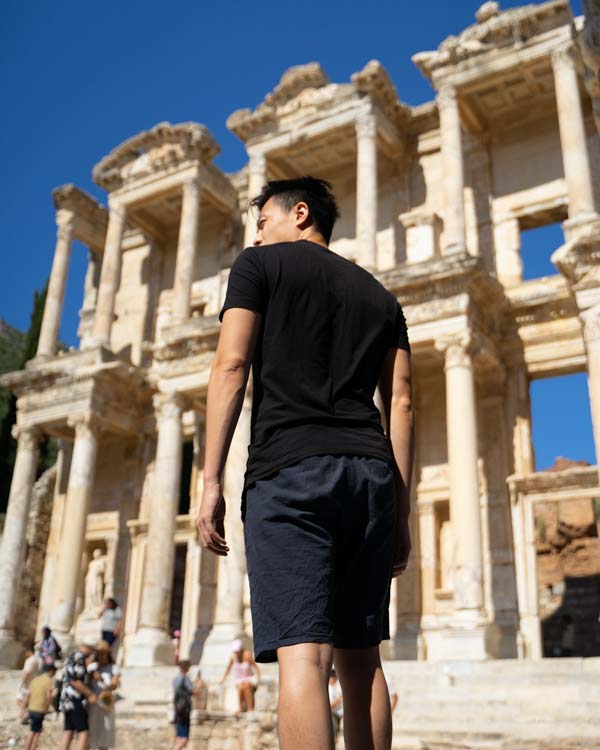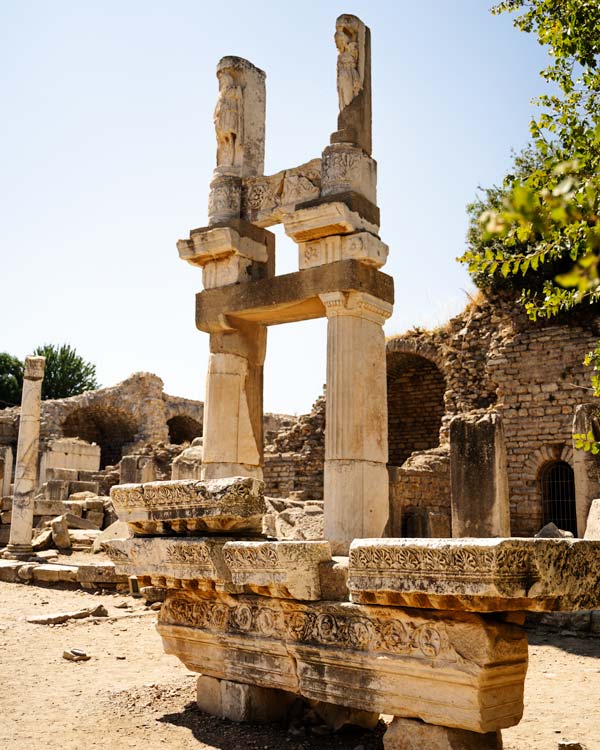 Perhaps the easiest way to get to Ephesus from Izmir is with a guided tour. There are plenty of Ephesus tours from Izmir, all offering something slightly different. Most tours include everything, from entrance fees to transport to lunch.
The standard tour includes a pickup service from your accommodation in Izmir, transport in an air-conditioned vehicle to Ephesus, a 2-hour guided tour of the archaeological site to see the ancient ruins, a visit to the Temple of Artemis (an Ancient Wonder of the World near Selcuk), then a one-hour lunch buffet in Selcuk, before returning home. This is a full-day activity.
The standard tour can be customized to include other stops in the region. You can choose this tour which includes a stop at St. Mary's House of the Virgin Mary, the final resting place of the Virgin Mary.
For wine-lovers (us included), you can include a visit to Sirince, a quaint town about 15 minutes away from Ephesus. It is important to know that this doesn't cut into your Ephesus-visiting time, which is why we highly recommend it as it kills two birds with one stone.
---
Taking A Train from Izmir to Ephesus
If you are traveling on a budget in Turkey, then you may want to take a train from Izmir to Ephesus. With trains departing regularly from central parts of Izmir and Izmir Airport, this is probably the best way to get to Ephesus.
Trains even depart early in the morning for those who want to visit Ephesus before the guided tours arrive and ruin the atmosphere!
Step 1: Get to Basmane Gar (Basmane Railway Station)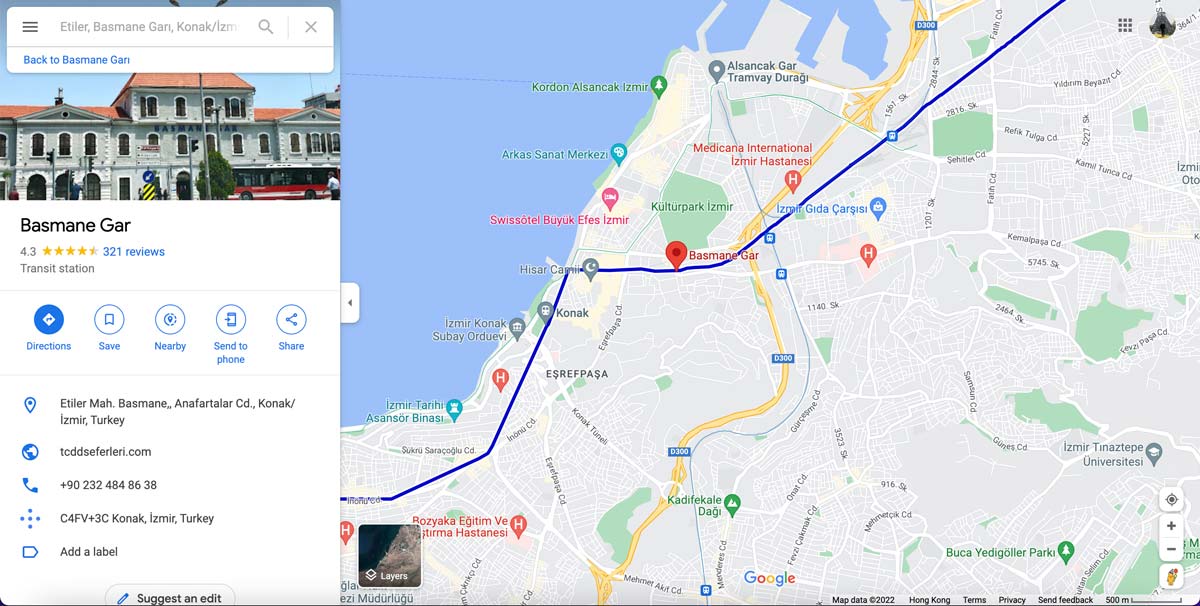 If you are taking the train to Ephesus from Izmir, then you will need to get to Basmane Station, or Basmane Gar in Turkish. This is the beginning of the TCDD (Turkish Railways) train line that goes from Izmir to Denizli, and Selcuk (the stop for Ephesus Ancient City) is the seventh stop. Don't confuse the railway station with the subway station, which Basmane conveniently has.
This railway train also stops by Izmir Airport, perfect if you are staying near there and want to get from Izmir Airport to Ephesus.
Trains DO NOT depart frequently from Izmir to Ephesus, so make sure you do some planning and don't miss your train. There are only 6 scheduled departures per day, so you might need to wait for hours before you can get the next train.
Alternatively, you can catch the IZBAN train from Alsancak Gar to Tepekoy and switch for the train to Selcuk. Here you could be waiting around an hour for the next train to Selcuk, which is why we recommend going via Basmane if possible.
You can buy the train tickets on the same day your train departs. But we recommend going into the Basmane Gar station a day before just to make sure the times have not changed. It is not unusual for the train times to change, especially with the recent situation.
The ticketing booth is a wooden booth near the entrance of the railway station. Just tell the ticket vendor you want to go to Selcuk Town (pronounced sell-chook) and hopefully they will understand. English is still not widely spoken in Turkey, especially in Izmir. If all else fails, use your handy dandy Google Translate, but you will need a Turkish sim card for that.
Here is the train schedule as of October 2023 for the trains from Izmir to Ephesus.
| Departure Time (Basmane Gar) | Arrival Time (Selçuk) |
| --- | --- |
| 7:05 AM | 8:34 AM |
| 10:40 AM | 12:10 PM |
| 12:30 PM | 1:56 PM |
| 2:15 PM | 3:49 PM |
| 4:40 PM | 6:12 PM |
| 6:40 PM | 8:15 PM |
We recommend getting the 7:10 AM train because you will get into Selcuk at around 8:34 AM. This means you can start sightseeing Ephesus around 9 AM, and you'll be out by the time the merciless midday sun comes out.
Step 2: Arrive in Selcuk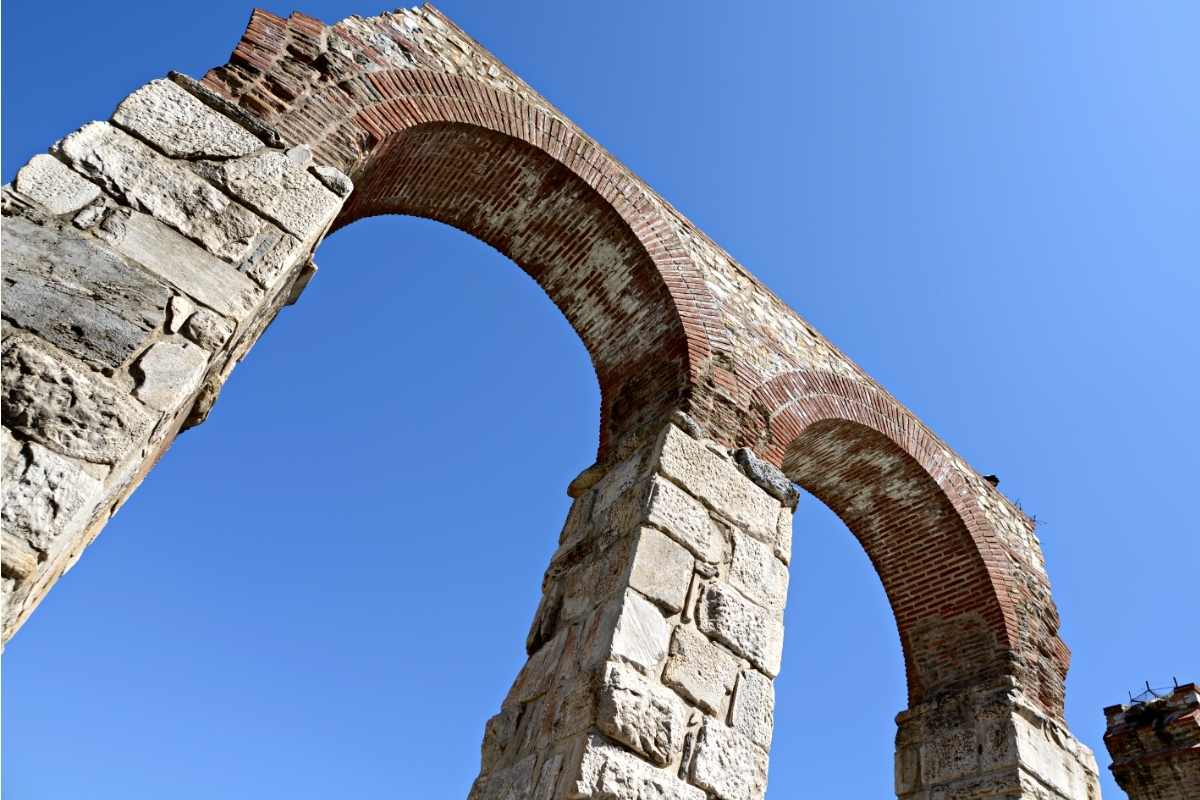 The train ride to Selcuk from Izmir City is quite beautiful, and you have approximately 1 hour and 20 minutes to enjoy the scenery. And once you arrive at Selcuk train station, you will notice quite a different vibe from Izmir. The air is fresher, there is no noise and the city is much cleaner.
Selcuk is the closest the train can get you to Ephesus.
Step 3: Take the Minibus or a Taxi
Ephesus Archaeological Site is located around 4 km or an 8-minute drive from the Selcuk train station. You can either take a taxi, a shared minibus or just walk there.
We don't recommend walking because it takes so long and you want to get there before the tour buses arrive.
For taxis, it is easy to just flag one from the road closest to the Selcuk Train Station. There are plenty of taxis waiting for tourists.
For those that want to save money and get there early, taking a minibus (called dolmus in Turkish) is the recommended way.
The shuttle minibuses from Selcuk to Ephesus depart from the Selcuk Otogar or Selcuk Bus Station (See location here). The bus station is located in the heart of the town, about an 8-min walk from the train station.
Once you are at the bus station, you'll need to find the minibus to Ephesus. Each minibus displays the final destination on the windshield, so it makes it very easy to locate.
The Ephesus shuttle buses depart every 15 minutes in the summer, and 20 minutes in the winter, and you can pay the driver directly.
The first bus of the day departs at 8:00am from April 1st to September 31st, and 9:00am from October 1st to March 31st.
The van takes about 10 minutes to get to Ephesus's North Entrance, closer to the more notable sites such as the Library of Celsus and the Grand Theater
Note: Locals call Ephesus just Efes, so don't get confused by it if that's what your driver says.
---
Taking A Bus from Izmir to Ephesus
There isn't a direct bus from Izmir to Ephesus. Similarly, visitors will have to take a bus to Selcuk, then transfer to a minibus or a taxi to Ephesus.
The bus to Selcuk departs at Izmir Otogar (Izmir's main bus station), which is located on the outskirts of downtown Izmir in the Bornova district.
From the Izmir's city center (where most tourists are staying), you need to take the metro and then transfer to the bus to get to it. The whole ordeal takes about an hour, and if you are unlucky, much longer than that.
Once you get to Izmir Bus Station, you need to find a bus that departs for Selcuk. Buses typically depart every hour. With the journey also taking an hour, taking the bus from Izmir to Ephesus takes nearly double the time compared to taking the train.
If for some miraculous reason, you are staying near the Izmir Otogar, then the bus is not a bad option. Otherwise, we don't recommend taking the bus to Ephesus.
📚 Before you go, make sure you check out our full Ephesus guide so you don't miss out on anything!
---
How to Get Back From Ephesus to Izmir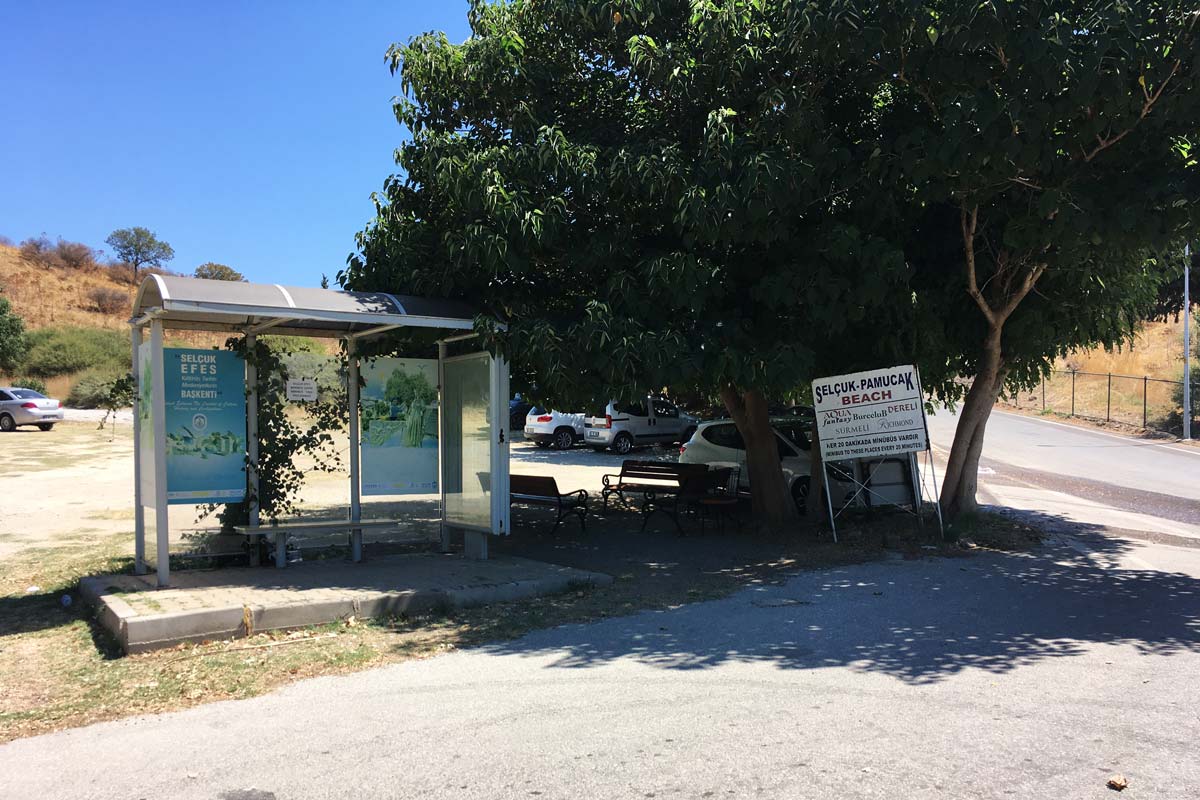 Now that we have covered getting from Izmir to Ephesus, how do you get from Ephesus to Izmir?
Remember how if you took the minibus, you were dropped off at the North Entrance. To take the minibus back to Selcuk, you must go back to the North Entrance. DO NOT exit at the South Entrance if you want to take the minibus back to Selcuk! Because your ticket is only valid once, you might not be able to get back in once you've realized your mistake.
However, if your wish is to take a taxi back to town, then any of the entrances is fine.
Once you are in Selcuk, you just go back to Izmir the same way you arrived – either by bus or train.
The train schedule as of October 2023 is as follows:
| Departure Time (Selcuk) | Arrival Time (Basmane Gar) |
| --- | --- |
| 7:49 AM | 9:22 AM |
| 9:01 AM | 10:33 AM |
| 12:09 PM | 1:33 PM |
| 1:38 PM | 3:10 PM |
| 3:50 PM | 5:22 PM |
| 7:46 PM | 9:22 PM |
| 9:47 PM | 11:02 PM |
As always, it is good to verify the train schedule on the day of. Things do change unexpectedly in Turkey!
📚Read More: How To Get From Izmir to Pamukkale
---
From Izmir to Ephesus FAQs
How long does it take to see Ephesus?
Expect to spend somewhere between 2 to 3 hours seeing the entirety of Ephesus. The archaeological site has many well-preserved sites, from the iconic Library of Celsus to the Ephesus Ancient Greek Theatre.
Is Ephesus worth visiting?
Yes, it's worth visiting. Ephesus is one of the most impressive archaeological sites in Turkey, featuring well-preserved monuments and structures from the classical era. The UNESCO World Heritage Site is not only historic, but it features gorgeous historical buildings that would make everyone fall in love. It is also home to the Temple of Artemis, one of the Seven Wonders of the Ancient World.
Is Ephesus open every day?
Yes, it is open every day. Hours may vary from summer to winter and on religious holidays.
When is the best time to visit Ephesus?
The best time of year to visit Ephesus is from November until April, which has fewer tourists. There are usually large crowds at Ephesus from June to September.
---
Final Thoughts
We hope our guide on how to get from Izmir to Ephesus is going to help you see this magnificent attraction in Izmir, Turkey. To sum it all up, the three ways to get there are with an Ephesus tour, taking the train, and taking the bus. For people who prefer comfort and convenience, a tour is probably the best way. Otherwise, the train is the best option.
Any questions? Leave them in the comments!